As I pause below a bolt to collect myself and map out the next sequence of moves, everything below me fades away. I straighten my arms, inhale deeply, and steady my breathing. My body starts to relax. I spend a few moments working to gain composure and quiet my mind, effortfully at first, then with less resistance. The next 30 feet flow smoothly—my body precisely executing the moves I've rehearsed in my head.
I pull the crux and begin ascending easier terrain toward the anchors before letting my thoughts flood back in: a powerful mix of excitement and relief. After clipping the chains, I notice a familiar spike of adrenaline as the scenery around me slowly comes back into view. For a brief moment, it was only me and the rock—an intricate, meditative dance from one tiny edge to the next, my breath working as a metronome to pace my movement. Those moments of absolute focus and connectedness high off the ground are what I live for as a climber.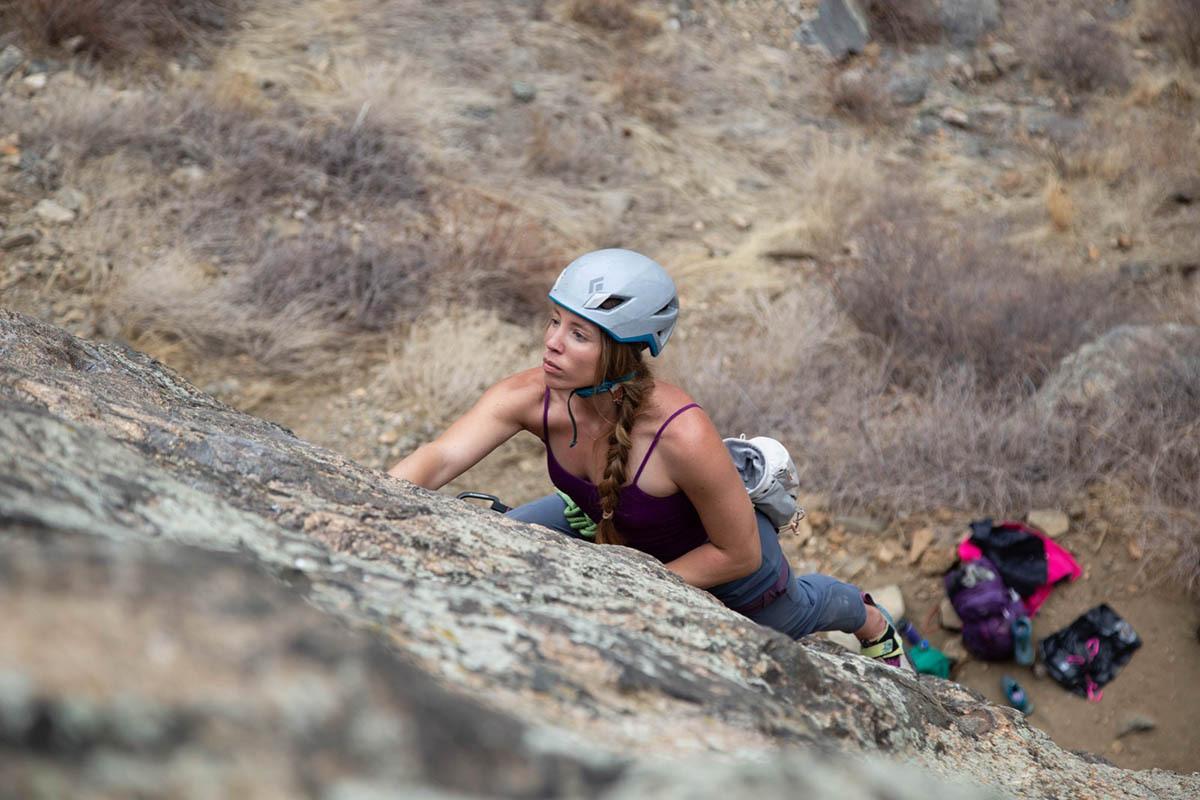 Rock Climbing: A Definition
Rock climbing can take many forms, from casual after-work sessions at a local crag to long, multi-day missions in the alpine. Like many modern-day climbers, most of my time as a beginner was spent at the gym and sport climbing in local canyons. But as I've progressed, I've begun exploring other disciplines, including trad and alpine climbing, which come with a whole different set of skills and gear requirements. The kit outlined below includes my go-to gear for most days on the wall, whether I'm clipping draws or placing my own protection. Depending on your objectives, you might be able to leave some items behind or require additional gear for more involved trips.

Sarah's Climbing Gear Picks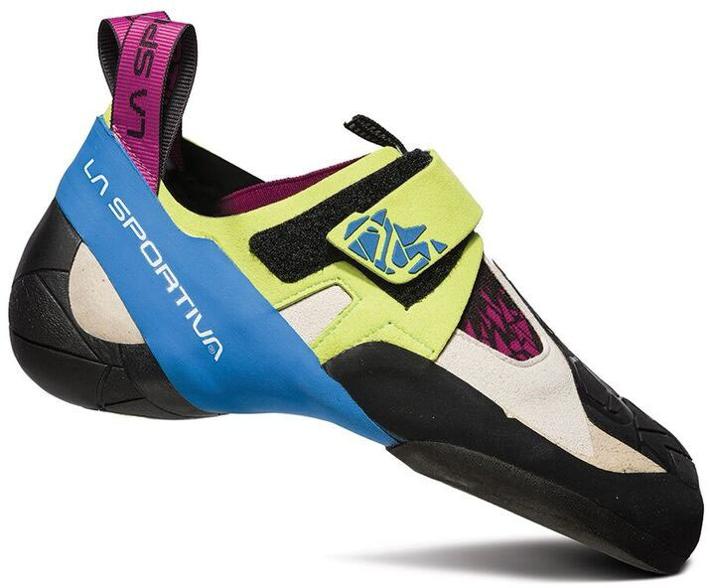 I have two core climbing shoes in my quiver: the La Sportiva Skwama for sport climbing and the TC Pro for trad. The former is much more performance-focused with an aggressive downturn (the amount of curve in the shoe) for ascending steep rock. I also love the soft midsole and rubber for maximizing precision—feeling the rock underfoot allows me to toe in and perch on small edges confidently. The downside is that my feet get tired quickly in the Skwamas due to the lack of support, which is why I only wear them for harder lines when I need the added performance. My TC Pros, on the other hand, are reserved for longer outings where I anticipate being in my shoes all day: they're much more comfortable with a flat last, have over-the-ankle coverage for jamming in cracks, and are stiff enough that my feet don't grow fatigued quickly. Note: La Sportiva recently released a new model for the first time since the TC Pro's conception, with key improvements in comfort and durability. I plan to purchase the latest version once the sole on my current pair wears through.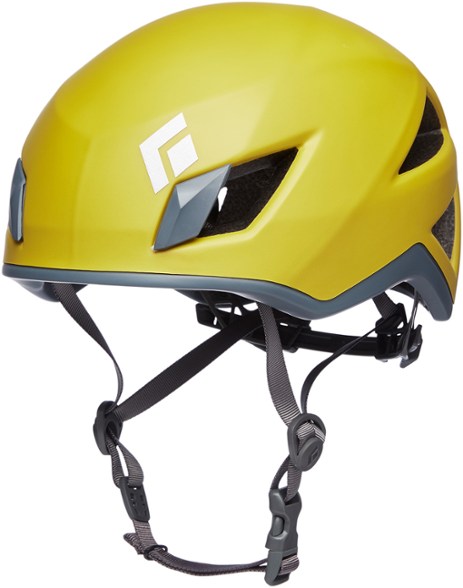 Like many climbers, my first climbing helmet was Black Diamond's ubiquitous Half Dome, which is affordably priced at $65 and all most new climbers need. However, after upgrading to the brand's more premium Vector a couple years ago, I never looked back. Unlike the Half Dome, which uses a heavy ABS plastic shell for impact resistance, the Vector uses a noticeably lighter polycarbonate shell with generous venting that offers a noticeable boost in breathability (particularly on warm summer days). In fact, I often forget I'm wearing the Vector entirely, which is great from a safety standpoint (I'm more inclined to keep it on all day). The EPS foam isn't as durable or long-lasting as EPP found in models like BD's own Vision, but I haven't had any issues to date despite consistent use, including a bad habit of haphazardly tossing the helmet into the back of my van after long days.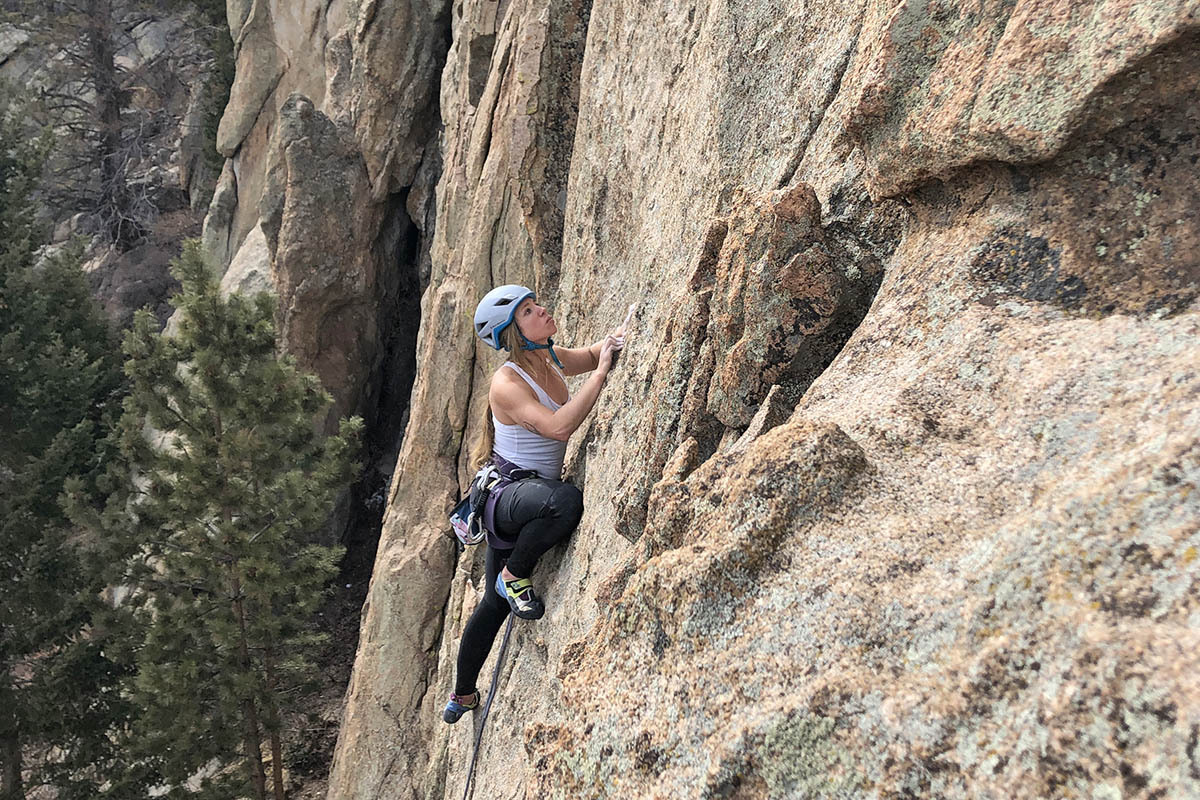 I'll admit that I haven't been able to find my Goldilocks harness (not for lack of trying), but Petzl's Luna (the men's version is the Adjama) comes pretty darn close. It's light enough that I don't feel weighted down on long approaches but still well-padded and durable enough to withstand regular crag use. It even became my go-to gym harness last winter because of the good all-around comfort and lack of pressure points. I have found that the overlapping gear loops make it a little tough to divvy up a full rack when trad climbing, but it's serviceable for most routes. And adjustability is great too, with buckles at the leg loops for really dialing in fit (I've found that most harnesses with fixed leg loops don't work well with my more athletic build).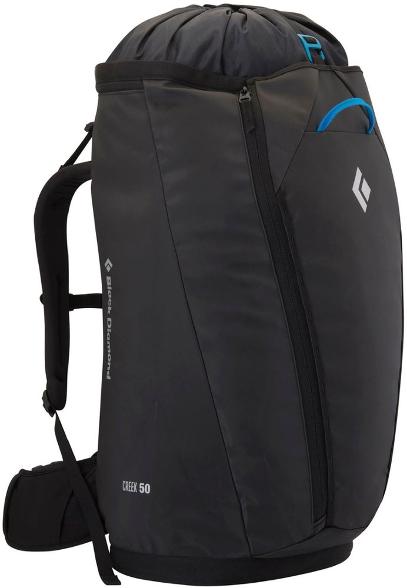 I see Black Diamond's Creek 50 more than any other pack at the crags I frequent in Colorado, and the hype really is warranted. The upright base makes it easy to pack and unpack, and the side zipper allows me to access gear at the bottom of the main compartment without dumping everything out. Durability is also top-notch (the pack uses robust 1,200-denier polyester), and hiking comfort is excellent with well-padded waist and shoulder straps. For reference, my Creek has deftly withstood three full seasons of use as my primary pack with almost no wear to show for it (one of the plastic buckles for the deployable rain hood snapped off, but that's it). Not everyone needs this much pack, but I like the ability to carry a double rack or 15+ quickdraws, 70-meter rope, and personal gear without worrying about space. For following trad routes, I use REI Co-op's Flash 18, which has just enough room for water, snacks, and extra layers for my partner and me.

I didn't know it was possible to love a climbing rope until I started using Mammut's 9.5 Crag Dry. After retiring my Black Diamond 9.4 Dry rope, I switched to the Mammut after reading good reviews and hearing many partners rave about its handling and durability (for reference, the middle mark on my BD wore off after two rappels, and the sheath grew fuzzy concerningly quickly). After three months of consistent use, I've been very happy with the Mammut: it's proven to be highly abrasion-resistant, feeds very smoothly through my belay device, and the 9.5-millimeter thickness is great for everything from cragging to day-long multi-pitch climbs (it's a little heavy for redpoint burns but still serviceable). For packing it away cleanly and protecting it at the crag, I use Black Diamond's simple but functional Full Rope Burrito Bag.
Like many climbers, I learned how to belay with a standard tube-style device (the Black Diamond ATC). Once I started lead climbing, however, I jumped on the Grigri bandwagon. In short, assisted-braking devices like the Grigri lock down when the rope is weighted, which provides added security should your partner take an unexpected whip. Another huge benefit is that the Grigri requires much less grip strength and tension (compared with a standard ATC) to hold my partner in place when they want to hang on the wall or work through moves on a route. The downsides are that the Grigri is pricey, a little heavy, and takes some time to master, but the tradeoffs are more than reasonable for the added assurance it provides. When trad climbing, I also bring along my Black Diamond ATC-Guide and Sterling HollowBlock2 for rappels (I use the former for belaying from above too).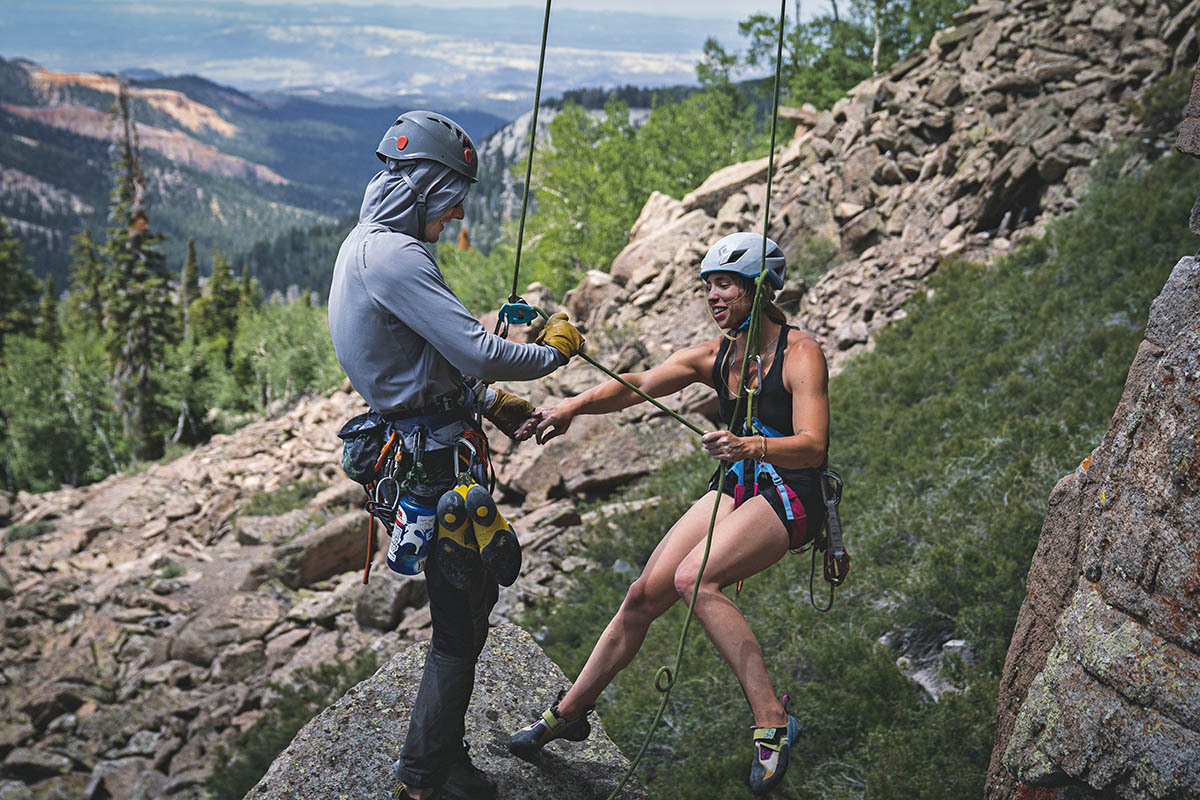 My sport climbing rack is a hodgepodge of old and new quickdraws, but my undisputable favorite to clip are Petzl's Djinn Axess. Many of my partners love Petzl's ubiquitous Spirit Express draws, but I opted for a set of the Djinn Axess due to the similar overall design at a lower price point ($14 per draw vs. $19 for the Spirit). The carabiners on the Djinn are a little bigger than the Spirit's, but the draws are very easy to clip and clean, well-built and sturdy (I have no concerns grabbing them when projecting or working through a crux), and look good to boot (I love the purple and blue colorway options). For trad climbing and routes that wander, I also bring along a set of Trango's Phase Alpine draws, which include 60-centimeter slings for minimizing rope drag.
 
8. Cams and Other Trad Gear

My trad rack could warrant its own list, but there are a few core pieces that I swear by. First are my Wild Country Friend cams (sizes 0.4-#4), which come with extendable Dyneema slings that help minimize rope drag (I can sometimes even get away with clipping my rope to the cam directly rather than extending further with an alpine draw). For protecting thinner cracks, I turn to Wild Country's Zero Friends (0.1-0.3). In terms of passive protection, DMM's Alloy Offset nuts work great in flared cracks typical of the Front Range (I also have a set of BD's standard stoppers from 1 through 13), and my nut tool of choice is Metolius' Torque, which has four built-in wrenches for tightening loose bolts. For keeping it all organized in the van, I use a tarp from California-based Mountain Tools called the California Roll.
 
A chalk bag might seem like an inconsequential item compared to the gear above, but I rave about the Mammut Multipitch more than just about any piece of gear. My first chalk bag was of the cheap, gym-issued variety and met my needs for years, but as soon as I transitioned to outdoor climbing, I upgraded to the Multipitch for the added storage. I'm able to fit a surprising amount in the bag: the main pocket houses a roll of tape, a nail clipper, and my headlamp, while the bungee strap easily secures whatever jacket I'm wearing that day. There's also an additional side zippered pocket for items like snacks or a small tube of sunscreen, and the webbing strap is quick to adjust and makes it easy to move the bag around my waist. And as far as chalk goes, my go-to choice is Friction Labs' chunky Gorilla Grip.

Stick clips aren't a necessity for climbing, but they can be very useful on routes with low cruxes. I've seen everything from actual branches and sticks to painters' poles at the crag, but a dedicated design like Trango's Beta Stick Evo makes the process a little more seamless: simply secure your first quickdraw in the wire arm with the gate open and rope in place, extend the pole to the appropriate length (the Beta Stick Evo maxes out at 12 ft.), and carefully line up the draw gate with the first bolt before pulling down to release. I typically only pack my stick clip when I expect to be projecting a harder sport route or when I know the crux is low to minimize the risk of a ground fall.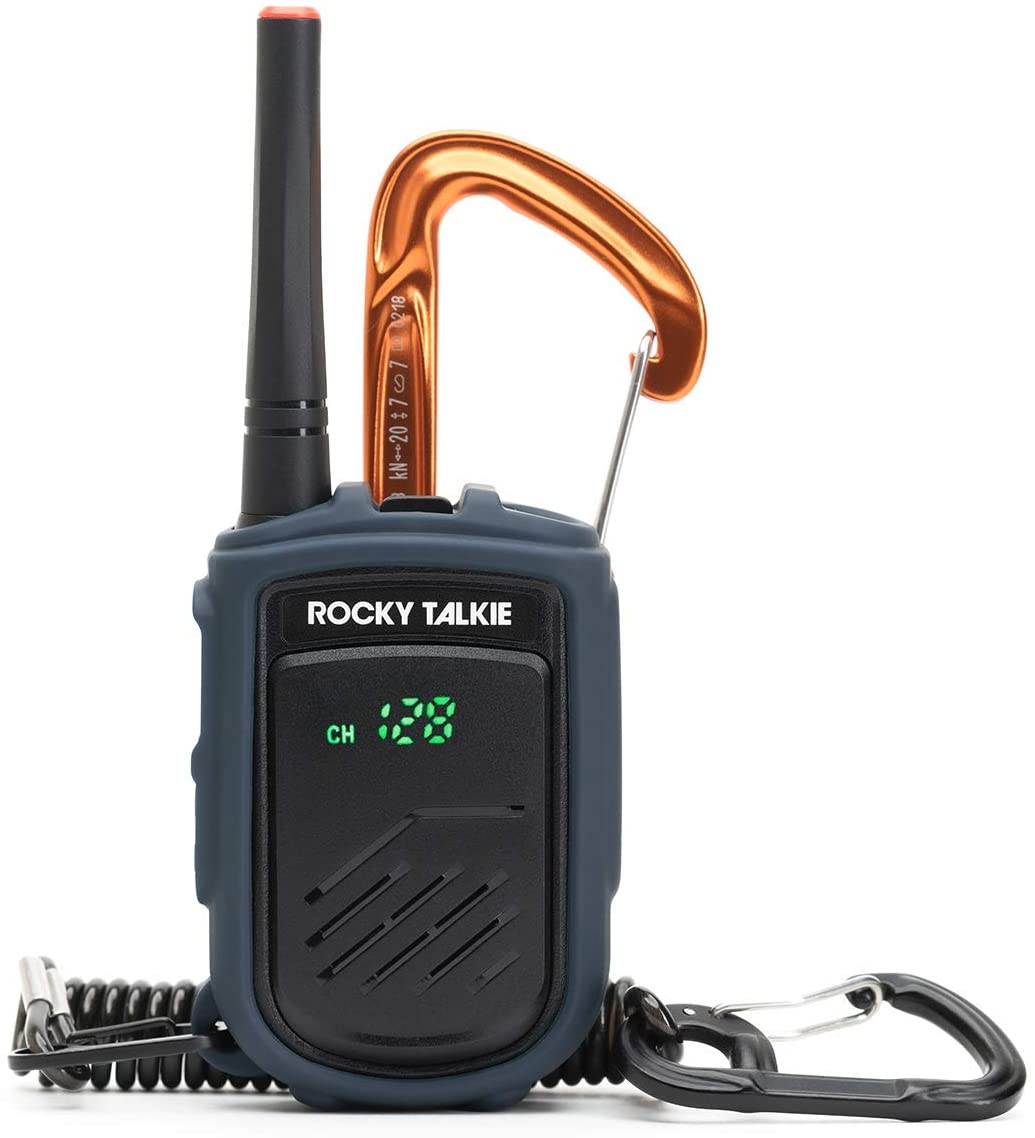 Not all climbers like bringing along walkie talkies, but as a relatively new trad leader, I've been very happy with the added communication benefits. Rather than having to yell down to my partner that I'd like to come off-belay, the Rocky Talkie makes it easy for me to keep my follower updated as I build an anchor, secure myself, and prepare to bring them up the route. It's also helpful in situations that require more than just a few words—like when I encounter a rotten band of rock that I don't want my partner to go near or need to stop unexpectedly to wait for a party above us. There are several options on the market, but the Rocky Talkie is the undisputed standard among climbers due to its light weight (4.8 oz. for the walkie and 0.8 oz. for the attached carabiner), excellent range (1-5 miles in backcountry terrain), and simple, easy-to-use interface. Again, these certainly aren't a necessity, but knowing that I can chat with my partner at any time has done a lot to boost my confidence.
 
I've been unexpectedly benighted more time than I'd like to admit, and a quality headlamp has made a world of difference (as I mentioned above, I keep my headlamp in my chalk bag so that it's always on me). My light of choice is Petzl's Actik Core, which is bright with a 450-lumen max output, reasonably light and long-lasting, and can run off of either its USB-rechargeable battery of three AAAs. That said, there are a number of good alternatives available, many of which are cheaper. Just make sure that you're getting enough lumens (I recommend around 200-250 at least for night climbing) and that the headlamp will securely fit around your climbing helmet.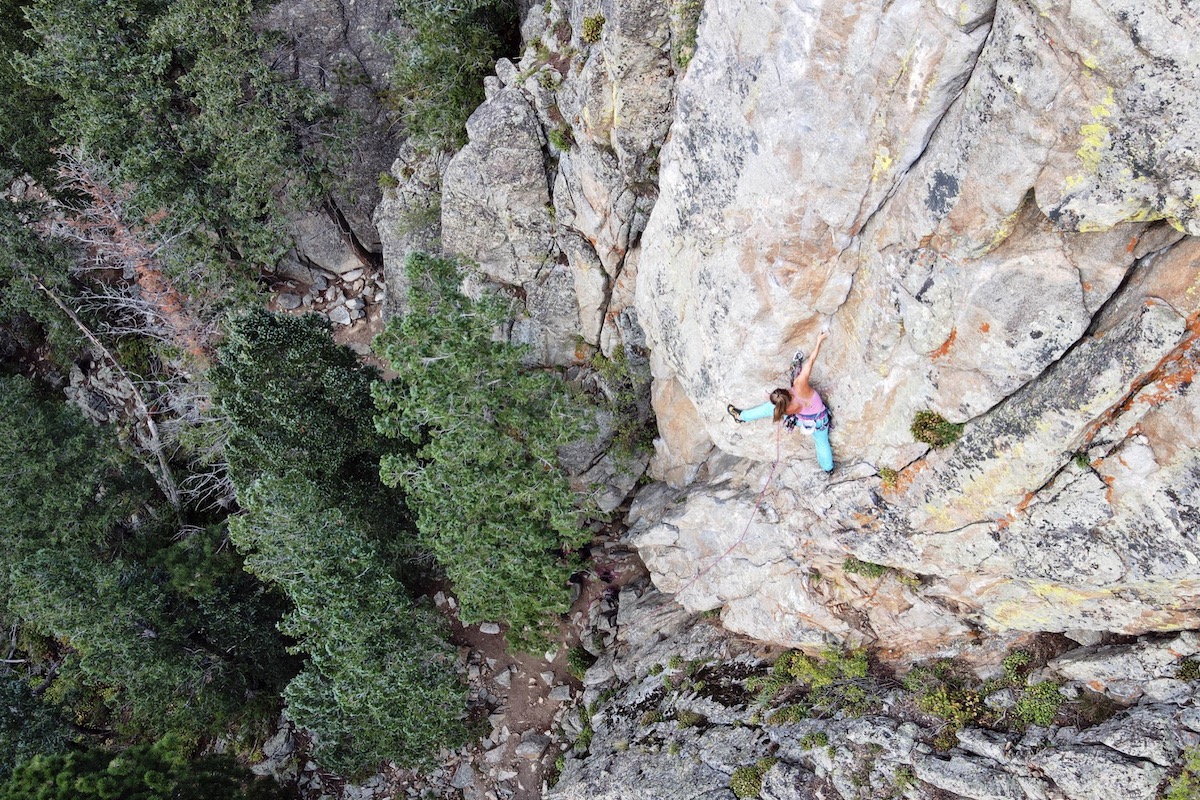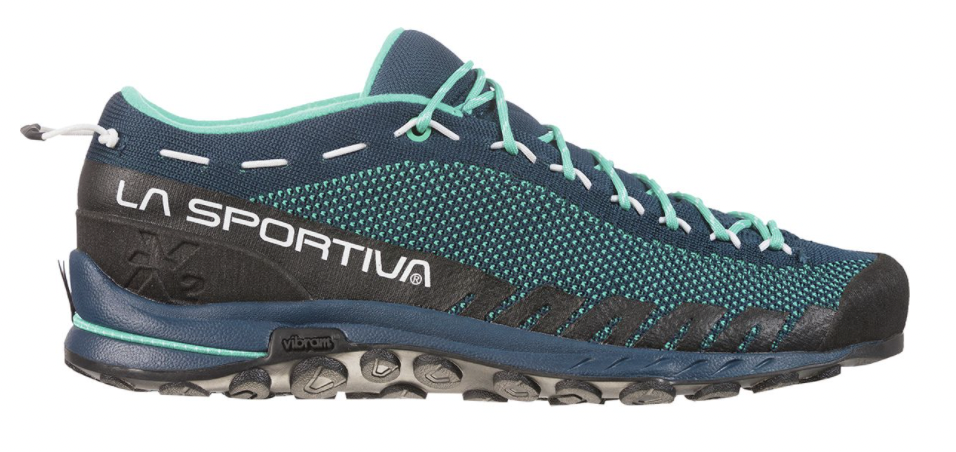 Unlike many climbers, I don't wear approach shoes casually or for long approaches (I prefer trail runners or hiking shoes). Instead, my main priorities when purchasing a pair were weight and portability, since most of the trad climbing I do is easily accessible. La Sportiva's TX2 fits the bill nicely: it's the lightest member of the TX family at 14.4 ounces per pair for the women's version, breathable with a mesh upper, and grippy with proven Vibram rubber and dotted tread (including a dedicated climbing zone at the front for precision on steep rock). I also love the loop at the back for attaching to a harness and thin elastic straps at the heel for cinching the shoes together. The only big concession is long-term durability: the TX2 is fairly thin, and the outsole wears down quickly—especially if you do a lot of hiking in the shoes. If you want added performance for long days on the trail, La Sportiva also makes the TX3 and TX4. But for carrying up a route and short descents and walk-offs, the TX2 is all I need and nothing I don't.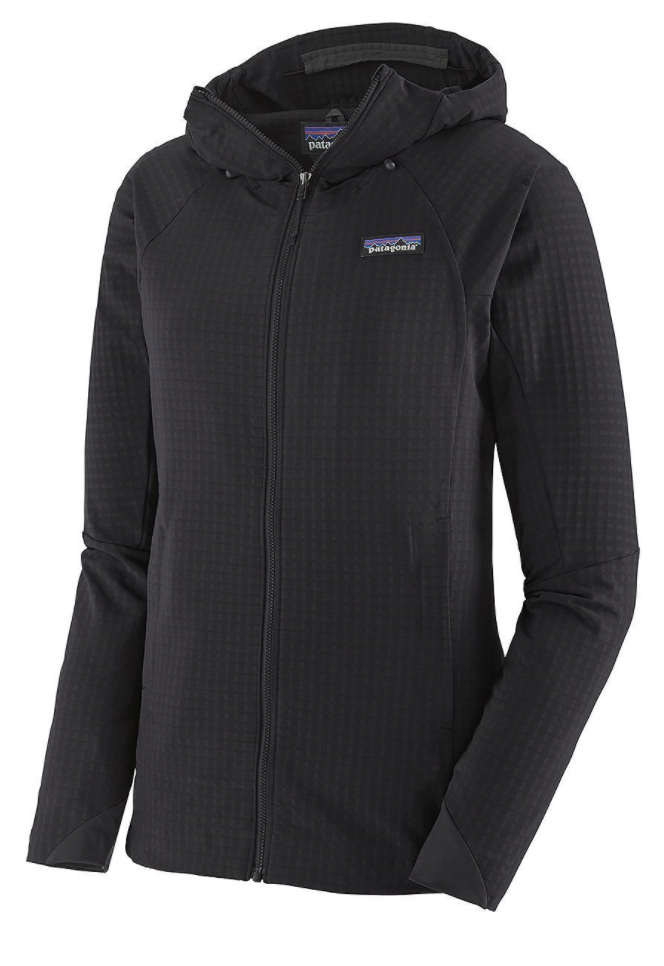 Balancing durability, comfort, and breathability is a tall order, but Patagonia's R1 TechFace Hoody does so with aplomb. The interior of the jacket uses the brand's double-weave fleece that's soft and cozy against my skin, while the outer fabric is a mix of polyester and spandex that effectively resists abrasion without restricting range of motion. I also love that laminated visor on the hood for deflecting light precipitation, and it nicely fits under my helmet on chilly and windy days (it can fit over too, but it's a little snug). For shoulder-season temperatures, the R1 TechFace has quickly become my favorite jacket in my closet. I also frequently wear Arc'teryx's lighter and slightly more breathable Proton FL softshell, as well as Patagonia's feathery Houdini Air windbreaker on warmer days when I just need a light barrier from chilly gusts.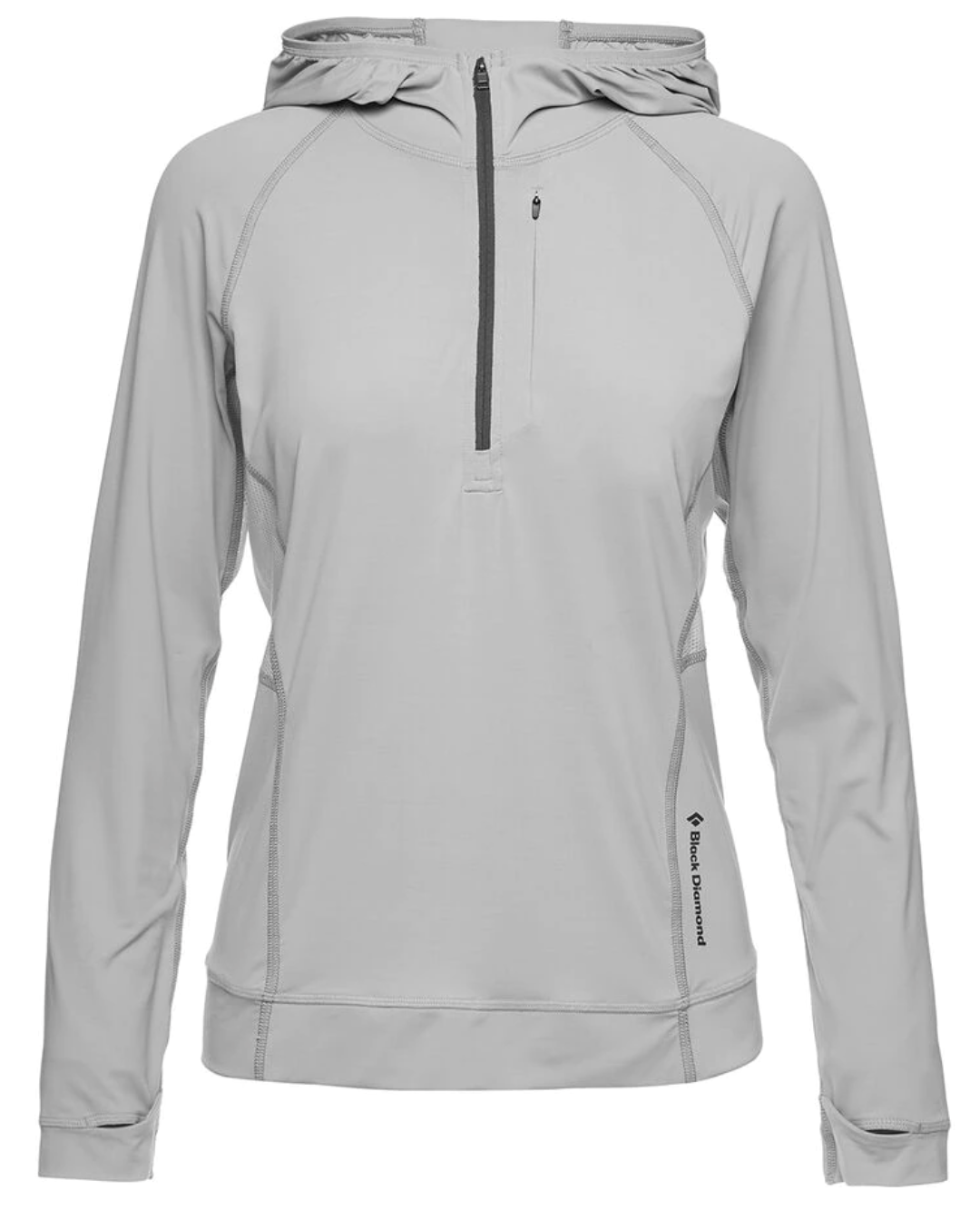 For days in the sun, I'll often throw on Black Diamond's Alpenglow Pro Hoody. The nylon fabric is noticeably light, airy, stretchy, and soft against my skin, and the mesh panels under the arms add an extra dose of breathability. The feature set is well-sorted too, from the hidden chest pocket to the thumb loops and helmet-compatible hood. It's a little pricey at $110—you can go cheaper with BD's own standard Alpenglow Hoody or Patagonia's popular Sunshade—but I like the addition of the 1/4-length zipper for quickly dumping excess heat when I'm on the wall.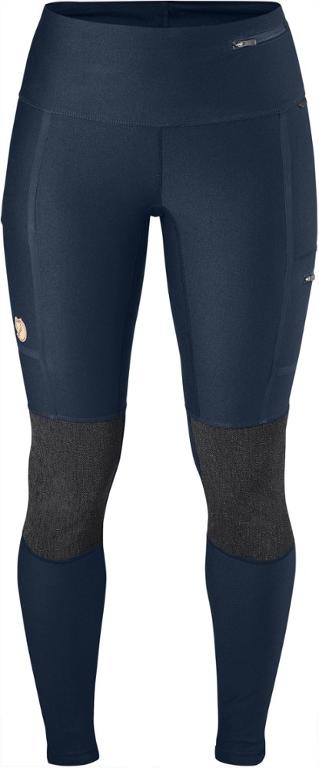 It's been a challenge finding climbing pants that fit well and can withstand regular use on rock, but Fjallraven's Abisko Trekking Tights have recently become my go-to choice. Designed for hiking, these tights are highly mobile and comfortable thanks to the integrated stretch in the fabric, offer functional zippered storage for my phone (not many women's pants can securely accommodate a phone), and are reinforced at the knees and butt for added protection against tears and scratches. For reference, after around two months of consistently wearing them for both sport and trad climbing, my pair of Abisko tights looks almost like new with only a couple loose threads. I also alternate between a few other pants, including E9's Onda Story, La Sportiva's Tundra Pant, and Topo Designs' Boulder Pants (bonus: these also wear really well around town).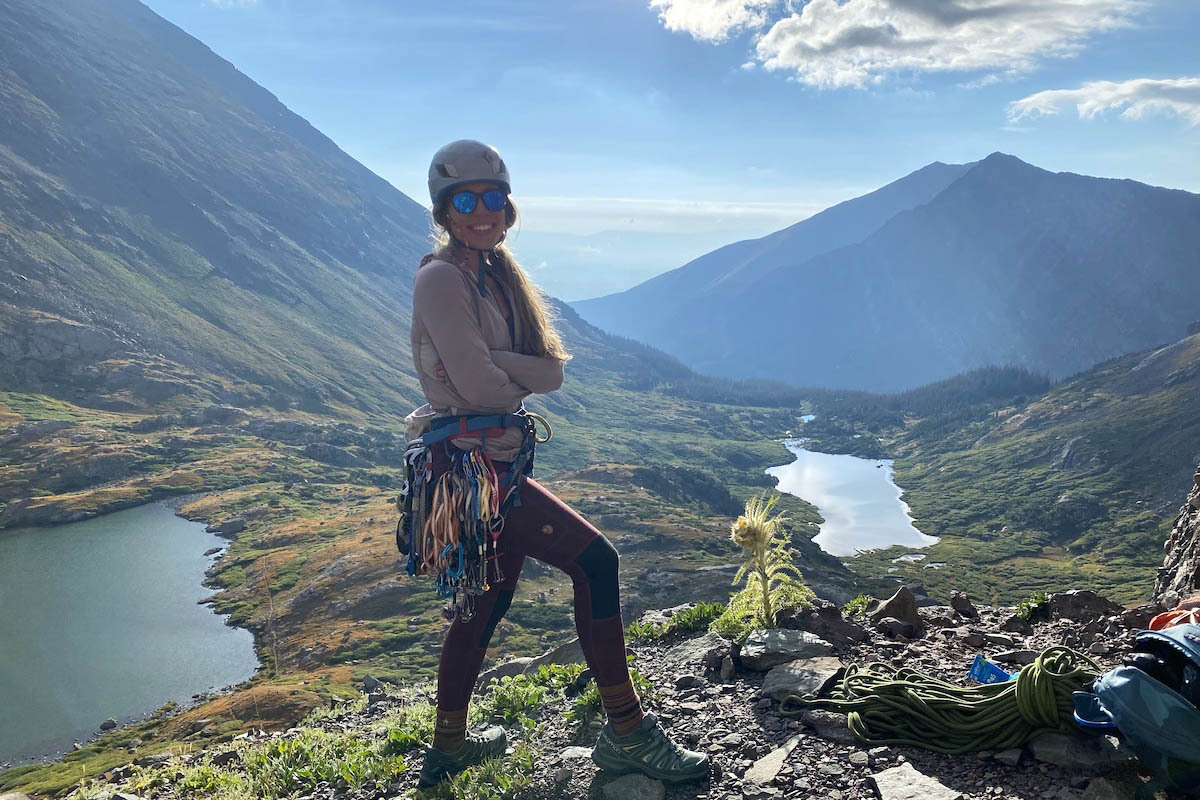 Other Essentials
In addition to the products above, I also keep several other items in my climbing pack. Some of the gear listed below is specific to certain outings—for example, I only bring along extra slings and cams/nuts when I anticipate having to place gear—but most of the items live in my bag to make the packing process quick and easy.
Chapstick
Sunscreen
Sunglasses
Local guidebook
Nail clipper
Assorted snacks and bars
Garmin inReach Mini (depending on location and length of trip)
First aid kit including wound dressing materials, a SAM splint, and Ibuprofen
Assortment of locking and non-locking carabiners
Slings and webbing of various lengths for anchor-building
 
---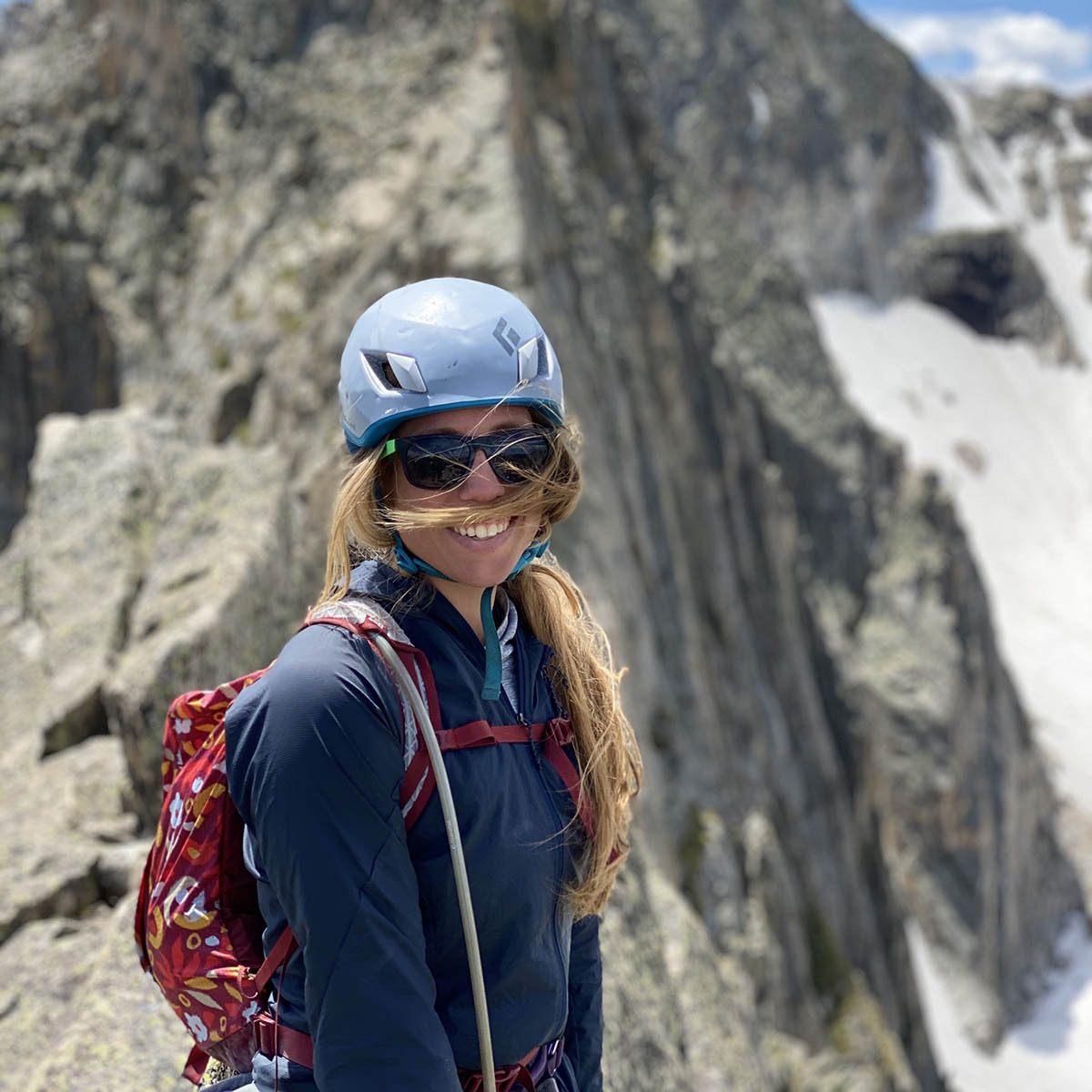 Sarah is an editor at Switchback Travel, covering everything from camping and backpacking gear to winter and ski apparel. Her love for the outdoors began in her early 20s when she moved to Colorado from the East Coast, where she quickly becoming engrossed in the local climbing culture. Now, she lives full-time in a self-converted van and travels the U.S., exploring popular climbing destinations and trail networks between work emails.
Learn More About Outdoor Gear