It's no secret that the biggest barrier to entry for a lot of outdoor activities is cost. And every year, backpacking gear manufacturers come out with the latest and greatest technologies, which feature thinner and more advanced materials, lower weights, and—you guessed it—higher price tags. But the reality is that you don't have to break the bank to get outside, and there are plenty of well-made products available that are built to handle rough outdoor use. For this reason, we've compiled a list of good backpacking gear on a budget, including everything from a backpacking tent, backpack, and sleeping bag to hiking shoes and a down jacket. For more of our in-depth reviews and detailed gear guides, see our backpacking gear landing page.

Budget Backpacking Equipment
As your home away from home on the trail, you'll want to look for a reliable tent that balances interior space and comfort with weather protection, durability, and price. Ultralight tents (which hover around 2 to 4 pounds) are currently all the rage, but their upgraded fabrics and poles often increase the price to $400 or more. For budget shoppers, we recommend REI Co-op's Passage, which costs a reasonable $159 for the two-person version. This design checks all the important boxes: easy-set up with an X-shaped pole structure, quality and long-lasting materials, and decent interior space and livability with two side doors and vestibules. The main downside of the Passage is its all-in weight of 5 pounds 10 ounces, although leaving behind the included footprint will save you about 7 ounces (the tough floor material makes a footprint unnecessary on most surfaces). For more on this category, see our article on the best budget backpacking tents.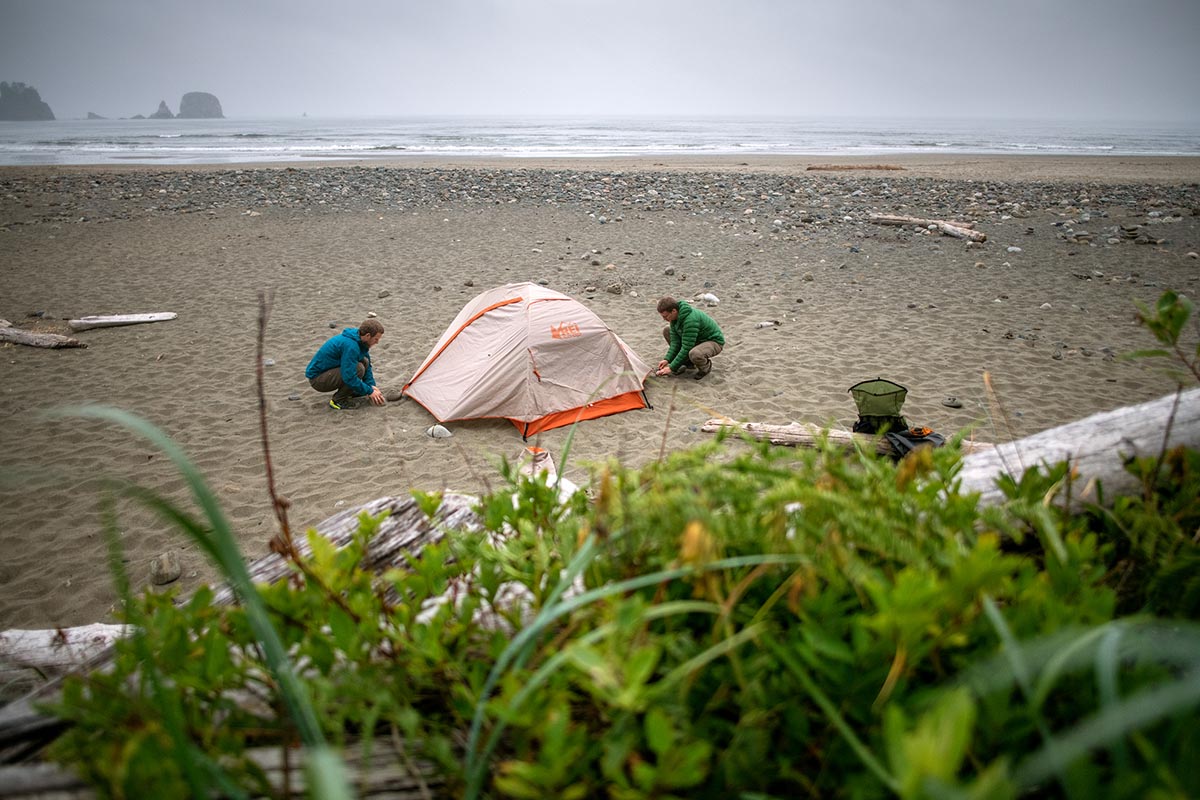 An ill-fitting and uncomfortable backpacking pack can easily ruin a trip, so it's an important product to get right. As a result, this is a category where we recommend avoiding going overly cheap. REI Co-op offers a high-value solution in their Trailbreak 60: For $149 (half the price of the premium competition), you get decent-quality foam padding, plenty of exterior storage—including zippered pockets on the hipbelt—and a highly adjustable backpanel. You're not going to match the low weights, premium fabrics, or custom fit of a high-end model, but the REI is a proven choice, and its 60-liter capacity is a nice match for overnight or shorter multi-day treks. For a complete list of options, check out our round-up of the best backpacking packs.
A sleeping bag decision should start with insulation type: synthetic or down. If you want to stick to a tight budget—something many first-timers are aiming to do—synthetic is the way to go. REI's polyester-filled Trailbreak 20 is nicely equipped for most 3-season adventures with a "Comfort" rating of 29 degrees (a less warm Trailbreak 30 is also available), smooth interior with an adjustable mummy hood, and an included compression sack. What you compromise with this fill type is weight and packability. At nearly 3.5 pounds, the Trailbreak is more than a pound heavier than many down alternatives, and it can be challenging squeezing it into a backpacking pack.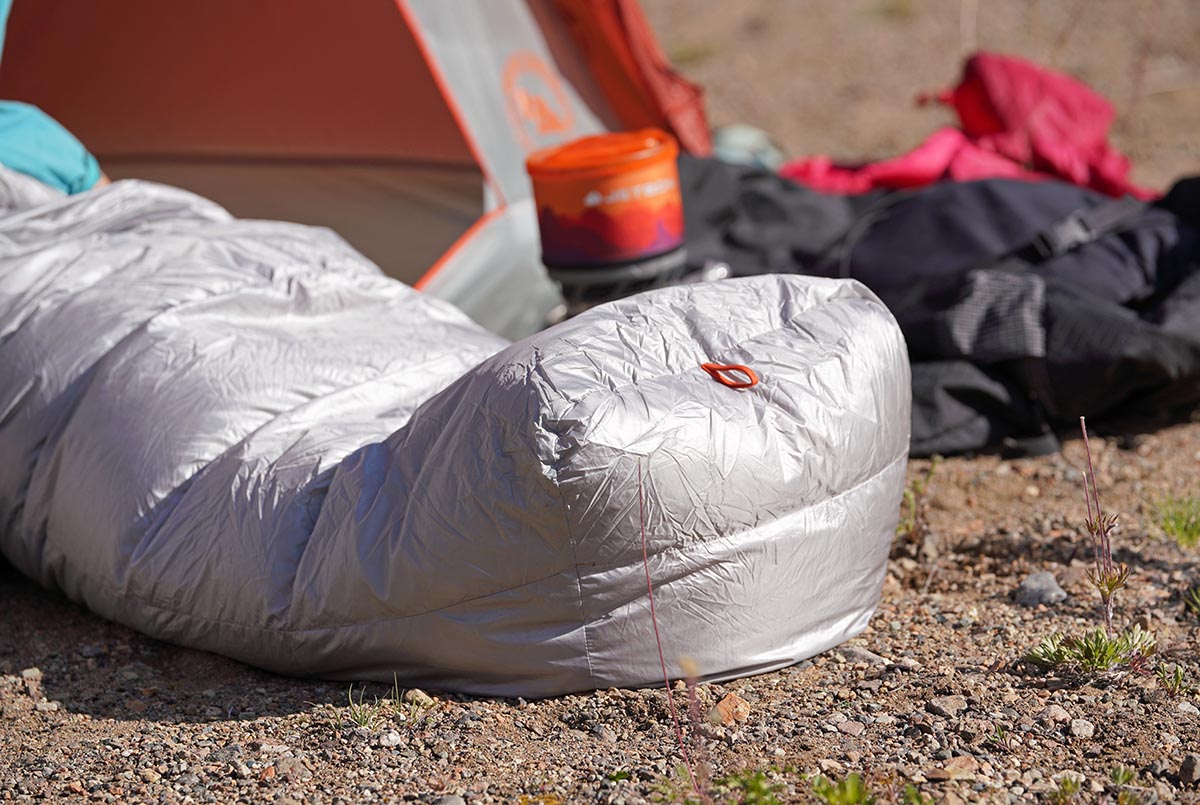 If you're looking for a longer-term investment or want to keep weight down, Kelty's Cosmic Down 20 may be worth the extra money. For about $60 more, you get 550-fill-power down in place of synthetic, a similar temperature rating as the Trailbreak, and a drop in weight of almost a pound. The Cosmic will also compress much smaller, fitting pretty easily into the bottom of most overnight packs. For a look at more down and synthetic designs, see our best backpacking sleeping bag article.
It's hard to beat an inflatable sleeping pad in terms of comfort, but if saving money is your priority, a foam pad is the way to go. Not only are closed-cell foam pads like the Nemo Switchback half the price of the most affordable air pads, but they're also built to last. You can strap the Switchback to the outside of your pack, drag it through the dirt, use it to sit atop the prickliest of pine needles—even employ it as a snow sled—and it still won't pop. And take it from us: You'll be much more comfortable on a $55 foam pad than a $150 inflatable pad with a hole in it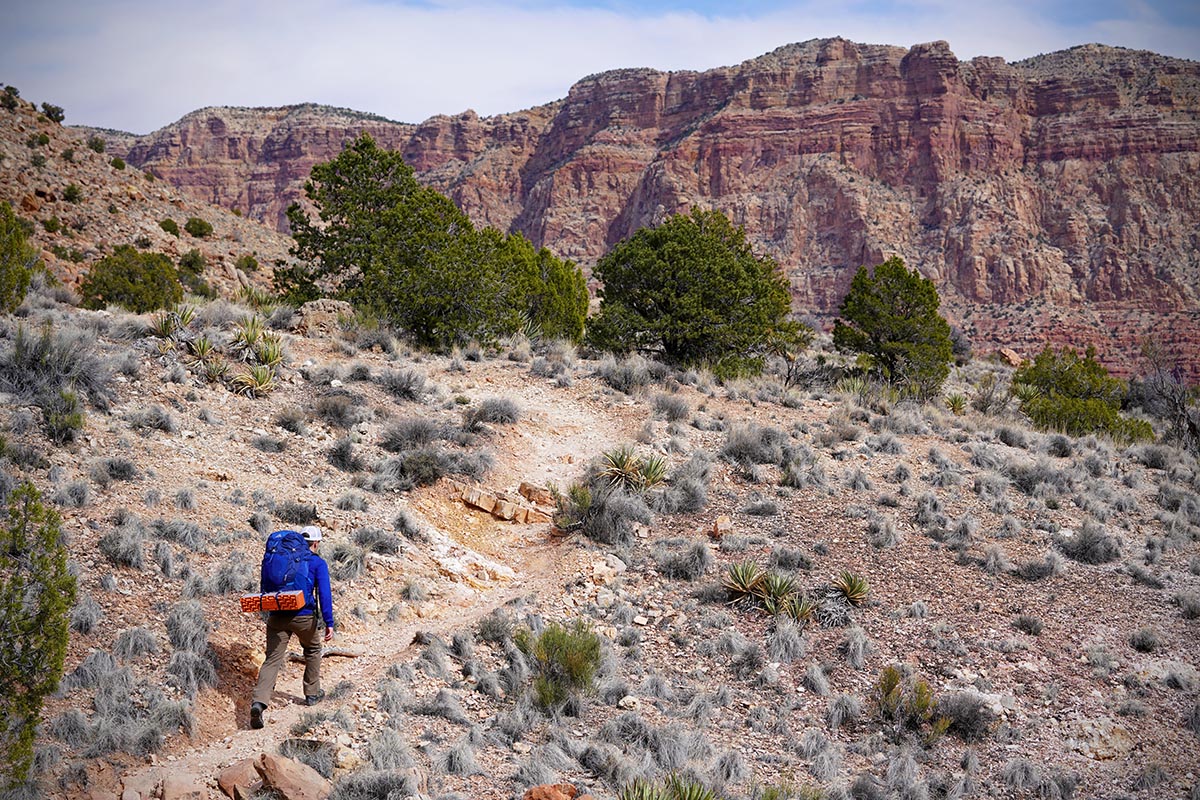 Comfort aside, the biggest downside to a foam pad like the Switchback is its lack of compressibility, but most casual backpackers won't mind tacking it onto the outside of their pack. If you're unwilling to compromise on an air pad, the Big Agnes Insulated Air Core Ultra is one of our favorite budget models, retailing for a reasonable $100 (it's also warmer with an R-value of 4.5 vs. the Switchback's 2.0). For all of our top picks, see our article on the best backpacking sleeping pads.
There's nothing quite like a hot meal at the end of a long day on the trail, which is why most backpackers carry a compact camp stove. Feature-rich models can cost upwards of $150, but our budget option here is the GSI Glacier Camp Stove, which retails for just $30. And it does the trick: With the Glacier, you get a rugged build with a strong cooking platform and reasonable boil time of 2 minutes for half a liter. Weighing 5.9 ounces, the GSI is reasonably light, although upping your budget to the $50 MSR PocketRocket 2 will save you more than 3 ounces. 
Keep in mind that the GSI doesn't come with a pot for cooking food or boiling water, so you'll need to purchase one separately. We like the MSR Alpine Stowaway Pot as a nice budget option, or you can always check your thrift store for something relatively lightweight. On the other hand, it's worth considering an all-in-one starter set like the Soto Amicus Stove Cookset Combo. For $45, the Soto includes a canister stove (similar to the GSI Glacier) and two pots (1L and 0.5L in capacity), which is a really great deal and offers a nice level of convenience for those just starting out. For more, including integrated all-in-one cook systems, see our article on the best backpacking stoves.
Chemical water purifiers are one of the longest-standing water treatment methods, and still popular today for good reason. In short, they're the simplest, lightest, most compact, and cheapest method available, and they offer protection against viruses as well (filters only guard against bacteria and protozoa). What's more, chemical purification won't break on you like a filter might.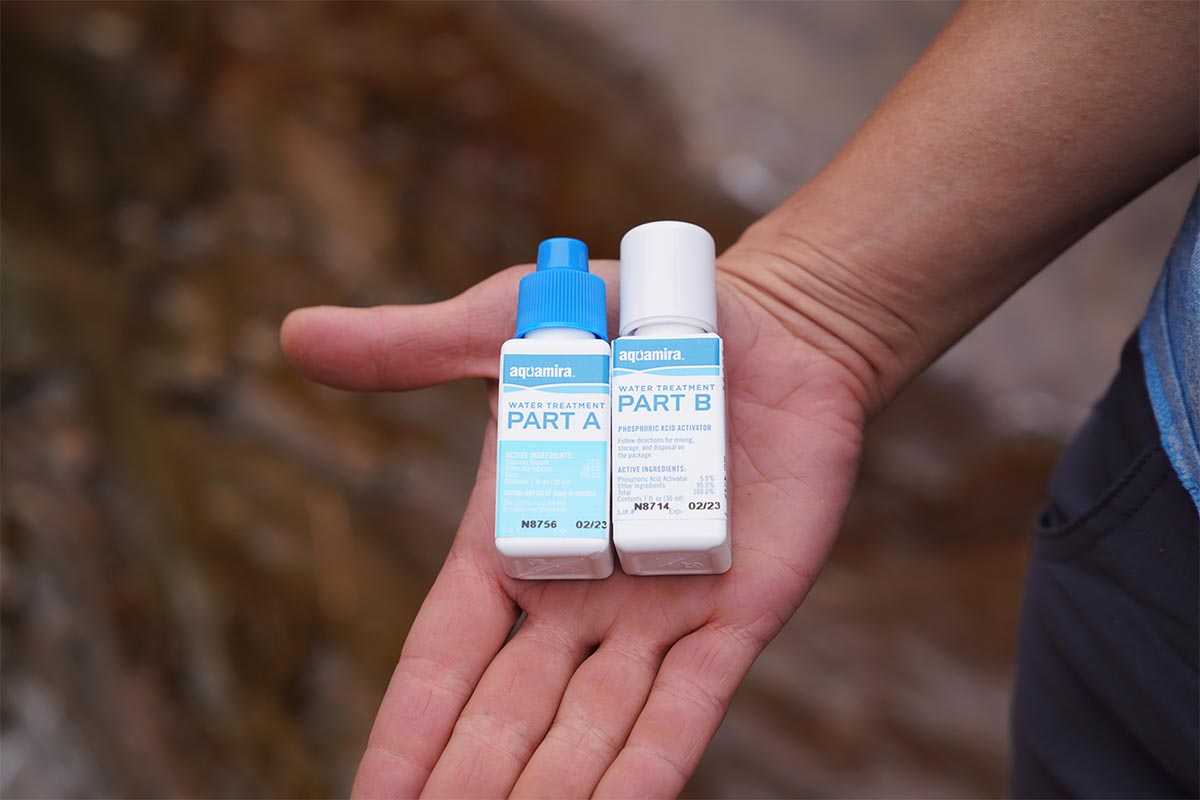 Aquamira Water Treatment is our favorite budget option—for only $15, you get enough solution to treat 30 gallons of water (all for only 3 ounces). You'll want to be sure to gather your water from clear or fast-moving sources as Aquamira does not include a filter, and some might want to use drink mix to cover up the faint chemical taste. However, these are small complaints, and the effectiveness, packability, and low price of the Aquamira Water Treatment make it an ideal option for any backpacker—budget-oriented or not. For a full breakdown of the category, check out our article on the best backpacking water filters and purifiers.
These days, $40 will buy you a premium, fully featured, and reliable headlamp, which might be worth the investment for many. Dropping down to the $20 price range is where we find our budget models, many of which are cheaply made and not ready for the backcountry. But Black Diamond's new Astro 300 is a high-quality outlier: You get BD's trusted quality, a solid 300 lumens, dimming and strobe modes, and four whole hours on the brightest setting (and 140 hours on low). You won't get a red-light function (nice to have in a tent at night) or rechargeable battery, but for a simple backpacking headlamp, the Astro offers long-lasting quality at a low price point. For more, see our article on the best headlamps.
While not every hiker uses trekking poles, they are a useful tool for minimizing impact on joints and increasing stability. For a budget option, we turn to REI Co-op's Trailbreak poles. With an aluminum build, rubber grips, and telescoping design with lever locks, the Trailbreak gets the job done for just $70. And while REI only offers the poles in one size, they're adjustable from 105 to 140 centimeters, and the foam grips are contoured to be comfortable in a wide range of hand sizes. You can spend up for lighter, more packable, and more durable models, but in the end the Trailbreak provides basic balance and support for most established trails. To see more of our favorite designs, check out our article on the best trekking poles.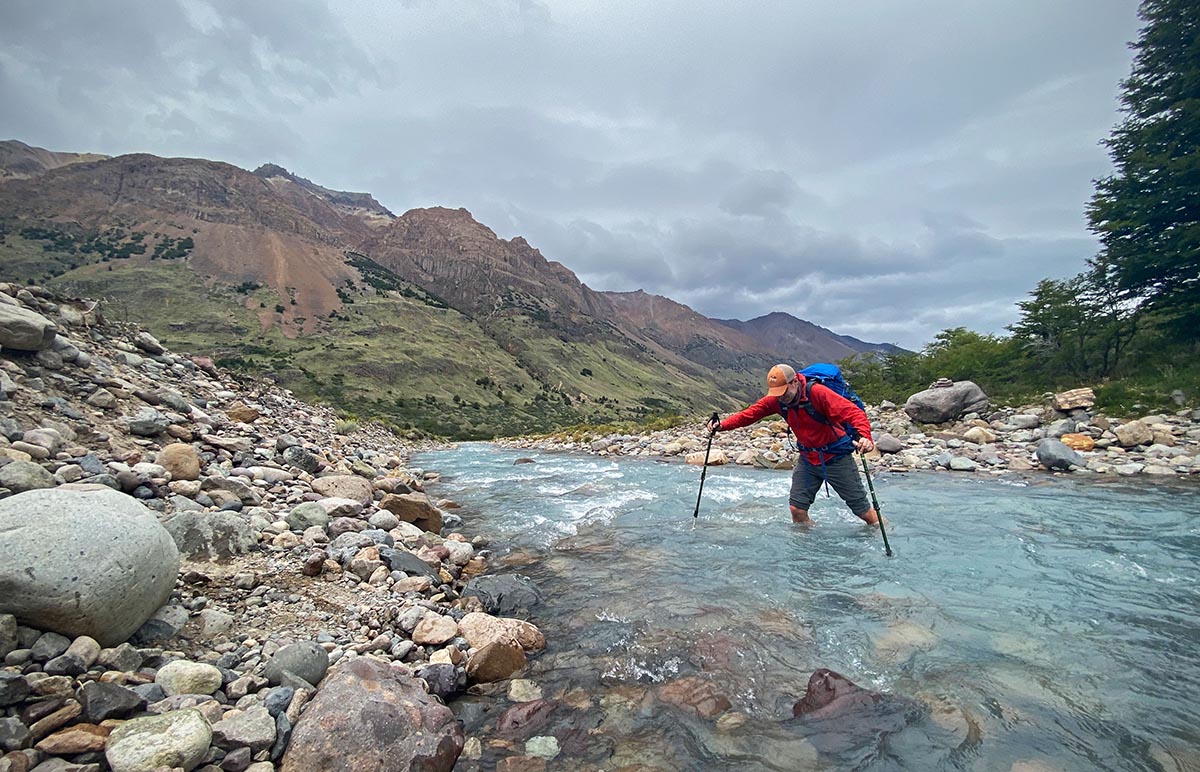 Like backpacking packs above, hiking shoes aren't a place to skimp and go overly cheap. Merrell's very popular Moab 3 ($110) is a proven winner in this category and our favorite budget hiking shoe, combining a high level of comfort with protection and stability. Sporting a durable yet breathable suede and mesh upper and good cushion underfoot, the Moab 3 clocks in at a respectable 1 pound 14.7 ounces for the pair. The design is also available in a waterproof version, or in a mid-height hiking boot model (the Merrell Moab 3 Mid) for $120. You won't get quite the weight-savings, support, or traction with the Moab 3 as you do with more expensive models, but it's noticeably comfortable and thus well-suited for rocky trails and loaded-down packs. For more on this category, see our articles on the best hiking shoes and best hiking boots.
Most backpackers head out in mild to moderate weather and in the summer months, so you're typically safe in choosing a jacket on the budget end of the spectrum. Marmot's PreCip has been a go-to in this category for years, and the latest Eco model hits a nice combination of price and performance. At 10.6 ounces and featuring a 2.5-layer construction and full seam taping, the jacket is relatively light, packs small, and provides good protection in rain and wind. That said, a heavy downpour will eventually overwhelm the fabric and you'll likely feel a little clammy inside when you break a sweat. Depending on where you'll be backpacking and the time of year, you may need more protection. To see a full list of options, including some high-performance models built for the alpine, check out our articles on the best rain jackets and best hardshell jackets.
You simply cannot beat the warmth, light weight, and packability of a down jacket, which is why they are so ubiquitous in the outdoor community. But don't be fooled: you don't have to dish out $400 for a down jacket that will keep you toasty in most 3-season conditions. The REI Co-op 650 Down Jacket 2.0 is a solid value for only $100, with middle-of-the-road 650-fill down and a reasonable 11-ounce weight. And aside from function, the Down Jacket 2.0 looks good too, with great crossover appeal for trail-to-town use. Sure, you'll get more warmth and packability with higher fill power, but the REI is still a great option for light adventuring, daily use, or as a midlayer in winter. For a look at the rest of the market, check out our article on the best down jackets.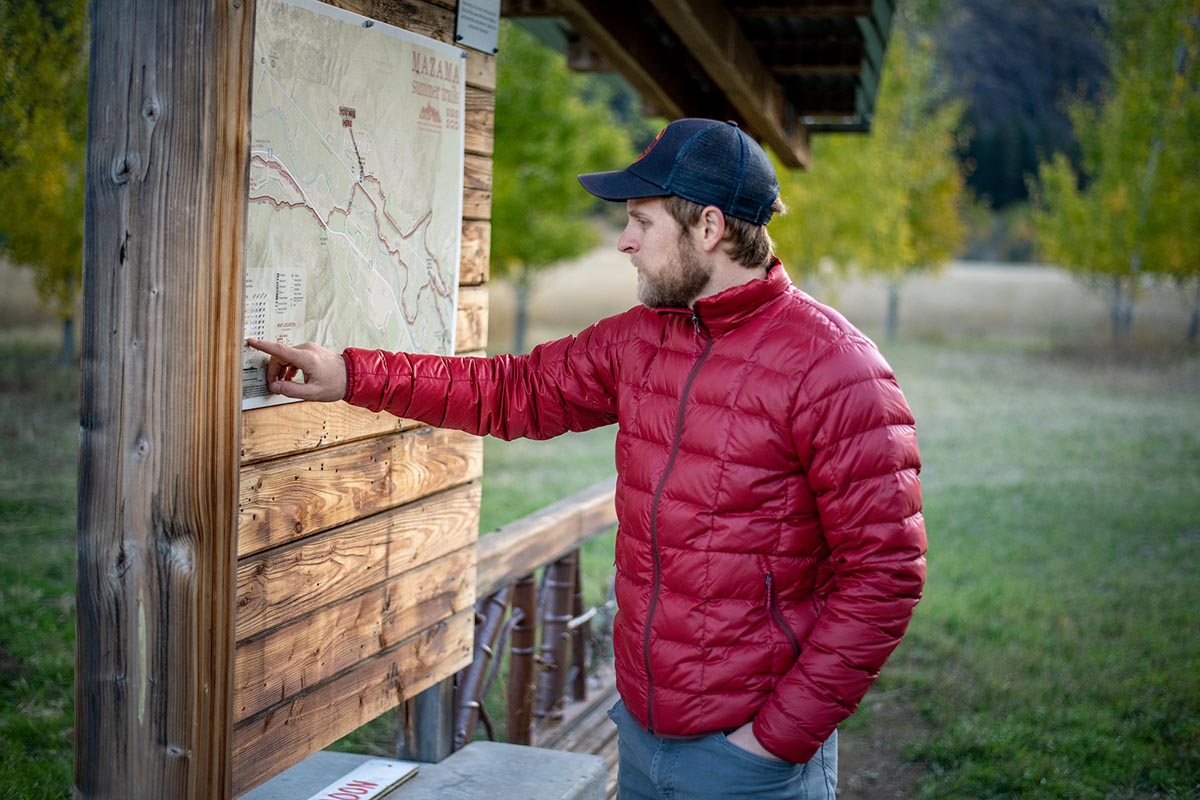 Totaling It All Up: About $900
The full MSRP from the products above comes to over $900, but bear in mind: You don't have to purchase everything on this list to get out and enjoy the backcountry. To start, a tent, backpack, sleeping bag, and sleeping pad are your most essential starter kit for a night out, and all told will run you a much more manageable $472. Shopping sales is a great way to save big while building your backpacking kit, as is renting, borrowing or buying used gear at first. But the key is to remember that good gear will last you a long time, and the more you get out and enjoy backpacking, the lower the cost per use of your kit becomes. 

Where to Find Deals on Backpacking Gear and Clothing
We always encourage you to support your local gear shop first and foremost, but for the absolute best deals on backpacking equipment and clothing it can be a good idea to shop around. Online, REI and Backcountry are two of our favorite retailers, and both host significant sales throughout the year that offer savings of 20% or more on nearly their entire inventory. If you shop at REI, it pays to become a member (with a one-time-fee of $30) in order to access some of these discounts and receive a yearly dividend (up to 10% back on purchases). Unsurprisingly, Amazon is also a great place to find some types of outdoor gear (including footwear and tents) for a low price. And we'd be remiss not to mention the numerous used gear programs online, including REI Used Gear, Arc'teryx Used Gear, The North Face Renewed, and Patagonia Worn Wear. After all, what's not to like about saving cash and being an ethical consumer at the same time?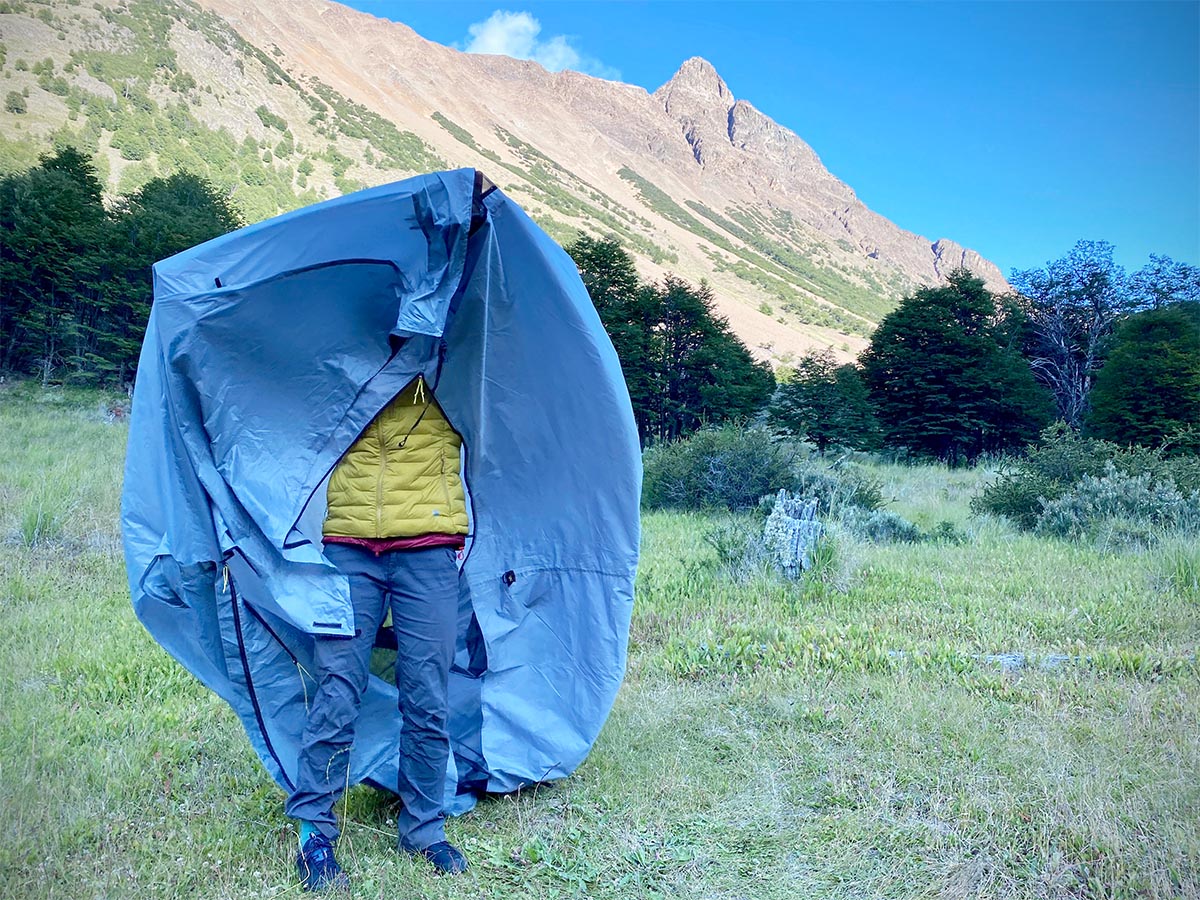 It's also worth looking for a used gear or gear consignment shop in your neck of the woods. Buying used gear can be a great way to find quality items at huge markdowns, and we always love the opportunity to give someone's old tent or backpack a second life. Shopping this way can be a bit of a gamble though—especially for the uninitiated—and you will want to be sure to inspect whatever you're considering to see that it's in good shape. A couple examples of used gear shops are the Boulder Sports Recycler in Boulder, Colo., Second Wind Sports in Bozeman, Mont., and Switchback Gear Exchange in Grand Rapids, Mich. (not to mention, they have a fantastic name).

Where We Draw the Line: Cheap but not Junk
The gear we've compiled on this list is on the cheaper end of the spectrum, but it's certainly not junk. In fact, the majority of our picks are just as high-quality as the more premium offerings, but the use of heavier materials or simpler designs results in a lower price point. In other words, for the entry-level or casual backpacker, these recommendations aren't just the cheapest options—in most cases, they're the best. And a word of caution before you go looking for even more affordable items: don't buy low-quality gear. Backpacking gear is an investment, it's important that it works well (no one likes a leaky tent), and the longer it lasts, the more junk will stay out of our landfills. 
See Our Backpacking Gear Reviews
Read More From Switchback Travel