Picking an all-mountain ski can be a daunting task. The category itself covers a wide range of styles from groomer-oriented skis to more powder-friendly designs. In addition, the sheer number of models and annual turnover in the market further muddy the waters. To provide clarity for those on your hunt for a new pair of sticks, below we've broken down the key steps in choosing an all-mountain ski, from snow conditions and waist width to understanding rocker/camber and turn radius. And for a look at our top picks, see our articles on the best all-mountain skis and best women's all-mountain skis.

1. What Type of Terrain Do You Ski?
A great way to start your all-mountain ski search is to take a realistic look at where you'll be spending your time on the hill. There's no such thing as a true "do-everything" ski, so think about how often you'll be skiing groomed runs. Common features of hardpack-focused models are a narrower waist width (more on this in "Select the Ideal Waist Width" below) and a nimble yet planted feel. These skis are often referred to as "frontside" or "all-mountain front." On the other hand, if you ski more powder days and in places like the back bowls, a wider build that prioritizes flotation will be a better bet (these are known as "all-mountain back" or "all-mountain wide" skis). And those who land somewhere in between will want a balanced design that performs reasonably well at both.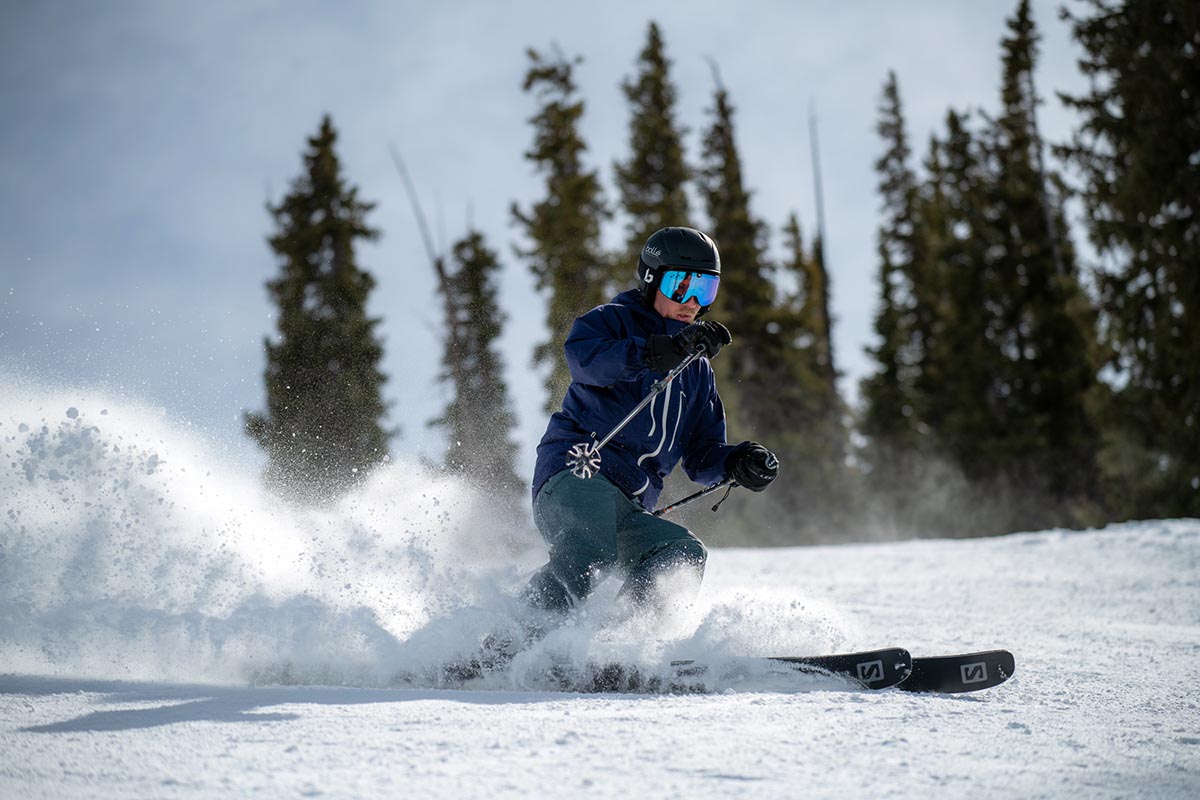 In addition to your preferred terrain type, consider the snow conditions where you ski most. Within the U.S., annual snowfall and ski conditions vary significantly based on region. Starting with the East Coast and Midwest, you can expect fewer powder days and longer stretches of firm snow and even ice all over the mountain. This means if you want a one-ski quiver, you should stick to something that's comfortable on hardpack. The West sees a lot more snow throughout the winter, especially in states like Colorado and Utah, and the same can be said for the Pacific Northwest, Alaska, and California. For these areas, it's best to focus your search on wider and more well-rounded designs that won't get overwhelmed on those glorious pow days.

2. Select the Ideal Waist Width
Easily one of the most important factors in how an all-mountain ski will perform is its waist width. This measurement is listed by every manufacturer and is taken from the middle of the ski at its narrowest point (modern skis have an hourglass shape and will be wider at the tip and tail). Within the all-mountain category, the number ranges from approximately 75 millimeters all the way up to 110. On the narrower end of the spectrum, you can expect a ski that's easier to handle and more comfortable on hardpack and firm snow, like Rossignol's beginner-friendly Experience 76. Opting for a wide model like Nordica's Enforcer 100 logically gets you greatly improved flotation in the soft stuff. Below are some general waist width recommendations that factor in terrain and region. 
All-Mountain Groomer Skis: 75mm to 90mm
All-Mountain East Coaster: 80mm to 95mm
Heart of the All-Mountain Range: 88mm to 100mm
All-Mountain Rocky Mountains/West Coaster: 90mm to 105mm
All-Mountain Powder Skis: 100-110mm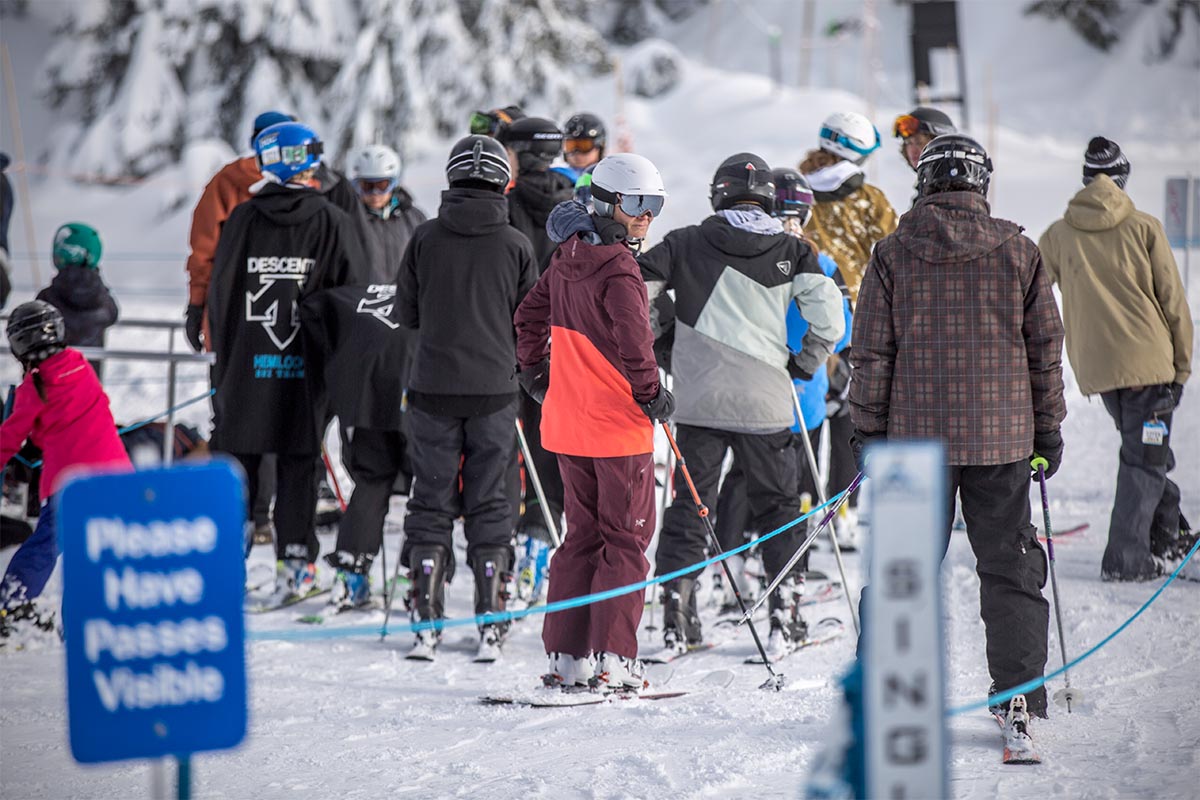 It's worth noting that some popular all-mountain skis come in a variety of waist widths to accommodate different types of terrain and skiers. For example, the aforementioned Rossignol Experience comes in five widths: 76, 78, 80, 82, and 86mm (the latter two including the "Ti" versions). Similarly, Nordica's Enforcer is offered in 88, 94, and 100-millimeter options, and the women's Santa Ana collection is available in 84, 88, 93, and 98-millimeter models. The broader point is that if you like a certain model of ski based on all of the characteristics and considerations covered in this article, you may have some flexibility in choosing a waist width to match where and how you ski. If you're still not sure what width is right for you, check out our article Choosing the Right Ski Waist Width.

3. Ability Level and Ski Flex
The next step is defining your ability level, which correlates closely with the stiffness of your all-mountain setup. Beginners in general will want a softer-flexing ski that's easier to initiate a turn and control (a ski that's too stiff will do the opposite, requiring much more force to turn or stop). Intermediates or ambitious beginners will want moderate stiffness that provides greater stability at speed and energy for snapping between turns. And advanced and expert riders will be happiest with a high-end, sturdy design—often including two sheets of rigid Titanal in the construction—that maximizes power and top-end performance at higher speeds. The good news is that nearly every manufacturer and retailer specifically calls out both the corresponding ability level and approximate flex of their listed skis, so keep a close eye out for that. We find The House's all-mountain ski listings in particular to be helpful and clear in this regard.

4. Picking the Right Ski Size/Length
As you narrow your ski search, you can start thinking about the ideal length. Right off the bat, this is not something to overlook—skiing the same model back-to-back in different lengths often will reveal big differences in their personalities. The starting point for sizing will be your height, and most manufacturers and retailers provide a general chart that will have the skis coming up to about your nose (including this one from The House). Next up is adjusting that length based on your ability level: Beginners usually will want to trend toward a shorter ski that's easier to manage, while those in the advanced or expert category will want more length for greater speed and a more planted feel (intermediates usually can stand pat). Moreover, shorter skis are nimbler and faster turning in tight spots, while longer designs float better on deep days. And finally, you can make adjustments based on specific designs: An off-trail-focused ski with a lot of tip rocker means the front end is raised off the ground, effectively shortening the ski, which means you'll want to size up.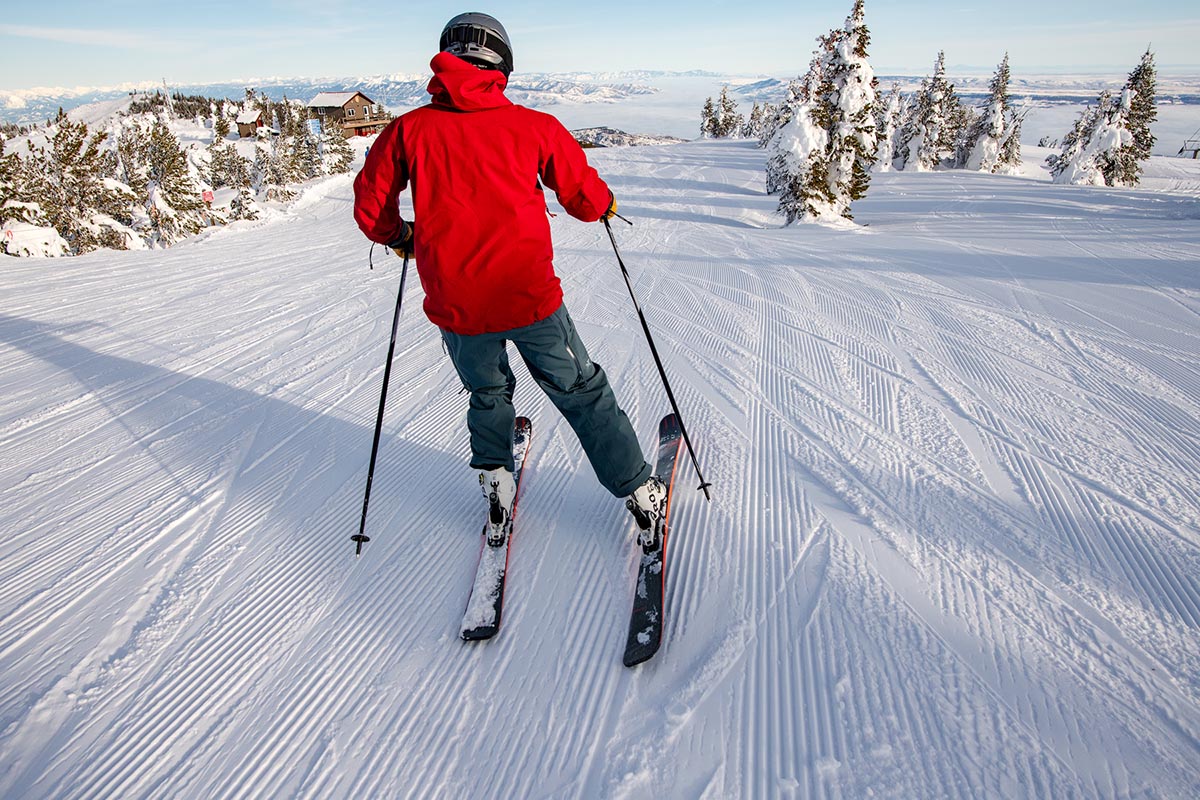 5. Understanding Rocker/Camber Profile
If you set a ski on a table and look closely at its side profile from tip to tail, and you'll see that it's far from flat. Traditional skis or those that are primarily tuned for groomed runs will have what's called camber. This means that the ski arcs upwards in a half-moon shape underfoot and only comes into contact with the ground near the ends. The benefits of this design are that you can generate a lot of power as the ski flexes, and you can push your metal edges into the snow to get a strong hold in a turn. Rocker, on the other hand, does the opposite: The ski is essentially flat underfoot and raises up at each end like a banana. This type of ski is usually skittish on hardpack but enhances flotation and the ability to surf and maneuver in soft snow.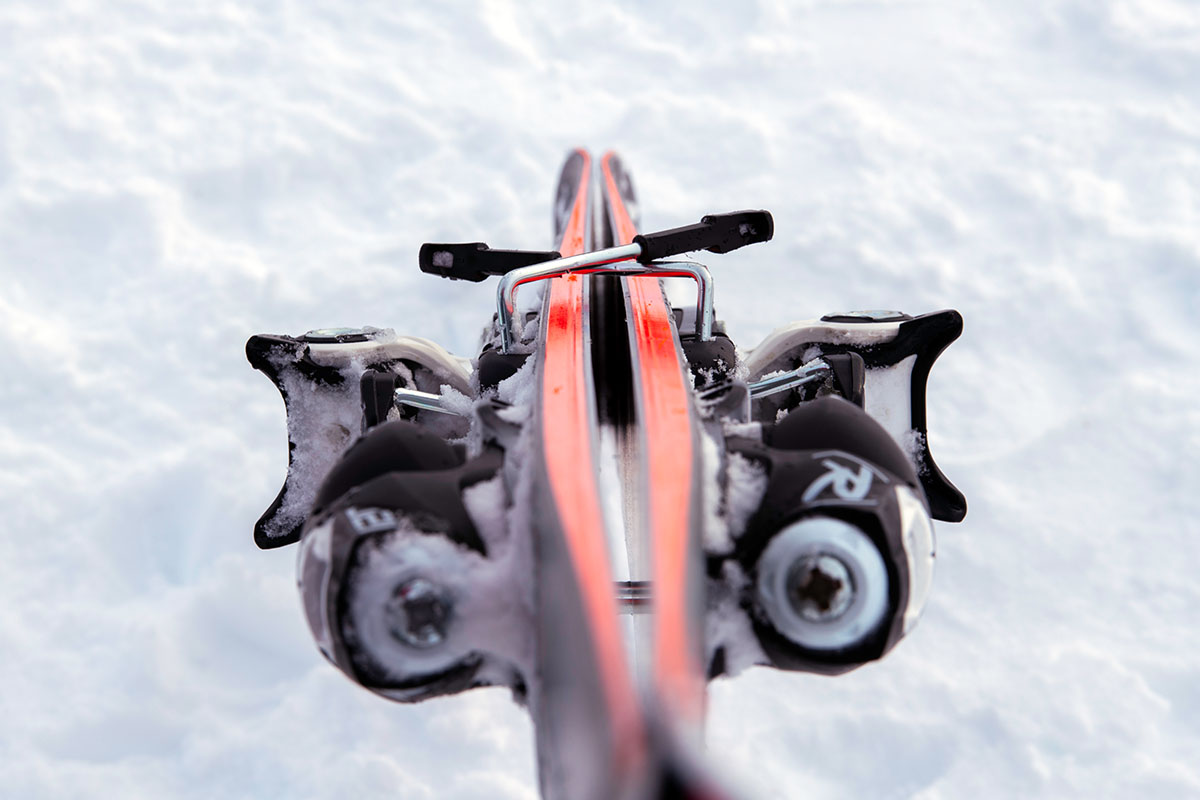 Both camber and rocker have their merits, but within the all-mountain category, you'll often run into skis that combine the two into a mixed camber/rocker profile. What this means is that there will be some level of camber underfoot, but the tip (and sometimes tail) will have an early-rise rocker. This combination delivers what most riders are looking for in a versatile ski: It can put the power down, turn easily, and maintain good control for hardpack days while providing improved flotation and performance off-piste. A great example of this concept is our current favorite all-mountain hard charger: Volkl's M6 Mantra. The prior-generation models used a full rocker setup that was polarizing, but starting with the M5 (and now the M6), you get a mixed rocker/camber design.

6. Turn Radius (Sidecut)
Rocker/camber refers to the side profile of the ski, while the sidecut or turn radius relates to its shape. As mentioned above, modern all-mountain skis are much wider at the tip and tail than at the waist, and how pronounced this shape is correlates with how the ski wants to turn. Skis that are significantly narrower at the middle relative to the ends will have a lower turn radius (measured in meters). These types of designs prefer quick turns and excel in the bumps and tight spaces, but they typically aren't as stable at speed and come up short in flotation. As the turn radius goes up, the ski becomes faster in a straight line while improving in soft snow conditions (but compromising in turnability). Below is a quick breakdown of how the various turn radii perform.
Carving: Less than 16 meters
All-around: 16-20 meters
Sweeping turns in powder: 20+ meters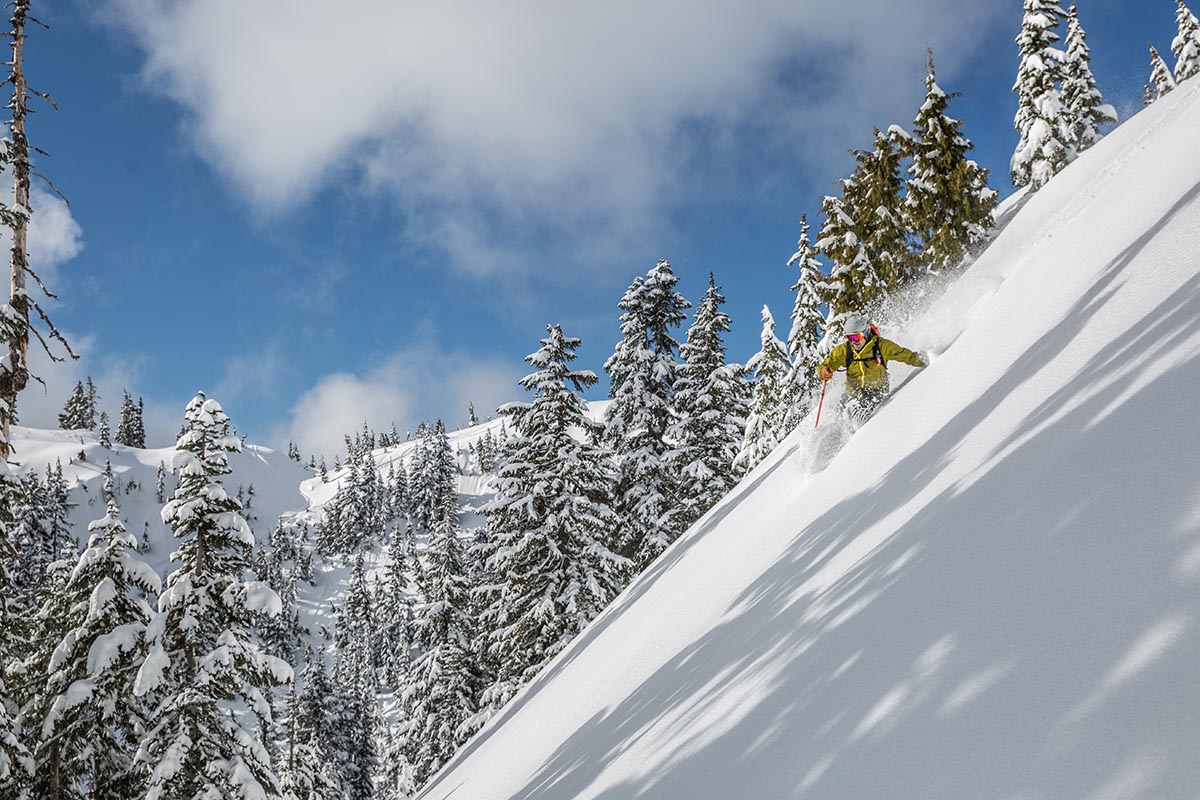 7. Ski Cores and Laminates: What to Look For
Skis are complex to make and include a lot of high-end materials and proprietary technologies, which makes analyzing their constructions rather challenging. In addition, just because a ski advertises that it has something fancy like carbon fiber doesn't necessarily translate to performance on the slopes. The good news is that the all-mountain market is flush with quality options and they're only continuing to improve. Increased use of carbon fiber (when done correctly) has decreased weight while improving stiffness and response. And on high-performance skis, layers of Titanal provide a very noticeable boost in power. If you want a top-end ski, these types of materials—along with a quality wood core—are well worth having on your radar. On the budget end of the spectrum, we shy away from recommending skis with foam or composite cores as those aren't long-lasting or as easy to progress with as wood.
A final thought in regard to ski construction is that the performance potential of a build generally lines up consistently with price. Upgrading from a mid-range design like the $500 Atomic Maverick 86 C to the $900 Rossignol Experience 86 Ti (our top all-mountain pick for groomers) nets you a number of benefits. The Rossi has metal in its construction—something the Atomic lacks—which translates to more power and a significant bump in high-speed stability. As such, the Atomic is best for intermediates or those who want a lightweight and easy-to-manage design, while the Experience is a rocket in the hands of a capable pilot. Despite having similar dimensions, the two skis are on opposite ends of the performance spectrum.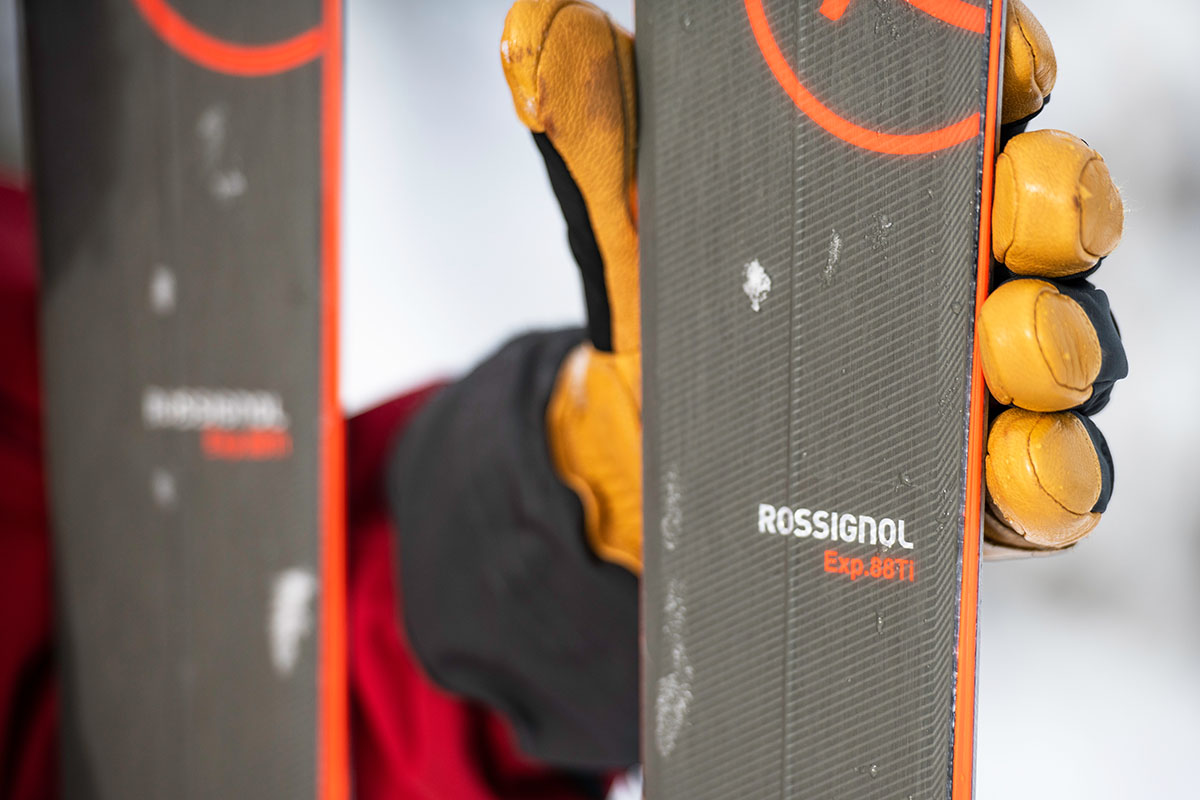 8. What Makes a Good Mogul Ski?
Let's say you like to ski the legendary bumps at Winter Park in Colorado. Maybe Outhouse is even your training run of choice. What makes for a great all-mountain ski that excels in a mogul field? In general, you should look for a model with fairly soft shovels for keeping those ski tips light and flexy as you're bouncing around, a pretty sturdy tail for stability, and a medium to slim waist width for snappy turn initiation. And for those still learning the ropes, it's a good idea to size down length-wise to make the skis nimbler and easier to handle. The good news is that many of those key features can be found on a quality all-mountain setup, such as Blizzard's Rustler 9 and Salomon's QST 92 (for intermediates) or Nordica's Enforcer 94 (for advanced riders).

9. What About Skis with Integrated Bindings?
In your all-mountain ski search, you'll inevitably run across designs that come with integrated bindings. To start, it's important to differentiate these from ski packages that you'll find at retailers like Evo that include both a ski and binding in a single purchase (the key difference being the two pieces are not attached). An integrated setup includes a plate on the top of the ski that the binding connects to. The main benefit of integrated bindings is that they take away some of the guesswork: The ski and binding (and its brake) will fit together and are a match performance-wise. Understandably, this style is popular among beginner skis and budget-friendly groomer models. But if you want a performance ski, it's best to pair them yourself. The options are much wider and more varied in the all-mountain market, and it's actually quite easy to match a suitable binding to your skis (for more information, see our article on the best ski bindings).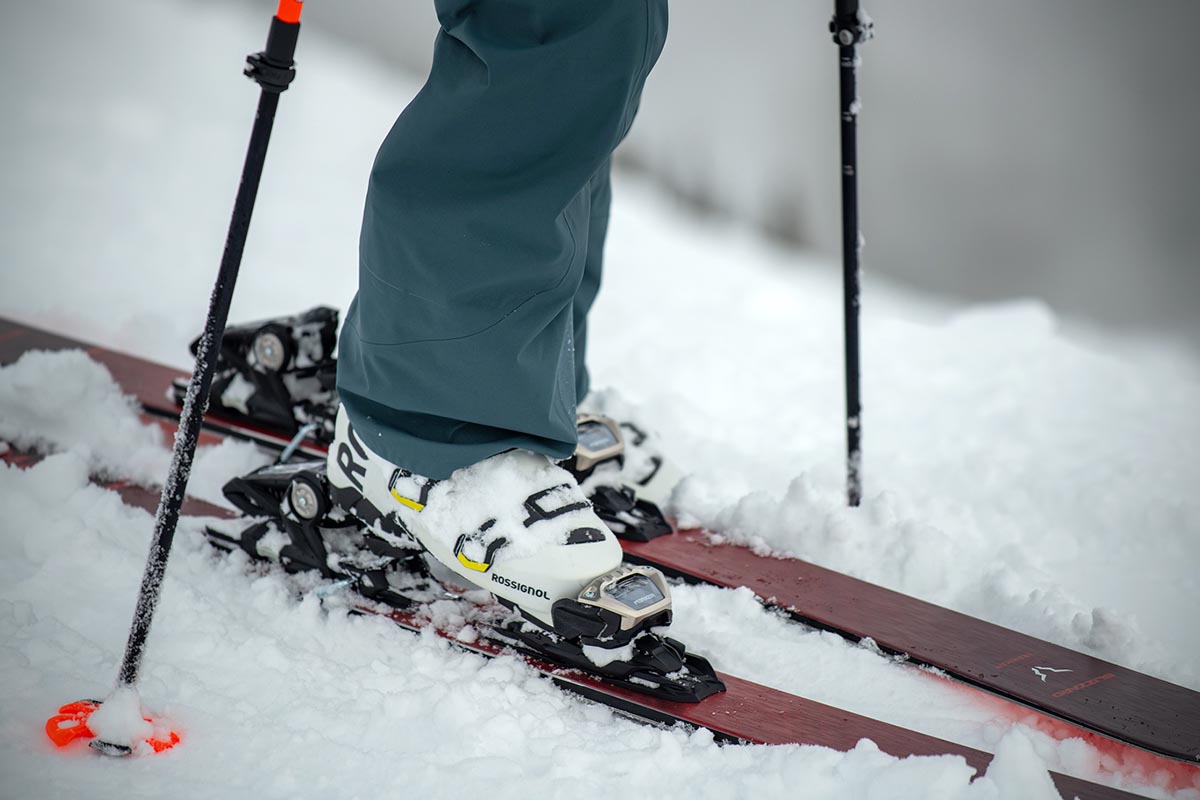 10. Women's-Specific Skis
In general, all-mountain skis are unisex: Factors like a person's height, weight, skiing style, ability level, and terrain will dictate the ideal model. But there are a number of women's-specific skis available that differ from unisex designs in some key ways. For one, skis that are marketed for women are made in shorter lengths—sometimes 20 centimeters less than the shortest available unisex version. Further, women's skis are typically lighter, which makes them a little easier to handle for beginners or intermediates. Finally, they usually have a unique topsheet design. In the end, no matter your gender, if you'll benefit from a shorter and lighter setup, a women's ski should be on your radar (we've compiled a dedicated list of our top women's all-mountain skis here). But stronger and more aggressive riders should be better off with a unisex ski.
 
11. Our Top All-Mountain Ski Picks
If you'd still like a little help narrowing down your selection, below are our team's current favorite all-mountain skis and women's all-mountain skis broken down by category, from hard-charging designs for speed-focused riders to narrower groomer- and beginner-friendly options. For a wider look at the market and detailed buying advice to help you get started, check our articles on the best all-mountain skis and best women's all-mountain skis. 
Men's/Unisex All-Mountain Skis
Best Overall: Nordica Enforcer 94
Best for Hard Chargers: Volkl M6 Mantra
Our Favorite Playful All-Mountain Ski: Blizzard Rustler 9
Best for Groomers: Rossignol Experience 86 Ti
Best for Powder: Salomon QST 106
Best for Beginners: Rossignol Experience 78 Ca
Women's All-Mountain Skis
Best Overall: Nordica Santa Ana 98
Best for Hard Chargers: Volkl Secret 96
Best for Intermediates: 4FRNT MSP CC
Best for Carving: Blizzard Black Pearl 88
Best for Powder: Salomon QST Stella 106
Our Favorite Playful All-Mountain Ski: Black Crows Atris Birdie
Best for Moguls: Icelantic Riveter 95
Back to Our All-Mountain Ski Guide  See Our Ski Gear Reviews
Learn More About Ski Gear