On Norway's Lofoten Islands thirty minutes east of Svolvær is the picturesque fishing village of Henningsvær. Comprised of a number of islets spread among the waters of Vjestfjord, Henningsvær has the most well-preserved architecture of the traditional Norwegian villages, quirky cafes and restaurants, the Hus Gallery, and a burgeoning adventure scene. It's a wonderful place to visit. Henningsvær's dramatic setting is on par with Reine, with colorful buildings lining the harbor and the steep mountains of Austvågøya as a backdrop. For those flying or driving to Lofoten, Henningsvær is a perfect introduction to the islands before heading west. For those coming from Bodø, Henningsvær can be your last stop before Svolvær.
 
Things to Do in Henningsvær
Walk the Harbor
The bridge connecting Henningsvær to the main island of Austvågøya was not constructed until 1981, sparing the village from the ugly concrete era of the 1960's and 1970's. The wooden buildings are historic relics, and it's a joy to stroll the harbor (morning and evening are best) to take in the beautiful surroundings.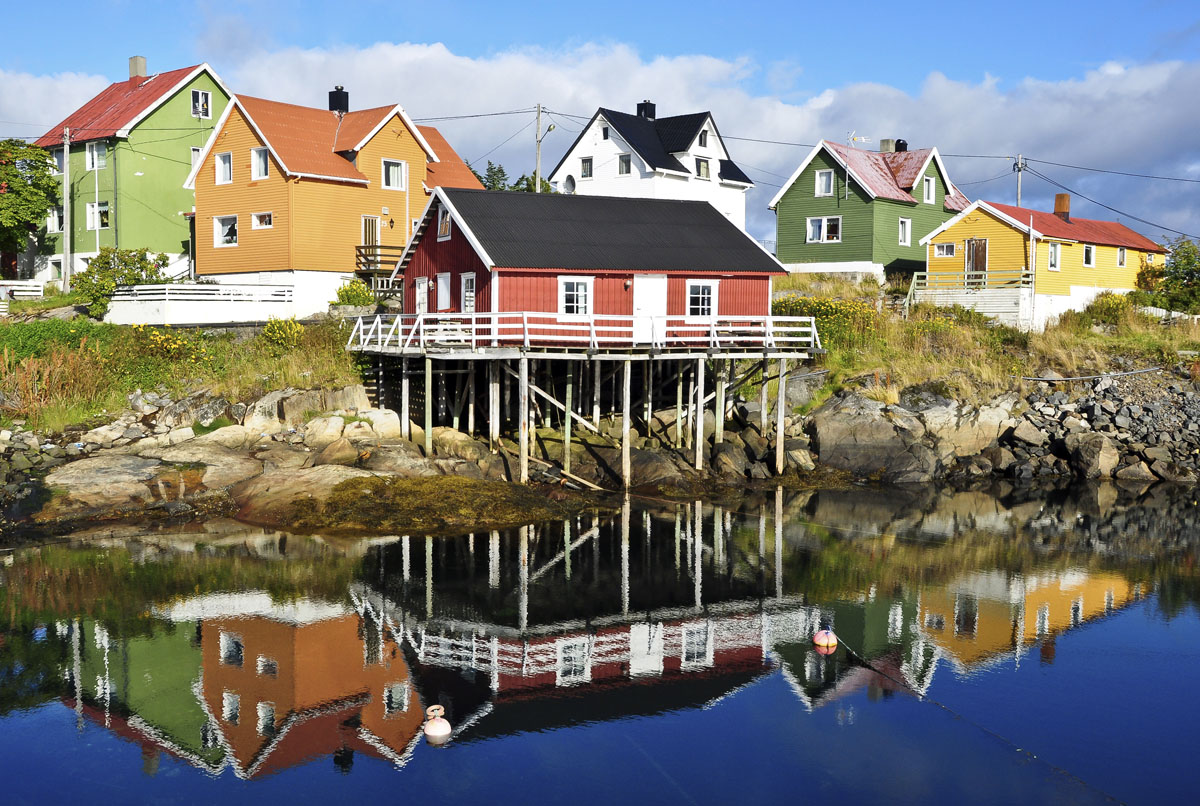 Hike Glomtinden (map; easy to moderate)
The short and steady walk up Glomtinden (419 meters) ends with terrific views of the Lofoten Islands including Vågakallen (943 meters) to the south and Svolvaer to the east. The hike takes approximately one hour each way with an elevation gain of 300 meters. From Henningsvær, take the main road north and turn right at the E10. The trail begins at the first left hand turnoff after the road hits the lake (Rørvikvatnet). For more great trails in the area, see our article on hiking the Lofoten Islands.

Galleri Lofotens Hus (Lofoten House Gallery)
The Hus Gallery exhibits some of the finest paintings from northern Norway and the Lofoten fishing villages. Located in a former cannery, more than one hundred works by local painters are on display including artist Karl Erik Harr. The gallery is open from March to September.

Nord Norsk Klatreskole (North Norwegian School of Mountaineering)
One of the great institutions on the Lofoten Islands is the North Norwegian School of Mountaineering, a hybrid climbing and skiing school, hostel, and travelers bar. Lofoten is off-the-beaten-path adventure destination but considered to be world-class for those in the know. The school brings together everyone from novices to seasoned veterans looking to get outdoors.
Learn More About the Lofoten Islands