Europe's true wilderness is found in Norway, and some of the country's wildest terrain is in its northern reaches. Above the Lofoten Islands are the Arctic regions of Troms (home to the bustling island city of Tromsø), and Finnmark, the far north of Norway that borders Finland, Russia, and the Arctic Ocean.
Aside from Tromsø, northern Norway hosts only a handful of small civilizations, as well as Finnmark's indigenous Sami people, who have inhabited the area for more than 10,000 years. Few continental places on earth feel as close to the elements: in classic Norwegian fashion, mountains, fjords, and islands dominate the landscape. The drama is further enhanced by the high Arctic location. 
The most visited destination in Northern Norway is Nordkapp (the North Cape), commonly referred to as the northernmost point on mainland Europe. The point has a large viewing area that attracts tourists from all over the world (the Hurtigruten ships stop nearby). The vista is spectacular and it's of little consequence that the real northernmost point on mainland Europe is neighboring Knivskjellodden, which is 1,500 meters farther north.
The extreme northern tip of the country is the Finnmark region. Finnmark is big and barren—even for Norway it is off the beaten path. But adventure opportunities abound for the motivated and hearty. The region is home to five national parks that hold a number of distinctions including the world's northernmost pine forest and Scandinavia's northernmost glaciers. The wildlife watching is the best in Norway including brown bears, reindeer, lynx, wolverines, and endangered Arctic foxes.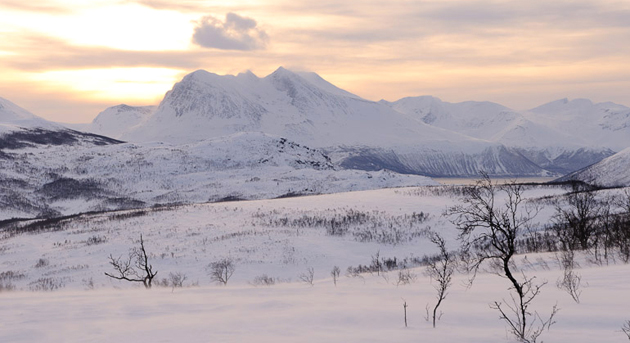 Finnmark also marks a cultural change from the rest of the Norway. Long before the early settlers and Vikings, the Sami people roamed the Arctic north in what are now Norway, Sweden, Finland, and Russia. They are the indigenous people of Scandinavia and their presence remains strong today. Through formal recognition of the Sami people, cultural preservation, and the establishment of the Sami Parliament, Norway is a world leader in protecting the rights of indigenous peoples.

Tromsø and the Island of Kvaløya
In addition to being a bustling city in its own right, the Arctic Capital of Tromsø is surrounded by varied wilderness. Just 15 minutes from the city center is the island of Kvaløya and wealth of accessible hiking opportunities.
 
The North Cape (Nordkapp)
Located at the top of Norway in the Finnmark Region, the North Cape symbolizes the edge of Europe. The 300-meter high cliffs perched over the Arctic Ocean are one of the best places in the world to see the midnight sun.