Nordkapp, also known as the North Cape, is one of Norway's most spectacular natural settings. Located at the tip of the remote Finnmark Region, which borders Finland and Russia, the cliffs at the point tower more than 300 meters above the Arctic Ocean. The panorama from the North Cape is one of the best places in the world to see the Midnight Sun: at the extreme latitude of 71°N the sun shines around the clock from May 14th – July 29th.
Getting to Nordkapp is easier than one might assume. The North Cape Tunnel was completed in 1999 and connects the roads of the Norwegian mainland to the island of Magerøya and the North Cape. The nearest airport is only 32 kilometers southeast in the small town of Honningsvåg (flights connect through Hammerfest and Alta). And Honningsvåg serves as a stop for the legendary Hurtigruten, or Norwegian Coastal Express, which sails year-round.
The point itself has a large viewing area anchored by the globe monument that symbolizes the edge of Europe. A short stroll away is a modern visitor center that offers exhibits featuring the area's storied history. The point is most crowded during July—the peak of tourist season—but there is a steady stream of people even during the bleak winter months.
It's worth noting that the North Cape is not, in fact, the northernmost point on mainland Europe. This distinction belongs to Knivskjellodden, the neighboring point to the west on Cape Nordkinn that is 1,500 meters farther north. Knivskjellodden is undeveloped but can be reached via a rocky 18-km round-trip hike. At the real northernmost point is a modest stone marker where hikers can document their accomplishment by signing the official DNT logbook. The best views of the dramatic cliffs of the North Cape are from Knivskjellodden.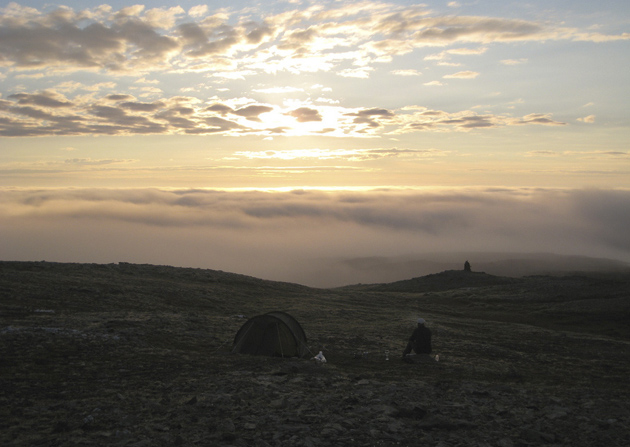 Why the error in declaring the North Cape as the northernmost point? There may be a historical basis dating back to a time before modern systems of measurement or digital maps. Perhaps the elevated viewpoint at the North Cape was too grand to pass up. Whatever the reason, traveling to this far corner of the earth is about much more than any one view.

Getting to Nordkapp
See the North Cape transportation options for more information on driving and the North Cape Tunnel, buses, flights, and the Hurtigurten.