The Satoro AR Zip Neck LS is Arc'teryx's newest offering in the world of performance baselayers. Consisting of merino wool woven around a nylon core, it has a super soft next-to-skin feel along with improved durability and abrasion resistance. With a low-cut chest zipper and slim fit, the Satoro AR is especially suitable for high-output activities like ski touring where you often find yourself sweating on the uphill then throwing on a warmer outer layer for the trip back down. Albeit expensive, this is a premium piece of clothing that is lightweight, comfortable, and durable. I will be reaching for it on my ski trips this winter as well as cool-weather running and hiking in the forest. Below we break down the Satoro AR's warmth, comfort, durability, and sizing and fit. And to see how the Satoro stacks up, check out our comparison table and article on the best baselayers. 
 
Performance
Fabric Composition and Weight
My measured weight of the Arc'teryx Satoro AR in a men's medium is 7.4 ounces, which is slightly lighter than the listed weight of 8.1 ounces and about average for a skiing baselayer. Most of the competition uses 100% merino in the construction, but the Satoro's hybrid build is made with durability in mind and uses 81% merino wool, 12% nylon, and 7% elastane. The 180g/m2 merino wool fibers are woven around a nylon core to reduce the chances of holes developing. Arc'teryx claims that the fabric is 20% stronger in burst strength tests and 50% more abrasion resistant in comparison to a pure merino wool fabric. Importantly, comfort hasn't been compromised by blending the fabrics (we cover this in more detail below).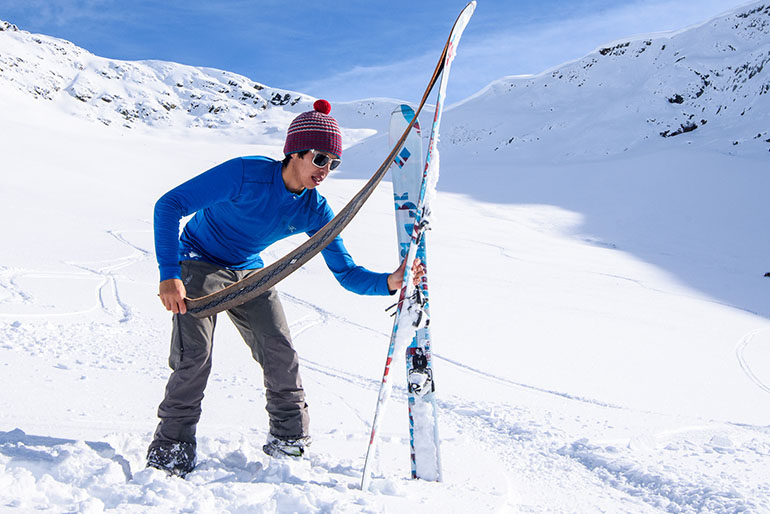 Keep in mind that there are discrepancies between the way gear companies describe the fabric "weight" of their baselayers. Arc'teryx labels the 180g/m2 merino wool as a "midweight" layer, while Icebreaker considers their 200g/m2 Bodyfit Zone as "lightweight." To add further confusion, Smartwool labels their NTS 150 Micro Crew also as "lightweight," despite being much thinner than the Icebreaker. Regardless of the name, for high output activities like ski touring in the Pacific Northwest, I prefer a baselayer with a weight of approximately 200g/m2.
 
Moisture Wicking and Warmth
To test the Satoro AR, I took it on an overnight ski touring trip in British Columbia's Coast Mountains. It was early season, so hiking in the rain to snowline is almost guaranteed, and it performed well in these warm and wet conditions. The merino handled temperature fluctuations admirably, keeping me comfortable from 41°F (+5°C) and sunny, 30°F (-1°C) and wet snow, and down to 19°F (-7°C) and dry when paired with a softshell jacket. I never felt too warm while skinning up a sunny slope, knowing I had the ability to ventilate quickly using the chest zipper and rolling up the sleeves.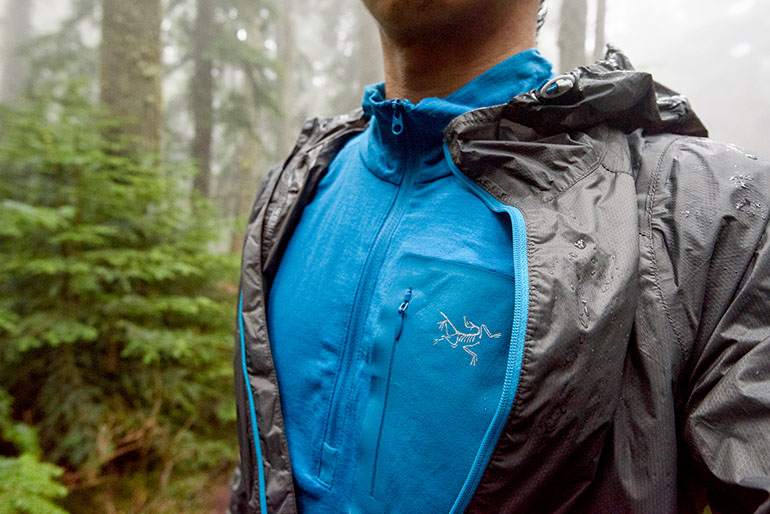 From sweating in the warm forest up to a cold and windy ridge, I found that the Satoro AR stayed relatively dry. This is a super breathable layer—during transitions as I was taking off my skins and switching into downhill mode, the light wind quickly evaporated any moisture built up during the uphill climb. And I didn't mind when it started snowing lightly as I skinned uphill with just the baselayer on.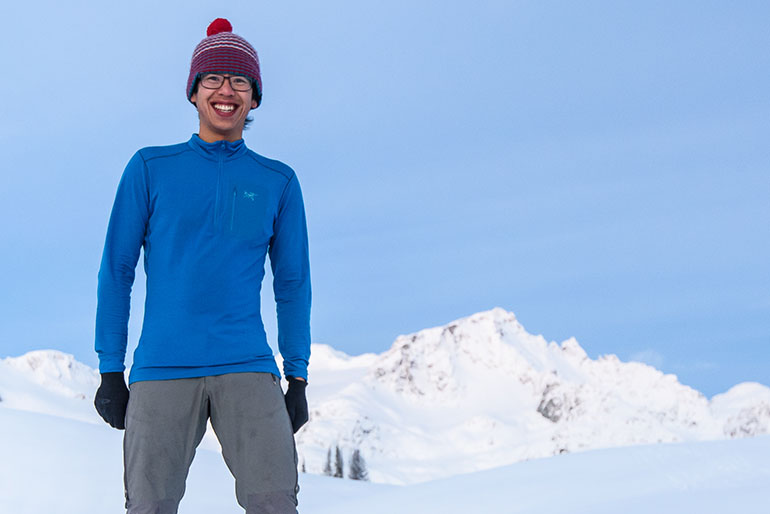 I arrived at our campsite after three hours of skinning from tree line into the alpine with no sweat stains visible. Normally I would switch into another baselayer for the evening as my baselayer would be damp from internal and external moisture buildup. However, I kept the Satoro AR on all night while sitting outside in our snow kitchen. With another softshell and puffy midlayer jacket on, I never felt too cold.
 
Comfort and Odor Prevention
As you would expect from merino wool, the Satoro AR is very comfortable. It's something that you can go to sleep in and wake up the next morning feeling good, similar to a 100% merino wool shirt like the Smartwool NTS Mid 250. The use of flat merrow seams is a nice touch—rubbing your hand along the small seams, you can hardly tell the difference between the soft threads of the stitching and the regular merino wool fabric. I have another merino wool long sleeve with traditional bulky seams that I tend to notice most around the back of my neck, but this issue never came up with the Satoro AR.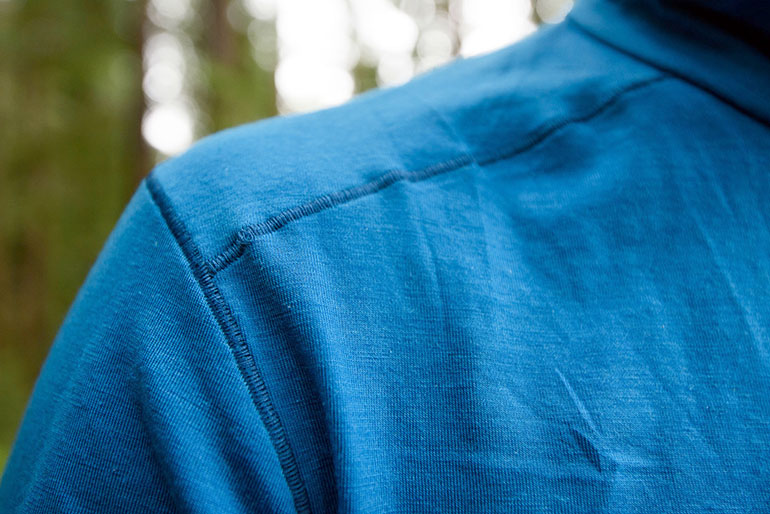 Merino wool is known for its odor resistance compared to synthetics (we cover this in detail in our article: Merino Wool: Is It Worth It?). I wore the Arc'teryx Satoro AR for two days straight, spending all day skinning uphill and sleeping in it at night. At the end of the trip, the smell was hardly noticeable. This might sound gross, but in the name of testing I put on the same unwashed layer a few days later for a trail run on a cool fall day. After two hours of running, the shirt still smelled relatively clean. I could feel myself sweating in it as I was wearing it near the upper temperature range in a damp forest. At the end of the run, I was surprised when the shirt was actually dry (it was my running vest that absorbed most of the sweat). This isn't to say that it's impermeable to smell—I've made merino wool shirts stink after extended days on a challenging spring ski traverse—but the Satoro keeps odor to an absolute minimum. This will make you happy, and your tent or hut mates happy, too.
 
Durability
The durability claims by Arc'teryx have yet to be fully validated by my personal experiences with this shirt. I've taken the Satoro AR for ski tours, trail runs, and mountain bike rides, and I can say that it feels strong yet soft.  I haven't noticed any piling up in the material, nor any signs of wear from where my packs sit—both very positive signs. I'll be doing more long-term testing through the winter season to see if it can live up to the abuse that I put the rest of my gear through ski touring in the Coast Mountains.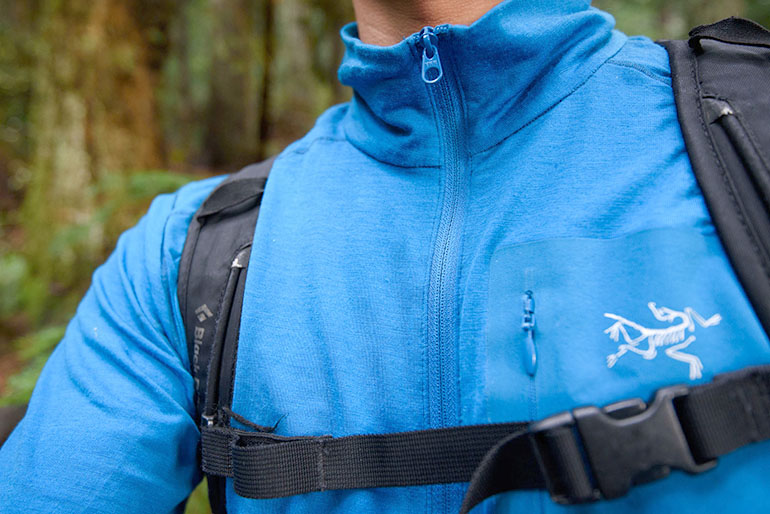 Fit and Sizing
The Satoro AR has a next-to-skin fit, which is common for baselayers for improving moisture management and thermal efficiency. I am 5'9'' with a skinny build, and usually I fit somewhere in between a small and a medium. Just like my Icebreaker Bodyfit 200, I sized up to the medium. The compromise was a slightly looser fit around the forearms but a more comfortable fit around my chest, shoulder, and stomach (the small size was too tight around my core). The Satoro AR has a long cut which keeps the bottom of the shirt from riding up through the waist belt while skiing up and down. The medium measured 24.5 inches from the front collar to the bottom of the shirt, approximately 2 inches longer than my other baselayer.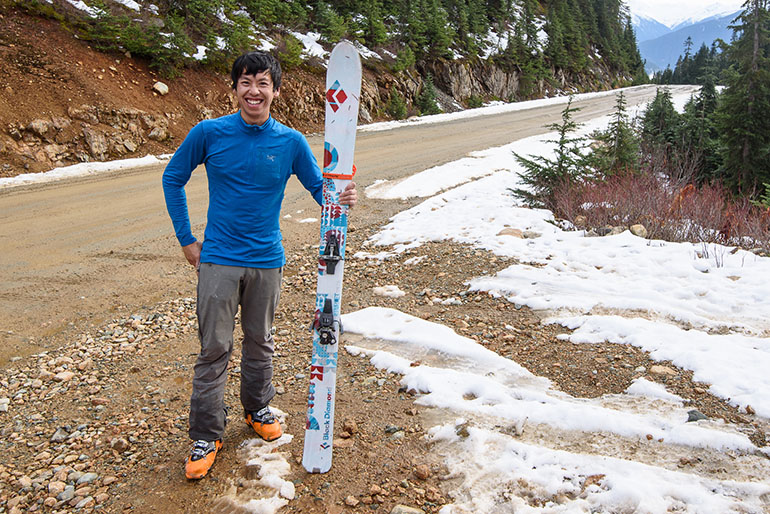 The Satoro AR features a 2.5-inch high collar for protection and warmth around the neck. I have a narrow neck, so I found the neck collar on the wider side. In addition, the collar would stay in place at first but soon would droop while skinning or hiking. This is a minor detail that I wouldn't notice while moving around, but something on the aesthetics side when looking at a photo of myself later.
The sleeves are long enough to cover up any gaps around the wrist when wearing lightweight ski gloves, and you can tuck your fingers into them for some protection while out on a trail run. However, there are no thumb loops for secure hand coverage. Personally, I don't mind this as the sleeves are long enough to cover my wrists, and I'm already wearing thin gloves while ski touring for hand warmth. In addition, the Satoro comes with a small laminated pocket on the left chest, which has just enough room to fit a small piece of electronics or a granola bar or two to warm up on a cold day.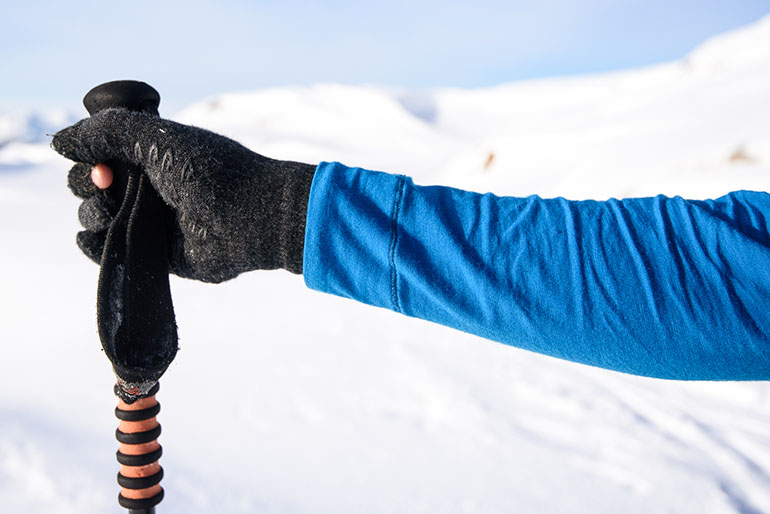 What We Like
Good warmth-to-weight ratio that works in a wide range of temperatures.
Chest zipper for quick ventilation.
Long torso length means your mid-section is always protected and the shirt sits well under your hip belt without riding up.
Core-spun wool technology offers increased durability over pure merino.
Super comfortable stretchy fabric with above-average odor resistant properties.

What We Don't
Expensive for a baselayer at $139 USD.
Skin-fit sizing means potentially sizing up depending on your build.
No thumb loops for those that prefer them.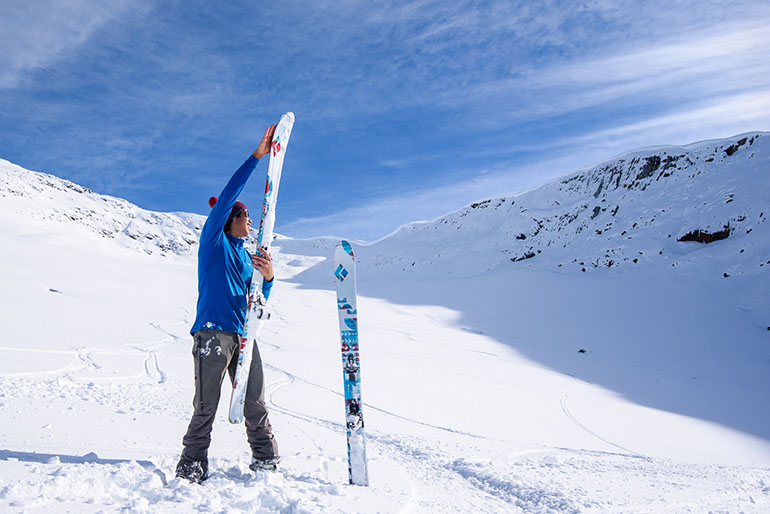 Comparison Table
The Competition
Durability is one of merino wool's greatest weakness, so it's not surprising that Arc'teryx isn't the only brand looking for a solution. Icebreaker offers the Bodyfit Zone Long Sleeve Half Zip, which retails for $120. The Icebreaker shirt includes thumb loops but lacks the chest pocket and is also heavier at 9.7 ounces for a men's medium. And unlike the Arc'teryx Satoro, the Icebreaker is only a partial blend. It uses 200g/m2 merino with only 4% Lycra on the main body and a core spun 120g/m2 merino nylon blend in the underarm panels. Both shirts breathe well, but if you're looking for the more durable option between these two, the winner likely is the Satoro AR. The Arc'teryx also beats out the 100% merino Smartwool NTS Mid 250 in durability, although the 250-weight Smartwool does offer more warmth.
Another interesting baselayer alternative is the Patagonia Merino Air Hoody. Both the Satoro AR and Merino Air utilize a merino blend and regulate body heat quite well, although the Patagonia uses more synthetic material (49% vs. 19% in the Arc'teryx). The benefit is the Patagonia is less restrictive and stretches more, but it's a little more expensive ($149), less durable, and has a polarizing style. If you value the hoody and very stretchy construction, the Merino Air may be the better option. But as an all-around baselayer for ski touring, running, hiking, and daily wear, the Satoro AR gets the nod from us.
If you're thinking about buying gear that we've reviewed on Switchback Travel, you can help support us in the process. Just click on any of the seller links above, and if you make a purchase, we receive a small percentage of the transaction. The cost of the product is the same to you but this helps us continue to test and write about outdoor gear. Thanks and we appreciate your support!
Depending on the seller, most products ship free in the United States on orders of $50 or more. International shipping availability and rates vary by seller. The pricing information on this page is updated hourly but we are not responsible for inaccuracies.
Learn More About Ski Gear