The Lowa Innox GTX is at the forefront of the hiking footwear movement: it's a lightweight boot that's comfortable, nimble, and has a Gore-Tex waterproof liner. And despite weighing 2 pounds for the pair, ankle support is plenty sufficient for hauling pack for fast-moving backpacking trips. Toe and foot protection may be lacking, but for established trails and those who don't mind to feel the road, so the speak, the Innox GTX is one of our favorite lightweight hikers on the market. Below we break down the Innox's trail performance, traction, protection, waterproofing, fit, and more. To see how the Innox GTX stacks up, see our comparison table and article on the best hiking boots.

Performance
Lightweight and Nimble on the Trail
The Innox GTX Mid falls into our lightweight hiking boot category, and in many ways, behave like a trail shoe with more ankle support. Dual-density PU midsoles are sturdy and should last, and the medium-sized lugs offer solid traction over a variety of terrain. Unlike most hiking boots, the Innox forego rubber on the toes and sides of the foot for very limited protection from rocks and branches. This makes them extremely fast and light, but also not ideal for those who want high levels are protection. This lack of protection hasn't affected the synthetic upper's durability, however, even after extensive contact with rocks and debris on rough trails.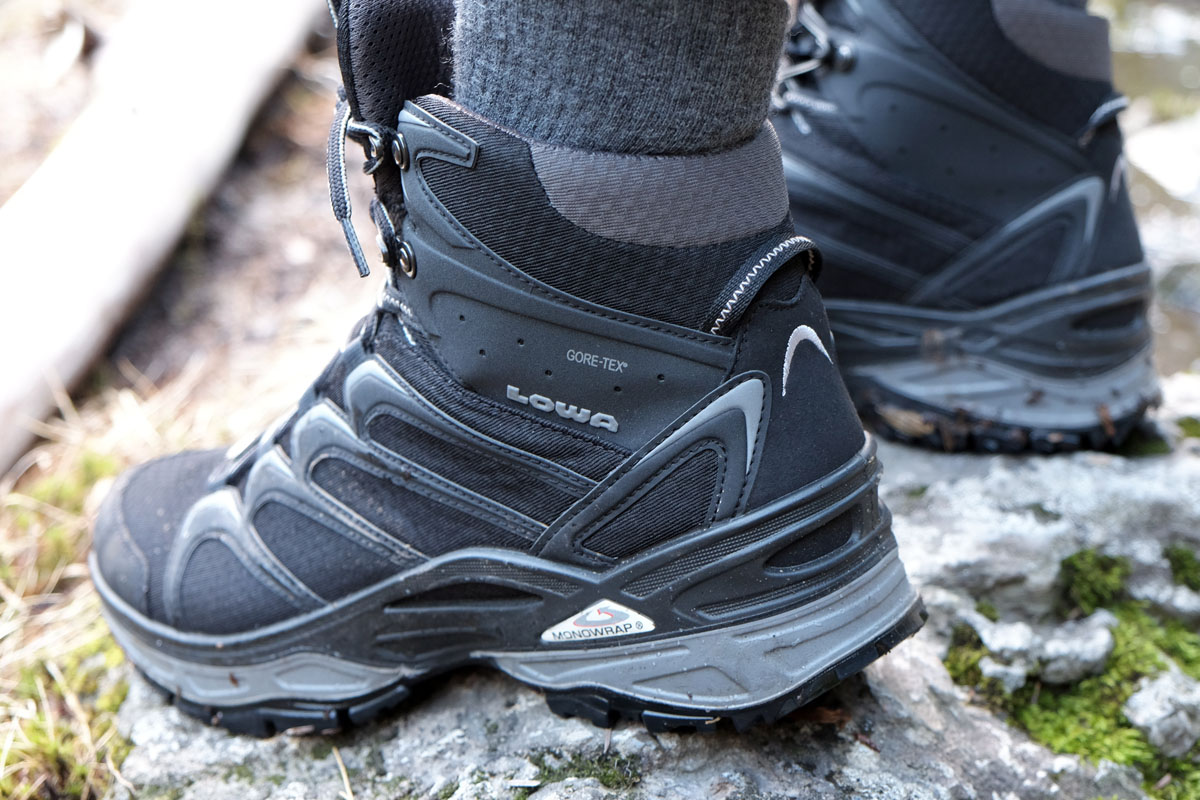 The wrapped upper of the Innox GTX does a great job of supporting the foot and ankle. The PU frame acts like an exoskeleton, bringing solid lateral support without a major weight penalty. This proven design has been well-loved for years in Lowa's popular Renegade boots. We were able to achieve a snug yet comfortable fit with the laces tied tight, and had no issues with ankle turns on the trail. Even while covering terrain quickly with a backpacking pack, the Innox GTX and its 1.5-inch-thick PU midsole was totally sufficient. However, if you have ankle issues or prefer a high level of support or greater isolation from the ground beneath you, you may want to look for a sturdier boot. For our style of hiking, we were totally satisfied.
 
Traction 
Even with a lightweight boot, you don't want to sacrifice on traction. The Innox GTX have grippy lugs that work well on everything from groomed trails to slick rock. The lugs are a bit smaller than true backpacking boots, but their performance is still solid on muddy trails. One thing to consider is that over ultra-rocky surfaces like we encountered in Utah, the soles are soft enough that you sometimes feel big rocks below you more so that you would be a heavy boot. Our tester wasn't deterred, but it was very noticeable compared to a burlier boot that we wore on the same trip, the Arc'teryx Bora2 Mid GTX.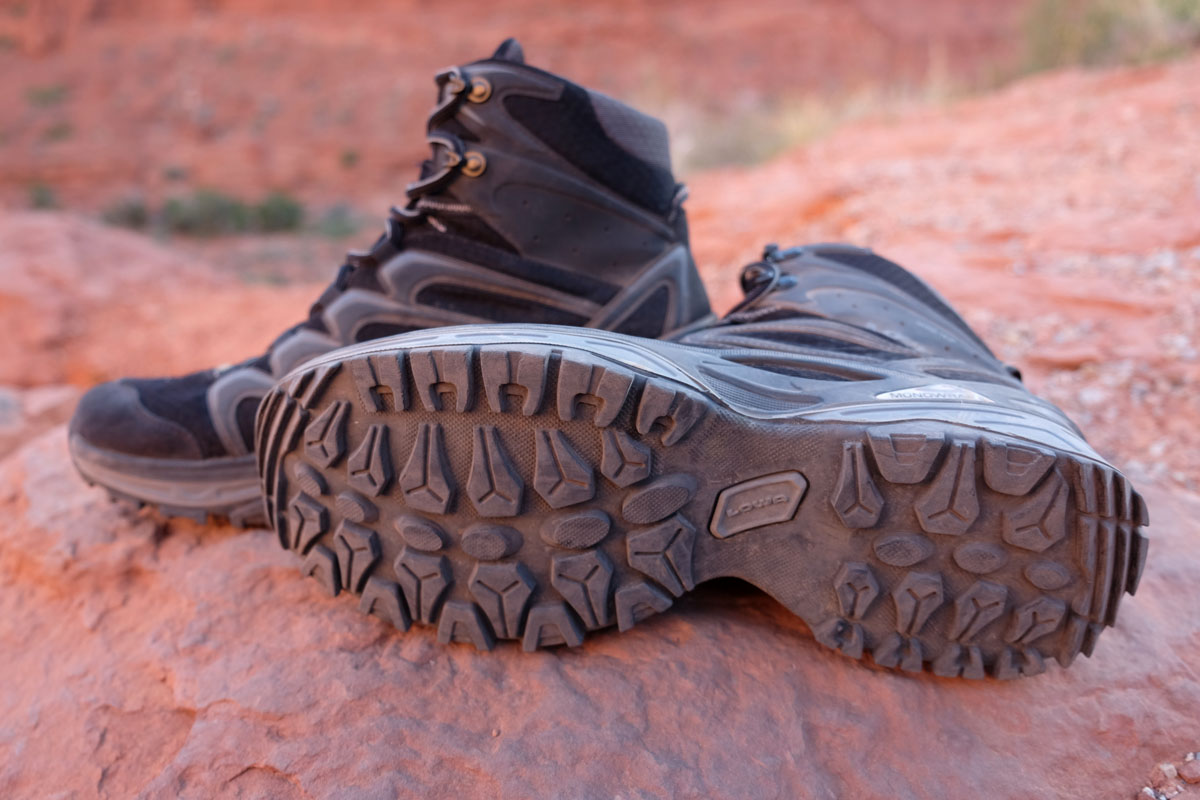 Toe and Ankle Protection
If there is one Achilles heel of the Lowa Innox GTX, it's the lack of protection. This boot has the sole and ankle support of a hiking boot, but sheds weight by cutting back on protection around the toe and foot. First and foremost, this boot does not have a rubber toe cap. Our tester, although admittedly a bit clumsy, got a black big toenail after clipping a rock on the trail. More, the protection around the side of the foot is very minimal. When you add it all up, the Innox offers protection that is more comparable to a trail runner rather than a full-on backpacking footwear.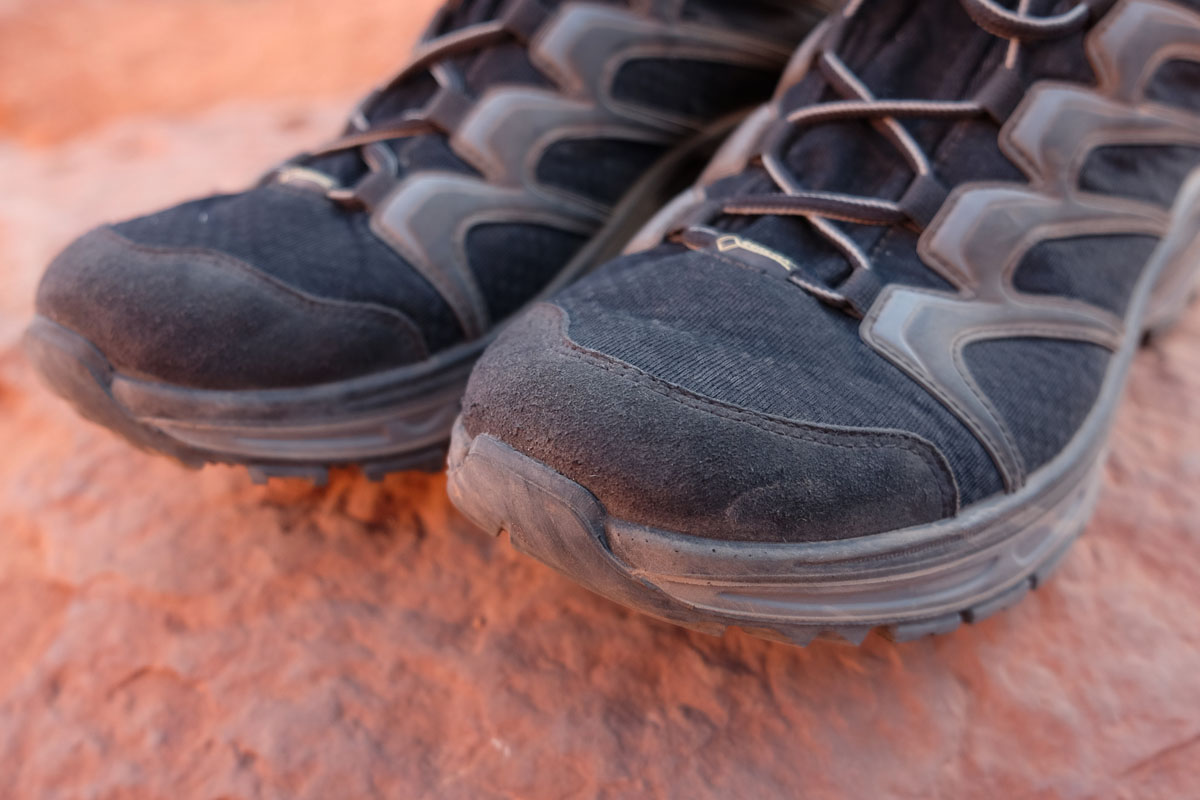 The lack of protection isn't necessarily a deal breaker, but it does mean that you should give serious consideration to the type of trails you will be hiking on. We love this boot for well-groomed trails that get a lot of use (sections of the PCT or New Zealand's Great Walks, for example), but much less for scrambling and rugged off-trail terrain.
 
Waterproofness
These boots have a waterproof and breathable Gore-Tex liner, making them a viable option for early and late season hiking and in areas like the soggy Pacific Northwest. We tested the Innox GTX in Washington and Utah, but not under extremely wet conditions that would have given the waterproof liner a run for its money. Given the quality of the rest of the boot, we have no doubts as their waterproofness and will add an update to this category after further testing. The Gore-Tex liners were given a breathability test in the hot Utah weather, and performed as expected—running a bit warm but not excessively so.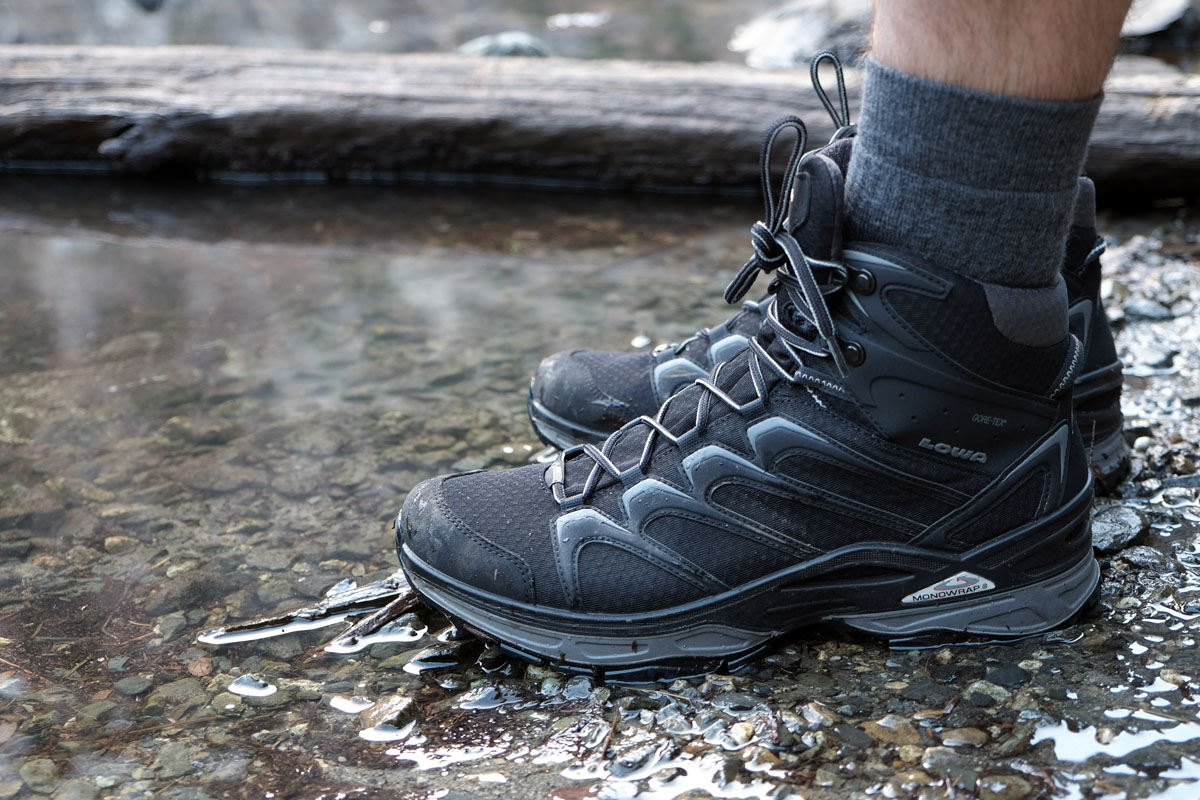 Fit, Sizing, and Comfort
Comfort is an area where the Innox GTX excels. The sock-like interior has few seams and a connected tongue, and the boots have ample interior cushioning around the ankle and foot. Despite not breaking them in before heavy use on a number of early season day hikes, our tester didn't get any hot spots or areas of discomfort—one of the benefits of such a lightweight and flexible item. And the experience was the same even after a difficult backpacking trip in the canyon country of Utah. In terms of fit, the Innox GTX is pretty true to size, but if anything, runs a little narrow. If you often find yourself in-between sizes or have wider feet, we recommend sizing up.

What We Like
Light, nimble, and comfortable.
Just enough support, durability, and protection for fastpacking.
For the weight, trail performance is excellent.

What We Don't
Minimal toe and all-around foot protection.
At full retail price, we feel the boot is a little too expensive. Most of the direct competition is $30 cheaper or more. 


Comparison Table

The Competition
Price notwithstanding, we absolutely love these boots—they have a solid spot in our quiver for anything fast and light, and a place among our favorite hiking boots. $210 is a lot given the thinner construction, putting them is close contention with burly boots like the Salomon Quest 4D 2 GTX (see our in-depth review) or even Lowa's own Renegade GTX. It's here that we struggle to see the value in the Innox as they more closely resemble a lightweight option like the Adidas Terrex Swift R ($160) or Salomon X Ultra Mid 2 ($165). However, the overall quality is impressive, and so is the weight and trail feel. All in all, the Innox GTX do a great job of playing off the trail shoe concept but with increased support, a formula that should please fast packers and day hikers alike.
If you're thinking about buying gear that we've reviewed on Switchback Travel, you can help support us in the process. Just click on any of the seller links above, and if you make a purchase, we receive a small percentage of the transaction. The cost of the product is the same to you but this helps us continue to test and write about outdoor gear. Thanks and we appreciate your support!
Depending on the seller, most products ship free in the United States on orders of $50 or more. International shipping availability and rates vary by seller. The pricing information on this page is updated hourly but we are not responsible for inaccuracies.
Learn More About Hiking Gear