With a compelling mix of ankle support, light weight and durability, the Keen Durand Mid WP hiking boots take aim at the popular light hiker category. We gave the Durands a thorough test over a 9-month stretch, in terrain varying from Utah's canyon country to the remote North Cascades of Washington State. Through it all, they proved to be a solid performer, with plenty of comfort and support for day hikes and overnight or weekend backpacking trips. We don't consider the Durand boots a top choice for extended treks or when carrying a heavy pack; instead, they're ideal for weekend warriors on a budget. To see how the Durands stacks up, see our article on the best hiking boots. For day hikes and those who don't need as much support, we've also tested and written about lightweight hiking shoes.

On-Trail Performance
There is no better test of a boot's performance than a long trudge with a pack on. Any pain points or weaknesses in the design are exacerbated as the miles roll on. Thankfully, the performance of the Keen Durand was overall excellent as long as we didn't overload our pack. The Keen's aren't very stiff underfoot, instead resembling a hiking shoe that's gained some ankle support. Even the collar is relatively flexible, and we were able to run in the Durands for a short period of time without the clunky, awkward feeling you often get with a boot. The downside of this softer setup, relative to a backpacking boot, is reduced support on longer climbs and a greater tendency to flex side to side. The boot is plenty stable on the majority of maintained trails; it's only an issue on technical terrain.
Keen touts their PU midsole, and we were pleased with its shock absorbing performance and firm feel. You typically pay a little extra for choosing PU over EVA foam, and if you'll be logging extensive miles on your boots, it's a notable improvement over entry-level hiking footwear. Underfoot, the feel remains on the light end. We found the boots comfortable for day hikes on rocky terrain, but on backpacking trips with a fully loaded backpacking pack we did start to experience some soreness. Again, it's far better than cheaper boot like the Merrell Moab's, but it does fall short of a true backpacking model.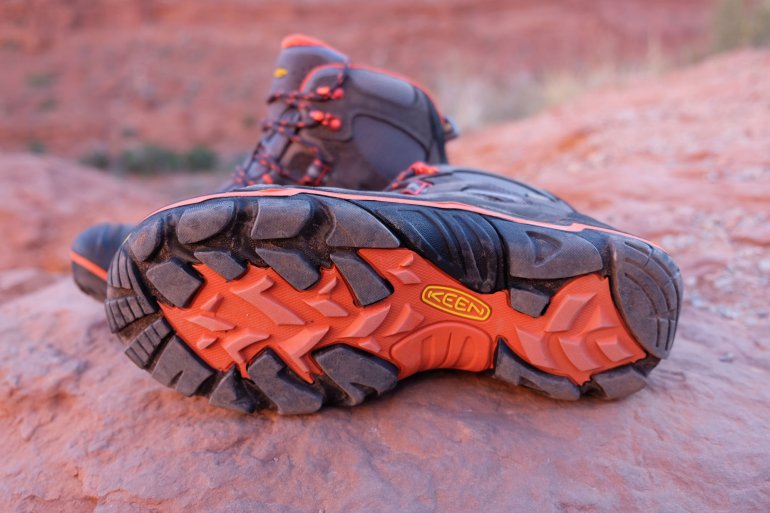 Traction is reasonable for a day hiker. The larger lugs didn't shed Pacific NW mud as well as some high-end competition; however, grip on rock and in the wet was up to par. Keen boots are well known for great toe protection, and the rubber cap at the front of the Durand offers plenty of coverage should you accidently kick a rock on the trail. Heel protection is equally formidable, and we felt completely comfortable using the Durand even in the tough and rocky terrain of Utah's canyon country.
Fit and Comfort
Out of the box comfort is in line with modern light hikers, and we were able to wear the boots right away on a number of 5+ mile day hikes without issue. There is enough support underfoot to isolate your feet from rocks and roots on longer days on the trail, and light cushioning around the ankle is plenty comfortable. The collar of the boot rests above the ankle with about a ½ inch to spare, which proved to be enough coverage for on-trail trekking and the occasional creek crossing. More, the hook at the top of the collar does a nice job of locking the laces into place. 
We found the fit to be mid to high volume and a little wide, noticeably around the ball of the foot, toes and heel. As a result, narrower heels (like this author's) may experience some heel slippage. This was in contrast to some of the shoes we had along for reference—the Salomon Quest 4D 2 backpacking boots and Vasque Inhaler Low shoes, which both fit more snugly. Length for us was pretty true to size; however, Keen does recommend ordering up ½ size. From our experience, that would be recommended if you fall in-between sizes. Our standard size worked well in this instance.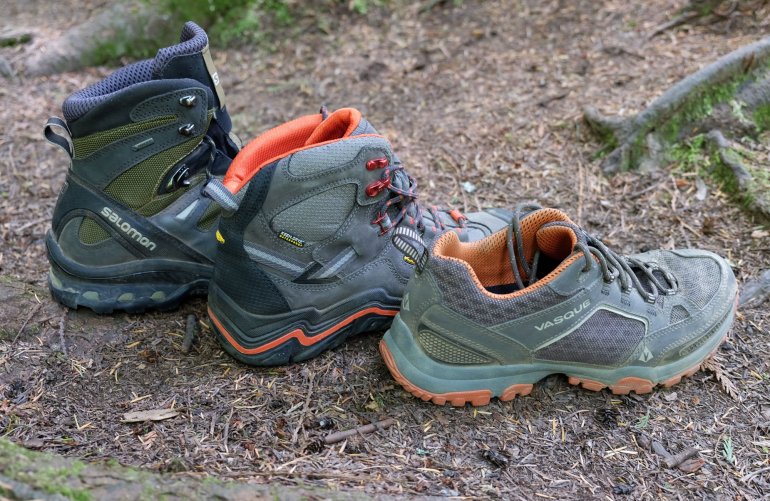 KEEN.DRY Waterproofing
Waterproof construction is commonplace for the style of boot, and the Durand uses Keen's proprietary waterproof and breathable lining. The boots passed our creek wading tests and performed well in spring and fall hikes in the rain, although when temperatures increased in the summer, we did find the boots to run pretty warm. This is the reality of a fully waterproof hiking boot, but we determined breathability was a step below higher-end Gore-Tex boots we tested it against, including the Scarpa R-Evolution GTX. Whether this is due to the boot's upper material or the proprietary waterproof bootie is tough to know, but the end result was sweaty feet when temperatures rose.
Materials and Construction: Assembled in the USA
The boot's upper materials are primary leather but mix in panels of synthetic mesh and webbing. Cosmetically, the stitching on our boots looks great and has held up well, and the fabrics took trail abuse from Utah's canyon country and the Pacific Northwest in stride (see our durability section below for more details). Advertised as "American Built," the Keen's aren't completely an-all USA product, sourcing their materials elsewhere, but we appreciate the efforts made to get a lot of the work done in their Portland, Oregon, facility.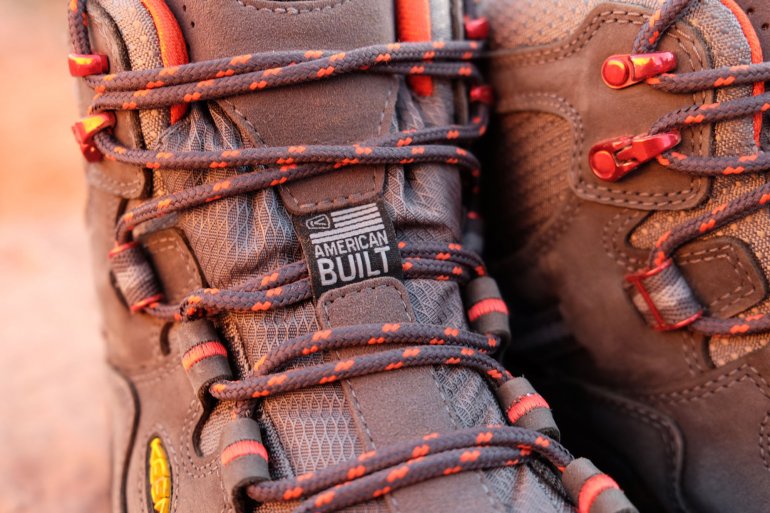 Durability
We gave the Durand Mid boots a long look in part because there were some complaints regarding longevity soon after their release. But after wearing them in all 4 seasons, including spring, summer and fall day hikes and overnighters, as well as a couple snowshoeing treks, we've experienced no breakdown in their construction. They remain completely waterproof, and despite having a few scuffs and fraying along the outer webbing, are in great condition. Tread wear has also been pretty minimal, although we've kept them purely on-trail. Expect the soft treads to wear down quickly on pavement if you're thinking about using them as supportive daily wear.
Weight
Our size 9 men's boot weighs 2 lbs. 12 oz. on our scales, which plants the Durand squarely into the light hiker category. It's worth noting that the higher performance Salomon Quest 4D 2 weighs nearly the same (another 2 ounces for the pair), and offers a taller boot height and more support. It's evidence of what an additional $50 can buy you in quality of materials and technology. Nonetheless, the Durand boots are plenty light and their weight was never an issue even on long days on the trail.
Best Uses
We found the Durand boots to be best for light overnighters on easier terrain and day hikes on local trails. In addition, they proved to be a solid 4-season performer, although as we mentioned above, they run warm in the summer months. The benefit of the waterproof construction and leather-heavy build is that the boots are great for wet weather shoulder season hiking as well as mild weather snowshoeing. Paired with the warm REI Expedition Socks (our favorite budget winter socks), we were plenty comfortable strapped into a pair of snowshoes in temperatures that hovered around the low to mid 20s.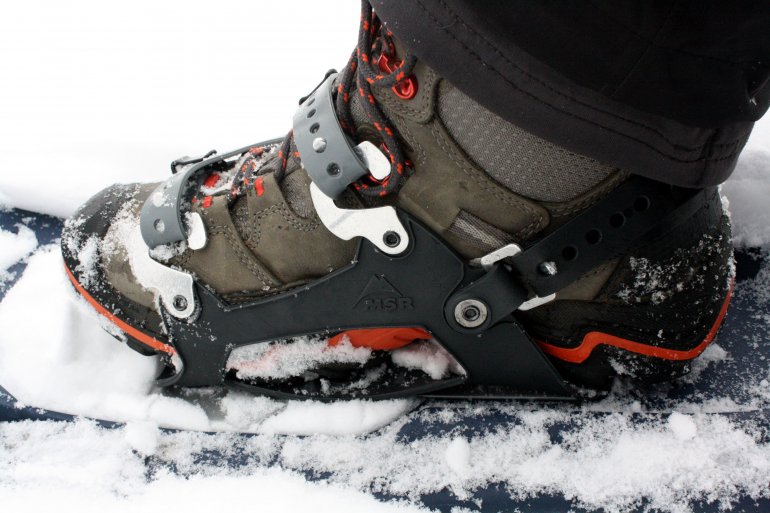 The Competition
 

Keen Durand Mid WP


 

Vasque Breeze GTX 2.0


 

Salomon Quest 4D 2 GTX


Price:
$180
$170
$230
Weight:
2 lb. 12 oz.
2 lb. 8 oz.
2 lb. 14 oz.
Waterproofing:
KEEN.DRY
Gore-Tex
Gore-Tex
Upper:
Nubuck leather, mesh
Nubuck leather, mesh
Nubuck leather, nylon
Midsole:
Polyurethane
EVA
EVA
What we like:

Light and comfortable at a good value.

Nimble and decent breathability for a waterproof boot.

Backpacking-ready support with no weight penalty.

What we don't:
Runs warm in the summer months.

Occasional quality control issues.

Big jump in price.

Women's:
Keen Durand Mid WP
Vasque Breeze GTX 2.0
Salomon Quest 4D 2 GTX
Value
Priced at $180, the Keen's land in an in-between spot in the market. They're unquestionably an upgrade in ankle support and underfoot stiffness from entry-level competitors like the Merrell Moab Waterproof or Keen's own venerable Targhee II, but they remain a step below true backpacking boots that inhabit the $200-plus range. But it's not a rock and a hard place kind of scenario here, and we concluded that the Durands have a substantial appeal. The Keen's are an intriguing option for the casual weekend backpacker that isn't carrying heavy loads and doesn't plan to take too many off-trail scrambles. With a light feel and a quality, waterproof build, the Keen Durand Mid WP is a solid light hiker boot, and one that we highly recommend.
If you're thinking about buying gear that we've reviewed on Switchback Travel, you can help support us in the process. Just click on any of the seller links above, and if you make a purchase, we receive a small percentage of the transaction. The cost of the product is the same to you but this helps us continue to test and write about outdoor gear. Thanks and we appreciate your support!
Depending on the seller, most products ship free in the United States on orders of $50 or more. International shipping availability and rates vary by seller. The pricing information on this page is updated hourly but we are not responsible for inaccuracies.
Learn More About Hiking Gear