Mountain Equipment Lightline
Price: $300
Weight: 1 lb. 9 oz. (men's medium)
Fill: 10.4 oz. of 700-fill down
What we like: Fantastic value for an extremely warm, well-made, and cozy jacket.
What we don't: Heavy due to the lower fill power; left-hand zipper takes some getting used to.
See the Men's ME Lightline  See the Women's ME Lightline
A staple in the Mountain Equipment lineup for over 40 years, the Lightline packs a serious punch. This winter-weight jacket is very warm with over 10 ounces of 700-fill-power down and has a tough 40-denier shell—all for a reasonable $300. Taken together, you won't find a better value, and it's one of our favorite down jackets for frigid days. Below we break down the Mountain Equipment Lightline's performance. To see how it stacks up to the competition, see our articles on the best down jackets and best winter jackets.
 
---
Table of Contents
---

Performance
Warmth
The Mountain Equipment Lightline is a serious down jacket built for sub-freezing temperatures and deep winter conditions. What makes it so warm? To start, it's stuffed with a lot of 700-fill duck down—10.4 ounces to be exact. For comparison, another popular model in the same category, the Rab Neutrino Pro, uses 8 ounces of down, although it's higher-end 800-fill-power. Second, the Lightline has a burly 40-denier shell that does a great job of keeping warmth in and snow out. Finally, the hood (described in more detail below) deftly keeps wind at bay. From daily use to winter camping adventures, the Lightline should keep you cozy.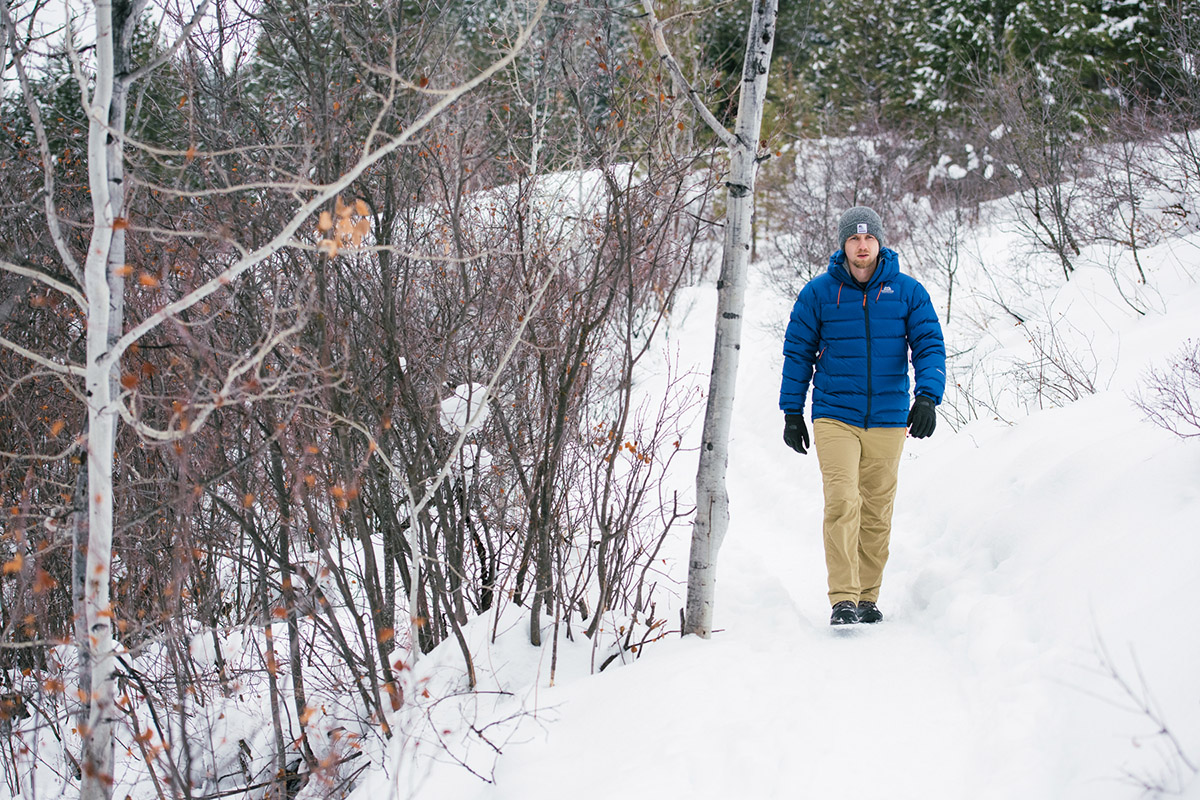 The Lightline is so warm, in fact, that it's overkill for anything but the coldest environments. After multiple winters with the jacket, we have found it to be most comfortable when temperatures dip well below freezing. With just a t-shirt on underneath—our preferred use given the super-soft interior—the jacket easily kept me warm during light activity in temperatures hovering around 20 degrees Fahrenheit. And when the mercury reaches single digits or lower, pairing it with a long sleeve baselayer and light midlayer is a nice combination. What's perhaps most impressive, however, is that the Lightline is able to provide this level of warmth for just $300—a significantly lower price than comparable winter down jackets.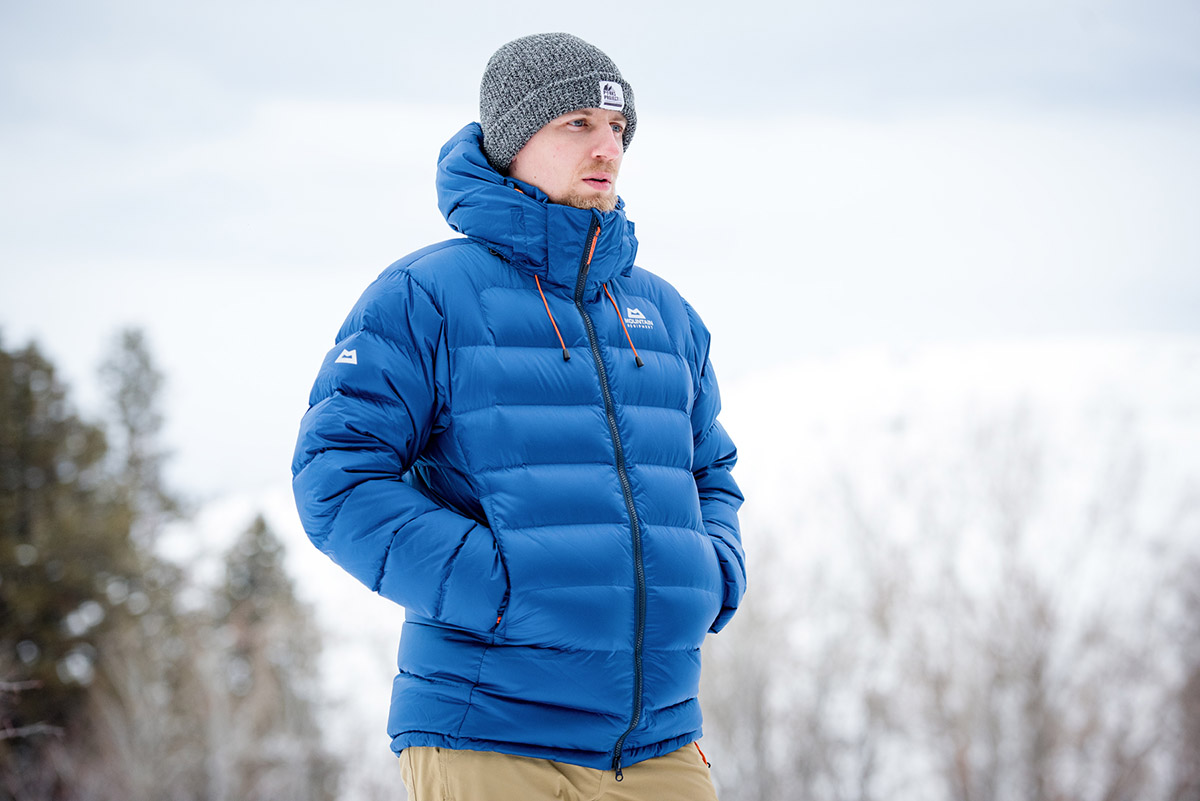 Weather Resistance
The Mountain Equipment Lightline offers excellent protection in cold, snowy, and windy conditions. The healthy amount of down fill combined with the thick 40-denier Drilite shell fabric do an admiral job of cutting wind, making the jacket feel nearly fortress-like in strong gusts (the stitched-through construction technically leaves vulnerabilities, but it'd take some serious wind to be noticeable). Further, a polyurethane coating helps moisture bead up and roll off the surface rather than penetrating the shell. And the hood is the icing on the cake: it contours nicely around my head and offers plenty of adjustments for battening down the hatches. Finally, the wire brim adds protection and visibility, and is even removable should that be your preference. One downside for climbers and skiers: the hood does makes for a tight fit around a helmet, although it technically works.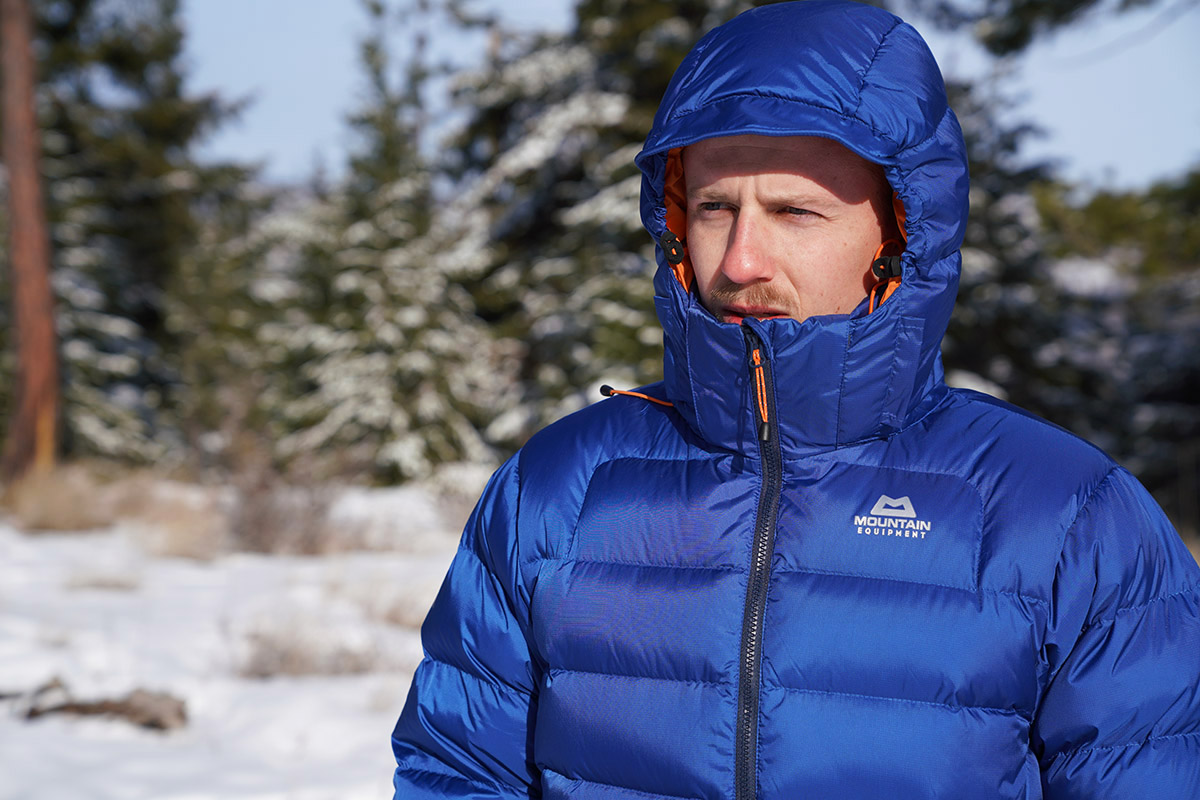 The biggest enemy of down is moisture. When wet, it loses its loft and ability to insulate. In addition to the shell fabric and coating described above, it's worth mentioning that the competing Rab Neutrino Pro uses hydrophobic down, which allows it to resist moisture even further and retain some loft even when exposed to the elements. Unfortunately, the Lightline does not have hydrophobic down, which is a reality given its low price point. But no down piece is made to truly excel in wet environments, and for those we would choose a synthetic jacket (or layer with a hardshell overtop).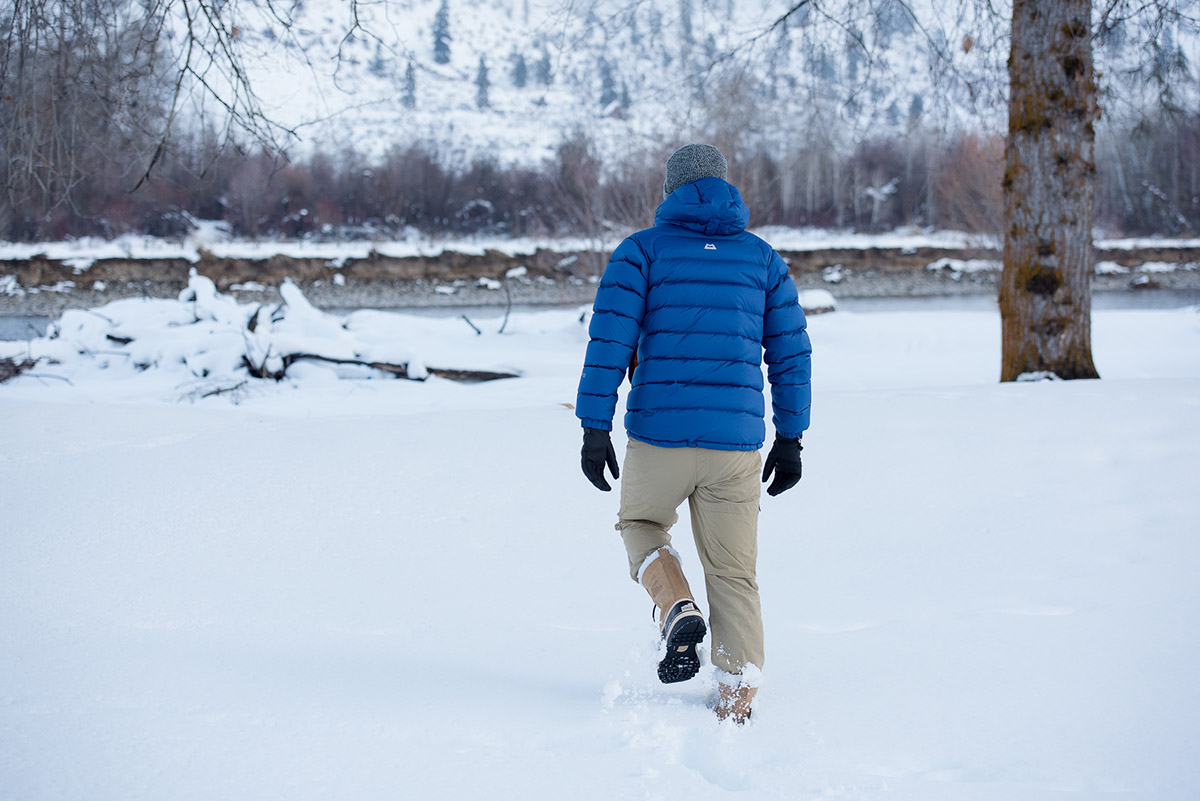 Weight and Packability
On my scale, the men's Lightline in a size medium came in at 1 pound 9 ounces (the advertised weight is 1 lb. 10.1 oz.). For a jacket intended for backcountry use—even a winter design—this is by no means lightweight. Competitors like the Rab Neutrino Pro (1 lb. 5.3 oz.) and Patagonia Fitz Roy Down Hoody (1 lb. 1.1 oz.) easily undercut the Lightline, but they do so at the expense of durability and cost. With the Mountain Equipment, you get a tougher 40-denier face fabric, which is less likely to develop abrasions and stains over time (an issue we had with our past-generation Fitz Roy Parka). In the end, your decision likely will come down to priorities: climbers and skiers might opt for the lighter options, but the Lightline is a great workhorse for everyday and even technical use.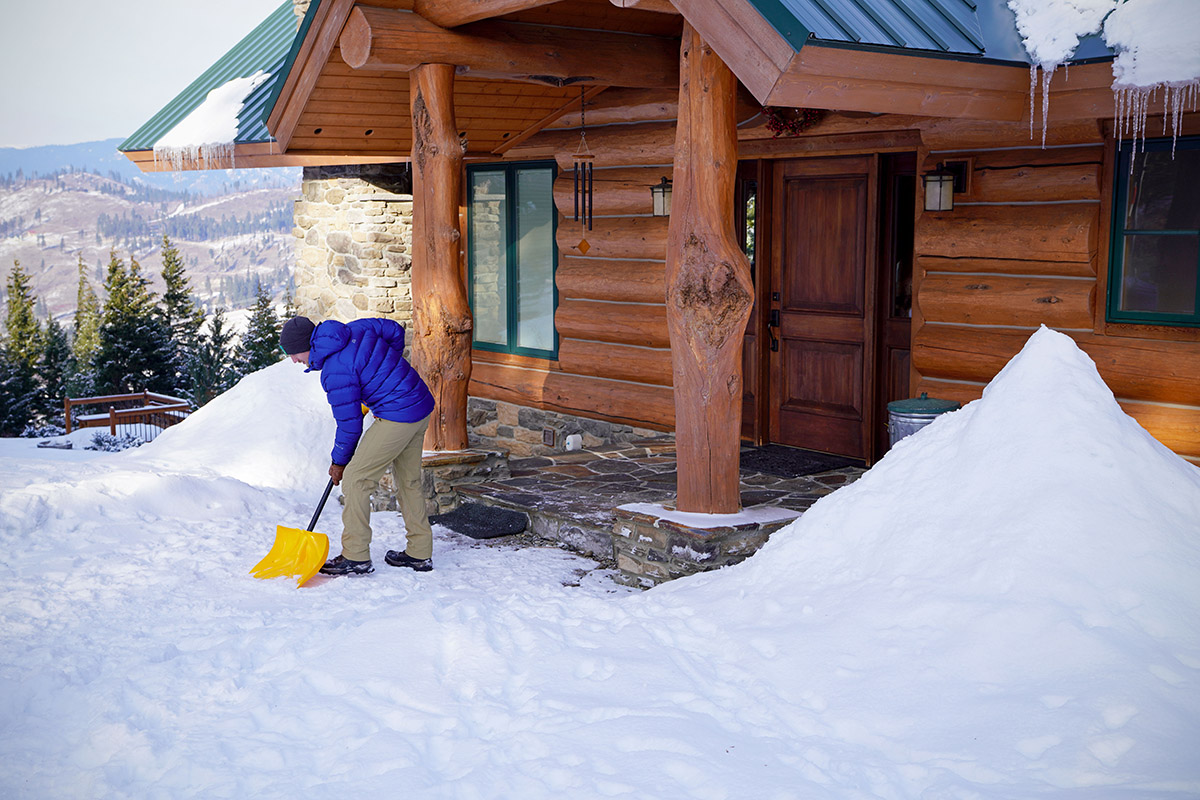 Despite its relatively heavy-duty construction and use of 700-fill down (which isn't as compressible as higher-end options), the Lightline packs down surprising well. Although not exactly compact, the jacket is relatively easy to fit into the included stuff sack and measures about 7 x 10 inches when packed (it fits nicely into the bottom of a medium-sized daypack). For comparison, the performance-oriented Neutrino Pro includes a stuff sack of the same size, but the 800-fill down and thinner fabric compact slightly smaller than the Lightline.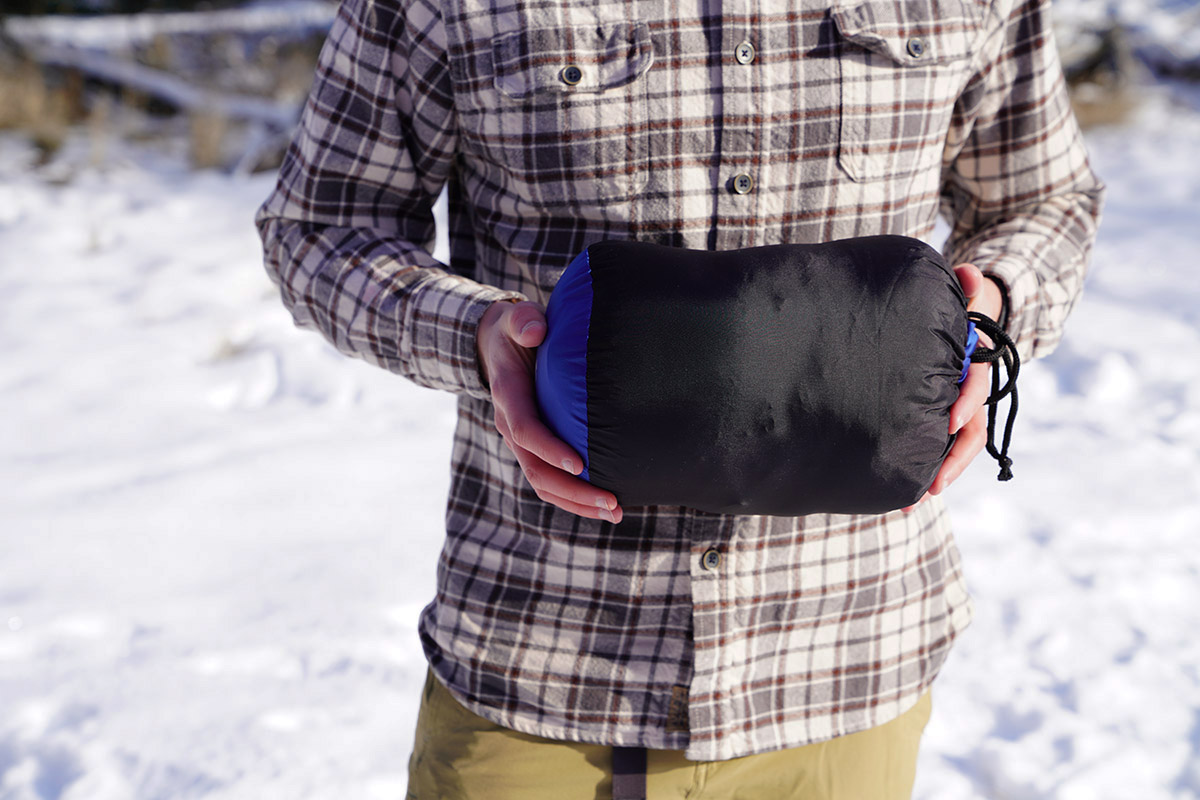 Construction and Durability
If you're looking for a relatively inexpensive dead-of-winter jacket that should last through multiple seasons, you'd be hard-pressed to find a better option than the Lightline. The shell fabric is refreshingly burly to the touch and shows no signs of wear after many winter days, the zippers operate smoothly and are easy to use (provided you can adjust to the European left hand main zipper), and there isn't a stitch or seam out of place. And despite a number of backcountry outings and being stuffed away into packs and duffels, the jacket doesn't look overly dirty or grimy. The Lightline has been through numerous winters of testing here at Switchback Travel, and it still looks and functions like new.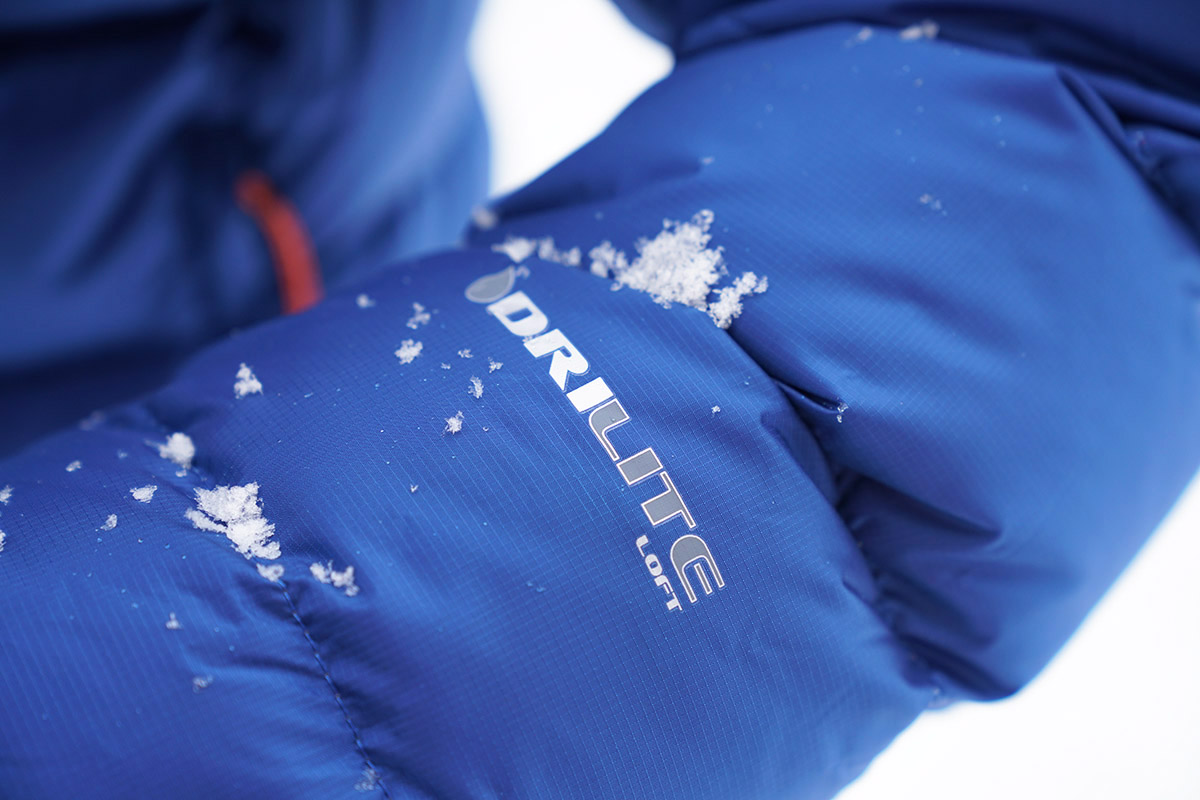 When compared to other popular and similarly intentioned models like the Rab Neutrino Pro and Patagonia Fitz Roy Down Hoody, the Mountain Equipment Lightline offers a step up in durability. Those two jackets both weigh less and pack down smaller, but they also use a thinner 20-denier face fabric, which feels noticeably less robust than the Lightline's shell. As my own adventures have grown in distance and vertical feet, I've turned to ultralight gear and apparel to ease the burden. However, putting on the more hardwearing Lightline was a nice reminder that durable gear definitely has its merits.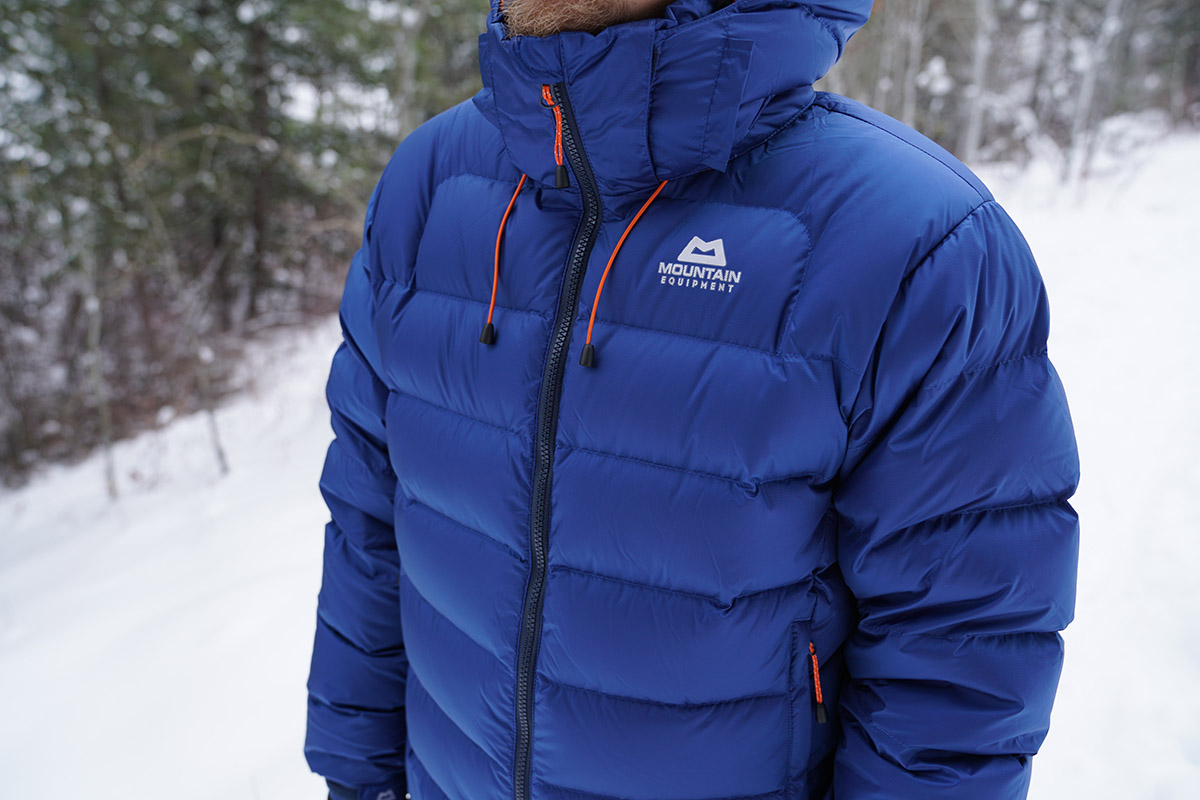 Features: Hood, Pockets, and Cuffs
In terms of features, Mountain Equipment kept it simple. The three-panel, removable hood is appropriately sized for use with or without a helmet, and the wire brim helps to keep blowing snow out of your face. While the drawcord adjustments and rear Velcro are easy to use with gloves on, we do find that the exposed nature of these cords looks busy and lacks the finish of similar jackets from Rab and Patagonia (who hide their adjustments for a streamlined look). But its functionality is great: the hood cinches down to hug my face and feels well-protected from heavy winds.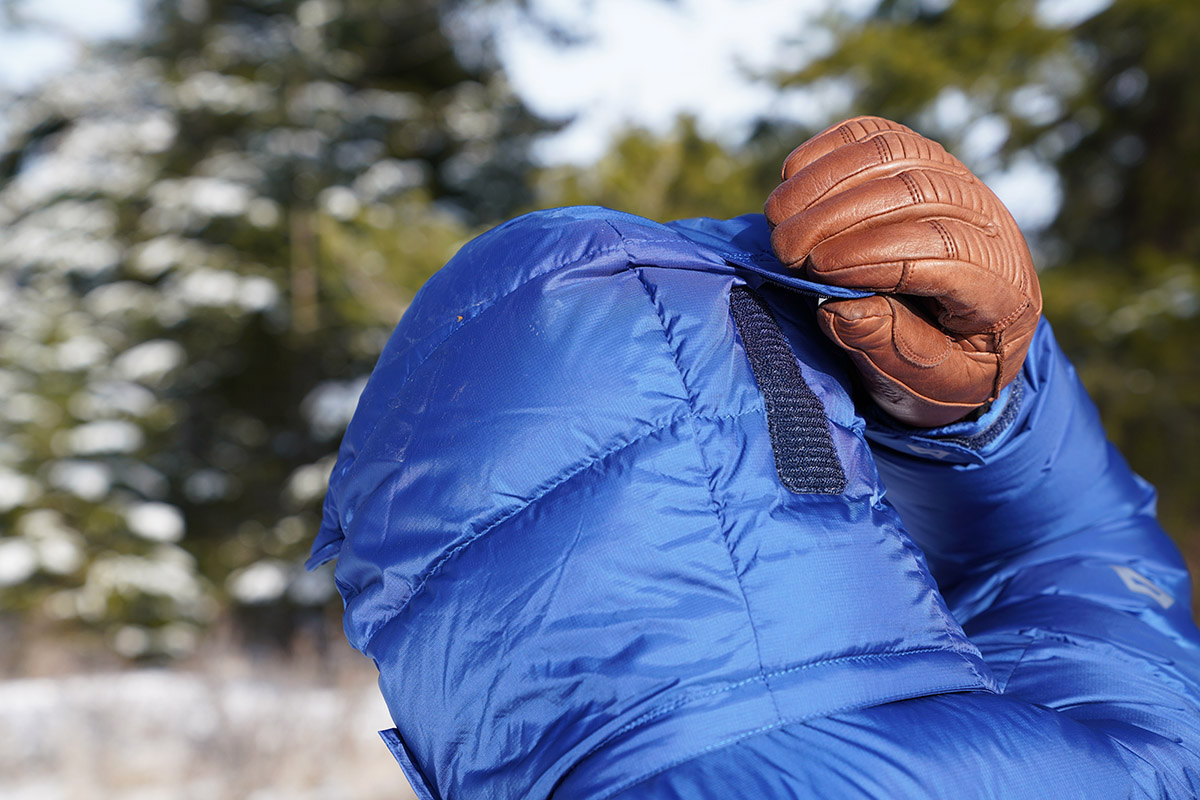 In terms of storage, the Lightline has two hand pockets that are nicely sized for small essentials like a headlamp or snacks. These handwarmer pockets have insulation on the outside of the jacket and offer a safe haven for the cold. In addition, I really like the internal zip pocket on the chest, which is the ideal place to keep my phone warm. The lack of dump pockets—a great place to store skins or winter gloves—is one notable omission for technical use, but I've gotten along just fine without them for now. Finally, the cuffs are easy to use and feature a generous amount of Velcro to wear over or under gloves to keep the cold at bay.


Fit and Sizing
This was my first foray with U.K.-based Mountain Equipment, and I'm happy to report that the fit of my standard men's medium was spot on (for reference, I'm about 5'9" and 160 pounds). I'd consider the fit "athletic"—the ME Lightline afforded me just enough room to wear a substantial midlayer underneath, but it wasn't so large that it hung off my body with just a t-shirt or thin baselayer on (the trim fit also helps with heating efficiency). And although it has quite a bit of loft, I was easily able to slip my ski shell on overtop, which is not always the case in this category. If you are on the fence between sizes or plan on layering heavily underneath, you may want to consider sizing up, but we love the fit of the Lightline overall. 


Women's Mountain Equipment Lightline Jacket
I reviewed the men's version of the Lightline here, but Mountain Equipment also makes the jacket in a women's-specific version. With slight differences in cut and baffle design that arc toward the top of the jacket (the baffles on the men's version are horizontal), the women's Lightline has a lower fill weight (8 oz. vs. 10.4 oz. for the men's), but both use the same 700-fill-power down, 40-denier Drilite Loft shell fabric, and are priced at $300. Mountain Equipment does not make a hoodless version of the Lightline—you'll have to step down to the lightweight Odin or Earthrise for that.

Sustainability: Responsibly Sourced Duck Down (Down Codex)
An interesting fact about Mountain Equipment is that they've been pursuing the use of responsibly sourced down for years. Originally launched in 2012, their Down Codex project brings transparency to every element of the feathers' journey. Each jacket comes with a tag and a 12-digit code sewn on the inside—enter the code on ME's Down Codex website, and you can find the complete history of the down, an audit and risk assessment, and even the exact content and fill. This differs from the Responsible Down Standard (RDS) commonly used in the U.S., but kudos to Mountain Equipment for prioritizing sustainability with this informative resource.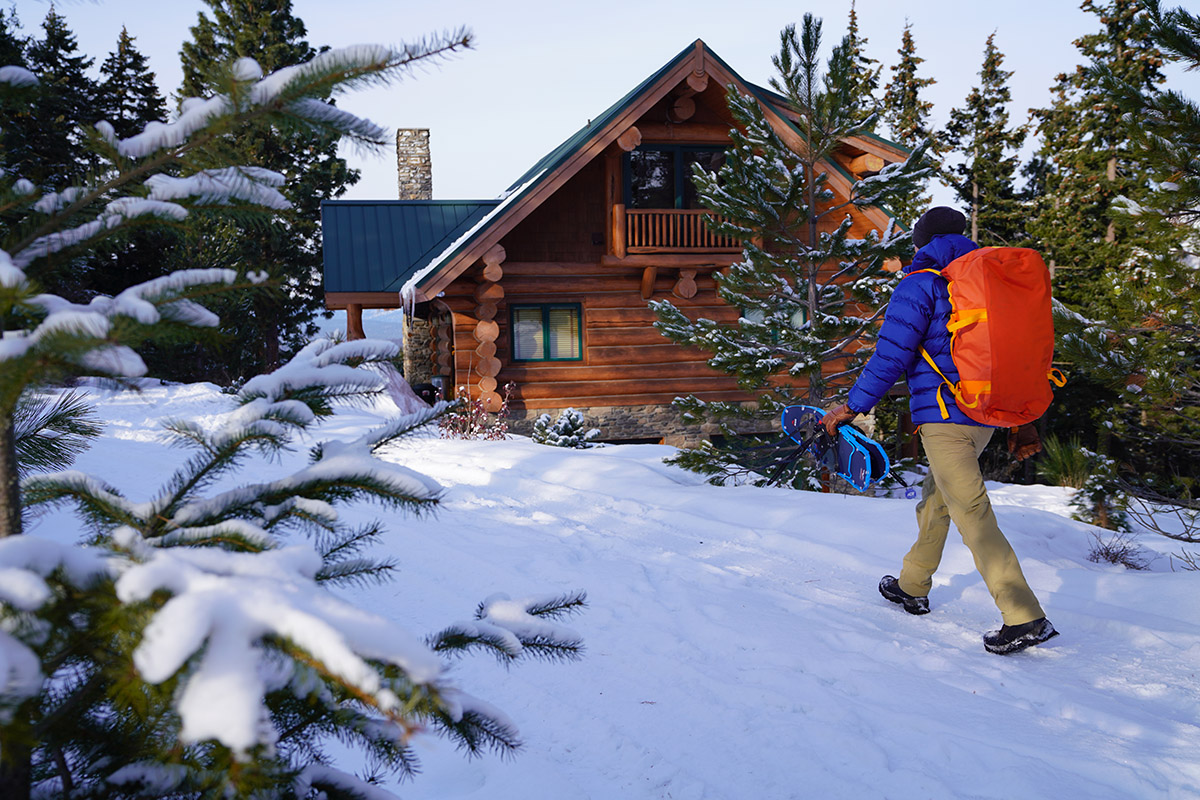 What We Like
The Mountain Equipment Lightline is very warm, durable, and significantly undercuts most of the competition in price. All in all, it's one of our favorite cold-weather down jackets.
40-denier face fabric is much more durable than most of the competition.
Athletic fit and super soft interior is great for both in-town and backcountry use.

What We Don't
The Lightline on the heavy end for a down winter jacket and not our first choice for fast-and-light outings.
The 700-fill-power down doesn't quite have the same compressibility or warmth-to-weight ratio as the 800-fill Rab Neutrino Pro or Patagonia Fitz Roy.
Not as weather resistant as models that use hydrophobic down (although its robust shell and polyurethane coating help it hold up pretty well).
Overkill for anything but sub-freezing temperatures.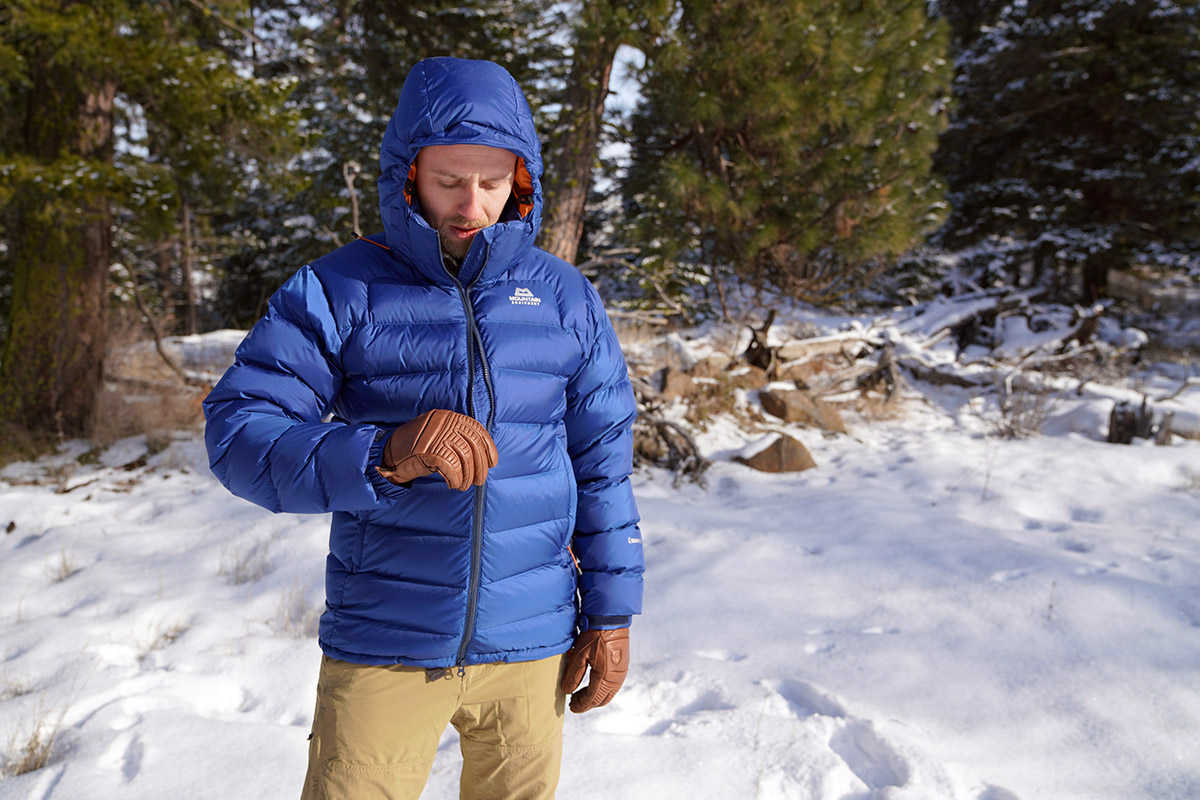 Comparison Table

The Competition
The Mountain Equipment Lightline is a great value in a down jacket that works well for both casual and backcountry use. For a similarly warm jacket with a slightly more technical slant, the Rab Neutrino Pro is another great option. Compared to the Lightline, the Neutrino Pro uses higher-quality 800-fill hydrophobic down and is constructed with a thinner 20-denier Pertex Quantum Pro face fabric, both of which make it more packable. Additionally, the Neutrino Pro is a significant 5 ounces lighter despite being filled with a healthy 8 ounces of down (for more, see our in-depth review here). All things considered, we prefer the Rab for performance use when ounces matter, but the slightly trimmer-fitting and cheaper Lightline is the better value for less technical endeavors.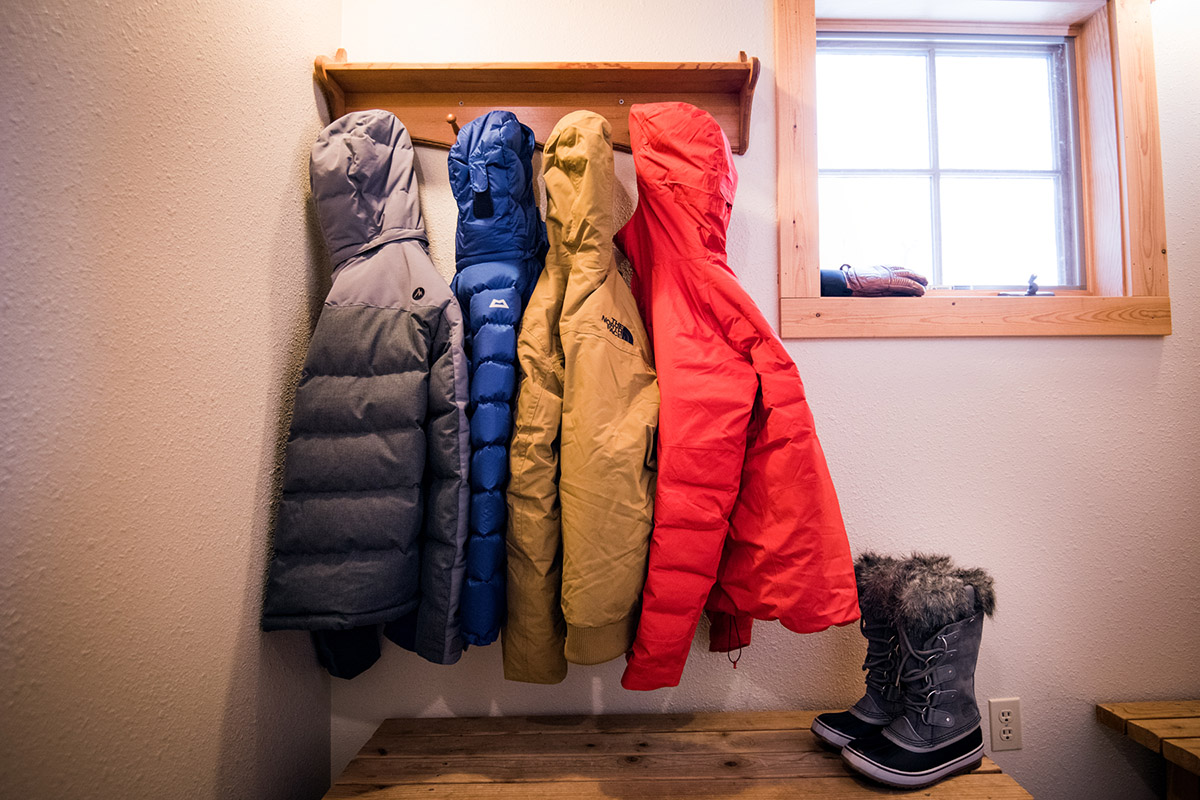 If you're in the market for a warm winter jacket worthy of technical outings, the Patagonia Fitz Roy Down Hoody is worth a look. Similar to the Rab above, the Patagonia uses more premium 800-fill-power down, although you get less of it at only 5.6 ounces. Beyond the down, a big difference between the two jackets is their shell fabrics: the 40-denier exterior on the Lightline is much more hardwearing than the Fitz Roy's thin, 20-denier shell. The Fitz Roy is considerably lighter at 1 pound 1.1 ounces and uses a more weather-ready Pertex Quantum shell, but we're not sure it's worth it for the drop in durability and increase in price. For around $100 less, the Lightline is the warmer and longer-lasting option.
If the jackets above are too specialized in nature, then the REI Co-op Stormhenge 850 is worth a serious look. For just $249, you get a warm and waterproof winter jacket that can be worn in a variety of inclement weather. Combining premium 850-fill down (REI does not list the fill weight, but we've worn the Stormhenge on frigid days in Northern Wisconsin and stayed warm), a 2-layer waterproof breathable shell, and a DWR coating, it's a great choice for cold and wet conditions. But at 1 pound 11 ounces, the Stormhenge is even heavier than the Lightline and more suited for casual use and light winter adventuring than the backcountry. In the end, the Lightline works better for more serious excursions, but we love the versatility and value of the REI.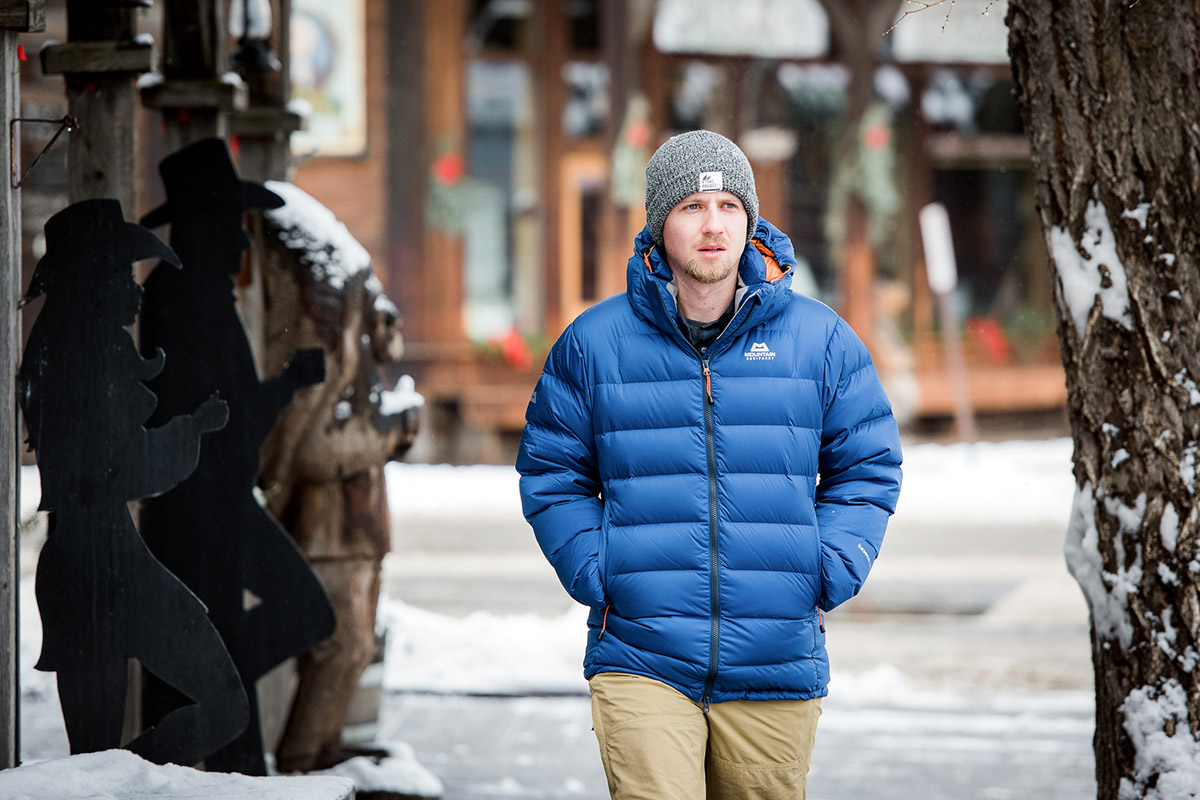 Mountain Equipment offers an interesting, lighter-weight alternative to the Lightline in their Senja. One of our gear editor's biggest complaints about the Lightline is that it is so warm that it stays in his closet for all but the coldest stretches of winter. The ME Senja, on the other hand, still is quite cozy with 7.8 ounces of 700-fill down (versus 10.4 oz. on the Lightline), weighs a more reasonable 1 pound 4.5 ounces, and has a similarly durable 40-denier shell that offers great durability. At the end of the day, the Senja is warmer than popular lightweight down jackets like Arc'teryx Cerium LT and Mountain Hardwear Ghost Whisperer/2 and attractively priced at $275—cheaper than either of those models. It's true that the Senja might not get you down to the depths of winter, but it's great for shoulder seasons and many winter days.
Last but not least, we'd be remiss not to include Arc'teryx's premium Cerium SV Hoody here. At a steep $575, it blows the jackets mentioned above out of the water in terms of price (the Lightline included) but offers some notable upgrades in performance. Specifically, you get excellent warmth from high-quality 850-fill down (although fairly little of it at 4.9 oz.), as well as strategically placed Coreloft synthetic insulation in moisture-prone areas. The Cerium is also impressively light at just 14.6 ounces and packs down noticeably smaller than the Lightline into its stuff sack. That said, the Cerium is a major step down in durability with an ultra-thin, 7 x 10-denier shell, which limits its appeal to weight-conscious alpine missions where every ounce counts. For mixed everyday and outdoor use, we'd save with the more robust Lightline.
If you're thinking about buying gear that we've reviewed on Switchback Travel, you can help support us in the process. Just click on any of the seller links above, and if you make a purchase, we receive a small percentage of the transaction. The cost of the product is the same to you but this helps us continue to test and write about outdoor gear. Thanks and we appreciate your support!
Depending on the seller, most products ship free in the United States on orders of $50 or more. International shipping availability and rates vary by seller. The pricing information on this page is updated hourly but we are not responsible for inaccuracies.
Learn More About Outdoor Gear