For a number of years, I'd thought of replacing my two-person tent that often serves as my home on solo adventures, with a bivy sack. The idea of reducing weight, saving space, and having a shelter with very little setup was appealing. And after a backcountry ski trip in which I had to set up a tent with numb hands in high winds while watching others simply unroll their bivies, I was sold. Advertised as being waterproof, 4-season, and with a pole to create headroom, the Outdoor Research Alpine Bivy ticked all of the items on my wish list. It's a comfortable, bombproof bivy that is ready to tackle anything Mother Nature has to throw at it. Below we break down the Alpine Bivy's weather protection, construction, space and comfort, and more.

Performance 
Weather Protection and Breathability
I tested the Outdoor Research Alpine Bivy in a variety of environments, including the cool and dry deserts of Moab, the rocky alpine terrain of the Cascade Mountains, and the damp forests of British Columbia's Coast Mountains. It handled all conditions and temperatures with ease. Combined with a three-inch sleeping pad and a 32-degree sleeping bag, the evenings were comfortable and pleasantly warm even when the thermometer dipped below freezing.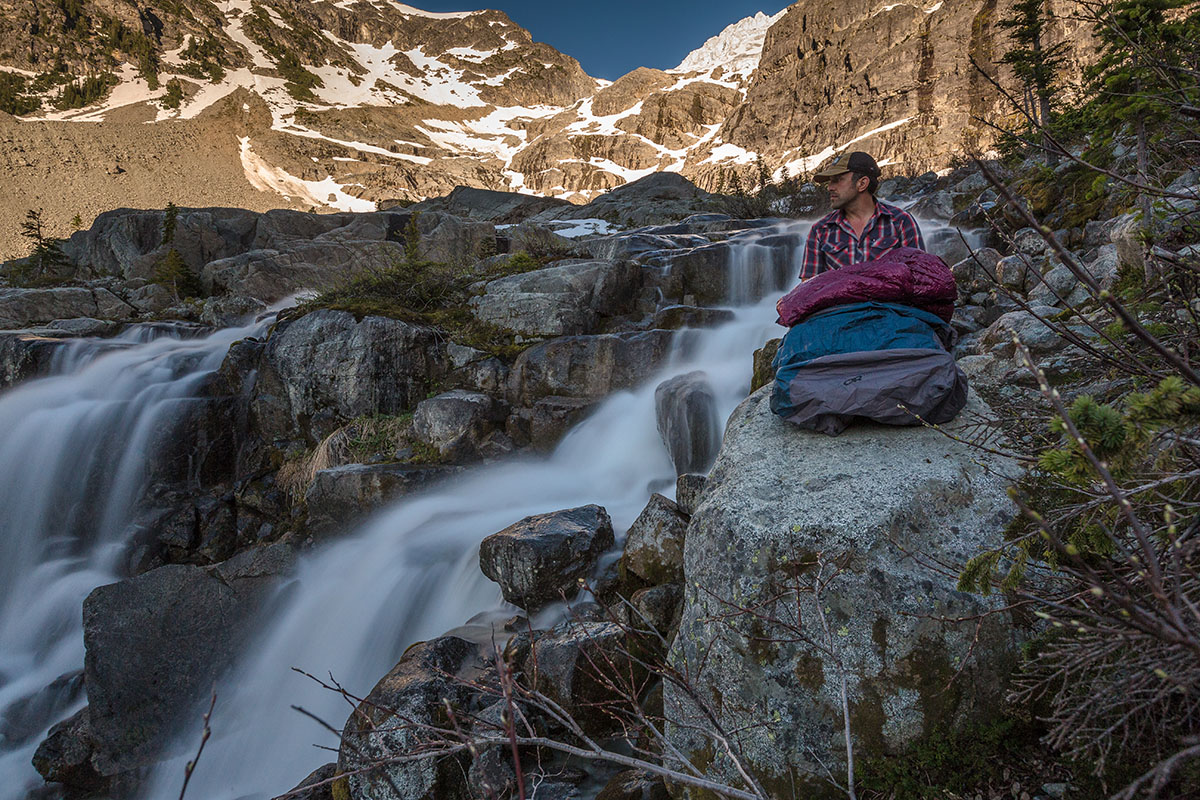 Some might consider the 3-layer Gore-Tex overkill on a hot summer day, but it's worth it when the skies open up. The Gore-Tex is, in my opinion, one of the main things that sets the OR Alpine bivy apart from most of the other sacks out there. This bivy handles rain and outside moisture without issue. In fact, while sleeping near a waterfall one evening, the winds shifted and pushed the spray towards my camp. I only realized this in the morning when I unzipped the bivy and found everything around me damp and covered in fine beads of water. The Alpine Bivy is as waterproof as one could hope for and I would be more than comfortable using it as a 4-season shelter.
So far, buildup of condensation along the interior walls has not been an issue. Varying temperatures and weather conditions have yet to cause damp gear (during my testing the temperatures have not dropped too far below freezing). The storm flaps that cover the zippers make it easy to unzip the bivy for airflow without compromising its weatherproofing. I am looking forward to putting this to the full test in winter conditions when I have sweaty boot liners sitting in the bottom.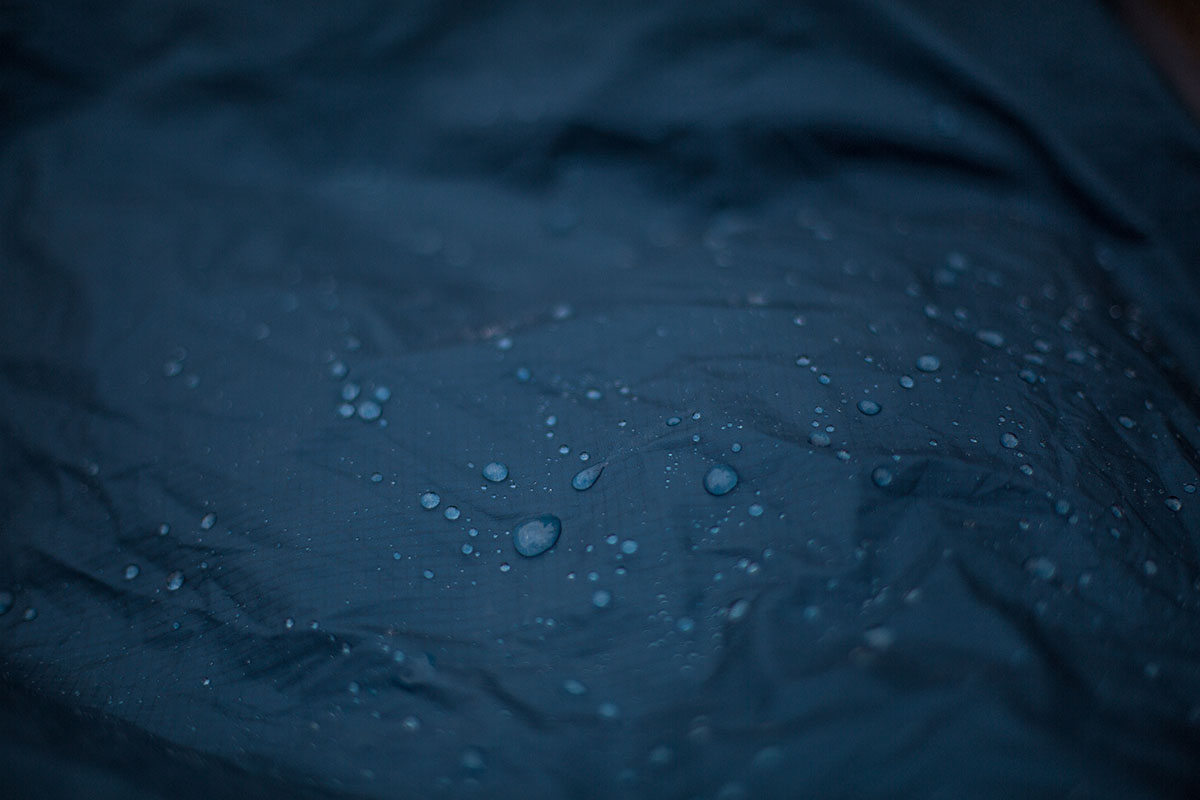 Set up and Take Down
Set up does not get much easier. The bivy simply needs to be removed from its stuff sack and laid out and the collapsible pole fits into its designated hole. In a hurry this can be done in less than a minute, a much-appreciated option when the rain is falling, the wind is howling, and your fingers are cold and loosing dexterity.

Take down of the bivy is equally simple. The pole is removed and the bivy is then rolled or folded and returned to the stuff sack. I personally like to stuff the bivy into my pack without its stuff sack, therefore maximizing storage space in the pack. The bivy's material and structure collapse nicely to conform to the space available in the pack. I've read some reviews indicating that removing the pole is tricky. I find it to be simple, but have noticed that there is a system to follow since simply pulling the pole from the entry point causes the pole to separate from itself and lose its stability. Instead, the pole should be pushed outwards until it is completely extracted from the bivy.

Construction
I was initially surprised at its size and weight (32.0oz / 907g including the pole). Although smaller than my tent, I had hoped it would pack down more compactly. Two competitors are quite a bit lighter: the Rab Alpine Bivi (1 lb. 2 oz.), and Black Diamond Spotlight Bivy (1 lb. 7 oz.). In use, however, the extra weight and size make sense.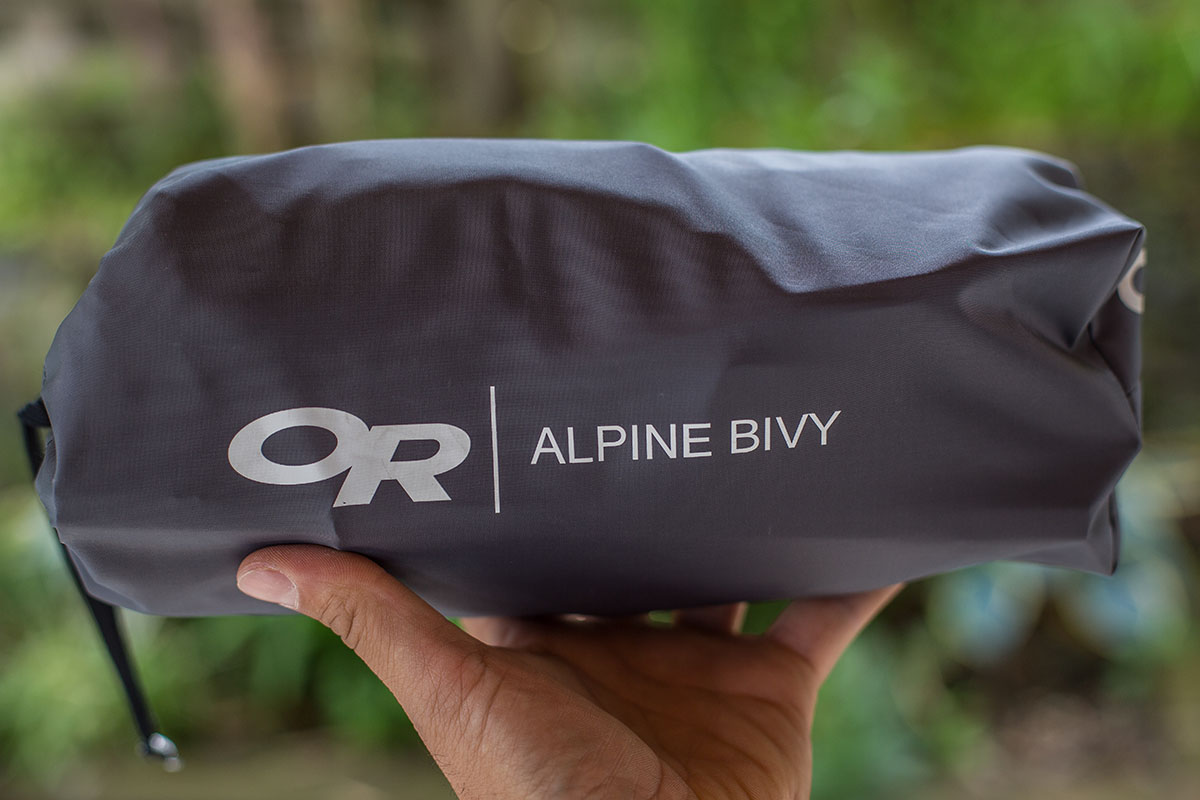 First, the OR Alpine Bivy comprised of 3-layer Gore-Tex and a sturdy 70D nylon floor coated in Hydroseal, which is intended to increase its waterproofness from the damp ground. The floor material wraps up the sides about 2-3 inches in a bathtub style, helping to prevent water from coming in from underneath and soaking through. Second, upon closer examination and use small details began to stand out including fully taped seams, storm flaps over the zippers, and a roomy foot box. Together, this construction, though sturdy, is flexible enough for it to be rolled tightly and returned to its stuff sack. These fabrics and construction style do add comfort, protection and durability, but they come at the price of additional weight.
There are a few bonus features including two internal straps to hold the sleeping pad in place, an anti-fungal floor coating to stop mold and mildew (so far it seems to be effective), and a small internal storage pocket, which unfortunately is too small to hold even a smartphone. An increase in the size of that pocket on a future update would be a nice touch.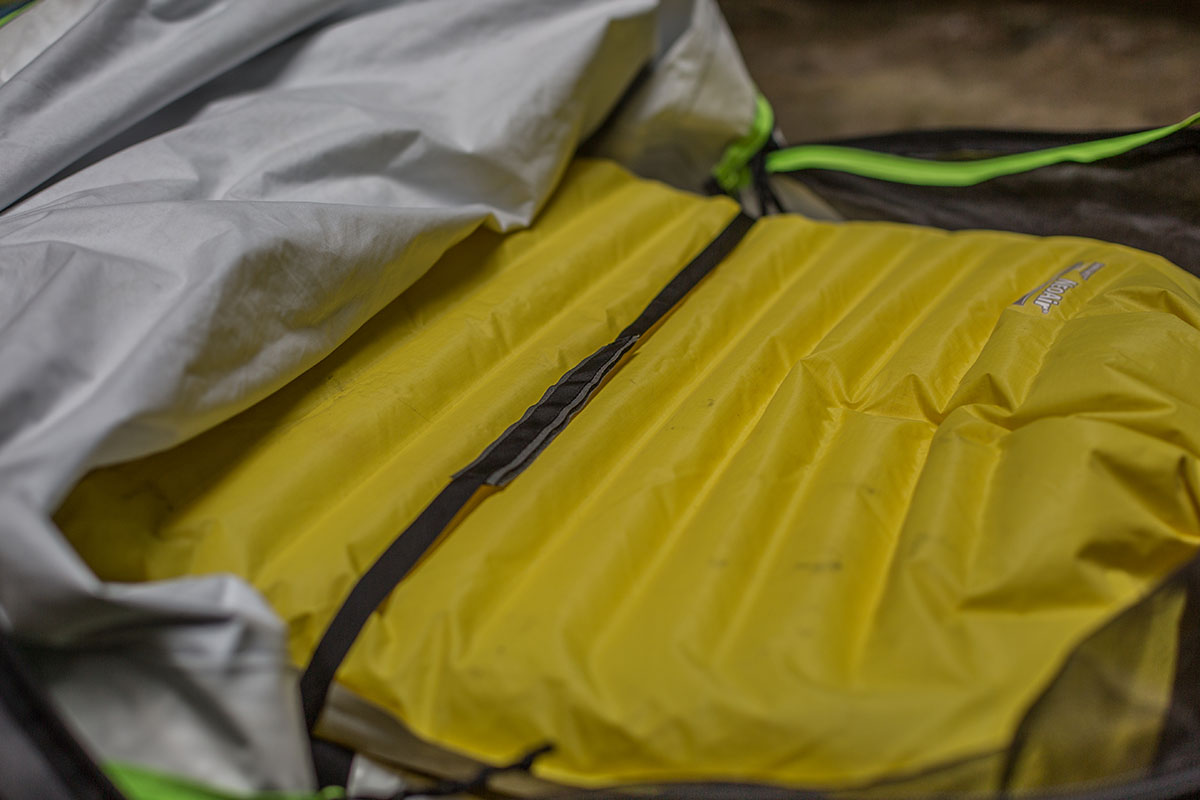 Space and Comfort
At 6 feet and over 200 pounds, I found the Alpine Bivy to be roomy in both length and width. Access is a little limiting as you have to crawl in from the top, but once inside, it's impressively spacious. I tend to roll around often while sleeping and was pleasantly surprised to find ample room regardless of whether I opted to sleep on my back, side, or stomach. Furthermore, there was plenty of room to store a few items like a camera, shoes and puffy jacket.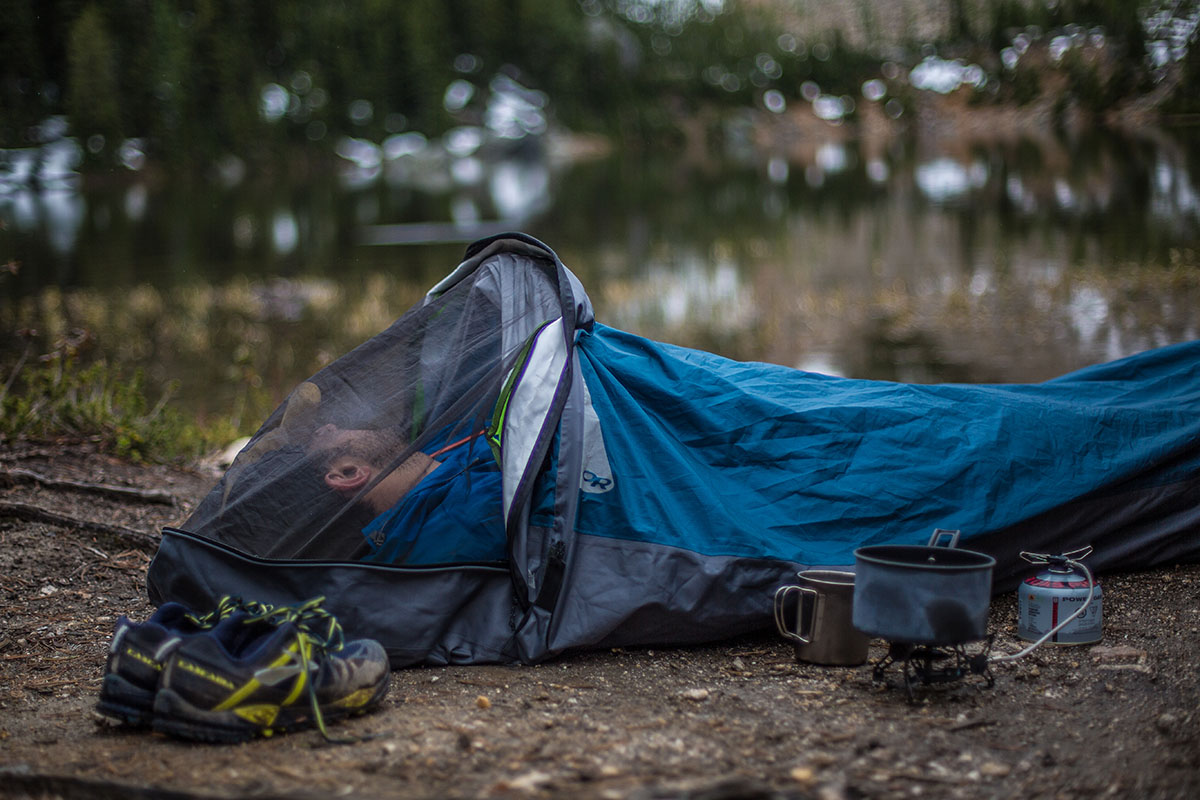 The "Delrin" single pole system is cleverly designed: once pushed through, the pole is secured and provides about 20 inches of head and shoulder room to make this bivy truly comfortable. There's actually enough room to read a book or map while falling asleep or waiting out bad weather. I've slept next to friends (and my wife) who were using bivies without such a system and felt smug as they struggled with ball caps and other creative means to keep their bivy from lying flat on their faces. The pole is collapsible so that it can be neatly packed away in the stuff sack.
Another bonus of this bag is the "No-See-Um" mesh. When sleeping under the stars of the Moab night it was a luxury to stare up into the constellations without worrying about bugs and other critters (Moab does have scorpions and tarantulas!). When the rain does come, it is relatively easy to unzip the mesh and batten down the Gore-Tex hatch. The two zippers can be a bit finicky however, because the main zipper and the mesh zipper start in the same place and easily catch the other's material. 
 
What We Like
Plenty roomy. To me, the pole and subsequent headroom sets this bivy apart from many others.
Fast and easy setup that can be done in just about any weather conditions.
3-layer Gore-Tex build and a durable upper material offers excellent protection from the elements.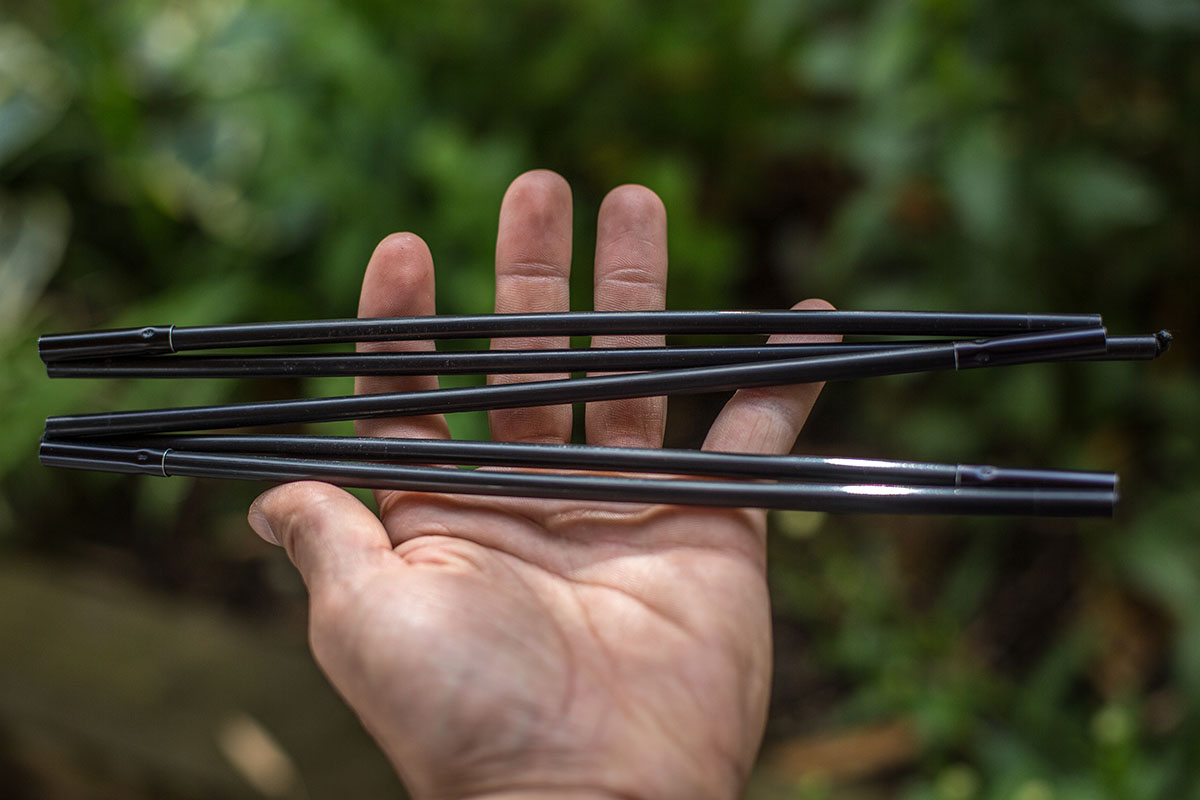 What We Don't
It is tad heavy for a bivy (though the trade-offs are worth it, and to save weight you can leave the pole behind).
Though it has 5 stake loops and a loop for a guy line, it does not actually come with any pegs or a guy line. They can be purchase separately of course, but for the price, it would be nice if it were included.  
A zipper or side entrance would make entering the bivy much easier.
The Gore-tex upper can fall down onto your face when open or while using the mesh cover. There's no way to attach or secure the upper to prevent this. A small clip or latch would be ideal here.
 
The Competition
There are a number of proven, fully waterproof bivy sacks on the market, and the bivy that we tested side-by-side was the OR Aurora. The Aurora includes a lot of the same features as the Alpine, including a Gore-Tex upper, Hydroseal coated floor, and No-See-Um netting. The one feature that set the two bivies apart was the single pole design. Although it added some weight, the luxury of having that 20 inches of headroom is a definite bonus.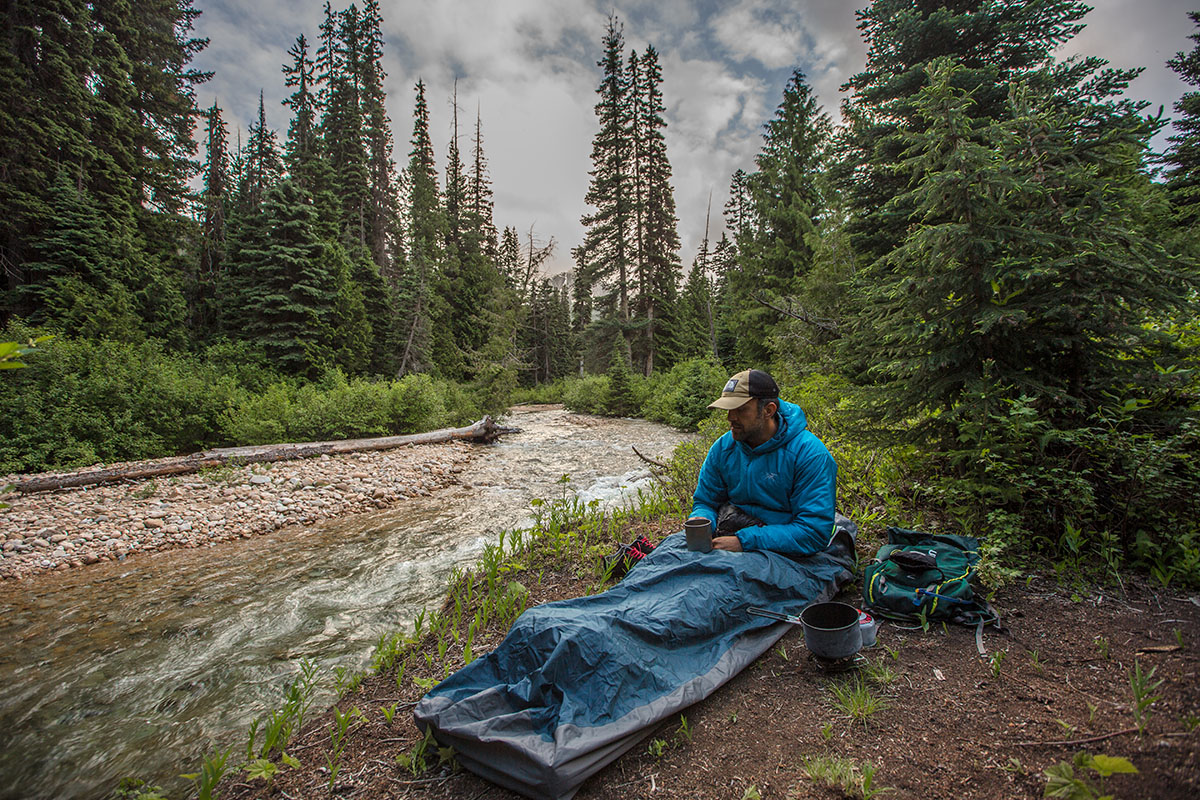 Sharing the same name and intent, the Rab Alpine Bivi is a lightweight 3-layer competitor. The biggest differences are the Rab uses a very thin 15-denier upper material (you get 30-denier on the OR), which isn't as durable, and the Rab also does not have the pole support. Those decisions yield a 1 pound 2-ounce total weight, however, which beat out the relatively heavy OR.
Another option that shares the Alpine's single-pole design is the Black Diamond Spotlight. For all-out protection in 4-seasons, the 3-layer Gore-Tex of the Alpine Bivy gets the edge over the thin NanoShield you get from BD, but as with the Rab above, minimalists may prefer the much lighter, 1.5-pound Spotlight.
If you're thinking about buying gear that we've reviewed on Switchback Travel, you can help support us in the process. Just click on any of the seller links above, and if you make a purchase, we receive a small percentage of the transaction. The cost of the product is the same to you but this helps us continue to test and write about outdoor gear. Thanks and we appreciate your support!
Depending on the seller, most products ship free in the United States on orders of $50 or more. International shipping availability and rates vary by seller. The pricing information on this page is updated hourly but we are not responsible for inaccuracies.
Learn More About Outdoor Gear