Piggybacking off the popularity of their functional Uberlayer jacket, Outdoor Research introduced the Ascendant as a lighter and more breathable option. As an active midlayer with great mobility, it can be your go-to jacket for everything from backcountry skiing and climbing to hanging out by the fire after a day in the mountains. We have mixed feelings about its exposed insulation, which results in a fuzzy, somewhat unkempt appearance, but the Ascendant proved itself to be a solid active insulation choice for high-output activities. Below we break down the Ascendant's warmth, breathability, water resistance, weight and packability, fit and sizing, and more. To see how the Ascendant stacks up, see our articles on the best synthetic jackets and best midlayers.
 
Performance
Warmth 
The Outdoor Research Ascendant Hoody, unlike many other active insulation pieces, has only two layers: an outer shell and inner insulation. While I expected this weight-saving decision to impact warmth, that wasn't the case. Despite its plush, toy-like appearance, the Polartec Alpha Direct synthetic insulation worked great. If anything, I found that the Ascendant ran a little on the warm side during aerobic activities. In terms of layering, I often paired it with a short-sleeve baselayer, and sported the jacket as an outer layer for descending just as often as I did for climbing—a true testament to its temperature-regulating ability and breathability (more on that below).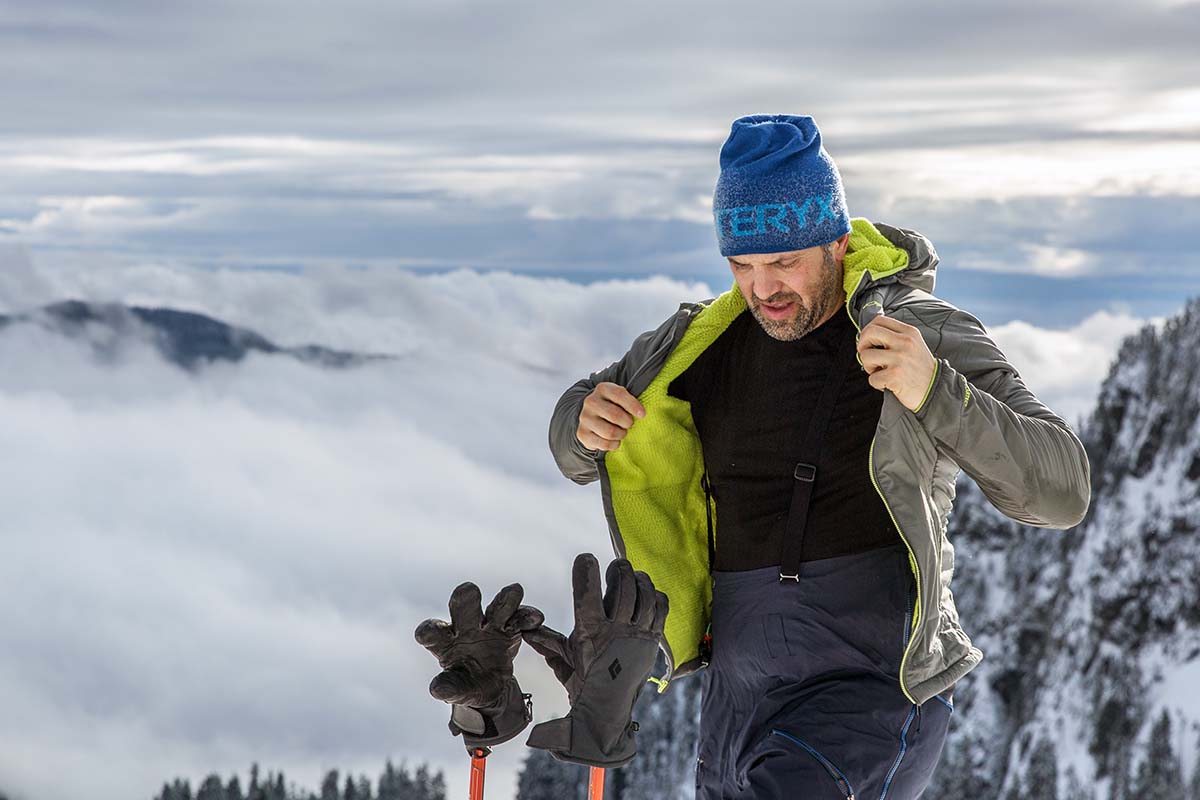 In practice, I found the Ascendant's "sweet spot" to be within five degrees of freezing on either end, which is a respectable range for an active insulation piece. And it can definitely go colder with more layers added. With a bit less insulation than the since-discontinued Uberlayer (95g/m2 compared to 98g/m2), but significantly more than other options like the Patagonia Nano-Air and Arc'teryx Atom LT (60g each), the Ascendant lands in a well-deserved category as a versatile jacket for almost any season or activity. I often found myself hanging out in it from the moment I woke up until it was time to cozy up in my sleeping bag.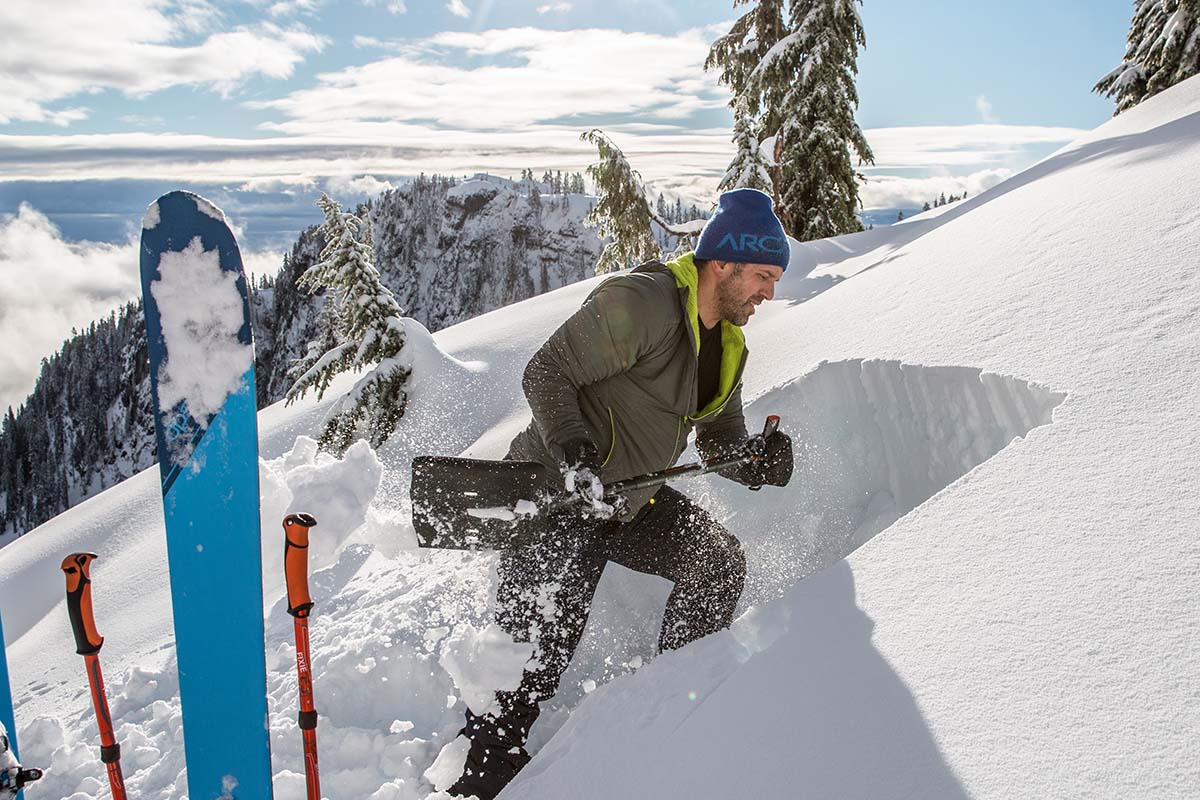 Breathability 
Breathability is another strongpoint of the Outdoor Research Ascendant. One thing became immediately apparent: it has a remarkable ability to simultaneously vent heat and protect you from the elements. The Pertex shell sheds moisture very effectively while still allowing for good airflow. And the Polartec Alpha Direct—distinguishable from other synthetic insulation like PrimaLoft by its low-density design—traps heat in its many air pockets when you're inactive. In other words, it breathes when you're moving yet keeps you warm when you're standing still. During periods of high exertion, the jacket has been soaked with sweat (especially noticeable under my heavy BCA avalanche pack), but vents well, stays warm, and dries out quickly. It's also become my go-to for approaches in the Coast Mountains backcountry, where 10-kilometer uphill slogs are common.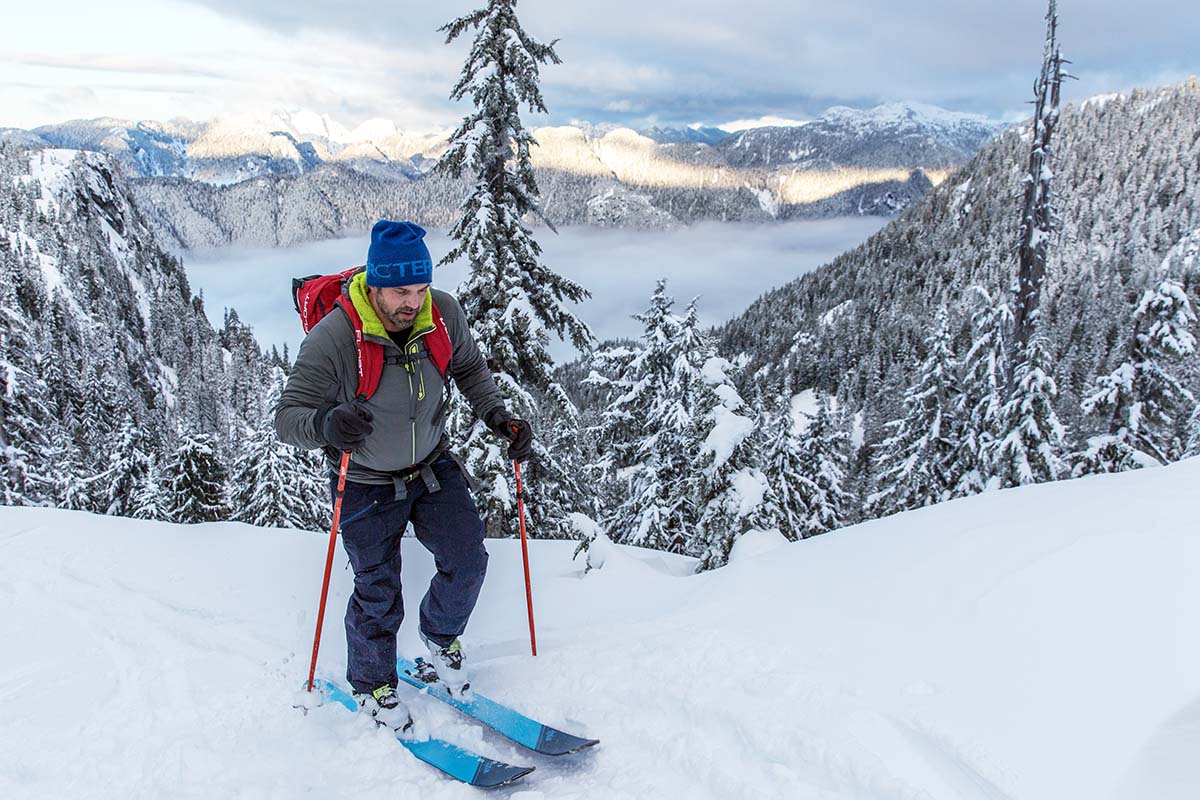 Water and Wind Resistance
The water-resistant Pertex shell did an excellent job of repelling precipitation, which beaded off my shoulders and sleeves as I loaded and unloaded ski gear in the rain. On one particular outing, under constant, heavy snowfall, water began dampening the shoulders but didn't seem to penetrate the insulation—a very welcome benefit of synthetic insulation over down in these types of conditions. The shell also fended off wind well, which came in handy while sitting on a lift and traversing a blustery ridgeline. To be clear, the Ascendant is a long way from replacing a hardshell in rowdy weather, but it is among the best we've tested in the active insulation market. Jackets like the Arc'teryx Proton LT and Patagonia Nano-Air let in noticeably more freezing wind, and had us quickly reaching for our waterproof layer in those conditions.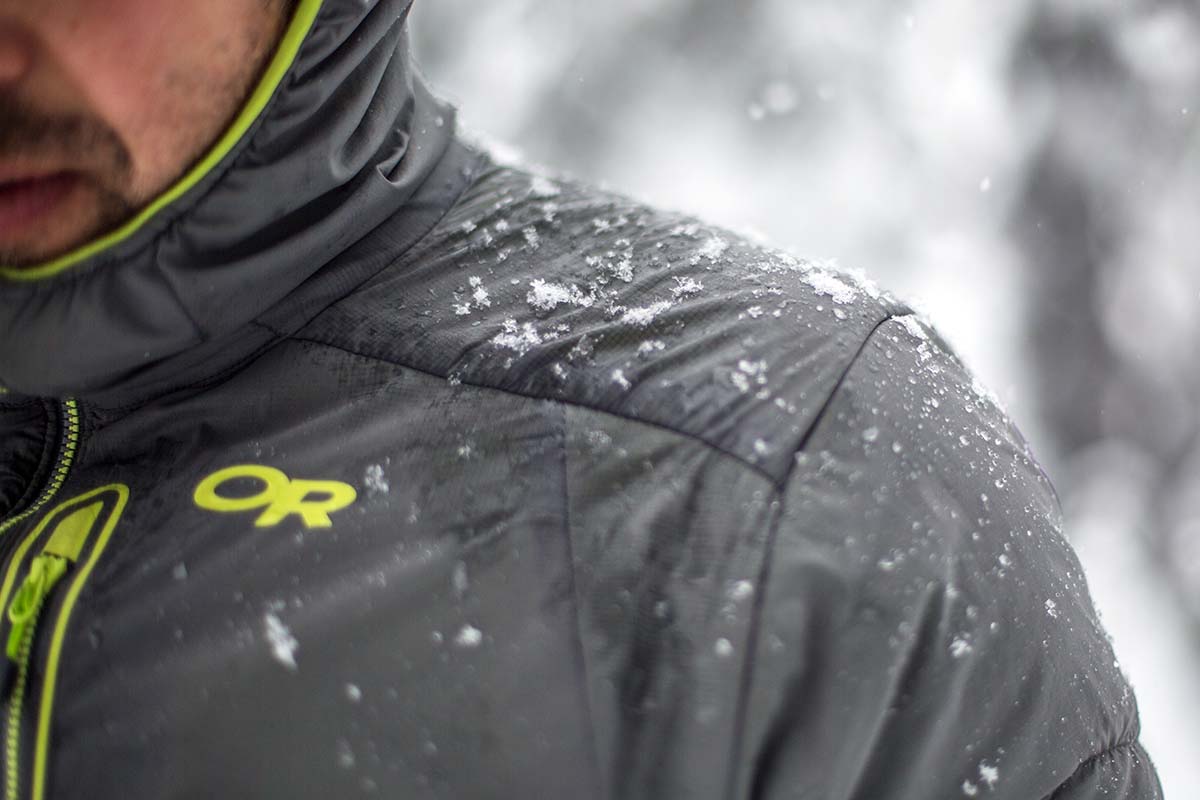 Weight and Packability 
At 13 ounces, the Ascendant's relatively low weight is partially achieved by its lack of materials. The Polartec insulation on the inside is attached directly to the Pertex shell, reducing some bulk by eliminating materials typically found in other jackets (similar to its Uberlayer predecessor, which used mesh lining quite liberally inside). While far from the lightest insulating option on the market—that distinction belongs to down—the Ascendant boasts a very respectable weight-to-warmth ratio for a synthetic jacket. Unfortunately, it can't be stuffed into any of its pockets like many of its counterparts, but the jacket does fit into its hood and can be cinched to the size of a 32-ounce Nalgene.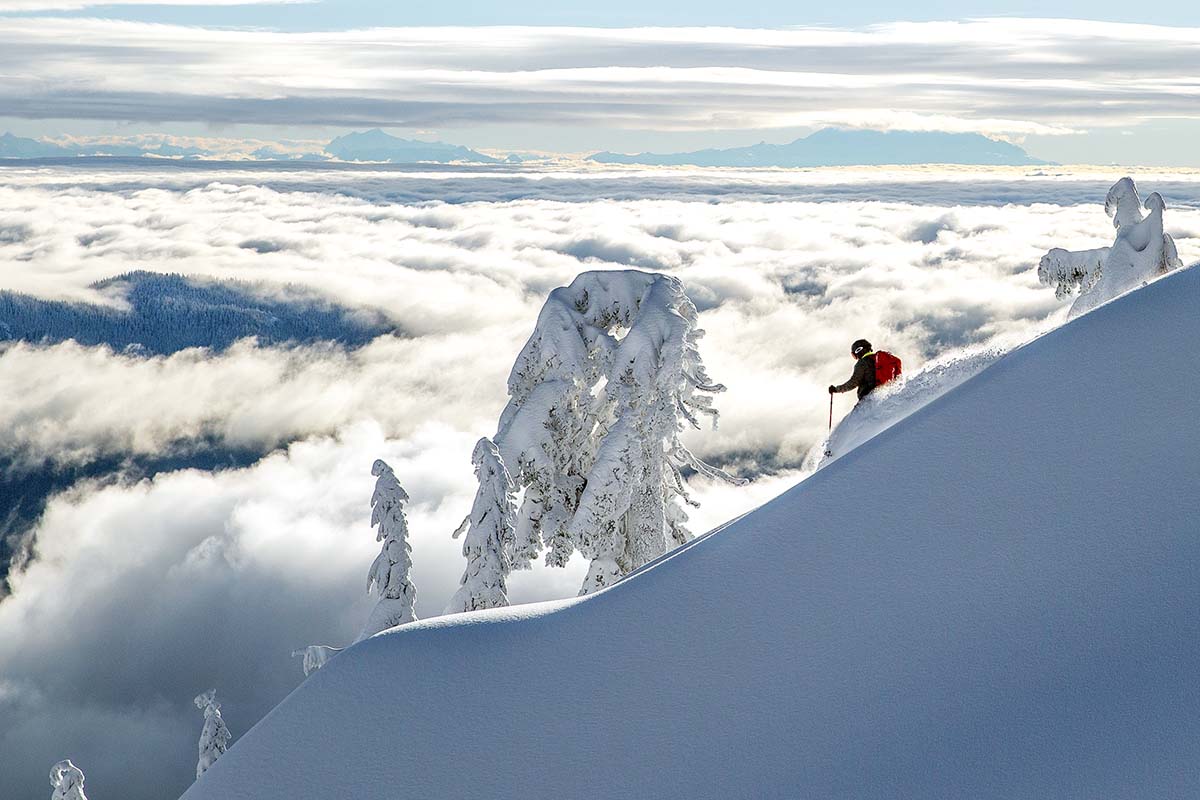 Comfort
Though form-fitting (more on that below), the jacket is surprisingly stretchy and easily maneuverable. Like the Arc'teryx Proton, the Outdoor Research Ascendant performs somewhat like a softshell: the fabrics are durable but have enough "give" to make it easy to reach forward or overhead. Grabbing gear from above in my van's roof box, adjusting ski boots, and setting up camp were all done without restrictions of movement. Further, the hem didn't rise when reaching overhead and stayed put under a hip belt. And perhaps the best part: the furry, soft Polartec insulation is quick to warm the body and doesn't stick to damp skin, making it especially comfortable with only a short-sleeve baselayer underneath. But this definitely is subjective, and some might not enjoy the yarn-like feel.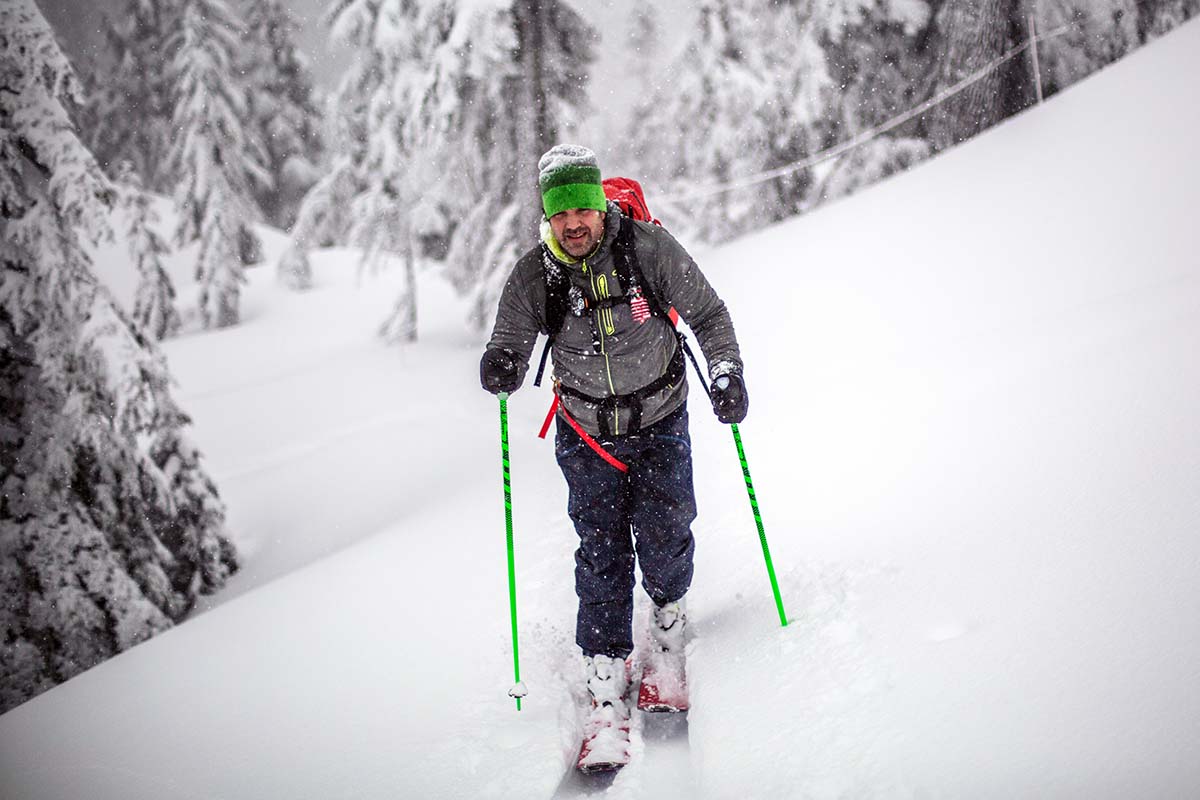 Durability and Build Quality
After only a few months of use, the Ascendant did show some signs of premature wear. I'm not exactly easy on my gear, especially layers that are constantly stuffed in and pulled out of my packs or pressed up against wet and abrasive equipment like skins and crampons. Months of that, combined with a lot of active use, and I noticed loose threads poking out of the outer shell. In addition, the Polartec fur shed some neon-green fibers, which was especially noticeable on my darker baselayers. Perhaps due to its exposed insulation, lack of added materials, and thinner 20-denier shell, the Ascendant has proven less durable than other (often pricier) midlayers from brands like Arc'teryx, Patagonia, and The North Face. And one final gripe: the main zipper consistently snags about six inches from the top. Fiddling with it does the trick, but that's easier said than done with cold hands.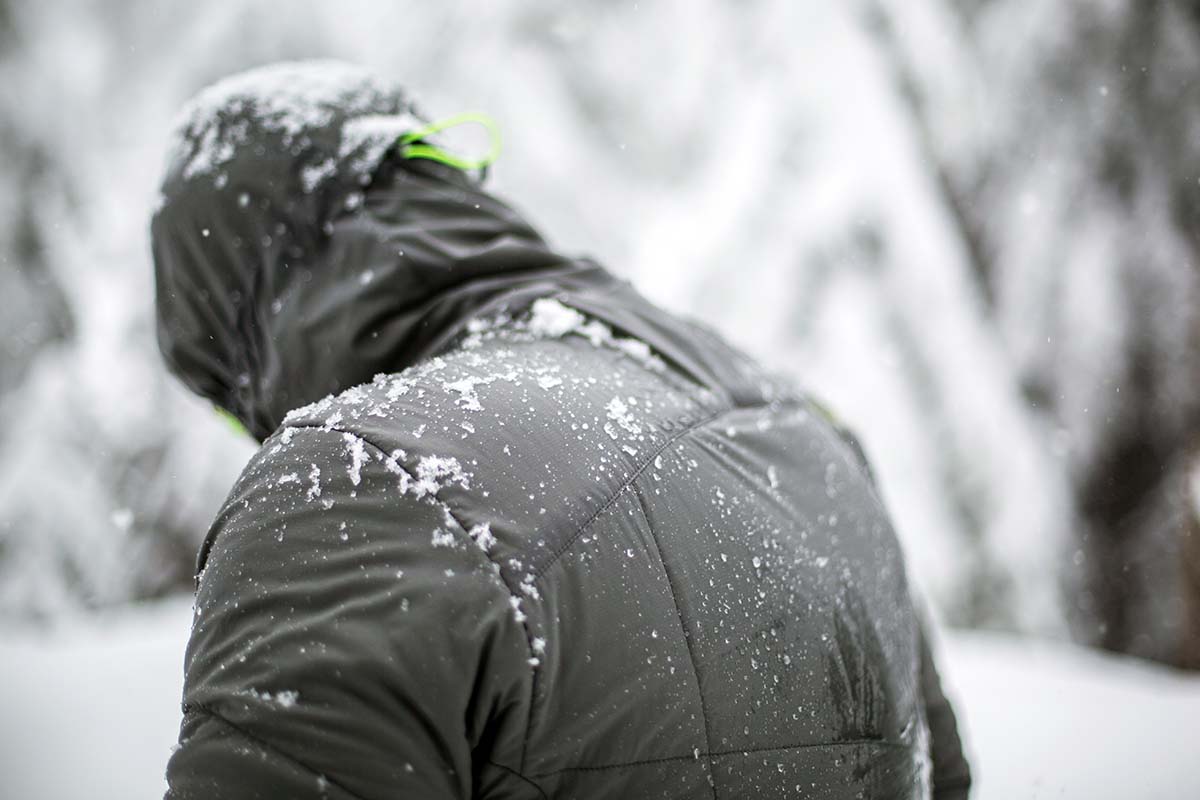 Features 
Hood
The Ascendant's large, stretchy hood kept me cozy on more than one occasion, especially when worn over my ski helmet or cinched over a hat. In terms of adjustments, a single drawcord at the back makes fine-tuning the fit easy. Unfortunately, Outdoor Research no longer sells a non-hooded jacket version of the Ascendant, but we love the versatility of the hood, which definitely came in handy in biting winds and cooler temps.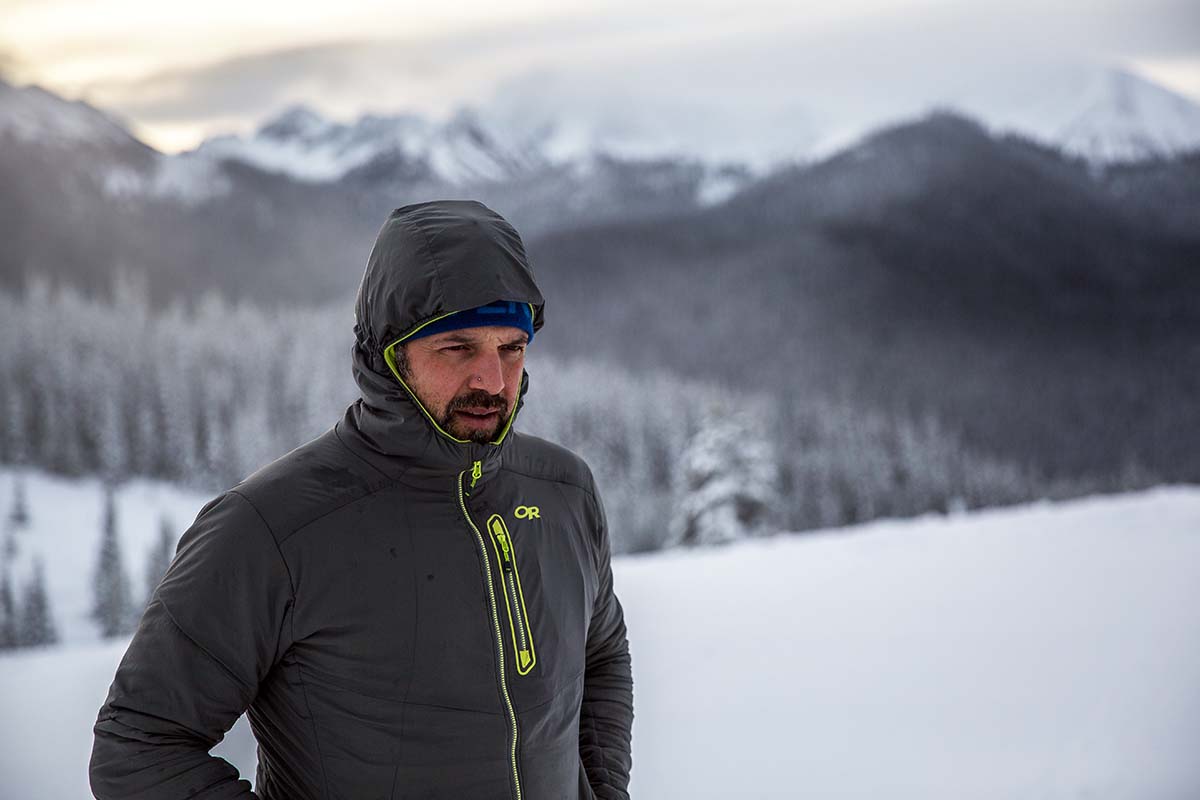 Storage
While shaving weight always is appreciated, OR might have taken it a bit too far by removing the zippers on the two side hand pockets. While large enough to stow a beanie or to warm gloved hands, they're useless for stashing anything important (I almost learned the hard way with car keys and fortunately didn't make that mistake again). If you plan on wearing the Ascendant as your around-town jacket or as an outer layer, that might be worth considering. The zippered chest pocket is a better place to store items like a map or cell phone, and has zipper garages on the top and bottom to reduce the possibility of moisture leaking in. As mentioned above, none of the pockets are big enough to stuff the jacket into itself, but the hood solved that problem quite easily.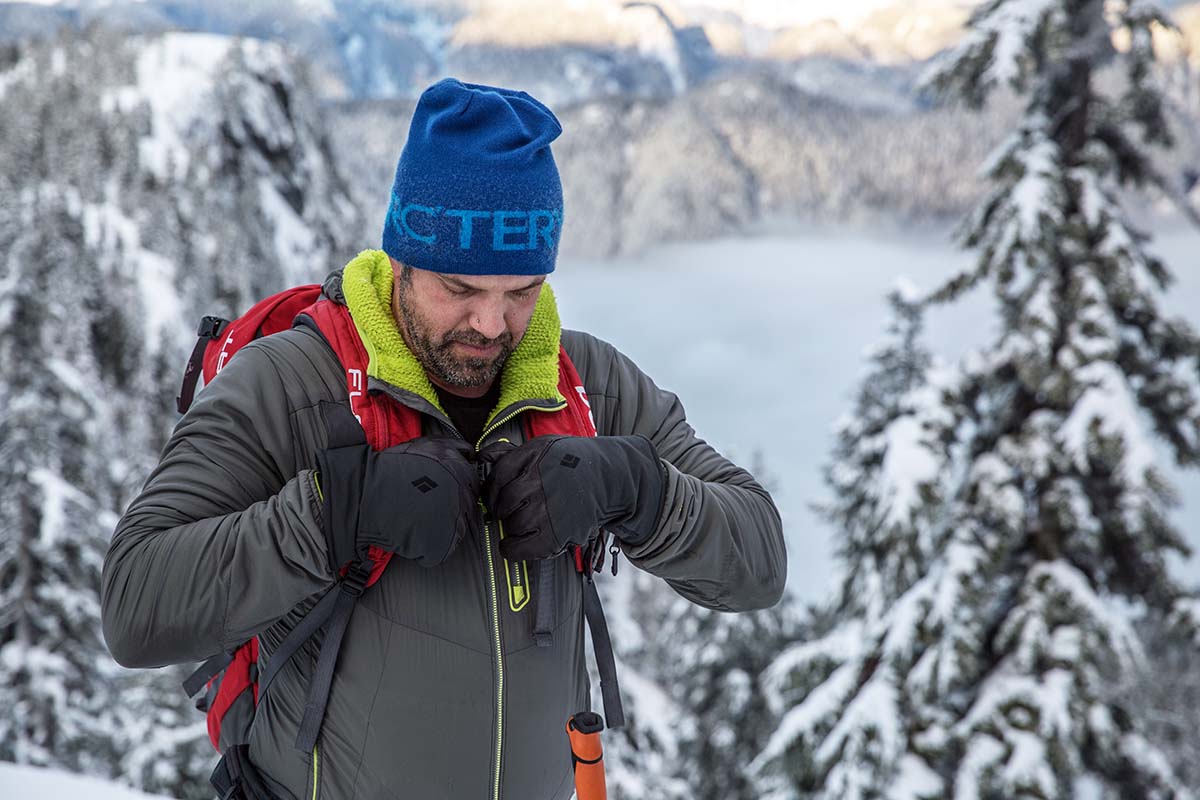 Thumb Loops
Like many other performance-oriented midlayers, the Ascendant includes a small thumb loop on the inside cuff of each sleeve to keep them in place during high-output activities. These loops can also be useful when adding or taking off an outer shell. But in the end, they weren't very functional for me: I found the thumb loops to be a bit too tight and unnecessary as the sleeves never rode up or got in my way. The good news is that they go unnoticed if you opt against using them.
 
Fit and Sizing 
The Outdoor Research Ascendant has an athletic/trim cut that fits slightly on the small side, making layering on top quite easy. It was perfect for wearing over a t-shirt or thin baselayer, which was my outfit of choice this past season. That said, I recommend that those with a larger, more muscular build size up to be safe, or if pairing with a heavier baselayer. Range of motion is exceptional, due in large part to the near-perfect length of the arms for me—they didn't ride up and expose my wrists once, despite my choice to forego the thumb loops. The hem also can be adjusted by an elastic drawcord at the waist to make the jacket even more weatherproof.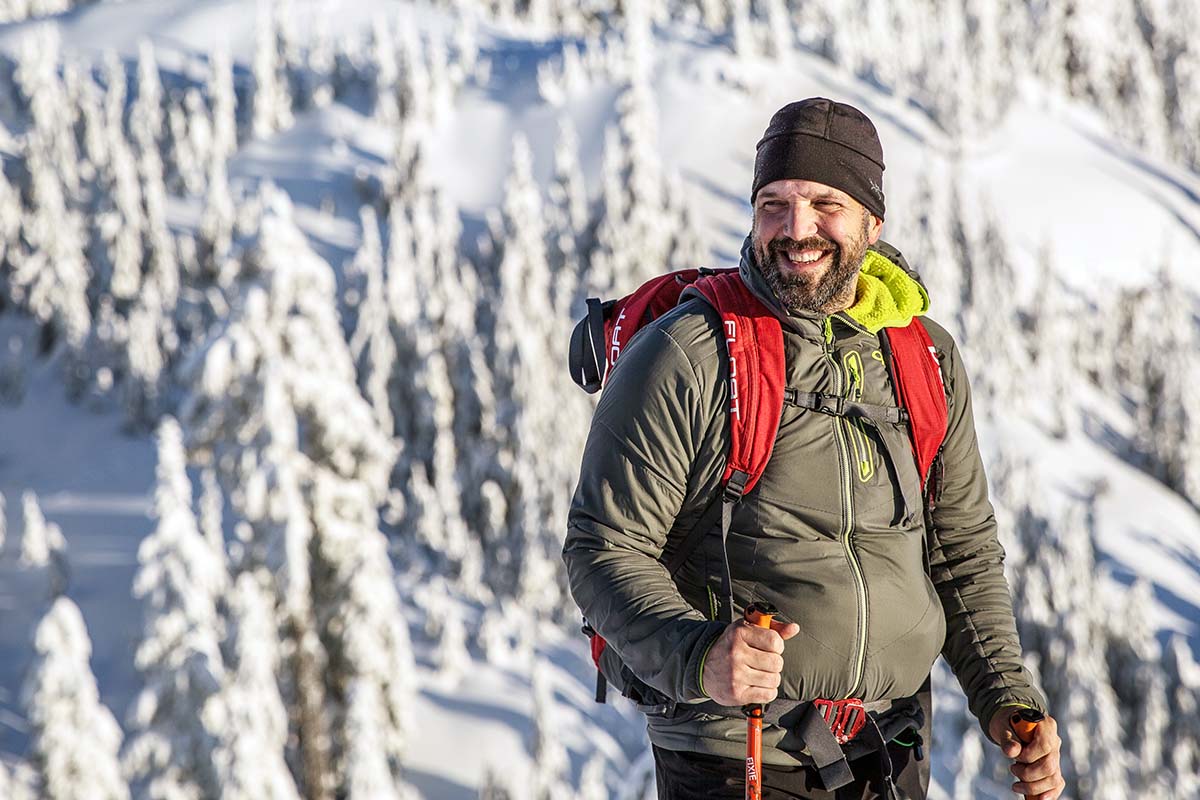 Women's Version of the Outdoor Research Ascendant Hoody
We brought the men's Ascendant Hoody skiing in the Coast Mountains of British Columbia, and Outdoor Research makes the same jacket in a women's version. The women's Ascendant Hoody also retails for $249 but comes in slightly lighter at 10.9 ounces and is available in different colorways (at the time of publishing, these include black and maroon versions). Otherwise, the two models share the same feature set and build including weather-resistant Pertex Quantum Air shells, 95-gram Polartec Alpha Direct insulation, thumb loops, and non-zippered hand pockets.

What We Like
The Ascendant shines as a cold-weather active insulation piece: it's lightweight, breathable, and warm.
Great mobility and comfy fabric makes it a versatile all-day jacket.
Repels precipitation and resists wind with ease.
 
What We Don't
The jacket showed early signs of wear after only a few months of use, including loose threads on the shell and shedding insulation. 
Too much warmth for highly aerobic activities in moderate temperatures.
No zippers on the hand pockets.
The thumb loops were too small and tight to be useful.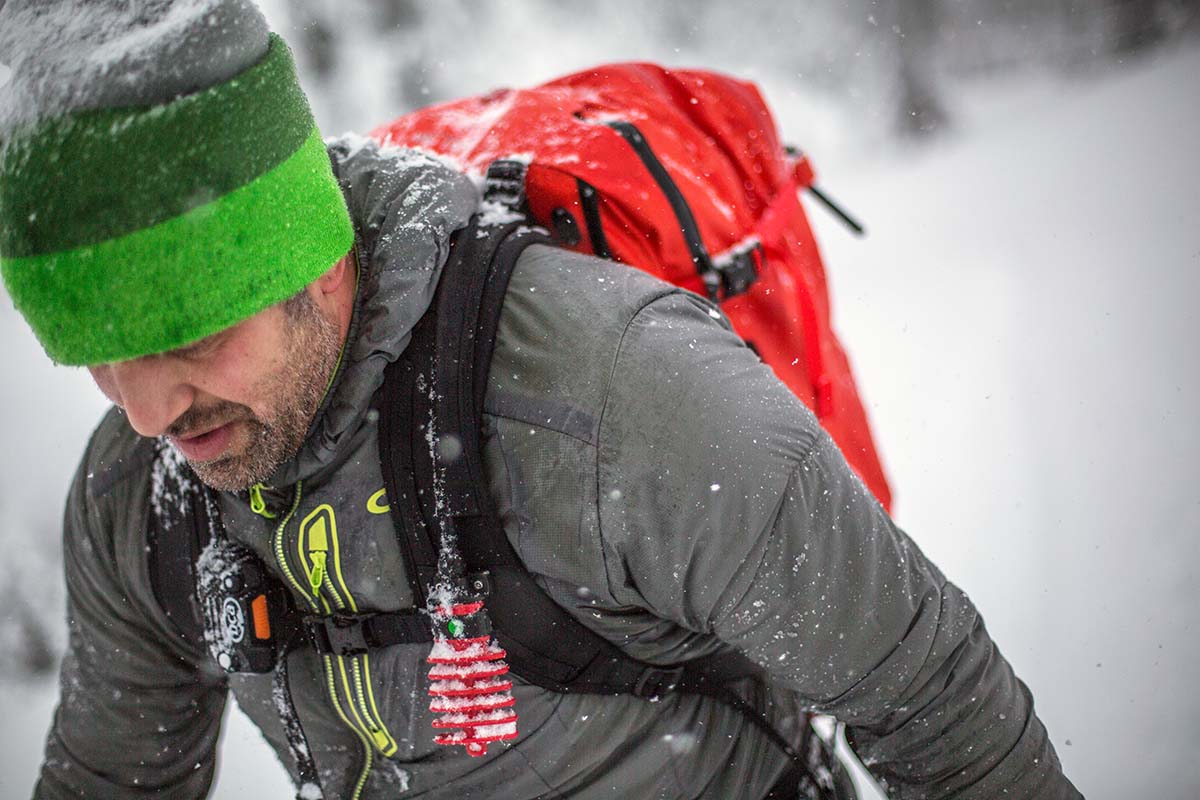 Comparison Table

The Competition
The Ascendant Hoody stands as a nice upgrade to the old OR Uberlayer and holds its own in a very competitive field of active insulation jackets. The piece that best represents the category is Patagonia's Nano-Air Hoody, which was updated for 2019 and is extremely popular for both casual and performance use. Compared to the Ascendant, the Nano-Air offers a little less insulation (60g FullRange), doesn't block wind as well, and costs an extra $50. But the Patagonia has the clear advantage for everyday wear: its hand pockets have zippered closures (unlike the OR), its liner is soft and doesn't shed insulation, and the jacket's styling crosses over very well for around-town use. Both excel in terms of breathability and are great options for ski touring or climbing, but the Nano-Air gets the edge for us as the more complete package.
Another leading synthetic jacket that was updated this year is The North Face Ventrix. It's is a big leap in technology for The North Face: its "Ventrix" synthetic fill balances breathability and warmth like the Nano-Air and Ascendant, and its priced aggressively at $220 for the hoody version. Further, we've found its stretchy construction to be very comfortable, although the non-adjustable hood isn't great in heavy winds. The Ventrix is heavier than both the Ascendant and Nano-Air—by 0.4 ounces and 1.2 ounces respectively—but it doesn't have the shedding issue that you get with the OR. As with the Nano-Air above, the Ventrix is the preferred option for daily use and is more practical with its zippered pockets, but you can't go wrong with either design.

Another layering piece to consider is Arc'teryx's classic Atom LT Hoody. This long-standing favorite of ours has held the top spot in our synthetic jacket round-up for years, which says a lot. Its interior is pillowy soft, the shell does an admirable job shedding light rain and snow, and the fleece side panels provide a nice amount of stretch and freedom of movement. It is not, however, as useful on the skin track as the Ascendant. The OR's shell fabric and insulation are far more breathable, and the two jackets are a close match in terms of wind and water resistance. As a performance piece, the OR gets the nod from us, but it can't compete with the Atom LT's combination of comfort and styling.
Staying within Arc'teryx's lineup, the Proton LT is another active insulation piece that's more air-permeable than the Atom LT and made for high-output activities like climbing and backcountry skiing. For insulation, the Proton uses 80g Coreloft Compact in the body and 60g in the hood, but otherwise it's very similar to the OR with a 20-denier shell, nearly identical weight (the Proton LT is 0.2 ounces heavier than the Ascendant), and three total pockets (although the Proton's hand pockets have zippers). Both are great for cold-weather, active pursuits in the mountains and it's hard to beat Arc'teryx's fit and finish, but the Ascendant is $50 cheaper and doesn't sacrifice much in the way of performance.
If you're thinking about buying gear that we've reviewed on Switchback Travel, you can help support us in the process. Just click on any of the seller links above, and if you make a purchase, we receive a small percentage of the transaction. The cost of the product is the same to you but this helps us continue to test and write about outdoor gear. Thanks and we appreciate your support!
Depending on the seller, most products ship free in the United States on orders of $50 or more. International shipping availability and rates vary by seller. The pricing information on this page is updated hourly but we are not responsible for inaccuracies.
Read More About Outdoor Gear