Outdoor Research Refuge
Price: $220
Weight: 1 lb. 4.1 oz. (men's)
Insulation: VerticalX (60g)
What we like: Warm and comfortable for daily wear and light winter adventuring.
What we don't: Heavy and bulky for the backcountry; difficult to stuff down. 
See the Men's Outdoor Research Refuge  See the Women's OR Refuge
Seattle-based Outdoor Research is a leader in the synthetic jacket market, often hitting a nice balance between price and performance. Their Refuge replaced the old Cathode and slots in as an impressively warm and comfortable piece for casual use and light winter activities like snowshoeing and hiking. It's too heavy and bulky to be considered a true backcountry companion, but the soft feel, clean styling, and versatile fit give it a good deal of around-town appeal. Below are our experiences with the Refuge. To see how it stacks up to the competition, see our article on the best synthetic jackets.
 
---
Table of Contents
---

Performance
Warmth
Put simply, the Outdoor Research Refuge is a warm place to be. It can be difficult to concretely measure the warmth of synthetic jackets given the different insulation types and weights, and the listed 60 g/m2 of VerticalX synthetic insulation denotes the density of the fill rather than how much of it is actually in the jacket (referred to as "fill weight"). But we've worn a lot of synthetic jackets and can say that it's a substantial amount. Additionally, VerticalX is loftier than most other synthetic insulation types (Patagonia's PlumaFill used in their Micro and Macro Puff jackets is one exception). We consider the Refuge a midweight piece and noticeably warmer than popular lightweight models like the Arc'teryx Atom LT (60g Coreloft Compact) and Patagonia Nano-Air (60g FullRange). Throughout testing, we've treated it almost like a lightweight down puffy and even used it as our primary insulator while backpacking in chilly Parque Patagonia, where it kept us warm down into the 40s Fahrenheit.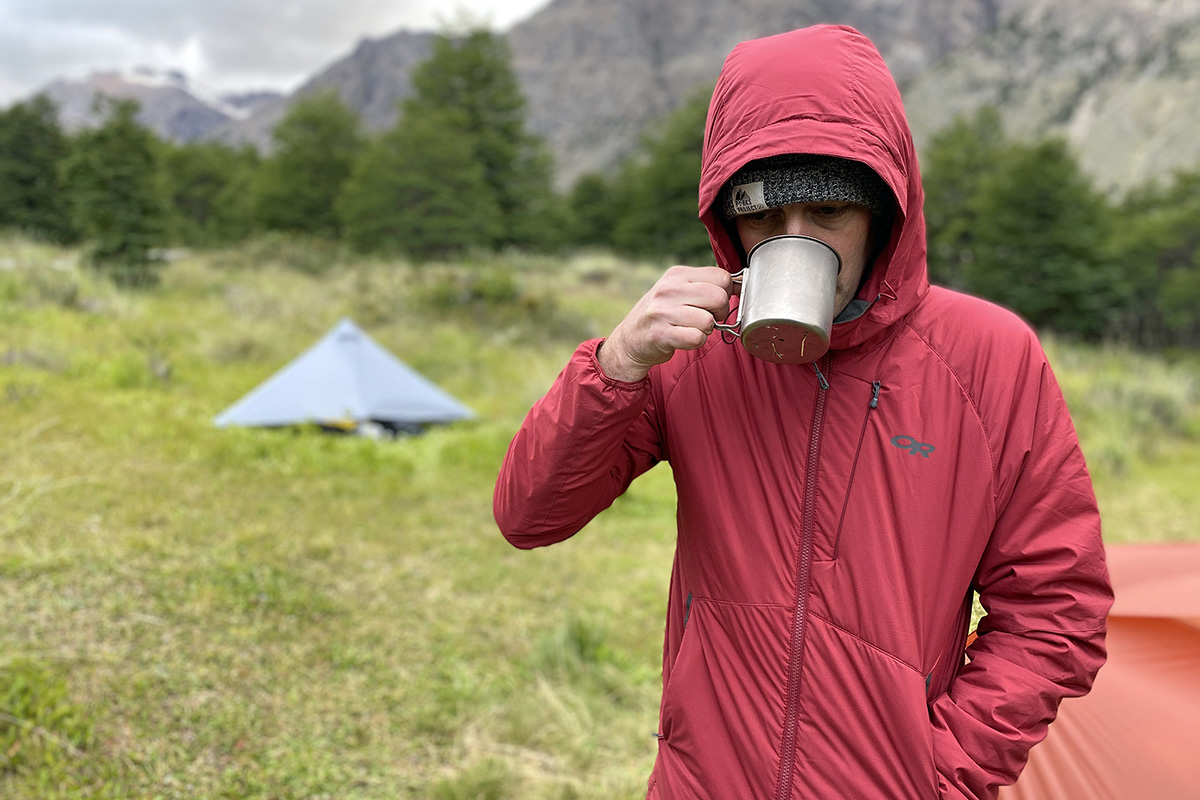 Breathability 
Breathability is a bit of a mixed bag with the OR Refuge. On one hand, VerticalX is billed as an "active insulator" for high-output outdoor activities like skiing, climbing, and winter hiking. In practice, the Refuge felt more breathable than Arc'teryx competitors that use synthetic Coreloft, including the Atom LT and AR. That said, the amount of insulation and overall thickness and weight of the jacket limit its appeal for active use. It's certainly too warm for active use in mild shoulder-season conditions, and in the winter, would be difficult to stuff down into a pack. We did bring it on a multi-day backpacking trip in Patagonia for testing purposes, but we would have strongly preferred a lighter and more compressible down jacket in that scenario.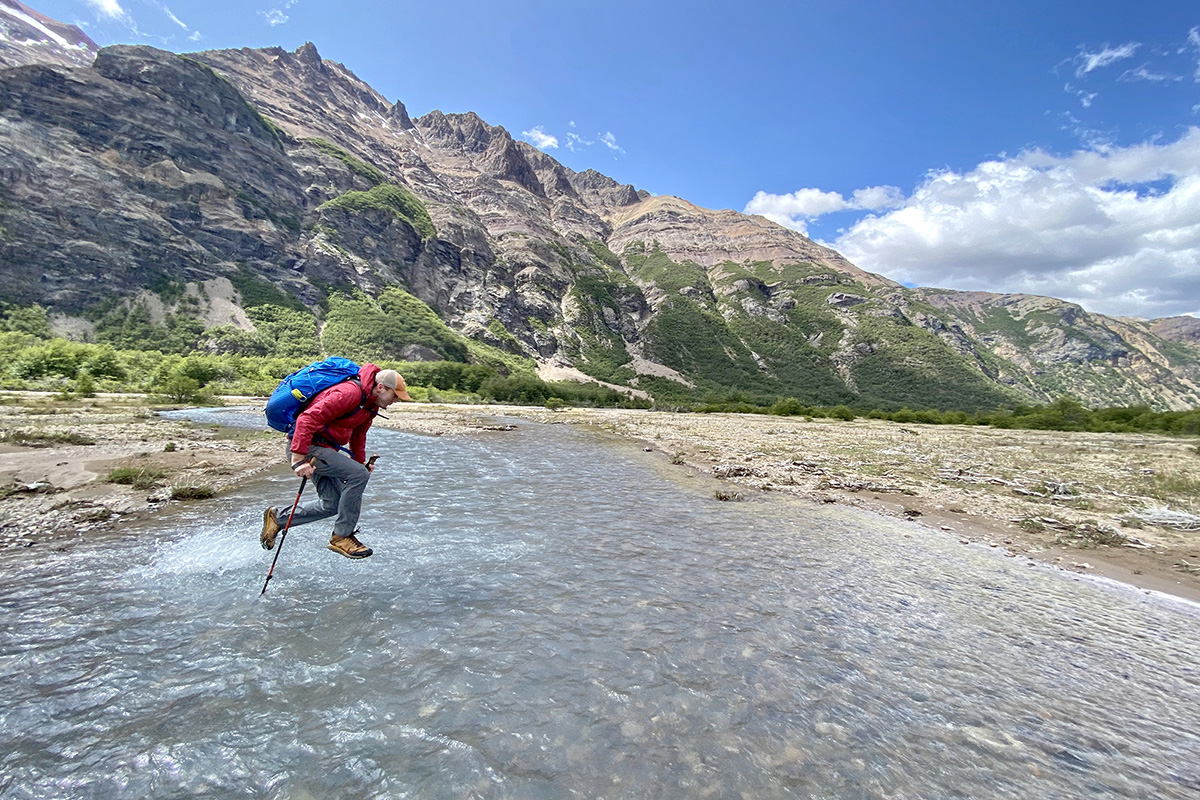 In the end, despite the active billing, I most often wear the Refuge as a daily/casual piece. As touched on above, it's warmer than most of the synthetic jackets in my gear closet but has a clean and sleek look that wears well around town. To be fair, the jacket does have some performance potential—it's a fine option for snowshoeing, winter hiking, and belaying in cooler temperatures. But the sheer size and heft are big deterrents for true backcountry use. 

Weather Protection
The OR Refuge is well-equipped to handle precipitation and exposure to the elements. Unlike down, synthetic insulation doesn't clump up and continues to insulate when wet, meaning if your jacket gets unexpectedly soaked, you can still retain warmth. In other words, if you're heading out for a chilly shoulder-season or winter hike, you won't have to worry about bringing along the Refuge. You also get a fairly robust 20 x 30-denier (D) polyester shell that has deftly fended off rain, sleet, and even snow. OR lists the fabric as water-resistant rather than fully waterproof—and unlike much of the competition, it doesn't include a DWR coating—but even moderate precipitation has beaded off with ease. To be clear, the jacket will eventually soak through in heavy moisture, and we recommend bringing along a proper rain jacket or hardshell in these conditions. But on light to moderate rain and snowfall, the OR provides a capable barrier.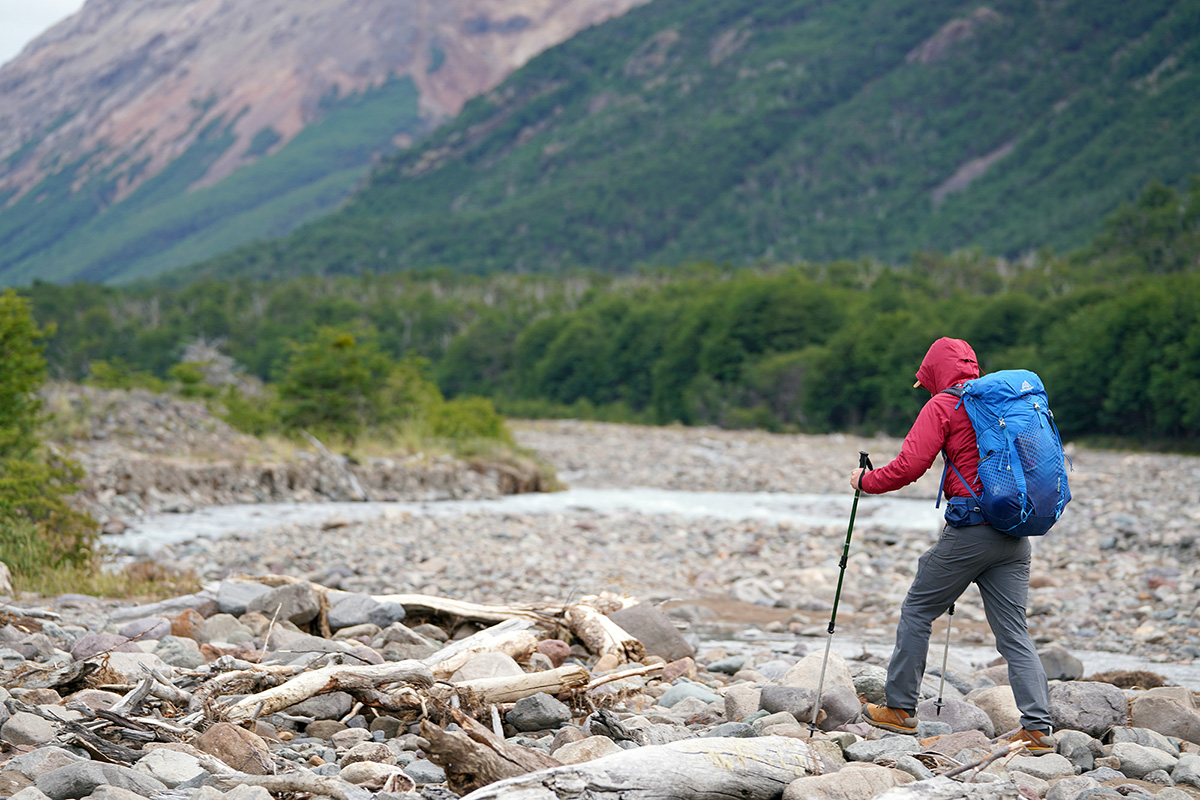 Weight and Packability
At 1 pound 4.1 ounces for the men's version, the OR Refuge is one of the heaviest models in our synthetic jacket round-up. For comparison, OR's own Winter Ferrosi is heavier at 1 pound 6.9 ounces, but that jacket has a beefy 90-denier shell as well as thicker 80-gram insulation. Most other synthetic and active insulation jackets check in around 1 pound or less, including the Arc'teryx Atom LT Hoody (13.2 oz.), Patagonia Nano-Air Hoody (12.2 oz.), and OR's own Refuge Air (1 lb. 0.8 oz.). Arc'teryx's Atom AR Hoody is comparable in warmth yet weighs in at 1 pound even, although the Coreloft insulation is less breathable than VerticalX, and the mesh panels on the sides that cut weight can let heat seep out. And Black Diamond's First Light Stretch offers similar mobility and breathability at a just over 1 pound, although again, you can expect less warmth overall.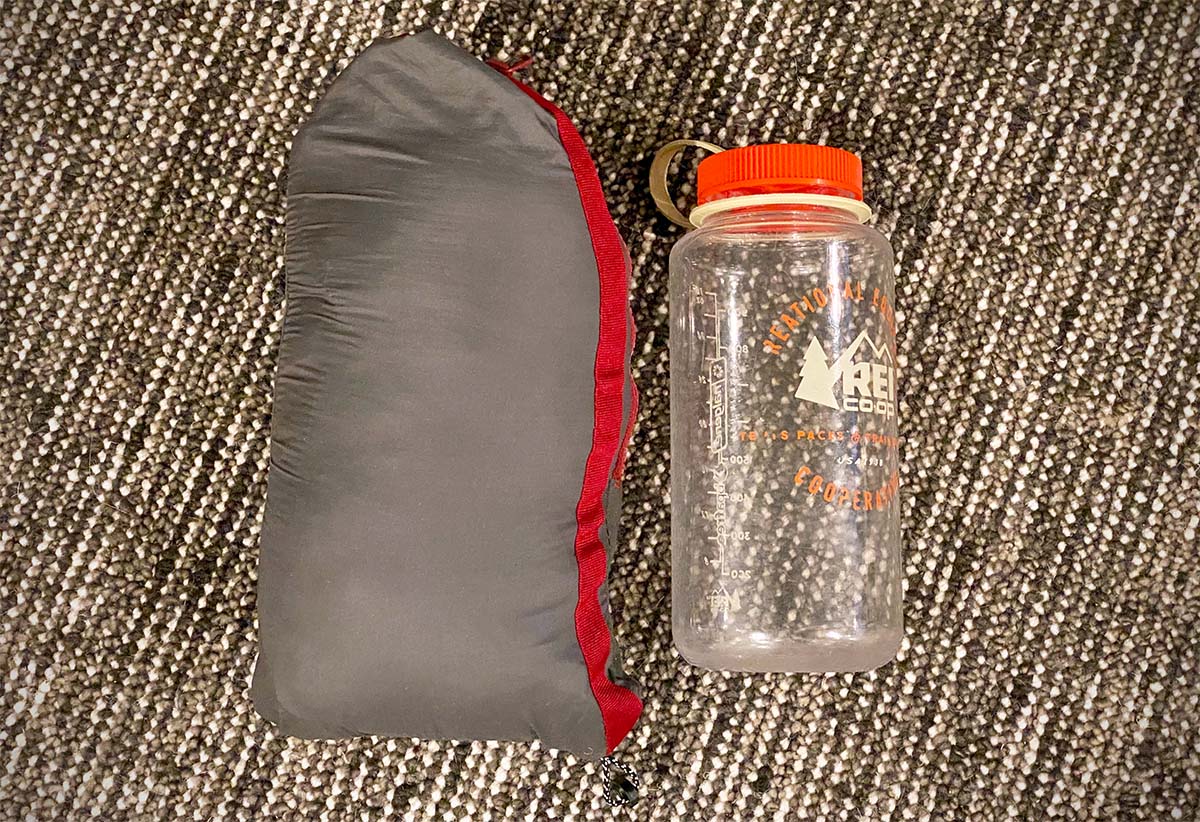 Weight and packability almost always go hand in hand, and unsurprisingly, the OR doesn't compress down well, even for a synthetic. The jacket does have a two-sided zipper on the left-hand pocket, but stuffing it down took a lot of work and the finished product was decently large (bigger than a 32-oz. Nalgene). To be fair, few synthetic jacket pack down small except for the Patagonia Micro Puff, and if this an important factor to you, we'd recommend going with a lightweight down piece instead. Down jackets can stuff down considerably smaller and are warmer for the weight, but you do sacrifice weather resistance (as we touched on above, down clumps up and no longer insulates when wet).

Comfort and Daily Appeal
Comfort and looks are where the Outdoor Research Refuge truly shines. The VerticalX insulation is styled like the high-loft designs that you get with down imitators like the Patagonia Micro and Macro Puff, whereas most other popular synthetic jackets have insulation that is more sheet-like and flatter. The result is a soft, airy-feeling piece that is super comfortable and reminiscent of a cozy down puffy. Overall, the Refuge has a super clean design that doesn't look overly techy (jackets like The North Face Ventrix struggle in this regard), making it very attractive for wearing around town.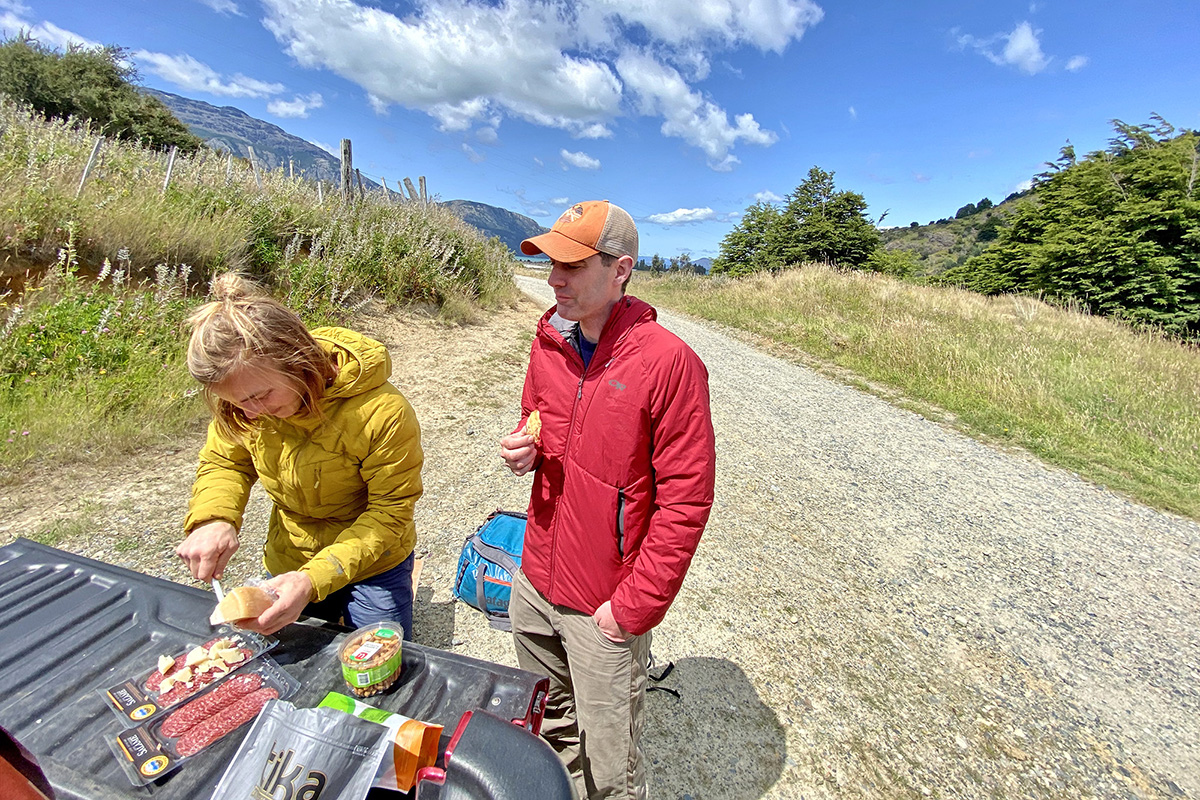 From a comfort perspective, the Refuge is a real winner: the interior lining is soft against the skin and cozy with just a t-shirt underneath, the jacket feels lofty and light (despite its relatively heavy weight), and even the exterior shell is supple. Additionally, the Refuge has a nice amount of stretch in the shell. It's not quite as soft or mobile as the Patagonia Nano-Air Hoody or Black Diamond First Light Stretch, but it allows for ample mobility when moving around or reaching for equipment, which is a real plus compared to some stiffer competitors like the Patagonia Nano Puff.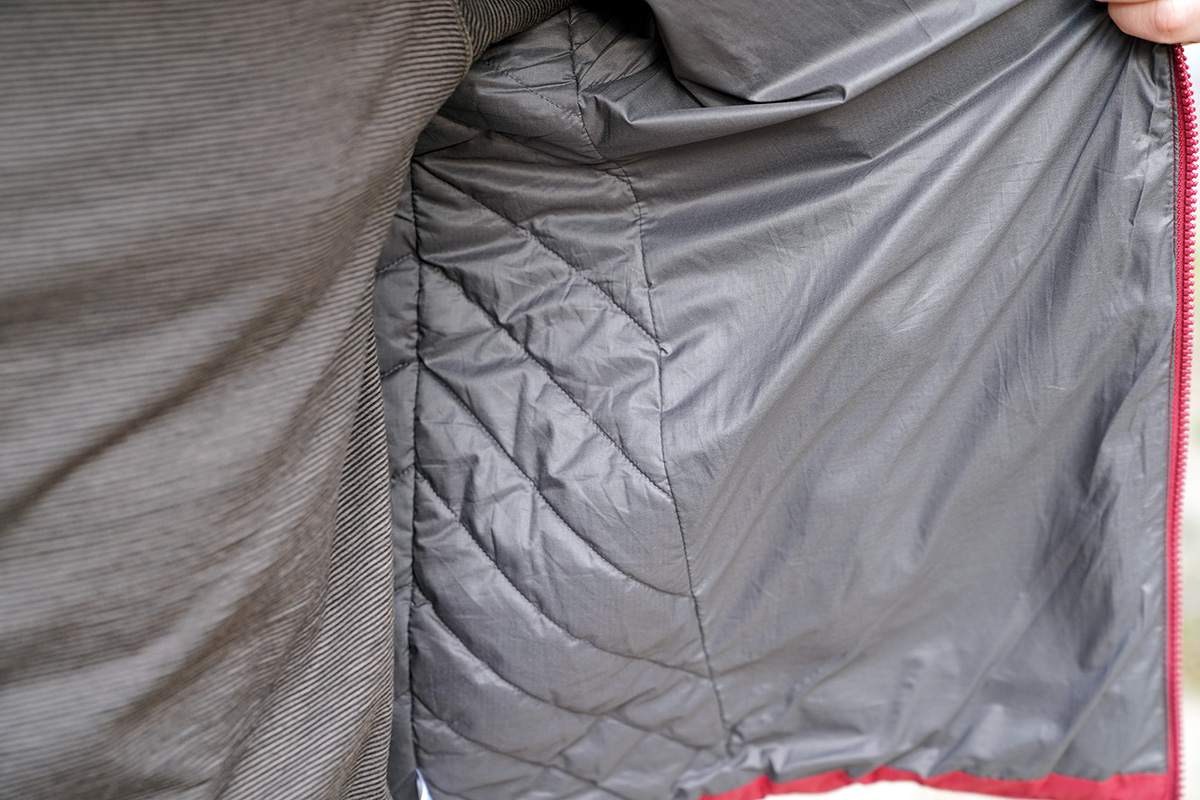 Durability
With a 20 x 30-denier (D) ripstop polyester shell, the Outdoor Research Refuge is reasonably hardwearing for outdoor use. For reference, Arc'teryx's Atom AR and Black Diamond's First Light Stretch are slightly more durable with 30 and 40D shells, respectively. But importantly, we've had no issues to date with the Refuge, even after haphazardly stuffing it down into a backpacking pack with other gear, throwing it in the back of our car, etc. Further, the jacket doesn't seem to show dirt as much as some other synthetics (the Arc'teryx Proton FL comes to mind), and the shell looks basically new after quite a bit of wear. All in all, the Refuge strikes us as a long-lasting and well-made jacket overall.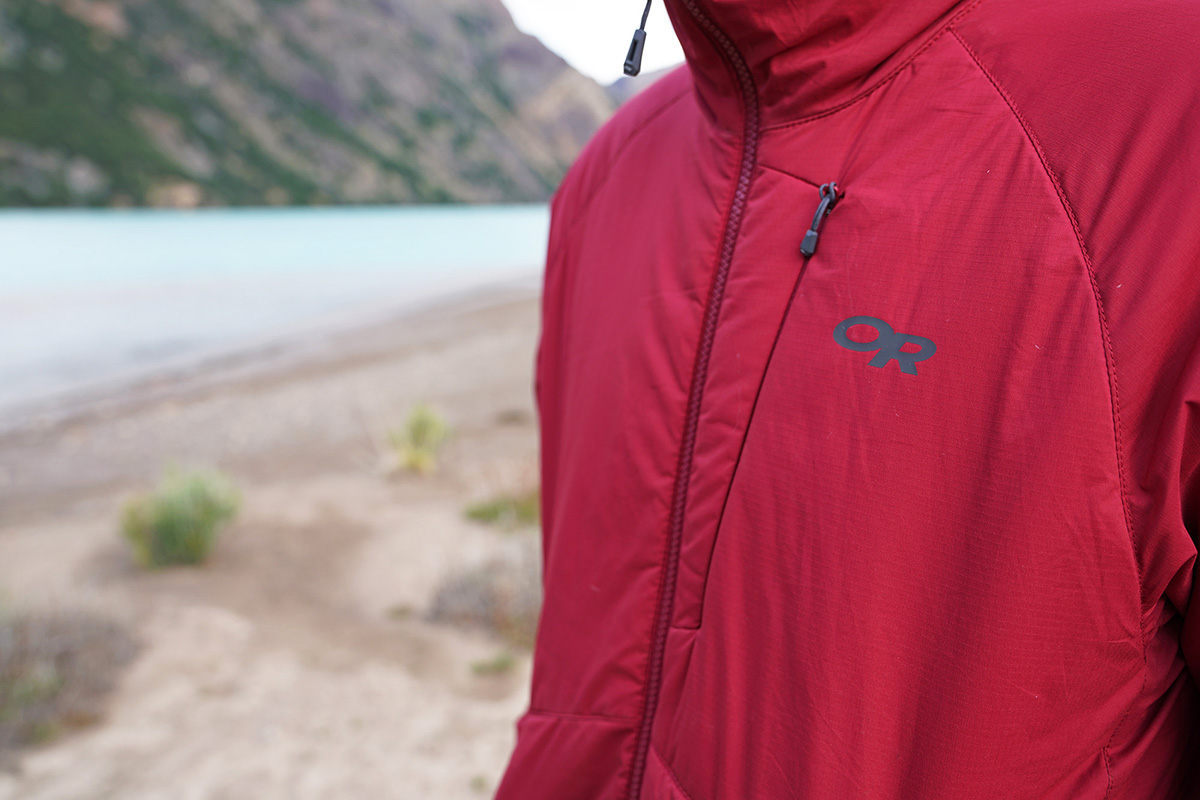 Key Features: Hood and Pockets
In terms of features, the OR Refuge comes nicely appointed with a functional hood and decent storage options. First, the hood is climbing helmet-compatible with a very useful single toggle at the back for dialing in fit. Unlike some of the large and unshapely hoods we've worn in the past, the Refuge's is comfortable with or without a helmet underneath, and the toggle allows you to batten down the hatches when the weather turns. It also has the same amount of insulation (60g) as the rest of the jacket, which provides a nice dose of warmth on especially chill days. Rounding out the feature set, you get two zippered hand pockets and a single zippered chest pocket that easily holds a smartphone. OR did forego internal pockets with the Refuge, but we didn't have any issues finding a spot for the essentials.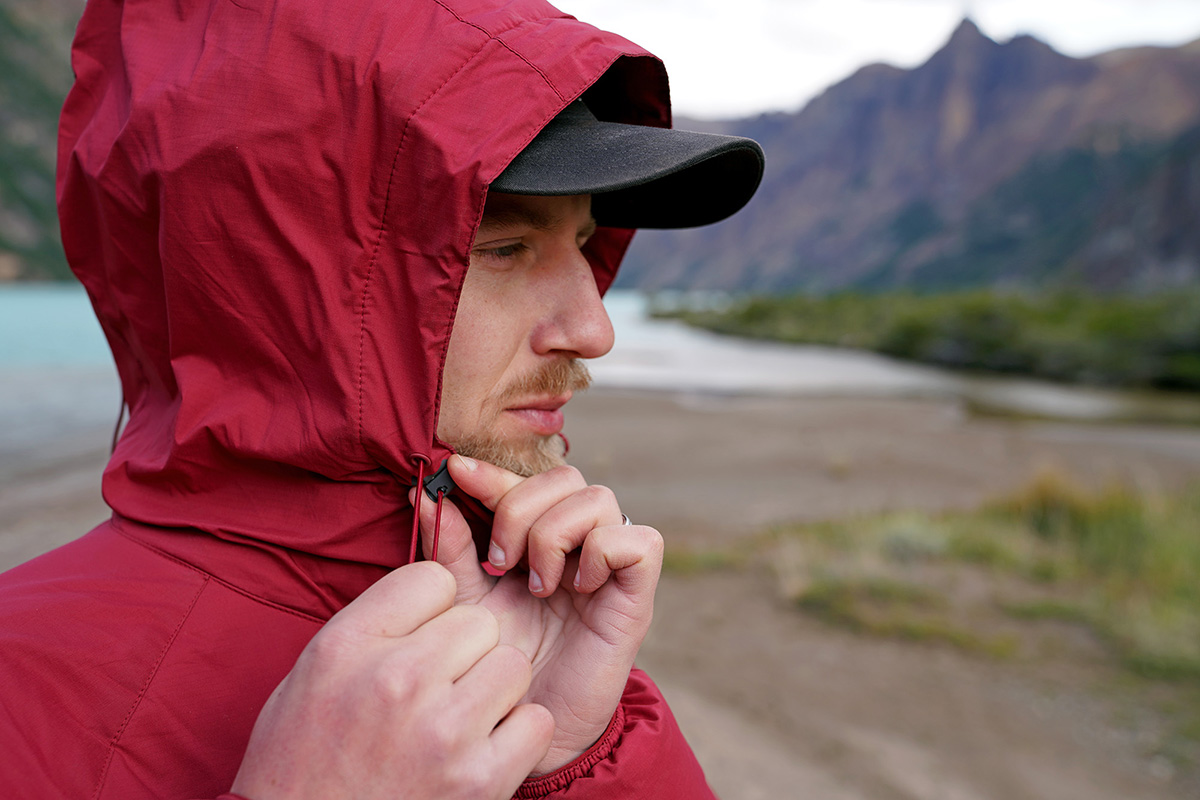 Fit and Sizing
Outdoor Research lists the Refuge's cut as "trim," and we agree with that designation. I ordered my usual size medium (for reference, I'm 6' and 175 lbs.) and found it to be nearly perfect for my tastes: it was athletic but not baggy and felt a little roomier than Arc'teryx's trim-cut performance pieces. In practice, I was able to wear a baselayer or sweater underneath without feeling restricted, but it also worked great with just a t-shirt on. And when the weather takes a turn, it's easy to throw on a waterproof hardshell or rain jacket (something we found a little tough to do with OR's own Transcendent down jacket). Finally, it's worth mentioning that OR isn't always consistent on sizing—the Helium rain and down jackets in particular fit a little snug—but the Refuge is a pretty versatile and accommodating piece.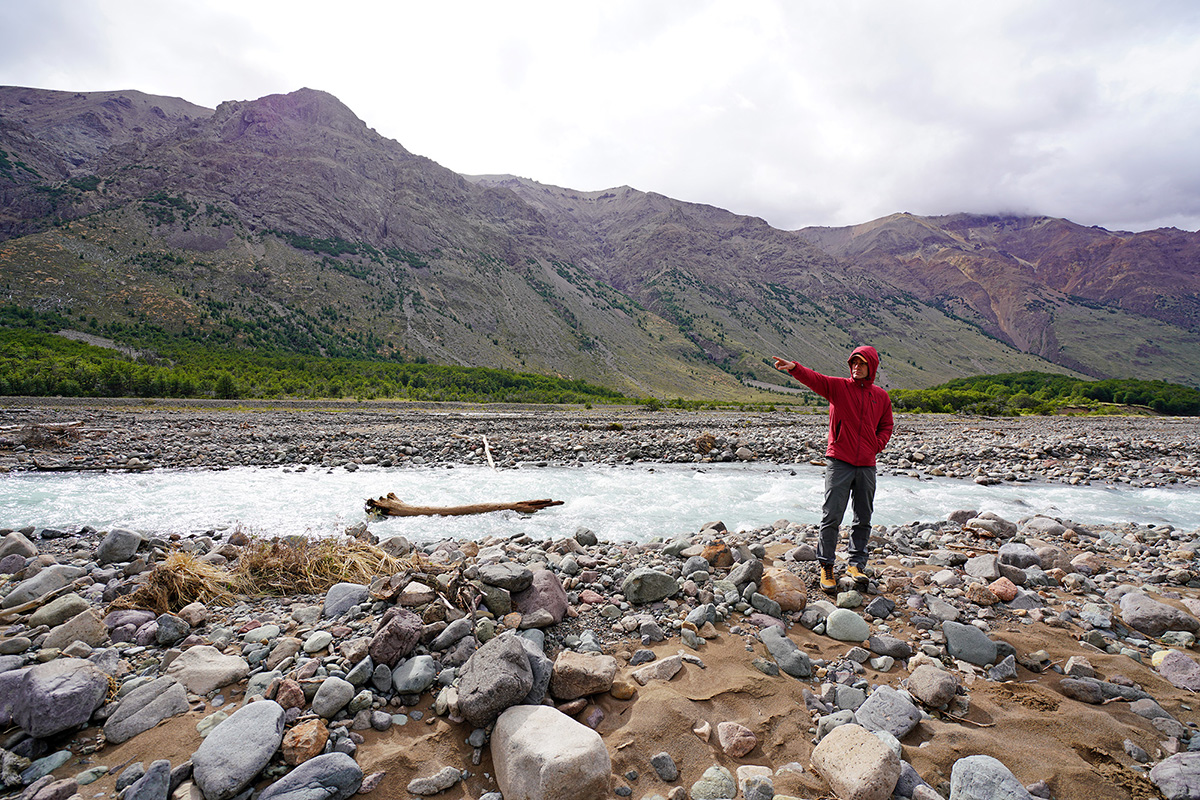 Other Versions of the Outdoor Research Refuge
We put the men's Outdoor Research Refuge Hooded Jacket to the test for this review, and OR makes the same jacket in women's, non-hooded, and vest options. Compared to the men's model, the women's Refuge Hooded Jacket costs the same at $220 and sports an identical build and feature set but weighs less at 1 pound 0.9 ounces and is available in different colorways. If you don't need the added coverage, OR also sells the Refuge in a non-hooded variation for $199 and vest option for $149 (both are sold in men's and women's). And rounding out the collection, OR offers the Refuge Air, which is a lighter-weight alternative to the jacket we tested here. The men's Refuge Air ($229) comes in at 1 pound 0.8 ounces, uses more breathable 75-gram VerticalX Air insulation, and has a more weather-ready Pertex Quantum Air shell (more on this jacket below).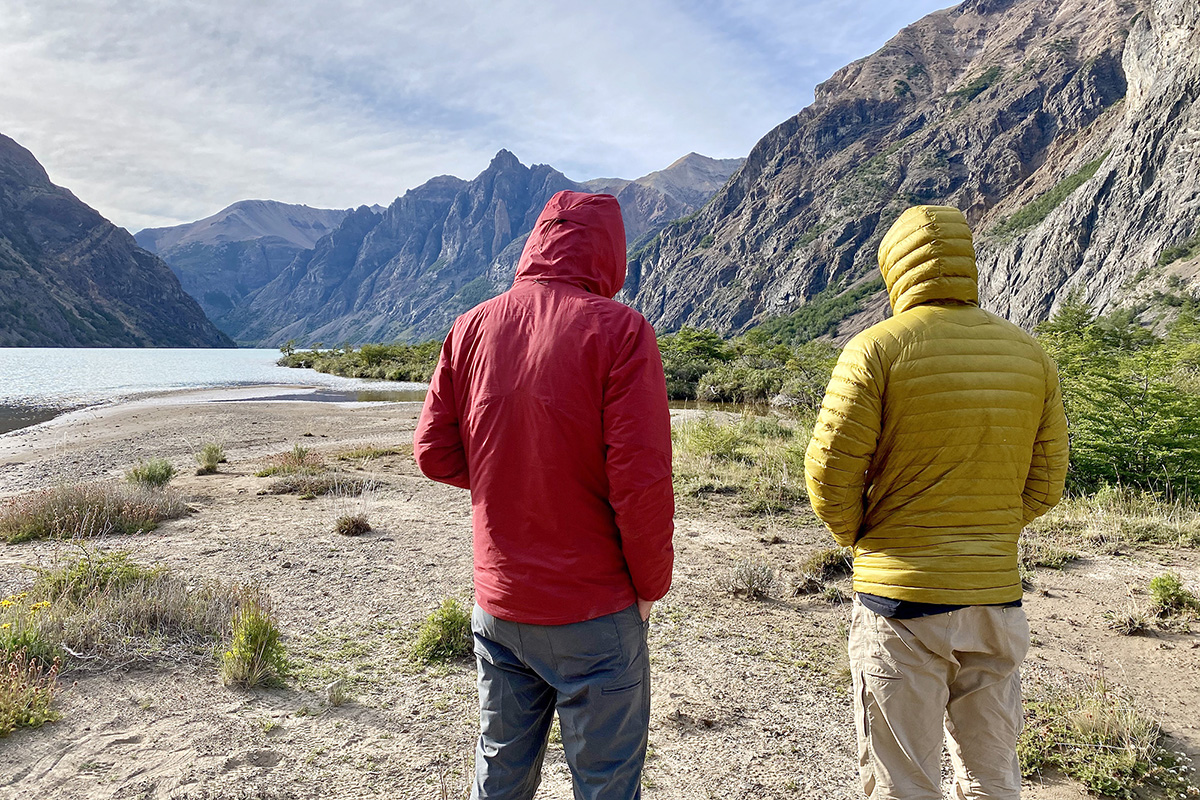 What We Like
A super comfortable jacket that is ideal for daily use and light winter adventuring. 
Warmer than most synthetics we've tested—the Refuge should take you down to the 40s or lower.
Sleek design that doesn't look overly technical.
A good overall value at $220. 

What We Don't
Heavy at 1 pound 4.1 ounces, which limits its appeal for backcountry use. 
Fairly difficult to stuff down into the hand pocket, and it's noticeably bulky when packed. 
Breathability is good, but the amount of insulation makes the Refuge run warm in mild temperatures. 
No internal storage options.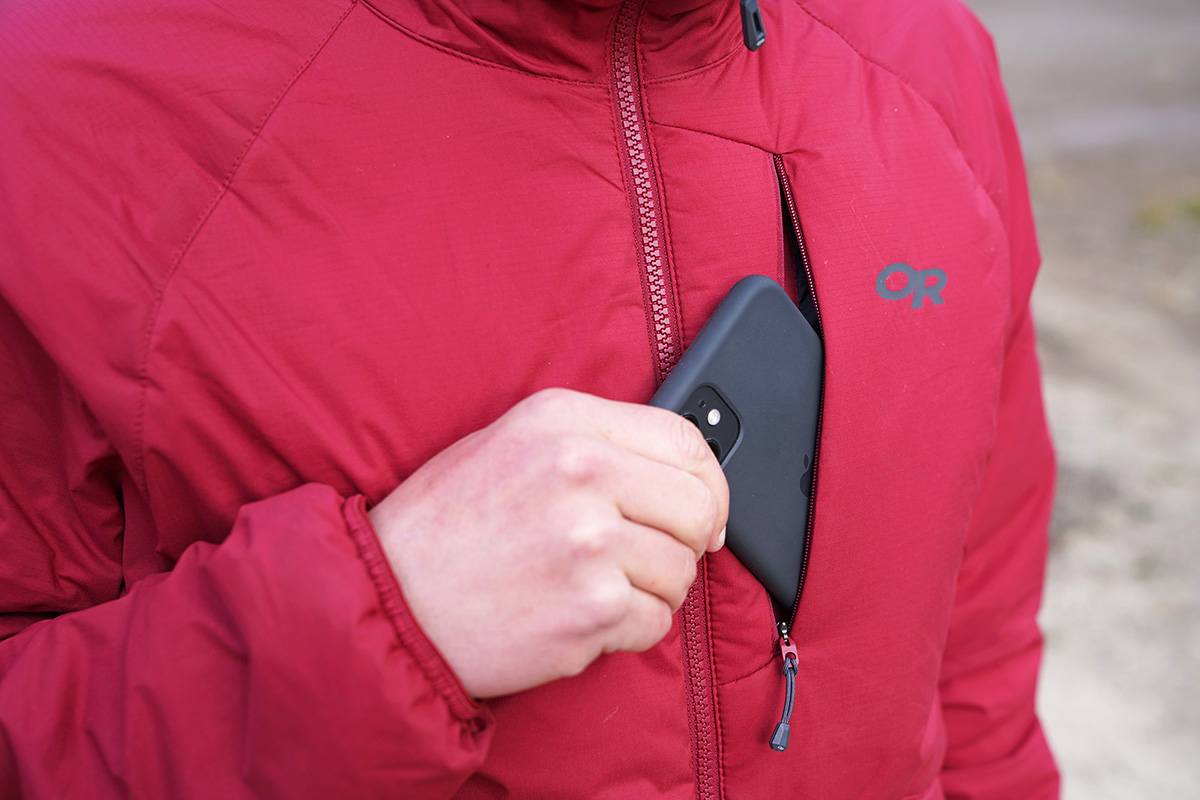 Comparison Table

The Competition 
Outdoor Research's Refuge is a midweight synthetic jacket that we found to be a nice match for casual use and light winter adventuring. In this category, Arc'teryx's Atom lineup is legendary, and their AR ("all round") Hoody is the closest competitor in warmth to the Refuge. With the Arc'teryx, you get 120-gram Coreloft around the core and a mix of 60- and 80-gram elsewhere. The Refuge's VerticalX insulation is more breathable than Coreloft, although the Atom AR has thin side panels that help with breathability and shave weight (the AR checks in at 1 lb. even). A final decision will come down to how you prioritize warmth (the OR gets the nod) versus breathability for active pursuits in cold weather (the Atom AR wins out), and the Arc'teryx costs a significant $79 more. 
As we mentioned above, Outdoor Research's Refuge collection also includes the Refuge Air jacket. In parsing out the differences between the two, the Air weighs less at 1 pound 0.8 ounces, uses more breathable 75-gram VerticalX Air insulation, is more durable, and boasts a more weather-ready Pertex Quantum Air shell that better repels moisture and wind. This makes the Refuge Air more appealing for backcountry use and a better active insulator than the standard Refuge. In the end, we'd break it down as follows: for performance use, go with the lighter and more breathable Refuge Air. For everyday and around-town wear, we'd opt for the warmer and more versatile standard Refuge.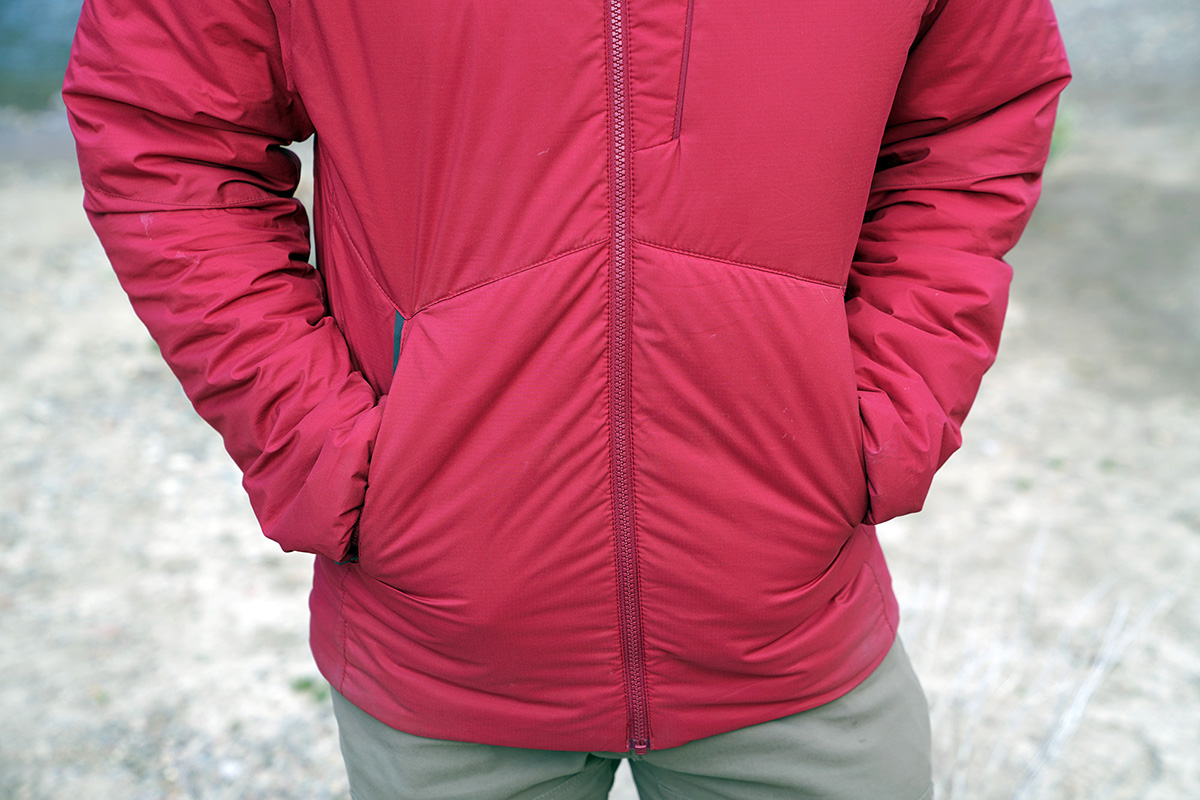 For a step up in weather protection, Patagonia offers an intriguing synthetic jacket option in their Stretch Nano Storm Jacket. With this piece, you get the same 60-gram FullRange insulation as their popular Nano-Air, but with a fully waterproof, 2.5-layer H2No shell fabric that handily beats the Refuge in truly inclement weather. The Patagonia also wins out in mobility with a stretchy fabric and is more technical than the OR with pit zips, a helmet-compatible hood, and ample storage (six pockets total). However, like the Refuge, it's fairly bulky when packed down and heavy at 1 pound 4.3 ounces. Finally, the price is steep at $399. But for serious winter adventurers who need the added performance, there's a lot to like about the Stretch Nano Storm.
Another active insulation design to consider is Black Diamond's First Light Stretch Hoody. Compared to the Refuge, the First Light offers similar stretch and weather protection but falls short in warmth with less lofty PrimaLoft Silver Active insulation (also 60g). That said, the BD is lighter at 1 pound 0.8 ounces, more durable with a 40-denier face fabric, and noticeably more breathable during active pursuits like ski touring and climbing. You do pay a bit more for the added performance (the First Light is $259), but we think the added cost is worth it for those who want to bring their jacket into the backcountry. For wearing casually, the OR is sleeker and more around-town-friendly.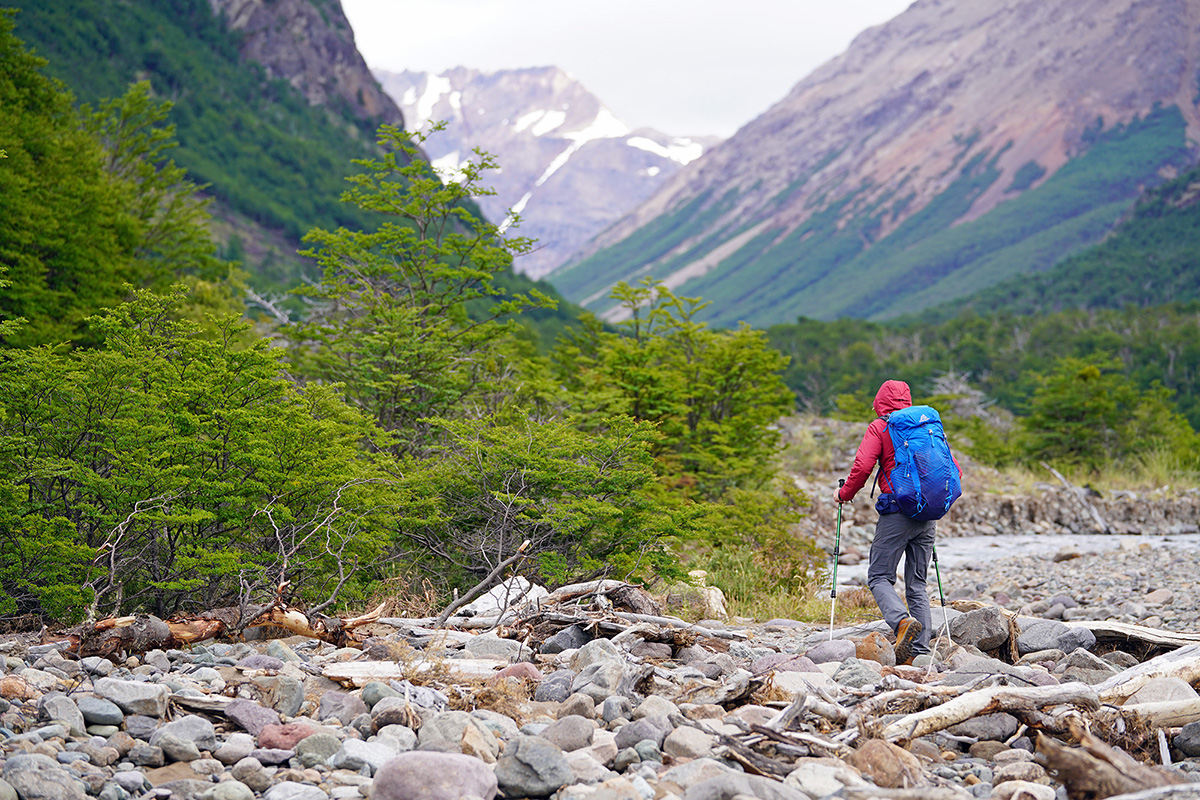 Given the Refuge's down-like insulation, it's worth comparing it OR's most popular model, the Transcendent Down Hoodie. The benefits are enticing: for only $5 more, you get added warmth with 4.2 ounces of 650-fill-power down, better packability, and a lower weight of 1 pound 0.4 ounces. That said, as we mentioned above, down will clump and stop insulating when wet, while the Refuge's synthetic fill will continue to keep you warm. Breathability also drops significantly with the Transcendent. In the end, we won't love the mid-range fill power on the Transcendent, and spending up for a more premium down jacket can be a game-changer for hiking, backpacking, or skiing. For example, Arc'teryx's Cerium LT (3.6 oz. of 850-fill down) offers similar warmth as the Refuge at just over 10 ounces (less than half the weight of the Refuge). That's when the real benefits of down kick in. 
If you're thinking about buying gear that we've reviewed on Switchback Travel, you can help support us in the process. Just click on any of the seller links above, and if you make a purchase, we receive a small percentage of the transaction. The cost of the product is the same to you but this helps us continue to test and write about outdoor gear. Thanks and we appreciate your support!
Depending on the seller, most products ship free in the United States on orders of $50 or more. International shipping availability and rates vary by seller. The pricing information on this page is updated hourly but we are not responsible for inaccuracies.
Read More From Switchback Travel