Black Diamond First Light Stretch Hoody
Price: $259
Weight: 14.9 oz. (women's small)
Insulation: PrimaLoft Silver Active (60g)
What we like: Stretchy build is great for mobility-dependent activities like climbing and skiing.
What we don't: Heavier and less packable than many of its competitors.
See the Women's First Light Stretch  See the Men's First Light Stretch
Touted as Black Diamond's most breathable insulation piece, the synthetic First Light Stretch Hoody is built for technical activities like ski touring and climbing. Updated from the standard First Light (no "stretch") last year, the new jacket retains all the features that made it a standout performer while shaving weight, adding adjustability at the hood, and boosting mobility significantly. We put the retooled First Light through its paces in British Columbia, and below we break down the jacket's warmth, weather protection, breathability, durability, weight, fit and sizing, and more. To see how it stacks up, see our articles on the best synthetic jackets and best midlayers.

Performance 
Warmth 
With the First Light Stretch Hoody, Black Diamond opted for 60-gram PrimaLoft Silver Active insulation, which is fairly standard for a lightweight synthetic piece. To test the jacket, I've consistently worn it as my sole outer layer while backcountry touring in a wide variety of weather conditions, from sub-freezing sleet and snow to mixed clouds and sun. As an active insulator, it's been a great match for socked-in days with temperatures in the high 20s Fahrenheit. Additionally, I've been comfortable sporting it around town without a shell in classic Vancouver, B.C., weather (40s t0 50s Fahrenheit and sustained rainfall). Combined with its tough and protective shell fabric, we've found the First Light lands on the warmer end of the active insulation market, beating out popular competitors like the Patagonia Nano-Air and The North Face Ventrix.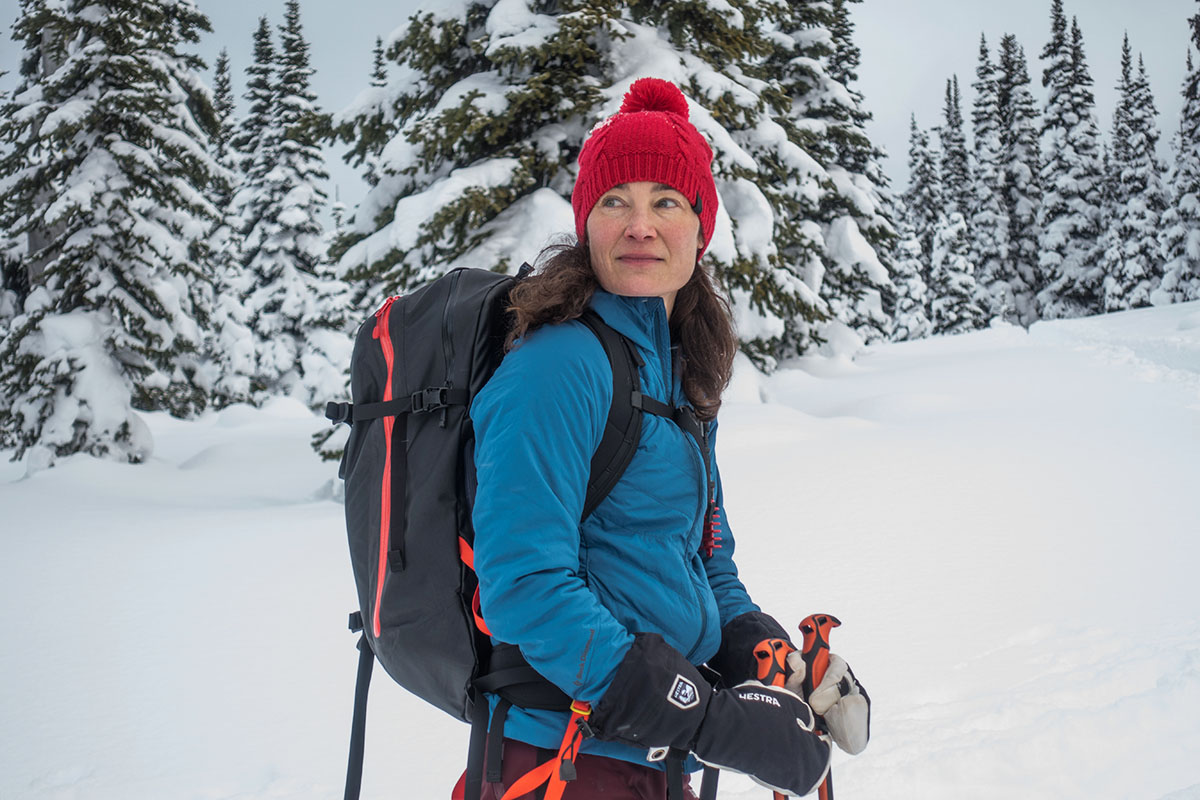 Weather Protection
The First Light Stretch Hoody uses a water-resistant Schoeller nylon outer shell with a durable water repellent (DWR) coating to fend off light rain and snow. Importantly, the DWR is now PFC-free, meaning it doesn't contain harmful chemicals. This is a significant shift, as the standard DWR finish (used widely on outerwear, tents, and other outdoor gear) has been linked to both environmental and health concerns. But regardless of the recipe, the result is a water-repellant finish that does the job. In light to moderate precipitation, water beads up and rolls off the jacket with ease. I have noticed that during sustained exposure like the torrential rain typical of Vancouver, the face fabric does wet out fairly quickly, but it takes a while to reach the insulation (and again, it will continue to insulate even when damp). When the rain or sleet is constant, I definitely recommend throwing a hardshell jacket over top.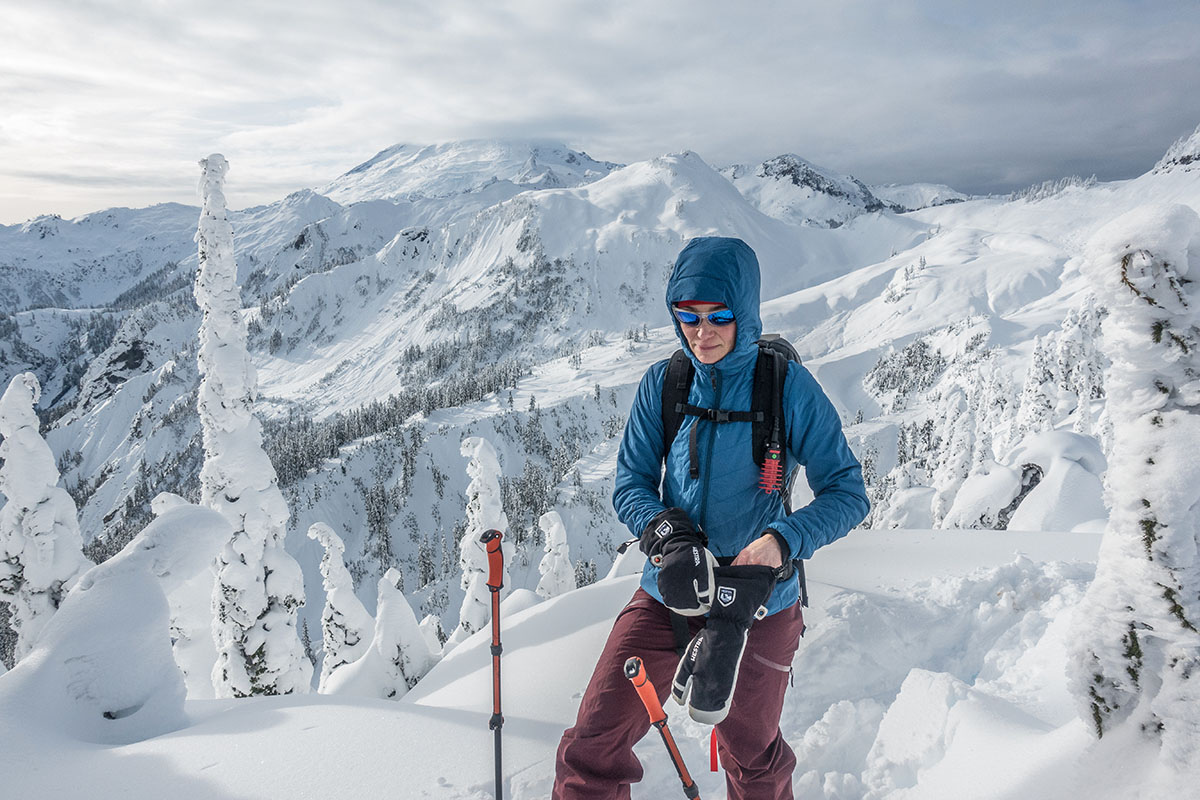 While I anticipated the warmth and perhaps even the water repellency, I was surprised by the First Light Stretch Hoody's ability to cut harsh winds. Given how air-permeable it is (more on this below), I expected that strong gusts would penetrate the jacket. However, I've been caught in high winds while wearing the First Light as my only outer layer and was completely protected from the bite of cold air—a welcome surprise from such a breathable piece.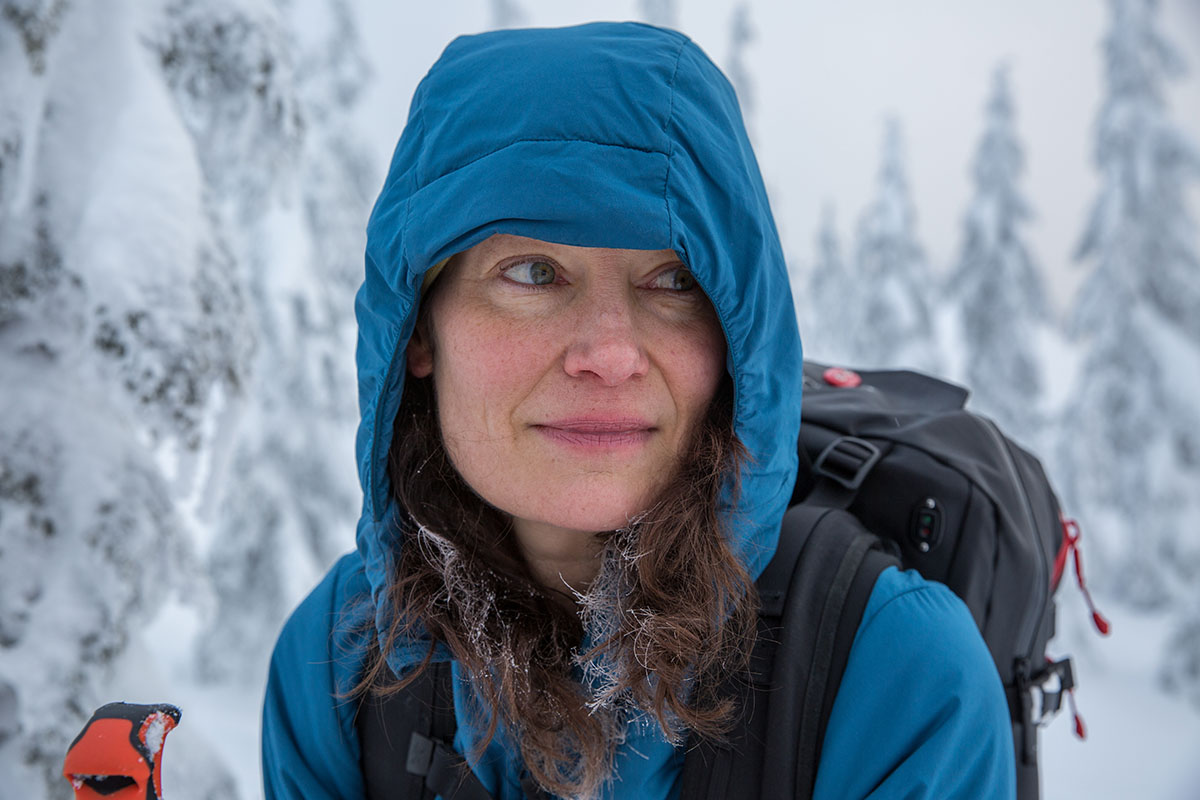 Breathability
PrimaLoft's Silver Active is designed to breathe, and Schoeller's stretch-woven nylon shell is the same. Therefore, it's no surprise that the First Light Stretch Hoody is touted as Black Diamond's most breathable insulating layer. I've worn the jacket in situations where I normally would heat up and opt for a thinner piece, such as backcountry ski tours involving significant ascents, but I remained comfortable and did not need to take the jacket off or even unzip it. All in all, for such a heavy and durable jacket, the First Light is a surprisingly good companion for high-output activities.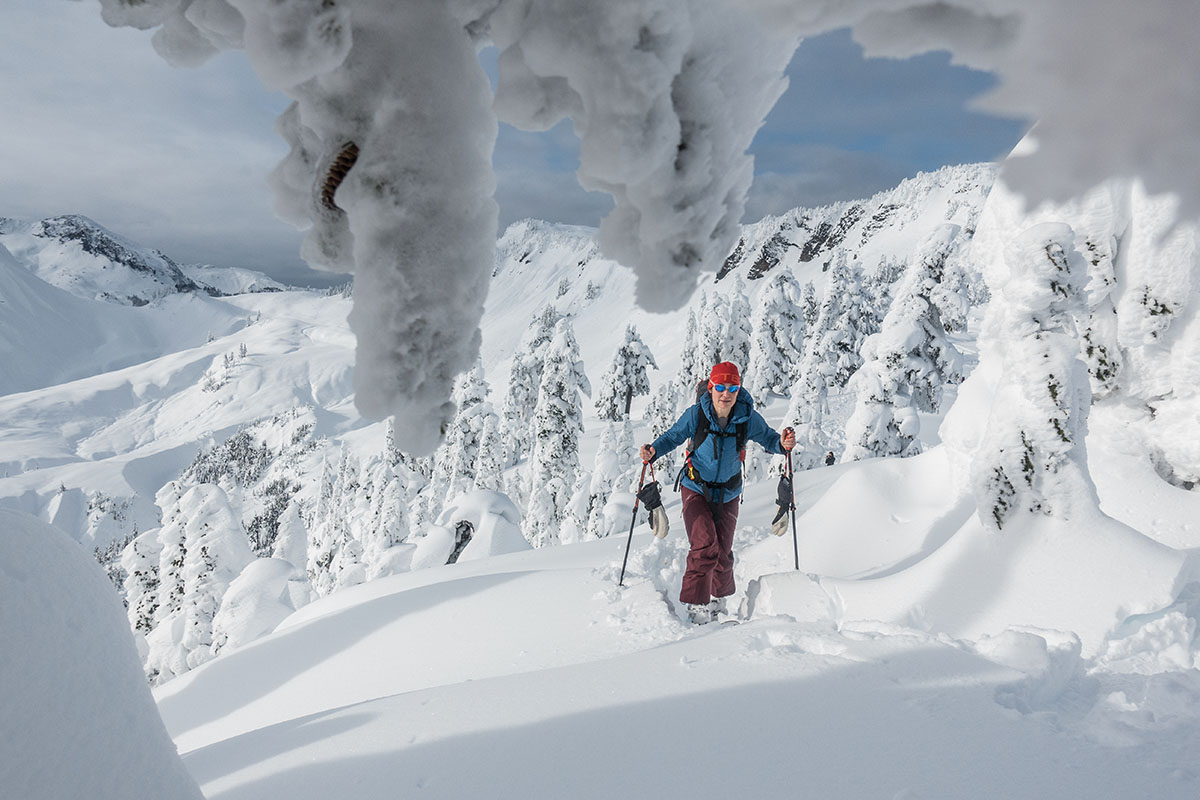 Build Quality and Durability
My original First Light Hoody has been put through the wringer over several years and held up incredibly well, and the new version is off to a promising start. Like the past model, the current First Light uses a stretchy 40-denier outer fabric that's pretty thick for a jacket in this category. For reference, Patagonia's Nano-Air has a thinner 33-denier shell, and the Outdoor Research Ascendant and Arc'teryx Proton LT are both notably thinner at 20 denier. This makes the First Light easier to trust as an outerlayer around sharp climbing and ski gear. After significant use, the liner is pilling slightly, but it's not overly concerning, and the jacket otherwise shows no signs of wear. All zippers are operating smoothly and there are no tears or abrasions in the outer fabric. All in all, this is one tough and backcountry-ready piece.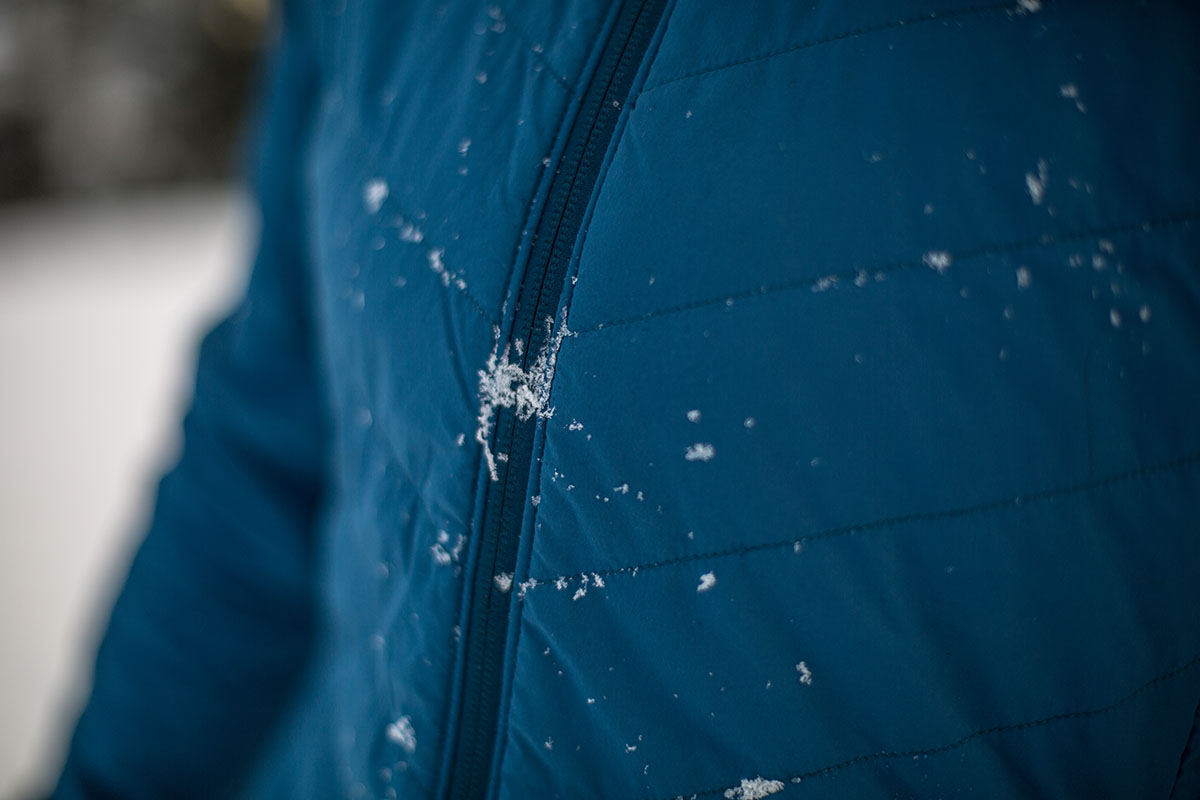 Weight and Packability
Despite a 1.3-ounce weight reduction from the previous version, the First Light Stretch Hoody is still on the heavy side for a synthetic jacket at 14.9 ounces for my women's small (the listed weight is 14.2 oz.). It doesn't come close to the weight of a down jacket, which can offer similar warmth at less than 10 ounces, but the First Light is competitive within the active insulation market. These jackets put a priority on breathability, so the shells often are a little thicker and have tough exteriors that can handle abuse. Comparatively, the First Light falls well short of a lightweight piece like Patagonia's Nano-Air Hoody (10.2 oz.) or Arc'teryx's Proton LT (11.3 oz.), but it's warmer, more weather-resistant, and more rugged—all of which are important for backcountry pursuits.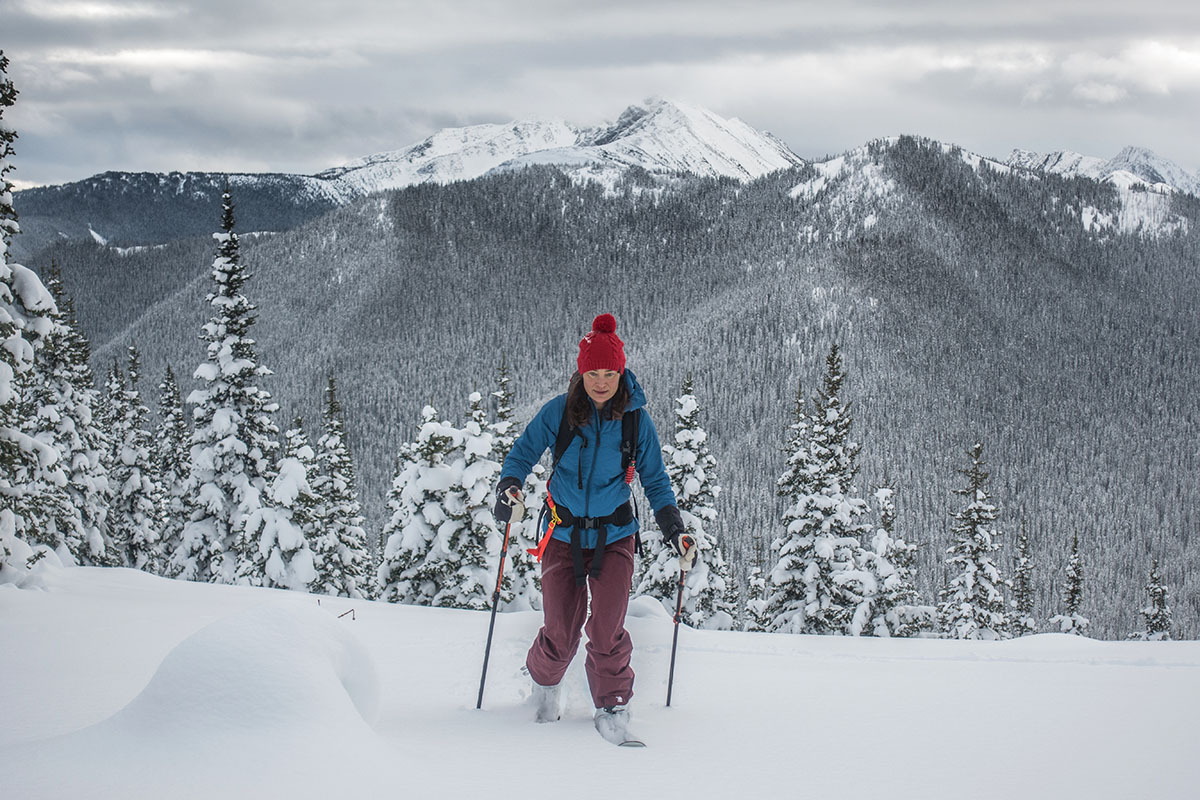 Synthetic fill is not as lightweight or compressible as down, and this is noticeable when packing the First Light Stretch Hoody. The entire jacket technically can be stuffed into its own internal mesh pocket, revealing a loop that can be clipped onto a climbing harness with a carabiner. I'm a big fan of stuff pockets (stuff sacks can be easy to lose) but found that the fit is a bit tight—it would be easier if the zipper extended the full length of the pocket. This issue is fairly common, and the First Light does fit with some effort, but I still find that it's a bit bulky to hang off a harness (it measures around 6 x 6 x 3 inches). Instead, I prefer to store it in my pack. 

Features
Hood 
One of the most noteworthy upgrades with the First Light Stretch Hoody is the addition of a toggle at the back of the head, which allows you to adjust the hood and cinch it down in harsh weather (the prior version wasn't adjustable). The toggle is housed in a "garage" to reduce the chance of precipitation sneaking in. Further, the hood itself is comfortable and climbing helmet-compatible, although it will not fit over most ski or mountain bike helmets, so you'll need to use the hood on your shell jacket for that (or wear it underneath your helmet).

Storage: Pockets
Storage is fairly straightforward on this jacket: in addition to an internal mesh pocket, you get two generously sized zippered hand pockets. The large internal pocket is great for holding important items such an avalanche beacon, inReach GPS device, or phone. And as mentioned above, it's also designed to be used as a stuff sack for the jacket. I found that the openings to the hand pockets on the prior-generation First Light were a bit small for my average-sized hands, and especially while wearing gloves or mittens. However, Black Diamond addressed the concern on the newer jacket with longer entryways that make it significantly easier to slide my hands in.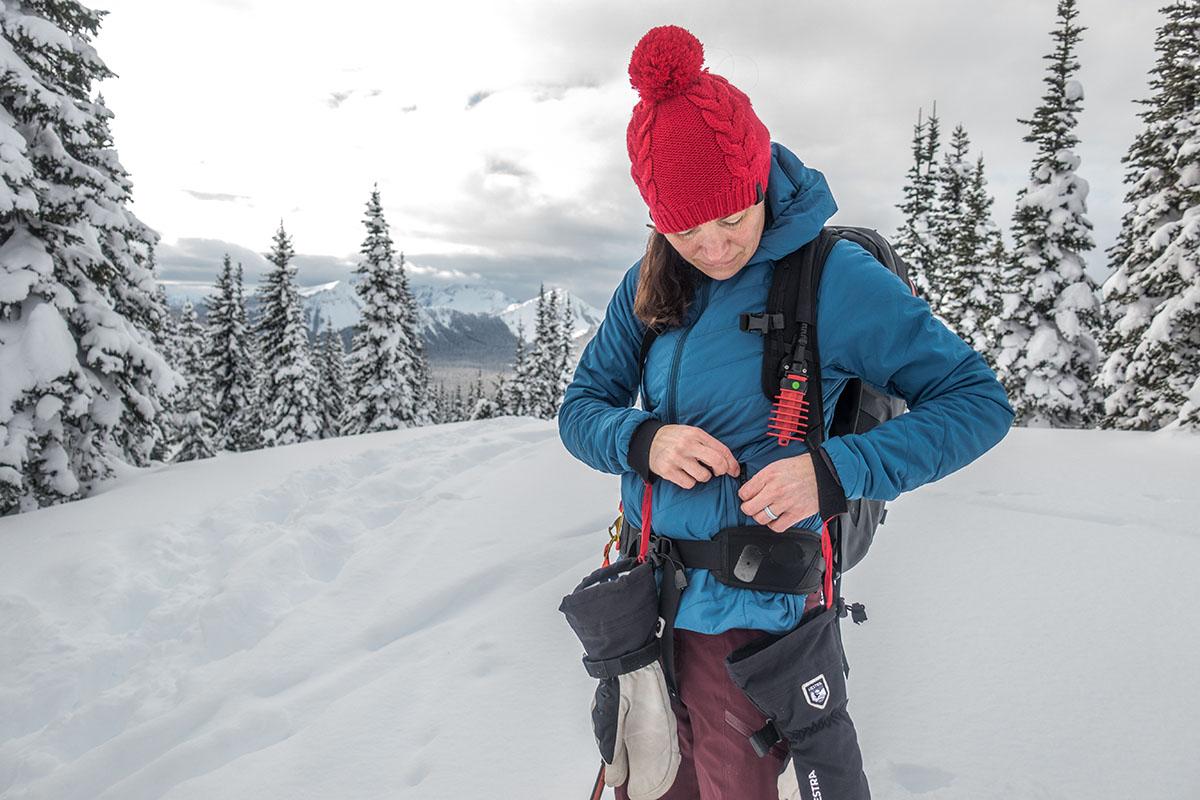 Fit and Sizing
The fit of the First Light Stretch Hoody is true to size and my women's small fits me perfectly. I'm able wear multiple baselayers and a beacon under it, yet it's still fitted enough to pair comfortably under a hardshell. And as we touched on above, the shell fabric, insulation, and liner are all stretchy, so it's easy to wear the jacket while alpine or rock climbing, or while performing simple movements like reaching down to fiddle with boots or ski bindings. Compared to the past version, which only had stretch in the shell and insulation, the new model adds a notable boost in mobility. Finally, the sleeves are the perfect length, the hem is adjustable and evenly cinches at the hips, and the jacket doesn't ride up when I lift my arms.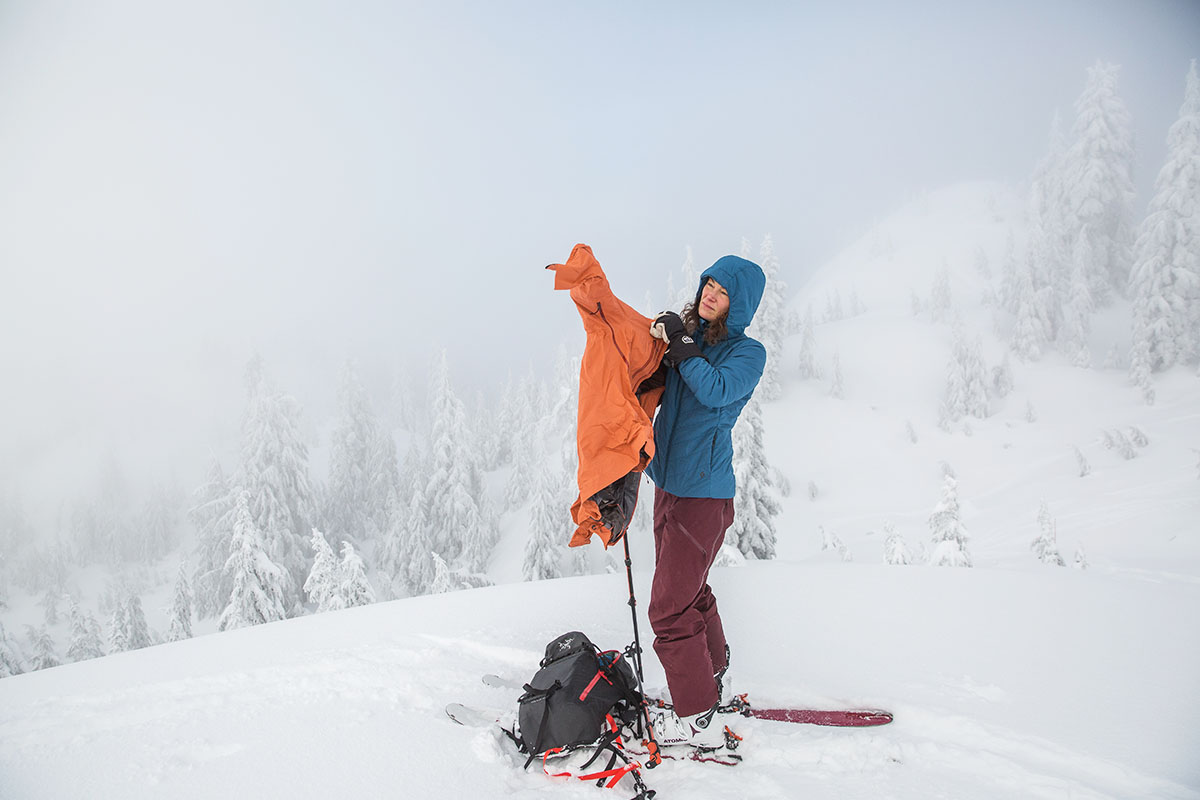 Other Versions of the Black Diamond First Light
We tested the women's version of the First Light Stretch Hoody for this review, and Black Diamond also makes the jacket in a men's version. The men's First Light Stretch Hoody also retails for $259 and sports an identical construction, including the use of 60g PrimaLoft Silver Active insulation, adjustable and climbing helmet-compatible hood, and overall pocket layout. However, the men's hoody is heavier at 1 pound 0.8 ounces and is available in six colorways at the time of publishing (the women's version comes in three). Black Diamond no longer makes a non-hooded version of the First Light, but given the jacket's backcountry intentions, we think the hood is helpful and well-executed. Finally, it's worth noting that the First Light lineup also includes the First Light Hybrid Hoody and Vest for both men and women, which add panels of merino wool in the body and underarms for increased breathability and range of motion.

What We Like
Tough, mobile, and breathable—a great recipe for active and demanding backcountry pursuits.
With a stretchy fabric, insulation, and liner, the First Light is one of the most comfortable synthetics we've worn to date.
New additions like the adjustable hood and larger pocket openings are functional and don't add any weight (in fact, the newer version is 1.3 ounces lighter than its predecessor). 

What We Don't
Noticeably heavier and less compressible than much of its competition.
Face fabric wets out quickly in sustained, heavy rain (but again, the jacket will continue to insulate when wet).
Liner has begun pilling slightly.


Comparison Table

The Competition
Black Diamond's First Light Stretch Hoody is a tough, mobile, and breathable synthetic for high-output activities like ski touring and climbing. In this category, we're also big fans of Patagonia's legendary Nano-Air Hoody. The Nano-Air easily undercuts the First Light in weight (10.2 oz. vs. 14.2 for the BD), and the stretchy fabric on the Nano-Air is super soft and comfortable. But for backcountry skiing and climbing, the First Light was the better jacket for our needs. It's warmer than the Nano-Air, protects you from wind without giving up much in terms of breathability, and stands up better to abuse with a burly 40-denier shell as opposed to the 33-denier Patagonia. It's hard to match Patagonia's everyday appeal and versatility, but for active skiers, climbers, and cold-weather explorers looking for a jacket that's equally capable as an outer layer and midlayer, the BD First Light Stretch is a nice option.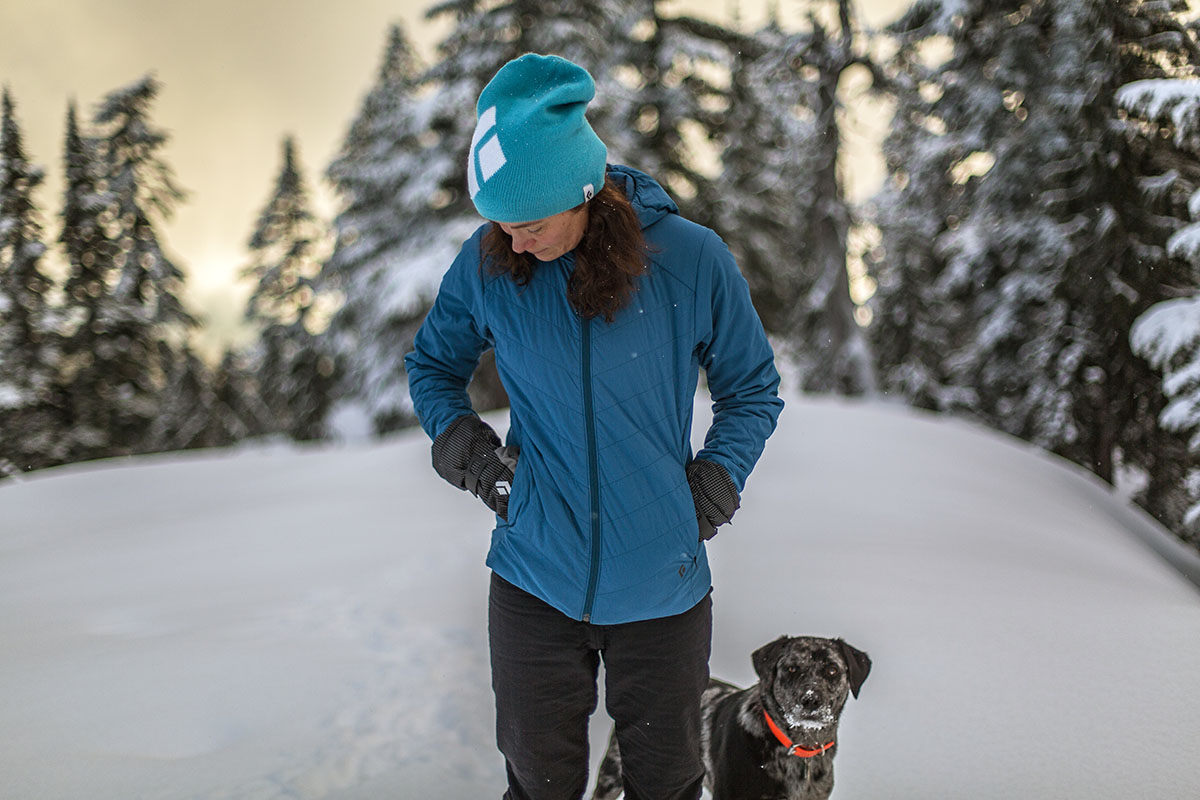 Outdoor Research's Ascendant Hoodie has similar goals as the First Light, and we've been impressed with its breathability and weather protection (you can read our full review here). Moreover, the jacket comes in around 3 ounces lighter at 10.9 and costs $10 less at $249. That said, we experienced premature wear on the Ascendant after only a few months of use, and the lack of zippered hand pockets is a notable downside for us. It's a tough call between two capable active insulators, but we give the slight nod to the First Light.
Another strong competitor to the First Light is The North Face Ventrix Hoodie. The Ventrix undercuts the BD in weight at 12 ounces for the women's version, is a little less warm with its in-house 60-gram Ventrix insulation, and costs slightly less at $220. All in all, the First Light gets the edge in overall durability, which makes it the more appealing option for more serious backcountry trips. The Ventrix, on the other hand, is a better choice for hiking and when weight is a priority. And it's worth noting that The North Face now offers the Ventrix in a lighter-weight (9.9 oz.) Active Trail Hybrid version for $189, which is even more breathable with fleece panels along the sleeves, side panels, and lower back.
Arc'teryx has made a notable push in the active insulation market with its Proton series. The most comparable model to the First Light Stretch is the Proton LT Hoody, which is similarly built for serious use in the backcountry. Stacked up against the BD, The Proton LT costs more at $299 and has a thinner 20-denier shell but weighs 11.3 ounces and is a standout in terms of breathability. For high-output activities when staying cool is paramount, or if the 2.9 ounces of weight savings matters, the Proton line is pricey but a true winner when it comes to performance.
Last but not least, Rab's Xenon doesn't get the hype of the more prominent American brands but is a quality synthetic jacket nevertheless. The Rab is the lightest of the bunch at 10 ounces, uses a similar 60-gram Stratus insulation, and comes in cheaper than the First Light at $195. However, it's less durable with a 20-denier shell and not as breathable as the BD. Everyday appeal of the Rab is also a bit more limited with its shiny shell. Both are technical jackets that excel in the backcountry, but we give the nod to the First Light for its more robust build and around-town appeal.
If you're thinking about buying gear that we've reviewed on Switchback Travel, you can help support us in the process. Just click on any of the seller links above, and if you make a purchase, we receive a small percentage of the transaction. The cost of the product is the same to you but this helps us continue to test and write about outdoor gear. Thanks and we appreciate your support!
Depending on the seller, most products ship free in the United States on orders of $50 or more. International shipping availability and rates vary by seller. The pricing information on this page is updated hourly but we are not responsible for inaccuracies.
Learn More About Outdoor Gear