Arc'teryx Proton LT Hoody
Price: $299
Weight: 14.7 oz. (men's large)
Insulation: Coreloft Compact (60 & 80g)
What we like: Highly breathable, mobile, and durable—a great match for demanding backcountry pursuits in cold weather. 
What we don't: A bit heavy and bulky for storing on extended trips; runs warm for active use in mild conditions.
See the Men's Arc'teryx Proton LT  See the Women's Arc'teryx Proton LT
High-output activities like ski touring and winter climbing require an insulated jacket that balances warmth and ventilation, and Arc'teryx's Proton LT Hoody fits the bill nicely with air-permeable fabrics and lightweight synthetic fill. Through a winter of backcountry skiing, I found that the jacket is the real deal: it's highly breathable as an outer layer while skinning up and, when coupled with a hardshell, is a trusty midlayer when the weather takes a turn or the activity becomes less strenuous. Below we break down our experiences with the Proton LT. To see how it stacks up to the competition, see our articles on the best synthetic jackets and best midlayers.
 
---
Table of Contents
---

Performance
Warmth
With 80-gram Coreloft Compact in the body and 60-gram in the hood, the Arc'teryx Proton LT is a great match for high-output use in sub-freezing conditions. It has become my go-to midlayer for backcountry skiing and cool-weather adventures, as well as while assembling gear on frigid mornings and throwing on post-ride as soon as I shed my sweaty bike jersey. However, I admittedly run very warm when I'm moving, and in conditions above freezing, the Proton can be too much jacket. For example, while bootpacking in waist-high snow in mild weather, it took about 10 minutes of maximum output before my sweat wetted out the inside of the hoody. That said, the benefit of synthetic insulation is that it will continue to insulate when wet, so I remained warm while I transitioned and began my descent. If I'm more sedentary like sitting around camp, the hoody is perfect in temperatures up to around 60 degrees Fahrenheit.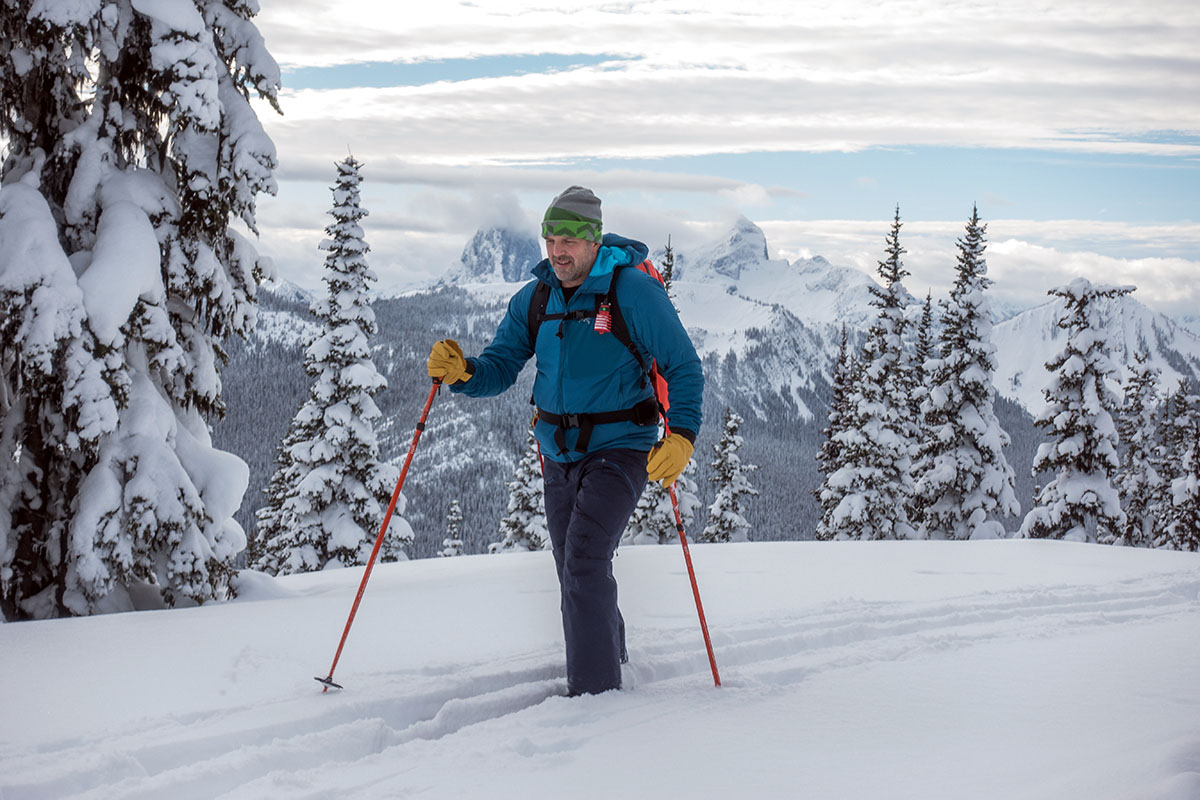 Wind protection was an issue in the past-generation Proton LT, but I've found the revamped model to be much more impervious to strong gusts. The new Dope Permeair liner and 80-gram Coreloft in the body (the previous version used 65g) have significantly reduced the chill factor in cold and blustery weather, making ski transitions and sitting around camp considerably more enjoyable. I also really appreciate the dual back flaps on the main zipper, which reduce the risk of wind penetrating through the teeth (bonus: they also keep my facial hair from snagging).

Weather Protection
It's been an extremely variable winter in the Pacific Northwest, with temperatures fluctuating from well below freezing to unseasonably warm and record rainfall through the winter months. Although certainly not waterproof, the Proton LT is highly water-resistant and has done an admirable job of repelling the constant rain and snow. Even if the outer wets out, which only happens in extremely heavy and incessant precipitation, moisture has yet to penetrate through the hoody. I will still throw on my hardshell jacket in these conditions, but the DWR treatment and durable face fabric effectively keep moisture at bay.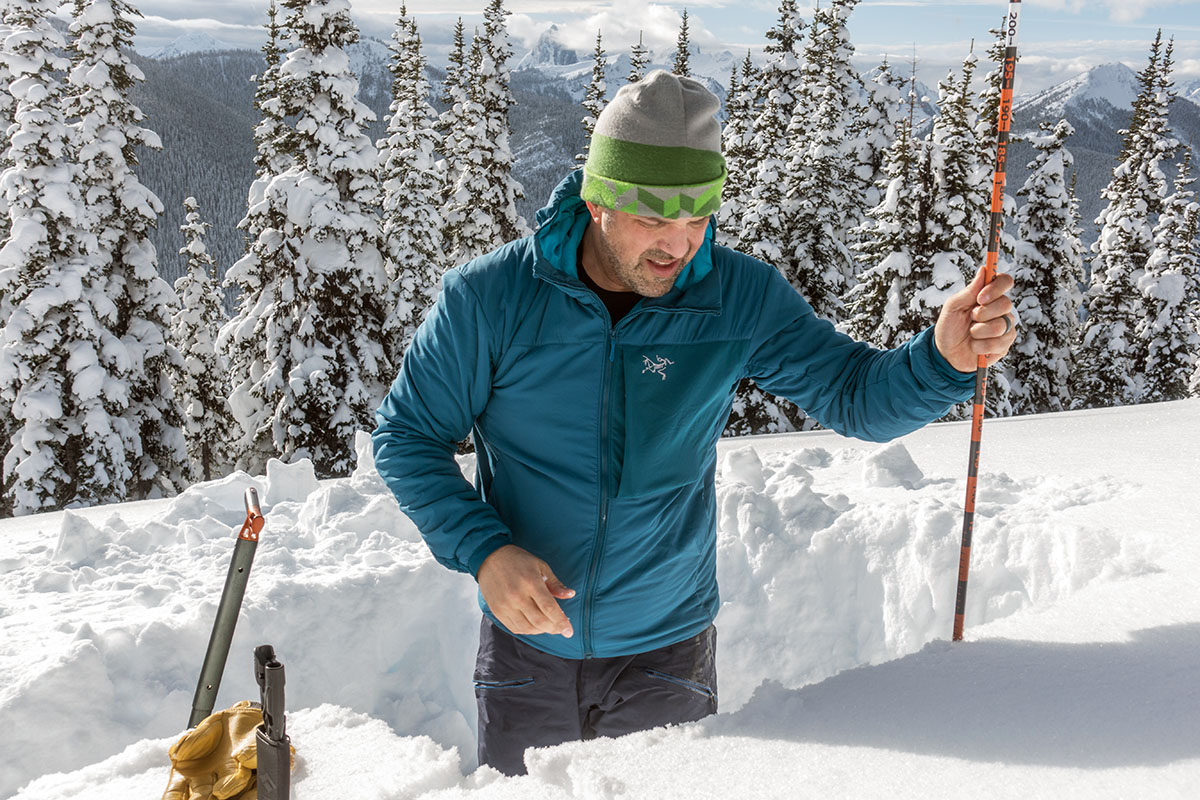 As I touched on above, the Proton LT Hoody has also proven itself as a capable barrier against wind. While skinning around Mount Baker, I suffered a mechanical mishap with my ski binding as 20mph winds howled through the valley. The Proton managed to fend off the strong gusts throughout the half-hour endeavor and keep me well-protected from the biting cold. In terms of features, the Proton has a nicely designed hood that cinches evenly to shelter my face from the elements, and the hem can be adjusted to further batten down the hatches (it does tend to ride up when this is tightened, however). In addition, they've incorporated their No Slip Zip into the main zipper, which prevents it from opening under pressure (an issue I had with the prior version). Finally, the high collar is a nice touch—I prefer to zip it to cover my chin and nose before I resort to donning the hood, which adds a good amount of coverage.

Breathability
I found that the Proton LT truly excels in its ability to regulate body heat and keep me cool on long ascents. In a typical "breathable" synthetic jacket, heat only releases from the inside, but the Proton's shell and lining allow air to flow from both the inside and out. This air permeability has proven to be a perfect match for backcountry skiing. On a recent adventure, I wore the Proton as my outer layer while skinning up, and then kept it on as I dug pits to analyze the snowpack and leveled snow to set up camp. Anyone who has shoveled snow can relate to how laborious this task can be, so I was very surprised to have remained comfortably warm but not hot and sweaty. I still overheat in the Proton when working hard in temperatures higher than about 32 Fahrenheit, but I've been very impressed overall with the air-permeable construction.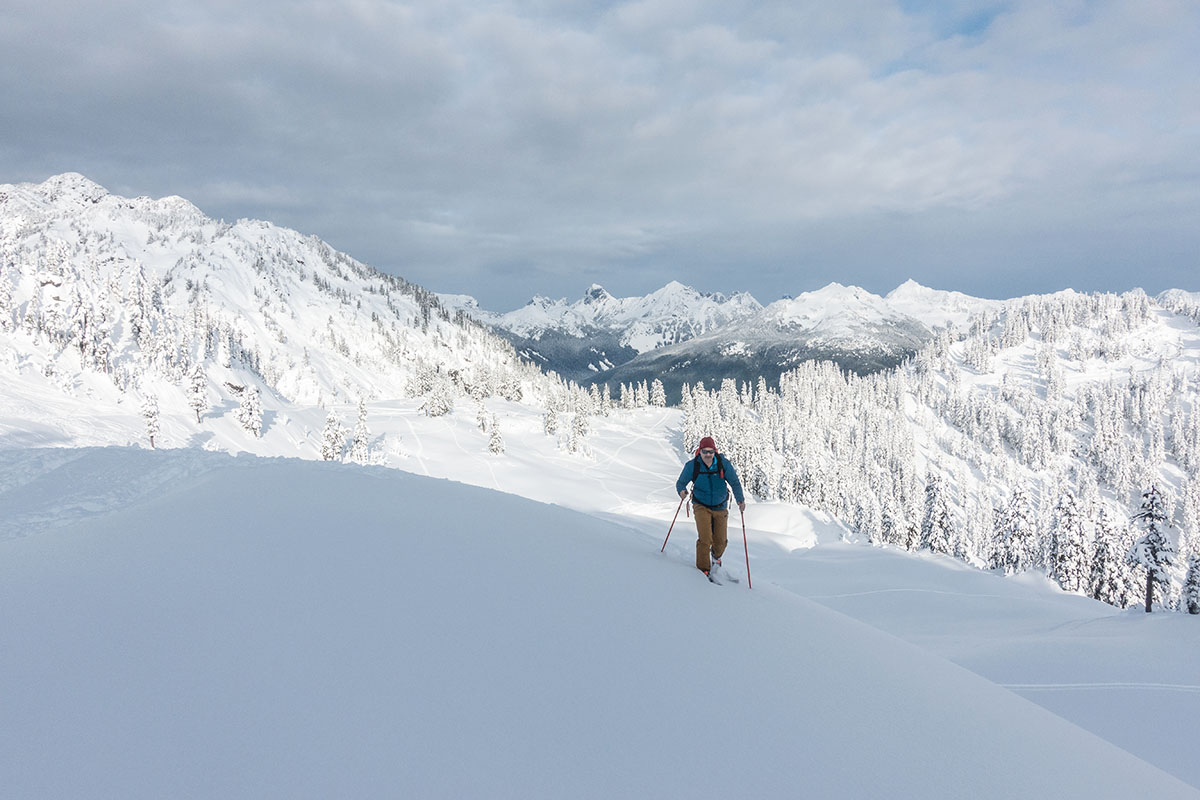 Comfort
The repetitive arm motions of skinning, digging data pits, and loading and unloading my van are great tests of a jacket's mobility and comfort, and I've been very impressed overall. With 16 percent elastane (the previous-generation Proton had 8 percent) along with articulated elbows and gusseted underarms, the Proton offers excellent stretch. While jackets with less elasticity tend to feel tight across my back and can sometimes cause chafing under my arms, I appreciate that I don't have to think about the Proton when doing movement-intensive activities. Additionally, the lining and shell fabrics have a premium feel and excellent softness. Even when I've overheated in the hoody, the lining doesn't grow sticky or clammy, and it slides nicely over baselayers without any bunching. And a final (albeit small) feature that I appreciate: the sleeves have stretch-knit cuffs that make it easy to put on and take off the jacket while also reducing the risk of cold air or moisture entering at the wrists.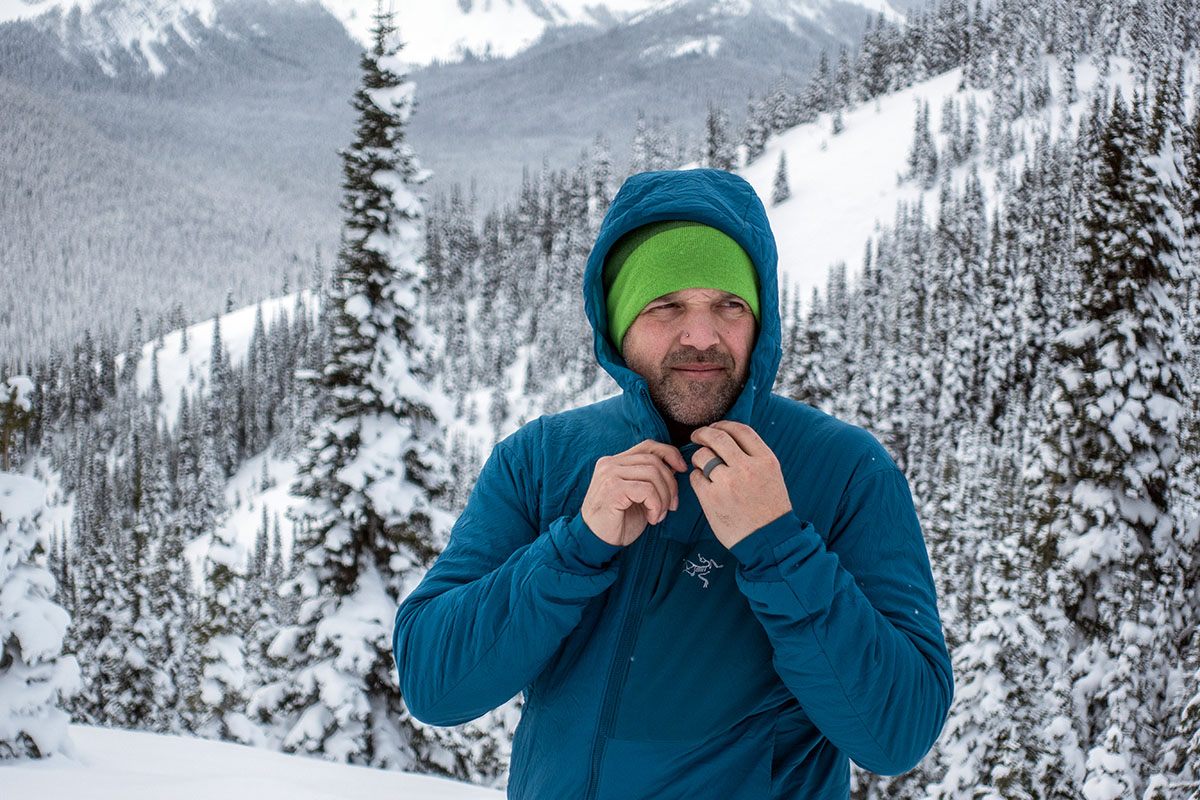 Weight and Packability
At 14.7 ounces for a men's large (the listed weight is 13.2 oz.), the Proton isn't the lightest insulating jacket. For reference, it compares closely to the less breathable Arc'teryx Atom LT Hoody (also 13.2 oz.) but falls well short of a down jacket like the 10.8-ounce Cerium LT in terms of warmth for the weight. On the other hand, it's competitive among many designs in the active insulation market, undercutting popular alternatives like the Black Diamond First Light Stretch Hoody and Outdoor Research Refuge Air (both 1 lb. 0.8 oz.). In fact, among its primary competition, only the Patagonia Nano-Air Hoody (12.2 oz.) is lighter. The Proton LT's sibling, the Proton FL, also weighs less at 11.4 ounces, but it's built more for mild conditions with minimal insulation.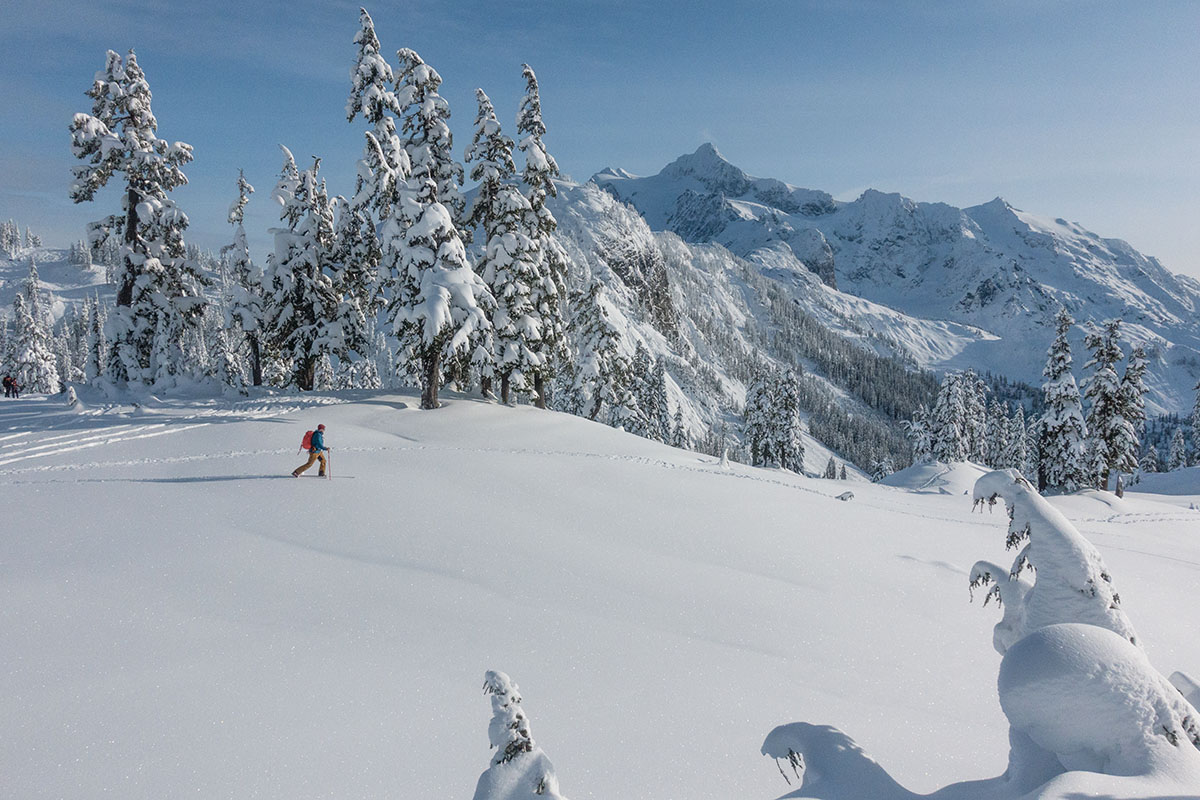 Like its predecessor, the retooled Proton doesn't have a stuff sack and isn't designed to fit into a hand pocket, but still only requires minimal real estate in my pack. I've found the easiest way to store the jacket is to compress it into its hood (it fits in its hand pocket, but it's a tight squeeze that puts a fair amount of pressure on the zipper). As with the weight comparisons above, the Proton can't compete with a down jacket, but I'll gladly trade the extra weight and packed size for this synthetic jacket's wet-weather performance and breathability. If you're a stickler for space, throwing the Proton into a small compression sack could likely get it down to the size of a water bottle.

Construction and Durability
Like nearly all Arc'teryx products we've tested, the Proton LT Hoody is thoughtfully designed and well-made. After several months of solid abuse, mine shows no visible wear, and the zippers are all running smoothly. Additionally, both the 20-denier outer fabric and new liner truly appear to be abrasion-resistant and have avoided any snags. My backcountry pack consistently weighs over 30 pounds when stuffed with camera and ski equipment, but the Proton's shoulders show no damage or signs of struggle. As with all my gear, the hoody also spends significant time getting stuffed into a backpack containing sharp gear, lying on the floor of my vehicle, and even being slung over a mountain bike. On one occasion, diesel spilled all over the jacket as I was fueling my van, but after soaking and washing the Proton, there were no lingering odors, stains, or reminders of the incident.

Features: Hood and Pockets
The Proton LT is a simple jacket, but that's not to say it doesn't have everything it needs. I tested the hoody version (Arc'teryx also sells a men's Proton LT Jacket without a hood) and recommend going that route if you plan on wearing it on occasion as an outer layer. The helmet-compatible hood is easy to adjust with a single drawcord at the back and is comfortable over my climbing helmet as well as cinched down over a beanie. It's also not overly bulky when stored under a shell. It's a bit of a tighter squeeze over my larger ski helmet (it doesn't cover the brim), but I'm typically wearing a hood-equipped hardshell in these cases anyways.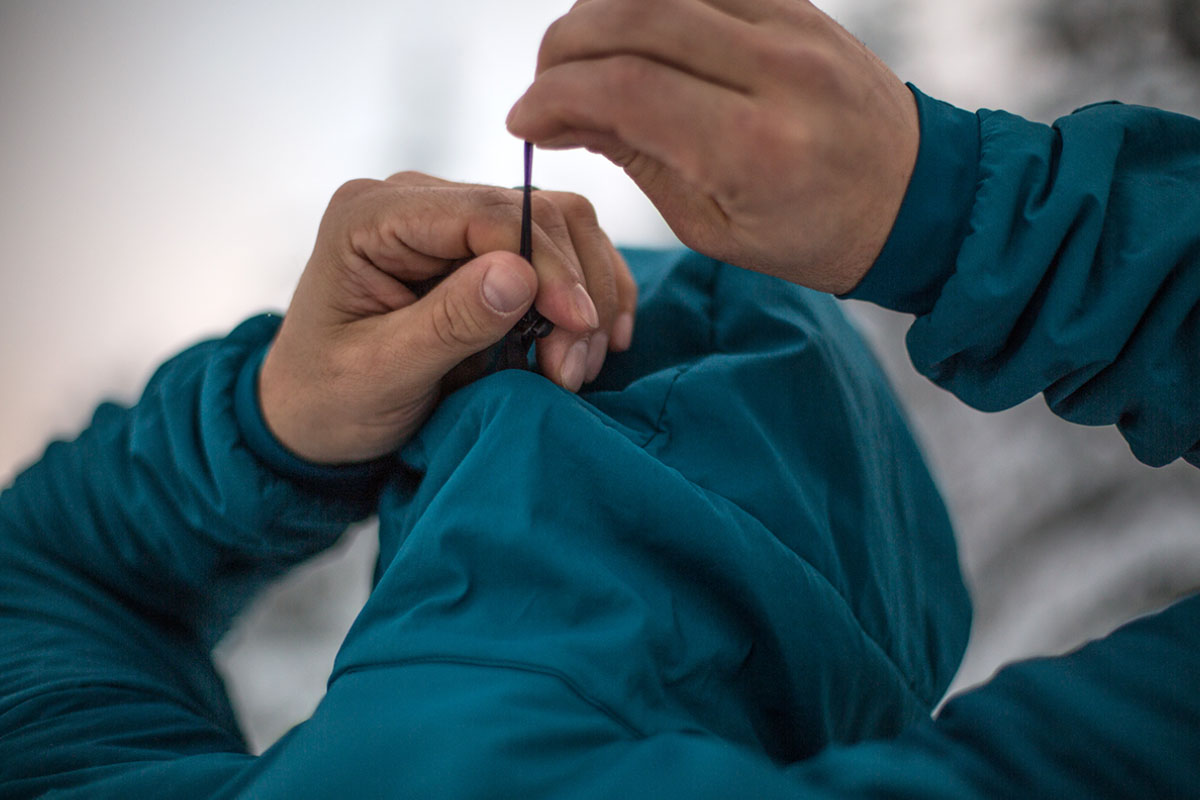 The pocket design is similarly free of any bells and whistles, but it gets the job done. One chest pocket is useful for small items you want quick access to like a phone or map, and there are two insulated hand pockets at the waist. All of the pockets are placed high enough to be functional when wearing a pack, feature zipper garages to seal out the elements, and are easy to access with ski gloves on. My only complaint is that there's no interior pocket for stowing items like a wallet or car keys, but zippers add weight and I was able to make do.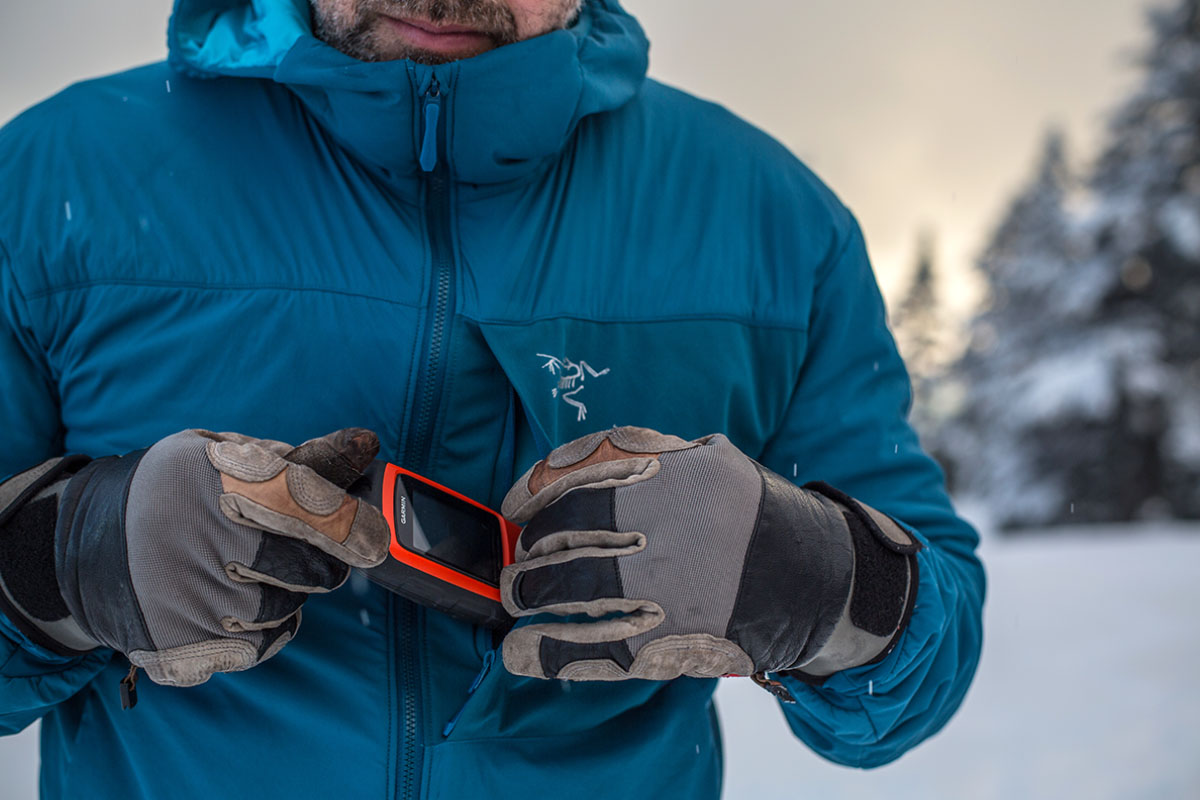 Fit and Sizing
One of the reasons you pay a premium for Arc'teryx products is their first-rate fit, and the Proton LT is no exception. This jacket has a trim cut but runs true to size—I'm 6 feet tall and 220 pounds and the men's large is a great match. I've found it easily fits a thin baselayer underneath, the sleeves don't ride up when I reach forward or above my head, and the drop back hem and 29.4-inch center back length accommodate a pack's hipbelt without riding over the waist or restricting access to the hand pockets. The Proton also is nicely tailored with no excess fabrics to bunch up under a hardshell jacket (if you're looking to add multiple layers underneath, however, I'd recommend sizing up). All in all, it's the kind of fit where you put it on and forget about it—just what you want in a performance piece.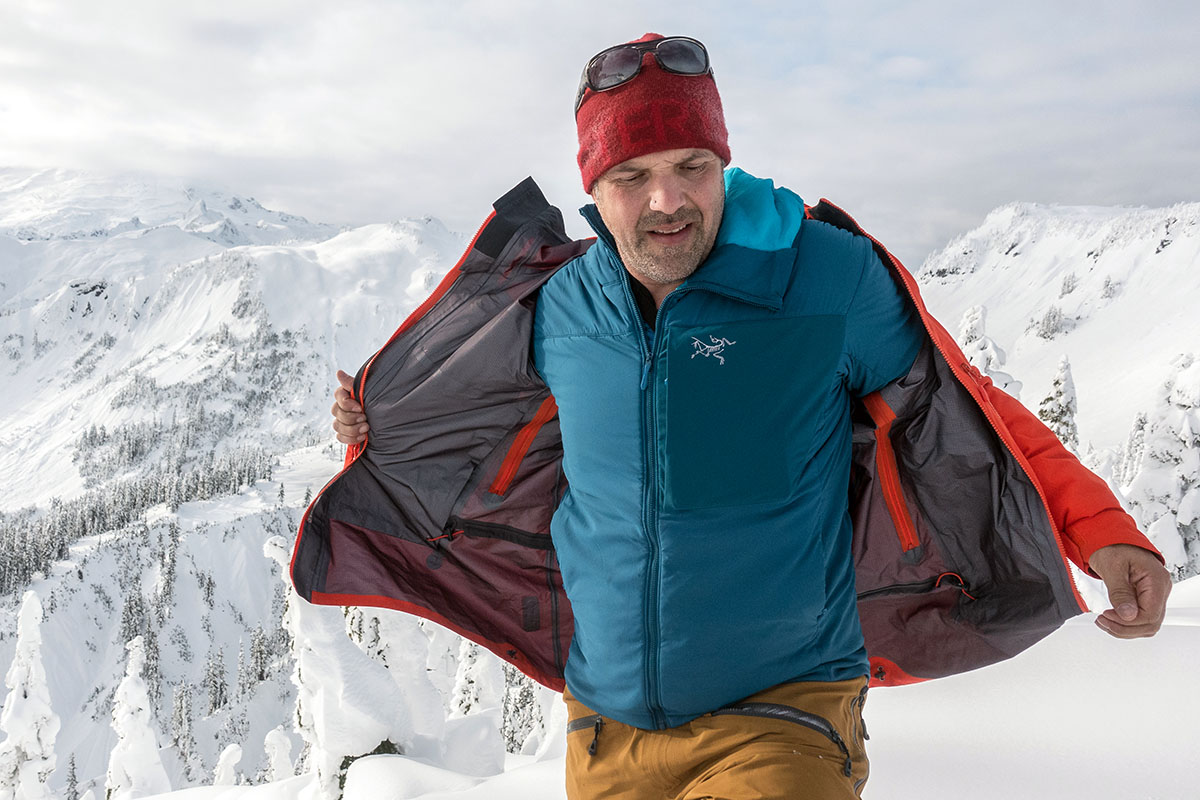 Other Versions of the Arc'teryx Proton
We tested the men's version of this jacket, but Arc'teryx also makes a women's-specific model of the Proton LT Hoody that clocks in at 11.3 ounces, costs the same ($299), and sports an identical feature set and construction (colorways vary). For those who don't need the head coverage, Arc'teryx makes a non-hooded Proton Jacket (men's only) for $20 cheaper and around 2 ounces less. Within the Proton line, we've also the tested Proton FL ("fast and light"), which comes in at a feathery 11.4 ounces, sports a thin layer of Octa Loft insulation throughout, and is built for mild conditions (for more, see our in-depth Proton FL review). 

What We Like
Delivers on its air-permeability promises: the jacket regulates body heat well and keeps you comfortable and cool when working hard.
The outer fabric is durable and holds up in wet and windy conditions.
The kind of quality fit we've come to expect from Arc'teryx: trim enough for active use but not restricting.
No Slip Zip keeps the main zipper from self-opening (an issue we had with the previous version of the jacket).

What We Don't
Runs warm for high-output use in moderate temperatures (for me, that's above freezing).
No interior pocket for stowing valuables like a wallet or keys.
Not the warmest or most packable option for its weight (13.2 ounces). For that, we turn to a down jacket.


Comparison Table

The Competition
The Proton LT is one of our favorite synthetic jackets for its great mix of breathability, durability, mobility, and comfort. However, Patagonia gets a lot of credit for launching active insulation into the mainstream with their Nano-Air Hoody. The Patagonia jacket offers similar breathability as the Proton LT, but runs slightly cooler with 60g FullRange insulation, clocks in 1 ounce lighter, and gets the slight edge in comfort with its pillowy soft feel. On the other hand, the Proton LT has proven to be more durable than our Nano-Air, which has shown wear with heavy use. We also prefer the trim fit of the Arc'teryx to the Patagonia's slightly boxier cut. In the end, we think both are top-notch synthetics that meet the demands of winter climbers, backcountry skiers, and all-around alpine explorers.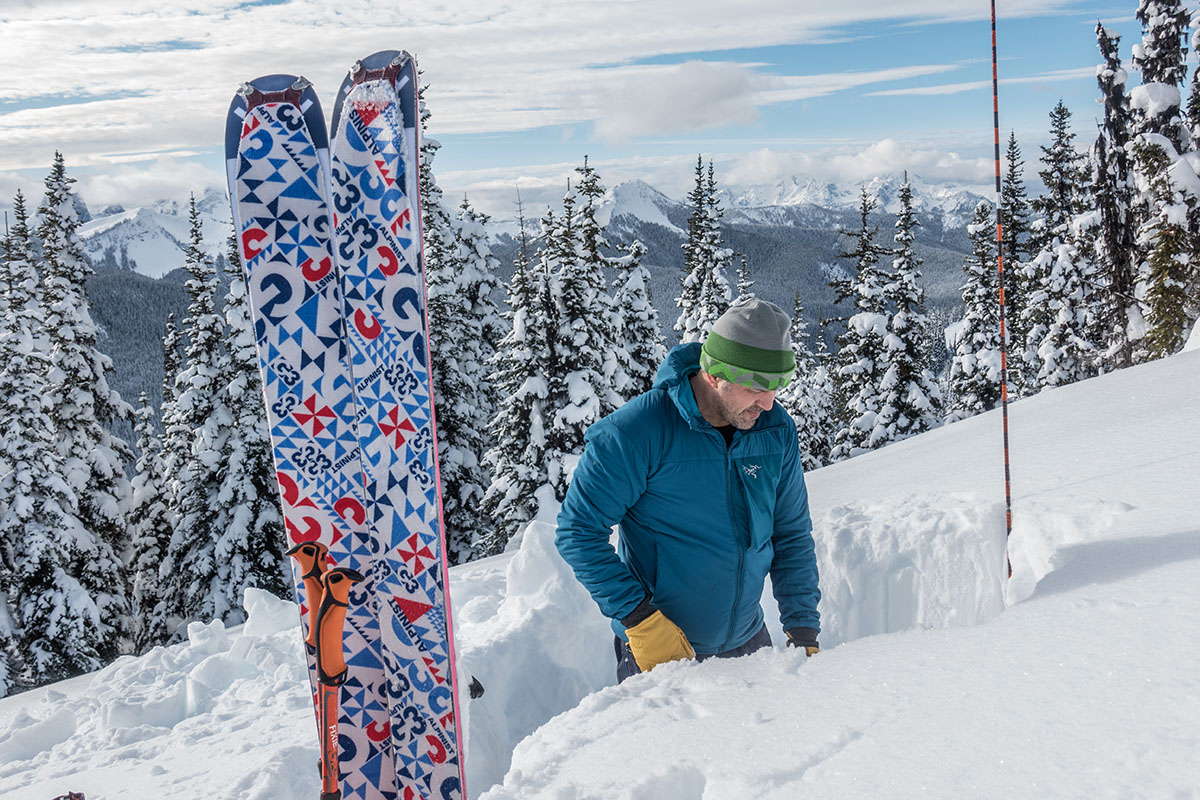 Black Diamond offers a similar design to the Proton LT in their First Light Stretch Hoody, which is touted as their most breathable insulation piece. Compared to the Proton, the First Light Stretch uses 60-gram PrimaLoft Silver Active, is heavier at 16.8 ounces, and we found its outer shell to be less impervious to heavy rain and snow (it wet out fairly quickly in sustained rain, although the jacket still kept us warm and sealed out wind). Both are highly mobile, backcountry-ready synthetics, but the First Light's added heft does translate to less packability for stowing in a pack. All in all, we think the Proton is the better all-around midlayer, and especially in rough weather.
Outdoor Research's Refuge Air is another intriguing choice for active backcountry users. In this case, you get OR's VerticalX Air insulation (75g) for moisture-wicking and breathability, making the Refuge Air a capable option for aerobic cold-weather uses like backcountry skiing, winter running, and climbing. However, despite the 75-gram designation and higher weight (16.8 oz.), we found that the Refuge Air offered noticeably less warmth than expected. Further, the Proton is the better match for inclement weather with its more durable and capable outer fabric. Added up, we think the Arc'teryx is the better-built piece and worth the added $70 investment.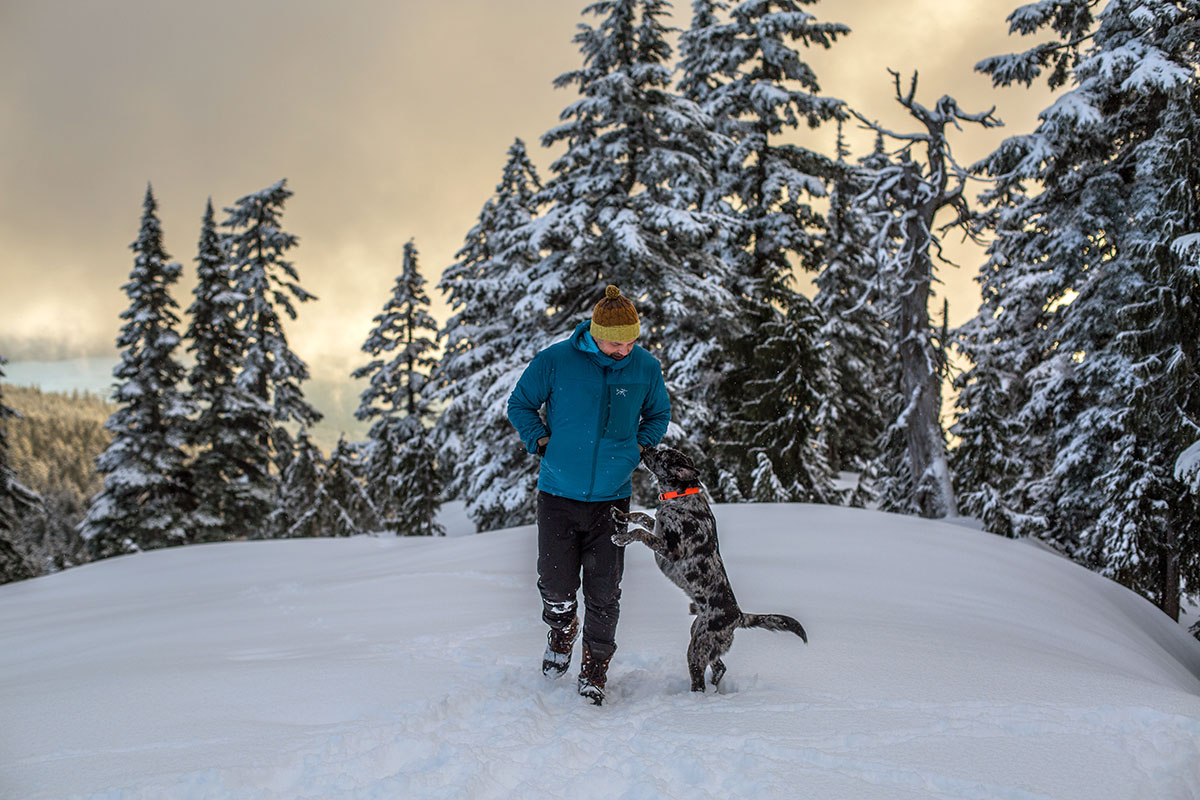 One of the most popular synthetics on the market is Arc'teryx's own Atom LT Hoody, which has the same listed weight of 13.2 ounces but runs noticeably warmer since it lacks the air-permeable lining and shell of the Proton LT. It's interesting from a construction standpoint: the Atom LT uses less insulation (60g Coreloft Compact) and has a similar 20-denier shell, but that permeability makes a big difference in terms of overall protection. We have used the Atom LT extensively for high-output activities and it performs fine, but the Proton line is purpose-built for active use and is a real standout in terms of breathability. For everyday wear and as a midlayer, you can't go wrong with the Atom LT. For consistent use during high-output activities, go Proton.
Last but not least is the Proton LT's lighter-weight sibling: the Proton FL (short for "fast and light"). In parsing out the differences, the FL shaves off a couple ounces at 11.4 ounces, costs $40 less, and boasts an additional pocket at the chest. However, the FL includes only a thin layer of Octa Loft insulation, which makes it a better match for mild conditions but not enough jacket for truly cold-weather pursuits. It also has an under-the-helmet hood rather than the Proton LT's over-the-helmet design, although both are fairly technical synthetics built for performance use. In the end, a final decision will come down to expected conditions and how much insulation you need.
If you're thinking about buying gear that we've reviewed on Switchback Travel, you can help support us in the process. Just click on any of the seller links above, and if you make a purchase, we receive a small percentage of the transaction. The cost of the product is the same to you but this helps us continue to test and write about outdoor gear. Thanks and we appreciate your support!
Depending on the seller, most products ship free in the United States on orders of $50 or more. International shipping availability and rates vary by seller. The pricing information on this page is updated hourly but we are not responsible for inaccuracies.
Learn More About Outdoor Gear