High-output activities like ski touring and winter climbing require an insulated jacket that balances warmth and ventilation. Arc'teryx jumps into this growing "active insulation" market with their all-new Proton LT, which features air-permeable fabrics and lightweight synthetic fill. Through a winter of backcountry skiing and mountaineering, I've found that the jacket is the real deal: it's highly breathable as an outer layer while skinning up, and when coupled with a hardshell (my Arc'teryx Alpha SV), is a trusty midlayer when the weather takes a turn or the activity becomes less strenuous. Below are my experiences with the Proton LT including warmth, breathability, fit, comfort, and more.
 
Performance
Warmth
Heavy Arctic winds have brought unusually cold temperatures to my local Coast Mountains this winter, giving me ample opportunities to test the Arc'teryx Proton LT's warmth. In these sub-freezing conditions, the Proton has the right amount of insulation for when I'm working hard. With 65g/m2 of Coreloft synthetic, the jacket falls into the lightweight category. But its air-permeable lining and shell make it less warm than a standard 60g/m2 synthetic like the Arc'teryx Atom LT. If you're prone to overheating like me, this means the Proton is a perfect replacement for a thick softshell. If you run cold, I would suggest the Proton AR Hoody, which shares the same design but uses a more substantial 90g/m2 Coreloft in the body and 65g/m2 in the hood and sleeves.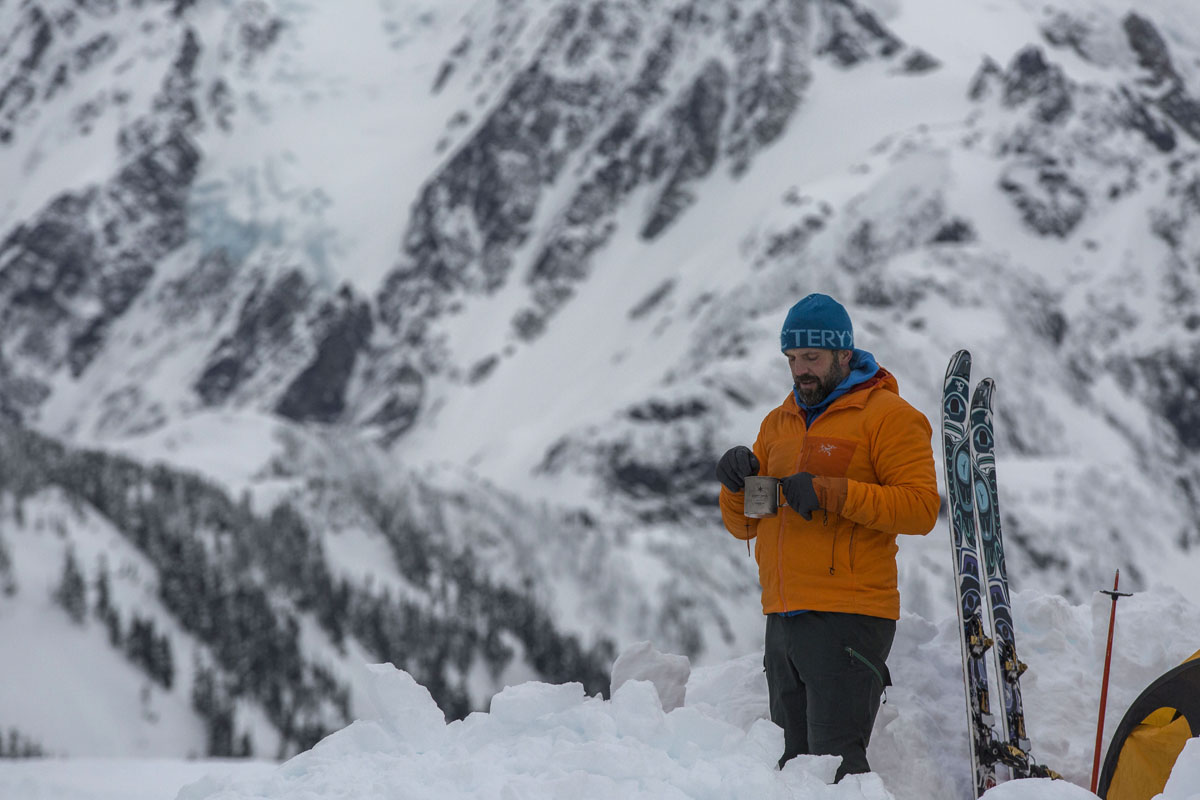 The jacket's one weakness in terms of warmth is its lack of wind protection. I've found that when I'm inactive, a modest gust of wind will cut through the shell and make me cold even when temperatures are well above freezing. As such, I throw on my Arc'teryx Alpha SV hardshell or add another baselayer when I'm wearing the Proton around camp. And on ski descents, I always grab a windproof layer from my pack.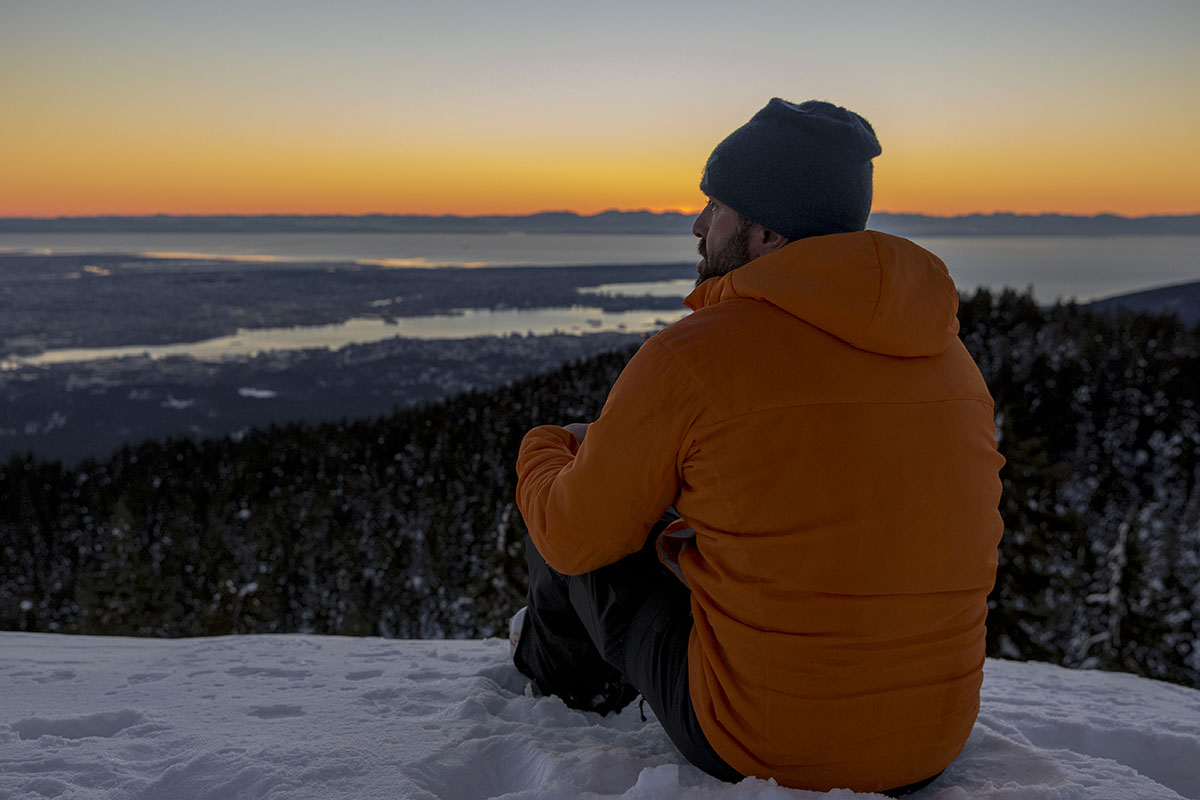 Breathability
I found that the Proton LT truly excels in its ability to regulate body heat and keep me cool on long ascents. In a typical "breathable" synthetic, heat only releases from the inside of the jacket, but the Proton's shell and lining allow air to flow from both the inside and out. This air permeability has proven to be a perfect match for backcountry skiing. On a recent adventure, I wore the Proton as my outer layer while skinning up, and then kept it on as I dug out and leveled snow to set up camp. Anyone who has shoveled snow can relate to how laborious this task can be, so I was very surprised to have remained comfortably warm but not hot and sweaty. I still overheat in the Proton when working hard in temperatures higher than about 0°C (32°F), but I've been very impressed overall with the air permeable construction.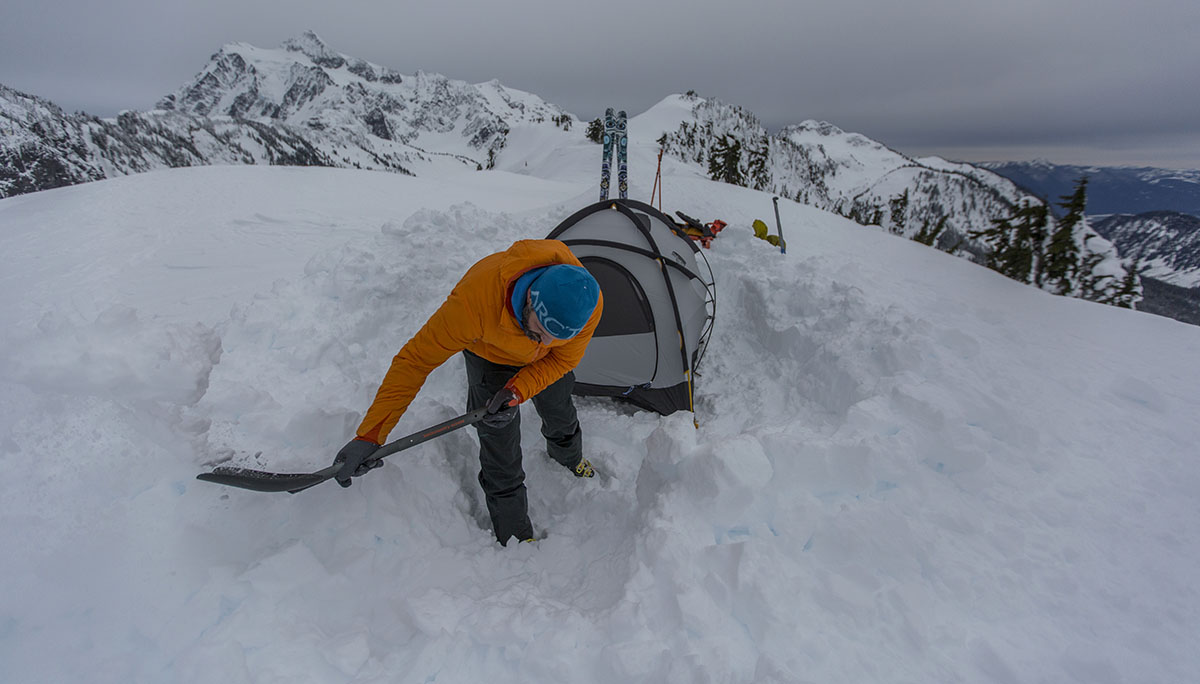 Weather Protection
Arc'teryx designed the Proton to be worn as both a mid and outer layer, so the jacket stands up reasonably well to rough weather. For peace of mind before taking it out into the backcountry, I held the jacket under a gushing bathtub tap for several minutes. I was impressed to find that though the outer fabric started to wet out, no dampness permeated the inner lining. Since then, I've exposed the Proton LT to heavy snow, rain, and sleet, and it has held up admirably. Admittedly, I will throw on my hardshell if it's windy as the Proton doesn't block anything more than a light breeze, but the DWR treatment and durable face fabric keep moisture at bay.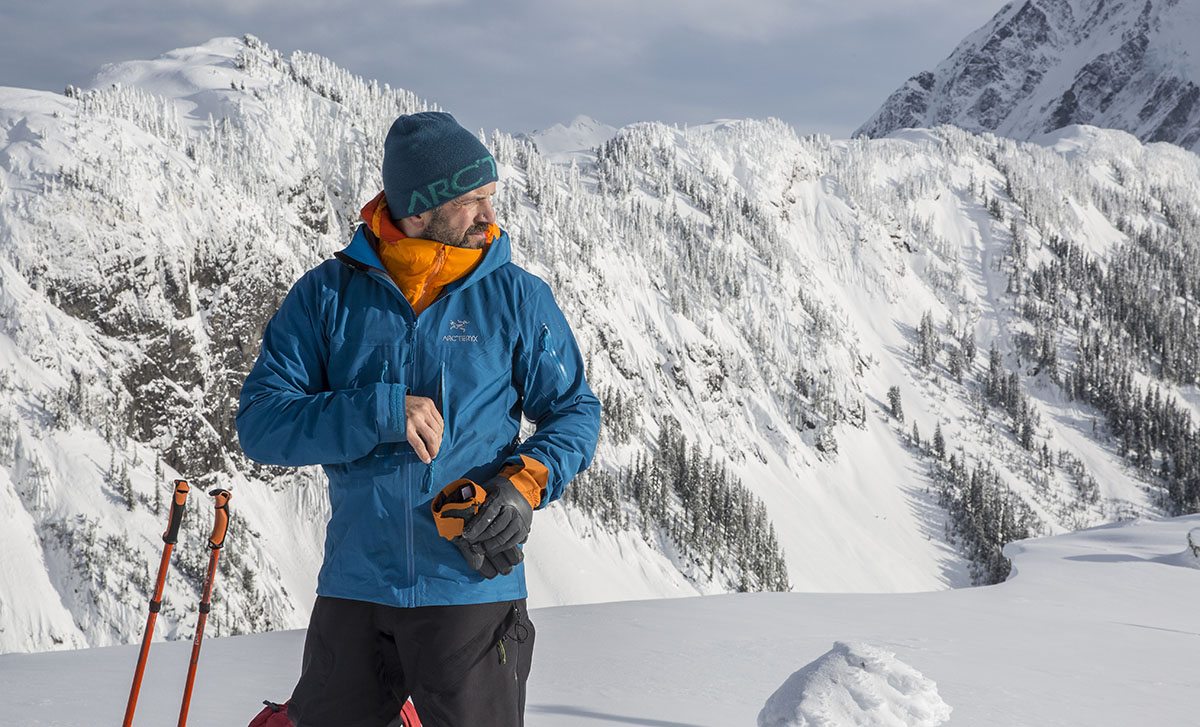 Construction and Durability
Like all Arc'teryx products we've tested, the Proton LT Hoody is thoughtfully designed and well made. After four months of solid abuse, mine has only a few spots where dirt and grime have left a mark—there are no tears or loose threading. The outer fabric truly appears to be abrasion resistant and has avoided any snags. As with all my gear, it spends significant time getting stuffed into a backpack containing crampons and other climbing gear. It has had serious contact with jagged rock and ice, including more than one unintended fall, yet the Proton has remained unscathed by these encounters.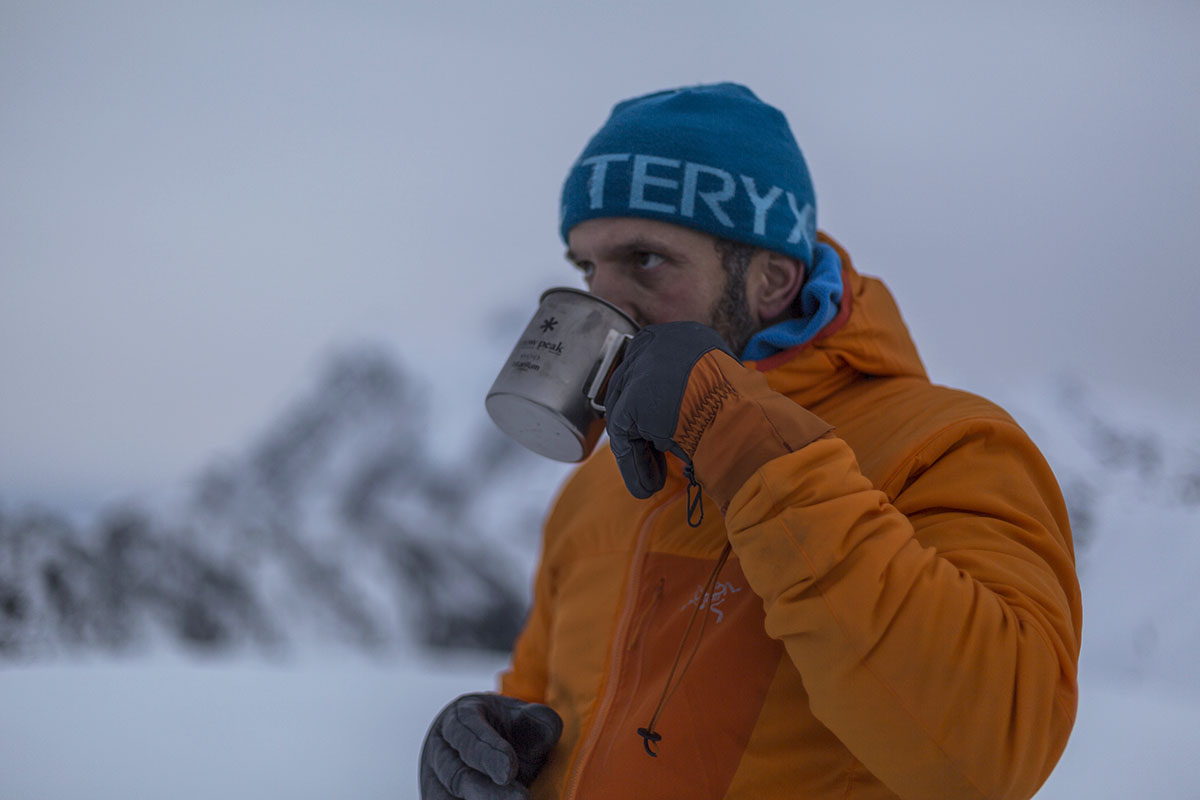 Key Design Features: Hood and Pockets
The Proton LT is a simple jacket, but that's not to say it doesn't have everything it needs. I tested the hoody version (you can also get a Proton LT in a non-hooded style), and recommend going that route if you plan on wearing it on occasion as an outer layer. The hood is easy to adjust with a single drawcord at the back and was equally comfortable over both my ski and climbing helmets as well as cinched down over a beanie. It's also not overly bulky when stored under a shell.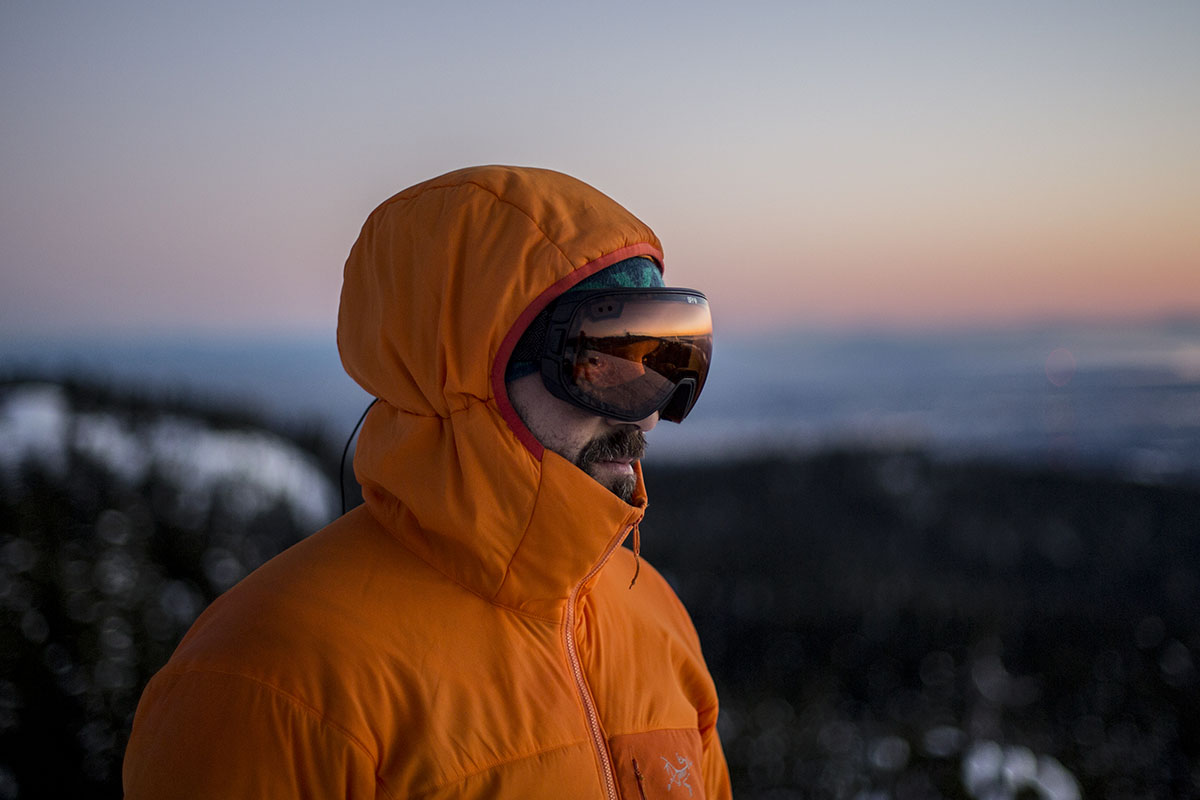 The pocket design is similarly free of any bells and whistles, but gets the job done. One chest pocket is useful for small items you want quick access to like a phone or map, and there are two insulated hand pockets at the waist. The pockets are placed high enough to be functional when wearing a harness, and have come in handy to keep my hands warm when my ski partners are taking far too long on transitions.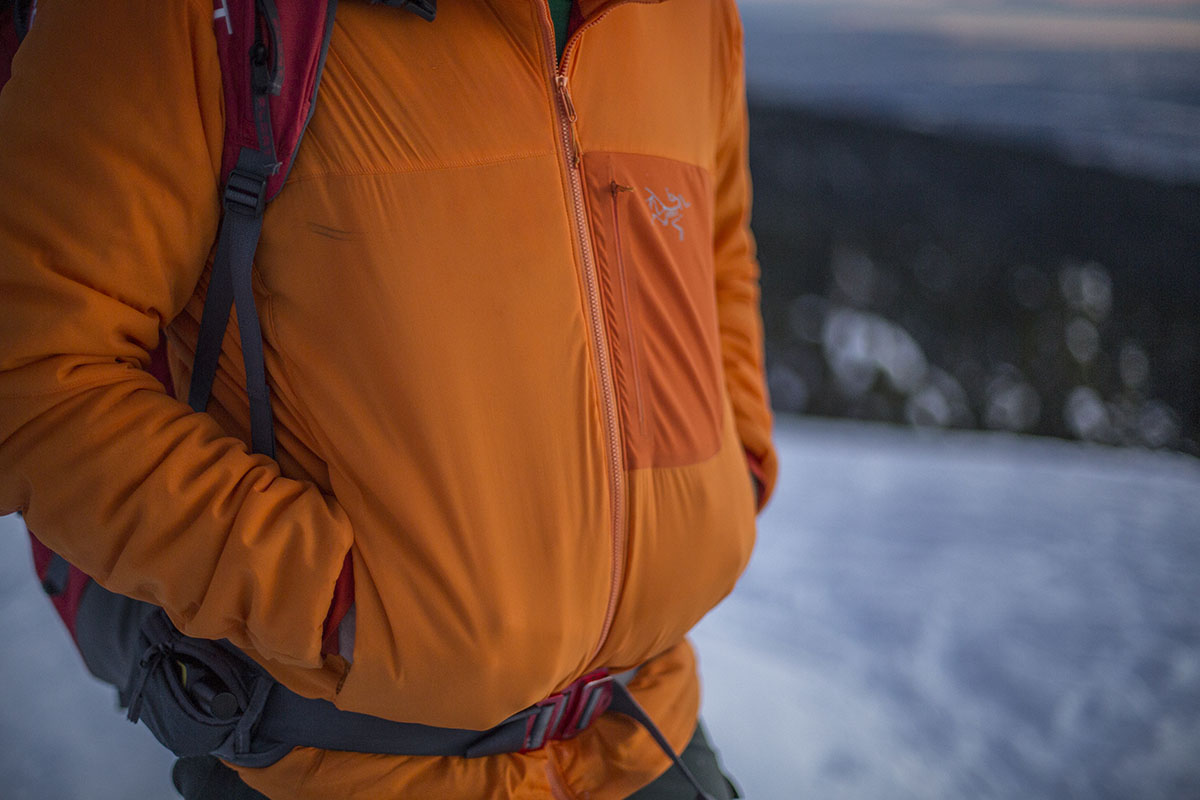 Weight and Packability
At 14.1 ounces, the Proton isn't the lightest insulating jacket, sitting in between its slightly warmer sibling, the Proton AR Hoody (15 oz.), and the Atom LT Hoody (12.7 oz.). It also falls well short of a down jacket like the 10.4-ounce Cerium LT in terms of warmth for the weight. On the other hand, it's very competitive among jackets in the active insulation market. The Proton undercuts the Black Diamond First Light Hoody and Outdoor Research Uberlayer by 3.9 and 5.8 ounces, respectively. Among its primary competition, only the Patagonia Nano-Air Hoody is lighter at 13.6 ounces.
The Proton doesn't have a stuff sack and isn't designed to fit into a hand pocket, but still only requires minimal real estate in my pack. I've found the easiest way to store the jacket is to compress it into its hood. As with the weight comparisons above, the Proton can't compete with a down jacket, but I'll gladly trade the extra weight and pack size for this synthetic jacket's wet weather performance and breathability. If you're a stickler for space, throwing the Proton into a small compression sack could likely get it down to the size of a water bottle.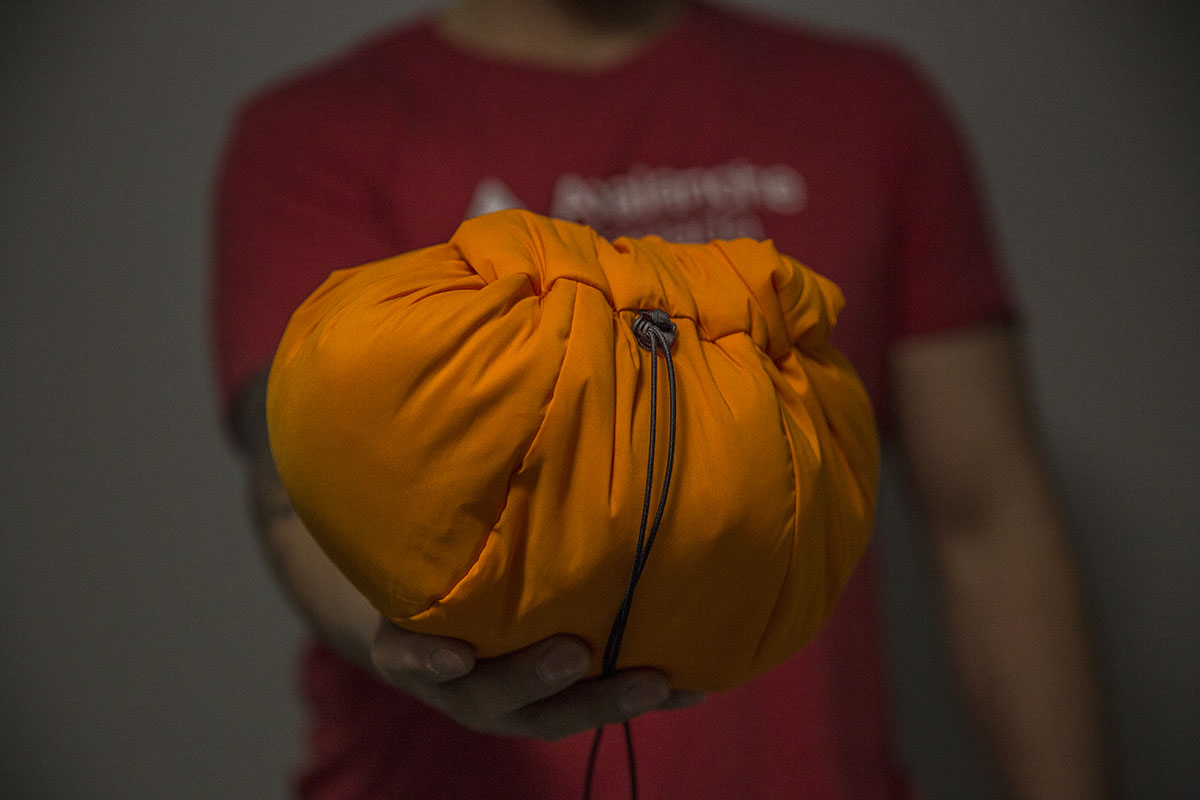 Fit and Sizing
One of the reasons you pay a premium for Arc'teryx products is their first-rate fit, and the Proton LT is no exception. This jacket has a trim cut but runs true to size—I'm 6-feet tall and 215 pounds and the men's large is a great match. I've found it easily accommodates a thin baselayer for skiing, and its drop back hem keeps a climbing harness from riding up over the jacket. The Proton also is nicely tailored with no excess fabrics to bunch up under a hardshell. It's the kind of fit where you put it on and forget about it—just what you want in a performance piece.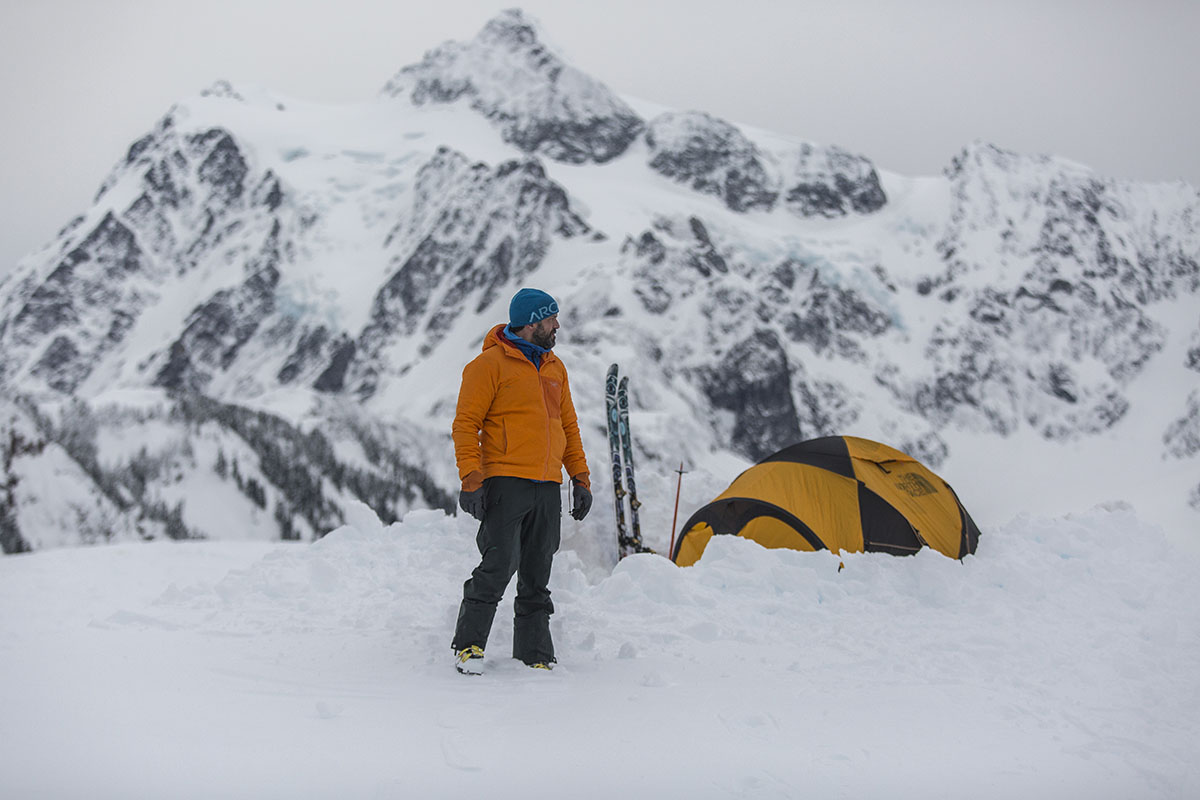 Comfort
The repetitive arm motions of skinning are a great test to a jacket's mobility and comfort, and I've been very impressed overall. The jacket's snug fit and modest flexibility (the shell has 8% elastane) have resulted in zero complaints of discomfort. And the lining and shell fabrics have a premium feel and are a world away in terms of next-to-skin softness when compared with a hardshell jacket. In many ways, the Proton performs like a softshell: the fabrics are durable but have enough "give" to make it easy to reach forward or overhead.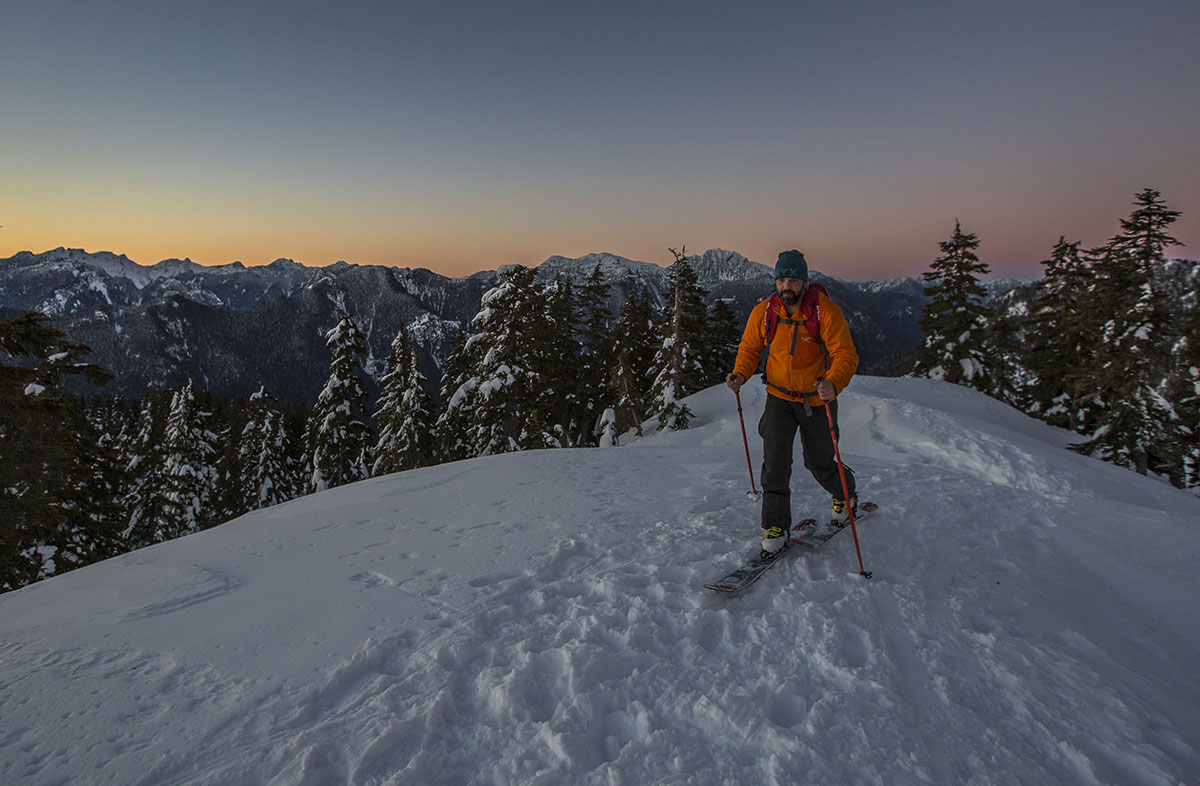 What We Like
Delivers on its air permeability promises: the jacket regulates body heat well and keeps you comfortable and cool when working hard.
The outer fabric is durable and holds up in wet conditions (although it doesn't perform as well in wind).
The kind of quality fit we've come to expect from Arc'teryx: trim enough for active use but not restricting.

What We Don't
Wind cuts through the shell easily, which makes it less than ideal for wearing around camp.
It weighs more than a jacket like the Atom LT without any additional warmth.
The main zipper tends to slip under pressure, which can be a bit of a nuisance when I'm trying to protect my face and chin from the elements.


Comparison Table

The Competition
With their launch of the Proton line, Arc'teryx joins a growing list of air permeable synthetic jackets. We've had a chance to test some of the best designs, and think the all-new Proton LT holds its own. We prefer it to the Outdoor Research Uberlayer, which is a solid performer but too heavy and lacks the fit and finish of the Arc'teryx. Black Diamond recently joined the fray with their First Light Hoody. In our test of the BD, we found it warmer and offered better wind protection than the Proton but weighs 4 ounces more and isn't as compressible. As an outer piece, the First Light may be the preferred option for touring in rough weather, but the Proton is the better all-around, packable midlayer.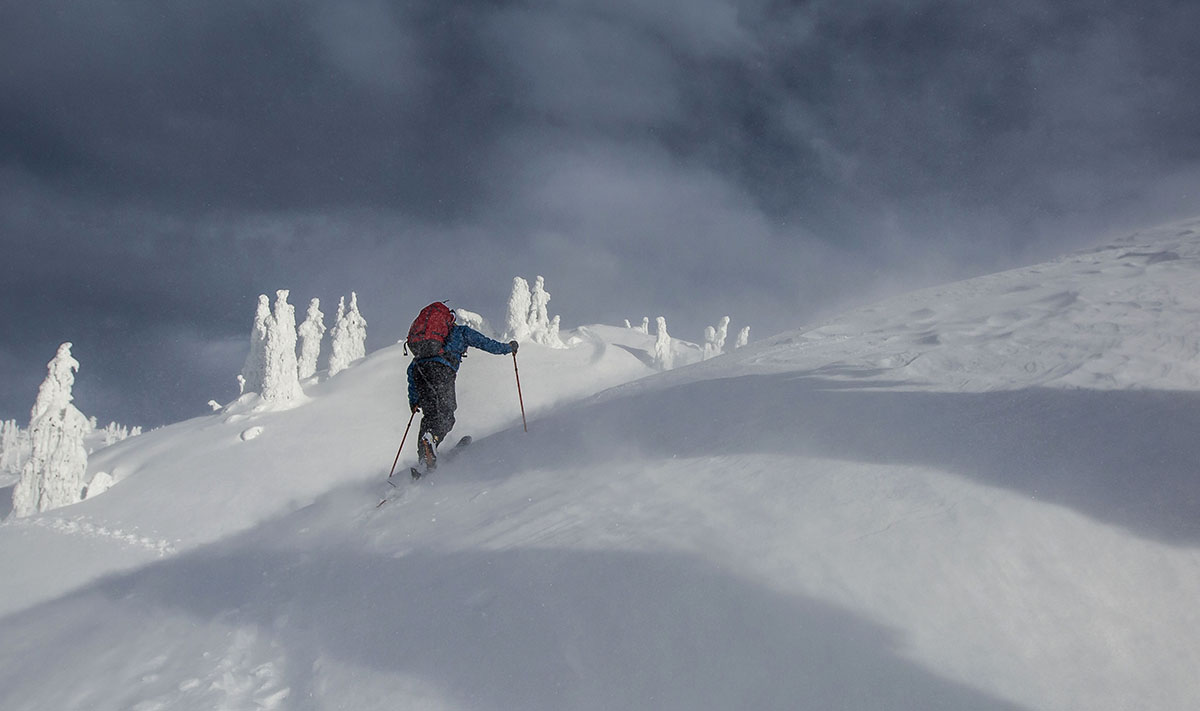 Patagonia gets a lot of credit for launching active insulation into the mainstream with their Nano-Air Hoody. The Patagonia jacket offers very similar warmth and breathability as the Proton LT, but is 0.5 ounces lighter and gets the slight edge in comfort with its pillowy soft feel. On the other hand, the Proton LT has proven to be more durable than our Nano-Air, which had an issue with pilling around the back of the neck and sleeves. We also prefer the trim fit of the Arc'teryx to the Patagonia's slightly boxy cut. In the end, we think both are top-notch synthetics that meet the demands of winter climbers, backcountry skiers, and all-around alpine explorers.
If you're thinking about buying gear that we've reviewed on Switchback Travel, you can help support us in the process. Just click on any of the seller links above, and if you make a purchase, we receive a small percentage of the transaction. The cost of the product is the same to you but this helps us continue to test and write about outdoor gear. Thanks and we appreciate your support!
Depending on the seller, most products ship free in the United States on orders of $50 or more. International shipping availability and rates vary by seller. The pricing information on this page is updated hourly but we are not responsible for inaccuracies.
Learn More About Outdoor Gear