Made to move with you during high-output activities, active insulation jackets—like those in Arc'teryx's Proton collection—merge warmth and weather resistance with class-leading breathability. A couple years ago, the Proton FL ("fast and light") joined the LT ("lightweight") as the lighter and more summer-specific jacket. We wore the women's Proton FL while backpacking in the Grand Canyon and running, climbing, and skate skiing outside of Bend, Oregon, and were surprised by how much we were able to accomplish in the jacket without wanting to take it off. To see how the Proton FL stacks up, see our article on the best synthetic jackets.
 
---
Table of Contents
---

Performance
Warmth
Arc'teryx bills the Proton FL as a summer alpine and rock climbing layer, which is reflected in its lightweight build and synthetic insulation. Stuffed with a thin layer of polyester Octa Loft—known for its breathability and temperature-regulating abilities—the jacket provides that small dose of warmth during activities where a t-shirt or light baselayer just won't cut it. I now routinely find myself reaching for the Proton FL in situations where I previously paired a baselayer (like the NW Alpine Black Spider Hoody) with a wind jacket (most often the Patagonia Houdini). Compared to this combination, the Proton FL performs much better across the board, with added breathability and freedom of movement in a lightweight package. In short, the Proton FL quickly has shifted from a jacket I didn't know I needed to one I now can't live without.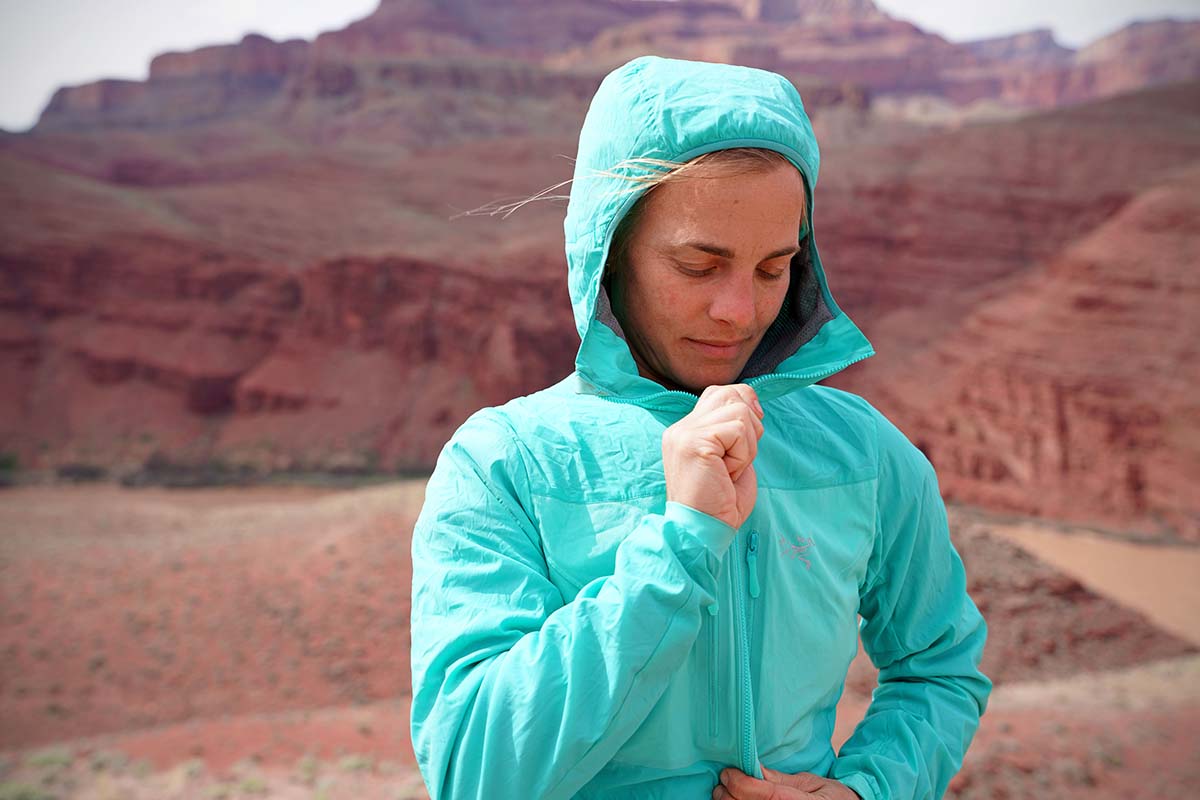 Although the Proton FL is surprisingly cozy for its thin and streamlined build, it's a far cry from the Arc'teryx Atom LT or Patagonia Nano-Air. Even the Coreloft insulation in Arc'teryx's ultralight Atom SL—a slightly lighter active insulation piece—offers significantly more warmth. As a result, in the Grand Canyon when nighttime temperatures dropped to the low 50s Fahrenheit, I found myself swapping out my Proton FL for a lightweight down jacket. In addition, for winter activities like skiing and ice climbing, I certainly would want more insulation and weather protection. But for active pursuits during summer adventures in the mountains or shoulder seasons closer to home, the Proton FL provides that small but vital boost in warmth.

Breathability
Breathability is the hallmark of the Arc'teryx Proton FL—it's a piece that truly is built for activity. Both the insulation and shell fabric are air-permeable, which make for a jacket that you can put on and keep on. I've worn the Proton FL while climbing technical pitches of rock, hauling a 40-pound backpack through the Grand Canyon, and running the trails near my home, and have found it to be impressively breathable for an insulated layer. Where I would have built up a sweat in jackets like the Atom LT (synthetic midlayer) or Patagonia Houdini (wind jacket), the Proton FL has kept me comfortable and well-ventilated. Simply put, it has become a layer that I don't shy away from wearing for any sort of activity, no matter how aerobic it may be.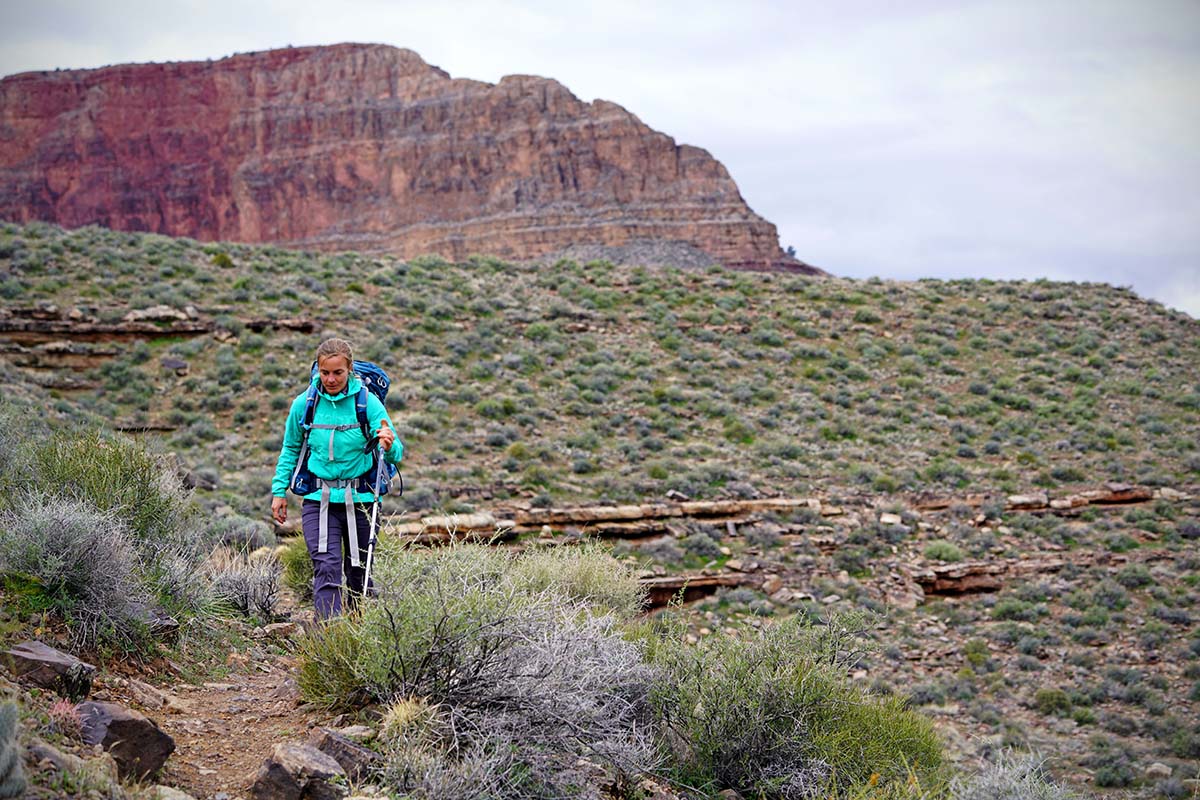 Mobility and Comfort
Along with breathability, the Arc'teryx Proton FL excels by offering impressive range movement for high-exertion activities. First, it's made with 16-percent elastane for a stretchy fit that moves with your body. Second, articulated elbows and gusseted underarms increase mobility and comfort. Given these features, I'm able to wear the Proton FL while climbing demanding 5.12 pitches without it restricting movement or riding up underneath my harness. And as I touch on in the Fit and Sizing section below, the Proton FL allows this freedom while still being streamlined, trim-fitting, and lightweight.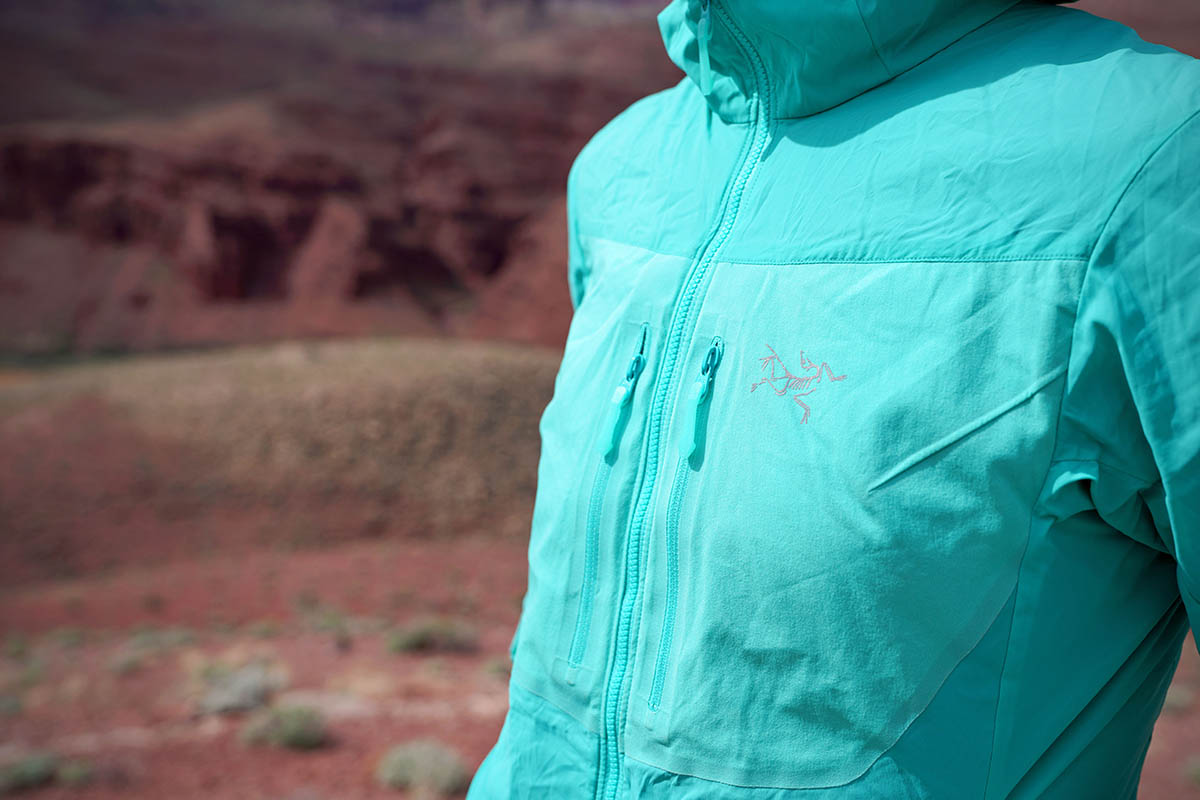 Weather Protection
Weather protection is not the Proton FL's strong suit. When the wind really picks up or the rain starts falling, this is not a jacket that will protect you from the elements. It is neither windproof nor waterproof, but the combination of Fortius Air 20 shell fabric, light insulation, and DWR coating means it provides decent protection from light wind and rain (although we'd much rather be wearing a dedicated wind shell in strong gusts). And on the bright side, if you do get caught off-guard in the Proton FL, the thin outer fabric and synthetic fill mean that it will dry out quickly.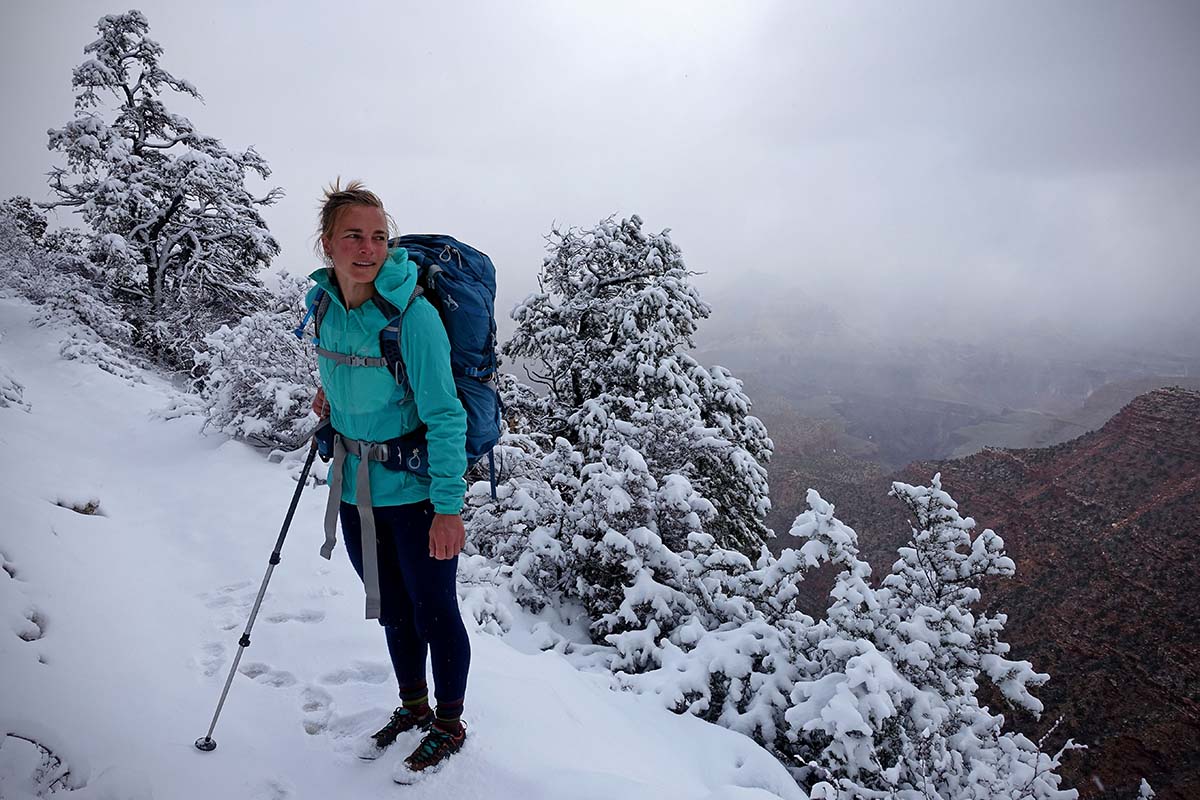 Weight and Packability
The Arc'teryx Proton FL clocks in on my scale at 9.6 ounces for a women's small (0.1 oz. lighter than the advertised weight), which is very competitive for an active insulation piece. In comparison, Arc'teryx's own Atom SL is superlight at 8.4 ounces, the warmer Proton LT is 11.3 ounces, and more insulated jackets like Patagonia's Nano-Air and Black Diamond's First Light Stretch clock in at 10.2 and 14.2 ounces, respectfully. And interestingly, my combination of baselayer and wind jacket that I mentioned in the "Warmth" section weighs in at 14.3 ounces, which makes an even stronger case for the Proton. Further, the jacket is relatively packable, although keep in mind that it does not stuff into its own pocket.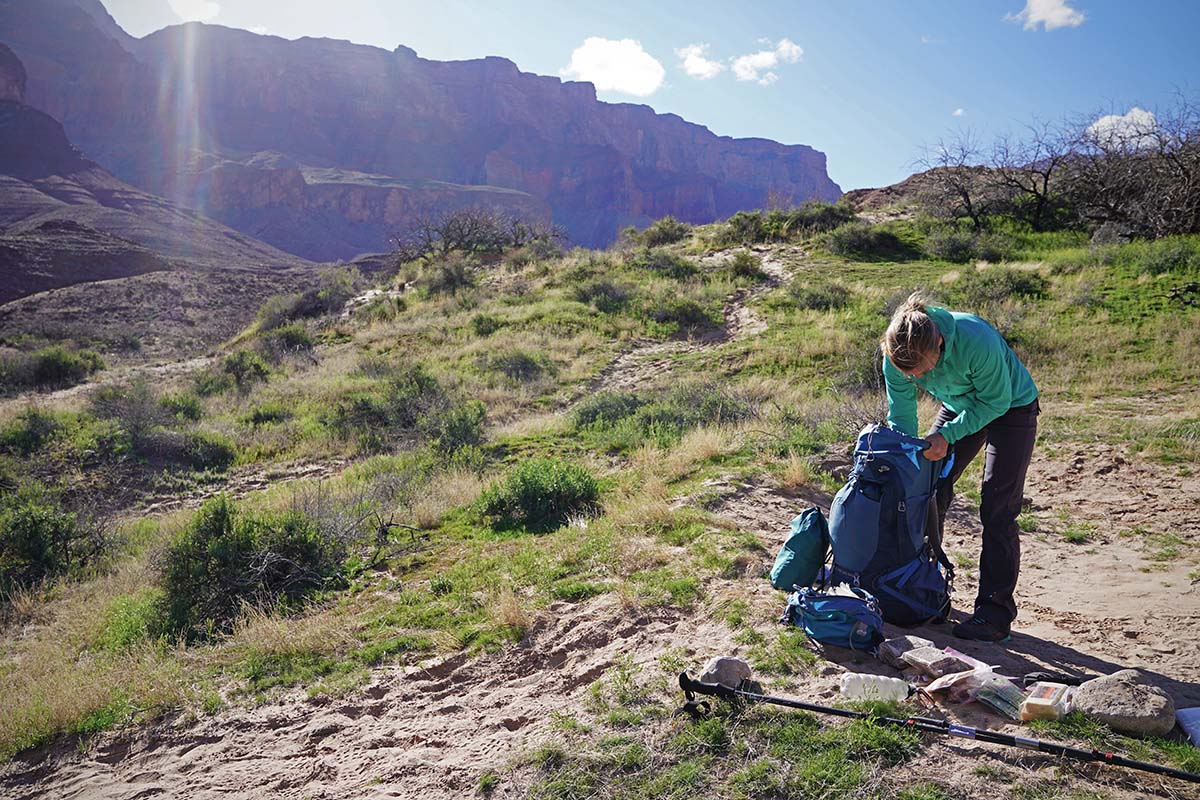 Features: Hood, Hem, Cuffs, and Pockets
The Proton FL is designed with a fairly trimmed-down feature set to save weight and bulk. That said, the jacket still incorporates a hood, adjustable hem, well-built elastic cuffs, and four generously sized zip pockets. The hood is uninsulated and fitted with a simple one-pull adjustment on the back, meaning it can be worn under a helmet for next-to-skin wind protection. I usually wear jackets with hoods that fit over my helmet, but this can restrict movement and vision. It's a bit of a toss-up: the hood of the FL requires you to remove your helmet to take it on and off, but the under-helmet feel is much more comfortable. Plus, only the top of the head is uninsulated, so you still get the full warmth of the jacket along the neck. All told, I like the unique design, but think my hood will stay off (when I'm wearing a climbing helmet) for all but the windiest of conditions.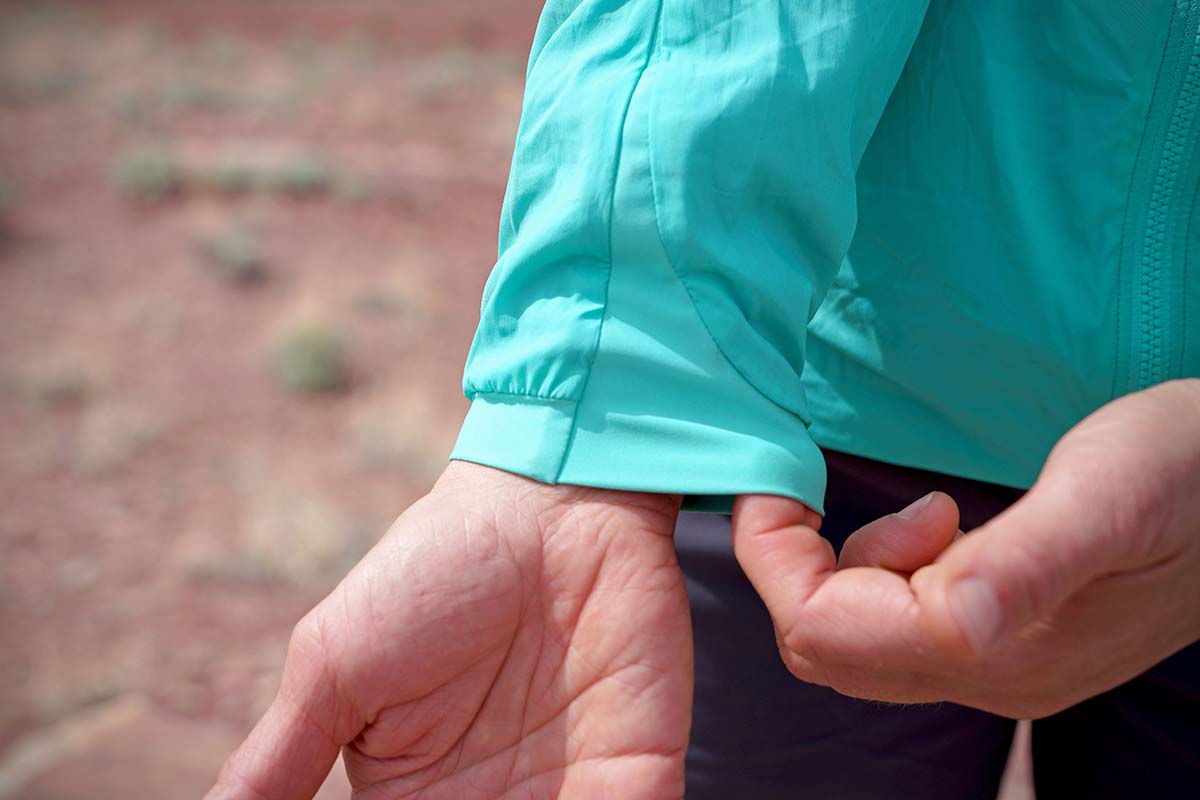 Aside from the hood, the Proton FL's quick, one-pull hem adjustments on each hip allow you to tighten the jacket so it doesn't budge underneath a climbing harness or backpack hipbelt. Unlike the hem, the cuffs are not adjustable, instead featuring elastic that's stretchy enough for easy on and off but snug enough to stay in place. I find that these cuffs keep wind from entering at the wrist and the sleeves from falling over the hands, and they're so low-maintenance that I can adjust the sleeves while perched on small footholds mid-way through a rock climb. Finally, each of the four pockets have smooth-moving zippers, and while the handwarmer pockets are lined with insulation on both sides, the chest pockets have a stretch-woven outer fabric for added durability. In my opinion, two chest pockets are overkill, but I appreciate the handwarmer pockets that are fairly (although not fully) accessible over my harness.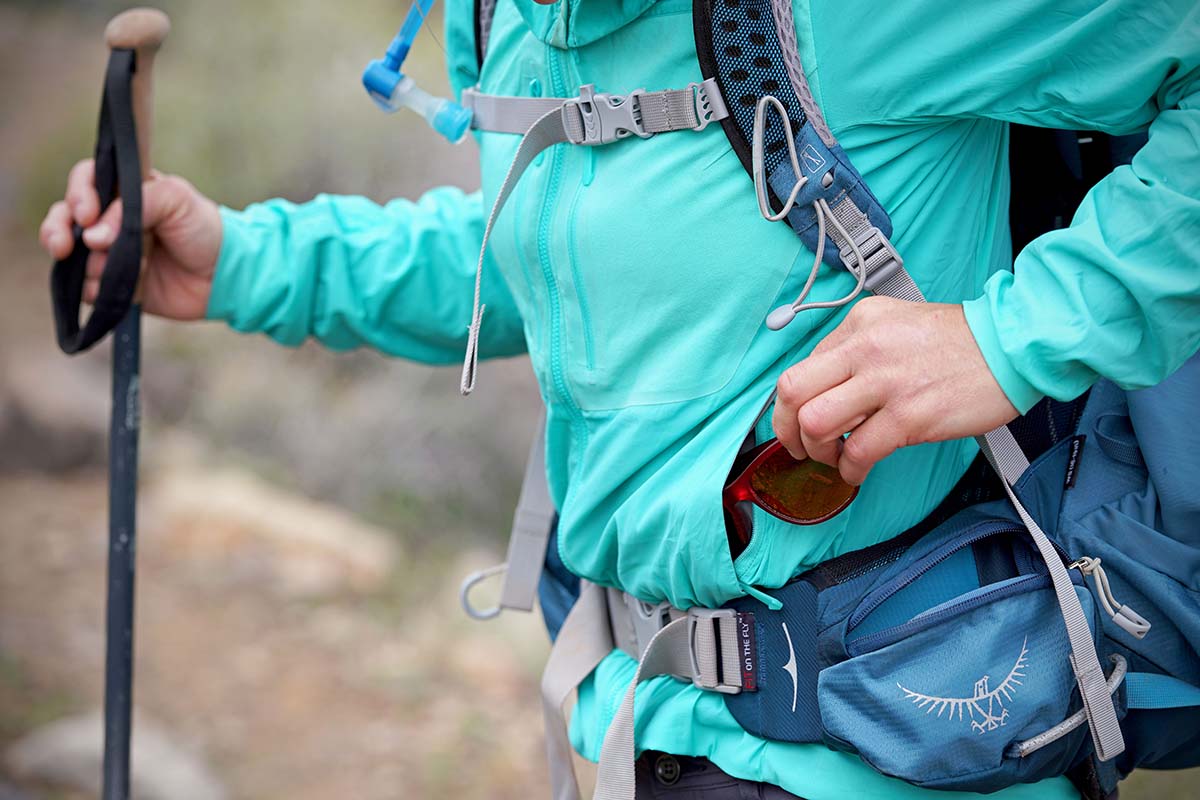 Build Quality and Durability
Arc'teryx products are known for their high-quality design and construction that stand the test of time, and the Proton FL lives up to the billing. The jacket has a sleek fit and finish, a noticeable attention to detail, and features premium fabrics and zippers. The 20-denier face fabric is thin, but the addition of 16-percent elastane allows the jacket to stretch and give rather than abrade when it comes into contact with sharp objects. After a month of wearing the Proton FL almost every day, there are no holes or tears. However, I have noticed that my turquoise-colored FL has gathered a fair amount of dirt along the cuffs, hem, and front zipper (especially where my harness rides), and the fabric seems to stain easily. Thankfully, the jacket is easy to launder—I simply wash and dry it with the rest of my clothing.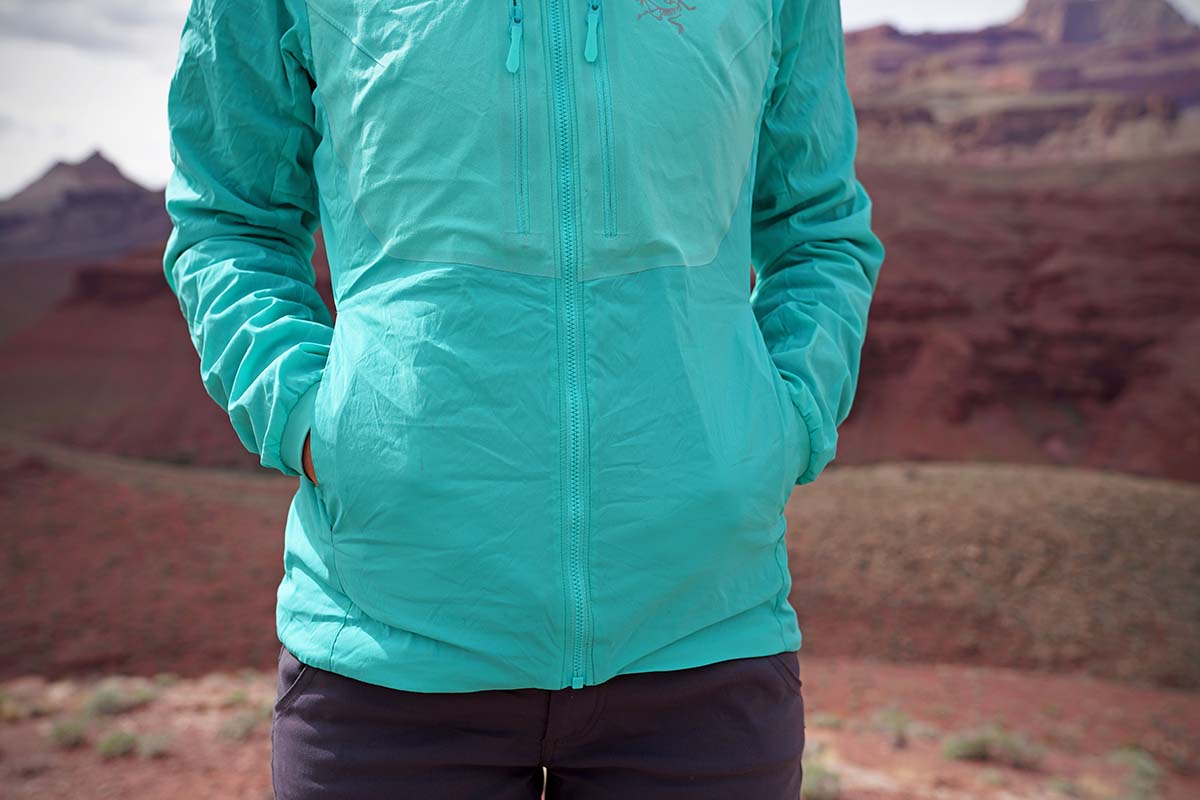 Fit and Sizing
Made with a trim fit for athletic performance, the Proton FL lies close to the body and falls hip-length, and the women's jacket in particular has a great shape that follows my torso's contours. For reference, I am a standard size small in most clothing, and the small Proton FL fits me perfectly, layering naturally over both a thick baselayer or a tank top. Plus, while the FL is meant to be worn as an outer layer, it is trim enough to layer underneath a shell or even a heavier midlayer.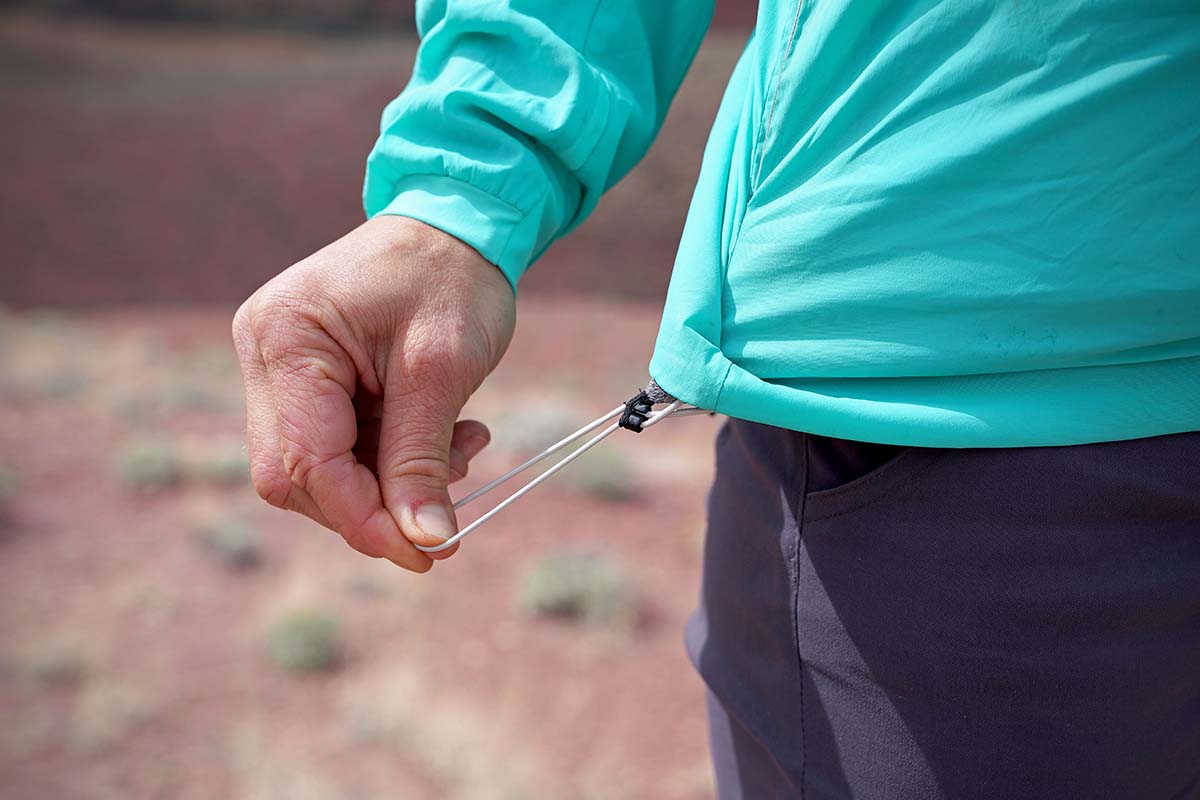 Men's Version of the Arc'teryx Proton FL
We took the women's Proton FL into the Grand Canyon, and Arc'teryx also makes the jacket in a men's-specific version. The men's Proton FL costs the same at $259 but clocks in slightly heavier at 11.3 ounces and is sold in different colorways. Otherwise, the two jackets have identical feature sets and overall constructions with 20-denier shells, thin Octa Loft insulation, low-profile, adjustable hoods, and trim fits for performance use.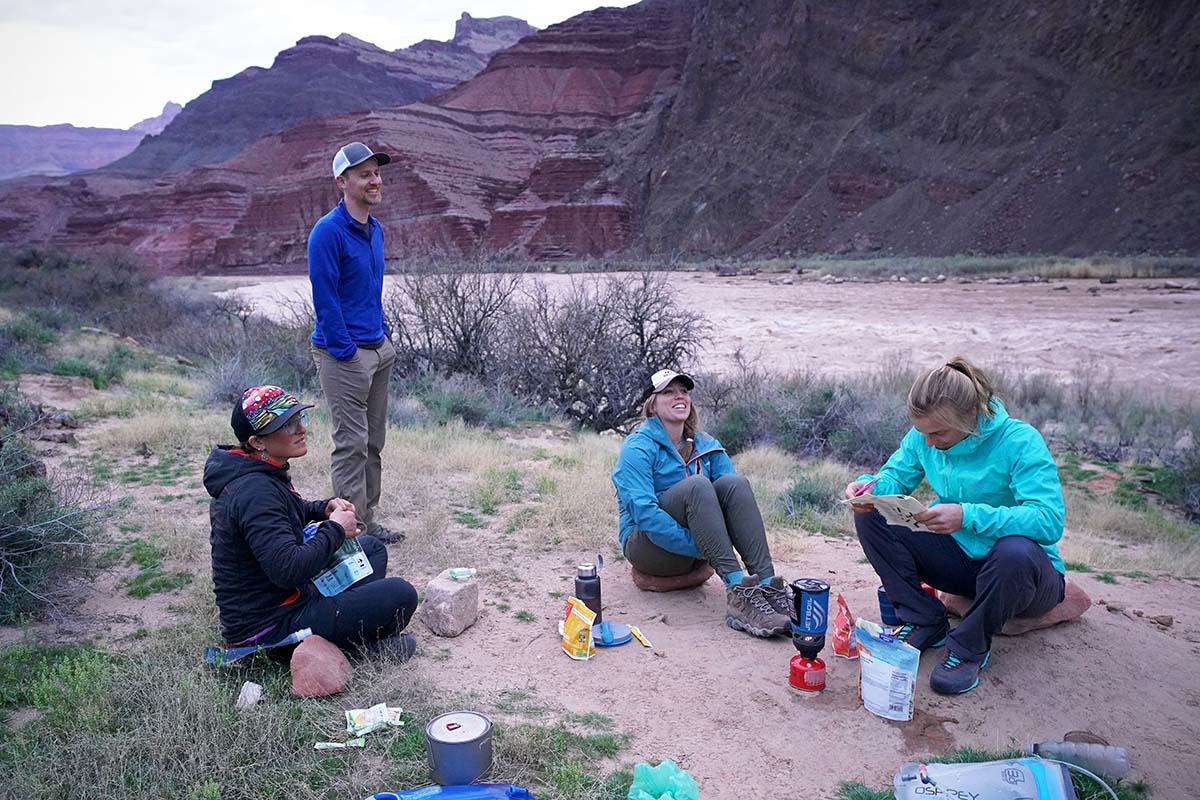 What We Like
The Proton FL excels both in breathability and mobility, making it a fantastic jacket for high-output activities like climbing, hiking, running, and cross-country skiing.
Surprising warmth given the jacket's low weight, packability, and streamlined build.
Stretchy face fabric provides a nice boost in durability and is less likely to tear. 
 
What We Don't
With thin, air-permeable fabric, the FL is less wind- and water-resistant than much of the synthetic jacket competition.
We like the FL so much for climbing that we wish it came with the option of stuffing into its own pocket.
The face fabric on our turquoise model seems to gather dirt and stains rather easily.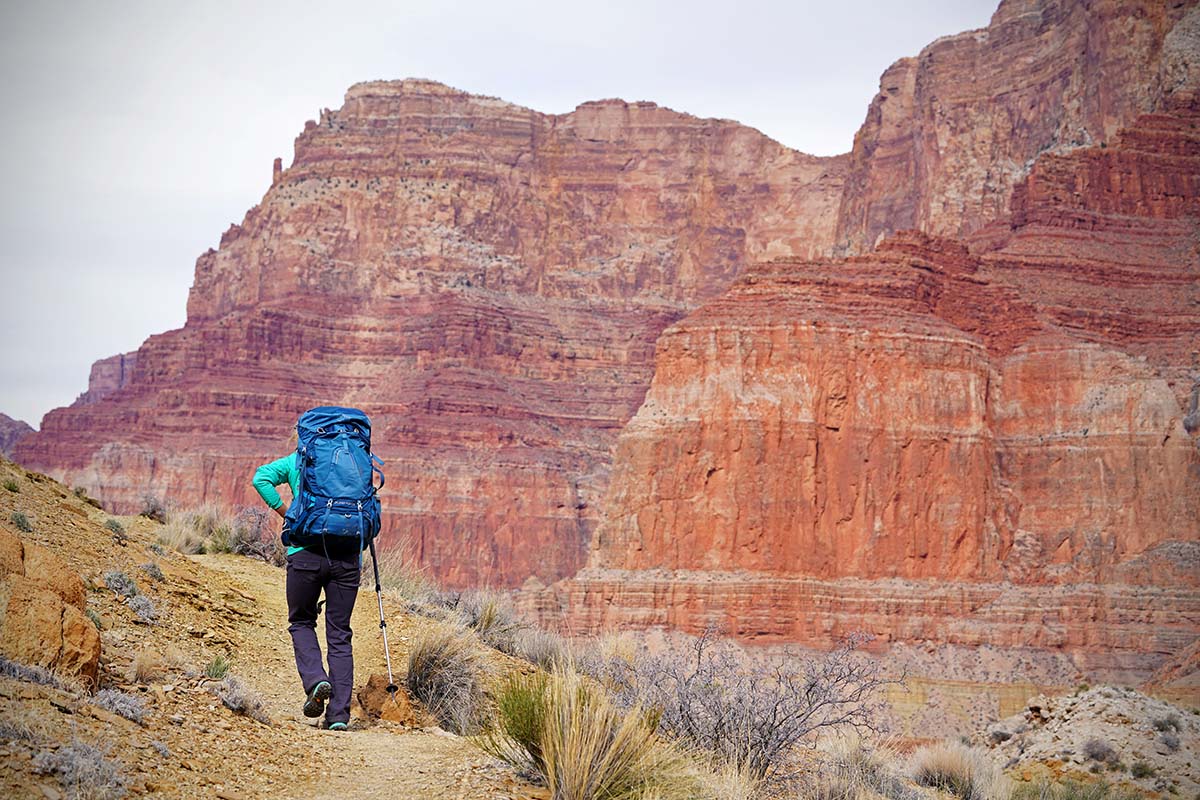 Comparison Table

The Competition
We love the Proton FL for its great fit and finish, impressive breathability, and lightweight warmth, but there's no shortage of competition for this active insulator from Arc'teryx. The first alternative is an in-house design: Arc'teryx's Atom SL Hoody. The Atom SL is extremely light at 8.4 ounces but features insulation (40g Coreloft Compact) only in the core, with thin fabric over the arms and a stretchy fleece along the sides. Overall, this concentration of insulation makes it a slightly warmer jacket than the Proton FL, and the Atom also offers more water and wind resistance with its 20-denier Tyono shell fabric. That said, breathability is less of a strong suit and you're likely to overheat in the Atom, making the Proton FL the better choice for high-output activities.
For a step up in warmth, the Proton family also includes the Proton LT ("lightweight") for $40 more than the FL. Stacked up against the FL, the Proton LT is around 1.5 ounces heavier (11.3 oz. for the women's jacket) and also features warmer and bulkier 80-gram Coreloft Compact in the body with 60-gram in the hood. Like the FL, the LT has a 20-denier shell and added stretch in the fabric (16 percent elastane) for mobility. Both are made for high-output activities, but the warmer LT does sacrifice some breathability. In the end, we recommend the LT for shoulder-season activities and the FL for summer in the mountains or mild spring and fall days.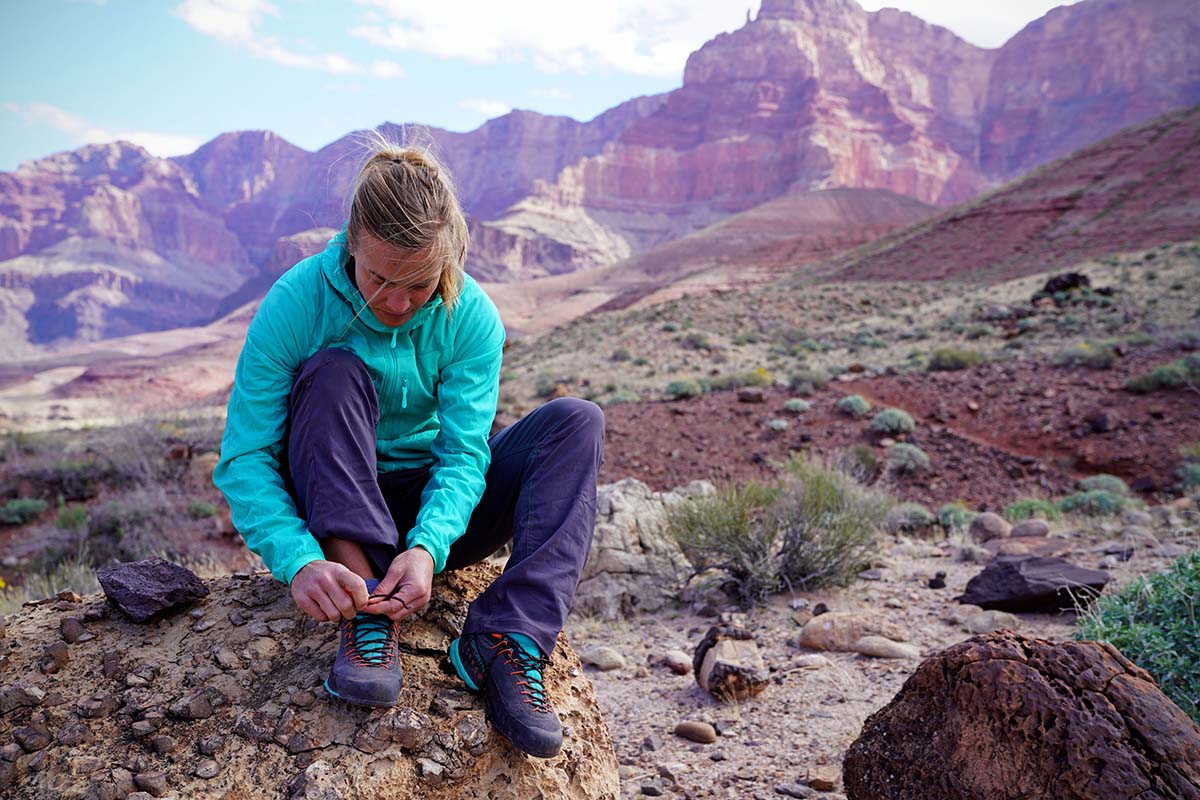 Moving away from Arc'teryx's collection, Patagonia is another leader in the synthetic jacket market and offers an alternative to the Proton in their classic Nano-Air. Both jackets prioritize mobility and breathability over weather protection, but the Nano-Air Hoody offers a significant bump in warmth, with noticeably thicker 60-gram FullRange insulation throughout. With 33-denier face fabric (compared to the Arc'teryx's 20D), it also gets higher marks for abrasion resistance, and it doesn't hurt that the Patagonia stuffs into its chest pocket for easy carry on your harness. You'll pay $40 more for the added performance and the Nano-Air is slightly heavier at 10.2 ounces, but it's hard to beat for high-output pursuits in cold-to-mild conditions. For summer adventuring, however, we'll stick with the Proton FL.
Another viable synthetic option is Black Diamond's First Light Stretch Hoody. Right off the bat, we'll note that this jacket is much heavier than the Proton FL at 14.2 ounces for the women's version, and it's also much warmer with 60-gram PrimaLoft Silver Active insulation (similar to the Nano-Air above). Like the Proton FL, the First Light incorporates elastane for added stretch, and its 40-denier shell stands up to abrasion quite well. Black Diamond also tacks on a helmet-compatible hood and packable design, but for mild conditions we still give the edge to the lighter and more air-permeable Proton FL. However, if you need the added insulation and don't mind the weight and bulk, the First Light Stretch Hoody is a great value at just $259. 
A final jacket to have on your radar is the Patagonia R1 TechFace Hoody. Combining a fleece liner with a softshell exterior, the R1 TechFace offers an intriguing alternative to the synthetic insulated jackets here. With this hybrid construction, the Patagonia gets a boost in durability and weather protection compared to the Proton FL, and the soft interior is hard to beat in terms of comfort. On the flip side, it's heavier at 11.9 ounces and has less of a packable build (unlike the Nano-Air, the R1 TechFace does not stuff into its own pocket). Warmth-wise, the R1 fleece offers a bit more than the Proton FL's Octa Loft, and we've found its breathability to be top-notch. At just $179, the Patagonia offers great performance for much less than the Arc'teryx, but those looking to save weight and space will want to stick with the more fast-and-light-oriented Proton FL.
If you're thinking about buying gear that we've reviewed on Switchback Travel, you can help support us in the process. Just click on any of the seller links above, and if you make a purchase, we receive a small percentage of the transaction. The cost of the product is the same to you but this helps us continue to test and write about outdoor gear. Thanks and we appreciate your support!
Depending on the seller, most products ship free in the United States on orders of $50 or more. International shipping availability and rates vary by seller. The pricing information on this page is updated hourly but we are not responsible for inaccuracies.
Read More From Switchback Travel