Patagonia Jackson Glacier Parka
Price: $399
Fill: 5.9 oz. of 700-fill-power down
Weight: 2 lb. 1.2 oz. (women's)
What we like: High-quality construction and weather-ready features with an attractive look.
What we don't: Visor is short and lacks coverage in blowing wind and rain; not fully waterproof. 
See the Women's Jackson Glacier Parka  See the Men's Jackson Glacier Parka
When it feels truly arctic outside, only a well-designed and thoroughly insulated jacket will do the job. For casual around-town wear, the market is full of stylish knee-length options with various features and strengths that fit the bill. With the Jackson Glacier Parka, Patagonia applies some of the thoughtful details of their more technical jackets to an everyday-ready option. It's not fully waterproof, and I had a couple of issues with the hood, but I put the Jackson Glacier Parka through its paces during a cold snap in the Pacific Northwest and overall was very pleased with its warmth and attention to detail. Below are my takeaways. To see how it stacks up to the competition, check out our articles on the best down jackets, best women's down jackets, and the best women's winter jackets.
 
---
Table of Contents
---

Performance
Warmth
The Patagonia Jackson Glacier Parka's generous down fill, 2-layer shell, and quality construction add up to make it a solidly warm option for frigid winter temperatures. The 700-fill-power down is lofty and compressible, and with a fill weight of 5.9 ounces for my women's small (the total amount of down used in the jacket), the parka is warmer than many other casual winter jackets we've reviewed. For reference, it stacks up competitively to the popular Marmot Montreal (which is 5 in. shorter but boasts just over an ounce of additional down) and its longer cousin, the Silent Down Long Parka (8.6 oz. of 700-fill down). To be sure, it won't be confused for more performance-ready, heavyweight options like the Rab Neutrino Pro or Outdoor Research Super Alpine Hoody, both of which contain even higher-quality 800-fill down and more of it. But for day-to-day activities like walking the dog or running errands around town in cold winter weather, the Jackson Glacier is plenty of jacket.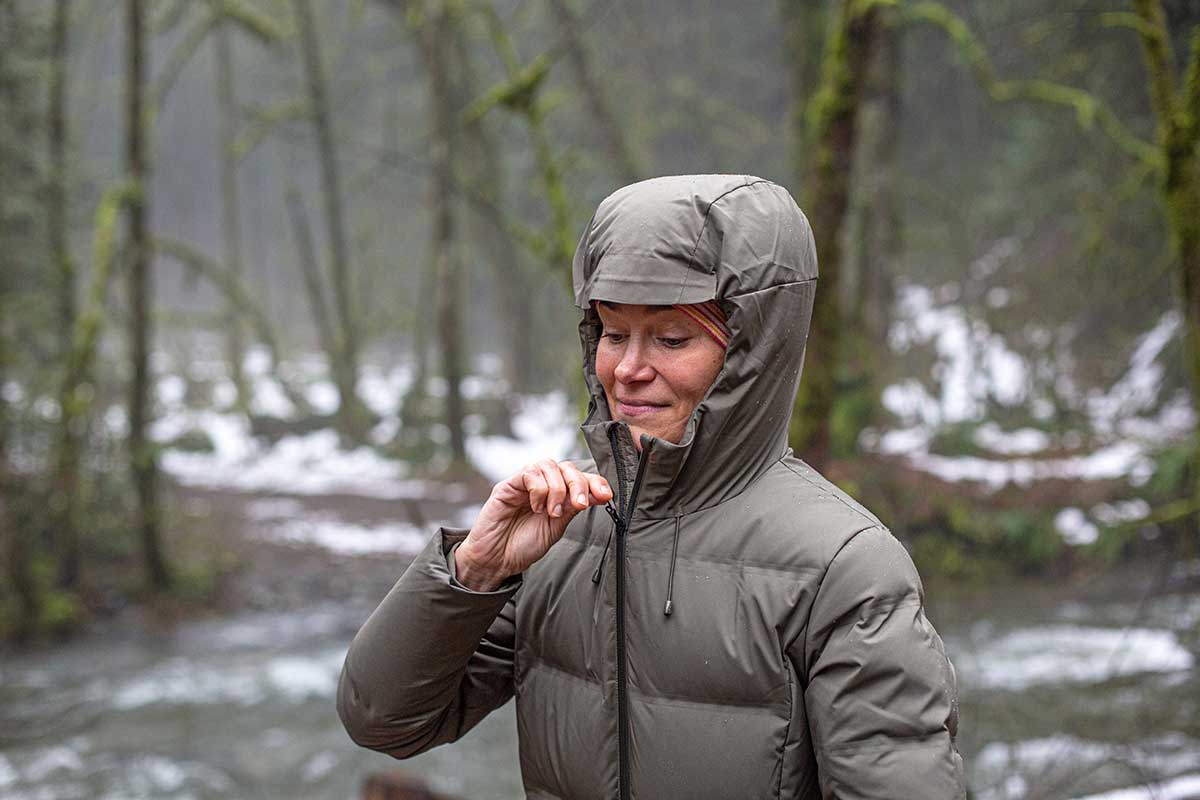 In addition to packing in a good amount of down, the Jackson Glacier also comes with a nice assortment of other warmth-trapping features. The collar comes up to my chin, completely covering my neck, and the insulated hood fits closely—when it's cinched, it fits perfectly around my face to stop drafts. Further, the hand pockets have a comfy fleecy lining, and hidden cuffs under the sleeves keep warmth in while stopping snow or wind. The main zipper also has a garage at the top and internal flap along its entire length to help seal out drafts. And on top of that, the parka's baffles are bonded instead of stitched, effectively removing another entry point for wind and cold. Finally, in terms of length, the jacket covers down to my knees, and its generous cut allows for significant layering underneath (more in "Fit and Sizing" below).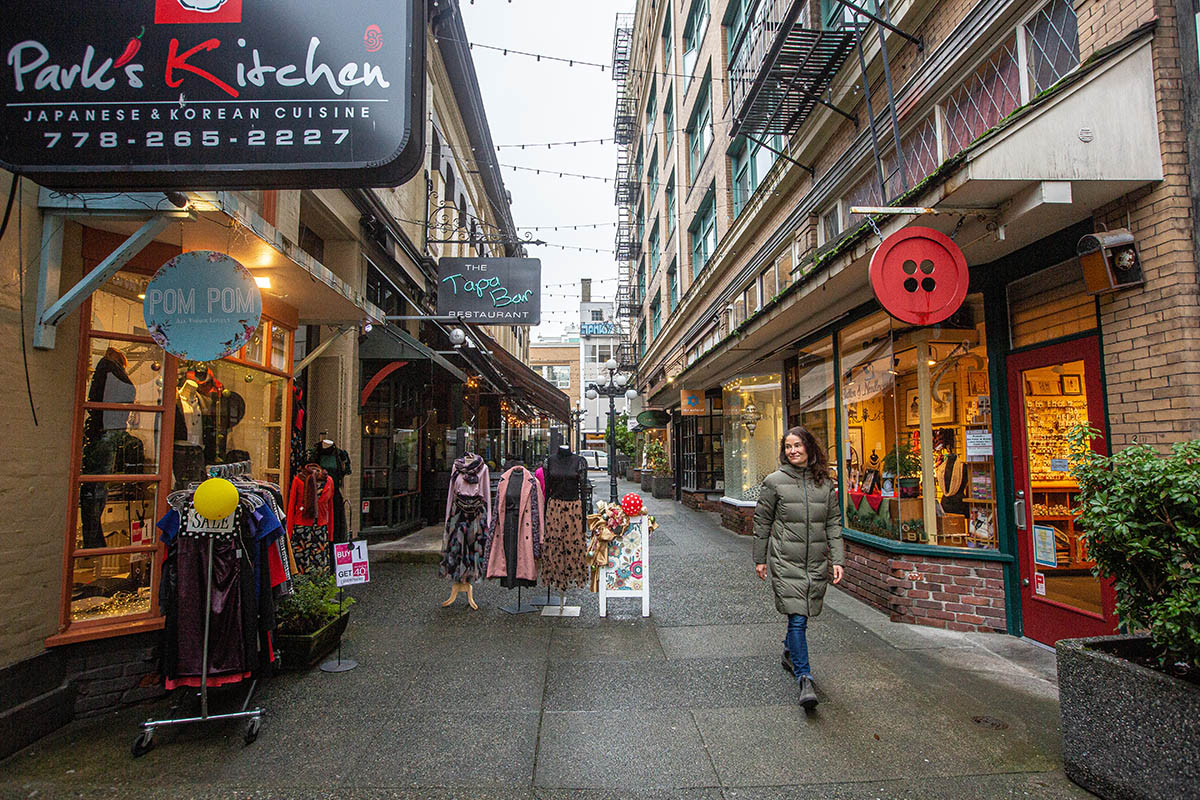 Weather Protection
Down jackets in general aren't known for their performance in wet weather, since down tends to lose its insulating properties when it gets damp. But I've worn the Jackson Glacier Parka in misty weather, short rain spells, strong winds, and snow and found its moisture-shedding and wind-blocking features take it up a notch from many other casual options. The 2-layer shell is coated with a durable water repellent (DWR) finish, and as noted above, the baffles are bonded instead of stitched, so there are no holes to let in water or wind. I haven't tested the Jackson Glacier in torrential rain, but since it's been easy to brush snow and water droplets off in snowy or drizzly conditions, I estimate it would easily hold up long enough to run to the grocery store from the car if necessary.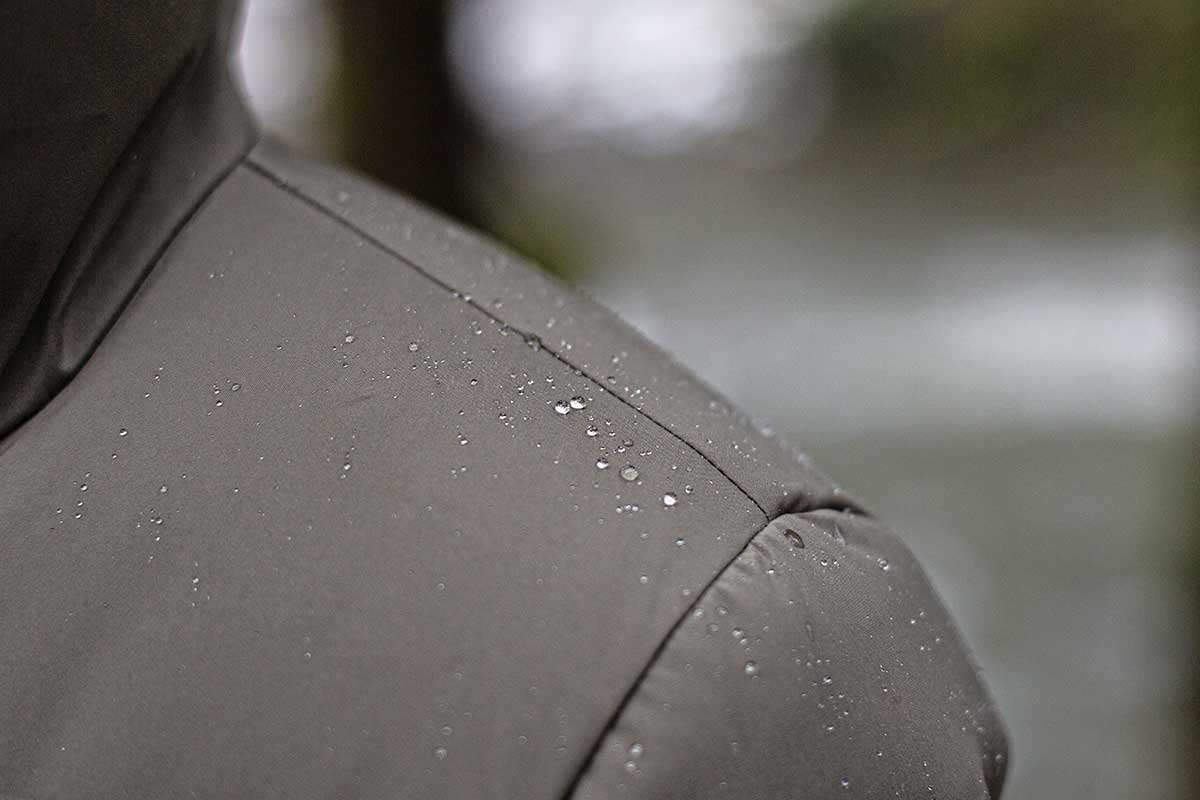 One shortfall of the Jackson Glacier Parka in wet weather is the hood visor. If I'm standing still and there's no wind, it will protect my eyes. But if there's any wind or if I'm moving—and I usually am—my face gets pelted. A slightly longer visor could help with that problem. And, of course, if you need a jacket that stands up to full-on downpours, you will certainly be better off with a fully waterproof design like Patagonia's own Tres 3-in-1 Parka or REI Co-op's Stormhenge Hybrid.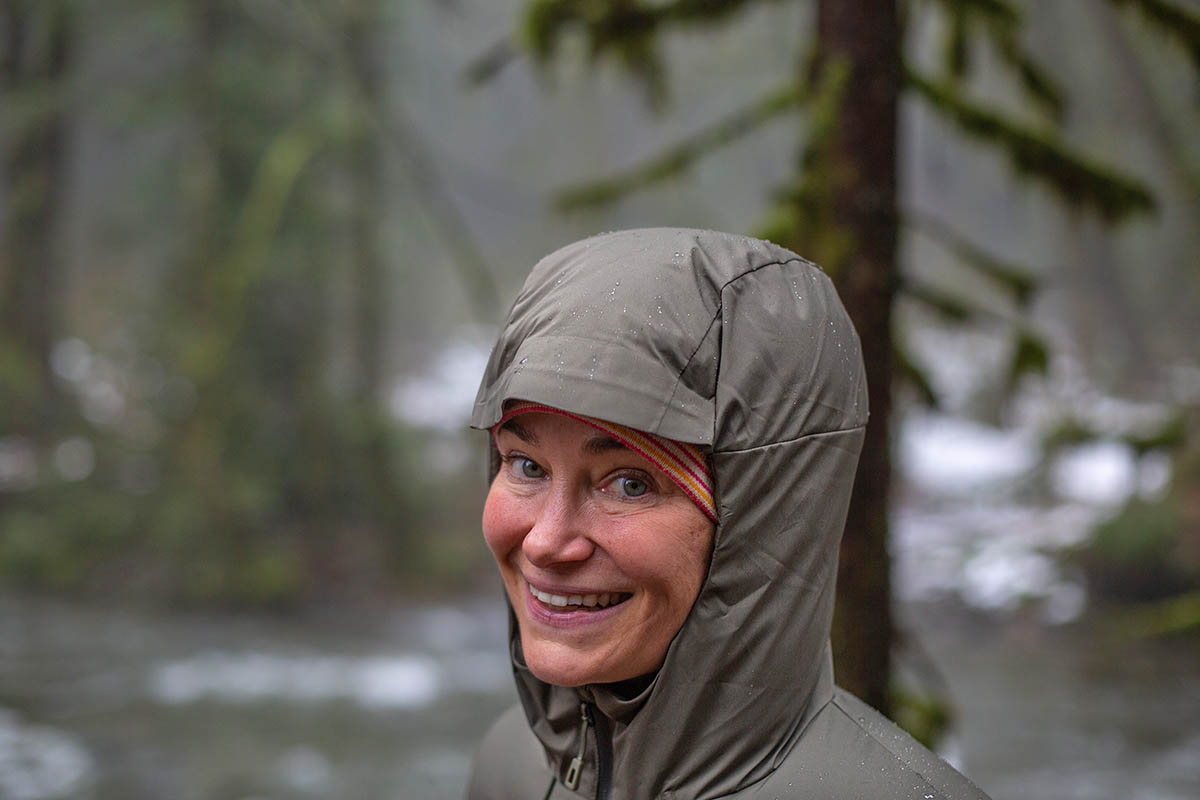 Construction and Durability
Patagonia is known for high-quality, well-designed gear, so I'm not surprised that I haven't seen signs of wear yet for how often I've worn this jacket. The 50-denier outer shell is durable against the snags and scrapes of everyday life, and the down has remained lofty despite the time I spend sitting on it while driving. Plus, the bonded baffles leave no thread holes for feathers to escape through or seams to snag. Finally, the main zipper is smooth and robust, and I've had no issues with it catching. All told, it's another thoughtfully built and well-made design from the revered brand.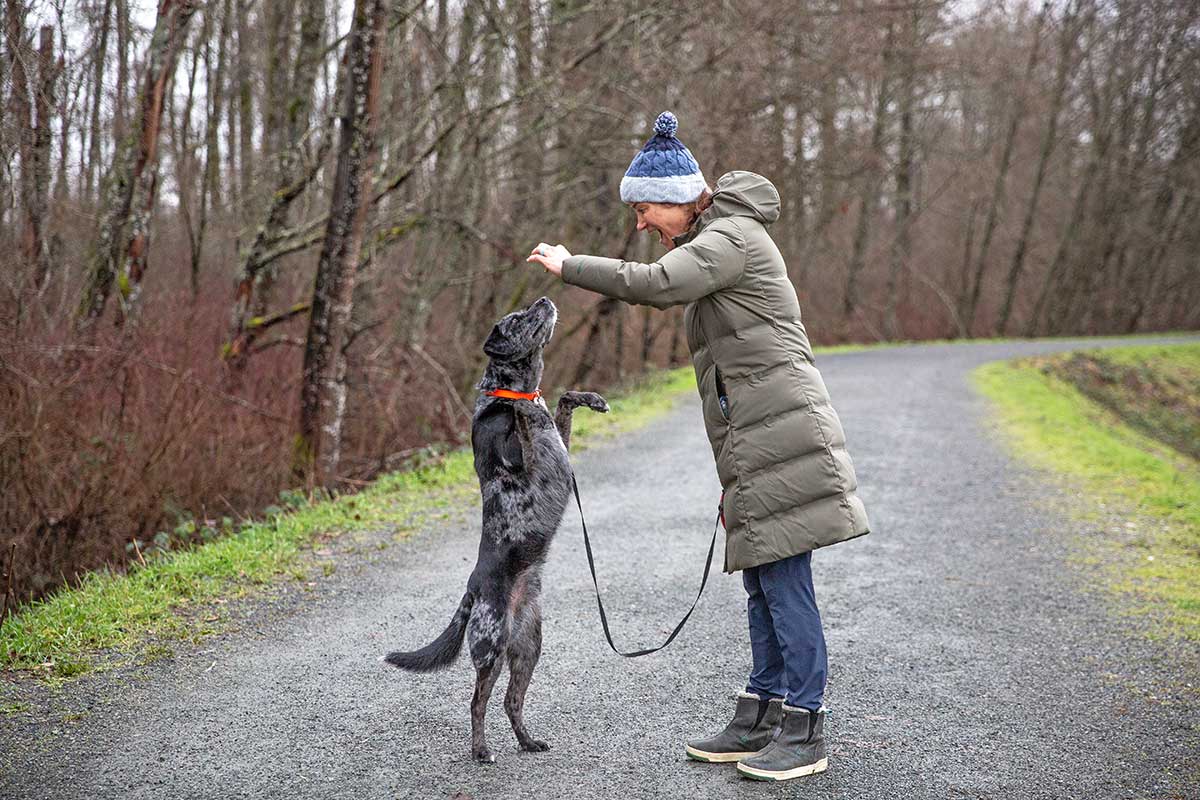 Weight and Packability
Despite the relatively burly (though soft to the touch) outer shell fabric, the Jackson Glacier Parka feels light while I'm wearing it—there's no heaviness on the shoulders or on the head from the hood. At 2 pounds 1.2 ounces, it won't compete with a lightweight backcountry design, but given its casual styling and intentions, we wouldn't expect it to. For reference, it stacks up similarly to other around-town-friendly options like the Marmot Montreal Down Coat (2 lbs. 2.2 oz.) and Patagonia Down With It Parka (2 lbs. 5.8 oz.). Packability is a similar story: The Jackson Glacier isn't the most compressible option for mashing into a pack or suitcase, but it gets the job done. Stuffed into its hood, it compresses to about the size of a soccer ball (9 in. diameter). But for what it offers in terms of warmth, coverage, and protection, that seems very fair.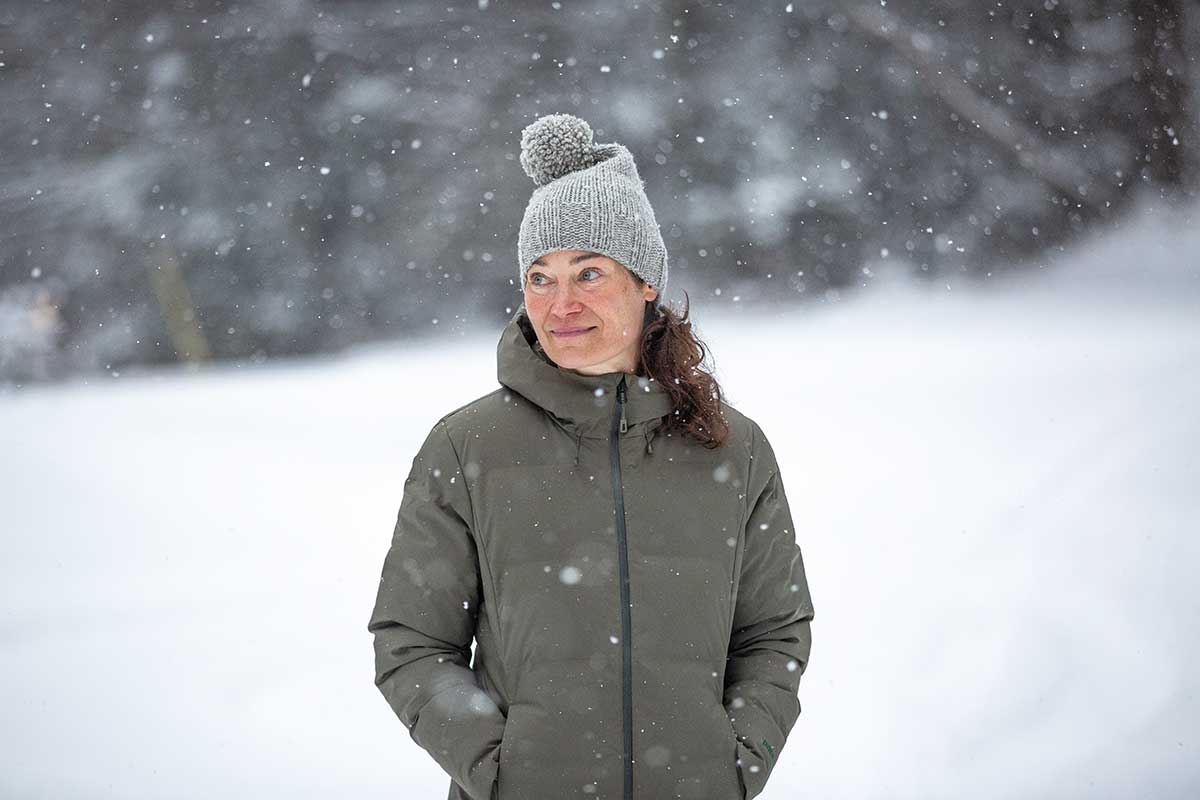 Features
Hood
The Patagonia Jackson Glacier Parka's hood fits snuggly and can be adjusted with a halo-style toggle at the back to cinch the hood depth horizontally or with two adjusters on the front to tighten the aperture around the face. It's worth noting that the hood isn't removable like some other designs (including Marmot's Montreal Down Coat), but that's never been an issue for me. My only real gripe (which I mentioned above) is that the visor on the hood is a little short. If I have the back halo toggle cinched, the hood gets pulled back enough that the visor provides virtually no coverage. However, if I leave this toggle loose and cinch the aperture, I'm protected—unless I'm moving or the wind's blowing.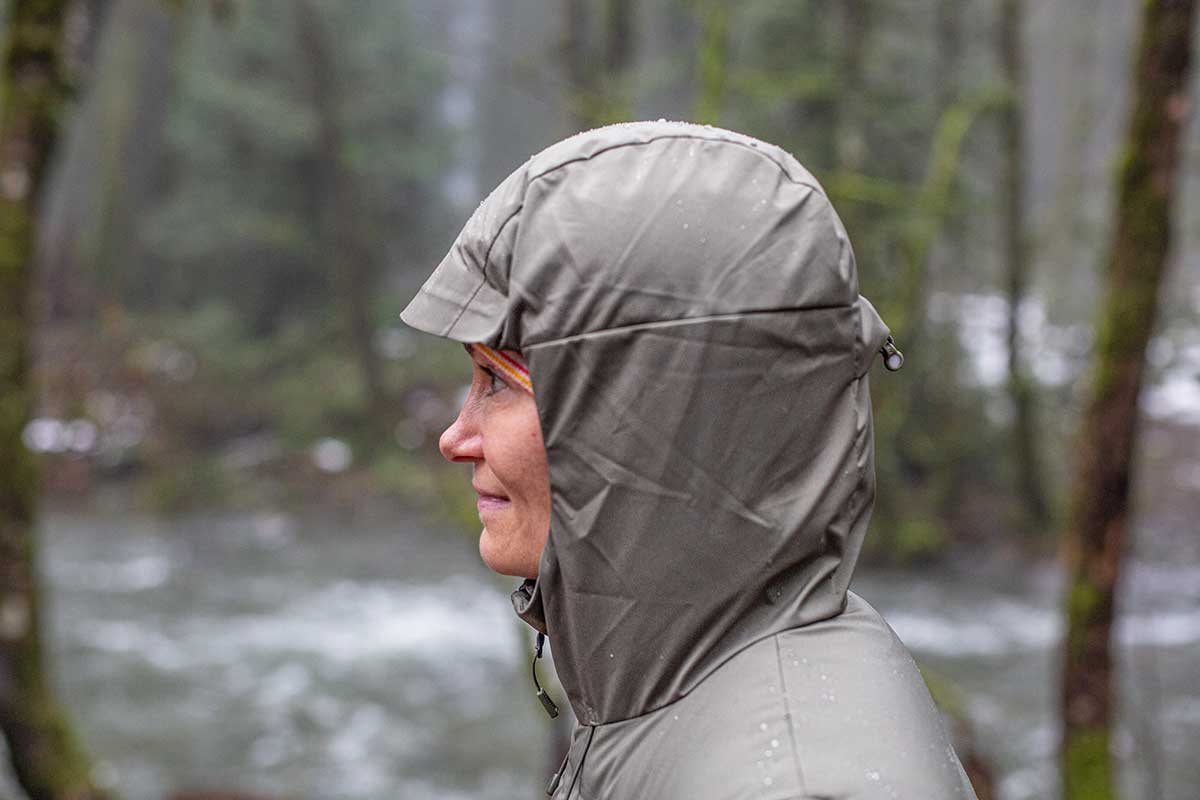 Storage: Pockets
The Jackson Glacier Parka features two hand pockets and an internal zippered pocket. The hand pockets are generously sized—large enough to fit large bags of dog treats—and are lined with a comfortable, soft fabric. I've forgotten gloves on too many occasions, but my hands have remained toasty in the pockets despite temperatures well below freezing. And on the inside, the internal pocket easily fits my iPhone 11, and a button hole-style slot allows for headphone cord access.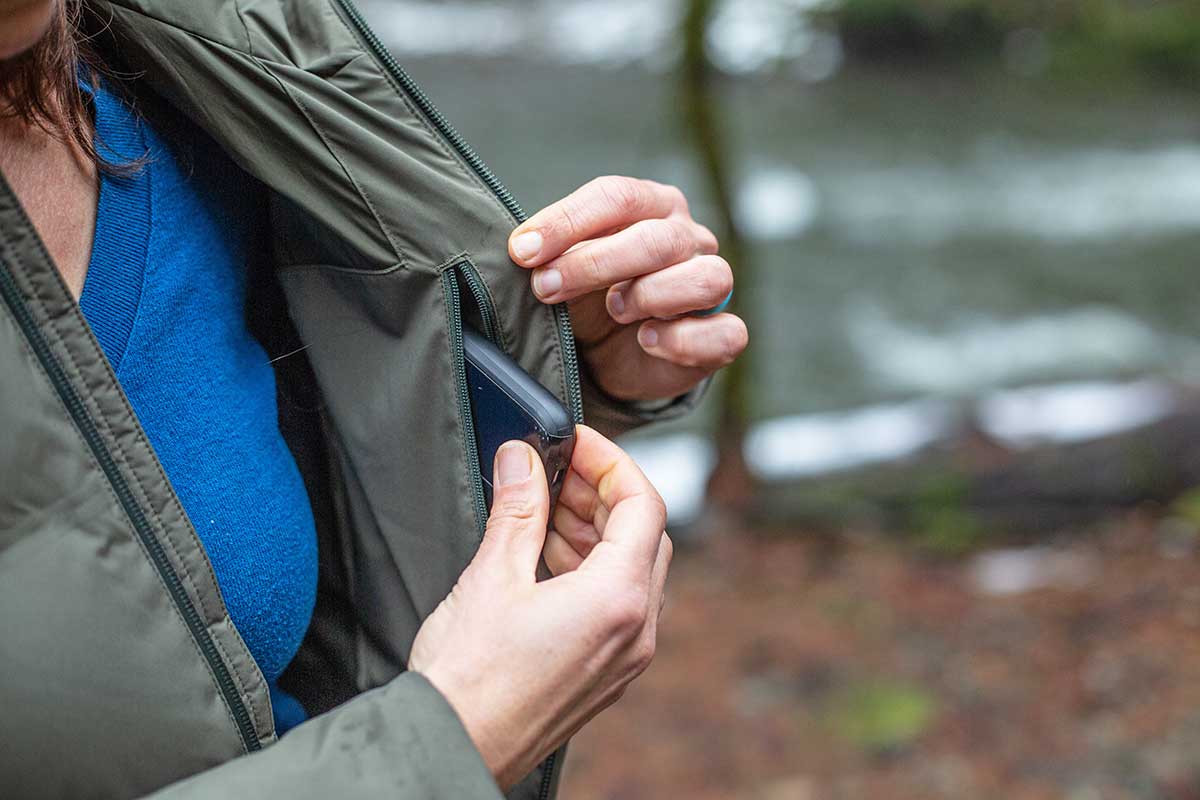 Length
Many casual users look for thigh-length coverage in a winter parka, and the Jackson Glacier is one of the longer winter jackets we've tested. For reference, I'm 5 feet 8 inches tall, and the generous 37-inch length covers all the way down to my knees. I also really appreciate the two-way front zipper, which is critical at this length and allowed me to maintain mobility while sitting or walking around town. All told, it's a very functional length and design that should make most people happy. However, if you anticipate needing an even longer cut, the Outdoor Research Coze Down Parka (43 in. center back length) or Patagonia Silent Down Long Parka (44.5 in.) offer even more leg coverage (and the Coze Down comes with helpful side zips to boost freedom of movement).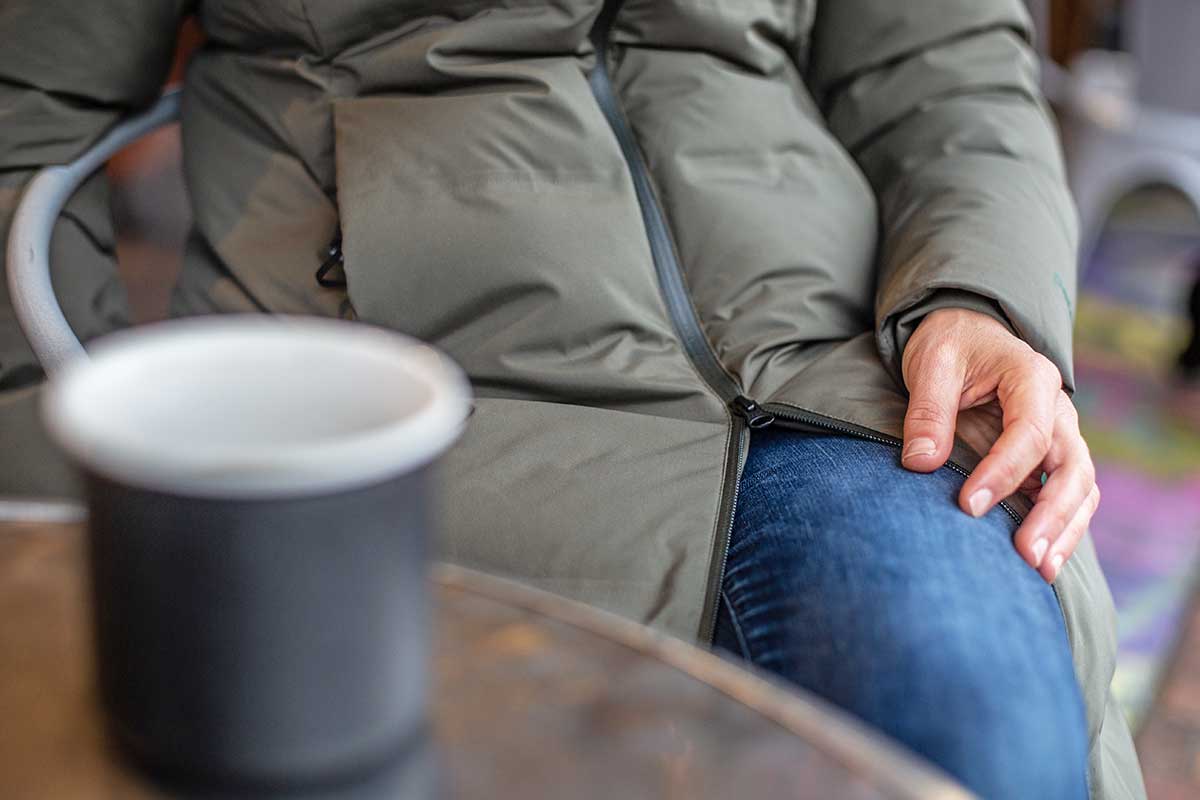 Fit and Sizing
Patagonia lists the Jackson Glacier Parka as a "regular" fit, and that designation seems very accurate. It's available in sizes XS to XXL, and my standard size small fits quite generously. With the smooth inner lining, it's easy to fit multiple layers—including bulky sweatshirts and hoodies—underneath. Those who want a sleeker fit or only intend to wear a single layer underneath might prefer to size down, but either way, it's always worth trying on beforehand or ordering from a retailer with a generous return policy. As I touched on above, the size small falls to my knees (again, I'm 5' 8"), and the hidden cuffs cover my wrists while the outer insulated portion of the sleeves extend to the middle of my palms.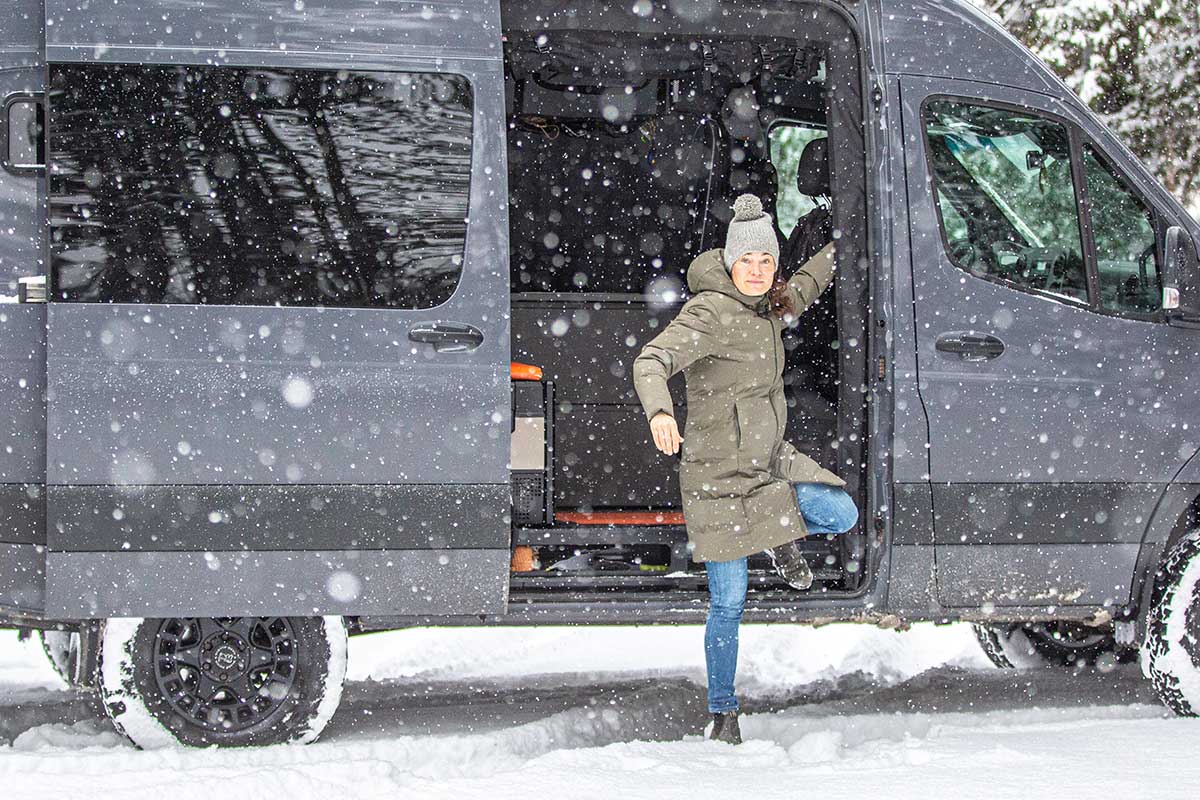 Sustainability
Patagonia has become known for their focus on eco-friendly practices and transparency about manufacturing processes, and the Jackson Glacier Parka fits solidly into that ethos. Both the outer shell and lining are made from 100 percent recycled polyester, and the DWR finish is free of perfluorinated chemicals (PFC-free). The shell fabric is also bluesign-approved, meaning Patagonia worked to minimize impacts on the environment, workers, and consumers. In addition, the down insulation is 100-percent-recycled, and the jacket is Fair Trade Certified sewn, indicating that Patagonia put extra money into production to ensure that workers are paid fairly and have access to critical benefits like healthcare. Added up, it's a solid all-around effort from the brand, and we applaud Patagonia for leading the charge in environmental and social responsibility.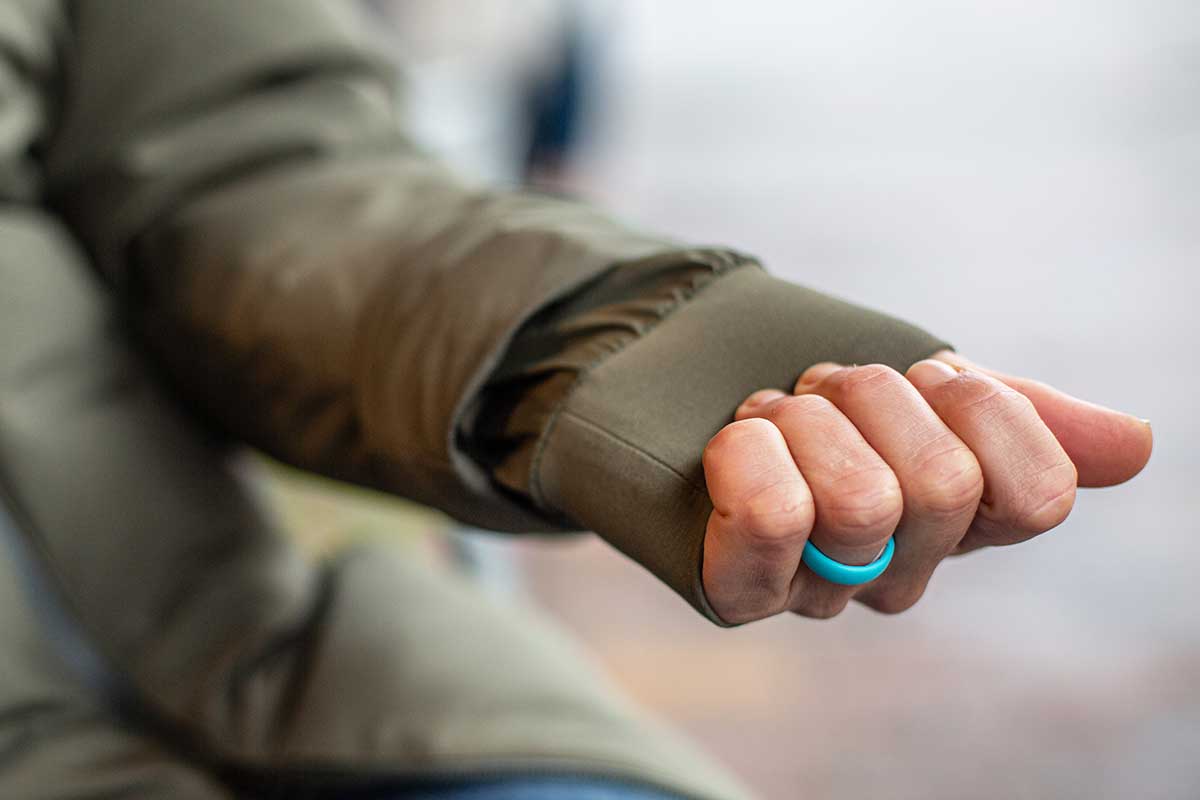 Other Versions of the Patagonia Jackson Glacier
I tested the women's version of this Jackson Glacier Parka for this review, and it also comes in a men's model for $50 more. For those who don't need the added length, the collection also includes shorter jacket styles in both men's (with a 30.75-in. center back length on a size medium) and women's (27.5 in. for the same size) that retail for $349. The most discernible differences between the options are length and cut, with the women's versions being slightly more curved at the waist and the men's a little boxier. The men's variations are also slightly heavier than their women's counterparts, but given the nearly identical overall builds and feature sets, you can expect performance to be very similar across the board.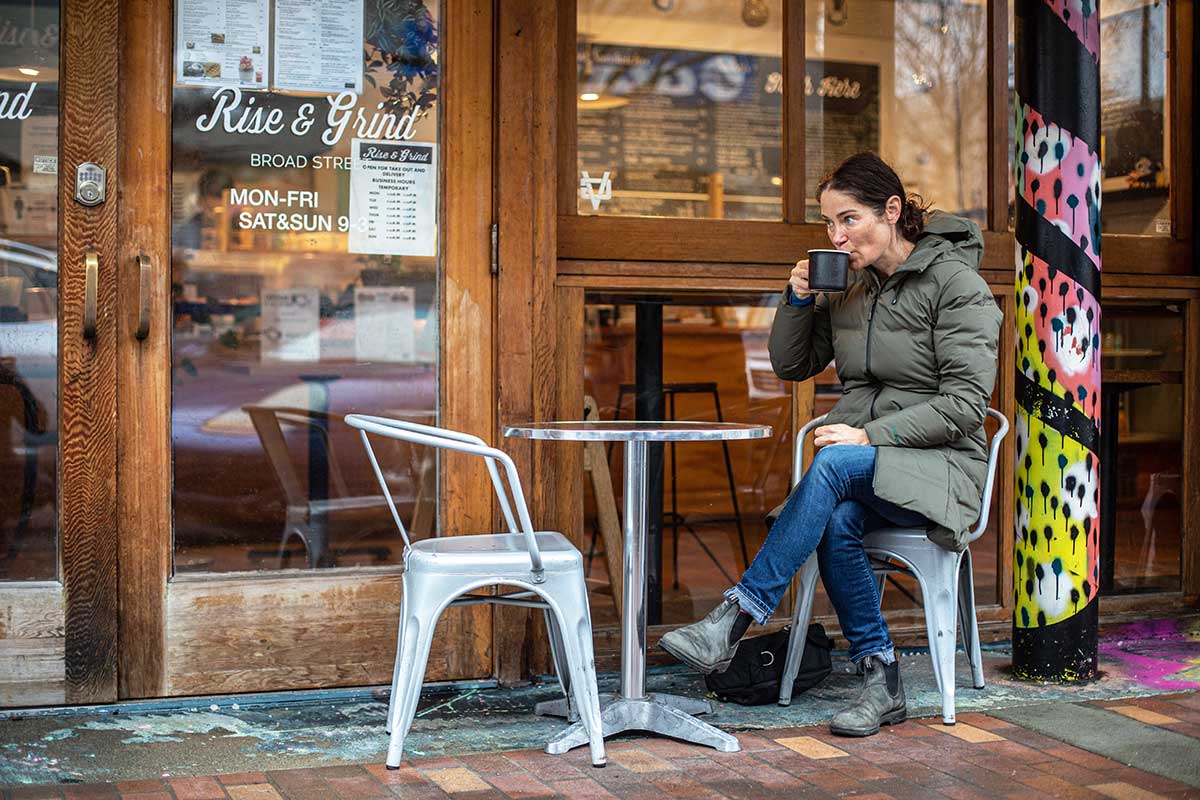 What We Like
A very well-rounded and stylish winter parka that nicely balances warmth, comfort, durability, and protective features.
Generous length and weatherproofing details at the zipper, cuffs, collar, baffles, and hood give the parka a battened-down feel in wet and windy weather.
Typical Patagonia build quality, including a soft but hardwearing shell fabric, flattering fit, and classy colorway options.
Clear focus on sustainability: The jacket uses recycled fabrics and insulation, bluesign-approved and Fair Trade-Certified materials, and a PFC-free DWR coating.

What We Don't
Hood is a little small, and the short visor does little to deflect precipitation, especially in blowing wind and rain.
Those who live in notoriously wet climates may want to step up to a fully waterproof option.
Overkill in temperatures above freezing (though unzipping the two-way main zipper can help dump heat quickly).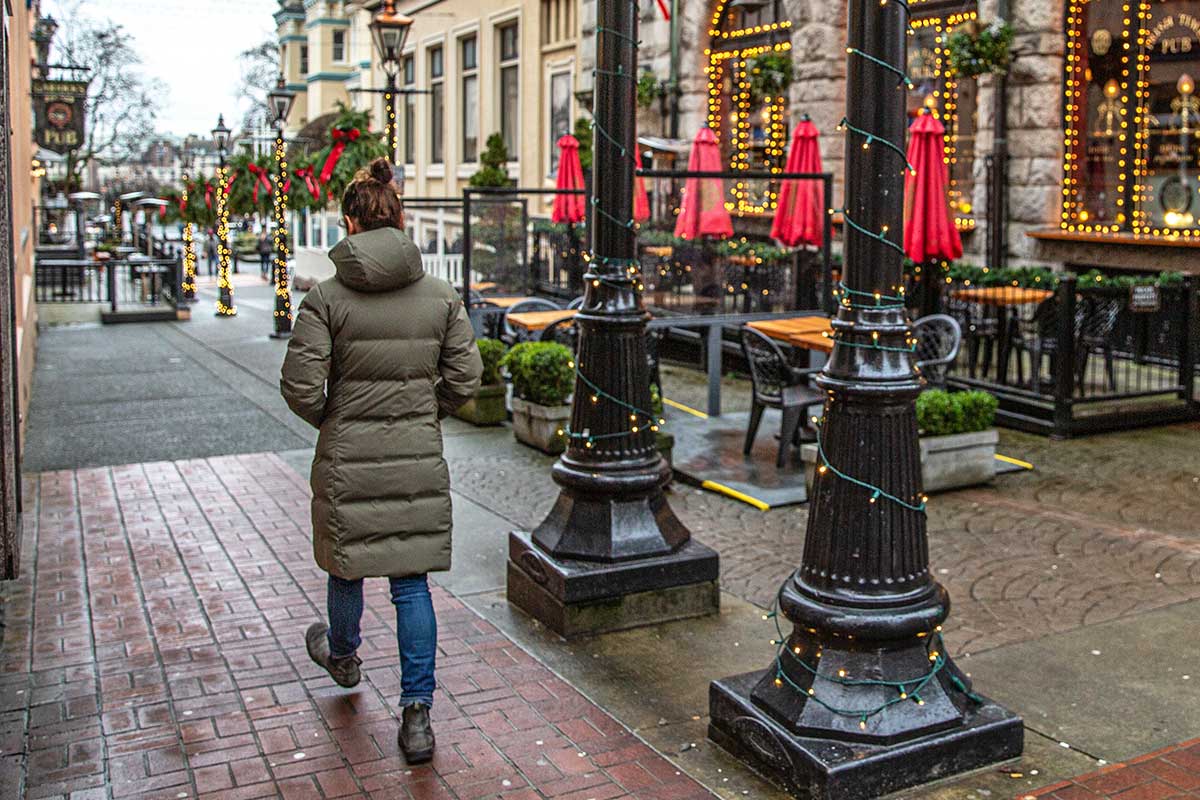 Comparison Table​
The Competition
The Patagonia Jackson Glacier Parka checks most of our boxes for a comfortable, cozy winter jacket that will stand up to wear and freezing weather. That said, the market is stacked in 2022, and several other options offer similar quality and features, including Patagonia's own Silent Down Long Parka. For the same price, the Silent Down boasts a more casual, stretchy shell and falls about mid-shin (a size medium has a center back length of 44.5 in.). It also wins out in warmth with 8.6 ounces of 700-fill down (compared to 5.9 for the Jackson Glacier). On the flip side, the Jackson Glacier gets the edge in weather protection with a 2-layer shell, water-resistant main zipper with a "garage" to seal out moisture, and storm cuffs. In the end, a final decision between the two will likely come down to preferences on weather resistance (the Jackson Glacier is the better pick) versus warmth, comfort, and mobility (the Silent Down gets the nod).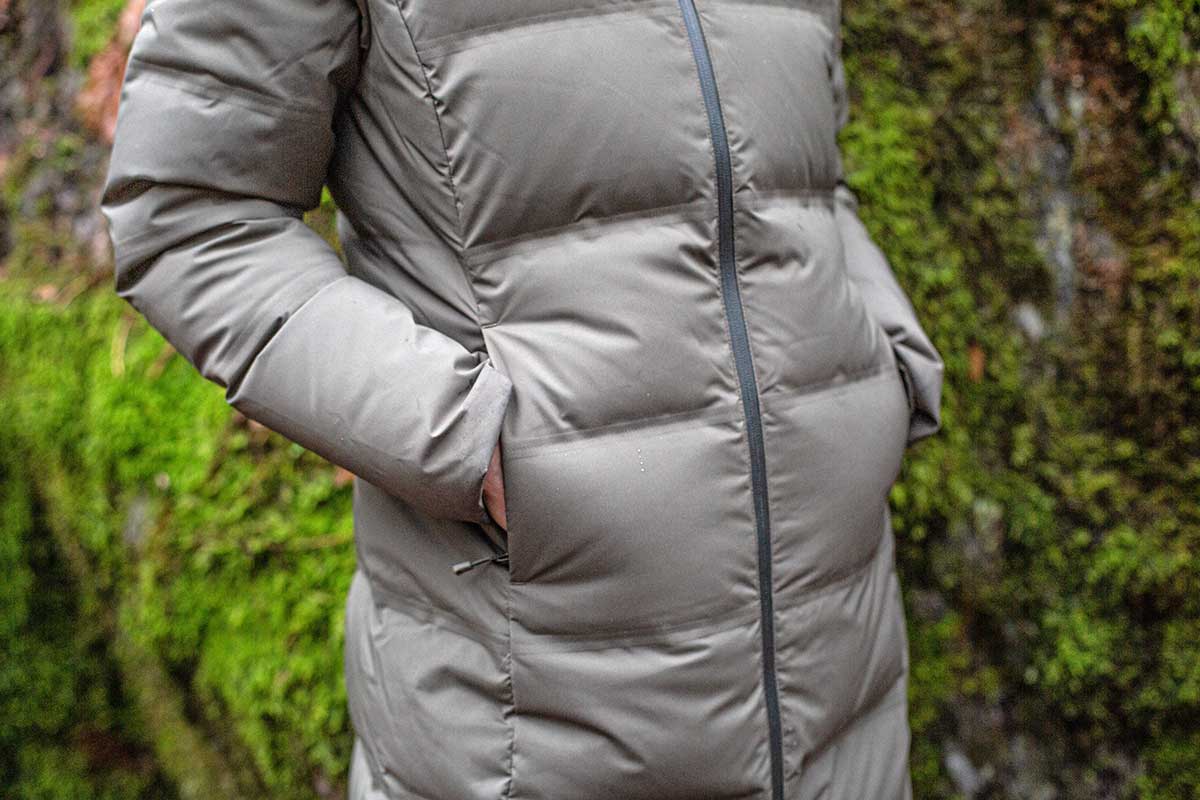 Another casual option that's similar in weight and warmth but cheaper is the Marmot Montreal Down Coat. For $285 ($114 less than the Patagonia), you get a generous 7.1 ounces of 700-fill down, which translates to a slight step up in insulation from the Jackson Glacier. However, the Montreal is around 5 inches shorter than the Patagonia and has a tendency to ride up. It also lacks the sealed baffles of the Jackson Glacier, although you do get hydrophobic treatment on the down in the form of Marmot's Down Defender technology to boost weather resistance. Some will also appreciate the Marmot's removable hood (for more information, see our in-depth Montreal review here). Whether or not the Jackson Glacier's added coverage and warmth-trapping features are worth the jump in price are up to you, but the Montreal will save you a good chunk of change and get the job done for most around-town uses.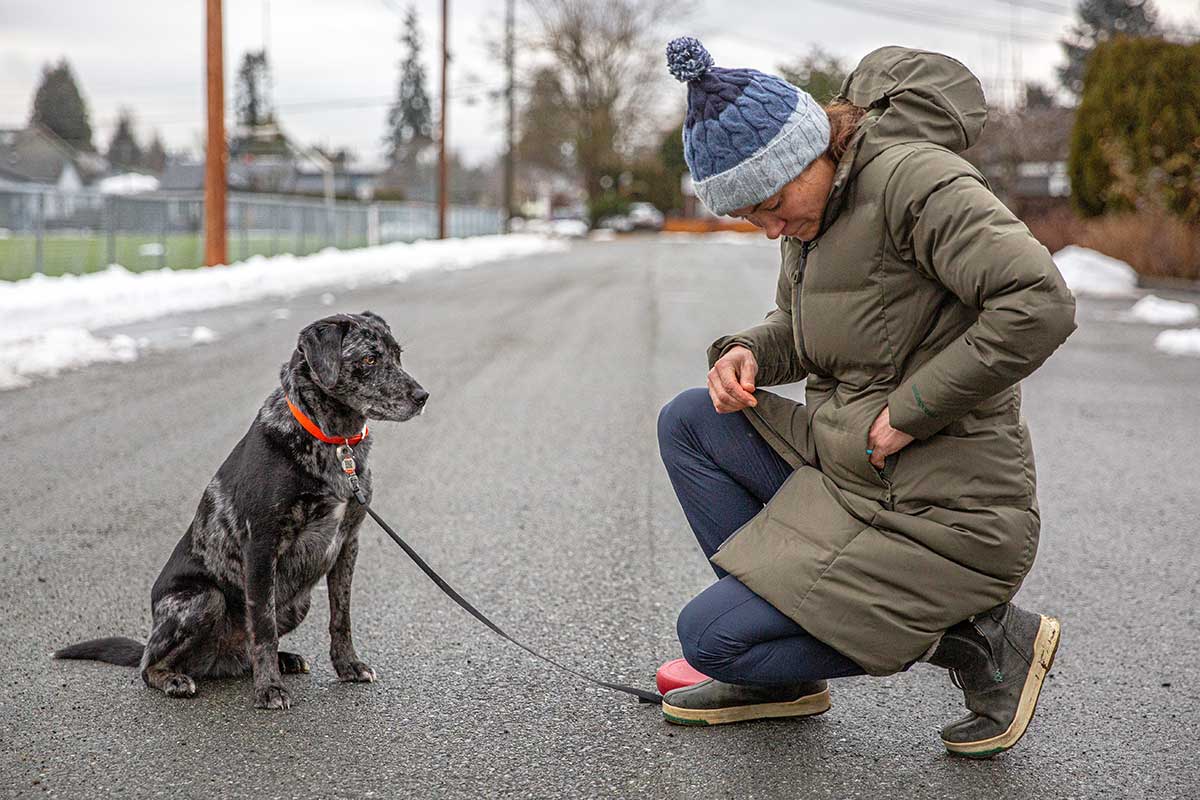 For those looking for added wet-weather assurance, Patagonia's Tres 3-In-1 combines a fully waterproof 2-layer H2No shell with an insulated inner layer that can be worn separately. For reference, warmth is similar between the two (the Tres uses 5.3 oz. of 700-fill down), although the Tres is around 5 inches shorter and offers considerably less coverage than the Jackson Glacier. Weight is another downside: At 3 pounds 3 ounces, the Tres is over a pound heavier than the Jackson Glacier and will feel noticeably heftier and bulkier as a result. And finally, the Tres is on the pricey end at a whopping $200 more than the Jackson Glacier, which strikes us as less of a value. Unless you plan to get out in consistently wet and rowdy conditions, we think it's worth saving with the longer and cheaper Jackson Glacier.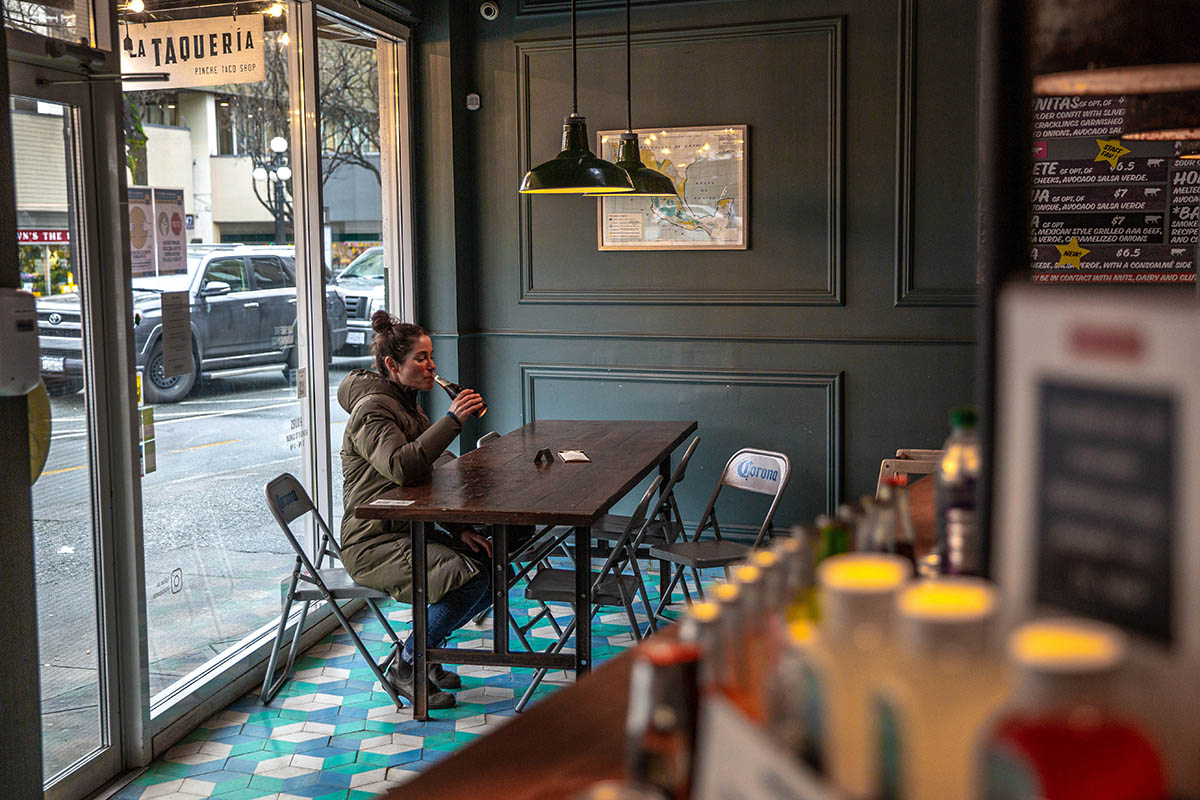 A final waterproof option to have on your radar is REI Co-op's Stormhenge Down Hybrid, which is a more budget-friendly alternative to the Tres 3-in-1 Parka at just $259. Again, the Stormhenge is significantly shorter than the Jackson Glacier at 28.25 inches down the back, but features a 2-layer waterproof shell, body-mapped 850-fill goose down, and the addition of recycled synthetic insulation in areas prone to moisture and sweat. And with more performance-oriented features like a helmet-friendly hood, pit zips, and internal stash pockets (as well as a lighter weight), the Stormhenge Down Hybrid could also pull double duty for a day of backcountry skiing or ice climbing. However, for around-town activities and casual wear, we consider the Jackson Glacier to be the more attractive and classy pick—provided you're willing to spend up for Patagonia's premium fit and styling.
If you're thinking about buying gear that we've reviewed on Switchback Travel, you can help support us in the process. Just click on any of the seller links above, and if you make a purchase, we receive a small percentage of the transaction. The cost of the product is the same to you but this helps us continue to test and write about outdoor gear. Thanks and we appreciate your support!
Depending on the seller, most products ship free in the United States on orders of $50 or more. International shipping availability and rates vary by seller. The pricing information on this page is updated hourly but we are not responsible for inaccuracies.
Read More From Switchback Travel