Smith Quantum MIPS
Price: $300
Construction: Hybrid in-mold
Weight: 1 lb. 7 oz.
Ventilation: Adjustable (22 vents)
What we like: The Quantum is the whole package: comfortable, well-made, highly breathable, and fully featured.
What we don't: Very expensive and fairly heavy for backcountry use.
See the Smith Quantum MIPS
Smith's snow helmet lineup runs the gamut from the simple and budget-friendly Holt to the range-topping Quantum tested here. This premium lid is as feature-rich as they come: you get a full suite of safety tech including a MIPS liner and energy-absorbing Aerocore construction, a supremely comfortable and well-ventilated build, and a highly adjustable fit system. The Quantum is undeniably pricey at $300, but we consider it the whole package for backcountry skiers tackling big lines. Below we break down our experiences with the Quantum MIPS after a full season of use. To see how it stacks up to the competition, see our article on the best ski helmets.
 
---
Table of Contents
---

Performance
Comfort
Smith helmets consistently impress us with their well-padded and comfortable designs, and the Quantum MIPS is no exception. Overall, the helmet fit me incredibly well with no obvious protrusions or pressure points, and the interior is a mix of ventilated mesh and plush lining that's soft against the head and nicely cushioned. The chin strap is also made of the same padding, and it's supple enough that it never rubs or irritates my face. Finally, the Quantum comes equipped with a premium Boa adjustment system, which allows for a snug, highly customized fit (more on this in "Features" below). All things considered, the Quantum is pricey at $300, but the levels of comfort and plushness do help justify the cost.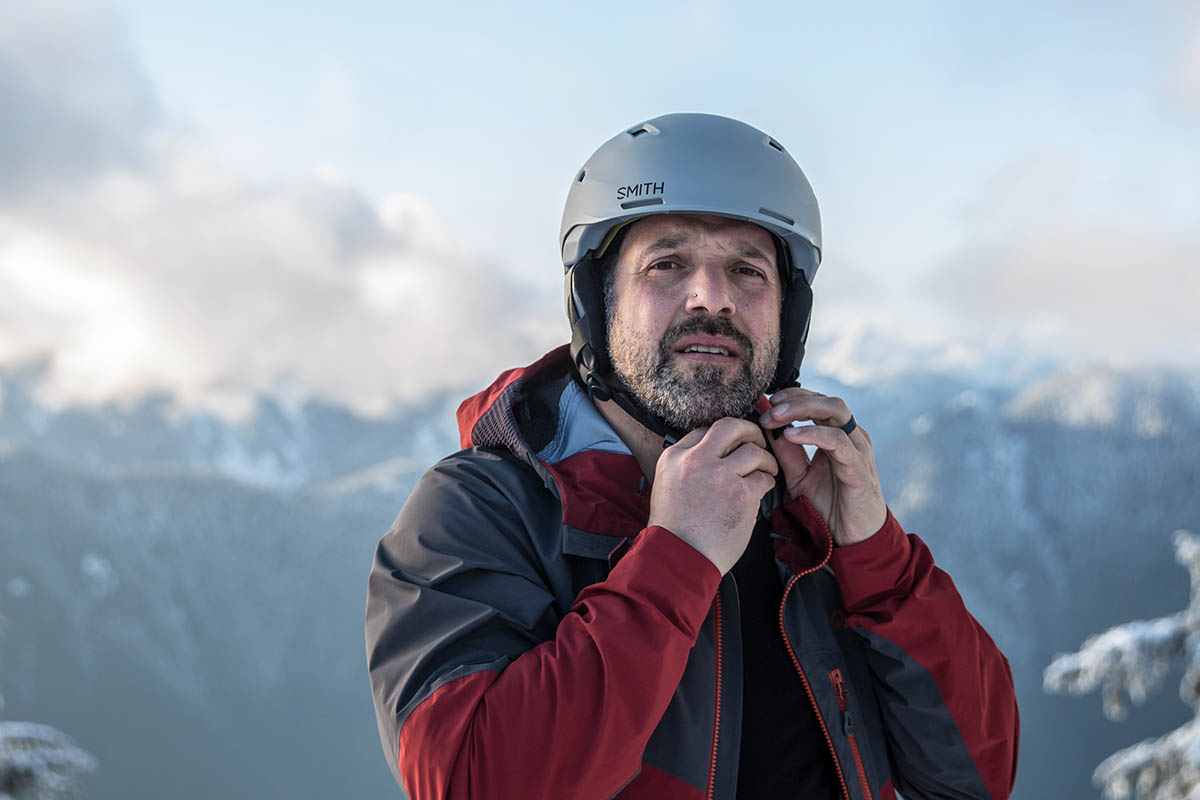 Ventilation
In addition to comfort, ventilation is another clear strong suit of the Quantum. With 22 well-placed vents, the Quantum promotes generous airflow, even on warm days or when I'm working up a sweat. And importantly, the openings are easy to toggle, even with gloves on, with two separate sliders that independently control the front and rear vents. In practice, I've found that the system is very effective at moving warm air away from my goggles and out through the sides, rear, and top to minimize fogging, and the only time I've noticed any issue is when my jacket's hood aperture is cinched tightly around my helmet (in this configuration, it traps air inside and renders the vents useless).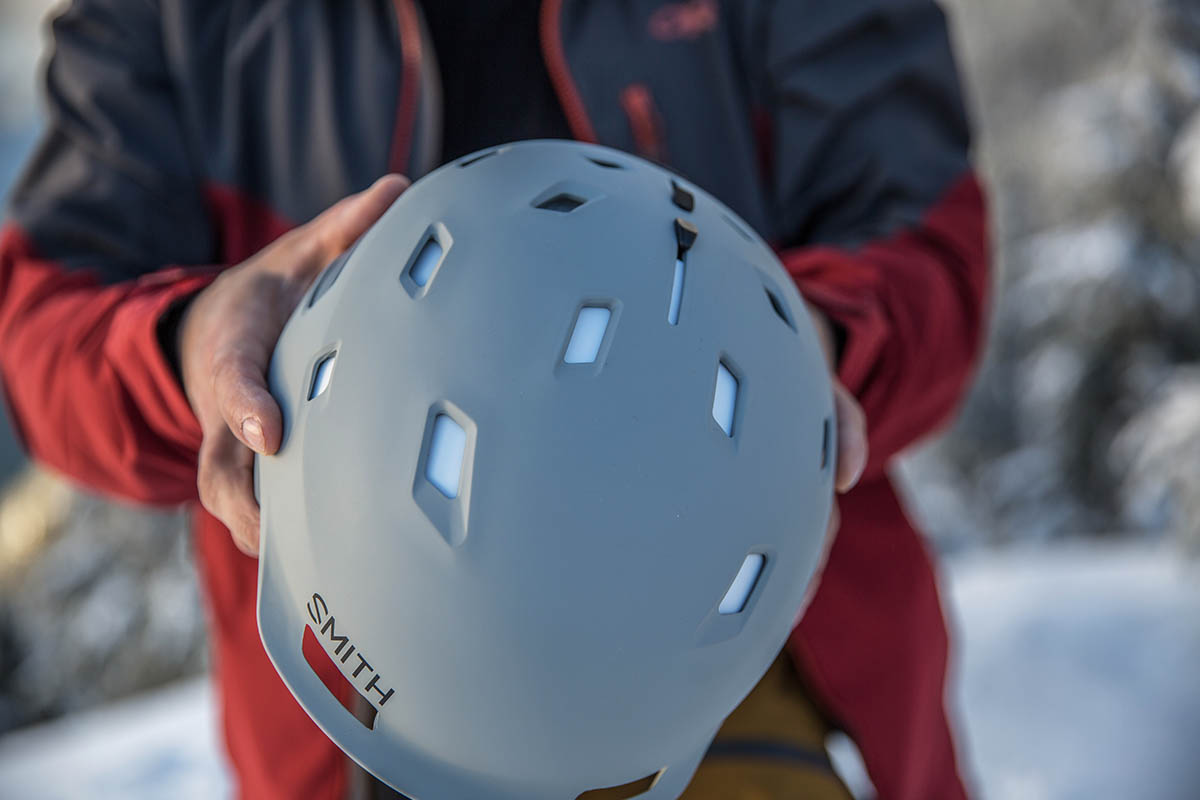 Like most cushioned designs, the helmet runs a little warm for high-output skinning in mild weather, and I typically remove it for climbs of more than around 10 minutes in these conditions. But with the vents fully open, the Quantum is a perfectly fine option for colder days and short yo-yo sessions to access my favorite powder stash. This puts it on par with Smith's Vantage, and it easily beats out their more resort-oriented Level MIPS.
 
Warmth
Despite its ability to dump heat effectively, the Smith Quantum MIPS still scores high marks in the warmth department. With the vents closed, I've managed to remain cozy even on particularly cold and windy resort days—I've been stuck on blustery chairlifts many times and haven't had any issues with staying comfortable. Additionally, the ear pads are nicely cushioned and able to protect my ears from strong gusts, and they can be easily removed to increase airflow, which I tend to do on warm spring days.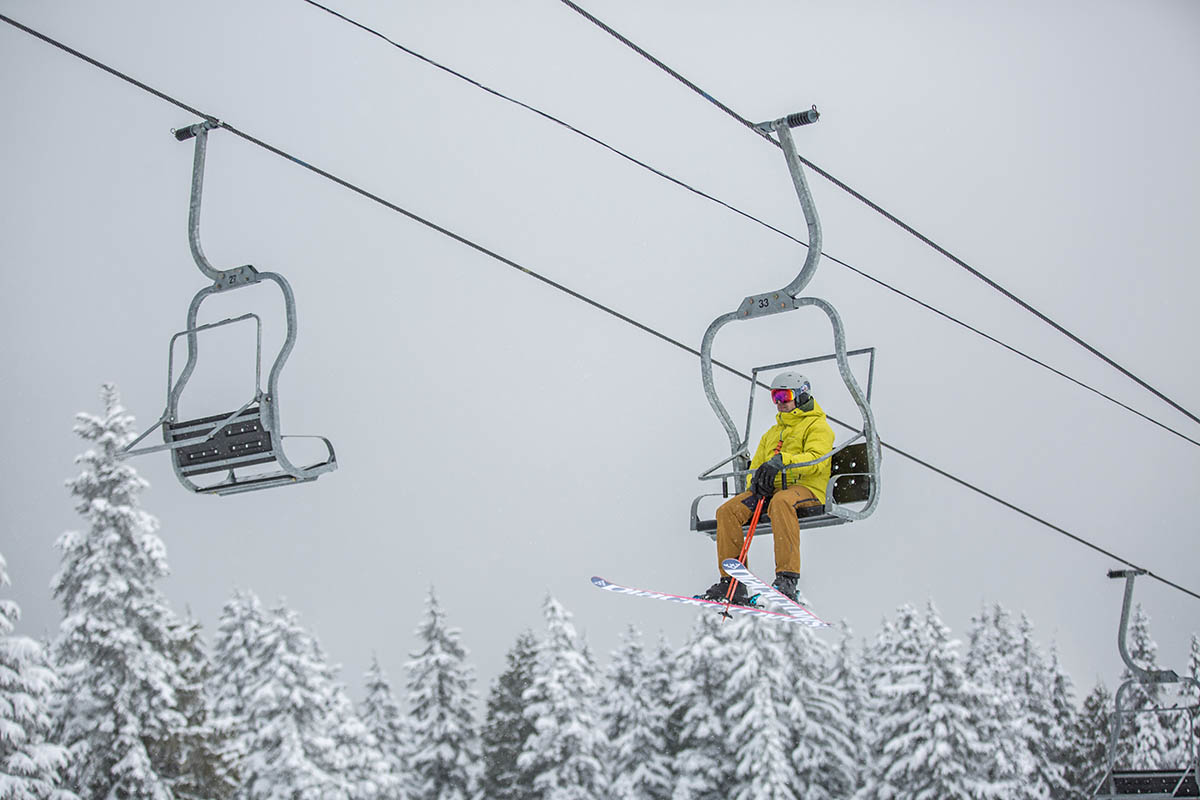 Features
MIPS Liner
MIPS stands for Multi-directional Impact Protection System and is a liner integrated into many modern ski helmets, including the Quantum (some brands use their own proprietary technology, but the idea is the same). In short, MIPS is designed to reduce potential damage in the event of an angled impact by moving independently from the outer shell. It's hard to verify the safety claims, but thankfully the liner doesn't have an impact on overall comfort. We've found that similar MIPS-equipped models have a slight reduction in size as a result, but the difference is very minimal, and I don't have any complaints about the Quantum from a fit perspective (more in "Fit and Sizing" below).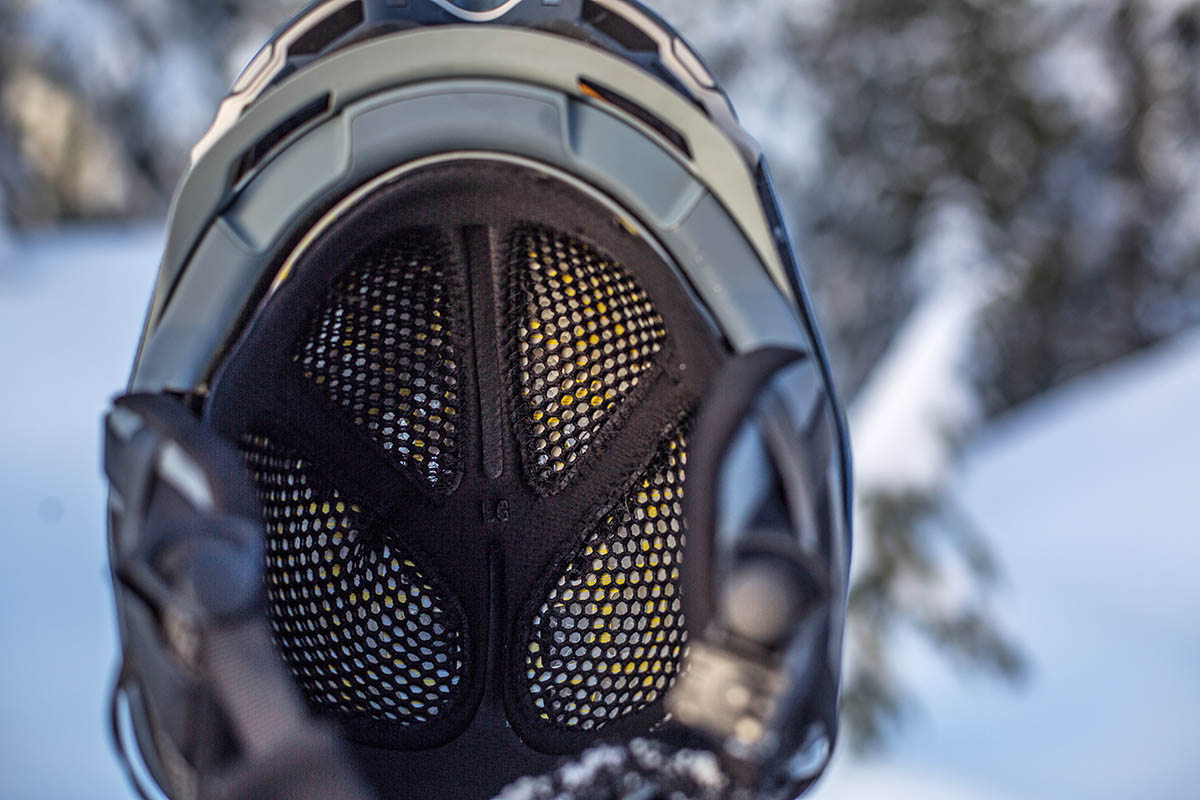 Aerocore Construction
Another safety feature that Smith incorporated into the Quantum's build is their distinctive Aerocore construction, which uses a honeycomb-like material called Koroyd to boost protection. The premise is fairly simple: the tube-like Koroyd (which you can see clearly through the helmet's vents) is designed to both increase airflow and absorb impact in the event of a crash. We've tested the technology in a range of models, including Smith's Vantage, Level, and new Altus MIPS helmets, and found it to be low-profile and nicely integrated into the build. And it's worth noting that unlike these aforementioned models, the Aerocore construction extends throughout the full shell of the Quantum, which adds extra assurance. We haven't experienced any major impacts that would truly test the Aerocore design, but we appreciate that Smith places such a big emphasis on safety.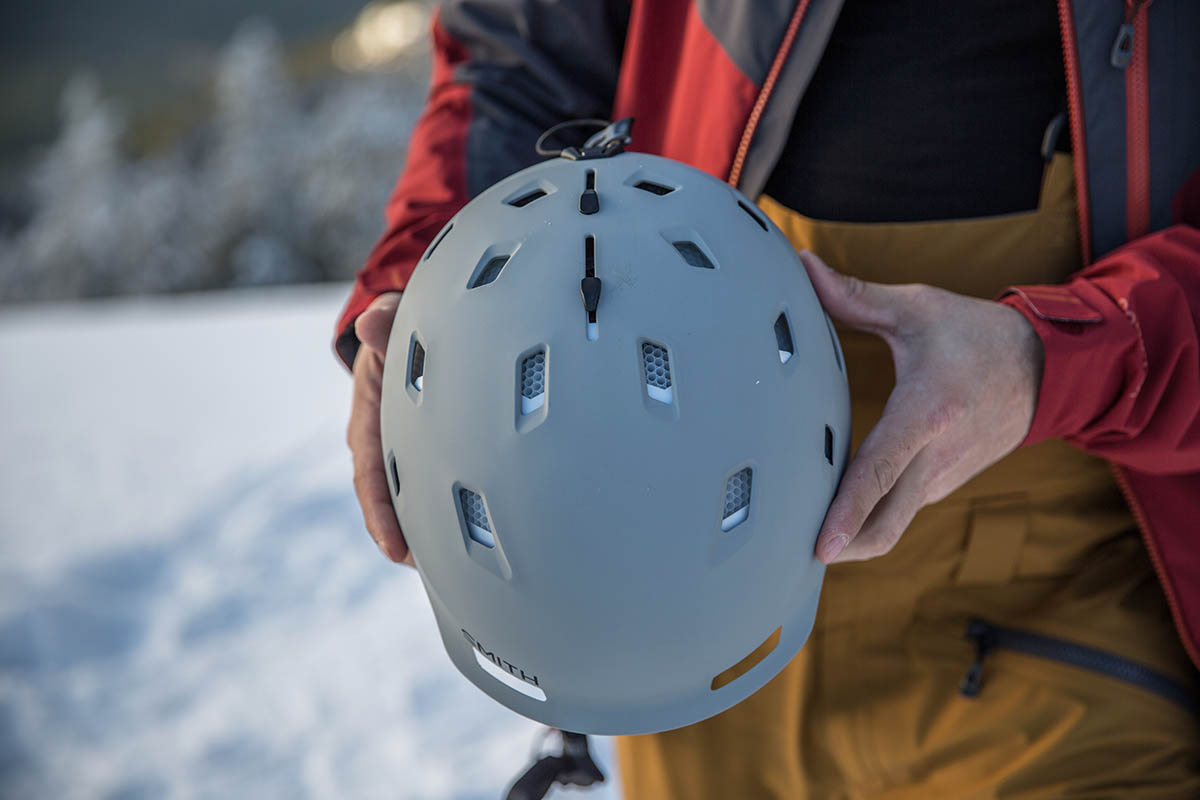 Boa Adjustment System
Smith's Quantum MIPS boasts a Boa dial at the back for adjusting fit, which I've found to be exceptionally easy to loosen and tighten, even with gloves on. In short, this is our favorite system on the market and one of the most intuitive: it uses a full, 360-degree halo design that can be adjusted both forward and laterally, snugs evenly around your head, and stays securely in place even during rough and rowdy riding. It's worth noting that this tensioning system is only found on Smith's higher-end offerings, including the Vantage, while their mid-range Level and Altus lids use a less customizable VaporFit design (which toggles 270 degrees and foregoes adjustment along the front of the forehead). The differences between the two systems are pretty minimal, but Boa is a leader in both quality and ease of use.

Build Quality and Durability
Put simply, the Quantum MIPS helmet embodies the top-notch build quality we've come to expect from Smith. Starting with construction, you get a hybrid in-mold design that includes a panel of tougher ABS plastic along the top and back for added protection and a lighter-weight (but less durable) in-mold section at the base of the lid. After fairly extensive use, the helmet only shows minor cosmetic wear in the form of a few small scuffs on the shell from being stuffed haphazardly in my pack with sharp gear like crampons, a shovel, and probe. Further, all buckles, sliders, vents, and straps are in perfect working order with no failures to date, and the padding on the interior hasn't packed out or lost any of its insulating abilities.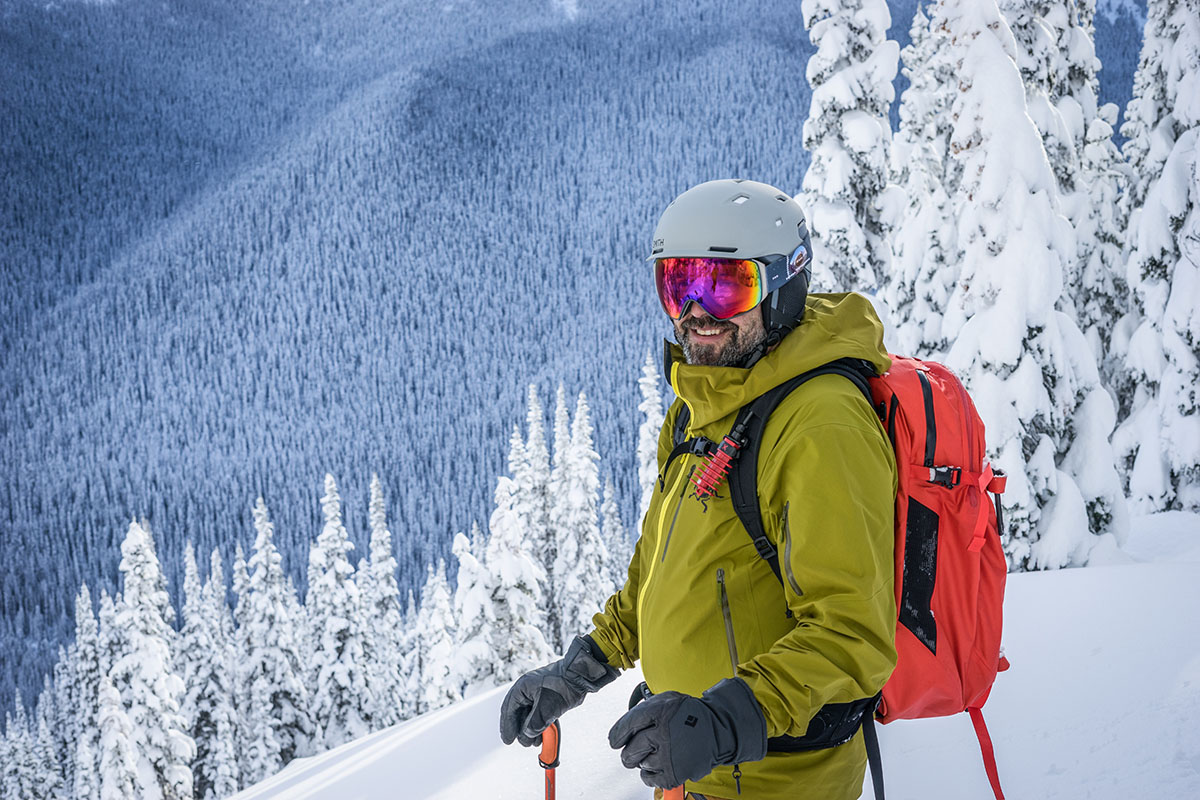 It's worth noting that the magnetic Fidlock chinstrap was recalled in 2017 for coming undone unexpectedly, but we haven't seen any reports of the issue since. The system does take some time to get used to and trust fully, but I've found that the magnet is strong and hasn't unexpectedly disengaged, even in a crash.
 
Weight
At 1 pound 7 ounces for a size medium, the Smith Quantum MIPS is fairly heavy for backcountry use. For reference, Smith's own $30-cheaper Vantage MIPS clocks in at a more reasonable 1 pound 2 ounces, Oakley's MOD5 MIPS is 1 pound 5.2 ounces, and Giro's Range MIPS weighs 1 pound 3 ounces. For big mountain riders and those who like to push their limits, Sweet Protection's Grimnir II TE (1 lb. 8.7 oz.) is one of the few backcountry-focused lids to outweigh the Quantum, although you do get an upgraded carbon fiber construction and more vents. And if you're truly focused on shaving weight, you can go much lighter with a dedicated touring design like the Salomon MTN Lab (13.4 oz.). Importantly, I never felt the Quantum was particularly hefty or bulky on my head, but it's certainly not a standout in the weight department.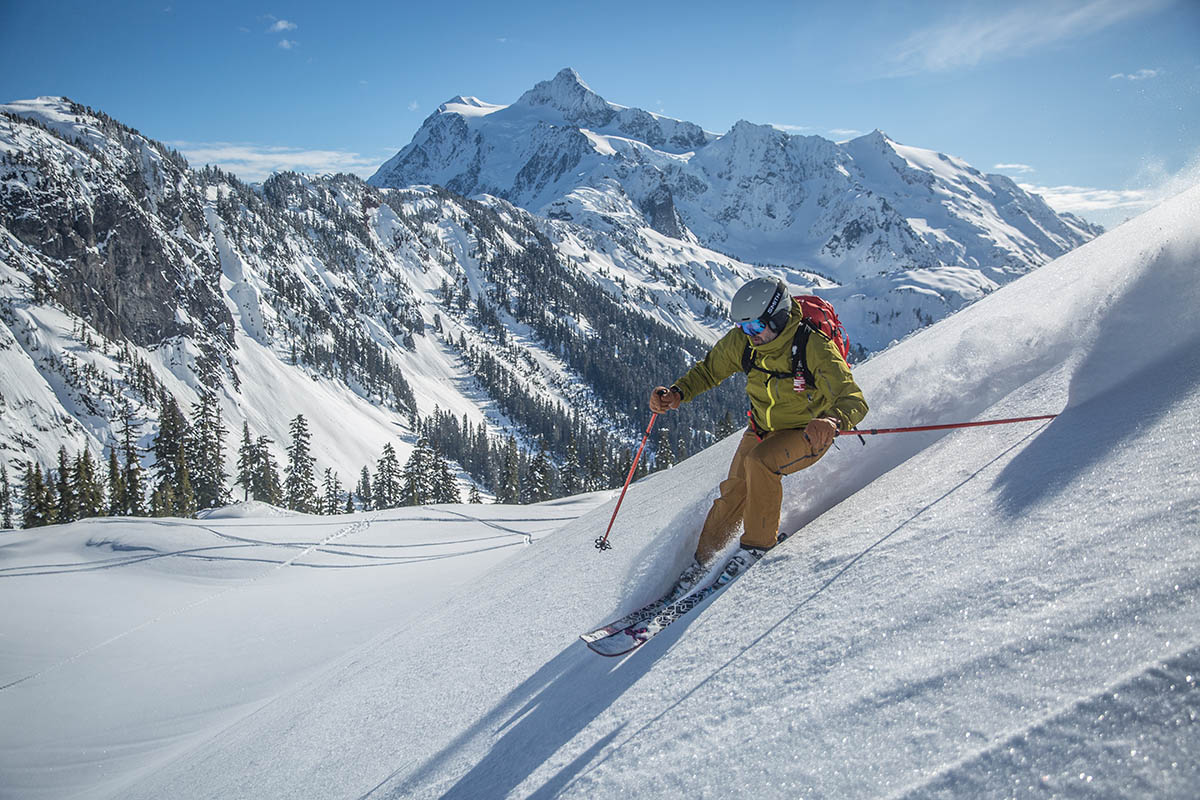 Fit and Sizing
I wear a size large in most Smith helmets (including the Vantage), and the Quantum MIPS fit true to size (for reference, this size should work for those with a 59-63cm head circumference). As I touched on above, the Boa tensioning system is highly adjustable and easily customizable, and I had no trouble getting a snug all-around fit. I was even able to layer a beanie underneath when temperatures dipped well into the negatives in Japan. And finally, I've found that I'm able to pair a wide variety of goggles with the Quantum without experiencing any gaps, including my Anon M4 Toric MFI, Oakley Airbrake XL, and Spy Doom. All in all, from a fit perspective, I couldn't be happier.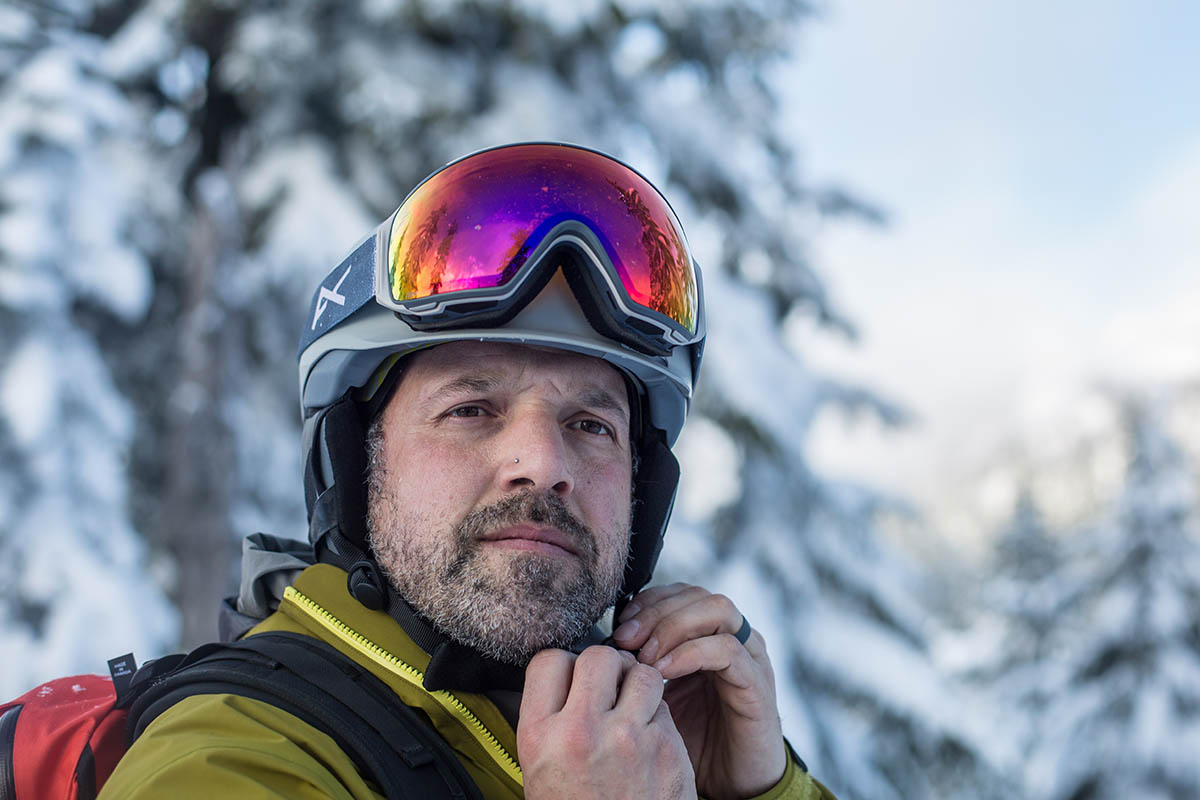 What We Like
The Quantum is the whole package: you get excellent ventilation, a full and premium feature set, and a highly adjustable fit.
Very comfortable with generous padding and thoughtful extras like a plush chin strap.
The high-quality construction we've come to expect from Smith: this lid is well-made, hardwearing, and nicely equipped to withstand regular use and abuse.

What We Don't
Very pricey at $300.
Fairly heavy for backcountry use.
Smith's own Vantage MIPS gets you similar all-around performance for $30 less.


Comparison Table

The Competition
Smith's Quantum MIPS is a premium ski helmet that doesn't skimp on features or performance.
From within Smith's own lineup, the Vantage MIPS is a step down in price at $270 but retains many of the same qualities, including a MIPS liner and Aerocore, Boa adjustment dial, hybrid in-mold construction, and excellent ventilation with 21 vents and dual temperature control sliders. In parsing out the differences, the Quantum features Koroyd around the full shell (the Vantage only has it at the top), and I also prefer the easier-to-use magnetic Fidlock design on the Quantum (the Vantage sports a standard buckle). That said, the Vantage wins out in weight by a considerable 5 ounces, although the difference wasn't noticeable while skiing. All in all, both are high-quality designs, but we think it's worth saving with the Vantage for its similar feature set and performance at a lower weight.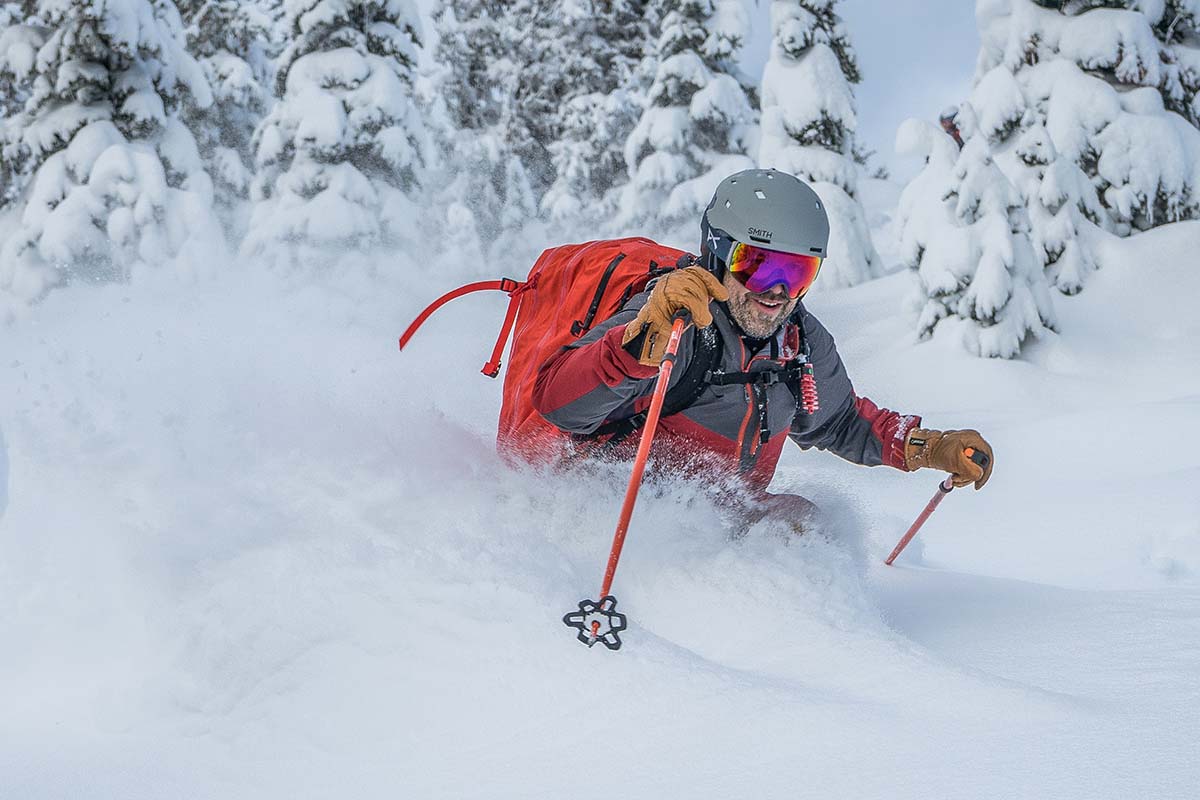 Another top and fully featured design to consider is Oakley's MOD5 MIPS. The big news with the Oakley is its Modular Brim System, which allows you to swap between brim sizes to better integrate your helmet and goggle combination (it does favor Oakley models more than others). In terms of performance, the Oakley wins out in weight at 1 pound 5.2 ounces and feels light on your head, and it also sports premium features like a magnetic chinstrap, Boa dial, and removable liner. The Smith gets the edge in ventilation with more openings (the Oakley has eight) and a more effective venting design, and we also found the Quantum's liner to be more cushioned and comfortable. Whether these added benefits are worth the extra $60 is up to you.
Giro is another big name in the snow sports world, and their Quantum equivalent is the Range MIPS. Stacked up against the Quantum, the Range is lighter at 1 pound 3 ounces, cheaper at $260, and well-appointed with a MIPS liner and Fidlock magnetic buckle. The Giro also features a unique adaptable shell—both the shell and liner adjust as you turn the dial—that provides a snug and low-profile fit. However, while we like the sleek look, comfort falls short of the Smith's padded and well-cushioned build. In particular, the ear pads are on the thin end, and the Giro favors a narrower head shape. Ventilation is also a step down with only 13 adjustable vents. In the end, a final decision will come down to how you prioritize cost versus comfort and breathability.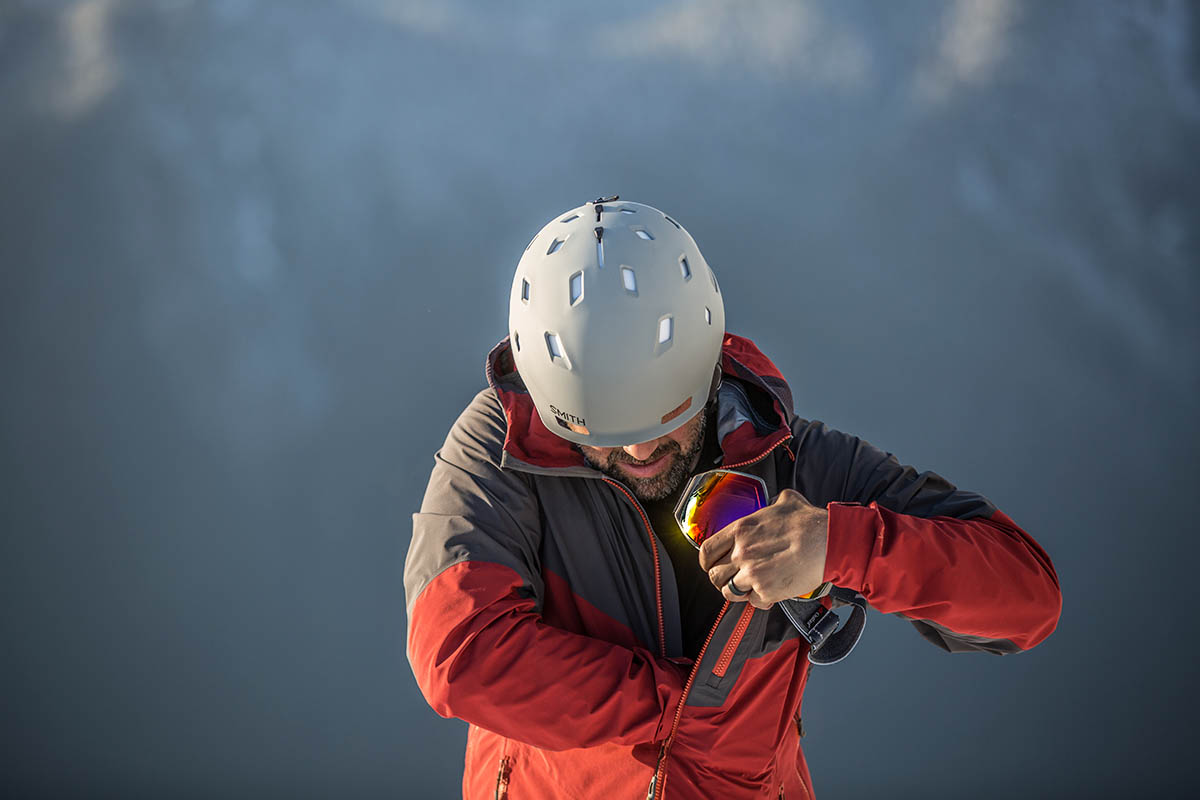 For those who stick strictly to the backcountry, a dedicated touring lid like Salomon's MTN Lab makes a lot of sense. First and foremost, weight drops down to a feathery 13.4 ounces (a significant 9.6 oz. less than the Smith), which makes it easy to wear all day or stow in a pack on the way up. Ventilation is also good with large cutouts along the top and sides of the Salomon, although the vents are non-adjustable, which makes it less ideal for lift-assisted days. And finally, you make some notable compromises with the highly focused design, and particularly when it comes to comfort—the Quantum is noticeably more padded and plusher—and warmth. A choice between the two will come down to priorities: for those headed into the alpine, the Salomon is a very capable choice for $100 less; for mixed front- and backcountry use, the Quantum is much more well-rounded.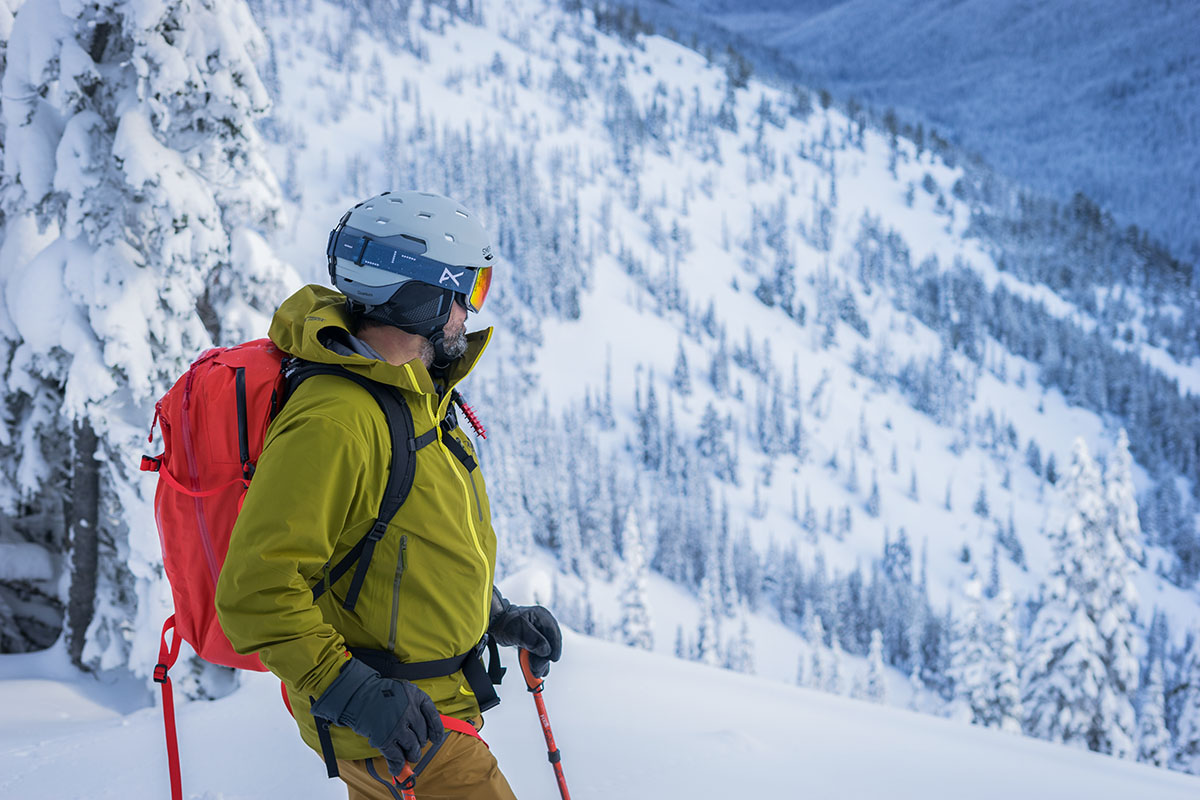 A final helmet to consider is one of the few on the market to cost more than the Quantum: the $400 Sweet Protection Grimnir II TE. What brings the cost so high is the Grimnir's unique carbon build that's super tough but realistically fairly limited in all-around appeal. Weight also goes up to 1 pound 8.7 ounces, and the Grimnir's fixed vents don't trap warmth as well as the Quantum's adjustable openings (although you do get plenty of them at 26 total). The rest of the build is undeniably premium with a MIPS liner, quality construction, and good padding, but we keep coming back to value: other than the carbon build, the Sweet Protection doesn't offer any notable boost in performance, and the majority of riders will be better off saving $100 with the Quantum.
If you're thinking about buying gear that we've reviewed on Switchback Travel, you can help support us in the process. Just click on any of the seller links above, and if you make a purchase, we receive a small percentage of the transaction. The cost of the product is the same to you but this helps us continue to test and write about outdoor gear. Thanks and we appreciate your support!
Depending on the seller, most products ship free in the United States on orders of $50 or more. International shipping availability and rates vary by seller. The pricing information on this page is updated hourly but we are not responsible for inaccuracies.
Read More From Switchback Travel