Whether you spend your days climbing indoors or scaling multi-hundred-foot monoliths, it's always helpful to know what you need. Our detailed climbing checklist below covers everything from equipment for different types of climbing (bouldering, sport, trad) to optional items and extras you won't want to forget. For more information on each product category, many of the headings link to our detailed product round-ups, which are the result of years of testing and opinions (we spend a lot of time outside). And for all of our recommendations in one place, see our climbing gear reviews.
Trad Climbing Gear
Sport Climbing Gear
Bouldering Gear
Extras

❒ Climbing Shoes

❒ Chalk Bag and Chalk

❒ Climbing Harness

❒ Belay Device

❒ Climbing Rope

❒ Climbing Helmet

❒ Quickdraws

❒ Climbing Backpack

❒ Approach Shoes

❒ Cams

❒ Nuts and Nut Tool

❒ Alpine Draws

❒ Climbing Shoes

❒ Chalk Bag and Chalk

❒ Climbing Harness

❒ Belay Device

❒ Climbing Rope & Rope Bag

❒ Climbing Helmet

❒ Quickdraws

❒ Climbing Backpack

❒ Approach Shoes

❒ Climbing Shoes

❒ Chalk Bag and Chalk

❒ Crash Pad

❒ Approach Shoes

❒ Follower Pack

❒ Personal Anchor System

❒ Anchor Supplies

❒ Climbing Tape

❒ Brush

❒ Stick Clip 

❒ Belay Glasses

❒ Belay Gloves

❒ Extra Locking Carabiners

❒ Autoblock 

❒ Crack Gloves 

❒ Headlamp

❒ Walkie Talkies

❒ Hand Salve

❒ Topo or Guide Book

❒ Food, Water, Extra Layers

Rock Climbing Gear
Whether you're climbing in the gym or outside on real rock, you won't get very far off the ground without a good pair of climbing shoes. Depending on the type of climbing they're geared toward, shoes vary in shape, downturn (how curved they are), stiffness, amount of rubber, and materials. Most boulderers prefer an ultra-aggressive slipper like the Scarpa Instinct VS, while tradsters benefit more from a stiff, flat, and protective shoe like the La Sportiva TC Pro. For beginners, the Butora Endeavor is our top pick for 2021 due to its high-quality construction, impressively sticky rubber, slight downturn for increased performance, and odor-minimizing organic hemp liner. And to get to the crag in the first place, it might be worth investing in a pair of approach shoes (see below).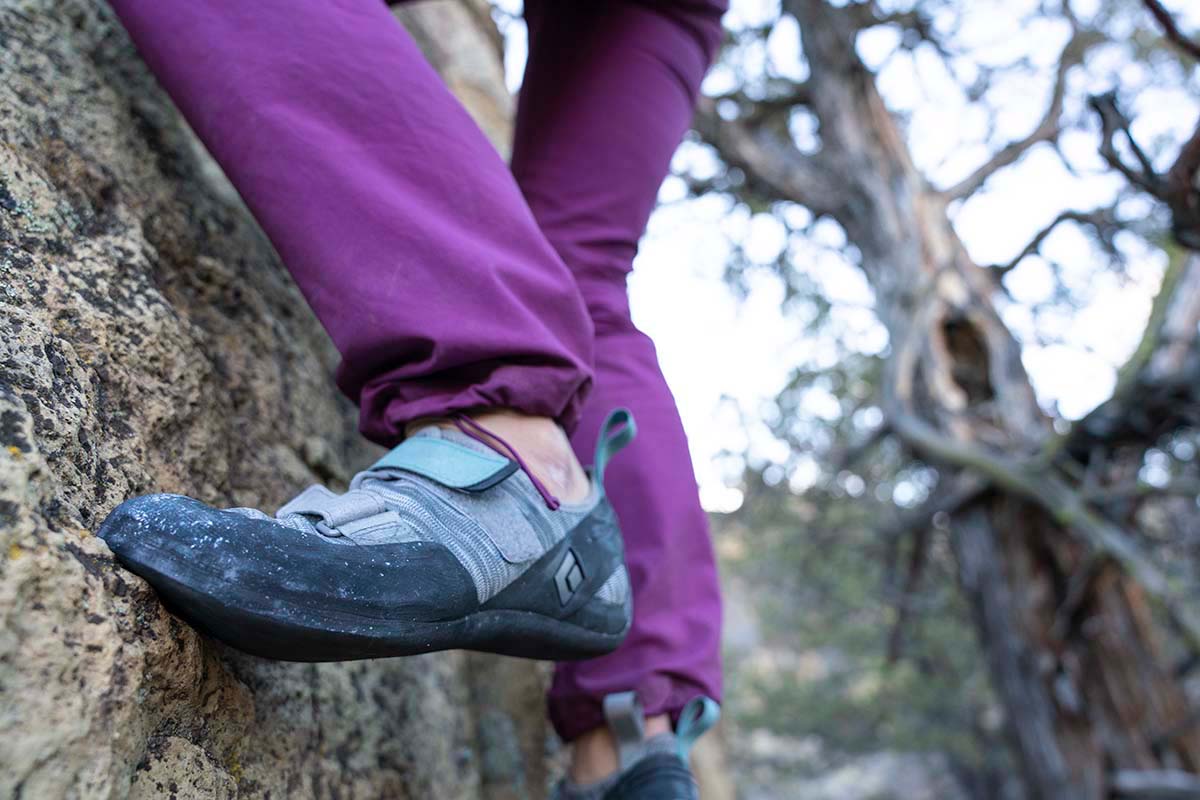 2. Chalk Bag and Chalk
While not an expensive item, chalk is a pretty essential one: it helps you grip each hold—whether plastic or rock—even when your hands are sweaty. Boulderers often chalk up on the ground using a bucket, while rope climbers tie a bag around their waist for convenient access throughout the climb. Though this purchase will likely be based more on style than function, features to be aware of include pockets, ultra-durable or lightweight materials, and the type of attachment point—the bag either ties around your waist and attaches with a buckle or has a loop so you can connect it via cordelette or a carabiner. We like Static Climbing for their creative designs and the Mammut Multipitch for its functional storage layout, including both mesh and zippered pockets. And be sure to fill your bag before you head out—Friction Labs chalk is widely thought to be the best around, but if you're just starting out, any brand of athletic chalk will do.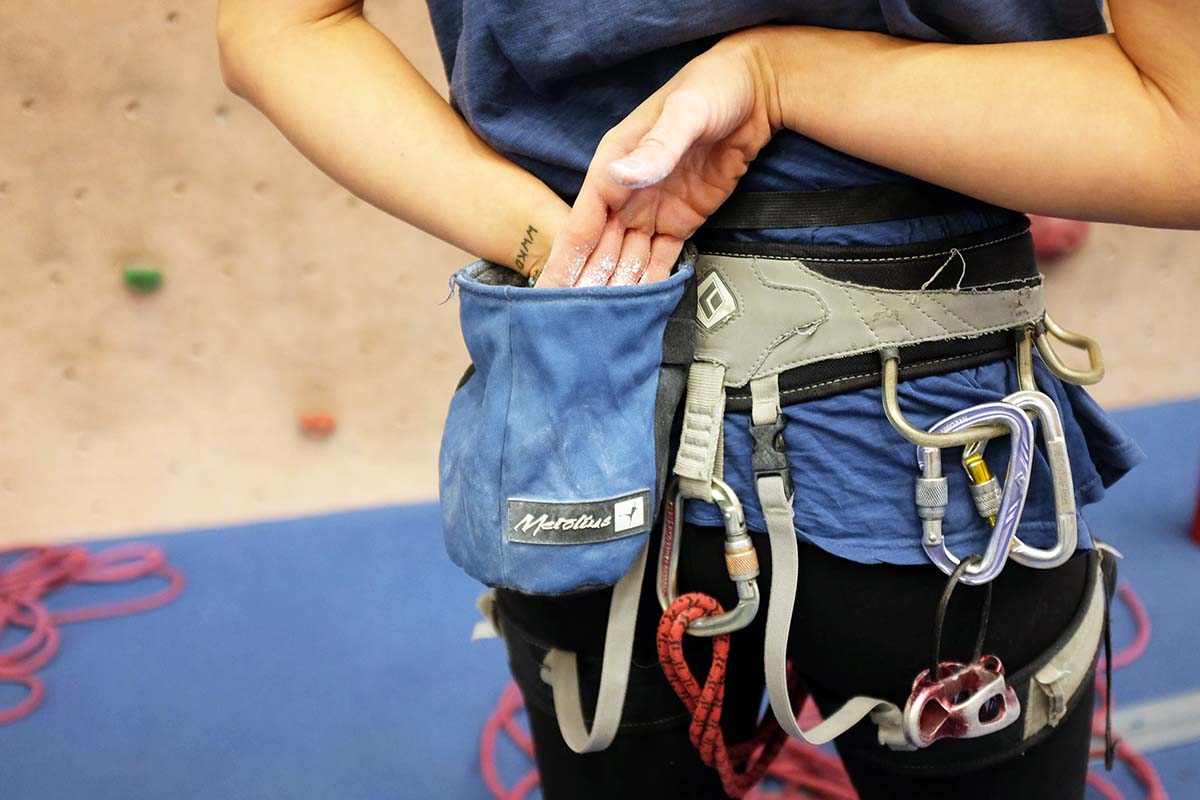 If you're sticking solely to gym problems, shoes and chalk are all you'll need. But when the allure of real rock tempts you outside, a crash pad (and often more than one) is absolutely vital for your safely. Crash pads come in a range of sizes with varying types of foam, exterior fabrics, fold designs, and carrying comfort. One of our favorites is the Organic Climbing Big Five Pad, custom-made with your pick of colors and design, simple features, and soft and long-lasting memory foam (the only pad of its kind).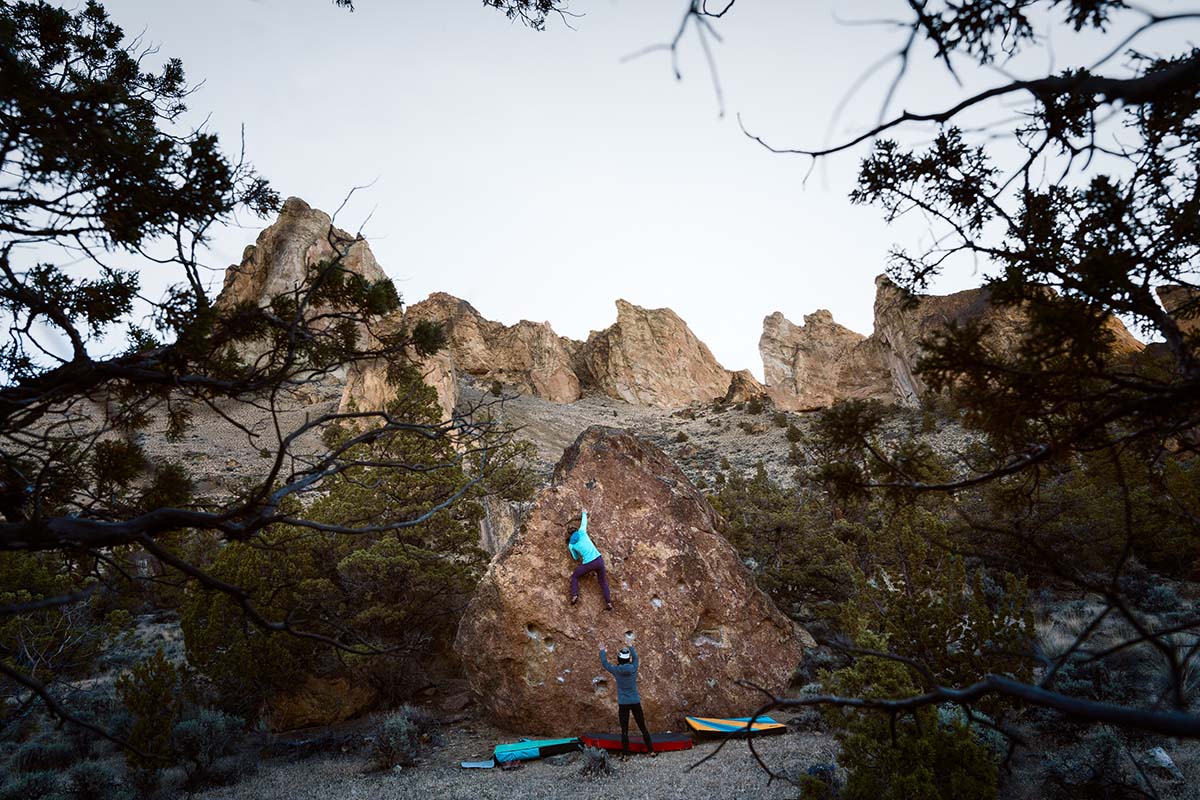 Not all climbers will need to invest in a pair of approach shoes, but they're an invaluable piece of equipment when your commute to the crag involves rock hopping or scrambling. Approach shoes differ from lightweight hiking shoes or trail-running shoes in a few main ways, namely in their stiff, sticky rubber sole and protective rand that surrounds the toe box. They also are often designed with lacing all the way to the toe (like a climbing shoe) for a snug fit that holds your foot tightly on technical terrain. La Sportiva's TX4 is one of the most popular models of approach shoes, lauded for its durable and protective build, comfort on the trail, and security on the rock.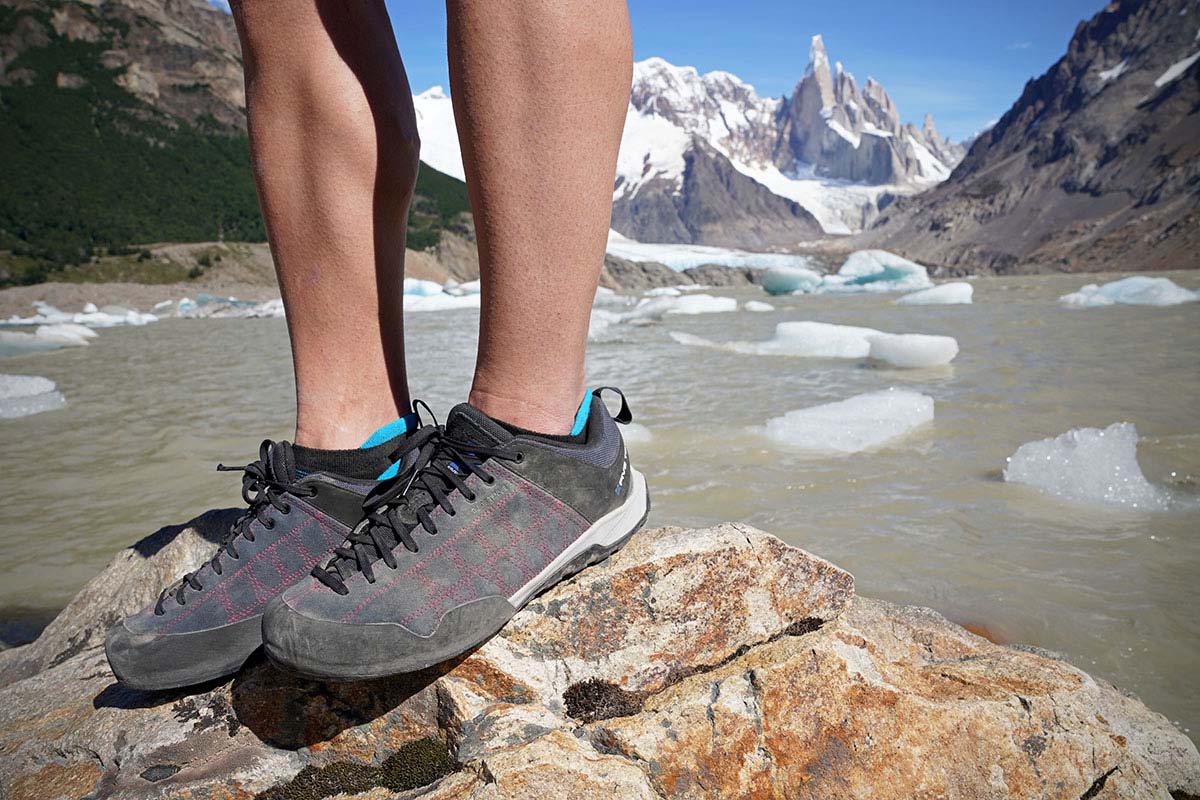 If you're a boulderer, stop here. After all, simplicity is one of the best perks of pebble wrestling. But for gear that will help you climb higher off the ground, read on.
 
Unless your name is Alex Honnold, you probably won't be getting too far off the ground without a harness. Climbing harnesses are trustworthy pieces of gear that attach you to the rope and keep your body upright whether you're climbing, hanging, rappelling, or falling. Furthermore, they allow you to safely belay your partner, and provide gear loops to organize essential equipment such as quickdraws, a belay device, carabiners, and more. Some harnesses prioritize comfort or durability over all else, while others aim to be lightweight and compact for mountain missions. The Black Diamond Solution is a crowd favorite for its simple and eye-catching appearance, comfort, and affordability.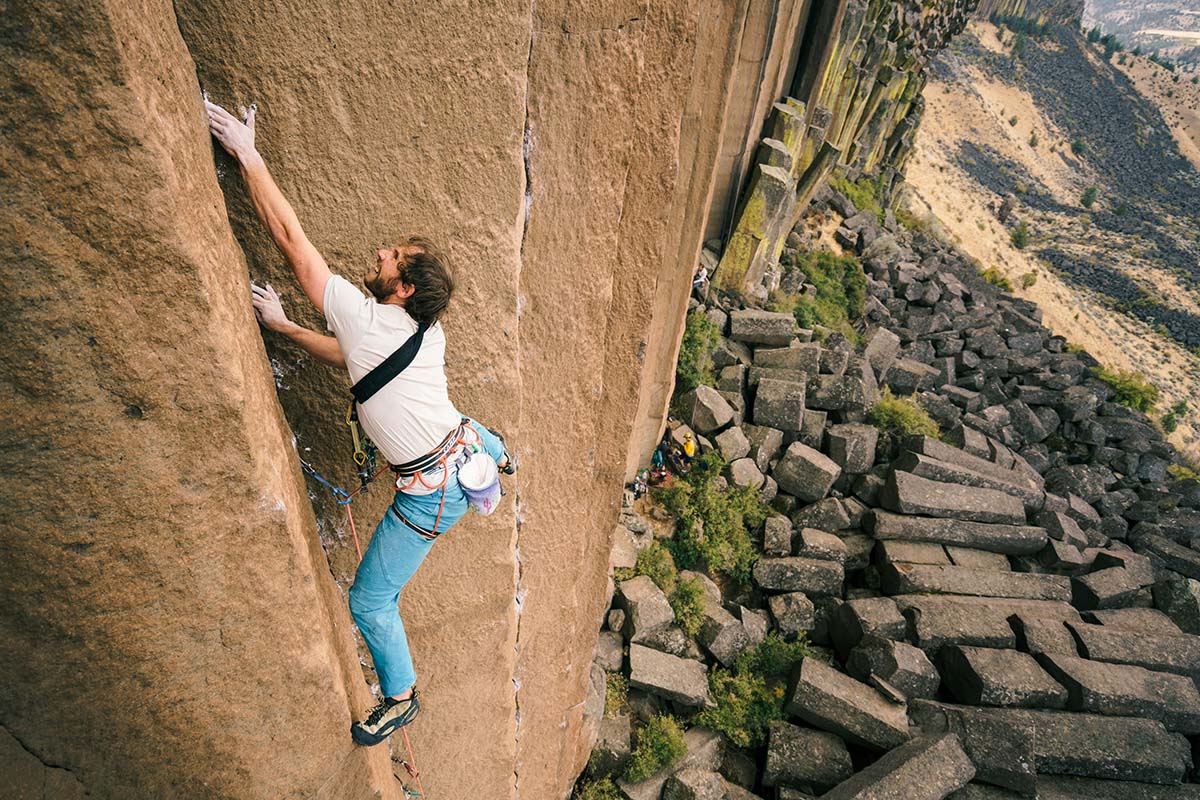 A belay device is essential for all roped climbing, whether you're top-roping, multi-pitching, or belaying a leader. Regardless of the type of device (and there are many), each one uses friction to stop or slow the rope—and thus keep your partner from falling. We prefer the Black Diamond ATC-Guide, a versatile tool that can be used for belaying from both the top and bottom, as well as rappelling. If you're looking to try an assisted-braking device, you can't go wrong with the Petzl Grigri. And of course, you should always use a locking carabiner to secure your belay device to your harness' belay loop. 
Gyms have ropes already set up for top-roping, and most offer rental ropes for you to use while leading (it's always best to check beforehand). But if you want to go anywhere outside, you'll need your own. Modern single ropes are 60-80 meters in length and anywhere from 8.5 to 10.2 millimeters in diameter. Gym rats can get away with a 35- to 40-meter line, but for most climbers we recommend a 70-meter rope in the mid-9-millimeter range. One of our favorites is the Mammut 9.5 Crag Dry: it's supple, lightweight, dry-treated for water and abrasion resistance, and has a helpful middle mark so you know where to line it up for a rappel.  And we also recommend using a rope bag or tarp at the crag to protect your rope and make it easier to carry around and stuff back into your pack—Black Diamond's Burrito is a popular option, but you can get away with something as simple as Trango's Cord Trapper Rope Tarp or even an Ikea shopping bag.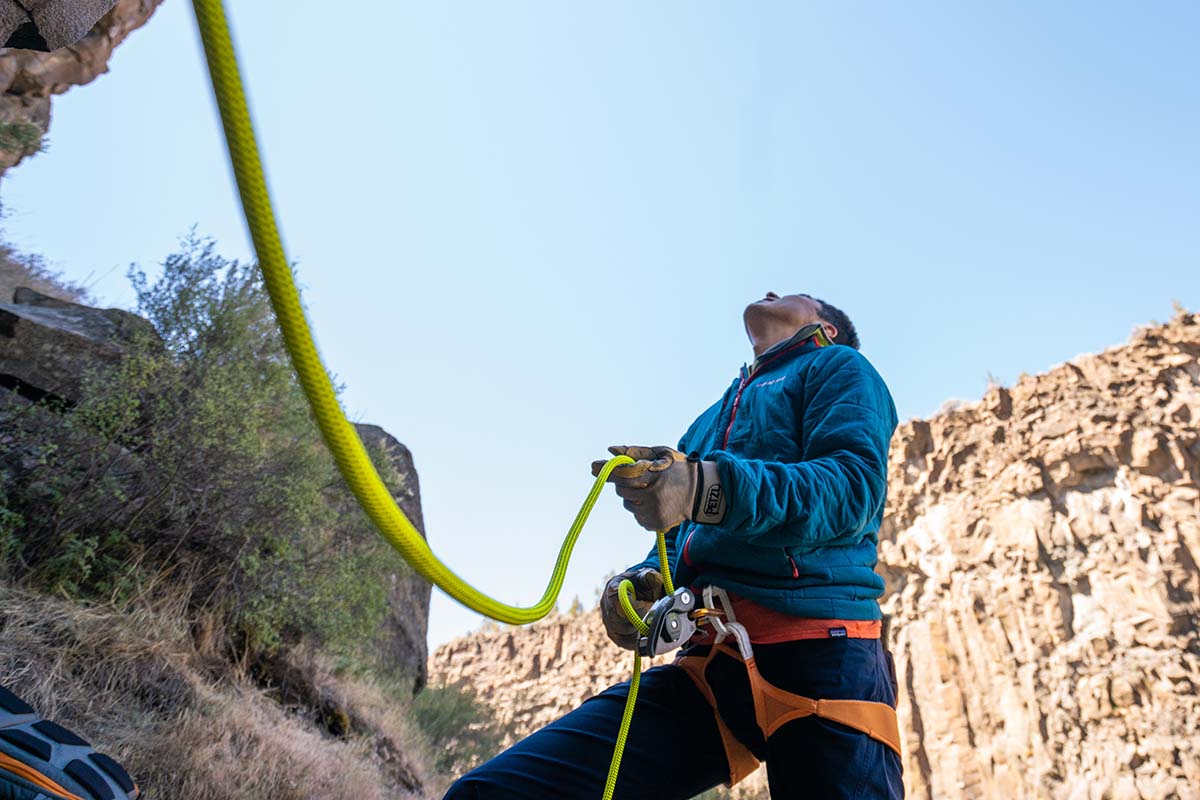 Climbing on real rock of any kind warrants a helmet, plain and simple. It not only functions to protect your noggin in the event of a fall but also guards against rocks and debris that may fall from above. Helmets range from affordable (and heavy) hard shells to those with ultralight and durable expanded polypropylene (EPP) foam. The Black Diamond Vision and Petzl Sirocco are some of the best (lightest and most durable) helmets in the game and, in our opinion, are worth the extra investment. But if you're just getting started or only climb a few times a year, an all-rounder like the Black Diamond Half Dome will be more than sufficient.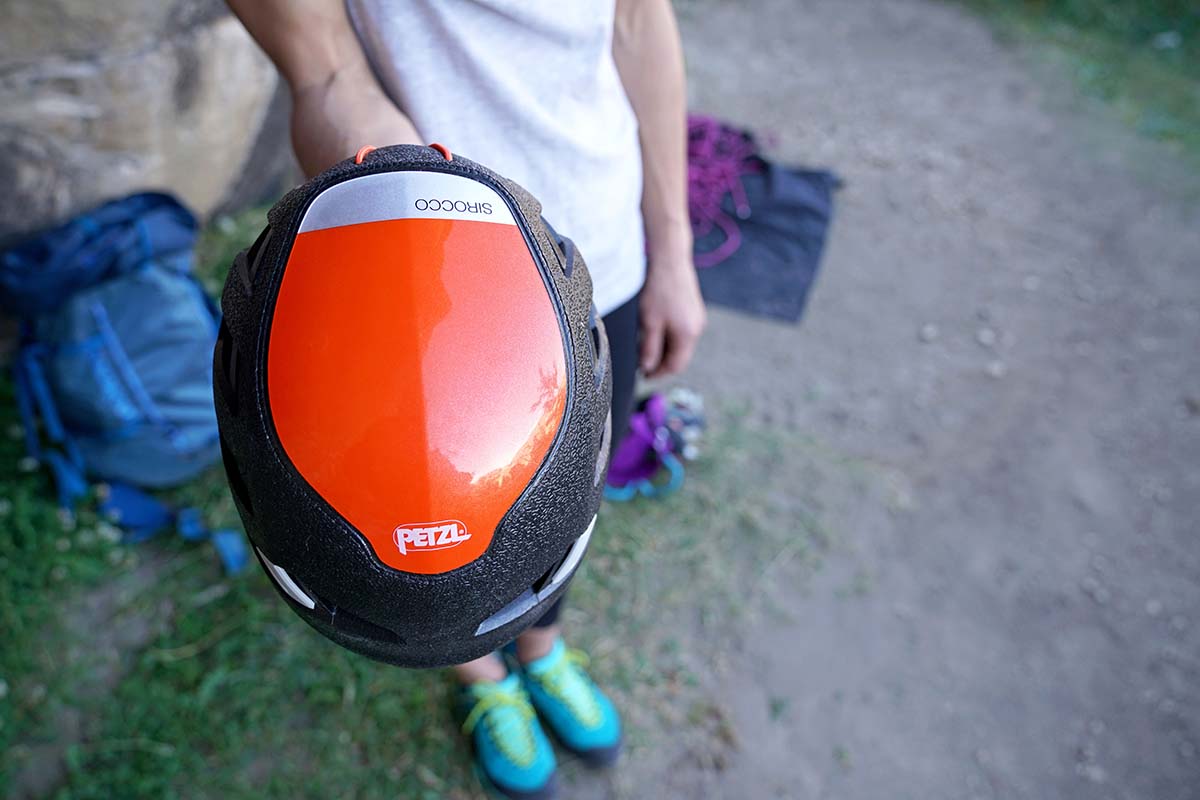 A dozen quickdraws will get you to the top of most sport clip-ups, although you should always check the beta ahead of time to make sure you have enough. Quickdraws come in a range of sizes, with variation both in the carabiners and dogbone (the material that connects them). Lightweight draws are ideal for trad and alpine racks, but sport climbers will appreciate the convenience of larger models. Our favorite is the Petzl Spirit Express: well-made, a joy to clip and unclip, and rigid enough to stab at out-of-reach bolts.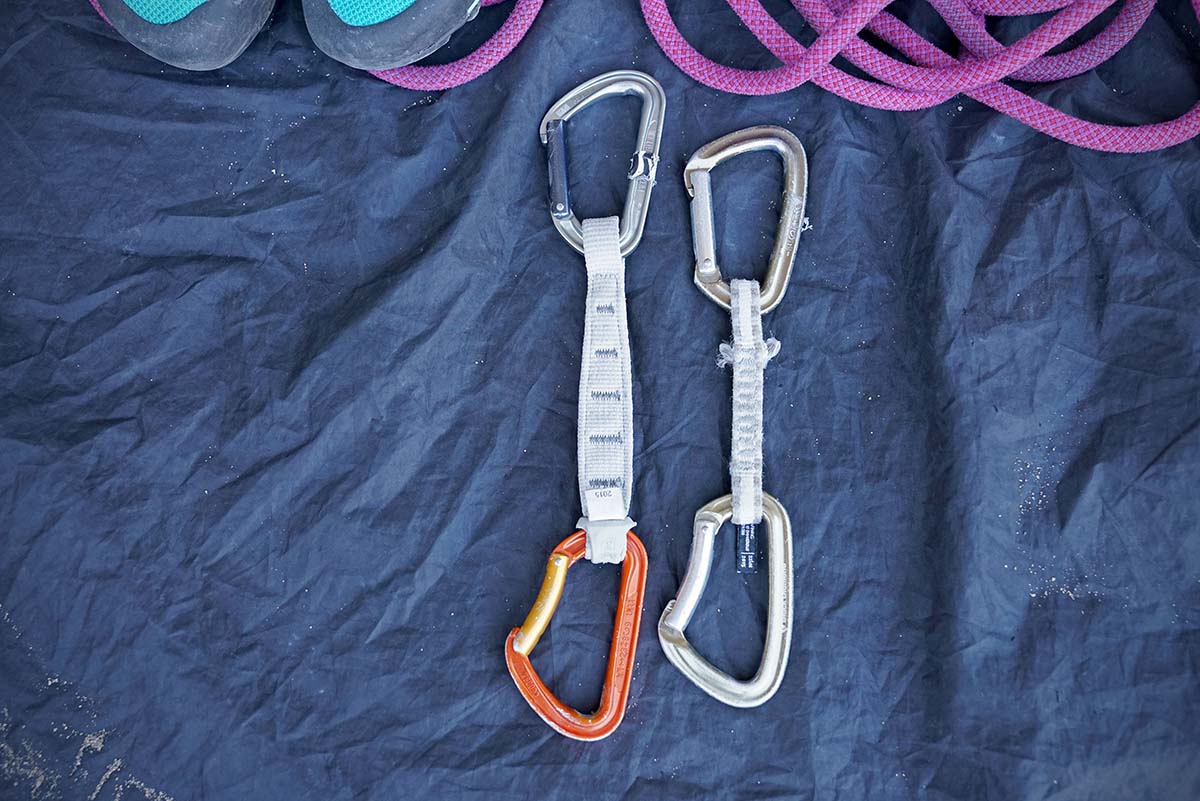 You won't be schlepping all the aforementioned gear to the crag without the help of a backpack. Sure, any old backpack will do, but we prefer a cragging-specific pack for comfort and convenience. These are generally 40-50 liters, made with durable fabrics, and feature unique organizational systems. Our top pick for cragging is Black Diamond's Creek 50—a high-volume, ultra-durable pack that stands on its base for easy loading and unloading of the rope. When fast-and-light is the name of the game, check out a more alpine-specific pack like the Arc'teryx Alpha FL 30.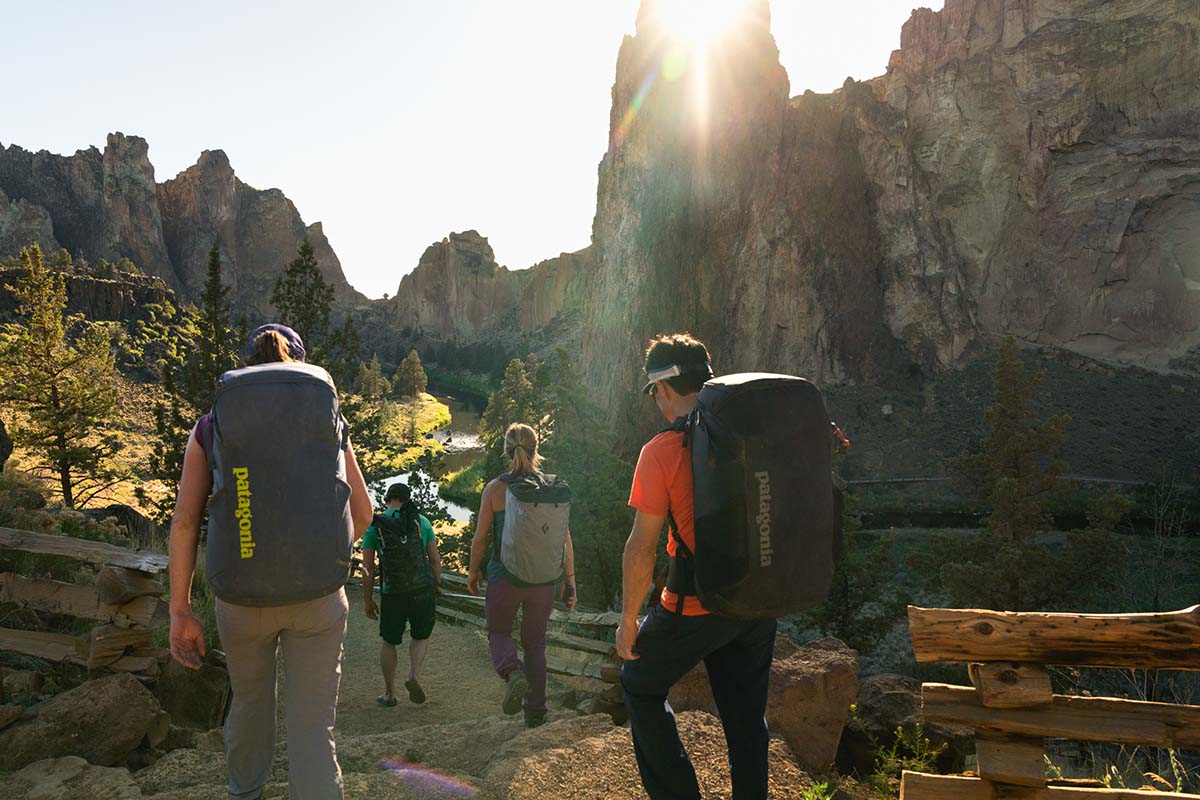 Sport climbers, we've got you covered. You are now free to enjoy the security of bolts and well-chalked holds. But what about cracks, and mountains, and long multi-pitch adventures? Stick with us for our trad climbing recommendations.
 
11. Cams
When there are no bolts in the rock, you have to create your own protection. Throughout the years, climbers have gone from nailing pitons or placing primarily passive protection with no moving parts (nuts, hexes) to now relying mostly on cams. Cams come in a range of sizes (distinguishable by color) and head widths (they each have different strong suits), and are made by a variety of companies. Our favorites are the Black Diamond Camalot and Metolius' Ultralight Master Cam. A standard rack, in general, contains two of each piece from tips (purple or grey Master Cam) to a #4 Camalot (although this can vary depending on where you're climbing).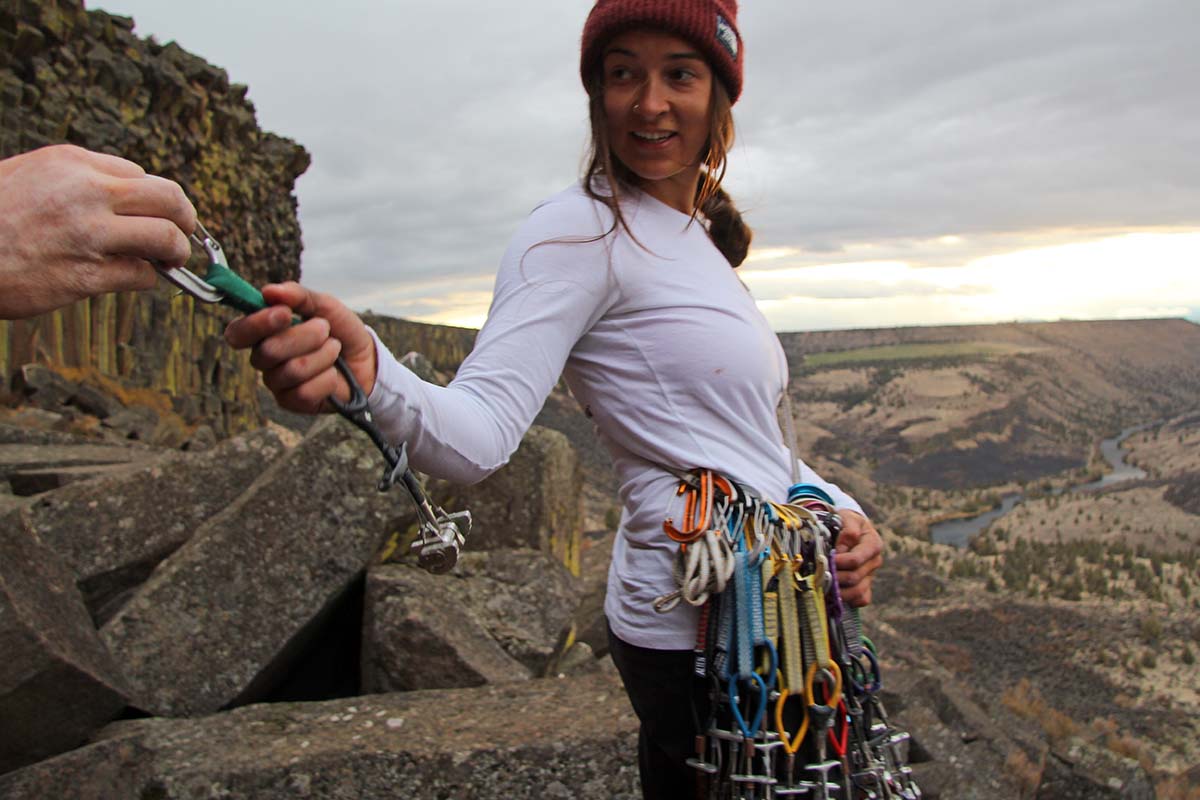 12. Nuts and Nut Tool
Although cams are certainly the easiest protection to place and remove, a set of nuts (aka stoppers) is essential. Nuts also come in a range of sizes and are inexpensive, lightweight, great for anchor-building (so you can save your cams for the climbing), and ideal for tiny slots where cams don't fit. DMM makes the brilliant Alloy Offsets, and we like Black Diamond's Micro Stoppers for smaller placements. And if you're placing nuts, you'd better have a nut tool (or a partner with one) to help remove them from the rock. The Metolius Torque Nut Tool is one of our favorites, with wrenches of various sizes, a small carabiner, tapered nose to reach the smallest nuts, and a hook at the end to access the trigger bars of uncooperative cams.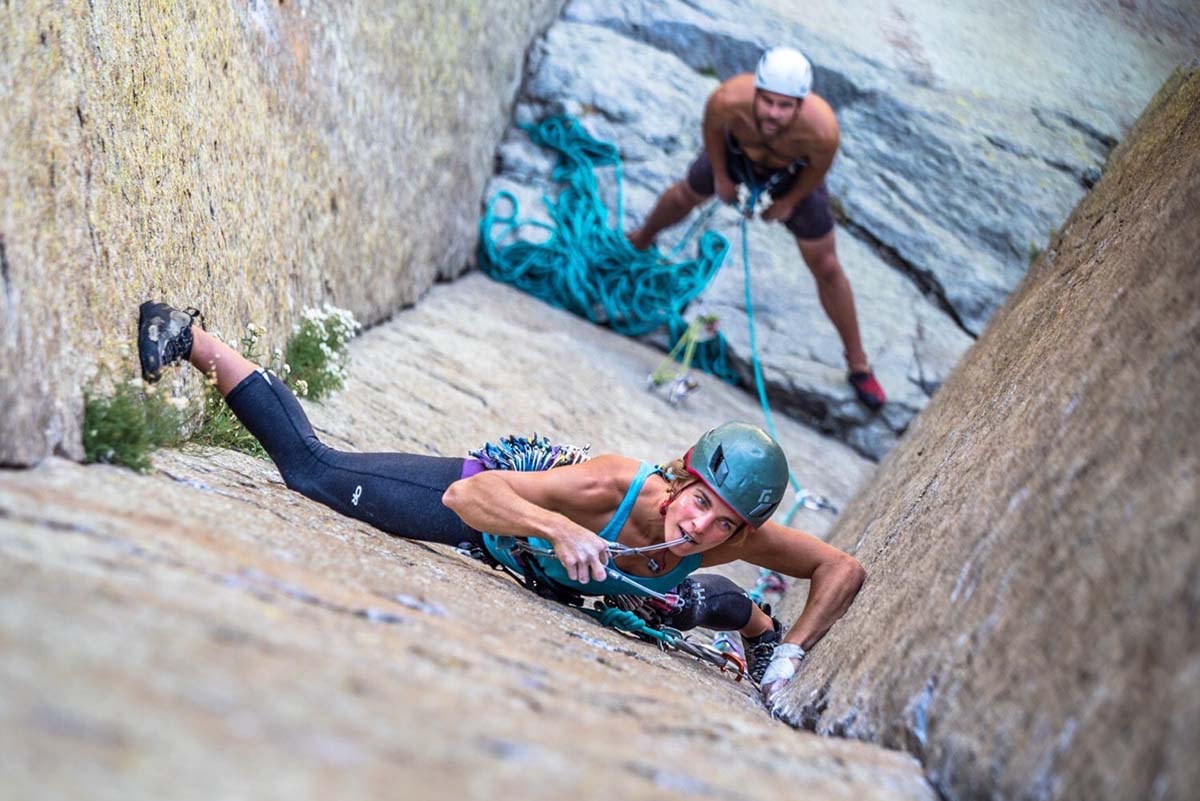 13. Alpine Draws
Quickdraws are great, but there are times (especially while trad climbing) when you'll need a longer draw to mitigate rope drag. An alpine draw—made up of two non-locking carabiners and a 24-inch sling (aka runner)—is the standard tool for the job. Dyneema (aka Dynex or Spectra) and nylon are the two most common materials used for slings, with Dyneema being lighter and more abrasion-resistant, and nylon being cheaper and more dynamic, but too bulky and heavy for most. We like the Mammut Contact slings paired with CAMP Photon Wire carabiners, although for all but the most selective climbers, virtually any pairing of Dyneema sling and lightweight carabiners will do the trick. And some brands, including Trango and Black Diamond, also sell packs of pre-made alpine draws that take the guesswork out of the equation.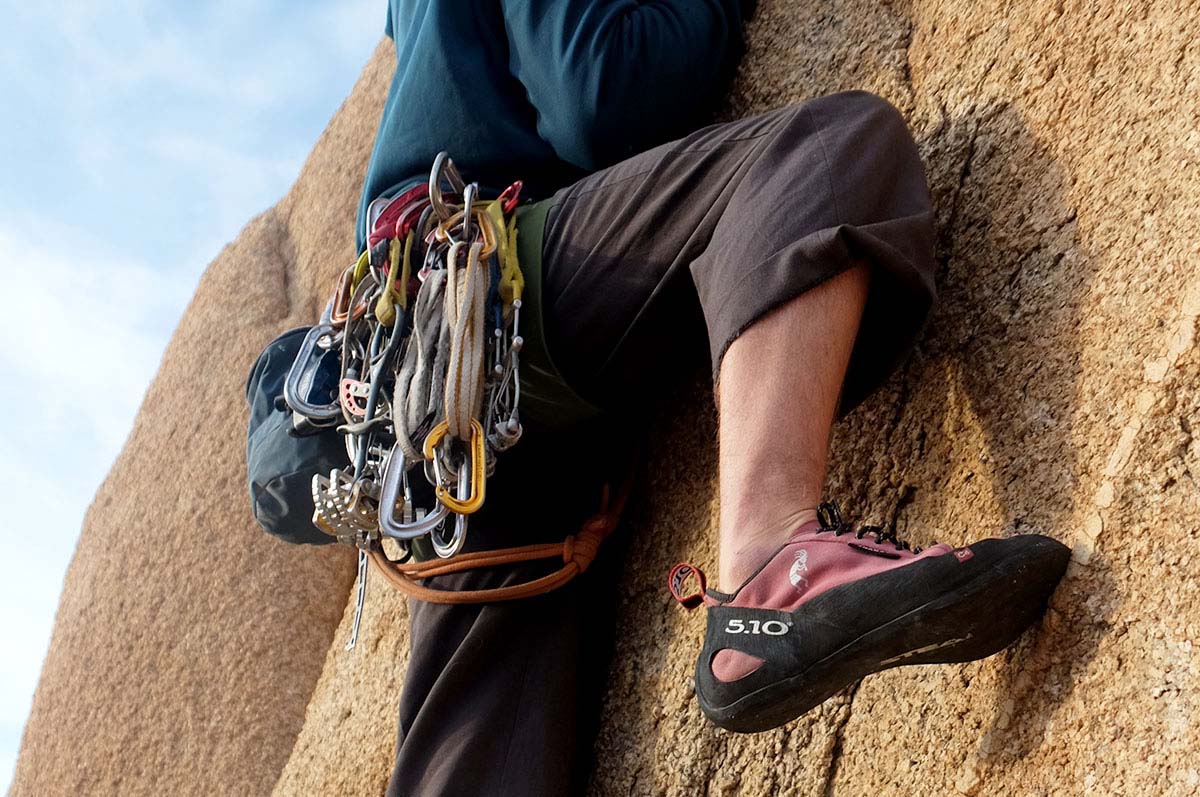 Optional Items
14. Follower Pack
On multi-pitch routes, there are times when you'll want to carry or haul a small backpack with water, layers, and snacks. Follower packs range from about 18-30 liters, and are generally top-loading with a simple one-handed drawstring closure and external zipper pocket for easy access on the go. The REI Co-op Flash 18 is our top pick for an affordable and well-featured follower pack, but if you're looking for something burlier, check out the Patagonia Linked Pack or the Black Diamond Rock Blitz.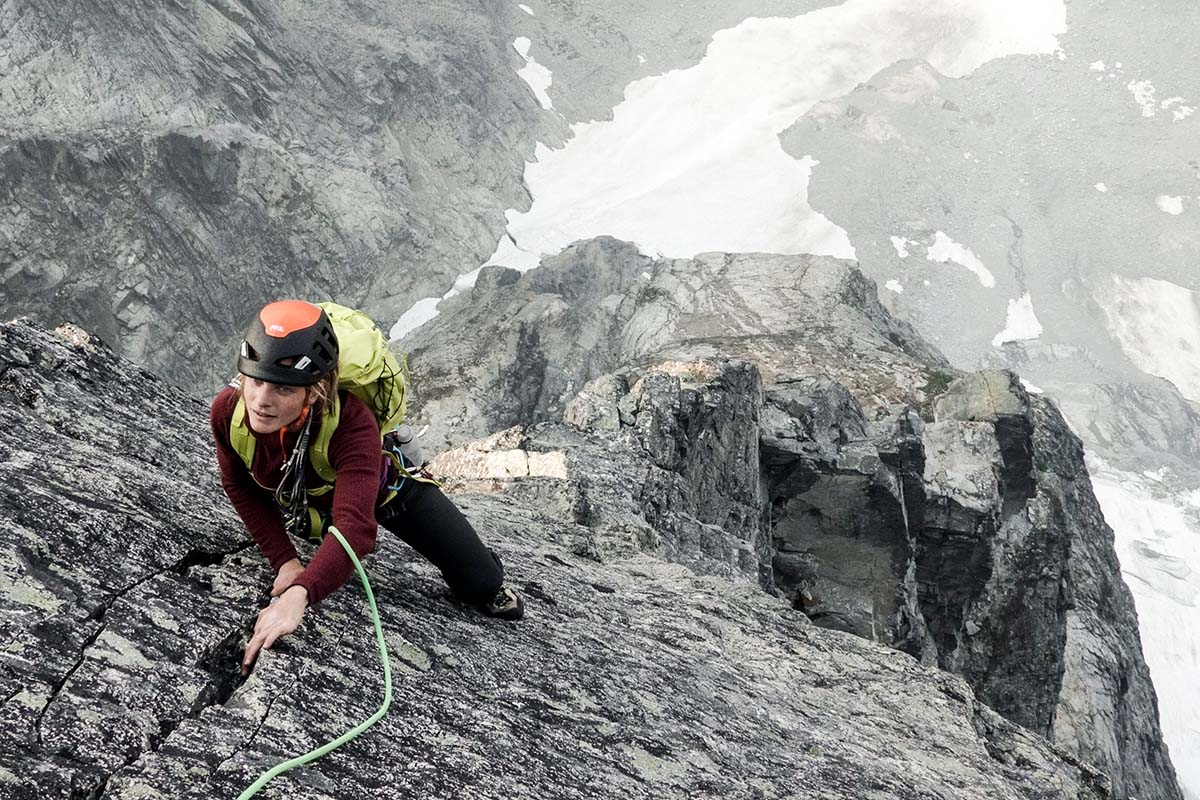 15. Personal Anchor System
Girth-hitched to the harness, a personal anchor system (or PAS) secures you to the anchor while belaying, rappelling, or cleaning a route. While not absolutely mandatory (a clove hitch into a locking carabiner does the trick, as does a simple—preferably nylon—sling), it's hard to argue with the convenience of a PAS. Each loop is full-strength (unlike a daisy chain), and you can securely clip in at multiple lengths. The Metolius PAS 22 is a time-tested classic, and many companies, including Black Diamond and Sterling, offer very similar versions.
 
16. Anchor Supplies
For single-pitch climbing, many climbers will top-rope off of quickdraws or alpine draws (opposite and opposed, of course) attached to a two-bolt anchor. If you want a beefier anchor or need supplies for multi-pitch anchors, we recommend long Dyneema slings (the 48-inch length will usually suffice for a two-piece anchor) and a few locking carabiners. Alternatively, cordelette is cheaper, and long strands work well for constructing three-piece trad anchors. Our preferred set-up is about 6 yards of the ultra-strong Sterling Powercord, though any 6-millimeter cord will do.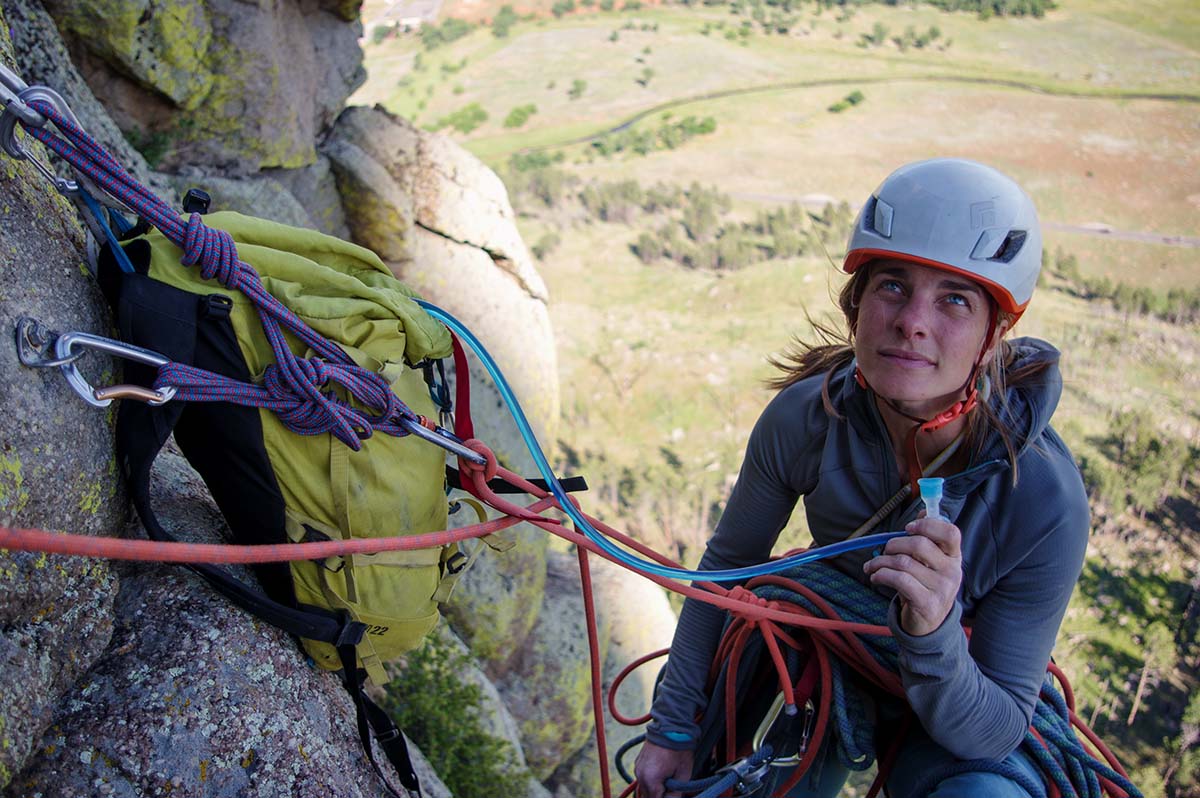 Extras and Personal Items 
Our list above covers the major essentials, but below we detail out more helpful items and tools to bring along with you to the crag (most of these are only relevant to outdoor climbing). And if you're getting into big wall stuff (think El Cap), there's even more to consider—like a portaledge, larger haul bag, and aid gear, for starters.
Climbing tape for hands and fingers
Brush for cleaning holds
Stick clip (to clip the first bolt)
Belay glasses
Belay gloves
Extra locking carabiners
Autoblock (used when rappelling)
Crack gloves (better protection than tape)
Headlamp
Walkie talkies (we love Rocky Talkies for multi-pitch routes) 
Hand salve
Route description, topo, or guide book
Other standard essentials such as food, water, and extra layers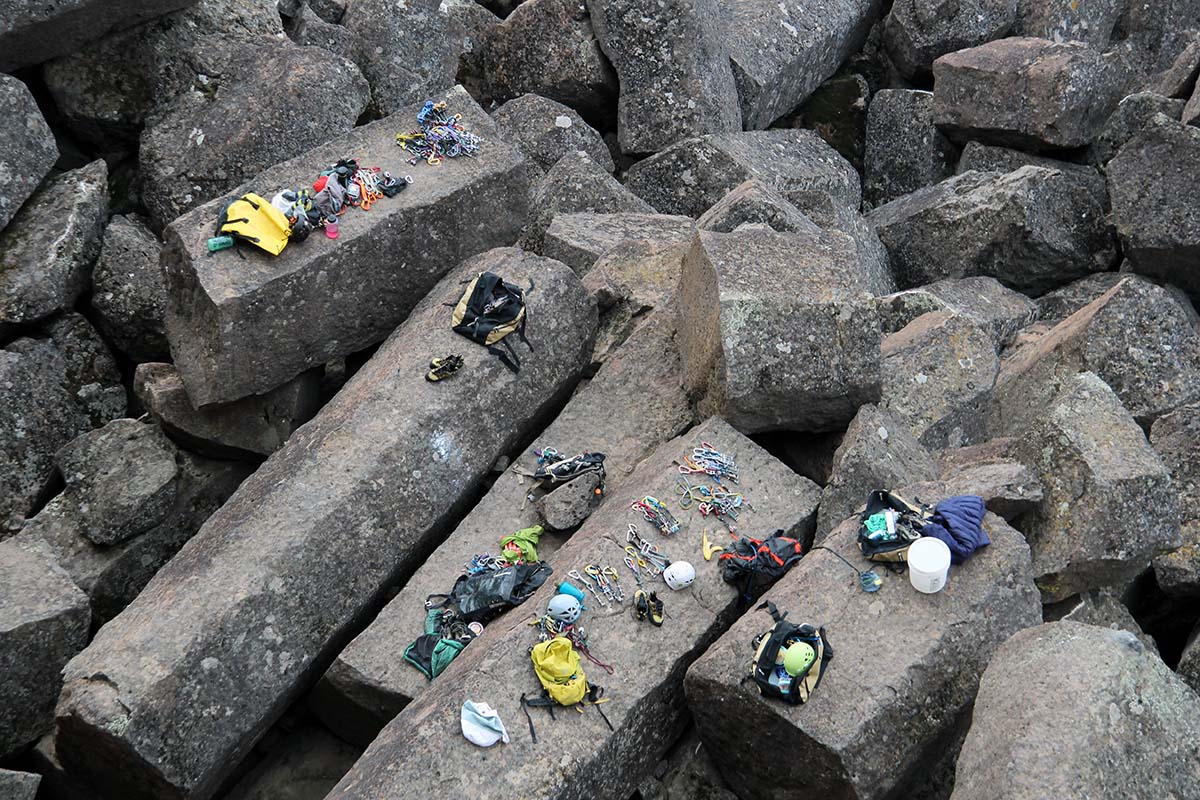 Where to Buy Climbing Gear
Climbing gear can be an intimidating world of numbers, safety ratings, and gear jargon. If you're just getting started, talking to a real person is often invaluable, and there's nowhere better to do that than your local climbing or gear shop. It's also always a great idea to try things on—like shoes, harnesses, and backpacks—to make sure they fit properly and suit your needs. Perhaps our Seattle roots make us biased, but we also love REI Co-op. They have a wide selection of gear, offer a generous return policy (although it prohibits the return of certain types of climbing gear), and the staff are generally knowledgeable and helpful. If you prefer to shop from home, REI also offers free shipping with a $50 purchase from their website. On the subject of online shopping, Backcountry.com provides free standard shipping on orders over $50 as well and offers a solid selection of climbing gear and a few can't-miss annual sales. And finally, if you need your gear in a hurry or just want to lump it into another purchase, there's always Amazon.com.
Back to Our Rock Climbing Checklist  See Our Climbing Gear Reviews
Learn More About Climbing