Ask any hiker or backpacker on the trail and they'll likely tell you that the key to success—i.e., staying comfortable mile after mile—is a good pair of hiking footwear. From well-established brands like Salomon and Merrell with diverse collections to up-and-comers like HOKA and Arc'teryx, the picks below represent the most well-known and respected players in the world of hiking shoes and boots. Our write-ups break down the brands individually, including a brief history and background, each company's most popular models, and what sets them apart from the competition. For more information and our top picks in each category, see our hiking gear reviews. 
Location: Annecy, France
Popular products: X Ultra 4, Quest 4, and Outpulse
What we like: Wide-ranging collection of high-quality, well-built shoes and boots.
What we don't: No heavyweight leather models for truly technical mountain pursuits.
French brand Salomon has been a leader in footwear innovation for years, and their current lineup is about as well executed and well rounded as it gets. Their X Ultra series, in particular, has topped our hiking shoe and boot round-ups for multiple seasons for its impressive all-around performance in a light and agile package. We've put the latest iterations of the X Ultra 4 to the test (both women's and men's low-tops and mid-height boots) and found that much of the winning recipe remains, with a near-ideal mix of weight, comfort, and on-trail capabilities. And importantly, that combination isn't specific to the X Ultra line—much of Salomon's collection strikes a similarly impressive balance.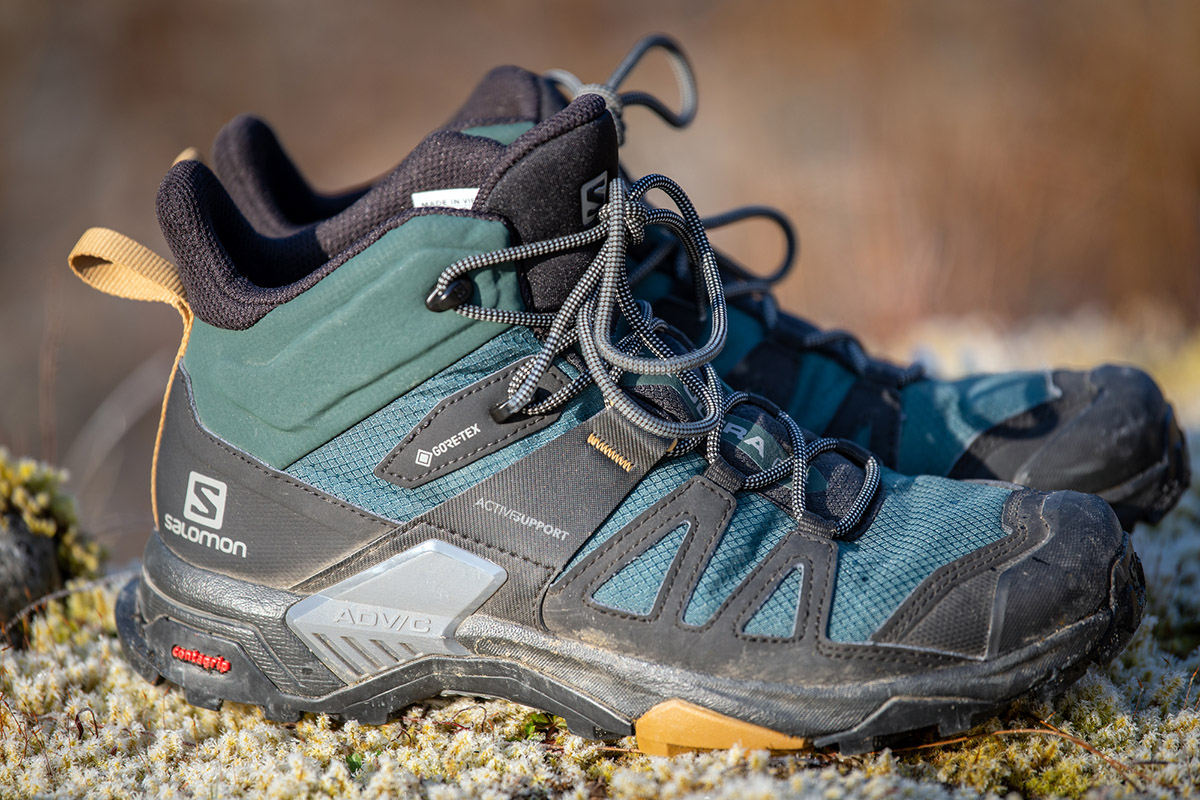 In addition to the legendary X Ultra, Salomon's footwear selection covers nearly the whole gamut, from running-inspired, fast-and-light designs like the Outpulse to burlier, backpacking-ready options like the Quest 4 GTX (see our in-depth review). One feature shared across a good number of shoes (including the low version of the X Ultra 4) is their unique QuickLace system, which makes it easy to get an even cinch around your foot with a single pull of the cord. In general, we've found that traditional lacing designs allow you to customize fit a bit better, but many hikers appreciate the convenience and lack of excess material. It's worth noting that Salomon is more of a running specialist and doesn't offer any true heavyweight leather boots (if that's what you're after, check out LOWA and Asolo below), but their collection is very complete and well made overall.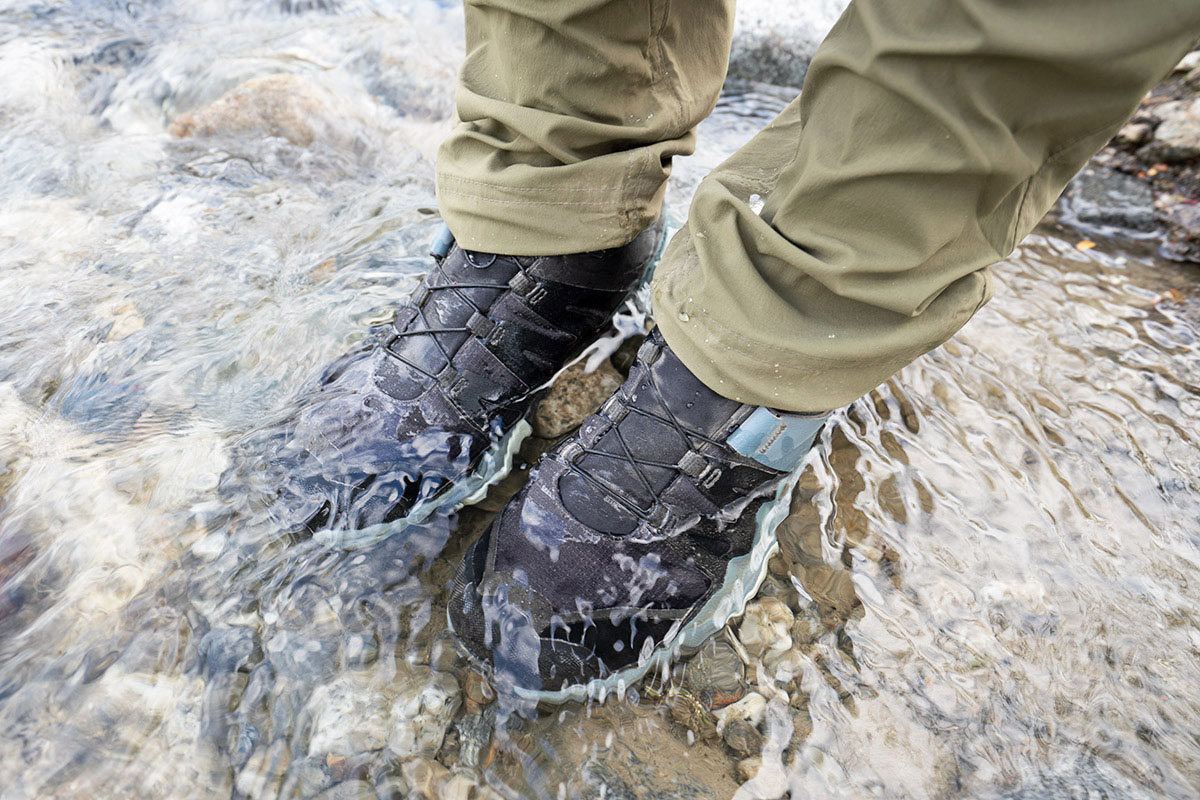 Location: Rockford, Michigan
Popular products: Moab and MQM
What we like: Comfort-focused brand with a loyal following among casual hikers and backpackers.
What we don't: Less of an innovator than Salomon.
Founded in 1981 by two former Rossignol ski executives, Merrell has become practically synonymous with hiking over the years. It certainly speaks volumes that you're likely to spot multiple pairs of Merrells on any given trail, and one of the most ubiquitous designs is their flagship Moab 3. Offered in a wide variety of styles and colorways, the Moab is highly comfortable, has a light but planted feel, and comes in at a very reasonable $110 for the low-top, non-waterproof model (the waterproof boot is also a great value at $145). In fact, the Moab is many backpackers' first pair of dedicated hiking shoes—this editor included.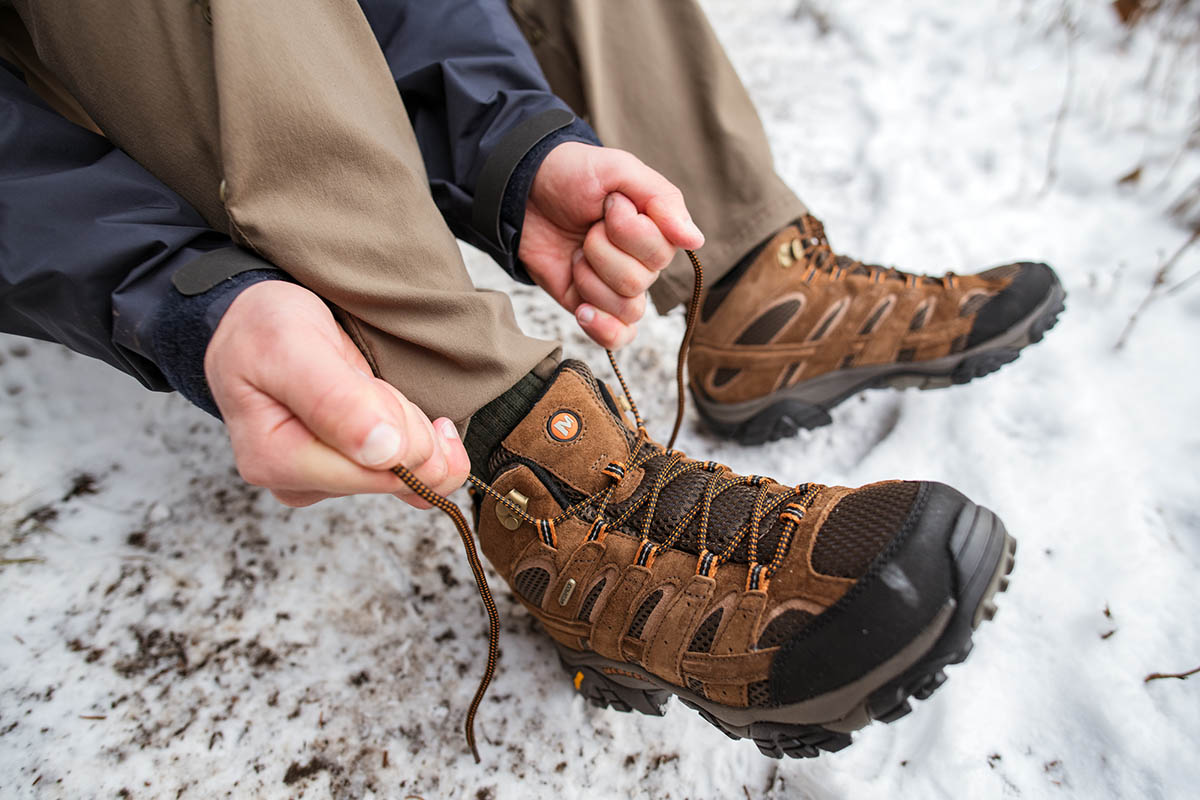 In addition to the legendary Moab collection, Merrell's MQM series is another favorite of ours for fast-and-light missions (the low-top Gore-Tex version weighs just 1 lb. 7 oz. per pair). And apart from hiking footwear, Merrell also has a comprehensive selection of outdoor-ready sandals and work boots (their Hydro Moc water shoes are especially popular for trails that involve frequent water crossings). All told, Merrell isn't as much at the forefront of innovation as Salomon, but they're a comfort-focused brand with good prices and a committed following among day hikers and casual backpackers.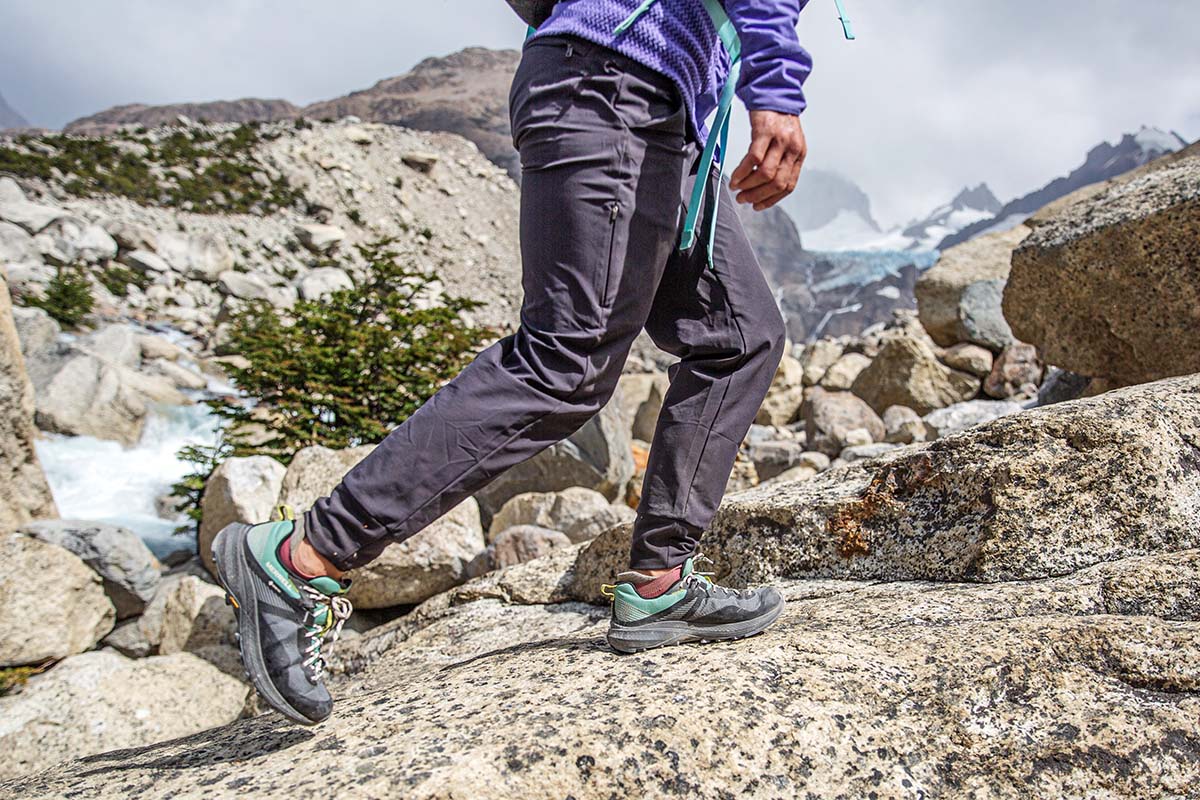 Location: Portland, Oregon
Popular products: Targhee, Durand, and Ridge Flex
What we like: A classic hiking brand with a focus on social and environmental stewardship.
What we don't: Wide toe boxes can feel sloppy in technical terrain; not a leader in the fast-and-light category.
Oregon-based KEEN originally only sold sandals, which still comprise a sizable chunk of their lineup, but their hiking collection is undeniably high-quality and well rounded. First introduced in 2005, the Targhee is their signature hiker and has been popular for years for its great out-of-the-box comfort, tough build, and sufficient stability for day hiking and easy to moderate backpacking trips. Further, the wide range of styles and colorways means that most hikers will be able to find a good match, from low-top variations to the classic high-cut boots (available in both waterproof and non-waterproof options), kids' models, and a number of sandal designs.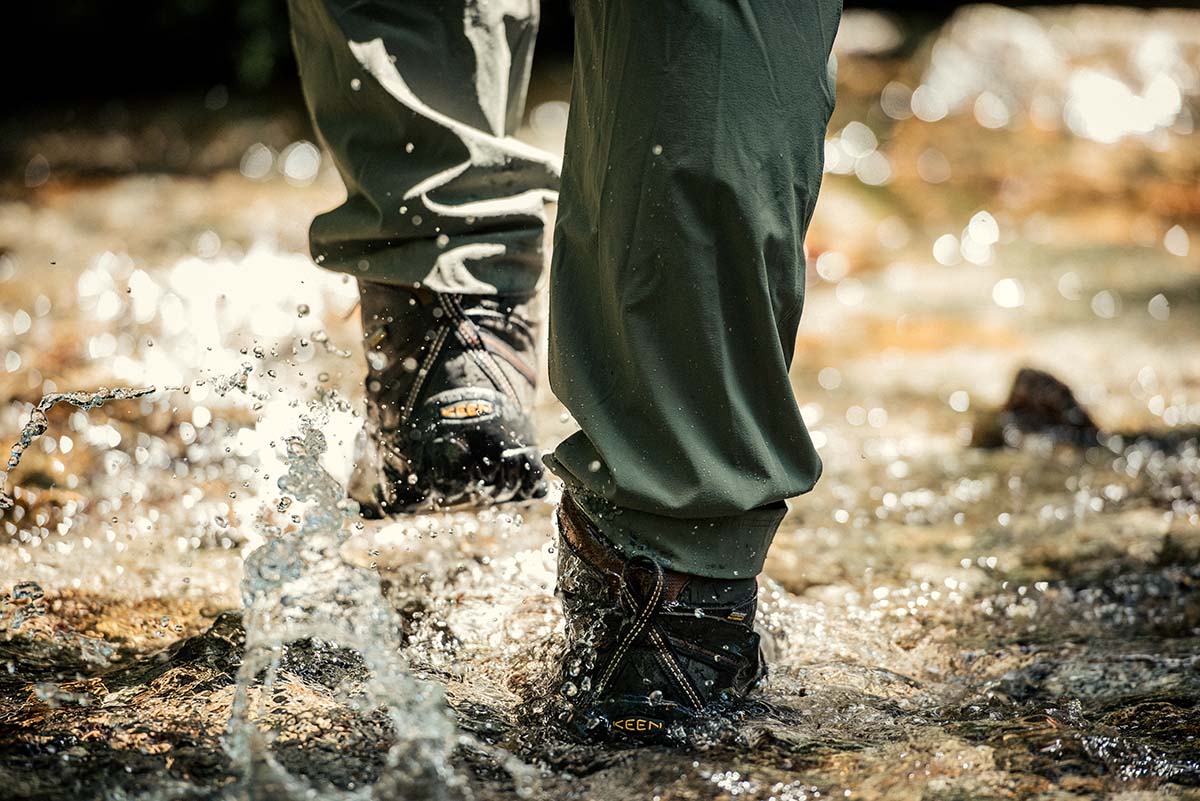 However, it's important to note that many KEEN boots (including the Targhee) have a unique fit, including more space in the toe box for long-distance comfort when feet tend to swell. The tradeoff is less of a performance feel, and fast-and-light hikers will likely prefer nimbler and more modern options from trail running brands like Altra or HOKA below. But KEEN is popular among the day hiking and weekend backpacking crowds, with quality mid-range offerings that last a while and won't break the bank. And it's worth noting that KEEN is one of the most environmentally and socially conscious brands on our list: They've effectively eliminated harmful PFCs from most of their supply chain, regularly donate to help communities impacted by natural disasters, and have a grant program dedicated to making the outdoors more accessible to underserved communities.
Location: Bozeman, Montana
Popular products: Sawtooth, Bridger, and Sypes
What we like: Comfort-focused and supportive designs.
What we don't: More of a traditional look and feel than many modern competitors.
Bozeman, Montana-based Oboz is known for their tough, supportive, and comfort-first footwear. We especially like their proprietary O Fit insole, which comes included in many of their designs and provides more of a custom fit out of the box with a medium-height arch and cupped heel (similar insoles are typically sold separately). Further, many will appreciate the handy shoe finder on their website, which allows you to select your expected terrain, shoe height, material and waterproofing preferences, foot shape, and more to determine the right fit for you. And like KEEN above, Oboz shares a clear focus on sustainability and environmental stewardship, including planting a tree for every pair of shoes sold and powering their office via wind, solar, and biomass.
Throughout testing, however, we've found that some of Oboz's designs have more of a traditional feel than much of the modern competition. In particular, we found the Sawtooth and Bridger to feel noticeably slow and cumbersome underfoot despite fairly average weights. That said, some of their more recent releases have bucked that trend, including the new-for-2023 Katabatic, which checks at a competitive 1 pound 9.4 ounces for the non-waterproof, low-top version and bears a strong resemblance to Salomon's Outpulse mentioned above (which is a good thing). Many will also like their casual options that cross over well for light hiking (including the Sypes Low and Mid), as well as the handful of quality winter-ready designs (the Bridger Insulated is a favorite of ours). In the end, thru-hikers and those focused on traveling light will be better served elsewhere, but Oboz remains a classic and well-respected brand for hikers who prefer a lot of support and cushion.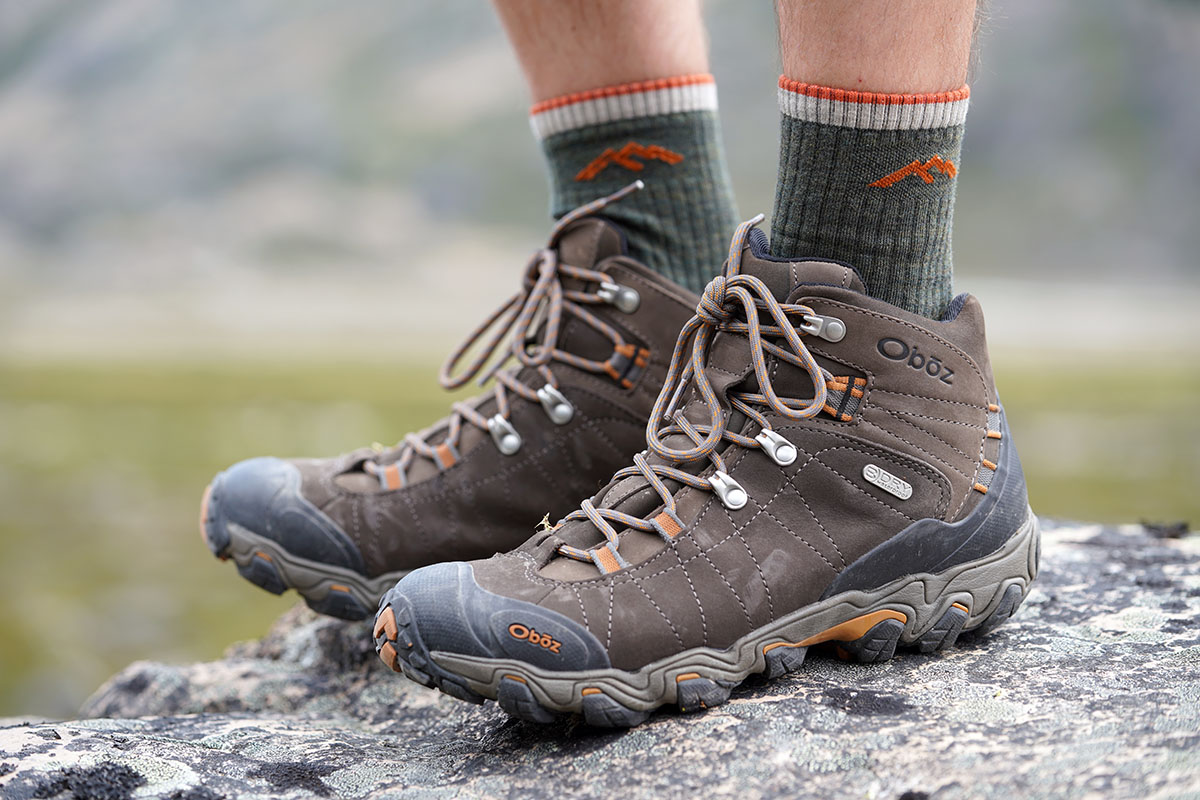 Location: Ziano di Fiemme, Italy
Popular products: TX4, Ultra Raptor II, and Nucleo
What we like: Performance-focused footwear for technical mountain pursuits.
What we don't: Known to have a narrow fit, although that's shifting.
Italian brand La Sportiva is a climbing and mountaineering company first, beloved by many for their high-performance and long-lasting designs. In fact, eight of the 18 picks in our climbing shoe round-up and seven of the 17 in our mountaineering boot round-up are Sportiva models, which speaks volumes about their top-notch craftsmanship and technical expertise. However, that know-how has transferred over nicely to the more casual hiking and backpacking realms, including their Wildcat trail runner, which was one of the brand's early breakthroughs in the hiking world and quickly became a staple among thru-hikers (despite its intentions, it's less of a standout for trail running).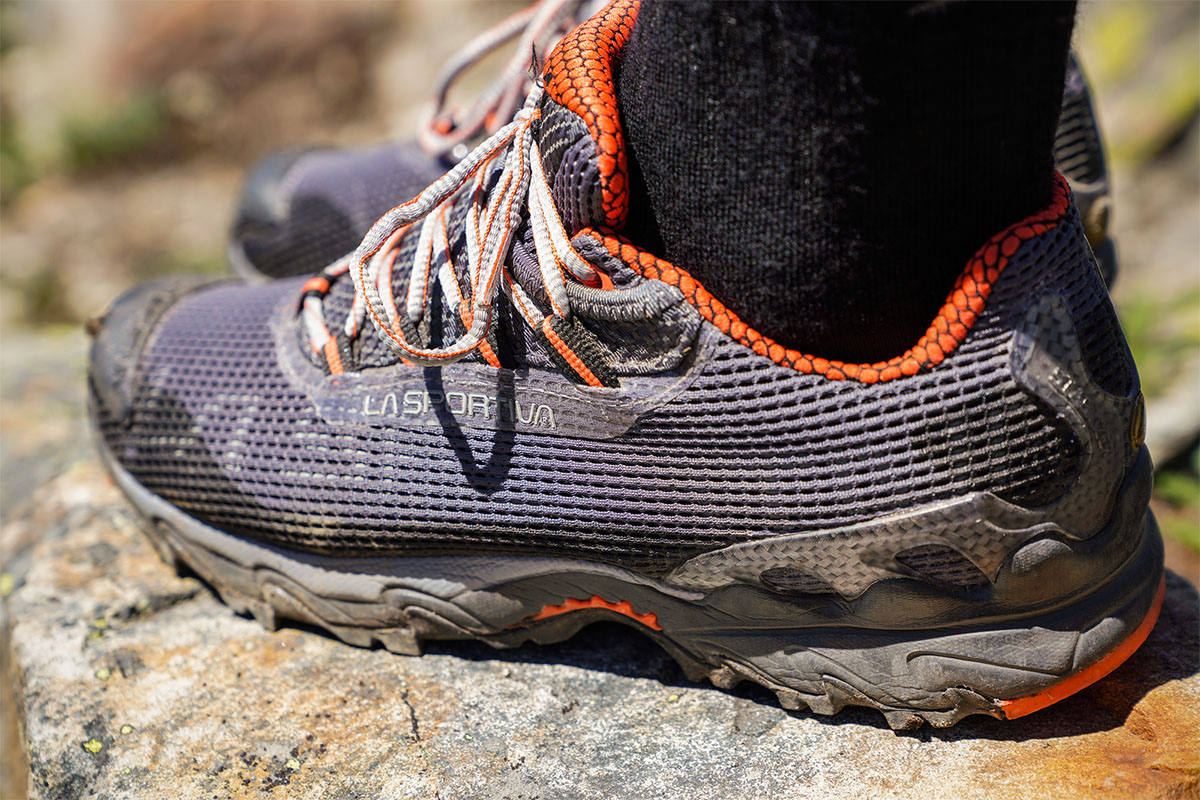 One of our consistent favorites within La Sportiva's collection is the TX4. Technically an approach shoe, the TX4 is incredibly grippy and an excellent scrambler but still comfortable and flexible enough for long days on the trail. The rest of the TX series is equally impressive, from the lightweight TX2 Evo to the mid-height TX Hike. Traditionally, many of La Sportiva's shoes fit decidedly on the narrow side, but there have been a handful of exceptions (including the TX collection, Spire, and Wildcat), and the brand began introducing dedicated wide sizes in 2021. Backpackers should also check out their light Ultra Raptor II Mid GTX and Nucleo High II GTX boots, both of which punch well above their weight in terms of performance.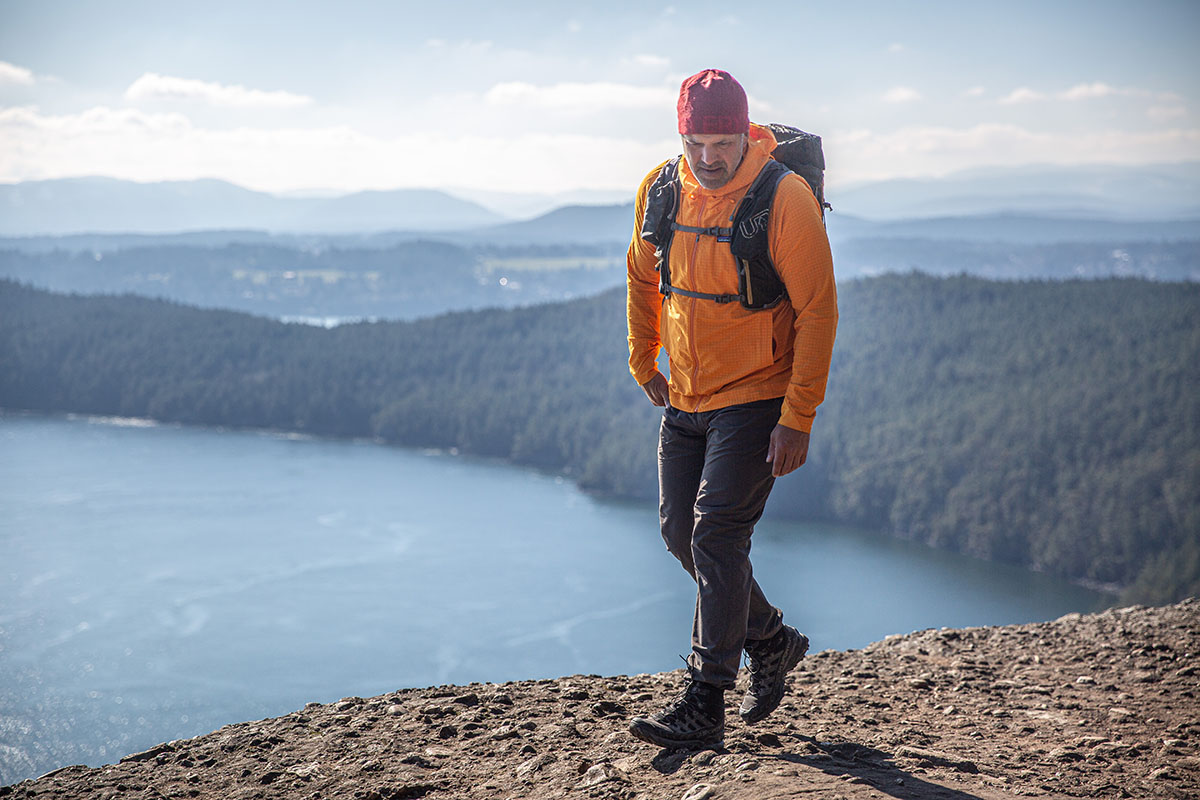 Location: Jetzendorf, Germany
Popular product: Renegade
What we like: A classic mountain brand with a rich history in alpine exploration.
What we don't: Their hiking and backpacking collection is relatively small and rarely changes.
LOWA's history dates back to the early 1920s, where their boots were originally handcrafted in a cobbler's shop in a small village in southeastern Germany (their facilities have expanded considerably, but their headquarters remains in the same town to this day). By 1930, they began developing alpine and lace-up ski boots for the mountain infantry, which lasted until the end of World War II. In the decades following, LOWA transitioned back to consumer production and secured themselves as a staple in the ski and mountaineering industries, pioneering PU injection molding and a number of product innovations that set manufacturing standards for years to come. 
It's hard to talk about LOWA without highlighting their flagship Renegade, which was first introduced in 1997 and remains one of the most popular midweight boots on the market. In short, it has the look and feel of a traditional leather hiker at an impressively low weight (2 lbs. 7 oz. for the mid-height Gore-Tex model). And as with many options in their lineup, the Renegade is offered in a variety of color and sizing options, including narrow, regular, and wide widths, which makes it easy to dial in fit. However, apart from the Renegade, LOWA doesn't have many options for casual backpackers and hikers, and they continue to focus most of their expertise in the more technical mountaineering and ice climbing realms. They also have a healthy selection of tactical designs and cold-weather boots, including insulated variations of the Renegade.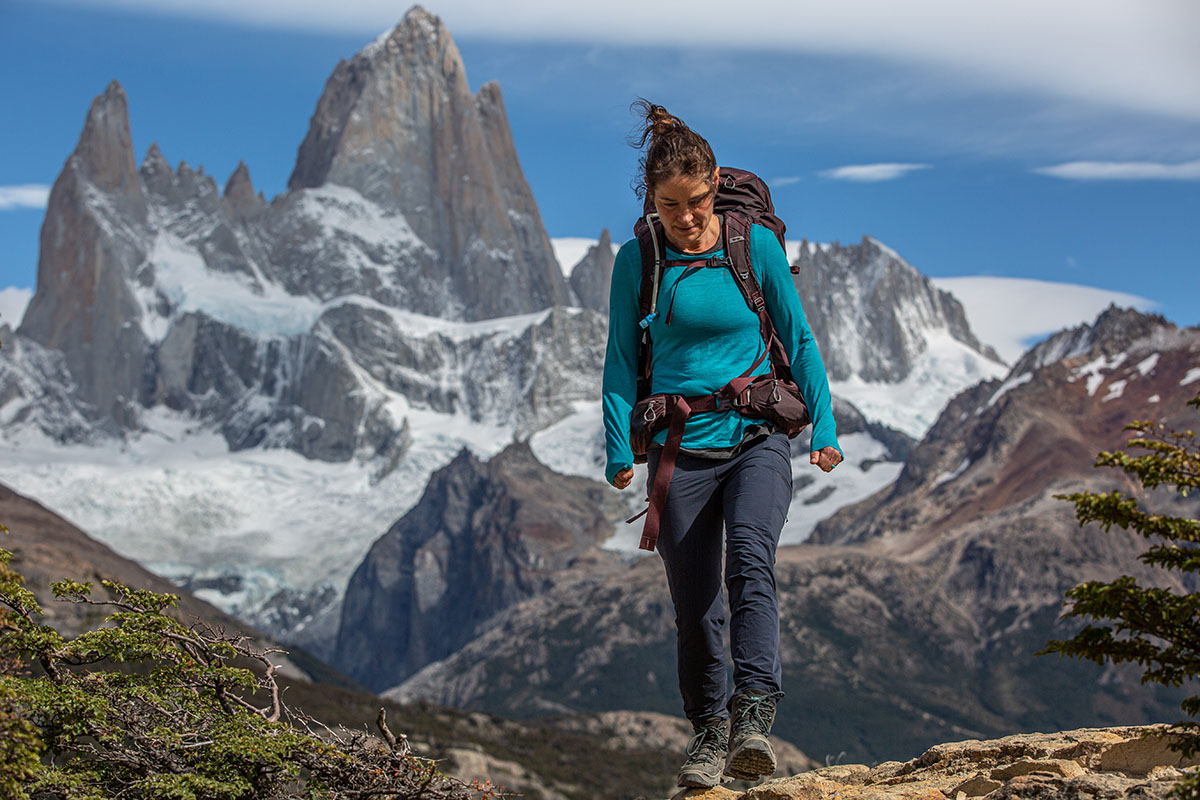 Location: Asolo, Italy
Popular products: Zodiac Plus, Rush, and Maverick
What we like: Another Italian mountain specialist with a handful of high-performance backpacking options.
What we don't: Most of their designs are overkill on moderate and maintained trails.
Like La Sportiva above, Scarpa is a climbing company at its core, and they also excel in the skiing and mountaineering markets. But the Italian brand's hiking and trail running collections are nothing to scoff at. We were particularly impressed by their Zodiac Plus GTX, which we took on a demanding trip to Peru's Cordillera Huayhuash that involved a lot of off-trail scrambling with a heavy pack. In practice, it was an excellent tool for the job, with approach shoe-like grip, confidence-inspiring protection, and toughness and stability on par with a lightweight mountaineering boot—all at a reasonable 2 pounds 6.4 ounces (for more, see our Zodiac Plus review).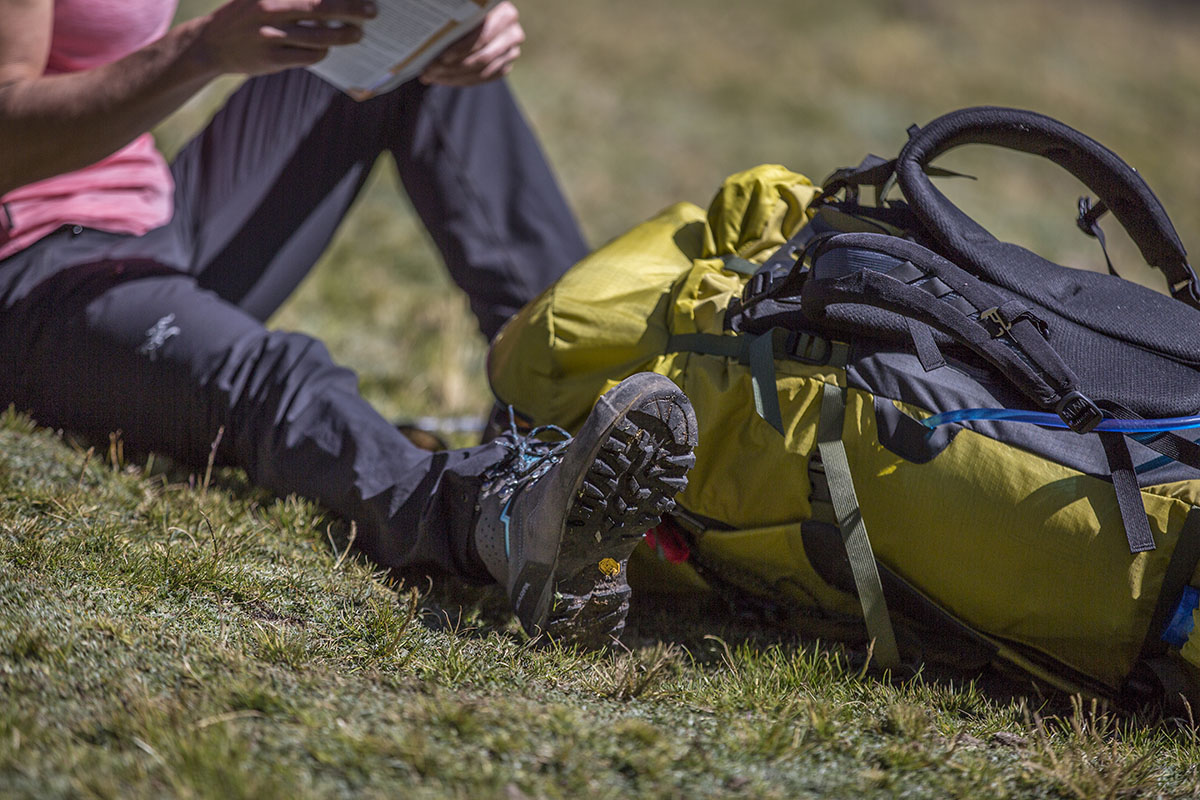 All that said, most of Scarpa's hiking and trekking designs (including the Zodiac) are decidedly overkill on moderate and maintained trails. They have recently made a push toward lighter-weight and more versatile options with the introduction of their Maverick, Rush, and Mojito collections, but casual recreationalists can find a much wider range of options from brands like Salomon, Merrell, and Oboz above (many of which are cheaper than Scarpa models). But if your adventures often include technical routes high in the mountains, Scarpa has a strong reputation among mountain athletes for their distinctive and exceptional Italian styling and craftsmanship.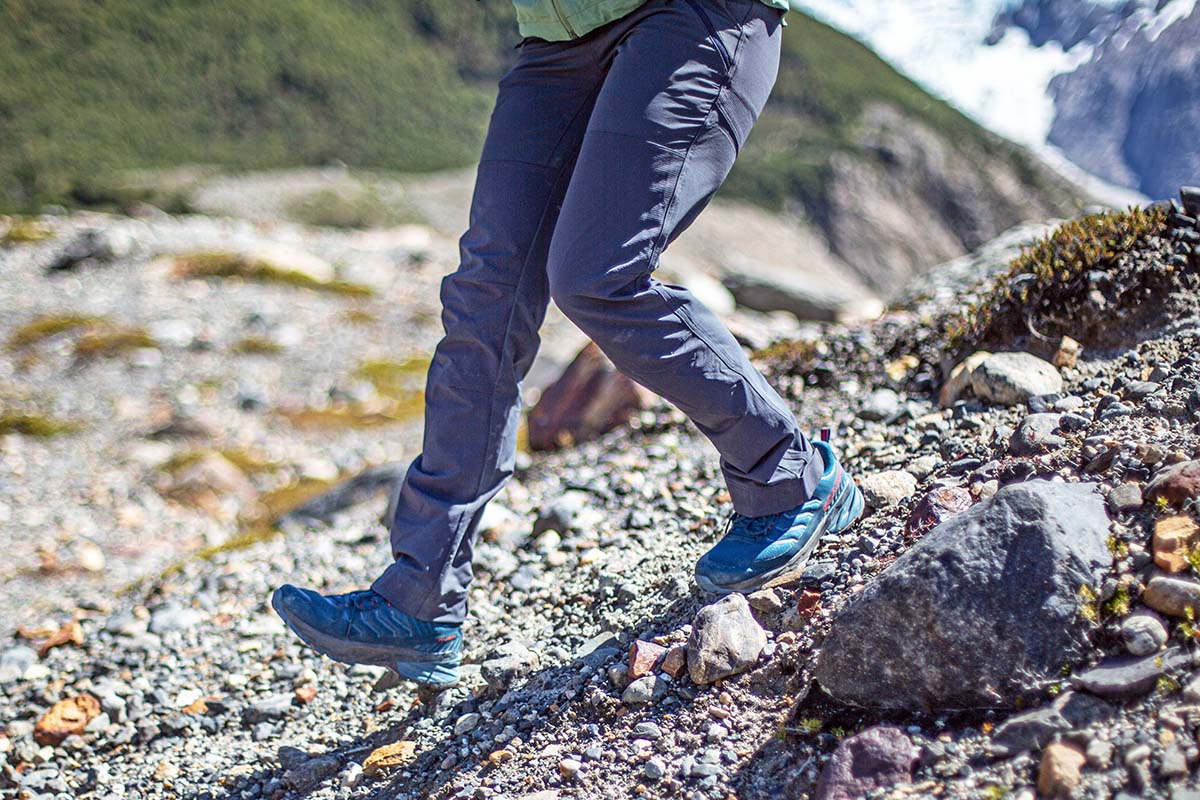 Location: North Vancouver, Canada
Popular products: Aerios FL, Acrux TR, and Konseal
What we like: Tough, innovative, and highly capable designs.
What we don't: Pricey and fairly limited selection.
Arc'teryx is fairly new to the world of hiking shoes and boots, but they've wasted no time in assembling a solid lineup of premium designs. As with most Arc'teryx gear we've tested, their footwear is well made and highly capable on technical terrain, which isn't surprising given their roots in Canada's rugged Coast Mountains. We especially like their Aerios FL, which is feathery light at just 1 pound 8 ounces per pair (for the low version), waterproof with a Gore-Tex membrane, and tough and protective enough for rocky and rooty trails and off-trail scrambling. We did find it hard to achieve a consistent and secure fit while testing the mid-height model due to the basic webbing-based lacing system (most competitors use eyelets and/or locking hooks), but the balance of all-day comfort and agility is hard to beat.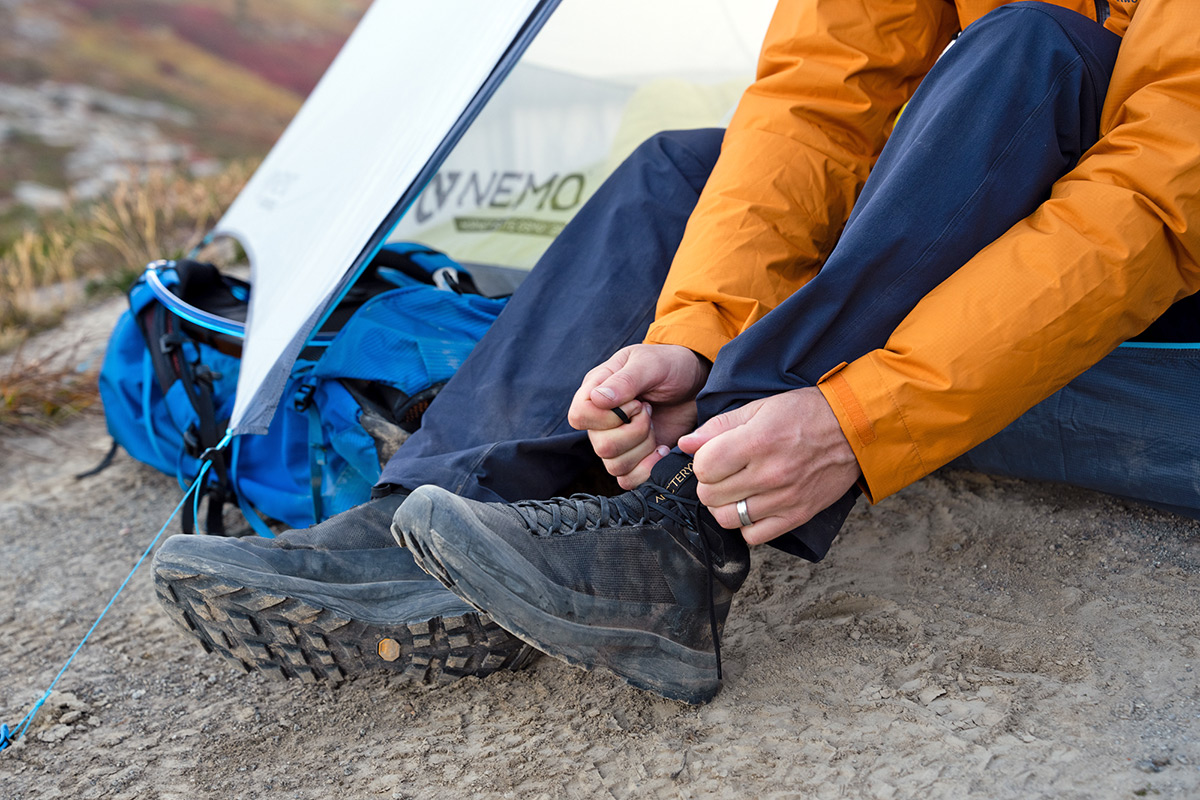 In addition to the hiking-focused Aerios line, Arc'teryx also offers the backpacking-ready and more technical Acrux, the Norvan trail running collection, and Konseal approach shoes. As we've come to expect from Arc'teryx, all shoes and boots are fairly pricey compared to the competition. And considering their newness to the market, the lineup is relatively limited compared to well-established competitors like Salomon, Merrell, and KEEN. But from a performance standpoint, Arc'teryx is doing an exceptional job so far, and we're excited to continue following their growth.
Location: Denver, Colorado
Popular products: Lone Peak and Olympus Hike
What we like: Balanced Cushioning designs are meant to mimic the natural position of your foot.
What we don't: Only one true hiking option.
Altra is a trail running brand with a loyal following among thru-hikers tackling long trails like the AT and PCT. The allure is clear: Weight adds up quickly during full days of hiking, so many long-distance trekkers turn to ultralight and flexible trail runners to keep them comfortable. Most backpackers carrying heavier packs will likely prefer the added cushioning and support of dedicated hiking shoes or boots, but thru-hikers typically have their gear and systems dialed to minimize heft and maximize mileage.
Altra's flagship trail runner is their Lone Peak, which is also offered in a mid-height version that adds over-the-ankle coverage but retains the light and agile feel of the low-top model, as well as an all-weather option that sports a waterproof eVent bootie for sealing out moisture. What all variations have in common is the brand's signature zero-drop shape (they now call it Balanced Cushioning), which is designed to mimic the natural position of your foot by situating the heel and forefoot the same distance from the ground. And many models, including the Lone Peak and newer Olympus, also feature a wide toe box, which gives your toes room to splay out. Unfortunately, this specialization means that Altra's hiking options are limited, but the Lone Peak and Olympus are notable enough for us to include them here.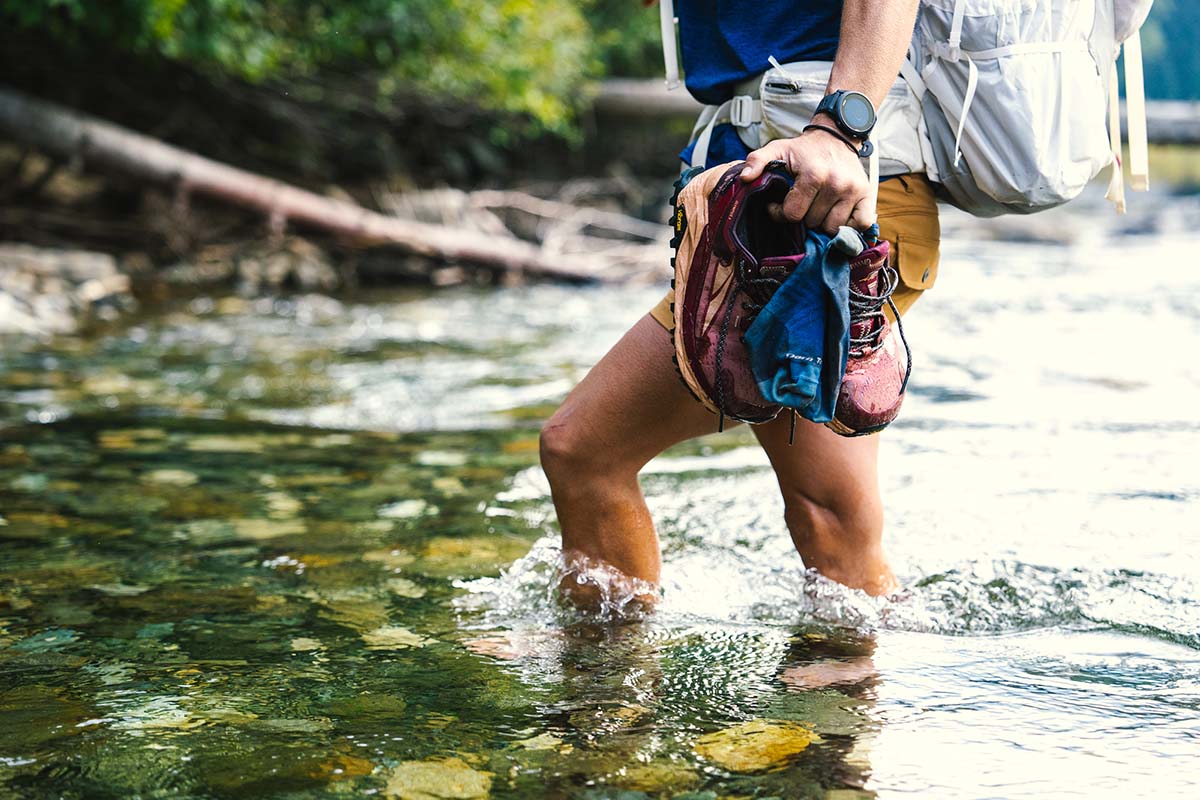 Location: Red Wing, Minnesota
Popular products: Breeze, Talus, St. Elias
What we like: The Breeze collection is a standout in the midweight market.
What we don't: Not a very extensive or innovative collection overall.
William Sweasy founded Vasque—part of the larger Red Wing Shoe Company—in the mid-1960s after witnessing a hiking craze sweeping across Europe. With a vision to inspire more Americans to spend time outside, the company has since evolved into a fairly ubiquitous footwear brand with options that range from hardcore backpacking boots to casual and around-town shoes that can still pull double duty for light trail use. Finally, we appreciate that Vasque continues to make strides on the sustainability front, including incorporating their new Nature-Tex waterproof membrane—which is made with 50% recycled content—into many of their recent designs (look for the "NTX" designation).
The majority of Vasque's collection trends toward the traditional end of the spectrum, with substantial leather uppers and stiff constructions, including the legendary and premium St. Elias GTX and midweight Breeze. They do sell a handful of lighter-weight and more modern options, including the Breeze LT NTX, although we had some considerable issues with the original version of that boot on the trail, including premature delamination just 15 miles into a backpacking trip (and the latest model has a similarly thin construction). It was admittedly a fairly demanding route, but that experience was enough to give us pause in recommending Vasque's fast-and-light options. In the end, the brand doesn't have a very extensive or innovative collection overall, but there are a couple standout offerings (including the aforementioned St. Elias) that make them worth including here.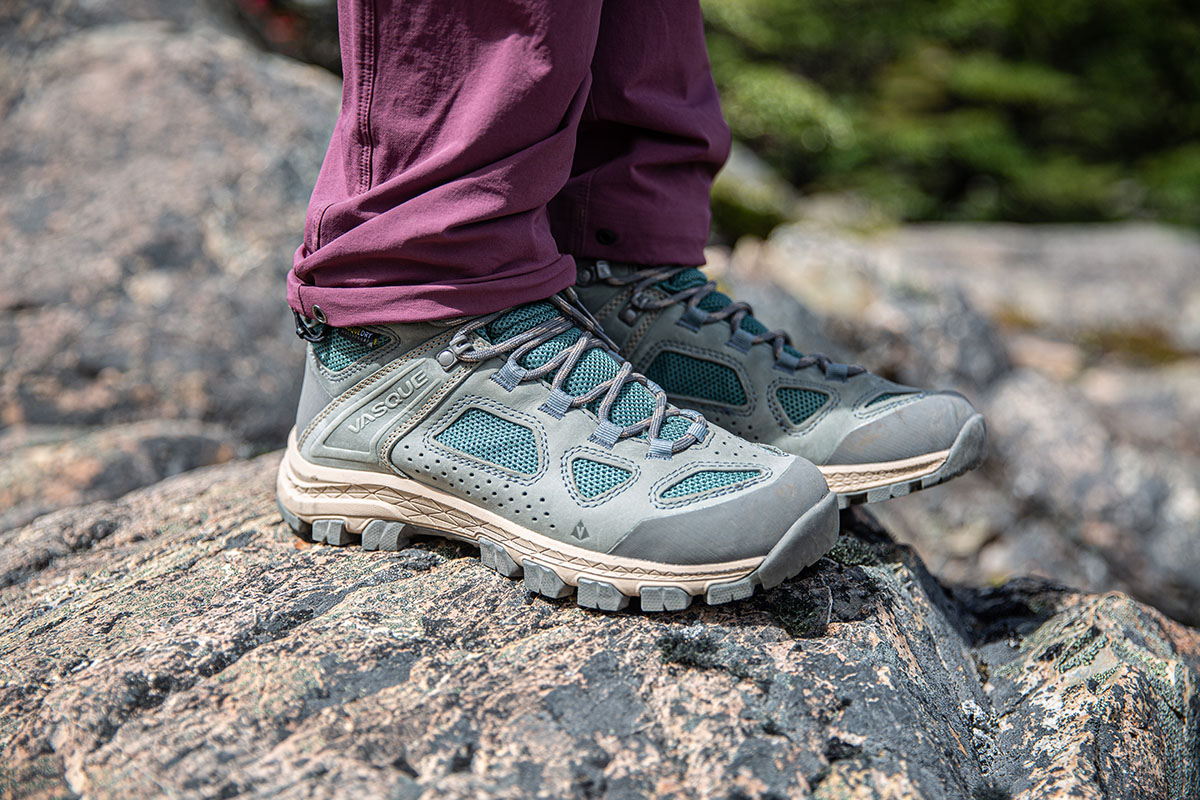 Location: Goleta, California
Popular products: Speedgoat, Anacapa, and Kaha
What we like: Comfort-focused designs with a lot of cushioning and flexibility.
What we don't: Polarizing looks, and not everyone loves the thick midsoles.
Known for their comfort-first, max-cushioned trail and road running shoes, HOKA is a relative newcomer to the hiking world. But we think they've taken that expertise and tailored it nicely to over-the-ankle designs built for moving quickly on easy to moderate trails. We had particularly positive experiences with their Anacapa Mid, which balances the smooth, well-cushioned ride that the brand is known for with a low weight, secure fit, and quality materials throughout. And their popular Speedgoat, which sits near the top of our trail running shoe round-up, is also available in a mid-height version for those who want to travel fast without sacrificing ankle protection.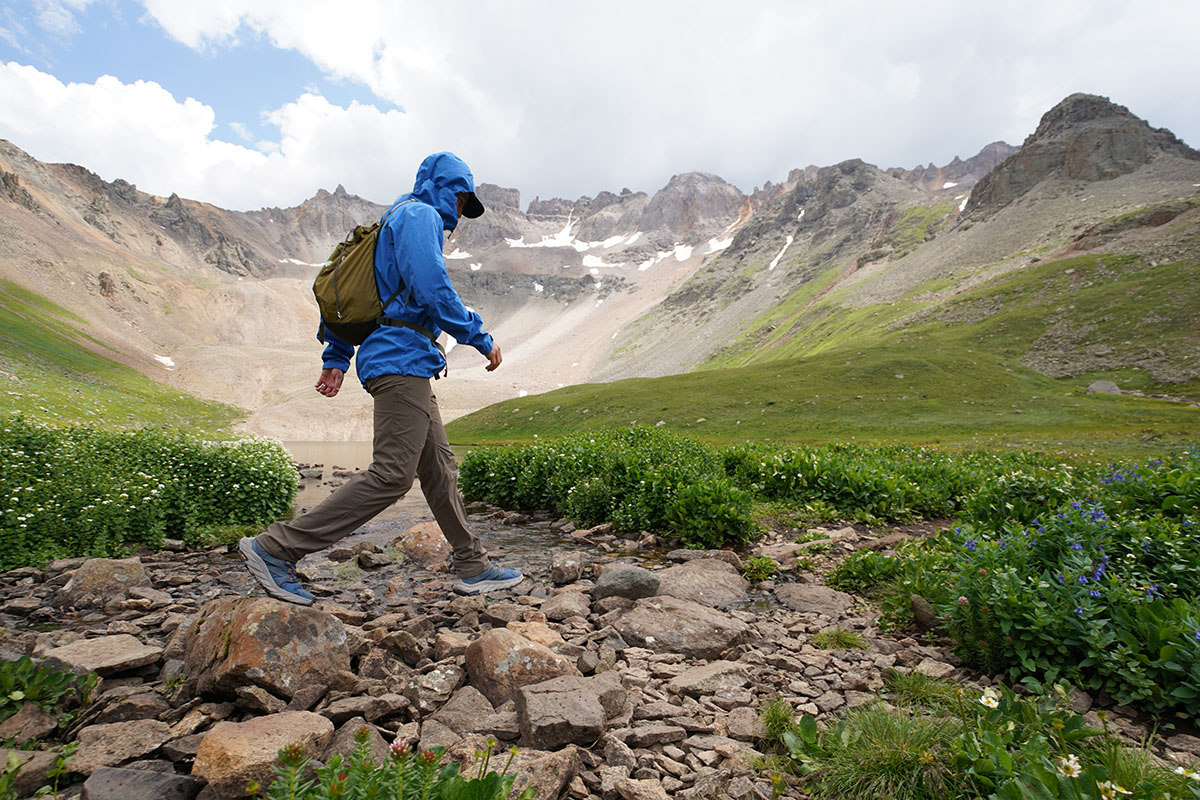 That said, none of HOKA's offerings provide the support, stiffness, or durability needed for navigating challenging terrain under the weight of a full pack. And while we do like the shoes' springy midsoles for comfort over long distances, the taller stack height does detract from overall trail feel. Finally, looks can be fairly polarizing, especially with HOKA's TenNine Hike models, which they accurately (and not ironically) describe as "part hovercraft." But for the right hiker, HOKA's shoes provide an excellent mix of comfort and weight. And if you're intrigued by HOKA's designs but aren't sold on the styling, running brand On recently jumped into the fray with their Cloudrock, Cloudtrax, and Cloudwander collections.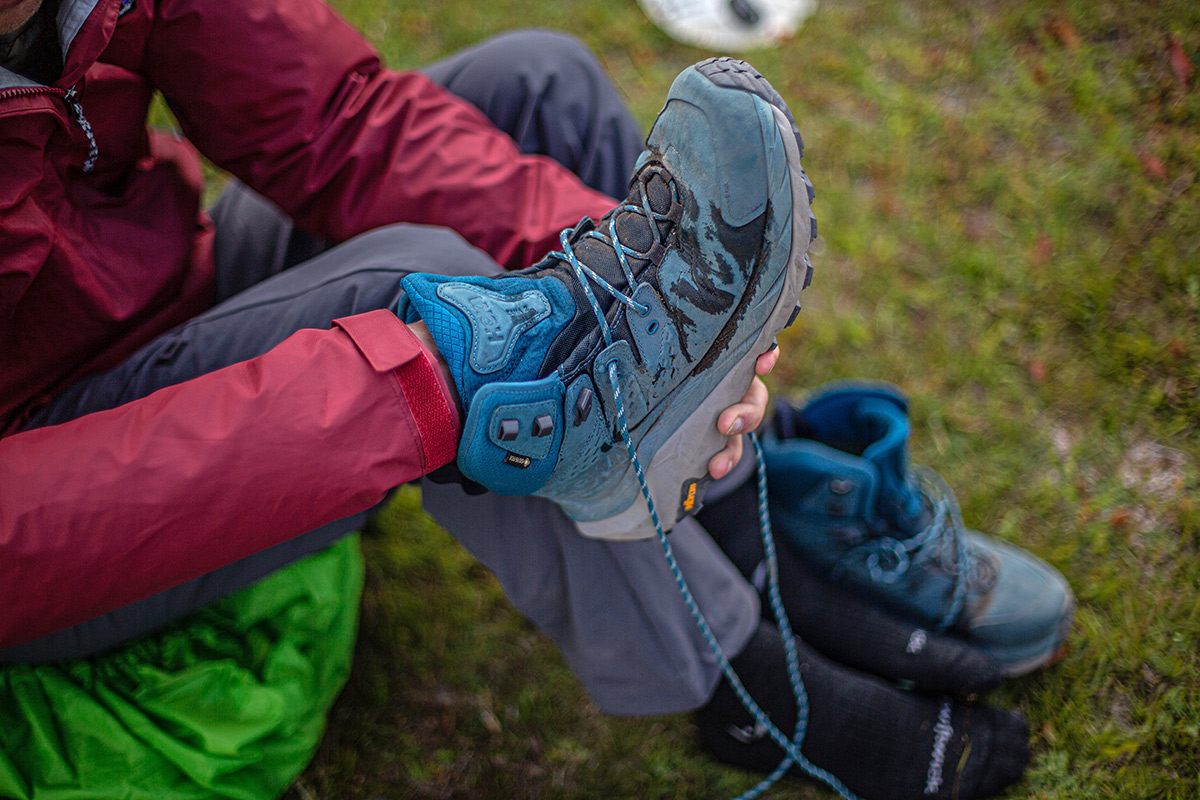 Location: Portland, Oregon
Popular products: Trail 2650 and Mountain 600
What we like: Classic looks and attractive mountain town styling.
What we don't: Many of their models are not ideal for high-mileage backpacking with a full load.
Originally designed for loggers, Portland-based Danner built their reputation with clunky leather models like the Mountain Light and remained at the fringe of the hiking scene for many years as a result. That said, they've recently begun to modernize their lineup, and we've been pleasantly surprised thus far. For example, their Trail 2650 and Mountain 600 series cross over well between moderate trail use and casual wear, with attractive styling and lightweight builds. Neither boot is ideal for demanding, high-mileage backpacking, but the classic looks and everyday versatility are enticing for many casual users.
One unique program that sets Danner apart is their "recrafting" service, which allows you to send your boots in for restitching, new soles, reconditioning of the leather, and more. This helps both with offsetting the initial cost (Danner's designs are fairly pricey), as well as limiting waste. Again, Danner boots trend more toward the casual and light hiking end of the spectrum with no true technical options, but we love the classy mountain town styling, good on-trail performance, and commitment to making their designs last.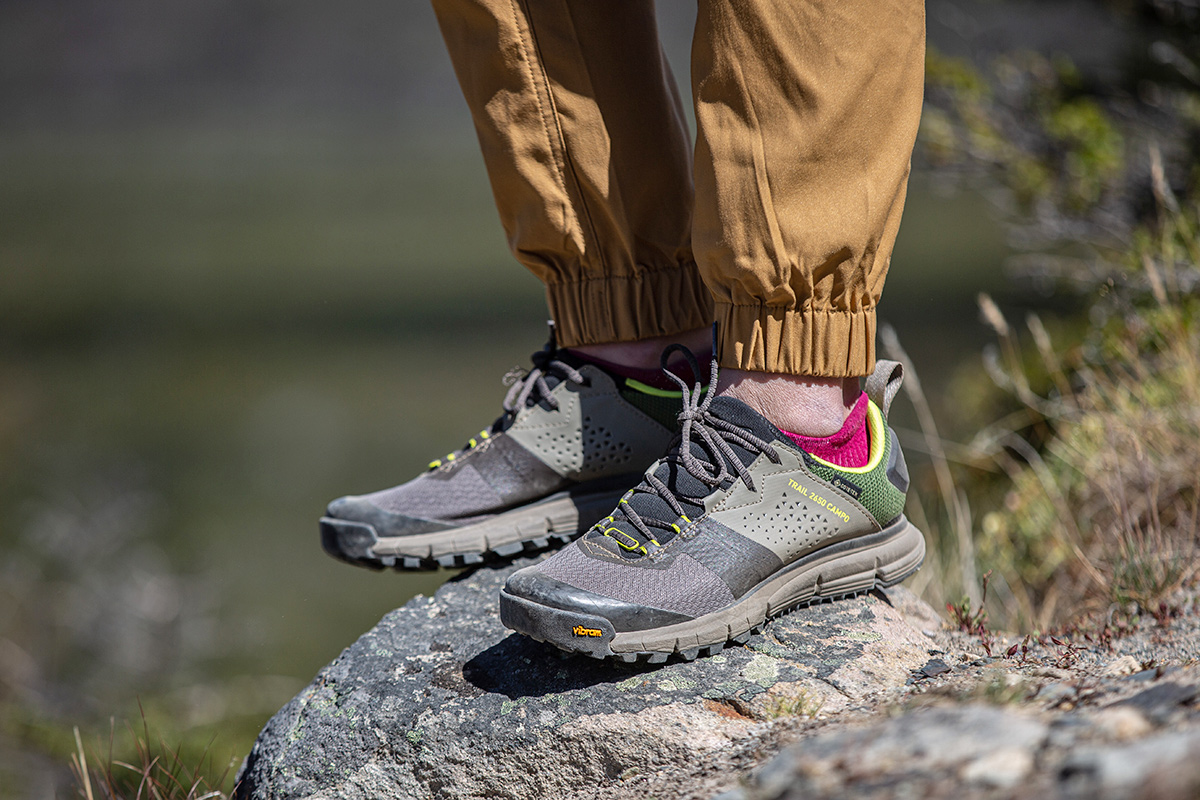 Location: Portland, Oregon
Popular products: Terrex AX4, Terrex Free Hiker, and Terrex Swift R3
What we like: Modern styling and lightweight designs that don't feel overly compromised. 
What we don't: A little less refined than the competition.
Adidas is the second-largest sportswear brand in the world (after Nike), so it comes as little surprise that their hiking-focused Terrex collection has garnered serious popularity in the outdoor market. Right away, it's clear that these designs are a far cry from the traditional leather hikers of old with eye-catching uppers and sneaker-like styling that's unapologetically modern. But looks are just one part of the equation, and we've found overall performance to be on par with most of the longstanding competition—at very competitive weights to boot. Take their Terrex Swift R3 GTX for example, which offers hiking boot-like protection, stability, and toughness at a competitive 1 pound 11.9 ounces (for the men's version).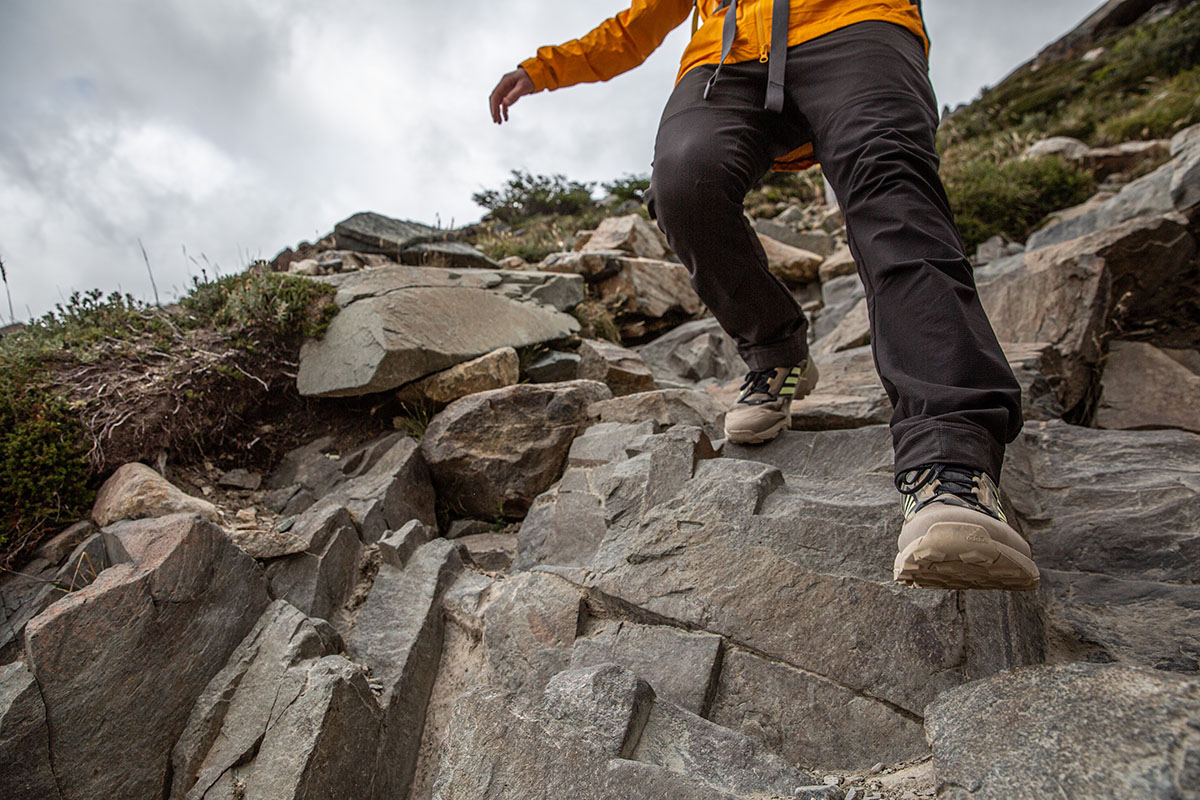 In addition to the Terrex Swift R3, we've also had positive experiences with Adidas' mid-height Terrex Free Hiker 2 GTX boots and low-top Terrex AX4 hiking shoes. We particularly liked the Free Hiker's soft but responsive cushioning and glove-like fit that inspired confidence on tricky terrain during a recent trip to Patagonia. While a step down in technical capabilities, the AX4 offered surprisingly great comfort and reliable traction for a wallet-friendly $100 (for the non-waterproof version). That said, shaving weight often comes with sacrifices in durability, and Adidas' shoes are not immune: The budget AX4 includes a lot of exposed stitching and a thin insole, while the Free Hiker's exposed foam midsole started to break down very early into testing. In other words, traditionalists and backpackers shuttling serious weight should look elsewhere. But for fast-and-light missions on well-established trails, Adidas has several promising options.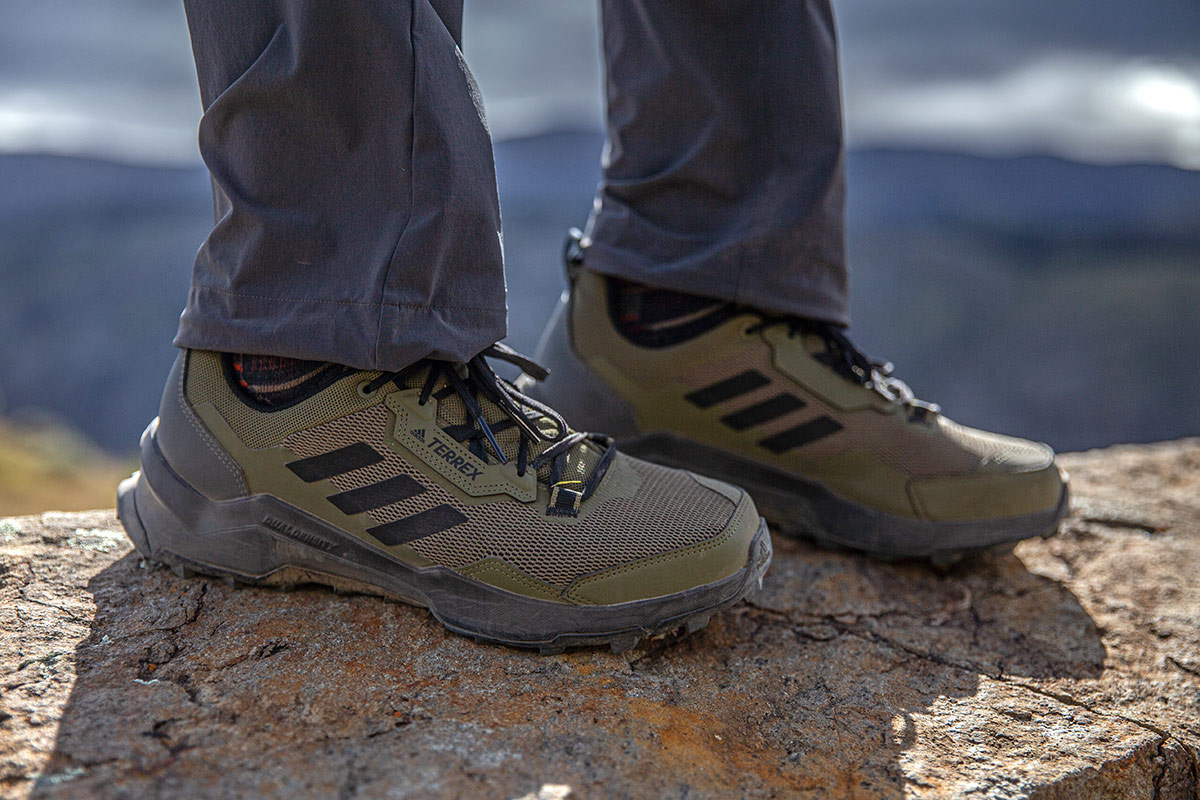 Location: Treviso, Italy
Popular products: Fugitive, Falcon GV, and TPS 520
What we like: A technical specialist known for their quality craftsmanship.
What we don't: Not for the entry-level hiker.
One of the more underrated brands on this list, Italy-based Asolo is a technical alpine trekking and mountaineering specialist. As such, they offer fewer casual and around town-friendly options than many of the companies above, but their designs are undeniably premium and expertly made. As a fun aside, Asolo launched the first Gore-Tex-lined footwear in the 1980s, which remains the gold standard in the industry today when it comes to waterproofing.
In the hiking and backpacking category, Asolo's Fugitive and Falcon collections are two standouts that fit into different niches. While the Falcon GV is light, sleek, and fairly modern, the Fugitive has more of a classic feel with a stiff construction and thick mid- and outsoles (it crosses over well into light mountaineering). And their legendary TPS 520 boot takes it a step further with a burly leather build—for reference, it's one of the only remaining "traditional" leather designs that's still relatively popular, along with Zamberlan's Vioz GTX. All in all, these boots aren't for the entry-level crowd, but the craftsmanship and quality are top-notch.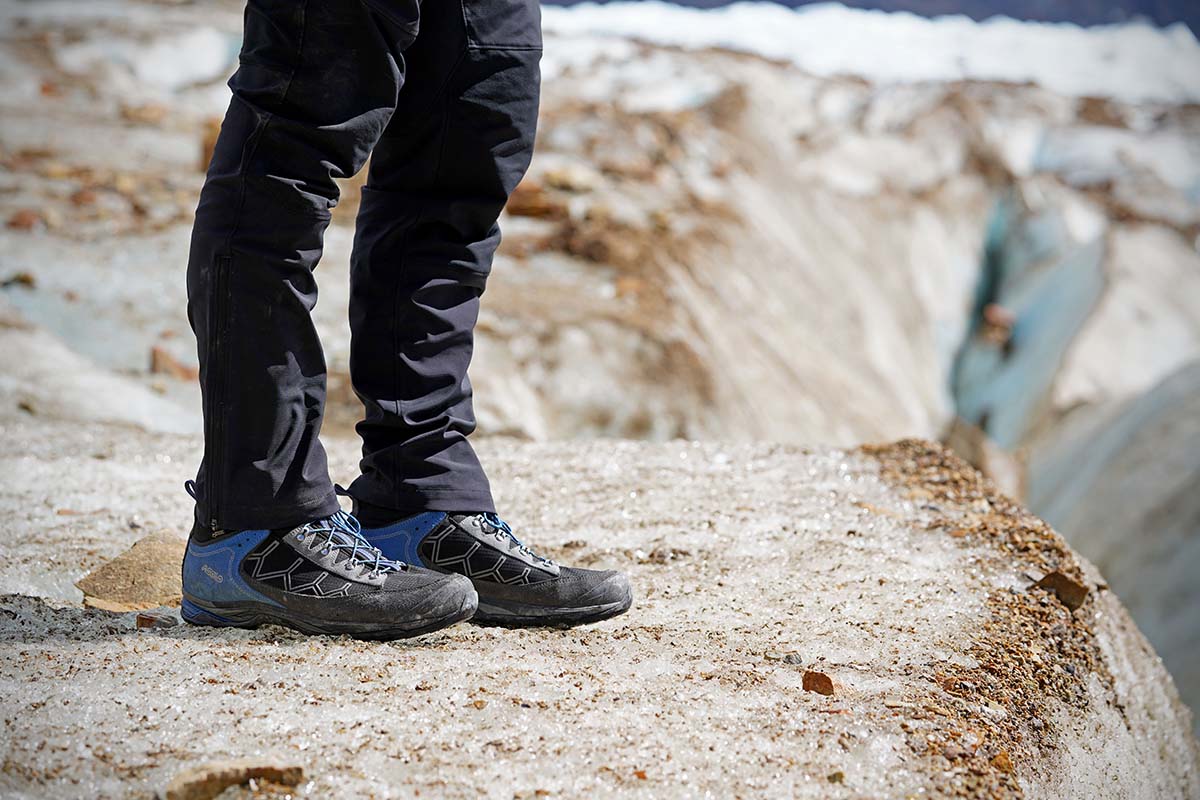 Location: Portland, Oregon
Popular products: Newton Ridge and Fairbanks
What we like: The value is hard to beat for new backpackers and hikers. 
What we don't: A clear step down in quality and performance from most of the brands above.
Columbia is a budget-focused brand with a solid reputation among casual outdoor-goers. Take their best-selling Newton Ridge, for example: At just $100 for the waterproof version, you get a seam-sealed leather upper, good all-around comfort with a nicely padded collar and tongue, and adequate performance for moderate day hikes, exploring national parks, and even use around town. When the mercury drops, their Fairbanks is another excellent value at $130 with the brand's proprietary Omni-Tech waterproofing, Omni-Heat liner, and 200-gram insulation. Importantly, most designs can often be found on sale for even less than their MSRP.
That being said, trail performance falls well short of most of the brands above. For a noticeable step up, consider options like the KEEN Targhee or Merrell Moab, which cost around $45-$75 more than the Newton Ridge but are a better match for light backpacking and more rugged trail use. Their upgraded materials deliver better long-distance comfort and support, and they hold up better over time. That said, there's a reason that the Newton Ridge remains a popular pick for the entry-level crowd, and we know of a few hikers who have gotten years of use out of them. And if you're just getting started, Columbia is one of the few brands on this list that's a one-stop shop, with a wide assortment of affordably priced jackets, hiking shirts and pants, and much more.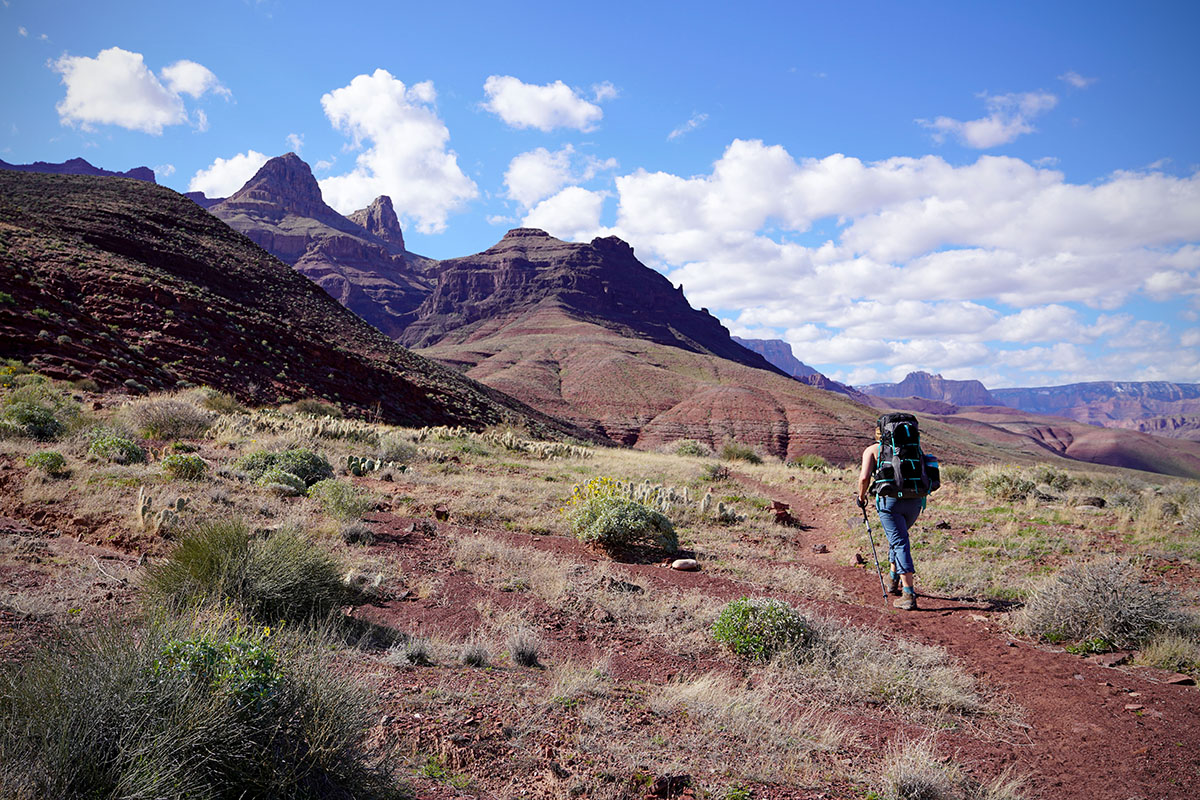 Location: Denver, Colorado
Popular products: Vectiv Fastpack and Vectiv Exploris
What we like: Thoroughly modern designs for those who like to move fast.
What we don't: Limited stability and narrow fits.
The North Face is a clothing brand first, but their foray into hiking footwear hasn't gone unnoticed. Similar to Adidas, TNF specializes in quick-moving designs that check in considerably lighter than most traditional hiking boots and shoes. The rockered soles translate to less overall stability—especially on off-camber terrain or with a heavy load—but the benefits in all-day comfort and agility are hard to beat for long days on easy to moderate trails. We've also been pleasantly surprised by the brand's in-house FUTURELIGHT waterproof membrane, which provides reliable protection (on par with Gore-Tex) while still allowing for decent airflow. 
We recently brought The North Face's Vectic Fastpack and Vectic Exploris 2 Mid to Patagonia for testing and came away with a lot of positive impressions. Both designs stood out for their great out-of-the-box comfort, excellent responsiveness, and versatile outsoles that gripped well on everything from wet boulders and logs to hard-packed mud. However, in addition to offering middling stability on technical terrain, we also found both designs to be pretty narrow, particularly at the front of the foot. We always advise trying shoes on before buying, but wide-footed hikers may need to look elsewhere.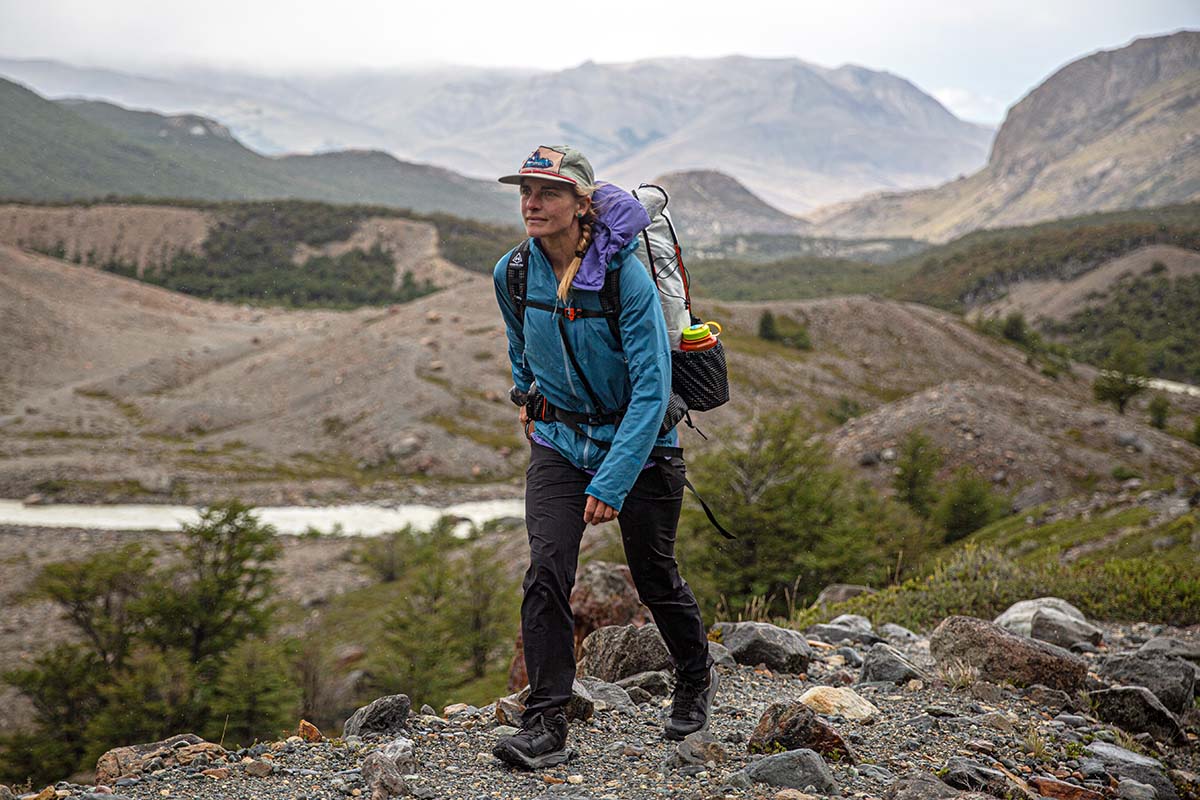 Location: Freeport, Maine
Popular products: Bean Boots and Trail Model
What we like: Their Bean Boots are legendary for low-key winter hiking and snowshoeing.
What we don't: They really only excel at the casual end of the spectrum.
Founded in 1912 by hunter and fisherman Leon Leonwood Bean (hence the name), L.L. Bean is an East Coast staple with a large selection of outdoor clothing and shoes, camping and hunting equipment, travel accessories, and more. The company originally only sold a single product—their legendary Bean Boots—which remain a popular choice for everything from winter hiking and snowshoeing to hunting and even casual wear (they range from 16 in. in height down to stylish moccasin models and waxed canvas designs). And we love L.L. Bean's generous 1-year return policy, which provides a nice dose of added assurance should you encounter any issues.
In addition to the winter-ready Bean Boots, L.L. Bean does offer a solid collection of uninsulated hiking and backpacking designs, but it's undeniably limited compared to the competition. Their Trail Model 4 collection is one standout and comprises both mid-height and low-top variations, and it's worth noting that they also carry models from popular brands like Salomon, Oboz, KEEN, and more. But as with Danner above, L.L. Bean is decidedly more casual and less performance-focused, which is all many day hikers need but a drawback for those who frequent more technical and demanding trail networks.

Where to Buy Hiking Footwear
We're big proponents of supporting our local gear shops, but in the case of hiking footwear, buying online often brings convenience and a wider selection of manufacturers, colors, and sizes. REI Co-op is our go-to for hiking shoes and boots due to their nationwide presence (it always helps to try shoes on in person), extensive selection, well-documented return policy, and member benefits (10% back on full-priced items). Members also get free shipping on all orders, while non-members will need to spend $50 or more for that perk. Backcountry is another solid presence and tends to carry some of the more technical brands, including Scarpa and Asolo. And many companies also sell their footwear through Amazon, where you can get free two-day shipping with Amazon Prime. Finally, the majority of the brands above have modern websites that allow you to access their full collections, including Salomon, Arc'teryx, Merrell, and many more.
Back to Our Top Hiking Footwear Brands  See our Hiking Gear Reviews
Read More From Switchback Travel