Released in 2016, the Canon EOS 80D is one of the top enthusiast DSLRs on the market. With a range of manual controls, a fast and accurate 45-point cross-type autofocus, and weather resistant body, this camera can produce outstanding stills and videos in a variety of shooting conditions. Below we break down the best lenses for the Canon 80D, including leading prime and zoom options from wide angle to telephoto. Given the quality of the camera, we give the nod to many pro-grade lenses that can match its performance. For more information, see our lens comparison table and buying advice below the picks.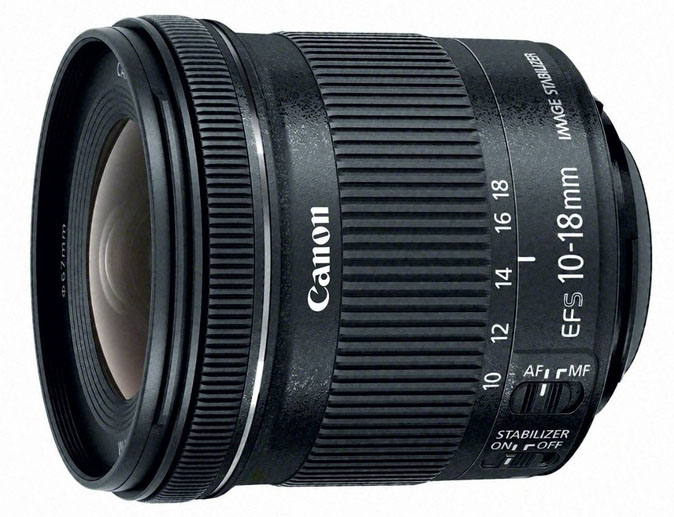 Category: Wide angle
35mm equivalent: 16-28.8mm
Weight: 8.5 oz.
What we like: Lightweight, sharp, and a great value.
What we don't: Plastic construction.
We don't always rank a wide-angle lens at the top of our lists, but the Canon 10-18mm f/4-5.6 is a fantastic lens for the 80D and a great value. For years, the Canon 10-22mm f/3.5-4.5 dominated the wide-angle market and was the leading option for APS-C cameras. However, a couple of years ago Canon released the 10-18mm, quieting the clamoring of those who don't want to spend big bucks for a wide-angle lens.
From an optical perspective, the Canon 10-18mm is sharp, light, and has minimal distortion except when wide open at 10mm. With a very useful focal length range of 16-28.8mm on a 35mm camera, it's a winner in our book. It's true that the maximum aperture of f/4-5.6 isn't optimal, but the lens does have four stops of image stabilization to improve low light performance. And again, we love the value here—the Canon 10-18mm is the one of the least expensive wide-angle zooms you'll find from any brand, let alone one of the best in the business.
See the Canon 10-18mm IS STM
Category: Travel zoom
35mm equivalent: 27-88mm
Weight: 22.4 oz.
What we like: Impressive aperture for a wide-angle zoom.
What we don't: Cost and weight.
If ever a lens was made for a camera like the Canon 80D, it's the 17-55mm f/2.8. The focal length range is nearly identical to the 18-55mm kit lens below, but the optics are on a whole different level. You get impressive low light performance with a fast f/2.8 maximum aperture, great bokeh for a zoom, excellent sharpness, and minimal distortion. It's true that the price of the Canon 17-55mm f/2.8 is high, but this is a pro-grade zoom built to satisfy discerning enthusiasts who want premium image quality.
In terms of focal lengths, the equivalent range of 27-88mm offers some wide-angle capability along with great portraiture. Wide-angle specialists may still want to get a specialty lens that goes wider—27mm won't really cut it for most landscape photographers—but this lens is outstanding for travel and people photos. 
See the Canon 17-55mm IS USM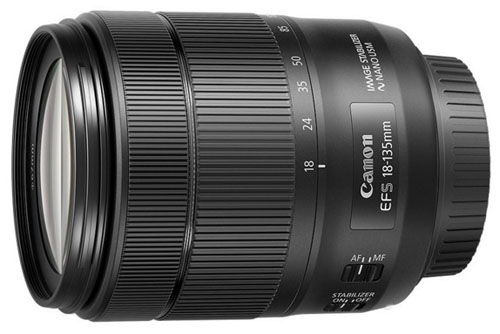 Category: Travel zoom/kit
35mm equivalent: 28.8-216mm
Weight: 18.2 oz.
What we like: A great travel lens for stills and videos.
What we don't: Primes are sharper and faster.
Look carefully: this is not the popular 18-135mm IS STM lens found in other Canon kits. In fact, it represents a notable jump in technology. The 80D was released concurrently with this new "Nano USM" lens that improves upon previous versions. Canon claims that the focusing motor offers the best of both worlds: fast autofocus for stills with the USM motor along with the smooth and silent video that you get with STM. So instead of choosing an 18-135mm lens version based on what you shoot most, the Nano USM can be your Swiss army knife. 
Autofocus aside, the Canon 18-135mm IS USM is a versatile walk-around lens and a great option for those who want to avoid carrying an entire camera bag. From a value perspective, if you buy the lens with the Canon 80D, it's only $300 more than the cost of the camera body alone. We love it in the kit, but like it less at $599 full retail. 
See the Canon 18-135mm IS USM Kit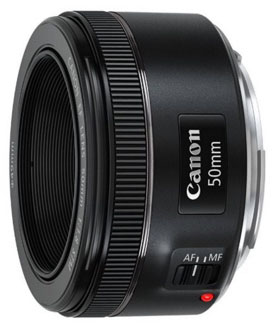 Category: Portrait
35mm equivalent: 80mm
Weight: 4.6 oz.
What we like: Lightweight and inexpensive.
What we don't: Plastic bulid and mount.
Almost everyone will appreciate having a 50mm prime—it's an ideal focal length for portraits and the fast aperture will do wonders in terms of low light photos and bokeh. All in all, we think the 50mm f/1.8 is one of the best all-around values of any Canon lens—it's sharp, has fast autofocus, is lightweight, and only $125. Why is it so inexpensive? The lens is constructed mostly of plastic (the glass is high quality), but the optical performance is impressive and long-term durability isn't a huge risk at $125. For those wanting even better low light performance and a sturdier build, go with the Canon 50mm f/1.4.
See the Canon 50mm STM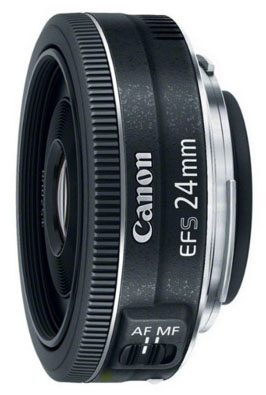 Category: Travel/portrait
35mm equivalent: 38mm
Weight: 4.4 oz.
What we like: STM focus is great for video.
What we don't: Autofocus could be better for stills.
The 24mm f/2.8 STM has become one of Canon's most popular lenses, and particularly for video shooters. The first thing to love is the compact size: at only 4.4 ounces, it's the lightest lens on this list. Second is the f/2.8 maximum aperture, which is solid in low light and will help in creating backgrounds with creamy bokeh. Finally, the STM motor is designed for smooth video autofocus. In terms of focal length, the 36mm equivalent is great for street photography and video. We find it a bit wide for landscapes, but it's an otherwise excellent prime lens at an attractive price point.
See the Canon 24mm STM
Category: Telephoto
35mm equivalent: 88-400mm
Weight: 13.3 oz.
What we like: Fast and accurate autofocus for a telephoto lens.
What we don't: Plastic build and less reach than the 70-300mm below. 
Similar to the Canon 10-18mm above, the 55-250mm f/4-5.6 is a reasonably priced lens that still manages to get the job done. Despite the mostly plastic build, this lens is impressively sharp and our favorite telephoto option for the 80D. Instead of still photography-centric USM autofocus, the STM motor focuses quickly and silently (focusing can be a major issue with telephoto zooms). You also get image stabilization for handheld photos in low light. It's true that the 70-300mm below has more reach, but the 55-250mm is the more versatile option for those who shoot both stills and videos. At around $300, it's a lens worth adding.
See the Canon 55-250mm IS STM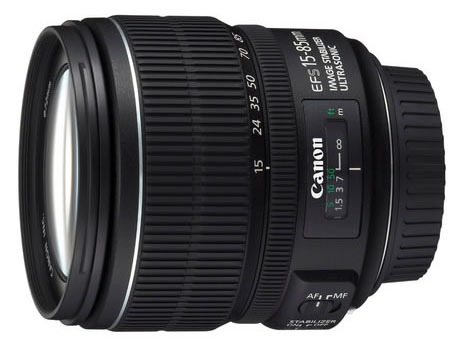 Category: Travel zoom
35mm equivalent: 24-136mm
Weight: 20.3 oz.
What we like: Wider and longer than other travel zooms on the list.
What we don't: We'd take the 18-135mm Macro USM instead.
The other travel zooms on this list are tough competition, but the Canon 15-85mm f/3.5-5.6 IS offers more focal length coverage and a nice advantage at the wide end (15mm instead of 17mm or 18mm). The zoom range is equivalent to 24-136mm, which covers virtually all of your shots from wide angle to medium telephoto. However, there are some sacrifices: you can some expect distortion, particularly at the wide end (we recommend shooting at 17mm instead of wide open at 15mm). And the low light performance can't match the pro-grade lenses above like the 17-55mm f/2.8. Given the price, we favor the 18-135mm Nano USM instead, and particularly as part of the kit. 
See the Canon 15-85mm IS ISM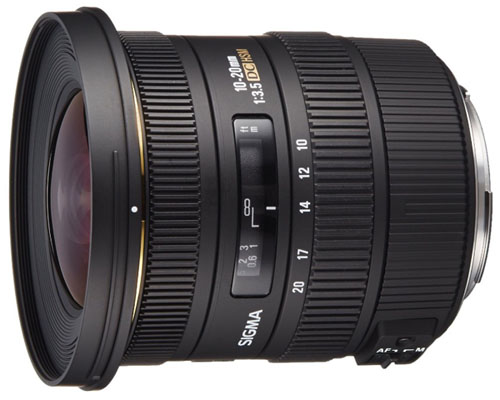 Category: Wide angle
35mm equivalent: 16-32mm
Weight: 18.3 oz.
What we like: Faster than either Canon wide-angle lens.
What we don't: Heavy and a little soft.
Before the Canon 10-18mm above was released, it would have been a no-brainer to recommend the Sigma 10-20mm f/3.5. This lens has a nice ultra-wide focal length range equivalent to 16-32mm, and is faster than any Canon zoom with a constant f/3.5 maximum aperture. You also get more reach at 20mm than the Canon 10-18mm and a cheaper price tag than the 10-22mm below.
We have two issues with the Sigma 10-20mm f/3.5: softness and weight. The lens is decently sharp and particularly when stopped down, but unfortunately is a little softer than either Canon wide-angle option. More, the Sigma weighs a hefty 18.3 ounces, which is more than double the Canon 10-18mm and more than 4 ounces heavier than the 10-22mm. We do like the slightly superior low light performance, but it's not enough for us to the give the Sigma the nod. An f/2.8 lens might do the trick, but not f/3.5. 
See the Sigma 10-20mm f/3.5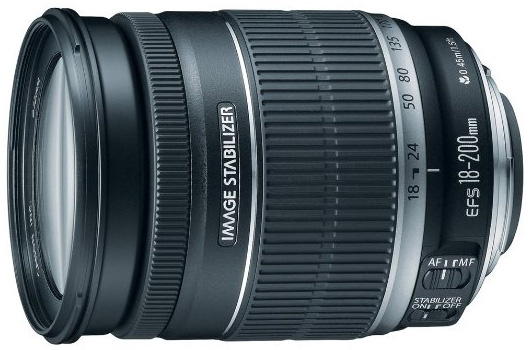 Category: All-in-one
35mm equivalent: 29-320mm
Weight: 21 oz.
What we like: The ultimate in versatility.
What we don't: Focus ring issues and distortion.
The Canon 18-200mm f/3.5-5.6 is an all-in-one lens designed to go head-to-head with the popular Nikon 18-200mm (Nikon also has released an improved 18-300mm lens and we wish Canon would do the same). The Canon 18-200mm is versatile, has reasonably good optics, and many people like it, but the autofocus is less sophisticated than on most other Canon zooms. In particular, the manual focus ring turns when autofocus is in use, which can make the lens awkward to hold. This issue aside, the 18-200mm covers focal lengths from wide angle to telephoto and can serve as the only lens in your bag. For the 80D, we think it underperforms the 18-135mm Nano USM above.
See the Canon 18-200mm IS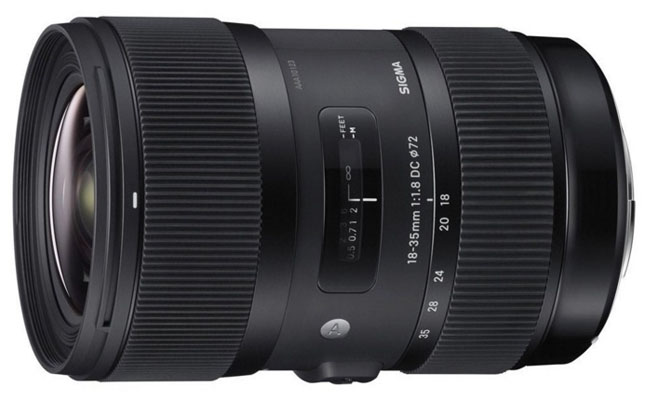 Category: Wide angle/travel zoom
35mm equivalent: 28.8-56mm
Weight: 28.6 oz.
What we like: The fastest zoom lens on this list. 
What we don't: Heavy, expensive, and limited focal length range. 
Sigma stands above other third-party lens manufacturers and the company has been making some very interesting models of late. An intriguing choice for the Canon 80D is the Sigma 18-35mm f/1.8, which is the fastest zoom on this list and offers fantastic low light performance and bokeh (it's branded as an "Art" lens due to its creative potential).
The image and video quality produced by this lens are outstanding, but it does have a couple notable downsides. The first is price, which at around $800 makes it one of the most expensive options on this list. And the second is the weight, which at a whopping 28.6 ounces puts it on par with many full-frame lenses. These issues aside, it's a high quality and fast zoom option that produces great photographs.
See the Sigma 18-35mm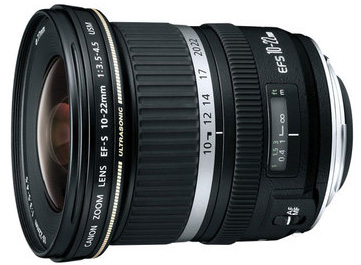 Category: Wide angle
35mm equivalent: 16-35mm
Weight: 13.6 oz.
What we like: Better low light performance than the Canon 10-18mm.
What we don't: More expensive too.
Purely from an image quality standpoint, the Canon 10-22mm f/3.5-4.5 USM is superior to the 10-18mm lens above. The biggest differences are low light performance, where the 10-22mm is a bit faster, and the extra reach at 22mm (equivalent to a 35mm normal field of view). However, it's tough to pick the 10-22mm given the disparity in price. If you are a serious landscape photographer and value the wider maximum aperture or extra zoom, go with this lens or the Canon 17-55mm. But for most photographers, including amateurs looking for a good wide-angle walk-around lens, the new 10-18mm is a better value and lighter.
See the Canon 10-22mm USM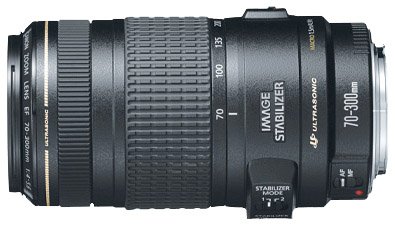 Category: Telephoto
35mm equivalent: 112-480mm
Weight: 22.2 oz.
What we like: Long reach and full-frame compatibility.
What we don't: Some distortion at the ends.
For telephoto use, it's tough to argue with the Canon 70-300mm IS USM. The lens is sharp throughout its long zoom range, focuses quickly and accurately for a lens of this type, and has image stabilization to boot. This is, however, a full-frame lens and therefore you're paying a higher price than you would for a comparable APS-C lens. The decision has become more difficult with the release of Canon's STM line (see the 55-250mm above), but we still like the 70-300mm due to its strong optical performance. Throw in the fact that many 80D users either shoot full-frame or upgrade down the road, and you've got a winner.
See the Canon 70-300mm IS USM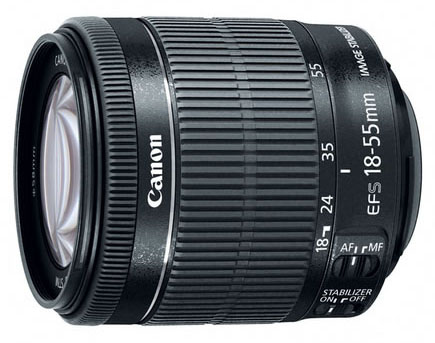 Category: Kit
35mm equivalent: 29-88mm
Weight: 7.2 oz.
What we like: Video quality.
What we don't: Limited focal length range and distortion at the wide end.
The budget kit lens for the 80D is the 18-55mm STM and we hesitant to recommend it. The 18-55mm STM isn't a bad lens, we just think it's a better fit on an entry-level DSLR like a Canon Rebel and not the enthusiast 80D. However, this lens is improved from its predecessors including STM (Stepping Motor technology) for quiet video autofocus. If you want a lens to get out and start shooting before you make any serious (and pricey) decisions, the 18-55mm STM is a decent option. We aren't crazy about the limited focal length and the optical performance is not up to pro standards with some distortion and softness, particularly at the ends. But it's a good walk-around lens that shoots great video. At the very least, it's a serviceable backup.
See the Canon 18-55mm IS STM Kit

 
Lens Comparison Table
Lens Buying Advice 
Our Dream Bag for the Canon 80D
If any lens were made for the 80D, it's the Canon 17-55mm f/2.8. This lens arguably is too expensive for most entry-level and mid-range APS-C cameras, but will shine with an enthusiast model like the 80D. You'll get creamy bokeh, solid low light performance, and sharpness that far exceeds kit lenses and other zoom options in this focal length range. All in all, it's a pro-level zoom that matches almost perfectly with the 80D.
Those who frequently shoot landscapes and other wide-angle photos should add the Canon 10-22mm f/3.5-4.5 to their bag. It's faster than the Canon 10-18mm f/4-5.6 and sharper to the corners, not to mention it has a more durable build. Those who dabble with wide-angle photography should grab the 10-18mm instead, which is a totally serviceable and fun option. But price notwithstanding, we prefer the faster version.
If we had to go the one-lens route, it would be the 18-135mm Nano USM kit. We think it's the best overall travel zoom (not counting the 17-55m f/2.8) and will capture quality stills and videos without changing lenses. In reality, the 18-135mm does not perform like a kit lens and is a nice option for those who value the simplicity and versatility. For the 80D, we would pass on the 18-55mm STM and 15-85mm lenses in favor of the 18-135 Nano USM.
 
Autofocus: USM, STM, and Nano USM
When shopping for lenses, you'll notice three types of letter groupings listed after the aperture, which represent the type of focusing motor. Ultrasonic motor (USM) lenses generally are fast and accurate for still photography but were designed when video wasn't as popular. Hence, they have a tendency to hunt and are louder when focusing than video shooters prefer. STM (stepping motor) lenses were designed more recently with smooth and silent video focus in mind, and you'll notice them offered in kits with many of Canon's entry-level Rebel cameras.
Nano USM is Canon's new focusing motor and is said to combine the best traits of each. It focuses quickly for stills but is smooth and relatively quiet for video. Currently, the only Nano USM lens on the market is the 18-135mm f/3.5-5.6 offered in a kit with the Canon 80D. It's a very viable option should you decide to go the one-lens route. Otherwise, video shooters should strongly consider "STM" models and still shooters should give the nod to "USM" lenses.
 
Crop Factor
Canon APS-C cameras such as the 80D have a 1.6x crop factor, meaning that a 50mm lens will behave like an 80mm lens would on a 35mm camera. The history behind crop factor is long, but what you need to know is that lens focal lengths are described using 35mm film as the reference point. Because the image sensor on Canon APS-C cameras is 1.6 times smaller than a 35mm camera, you multiply the listed focal length of the lens by 1.6 to determine its equivalent.
If you've used a full-frame camera, crop factor can be very helpful in choosing your APS-C lenses. For example, the Canon 10-22mm wide-angle lens is equivalent to 16-35mm on the 80D, which actually is much more useful than the listed range.
 
Video with the Canon 80D
The Canon 80D shoots 1080p video at a variety of speeds including 60 fps, 30 fps and 24 fps. Unfortunately it does not shoot 4K, although we wouldn't be surprised to see this technology added on Canon DSLRs in the near future (it's already available on enthusiast mirrorless cameras like the Sony Alpha a6300).
For video shooters, the best lens options are the 18-135mm Nano USM (you can read more in the autofocus description above) and anything with "STM" in the name. These lenses specialize in autofocus for video, and combined with the advanced 45-point cross-type autofocus system on the 80D, should perform extremely well.
 
Third-Party Lenses
A number of third-party manufactures like Sigma, Tamron, and Tokina make lenses that are compatible with Canon APS-C cameras like the 80D (they often come with Nikon mounts as well so make sure you are buying the right lens). All in all, these lenses usually are cheaper than their Canon counterparts—one of their big selling points—and at least slightly inferior from an optical perspective.
We prefer Canon lenses but find third-party lenses most beneficial when they cover a certain focal length range or aperture not available from Canon (the super fast 18-35mm f/1.8 is a great example). A third-party lens also can make sense if it allows you to buy a lens type that you otherwise may not be able to afford. We recommend these lenses more readily for entry-level DSLRs like the Rebel series where budget is most important, but we like Canon lenses to match the quality of the 80D. If you are shopping for third-party lenses, Sigma in particular has some interesting and high quality options.
 
Full-Frame Lenses
Canon has two lens types for its digital SLRs: EF (compatible with full frame and crop sensor cameras) and EF-S (compatible only with crop sensor cameras). For the 80D, you have the choice of either lens type. EF lenses are more expensive due to their full-frame capabilities, whereas EF-S lenses are cheaper but are not compatible should you decide to upgrade. The list above includes a mix of EF and EF-S lenses, and keep in mind that both types have a 1.6x crop factor on the 80D. 
Read More About Photography