Whether it's your first time car camping or you've been at it for years, it never hurts to have a good checklist. To help you get out of the house with all of the essentials in tow, we've outlined everything you need including campsite and sleeping gear, camp kitchen essentials, outdoor clothing and footwear, health and hygiene products, and personal items and extras. For each category, we've listed necessary items—along with our top picks—as well as optional gear. Finally, for all our product recommendations in one place, see our detailed camping gear reviews.
Campsite & Sleeping
Camp Kitchen
Clothing & Footwear
Health & Hygiene
Personal Items & Extras

❒ Camping tent

❒ Sleeping bag

❒ Camping mat

❒ Pillow

❒ Camp chair

❒ Headlamp w/ batteries

❒ Lantern

 

Optional:

❒ Camp table

❒ Sunshade

❒ Sleeping bag liner

❒ Camping blanket

❒ Footprint/ground cloth

❒ Extra stakes

❒ Hammock

 

❒ Camp stove & fuel

❒ Cooler w/ ice

❒ Cookware & utensils

❒ Food prep & dish-washing supplies

 

Optional:

❒ Camp table

❒ Water jugs

❒ Tablecloth

❒ Portable coffee/tea maker

❒ Firewood

❒ Axe/hatchet

❒ Fire starter

❒ Baselayer

❒ Down/synthetic jacket

❒ Rain jacket

❒ Hiking pants/shorts

❒ Hiking boots/shoes

❒ Hiking socks

 

Optional:

❒ Gloves

❒ Beanie

❒ Ball cap

❒ Camp sandals or slippers

❒ Swimsuit

❒ Neck gaiter/buff

❒ Long underwear

❒ Sleepwear

❒ Toiletries

❒ Sun & bug protection

 

Optional:

❒ Trowel/portable toilet

❒ Solar/portable shower

❒ Baby wipes

❒ Sun hat

❒ Basic repair kit

❒ Navigation

❒ Water bottle

❒ Earplugs & eye mask

❒ Extra batteries/solar charger

❒ Notebook & pen/pencil

❒ Book or Kindle

❒ Camp games

❒ Bear spray

❒ Activity-specific gear

❒ ID, cards, & cash

❒ Cell phone w/ charger

❒ Campsite reservation

❒ Forest Service/park pass
Editor's note: The table above provides a brief overview of what you'll need to get outside, but our full PDF version is printable and offers a more comprehensive breakdown of the necessities and nice-to-haves.
See Our Camping Checklist PDF

Campsite and Sleeping Gear
Whether you're headed out for a quick weekend getaway or taking an extended vacation in the woods, the gear below is what we bring on every trip to create a comfortable backcountry basecamp. We've also included a handful of optional items that may or may not be worth packing depending on what amenities (if any) will be available at your campsite. And when applicable, we've included links to our gear round-ups where we break down our top picks for each category.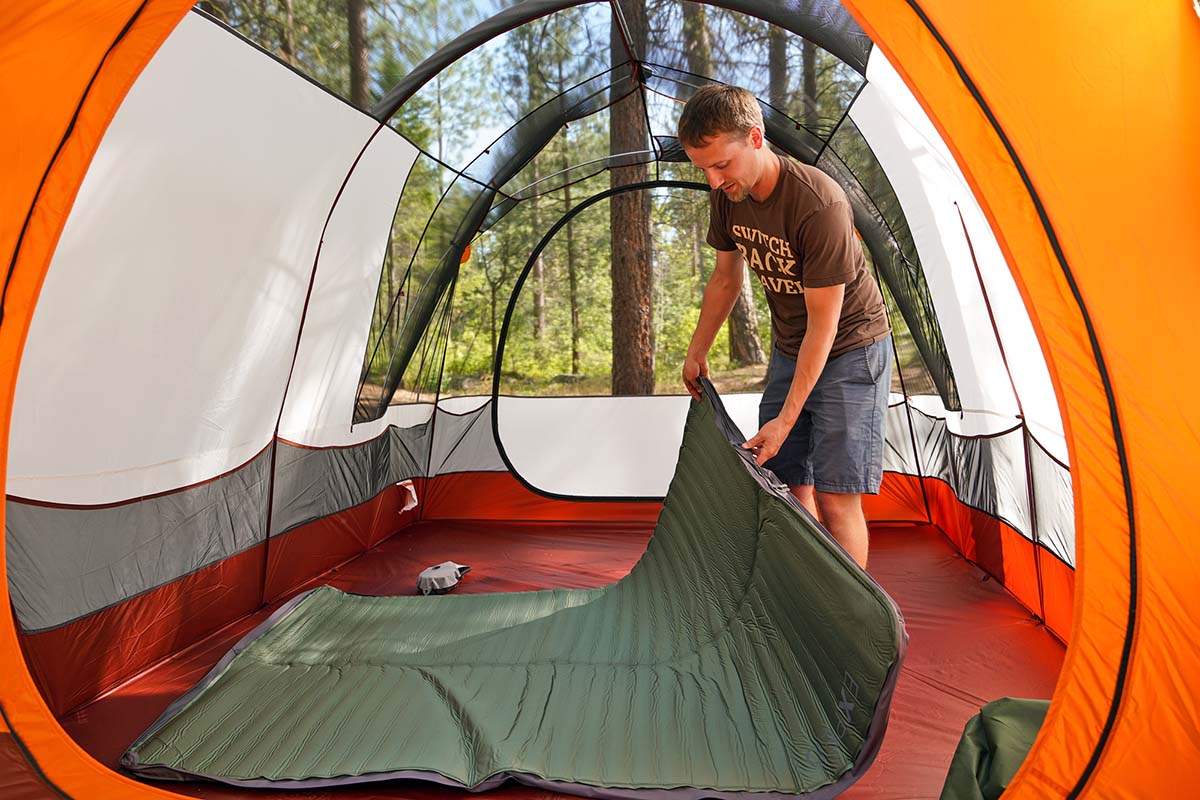 Our top pick: The North Face Wawona 6 ($500)
What we like: Open interior and massive vestibule at a price that's hard to beat.
What we don't: Time-consuming to set up; partial-coverage rainfly leaves the bottom exposed to moisture.
 
Our top pick: REI Co-op Siesta Hooded 20 ($139)
What we like: Affordable and comfortable for three-season use with a rectangular shape, warmth-trapping hood, and 20-degree rating.
What we don't: Heavier and less compressible than mummy bags.
Our top pick: Therm-a-Rest MondoKing 3D ($240)
What we like: Thick build and plush foam make this one of the most comfortable sleeping pads on the market.
What we don't: On the pricier end and overkill for occasional campers.
Our top pick: Therm-a-Rest Compressible Pillow ($37)
What we like: Soft exterior, machine washable, and cinch cord makes it easy to tailor firmness. 
What we don't: Foam takes some time to expand; those on a budget can just bring a pillow from home.
Our top pick: REI Co-op Skyward ($60)
What we like: Strong and comfortable, well-sorted feature set, and ample mesh for hot summertime temps.
What we don't: Not the cushiest or most supportive option—those with taller and broader builds may want a higher backpanel and larger seat.
Our top pick: Petzl Actik Core ($80)
What we like: Great output, long battery life (via AAAs or the rechargeable battery), and easy-to-use interface in a feathery build.
What we don't: Expensive and not the most water-resistant option on the market.
Our top pick: BioLite AlpenGlow 500 ($80)
What we like: Impressive output, ample lighting modes, and fun tech features.
What we don't: Pricey and takes a little time to learn how to operate.
 
Optional Campsite and Sleeping Gear
Camp table (if no picnic table)
Sunshade
Sleeping bag liner
Camping blanket
Tent footprint/ground cloth
Extra stakes
Hammock
---

Camp Kitchen Gear
Seasoned campers know the value of setting up a quality outdoor kitchen, especially if you've got a larger group or are planning to be out for more than a night or two. Items like a camping stove and cooler are no-brainers, but don't overlook the smaller, easier-to-forget items like cookware, utensils, and food prep supplies.
Our top pick: Eureka Ignite Plus ($160)
What we like: Quality build, generously sized cooking area, and well-sorted feature set. 
What we don't: Discerning campers can get double the output with Camp Chef's Everest 2X.
 
Cooler (Pre-Filled with Ice)
Our top pick: RTIC 52 Ultra-Light ($200)
What we like: Versatile size and competitive ice retention for less than the competition.
What we don't: Only sold online and a small step down from Yeti in cooling capabilities.
 
Cookware and Utensils
Pots and pans
Cooking utensils (spatula, large spoon, tongs)
Silverware (forks, spoons, knives)
Mugs/cups
Bottle/can openers

Food Prep and Dish-Washing Supplies
Matches and/or lighter
Cutting board
Knives
Cooking oil
Paper towels
Measuring cups
Aluminum foil
Seasonings and condiments
Dish soap
Wash bin/portable sink
Sponges/scrubbers
Dish towel
Trash bags
Food and gear storage (Ziploc bags, plastic bins, etc.)

Optional Kitchen Gear
Camp table (if no picnic table)
Water jugs (if no potable water)
Tablecloth
Portable coffee/tea maker
Firewood (if fires are permitted)
Axe/hatchet
Fire starter
---

Outdoor Clothing and Footwear
The clothes you pack when camping will largely depend on expected temperature and weather conditions, but it all starts with a quality layering system: baselayer, midlayer (insulation), and rain shell. Dedicated hiking footwear can also go a long way toward maximizing your overall comfort on adventures from camp. And if you're heading out in the shoulder seasons, don't forget cold-weather gear like a hat, gloves, and neck gaiter.
Our top pick: Smartwool Merino 250 1/4-Zip ($115)
What we like: 100% merino wool build is warm, super soft against the skin, and naturally resists moisture and odors.
What we don't: Wool baselayers don't come cheap and require care to last (avoid using the dryer).
 
Our top pick: Patagonia Down Sweater ($279)
What we like: Great warmth for the weight and looks great for everyday wear. 
What we don't: We prefer something lighter for backcountry use.
 
Our top pick: Patagonia Torrentshell 3L ($179)
What we like: 3-layer protection and durability in a sleek and affordable package.
What we don't: Fabric is stiffer and more crinkly than some of the higher-end competition.
 
Our top pick: Outdoor Research Ferrosi ($99)
What we like: Durable, stretchy, and great balance of wind protection and breathability.
What we don't: Doesn't come with a built-in belt and a little technical for some.
Our top pick: Salomon X Ultra 4 Mid GTX ($175)
What we like: Light, comfortable for all-day wear, and can handle everything from short day hikes to lightweight overnights.
What we don't: Relatively thin and flexible underfoot for carrying a heavy pack over technical ground.
Our top pick: Darn Tough Micro Crew Cushion ($25)
What we like: Great padding and breathability for three-season use, seamless construction, and backed by a lifetime warranty.
What we don't: Tougher than they are soft and plush.

Optional Clothing and Footwear
Gloves
Beanie
Ball cap
Camp sandals or slippers
Swimsuit
Neck gaiter/buff
Long underwear
Sleepwear
---

Health and Hygiene
Staying clean and comfortable in the backcountry can be a challenge, but the good news is that many major campgrounds have facilities like pit toilets and running water (in the form of spigots) to make the experience a little easier. If not, you may want to consider a portable toilet and/or shower, and don't forget the usual assortment of toiletries like soap, toilet paper, and basic first aid supplies.

Toiletries
Toothbrush and toothpaste
Toilet paper
Soap/hand sanitizer
Toiletries kit (shower supplies, deodorant, etc.)
Quick-drying towel
Personal medications
Lip balm
First aid kit
 
Sun and Bug Protection
Sunscreen
Sunglasses
Insect repellent
 
Optional Health and Hygiene Items
Trowel or portable toilet (if no facilities available)
Portable/solar shower
Baby wipes
Sun hat
---

Personal Items and Extras
Most items on the above checklist are obvious camping essentials that you probably won't leave behind, but forgetting your wallet or cell phone can be just as much of a trip-ender as leaving your tent at home. On that note, here are some of the smaller personal items that you'll want to consider before heading out. Some of them (like camp games) certainly aren't necessary but can help make your trip more enjoyable.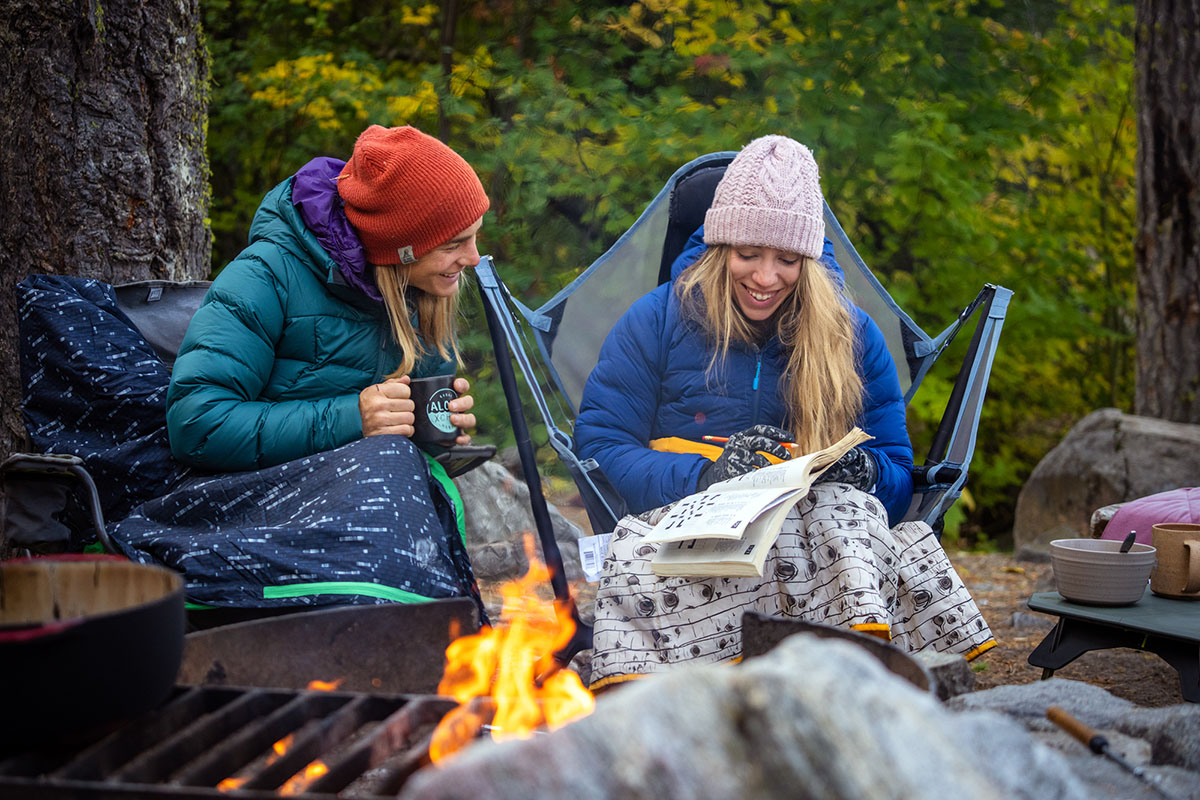 Basic repair kit (multi-tool, duct tape, extra cord)
Navigation (map, GPS, compass)
Water bottle
Earplugs and eye mask
Batteries and/or solar charger
Notebook and pen/pencil
Book or Kindle
Camp games
Bear spray (if required)
Activity-specific gear (daypack for hiking, pole for fishing, etc.)
ID, cards, cash
Cell phone with charger
Campsite reservation
Forest Service/park pass (if required)
---

Other Considerations: Weather, Group Size, and More
While the list above covers the basics for most trips, there may be other items to consider depending on the time of year, how many people are in your group, and whether you'll be camping with kids and/or pets. Starting with seasonality: Most of us are predominantly fair-weather campers, but those who like getting out in the winter months will need warmer and more protective gear, including a four-season tent, cold-weather sleeping bag and pad, thicker layers, and snow-specific equipment like snowshoes or skis and avalanche safety tools (beacon, probe, and shovel). For a more comprehensive breakdown of the gear you'll need for cold-weather camping, check out our Winter Camping Checklist.
Group size is another important factor to weigh when packing. For example, smaller groups may not have any issues cooking on a standard two-burner stove, but larger parties may want to step up to a larger freestanding unit (or even a portable grill), opt for a three-burner design, or bring along more than one stove. If you'll be basecamping for a while, you may also consider setting up a shade structure and folding table for hanging out and cooking or fashioning a clothesline to dry wet gear. Portable fire pits have also become increasingly popular recently, and we love Solo Stove's offerings for their precision and lack of smoke.
Finally, if you'll be camping with kids or pets, certain accessories and extras can go a long way toward maximizing overall comfort. For kids, it's always a good idea to pack games and camp-friendly toys like frisbees, cards, and other compact items to pass the time at night or in inclement weather. For pets, we recommend bringing along a longer leash or runner to allow your dog to move around at camp while still remaining close by, collapsible food and water bowls to maximize space, and a bed and/or blankets to keep warm at night. Ruffwear makes some of our favorite dog gear and accessories on the market, from storage-equipped packs to car seat covers and even dedicated sleeping bags.

Additional Car Camping Tips
Be sure to confirm ahead of time which amenities (if any) will be available to you. Will your campsite have a fire pit and/or picnic table? Are there bathrooms and/or showers on site? Will you have access to running water for filling up bottles and reservoirs?
Check restrictions before you go to ensure you're up to date on current fire bans, required bear-proofing measures (such as bear canisters or bear bags for food), etc. 
When loading up your car, start with the biggest and heaviest items first (e.g., hard-sided coolers and water jugs) and stack smaller and lighter items on top. If you'll want quick access to something while driving to your campsite (such as food), be sure to separate it ahead of time.
If you're limited on space, consider using dedicated compression sacks for soft gear like clothing, sleeping bags, etc.
Prep what you can at home to save time at camp and minimize the amount of gear you need to pack. Cut vegetables, marinate meats and stash them in a labeled Ziploc, pre-measure your spices and condiments, etc.
Combine like-minded items in one container to make it easier to find what you're looking for when you arrive: A tote with your tent, sleeping bag, and pad; a dedicated bin for kitchenware and cooking equipment; clothing in a duffel bag or suitcase, etc. We like to use clear plastic bins since they make it easy to see what's inside at a glance.
Use resealable bags for toiletries and other small items you don't want to lose or get wet, such as lighters and matches.
To maximize insulating performance, it's best to pre-chill your cooler prior to loading it up by filling the interior with ice for at least a few hours. When you're ready to hit the road, swap in some fresh ice along with your drinks and food (most brands recommend a 2:1 ice-to-food ratio).


Where to Buy Camping Gear
When it comes to purchasing gear, we recommend supporting your local gear shop whenever possible—they are important community centers for outdoor enthusiasts, and chances are that the staff will have insider information about the surrounding wild spaces. That said, we tend to do the lion's share of our gear shopping at REI Co-op, which has over 100 brick-and-mortar locations across the U.S. and an excellent inventory both in-store and online. Another good option for online shopping is Backcountry.com, which offers free shipping on orders over $50 and excellent customer service. For cheaper items and those who need gear quickly, it's hard to beat Amazon for the sheer volume of sellers and product options. It's also worth checking to see if there is a consignment or used gear shop near you—buying secondhand does not necessarily mean sacrificing quality, and you also get to help keep equipment out of the landfill by giving it a second life.
Back to Our Camping Checklist  See Our Camping Gear Reviews