Whether it's your first time camping or you've been at it for years, it never hurts to have a good checklist. To help you get out of the house with all of the essentials in tow, we've outlined everything you need broken into key categories including campsite/sleeping gear, camp kitchen, outdoor clothing, and extras/personal items. Throughout this article we've included some of our favorite picks based out our team's collective decades of camping experience. And for all our product recommendations in one place, see our detailed camping gear reviews.
Campsite/Sleeping
Camp Kitchen
Outdoor Clothing
Extras/Personal Items

❒ Camping tent

❒ Camping sleeping bag

❒ Camping mattress

❒ Camp pillow

❒ Camping chairs

❒ Headlamp

❒ Lantern

❒ Portable toilet and shower

❒ Camping stove

❒ Fuel

❒ Camp table

❒ Cooler

❒ Cookware

❒ Dinnerware/utensils

❒ Knife and cutting board

❒ Spatula and serving spoon

❒ Lighter or matches

❒ Can opener

❒ Wash basin

❒ Campsuds and sponge

❒ Water jug(s)

❒ Coffee-making supplies

❒ Baselayer

❒ Down or synthetic jacket

❒ Rain jacket

❒ Fleece jacket

❒ Hiking pants

❒ Hiking footwear

❒ Wool socks

❒ Gloves and beanie

❒ Sun hat

 

 

❒ Personal hygiene items

❒ First aid kit

❒ Basic repair kit

❒ Sun protection

❒ Lip balm

❒ Insect repellant

❒ Towel or handkerchief

❒ Trash bags

❒ Food and gear storage

❒ Pocket knife

❒ Earplugs

❒ Tablecloth

❒ Firestarter

❒ Firewood

❒ Hatchet

❒ Batteries and/or solar charger

❒ Notebook and pen/pencil

❒ Book or Kindle

❒ Camp games

Campsite/Sleeping Gear
Camping tents are built for luxury and should feel like a second home with spacious floor plans and tall ceilings. Quality models will have ample interior and exterior storage and will be able to keep inclement weather at bay. Our current favorite design is REI Co-op's Kingdom 6, which features a spacious living area, near-vertical walls, plenty of pockets, and a number of customization options (including an add-on Mud Room). For a cheaper option, the Coleman Sundome offers less space and weather protection but for a fraction of the price. If your tent doesn't come with a footprint, we recommend purchasing one to protect the floor from damage (a simple ground cloth or tarp also works). And for coverage during the daytime—especially if you're out for more than a few days—some campers bring along a separate sunshade like the Caddis Rapid Shelter.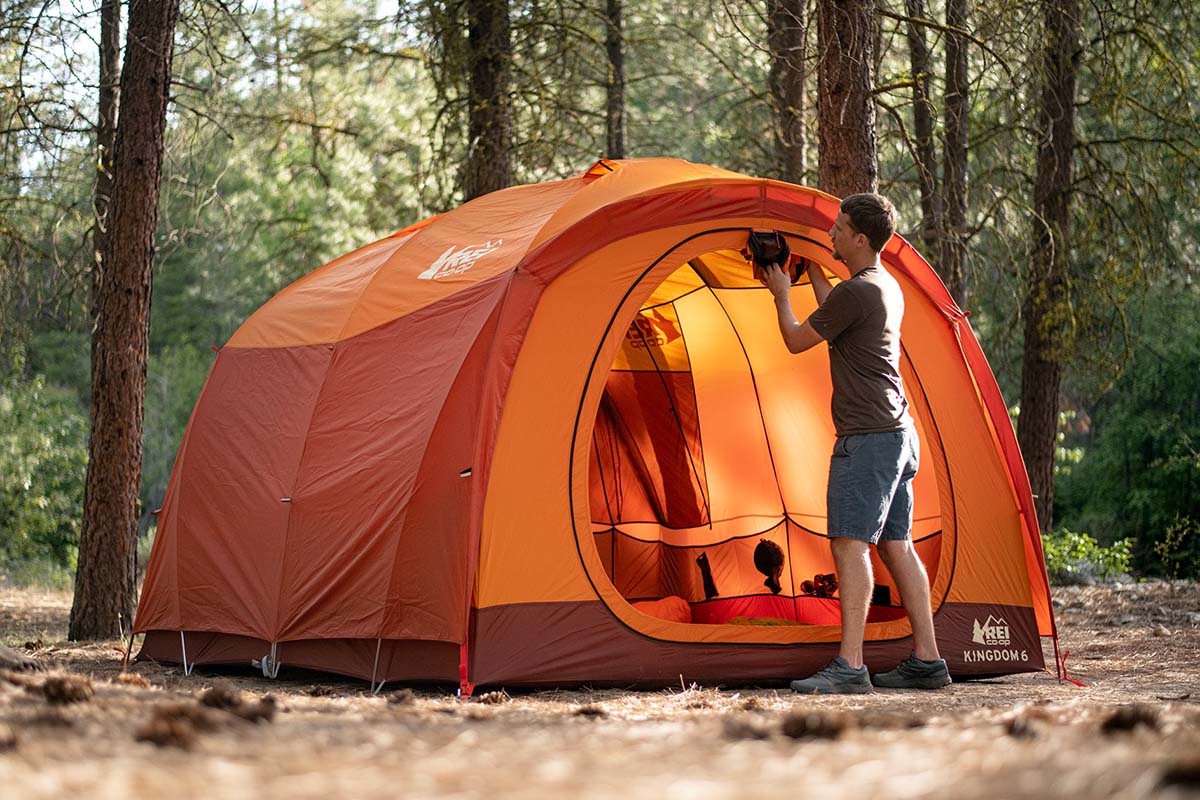 When you don't have to hike to your destination, comfort is much more of a priority than saving weight. As a result, camping sleeping bags put a premium on space and coziness, with rectangular builds, soft face fabrics, and generous insulation. One of our favorite sleeping bags for camping is The North Face's Eco Trail Bed 20, which features synthetic fill, a roomy shape, and a temperature rating of 20°F that will keep you warm in most 3-season conditions. For couples or families with little kids, there are also a number of double-wide sleeping bags worth checking out, such as the Exped MegaSleep Duo. To keep your bag clean and for a boost in warmth, we also like bringing along a sleeping bag liner, as well as an extra camping blanket like REI's Down Camp Blanket or Rumpl's premium Down Puffy Blanket.
Once again, comfort is the name of the game when it comes to a good camping mattress. In contrast to a backpacking sleeping pad, camping-specific models are wider, thicker (some offer over a foot of cushion), and generally warmer (indicated by a higher R-value). Further, a good camping mat will have a soft exterior for next-to-skin feel, and most either self-inflate or come with an air pump (meaning you don't have to use your breath). One of our favorite camping mattresses is the REI Co-op Camp Dreamer XL, which is a self-inflating, 4-inch-thick pad with a 6.6 R-value to keep you warm for most 3-season nights. For the ultimate in luxury, Exped offers the plush, two-person MegaMat Duo, which we've found to be comfortable enough to double as a backup bed for guests at home.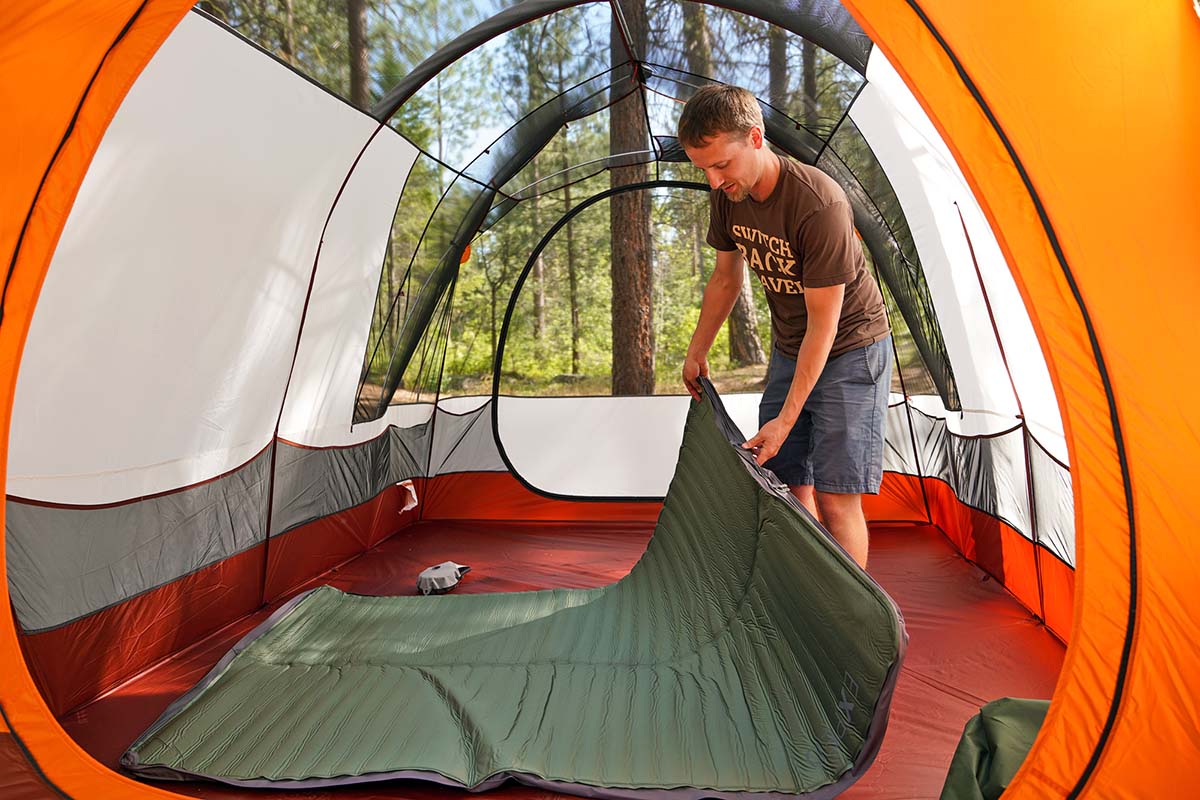 4. Camp Pillow
If you're holding onto the notion that spending the night outside means an uncomfortable sleep, perhaps you haven't tried a good camp pillow. Simply put, if you're going camping without a pillow (even one from your bed at home), you're doing it wrong. In terms of camping-specific models, there are a number of options ranging from ultralight and inflatable (we'll leave those for the weight-conscious backpackers) to compressible yet lofty. Therm-a-Rest is a brand to trust for all things related to sleeping outside, and their Compressible Pillow is a cozy option that is made with recycled foam from the factory's cutting room floor. The pillow packs down small but expands instantly when unfurled and is available in four different sizes (the XL is the size of our pillows at home). Again, you can always grab an old pillow from home. 
 
There are loads of camp chairs on the market that are built with a head-spinning variety of features. To keep it simple, look for something that folds up, is comfortable, and will stand the test of time—the rest is personal preference. You have rocking chair models like the GCI Outdoor Freestyle Rocker, stargazing-ready chairs like the Nemo Stargaze Recliner Luxury, or just classic fold-ups like the Coleman Oversized Quad (which is cheap, comfortable, and comes with an integrated cooler). You'll see a lot of tempting $10 models on the market too, but be careful—at that price, you risk buying something junky that won't last. For another fun way to get off the ground, some campers also bring along a hammock (be sure to do your research ahead of time on potential restrictions and proper setup to limit damage to trees).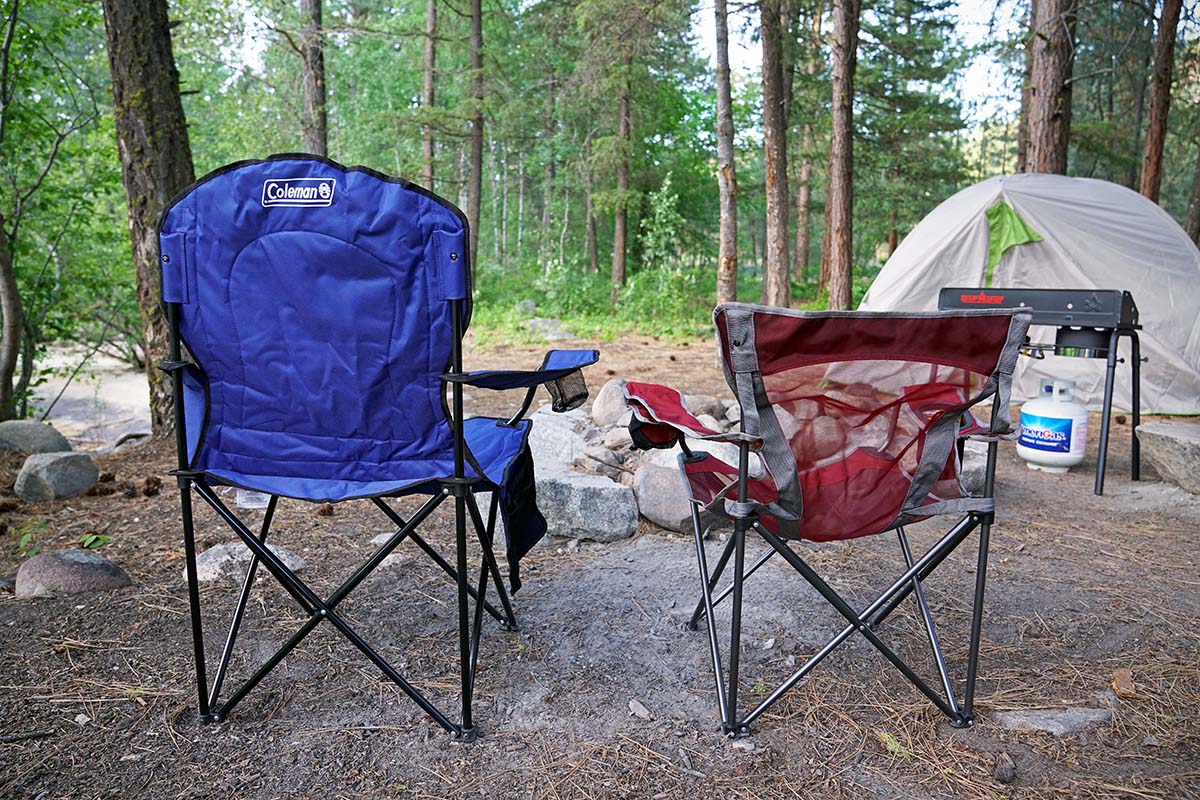 If you've ever tried to set up a tent in the dark or navigate to the outhouse in the middle of the night, you know that stumbling around in the pitch black isn't very fun. And while a lantern can be nice for around the picnic table or in the tent, a headlamp will meet most of your camp lighting needs. A high-quality headlamp for camping will come with a number of different settings, including flood light, distance beams, and colored lights (all of these are useful for various purposes around camp). The number of lumens provides a good gauge of the brightness of a headlamp, and you'll find that anywhere from 200 to 400 is perfectly suitable for camping. Our top pick is the Petzl Actik Core, but there are plenty of other really great options from Black Diamond, Coast, and BioLite, many of which are now rechargeable via USB (the Actik Core included).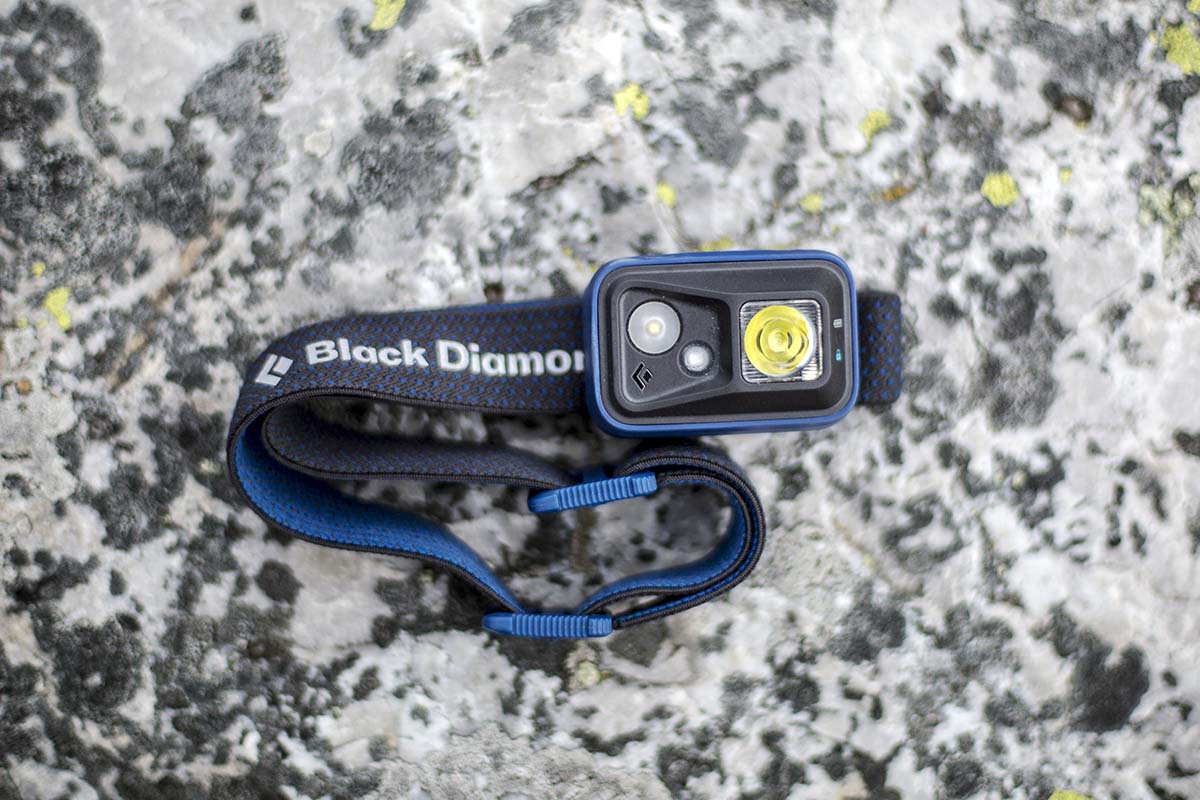 Unless you're camping in the far north in the middle of summer, you'll probably be hanging at your campsite out once the sun sets. Headlamps are ideal for personal lighting (see below), but a lantern can be a game-changer when it comes to group settings and for lighting inside your tent. Lanterns come in all shapes and sizes, and most modern designs are powered by USB-rechargeable batteries. Goal Zero's Lighthouse Mini is a fantastic piece of gear—it can hang from a tent ceiling or prop up on a table, offers various levels of brightness for up to 400 hours of run time (on low with both sides lit), and even doubles as a charging bank for your cell phone. If you'd rather opt for solar, the LuminAID PackLite Max is a versatile option that charges under the sun with its integrated panels, or via USB.

8. Portable Toilet and Shower
If you're camping in an area without access to facilities, a portable camp toilet and shower can make a big difference in overall comfort and cleanliness. For the former, we love the simple and cheap Reliance Luggable Loo, which makes waste disposal incredibly easy with sealable, odor-masking waste bags (sold separately). Shower designs are a little more complex and range from ultra-premium designs like Geyser System's Portable Shower ($260), Yakima's rack-secured RoadShower ($550), and Nemo's Helio LX Pressure Shower ($150) to basic hanging solar options that you can pick up on Amazon for less than $20. If you only plan to use it a couple times a season, we think it's worth saving with one of the latter models.

Camp Kitchen
Camping stoves in 2021 not only are robust and reliable, but also have fine-tuned flame control, simmer capabilities, and consistent heat output. Most models on the market will operate using propane fuel, with a few isobutane and liquid fuel exceptions. Our favorite style of camping stove (which is also the most affordable and versatile) is a double-burner table-top model like the Camp Chef Everest. You get two burners, 20,000 BTUs of heat output (that kind of power makes for a quick boil), and excellent simmer control. Another reason we love this style of stove is that it packs up small and slides into a corner of your car, unlike bulkier freestanding models. 
 
10. Fuel
As we mentioned above, most camp stoves are fueled by propane, which can be purchased from your local hardwear or camping store (or even big box stores) in 16-ounce containers. If you plan to make a habit out of camping, it can be a good idea to get a small, refillable propane tank like the Ignik Gas Growler Deluxe, which even includes a hose with fittings for easy connection to your stove (alternatively, you can buy a propane tank locally and purchase the Coleman 5-Foot Propane Adaptor Hose separately). If you have a stove that runs off of white gas, this also is easily found at any number of locations (gas doesn't ship online, so you'll be buying it in person no matter what). As you get to know your stove you'll become more familiar with how much fuel it uses and thus be able to pack accordingly, but for car camping we always recommend bringing more fuel than you think you'll need (because, why not?).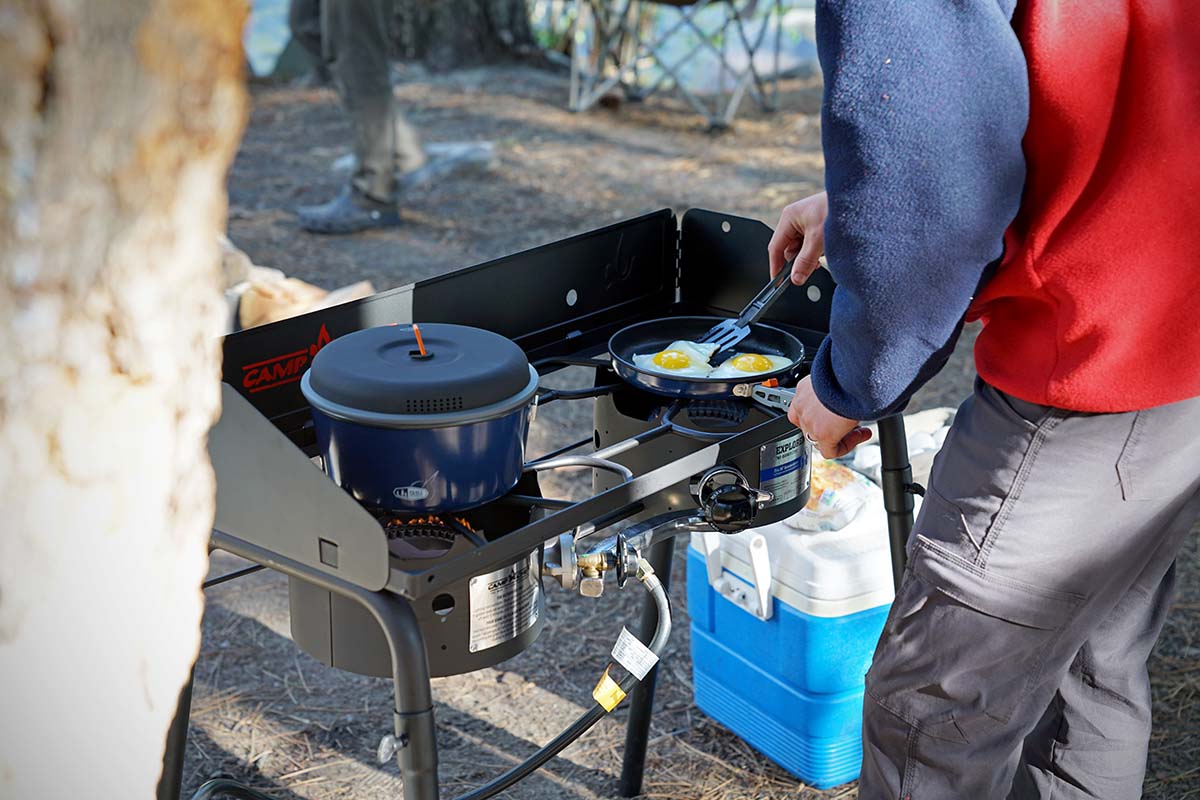 11. Camp Table
Many campgrounds have picnic tables at each campsite, but it never hurts to have a portable table. An extra surface is a great place to prop your stove or cutting board (and if you're utilizing dispersed camping, it will be even more indispensable). There's no shortage of options on the market, including lightweight and packable aluminum styles and durable models with heavy-duty steel bases. From our experience, GCI Outdoor's Compact Camp Table 20 is a nice option, pairing an affordable price tag with a solid, packable design (and the table can handle up to 60 lbs.).
Keeping your food and beverages cold while camping is key. A cooler's ability to keep the interior temperature low is the biggest consideration here, and many manufacturers display a "claimed ice retention" spec. Another factor to consider is durability, which includes the decision between a hardshell and softshell cooler. For car camping, we think that hardshell coolers are best: they keep items colder for longer, and the top surface always can double for counter space. One of our favorite models is the Yeti Tundra 45, which is a high-end, durable, and good-looking cooler that is available in over 10 sizes. For a cheaper option, we've been pleasantly surprised with the Coleman Xtreme 5, which is a fraction of the price but enough for most weekend trips. 

13. Cookware (Pots and Pans)
If you plan to cook up any sort of meal or even boil water—no matter how simple or complex—you'll want to have at least a few pots and pans in your camp kitchen. Most campers can get away with a soup pot and frying pan, although your cookware choices definitely depend on your culinary aspirations and group size. We've also like to bring a dedicated tea kettle to keep the morning beverages flowing while using our pot for breakfast cooking. If you're on a budget, your local thrift store is a great place to find cookware (you can even borrow from your own kitchen cabinets), but outdoor-specific items can be nice to have, primarily for their durability. GSI Outdoors' Bugaboo Base Camper Cookset is a great all-in-one solution, which includes two teflon-coated pots with lids (3- and 5-liter), a 9-inch frypan, cutting board, and pot gripper. 

14. Dinnerware
Once your food is hot and ready, you'll want to be prepared with plates and bowls, mugs or cups, utensils, and more. We strongly recommend using reusable dinnerware over their single-use counterparts, and there's no shortage of options to choose from. GSI Outdoors' Pioneer Enamelware Table Set is a great purchase if you're just building your camp kitchen, and includes four enameled steel plates, bowls, and mugs. In terms of utensils, we love the affordability and hand feel of the simple (and BPA-free) GSI Outdoors 3-Piece Ring Cutlery Set.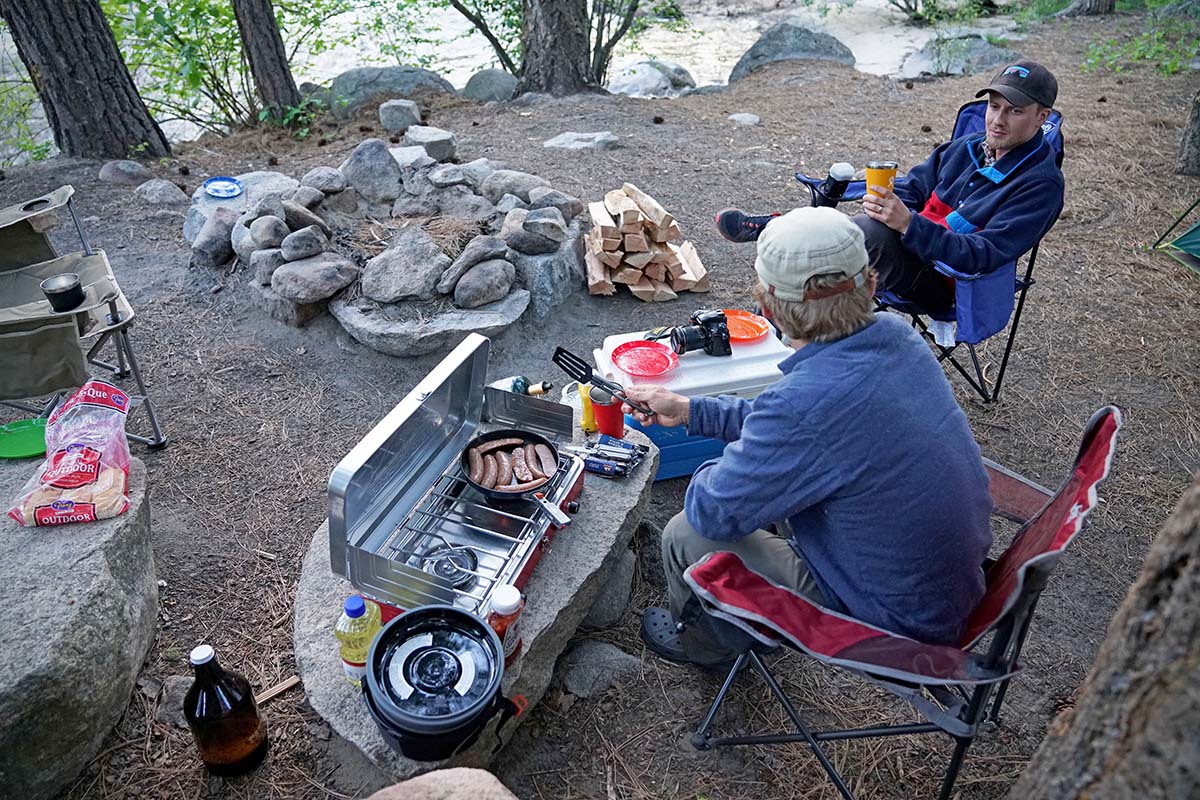 15. Food Prep and Dish-Washing Supplies
Because there are so many camp kitchen odds and ends that you don't want to leave behind, we like to keep everything organized in a large Rubbermaid bin. Additional food preparation items that we bring include salt and pepper shakers, a can opener and wine bottle opener, a few knives, a plastic cutting board (or two), extra lighters or matches, and a spatula and serving spoon. In terms of after-meal cleanup, we like to pack a dish tub (you can go with a simple plastic model or opt for a camping-specific collapsable design like the Sea to Summit Kitchen Sink), biodegradable Campsuds, a sponge, and a towel (or two) for drying. Finally, we love the convenience of a reusable water jug (ours is 7 gallons) with an on/off spigot for easy use. 
 
16. Coffee-Making Supplies
Ah, coffee. For the staff at Switchback Travel, a good cup of morning brew is so important that coffee has earned its own section on our camping checklist. And just because you're making it on a camp stove doesn't mean quality needs to be sacrificed. There are no shortage of ways to make coffee while camping, from simple just-add-water options like Alpine Start's Instant Coffee to more complex pour over and french press methods (for a taste of the market, just check out REI's coffee selection). Over the years, the AeroPress has become our preferred way to make coffee while camping, particularly due to its easy cleanup. And remember: just because coffee grounds are biodegradable does not mean you can throw them into the woods. Please practice Leave No Trace and pack out what you've brought in.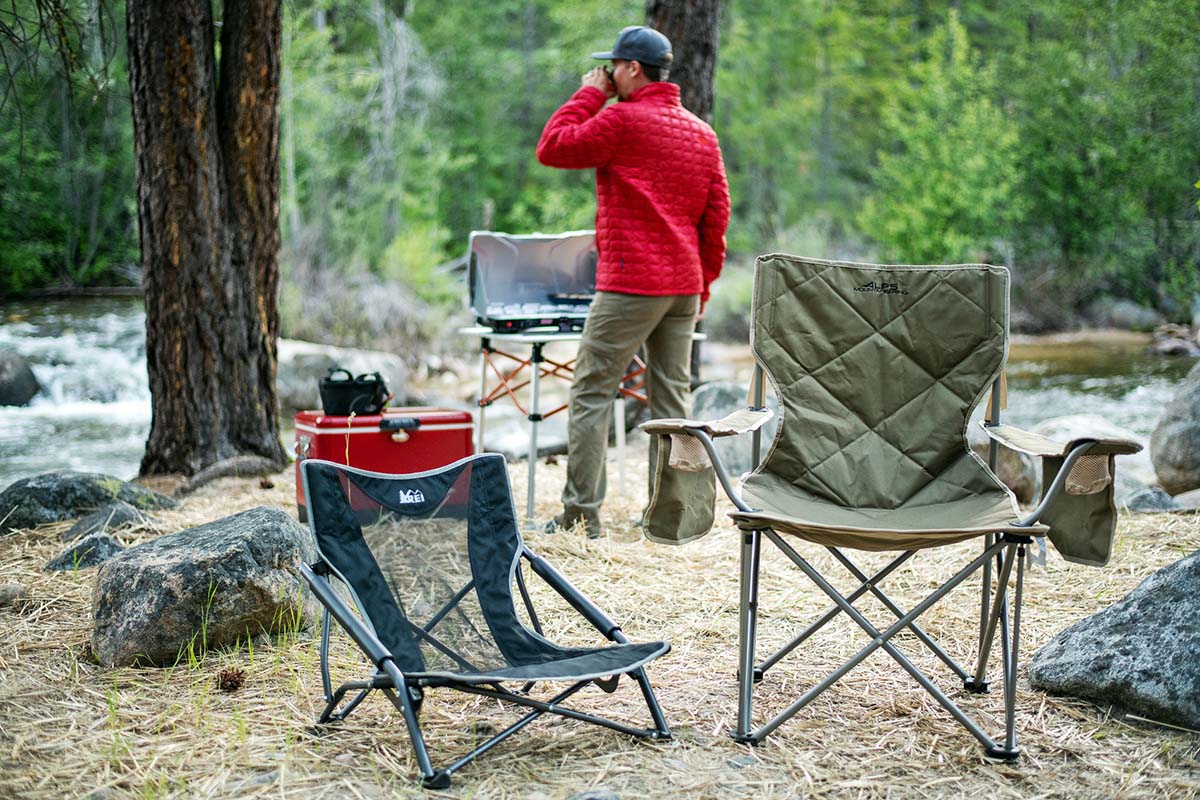 Outdoor Clothing
As your next-to-skin layer, your baselayer is tasked with pulling moisture (i.e., sweat) away from your body and regulating your core temperature. Cotton is known to be a poor performer when it gets wet, so we recommend opting for merino wool or polyester. For a balanced option that performs well in mild temperatures, Smartwool's Merino 150 line of short- and long-sleeve T-shirts is hard to beat. The 100 percent merino wool does an excellent job resisting moisture, doesn't hold a stink, and is very soft and comfortable against the skin. For a cheaper synthetic option, Patagonia's Capilene series is legendary and comes in a variety of thicknesses and styles. 
Even for camping in the summer, you'll likely want some sort of an insulated jacket to stay warm during chilly evenings and mornings. When it comes to warmth, you have two main choices for insulation: down and synthetic. Down fill is warmer, lighter, and longer-lasting than synthetic, but it's generally more expensive and doesn't insulate well when wet. You'll also want to be careful with down jackets around a fire—when sparks fly and poke tiny holes in your jacket, feathers are given an ideal escape route (whereas synthetic fill is more integrated and likely to stay put). Camping can be hard on insulated jackets, and we recommend that you aim for an affordable, durable option over the top-of-the-line, uber-light models. And for camping, we always like to bring along our favorite fleece jacket, which doesn't offer the same warmth but is more durable.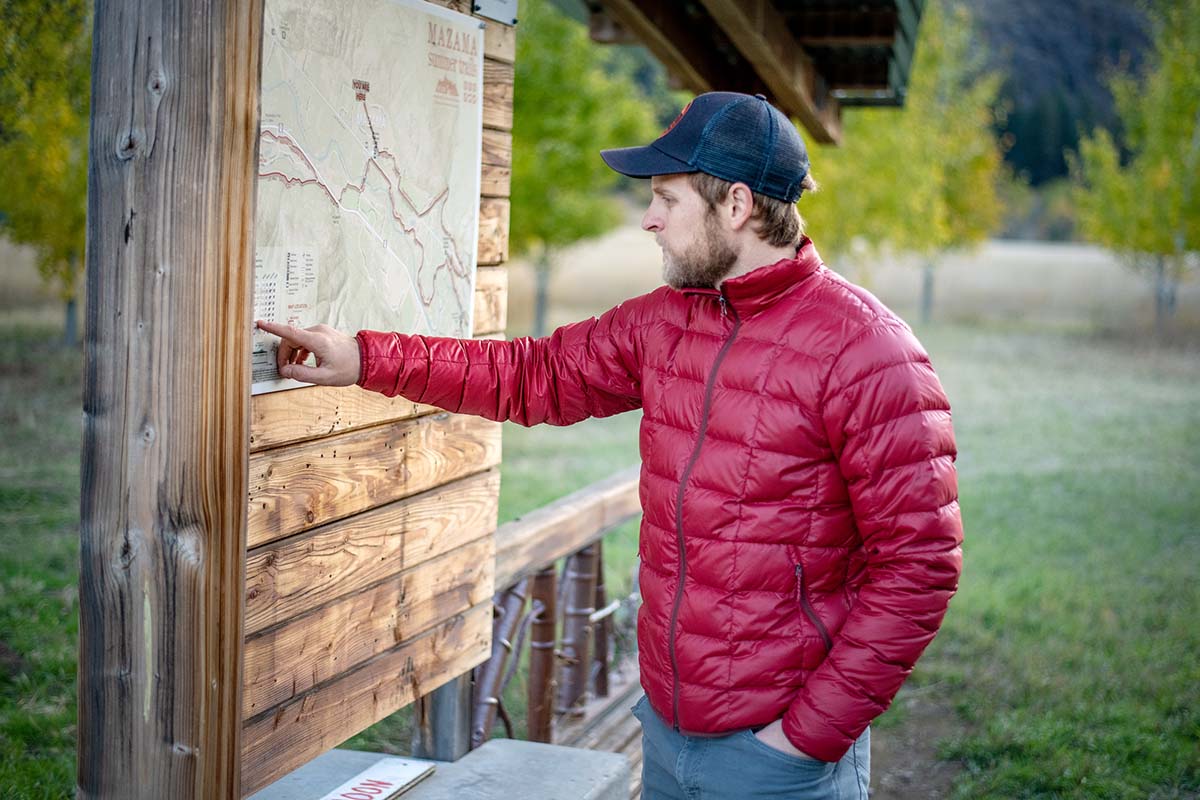 Weather forecasting is so good these days that many will choose to stay home rather than go camping with serious rain in the forecast. But if you're tougher than most (or want to be prepared in the event of a surprise storm), it's important to bring a rain jacket you can rely on. Again, camping is hard on your gear and you won't need the lightest or most technically savvy rain jacket available, but you do want to stay dry. One of our favorite options is the Marmot PreCip Eco, which manages to combine reliable waterproofing, breathability, and build quality for around $100. For a sizable boost in performance, Patagonia's 3-layer Torrentshell is pricier at $149 but an excellent value for what you get.
Hiking pants might be overkill for car camping, but we wanted to include them on our list in case you're looking for something a bit more outdoor-ready than your trusty pair of jeans. Made in a variety of styles for both men and women, hiking pants are great for freedom of movement (some even have integrated stretch), wick moisture and don't grow heavy when wet, and come with a plethora of pockets (most campers will find this very useful). Some of our favorite models come from prAna—their men's Stretch Zion and women's Halle pant have wonderful stretch fabric that offers a bit of warmth alongside a great fit.
If you're looking for durable footwear that will protect your feet around camp and keep you supported on nearby trails, you can always grab a good pair of hiking shoes or boots. These days, we prefer shoes over hiking boots for their lighter weight and better maneuverability despite having a low-height ankle. The Merrell Moab 2 Ventilator is an excellent choice for campers, with a durable leather upper and mesh panels for breathability, a beefy sole for solid traction on everything from mud to rock, and a reasonable $100 price tag. The Moab 2 also comes in a mid-height version for only $10 more, which will be ideal for those needing more support or coverage around the ankle. We also love bringing along a separate pair of camp sandals for lounging and performing camp chores (Chacos and Tevas practically define the category).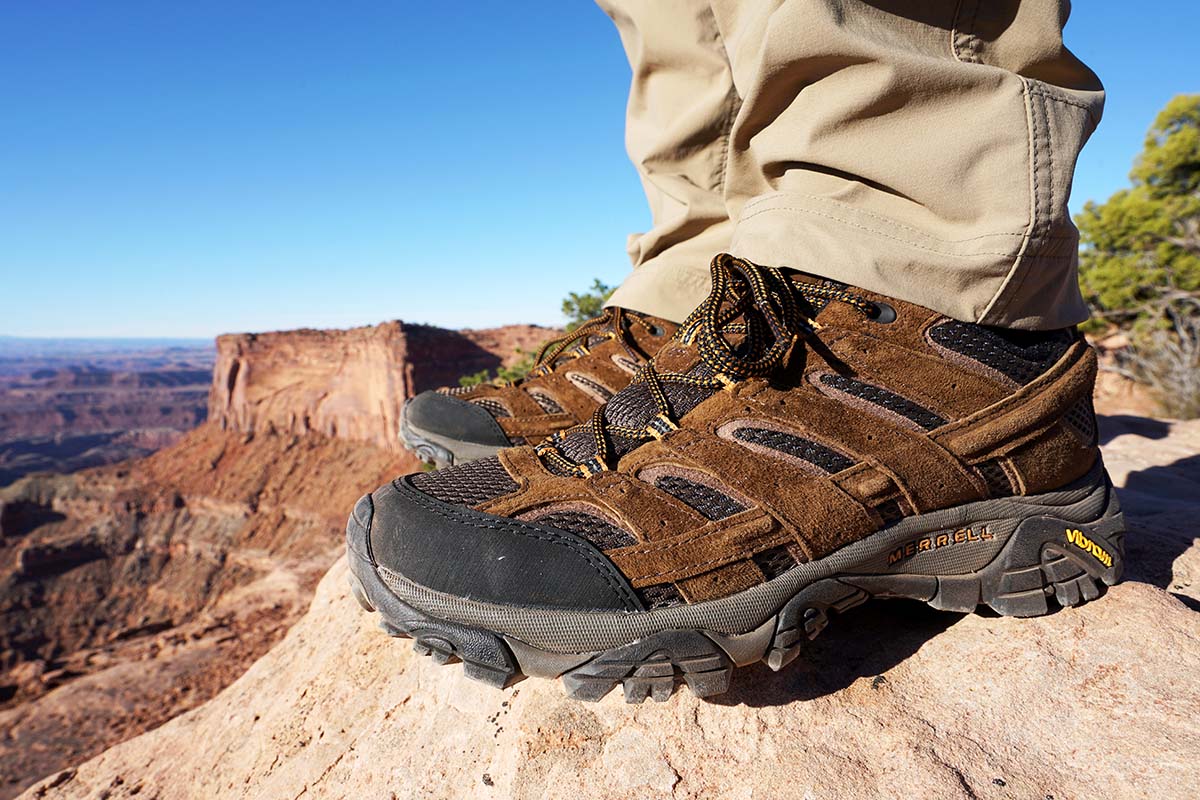 You can get away with any style of sock for camping, but we'll give you our recommendation here. Wool hiking socks, unlike your standard white-cotton fare, are warmer (even when wet), wick sweat better, and won't stretch out after days of use. We particularly like socks that incorporate merino wool, like the Darn Tough Micro Crew Cushion. Darn Tough socks are super durable, come in a variety of colors and styles, and have a lifetime guarantee. So whether you need socks for camping or you just need socks (we wear Darn Tough most day), this is a great place to start.

23. Gloves and Beanie
You can never be sure what temperatures are going to do, even in the middle of the summer. As an added layer of insurance, we recommend bringing a pair of gloves and beanie to wear while you sleep or in the cold of the morning. Ideally, these items are easy to launder (things get dirty when you're camping) and cozy enough to wear in your sleeping bag. You'd be surprised at how much warmth you can get out of a lightweight pair like REI Co-op's Liner Gloves, and they won't take up much room in your pack. For a hat, we love having the option of pulling the cuff over our eyes when we sleep, as is possible with the Patagonia Brodeo Beanie.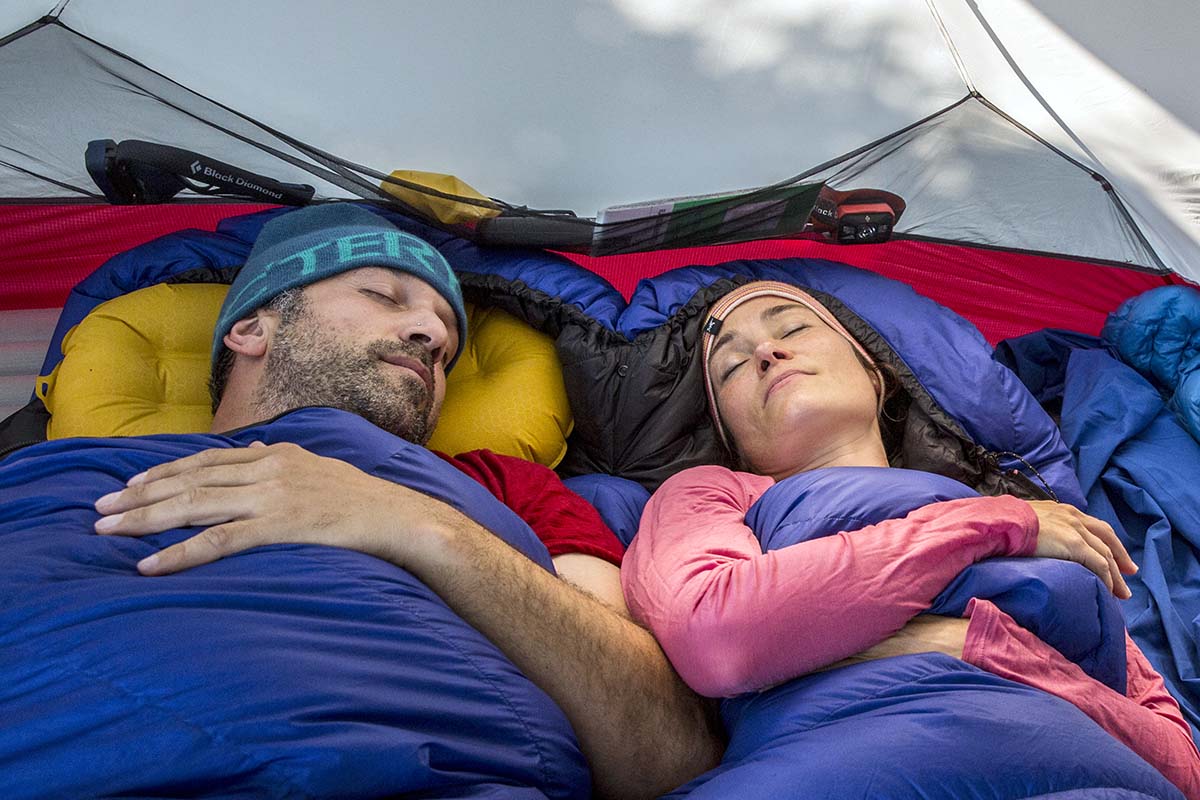 Extras/Personal Items
Most items on the above checklist are obvious camping essentials that you probably won't leave behind—especially big-ticket items like a tent, sleeping bag, and camp stove. That said, forgetting the insect repellent or sunscreen can be just as much of a trip-ender as leaving your tent at home. On that note, here are some of the smaller, easier-to-overlook items that you'll want to be sure to bring along.
Hygiene items (toothbrush, toothpaste, toilet paper, body wipes, etc.)
First aid kit
Basic repair kit (multitool, duct tape, utility cord, etc.)
Sunscreen
Sunglasses
Sun hat
Lip balm
Insect repellant
Pack towel or handkerchief
Trash bags
Food and gear storage (Ziploc bags, plastic bins, etc.)
Pocket knife
Earplugs
Tablecloth
Firestarter
Firewood
Hatchet
Batteries and/or solar charger
Notebook and pen/pencil
Book or Kindle
Camp games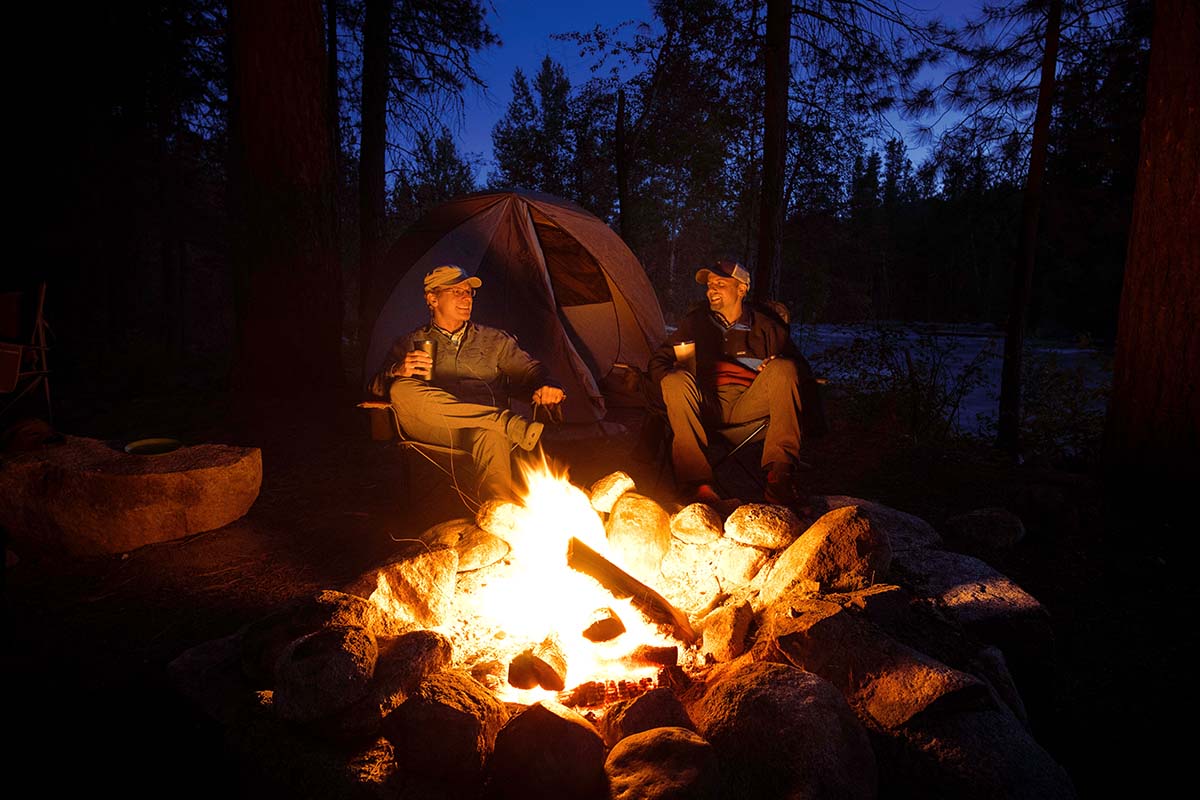 Where to Buy Camping Gear
When it comes to purchasing gear, we recommend supporting your local gear shop whenever possible—they are important community centers for outdoor enthusiasts, and chances are that the staff will have insider information about the surrounding wild spaces. That said, we tend to do the lion's share of our gear shopping at REI Co-op, which has over 100 brick-and-mortar locations across the U.S. and an excellent inventory both in-store and online. Another good option for online shopping is Backcountry.com, which offers free shipping on orders over $50 and excellent customer service. For cheaper items and those who need gear quickly, it's hard to beat Amazon and the sheer volume of sellers and product options. It's also worth checking to see if there is a consignment or used gear shop near you—buying secondhand does not always mean sacrificing quality, and you also get the satisfaction of knowing that you're keeping equipment out of the landfill by giving it a second life.
Back to Our Camping Checklist  See Our Camping Gear Reviews