Visiting "Glacier Country" on the West Coast of the South Island is a highlight of traveling in New Zealand. Fox Glacier and Franz Josef Glacier are two are the biggest glaciers in the country, snaking downward from New Zealand's tallest peaks to only a few hundred meters above sea level. Much of the vertical drop is visible: their terminal faces are surrounded by rainforest and are extraordinarily close to the coastline.

Of the two small towns in Glacier Country (both named after the corresponding glaciers), Franz Josef has seen considerably more development and is lined with hotels and hostels. Fox Glacier is a quiet one-street town but has tasty food and a good kiwi vibe—it gets our vote as the better place to stay.
 

Things to Do in Fox Glacier
Fox Glacier Hiking Trails
You don't need to spend big bucks to get big views of Fox Glacier: there are a number of excellent and free hiking trails in the area. The Fox Glacier Valley Walk (2.6 km return) and Chalet Lookout Track (3.6 km return) have lookouts over the lower section of the glacier and surrounding valley. On a clear day, the hike up Mount Fox ends with one of the best panoramas on the South Island including Fox Glacier, Mt. Tasman, and Mt. Cook.
 
Guided Glacier Walks
Few glaciers of this magnitude anywhere in the world are as readily accessible. Fox Glacier is just over 4 km from the town center and Fox Glacier Guiding runs a number of daily tours onto the ice. The easiest option is the half-day tour with 1–2 hours on the ice. Full-day tours go considerably farther on the glacier. Heli-hiking provides a scenic flight and unique vantage points from higher up on the glacier. The cherry on top is the Chancellor Dome heli-trek with an overnight at historic Chancellor Hut.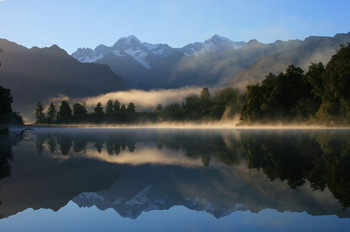 Lake Matheson
The iconic images of Fox Glacier and the Southern Alps reflected over a pristine body of water are from Lake Matheson. The lake, 5 km west of town, was formed approximately 14,000 years ago when Fox Glacier retreated, leaving behind a depression that filled with fresh water. An easy walking trail around the lake (3.6 km) provides excellent views of Glacier Country and a perspective far different from the up-close glacier tours. Lake Matheson is approximately five kilometers from town and the popular Matheson Café is nearby.
Climate/When to Go
Fox Glacier can be visited throughout the year but late summer and winter are the most settled. The West Coast is known for precipitation and Glacier Country is no exception. Weather patterns move through quickly—keep an eye on the conditions and plan activities accordingly. The mornings are often crisp and clear but afternoon fog rolls in quickly. If possible, spend a couple of days in Glacier Country to increase the likelihood of good views. 
Learn More About New Zealand