Located in a narrow valley at the end of Highway 80 four hours north of Queenstown, Mt. Cook Village is surrounded by glaciers and rocky peaks. Mt. Cook, called Aoraki or "Cloud Piercer" in Maori, is the highest mountain in New Zealand at 3,754 m (12,316 ft), and people come to Mt. Cook Village primarily to witness the alpine scenery. A significant number of people merely stop in or stay at the Hermitage Hotel for panoramas of Mt. Cook and the Southern Alps. Others hit the region's hiking trails for even bigger views. For hearty outdoorspeople, Mt. Cook Village serves as a launching point for serious alpine treks and mountaineering.

Things to Do in Mt. Cook Village
Sir Edmund Hillary Alpine Centre
Located at the Hermitage Hotel, the Sir Edmund Hillary Alpine Centre offers an interesting in-depth look into the history of the Mount Cook region. The museum is free and 3D movies and a planetarium are available for a small charge.
 
Hiking Trails
A number of trails depart directly from Mount Cook Village and offer wide-ranging mountain views, including the Red Tarns Track (2 hours), Kea Point Walk (2 hours), and Hooker Valley Track (4 hours). For longer treks, see the Mueller Hut and Alpine Trekking sections below.
 
Mueller Hut
For mountain enthusiasts, one of the highlights of visiting the South Island is Mueller Hut. Staring directly at Mt. Cook with a 360-degree panorama of the Southern Alps, Mueller Hut is one of New Zealand's finest public cabins. The hike up isn't easy—it's 3 to 4 hours and 1,000 vertical meters—but an overnight stay makes the journey manageable.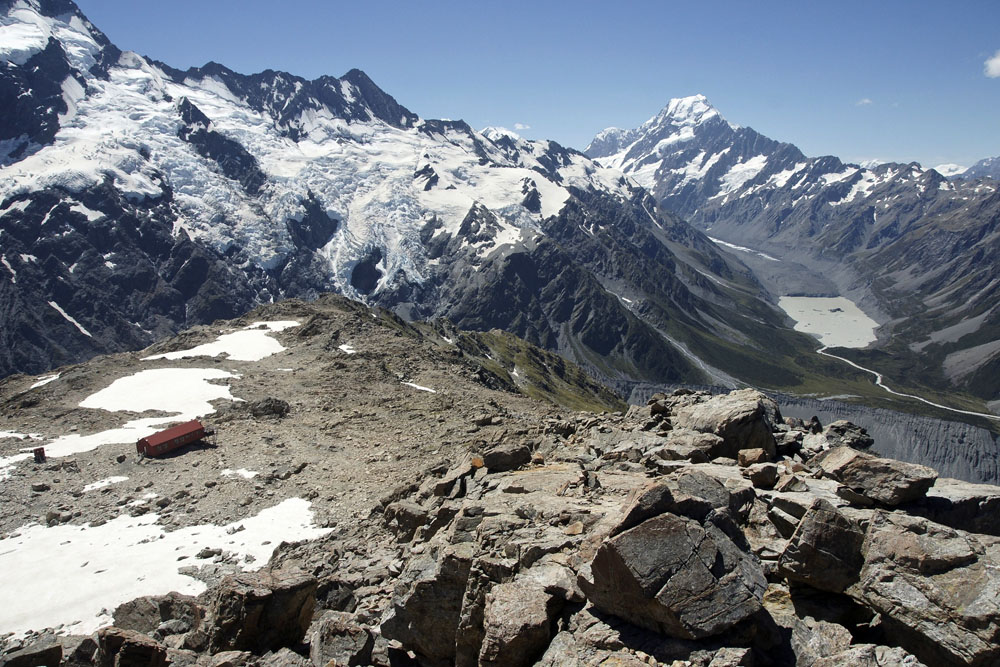 Alpine Trekking and Mountaineering
For serious trekkers and climbers, Aoraki/Mt. Cook National Park is New Zealand's holy grail. Outfitter Alpine Recreation guides a range of alpine treks and climbs, some of which include use of private Caroline Hut at the foot of Mount Cook. For climbers, Mount Cook isn't a behemoth by international standards but its relative height and quick rise make it a challenging, world-class climb. Other noteworthy climbs in the area include Mount Tasman, Mount Sefton, and Mount Aspiring.
 
Glacier Kayaking
Two nearby bodies of water, Mueller Glacier Lake and Tasman Glacier Lake, are among the only accessible glacial lakes in the world containing icebergs. You can head out on a half-day kayaking trip with local guides Glacier Kayaking to get up close and personal with this otherwordly landscape.
 
Hermitage Hotel
The Hermitage Hotel in Mount Cook Village is the most popular place in town to soak up the grand scenery. The Hermitage may be touristy but few places in New Zealand can rival the views. For those not staying at the hotel, the Snowline Lounge is a terrific place to relax and grab a drink.

Climate/When to Go
Mt. Cook Village has an alpine climate with warm summers and snowy winters. Summer high temperatures average 21°C (70°F) and winter high temperatures average 6°C (43°F). Hikers should come prepared for cold and windy weather at any time of year. The region is just over 40 kilometers from the coast— storms arrive suddenly from the Tasman Sea and conditions change quickly.
Learn More About New Zealand