Rotorua is a land of geothermal pools, lakes, and steaming geysers located in the heart of the North Island's Taupo Volcanic Zone. The region was the birthplace of tourism in New Zealand—in the 19th century people flocked to the Pink and White Terraces that were covered over by the eruption of Mt. Tarawera in 1886. Rotorua also is a cultural center with a long indigenous history and Maori currently make up over one-third of the population.
Rotorua now is one of New Zealand's most popular tourist destinations with over three million annual visitors. Part of the reason is location: Auckland is three hours north and Tongariro National Park is less then two hours south. Together the three destinations make a popular North Island loop. Rotorua's geothermal landscapes are fascinating and there's plenty to see before moving on.
Things to Do in Rotorua
Waimangu Volcanic Valley
Located thirty minutes south of Rotorua, the Waimangu Valley is a "new" thermal eco-system created by the eruption of Mount Tarawera in 1886. The Valley is home to Frying Pan Lake, the largest hot spring in the world, the Inferno Crater, and Cathedral Rocks, among other natural attractions. It also encompasses Lake Rotomahana, the former site of the Pink and White Terraces. Waimangu is a great place to hike and explore Rotorua's natural wonders at your own pace. 

Wai-O-Tapu Geothermal Area
Wai-O-Tapu has similarities to Yellowstone National Park's Old Faithful and Geyser Hill. The area has a number of geothermal sites including Lady Knox Geyser, the Champagne Pool, Artist's Palette, and other colorful hot springs and pits of bubbling mud. Ten minutes from Wai-O-Tapu are the Waikite Valley Thermal Pools, a popular place to soak and relax in the warm mineral waters.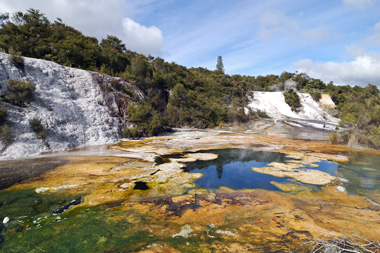 Orakei Korako: The Hidden Valley
One hour south of Rotorua is Orakei Korako, a remote valley considered to be one of the purest examples of Rotorua's volcanic activity. Visiting Orakei Korako requires a short ferry ride to an area that has the largest number of active geysers in New Zealand and one of only two geothermal caves in the world.
 
Mountain Biking
Rotorua is a top-flight mountain biking destination. The nearby Whakarewarewa Redwood Forest has one of New Zealand's oldest biking networks with over 70 km of track catering to all abilities (admission is free and there are a number of hiking trails as well). Southeast of Rotorua is the Whirinaki Forest, a 16-km purpose-built trail through some of New Zealand's most pristine indigenous forests.
 
Adrenaline Activities
The Rotorua region has taken a page out of Queenstown's book and developed a considerable infrastructure of adrenaline activities with somewhat less impressive scenery. Among the offerings are skydiving, bungy jumping, river rafting, and the Skyline Luge.
 
Rotorua Climate/When to Go
Rotorua has a warm, temperate climate and is a good travel destination year-round. Average high temperatures in the summer are 23°C (73°F), with average highs in the winter of 12°C (54°F). Rotorua's inland location shelters it from the wind relative to other exposed parts of the country.
Learn More About New Zealand