The laid-back seaside town of Kaikoura doesn't always get mentioned among New Zealand's top outdoor destinations. It should. Located on the east coast of the South Island between Marlborough and the city of Christchurch, the Kaikoura Peninsula juts out into the Pacific Ocean beneath the snow-capped Kaikoura Mountains. Whale watching is the most popular activity but Kaikoura also has terrific hiking trails and local surfers know the waves are some of the best in New Zealand.

 
Things to Do in Kaikoura
Marine Life
The abundance of Kaikoura's marine life is all about geography: the unique makeup of the coastline including the underwater Kaikoura Canyon creates a rich feeding environment. Several species of whales frequent the area and young sperm whales in particular thrive off the nutrients before heading north. In addition, orcas, dolphins, sharks, seals, and a variety of seabirds all are Kaikoura mainstays. A number of local companies are geared toward marine life viewing including Whale Watch Kaikoura, Dolphin Encounter, and Kaikoura Kayaks.

Hiking
The Kaikoura Peninsula Walkway (5.6 km return from Point Kean to South Bay) is one of the best easy walks on the South Island. The trail skirts the cliffs over the Pacific Ocean adjacent to rolling farmland with the Kaikoura Mountains behind. For a reversal of perspective, the hike to Mount Fyffe Hut (5 hours return) offers a number of viewpoints over the Kaikoura Peninsula and the Seaward Kaikoura Range. From Mount Fyffe Hut it's an additional 2–3 hours return to the summit of Mount Fyffe (1,602 m).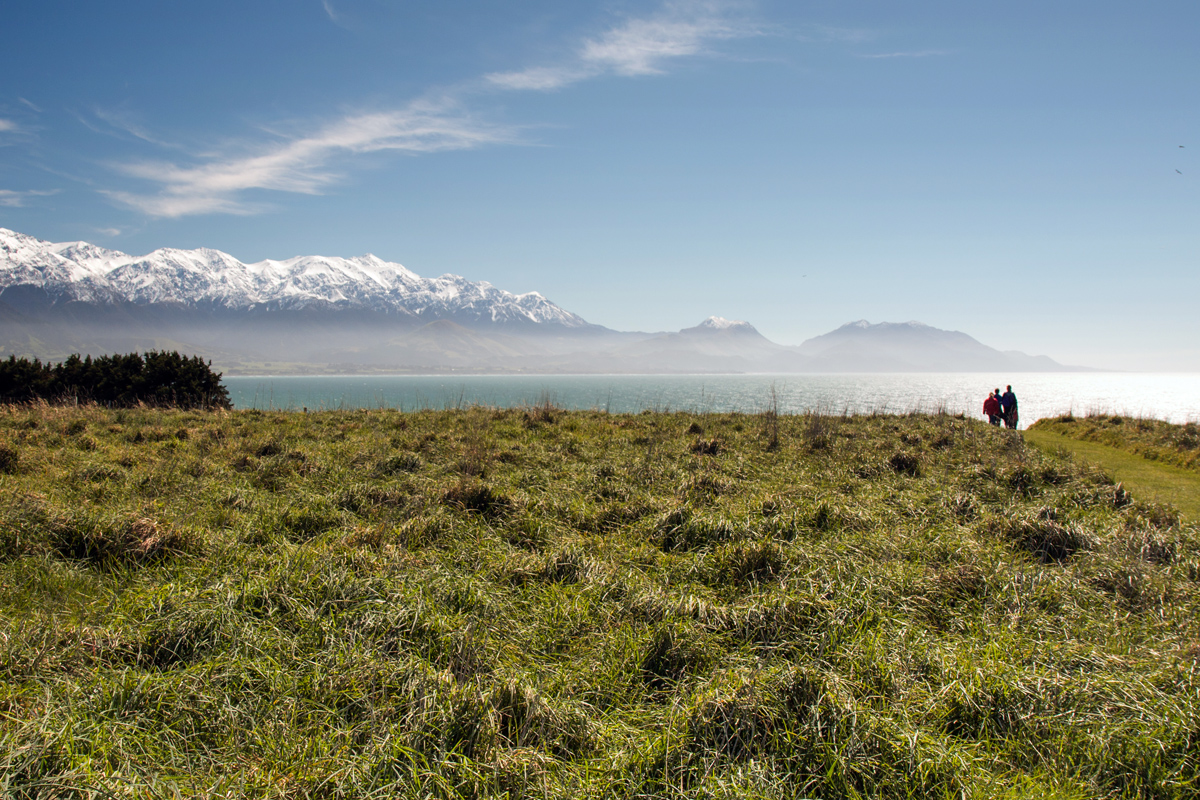 Seafood
Kaikoura means "meal of crayfish" in Maori, which is plentiful in the bays and shallow waters. For an authentic experience, Nin's Bin (23 km north of town) is the original crayfish caravan, serving up the freshest possible seafood from a small trailor on the beach. A closer option is the Kaikoura Seafood BBQ Kiosk on Fyffe Quay. The local specialty is steamed crayfish with a side of garlic butter.

Surfing
Kaikoura doesn't draw the attention of North Island surfing hotspots like Raglan or Taranaki, but the waves are first-rate with fewer people in the water. Some of the better known waves are Kahutara (19 km south of town) and Mangamaunu (16 km north of town), and the Kaikoura coastline is loaded with off-the-beaten-path surf spots. 
Climate/When to Go
Kaikoura has a temperate climate with warm summers and mild winters. Snow is rare in town but frequently hits the high mountains nearby. Whale watching is a year-round activity in Kaikoura—a number of whale species migrate through the area at different times of the year. Sperm whales are the most common visitors, and depending on the season, there may also be Humpbacks, Blue Whales, Southern Right Whales, and Pilot Whales.
Learn More About New Zealand