From resort days to deep backcountry missions, Patagonia's 2023 ski jacket lineup covers nearly the full gamut of possible designs. At the time of publishing, a grand total of seven different models are offered—one of which is available in insulated, 3-in-1, and standard shell variations—so there's a lot to consider. To help you better understand Patagonia's ski jacket line, we've broken down each product to highlight where it excels (or doesn't), who it's best for, and how they compare to one another. For more information, see our comparison table and buying advice below the write-ups. And for a wider look at the market, see our articles on the best ski jackets and best women's ski jackets.

Patagonia's Best Resort/Downhill Ski Jacket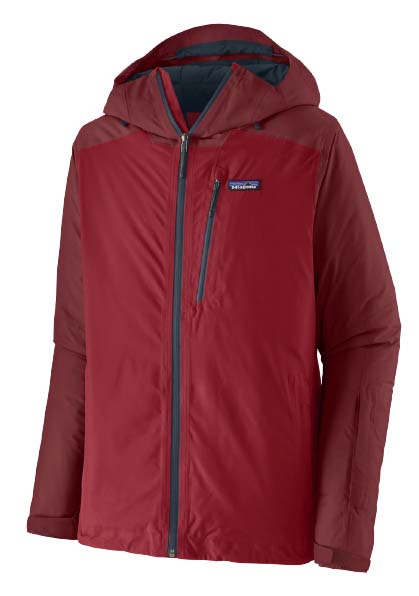 Best for: Resort
Waterproofing: 2L H2No
Insulated: Yes (80g & 40g synthetic)
What we like: Great mix of comfort and warmth for resort skiers.
What we don't: Not super breathable and the shell isn't as burly or protective as the pricier options below.
Patagonia's leading resort jacket is the Insulated Powder Town, which replaces the popular Snowshot/Snowbelle for the 2023 season. Key changes include a revamped pocket layout, new colorways, and more sustainably sourced materials, including a postconsumer recycled polyester shell and lining, 100% recycled insulation, and PFC-free DWR. Importantly, the latest design still checks all the right boxes for downhill use: The fabrics are surprisingly soft given the price, the jacket is quite cozy and warm with 80-gram synthetic in the body and 40g in the sleeves, and the regular fits allow for layering underneath without unnecessary bulk. Plus, it's easy to batten down the hatches on the lift with a helmet-compatible hood that offers intuitive adjustments, or you can open the pit zips for short sidecountry hikes or on warm days. All told, we think the Powder Town offers a great mix of comfort, performance, and price (for Patagonia).
Patagonia doesn't really do budget—in cost or in quality—and the Powder Town is their cheapest waterproof ski jacket at $349 for the uninsulated version (the Upstride below costs less at $299 but is only water-resistant). As such, you get an in-house 2-layer construction that's a little less weather-worthy than upgraded Gore-Tex designs like the PowSlayer or Triolet below. It's also lacking in breathability for uphill travel compared to both of those alternatives, as well as the SnowDrifter and Stormstride below (both of which use 3L H2No). Finally, the 75-denier (D) shell is on the thin end for a resort-focused jacket. But that does help keep bulk to a minimum, and we didn't have any issues with the past-generation Snowshot, which was also 75D. In addition to the uninsulated version mentioned above, the Powder Town is also made in a 3-in-1 variation, although it's pricey at $499 adds a fair amount of bulk and heft (2 lbs. 8.6 oz. for the men's jacket)... Read in-depth review
See the Men's Insulated Powder Town  See the Women's Insulated Powder Town
A More Durable and Premium All-Mountain Jacket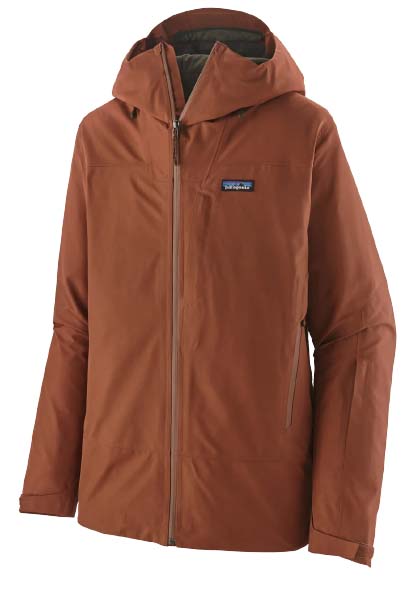 Best for: Resort
Waterproofing: 2L Gore-Tex
Insulated: No
What we like: Burly construction holds up well to extended use and is now fully PFC-free.
What we don't: Pricey for a 2-layer Gore-Tex jacket and no longer sold in an insulated version.
A second new design from Patagonia this season is their Storm Shift, which replaces the Powder Bowl collection and represents a step up in price and performance from the Powder Town above. The biggest differences come in the form of a burlier 150D shell—which is noticeably thicker than the 75D Powder Town—along with the addition of a Gore-Tex membrane. This translates to better durability and all-around protection in bad conditions, which is a plus for hard chargers and those who spend a fair amount of time in the trees. Patagonia no longer offers an insulated version like they did with the past-generation Powder Bowl—you'll likely need to add a warm midlayer on especially cold days—but the large panels of thin, brushed fleece along the interior (its zigzag pattern is reminiscent of Patagonia's R1 Air) and stretchy taffeta panels add a small dose of warmth and wick moisture well. Added up, the Storm Shift is a burly and confidence-inspiring option for rough and frequent resort use.
Our biggest complaint with the Storm Shift is cost. Compared to the uninsulated version of the Powder Town above, you see a significant jump in price of $130, but perhaps without enough to show for it. Both designs are fully resort-ready and share important features like powder skirts, pit zips, and plenty of pockets (the Storm Shift tacks on an additional interior stash pocket). And they are standouts in sustainability, although the Storm Shift is particularly notable by combining Gore-Tex performance in a fully PFC-free build (fluorinated chemicals are known to be harmful to human health and the environment). In the end, the Storm Shift's added durability and premium touches may be worth it for serious resort skiers, but if you only get up to the mountains a handful of times each year, it's harder to justify the added expense... Read in-depth review
See the Men's Patagonia Storm Shift  See the Women's Patagonia Storm Shift
A Stretchy and Balanced Alpine Touring Jacket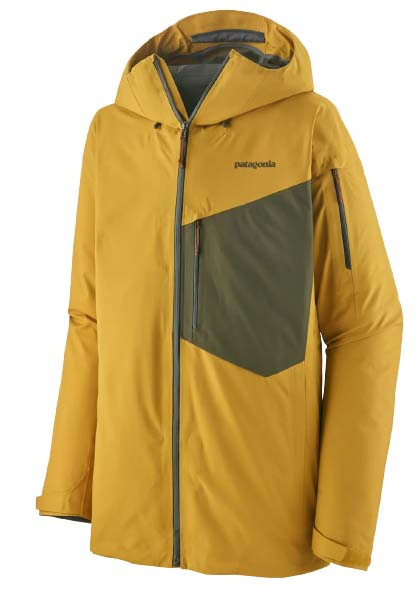 Best for: Backcountry and resort
Waterproofing: 3L H2No
Insulated: No
What we like: Great mobility and comfort for ski touring.
What we don't: Stretchy construction compromises a little in wet-weather protection.
Transitioning from the resort to backcountry, Patagonia's SnowDrifter was made with the uphill in mind. This shell replaced the Descensionist and places a premium on comfort, mobility, and weight. Most notably, the jacket features a stretchy face fabric that is less rigid and restrictive than the hardshell options above while skinning or reaching for a hold on a bootpack. Further, the added "give" in the design, combined with a soft moisture-wicking liner and fairly thin, non-insulated construction, translates to excellent breathability. If you want a ski-specific Patagonia shell for high-output ski touring, the SnowDrifter is the one to get.
That said, the SnowDrifter is surprisingly well balanced considering its backcountry intent. The jacket is waterproof thanks to an in-house 3-layer laminate and full seam taping, and you get niceties like a powder skirt and pit zips at a reasonable weight. It's true that with the stretchy fabric, you sacrifice a little in high winds and wet snow compared to a Gore-Tex model, but the SnowDrifter still is a versatile all-rounder. And when you factor in the jump in price to the PowSlayer below, its $429 MSRP is a solid value too... Read in-depth review
See the Men's Patagonia SnowDrifter  See the Women's Patagonia SnowDrifter
The Uncompromising Backcountry Piece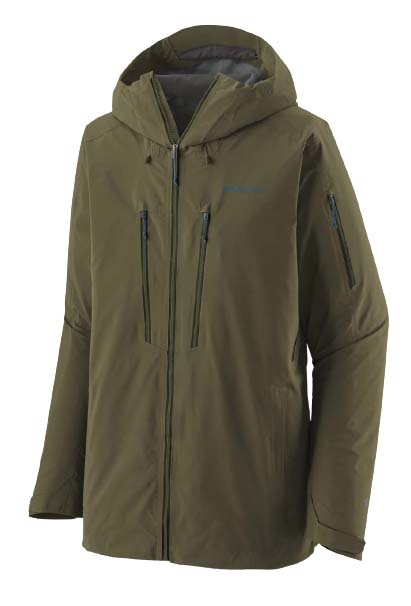 Best for: Backcountry
Waterproofing: 3L Gore-Tex Pro
Insulated: No
What we like: Bomber protection at a minimal weight.
What we don't: Very pricey and not as durable as other options on this list.
Sitting atop Patagonia's backcountry ski shell lineup is the PowSlayer. This long-time favorite has built a reputation over the years for its sturdy protection in the absolute worst of conditions. The jacket excels for skiing remote, big-mountain lines with a top-end Gore-Tex Pro construction (their most durable and weatherproof design), a long cut for extra coverage in deep snow, and a helmet-compatible hood that secures easily with glove-friendly Cohesive cord locks. Despite its bomber feel, the PowSlayer is nicely tuned for extended backcountry travel with a 1-pound-3.3-ounce weight, good breathability for a waterproof build, and plenty of storage.
If it's not clear from the $749 price tag, the PowSlayer is a serious ski jacket that may be overkill for most resort and backcountry skiers. The trimmed-down 40D shell is burly for its weight and compresses nicely for storing in a pack, but opting for the much thicker 150D Storm Shift above will get you superior tear resistance in the trees and on the lift. In addition, the somewhat stiff and crinkly fabrics lack the mobility and overall comfort of the stretchy SnowDrifter above for skinning. That said, these relatively minor nitpicks are quickly cast aside if you find yourself in rough weather and in need of maximum protection... Read in-depth review
See the Men's Patagonia PowSlayer  See the Women's Patagonia PowSlayer
Softshell-Like Comfort with Full Waterproofing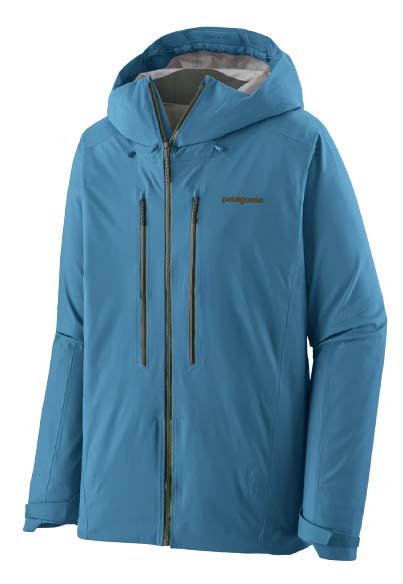 Best for: Backcountry
Waterproofing: 3L H2No
Insulated: No
What we like: Stretchy and light yet waterproof.
What we don't: It's $70 more than the SnowDrifter.
Patagonia expanded their backcountry collection a couple winters back with the Stormstride and Upstride jacket/pant kits. Focusing on the former, this shell mixes the brand's proven H2No waterproof membrane with a woven face fabric, giving it softshell-like comfort and mobility with solid weather protection. In addition, the face fabric is a relatively thin 40-denier Pertex, which helps with breathability, keeps weight surprisingly low at 1 pound 1.3 ounces (only the Upstride below weighs less), and makes it compressible enough for throwing in a pack.
How does the Stormstride compare with the SnowDrifter above? Both jackets are great touring options with 3-layer waterproof constructions and incorporate stretchy materials, although the Stormstride offers more "give" thanks to its woven shell (the SnowDrifter's is a little more rigid). The Stormstride also gets the advantage in weight by more than 3 ounces and doesn't compromise much in features with a RECCO reflector, pit zips, and powder skirt. You do miss out on hand pockets (something the SnowDrifter has), and its thinner shell is less durable overall. In deciding between the two, skiers that plan to mix resort days with the backcountry will prefer the SnowDrifter, while the Stormstride is best as a dedicated touring shell.
See the Men's Patagonia Stormstride  See the Women's Patagonia Stormstride
An Alpine Hardshell with Ski-Friendly Touches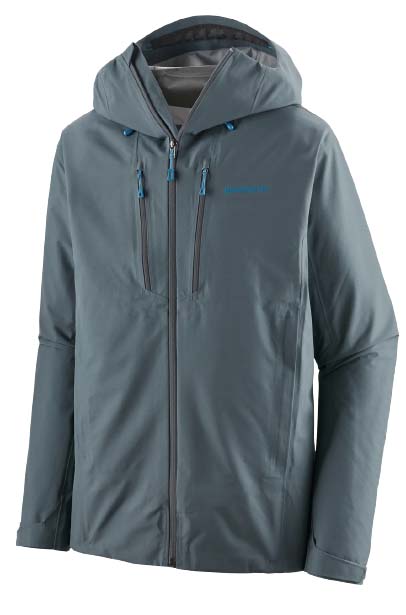 Best for: Backcountry
Waterproofing: 3L Gore-Tex
Insulated: No
What we like: A true alpine hardshell.
What we don't: Missing some ski-specific features like a powder skirt.
Although not a dedicated ski design, Patagonia's Triolet is a versatile hardshell that includes enough snowsport-friendly features to perform well in the backcountry. Its standard 3-layer Gore-Tex build is a step down from the PowSlayer above in protection, but a substantial face fabric and liner means it's no slouch and can hold its own in wet and rowdy conditions (not to mention save you $350 in the process). And we like the trim fit, which isn't as baggy as the PowSlayer when only wearing a merino long-sleeve or light midlayer for uphill travel. Tack on a loop at the back for attaching to compatible Patagonia snow pants, pit zips for dumping heat, and a laminated visor to help keep snow away from your goggles and face, and you have a well-rounded winter piece.
What do you give up in choosing a hardshell like the Triolet over a ski-specific jacket? Most notably, you sacrifice a powder skirt, which is a nice feature for sealing out the cold and wet if you take a big crash or are skiing in deep snow. In addition, it lacks an interior zippered pocket—something most other Patagonia ski jackets include—and the Triolet has a shorter cut that compromises a little in the way of coverage. All told, the Triolet isn't a top choice for resort days or committed skiers, but its do-everything nature makes it viable for crossing over between ski touring, alpine climbing, and even daily wear... Read in-depth review
See the Men's Patagonia Triolet  See the Women's Patagonia Triolet
A Highly Breathable Softshell for Fair-Weather Touring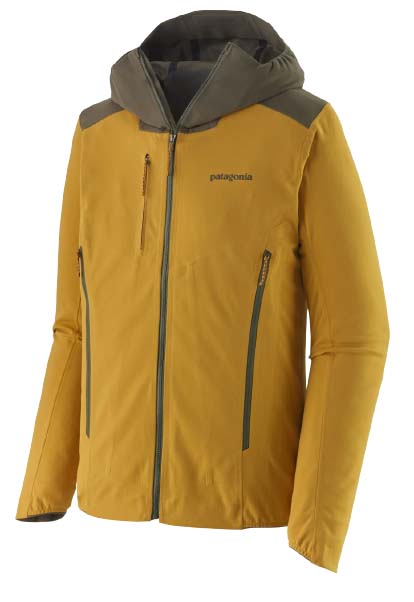 Best for: Backcountry
Waterproofing: None (water-resistant)
Insulated: No
What we like: The lightest and most breathable ski-specific shell.
What we don't: Only water-resistant.
Patagonia's Upstride is their most compromised ski shell but also one of their most exciting. Utilizing a softshell construction that forgoes a waterproof membrane, the jacket delivers fantastic breathability and comfort and is extremely light at only 14.2 ounces (for the men's version). They've also incorporated nice ski touring-specific features like a visor on the hood that's designed to work without a helmet (a common choice on the uphill) and large chest pockets that double as core vents thanks to a mesh lining. The knit polyester face fabric and DWR coating are all you have for weather resistance, but if the conditions are favorable, it's the kind of jacket you can wear the entire day.
As we touched on above, the Upstride isn't intended to be a one-quiver shell and is best used for spring touring or on sunny and dry days when you aren't venturing too far into the backcountry. The lack of a waterproof layer means that moisture can start working its way through the shell even while sitting in snow, and wind gusts can cut through the materials. On the other hand, you simply won't find a better breather in Patagonia's lineup, and the weight is also unmatched. For the right user, the Upstride is a very fun option.
See the Men's Patagonia Upstride  See the Women's Patagonia Upstride
Patagonia Ski Jacket Comparison Table
| Patagonia Jacket | Price | Best For | Waterproofing | Insulated | Weight* | Denier |
| --- | --- | --- | --- | --- | --- | --- |
| Insulated Powder Town | $399 | Resort | 2L H2No | Yes (80g & 40g) | 1 lb. 14.7 oz. | 75D |
| Storm Shift | $479 | Resort | 2L Gore-Tex | No | 1 lb. 12.8 oz. | 150D |
| SnowDrifter | $429 | Both | 3L H2No | No | 1 lb. 4.7 oz. | 75D |
| PowSlayer | $749 | Backcountry | 3L Gore-Tex Pro | No | 1 lb. 3.3 oz. | 40D |
| Stormstride | $499 | Backcountry | 3L H2No | No | 1 lb. 1.3 oz. | 40D |
| Triolet | $399 | Backcountry | 3L Gore-Tex | No | 1 lb. 3.4 oz. | 75D |
| Upstride | $299 | Backcountry | None (water-resistant) | No | 14.2 oz. | Unavail. |
*Editor's Note: All weights listed are for the men's version of the jacket.

Patagonia Ski Jacket Buying Advice
Warmth and Insulation
Patagonia's Powder Town is their only insulated offering this year, including both the $399 insulated version listed above and $499 3-in-1 variation. In general, the extra warmth is appealing for resort use and especially for those who ski in cold places or run cold. In terms of specifics, the 3-in-1 Powder Town uses 60g synthetic fill throughout, while the Insulated Powder Town is a small step up with 80g synthetic in the body and 40g in the arms. 
On the flip side, a non-insulated jacket provides greater versatility and can work well both at the resort or in the backcountry. The thinner construction doesn't retain any significant warmth, which allows you to tune your baselayers and midlayers based on the conditions. For mild spring days or the uphill, you can go light and avoid overheating, or you always can layer up as needed in the cold. In the non-insulated category, Patagonia offers a range of designs from the resort-focused Storm Shift and uninsulated version of the Powder Town to premium backcountry pieces like the PowSlayer and SnowDrifter. In the end, both insulated and non-insulated ski jackets have their place.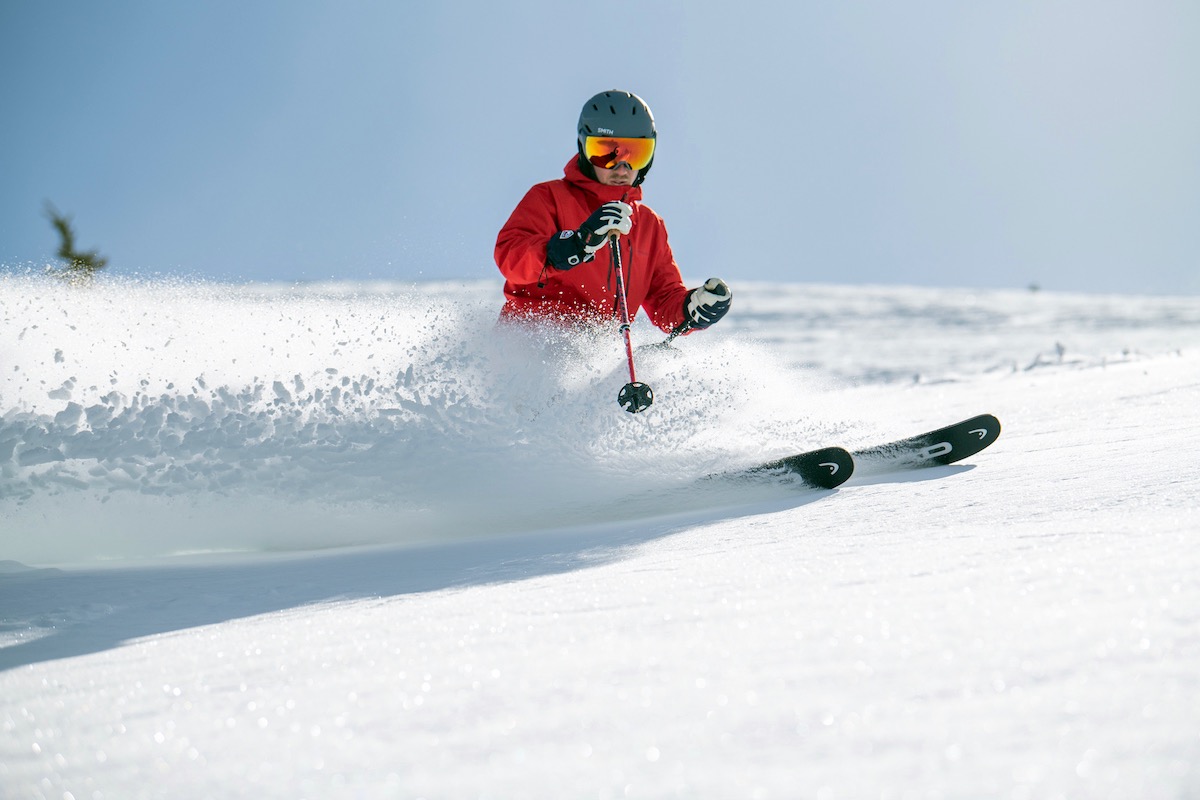 Breathability
Like the warmth and insulation section above, a decision on whether or not to prioritize breathability correlates with your skiing or riding style. For days at the resort, and especially if you stay in-bounds, the breathability of your ski jacket is almost a non-factor (at most, you'll want to open up its pit zips). But for sidecountry hikes and full-on uphill touring, staying cool should be at the front of your mind. That's where jackets like the SnowDrifter or PowSlayer excel: their upgraded 3-layer constructions do an admirable job fending off moisture, but can also keep you surprisingly comfortable on the skin track. It's worth noting that most of Patagonia's ski jackets are fully waterproof and seam-taped (with the exception of the water-resistant Upstride), so they can't compete with a non-waterproof softshell in mild conditions. But on cold backcountry days when you need both solid protection and good ventilation, the SnowDrifter, PowSlayer, Stormstride, and Triolet are great options.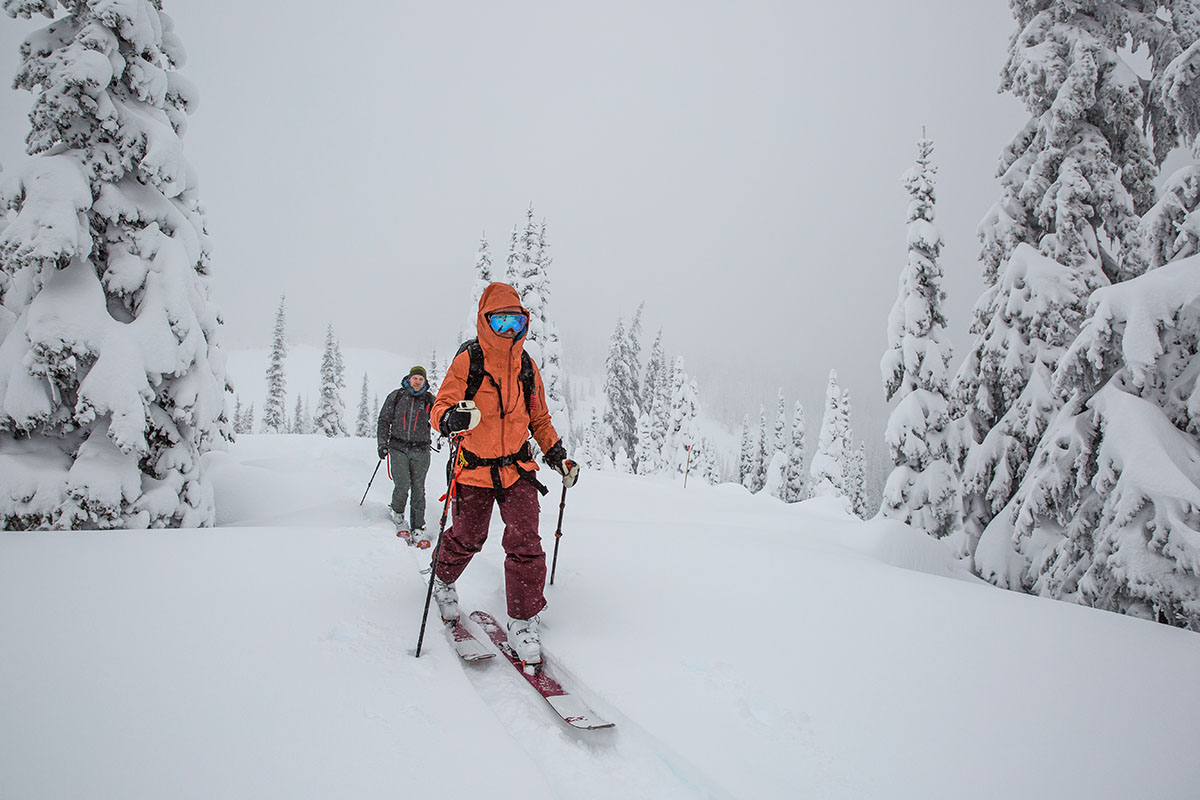 Features
In terms of features, Patagonia ski shells really stand out in the market. Every jacket above is nicely tailored to a specific use and has the storage, protection, and adjustability to match. One shared component across the line (excluding the Stormstride and Upstride) is a loop at the back for attaching to a compatible Patagonia pant. By connecting the two, you can keep the jacket in place, which keeps it from riding up and ensures full coverage. In addition, all but the Triolet and Upstride have a powder skirt or gasket—another nice feature for keeping you dry and warm. Storage designs vary based on intended use, but we like that they include a drop-in pocket along the interior on most models for storing items like snow goggles or gloves. A final shared feature is their high-quality hoods, which are helmet-compatible, easy to adjust, and stay securely in place even in inclement weather.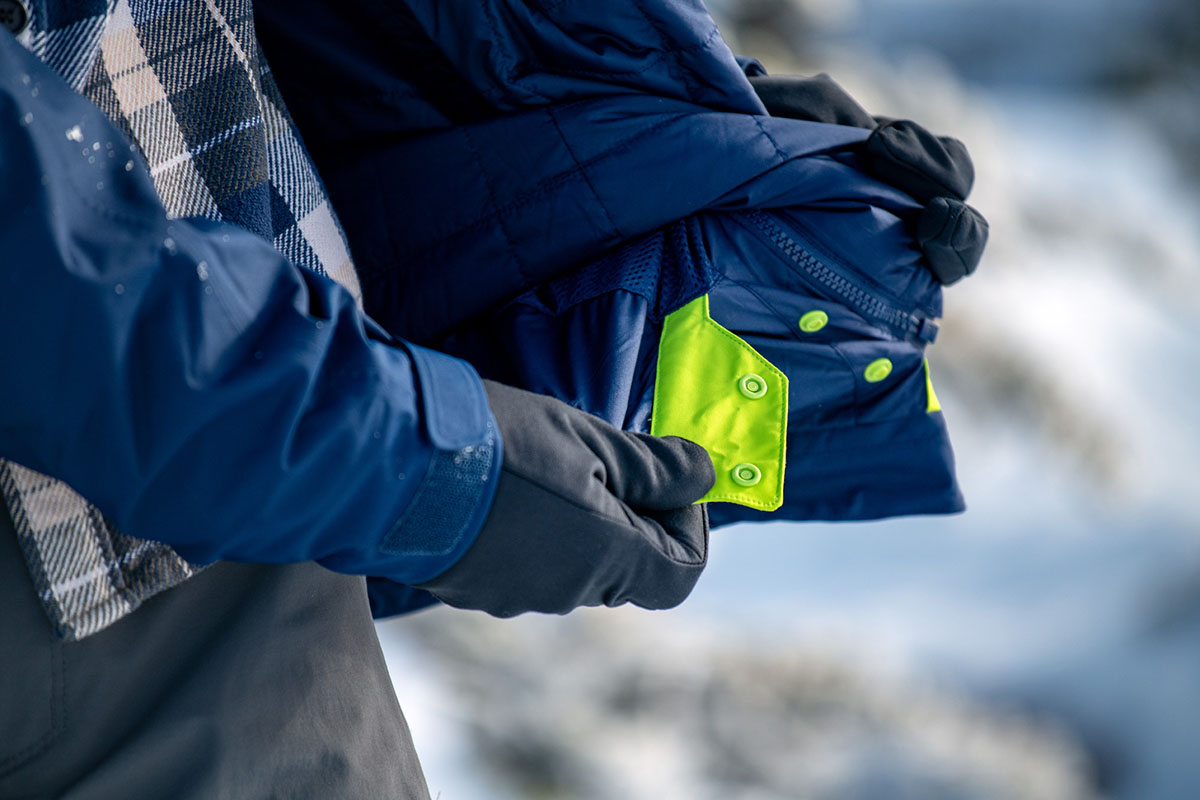 Durability 
From getting on and off a lift, to skiing through the trees, to being stuffed into a boot bag or pack full of sharp equipment, ski jackets see a lot of rough use. As such, they're a pretty durable bunch overall with high-denier constructions (denier or "D" is the measurement of the weight of a thread and correlates with fabric thickness). Resort skiers are best off erring on the side of a tough build, and the Powder Town jackets certainly do the trick. That said, their 75D outer fabric is a bit more vulnerable to tears than the burly 150D Storm Shift, which makes that design the better pairing for skiers who spend their time slicing turns between trees. For touring, it's worth sacrificing a little in durability for a smaller packed size and less weight. These designs range from the reasonably tough SnowDrifter (75D) to the high-performance Stormstride (40D) that's thin enough to require a bit of extra care.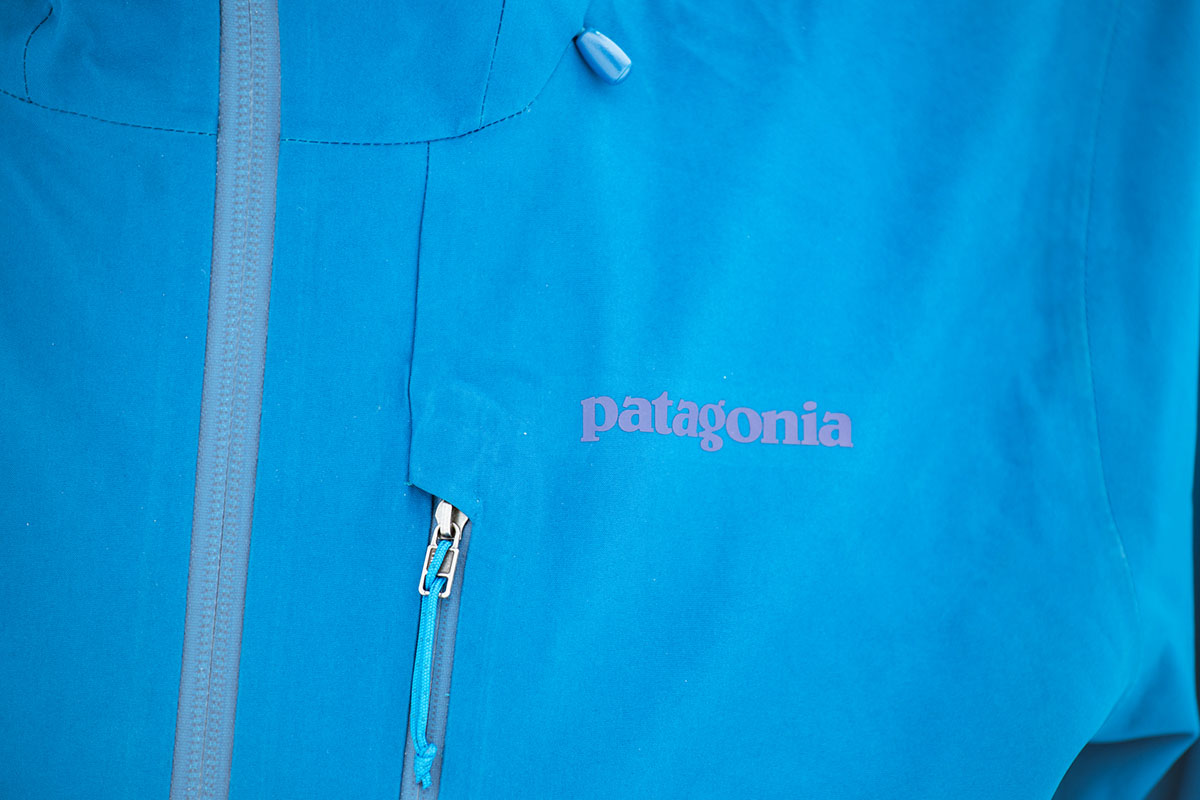 Weight
Weight isn't a top consideration for many skiers, but we think it should be at least on the radar. Even on resort days, a heavy and bulky jacket can have a negative impact on comfort and performance (it's why we don't love the 3-in-1 Powder Town, which tips the scales at over 2.5 lbs. for the men's model). As we touched on above, backcountry skiers want to keep weight down while balancing weather protection and durability. The Upstride is Patagonia's lightest at 14.2 ounces, followed by the Stormstide (1 lb. 1.3 oz.), PowSlayer (1 lb. 3.3 oz.), Triolet (1 lb. 3.4 oz.), and SnowDrifter (1 lb. 4.7 oz.). With resort use, you can add weight for extra durability, although it's nice to have something that isn't overly hefty or cumbersome. But in our experience, even the 1-pound-14.7-ounce Insulated Powder Town is completely fine.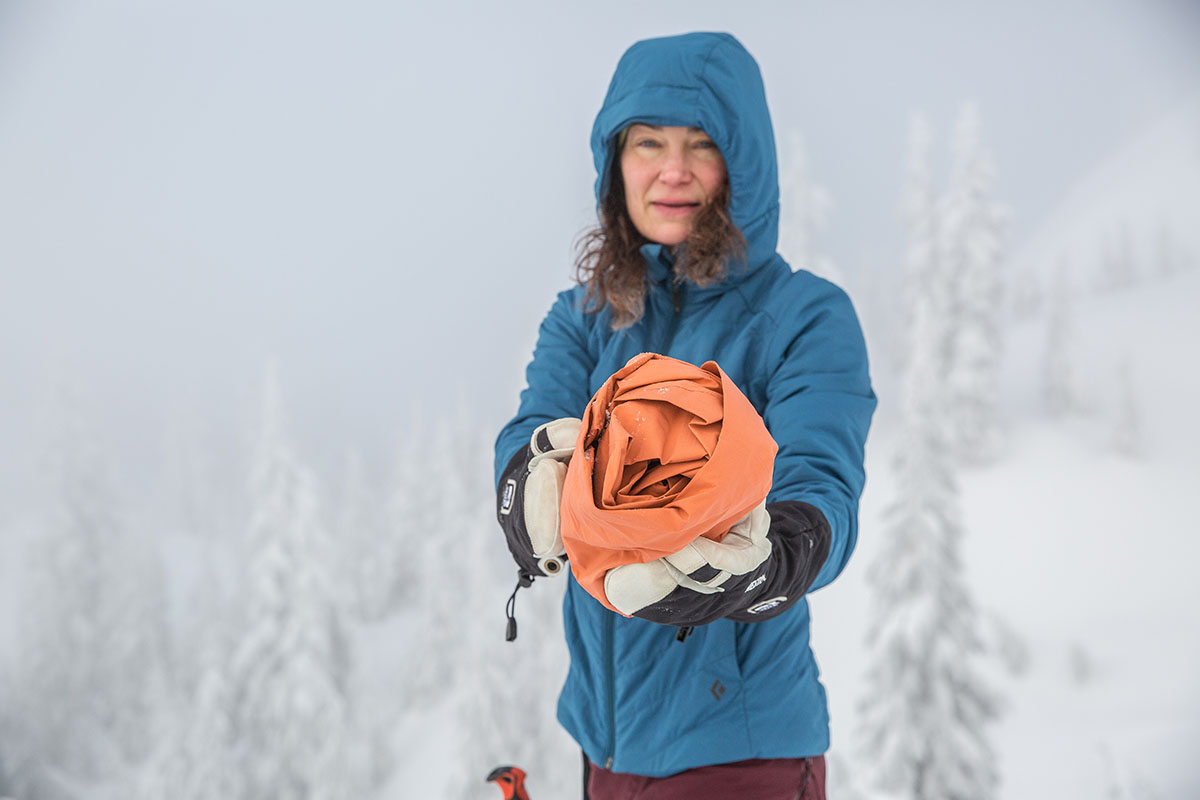 Competing Brands and Jackets
With dedicated resort and backcountry designs—as well as a few crossover pieces—Patagonia has one of the most complete and venerable ski and snowboard jacket collections available. But there are plenty of rival brands to choose from. At the high-end of the touring and downhill market is Arc'teryx, which has wonderfully tailored jackets that are long-lasting and extremely well made. You undoubtedly pay a lot for them—their "cheapest" ski jacket is the $700 Sabre—but they're often worth it for committed skiers. Brands that play well in the mid-range include Outdoor Research (their SkyTour AscentShell Jacket goes head to head with the SnowDrifter), Helly Hansen, Flylow Gear, and Marmot. The North Face also is a big-time seller, although we've found their strongest offerings fall on the budget side of the equation. From top to bottom, few can come close to matching Patagonia's diverse and well-rounded lineup.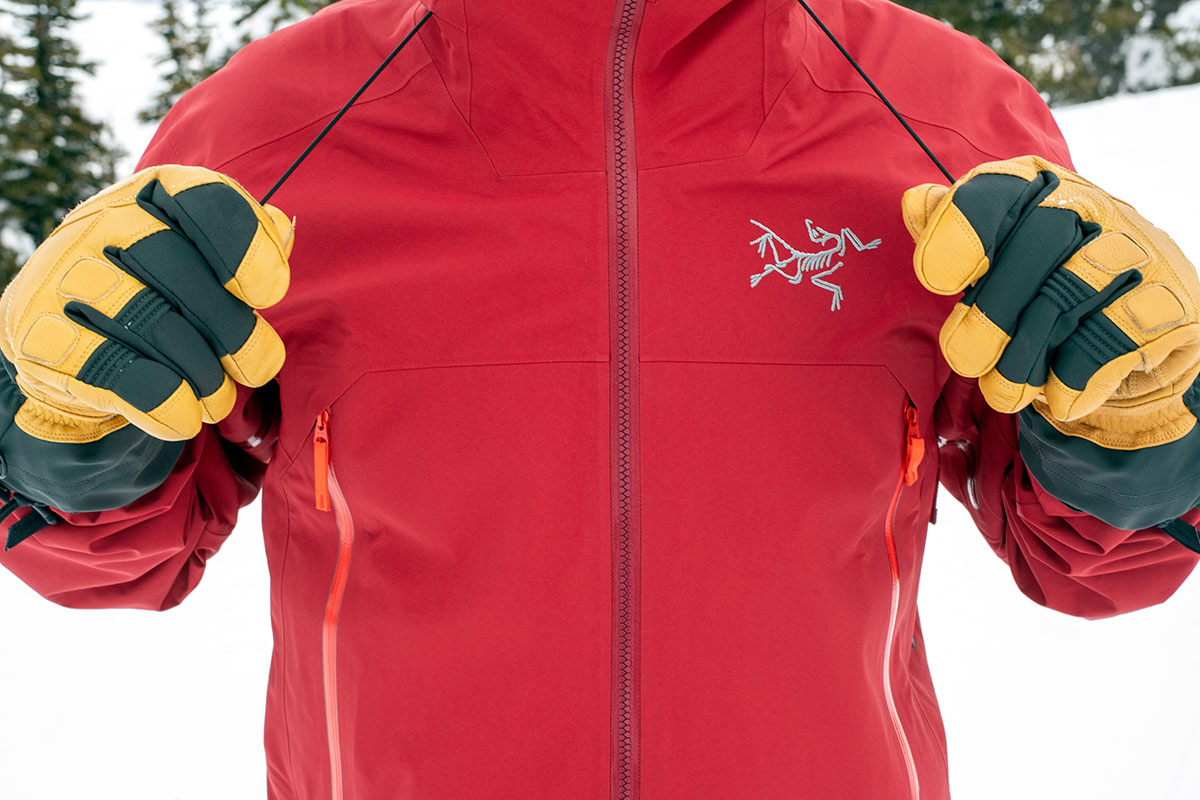 Patagonia's Move Toward Sustainability
Patagonia has a rich history of sustainability initiatives, and over the past few years, they've updated or introduced new models that utilize recycled face fabrics, linings, and insulation. Today, their entire collection of waterproof jackets (including non-ski-specific models) utilize recycled materials. Further, all are Fair Trade Certified, meaning that Patagonia put extra money into their production to ensure a safe working environment and fair compensation (for more, you can read about their involvement here). And with their latest Powder Town and Storm Shift collections, Patagonia has started transitioning to PFC-free DWR coatings and fabrics that forgo the use of harmful fluorinated chemicals (the Storm Shift's entire build is PFC-free, including the 2L Gore-Tex shell). What this means is that Patagonia's jackets cost more on average than most of the market, but they typically are more sustainable, and there is greater transparency in how they are made and the potential environmental impact.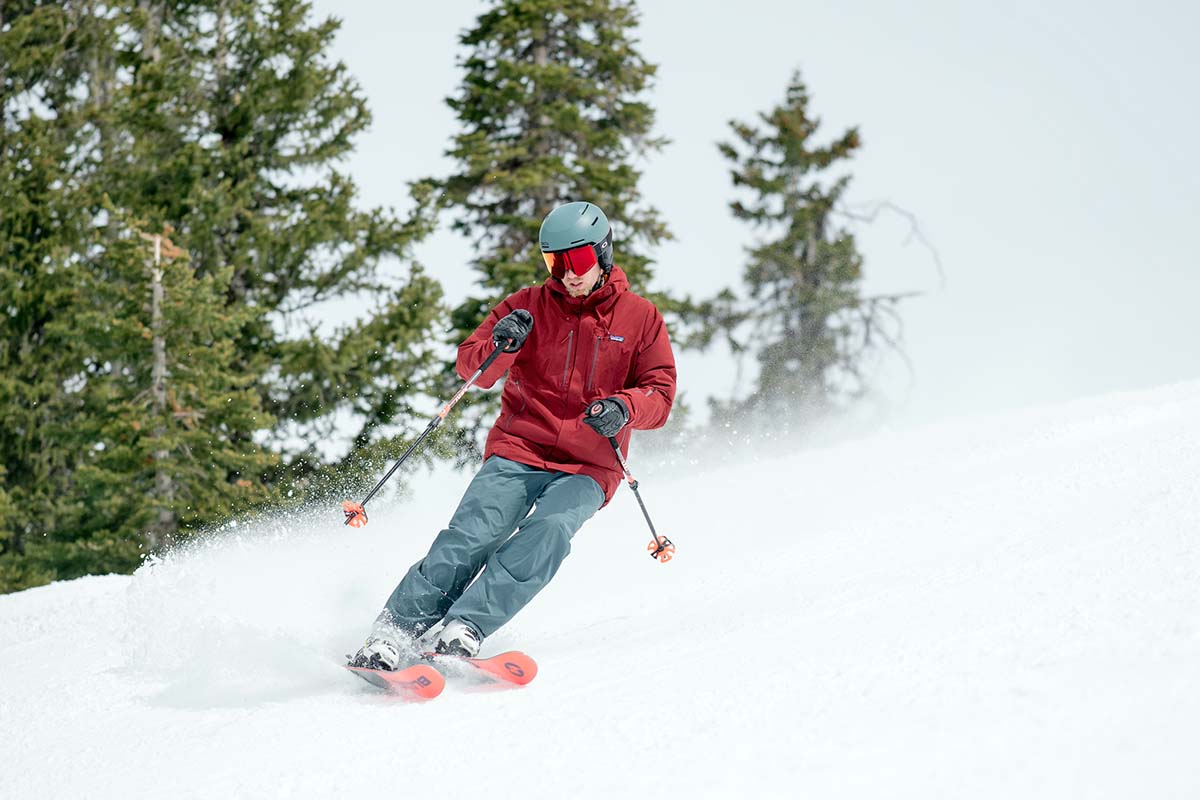 Are These Snowboarding Jackets Too?
Patagonia's entire jacket lineup covered above has "ski/snowboarding" in the product titles, which is accurate. It's true that there are snowboarding-specific brands that make jackets, but more than anything, the styling tends to be a bit more snowboarding-centric and the fit sometimes trends toward being "freeride" (a bit baggier). But Patagonia is one of the best jacket makers in the business and all of the models above are used frequently by both skiers and snowboarders and excel for both disciplines. In fact, a couple of the designs above made our article on the best snowboard jackets.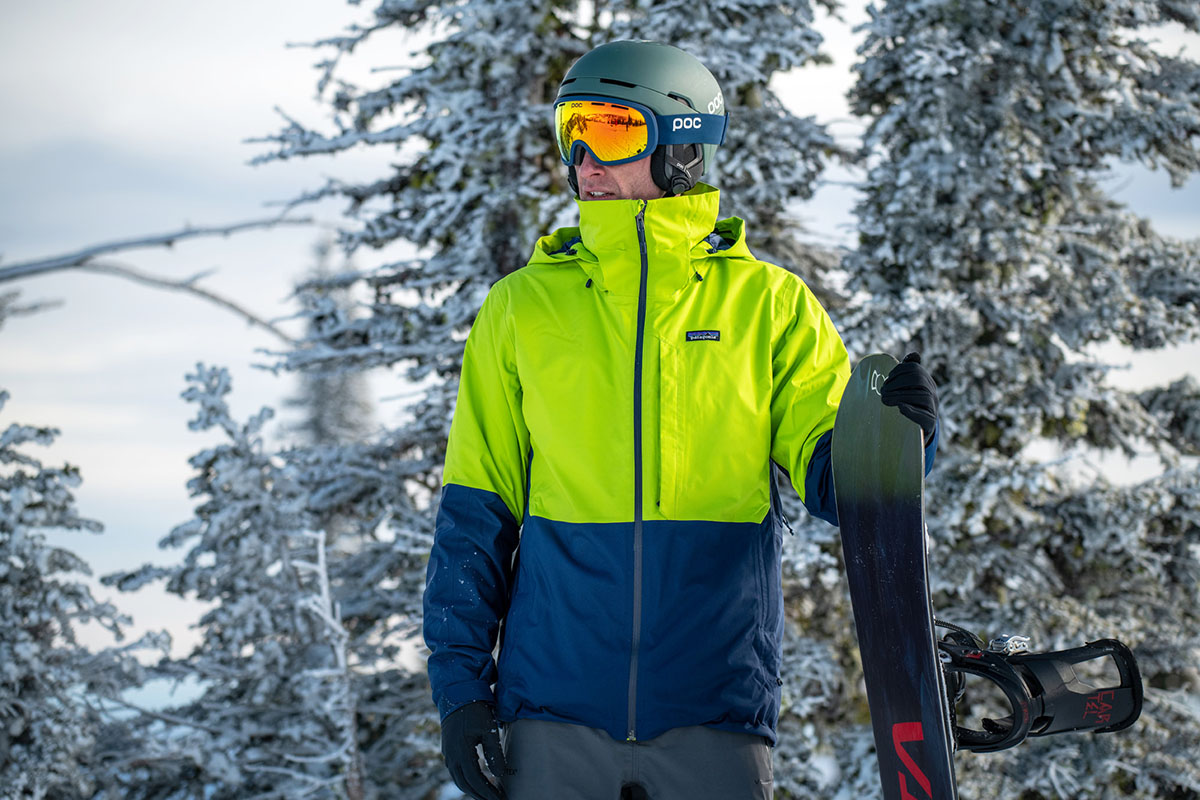 What About Ski Pants?
Ski jackets are a fun topic to research—and often end up as beloved companions on the slopes—but don't overlook the pants half of the equation. They're just as relied-upon in keeping you dry and comfortable—and arguably even more so if you spend a lot of time on a lift or sitting in snow. The good news is that ski pant collections often line up closely with ski jackets. Take the Powder Town collection as an example: The pant versions of the same name are Patagonia's entry-level offerings for resort use, are available with or without insulation (in addition to a more protective bib design), and have a similar face fabric and waterproof membrane. At the time of publishing, there are pant or bib versions offered for all of the jackets on the list above. It's certainly not necessary to match your jacket and pant models, but doing so will get you a consistent fit, look, and performance.
Back to Our Patagonia Ski Jacket List  Back to Our Ski Jacket Comparison Table