Approaches to the granite spires of Patagonia's Chaltén Range aren't child's play, with dry glaciers, steep snow, tricky moraines, and miles upon miles of hiking. It's no small ask for an approach shoe to be able to perform well in these environments and keep weight low, but the ultralight Arc'teryx Acrux SL sets out to do just that. We've been curious about this shoe for a while now, and recently took it along for an Austral summer of climbing. Below are our reflections on the Acrux SL's hiking and climbing performance, durability and construction, waterproofing and breathability, weight, and more. To see how the Acrux SL stacks up, see our articles on the best approach shoes and lightweight hiking shoes.

Performance
Hiking
The Arc'teryx Acrux SL is designed to be grippy, stable, comfortable over long distances, and light enough that it won't hold you down, whether on your feet or dangling from a harness. Minimalist by nature, these aren't your go-to, everyday hiking shoes, especially when carrying heavy loads. But when setting out for a day of climbing and hiking—especially when you'll need to carry your shoes up the route—they're an awesome compromise.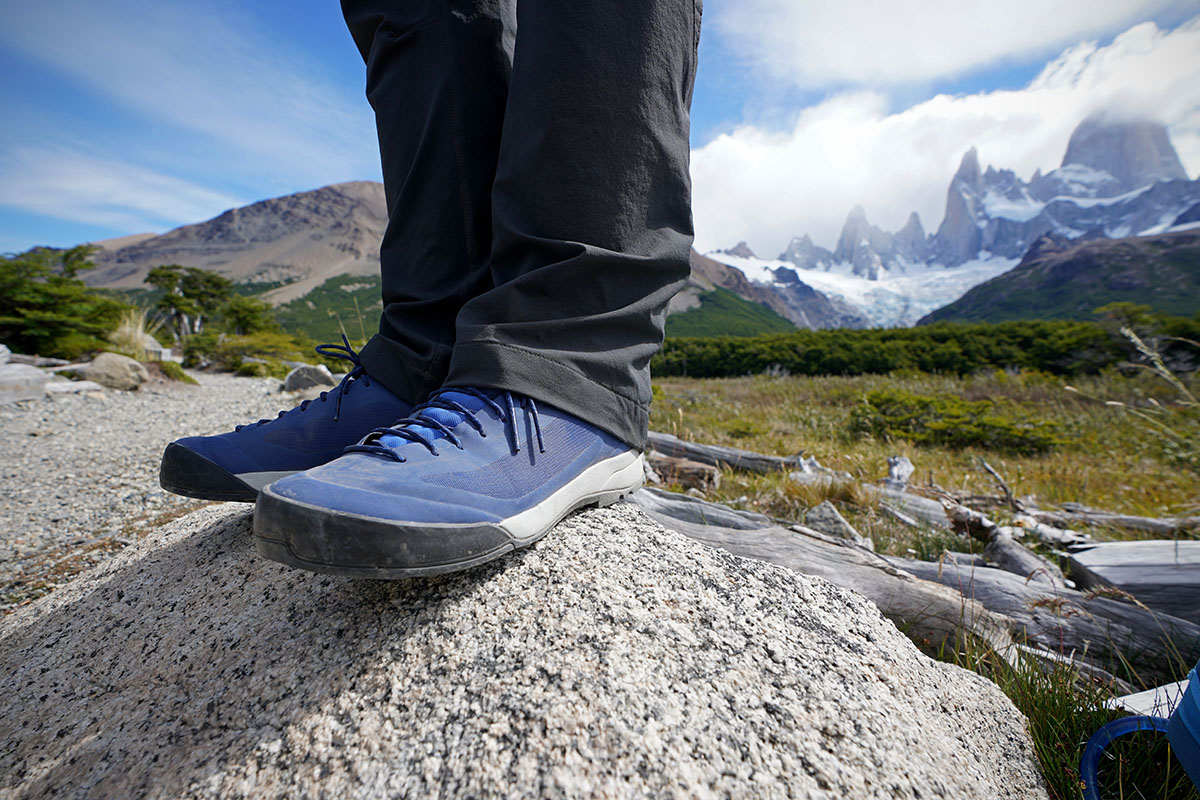 The Acrux is made with a sticky Vibram rubber sole designed to provide serious traction on all types of terrain, including rock, dirt, mud, and snow. I found that the sole offers a comparable experience to shoes like the La Sportiva TX3 and the Five Ten Guide Tennie. Similarly, it features a smooth climbing zone at the toe, shallow, circular lugs over the midsole, and heel tread for traction and braking. In my opinion, all of these shoes underperform on wet terrain (their designs opt for smooth, rock-eating rubber over sharp lugs), and are more at home boulder hopping than on an east coast approach trail covered in wet leaves. Surprisingly though, they do quite well on snow.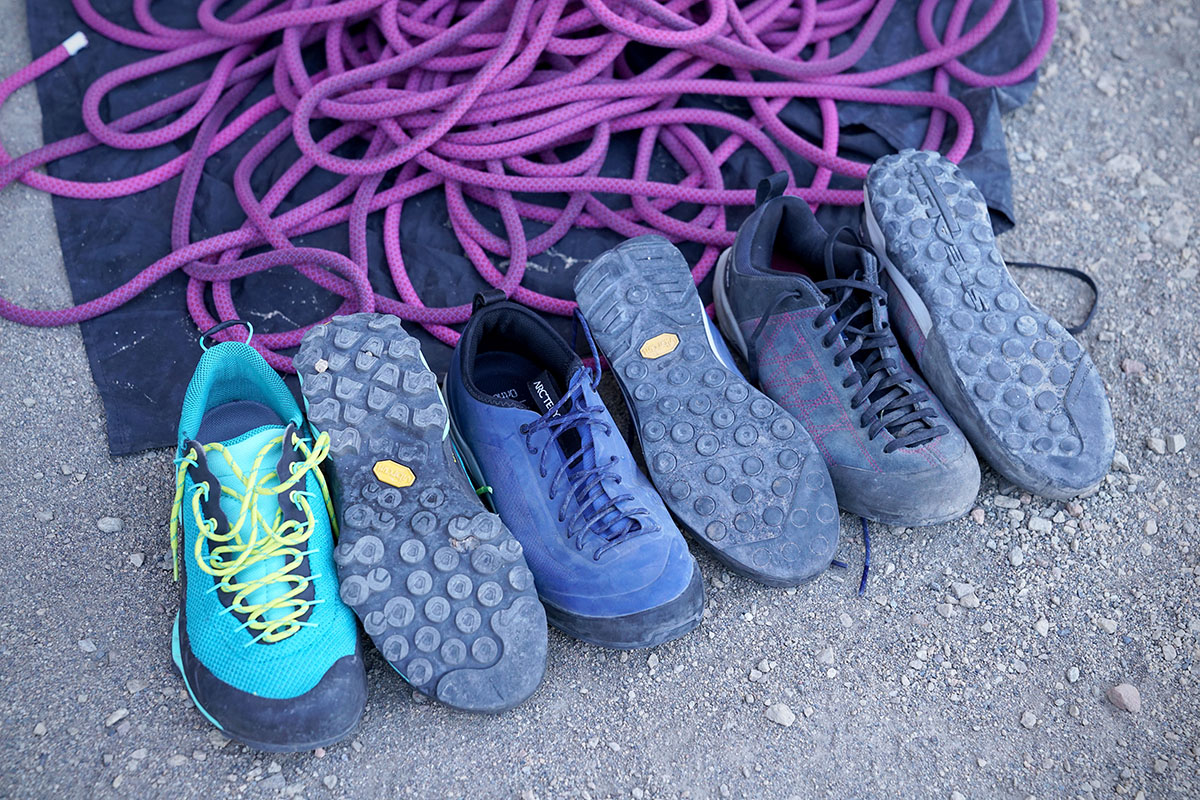 A supportive ride is difficult to achieve when you're trying to shave ounces off of a shoe, but the Acrux SL strikes an impressive balance. It's lightweight enough to log mile after mile on the trail (and pitch after pitch on your harness), but still stable enough to do so with a relatively heavy pack. When approaching our basecamp to climb in the Chaltén Massif, my partner carried a 30-plus pound backpack up 3,000 feet of muddy and rocky trail while wearing the Acrux SL. She found the shoe to be very supportive—far more so than her worn out La Sportiva Hyper Mid GTX—commenting that the upper provided a high degree of stability and protection between rocks and her foot. Moreover, the liner holds the foot snugly in place and keeps dirt and debris out over the long haul.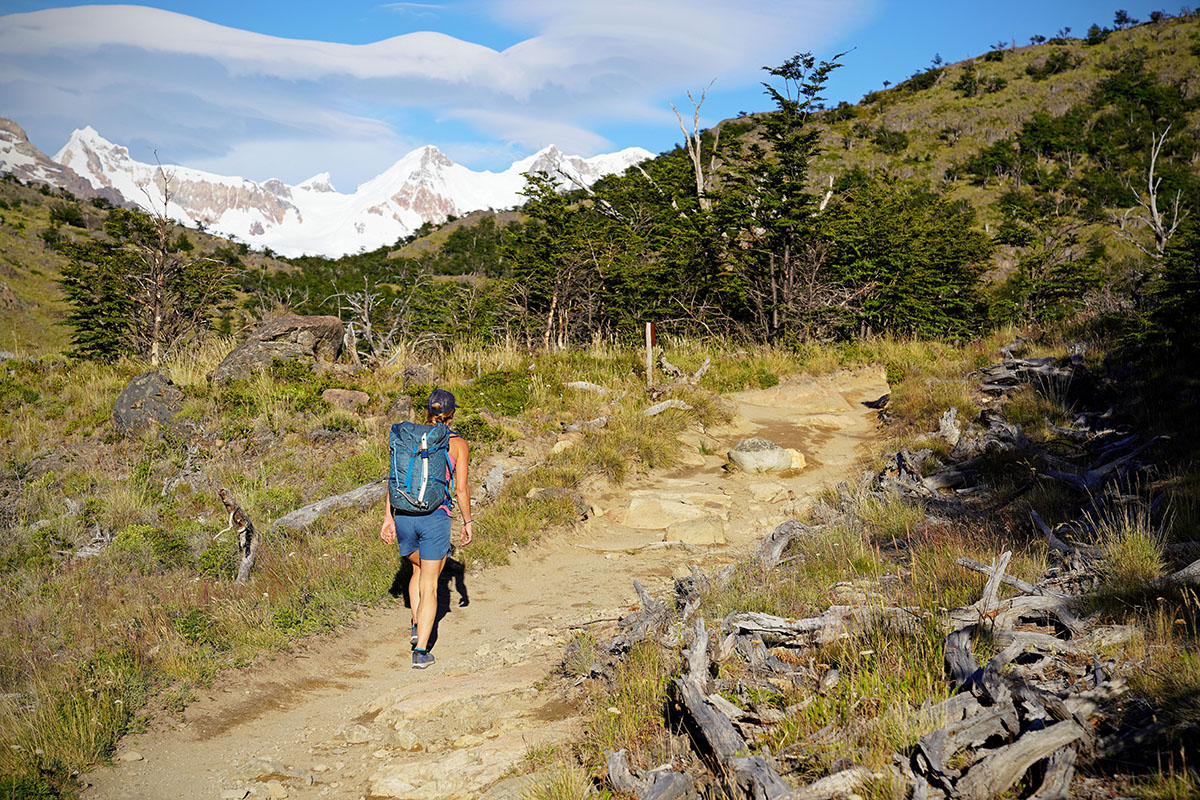 Climbing
The Acrux SL offers the typical features we're used to seeing in an approach shoe that climbs well: a low profile and relatively narrow toe box, a patch of smooth "climbing zone" rubber under the big toe, stiff edges, and a durable upper material. Then there's the adaptive liner, a significant addition that adds a climbing slipper-like snugness for extra stability on technical rock. Additionally, the rubber is the same Vibram Megagrip we see on the La Sportiva TX series—it's super grippy and in its element on rock, though slightly less sticky than the Stealth rubber on the Five Ten Guide Tennies.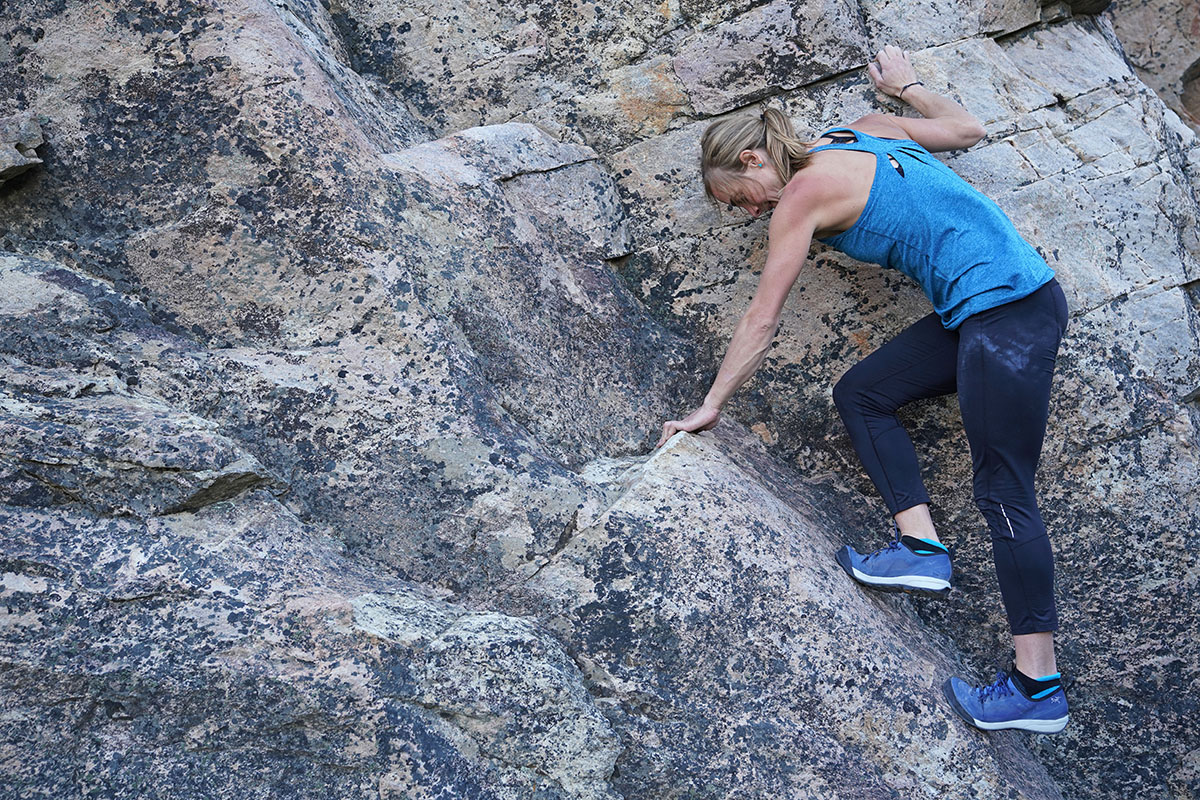 Both my climbing partner and I found that the Acrux smears as well as any approach shoe we have worn, even on wet rock. When it comes to edging, the Acrux SL is a functional mix of sensitive and stiff, and much more proficient than softer or bulkier shoes like the La Sportiva Boulder X or Scarpa Zen. The rand comes down to meet the sole, providing an integrated rubber zone for perching on edges. Nothing quite measures up to the edging performance of the slightly stiffer Five Ten Guide Tennie, but the Acrux comes as close as any.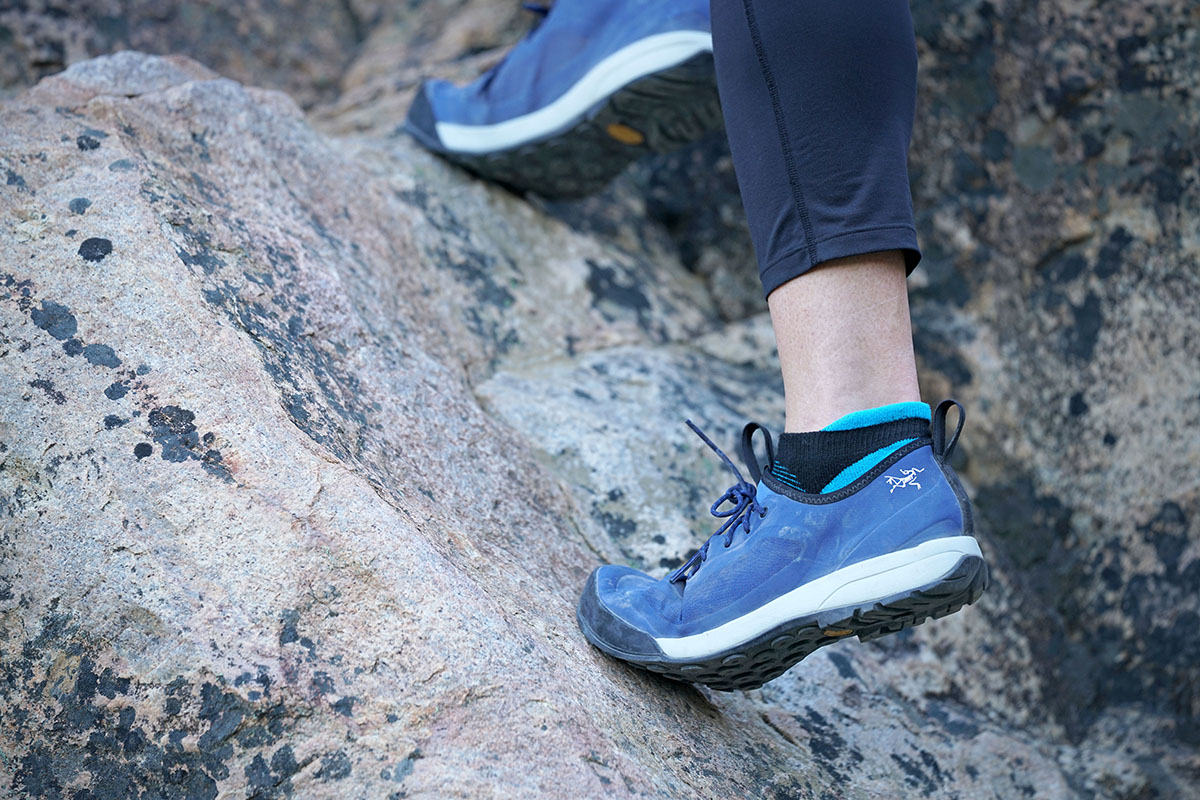 In terms of crack climbing, the sock-like liner shines again. With other shoes, your foot easily can twist around when torqued in cracks. But with the Acrux, the liner secures the foot in position, allowing you to jam your foot with nearly the feel of a climbing slipper. Additionally, the low profile toe box fits into smaller cracks better than most. All that said, for crack climbing we'd opt for the leather version of the Acrux over the nylon model. The seamless nylon upper is durable in cracks, but nowhere near as protective and comfortable as a leather shoe like the Guide Tennie or Boulder X.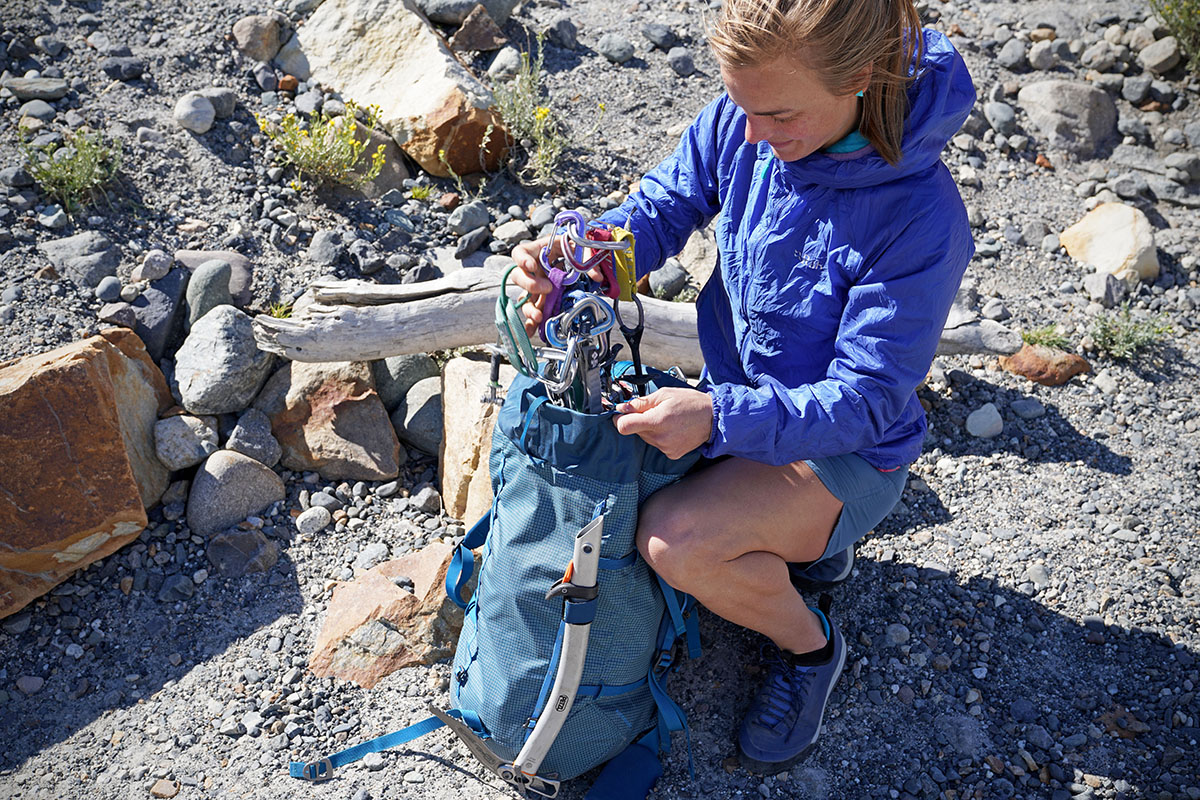 Durability and Construction
It should come as no surprise that the Acrux SL looks and functions a bit differently than most approach shoes. This is Arc'teryx, after all. The Acrux is constructed with a slip-on, tongue-less liner that is reminiscent of a climbing slipper, and housed inside a seamless nylon upper. This liner allows for a snug, sock-like fit, keeps out dirt and debris, and eliminates hot spots. The one-piece, thermolaminated upper surrounds the liner—except for a gap under the laces—and adds durability and water resistance to the shoe without extra weight. Furthermore, like the La Sportiva TX series, the Acrux SL is constructed with a Vibram Megagrip sole.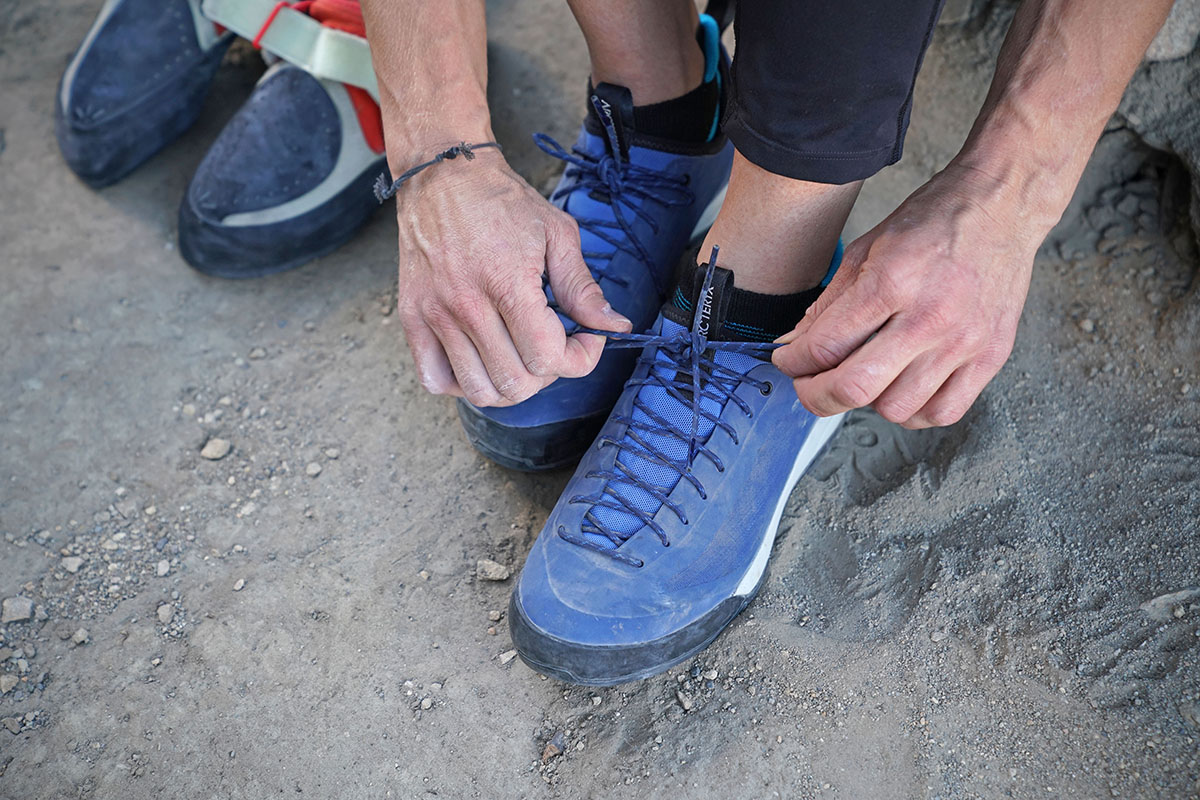 Simply put, the Acrux SL is unparalleled by most other approach shoes in terms of durability, even some leather models. Its burly nylon upper is completely seamless, making for outstanding abrasion resistance whether you're logging miles on tricky terrain or twisting your feet into sharp granite cracks. Moreover, the sole is seamlessly integrated into the upper. This construction keeps dirt and small rocks from settling into small thread holes, where they can wear away at the material over time.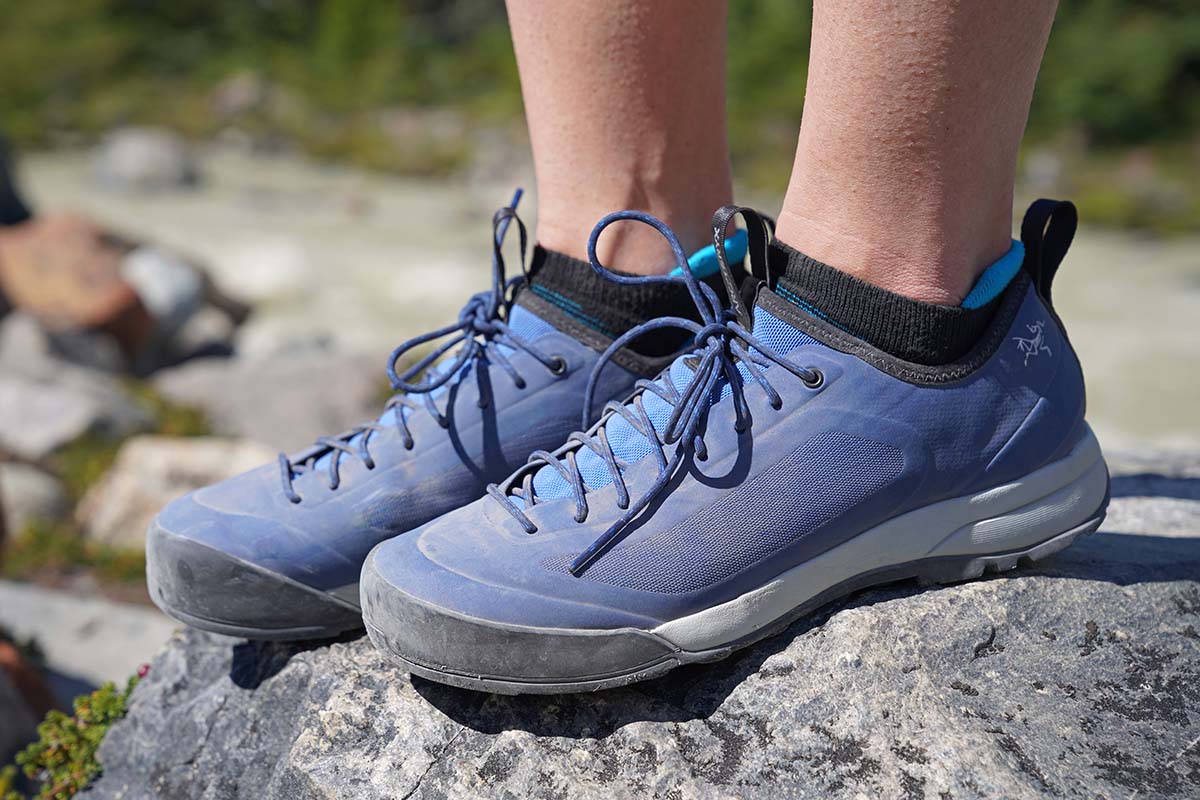 Waterproofing and Breathability
The Acrux SL we tested is not a waterproof shoe, though it is made in GTX and leather GTX versions, both of which are fully waterproof. Despite the lack of Gore-Tex, the regular SL version still is water resistant due to its seamless nylon upper. That said, moisture can enter through the exposed liner in between the laces. While the Acrux SL isn't great for trudging through inches of water, its construction gives it a high degree of water resistance when walking in shallow snow or through soggy trails and vegetation.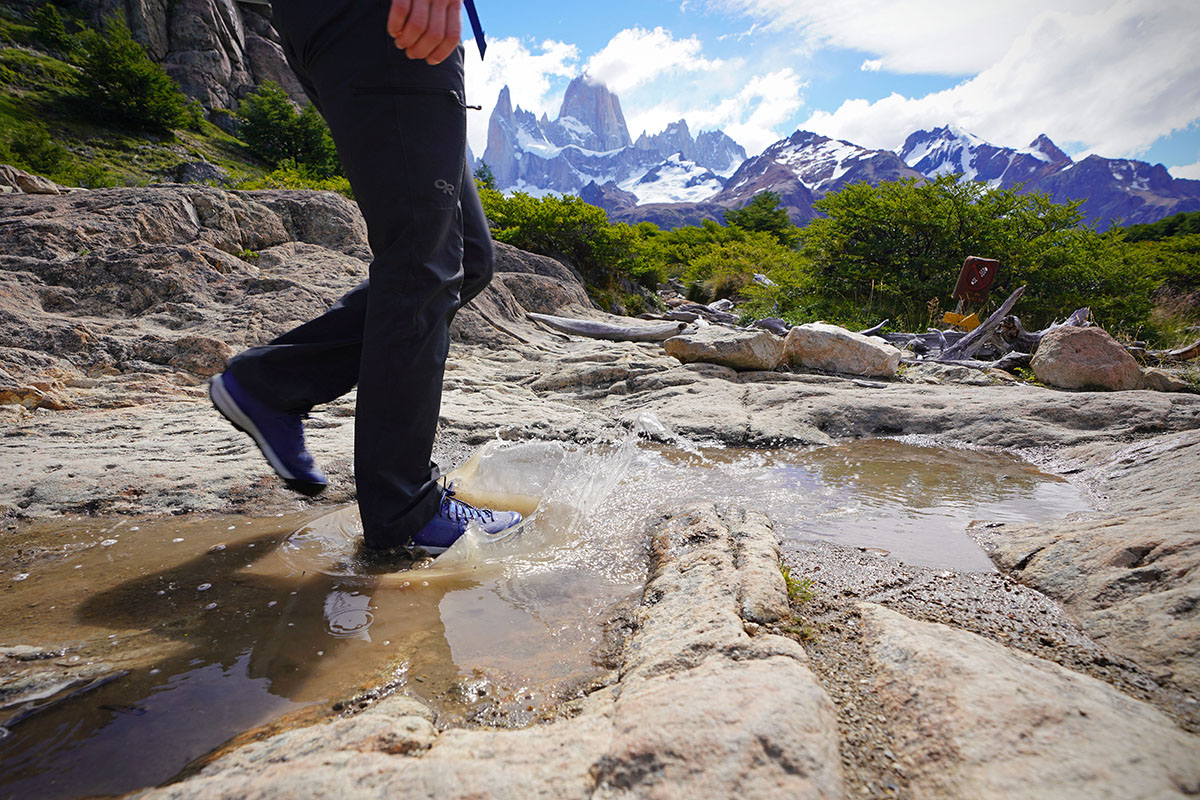 The adaptive liner gets a lot of kudos for being comfortable, formfitting, and keeping out debris, but it also happens to be impressively moisture wicking and breathable. The absence of a tongue means that there is no zone where liner materials overlap, and thus no obstructed airflow. After walking through marshy terrain to the base of Cerro Fitz Roy, I noticed that my damp feet dried out very quickly. Moreover, neither my partner nor I ever overheated while hiking in the Acrux SL.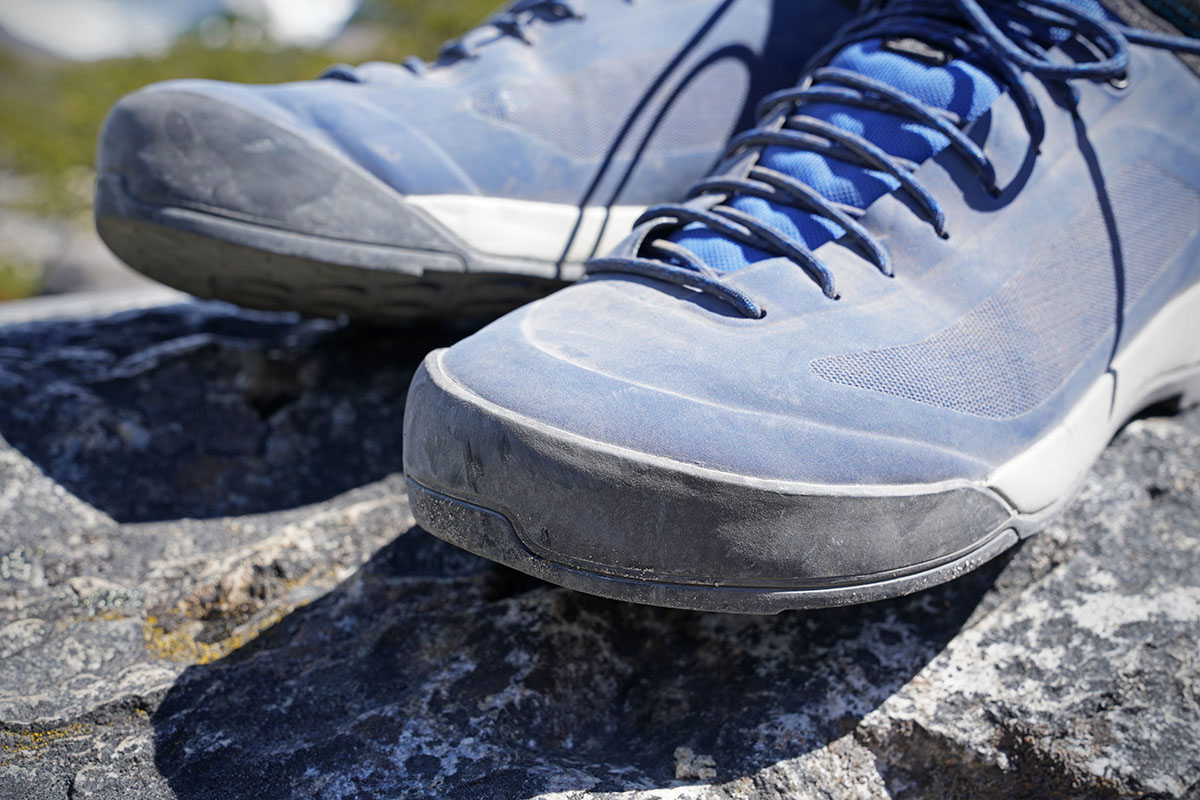 Weight
The women's model of the Arc'teryx Acrux SL weighs 1 pound 1.6 ounces for the pair, placing it on the lightweight end of the spectrum for approach shoes. It's not the lightest model out there: the Evolv Cruzer Psyche, at 13.2 ounces, takes the cake. But for about 5 extra ounces, the Acrux really ups the ante in terms of support, comfort, and durability. It even manages to clock in lighter than shoes of comparable performance like the mesh La Sportiva TX3 (1 pound 4 ounces) and trim Scarpa Gecko (1 pound 5.8 ounces). Of all of these shoes, the Acrux SL strikes the best balance of being light enough to accompany you up a climb on your harness, but still functional enough for a cross-country approach under a 30-pound load.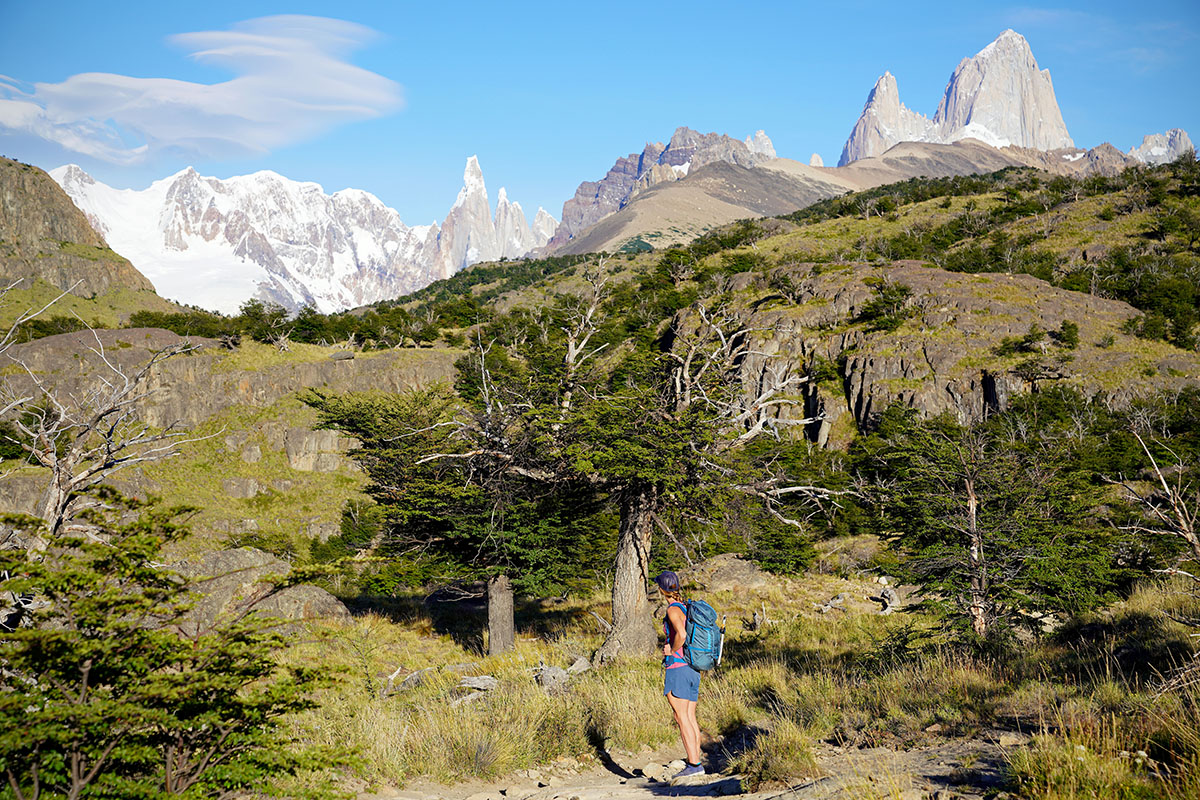 Fit, Sizing, and Comfort
First things first: whether it's a result of the overall shape of the shoe or the stiff upper, the Acrux SL does not accommodate wide feet. This shoe did not work for my slightly wider than average feet with burgeoning bunions to boot. It was comfortable when standing or sitting, but once I started walking, I found the nylon upper to be unyielding and tough to wear. It folded and pushed into my foot with each step, and no matter how loosely or tightly I laced the Acrux, I could not find the sweet spot to keep this from happening.
After some use, the shoes did not stretch or conform to my feet and remained stiff for the 20+ miles that I wore them. This didn't strike me as a foot size issue until my climbing partner Lorna—with extremely low-profile feet that happen to be the same length as mine—decided to give the shoes a shot. She loved the fit of the Acrux SL, found them to be exceptionally comfortable, and wore them on multiple approaches. In reading the reviews of others, it's obvious that Arc'teryx designed this shoe to fit those with narrow feet.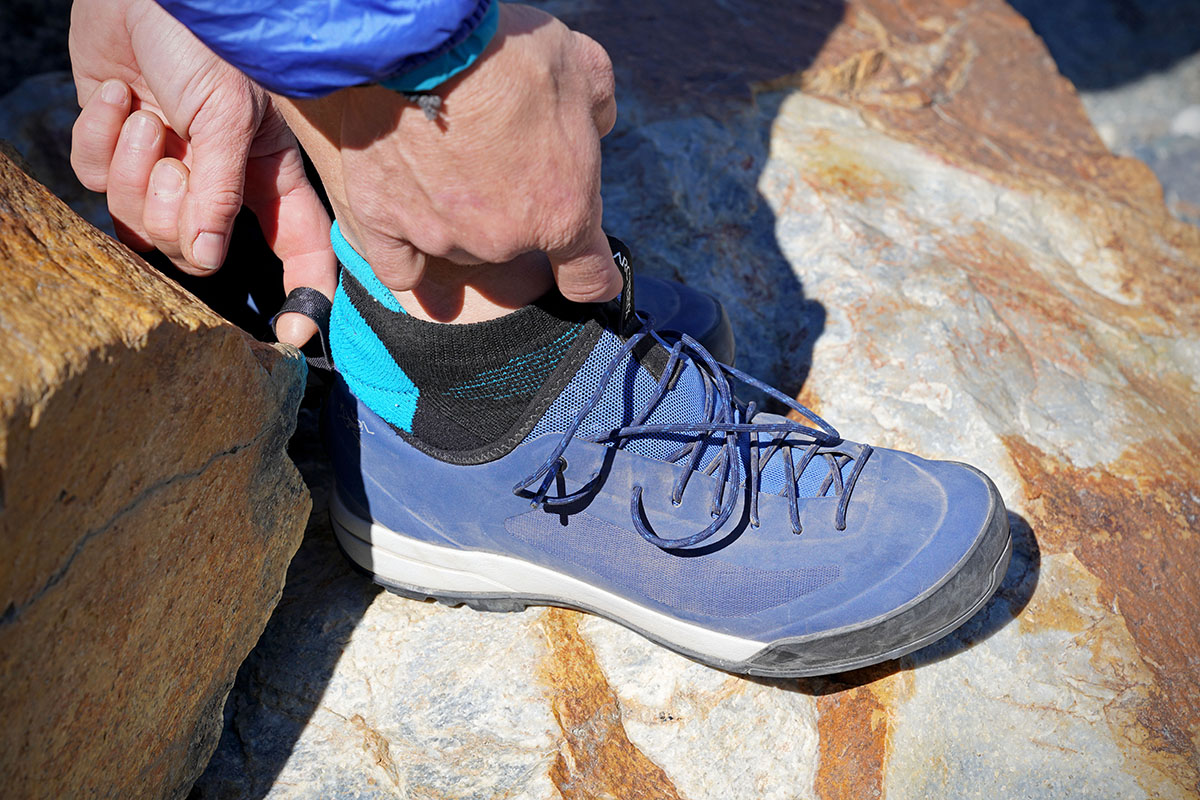 The Acrux SL is made in 2/3 size increments on the European scale. I initially ordered a size 40 (my usual size) but ended up going down to a 39 1/3. My partner too usually is a 40 and the size 39 1/3 fits her best as well, so regardless of foot girth, we would recommend sizing down 2/3 of a size (or better yet, trying them on before buying). It's also worth noting that we both found the Acrux arduous to slip on and off, more like a climbing shoe than a typical approach shoe.

Men's Version
For this review, we tested a women's version of the Arc'teryx Acrux SL. The shoe also is made in a men's version, which weighs slightly more (1 pound 5.2 ounces for a pair) and comes in different colorways, but with the same design overall. We haven't tested the men's version yet, but it's safe to assume that it's slightly wider and therefore might be a viable option for wide-footed women who are set on the design and features of the Acrux SL.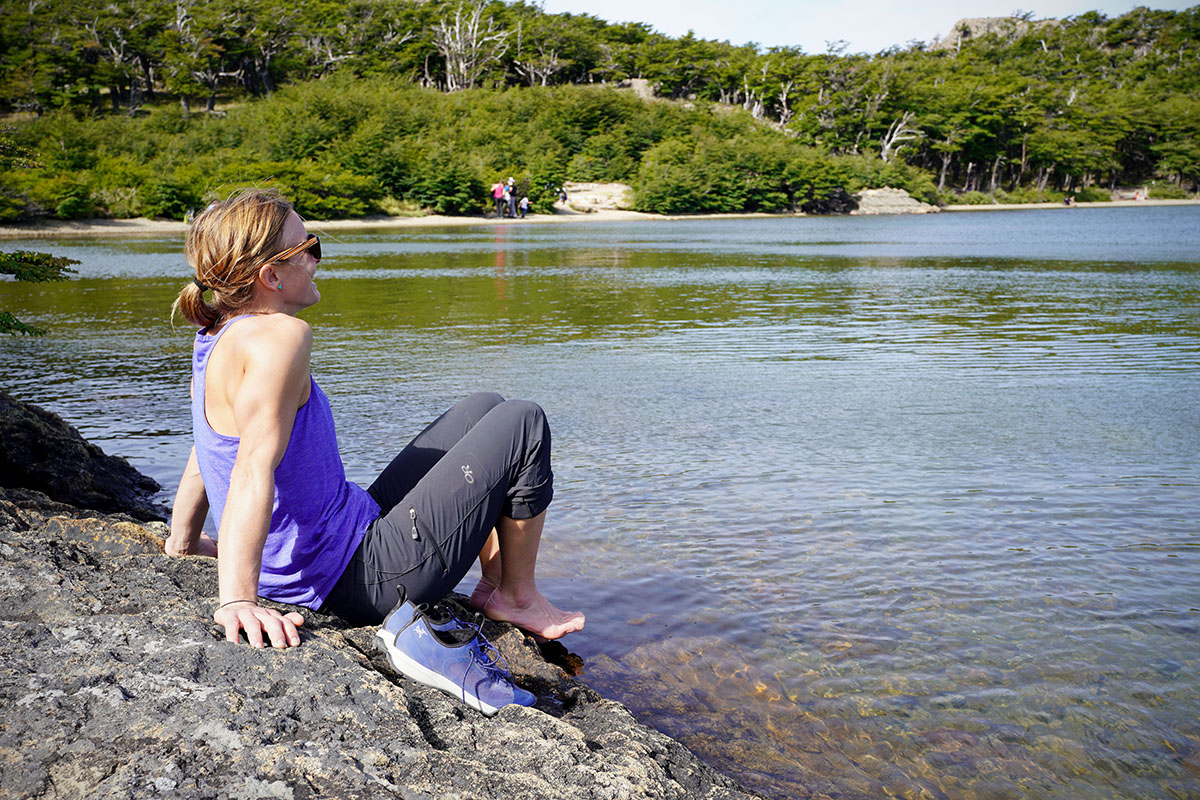 What We Like
A high degree of performance at an impressively low weight.
The adaptive liner offers a snug, hot-spot free fit and keeps debris out.
The seamless nylon upper makes for an extremely durable and water resistant shoe.

What We Don't
This shoe does not fit wide feet, period.
The Vibram sole excels on rocky terrain but is not ideal on wet leaves or in mud.
At $170, the Acrux is one of the more expensive approach shoes on the market, and the leather and GTX versions are even pricier.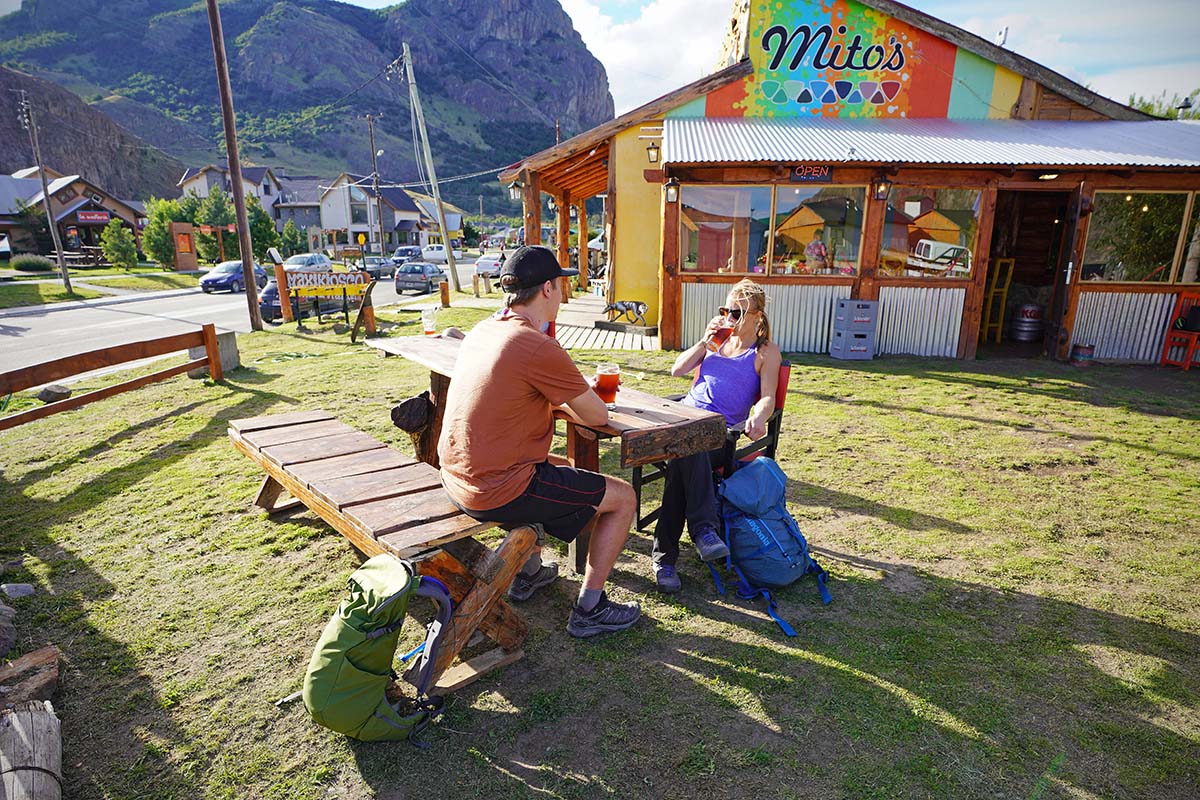 Comparison Table

The Competition
Climbing spans a diverse array of disciplines, from bouldering and scrambling to alpine rock. Approach shoes is a catch-all category, but in reality, each model is designed for a specific use. The Acrux SL ($170), like most Arc'teryx products, is made with a focus on alpine environments, and this is where the shoe truly shines. If you're hiking through challenging terrain, pushing the durability limits of your shoe, and are mindful of ounces on your feet and harness, it doesn't get much better than the Acrux SL. Shoes like the La Sportiva TX4 Mid GTX ($190) and Salewa Mountain Trainer ($199) are more supportive and waterproof, but at the cost of added weight and bulk.
Given the price tag and sleek appearance of the Acrux SL, we don't necessarily recommend this shoe as an all-rounder. It can be overkill in some environments, and an array of other shoes can get the job done for less money. For example, climbers who walk short distances to the crag can get away with a much heavier shoe made with a focus on comfort and durability, such as the La Sportiva Boulder X ($110) or Scarpa Crux ($120). Those looking for a high degree of climbing performance might opt for models like the Five Ten Guide Tennie ($120) or Scarpa Gecko ($160), although the Acrux SL is competitive here too. And while the Acrux is one of our top picks for shoes to carry on your harness up and over climbs (for climbing in Squamish, for example, or the Wind River Range), the La Sportiva TX2 (14.4 ounces, $130) and Evolv Cruzer Psyche (13.2 ounces, $75) both are lighter and less expensive options.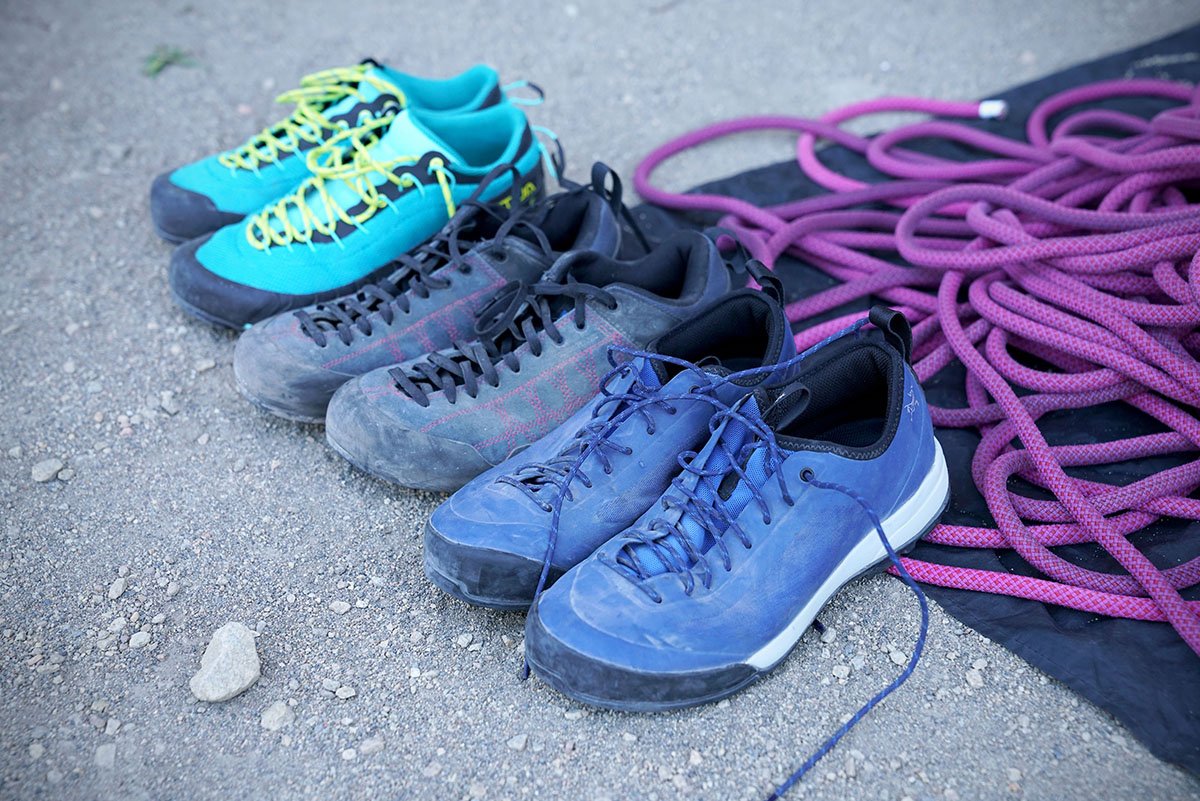 As mentioned above, wide-footed climbers will want to look for an alternative to the Acrux SL. I wore the La Sportiva TX3 on the same approaches that my partner donned the Acrux, and found it to be comfortable and supportive enough for the demanding environment. That said, the TX3 is no match for the Acrux SL in terms of durability and water resistance, and I will almost certainly go through two pairs during the typical lifespan of one pair of Acrux SLs (for more information, see our in-depth TX3 review). Given the build quality and low weight, for the right foot there simply is no match for the Arc'teryx.
If you're thinking about buying gear that we've reviewed on Switchback Travel, you can help support us in the process. Just click on any of the seller links above, and if you make a purchase, we receive a small percentage of the transaction. The cost of the product is the same to you but this helps us continue to test and write about outdoor gear. Thanks and we appreciate your support!
Depending on the seller, most products ship free in the United States on orders of $50 or more. International shipping availability and rates vary by seller. The pricing information on this page is updated hourly but we are not responsible for inaccuracies.
Learn More About Climbing