Arc'teryx Proton Hybrid Hoody
Price: $350
Weight: 11 oz. (women's small)
Insulation: Coreloft (60g)
What we like: Excellent mix of breathability, wind protection, and light insulation for active backcountry use.
What we don't: Lacking in wet-weather protection and versatility—this is a specialized piece for working hard in cold, dry conditions.
See the Women's Proton Hybrid Hoody  See the Men's Proton Hybrid Hoody
Arc'teryx has a jacket for just about every activity, and the Proton Hybrid streamlines their standard Proton jacket with less insulation and windproof Gore-Tex Infinium panels for added protection on blustery backcountry missions. I recently put the women's model through a winter of running in frigid temperatures and backcountry skiing in varied conditions and found it to be an excellent match for working hard in cold, dry conditions. It's not water-resistant enough to trust as a standalone piece in heavy or sustained moisture, but the combination of breathability, wind blocking, and light insulation is hard to beat for tours, hikes, and other active pursuits in mostly favorable weather. Below I break down my thoughts on the Proton Hybrid Hoody. To see how it stacks up to the competition, see our article on the best synthetic jackets.
 
---
Table of Contents
---

Performance
Warmth
The Arc'teryx Proton Hybrid Hoody is a cold-weather active insulation piece, meaning it provides enough warmth for high-output use in winter temperatures but won't replace a traditional midlayer when you stop moving. This is abundantly clear looking at the construction: The jacket packs in 60-gram (g) synthetic Coreloft insulation at the torso, shoulders, and upper back (right behind the neck) but leaves the hood, sides, arms, and most of the back uninsulated to maximize airflow during heavy exertion. In testing, I found this combination to be perfect for working hard (e.g., touring or running) in temperatures below 15 degrees Fahrenheit with a light baselayer underneath or during moderate activity (e.g., hiking) above freezing. It hasn't been mild enough yet to wear the Proton Hybrid on descents without an additional layer, but I imagine that it will be a similarly good match for spring skiing or during an inversion.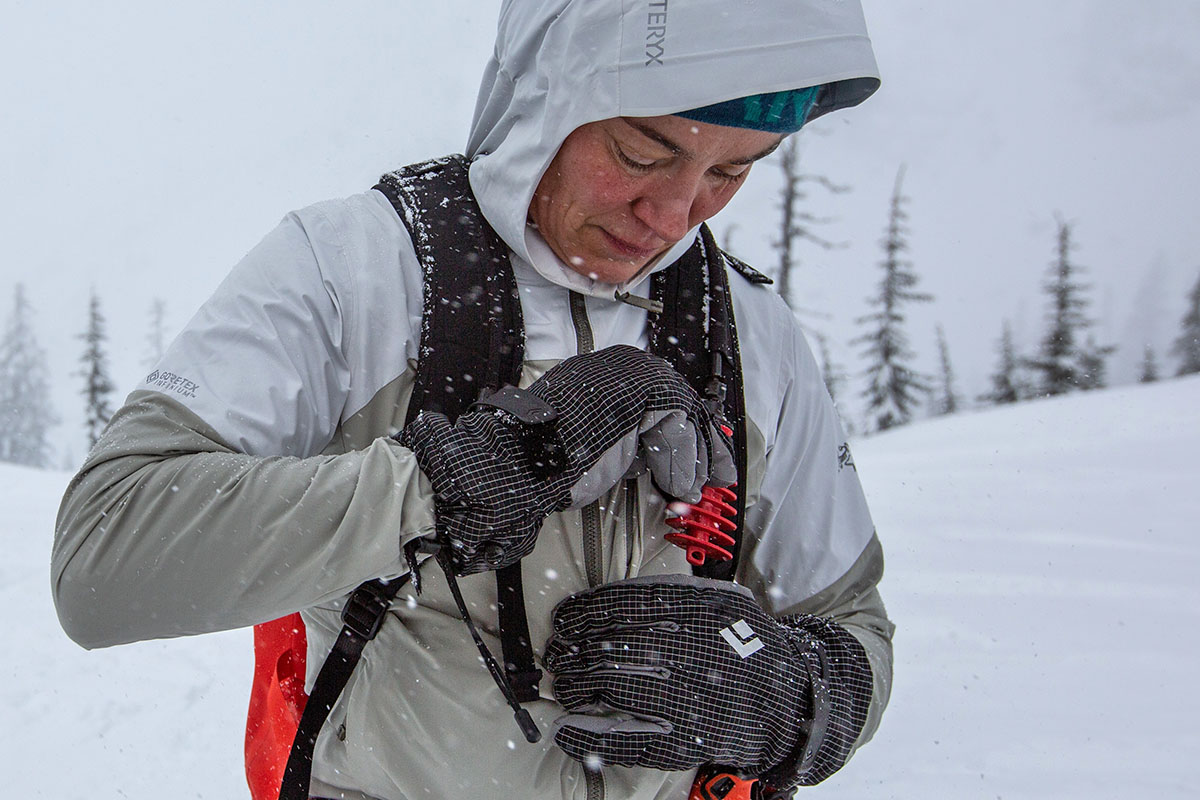 Arc'teryx also outfitted the Proton Hybrid Hoody with a couple key features to help trap warmth. Namely, the hem boasts a cinch cord for sealing out drafts, and the hood is similarly easy to tighten via a single drawcord at the back. You also get windproof Gore-Tex Infinium panels along the yoke and hood (the lighter-colored sections on the Atmos/Habitat colorway that I tested), which do a nice job of taking the sting out of blustery weather. But again, the Proton Hybrid isn't warm or protective enough to keep you comfortable during periods of inactivity, and I'm quick to throw on another layer during backcountry transitions or breaks while running.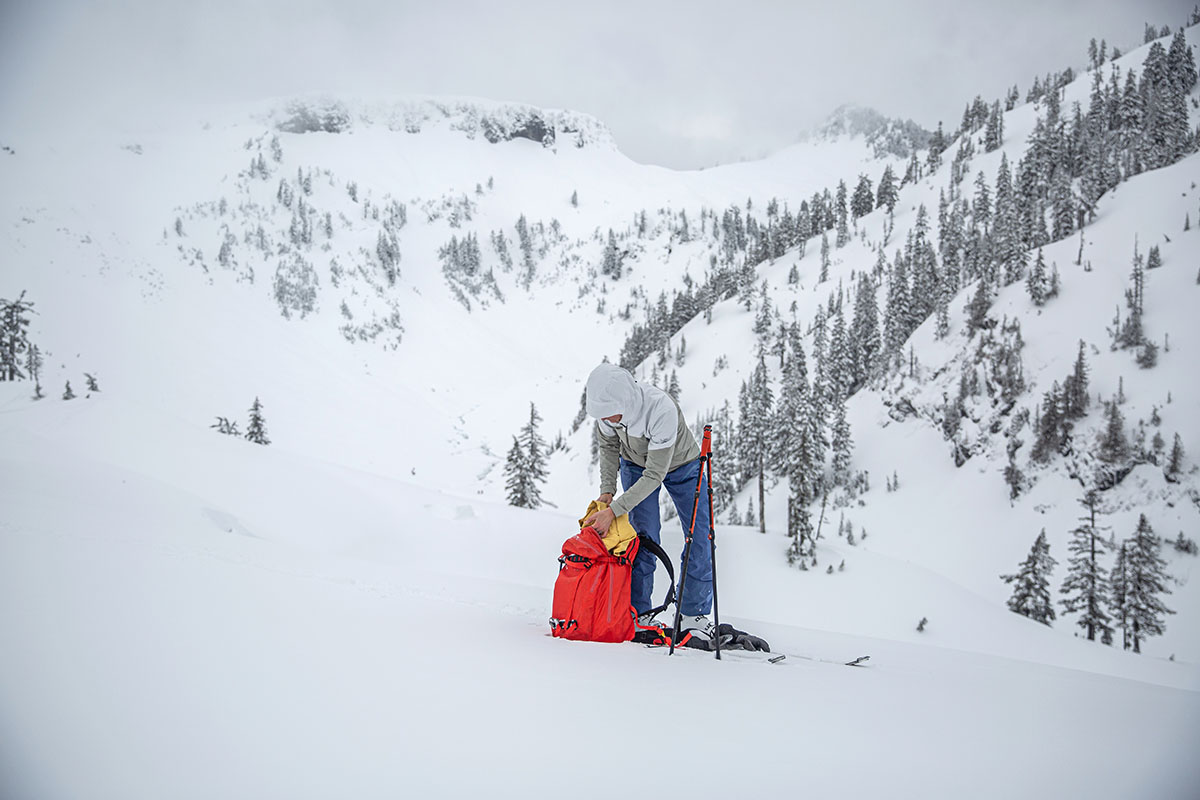 Breathability
The Arc'teryx Proton Hybrid Hoody is meant to be worn during activity, so it comes as no surprise that breathability is a real strong suit. The aptly named Fortius Air shell is impressively air-permeable, while the nylon lining does a great job wicking moisture. For reference, I've never experienced any clamminess while wearing the jacket, even with just a T-shirt underneath. As I touched on above, Arc'teryx also strategically packed insulation into certain areas (the core, shoulders, and upper back) while leaving others (the hood, sides, arms, and mid/lower back) uninsulated—a very thoughtful balance between breathability and warmth, in my opinion. To be clear, the Proton Hybrid wouldn't be my first choice in mild to warm conditions—it's best for heavy exertion in truly cold temperatures—but I have yet to overheat in the jacket.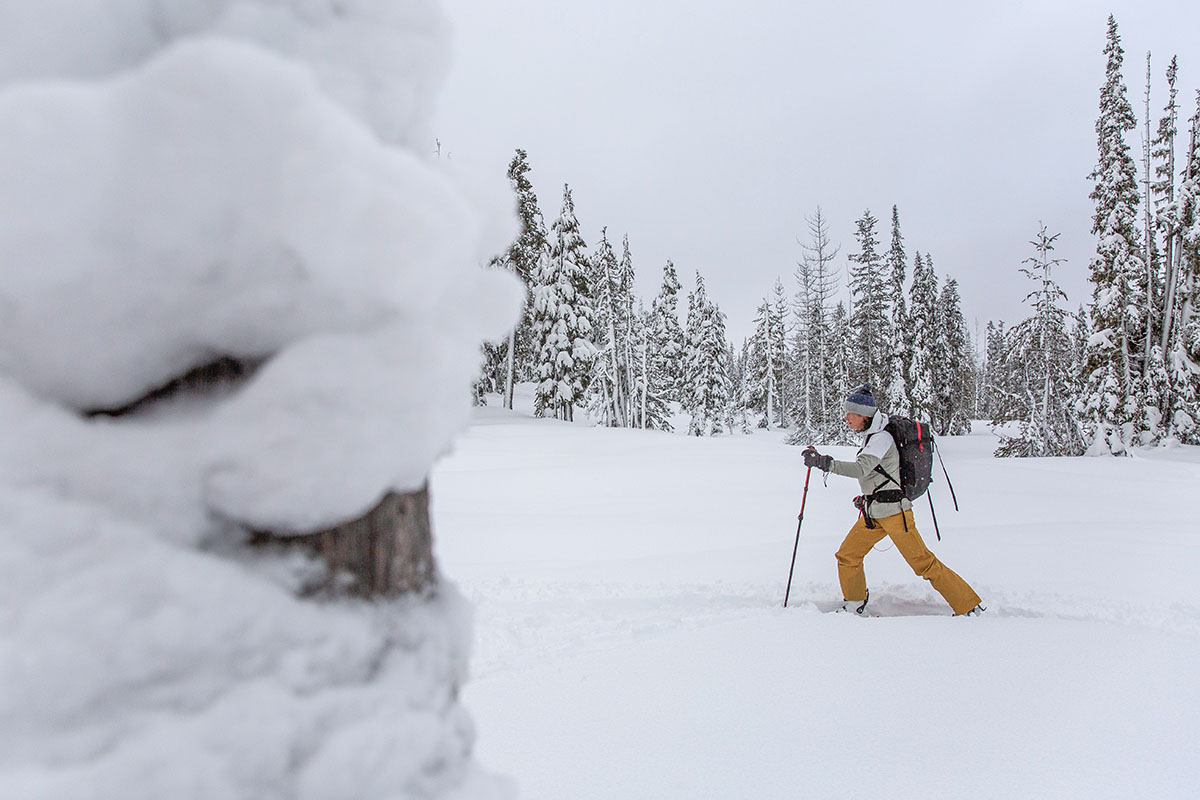 Weather Protection
The Proton Hybrid Hoody is a decent wind blocker and repels light moisture just fine, but the jacket undoubtedly favors breathability over weatherproofing. For reference, the durable water repellent (DWR) finish was effective at combating light snow while touring in the Mount Washington backcountry, but it was quickly overwhelmed once the snowflakes turned to heavy, wet sleet. On a similar note, the Gore-Tex Infinium panels on the yoke and hood do a nice job of fending off strong gusts but aren't designed to hold up in a downpour, and the wind-blocking material is notably absent from the chest and lower back. While I haven't had any issues with growing chilled from the wind while exerting, I wouldn't wear the Proton Hybrid as my sole outer layer while sitting around camp on blustery days. In the end, I always bring along a hardshell on backcountry adventures just in case. On the bright side, the jacket's trim fit makes it easy to layer overtop (more in "Fit and Sizing" below).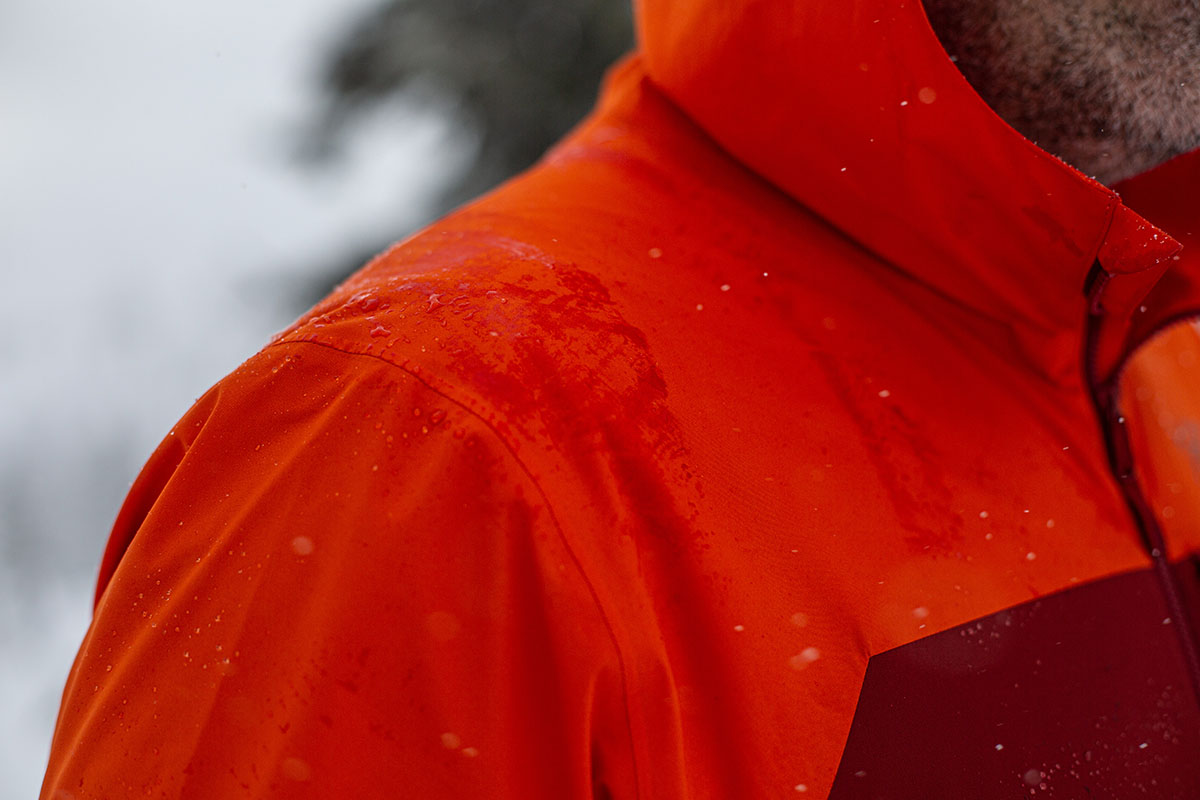 Comfort
In addition to breathability, comfort is another one of the Arc'teryx Proton Hybrid Hoody's strong suits. For starters, overall mobility is excellent thanks to the generous use of elastane (16%) and articulated patterning. I tend to flail my arms a fair bit while running quickly downhill, and the Proton Hoody allowed me to do so without any riding up or restriction to movement. As I mentioned previously, the nylon lining is also great at wicking moisture, has a silky-smooth texture, and has never felt sticky or damp even against bare skin. Added up, the Proton Hybrid Hoody is a very comfortable and cozy place to be, and I've had no complaints wearing it during full days in the backcountry.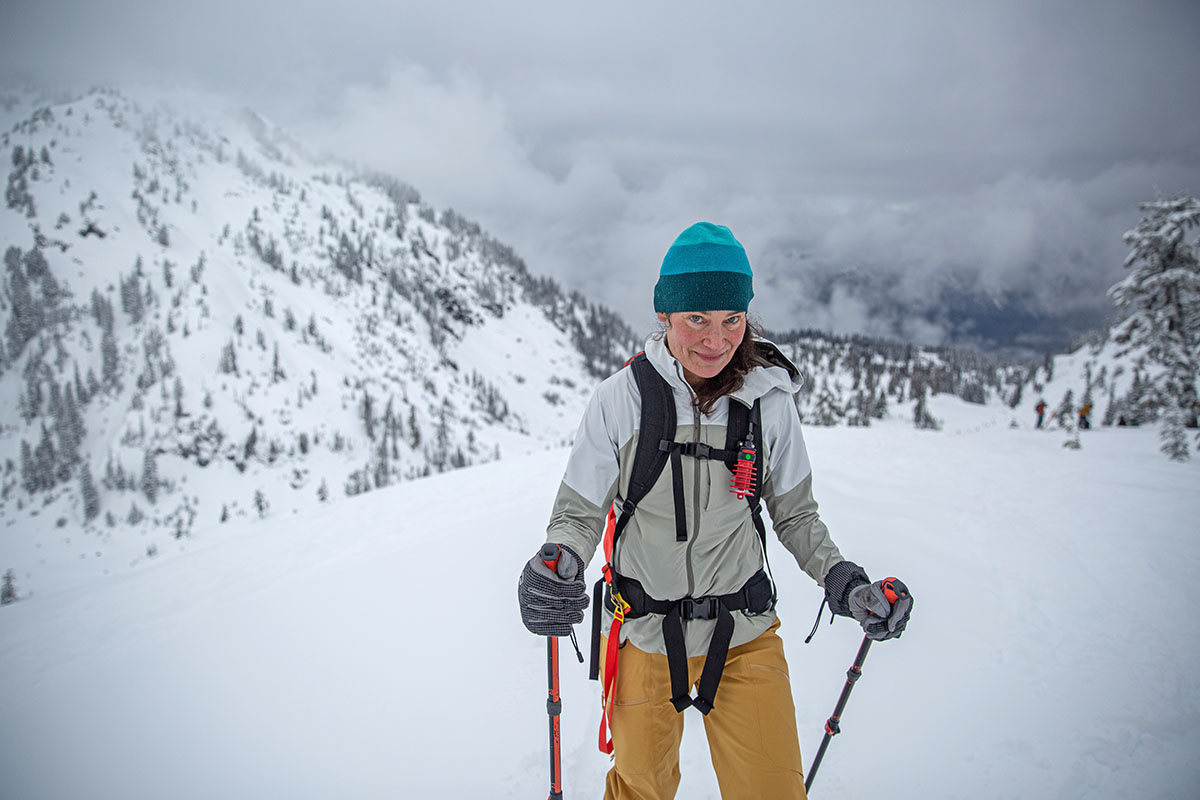 Weight and Packability
At 11 ounces for my women's size small (just 0.1 oz. heavier than its listed weight), the Proton Hybrid Hoody isn't a featherweight but strikes me as perfectly reasonable for regular backcountry use. It's hard to make an apples-to-apples comparison given the Proton's fairly unique hybrid design, but it stacks up competitively to other leading active insulators like Patagonia's Nano-Air Light Hybrid Hoody (9.8 oz.) and The North Face's Summit Series Casaval Hoodie (11.6 oz.). You can shave some weight with Arc'teryx's own Atom Lightweight Hoody (8.1 oz.), although it's a step down in warmth and durability and lacks the Proton's solid wind-blocking ability.
In terms of packability, the Proton Hybrid Hoody doesn't stuff into a pocket but can easily be rolled into its hood and compressed further with the rear drawcord. When packed down, my women's small ends up being about the size of a grapefruit, which is quite impressive. I admittedly haven't had to remove the jacket due to its excellent breathability, but the competitive packed size makes it easy to stuff in a pack.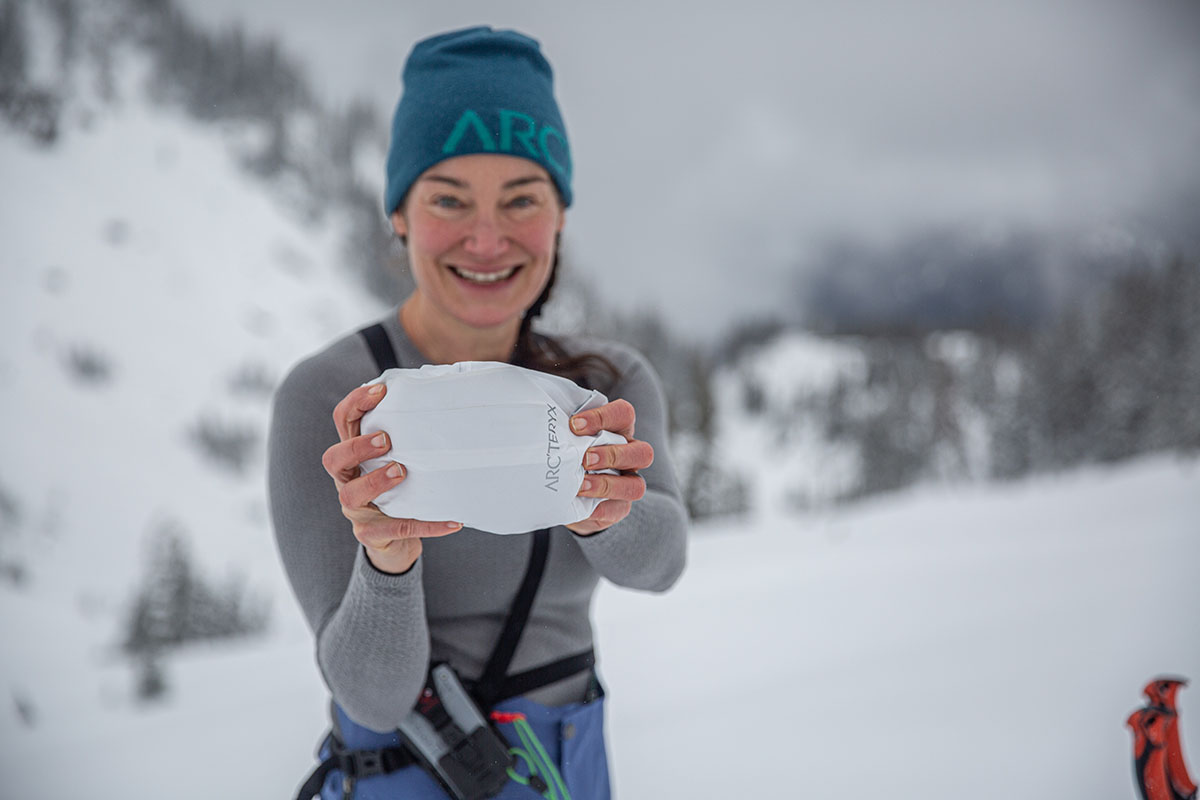 Build Quality and Durability
Arc'teryx products are generally high on quality and durability, and the Proton Hybrid Hoody is no exception. For starters, the 50-denier (D) face fabric is impressively thick and hardwearing—I've had no qualms rubbing against frozen tree branches or stuffing the jacket into the nooks and crannies of my ski backpack. Despite this less-than-careful treatment, my jacket still looks like new with no signs of wear or discoloration, which is particularly impressive given the lighter colorway (Atmos/Habitat) that I tested. All the smaller details are equally well sorted, including smooth-operating zippers, quality hood and hem toggles, and perfectly intact seams. All in all, I have no complaints from a build quality perspective and expect the Proton Hybrid Hoody to have a long and healthy lifespan.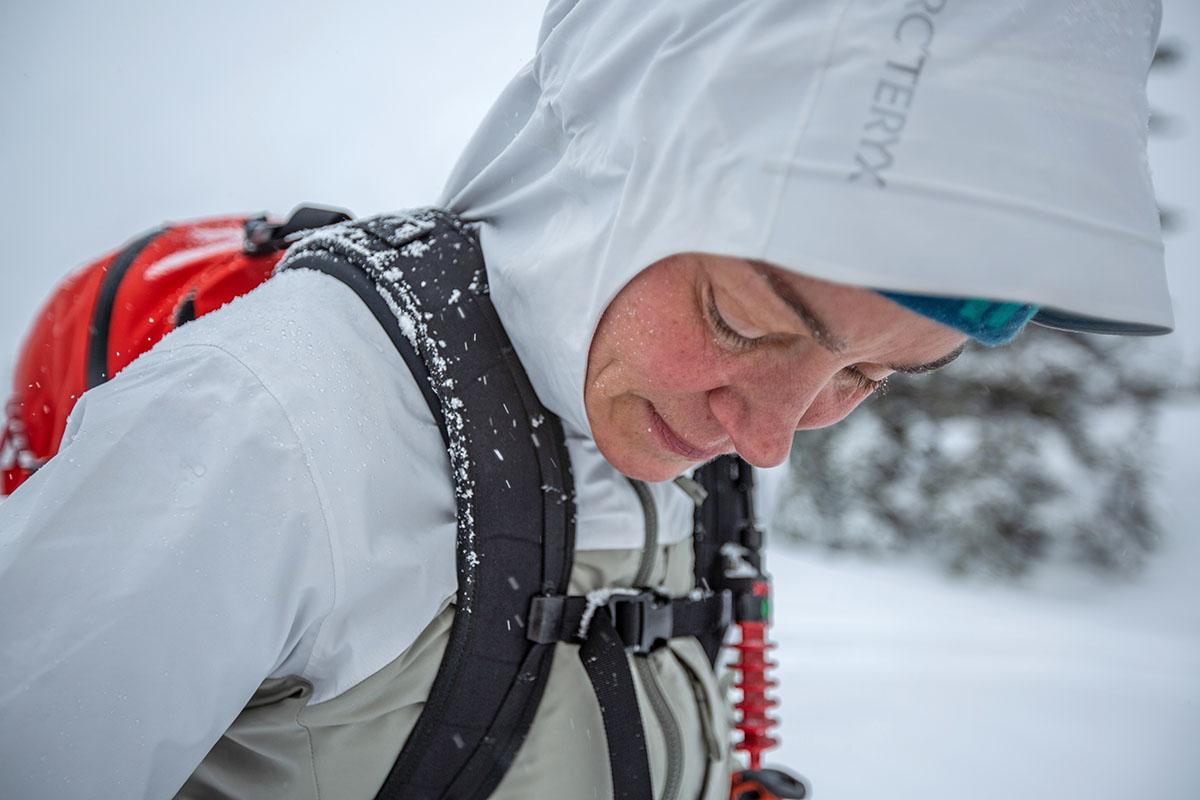 Key Features
Hood
Arc'teryx hoods consistently score high marks for fit and overall performance, and the Gore-Tex Infinium design on the Proton Hybrid is another well-executed design. The hood is low-profile and comfortably fits under a ski or climbing helmet, and it's easy to snug things down with a single pull cord at the rear (note: It requires two hands to tighten but just one to loosen). Even when cinched tight, the hood is comfortable with no restriction to movement or vision. The bill also has a good amount of structure to it and effectively deflects light moisture from dripping onto my face, although I recommend wearing a cap with a larger brim in heavy snow. Rounding out the design is a Recco reflector hidden above the rear drawcord, which makes you searchable to rescuers in the event of a backcountry emergency.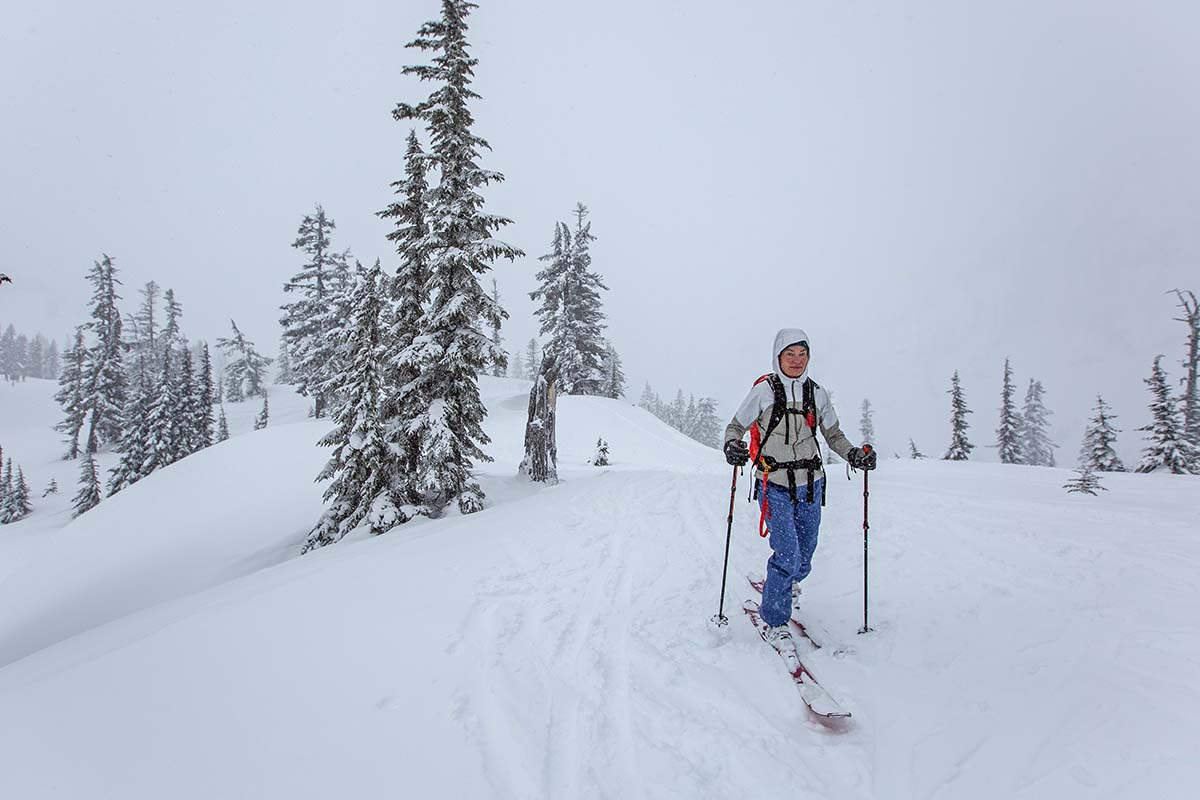 Storage: Pockets
The Proton Hybrid Hoody comes adequately equipped for backcountry use with three zippered pockets, all of which are generously sized. The chest pocket can easily swallow a smartphone, although you'll want to avoid storing your phone close to your avalanche beacon to prevent interference. The hand pockets—while not harness- or hipbelt-compatible—are also plenty big for warming gloved hands or stashing items like gloves or a hat as temperatures shift. Some backcountry-goers might find themselves missing an interior dump pocket (like what you get with Arc'teryx's warmer Rush Insulated Jacket) for storing skins on the descent, but I don't mind throwing them in my ski backpack.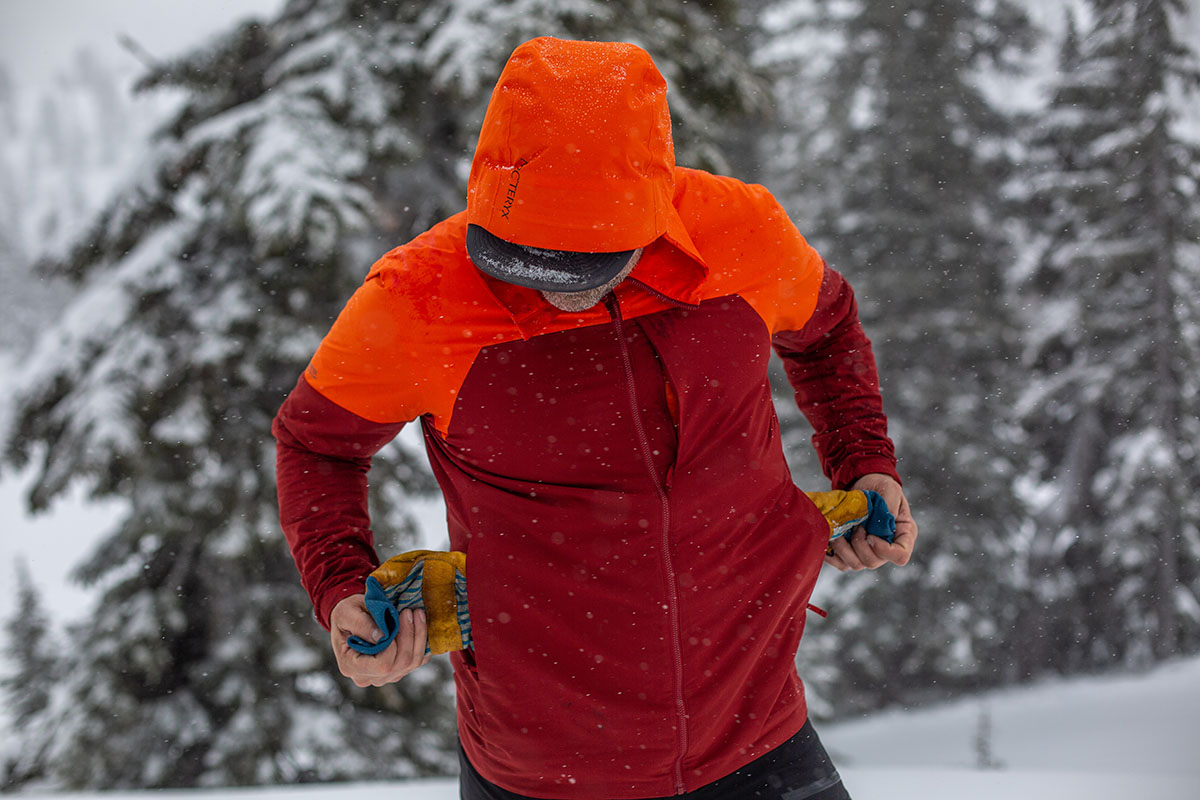 Fit and Sizing
The Proton Hybrid Hoody boasts Arc'teryx's "fitted" designation, which is designed to fit close to the body and slide easily under a shell while still allowing room to accommodate baselayers underneath. With that in mind, my usual size small was just about perfect (for reference, I'm 5'8" and around 130 lb.): The hem falls a couple inches below my hips, the sleeves extend to my wrists, and there's no tugging or unwanted tightness, even with the hood on. Of note: Arc'teryx recently revamped their sizing, and while I've personally been pleased with the changes, I recommend referencing their sizing charts before buying to confirm which option is best for you.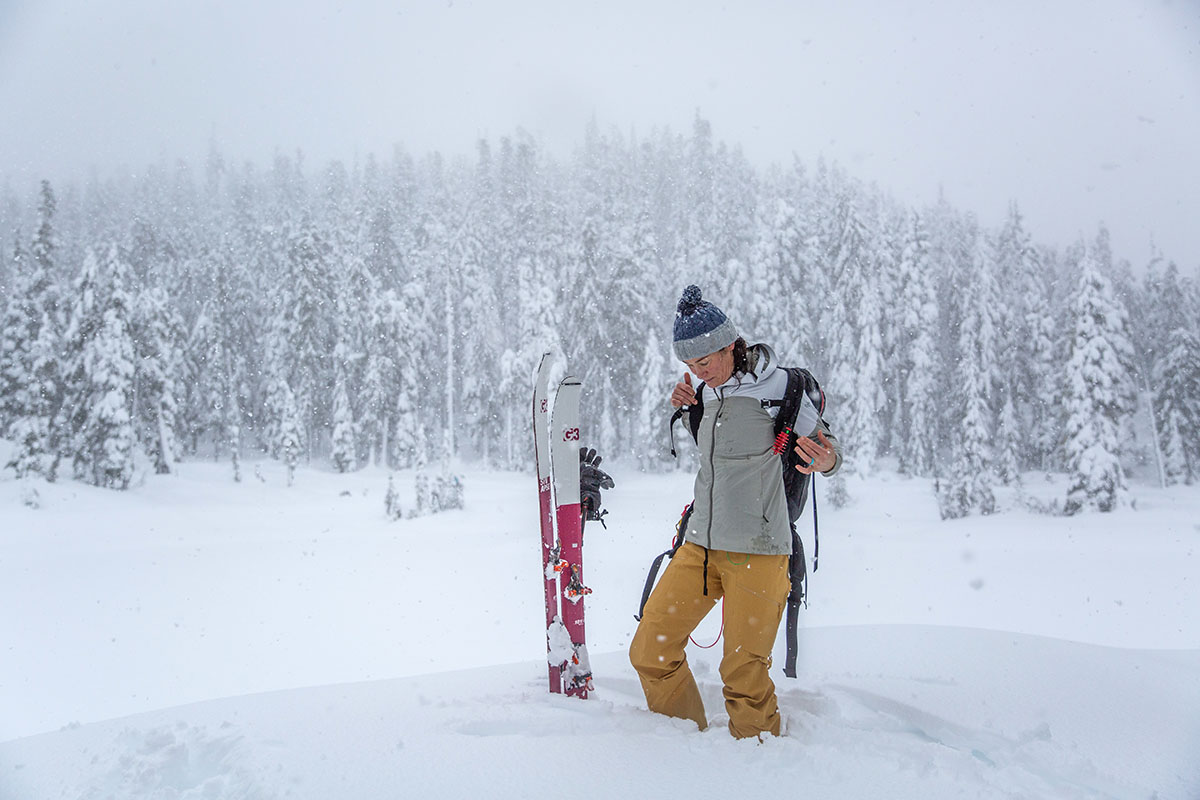 Sustainability
Like many other leading outdoor brands, Arc'teryx has been making notable inroads on the sustainability front of late. The Proton Hybrid Hoody isn't their most comprehensive effort to date, but we appreciate that they used bluesign-approved materials that have been deemed safe for the environment, workers, and consumers. We'd like to see recycled and Fair Trade-certified fabrics in a future update, but we nevertheless appreciate the efforts that Arc'teryx has made thus far.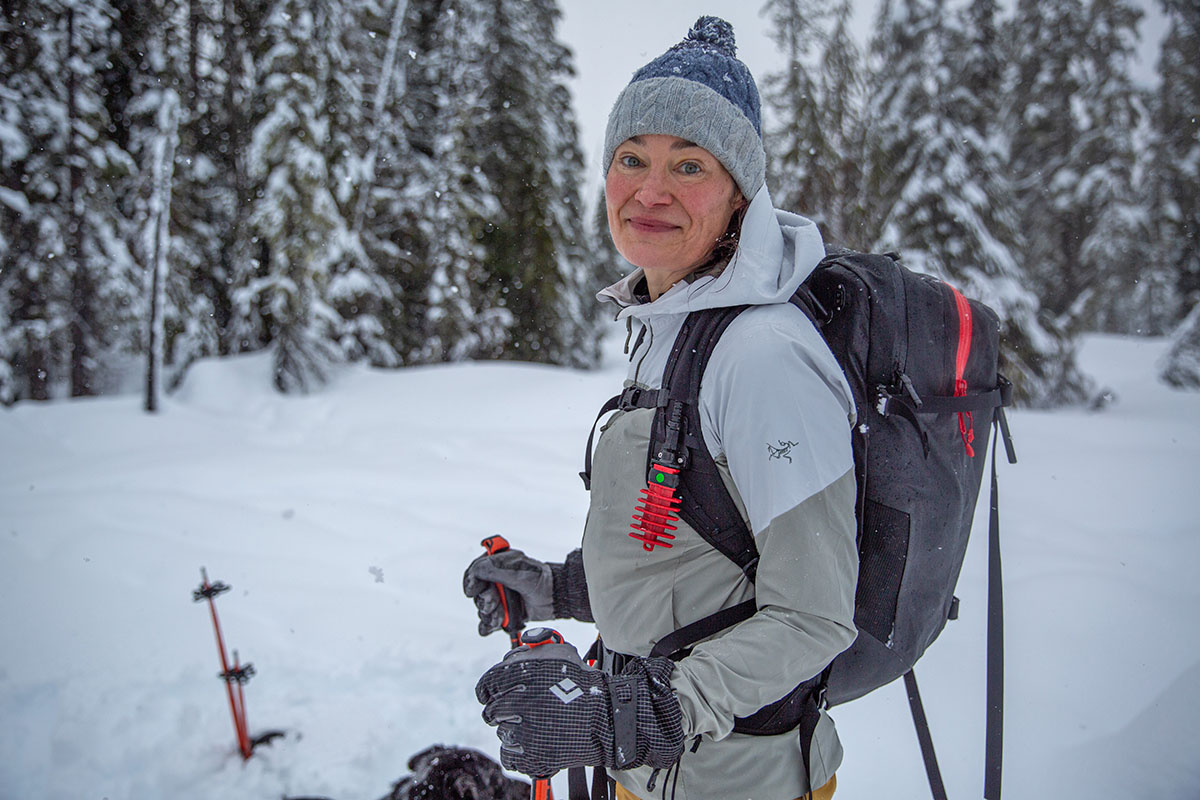 Men's Arc'teryx Proton Hybrid Hoody
We covered the women's Proton Hybrid for this review, and Arc'teryx also offers a dedicated men's model, which my husband tested alongside me this past winter (and is shown in some of the photos here). Both jackets cost $350 and share many of the same features, although the men's Proton Hybrid Hoody is insulated with 40g Coreloft compared to 60g for the women's jacket. The men's model is also 2 ounces heavier and comes in different colorways, but overall performance stacks up very similarly.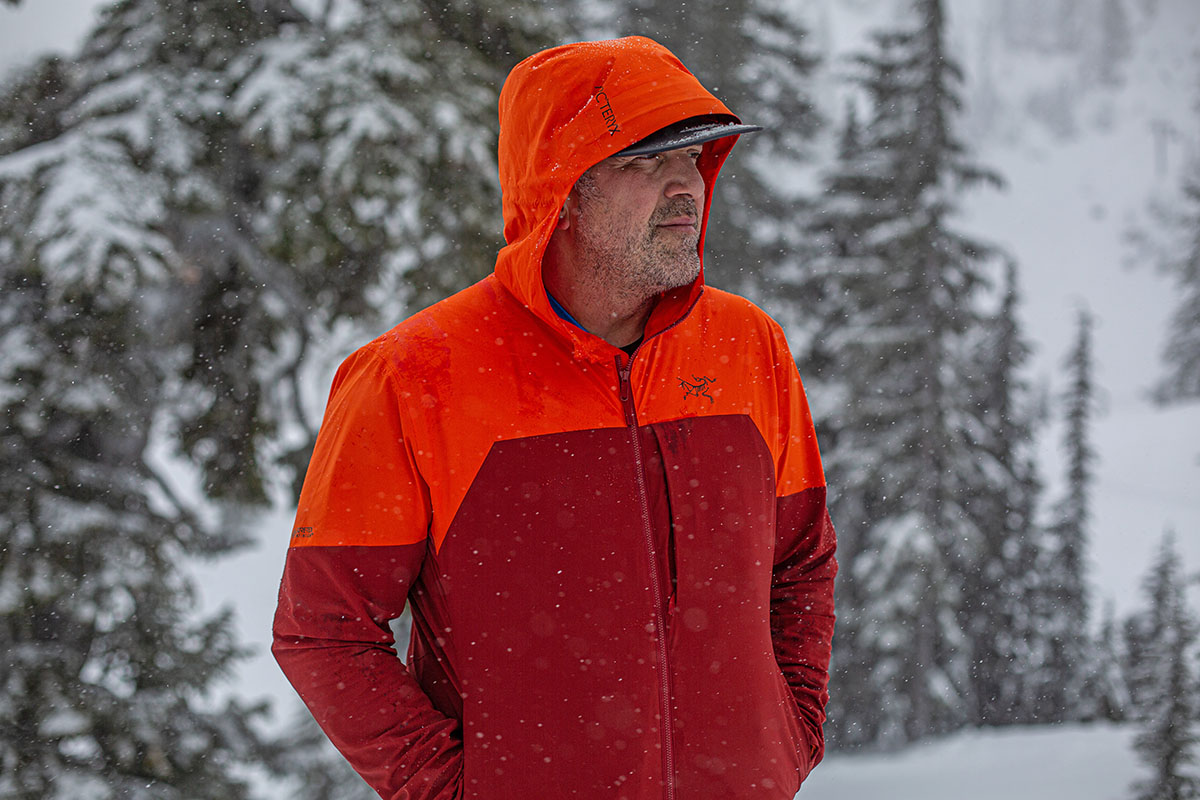 What We Like
Air-permeable shell, moisture-wicking lining, and strategically placed insulation make this jacket a great breather during heavy exertion.
Overall comfort is excellent thanks to the stretchy fabrics that move with you and a soft lining that's great at wicking moisture.
Gore-Tex Infinium panels on the yoke and hood do a great job of combatting strong winds.
Thoughtfully made with a thick (50D) shell that's highly durable, quality components, and the premium fit and finish we've come to expect from Arc'teryx.
Feature set is well executed for backcountry use, including an adjustable and snug-fitting hood, three zippered pockets, and a hidden Recco reflector.

What We Don't 
Lacking in appeal for low-output pursuits and wearing around town (it's not warm enough to keep you comfortable during periods of inactivity).
Not ideal as a standalone piece in wet weather—we advise bringing along a waterproof shell if heavy or extended rain or snow is in the forecast.
You can go lighter (and cheaper) in the active insulation market.
Some backcountry users might miss having an interior dump pocket for stashing items like skins during backcountry transitions.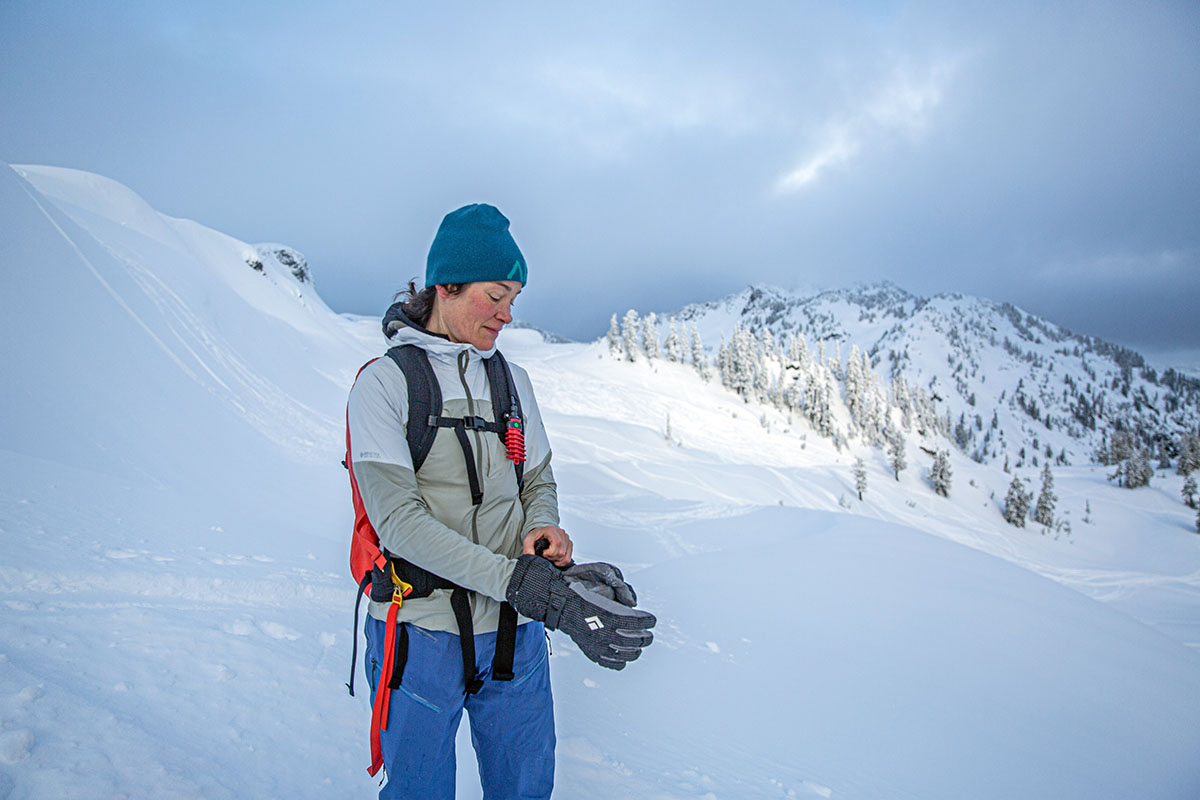 Comparison Table

The Competition
Arc'teryx's Proton Hybrid Hoody is a well-executed design with a leg up in wind protection over most synthetic jackets, but the active insulation market is booming in 2023. Starting within Arc'teryx's own lineup, the Atom Lightweight Hoody (the men's counterpart is the Atom SL) is another lightly insulated design built for high-output use. In this case, you get 40g Coreloft for a modest drop in warmth (it's the better match for mild temperatures), along with a thinner 20D construction that isn't as confidence-inspiring as the Proton Hybrid's 50D shell. The Atom Lightweight also lacks the Proton's windproof Gore-Tex Infinium panels, although the Tyono shell is adequate for fending off light to moderate gusts. And both jackets will require adding a waterproof shell in truly rough and rowdy conditions, making the Atom Lightweight the better value at a significant $120 less than the Proton Hybrid.
Next up is Arc'teryx's Proton Lightweight Hoody, which was formerly the Proton FL (short for "fast and light"). However, despite sharing a similar name, the Proton Lightweight and Proton Hybrid are considerably different. For starters, the Proton Lightweight uses lighter and more breathable Octa Loft insulation, which is a step down in warmth from the Proton Hybrid's Coreloft fill. You also get a notably thinner 20D shell that can fend off light moisture and wind but lacks the Proton Hybrid's thick and trustworthy feel (plus, there's no Gore-Tex Infinium for combatting strong gusts). The Proton Lightweight does cost $90 less and get the slight edge in weight at 10.4 ounces, but the Hybrid's added durability and protection are clear advantages for demanding backcountry use (although both jackets will require adding a shell in sustained rain or snow). For a step up in warmth, Arc'teryx also offers the standard Proton Hoody ($300), which uses a mix of 60 and 80g Coreloft with a 20D shell and checks in at 11.3 ounces.
Moving away from Arc'teryx's lineup, Patagonia recently reintroduced their Nano-Air Light Hybrid Hoody, which is a cross between their legendary Nano-Air synthetic and breathable R1 Air fleece. On the front, you get 40g FullRange insulation covered in a stretchy shell, while R1 Air panels on the back, sides, and underarms help keep air flowing. In testing, we've been impressed by the jacket's soft, stretchy feel and ability to dump excess heat quickly, making it a fast favorite for climbing, backcountry skiing, and hiking (bonus: It also wears well around town, unlike the more technical-looking Proton Hybrid). The Patagonia is also 1.1 ounces lighter and $51 cheaper than the Arc'teryx, although it has a thinner 30D shell and leaves out a hood drawcord, hem cinch, and chest pocket. It's also a noticeable step down in wind resistance due to the air-permeable fleece covering the back, sides, and underarms, but for heart-pumping activities in the cold (especially when you're wearing a pack), the Nano-Air Light Hybrid leaves little to be desired.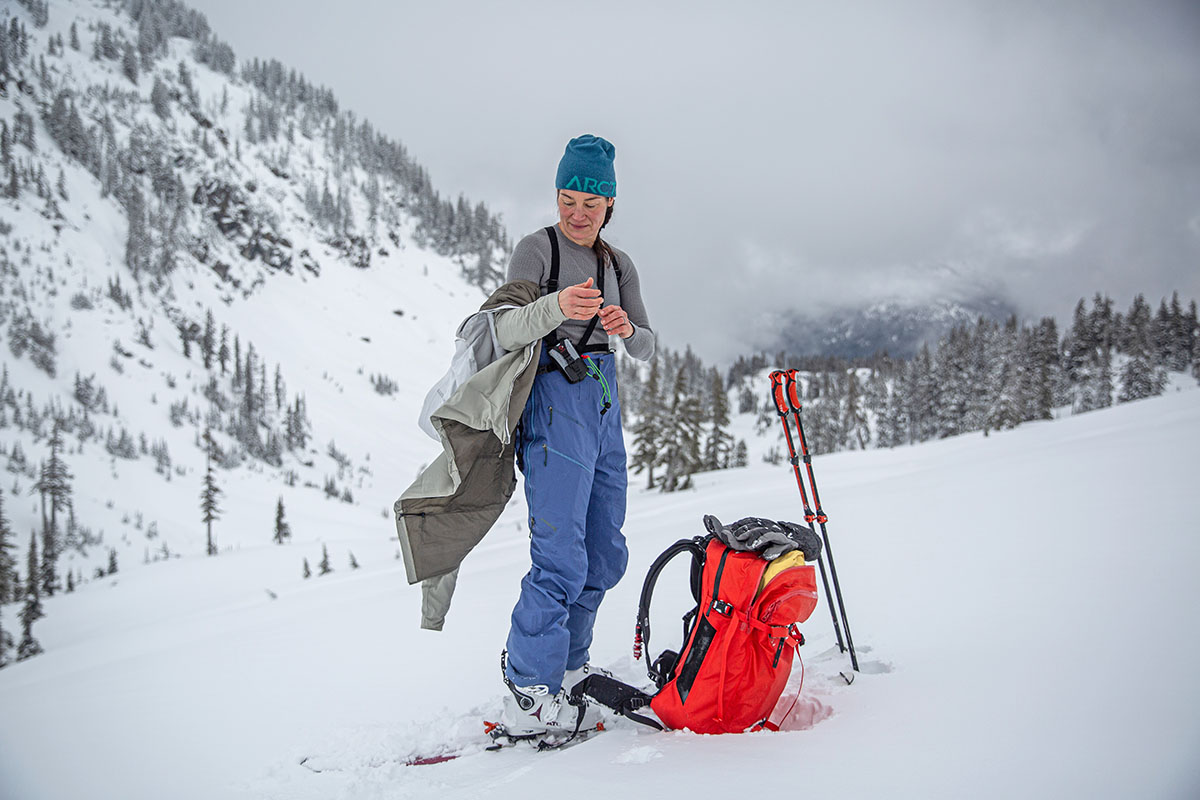 Our favorite synthetic jacket for high-output use is The North Face's Summit Series Casaval Hoodie, which combines zonal 40g Ventrix insulation (25g in the arms and hood) with a breathable, sweatshirt-like shell. The feature set is also well sorted, including an adjustable and helmet-compatible hood, harness-friendly hand pockets (plus a zippered chest pocket), a water-resistant main zipper, and a stuff sack for storage. The biggest drawback is the lack of protection: TNF markets the jacket as "high CFM," which denotes a low level of windproofing, and the face fabric will wet out quickly in sustained moisture. It's also a little heavier than the Proton Hybrid at 11.6 ounces but will save you $50 and is hard to beat for sweat-inducing activities in fair weather. For a boost in warmth, The North Face also offers the Casaval Hybrid, which uses thicker 60g insulation (40g in the hood) with softshell panels along the underarms and hem for added mobility.
Editor's note: We usually provide a live price comparison table below our outdoor gear reviews, but the Proton Hybrid is currently only available directly through Arc'teryx. You can see the Proton Hybrid Hoody page here and support us in the process. Thanks!
Read More From Switchback Travel