Big Agnes Big House 6
Price: $480
Floor area: 83 sq. ft.
Peak height: 81 in.
Weight: 16 lbs. 7 oz.
Capacities: 4P, 6P
What we like: Tall walls and massive interior create a very spacious and luxurious feel inside.
What we don't: Poor performance in inclement weather; vestibule and footprint sold separately.
See the Big Agnes Big House 6
Big Agnes makes some of our favorite camping and backpacking tents, and their aptly named Big House slots in as an impressively tall and livable option for families and larger groups. We recently put the larger model (it's offered in four- and six-person capacities) through its paces on summer camping adventures in Canada and were impressed by the tall and open interior that made it easy to stand up and move around in comfortably. It's not the best match for inclement weather—the near-vertical poles and lack of vestibule limit the tent's ability to fend off wind and water—but overall livability is hard to beat. Below we break down the Big House 6's performance. To see how it stacks up to the competition, check out our article on the best camping tents.
 
---
Table of Contents
---

Performance
Interior Space
True to its name, the Big Agnes Big House 6 is an unapologetically large and luxurious tent for families and larger groups. The massive 83-square-foot interior easily accommodated a double-wide sleeping pad, dog bed, and large camping table with enough extra space for my wife and I to comfortably move around while hiding from mosquitos. Peak height is also very generous at 81 inches (most competitors have ceilings in the 70- to 75-in. range), providing ample headroom to stand up and change clothes without having to hunch over. Importantly, the pre-bent poles help a lot by pulling the walls up and away, effectively maximizing headspace throughout the interior (rather than just at the very center). Finally, the two massive doors make it easy to get in and out with minimal gymnastics required. Taken together, the Big House 6 is a very comfortable place for my wife, dog, and me to hang out and sleep without encroaching on each other's space.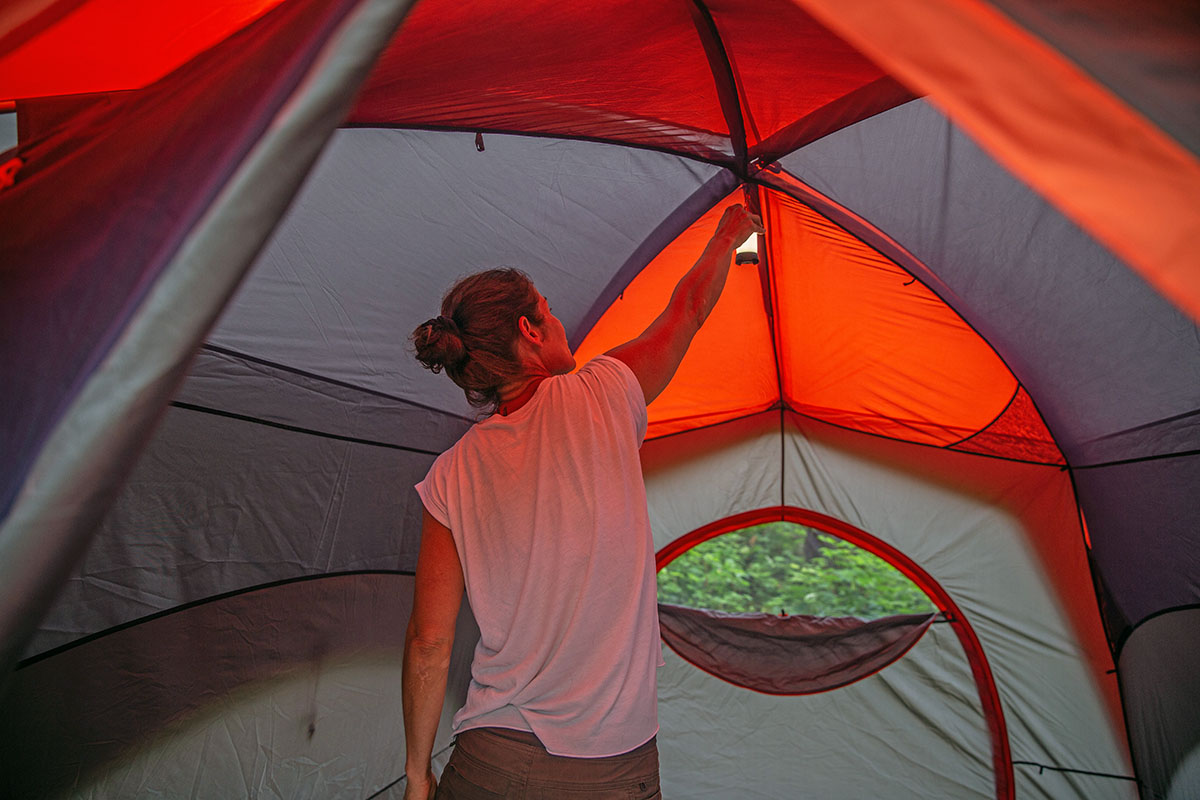 As with most camping tents, however, the Big House 6's six-person designation is on the generous end. For reference, this listing is based on the number of standard adult sleeping pads (usually 20 in. wide at minimum) that can be laid side by side inside the tent. With that in mind, it's technically possible to fit six pads inside the tent (the footprint measures 100 x 118 in.), but it will be a very tight squeeze and require some creativity in terms of positioning. In my opinion, the Big House 6 is best for families and groups of four or fewer, leaving plenty of living space for playing games, waiting out storms, and spreading out while sleeping.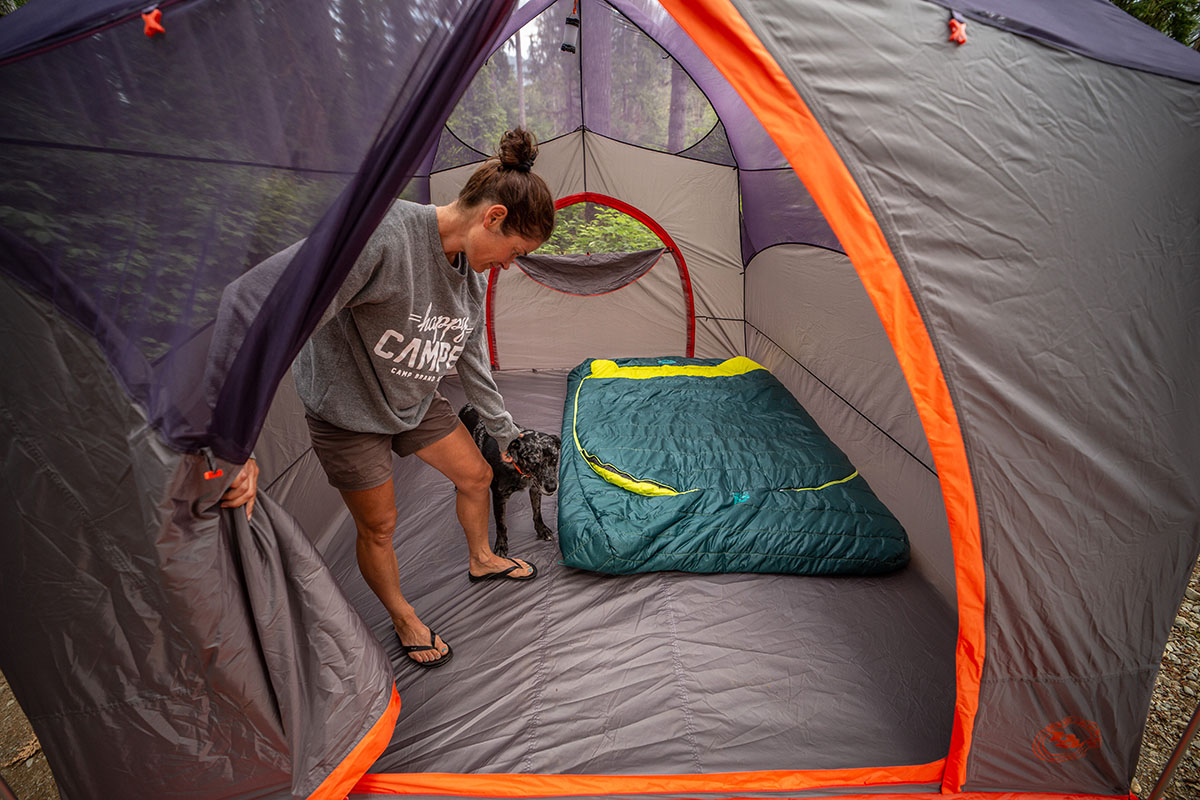 Weather Protection
Although listed as a three-season tent, the Big House 6 isn't a good match for heavy winds or rain. The first issue is that the tent's rainfly only covers the top and sides of the tent, allowing even light, misty rain to make its way into the doorways. It also means there's no vestibule space for stashing extra gear and prevents you from being able to open the windows on the doors for added airflow in inclement weather. Big Agnes does sell a compatible vestibule separately, but it's a steep investment at $140, bringing the total to a whopping $620. Additionally, while the pre-bent poles create a very tall and livable interior, the extra real estate can have a sail-like effect in high winds. Even with the tent staked out as tightly as possible, the sidewalls still flapped loudly in howling gusts. In my opinion, adding another pole in the middle (running widthwise across the tent) would go a long way toward improving overall stability and wind resistance.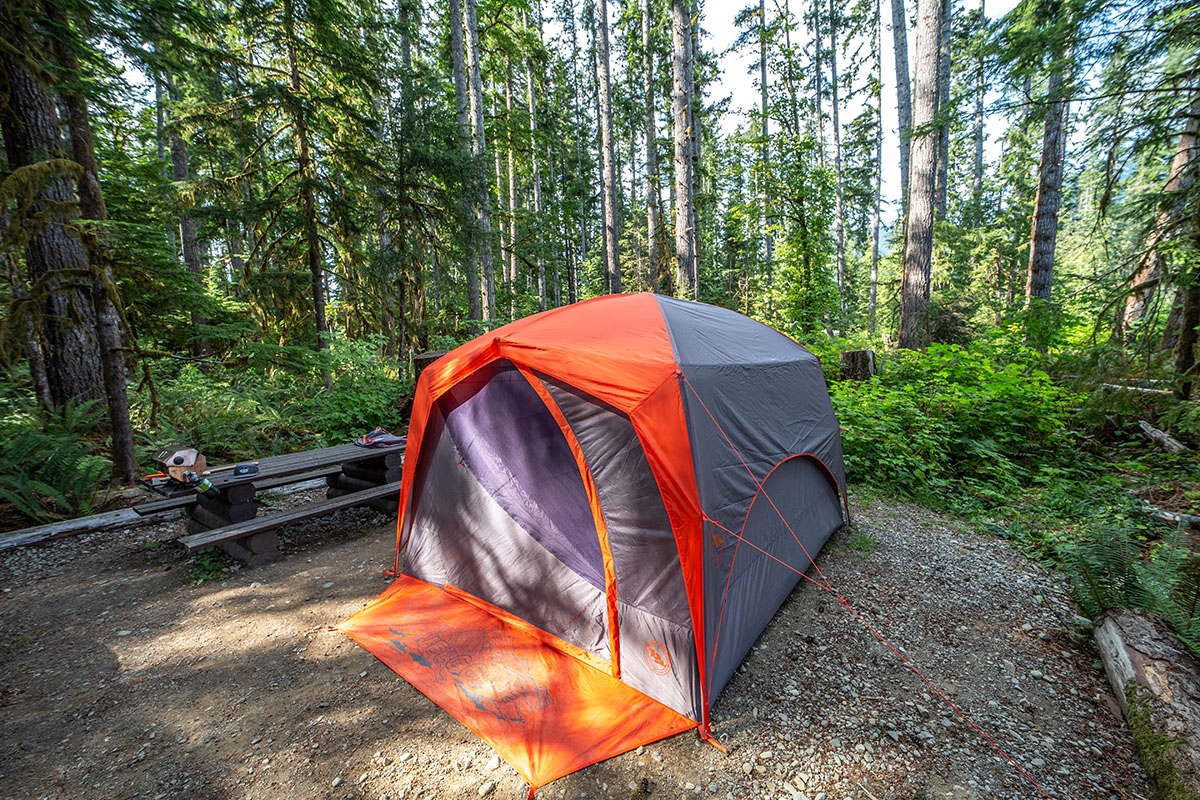 On the bright side, the Big House 6 does come with a few important weatherproofing measures. The rainfly and floor are coated with a waterproof polyurethane finish that effectively fends off light moisture, while the seams are reinforced with polyurethane tape that prevents droplets from leaking into the tent. Finally, the doors are protected by storm flaps, and their zippers boast fabric "garages" to seal out precipitation at the top. Again, the Big House certainly wouldn't be my first choice in inclement conditions—a dome-style design with a full-coverage rainfly, like REI's Base Camp 6, will be far more reliable—but it's perfectly serviceable if you mostly get out in fair weather.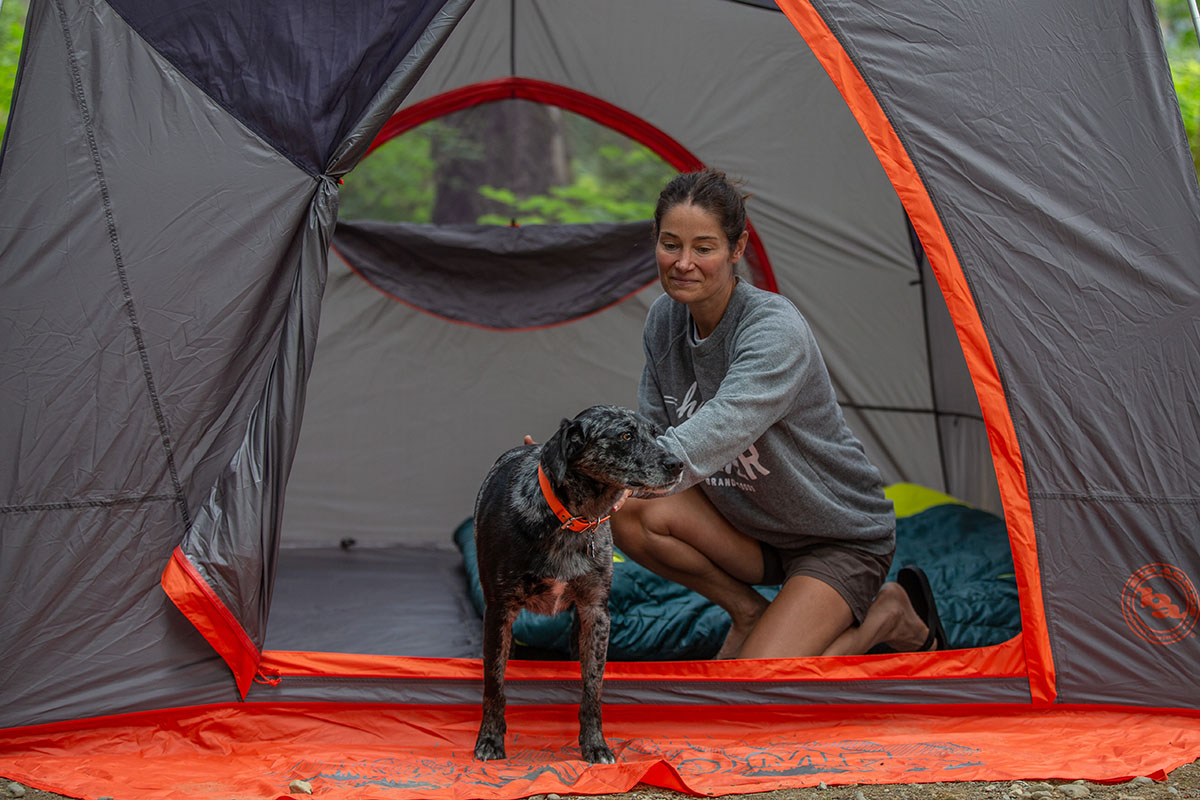 Ventilation
While weather protection is undeniably lacking, the Big Agnes Big House 6 is an excellent breather. The ceiling is made almost entirely of mesh, which extends along the upper portion of the sidewalls and doors, providing ample room for air to flow through the tent on hot and sticky summer days. This also makes it an excellent companion for stargazing—we enjoyed nearly unobstructed views of the stars at a riverside campsite in the Cowichan Valley on Vancouver Island this past summer. I do wish the mesh on the main door were symmetrical to allow for more even airflow inside, but it doesn't have a huge impact on overall breathability (the bigger drawback is that whoever is sleeping on the less mesh-heavy side can't see outside without sitting up). You also can't open up the windows on the doors in inclement weather since they're not protected by the rainfly, although it's possible if you purchase the separate vestibule.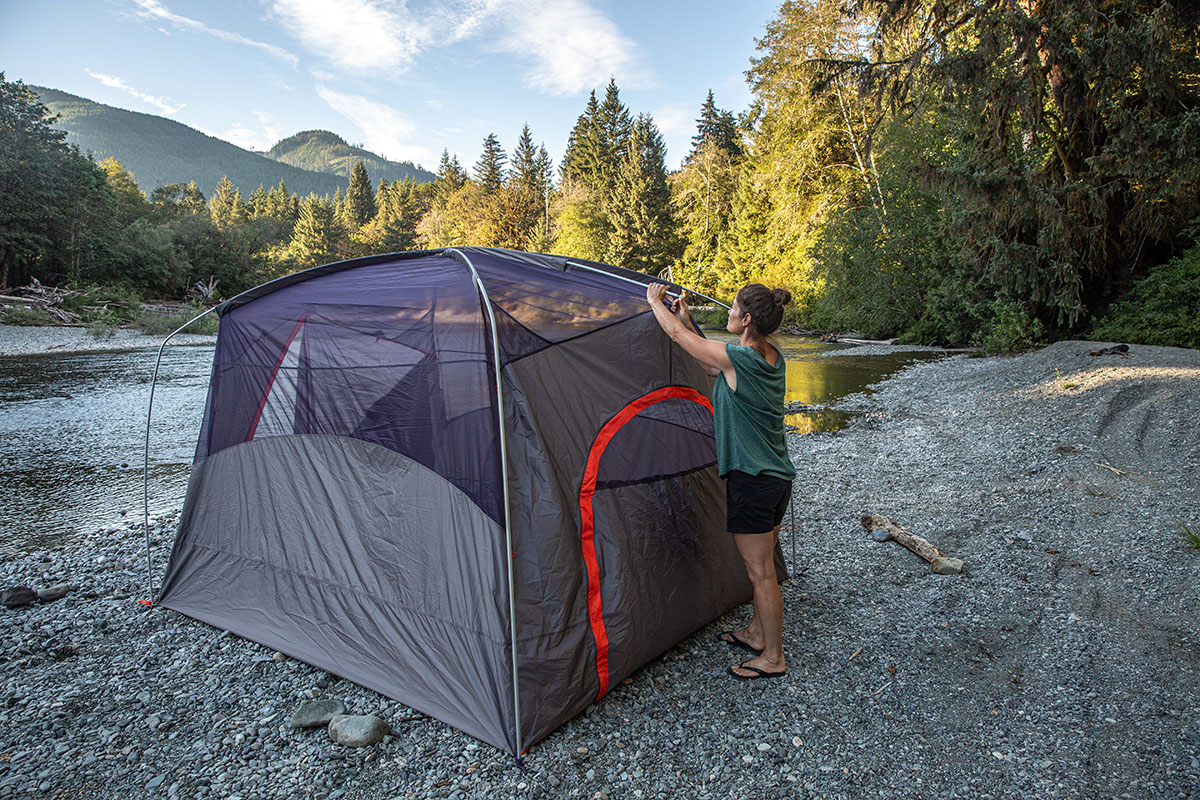 Storage and Organization
As expected for such a premium design, the Big Agnes Big House 6 comes with a healthy array of storage options. The inside of the tent is littered with pockets, including four interior mesh pockets and two media pockets. You also get two corner bin pockets that can be moved around to customize storage, although they're on the smaller end and can only accommodate items like my Garmin inReach, a phone, or keys—taller objects like a Nalgene water bottle or bear spray tend to tip and fall out. Finally, there are multiple interior loops for hanging a headlamp, camping lantern, or any of Big Agnes' aftermarket accessories (like a gear loft or their mtnGLO string lights).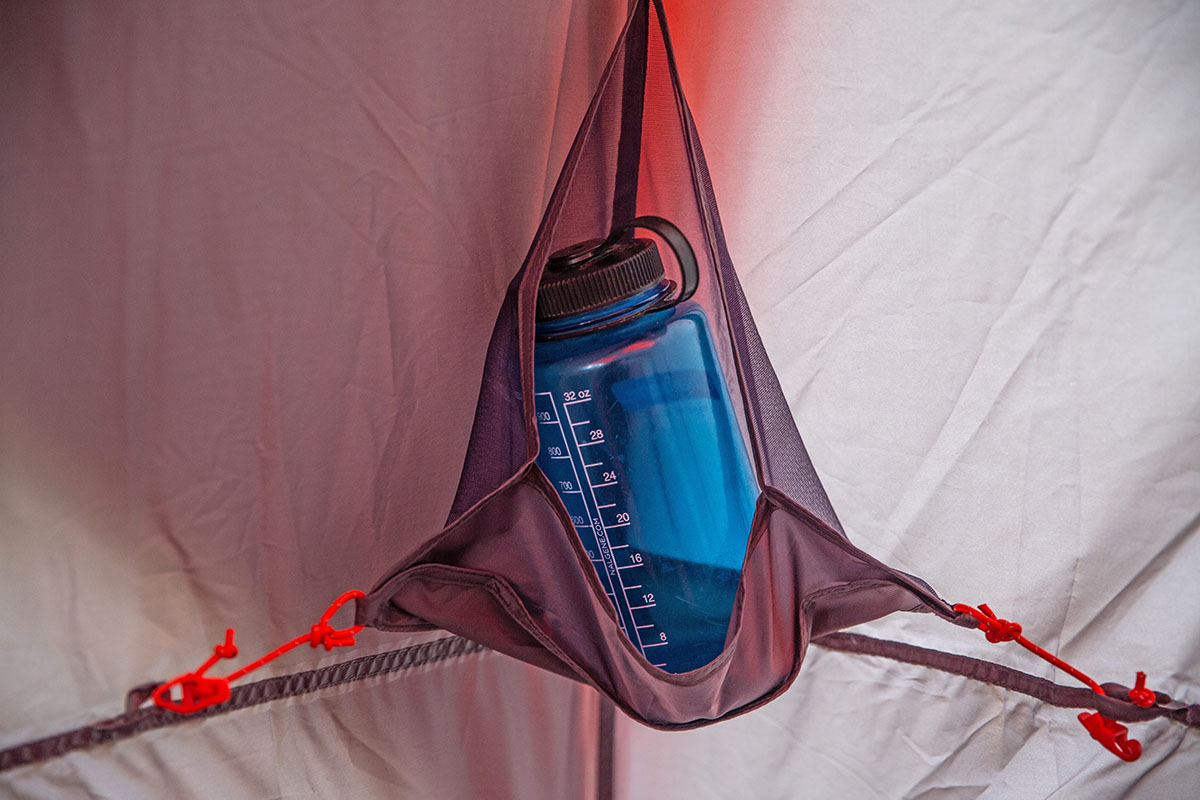 Build Quality and Durability
Big Agnes is no stranger to making high-quality backpacking and camping tents, and the Big House 6 met my expectations in terms of overall build quality. Big Agnes doesn't list the fabric thickness, but the body, fly, and floor all have a very robust and confidence-inspiring feel. Big Agnes also included a few thoughtful touches, including a built-in welcome mat in front of the door for stashing dirty shoes and gear, pre-cut guylines, and large mesh windows at each door for boosting airflow on warm summer days. Those who frequently camp on rough and rugged surfaces may want to purchase a footprint—Big Agnes sells one for $60 that will fit right out of the box, or you can go the DIY route with a cheap tarp or Tyvek—but we haven't had any issues to date.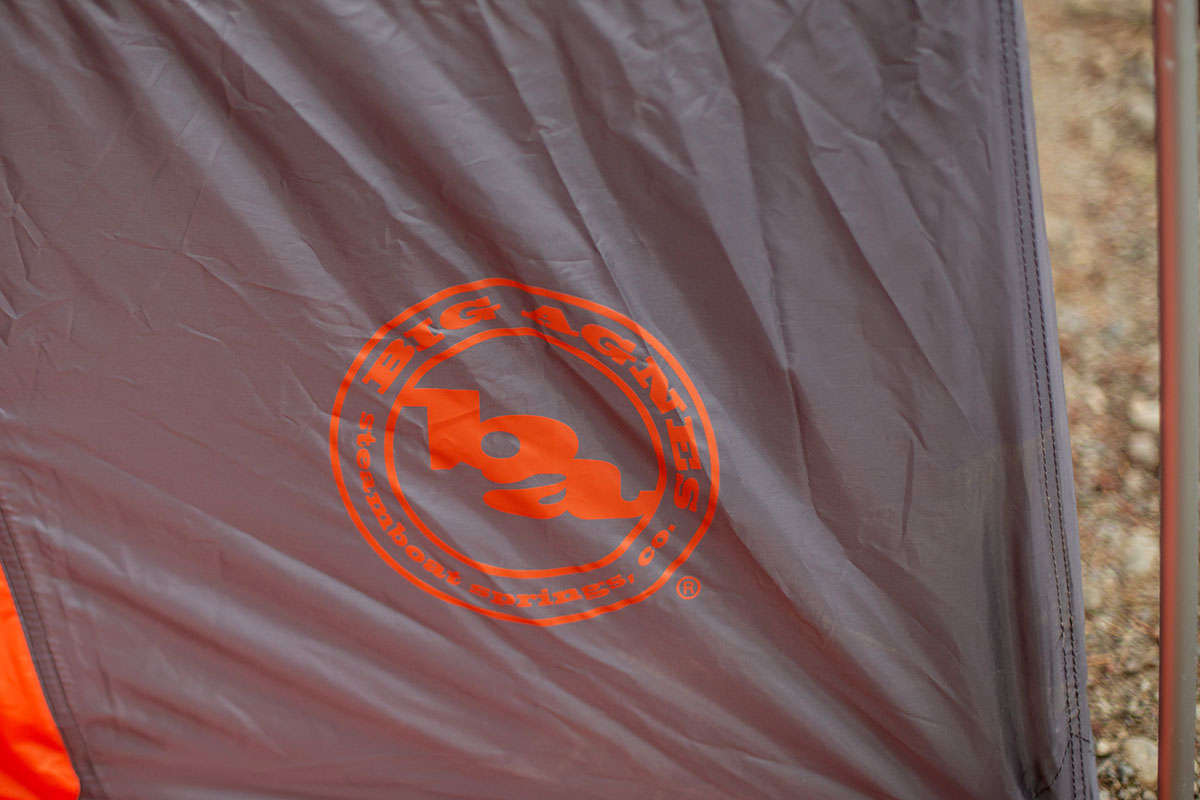 That said, I do have a few small gripes to report. First, the DAC aluminum poles are noticeably long and strike me as susceptible to bending or cracking under pressure. They've held up without problems thus far, but it's something I'm cognizant of during the setup process. My other complaint has to do with the secondary door, which opens from top to bottom in a drawbridge style and requires rolling back and securing along the floor to avoid stepping on it and prevent it from sweeping unwanted debris inside when re-zipped. I'm a little confused why Big Agnes chose this layout and wish that it folded upwards or to the side instead (like the opposite door does).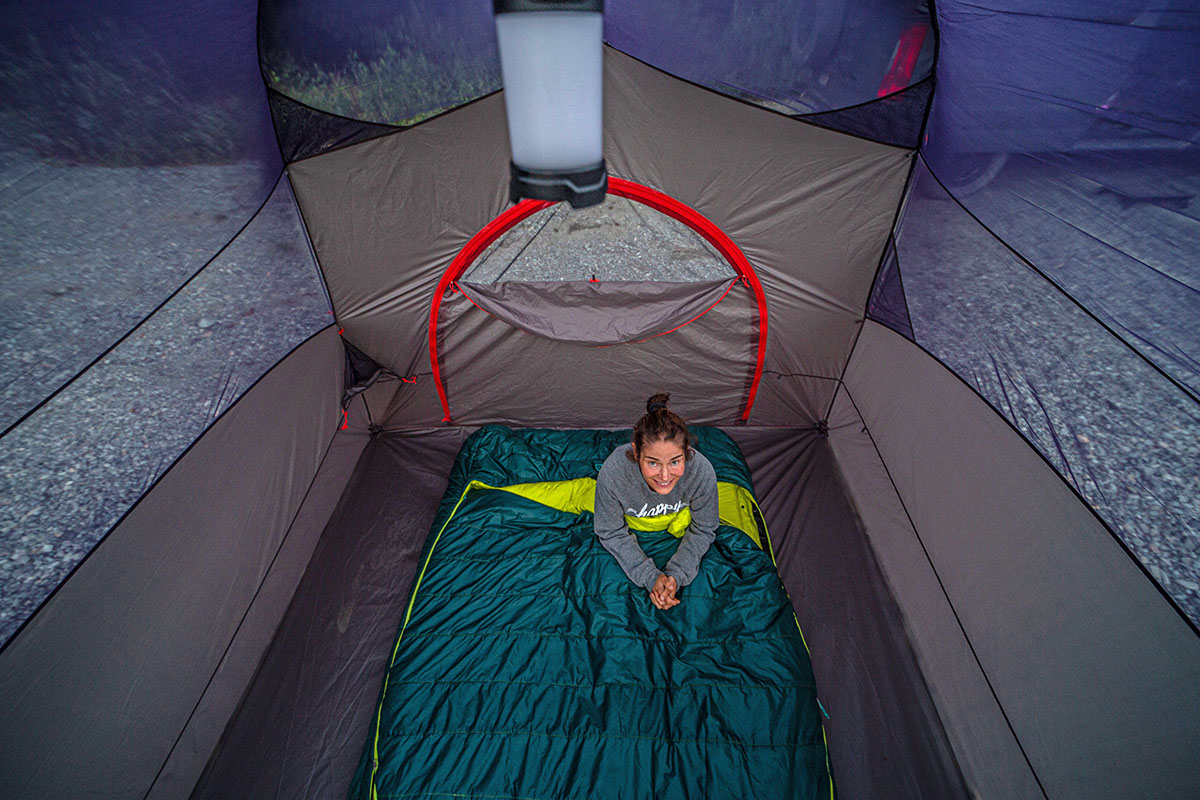 Weight and Packed Size
The Big Agnes Big House 6 is no featherweight at 16 pounds 7 ounces all in, but it's perfectly manageable for carrying from car to campsite and undercuts many other leading six-person designs. For comparison, The North Face's similarly sized Wawona 6 checks in at 20 pounds 15 ounces, REI's Wonderland 6 is 22 pounds 15 ounces, and Nemo's Aurora Highrise 6P is 18 pounds 10 ounces. It's worth noting that you can pitch the Big House's rainfly on its own to create a shade structure for just 6 pounds 14 ounces, although it provides minimal protection and coverage and is only recommended for ideal (sunny and calm) conditions. On the bright side, it's easy to divvy up the components (tent, poles, and rainfly) between multiple people to shuttle farther from the trailhead.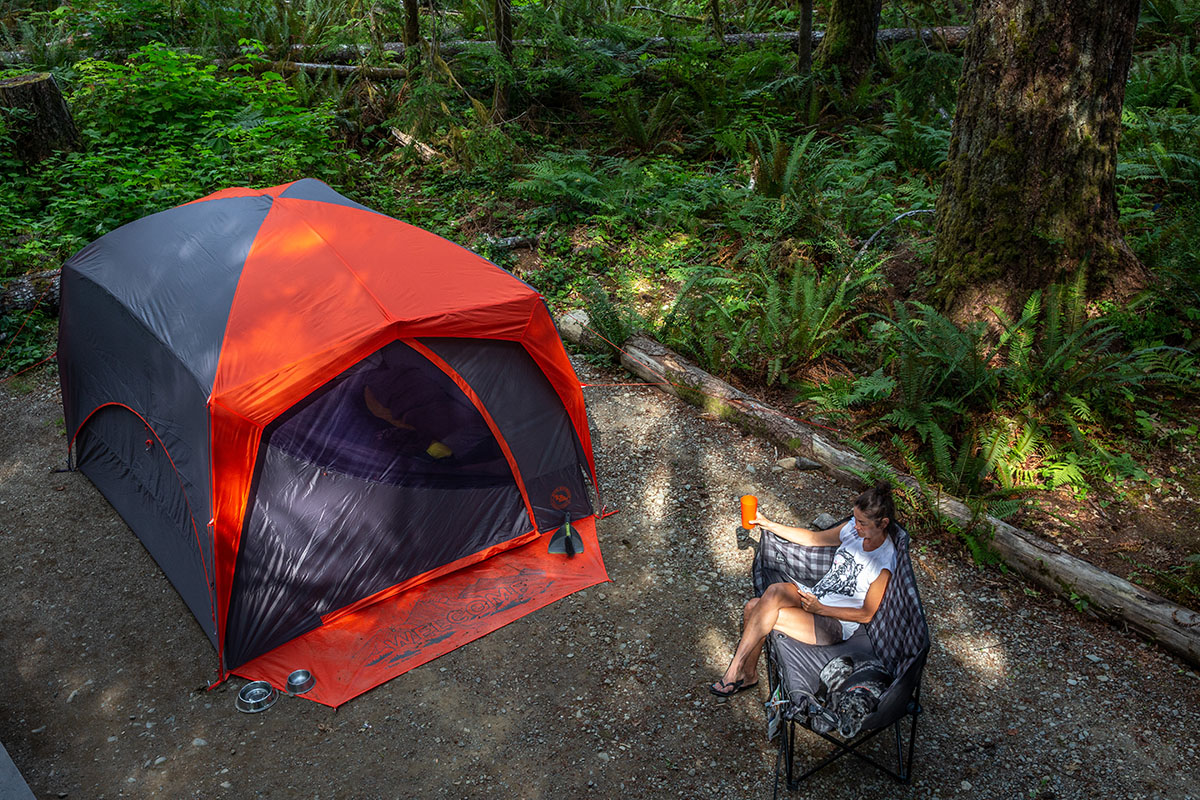 For transport, the Big House 6 comes in a handy backpack-style carry bag with adjustable shoulder straps, webbing handles, and a zippered closure. The bag is plenty big for easily stashing the tent away with multiple compartments to separate the components, and the entire package measures a bulky but manageable 25.5 x 17 x 10 inches. Because we're usually not walking very far to our campsite, we typically use the included carrying case for storage and transport, but we will likely substitute compression sacks on future canoe trips to maximize space savings.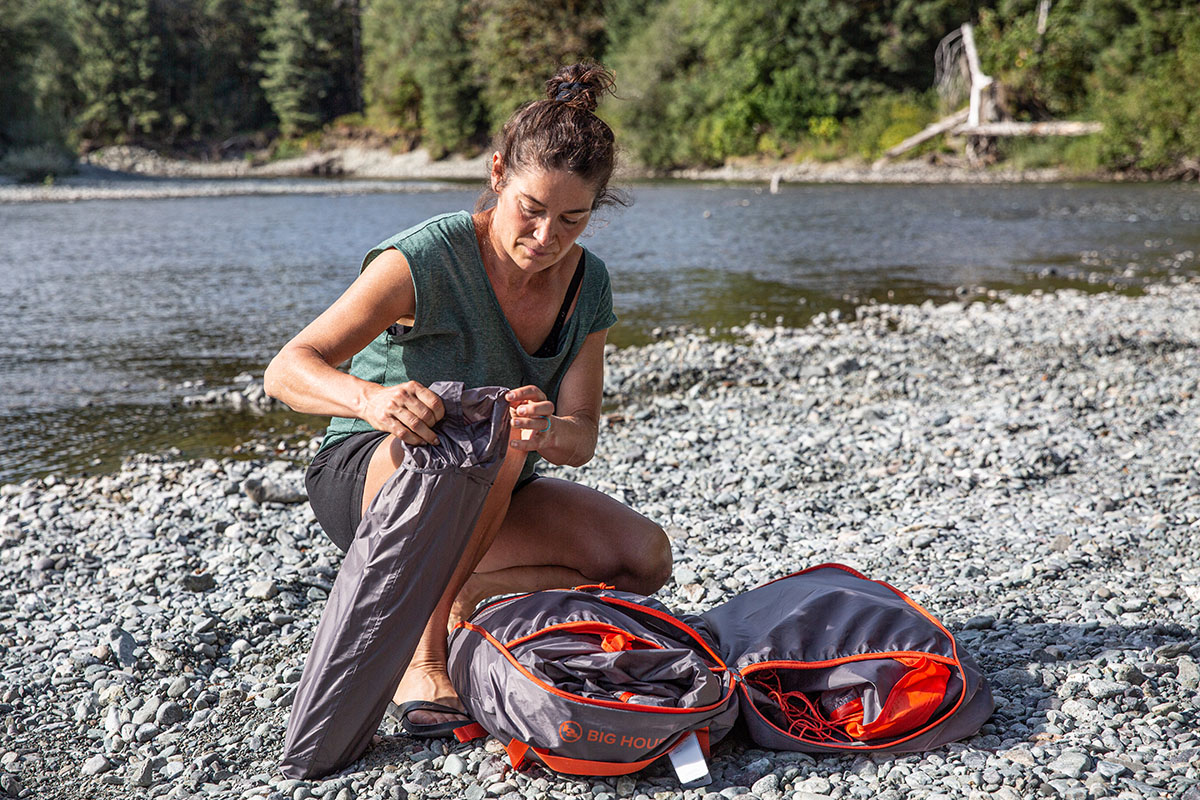 Set up and Take Down
Pitching a six-person camping tent is always a bit of a struggle, but the Big Agnes Big House 6 is surprisingly simple to assemble solo. My wife helped the first few times to make things quicker, but once we mastered the process, it's been easy to manage on my own while she cooks dinner. The layout is pretty straightforward: Two poles stretch diagonally across the tent and intersect at the middle to create the freestanding structure, while a shorter pole runs perpendicular across the top from one door to the other to maximize headroom at the entrances. The eyelets are color-coded and make it easy to get the proper orientation, and the guylines are pre-tied with handy pivoting rings that allow you to stake the tent out in any direction while maintaining equal tension between the two attachment points.
That said, there are a few intricacies to be aware of during setup. First, I highly recommend staking things out early: The near-vertical pole structure is great for creating more headroom but means the tent can easily get tossed around in strong winds. As I mentioned, the DAC poles are also quite long and prone to bending under pressure—you'll want to exercise caution to avoid breaking the poles or poking yourself while inserting them into the grommets. Further, the sleeve is noticeably tight at the middle where the poles intersect, initially leading us to believe that they were mistakenly sewn shut. We've since learned that it takes some force to push the poles through (keeping the sleeve taut helps if you have another pair of hands), but you'll want to be careful to avoid tearing the fabric. Finally, the aluminum stakes are on the flimsy side and bend easily under pressure, which can cause issues on harder surfaces (you may want to upgrade to more robust pegs, like MSR's Groundhog stakes).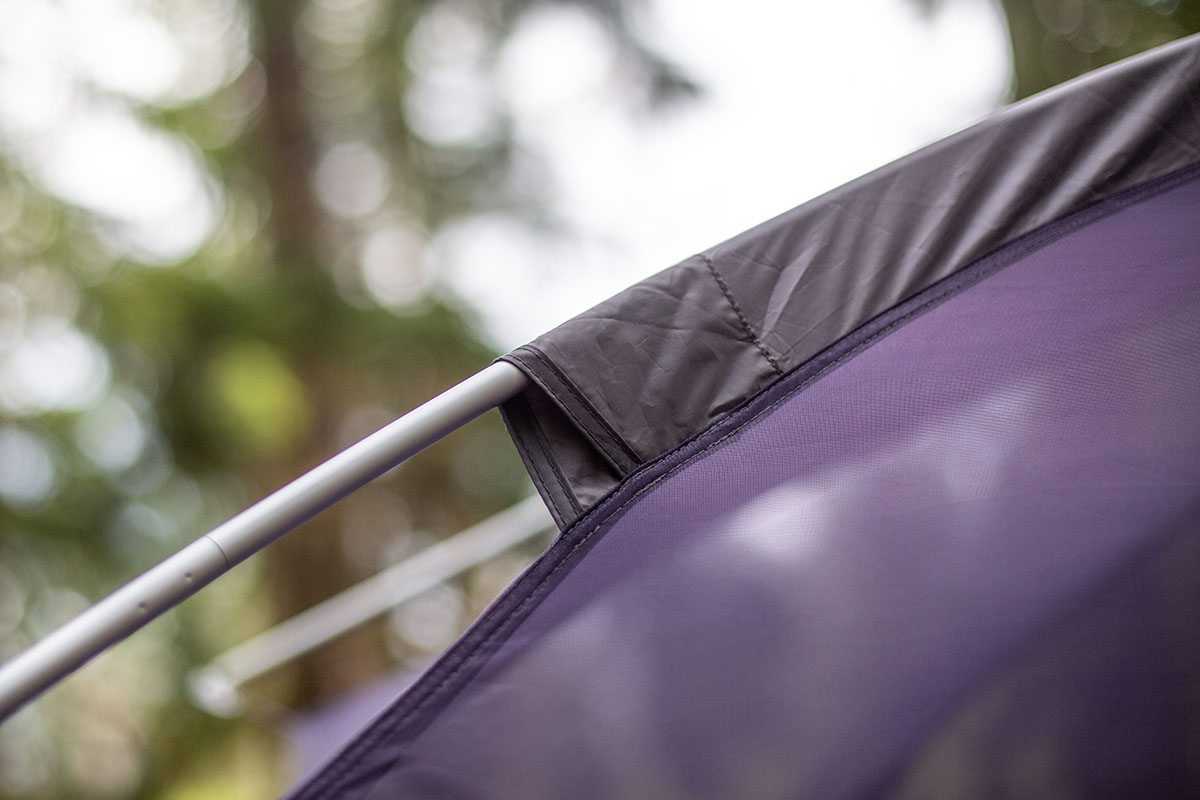 Shelter/Fast Fly Mode
In addition to the standard setup, the Big Agnes Big House 6 also offers the option to pitch the rainfly on its own to create a minimalist shade shelter. This configuration involves attaching the fly to the poles via Velcro straps at the inside, positioning the corners into the color-coded grommets on the webbing harness, and staking out the guylines. Even with two people, however, it's not the most intuitive design and can be a little unruly: It's important to firmly stake out the harness prior to inserting the poles, and the shelter can act as a sail in high winds (guying things out properly is critical). Even with these precautions, the structure still sways heavily in gusty weather—it's really only useful on calm, sunny days.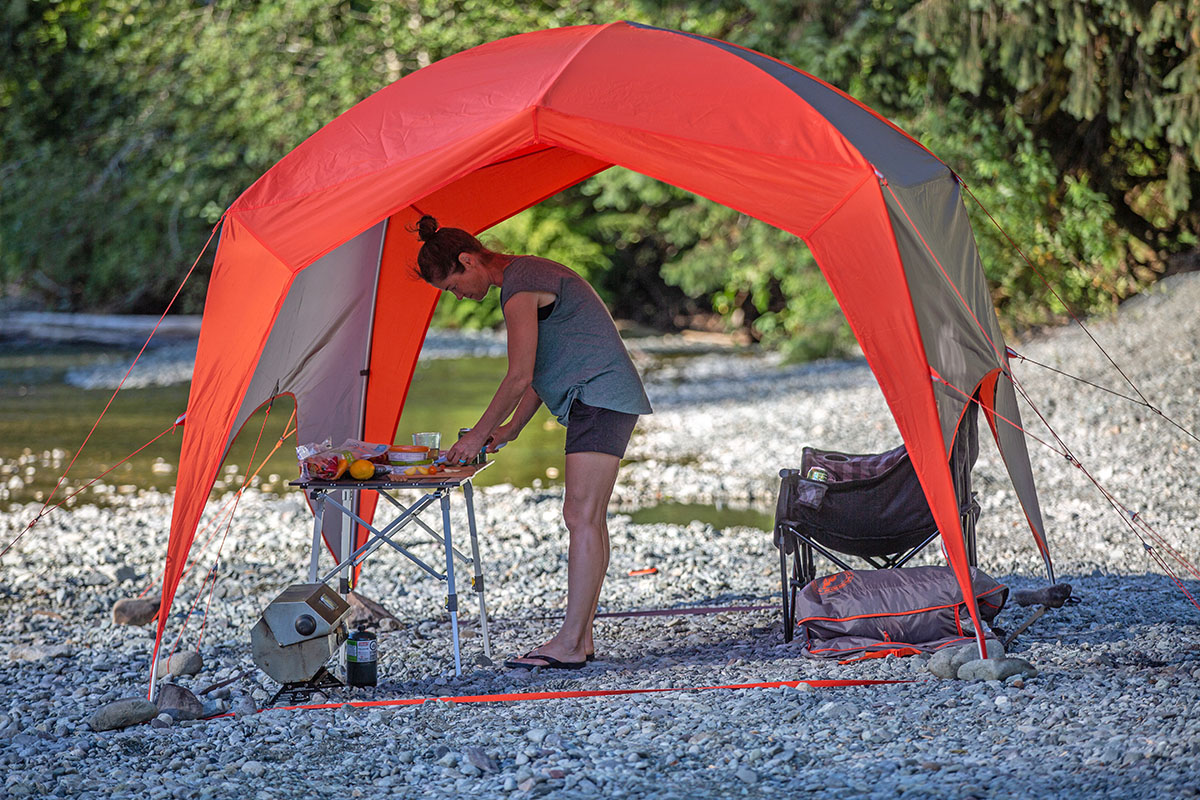 Other Capacity: Big Agnes Big House 4
In addition to the six-person model we tested for this review, Big Agnes also sells the Big House in a smaller four-person capacity. As expected, the Big House 4 is cheaper at $400, lighter at 12 pounds 14 ounces, and has less floor area (57 sq. ft.) with a lower 70-inch peak height. All in all, the four-person tent strikes us as a viable alternative for groups of two or three, but the 6P is the better match for larger groups and families—especially if livability and comfort are at the top of your priority list.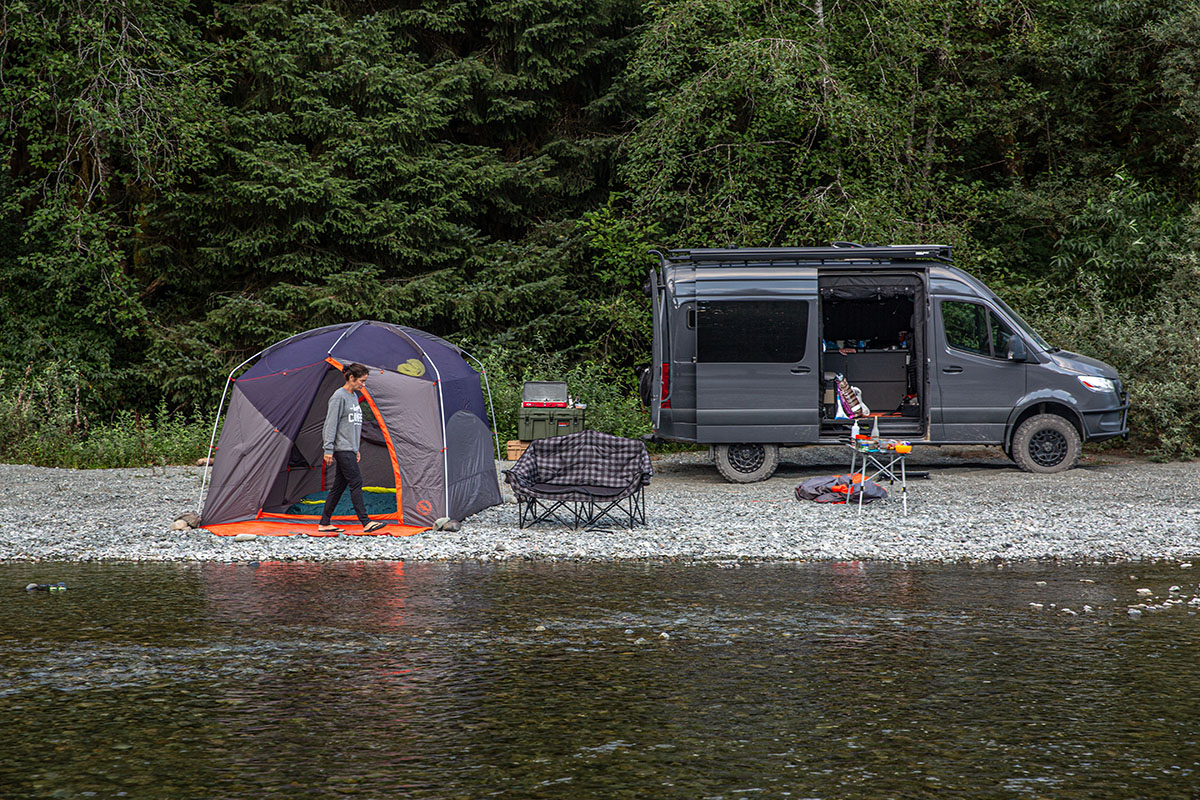 What We Like
Massive interior and tall peak height create a very open and livable space with plenty of room to stand up and move around comfortably.
Backpack-style carrying case is very functional and makes it easy to pack the tent down and separate the components. 
Lighter than most six-person camping tents at 16 pounds 7 ounces all in.
Rainfly can be pitched on its own to create a shade structure on hot summer days.
Big Agnes didn't skimp on thoughtful details, including a handy welcome mat for dirty gear, pre-cut guylines, and a large mesh window on each door.

What We Don't
Tall structure is prone to bowing in heavy winds, even when pitched tautly.
No vestibules or footprint included (both can be purchased separately).
DAC poles are noticeably long and strike me as susceptible to bending or cracking under pressure.
Secondary door requires rolling back and securing to the bottom to avoid stepping on it and prevent it from sweeping unwanted debris inside when closed.
Shelter Mode is a pain to set up and sways heavily in gusty weather—it's really only useful on calm, sunny days.
Six-person designation is on the generous end—the tent is best for groups of up to four.


Comparison Table

The Competition
Big Agnes' Big House 6 is an impressively tall and livable six-person camping tent, but the lack of weather protection is a clear downside for three-season use. If you anticipate camping in wind or rain, Big Agnes' own Bunk House 6 is the better bet. The Bunk House is pricier at $600 and around 3 pounds heavier but comes with a full-coverage rainfly and awning-style door that doubles as an oversized vestibule or hangout space (it can also be staked out on its own as a sunshade). For reference, you'd have to purchase the Big House's $140 vestibule to achieve the same versatility, making the Bunk House the better overall value. And importantly, both tents have the same amount of floor space and headroom, meaning a final decision will come down to whether or not you want the added coverage and protection.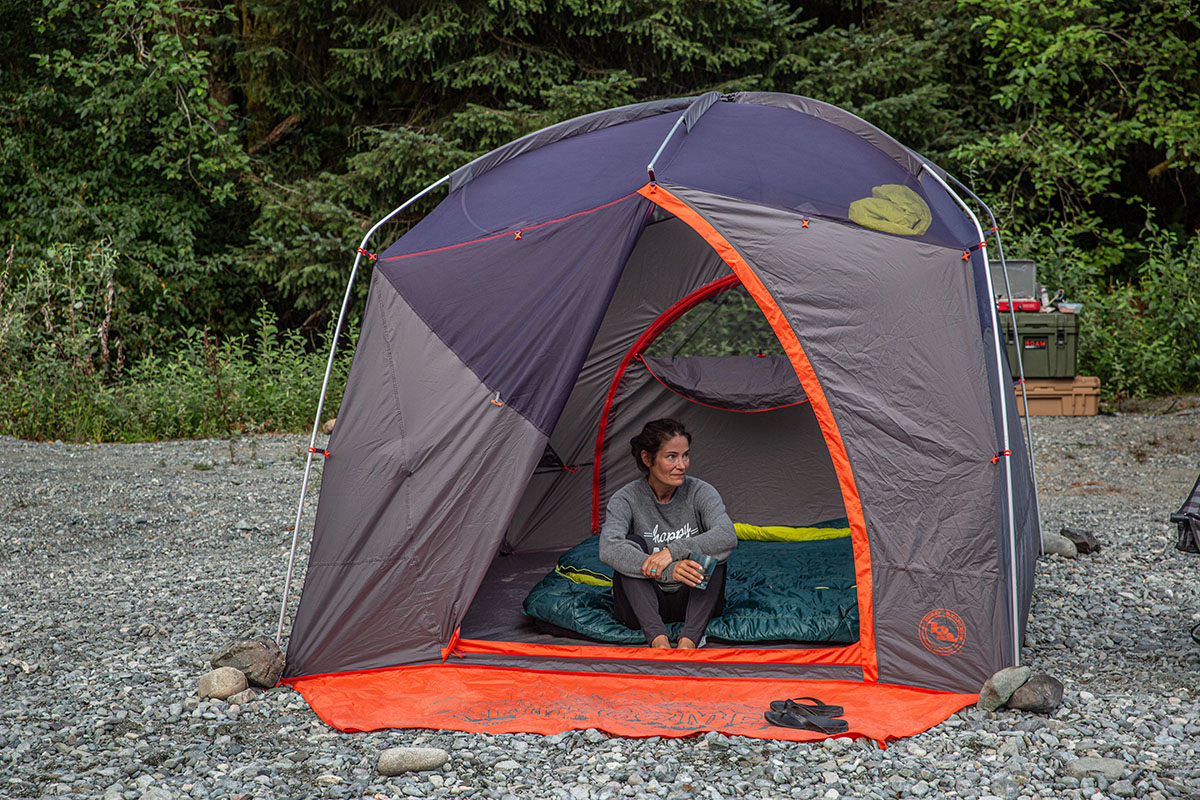 Moving away from Big Agnes' lineup, our favorite camping tent this year is The North Face's Wawona 6. Key advantages over the Big House 6 include 3.1 additional square feet of floor area and a massive front vestibule (44.7 sq. ft.) that easily doubles as a seating area. The Big House is an inch taller, over 4 pounds lighter, and costs $20 less, although the Wawona is the better value for those who want the ability to store gear outside their tent. The partial-coverage rainfly does leave the lower portion exposed to moisture, but it's still the better option for camping in inclement weather. Our biggest complaint is the tedious setup process—the Wawona's unique pole structure takes some time to get taut and secure, and the vestibule must be guyed out tightly to stay upright. But for a boost in weather-worthiness without a drop in livability, we give the overall nod to the Wawona.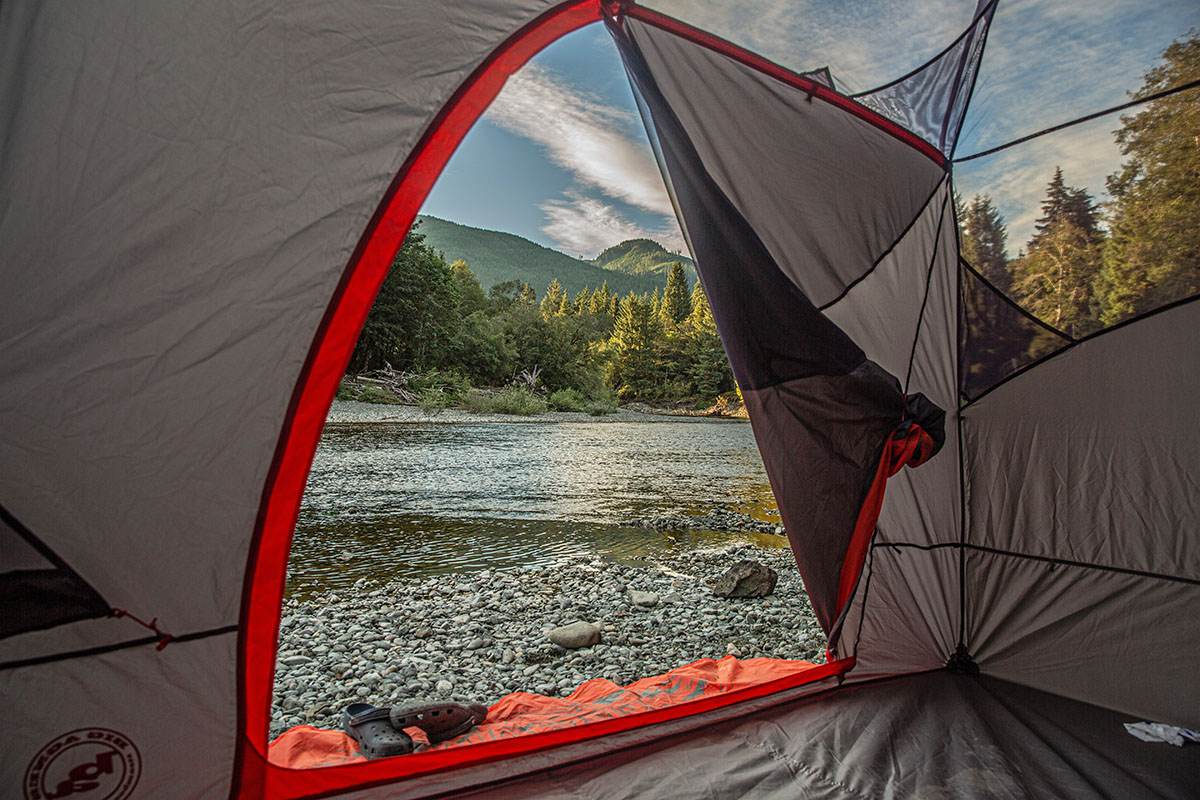 Next up is REI Co-op's Wonderland 6, which recently replaced their popular Kingdom. Like the Big House 6, this luxurious tent is highlighted by near-vertical walls, lots of mesh for ventilation and stargazing, and a tunnel-like shape that delivers fantastic livability with plenty of room to stand up and spread out. You also get a center divider to separate sleeping from daytime areas. That said, neither tent is a great match for wet or windy weather: The Wonderland's narrow awnings above each door offer little in the way of protection (and no vestibule space), and the scalloped rainfly leaves a good portion of the sides exposed to moisture. REI does sell a separate Mud Room attachment for $125 to cover the entryway and increase storage space, although this brings the total up to a steep $724 all in—for comparison, the Big House 6 tent and vestibule will save you $84. But the REI uses higher-quality components—including sturdier poles and stakes—while offering similar all-around livability, giving it the slight edge for us.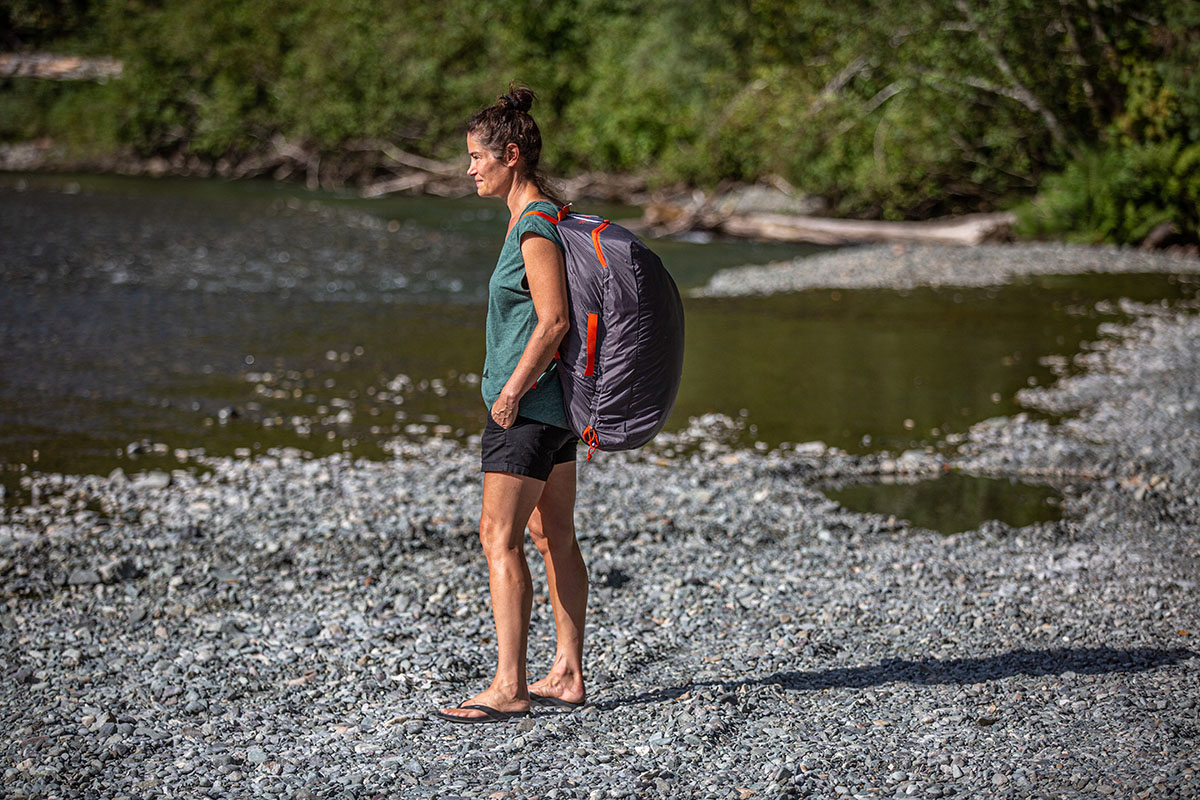 A final alternative to have on your radar is NEMO's new Aurora Highrise 6P, which we used extensively throughout the Pacific Northwest this past summer. Like the Big House, the Aurora is comfortable for larger families and groups with 83.3 square feet of floor area and pretty manageable in terms of weight at 18 pounds 10 ounces (around 2 lbs. heavier than the Big Agnes). The NEMO is shorter by 4 inches and $20 pricier than the Big House, but you get notable upgrades like windows at each side that are protected from rain when open, two vestibules, and a full-coverage rainfly that can be staked out as an awning (for more, see our Aurora Highrise review). In the end, we feel these advantages easily outweigh the minor tradeoffs in peak height and price, earning the Aurora our vote as the more well-rounded six-person design.
If you're thinking about buying gear that we've reviewed on Switchback Travel, you can help support us in the process. Just click on any of the seller links above, and if you make a purchase, we receive a small percentage of the transaction. The cost of the product is the same to you but this helps us continue to test and write about outdoor gear. Thanks and we appreciate your support!
Depending on the seller, most products ship free in the United States on orders of $50 or more. International shipping availability and rates vary by seller. The pricing information on this page is updated hourly but we are not responsible for inaccuracies.
Read More From Switchback Travel