The Copper Spur line has been revered for years, and for those who want to cut even more weight, Big Agnes launched high-end Platinum versions. We took the three-person model on a bikepacking adventure in the Mongolian steppes and on a backpacking trip in the Tavan Bogd, during which we were battered with storms and spent much more time in the tent than expected. Despite a couple of small snags and tears, the tent performed admirably and kept us safe and dry throughout. Below we break down the Copper Spur Platinum's interior space, weight and packed size, weather protection, durability, and more. To see how it stacks up, see our article on the best backpacking tents. 
 
Performance
Interior Space and Comfort
The two-person Copper Spur Platinum is the big seller, but on a recent bikepacking and hiking adventure through Mongolia, we opted for the extra space of the three-person version. We've tested a wide range of tent options in this category and can say that the Platinum was about as spacious and comfortable as ultralight models get. Consistent storms forced us to hunker down for large chunks of each day, but the 44 square feet of interior space and generous 44 inches of head room stopped us from going stir crazy. In addition, the tent has two doors and vestibules, the latter of which add another 9 square feet of storage space each, which meant that our gear didn't have to compete for space inside the tent.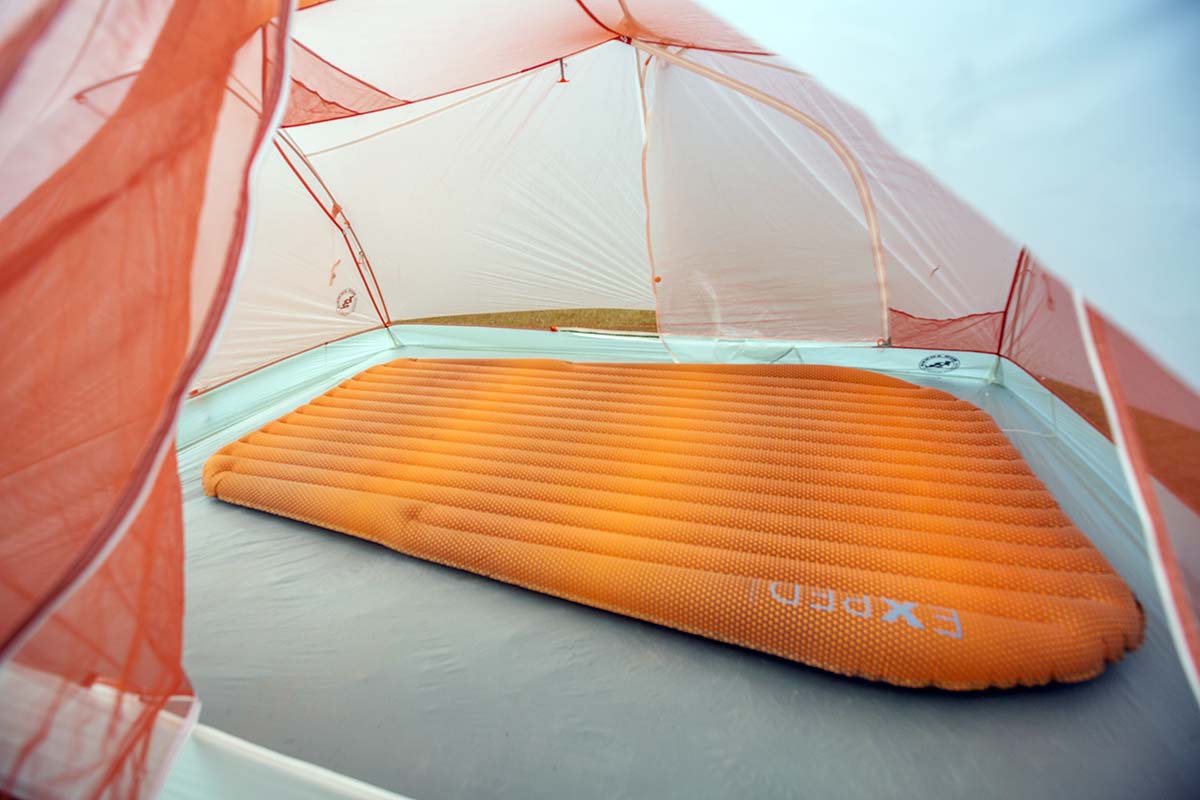 The roomy feeling is largely due to the center ridge pole that stretches almost completely horizontal, creating added space width-wise by holding the sidewalls of the tent away from you. Unlike its smaller two-person counterpart, the three-person version is symmetrical rather than tapered, which allows for easy sleeping in either direction without sacrificing head space. While the Copper Spur has long been considered one of the most "livable" ultralight tents, we found that the Platinum strikes a perfect balance of interior space and comfort.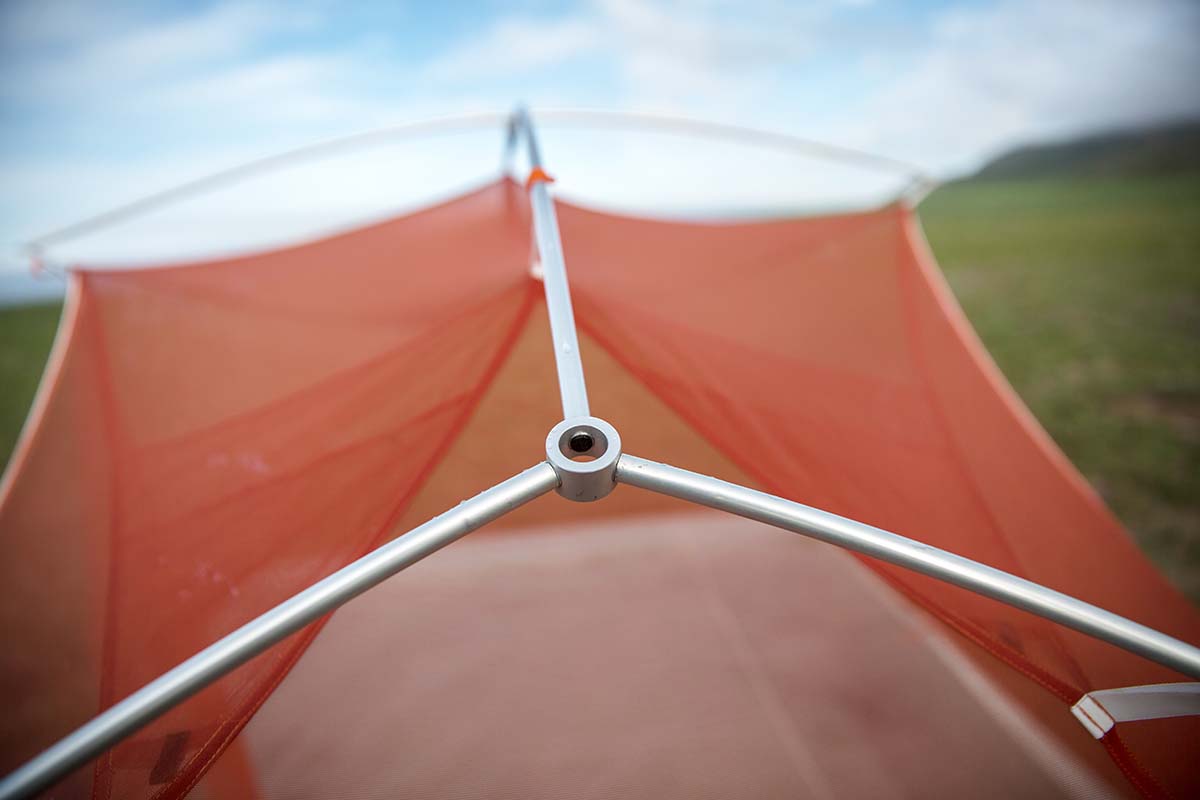 Weight and Packed Size
We've already gushed about spaciousness, but the Copper Spur Platinum's true claim to fame is its weight—or lack thereof. To start, it's Big Agnes' lightest two-door, freestanding, double-wall tent. With a trail weight of only 2 pounds 15 ounces (3 pounds 4 ounces when fully packed), the tent is incredibly light, especially when compared to other 3-person freestanding models like the Nemo Dagger 3P (3 pounds 12 ounces) and MSR Mutha Hubba NX3 (4 pounds 9 ounces). Even looking at Big Agnes' own Copper Spur HV UL3 (3 pounds 7 ounces) and Fly Creek HV UL3 (2 pounds 15 ounces), it's tough to beat the space-to-weight ratio of the Platinum. The semi-freestanding Big Agnes Tiger Wall UL3 is 4 ounces lighter, but that tent comes with compromises in interior space and ease of use.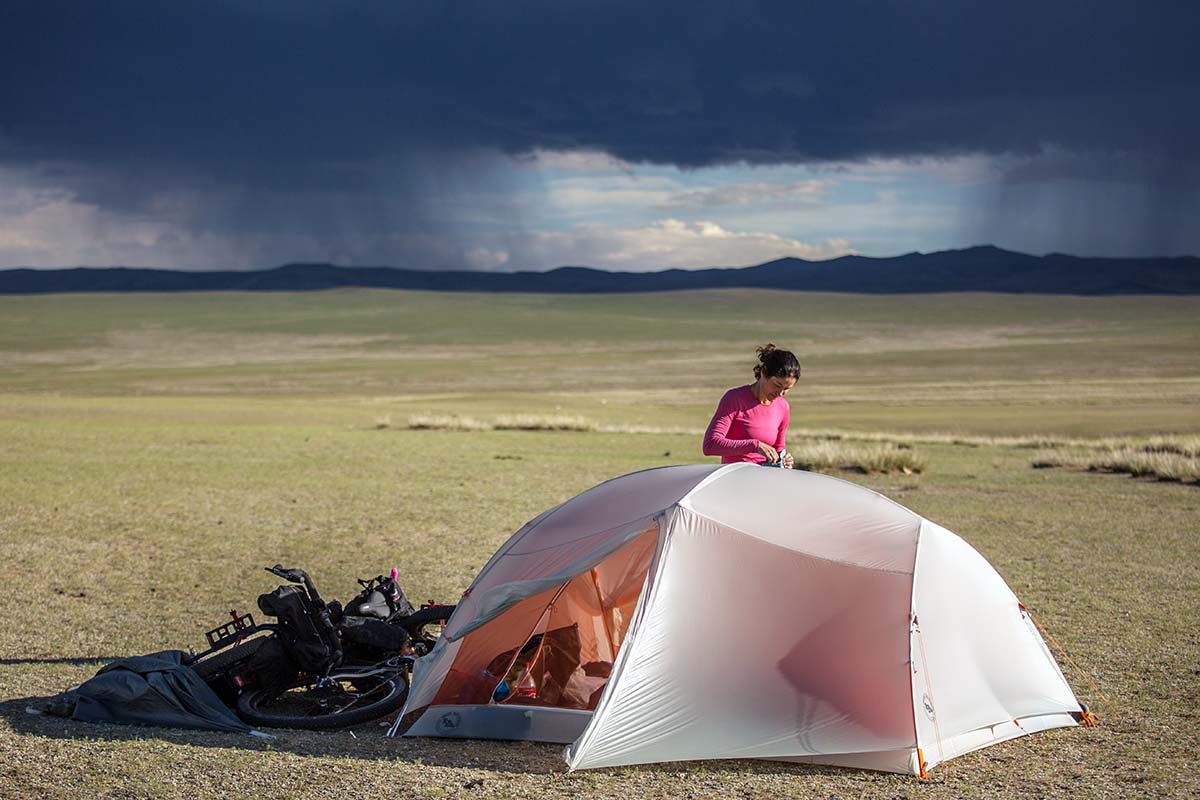 The Platinum's low weight is achieved with thin materials (more on durability below), an all-mesh body, and fewer pockets than other models (though six felt like plenty). Otherwise, it doesn't skimp on the good stuff. With features typically found only in heavier counterparts, the Platinum's two-door, two-vestibule design and roomy, non-tapered interior made our long days inside feel much shorter. And for the extreme ounce-counters out there, the fly and footprint (sold separately) can be used as a quick-pitch shelter without the tent body at a total weight of 1 pound 14 ounces.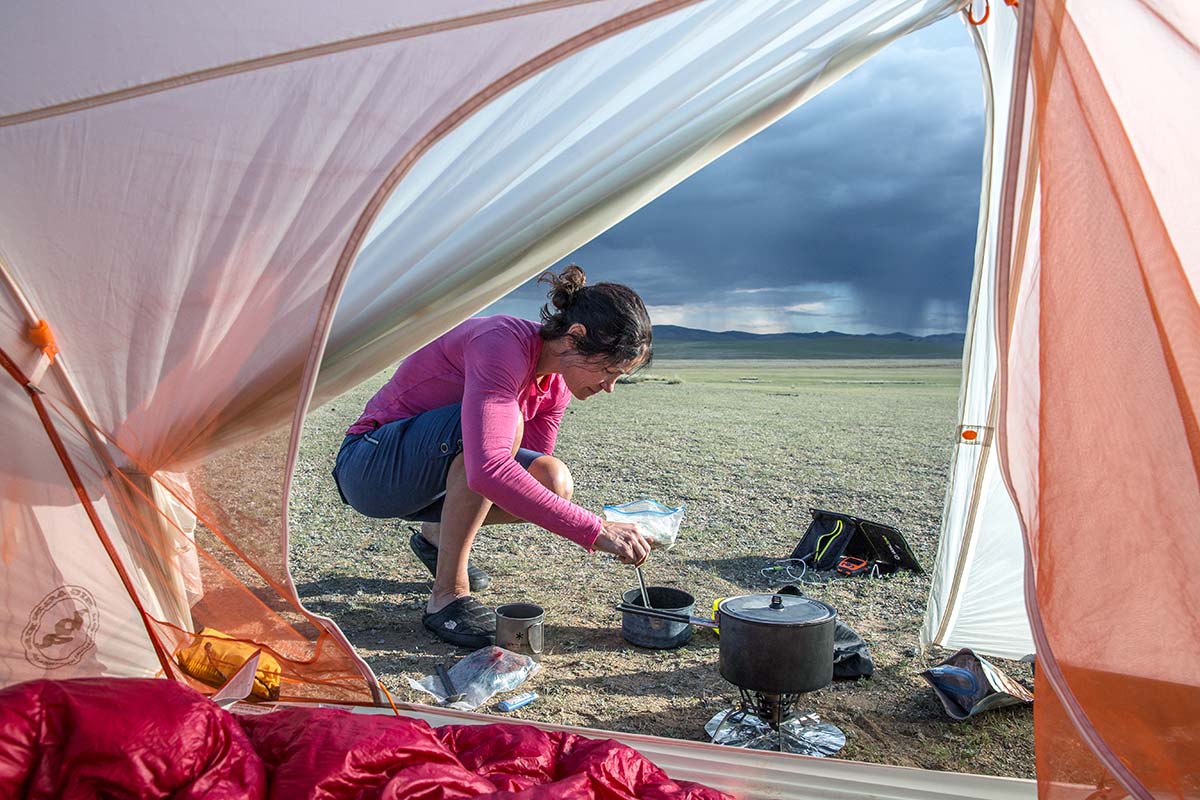 The 3-person Platinum comes in a roomy 6.5 x 20.5-inch stuff sack that easily fits the fly, footprint, poles, and stakes inside. Other models like the Copper Spur HV UL3 and Tiger Wall UL3 boast smaller stuffed sizes, but this likely won't be a problem for most backpackers with decent-sized packs. It's worth noting that we did run into space issues when stuffing the poles into one of our smaller packs, but rumor has it that Big Agnes is working on bikepack-specific tents with shorter pole segments.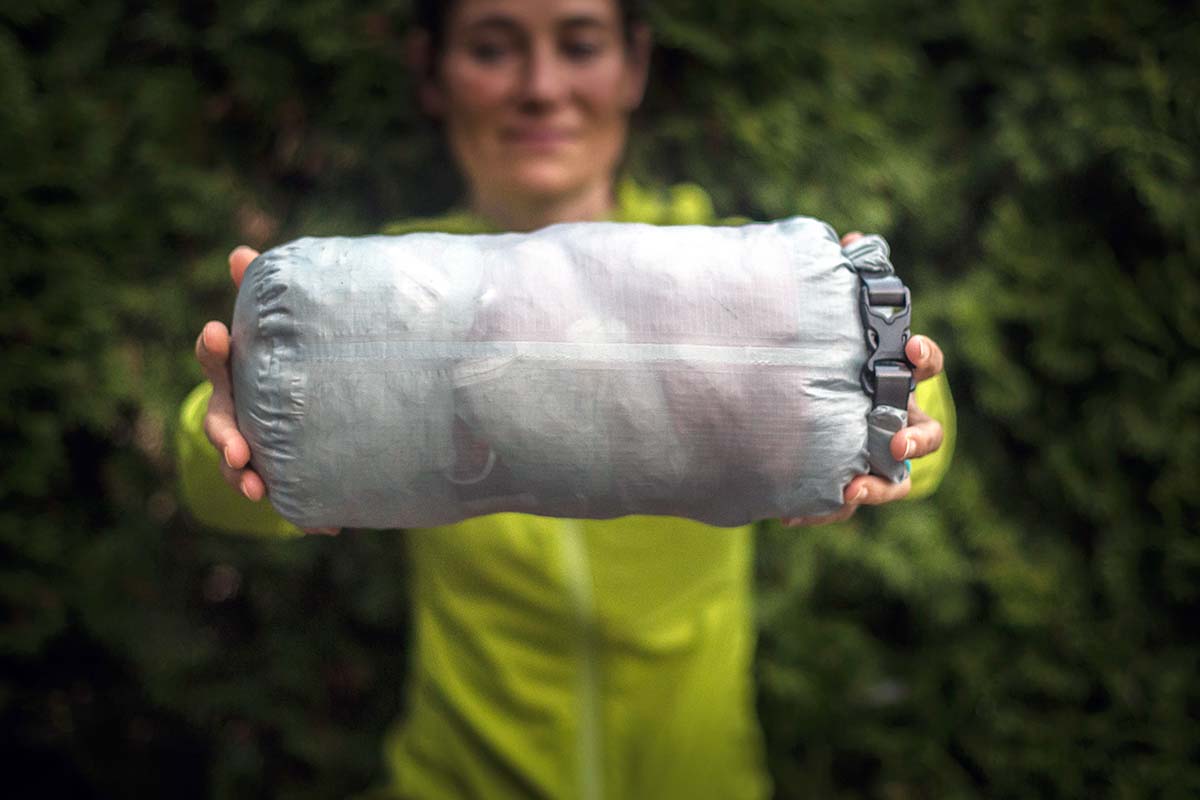 Weather Protection 
Although listed as a three-season tent, the Copper Spur Platinum performed extremely well in unexpectedly tough conditions. It faced everything from an all-night blizzard to thunderstorms complete with torrential downpours, gale-force winds, and marble-sized hail. During an exceptionally treacherous storm, we sat in fear as we watched the fly rattle and stretch, but hours later we were still comfortable and dry. The DAC Featherlite NFL pole system resisted high winds with ease—the poles flexed as intended and still work flawlessly. Water beaded off the silicone-treated fly and bathtub-style floor, and the polyurethane-taped seams didn't let a single drop in. And a nice little detail: the tent's small storm flaps on the vestibule doors cover the zippers, keeping them from being exposed to too much moisture.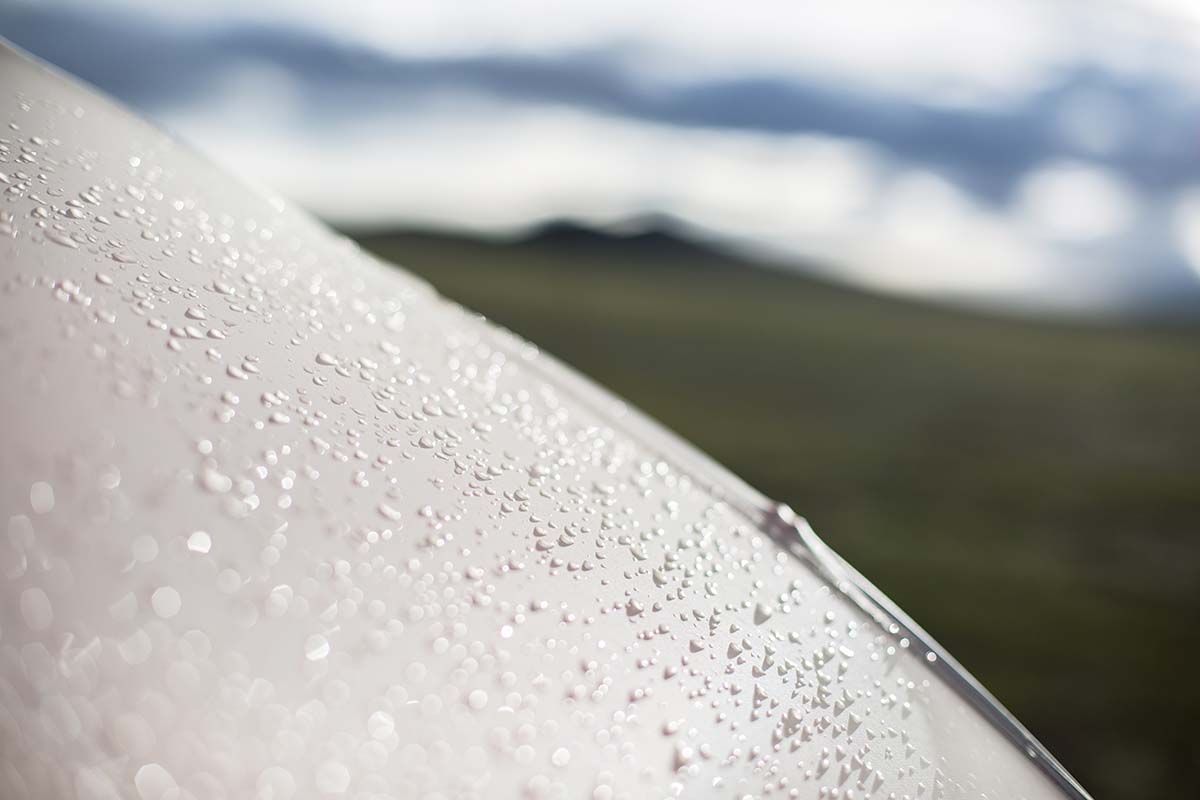 Ventilation
Apart from the floor, the tent body is made entirely of mesh, making the Copper Spur Platinum ideal for cool evenings and stargazing. We were forced to mount the rainfly on all but one afternoon, but thankfully it still allowed for a good amount of airflow from underneath and we experienced very minimal condensation on the inside of the fly. Though we didn't utilize it, the double zipper allows one to unzip a portion of each vestibule door to increase airflow. In addition, we found that the light coloring of the tent's exterior helped to reflect heat.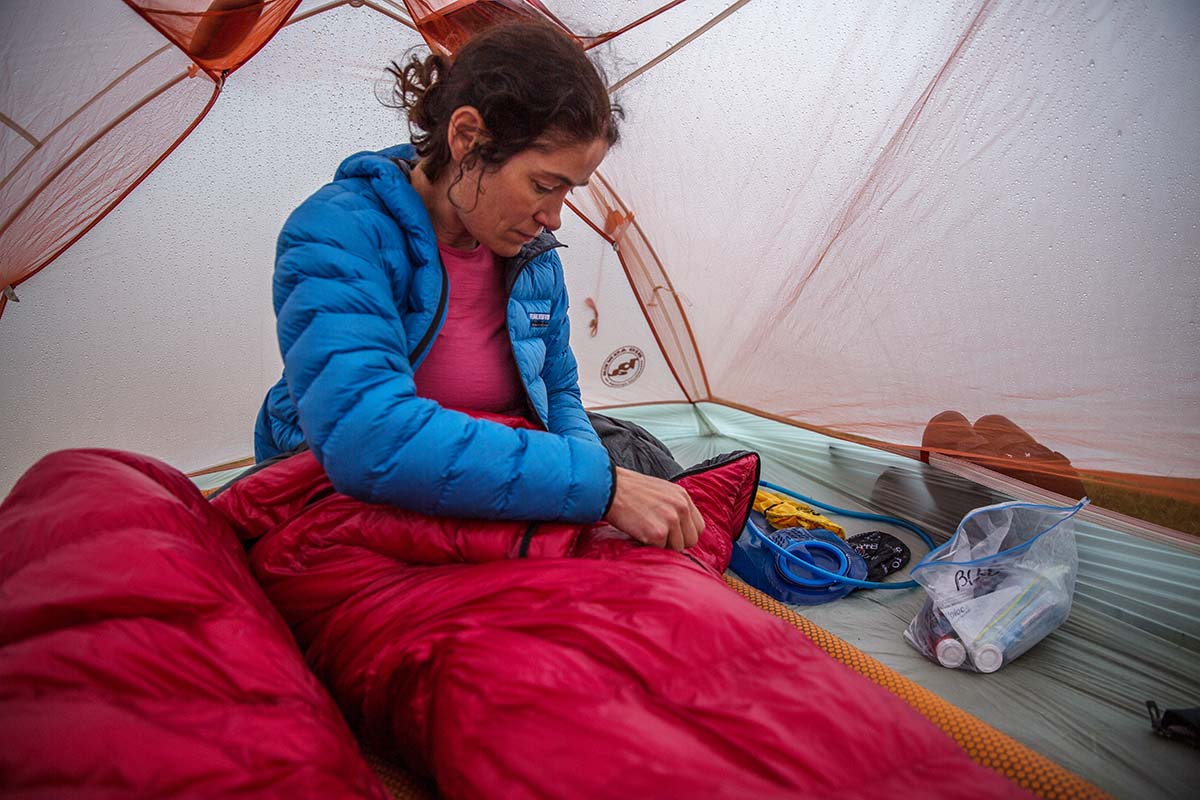 However, while the two to three inches between the fly and ground promote ventilation, we also found the tent to be slightly drafty while sleeping, and it even allowed some sand to sweep under and into our tent during a sandstorm. That issue aside, the Platinum 3 strikes a nice balance between protection and breathability—in those winds, some sand likely would have penetrated any lightweight shelter. And just as important, the tent never felt stuffy or humid, even in Mongolia's heavy rains, warm temperatures, and lack of shade.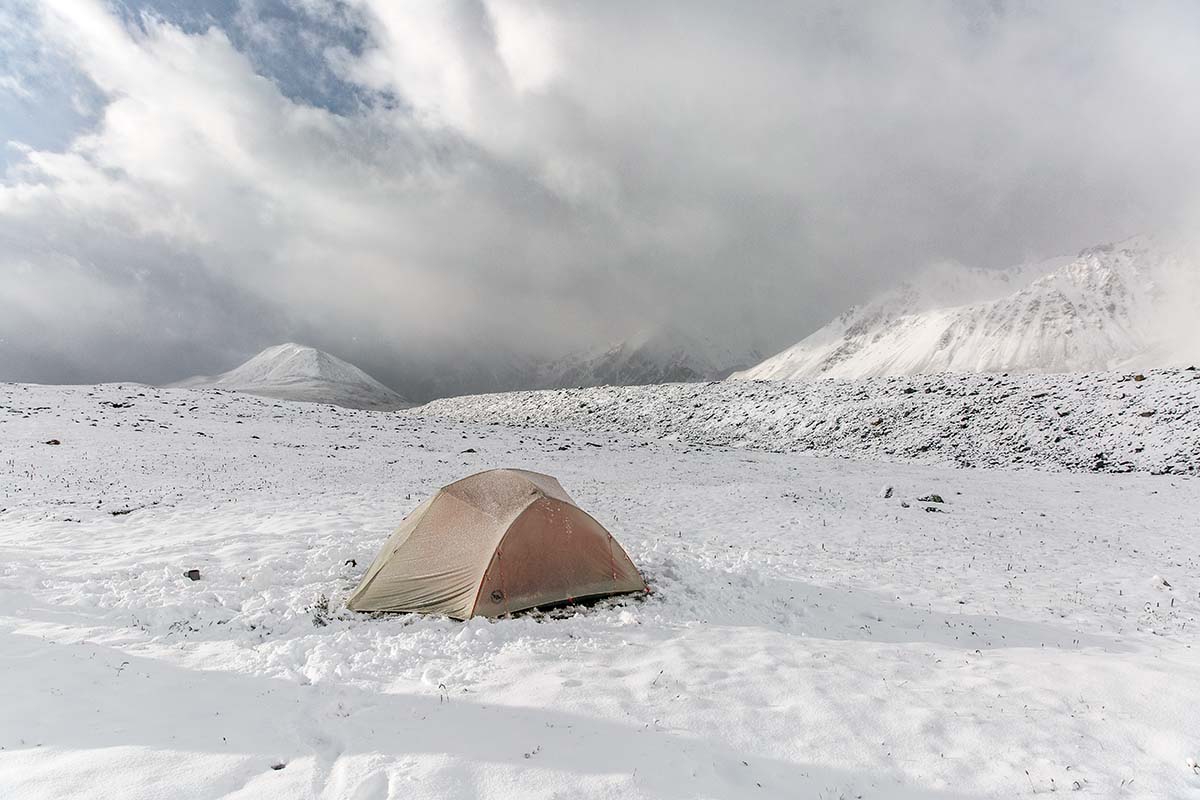 Durability
As is the case with most ultralight gear, durability is a compromise with the Copper Spur Platinum. Out of the box, the tent's silicone-treated nylon ripstop fabric felt fragile, and after three weeks in Mongolia, there were a few small tears in the floor and mesh of the tent. Admittedly, each was inflicted by one of us and easily was remedied with Gear Aid Tenacious Tape. Using the footprint certainly would have also helped, which we instead used as a tarp to cover our bikes and bike bags. But for an ultralight tent with a 7D floor—compared to the Nemo Hornet's and MSR FreeLite's 15D floors that also pushed our comfort level in terms of thickness—it shouldn't come as a surprise that any carelessness or snagging can result in damage.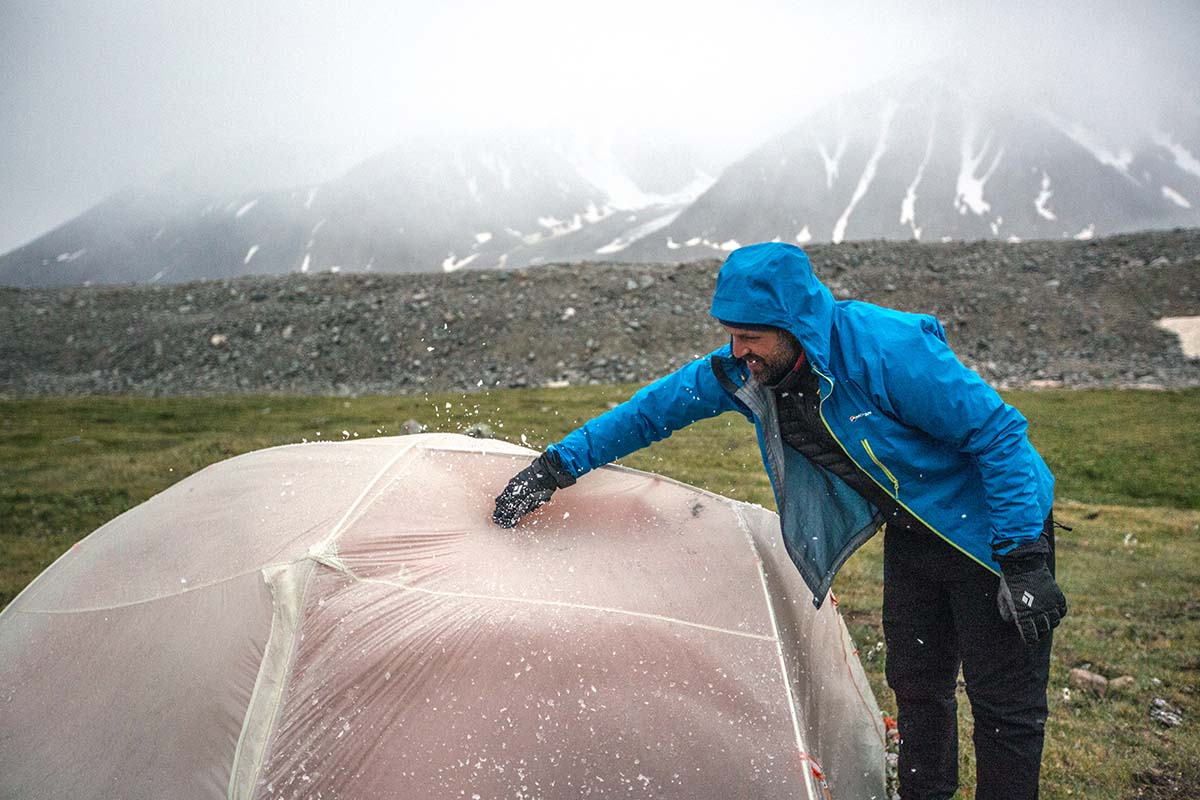 Outside of these minor tears, the tent held up remarkably well, especially given that it withstood serious abuse from the elements (and us). Despite rough handling, the 7D fly remained fully intact (and is still water and windproof), and the poles, clips, pegs, and zippers all are in great working order without any obvious wear. We do see potential for durability issues with the vestibule zipper—it often snagged on the storm flaps, catching in place and requiring care to free. To be fair, we've had zipper issues with other tents like the Copper Spur HV UL2 and haven't had to make any repairs yet. Regardless, we recommend treating them gently and keeping them free of debris.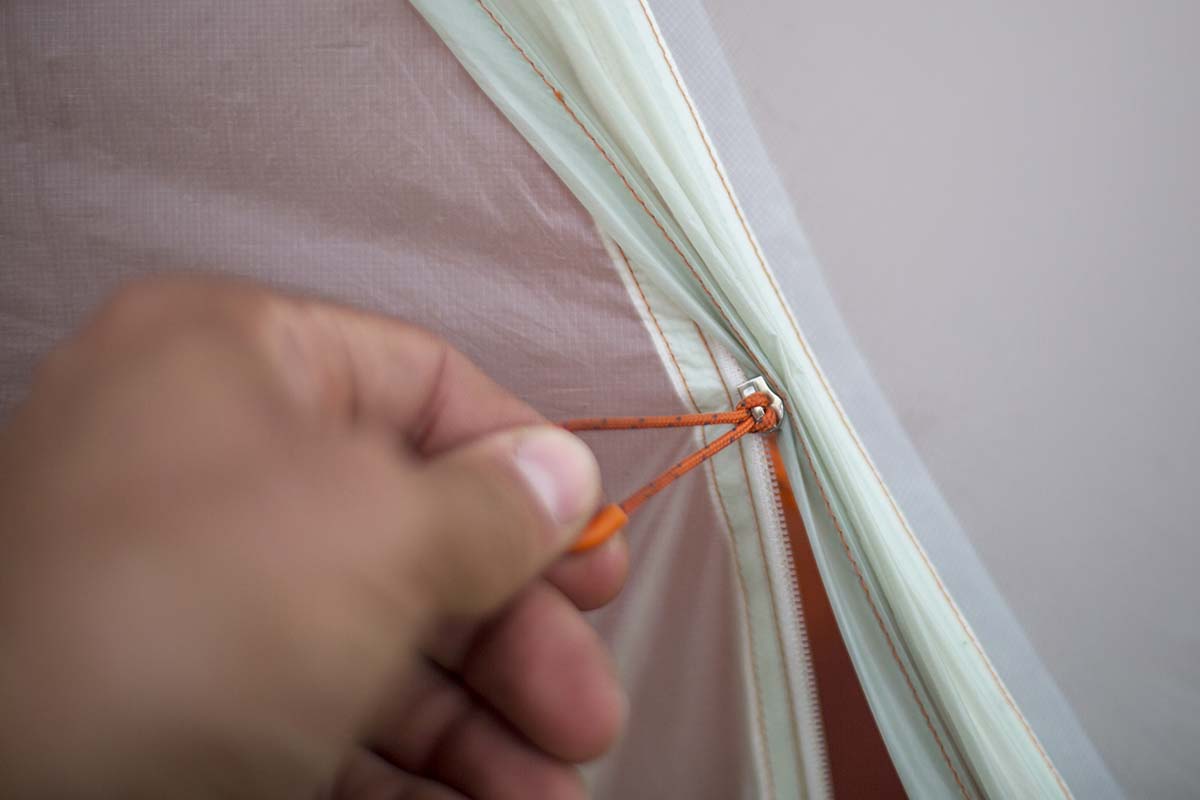 Storage
The two door and vestibule design of this tent is ideal. We were able to store gear and enter/exit on both sides without the awkward dance of climbing over each other repeatedly. And while some other ultralight tents sacrifice storage space to cut weight, the Platinum embraces it. The substantial vestibules and easily accessible interior storage pockets (two large pockets on the same side at the base and four on the ceiling) make multi-night trips a breeze. We had plenty of room to store our wet and dirty gear outside while our necessities stayed dry and within reach. One small criticism: since the pockets at the base of the tent are on the same side, we had to think about which way we were sleeping each night to ensure they were at our head and not our feet.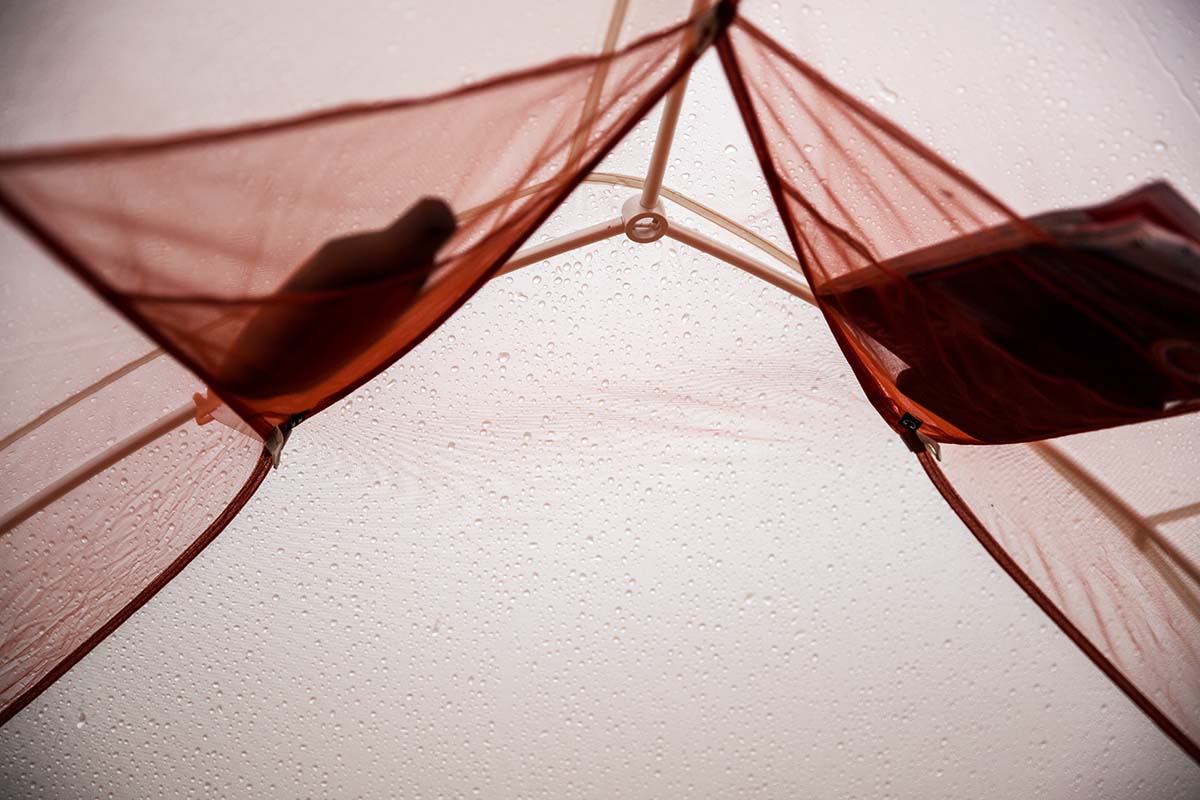 Set up and Take Down
Like most other freestanding backpacking tents these days, assembling the Platinum 3 was rather effortless, even under the duress of oncoming storms. It's as simple as laying the tent body on the ground, sliding the poles into color-coded webbing and aluminum grommets, connecting them to the ultralight plastic clips, and staking out the four corners. The fly snaps into the tent body with pressed clips and attaches to the poles with Velcro, and pre-cut guylines make it a breeze to stake out. Taking it down was just as quick and easy, and this process didn't take more than a couple minutes even in adverse conditions.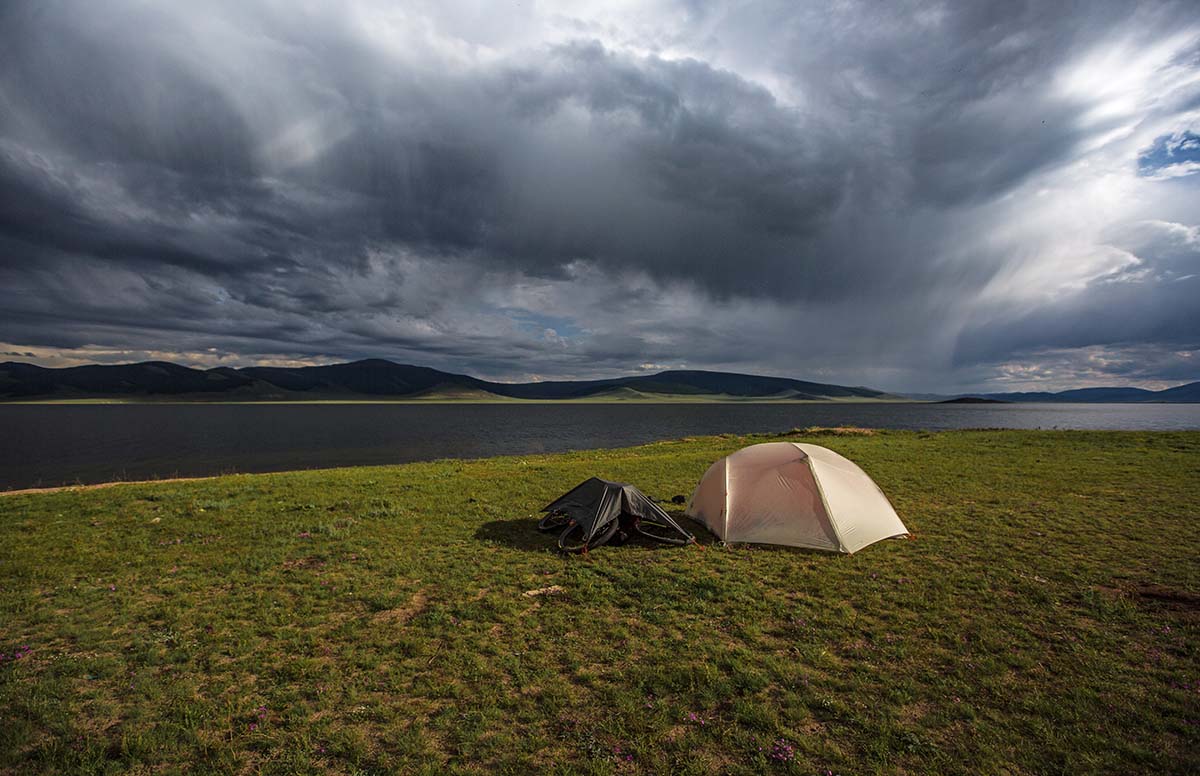 What We Like 
An incredibly spacious tent for the low weight, with adequate storage both inside and under the vestibules.
Weather protection was exemplary. The tent was highly wind resistant and waterproof, even in the toughest of conditions. 
Easy set up and take down, plus it packs up quite small.

What We Don't 
All of this tech comes at a steep price ($700 to be exact). 
The lightweight, thin fabric and mesh require attention and care to prevent tears and snagging (we failed), and the vestibule door zippers are especially prone to this.
Small space between the rainfly and ground can make the tent feel drafty.


Comparison Table

The Competition 
Let's start with the obvious: the Copper Spur HV UL3 is the popular sibling of the Platinum version. It also has two doors and vestibules, near-vertical walls, and impressive weather protection. However, it's 8 ounces heavier, comes with three less square feet of interior space, and an inch less headroom. In terms of durability, the HV UL3 floor and rainfly use 20D nylon, while the Platinum uses a skimpy 7D on each (not to mention the body incorporates some nylon, unlike the all-mesh Platinum). All in all, the Platinum wins out with its incredibly low weight but is $200 more expensive and uses thinner materials. How much those extra ounces are worth is up to you.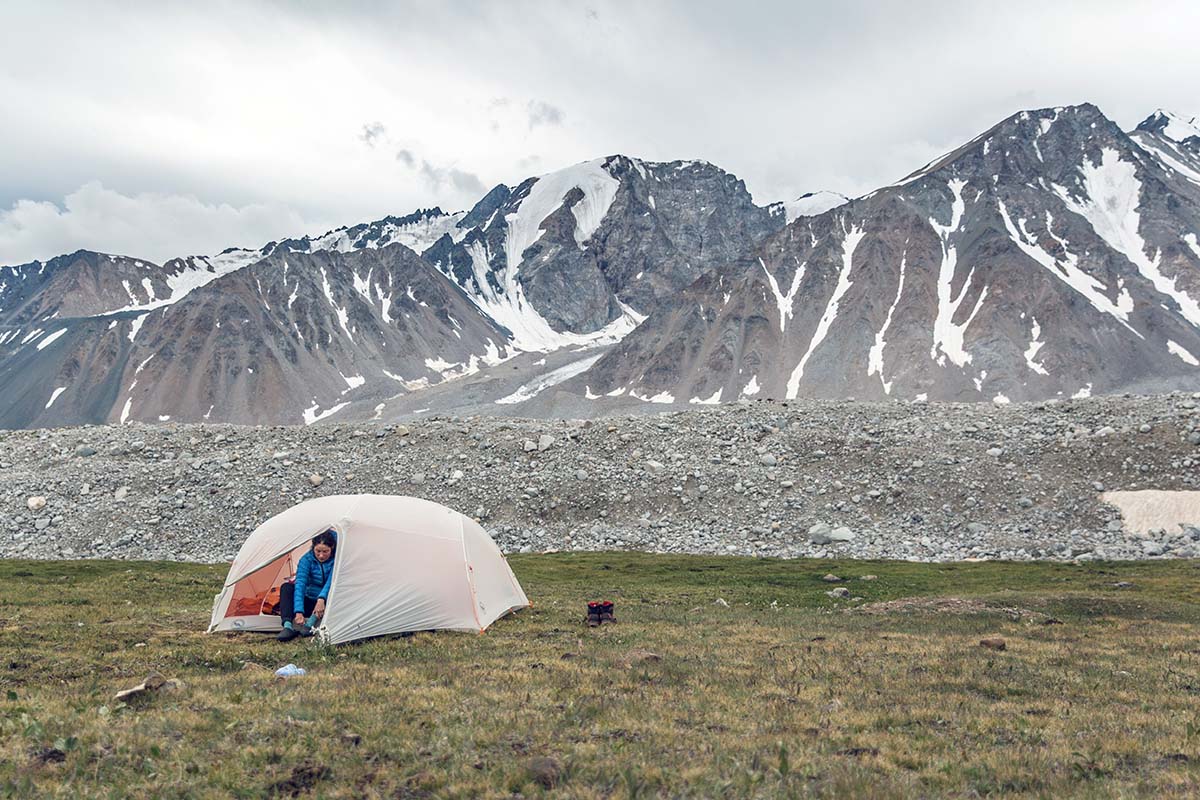 For true ultralighters and thru-hikers, Zpacks offers the impressively light 1-pound-6.5-ounce 3-person shelter called the Triplex, which effectively cuts your weight in half compared to the Platinum. With impressive weather protection, stellar ventilation, two doors, and vestibule space on both sides, it's an attractive alternative with similar features. What are the downsides of the Triplex? It's not freestanding, making set up more difficult, and costs the same as the Platinum ($699). In addition, the walls are heavily sloped, meaning that you can only really sit up in the center portion of the tent. If you're backpacking with just one companion and don't need a ton of extra space, it's worth considering Zpacks' Duplex Flex with the upgrade, which makes the tent pitchable with freestanding tent poles.
Another alternative to the Copper Spur 3 Platinum is the Tiger Wall UL3, which is Big Agnes' lightest tent (you save 4 ounces compared to the Copper Spur Platinum). The Tiger Wall still offers plenty of features with two doors and vestibules (each is 8 square feet compared to the Platinum's nine) and a decent-sized interior (38 square feet compared to the Platinum's 44). And at $250 less than the Platinum, we can see why some ounce (and dollar) counters prefer to go this route. That said, a major drawback of the Tiger Wall is its tapered foot end, which requires staking out, making the tent only semi-freestanding and reducing its weather resistance unless perfectly guyed out. If you prioritize space and comfort and prefer a fully freestanding option, we recommend the Copper Spur Platinum.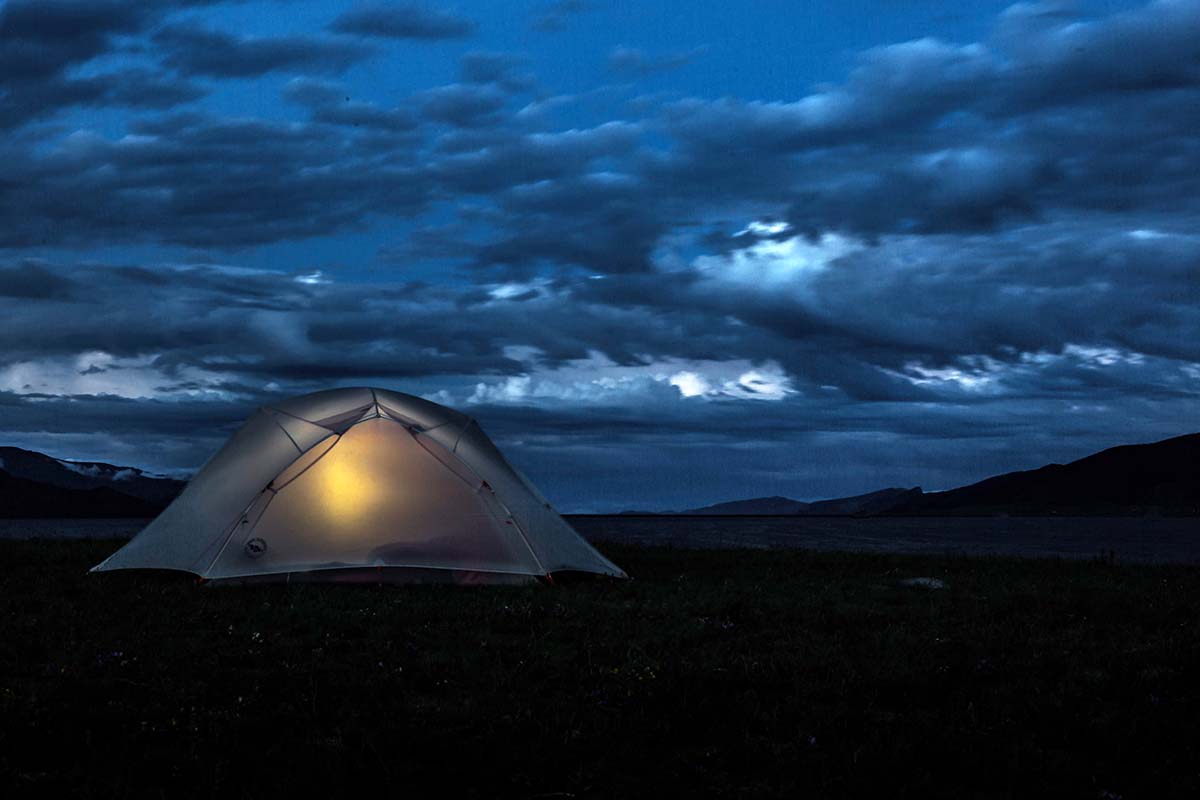 Finally, it's worth noting that Big Agnes has announced new Dyneema tents (their "Carbon" models). Among the offerings will be the Tiger Wall 3 Carbon, which weighs just 1 pound 14 ounces but comes in at a whopping $1,200. This is newsworthy as Dyneema (formerly Cuben Fiber) in the past was reserved for cottage brands like Zpacks, Hyperlite Mountain Gear, and Mountain Laurel Designs. We look forward to testing the Carbon tents and will report back as soon as we do.
If you're thinking about buying gear that we've reviewed on Switchback Travel, you can help support us in the process. Just click on any of the seller links above, and if you make a purchase, we receive a small percentage of the transaction. The cost of the product is the same to you but this helps us continue to test and write about outdoor gear. Thanks and we appreciate your support!
Depending on the seller, most products ship free in the United States on orders of $50 or more. International shipping availability and rates vary by seller. The pricing information on this page is updated hourly but we are not responsible for inaccuracies.
Read More From Switchback Travel