Black Diamond has assembled a solid lineup of quality rain jackets and hardshells over the last few years, and the StormLine is yet another standout. By adding stretch into the jacket's face fabric, BD created an impressively lightweight, weatherproof, durable, and mobile rain shell that pairs well with activities like hiking, biking, and running. After putting the women's StormLine through extensive use in the wet and unrelenting Pacific Northwest, we came away with high praise. Below we outline the StormLine Stretch's performance. To see how it stacks up to the competition, see our articles on the best rain jackets and best women's rain jackets.
 
---
Table of Contents
---

Performance
Weather Protection
Featuring Black Diamond's in-house BD.dry waterproof membrane and backed by a durable water repellent (DWR) finish, the StormLine Stretch Rain Shell is a formidable barrier against rain and wind. Although the jacket has a 2.5-layer construction (as opposed to the 3-layer build typical of pricier hardshells), it's still impressively weather-worthy. I've taken the StormLine as my sole outer layer on numerous backcountry hiking and biking trips in the Pacific Northwest—all of which have included at least one downpour—and it has held up remarkably well while keeping my baselayers dry. Additionally, I've experienced no leakage through the zippers. Black Diamond was very thoughtful here: the pit zips are DWR-coated, the front zipper boasts YKK waterproofing, and the hand pocket zippers are covered by generous flaps that prevent water from creeping inside (although these aren't waterproof).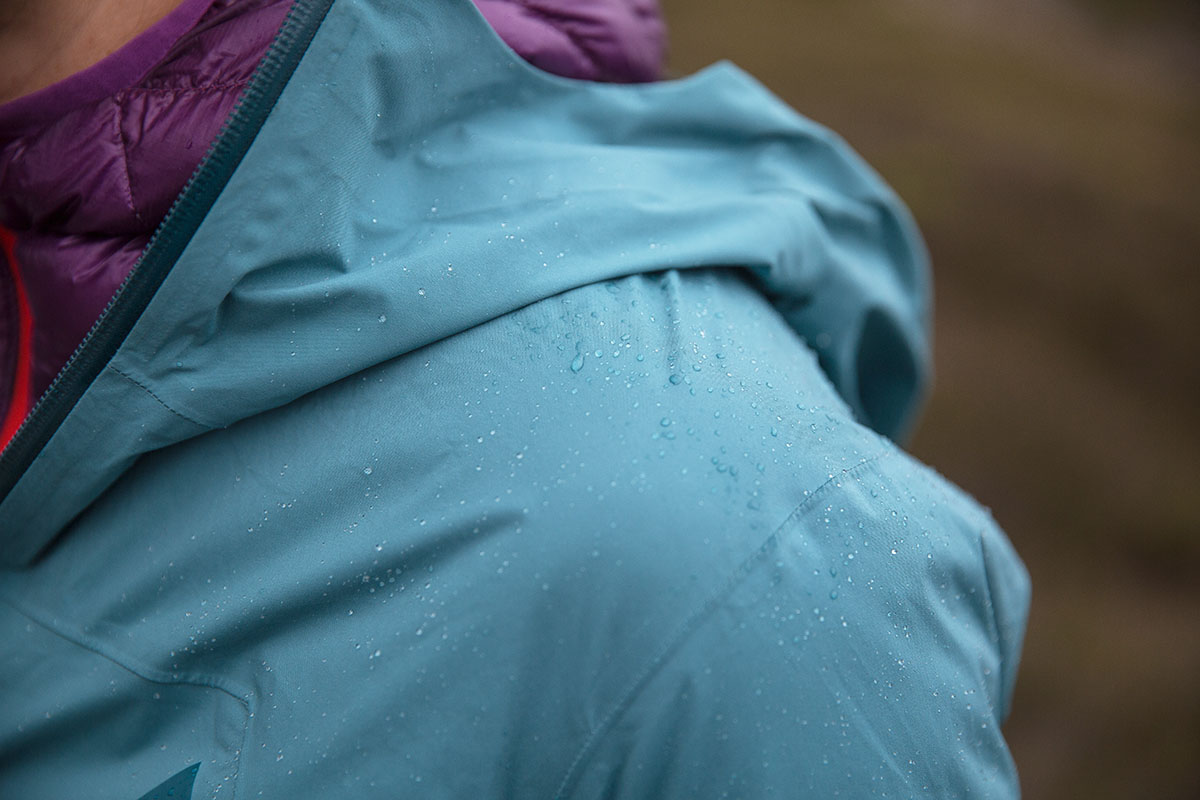 Another factor that can heavily impact weather protection is fit. With the StormLine, I found the sleeves to be a good length for protecting my arms and wrists, and by toggling the generous Velcro cuff, I was able to protect my baselayers from getting wet. The jacket also has an elastic drawcord at the hem, which can be pulled tight to seal out moisture. Earlier this year, my midlayer grew soaked when rain entered at the wrists and hem of one of my other jackets. This admittedly was my fault and could have been prevented, but it nevertheless made me partial to jackets with generous, adjustable sleeves and hems—and the StormLine fits that bill nicely.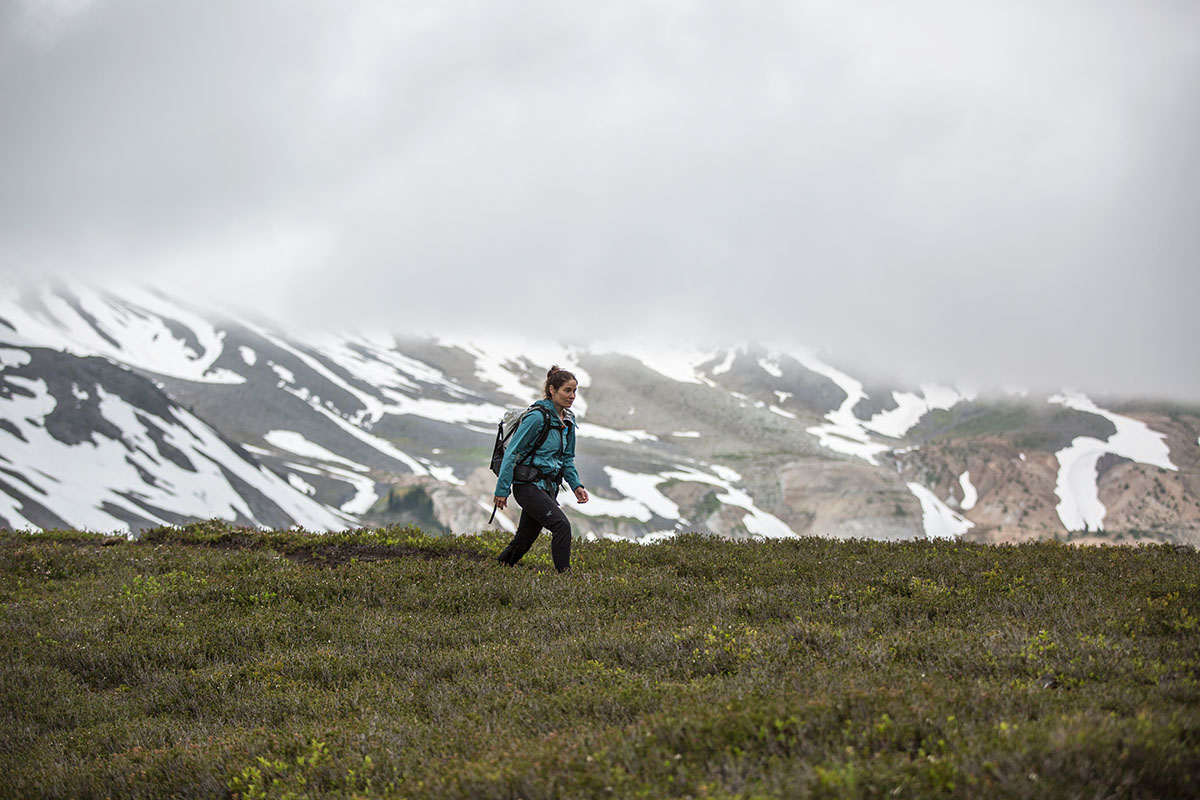 The Black Diamond StormLine Stretch also provides a capable barrier against wind. I wore the jacket while riding my bike over several passes in British Columbia's Chilcotin mountains—one of which was aptly named "Windy Pass"—and was pleasantly surprised by how skillfully it fended off gusts. In fact, I found it to be a great riding companion for descents where windchill is a constant concern. By the end of the trip, the StormLine had proven itself as a competent and weather-worthy multi-sport jacket.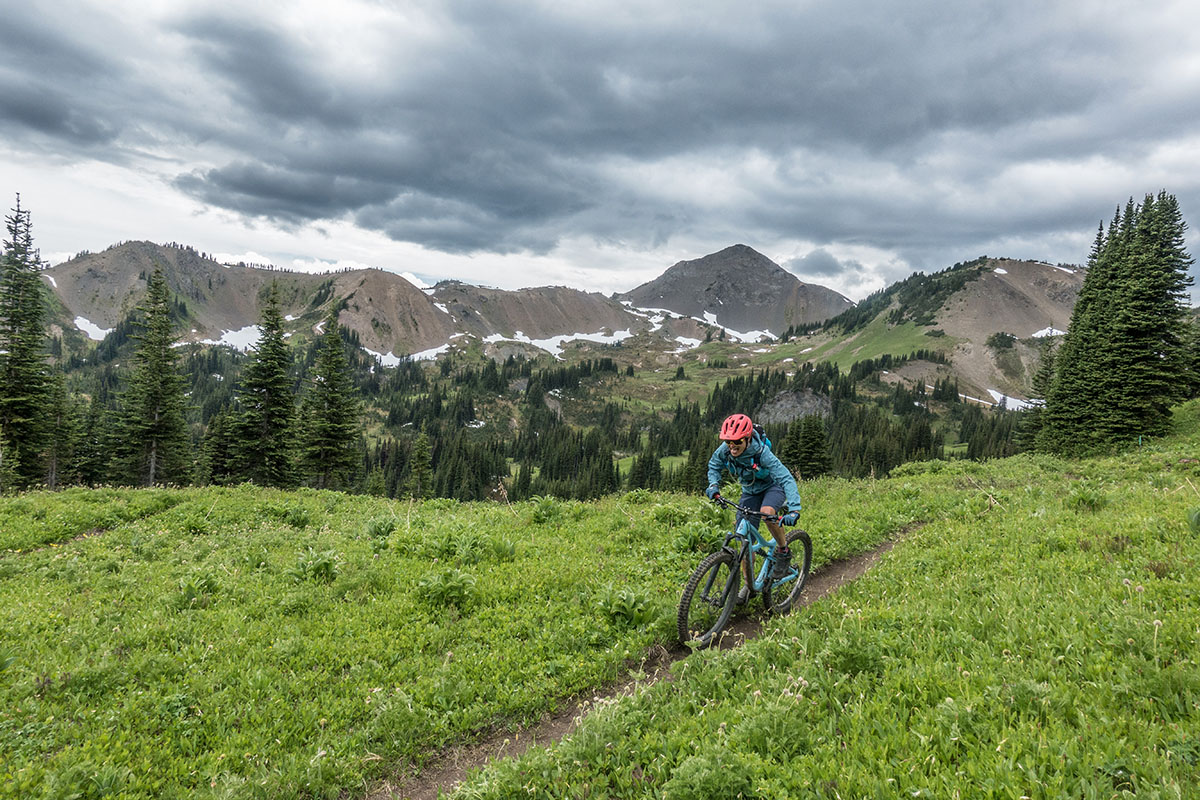 Comfort and Stretch
The StormLine's calling card is its stretchy face fabric, which gives the jacket added elasticity and comfort. The bump in freedom of movement is especially great for mobility-dependent activities like hiking, climbing, biking, and running. In terms of competition, not many other rain jackets boast the same stretchiness. Black Diamond's own FineLine Stretch Rain Shell is a noteworthy competitor with a similar 2.5-layer construction and added elasticity, but it lacks hand pockets and pit zips. Rab's Kinetic Alpine 2.0 is also stretchy, but it's heavier at 13 ounces and much pricier at $280. All in all, the StormLine is one of our favorites in this category for its low price and great overall execution.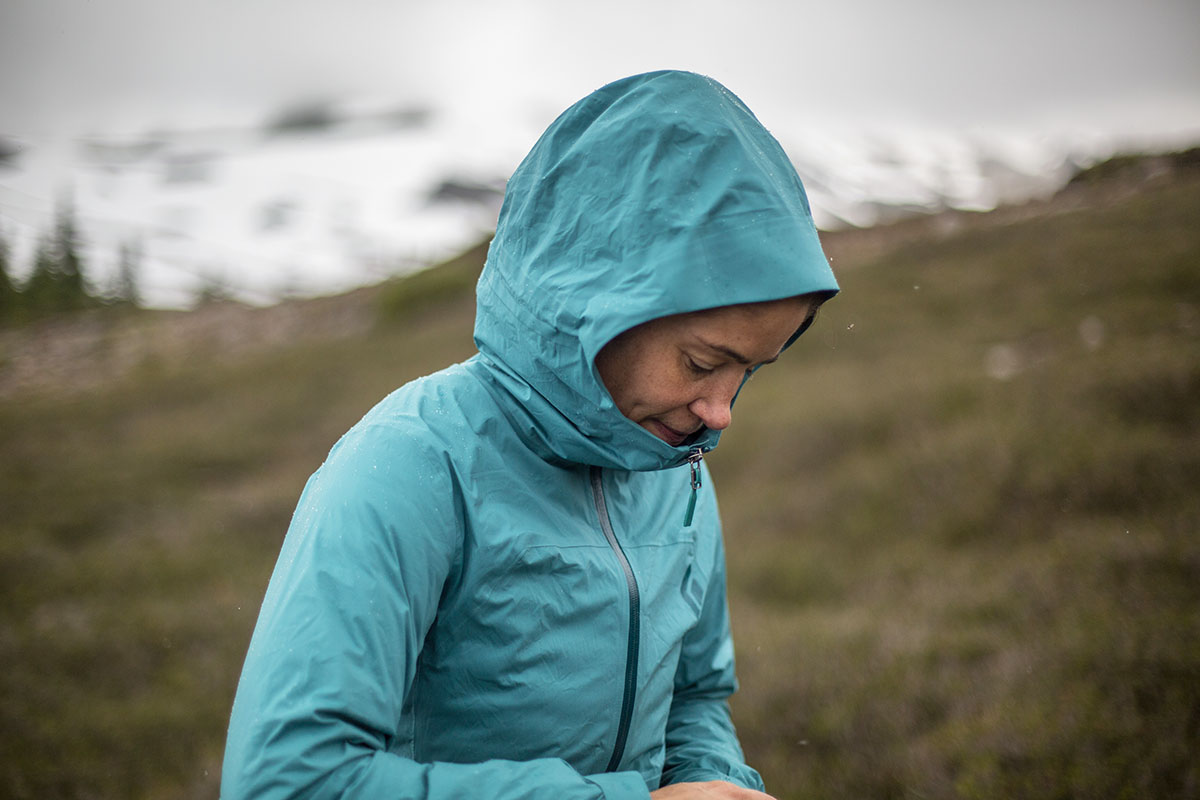 Weight and Packability
At a listed weight of 9.5 ounces for the women's model, the StormLine Stretch is one of the lightest fully featured rain jackets on the market. Others in this category, including the REI Co-op XeroDry GTX (10.6 oz.) and Mountain Hardwear Exposure/2 Gore-Tex Paclite Stretch (11.9 oz.) come in slightly heavier, although the REI includes a chest pocket, which the StormLine lacks. And lighter alternatives like the Arc'teryx Norvan LT Hoody (6 oz.), Outdoor Research Helium (5.6 oz.), and Black Diamond's own FineLine Stretch (7.9 oz.) are true minimalist shells that forego hand pockets and pit zips. All things considered, I think Black Diamond did a really nice job balancing weight and features with the StormLine. And when it comes time to stuff it down, the jacket easily stows into its right hand pocket (I also was able to fit it in a bike jersey pocket or small hydration pack), which includes a carabiner-ready loop for clipping to a climbing harness or backpack.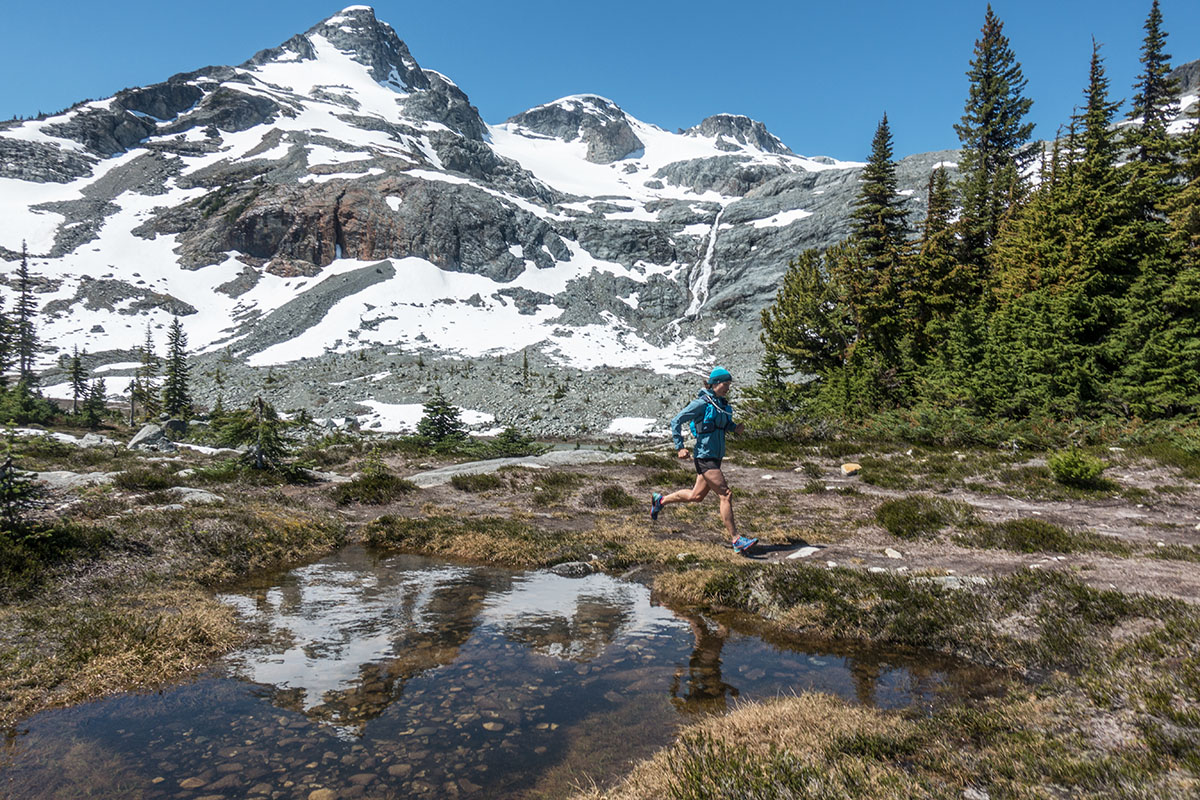 Breathability
2.5-layer rain shells typically don't breathe as well as 3-layer hardshell jackets, and we found this to hold true with the StormLine Stretch. While mountain biking and running with the jacket fully zipped, I struggled to effectively cool off. However, I should note that it was an unseasonably warm and humid summer in the Pacific Northwest. Further, it's somewhat unrealistic to expect both excellent waterproofing and standout breathability—one often is sacrificed—and especially at this price point. On the bright side, the StormLine features generous pit zips, which work well for dumping heat quickly. If I'm quick to open them when exerting energy, the clamminess quickly dissipates and I can regulate temperature much more easily. Finally, the lining inside the jacket is textured and doesn't feel plasticky (a common complaint we have with rain jackets), but it still is a bit sticky on wet skin. This is especially noticeable when I try to slide damp, bare hands into my pockets.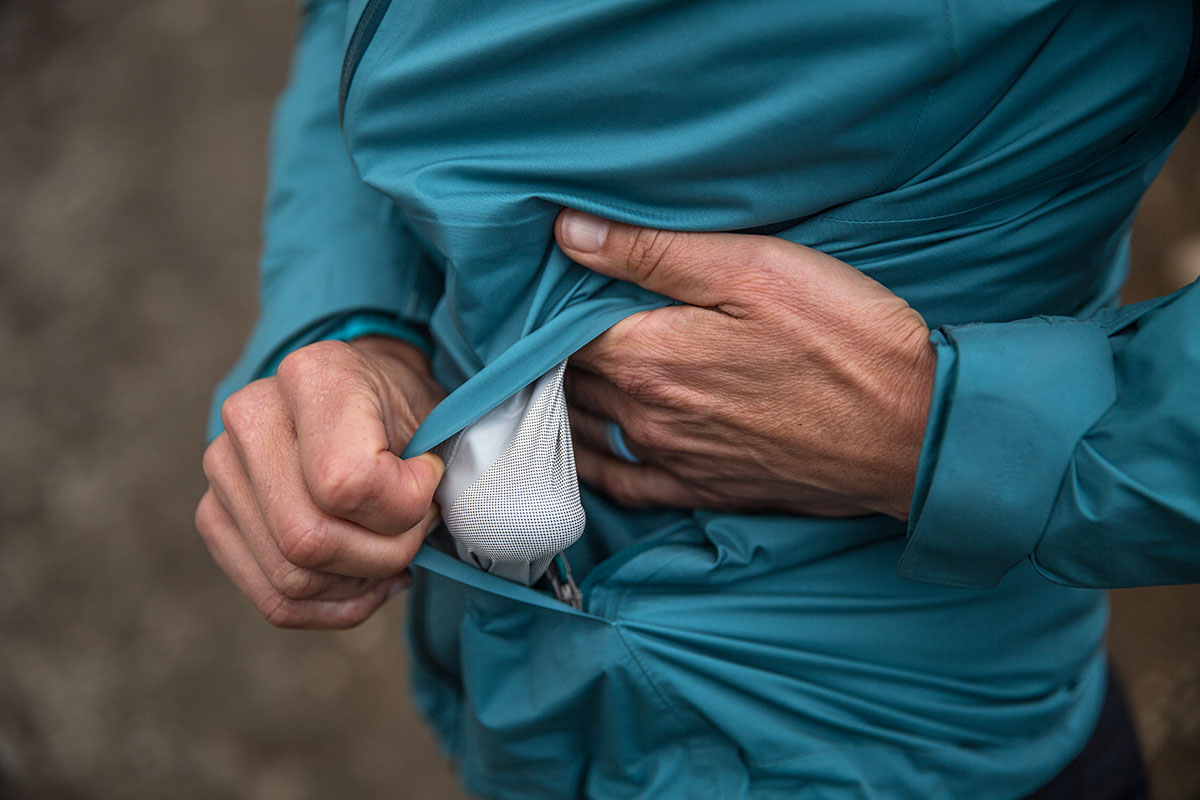 Features
Hood
The StormLine Stretch features an adjustable, helmet-compatible hood that just works. It easily fits over all of my climbing and mountain bike helmets, and the stretchy fabric adds comfort and a bit of "give" around the neck. Additionally, the brim is nicely sized and has managed to keep all rain out of my eyes (unless, of course, it's falling at an angle or I'm running/biking into it). Finally, an elastic pull cord at the back of the head allows you to cinch down the hood and secure it in place whether you're wearing a hat, helmet, or nothing at all underneath.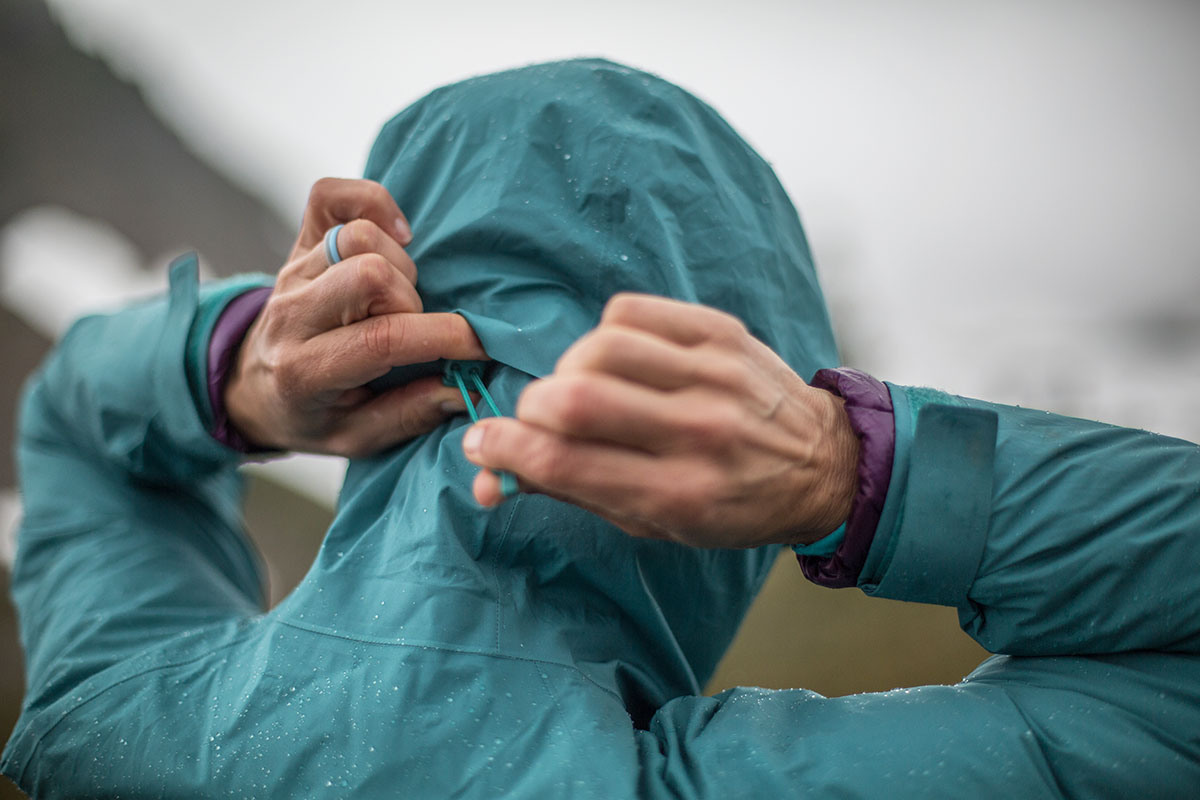 Pockets
Black Diamond included the standard two zippered hand pockets on the StormLine Stretch but chose to forego a chest pocket. We can understand this decision—the jacket is competitively light as a result (zippers add a good amount of weight), and there's still enough space for valuables. As I touched on above, both hand pockets feature a generous flap that protects against moisture, and I'm a big fan of being able to stuff the jacket into its own right hand pocket.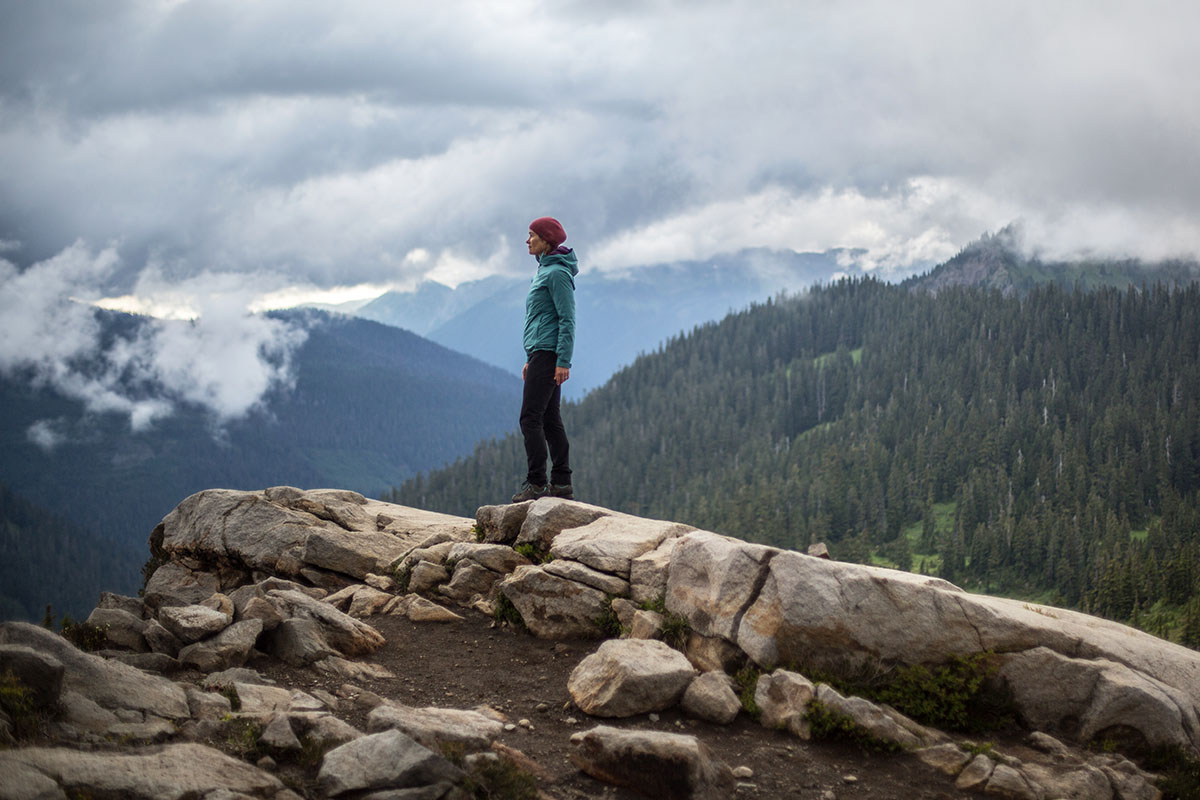 Build Quality and Durability
Because of its added elasticity, the Black Diamond StormLine feels significantly more tear-resistant than non-stretchy rain jackets. Unfortunately, BD doesn't list the denier (fabric thickness) of the StormLine, but I've had only positive experiences. More specifically, I've worn the shell under numerous backpacking packs and have had no delamination or rubbing-related issues. I do tend to stuff the jacket into its pocket before cramming it into my pack or bike bag to help preserve the outer laminate, but it has nevertheless shown zero signs of wear to date. All seams are intact, the zippers are holding up well, and the jacket looks relatively new after extensive testing. All in all, I'm confident that the StormLine will continue to hardily withstand frequent outdoor use.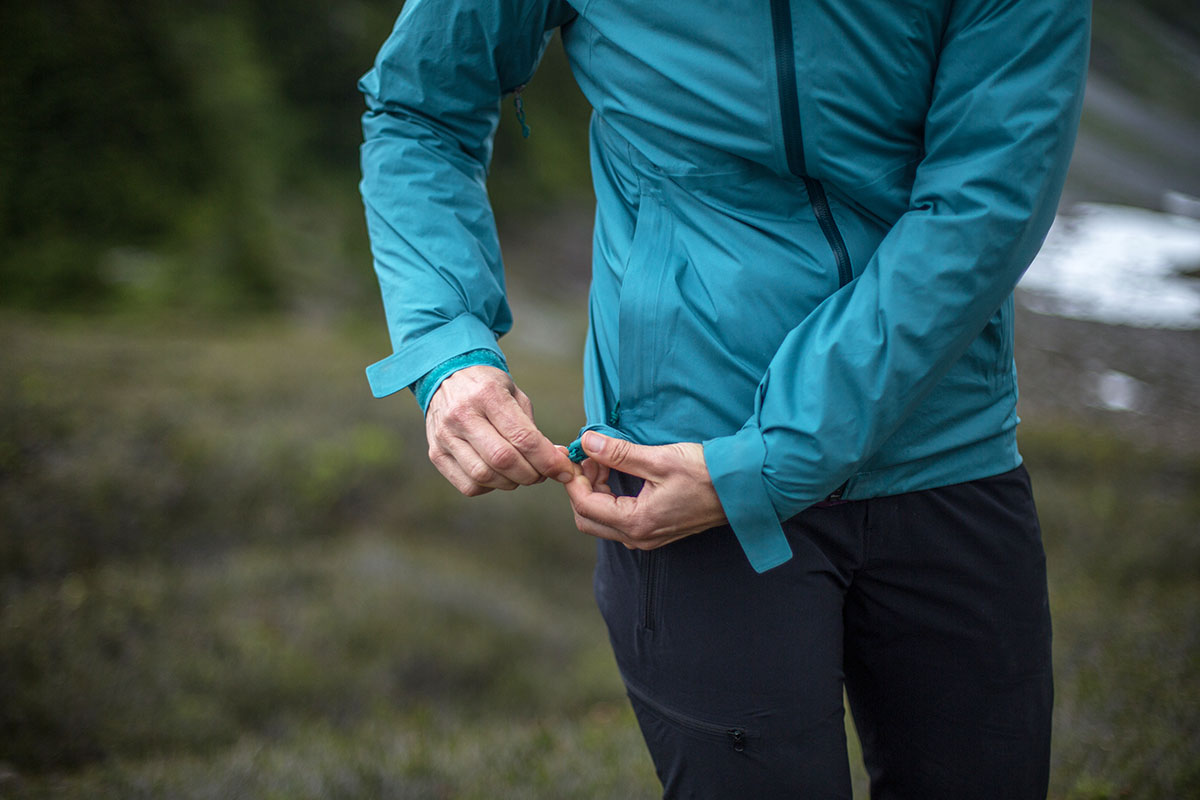 Fit and Sizing
I wear a small in most jackets to allow for layering, but an extra small in the StormLine Stretch fit me perfectly. The jacket is by no means bulky, but it is roomy enough to accommodate layers underneath while still being slightly streamlined (BD describes the fit as "regular"). While camping, I often wear several merino baselayers and my Mountain Hardwear Ghost Whisperer down hoody underneath, and even this thick pairing has never felt uncomfortable or restrictive. Further, the longer sleeves are great for biking—when the Velcro is cinched around the cuffs, my baselayers don't peek out—and the gusseted underarms allow ample mobility. It's worth noting that my husband tried on the men's version and found the fit to be notably large and boxy, so I recommend trying on the jacket before buying, if possible.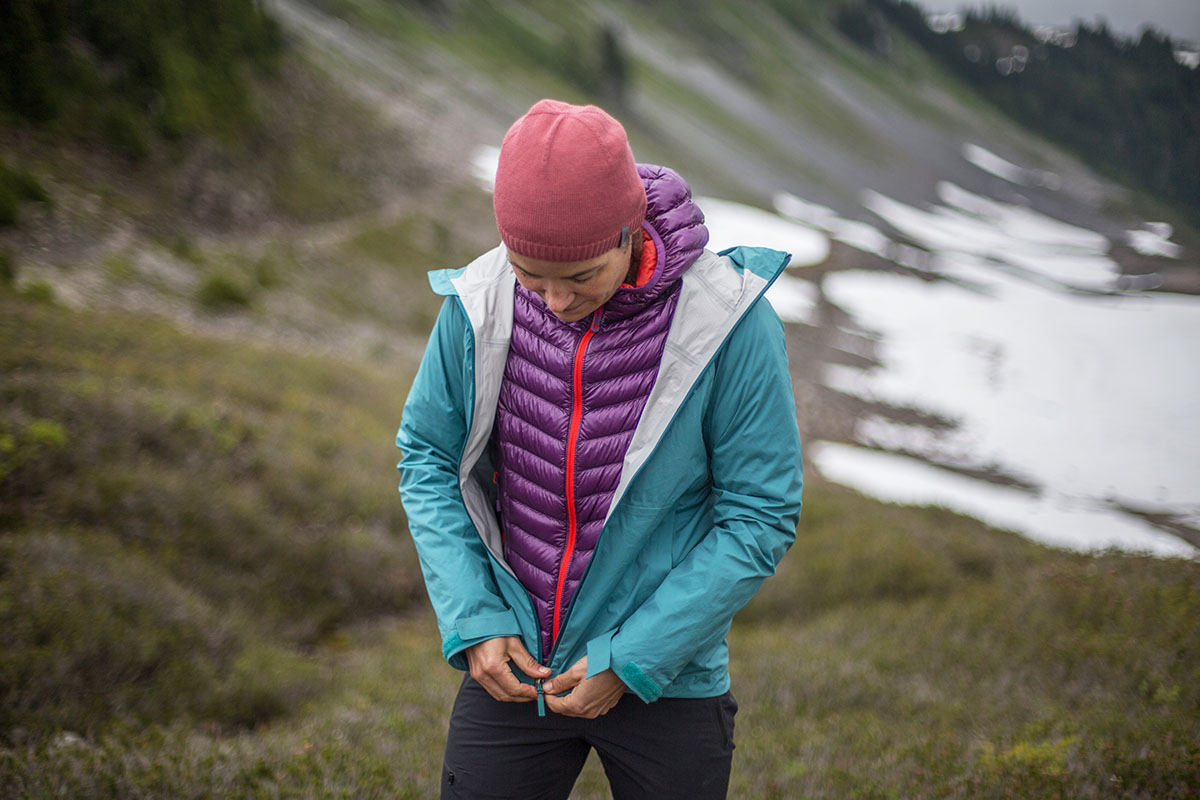 Other Versions of the Black Diamond StormLine Stretch
For this review, I tested the women's StormLine Stretch Rain Shell, and Black Diamond makes the same jacket in a men's version. Compared to the women's, the men's StormLine Stretch costs the same at $159 and features an identical build with two hand pockets (and no chest pocket), pit zips, an adjustable and helmet-compatible hood, and Black Diamond's proprietary BD.dry waterproofing. Where the two differ is in weight—the men's jacket weighs 11.3 ounces vs. the women's 9.5-ounce weight—and color options. If you live in a notoriously wet climate, Black Diamond also sells StormLine Stretch Rain Pants ($119) and Full Zip Rain Pants ($139) in both women's and men's versions, which boast the same waterproofing and stretchy fabric.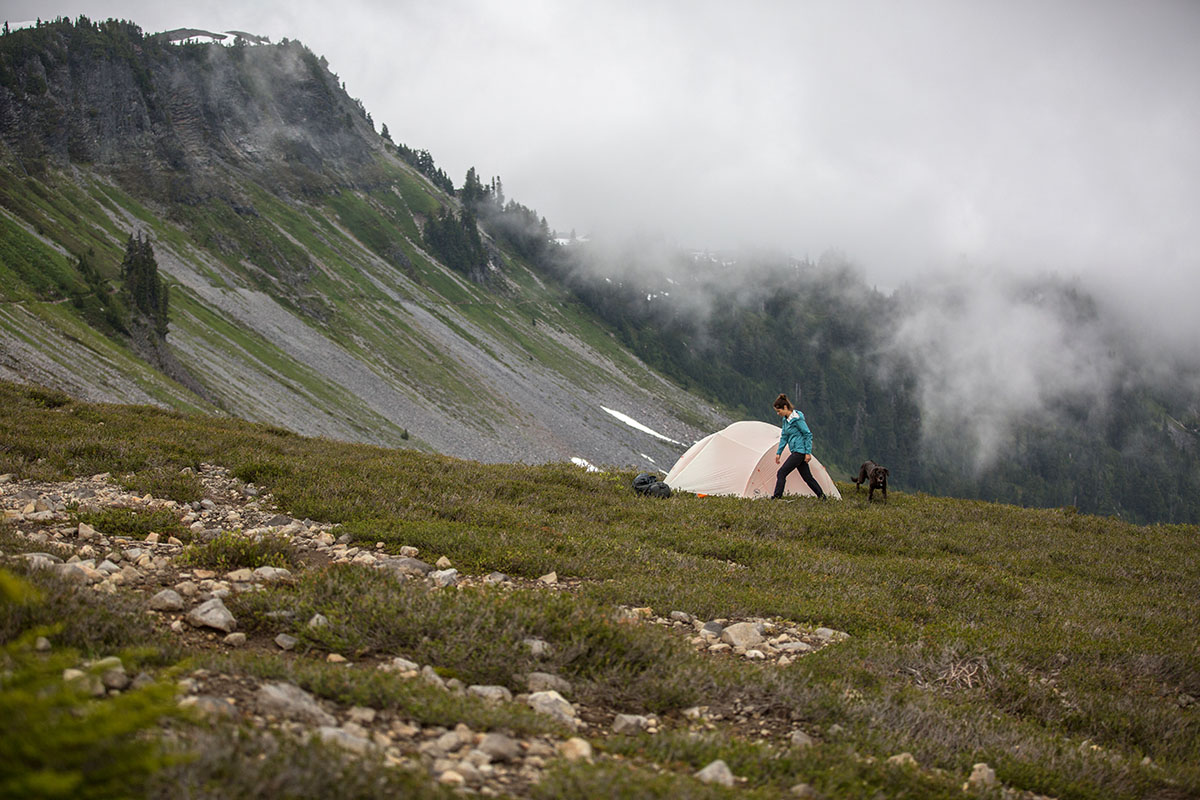 What We Like
At 9.5 ounces, the StormLine is one of the lightest fully featured rain jackets on the market. 
Stretchy shell fabric increases mobility and boosts comfort.
At $159, the jacket is very reasonably priced for what you get.
Fabric isn't crinkly and loud like traditional Gore-Tex.
Nice array of color options (I particularly liked the "spruce").

What We Don't
Like many 2.5-layer rain jackets, the StormLine doesn't breathe well during high-output activities (although the pit zips are great for dumping heat).
Interior can feel a bit clammy and sticky, which is especially noticeable when stuffing wet hands into the pockets. 
Men's version runs slightly large and boxy, which isn't ideal for backcountry use.


Comparison Table

The Competition
There's no shortage of high-performance rain jackets on the market, but the Black Diamond StormLine stands apart in one major way: stretch. As we touched on above, this puts the StormLine in an exclusive category with few direct competitors. Black Diamond's own FineLine Stretch Rain Shell is one of them, and similarities include the same BD.dry waterproofing, 2.5-layer build, stretchy face fabric, and adjustable, helmet-compatible hood. That said, at 7.9 ounces, the FineLine is around 2 ounces lighter than the StormLine, and as a result gives up valuable features including hand pockets, adjustable cuffs, and pit zips. The FineLine also boasts a more athletic cut, which is less ideal for layering. If your biggest concern is weight or you simply need an emergency shell, the FineLine should work fine. In most other cases, the StormLine's versatility and features win out.
A final alternative from Black Diamond to have on your radar is their Treeline. The Treeline is the most affordable option here at $130 but packs in a competitive build and feature set, including the same 2.5-layer BD.dry construction as the StormLine and FineLine. Unlike both of those shells, the Treeline doesn't have any added stretch in its construction, and you forgo pit zips. However, the Treeline does feature a vent at the back for releasing excess heat, and you still get a helmet-compatible hood, backpack-friendly pockets, and carabiner loop on the stuff pocket. We prefer the added mobility of the StormLine for just $29 more, but the Treeline is a well-rounded value option for those that stick to more mellow adventures.
At a similar price point as the StormLine Stretch, Patagonia makes another enticing competitor in their Torrentshell. Like the Rainshadow, the Torrentshell was updated this year from a 2.5-layer build to a more protective 3-layer design. Throughout testing, we've found it to be noticeably more comfortable and breathable than the past-generation jacket, although the StormLine gets the edge in mobility (the Patagonia feels noticeably stiff and crinkly) and weight (the Torrentshell clocks in at 12.5 oz.). In the end, for mobility-dependent activities like climbing and biking, we prefer the StormLine Stretch. For hiking and daily wear, the Torrentshell is our top pick.
If you're focused on value, it's hard to beat REI's offerings, and we especially like their $159 XeroDry GTX. Unlike the jackets above, the XeroDry doesn't incorporate stretch and features a 2-layer construction. Compared to the StormLine, the REI jacket also foregoes pit zips (its hand pockets double as core vents) and is heavier at 10.6 ounces, but includes a chest pocket. However, in terms of performance, we found the XeroDry's Gore-Tex Paclite build to be slightly undergunned during heavy rain, and breathability also fell short, even when hiking in moderate temperatures (for more, read our in-depth XeroDry review). All told, the StormLine is the more impressive and performance-focused jacket overall.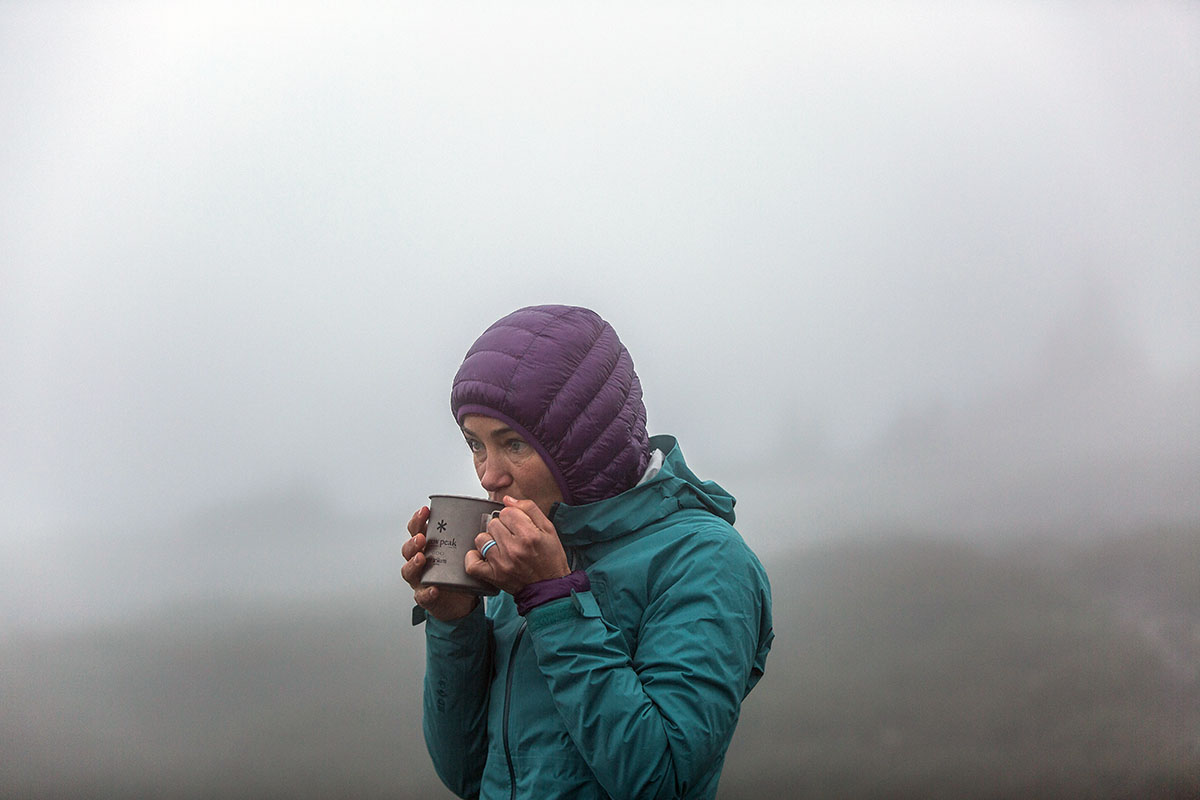 A final option to consider comes from Mountain Hardwear's impressive Exposure/2 collection in the Gore-Tex Paclite Stretch shell. Both jackets use 2.5-layer constructions with added stretch to effectively balance weatherproofing and mobility, but the StormLine wins out in weight by around 2 ounces, includes pit zips, and stows in its own pocket. Importantly, it's also considerably cheaper than the Mountain Hardwear at $159 versus the Exposure's $220 price tag. Given the similarities in construction and performance, we think the StormLine is the better value.
If you're thinking about buying gear that we've reviewed on Switchback Travel, you can help support us in the process. Just click on any of the seller links above, and if you make a purchase, we receive a small percentage of the transaction. The cost of the product is the same to you but this helps us continue to test and write about outdoor gear. Thanks and we appreciate your support!
Depending on the seller, most products ship free in the United States on orders of $50 or more. International shipping availability and rates vary by seller. The pricing information on this page is updated hourly but we are not responsible for inaccuracies.
Read More From Switchback Travel