DPS Pagoda Piste 90 RP
Price: $1,299
Ability level: Intermediate to advanced
Dimensions: 119-90-106mm (179cm length)
What we like: Smooth and polished with true all-mountain abilities. 
What we don't: Hard to justify the astronomical price tag.
See the DPS Pagoda Piste 90 RP
New for 2021, DPS's Pagoda Piste 90 RP marries the brand's smooth, soft snow shape and high-end carbon construction with an on-trail-friendly width. COVID-19 cut our testing a little short, but we brought the ski to Crested Butte, Colorado, and got a good feel for its versatile nature. All in all, it can be snapped quickly between turns in just about all conditions, is impressively comfortable in soft snow, and is noticeably damp and controllable. You do pay a steep premium at $1,299, but the ski is a well-balanced, high-quality addition to the all-mountain market. To see how the Pagoda Piste 90 RP stacks up to the competition, see our article on the best all-mountain skis. 
 
---
Table of Contents
---

Hardpack Performance
"Smooth" is the operative word when it comes to DPS's new-for-2021 Pagoda Piste 90 RP. On trail, the ski seems to always be in control: it's easy to push over on edge, grips well through either sharp or arching turns, and rarely feels out of sorts, even when conditions are icy or chopped-up. This is largely a result of the Pagoda's unique construction: DPS sandwiched ash and aspen woods between two layers of carbon fiber (the brand's signature material choice). Combined with a very solid sidewall and their RP ("resort powder") shape, the result is an impressively accessible ski. And for the width, there's a fair amount of tip and tail rocker, which helps in firm snow when plowing through crud and pays dividends off trail (more on this below).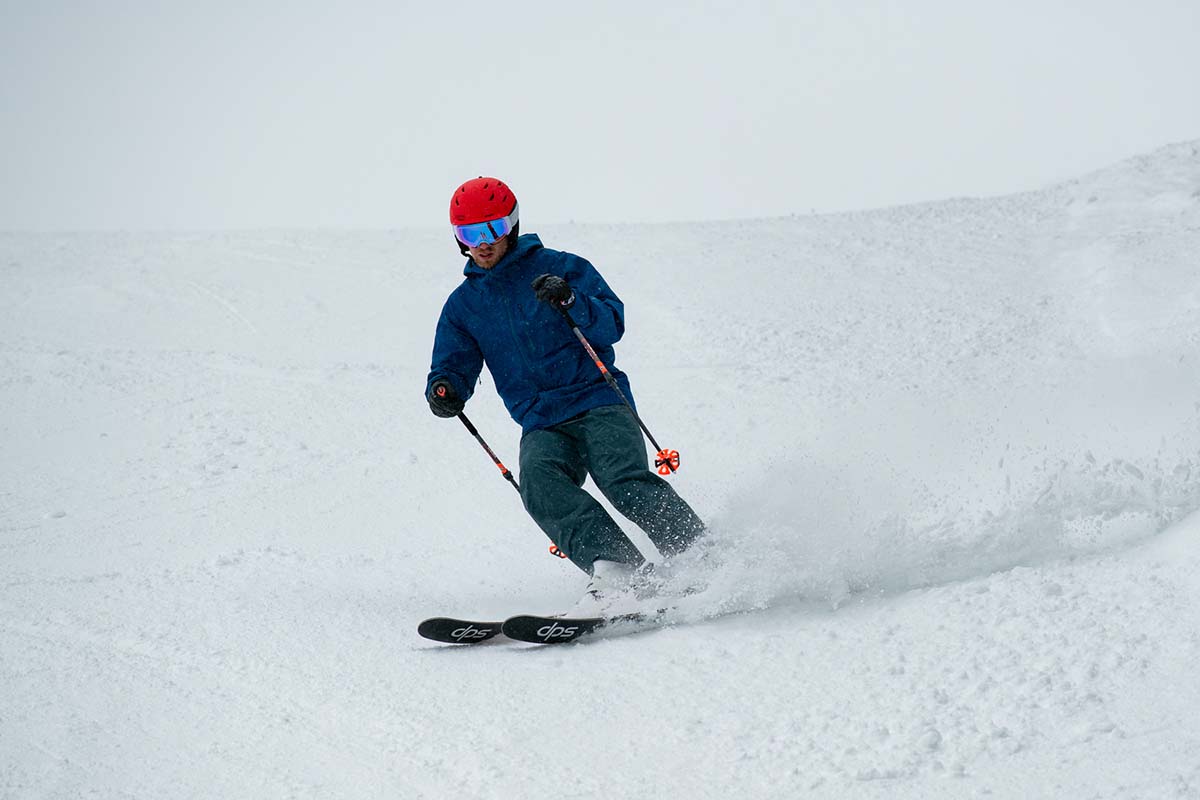 What the Pagoda Piste 90 is not, however, is a full-on hard charger. In short, that buttery-smooth and damp ride doesn't encourage you to hit top speed or rail through wide and long turns. Its short turn radius (just 15m) and less pronounced camber underfoot give it a distinctly different personality than directional and metal-heavy alternatives like Volkl's Kendo 88, Blizzard's Brahma 88 or Bonafide 97, and even the C2 variation of the Pagoda Piste (which has a more traditional on-trail shape). It's also not as playful on groomers as we expected given DPS's reputation for lively rides, although there's still fun to be had popping between turns and tapping into its carbon-heavy construction.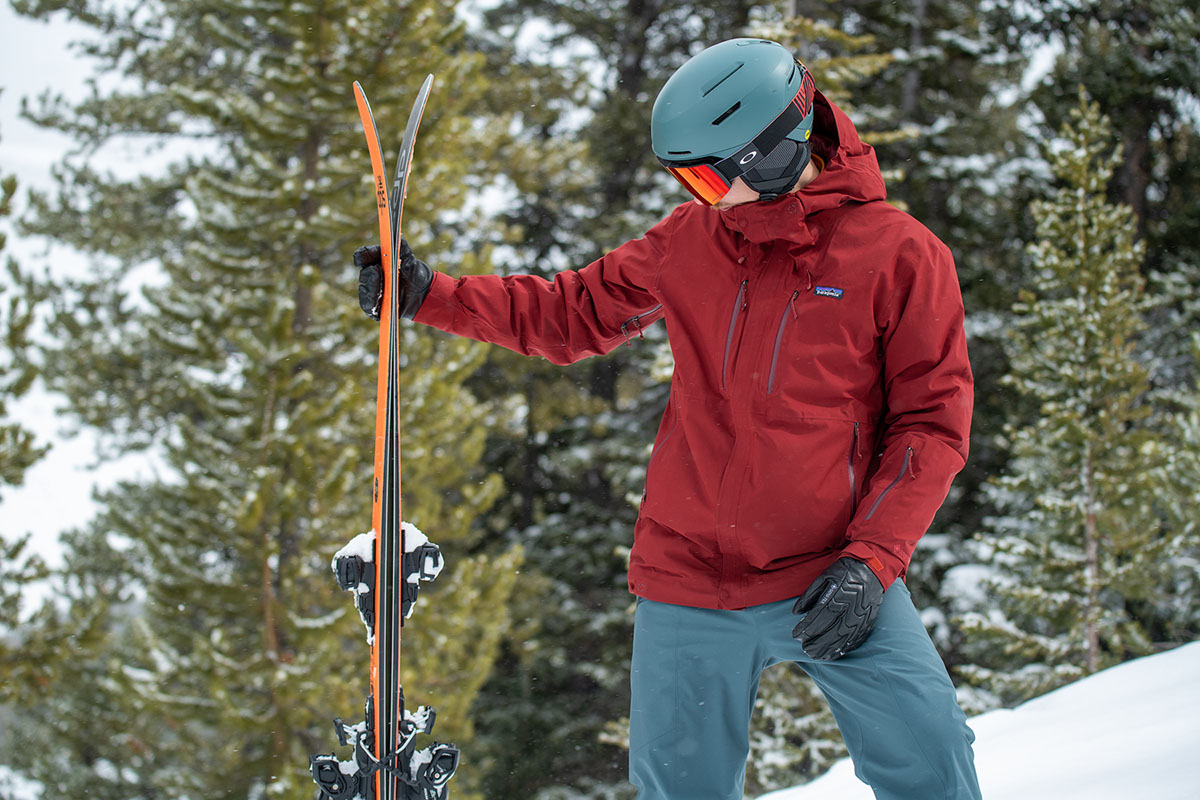 Soft Snow (Powder) Performance
Sharing the same RP shape as many of their powder and touring skis, it shouldn't come as a surprise that the Pagoda is well-suited for soft snow. Despite its modest dimensions (119-90-106mm for the 179cm length), the ski's lightweight construction and early-rise rocker help it stay afloat far better than expected. While our testing abruptly ended due to the pandemic-shortened season and we didn't have a chance to get it out on a true powder day, the ski showed impressive versatility when dipping off trail (especially when compared with other skis we were testing, including Blizzard's Brahma 88). It's easy to turn, has a surfy personality, and doesn't require you to drive it as hard as the more serious, directional skis we had with us.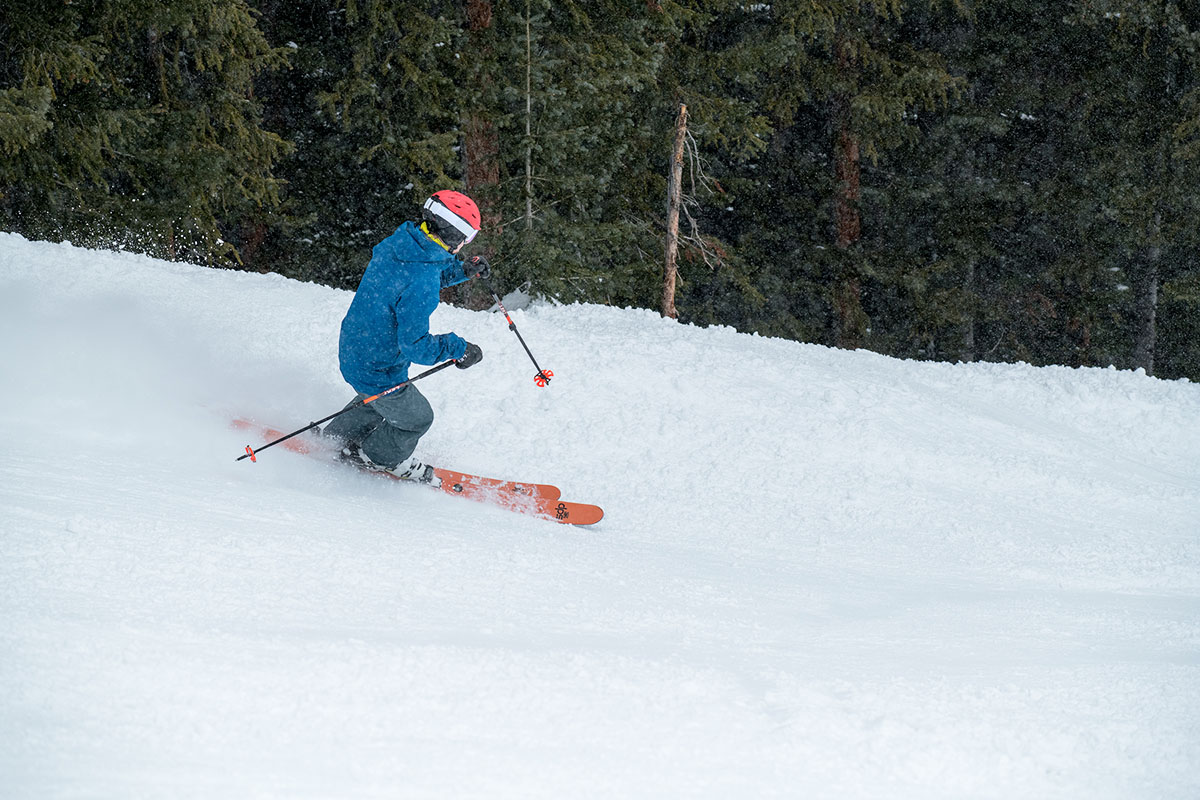 All that said, the ski is still only 90 millimeters underfoot, so it's not a good match for areas that see consistently deep snowpack. This puts it in a challenging in-between space: the ski is smooth but doesn't offer top-end performance on groomers, yet you can't tap into the full powder potential due to the more limited dimensions. Regions known for soft and light snow but not heavy accumulation could be the ideal pairing (like certain areas of Colorado), although that's a fairly narrow target market.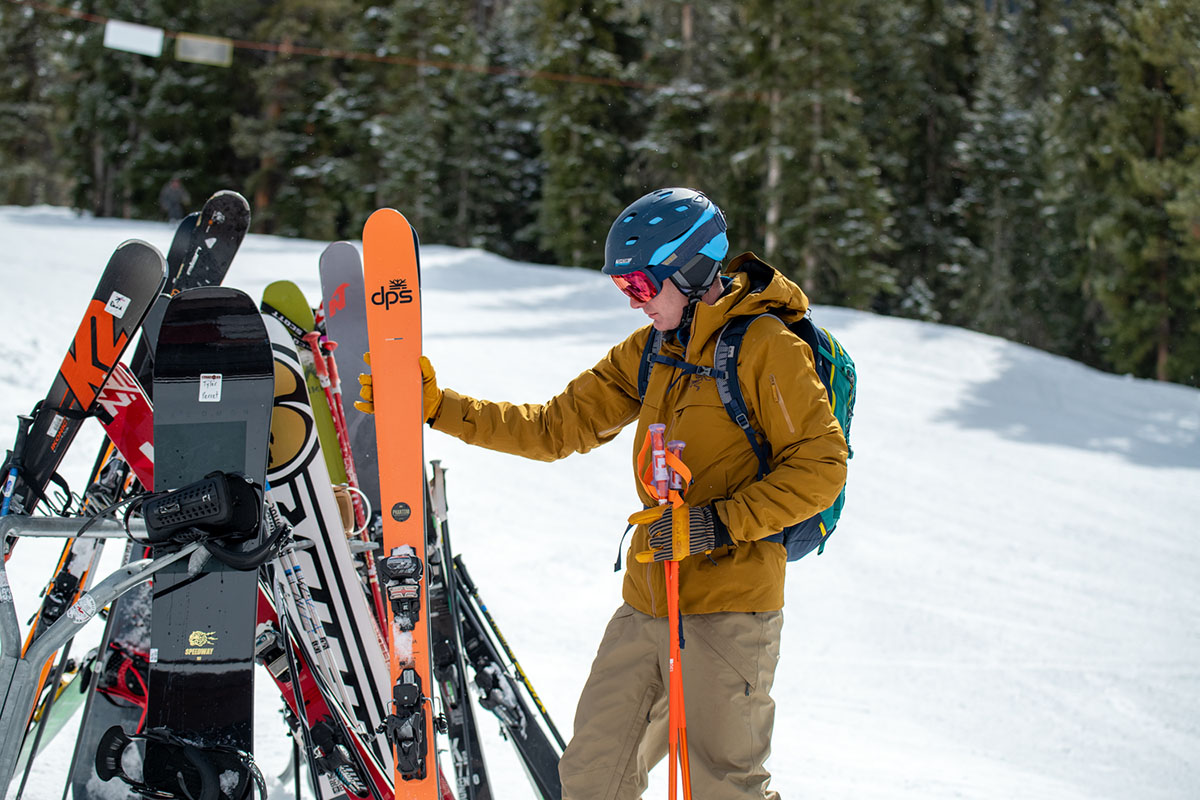 Performance in the Bumps
Another place where the Pagoda's unique build excels is in tight spaces. The combination of a snappy 15-meter turn radius, light but powerful carbon fiber, and plenty of tip and tail rocker means the ski is perfectly happy in the bumps, dodging trees, and navigating between chop (or plowing right through it given the damp ride). All in all, there's enough strength to keep most advanced riders happy, but it still offers more forgiveness and shock absorption than you get from harsher and sturdier skis like the Blizzard Brahma 88 or Volkl Kendo 88. All told, from our limited time on the Pagoda Piste, it's appears to be a standout among the all-mountain competition in this area.

Build Quality and Durability
You pay a serious premium for the high-end materials and extensive R&D from DPS Skis—the Pagoda Piste 90 costs a double-take-worthy $1,299—but it's hard to knock the final product. In the case of the Pagoda, every piece has a quality look and feel: the sidewalls are sturdy and should have an excellent lifespan, the textured top sheet is both beautiful and durable, and DPS packed in two sheets of pricey carbon fiber (most competitors use less expensive Titanal and fiberglass). And it's worth noting that you can apply DPS' waxless base (our model for testing came with it already applied), which is just as it sounds: unlike a standard wax that sits on top of your skis, the polymer (called "Phantom") is absorbed into the base and never wears off. Given our short time on the skis, we can't confirm the longevity, but it's undeniably a functional and convenient piece of tech that can save you in the long run.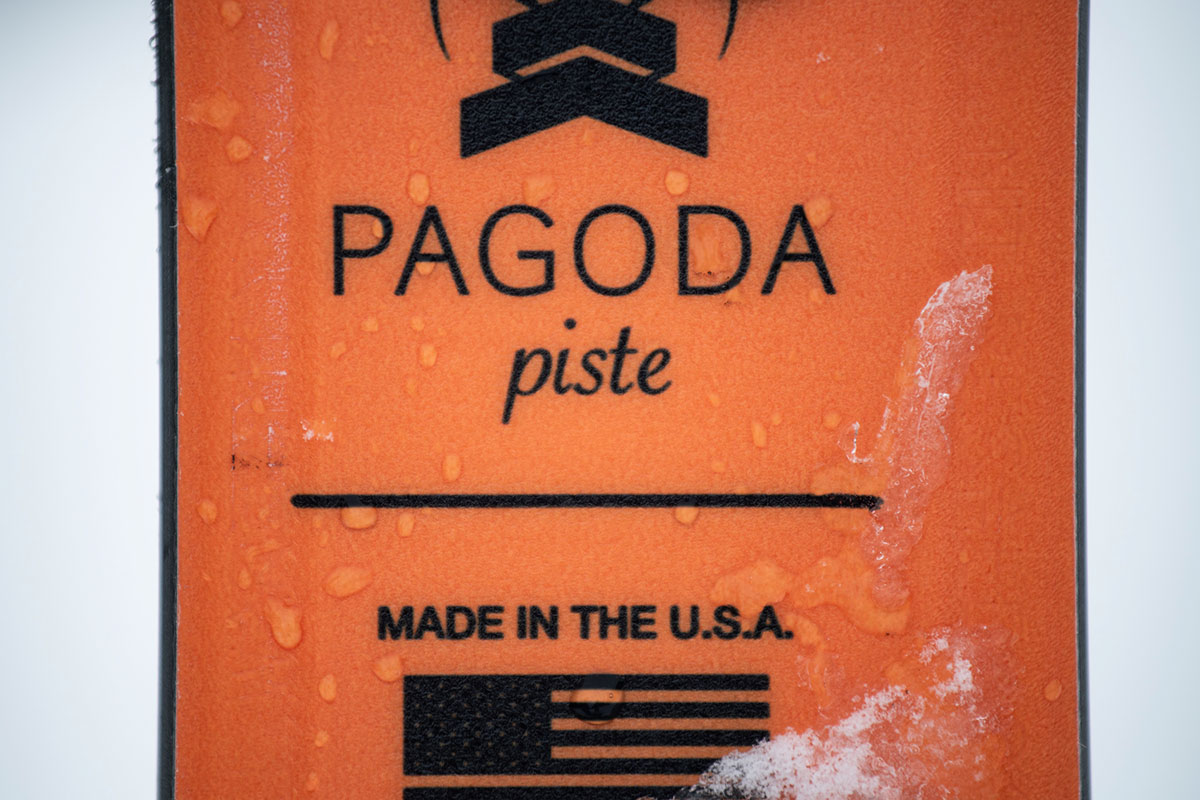 Fit and Sizing
At 5'9" and 155 pounds, I skied the 179-centimeter length of the DPS Pagoda Piste 90 RP and found that it hit a nice balance of control and speed. Overall, the Pagoda skis pretty true to its length, but the extended rocker means that a fair amount of the ski is off the ground on trail. That said, I didn't feel the need to size up. It's worth noting that the maximum length in the 90 RP is 184 centimeters, so taller and more powerful riders might be out of luck. On the other hand, sizes go as short as 152 centimeters, so lighter skiers have a good array of options.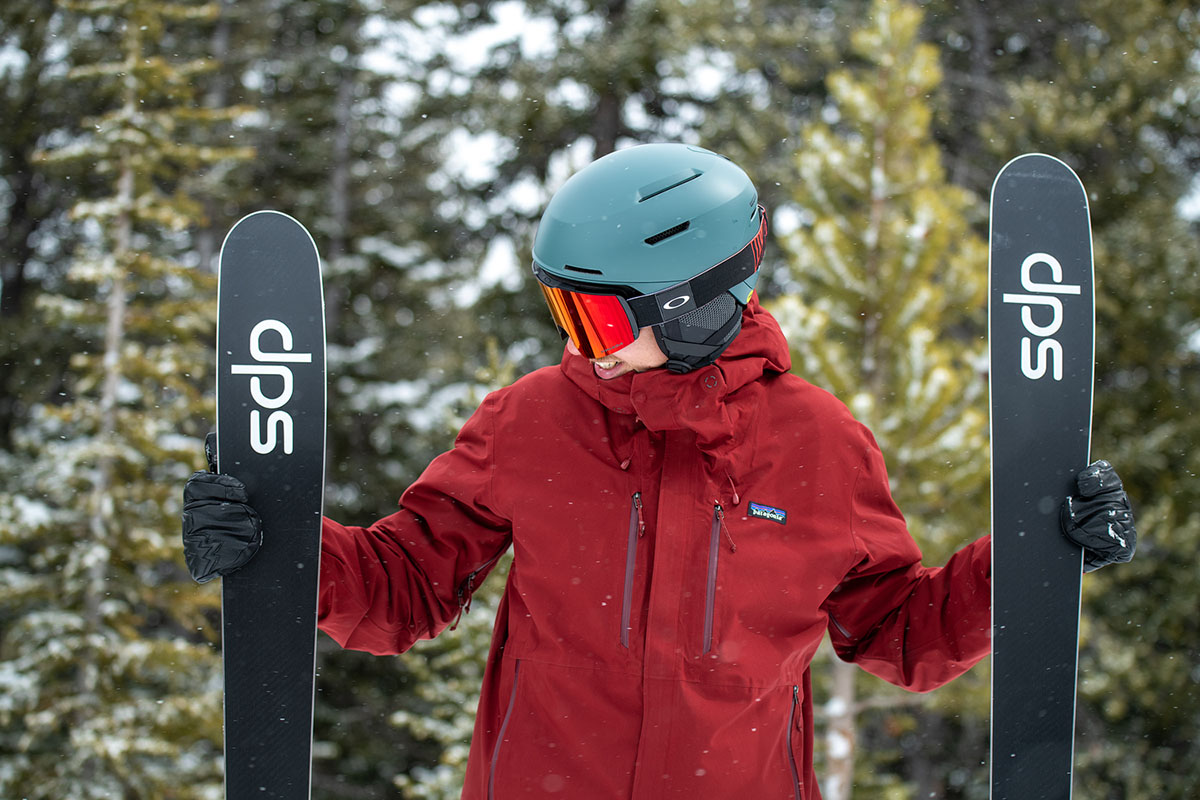 Other Versions of the DPS Pagoda
We gave DPS's new Pagoda Piste 90 RP a test for this review, and the Pagoda Piste lineup also includes 94- and 100-millimeter "C2" variations. These skis swap the "resort powder" shape for the brand's C2 platform, which is a more traditional on-piste shape that makes them more planted on hardpack at speed. Otherwise, aside from the obvious differences in width, the Pagoda Piste 94 and 100 feature similar overall constructions including the mix of ash and aspen wood for the core and two layers of carbon fiber (they also share the same steep $1,299 MSRP). Rounding out the Pagoda lineup, DPS offers the Pagoda Tour collection—which includes the 100 RP, 106 C2, and 112 RP models—for big-mountain and touring objectives.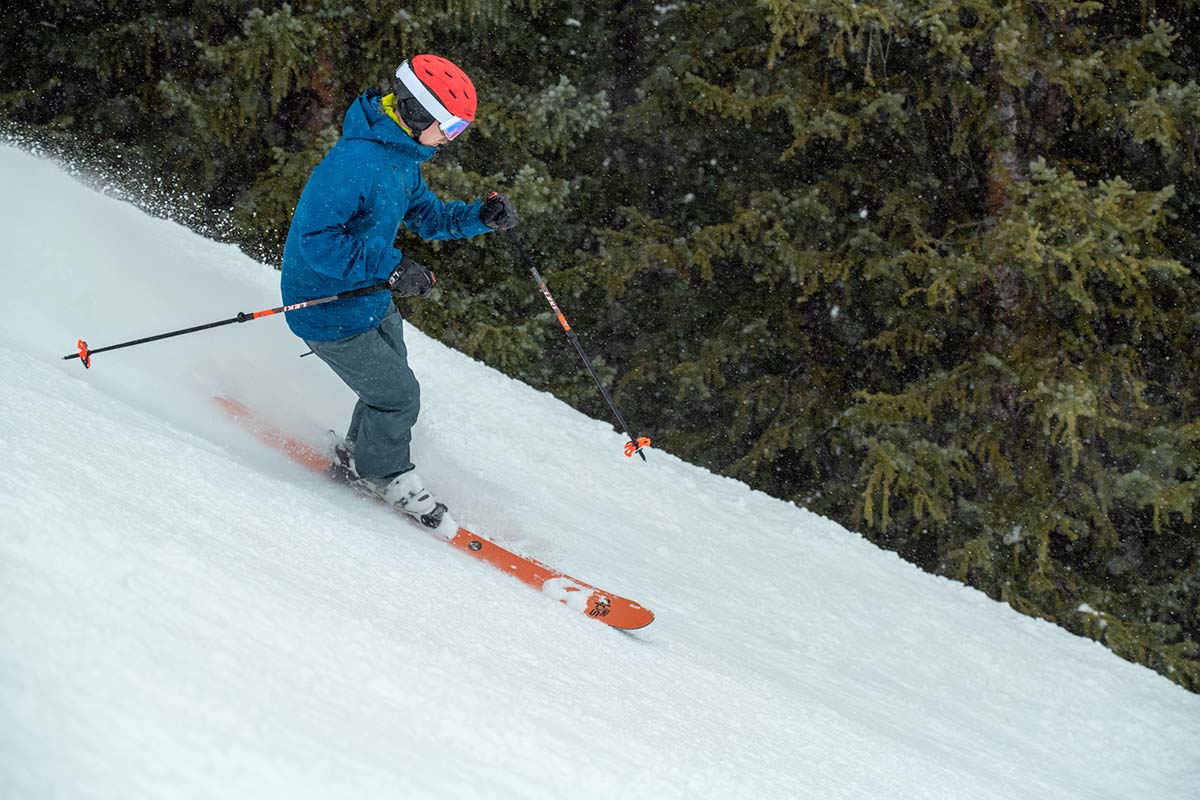 What We Like
Impressively smooth and controllable: the Pagoda Piste is easy to get on edge, grips well through turns, and handles most conditions with ease.
Despite its modest dimensions, the ski's RP ("resort powder") shape and early-rise rocker give it great float in powder (although we'd want more surface area for places with consistently deep days).
Performs well in tight spaces thanks to the short turn radius and light build.
Top-notch construction quality and premium materials. As with all of their offerings, DPS really put a lot of thought into this design.

What We Don't
Incredibly pricey at $1,299. Most all-mountain offerings come in at around half the cost (although the Pagoda Piste's construction is undeniably premium).
Smooth and damp ride doesn't encourage hitting top speed or railing through turns. For a faster alternative, we turn to directional, metal-heavy designs like Blizzard's Brahma 88.
Not as playful as we expected given DPS's reputation for fun rides.


Comparison Table
| Ski | Price | Ability Level | Dimensions | Radius | Construction |
| --- | --- | --- | --- | --- | --- |
| DPS Pagoda Piste 90 RP | $1,299 | Intermediate to advanced | 119-90-106mm | 15m | Wood, carbon |
| Volkl Kendo 88 | $650 | Advanced to expert | 129-88-111mm | 17m | Wood, Titanal, carbon |
| Nordica Enforcer 94 | $700 | Intermediate to expert | 127-94-115.5mm | 17.1m | Wood, Titanal, carbon |
| Blizzard Rustler 9 | $600 | Intermediate to advanced | 127.5-94-117mm | 17m | Wood, Titanal, carbon |
| Kastle FX96 HP | $1,099 | Advanced to expert | 133-96-119mm | 18.1m | Wood, carbon, fiberglass |

The Competition
At $1,299, the DPS Pagoda Piste 90 RP is somewhat in a class of its own among all-mountain offerings, but there are plenty of competitors at a comparable width and with similar intentions. One of our favorites in this category is Volkl's Kendo 88. Stacked up to the Pagoda, the Kendo is heavier and much more groomer-focused. And with Titanal in the construction but carbon in the tip, it's faster and more stable all-out. Off trail, it's a decent performer in the bumps, but it can't match the flickable and far more rockered Pagoda in soft snow and when pivoting in tight spaces. All told, the Pagoda is certainly more versatile, but in our opinion isn't worth twice the cost.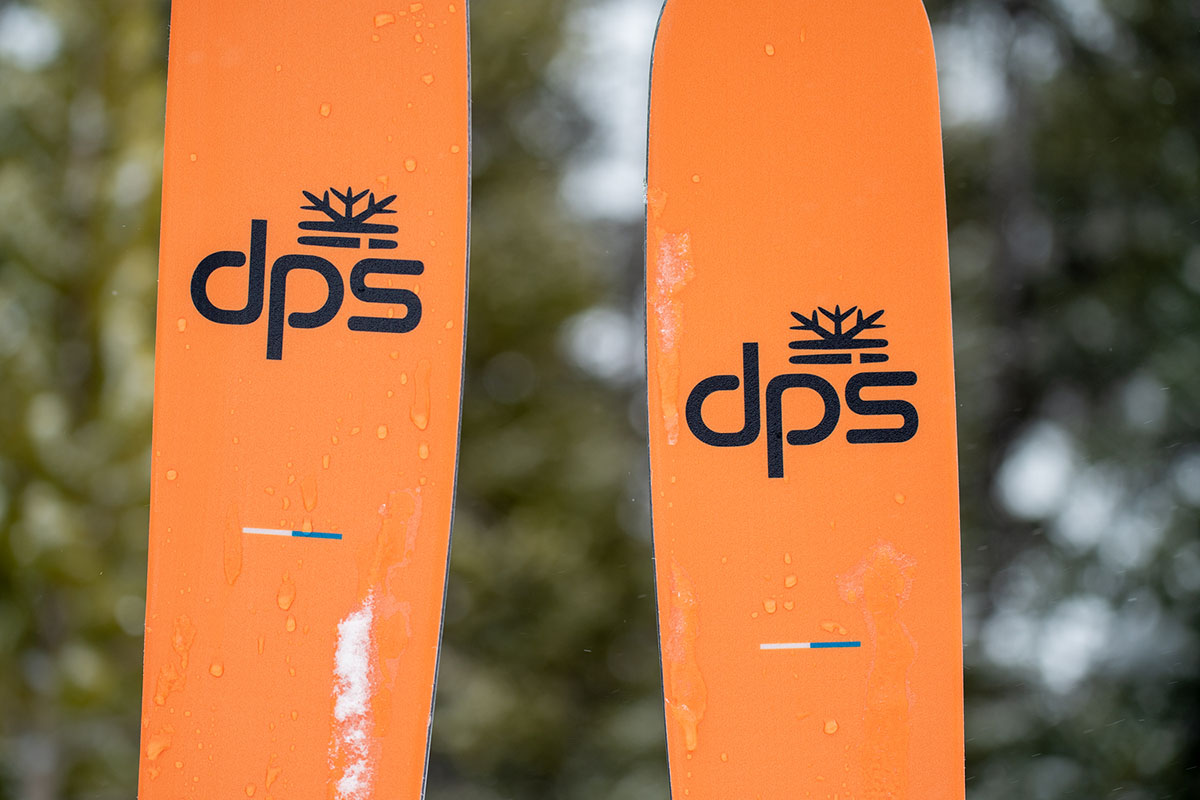 Stepping up in width is Nordica's popular Enforcer 94, which we also brought along to Crested Butte for testing (read our in-depth review here). In short, the Pagoda Piste has more tip rocker and is easier to navigate in tight spaces, but the Enforcer isn't far behind thanks to its nimble shape, added surface area, and all-around balanced design. In the end, the Enforcer is certainly heavier, but it's also playful for its directional and metal-heavy build and was more fun for us popping between turns on groomers. And again, the real clincher for us is price: at $700, the Nordica is by far the better value and should make most all-mountain riders very happy.
Among sub-95-millimeter skis that excel off-piste, Blizzard's Rustler 9 is another one of our favorites. While only measuring 94 millimeters at the waist (and 127.5/117mm at the tip and tail respectively), the ski is light, has plenty of rocker to dance well in soft snow, and hits a nice balance of flex and power for off-trail use. It can't match the DPS on hardpack—it doesn't drive in the same way and isn't as damp—but it's similarly capable in the bumps. In the end, a final decision will likely come down to how you prioritize power and speed (the DPS wins out here) versus value and all-around versatility (the Rustler gets the edge).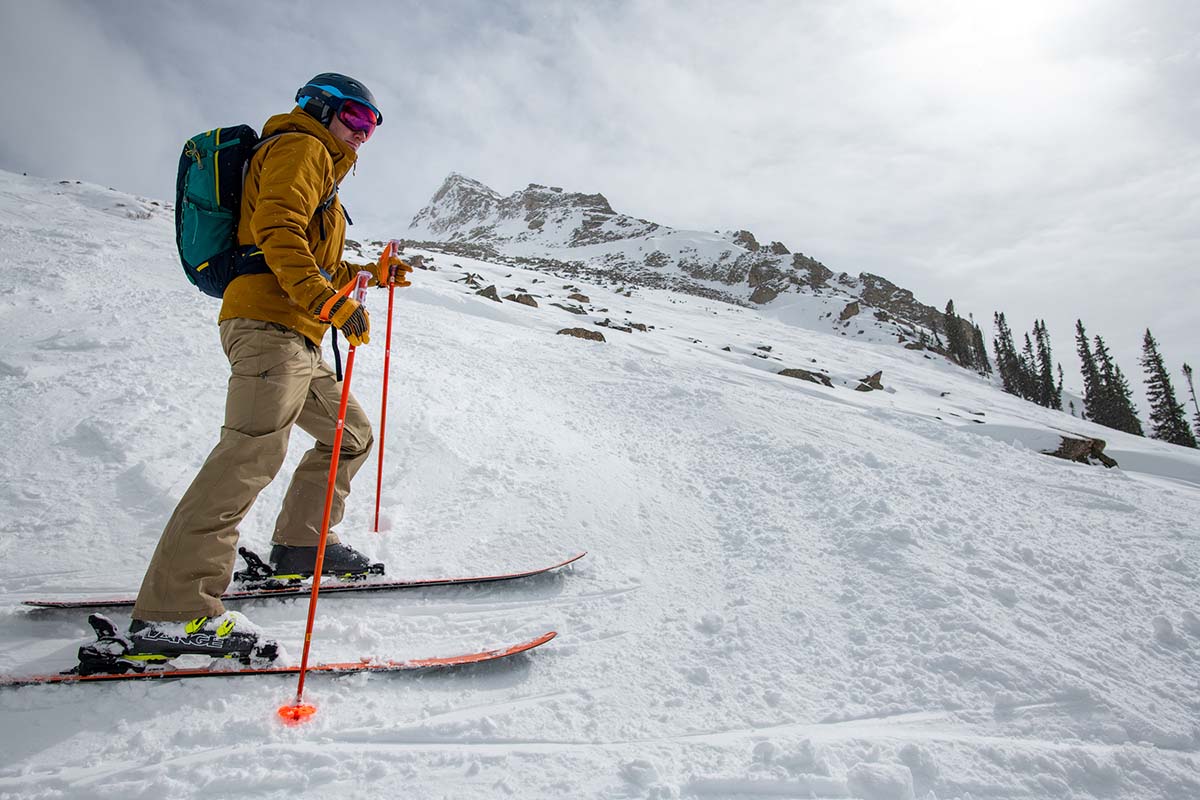 One brand that goes toe-to-toe with DPS in attention to detail and cost is Kastle. While they don't offer a direct competitor—their MX series is more on-piste-focused, and there isn't an exact match in their all-mountain/freeride FX collection either—the FX96 HP ($1,099) model has similar do-everything ambitions as the Pagoda. Like DPS, there's no metal in the construction, but the use of carbon and fiberglass, plus a hollowed-out tip, gives it a quality mix of strength and agility. Both can excel just about anywhere on the mountain, but where they differ is feel: the DPS is damp and forgiving, while the FX96 is stiffer and better suited to the expert hard charger.
Read More From Switchback Travel