The North Face recently made the jump into the ultralight shell category with the Venture Fastpack, a trimmed down version of their popular Venture rain jacket. It's a thin piece that isn't designed for sustained storms, but the Fastpack's waterproof design and sub-7 ounce weight makes it excellent for most day hiking, backpacking and daily wear. And at $129 MSRP, it's a great value and serious competition to the venerable Outdoor Research Helium II. Below we break down the Venture Fastpack's ultralight build, weather protection, breathability, durability, fit, and more. To see how the North Face Venture Fastpack stacks up, check out our comparison table and article on the best rain jackets.
 
Performance
Ultralight but Fully Waterproof Build
Straightaway, it's clear that the Venture Fastpack is an ultralight piece. Using a 2.5-layer waterproof construction, but with very thin 15-denier fabrics, the Fastpack felt lighter than its listed weight of 8.36 ounces. Sure enough, on our scale our men's medium came in at a very impressive 6.8 ounces. That puts it in serious company with jackets that cost $30 to $70 more, like the Outdoor Research Helium II (6.4 ounces for a large) and Alpine Houdini (7.1 ounces for a large).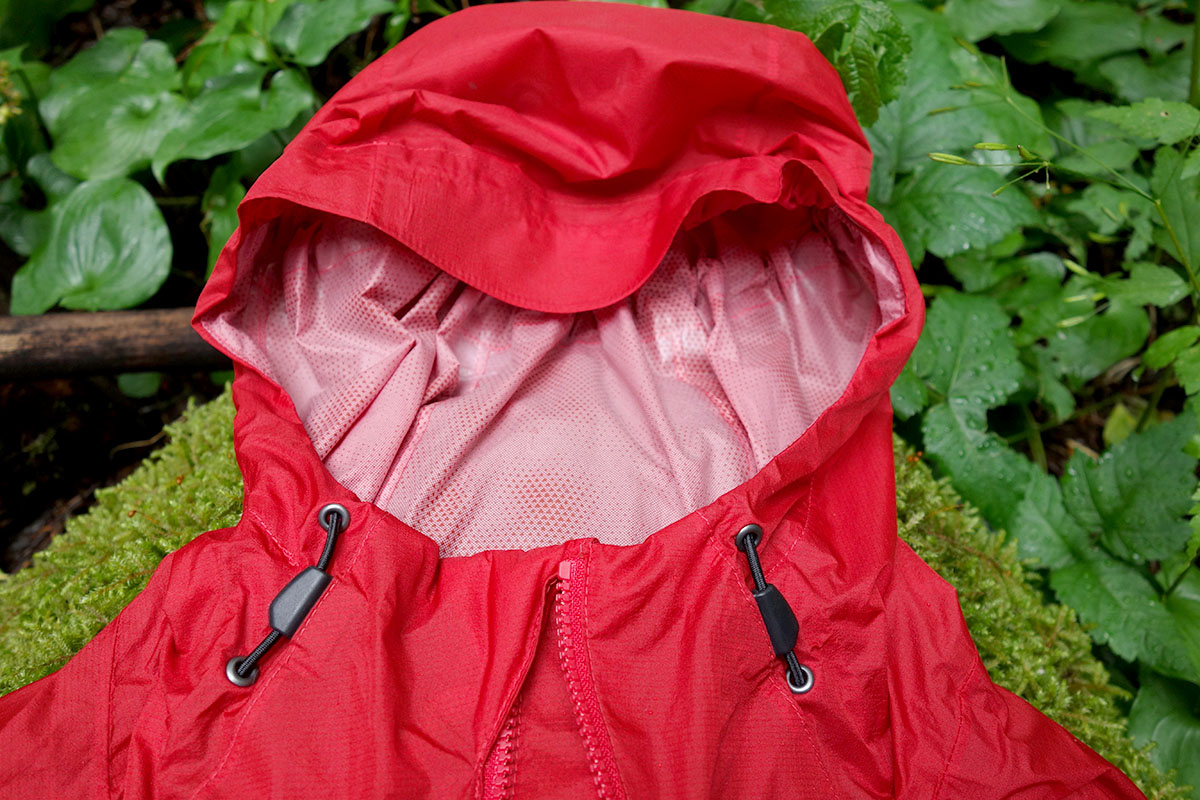 Despite the very low weight, the Fastpack has a fully waterproof construction with seam taping throughout the interior, a water-resistant center zipper, and protective flaps over the zippered hand pockets. The inclusion of hand pockets at less than 7 ounces puts the Fastpack in rarified air (most ultralight jackets only have a single chest pocket or none at all). The pockets themselves are pretty basic—you get flaps covering the zippers as opposed to water-resistant zippers found on high-end jackets—but they get the job done.
 
Weather Resistance
First, it's important to set reasonable expectations for judging wind and water resistance for a jacket that weighs so little. This is not a hardshell to take out in extended, heavy downpours. In use, we found that the Venture Fastpack falls in line with what we consider emergency shells, including the aforementioned OR Helium II and Alpine Houdini. The thin fabrics, despite a 2.5-layer design and DWR coating, simply won't hold up to sustained rainfall and will eventually press down against your skin—particularly along the forearms and shoulders. Even if the water doesn't penetrate, the jacket will feel wet.
For most people, this rarely will be an issue. Even when used as a daily piece in our rainy home state of Washington, the Fastpack offered sufficient protection the majority of the time. The hood has excellent coverage and enough of a bill to keep most of the rain out of your face, even when it's windy. We recommend taking the Fastpack on fast and light 3-season excursions when the weather looks decent, but take a heavier rain jacket or hardshell when the conditions are tough.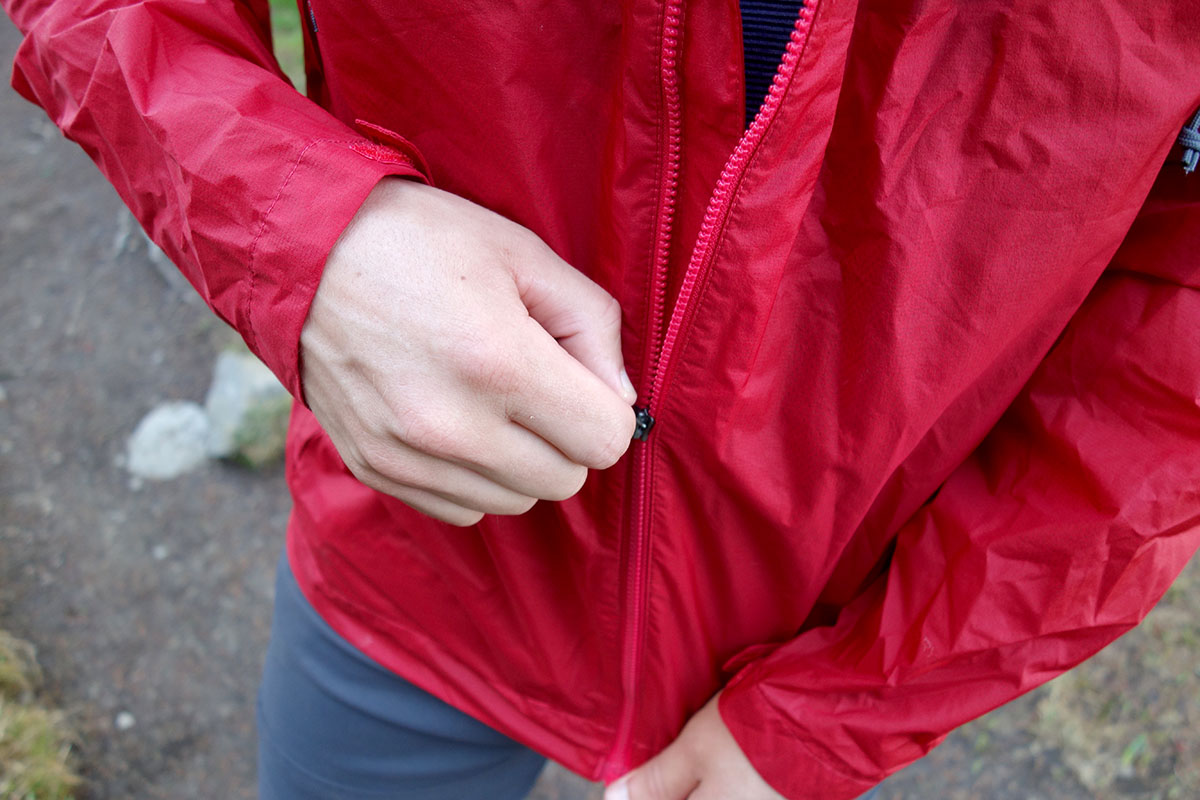 Breathability
Without pit zips and with a standard 2.5-layer construction, breathability is not one of the Fastpack's fortes, particularly in warm and humid weather. The truth is that you have spend closer to $200 for a lightweight jacket like the Marmot Essence to experience next level ventilation with built-in arms vents. Against the emergency shell competition, however, the Fastpack stacks up well.
We were quite comfortable hiking with the jacket in cool temperatures. It's when temperatures rise that you may wish for pit zips or some sort of way to dump heat. We did find that unzipping the hand pockets helps cool us down a little. The pockets are made completely of mesh—making it easy for air to pass through—although it's not as efficient or effective as a pit zip.
 
Secure and Adjustable Hood
The Fastpack's hood can be easily adjusted with a single cinch cord at the rear, which pulls the fabric in around the back of the head. For fine-tuning the fit around the sides of the hood, there are simple adjusters where the hood meets the front collar. There's nothing revolutionary about the design, but we found it to be user friendly, accommodated a variety of head sizes, and the fabric didn't bunch up excessively. Climbers should note that the hood is too small to be helmet compatible—although the bill is not obtrusive when slipping the hood under a helmet.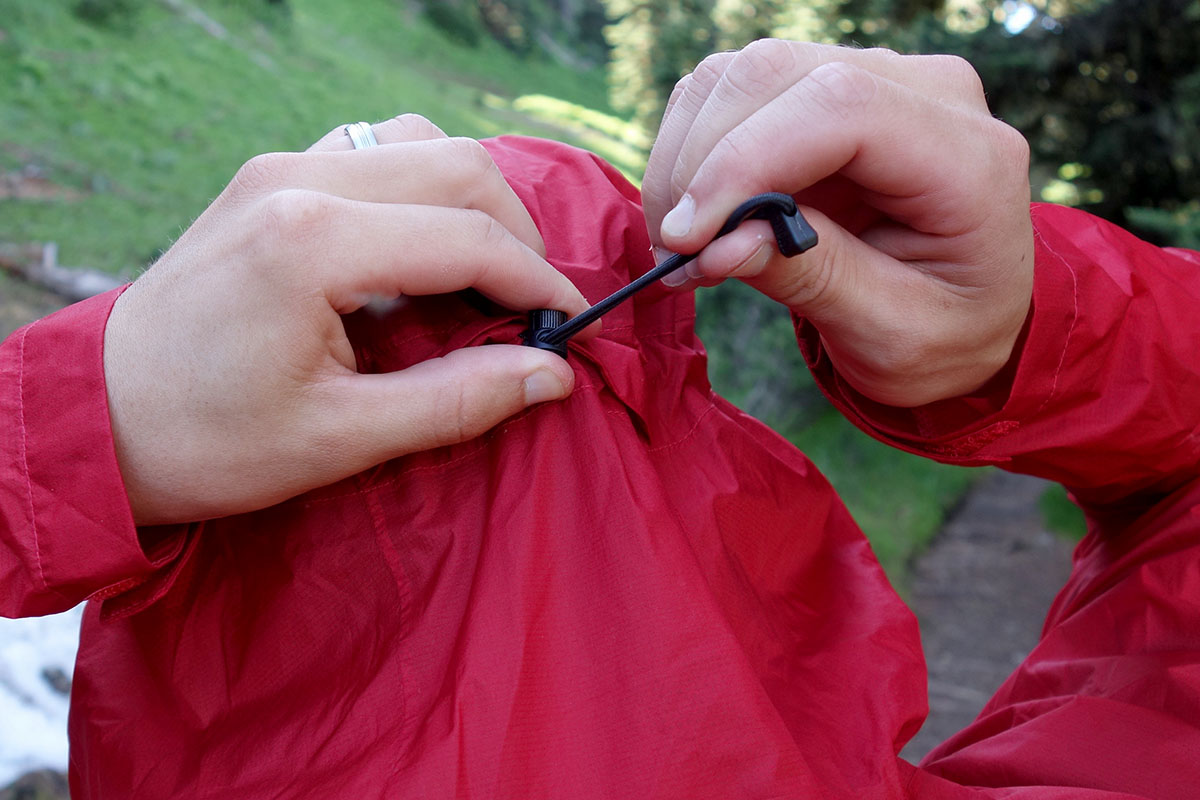 Weight and Packability
We classify anything that dips under 8 ounces as a serious ultralight rain jacket, and the Venture Fastpack certainly qualifies at 6.8 ounces for a men's medium. For comparison, the OR Helium II is listed at 6.4 ounces for a large, the Marmot Essence is 6.3 oz., and the Patagonia Alpine Houdini is 7.1 oz. Considering its $129 price tag, that's serious bang for your buck—the Essence and Houdini retail for $200, while the Helium II is $159.
The Fastpack doesn't have a stuff pocket, but we were able to roll the jacket into its hood and cinch it down to a very small size. Squeezed into your pack, it'll take up even less space. Without getting too hyperbolic, the Venture Fastpack was a total surprise in weight and packability. Just those two characteristics, given its price, make it one of the top hiking rain jackets on the market.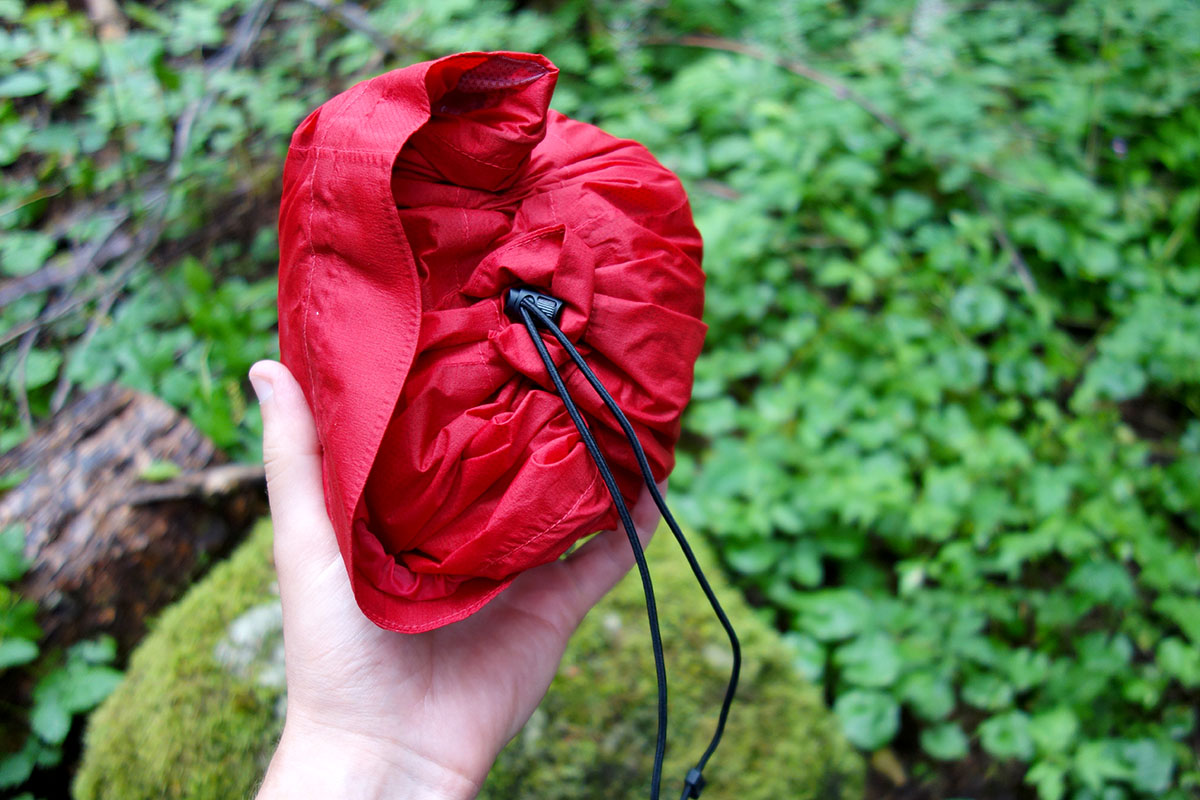 Durability
Thin fabrics and durability usually don't hand in hand, and on a number of occasions we caught ourselves taking extra care when sliding through brush or around rocks. The 15-denier fabric unquestionably is on the thin side (Patagonia's Alpine Houdini uses 20-denier and Outdoor Research uses a slightly thicker 30-denier on the Helium II). While we haven't put a hole in the jacket, the nature of lightweight fabrics is that they won't hold up as well to hard use. Take a little extra care, however, and we expect the Fastpack should last a number of seasons.
 
Fit, Sizing, and Comfort
Slipping on the Venture back to back with a number of rain jackets from Marmot, Patagonia, and OR, it's clear the sizing is a little on the big side. If you're used to The North Face jackets, this shouldn't be a surprise (when we tested their standard Venture rain jacket, it also ran large). Sizing notwithstanding, the fit also is slightly baggy, despite being listed as an "active fit". You can snug in the jacket around the waist with the hem adjustment, but we prefer a trimmer cut overall for use on the trail. The extra room does make it easy to add an insulating midlayer underneath.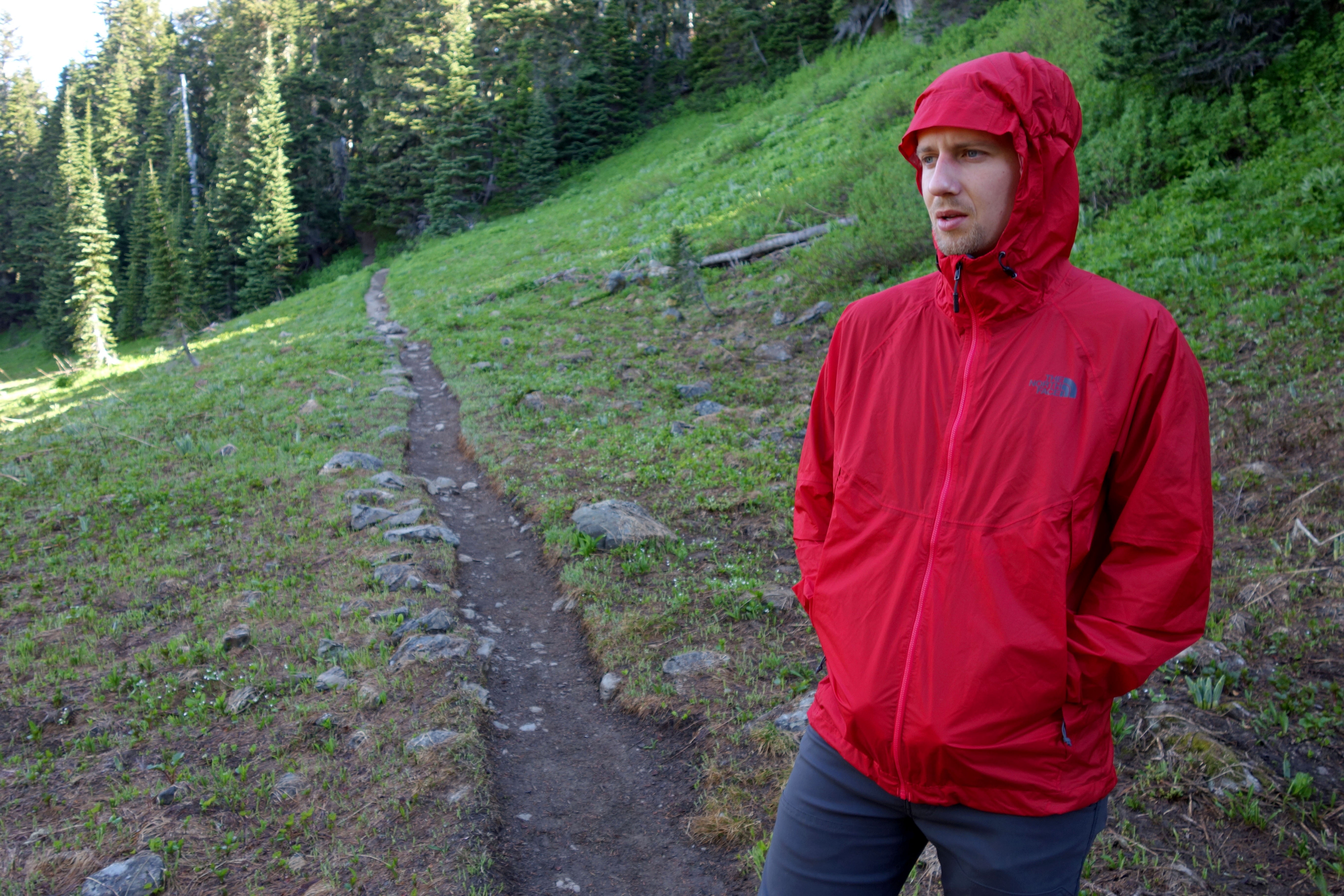 If you've ever worn a lightweight rain jacket, the interior will feel familiar. The thin half layer is a little plasticky, but comfort is only impacted when you're really sweating. Then, the lining is slippery and does feel a bit cheap. Again, this is standard fare in the ultralight category, but those wanting a premium, comfort-oriented shell will want to look elsewhere.
 
What We Like
6.8 ounces for a waterproof jacket with taped seams, for $129, is a great value.
Solid feature set despite the light weight. The hand pockets are a welcome addition and the hood fits well and is very adjustable.

What We Don't
The fit is roomier than we would prefer. Some may want to size down, although it's pretty consistent with other North Face rain jackets we've worn.
Doesn't breathe all that well, and sustained, heavy rain will eventually overwhelm the thin fabrics.
The main zipper and pocket zippers feel a little cheap. While performance hasn't suffered, they aren't quite as smooth in use as the competition.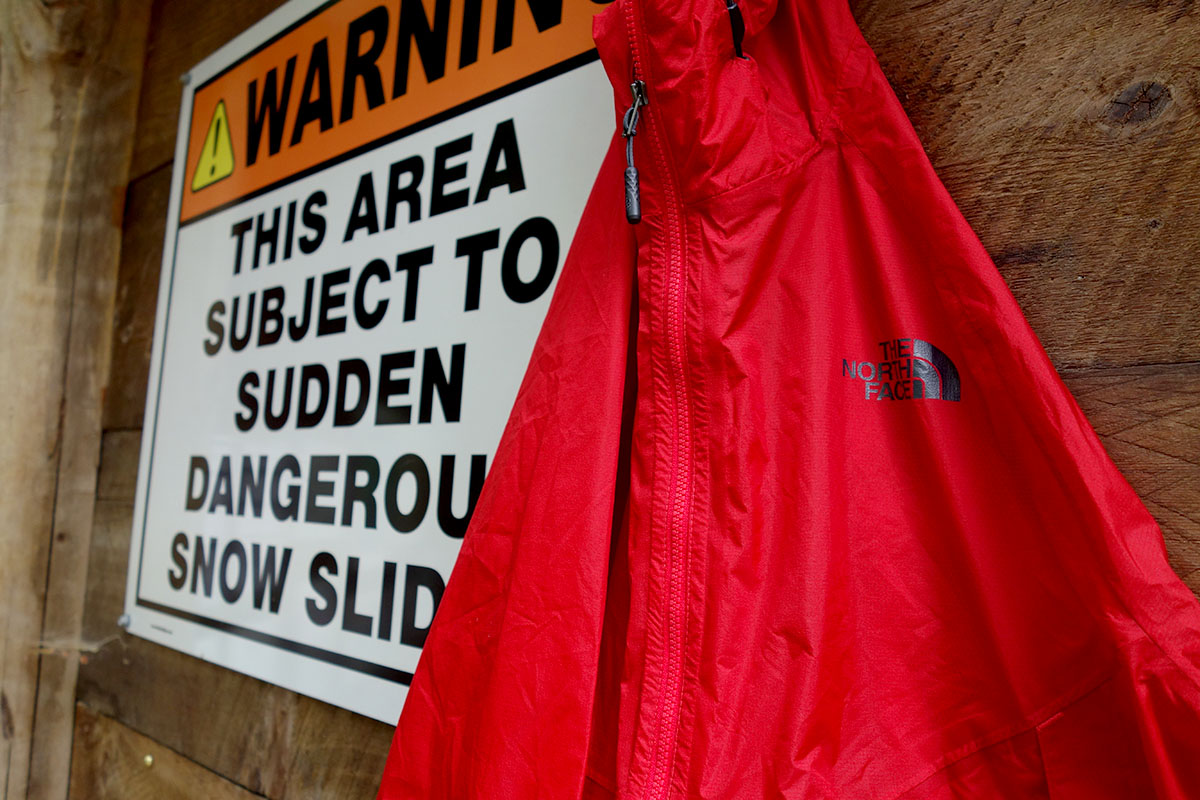 Comparison Table

The Competition
Outdoor Research's Helium II has long been the ultralight rain jacket mainstay at 6.6 oz. (on our scale for a men's large) and $159. It's a really close call between these two jackets—the Helium stuffs down smaller than the Fastpack and uses a more expensive and durable fabric (Pertex Shield), but lacks hand pockets and costs $30 more. If you plan on using your jacket a good amount for daily use, we give the nod to the Venture Fastpack—it's cheaper and the hand pockets matter (we often find ourselves reaching for them when wearing the Helium to no avail). If fast and light backcountry pursuits are your priority, the Helium still is a slightly better bet.
It's a compliment to the Venture Fastpack that we look to the $200 price range for formidable competition. The Patagonia Alpine Houdini was a jacket we gave a serious test, and it gets the edge over the Fastpack for serious climbers, but for daily use and as a backpacking piece, we can't see spending the extra cash for the Patagonia. Overall, we found the Fastpack to be a great combination of packability, weight, features, and price. Established brands like The North Face rarely surprise us with a value item, but they have here.
If you're thinking about buying gear that we've reviewed on Switchback Travel, you can help support us in the process. Just click on any of the seller links above, and if you make a purchase, we receive a small percentage of the transaction. The cost of the product is the same to you but this helps us continue to test and write about outdoor gear. Thanks and we appreciate your support!
Depending on the seller, most products ship free in the United States on orders of $50 or more. International shipping availability and rates vary by seller. The pricing information on this page is updated hourly but we are not responsible for inaccuracies.
Learn More About Outdoor Gear