Oakley Mod5 MIPS
Price: $270
Construction: Hybrid in-mold
Weight: 1 lb. 8 oz. (size large)
What we like: Comfortable out of the box, low-profile look and feel, and built to last.
What we don't: Runs too warm for regular backcountry use; we miss the prior version's swappable brim.
See the Oakley Mod5 MIPS
Oakley is a relative newcomer to the ski helmet market, but their Mod collection has been a strong foray into the space. Sitting at the top of the lineup is the Mod5 MIPS, which boasts a clean, low-profile shape and plenty of premium touches. In testing the second-generation version last winter, we were particularly impressed with the excellent coverage, durable construction, comfortable padding, and highly customizable Boa fit system. We're disappointed that Oakley dropped the prior-gen's swappable brim design that we loved, and ventilation is still a weak point, but it's a well-built and great-looking option for resort riders. Below we break down our experiences with the Mod5 MIPS. To see how it stacks up to the competition, see our articles on the best ski helmets and best snowboard helmets.
 
---
Table of Contents
---

Performance
Comfort
Similar to my experiences with the original model, the latest Oakley Mod5 MIPS scores high marks for comfort. The interior isn't particularly plush, but it's decently padded with thicker cushioning around the brim and ear pads and has a surprisingly well-balanced and comfortable feel. Overall fit is excellent with no unwanted movement—the Boa dial is a big help—and I haven't experienced any pressure points to date. There's also a small (around 1-in.) patch of fleece-covered padding along the chin strap, which I wish were larger but has minimized chafing. And the strap's magnetic buckle is extremely easy to operate: Simply place the two ends near each other and let the magnets do the rest. In use, the system has held solidly in place even during crashes. Finally, the liner and ear pads are removable for cleaning or for those who like to wear a hat under their helmet. The cupped ear pads do make it difficult to wear headphones, but the boost in overall comfort is worth that tradeoff, in my opinion.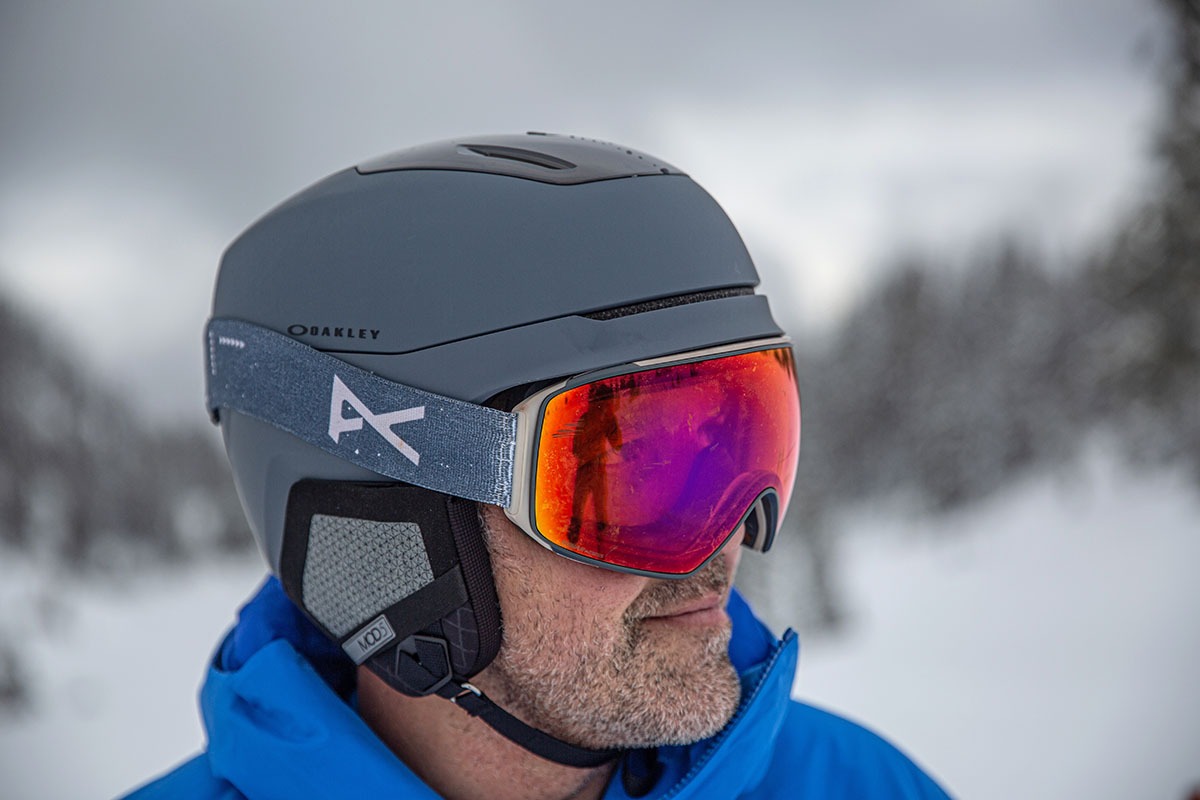 Ventilation and Fog Prevention
The latest Mod5 features 11 vents, which is three more than the prior version but still missed the mark for us in terms of overall breathability. The system is designed to draw air in through your goggles and release it through the top of the helmet, with a sliding tab on top that opens and closes four of the upper vents. In practice, however, I've been disappointed by the amount of airflow it allows. To be fair, I haven't had any issues with my goggles fogging up and have been able to stay comfortable on frigid days in the Mt. Baker backcountry. But once temperatures rose above freezing, I was quick to overheat, even with the vents open. You can remove the ear pads to create more room for air to flow in milder weather or while ascending, but dedicated backcountry riders will be better off with a more breathable design like the Smith Vantage MIPS or Salomon Mtn Lab.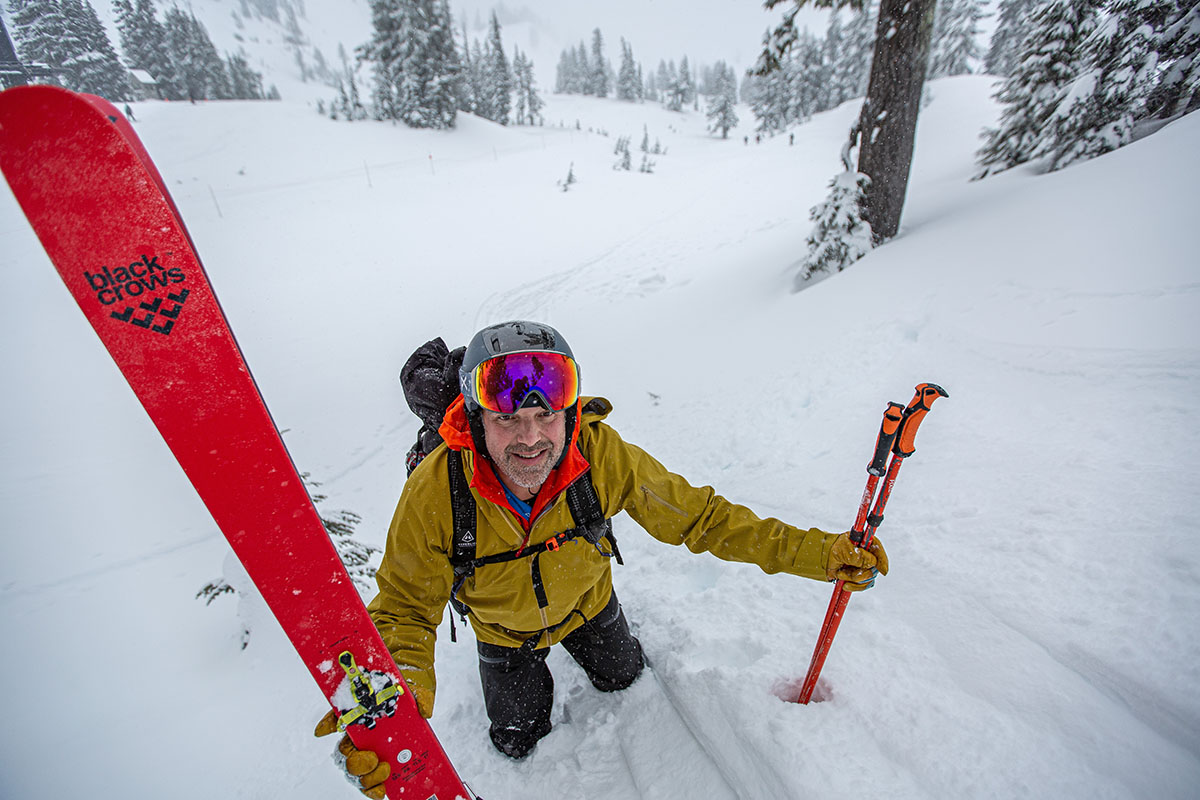 Warmth 
The upside to the Oakley Mod5's middling ventilation is that it keeps my head warm and well insulated from drafts and cold—even in high winds. During a particularly miserable day on Mt. Baker rife with rain and sideways sleet, the shut vents put up an impressive defense against the elements with no noticeable leaking or draftiness. The well-cushioned ear pads also help provide a modest boost in insulation, while the removable Polartec Power Grid liner extends below the back of the helmet (to hold the Boa dial in place) for a nice bump in coverage and warmth around the back of the neck. Added up, this only increases the Mod5's appeal as a quality resort lid.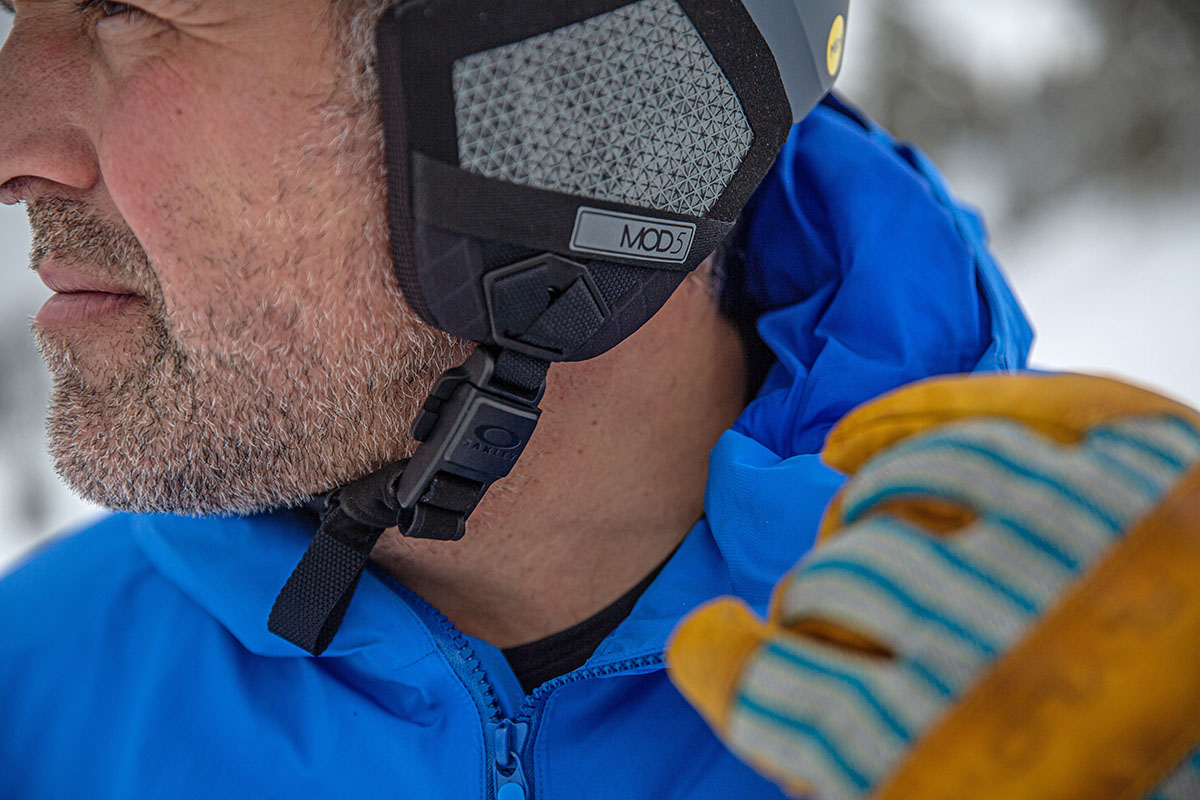 Key Features
MIPS Liner
The "MIPS" in the Mod5's name stands for Multi-directional Impact Protection System, which is a safety technology designed to reduce potential damage in angled impacts should you crash while riding. The design is fairly simple: The MIPS liner is a thin plastic layer that connects to the helmet with a few small tabs and moves independently from the outer shell. Overall, the tech is well integrated and provides a nice dose of added assurance, and I appreciate that the liner doesn't have any noticeable impact on comfort. We have found that some MIPS-equipped lids have a slightly smaller fit as a result of the additional layer, but I haven't noticed a difference comparing the latest Mod5 to the non-MIPS version I tested a few years back.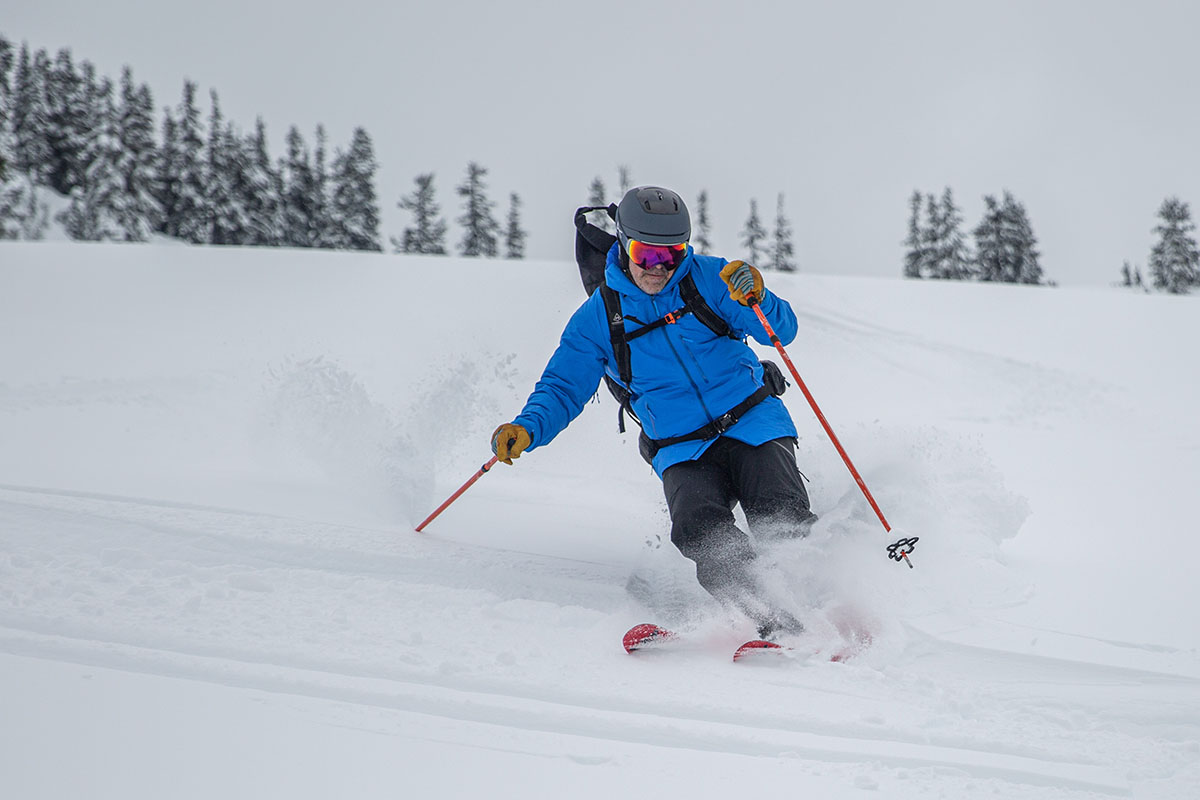 Boa Tensioning System
Like many other premium ski helmets, the Oakley Mod5 features a Boa adjustment system at the back for dialing in fit. It's super easy to operate even with gloves on and creates a very secure and even fit around the head. For additional customization, you can move the Boa system up or down by securing it to any of the points above the dial. It's also worth noting that Oakley's new Skull Matrix design merges the Boa system and MIPS liner (described above) into one system, which means that tensioning the Boa dial also tightens the liner for a snug and close-fitting feel throughout.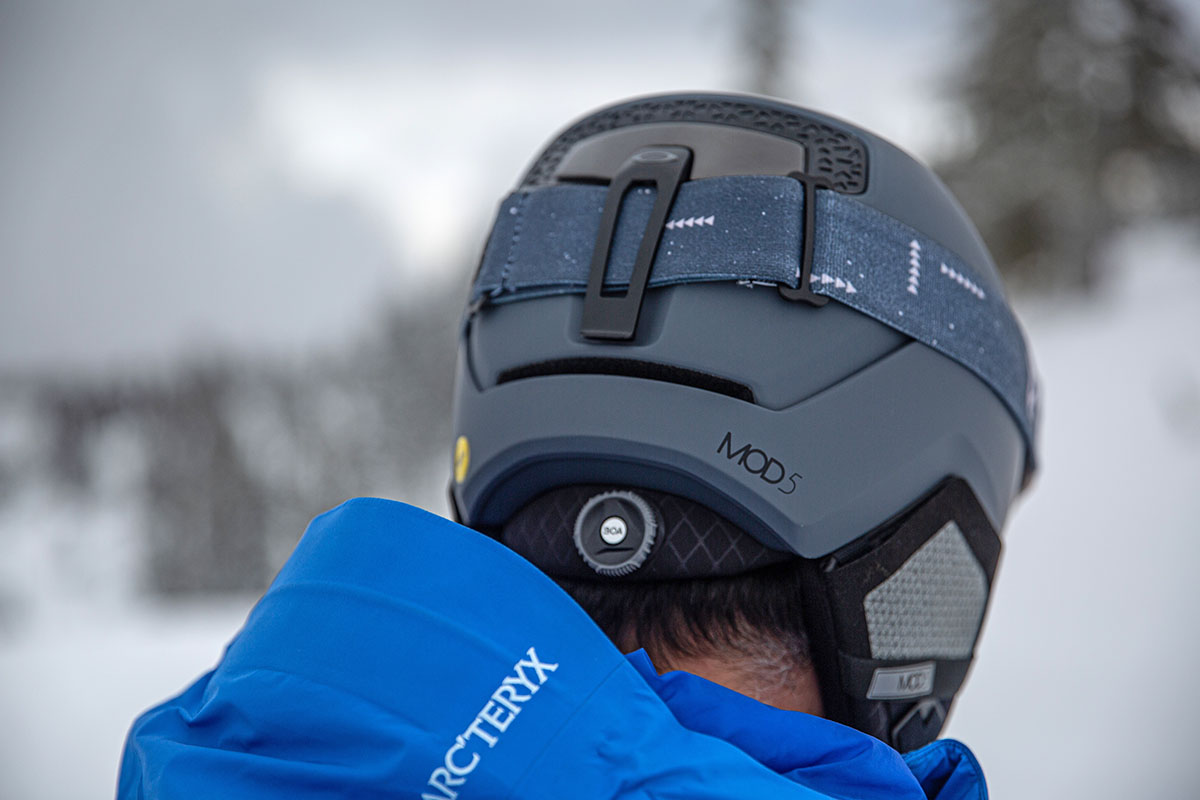 Build Quality and Durability
As we've come to expect from Oakley, the Mod5 MIPS is built to last. After a full season of testing, the helmet is holding up extremely well with only minor scuffs—there are no dents, cracks, or concerning signs of wear. Additionally, the Boa system continues to operate smoothly, and the Velcro used to secure the liner is intact and sticking well. Other highlights include an easy-to-use goggle retention clip—simply slide your goggles' strap under the plastic clip for a secure connection—and the aforementioned Polartec Power Grid liner that's comfortable and does a good job wicking moisture. Finally, while relatively subjective, I really like the Mod5's clean and streamlined appearance—it's relatively low-profile and has a noticeably high-end look and feel. Added up, it's a hardwearing and well-built lid that doesn't skimp on style.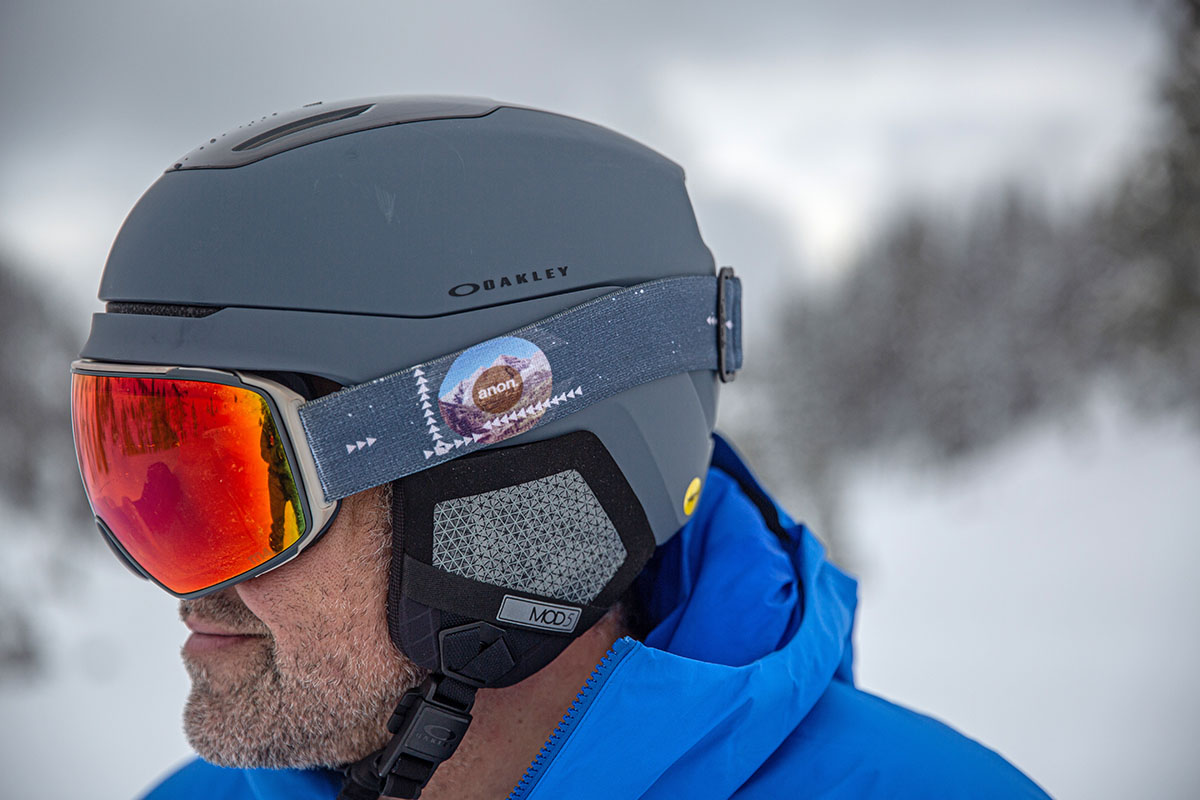 Weight
At 1 pound 8 ounces for my size large, the Oakley Mod5 is on the heavier end of the ski helmet market and best suited for lift-accessed terrain when weight isn't a huge factor. For reference, Smith's similarly built—but much better-ventilated—Vantage MIPS checks in at 1 pound 2 ounces, and dedicated backcountry riders and ski mountaineers can shave additional weight with a more specialized option like the Salomon Mtn Lab or Giro Grid Spherical (both 14.1 oz.). Again, the Mod5's heft hasn't been an issue for resort days—and I've really appreciated the helmet's excellent warmth and durability on the slopes—but those who like to earn their turns will almost certainly want something lighter.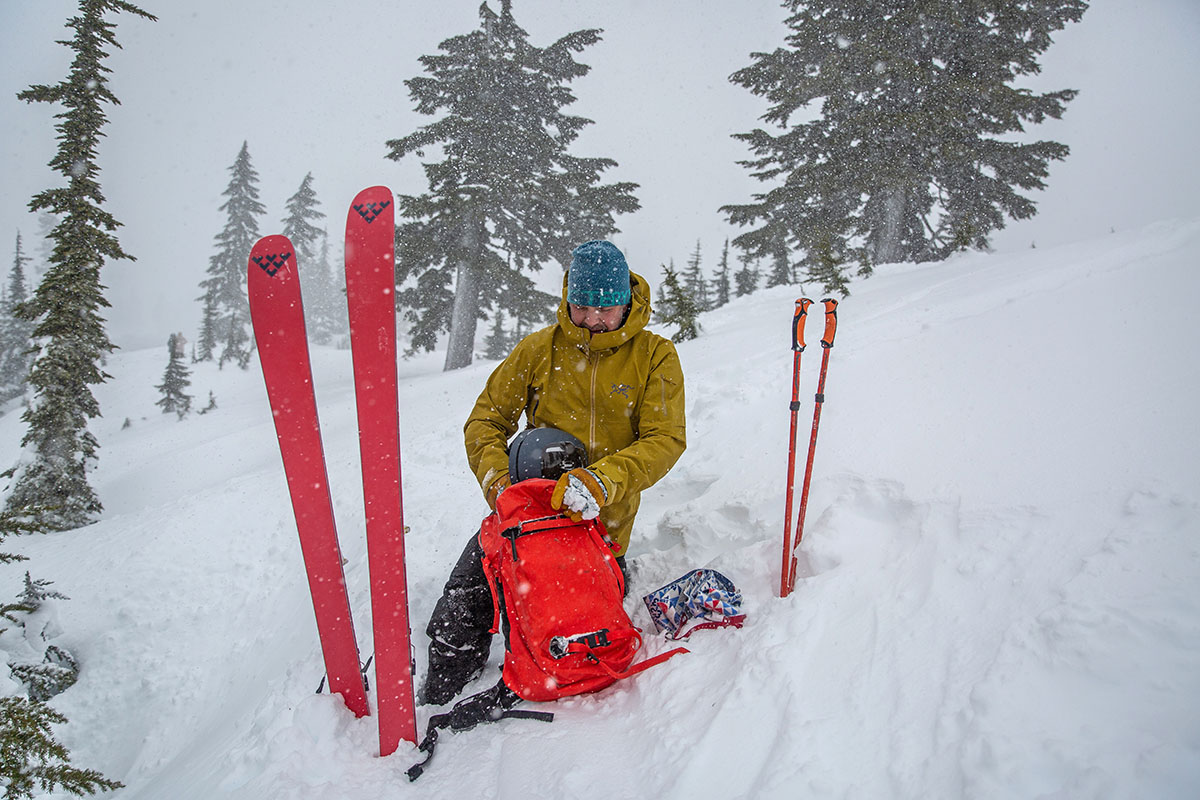 Fit and Sizing
I typically wear a large in ski helmets, and the Oakley Mod5 MIPS fit true to size. For reference, the large is designed to fit heads ranging from 59 to 63 centimeters in circumference, and Oakley also offers medium (55 to 59cm) and small (51 to 55cm) versions. As I covered above, the Boa dial at the back of the helmet is easy to use even with gloves on and provides a snug, even cinch around the entire head with no unwanted movement or noticeable pressure points (it's helpful that it moves with the MIPS liner for an integrated fit). I also think Oakley nailed the coverage part of the equation: The helmet extends low on the back of the head with great coverage along both the brow and sides, providing reliable all-around protection without feeling overly bulky.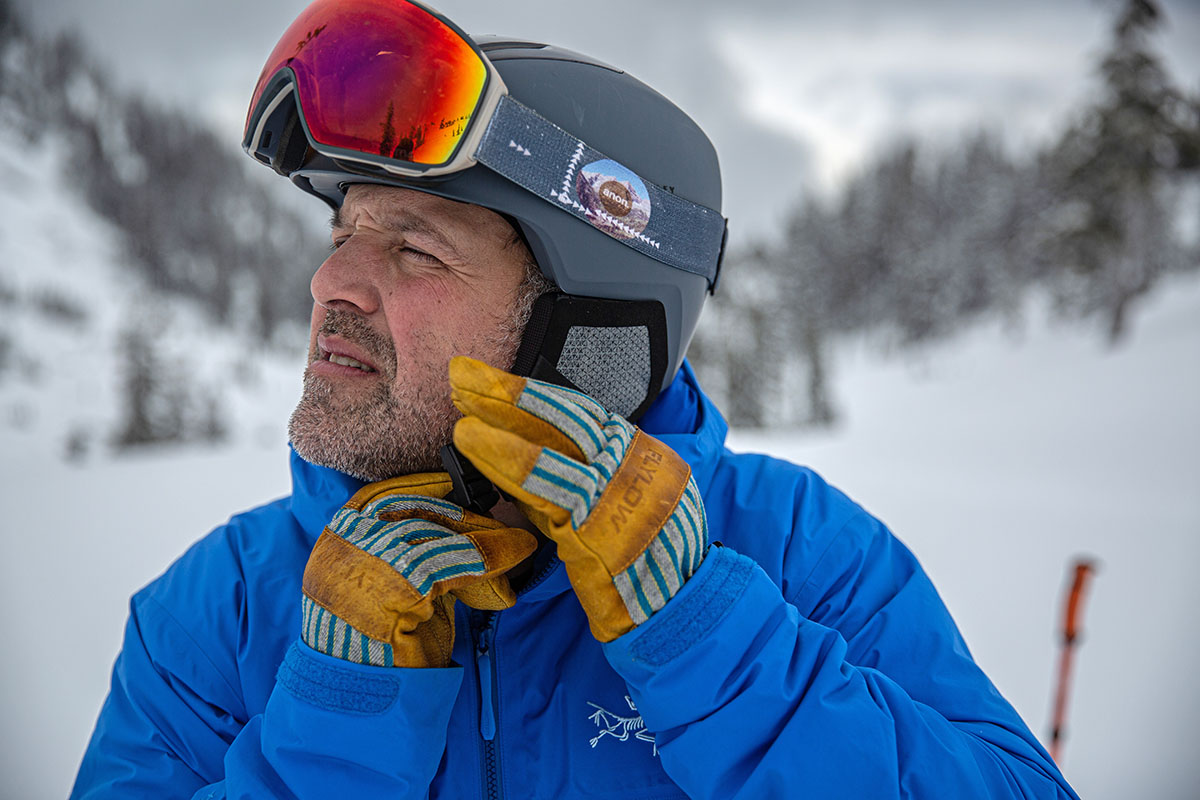 Other Versions of the Oakley Mod5
I tested the second-generation Mod5 for this review, and the original model is still available through a few retailers at a discount while supplies last. Compared to the latest version, the prior-generation design features Oakley's Modular Brim System that allows you to swap out brims to dial in fit with your goggles. For reference, the newest model didn't integrate seamlessly with my large Anon M4 Toric goggles—it worked, but a smaller brim would have mitigated the downward pressure on my nose. The newer helmet does have three additional vents and a more adjustable Boa system, although weight and price went up slightly. Rounding out the lineup is the standard Mod5 (see our in-depth review here), which forgoes the MIPS safety tech and retails for $205 (discounted to around $144 on Oakley's site at the time of publishing).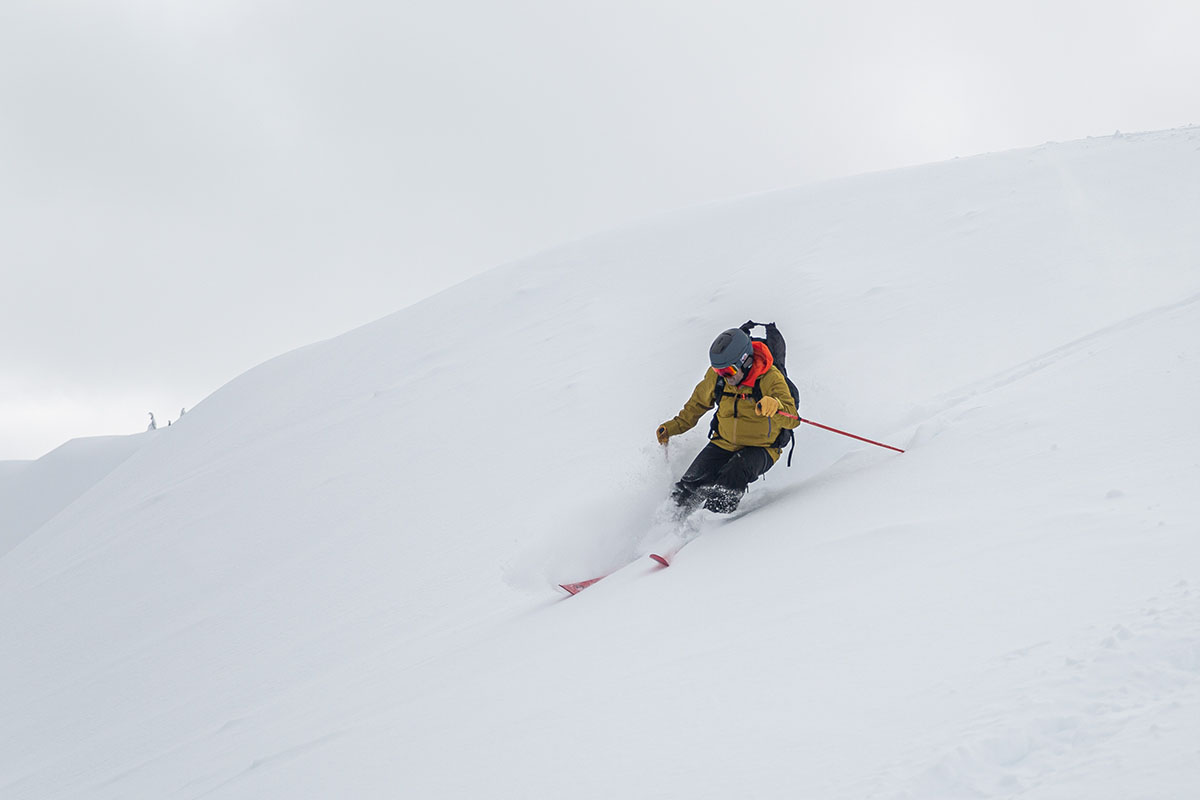 What We Like
Great all-around comfort and coverage in a low-profile and good-looking package.
Built to last with quality materials that stand up well to frequent resort use.
Boa dial and Skull Matrix design work together to achieve a highly adjustable and secure fit.
Magnetic Fidlock buckle makes it quick and easy to connect the chin strap and stays solidly in place while riding.
Available in a wide selection of colorways (eight at the time of publishing) and three sizes.

What We Don't
Despite boasting three more vents than the prior version, the Mod5 doesn't breathe well and led to overheating on mild days.
On the heavier end at 1 pound 8 ounces and best suited for lift-accessed terrain when weight isn't a huge factor.
We miss the prior generation's swappable brim, which made it compatible with a wider range of goggle sizes. A smaller brim would've done a better job integrating with our Anon M4 goggles.
Relatively low on padding compared to plush designs like the Smith Level and Vantage.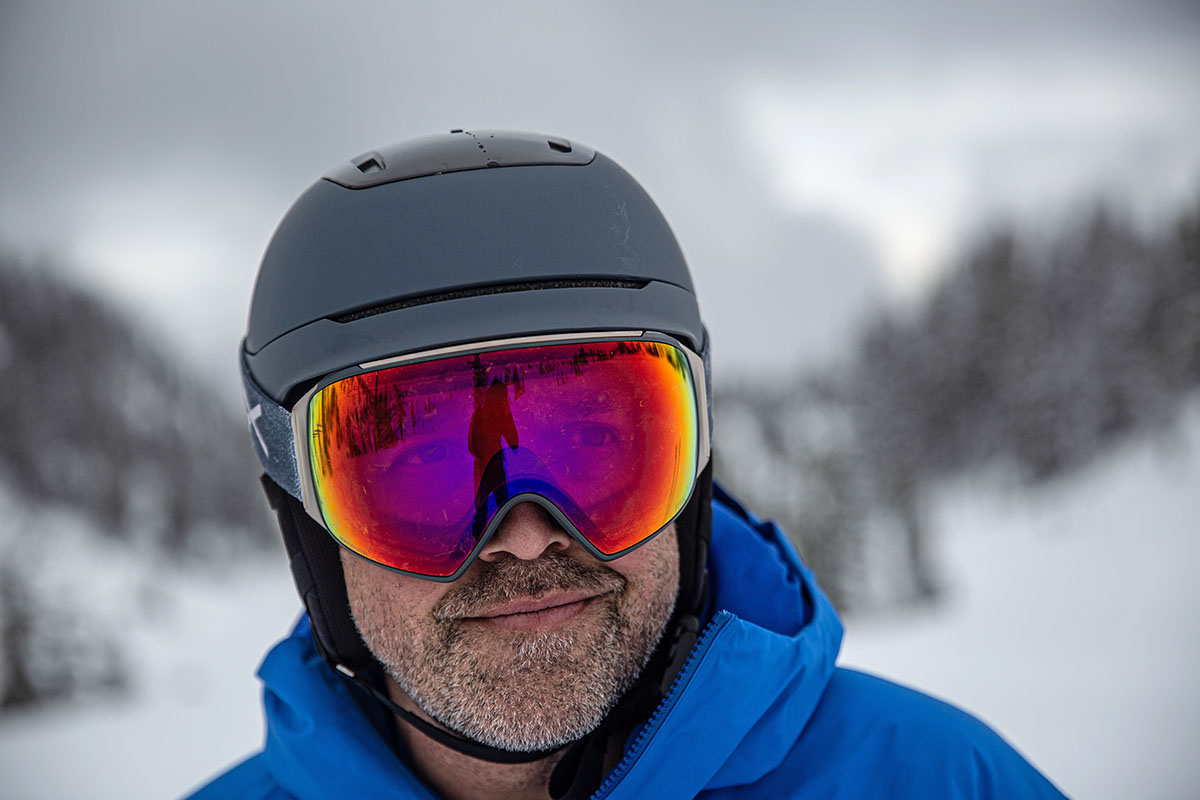 Comparison Table
| Helmet | Price | Construction | Weight | Ventilation | MIPS |
| --- | --- | --- | --- | --- | --- |
| Oakley Mod5 MIPS | $270 | Hybrid in-mold | 1 lb. 8 oz. | Adjustable (11 vents) | Yes |
| Oakley Mod3 MIPS | $205 | Hybrid in-mold | Unavail. | Adjustable (6 vents) | Yes |
| Smith Vantage MIPS | $270 | Hybrid in-mold | 1 lb. 2 oz. | Adjustable (21 vents) | Yes |
| Smith Level MIPS | $220 | Hybrid in-mold | 1 lb. 3 oz. | Adjustable (20 vents) | Yes |
| POC Obex MIPS | $200 | In-mold w/ ABS shell | 1 lb. | Adjustable (11 vents) | Yes |

The Competition
Oakely's Mod5 is a comfortable, durable, and good-looking ski helmet, but there's no shortage of competition in 2023. The first alternative comes from within the same Mod lineup: Oakley's Mod3 MIPS. For a substantial $65 savings, the Mod3 retains many of the same features as its pricier sibling, including an easy-to-adjust Boa 360 fit system, magnetic Fidlock buckle on the chin strap, MIPS liner, and relatively low-profile look and feel (although the ear pad cushioning is thicker). It also boasts Oakely's Modular Brim System mentioned above—in this case, the options are brim or no brim—along with a removable liner and ear pads. You don't get the Mod5's premium Polartec liner, and the Mod3 only includes six vents (compared to the Mod5's 11), but it's a quality resort lid at a good value.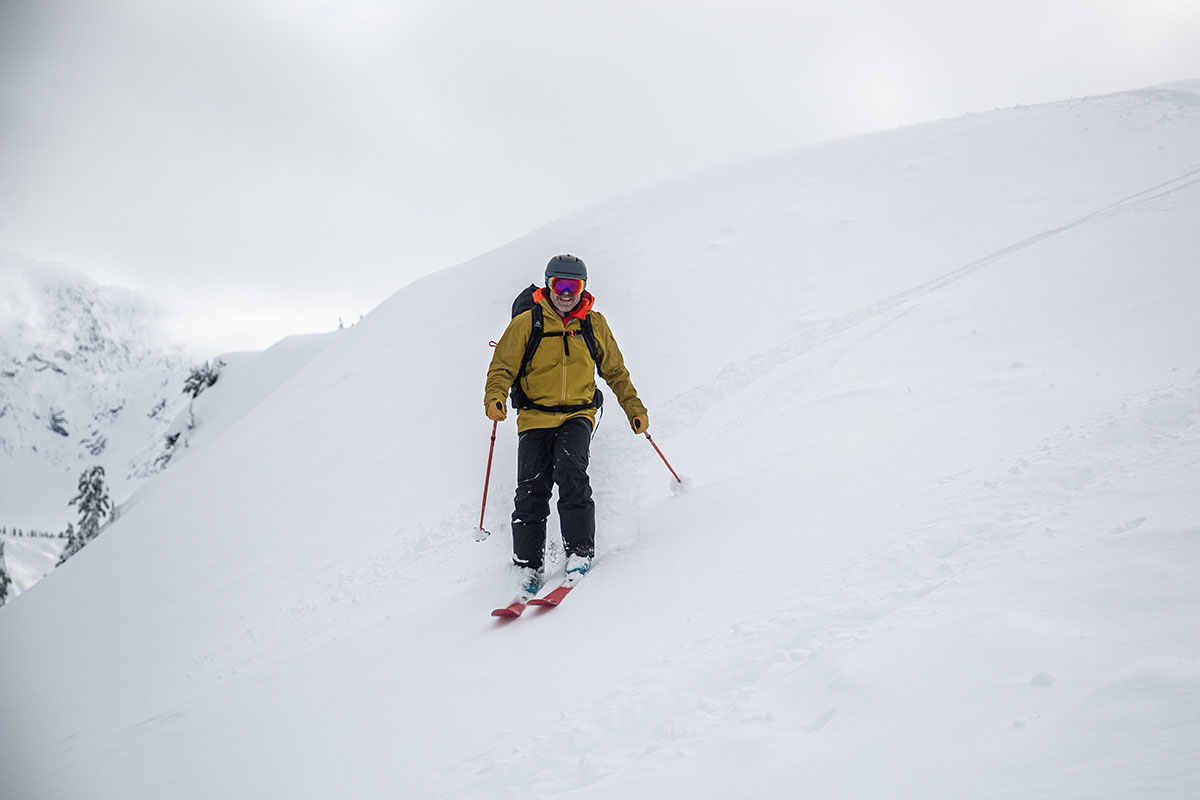 Our top-rated ski helmet this year is Smith's Vantage MIPS, which puts it all together—comfort, performance, safety, and looks—for the same price as the Mod5. Advantages include a 6-ounce-lighter weight, thicker padding along the interior, and a generous 21 vents with two separate sliders for easy customization. In testing, we were impressed with the Vantage's plush and barely-there feel, and you get all the premium trimmings we'd expect at this price, including excellent all-around coverage, a trustworthy Boa dial, a proven MIPS liner, and strategically placed zones of Smith's honeycomb-like Koroyd tech that's designed to improve energy absorption in a crash. All told, it's a real winner of a design and well suited for both front- and light backcountry use, giving it the edge over the heavier and more resort-focused Oakley (for more, see our in-depth Vantage review).
The Vantage above is a well-rounded option for both resort and backcountry use, but those who stay inside the ropes can save a considerable $50 with Smith's Level MIPS. Like both the Mod5 and Vantage, the Level retains a durable hybrid shell construction, sleek looks, and a proven MIPS liner for solid protection against angled impacts (plus Smith's Koroyd tech mentioned above). The Level's liner is also plusher than either alternative, although it uses an in--house VaporFit design rather than a Boa dial for adjusting fit and boasts a single adjuster for the top vents (the Vantage has two). That said, overall ventilation is a sizable step up from the Mod5 (you get 20 vents compared to just 11), and it's lighter than the Oakley by 5 ounces. In the end, we've had very few complaints with the Level for lift-assisted use and consider it the better overall value.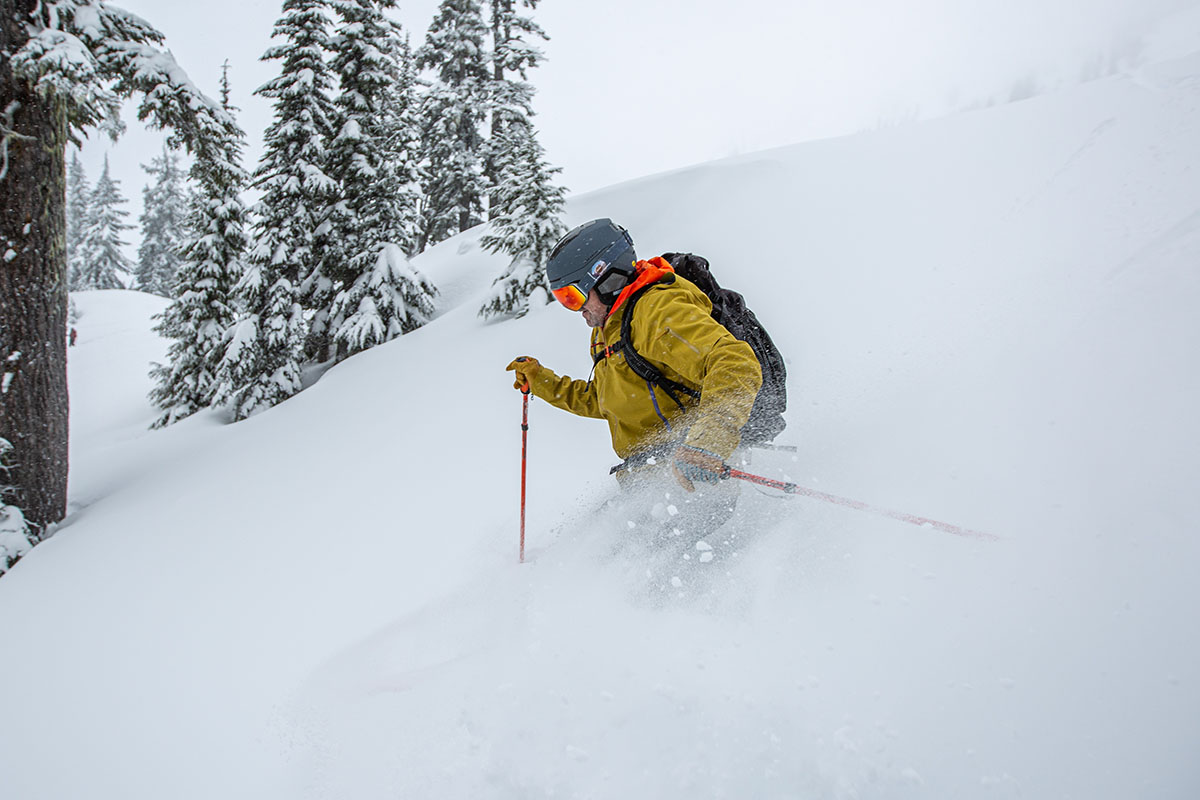 A final alternative to consider is POC's Obex MIPS. For 8 ounces less than the Mod5, the Obex features an in-mold construction with a tough ABS shell over top, which strikes a nice balance between weight and durability. Other highlights include an easy-to-use fit system that secures evenly around the head, adjustable vents, and a MIPS liner for added assurance in the event of a crash. Overall styling is also largely similar, although the Oakley has a slightly more streamlined and lower-profile feel on the head. We'd also prefer more cushioning along the POC's chin strap, and only the top vents are adjustable (similar to the Mod5). But we keep coming back to value: The Obex offers similar all-around performance for a significant $70 less, which is enough for us to recommend it over the Oakley.
If you're thinking about buying gear that we've reviewed on Switchback Travel, you can help support us in the process. Just click on any of the seller links above, and if you make a purchase, we receive a small percentage of the transaction. The cost of the product is the same to you but this helps us continue to test and write about outdoor gear. Thanks and we appreciate your support!
Depending on the seller, most products ship free in the United States on orders of $50 or more. International shipping availability and rates vary by seller. The pricing information on this page is updated hourly but we are not responsible for inaccuracies.
Learn More About Ski Gear