Osprey Atmos AG 65
Price: $300
Weight: 4 lbs. 9.8 oz. (size S/M)
Capacities: 50, 65L
What we like: An exceptional all-rounder with great carrying comfort, organization, and ventilation.
What we don't: Pricey and fairly heavy at over 4.5 pounds.
See the Men's Osprey Atmos AG 65  See the Women's Aura AG 65
Osprey's Atmos AG 65 has been our top-rated backpacking pack for several years—and easily one of the most common designs you see on the trail—and it got a revamp for spring 2022. In a somewhat surprising move, Osprey opted for a fairly comprehensive update this time around, but the good news is that they've addressed many of the nitpicks we (and others) had with the previous model. Specifically, there's more padding along the hipbelt, access to the main compartment has improved, a rain cover is now included, and there's a greater use of recycled materials. The result: It's an exceptionally well-rounded design that stands out for comfort-minded backpackers. Below are our thoughts on the latest Atmos AG 65. To see how it stacks up to the competition, see our article on the best backpacking packs.
 
---
Table of Contents
---

Performance
Carrying Comfort
When I slid on the Osprey Atmos AG 65 for the first time, I was struck by how well it fit. The mesh backpanel and hipbelt naturally want to fold inwards, which means the pack practically hugs you. It makes a strong first impression, and that snug and very comfortable feel remained even after logging serious miles on a recent overnight trip (loads varied from around 25 to 35 lbs.). Importantly, the newest model also addressed an issue some of our testers had with the prior-generation Atmos' stiff hipbelt, which would roll inwards slightly, creating pressure points. I had no such complaints with the new Atmos, which is likely due to its slightly retooled hipbelt shape and greater use of foam cushioning. Even towards the end of a very full day on the trail, I kept mentioning how comfortable my pack felt.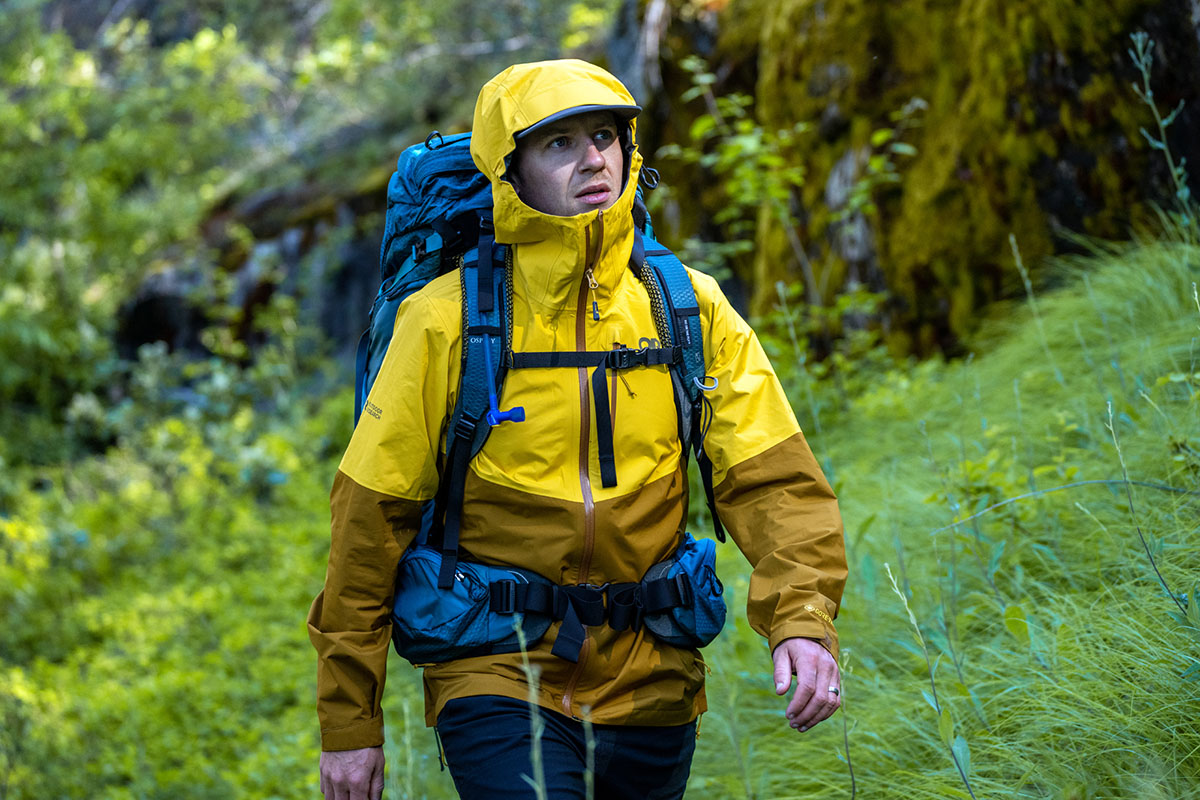 It's worth noting that Osprey has reduced the Atmos' recommended load range to between 30 and 40 pounds, whereas the prior model was rated for hauling up to 50 pounds. On our trip, I maxed out at roughly 35 pounds after loading up with water, but it felt like the pack could easily handle another 5+ pounds without issue. Its sturdy full-metal frame, extensive side compression strap system, and well-integrated suspension distribute weight effectively, and I never felt off-balance or like I was pushing the weight limit, even over steep sections of trail or during tricky creek crossings.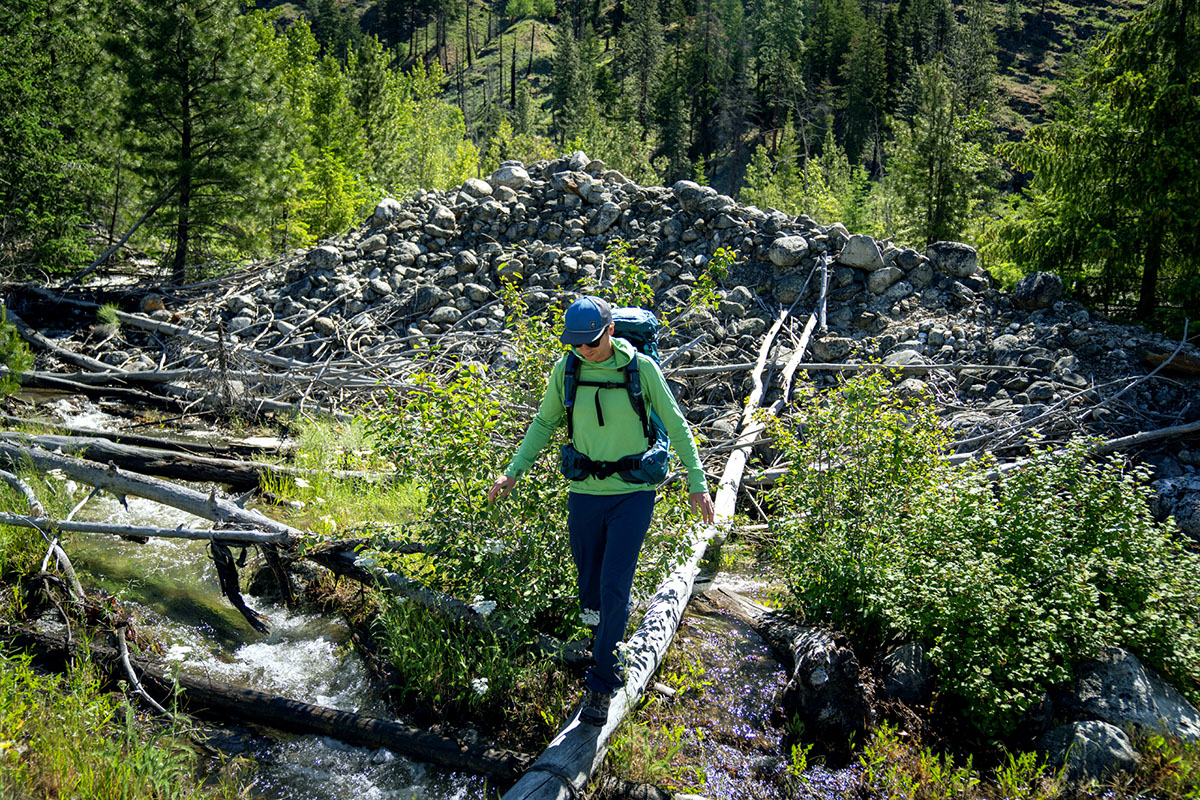 Based on this, the Atmos strikes me as capable of hauling a similar max weight as its predecessor. However, it's pretty clear that Osprey thinks its Aether collection—which has thicker padding and an even burlier construction—is the better option for true heavy haulers (they rate the Aether Plus as capable of carrying up to 60 lbs). In the end, the Atmos should be plenty comfortable for most backpackers, although those dabbling in light mountaineering and four-season adventures or needing to carry large amounts of water (or other heavy items) may prefer a burlier design.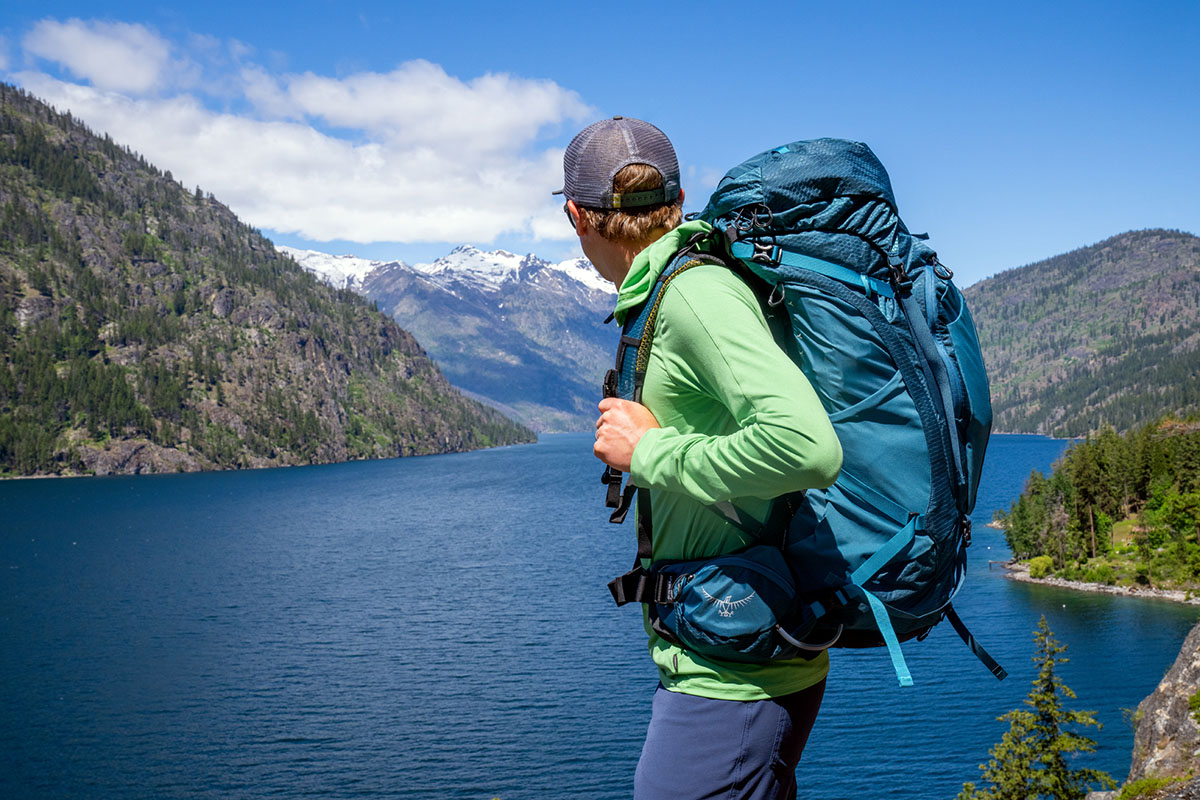 Weight
At 4 pounds 9.8 ounces in the small/medium frame, the Osprey Atmos AG is about average in terms of weight for what we consider a luxury backpacking pack. It's worth noting here that construction and features vary widely even among backpacks of similar capacities: On one end of the spectrum are ultralight models (around 2-3 lbs.) that only have a couple pockets and are made with thin materials. At the other are traditionalist packs with premium features and thick, durable fabrics that often creep towards 5 pounds. The Atmos AG falls toward the premium side, and others in this category are similarly heavy, including the Gregory Baltoro 65 and Osprey's own Aether 65 (both 4 lbs. 14.7 oz.) and more feature-rich Aether Plus 60 (5 lbs. 10.5 oz). Considering its durability, excellent organization, and how well it can handle a 40-pound load, we feel the weight is reasonable for those who value comfort.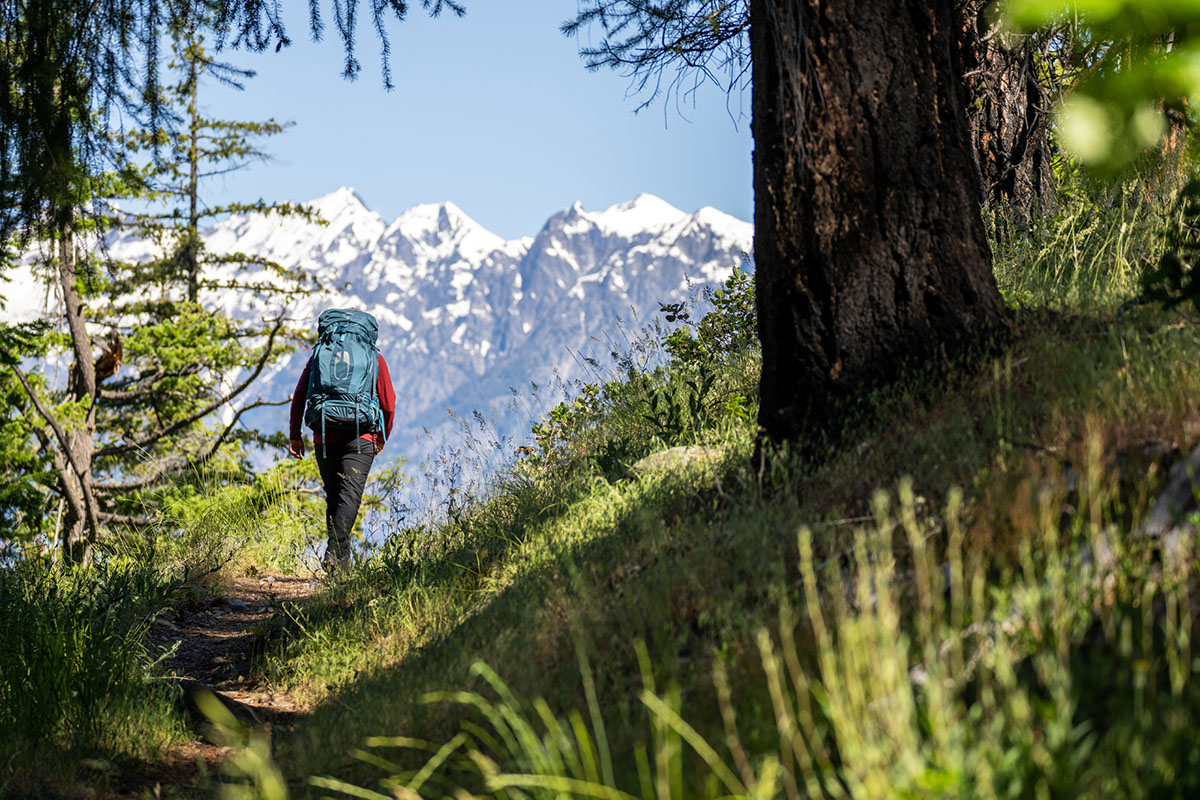 Organization
If organization is a priority, the Osprey Atmos AG 65 is well appointed with plenty of pockets, lash points, and gear loops. To start, you get the expected array of two zippered pockets in the top lid (both of which are quite generous), two mesh water bottle holders, a sleeve and exit port for a water reservoir and drink tube, and a large mesh stuff-it pocket along the front of the pack. There's also a dedicated sleeping bag compartment with its own zipper at the base, although with the new dual side zipper access (more on this below), the sleeping bag compartment struck me as a little unnecessary. For hauling ice axe(s) and trekking poles, Osprey also includes two loops that flank the mesh pocket on the front, plus there's a unique trekking pole attachment point along the left shoulder strap for easy storage should you need to free up your hands for a short stretch.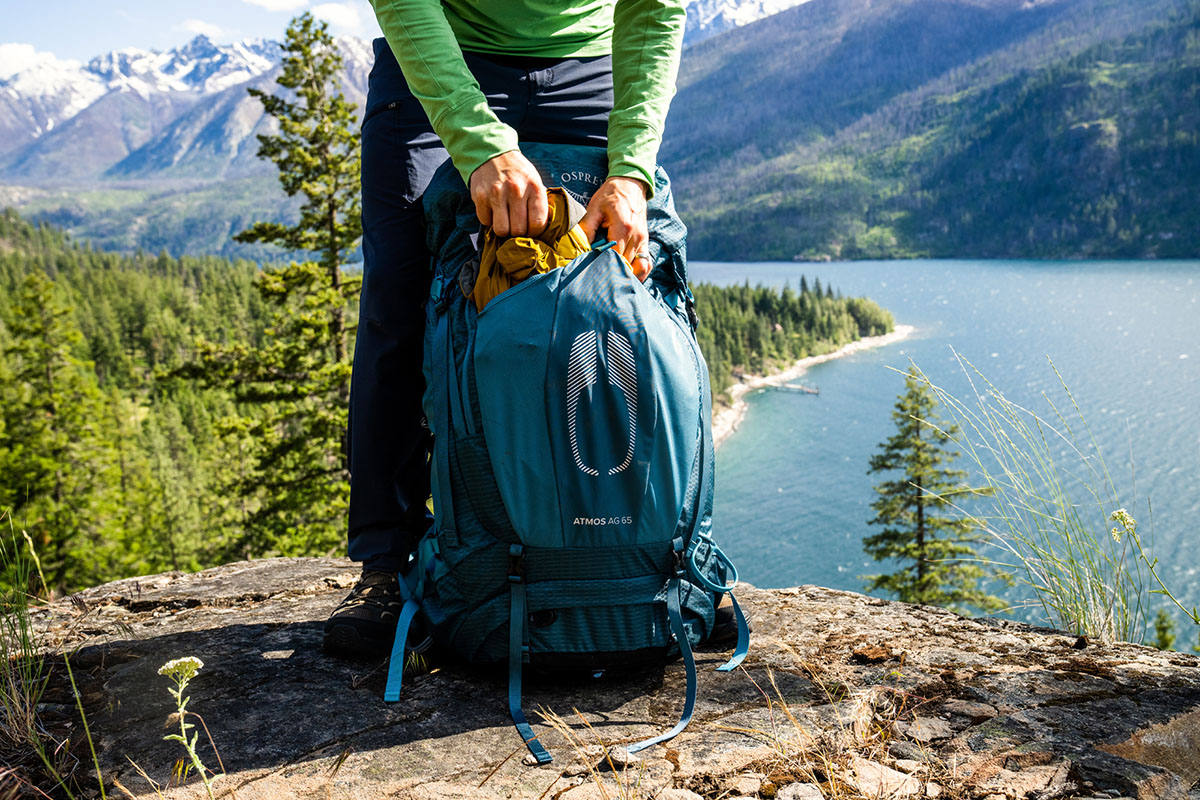 The features we've found most convenient are the tall zippered pockets that flank the large mesh front pocket—they're quite large and can swallow bulky items like a water filter, rain jacket, or extra fuel canisters—and the two hipbelt pockets. These too are on the big side—they're even larger than our prior-generation Atmos'—and easily accommodated a large iPhone 11 in a case (we were even able to fit a point-and-shoot camera inside).
Arguably one of the most significant changes with the new Atmos AG is additional access to the expansive, bear canister-friendly main compartment. Opening the long, curved side zippers provides excellent visibility into the inside of the pack, which we found very valuable for digging out tucked-away items on the trail and at camp. It's true that the central, U-shaped opening on Gregory's Baltoro 65—which folds back almost like a travel bag—makes it even easier to locate and retrieve gear inside, but the Osprey's dual access nevertheless is an appreciated feature and a very functional addition to the design.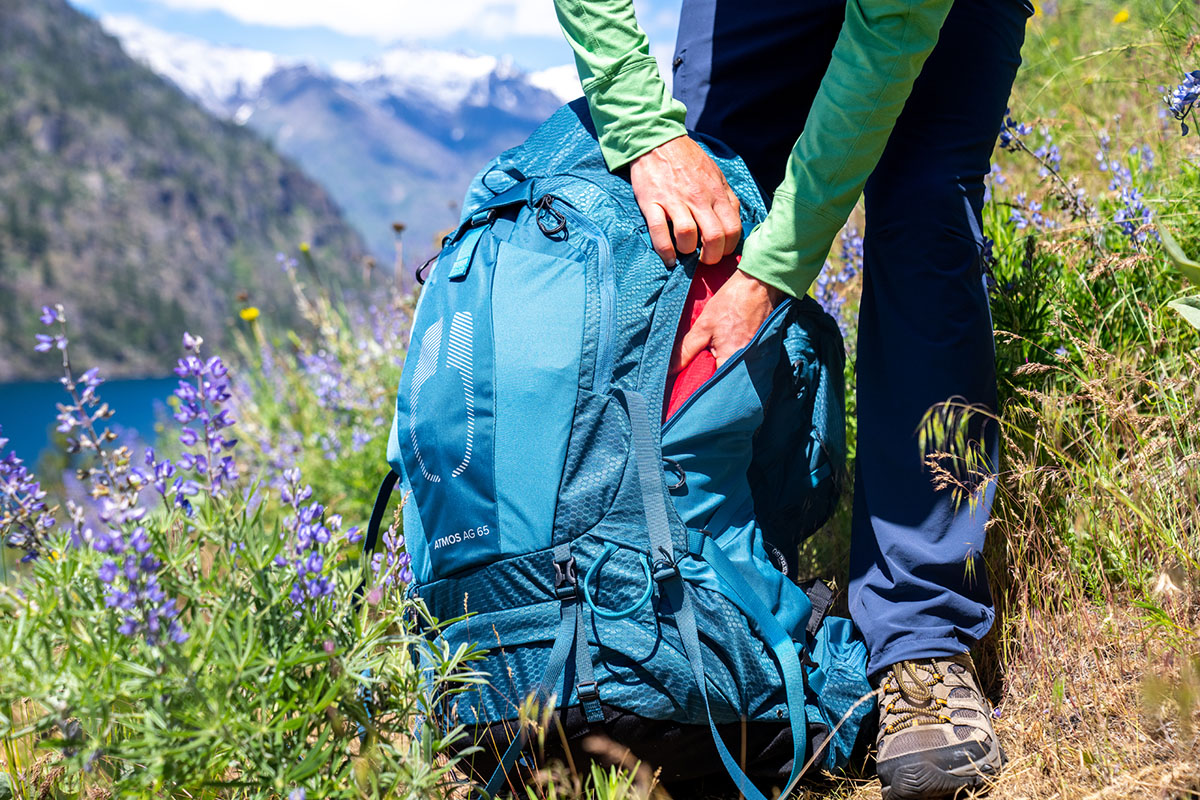 Ventilation
As with the outgoing model, one of the defining features of the latest Osprey Atmos AG 65 is its large suspended mesh panel that covers the entire back and most of the hipbelt. Dubbed Anti-Gravity (hence the "AG" in the name), even the shoulder straps have the same open webbing to limit sweat buildup. And in use, it really works: We haven't worn a pack that encourages this much airflow. You can literally feel the breeze behind your back, which is always a nice relief during the heat of the day. And as I touched on above, the mesh-heavy, trampoline-like build also plays a big role in the pack's excellent comfort and carrying abilities.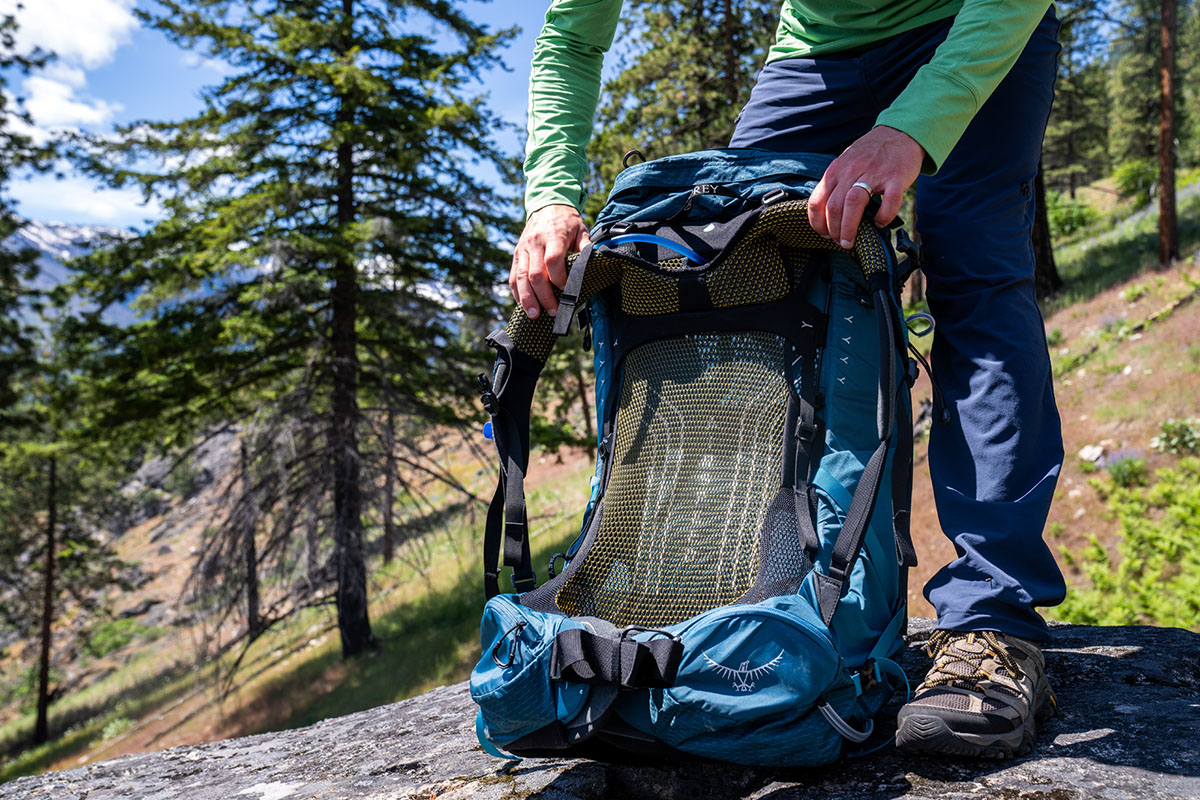 Build Quality and Durability
What takes the Atmos' ventilating design from merely good to great is the fact that it doesn't compromise the rest of the backpack. It's simply another quality Osprey item: The pack can haul a multi-day load in comfort, has thoughtful organization, and is made with durable materials (210D nylon on the main portion of the pack and 500D on the bottom) that haven't shown any signs of excessive wear. The materials are a noticeable upgrade in thickness from lighter-weight designs (many of which are 100D) and clearly built to last—I didn't have any concerns setting the pack down on rough granite or squeezing through branches off trail. And a final note here: Osprey now includes a rain cover, which stows in a dedicated pocket at the very bottom of the pack. Price has gone up $30 to $300 for the latest 65-liter model, but the addition of the pack cover helps justify the leap.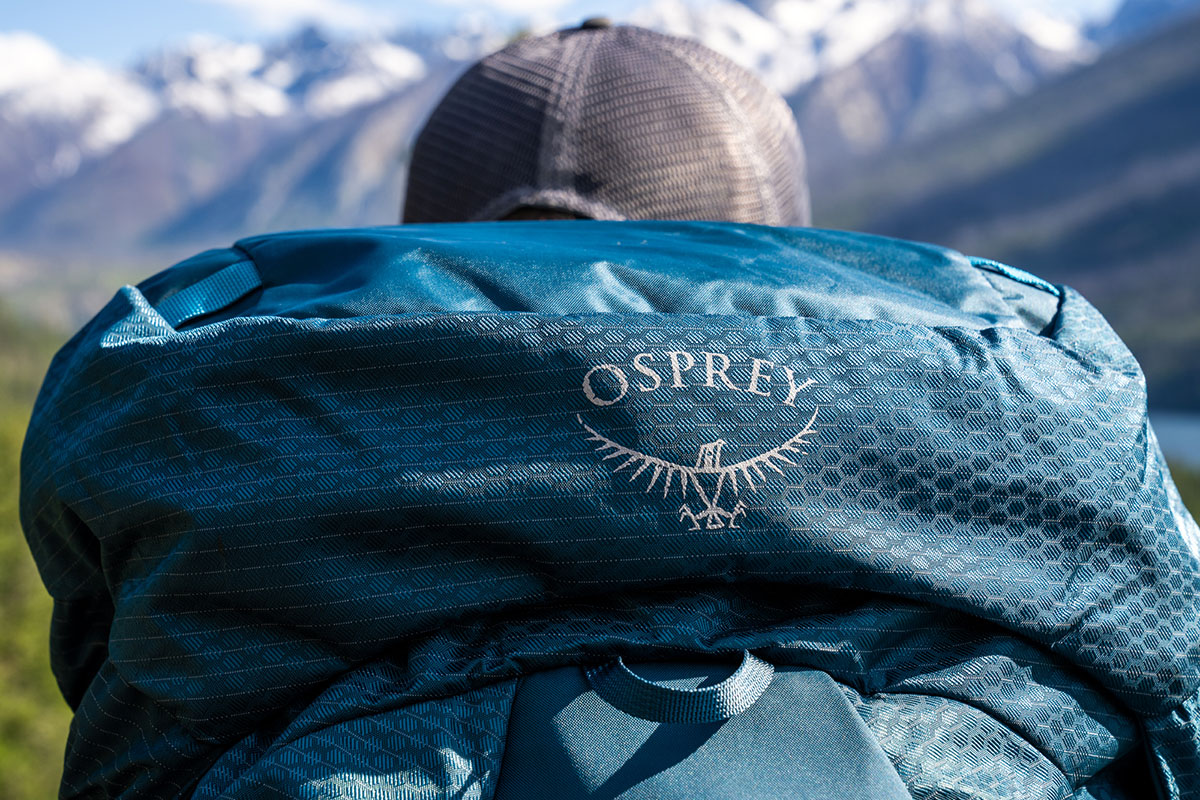 Fit and Sizing
Osprey simplified their available sizes in the Atmos AG 65 from three to two, but the latest model offers more fit customization options than its predecessor, which helps bridge the gap. As I mentioned above, the bag conforms nicely to your back, and adjusting the shoulder strap height to your torso length is as simple as sliding them up and down along the backpanel. Additionally, the pack now utilizes the brand's Fit-on-the-Fly padding for both the hipbelt and shoulder straps, which allows you to shift the padding into an ideal spot (it secures with Velcro). In the end, this level of customization made it easy for me to dial in a comfortable fit in the small/medium size for my 18-inch torso length.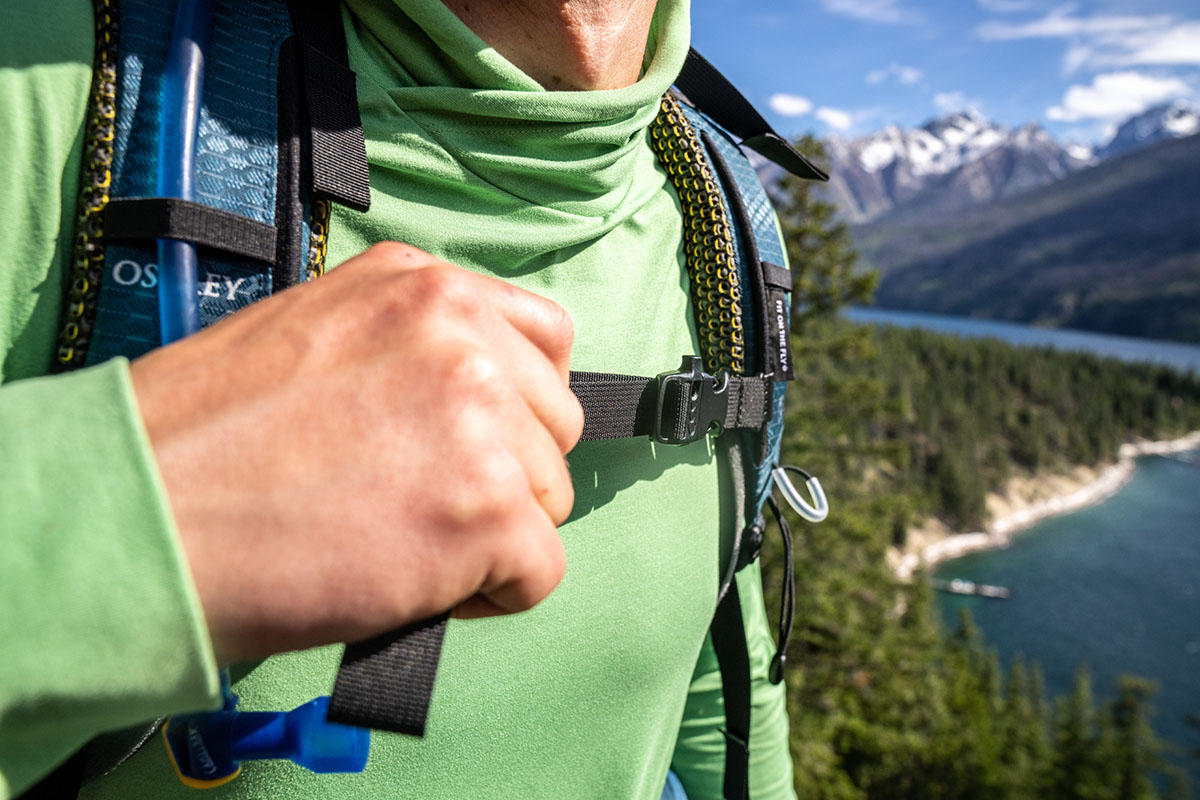 Sustainability
A final change that Osprey made to the latest Atmos AG 65 pack was incorporating more eco-friendly materials into the design. Specifically, the entire pack is now made with recycled and bluesign-approved nylon, which indicates that the chemicals and materials used are safe for the environment, workers, and consumers. The durable water repellent (DWR) coating is also PFC- and PFAS-free, indicating that it does not contain harmful fluorinated chemicals. Taken together, it's a thoughtful upgrade to an already well-rounded design, and we appreciate Osprey's efforts to improve their collection.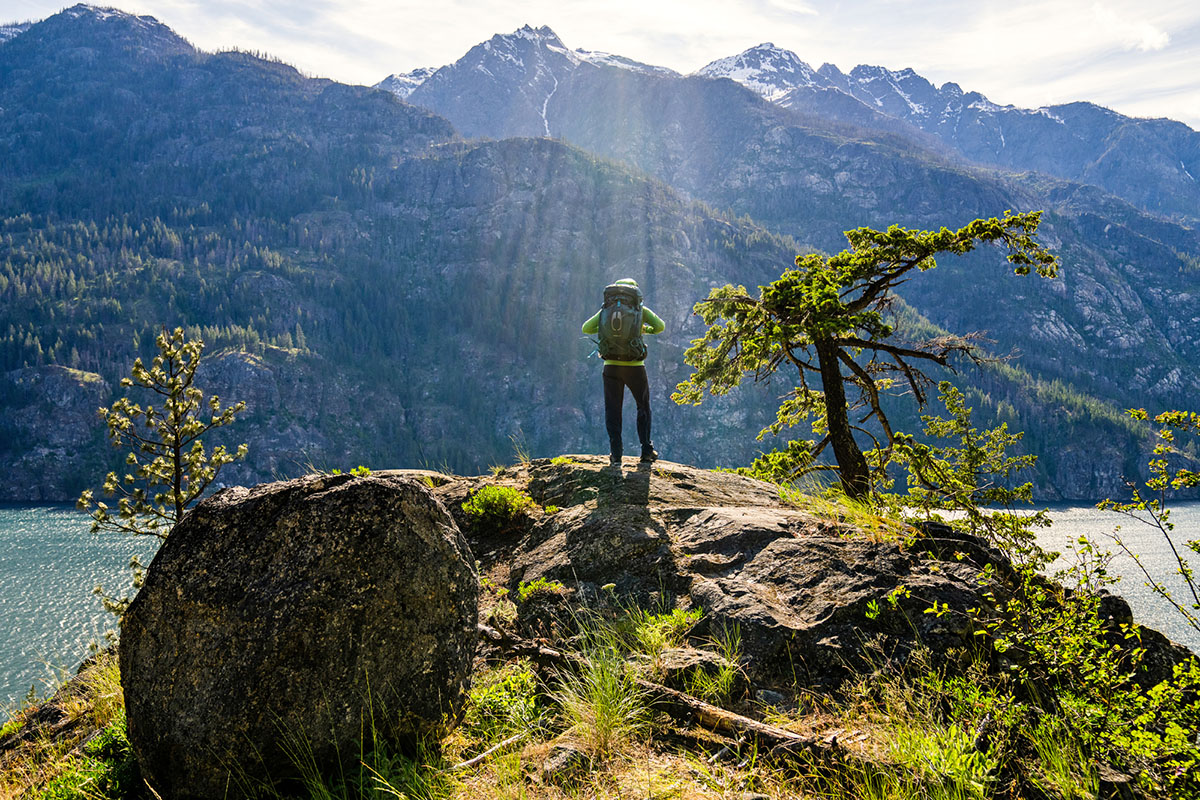 Other Capacity: Osprey Atmos AG 50
In addition to the 65-liter pack tested here, Osprey also makes the Atmos in a smaller 50-liter version. Compared to the 65, the Atmos AG 50 costs a little less at $280 and shaves off around 5 ounces of weight (in a size S/M). However, it retains all the storage options as its larger sibling, as well as features like the Anti-Gravity mesh backpanel, side zippers for accessing the main compartment, floating lid, lower sleeping bag compartment, and well-padded hipbelt and shoulder straps. In our opinion, the 65 is the more versatile size and worth the extra $20, but for shorter trips and those used to packing light, the Atmos AG 50 is a nice way to save.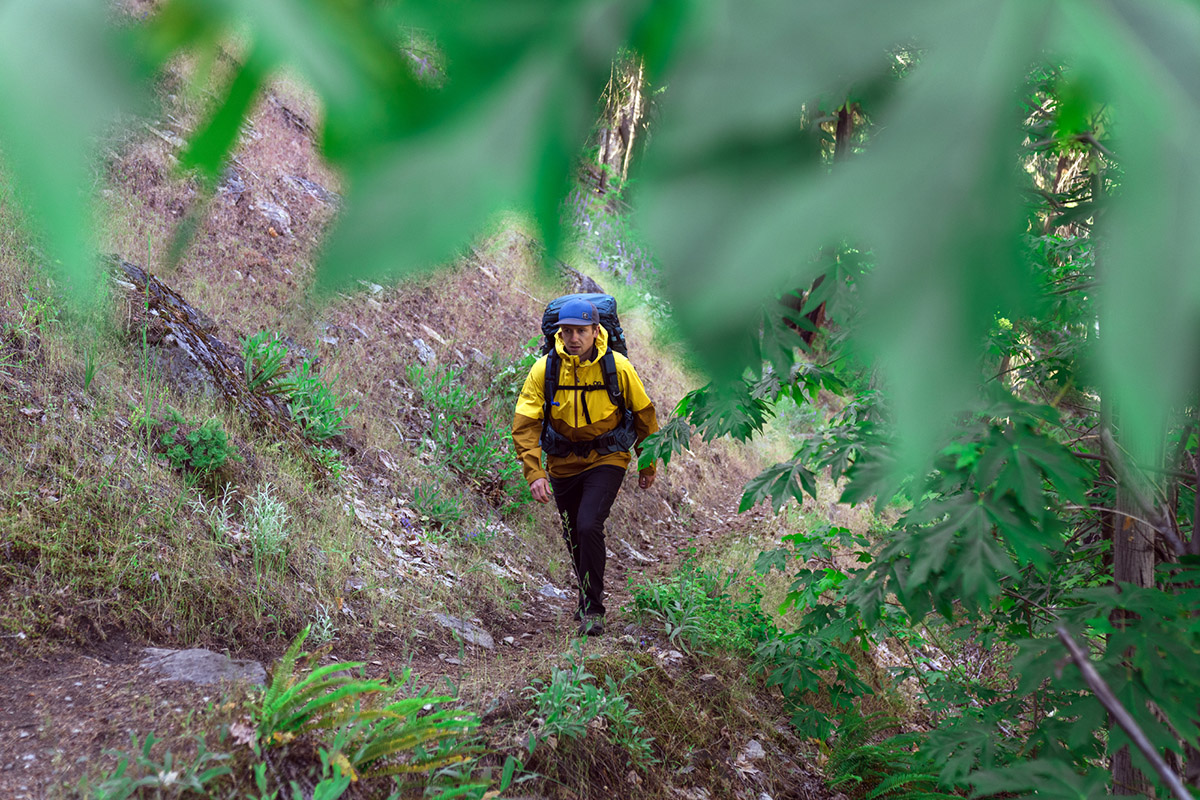 Women's-Specific Osprey Aura
We tested the men's Atmos AG, but Osprey also makes the pack in a women's version: the Aura AG. Like the Atmos, the Aura was recently updated and comes in 50- and 65-liter capacities, but it offers a female-specific fit and different color options. Importantly, the two designs share the Anti-Gravity system and key features such as the pocket layout, high-quality fabrics, and attachment points for trekking poles and an ice axe.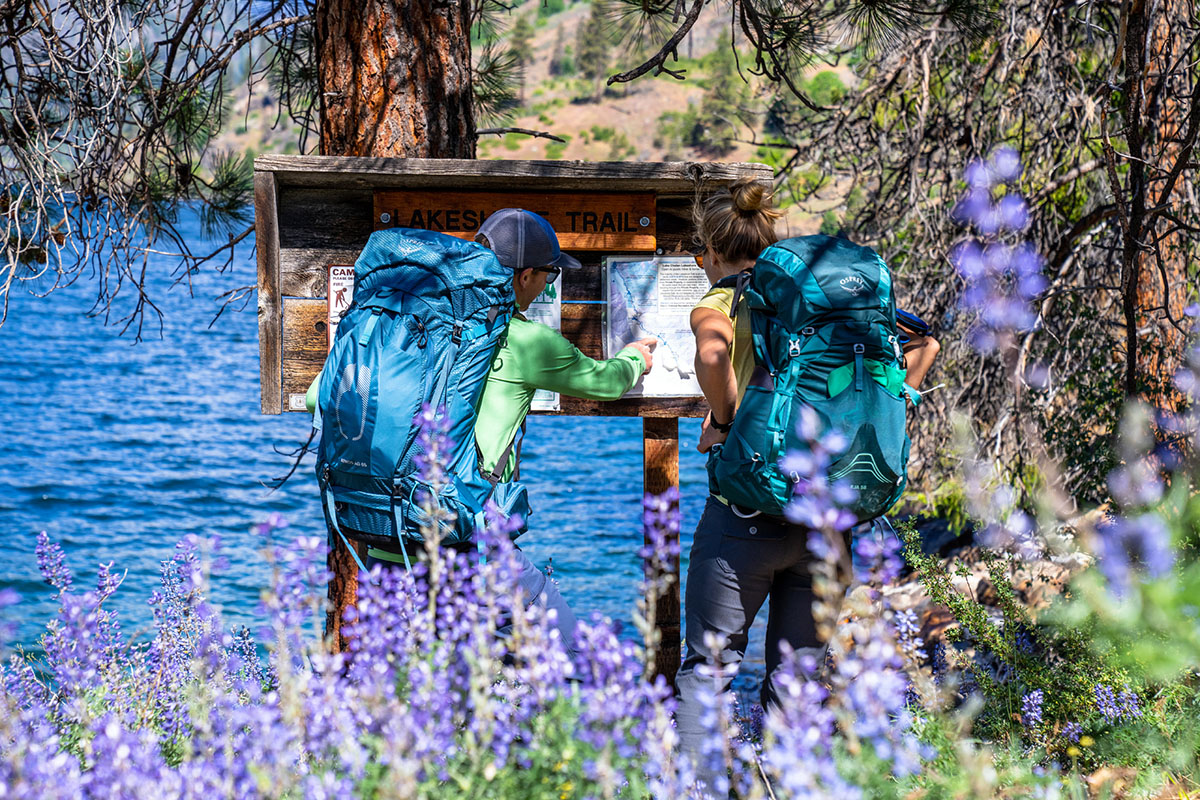 What We Like
Generous padding, well-executed suspension system, and full metal frame distribute weight well and translate to great all-day comfort for loads up to around 40 pounds.
Suspended mesh backpanel encourages more airflow than any other pack we've tested to date.
Dual side zippers (a new addition to the latest Atmos) allow great visibility into the inside of the pack and make it easy to retrieve items quickly.
Ample organization with plenty of pockets, lash points, and gear loops.
Now made with recycled, bluesign-approved fabrics and a PFC/PFAS-free DWR coating.

What We Don't
At 4 pounds 9.8 ounces, the Atmos isn't particularly light—it's best for those who value comfort over weight savings.
On the pricier end at $300—a $30 price jump from the past-generation model (although a rain cover is now included).
Those dabbling in light mountaineering or carrying seriously heavy loads (40+ pounds) may prefer a burlier design.
Now only offered in two sizes (although fit customization is generous and quick).


Comparison Table
| Pack | Price | Weight | Fabric | Capacities | Access | Pockets |
| --- | --- | --- | --- | --- | --- | --- |
| Osprey Atmos AG 65 | $300 | 4 lb. 9.8 oz. | Nylon (210D & 500D) | 50, 65L | Top, side | 8 exterior |
| Osprey Aether 65 | $290 | 4 lb. 14.7 oz. | Nylon (210D & 420D) | 55, 65L | Top, front | 7 exterior |
| Gregory Baltoro 65 | $300 | 4 lb. 14.7 oz. | Nylon (210D) | 65, 75, 85L | Top, front | 9 exterior |
| REI Co-op Traverse 60 | $229 | 4 lb. 4 oz. | Nylon (300D) | 32, 60L | Top | 10 exterior |
| Granite Gear Blaze 60 | $270 | 3 lb. 0 oz. | Nylon (100D & 210D) | 60L | Top, front | 6 exterior |
| Osprey Rook 65 | $165 | 3 lb. 8.3 oz. | Nylon (600D & 100D) | 50, 65L | Top | 5 exterior |

The Competition
The Atmos AG is Osprey's leading backpacking pack, but their Aether is more of a heavy hauler that takes comfort and features to the next level. Updated a few seasons back, the Aether 65 no longer shares the Atmos' Anti-Gravity backpanel, but its AirScape design still is decently breathable. You also get ample adjustability and attachment points, a J-shaped zipper for easy access to the main compartment, and an included rain cover. You pay the price in weight (4 lbs. 14.7 oz. for the S/M size), but the Aether has its place for those shouldering serious weight or who like the extra features (of note, Osprey offers an even more feature-rich—and heavier—variation in the Aether Plus). In most other cases, we'd go with the lighter Atmos.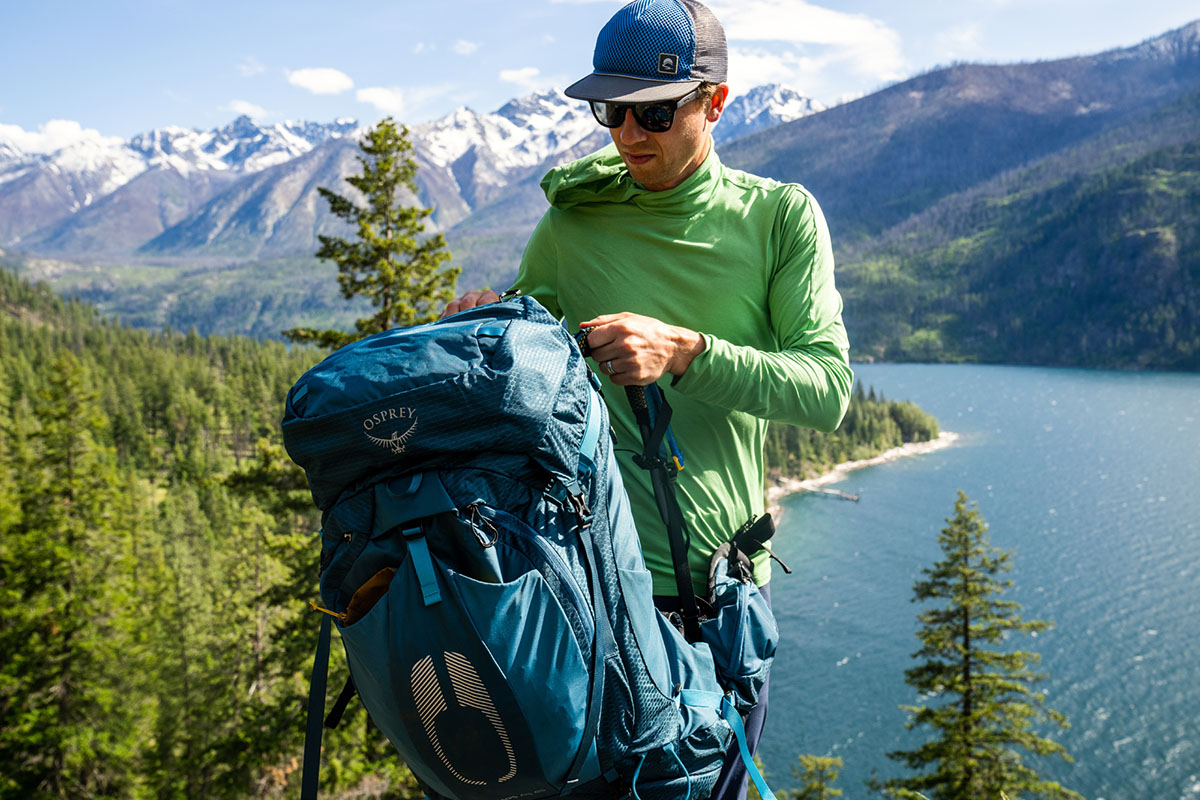 For carrying a fully loaded pack, the venerable Gregory Baltoro 65 is another attractive option. With the Baltoro, you get a central U-shaped opening to the main compartment that offers even better access than the Osprey's side zippers, as well as generous padding, good ventilation, and excellent organization. We also love the hip-hugging suspension and pivoting shoulder straps, which keep the pack stable when hiking over uneven terrain. However, the feature-rich design does add some weight at 4 pounds 14.7 ounces (in a medium frame), and Gregory omitted a rain cover with the latest edition of the pack (the Atmos comes with one). Both are capable choices for long days on the trail, but we'd break it down as follows: If you prioritize heavy-hauling comfort above all else, get the Baltoro. But the Atmos gets the nod as the lighter and better all-around option for most overnight and multi-day trips.
REI Co-op's Traverse series has long been a favorite of ours, and the latest Traverse 60 features decent organization (we especially like the large hipbelt pockets) and solid durability—all for about $70 and 6 ounces less than the Atmos. That said, the Traverse's backpanel and padding in general aren't as comfortable (they have a surprisingly budget feel), and if you prioritize ventilation, the Traverse falls short of the Atmos in that regard too. All in all, the Traverse is a good value, but the Atmos remains our top pick for comfort- and ventilation-focused backpackers.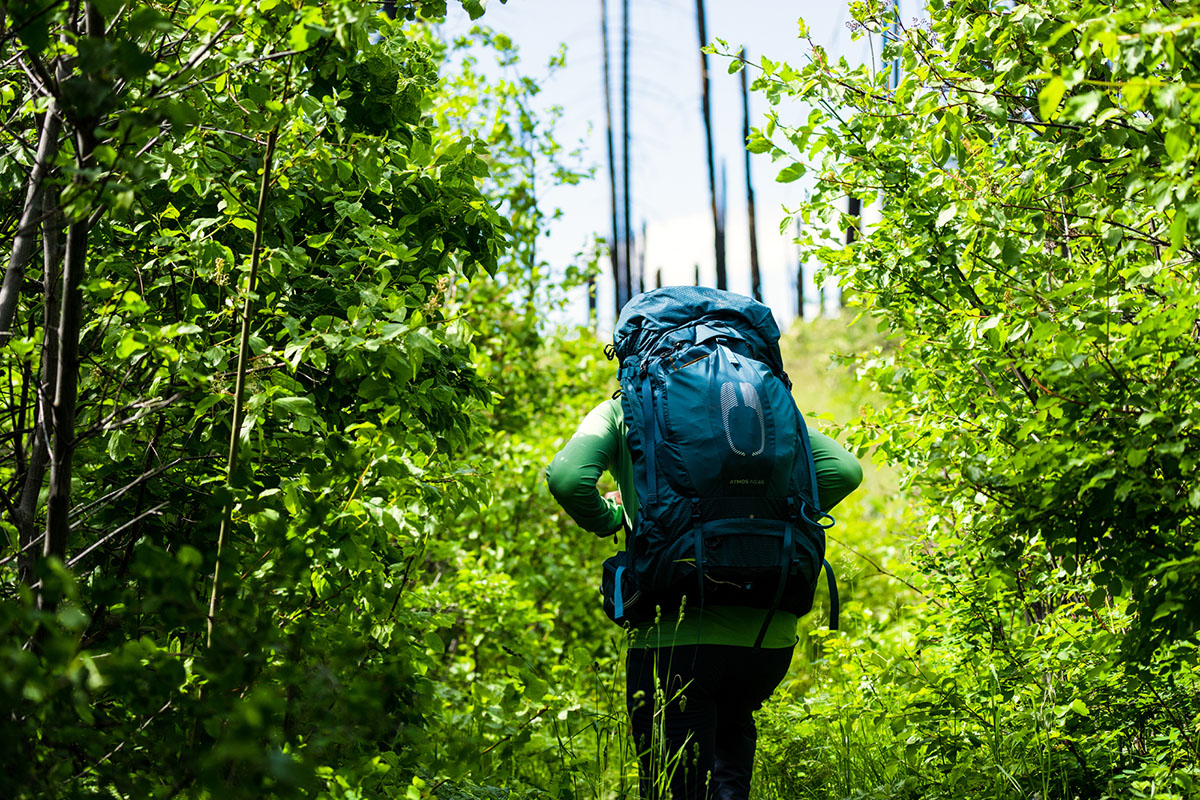 Like the Atmos, Granite Gear's Blaze 60 is another comfortable and fully featured design to have on your radar. However, the Blaze sets itself apart in one key area: weight. At 3 pounds even, it's considerably lighter than the 4-pound-9.8-ounce Atmos, but unfortunately, you do make some sacrifices by going that light. Specifically, the Atmos offers better padding around the shoulder straps and hipbelt, has far more pockets, and its mesh-heavy backpanel is much more breathable than the Blaze's simpler foam design. For just $30 more, we consider the Atmos the more well-rounded pack, but the Blaze is a viable option for those that like to keep things simple.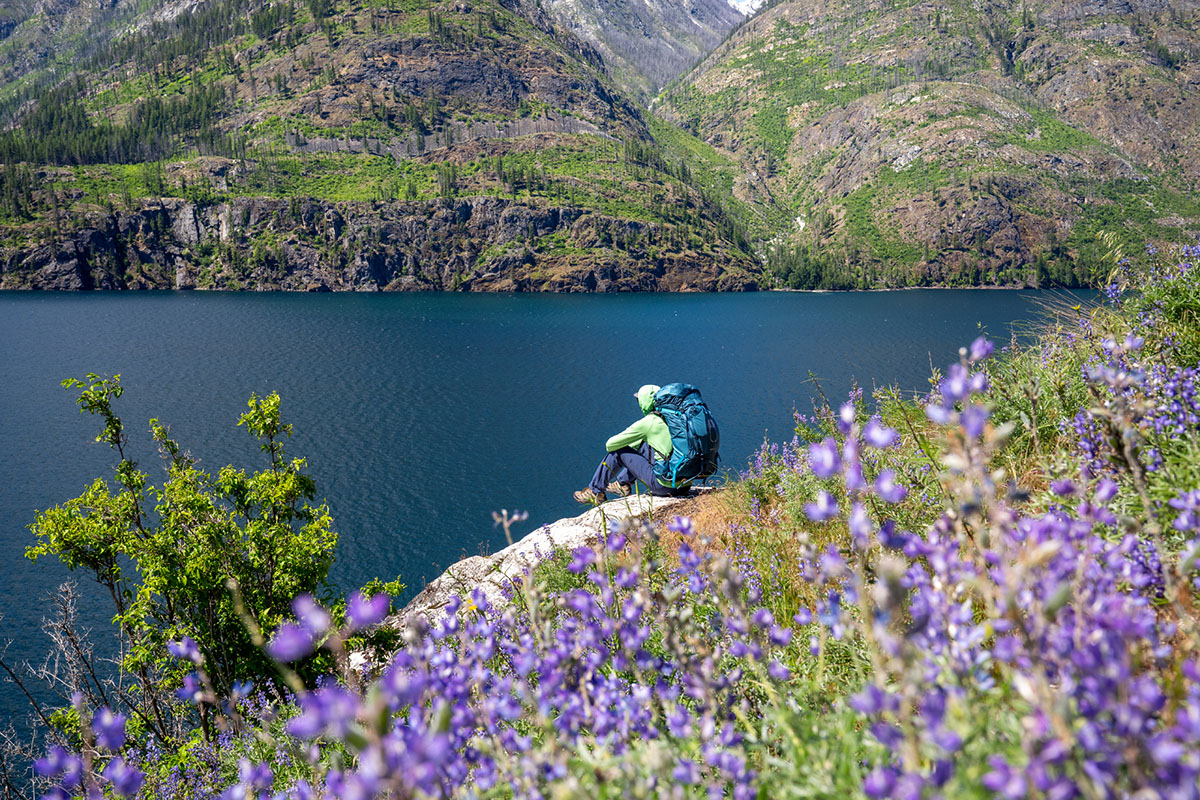 Finally, Osprey offers another in-house alternative to the Atmos in their budget-friendly Rook 65. On paper, there's a lot to like about the Rook: It comes in at a reasonable $165 (a considerable $135 cheaper than the Atmos), weighs over a pound less at 3 pounds 8.3 ounces, and is plenty robust with a 600/1000D polyester and nylon build. But after taking the Rook on an early-season trip into the Grand Canyon, we came away unimpressed. Specifically, we found the pack to be noticeably lacking in comfort and overall organization—two areas where the Atmos excels. In the end, the Rook is a fine entry-level pack, but for those who plan on getting out a lot, we recommend spending up for the more comfortable and feature-rich Atmos.
If you're thinking about buying gear that we've reviewed on Switchback Travel, you can help support us in the process. Just click on any of the seller links above, and if you make a purchase, we receive a small percentage of the transaction. The cost of the product is the same to you but this helps us continue to test and write about outdoor gear. Thanks and we appreciate your support!
Depending on the seller, most products ship free in the United States on orders of $50 or more. International shipping availability and rates vary by seller. The pricing information on this page is updated hourly but we are not responsible for inaccuracies.
Learn More About Outdoor Gear