Outdoor Research Tungsten Jacket
Price: $399
Waterproofing: 2L Gore-Tex
Insulation: 60g and 45g VerticalX
What we like: Comfortable and protective with a versatile amount of insulation for resort skiing.
What we don't: Too insulated and not breathable enough for touring or high-output use.
See the Women's OR Tungsten Jacket  See the Men's OR Tungsten Jacket
The Tungsten Jacket is Outdoor Research's newest insulated resort shell and combines lightweight warmth with a highly protective Gore-Tex build and full feature set. We took the women's version to Crested Butte, Colorado, for some late-season testing and found it to be a great match for the conditions: it kept us warm with just a light baselayer underneath, never felt overly bulky on the slopes, and was supremely comfortable, even against bare skin. The insulated build is overkill for high-output adventures, but it's a versatile piece for everything from frigid temperatures (paired with a midlayer) to moderate spring conditions at the resort. To see how the Tungsten stacks up to the competition, see our articles on the best ski jackets and best women's ski jackets.
 
---
Table of Contents
---

Performance
Weather Protection
With a reliable 2-layer Gore-Tex construction and thick face fabric, the new Outdoor Research Tungsten Jacket is highly protective against moisture and wind. We had a mostly dry week in Crested Butte with very little fresh snowfall, but the jacket deftly fended off any and all weather that came our way, including a couple light storms and periods of strong gusts. For added assurance, the jacket comes equipped with a nice array of features, including Velcro cuff adjustments to seal out snow at the wrists (these snugged nicely under my gauntlet-style gloves), an adjustable hem, a full-coverage hood that left only my goggles and a little of my nose exposed, and a functional powder skirt. Finally, the hand and chest pockets sport water-resistant YKK zippers, which gave me added confidence to store valuables here. Taken together, the Tungsten is a nice option for resort use in areas that see a lot of snow and wind.

Warmth
With 60-gram insulation in the body and 45-gram in the sleeves and hood, the Tungsten is a comfortable place to be on cold to moderate resort days. The proprietary VerticalX material is meant to mimic down with a lofty look and feel, and the combination of more insulation in the torso and less elsewhere was a very functional design choice, in my opinion. Temperatures were warm during our week of testing in Crested Butte—around 30 to 40 degrees Fahrenheit—and I managed to stay comfortable for the most part with just a light baselayer underneath.
That said, our days involved mostly downhill objectives with very little sidecountry exploring, and the jacket is decidedly not the best option for those that run warm or plan to adventure off-piste (more on this below). Here, I'd instead recommend an uninsulated shell like OR's own Skyward II. But for lower temps and lift-assisted terrain, the Tungsten is a viable choice that takes the sting out of biting cold and chilly chairlift rides. And if you run particularly cold or plan to get out on truly frigid days, I'd recommend adding a down or synthetic midlayer underneath. I didn't get the chance to bring the Tungsten into colder weather since our testing was cut short due to COVID-19, but I'll follow up here as I get more time with the jacket this coming ski season.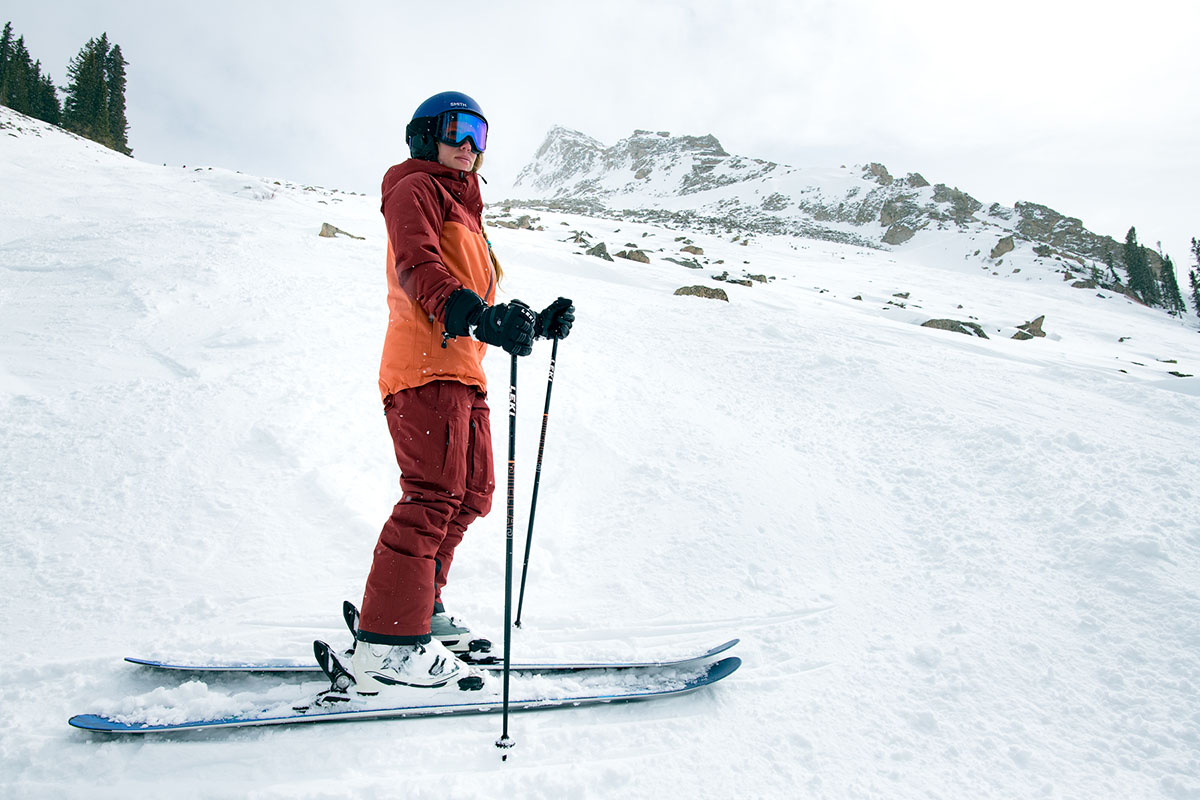 Comfort
Comfort is another clear strong suit of the Tungsten kit. In fact, the first time I put on the jacket, I was struck by how soft and supple the interior was. This is largely thanks to the taffeta lining, which is exceptionally smooth against the skin. I wore a light synthetic baselayer underneath for most of the week, but I would have happily opted for a t-shirt had temperatures been any warmer. On the bottom, I paired the OR Tungsten Pants (which feature the same lining) with a pair of light leggings and had no complaints. To boost comfort, both the jacket and pants also sport a fleece-like lining along the interior of their respective pockets—the jacket along the hand pockets and the pants along the thigh pockets—and the jacket includes another patch at the collar to prevent uncomfortable rubbing when fully zipped. Finally, the entire outwear kit has an accommodating fit that never felt restrictive, whether I was bending down to adjust bindings or leaning back to get on a lift.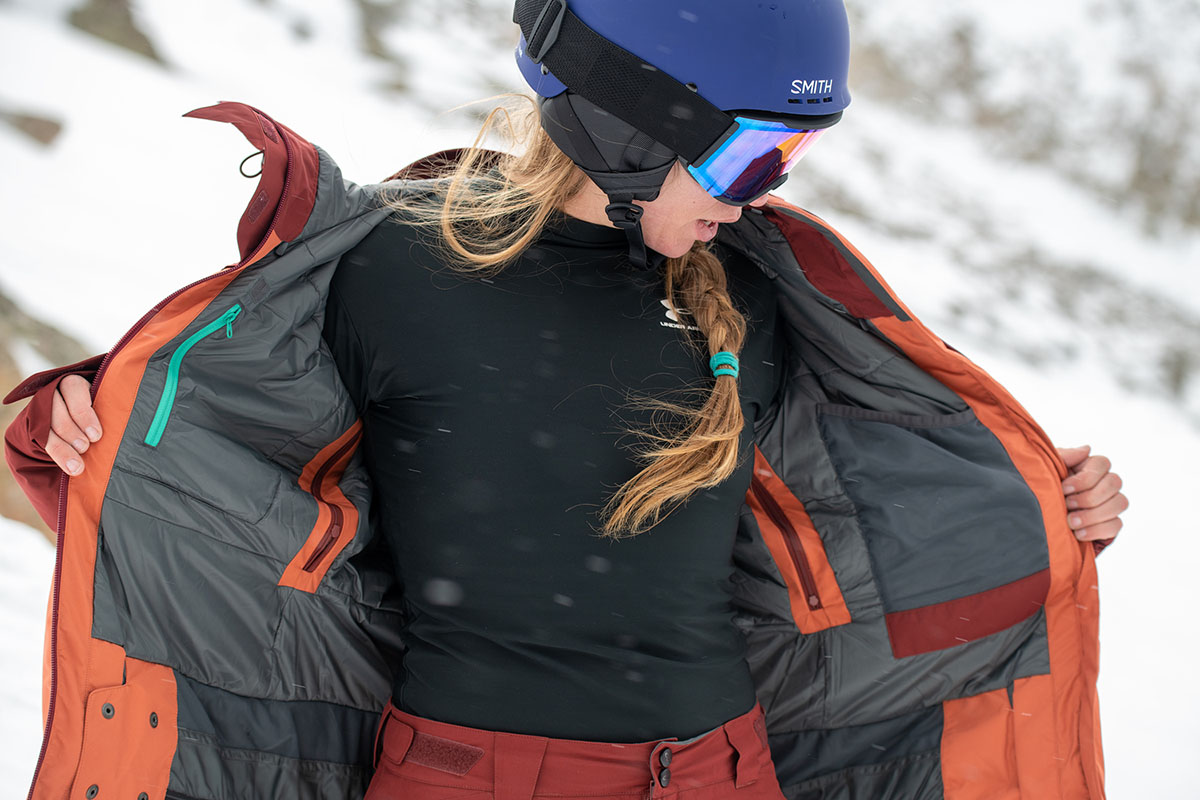 Breathability
Where the Tungsten's insulated build falls short is in the breathability department. Despite generously sized pit zips (and thigh vents on the pants), the 2-layer build and emphasis on warmth fall well short for backcountry use. Even on short sidecountry hikes, I quickly overheated in the Tungsten. Granted, temperatures were undoubtedly warm in Crested Butte, and I think the ideal range would be closer to around 15-30 degrees Fahrenheit. All things considered, the Tungsten strikes me as a serviceable option for resort skiers who like to explore bowls or other off-piste areas in colder temperatures, but it's simply too much jacket for extended high-output adventures or hiking in spring conditions.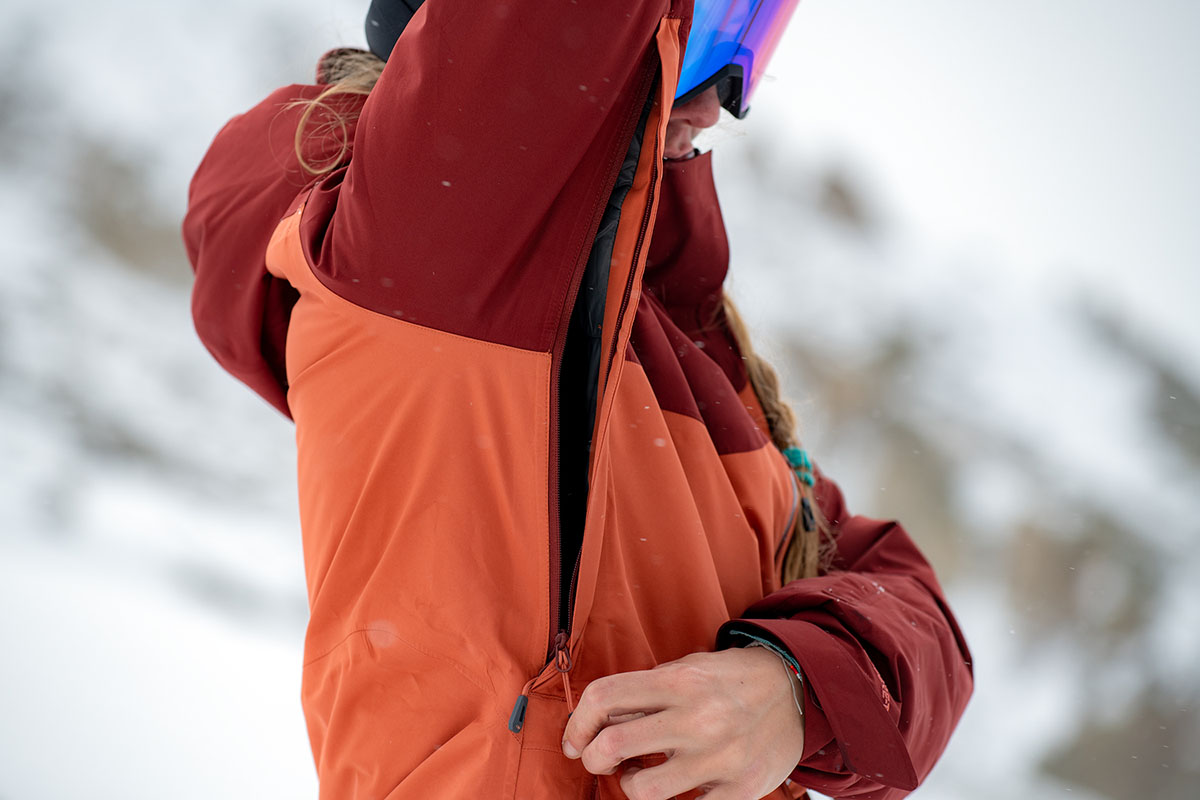 Build Quality and Durability
We've had fit and finish issues with a few Outdoor Research products over the years, but the Tungsten kit appears to be impressively well-made. For starters, both the jacket and pants feature a robust 75-denier (D) face fabric that should withstand regular use and abuse without issue. After a week of skiing in Crested Butte, neither show any sign of wear. Additionally, all features are holding up well and functioning flawlessly, including the zippers, buttons, and drawcords. To boost durability, the pants also sport a burly 420D scuff guard along the inner ankles, which helps protect against fraying (this area is prone to tearing from encounters with ski boots and other sharp equipment). Time will tell how the kit fares against continued and more demanding use, but all signs are positive so far.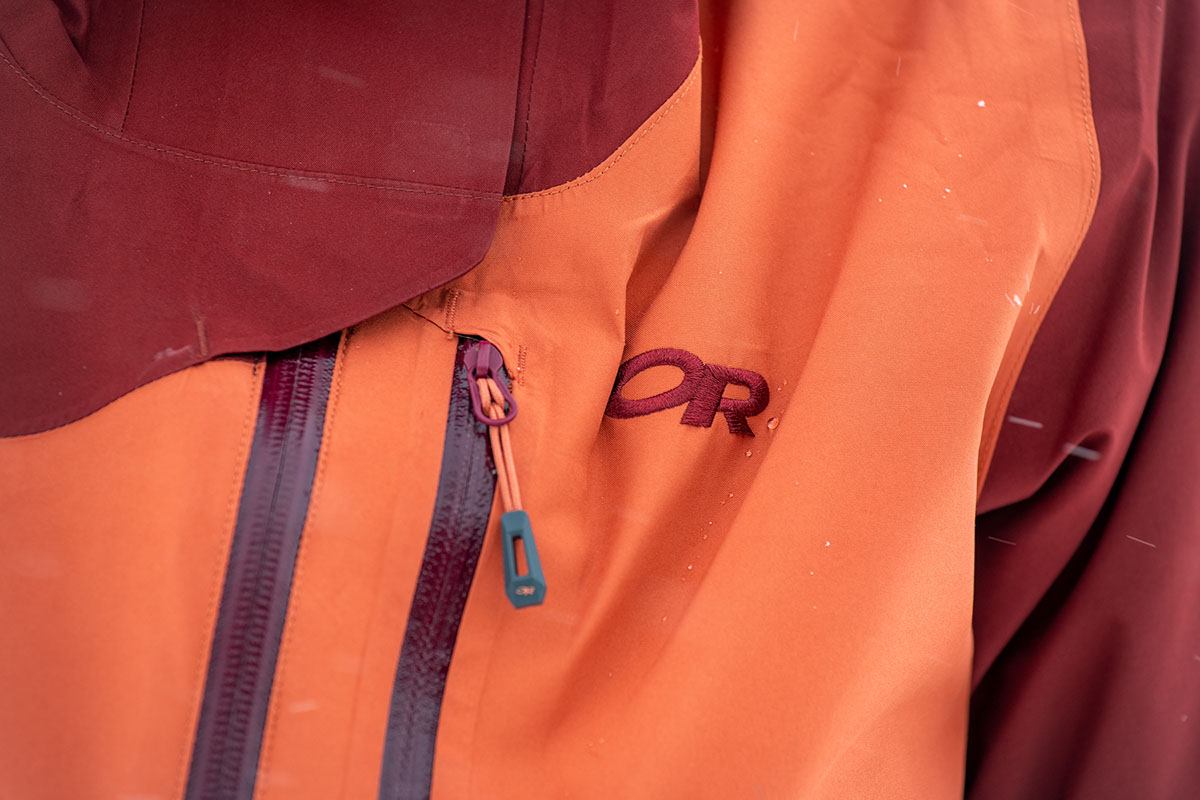 Weight
At 1 pound 9.5 ounces, the Outdoor Research Tungsten is relatively light for an insulated resort jacket. For reference, similar shells like Patagonia's Insulated Powder Bowl (2 lbs. 0.5 oz.), Insulated Snowbelle (1 lb. 15.1 oz.), and Helly Hansen's Alphelia Lifaloft (2 lbs. 3.3 oz) all clock in considerably heavier. Granted, all three shells are a bit warmer with more insulation in the body, but the difference is fairly minimal. And it's true you can shave significant weight with more backcountry-friendly designs like OR's own Skyward II (1 lb. 6.3 oz.), but you give up the lofty warmth of the Tungsten on colder resort days. All in all, considering the amount of insulation, I think the Tungsten's weight is perfectly reasonable, especially for those that stay inbounds.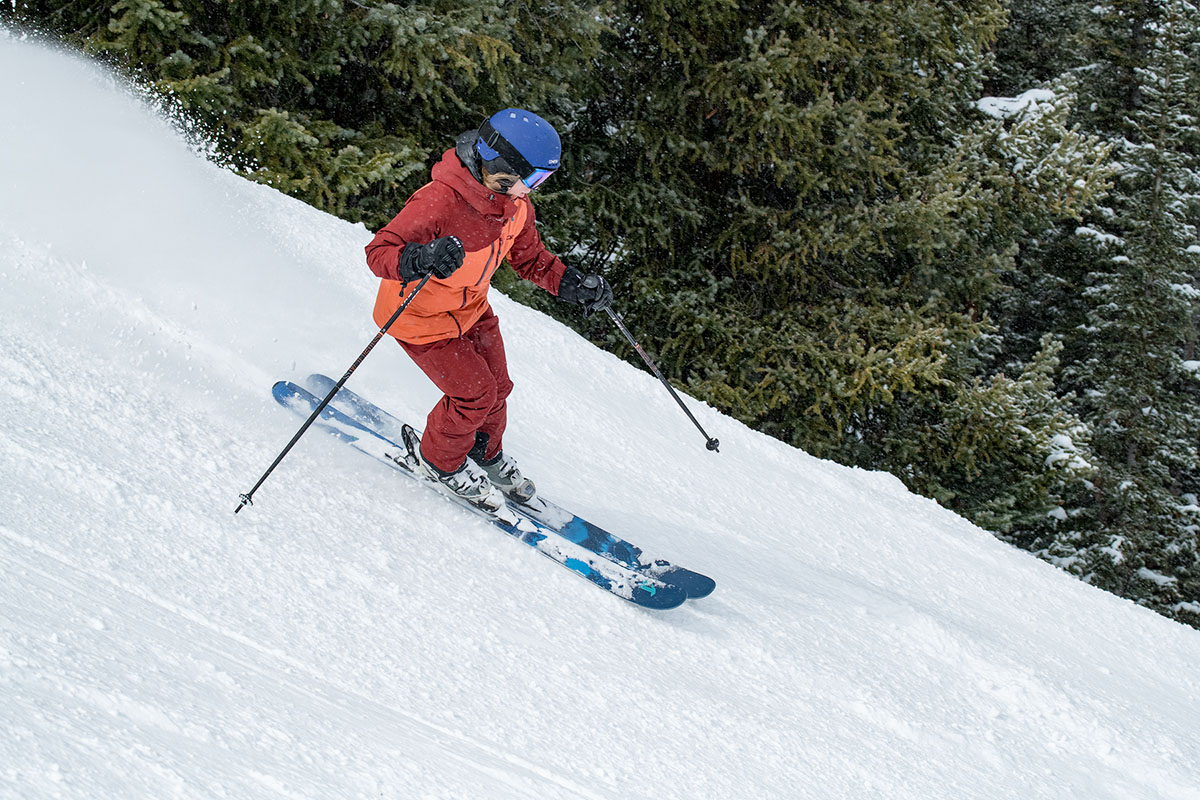 Key Features
Hood
A nicely sized, functional hood is a critical feature in a resort shell, and the Tungsten's didn't disappoint. The hood is large enough to easily fit over a ski helmet (I wore the shell over my Smith Holt in a size medium most of the week), and adjustment is easy with three drawcords, including one at the back of the head and two at the sides of the neck. I did find that the hood felt slightly restrictive at the collar area when worn over a helmet with the jacket fully zipped, but this is a relatively common complaint, and lowering the main zip a couple inches quickly solved the problem. And arguably more importantly, coverage was excellent—with everything tightened and adjusted, the aperture left only my ski goggles and a bit of my nose exposed to the elements.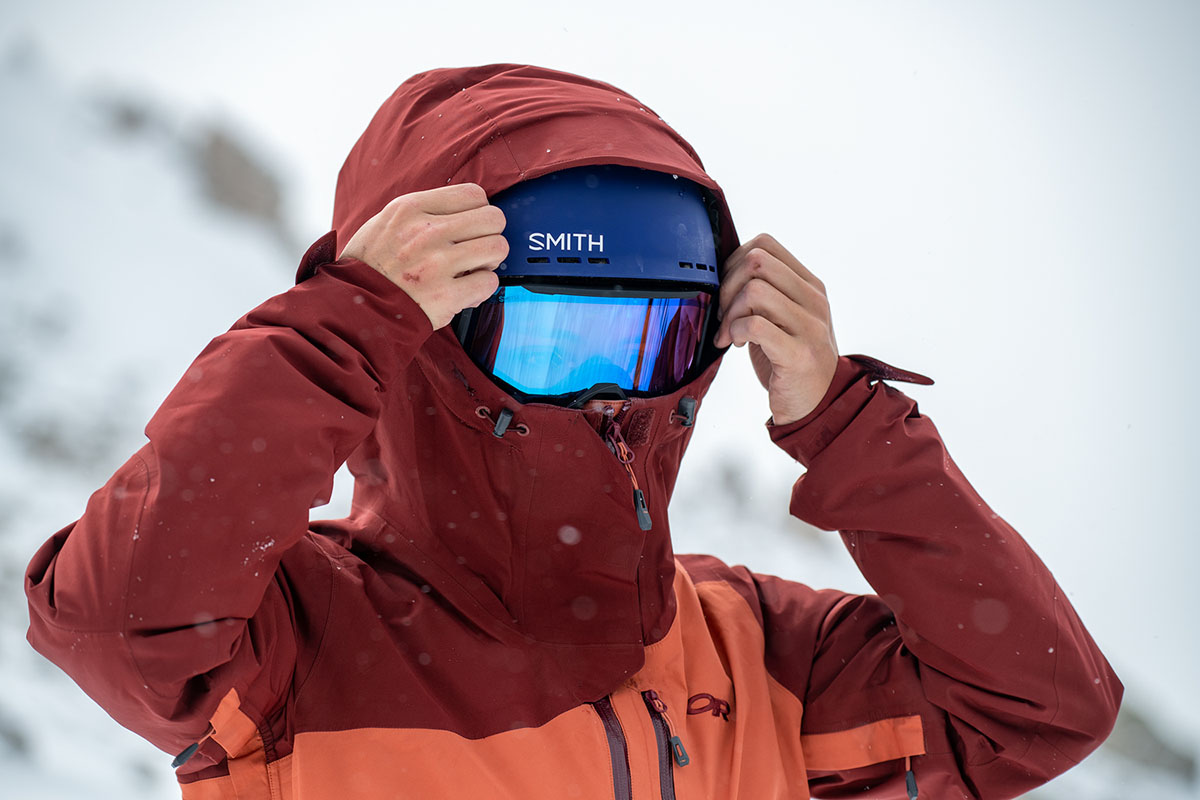 Pockets
As far as storage goes, the Tungsten Jacket comes well-appointed with six total pockets. On the outside, you get two nicely sized hand pockets that easily swallow gloved hands, a dedicated pass pocket on the left forearm, and an external chest pocket that's just large enough to house my plus-sized iPhone 11 (although it's a bit of a tight squeeze). Both the hand pockets and chest pocket feature YKK water-resistant zippers for added assurance against moisture creeping in, and the hand pockets also have protective flaps covering the zippers to further seal out the elements. On the inside of the jacket, you get an internal mesh stash pocket that's great for stowing a pair of goggles, ski gloves, or a hat, as well as another small chest pocket on the righthand side—again, this space is a bit tight for a modern smartphone, but I made it work.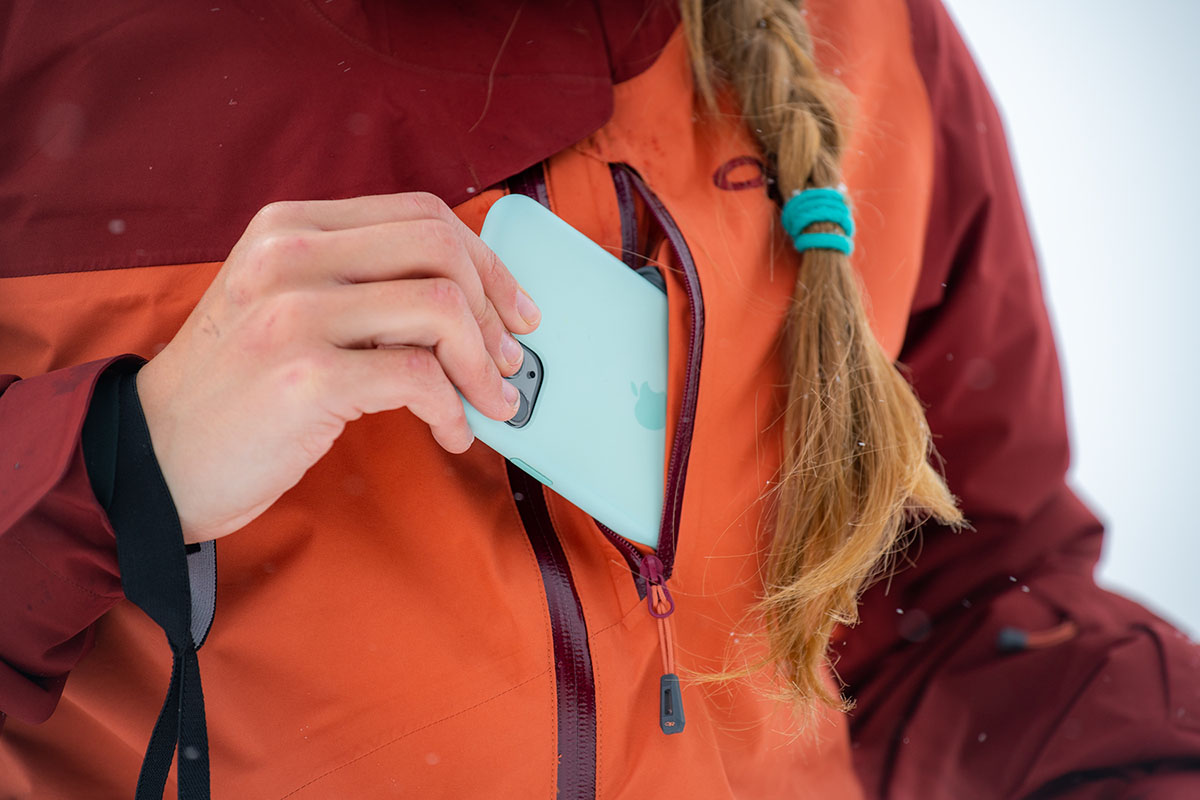 Powder Skirt
Like many of our favorite ski shells, the Tungsten Jacket features a powder skirt for sealing out snow at the waist. The design is simple but effective: a silicone-like band wraps around the inside of the jacket, and two sets of buttons allow you to adjust fit. It's worth noting that unlike some other resort offerings (including our top-rated resort shell, the Helly Hansen Alphelia), the Tungsten's skirt isn't removable. This shouldn't be a deal-breaker for most skiers—the skirt was barely noticeable on the slopes—but it's a consideration, nonetheless.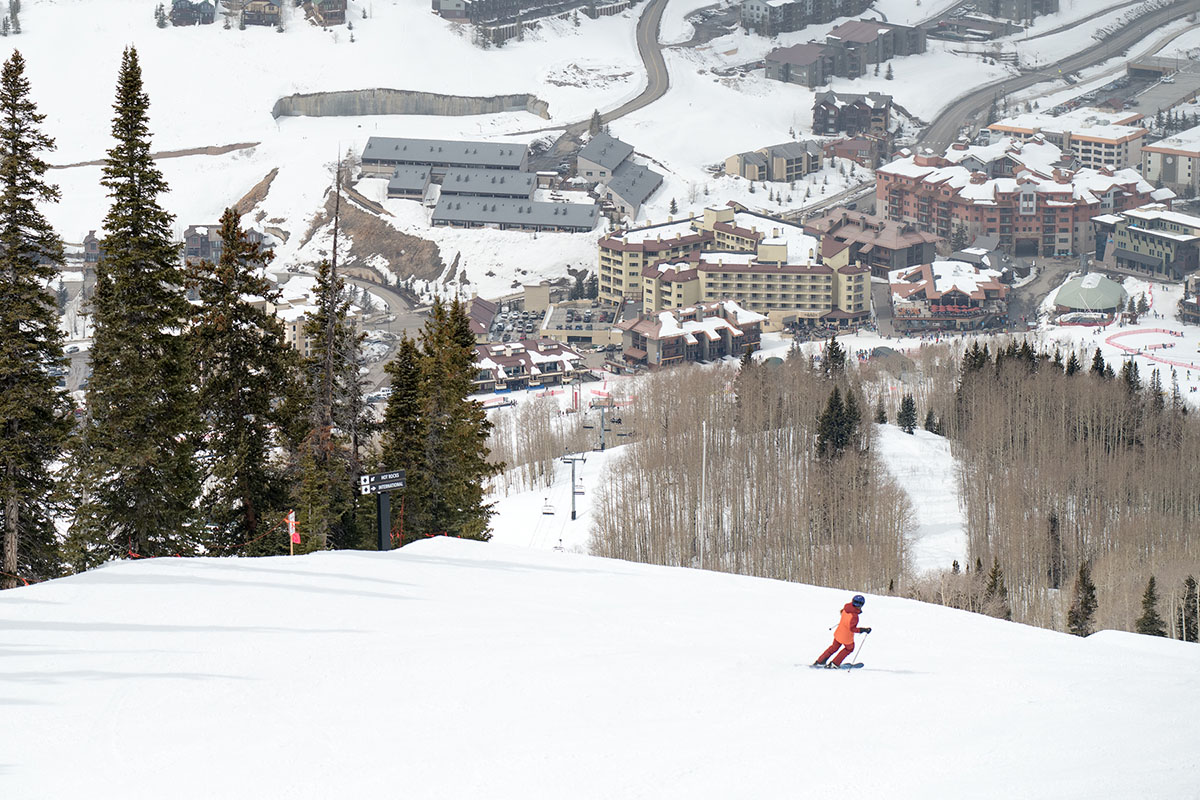 Fabric Flap Over Front Zipper
One unique design element on the Tungsten is the fabric flap over the center zipper that extends from the chest area up to the top of the collar. The flap features three Velcro patches along the inside that attach to the opposite side of the collar to better protect the main zip against moisture creeping in. Overall, the idea is a good one, but it does prevent you from being able to unzip the front zipper without also undoing the Velcro (as mentioned above, with the hood up, I had to unzip a little to maintain full range of movement at my neck). But despite this added step, the flap was never intrusive whether attached or unattached, and I often forgot it was there until zipping the shell all the way up (or needing to unzip). The Velcro does have the potential to wear down and become less secure over time, but so far, it's holding up well.

Fit and Sizing
I ordered my standard women's size medium in the Outdoor Research Tungsten Jacket and Pants and found them to be a good all-around fit (for reference, I'm 5'6" and 135 lbs.). Wearing a baselayer underneath, I never felt restricted when bending down or reaching overhead, and I was able to move freely on the slopes. There's also sufficient space for adding a lightweight midlayer on frigid days. And at 29.75 inches down the back, the jacket is also an ideal length for sealing out snow, and it never bunched or rode up unexpectedly. All in all, from a fit perspective, I have no complaints about the Tungsten kit.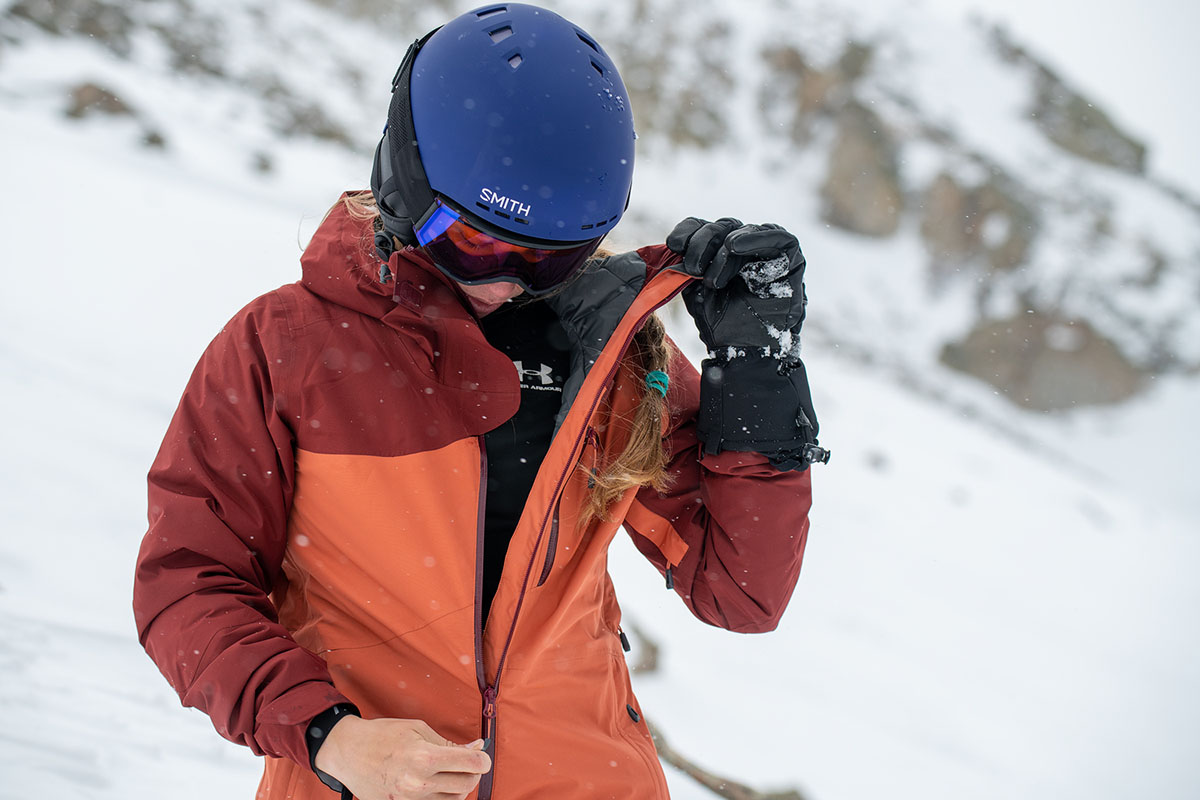 Outdoor Research Tungsten Pants
As I touched on throughout this review, I was also testing the new women's Tungsten Pants ($349 and 1 lb. 4.5 oz.) in Crested Butte. Like the jacket, the pants use 2-layer Gore-Tex for waterproofing, utilize VerticalX insulation for warmth (60g throughout), and have a robust 75-denier face fabric. In terms of features, the pants boast easy-to-use Velcro waist adjustments at both sides, a pocket at each thigh (the right sports a smaller mesh pocket and clip for attaching an avalanche beacon), internal gaiters with slots for your boots' power straps, reinforced scuff guards, and inner thigh vents for dumping heat when you're working up a sweat. Like the jacket, the pants run too warm for true backcountry use (and the thigh vents only provide modest relief), but they're nevertheless a great match for cold to moderate resort days that involve sitting on chairlifts and the occasional sidecountry hike.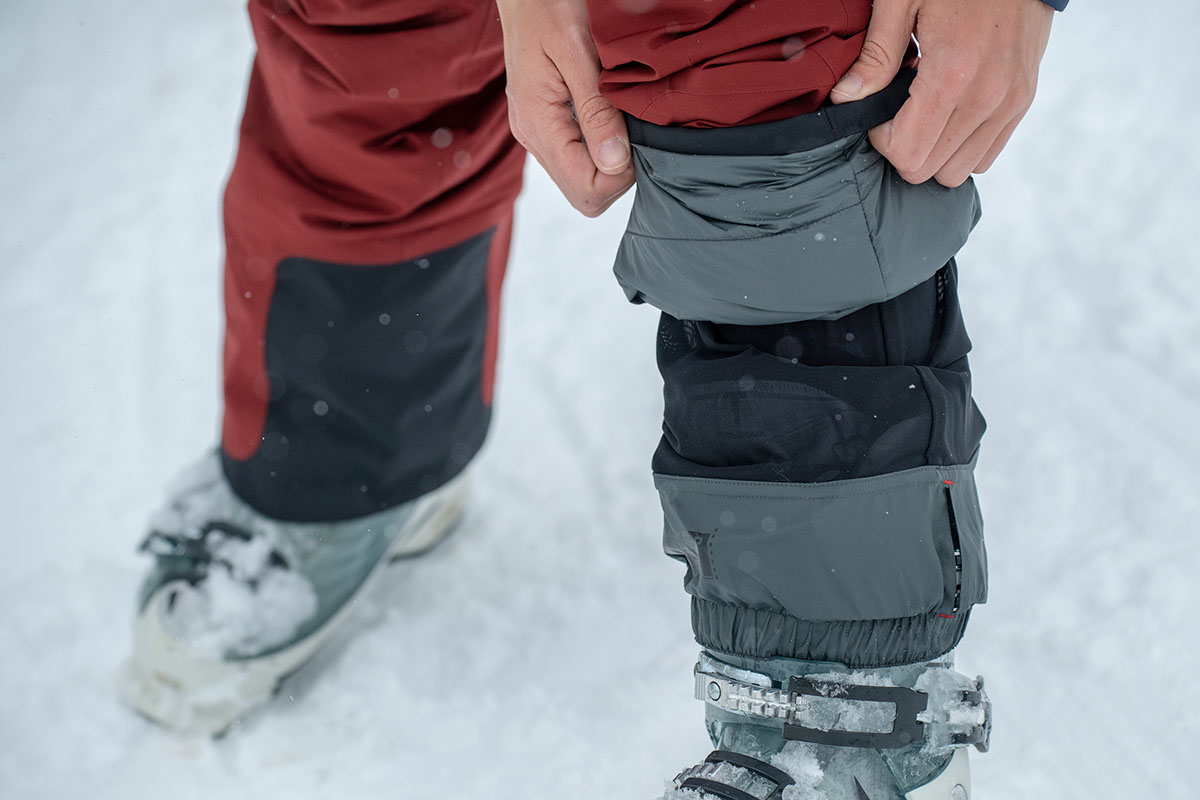 Men's Versions of the Outdoor Research Tungsten
We put the women's version of the Tungsten jacket and pants to the test for this review, and OR also released the kit in men's variations that cost the same as their women's counterparts. The men's Tungsten Jacket shares the same overall build and feature set as the women's model, including the use of 2-layer Gore-Tex, a mix of 60- and 45-gram synthetic insulation, and a soft taffeta lining. The men's Tungsten Pants are a similar story with an identical construction, although weight and colorways vary for both the jacket and pants (the jacket clocks in at 1 lb. 12 oz., while the pants weigh 1 lb. 6.1 oz.).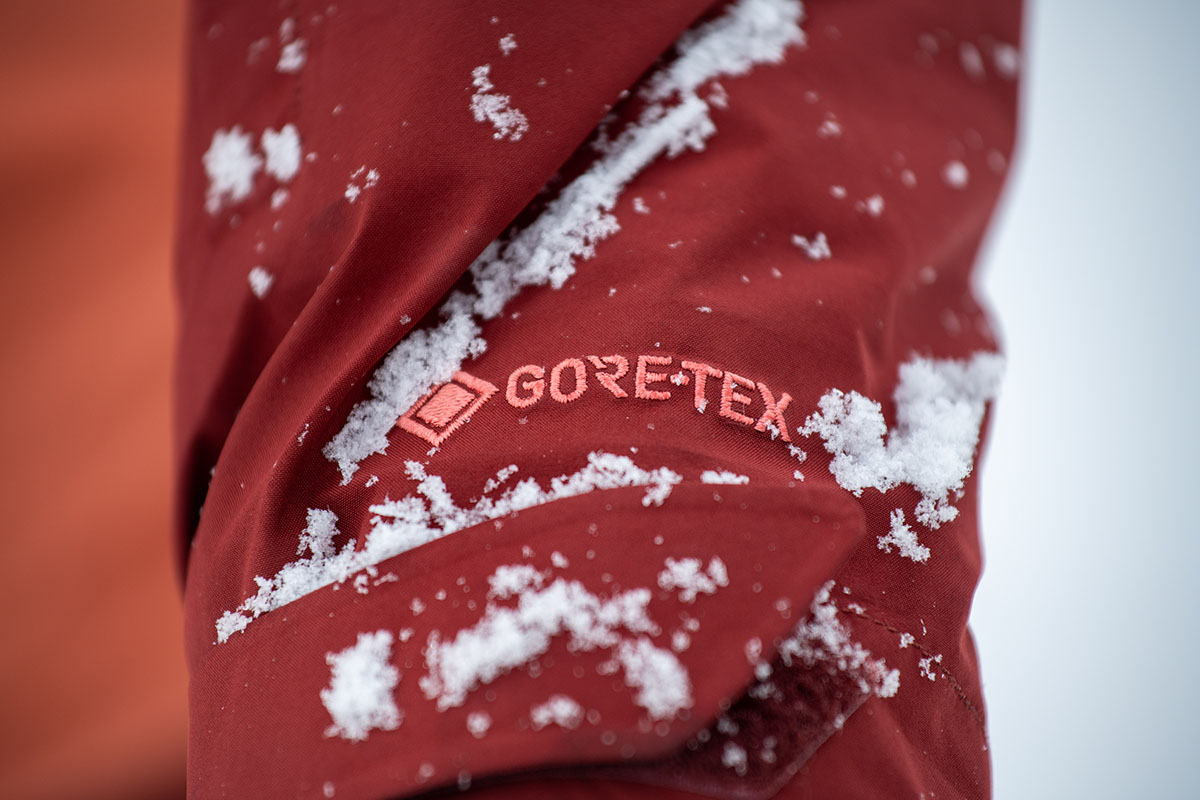 What We Like
Proven Gore-Tex protection on the outside and a taffeta-lined interior that's soft to the touch and extremely comfortable.
Great attention to detail: this shell is hardwearing, includes a thoughtful feature set, and looks good to boot.
Despite the insulated build, the Tungsten is fairly light at 1 pound 9.5 ounces and never felt bulky or cumbersome while lapping the resort.

What We Don't
Despite the jacket's pit zips and pants' thigh vents, the Tungsten kit runs too warm for true backcountry use.
With the jacket fully zipped and when worn over a helmet, the hood restricts side-to-side movement at the neck.
A little pricey for a 2-layer design.


Comparison Table

The Competition
Outdoor Research's Tungsten Jacket is new for 2020-2021 and joins an extensive group of quality, resort-focused ski jackets. One of the Tungsten's closest competitors in both features and overall build is Patagonia's Insulated Snowbelle (and men's Snowshot). In terms of similarities, both jackets feature smooth taffeta linings, sport 75-denier face fabrics, use 2-layer constructions (the Patagonia uses an in-house H2No membrane), and are insulated. In parsing out the differences, the Snowbelle is warmer with 80g fill in the torso but also heavier at 1 pound 15.1 ounces, although most resort-goers shouldn't notice a big difference here. And the deciding factor for many may be price: at $329, the Snowbelle undercuts the Tungsten by a considerable $70 without sacrificing much in the way of performance, which gives it the edge in value.
Another Patagonia jacket to consider is the Insulated Powder Bowl, which is a step up in both price ($479) and performance from the Snowbelle. Both the Powder Bowl and Tungsten use 2-layer Gore-Tex for waterproofing and boast similar feature sets, including helmet-compatible hoods (the Powder Bowl's is removable), six total pockets, adjustable powder skirts, and pit zips for releasing excess heat. Where the two differ most is in durability and warmth: the Powder Bowl is more hardwearing with a robust 150-denier shell, and it's also more insulated thanks to its mix of 60- and 100-gram insulation. A decision between the two will likely come down to price (the OR gets the edge) vs. warmth (the Patagonia wins here).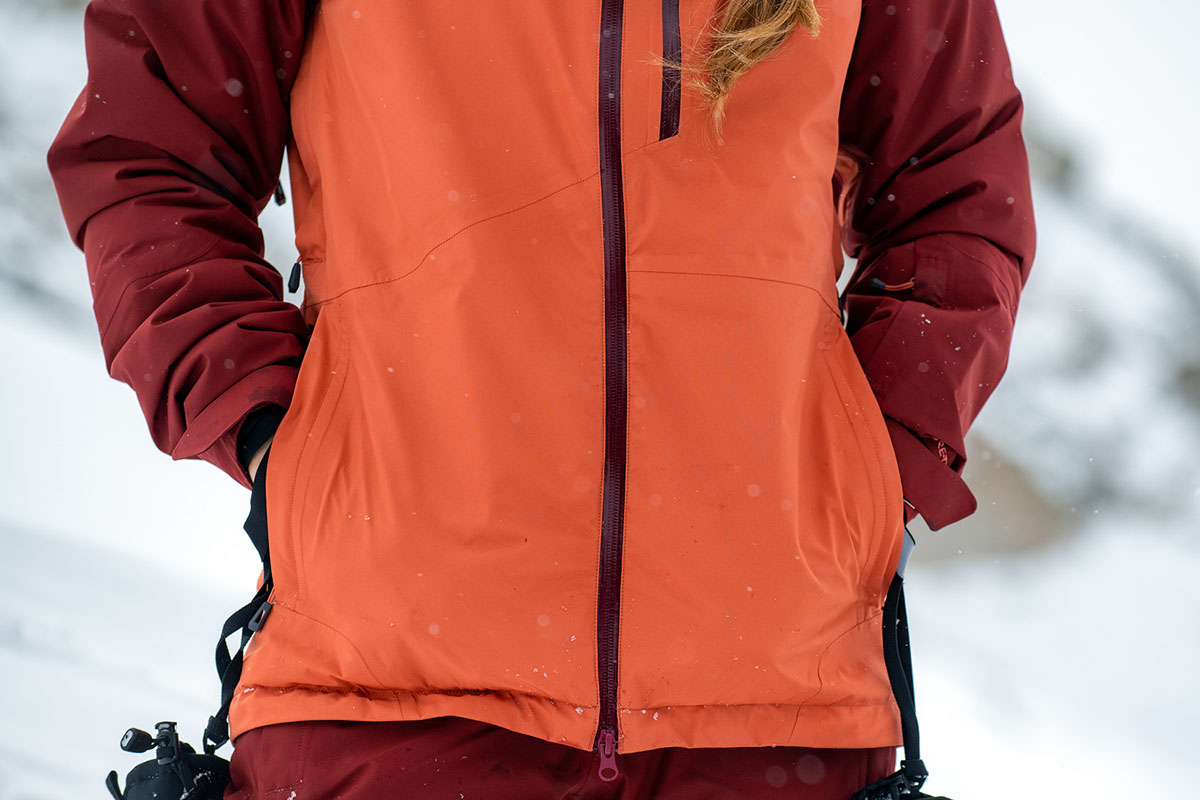 Our favorite insulated resort jacket this year is Helly Hansen's Alpha and women's Alphelia, which is fully featured with a removable powder skirt, helmet-compatible hood, ample storage, and a waterproof 2-layer construction. We also like the addition of 11 percent elastane in the build, which adds a good boost in mobility. That said, the Alphelia is heavy at 2 pounds 3.3 ounces (around 9 oz. heavier than the Tungsten) and costs around $75 more than the OR. Both jackets run warm on mild resort days, but we give the slight nod to the Helly Hansen for its better range of motion, cleaner styling, and more diverse colorways.
From within OR's own lineup, the Skyward II Jacket is the closest option in price at $350. Compared to the resort-oriented Tungsten, the Skyward is a much more backcountry-friendly piece with an in-house AscentShell membrane that breathes and moves impressively well (and still protects against moisture and wind), massive hem-to-bicep side vents, and a nice array of protective features. It doesn't have the same bombproof feel as Gore-Tex, but we've found that AscentShell is still a highly protective barrier against strong winds and heavy snow. If you're looking for one shell to transition between the front- and backcountry, the Skyward is a very capable choice. If you plan to spend most of your time on-piste (and especially in notoriously cold areas), the Tungsten is the better match.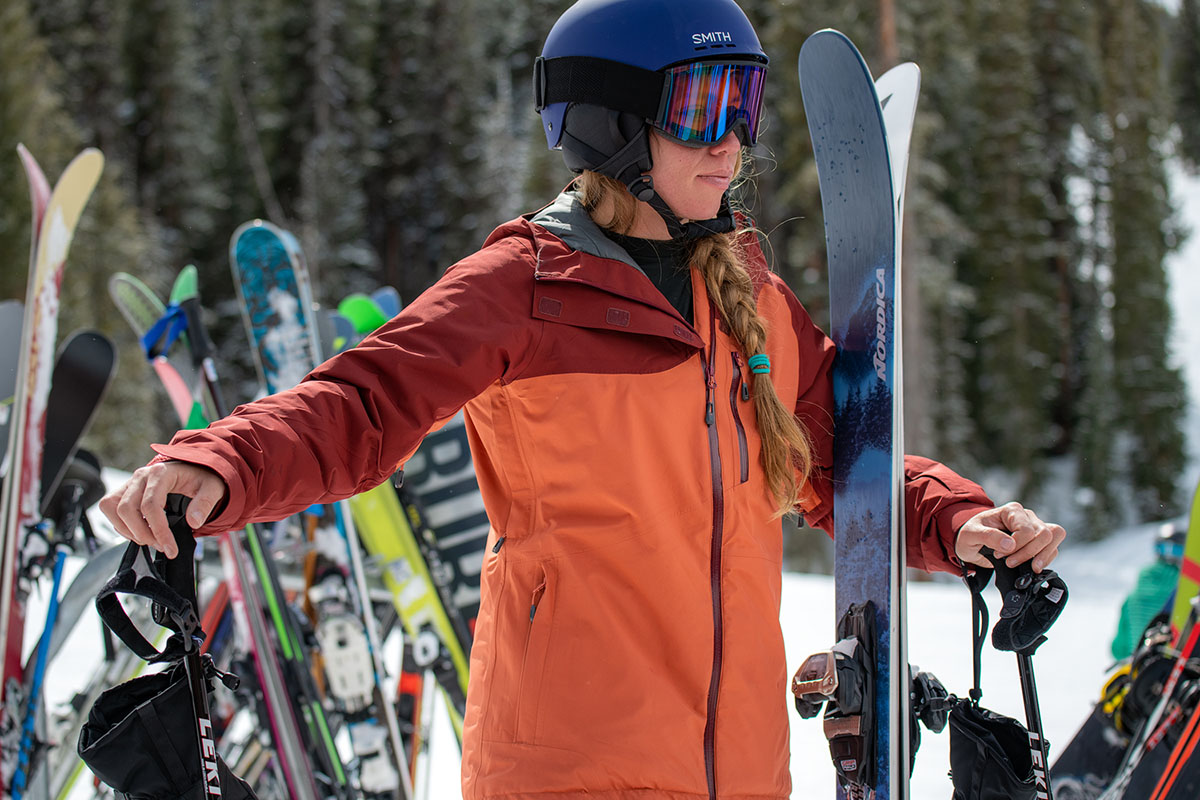 Last but not least, Black Diamond's BoundaryLine Mapped offers something a little different: rather than standard synthetic insulation, the BoundaryLine utilizes wool (60g) in strategic areas, which outperforms synthetics in moisture management and odor prevention. Black Diamond also incorporated stretch into the face fabric, making the BoundaryLine the more mobile option of the two. The Tungsten does win out in weight (1 lb. 9.5 oz. vs. the BD at 1. lb. 14.3 oz.) and cost ($399 vs. the BD's $425 price tag), but we really like the unique build and added range of movement. In the end, a decision will come down to your objectives: for cold-weather tours and occasional resort outings, the BoundaryLine is a nice option that comes with a full backcountry-ready feature set. For strictly resort use, we think it's worth saving with the Tungsten.
If you're thinking about buying gear that we've reviewed on Switchback Travel, you can help support us in the process. Just click on any of the seller links above, and if you make a purchase, we receive a small percentage of the transaction. The cost of the product is the same to you but this helps us continue to test and write about outdoor gear. Thanks and we appreciate your support!
Depending on the seller, most products ship free in the United States on orders of $50 or more. International shipping availability and rates vary by seller. The pricing information on this page is updated hourly but we are not responsible for inaccuracies.
Learn More About Ski Gear