The Outdoor Research Uberlayer shakes up the high end of the synthetic jacket market, with a relatively steep price tag but impressive breathability and a host of features designed for backcountry skiing, hiking, and climbing use. After extensive testing, below we break down the strengths and weaknesses of the Uberlayer including warmth, water and wind resistance, fit, features, and more. To see how the Uberlayer stacks up against the competition, see our comparison table and article on the best synthetic jackets. 

Performance
Active Insulation: Polartec Alpha
One of the most intriguing features of the Outdoor Research Uberlayer is the stuff on the inside: Polartec's Alpha synthetic insulation. Having enjoyed Patagonia's Nano-Air for about a year, which aims for the same goal of breathability and lightweight warmth with its FullRange insulation, we were curious to see how the original active insulation would compare.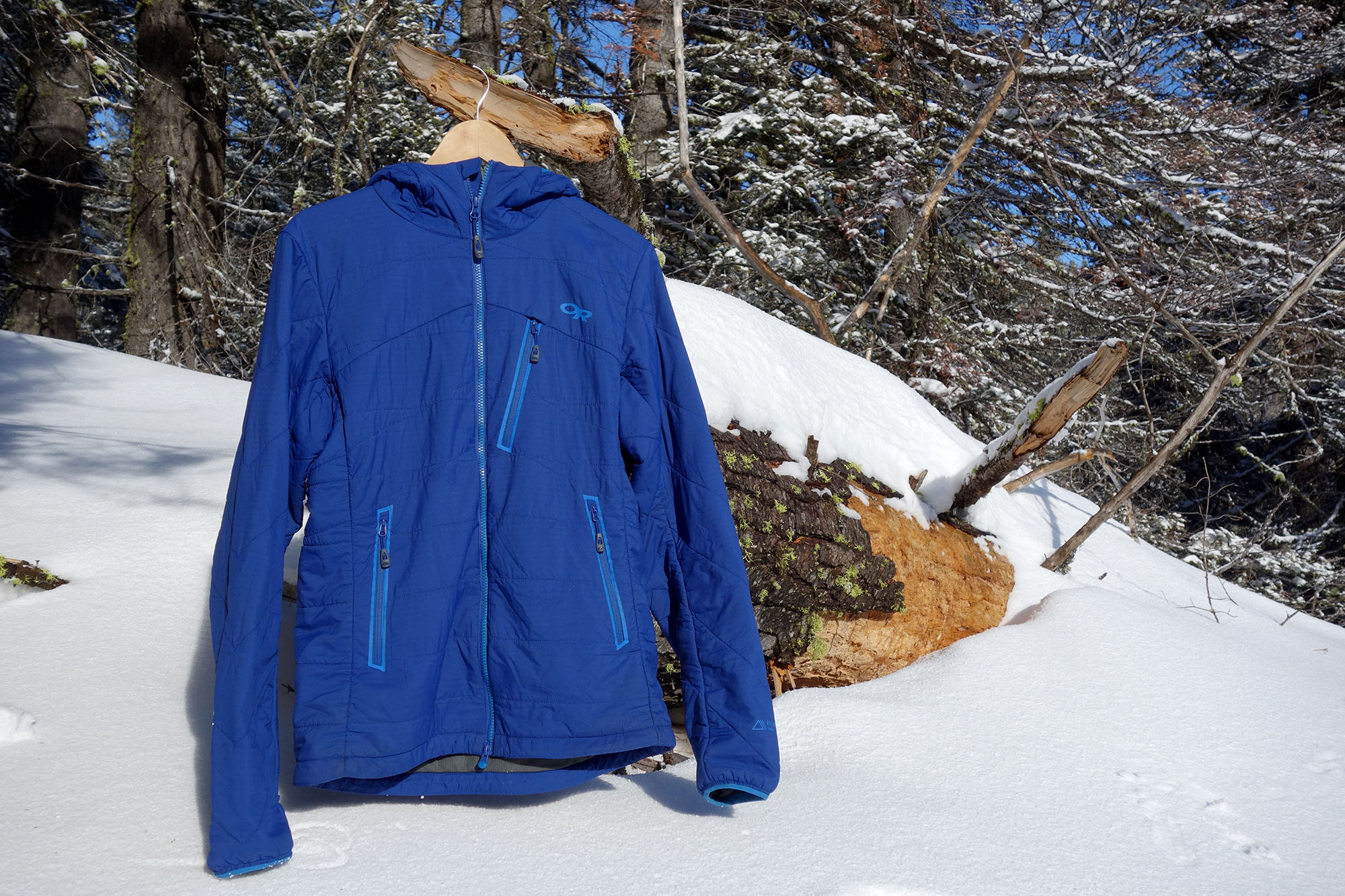 The Uberlayer certainly made some strong first impressions. Our first venture out was a late season hike with conditions varying from 30 degrees and snowing to 50 and sunny. While my hiking partner was slipping their insulating layer on and off as the terrain and weather changed, I never once thought to remove it. Even when we stopped for lunch, it kept me warm enough that I didn't need to reach for a shell—a testament to its temperature regulating properties.
Polartec Alpha is differentiated from traditional synthetic insulation like PrimaLoft by its low-density design. This different fabric weave releases sweat vapor efficiently through the jacket but traps heat in its numerous air pockets when you're inactive. It's warm when you stop and stays cool when you're on the go. The design was first conceived for the U.S. Special Forces, but its benefits are enjoyed in nearly every form of outdoor activity. 

Warmth
If all-out warmth is your aim, we recommend a different piece. There are synthetic jackets with more insulation that weigh about the same or less. This is where the hi-pile Alpha insulation can't keep up with an equivalent amount of PrimaLoft, and neither synthetic insulation can compete with a premium down jacket. For synthetic jackets in its price range, we found that the Uberlayer is slightly warmer than the Patagonia Nano-Air and Arc'teryx Atom LT, but not as much as one would expect for having significantly more insulation (98 g/m2 for the OR compared with 60 g/m2 for the other two). If you're not working hard, expect a comfort range of about 45F to 60F with a lightweight baselayer underneath. On the move, that can dip below freezing.
 
Breathability
Simply put, we haven't found a jacket that brings together this level of warmth and breathability. Time and time again, we were impressed with the breathability of the Uberlayer, and it wasn't always on the trail or slopes. It even excels at mundane tasks like shoveling a driveway. And the excellent breathability doesn't just come down to the insulation. Mesh lining the interior as well as the stretchy nylon shell promotes moisture transfer away from your baselayer. The Uberlayer is a better breather than competition like the Atom LT or Rab Strata and a better insulator than the similarly breathable Nano-Air.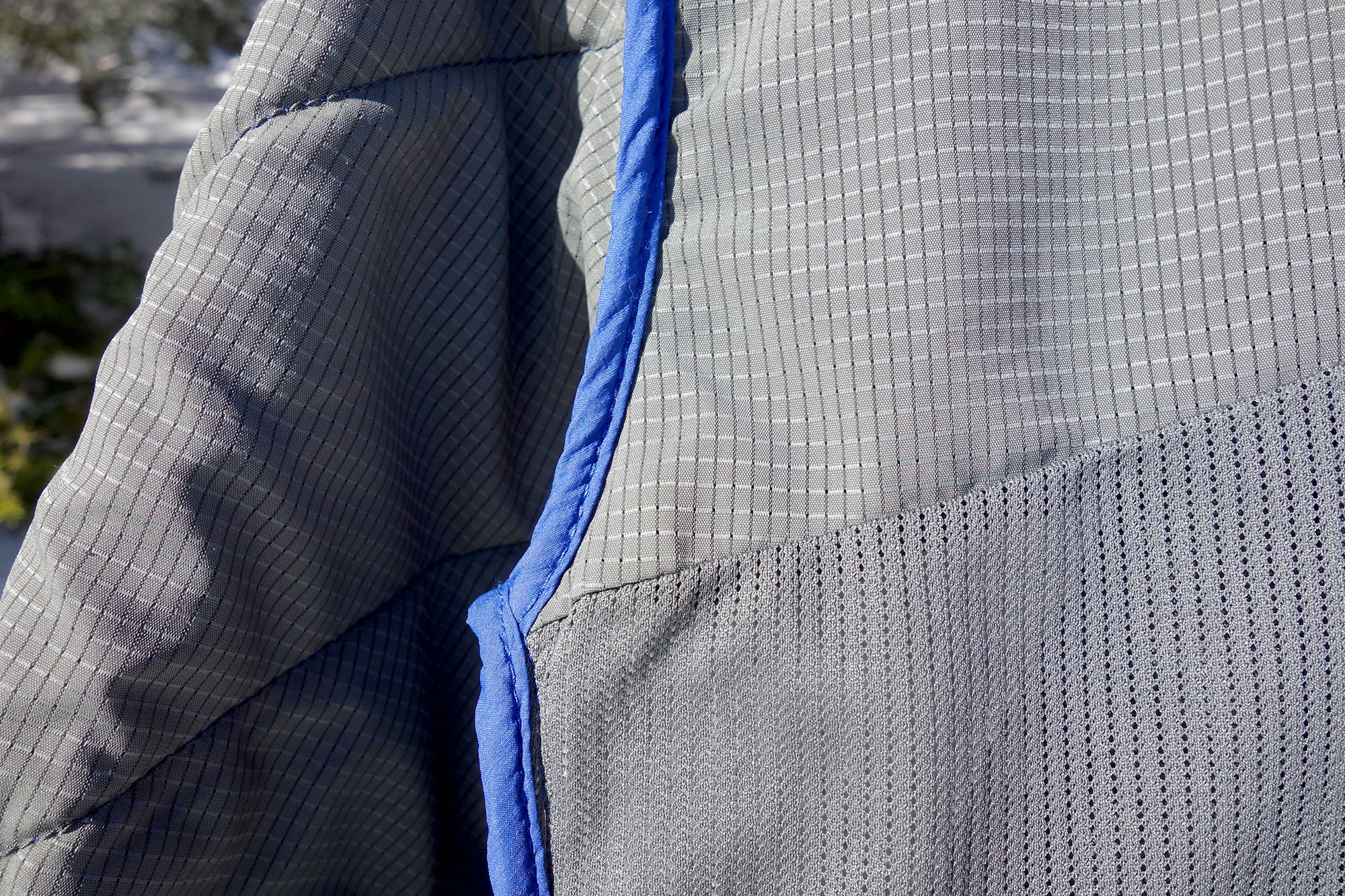 Water and Wind Resistance
While the shell fabric is water resistant, rain won't bead up for long and will absorb into the nylon. Thankfully, the insulation still works well in the wet and does dry relatively quickly—both significant improvements over a down jacket. We felt totally comfortable wearing the Uberlayer as a standalone shell in light precipitation.
As for wind protection, the combination of the mesh liner, thin shell and Alpha insulation, all of which prioritize moisture transfer, means it's often necessary to slip a hardshell over top the Uberlayer in cold and blustery conditions. Light winds are no issue, and overall, the jacket excels as an outer piece on clear and cold days.
 
Weight
One key area of weakness with the Uberlayer is total weight. For the warmth, it's simply too heavy for those that are counting ounces. Our medium size weighs 18.5 ounces on our scale, which is 5-6 ounces more than the aforementioned Patagonia Nano-Air and Arc'teryx Atom LT. Some of the extra weight can be attributed to detailing like a partial wire brim on the hood, thicker shell fabric and substantial double-separating zipper, but it hurts the jacket's usability for activities where those ounces count, such as backpacking.
 
Construction Quality and Durability
The Uberlayer is a good-looking jacket, with clean lines and a nice assortment of color choices (we particularly like the Baltic blue), but it does disappoint a little in fit and finish. Following a couple months of use, we started noticing a little fraying along the seams, particularly around the chest and torso. Part of the blame can be to attributed to sometimes wearing the Uberlayer underneath a shell jacket. Everything else is in great shape, but we expect a lot from a jacket retailing for $299.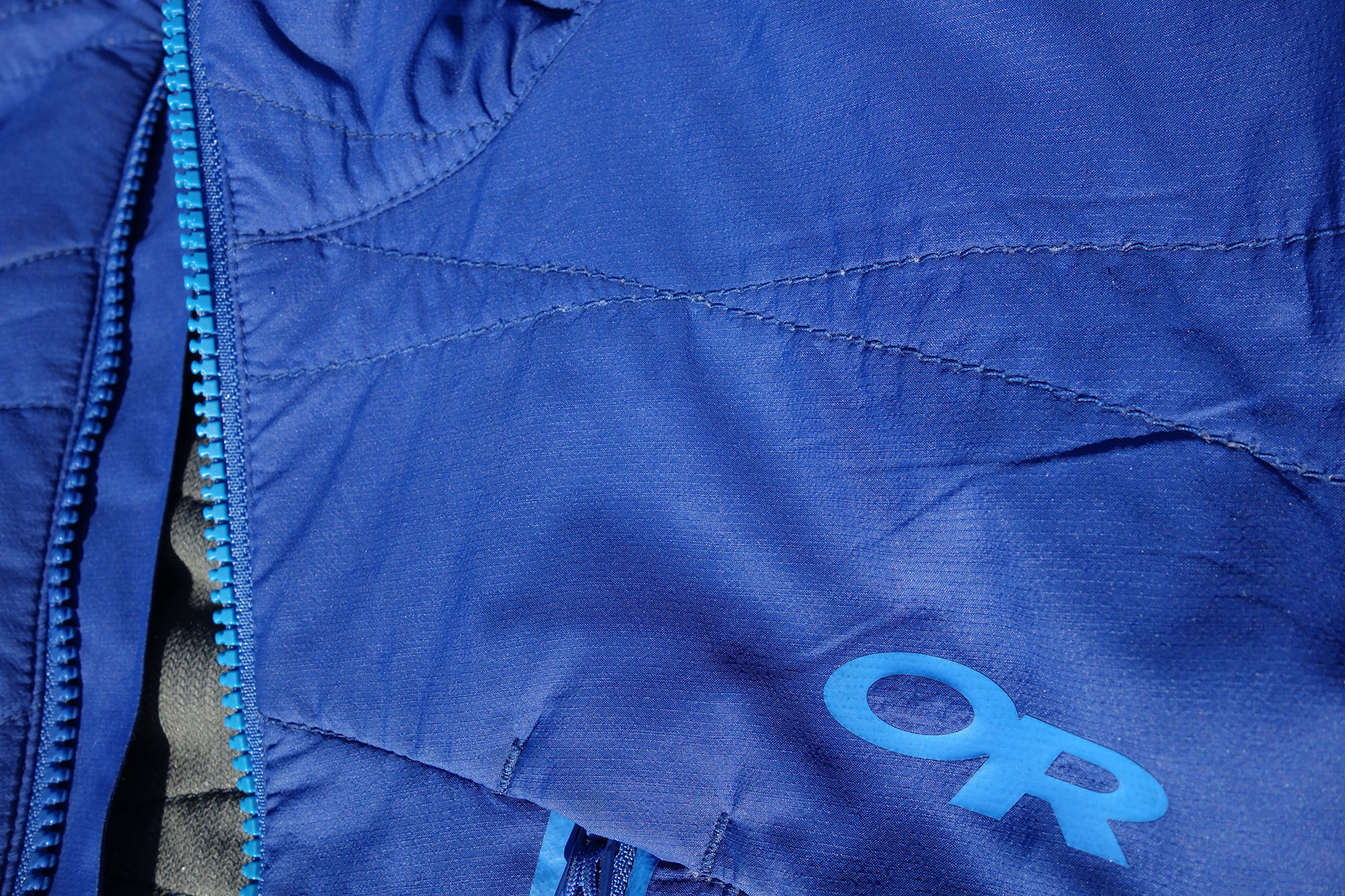 Notably, the Uberlayer's chief competitor, the Patagonia Nano-Air, also showed signs of premature wear after a few months in our hands. In that case, it was pilling along the bottom of the shell fabric. Perhaps the emphasis on a light and breathable shell is to blame, but neither jacket has best-in-class durability. On the other hand, the Arc'teryx Atom LT and its Tinthan shell has held up better than the softer fabrics of the aforementioned jackets. 
 
Stuffing it Down
Compressibility is rarely a strong suit for a synthetic piece, and while the Polartec insulation may stuff down pretty well, the thicker fabrics and features like the wire brim make it a struggle to get into the left-hand stuff pocket. In fact, we weren't able to successfully stuff the entire jacket into the pocket and zip it closed. The slightly shallow hand pocket is partly to blame, but we consider this is a design oversight. We'd be more understanding if it was the XXL size, but even our medium couldn't quite make it.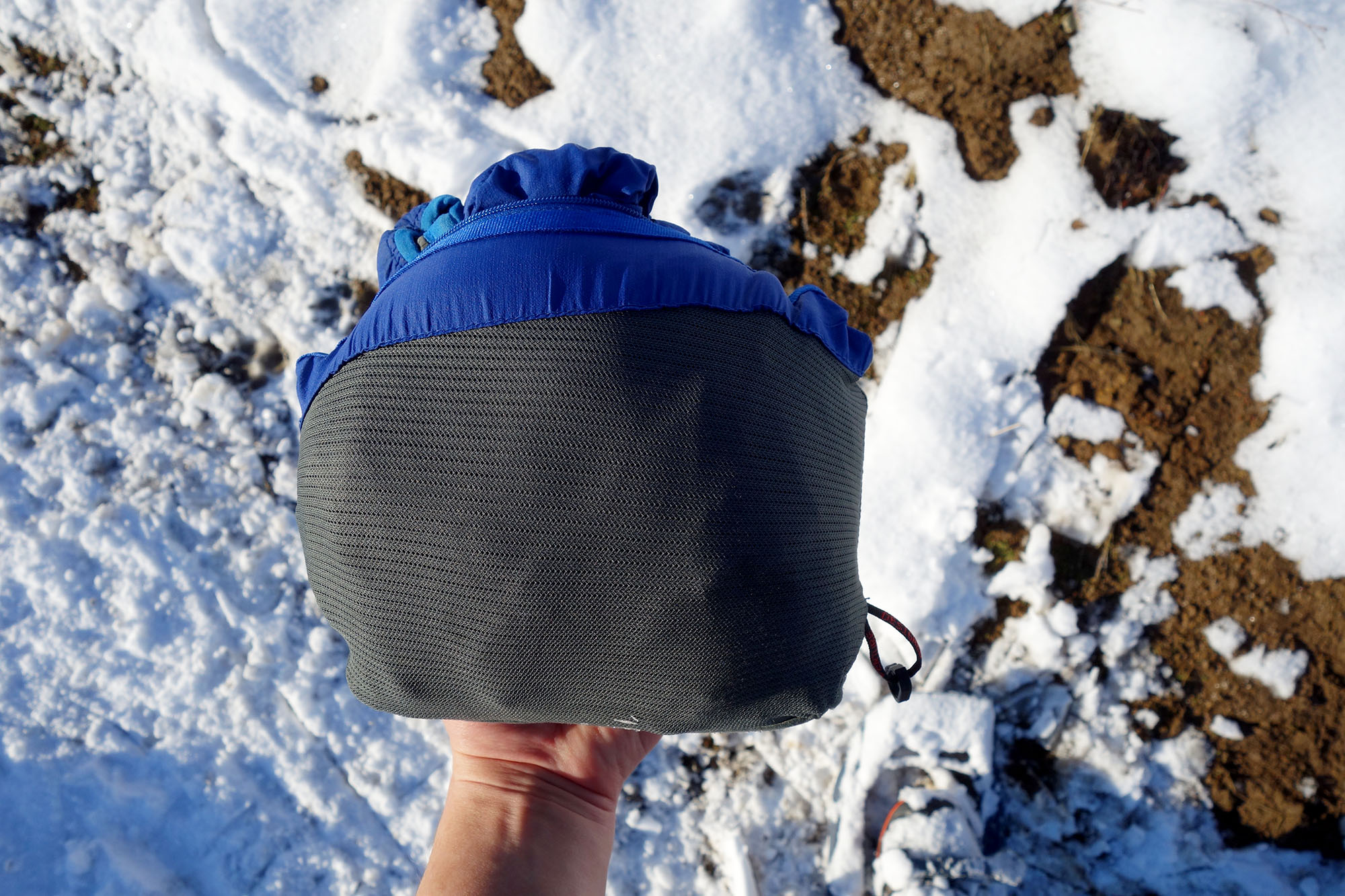 Uberlayer Features
Pockets
Because the Uberlayer is designed for use as either a mid or outerlayer, organization is important. You get a total of 5 pockets: two standard hand pockets, one napoleon chest pocket and two drop-in pockets along the interior. The hand pockets are just big enough to fit a gloved hand and feature a soft fleece backing. Drop-in pockets are a must-have for a skiing outerlayer, and the Uberlayer's can easily swallow a ski goggle.
 
Double-Separating Center Zipper
A double-separating zipper is unique in this category, and great for gaining access to your belay device or for dumping excess heat without having to remove the coat. The system was a little stiff and finicky at first, particularly the bottom zipper, which often took a few tries to catch.  After a couple days, however, it became smooth and has been worry-free since. We have noticed that the bottom piece will occasionally creep open throughout the day, but beyond that we're pleased with the quality and confidence that comes with a large-toothed zipper.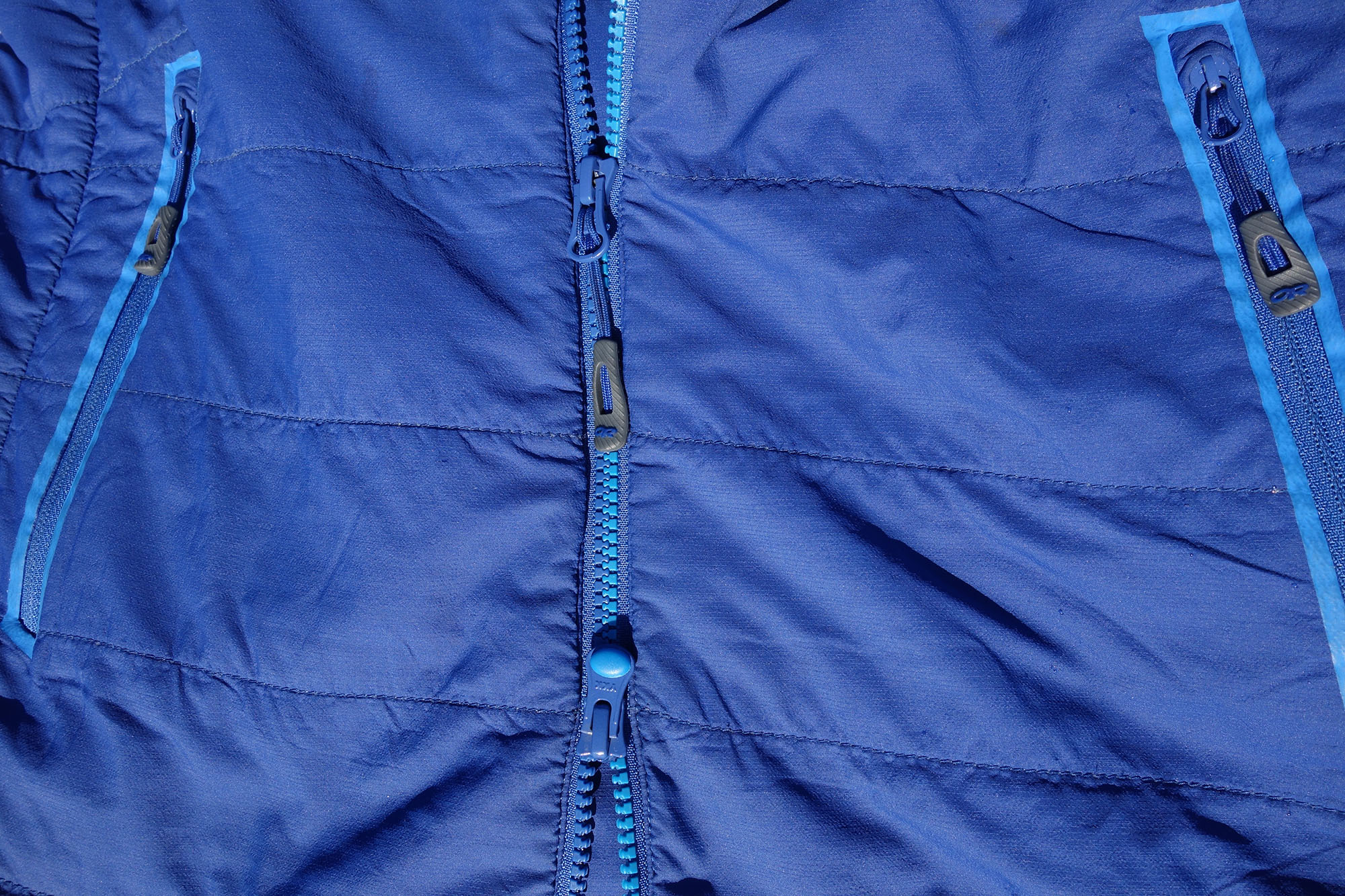 Fit and Sizing
For us, the Uberlayer has a nearly perfect fit. It has an athletic cut (i.e. not boxy) that is just right to wear over a baselayer. Range of motion is excellent, aided by long-cut sleeves and a trim but non-constricting fit around the shoulders and arms. Length-wise, it's pretty average for a midlayer falling a little below the waist. Those with a larger, more muscular build might have to size up, but our lanky reviewers felt it was just right. A single toggle along the right side cinches the hem for tuning the fit, and unobtrusive, stretchy Lycra wrist cuffs seal out the cold.
The Uberlayer jacket is only offered in a hooded style. Its hood has a partial wire brim that's easy to manipulate and adjust and provides good protection and field of vision. The fit of the hood is a good one. It's large enough to slip over most helmets (we tried the Smith Variance and Giro Range ski helmets) but isn't overwhelmingly big. The single drawcord toggle at the back adjusts around the back and sides of the head, while stretchy fabric on either side of the wire brim sits comfortably against your face.

What We Like
Excellent breathability and temperature regulation for high-output activities.
Good balance of weather protection and comfort for use as both a mid and outer layer.
We liked the athletic fit and good all-around feature set.

What We Don't
Significantly heavier than most of the competition without offering a step up in warmth.
We did notice some fraying along the exterior seams after wearing it under a shell.
Doesn't fit all the way into its stuff pocket. 

Comparison Table

The Competition
Outdoor Research is one of our favorite brands in terms of value, consistently offering quality gear at price points that undercut the competition. Therefore, we were surprised when the Uberlayer was released for $299, more than the popular Arc'teryx Atom LT Hoody and the same price as the Patagonia Nano-Air Hoody. This synthetic jacket is on the heavy side and the fit and finish can't quite compete with Patagonia or Arc'teryx, but the Uberlayer puts together a best-in-class combination of warmth and breathability thanks to Polartec Alpha active insulation and a mesh lining and lightweight shell. 
The jacket impressed us as a great layering or standalone option for aerobic-intensive activities like backcountry skiing, snowshoeing, hiking, climbing, and cold weather running. It's also packed with features like a helmet compatible hood and double-separating zipper that can really make a difference in the backcountry. All in all, a quality effort by Outdoor Research.
If you're thinking about buying gear that we've reviewed on Switchback Travel, you can help support us in the process. Just click on any of the seller links above, and if you make a purchase, we receive a small percentage of the transaction. The cost of the product is the same to you but this helps us continue to test and write about outdoor gear. Thanks and we appreciate your support!
Depending on the seller, most products ship free in the United States on orders of $50 or more. International shipping availability and rates vary by seller. The pricing information on this page is updated hourly but we are not responsible for inaccuracies.
Learn More About Outdoor Gear