We've never seen a sleeping bag release get this much hoopla, but it goes to show how big Patagonia is in the outdoor world. The company jumped into the scene this year with stylish 19°F and 30°F bags filled with 850-fill goose down, and lots of it. We took the warmer version out for some early spring backpacking in Canyonlands National Park and this much is clear: it's a premium bag and the design and build live up to Patagonia standards. However, the $500 price tag puts it at the top of the market with venerable down specialists like Feathered Friends and Western Mountaineering. Below we break down the Patagonia 850 Down Sleeping Bag's warmth and comfort, fill power and weight, center zipper design, durability, hood, and more. To see how the Patagonia 850 stacks up, see our article on the best backpacking sleeping bags.
 
Performance
Weight
Weight is a top consideration for many serious backpackers, so we will get right to the point. In a size regular, the Patagonia 850 Down Sleeping Bag 19°F weighs 32.2 ounces, or just a few feathers over 2 pounds. This is very competitive with other premium lightweight backpacking bags, with the Patagonia weighing an ounce and change more than the Feathered Friends Swallow Nano (31 ounces) and a few ounces more than Western Mountaineering Ultralite (29 ounces). However, the Patagonia bag has more down fill at 19.7 ounces than either of those bags and a more substantial hood (more on that below), which contribute to those extra ounces. You can save with the 30-degree version of the Patagonia 850, which weighs in at 25.9 ounces total. That's a great summer bag, but the 19-degree version definitely is the more versatile of the two.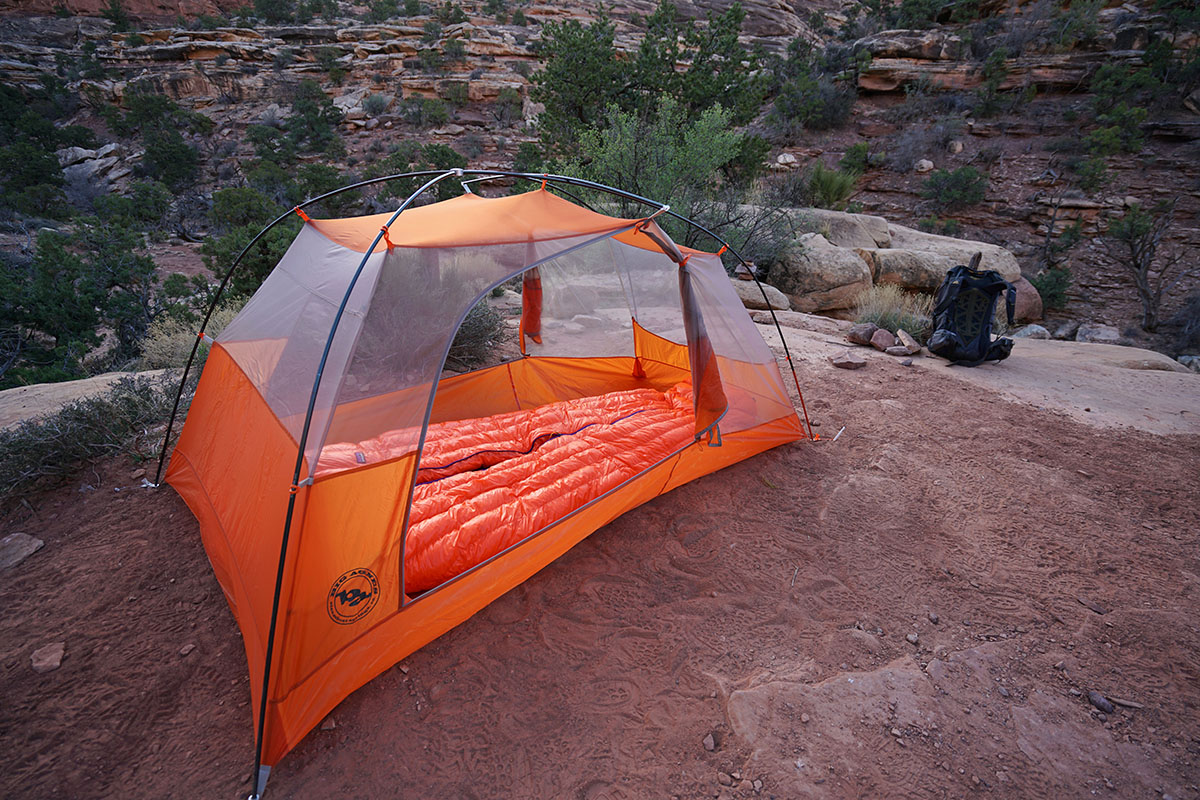 Warmth and Comfort
The Patagonia 850 Down Sleeping Bag has an EN Lower Limit of 19°F, which is the perfect three-season rating in our opinion. We always recommend allowing a buffer of about 10 degrees above the actual temperature rating, meaning that the Patagonia 850 Down bag should be quite comfortable down to right around freezing or a little below. In a pinch or with strategic layering, you should be fine down to 19°F. For most three-season backpacking trips, this is ample warmth. If you know it's going to be hot or have multiple bags in your gear closet, a 30-degree version is lighter and can do the trick. But the 20°F range (19°F in the case) is the ultimate three-season backpacking all-rounder.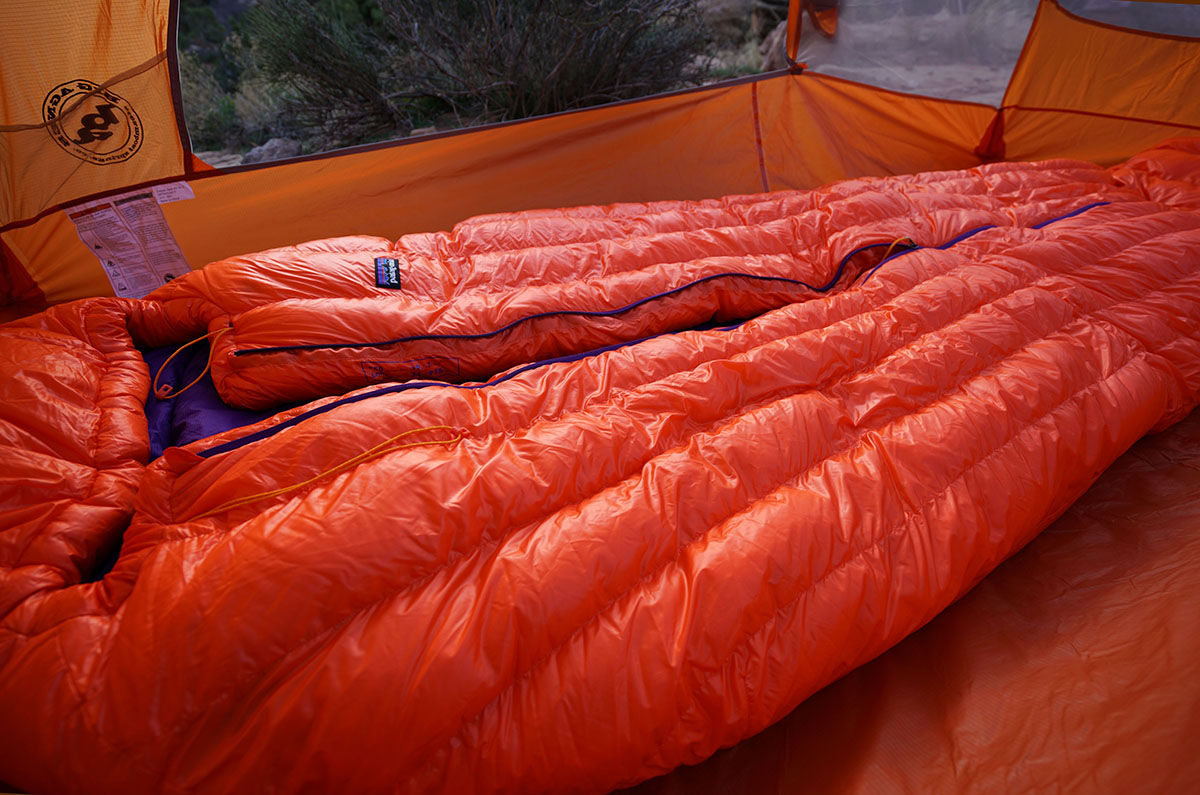 We tested the Patagonia 850 in the canyons of Southern Utah in early March when the average lows at night are around freezing. Unfortunately, our trip was unseasonably warm (ironically, we could have used the Patagonia 30-degree bag and saved weight). The Patagonia bag was very warm and had no noticeable cold spots, and along with the impressive down fill power and weight numbers, we fully expect that the 19°F rating is accurate and look forward to testing it further in the alpine in the months to come.
In terms of comfort, the Patagonia bag hits the mark. The interior liner is soft and cozy to sleep in, the 850-fill down has high loft, and the hood is large and warm. One thing to consider is that the 15D shell fabric is "ultralight", meaning that it is slightly more crinkly or crunchy than higher denier bags that are generally are a bit smoother in feel. This doesn't bother us and ounce counters are used to the feel of ultralight gear, but those coming for a higher denier bag may notice the difference.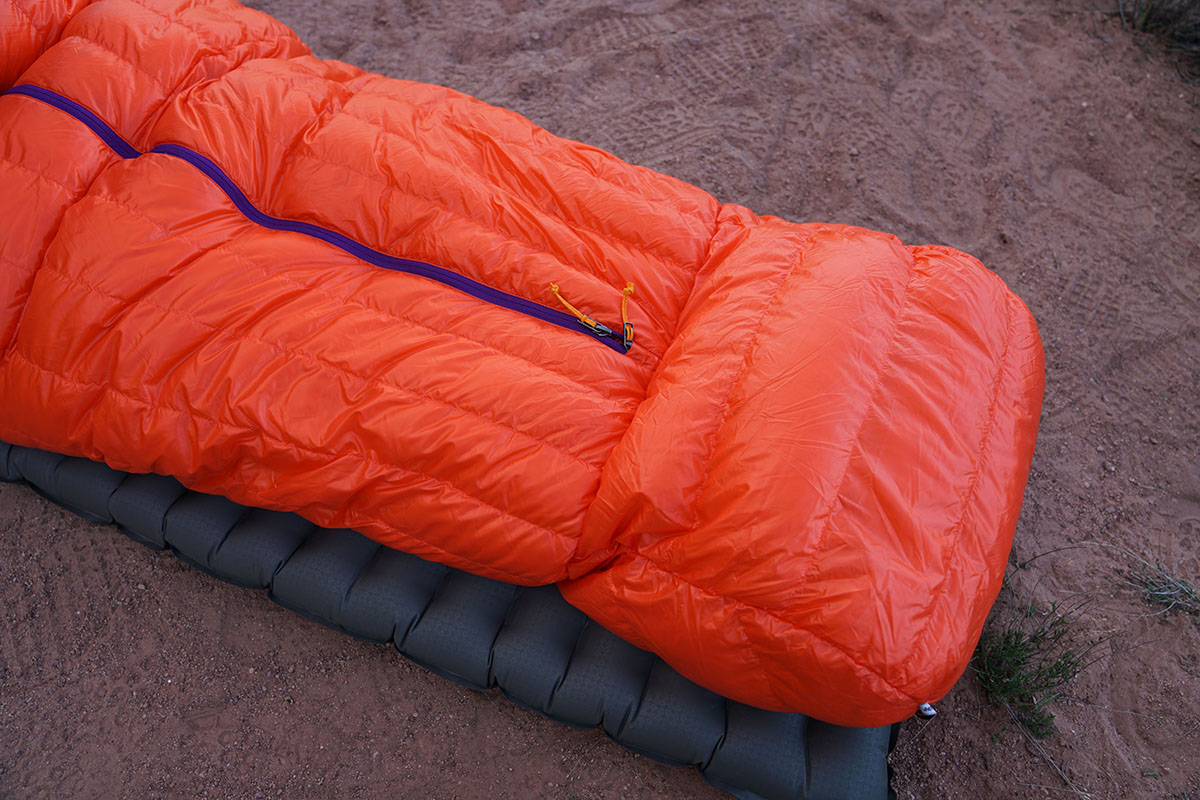 Fill Power and Weight
Fill power is the measure of how much loft or fluffiness down clusters have, while fill weight is how much actual down is stuffed inside the bag. Both specs are important, but fill weight is the lesser marketed and more often overlooked of the two.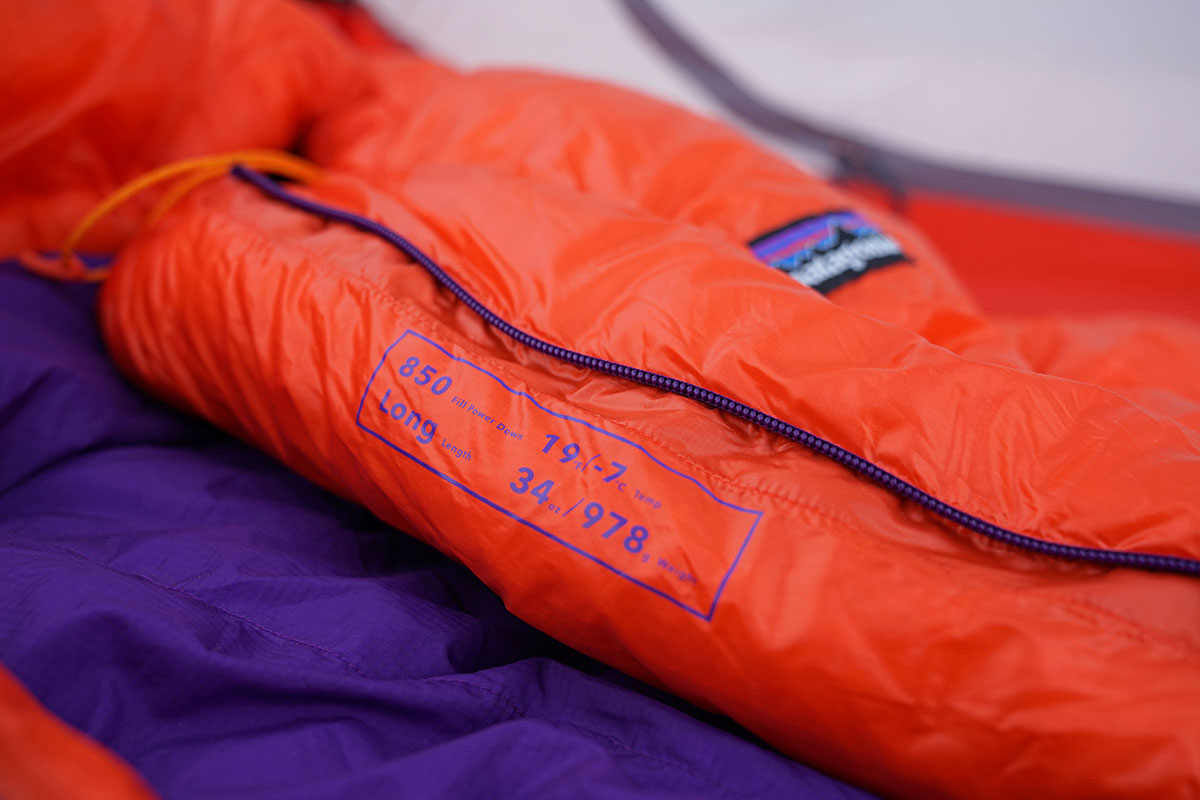 The Patagonia 19° Bag in size regular has 19.7 ounces of 850-fill goose down, which is very competitive with heavy hitters from Feathered Friends and Western Mountaineering. For example, the Feathered Friends Swallow Nano 20 has 16.8 ounces of 900-fill goose down, and the Western Mountaineering Ultralite has 16 ounces of 850-fill goose down, but weighs 3.2 ounces less at 29 ounces total. Both bags have a listed temperature rating of 20°F and neither is EN rated, but we've found them to be on the conservative side if anything.
Based on the fill powers and weights, we suspect that the Patagonia bag is ever so slightly warmer (it does have a much more substantial hood, which is where some of that extra down may be). All three bags are at the top of the heap in terms of warmth to weight ratio. And it's worth noting that Patagonia uses Traceable Down, it's own standard that "provides the highest assurance of animal welfare in the apparel industry."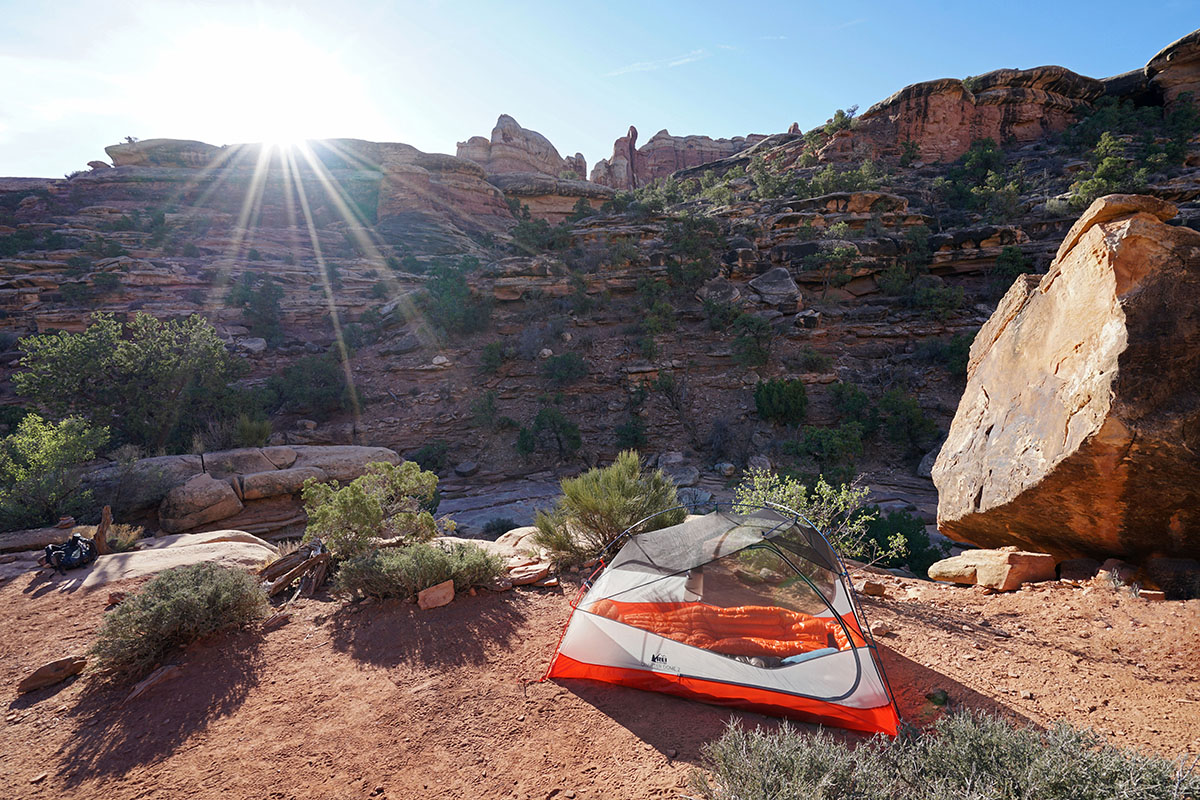 Center Zipper Design
Right off the bat, one of the distinguishing features of the Patagonia 850 Down Sleeping bag is the center zipper. The vast majority of sleeping bags have a side zipper on the right or left, but Patagonia went straight down the middle. The zipper runs the length of the bag down to the footbox and has three sliders, giving you a good deal of freedom to open up the bag in the middle while keeping it closed toward the head and feet.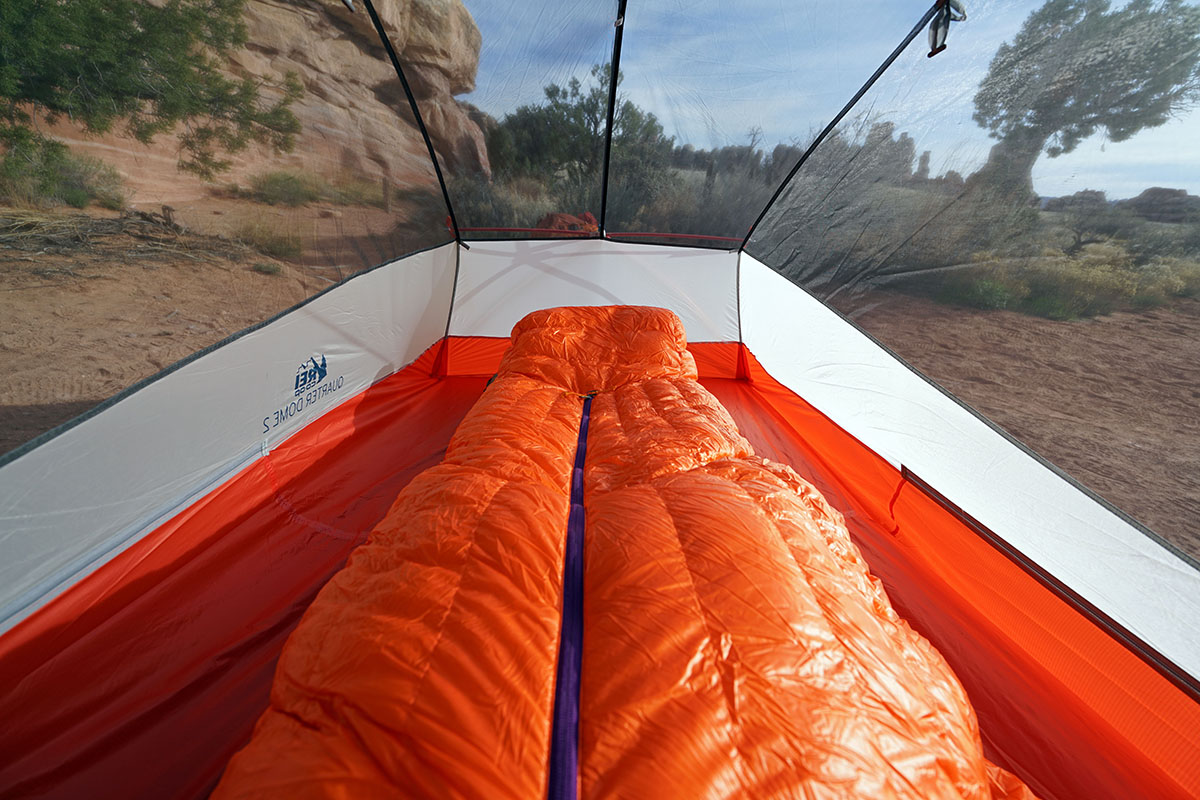 In practice, we found that the center zipper didn't offer the tangible benefits we had hoped for. During a warm night in Utah that stayed solidly in the 40s, we unzipped the bag around the neck but found that it fell away leaving our torso exposed. After waking up cold, we then tried keeping it zipped at the head end the bag while leaving a large portion in the middle unzipped. This system did vent some heat, but when sleeping it's difficult to keep the unzipped portion open wide. When using bags with the side zippers partially unzipped, the result is virtually the same. To us, the center zip wasn't necessarily better or worse, just different.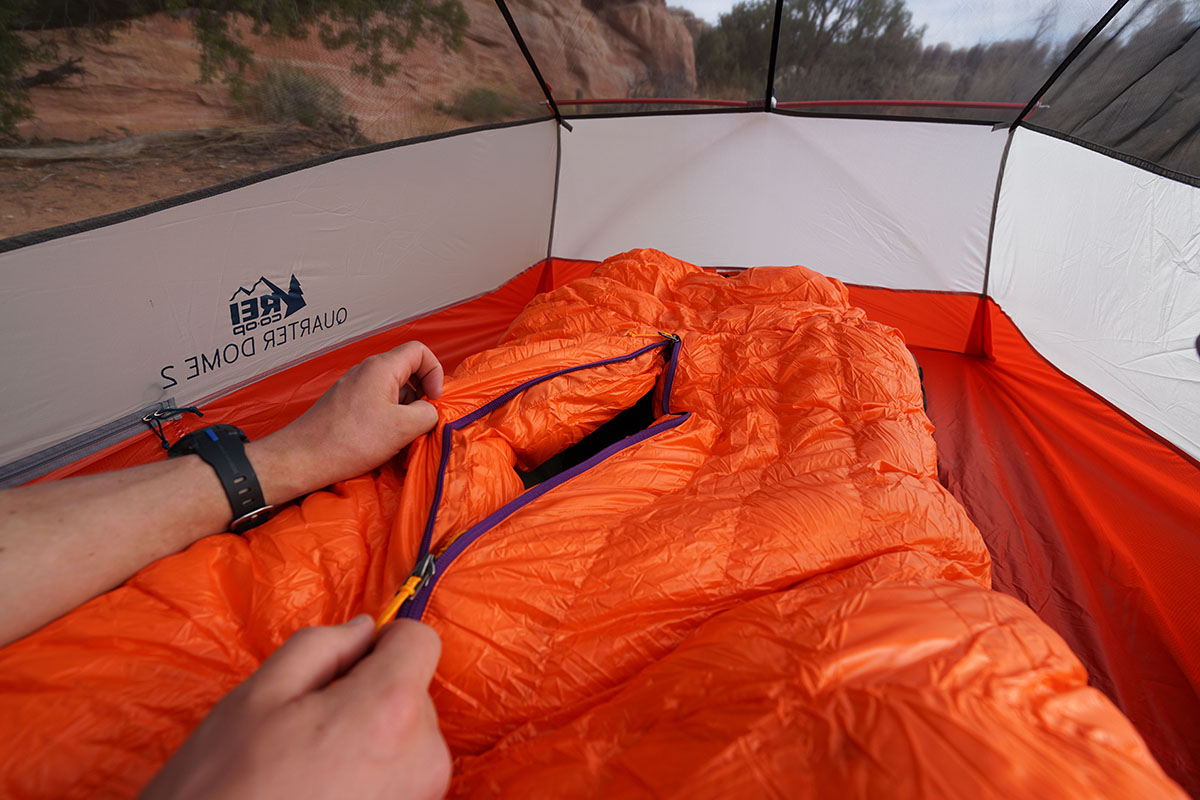 Denier and Durability
The Patagonia 850 Down Bag has a 15-denier Pertex Quantum shell, which is thinner than the 20-denier shell on the Feathered Friends Swallow Nano and slightly more substantial than the 12-denier on the Western Mountaineering Ultralite. It is a match to the Brooks-Range Drift 15, which was a bag we happened to get a small hole in this season as a result of a zipper snagging the delicate nylon shell.
A shell thickness of 15D is common in the ultralight world and we've used these products from Patagonia and other companies without many issues. However, you will want to take reasonable precautions such as keeping it away from fire (small flying embers can be a gear killer) and sharp objects. It's also a good idea to pack the sleeping bag safely on this inside of your pack instead of exposed on the outside. And the 15D shell is not ideal if you plan on bringing your dog along on your adventures (ours sleeps at the foot of our bag).


Hood
If there is any one area where the Patagonia 850 Down Bag stands out, it's the hood. It's downright plush, offering complete head coverage that kept us warm and protected throughout the night. To hone in the fit, you get two simple draw cords that allow for tightening around the face (we could tighten it down so far that the opening had little more than our mouth and/or nose exposed). The size and warmth of the hood is a notable upside compared to most bags from Feathered Friends and Western Mountaineering, which are full mummies but don't offer as much head protection or warmth as the Patagonia.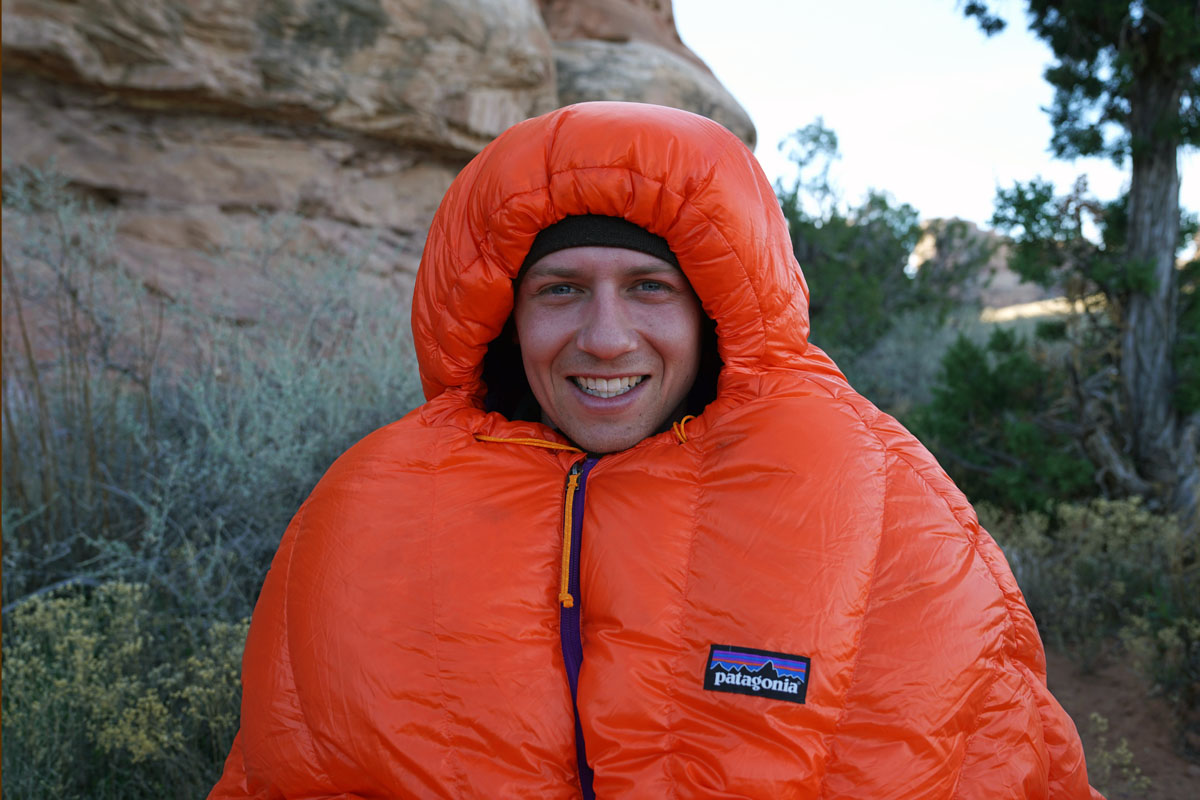 Stuff Sack and Hood Cording Issues
We bought the Patagonia 850 Down Sleeping Bag just a few days after it was released and likely got the first run. New gear often has some kinks that get worked out over future generations, and we experienced a couple here. The first was the stuff sack, which has two separate draw cord cinches at the top. When cinched tight, the closure for the outer draw cord wouldn't stay in place and the top of the stuff sack expanded outward. The bag stayed entirely inside the sack (the main cinch closure worked fine) and we weren't cramped for space on this trip, but it was not something that we expected from a $500 sleeping bag.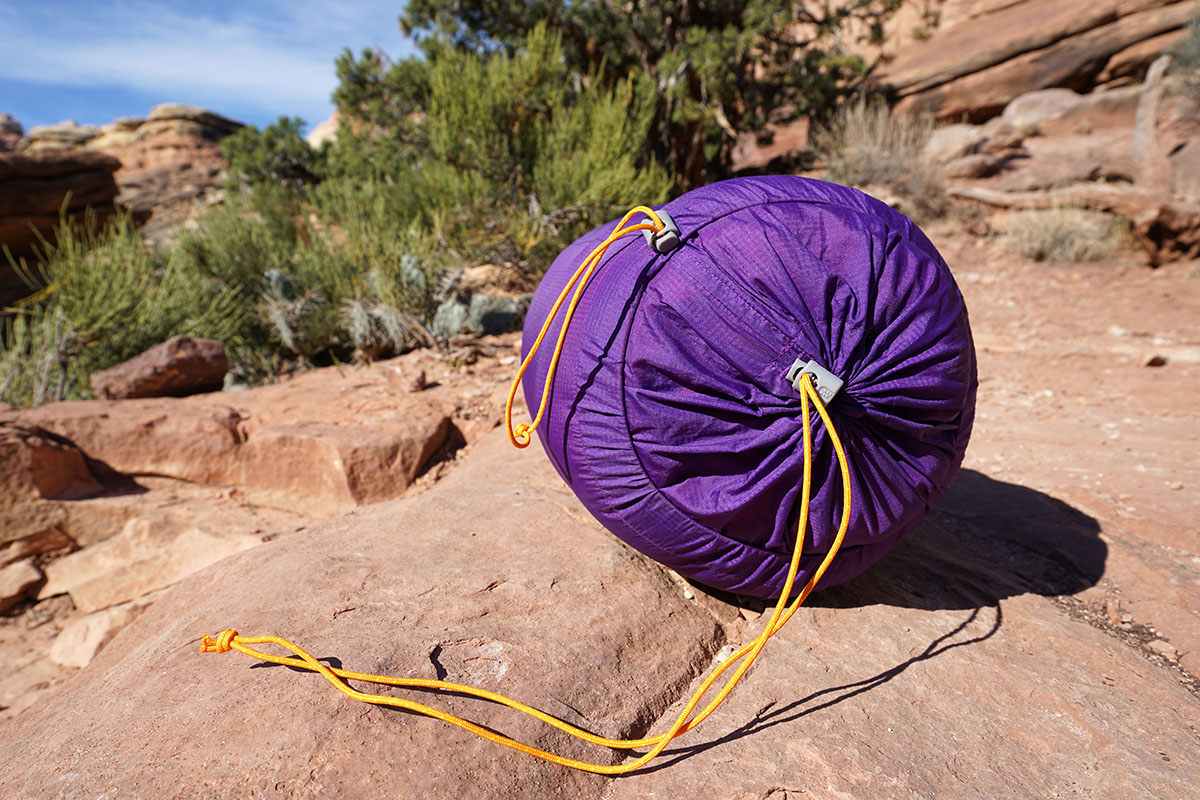 The second issue was with the hood cording, which for some was pulling through the tunnel when cinched with force. We did not experience this issue but received an email from Patagonia a few weeks after our trip and sent the bag back for a quick repair free of charge.
We do not expect to see either of these issues on future runs of Patagonia sleeping bags. Given the company's extensive history with cinches and stuff sacks, that issue was a real surprise (perhaps we got a lemon as we can't find other reports of this happening). And the hood cording already has been addressed and should be a thing of the past.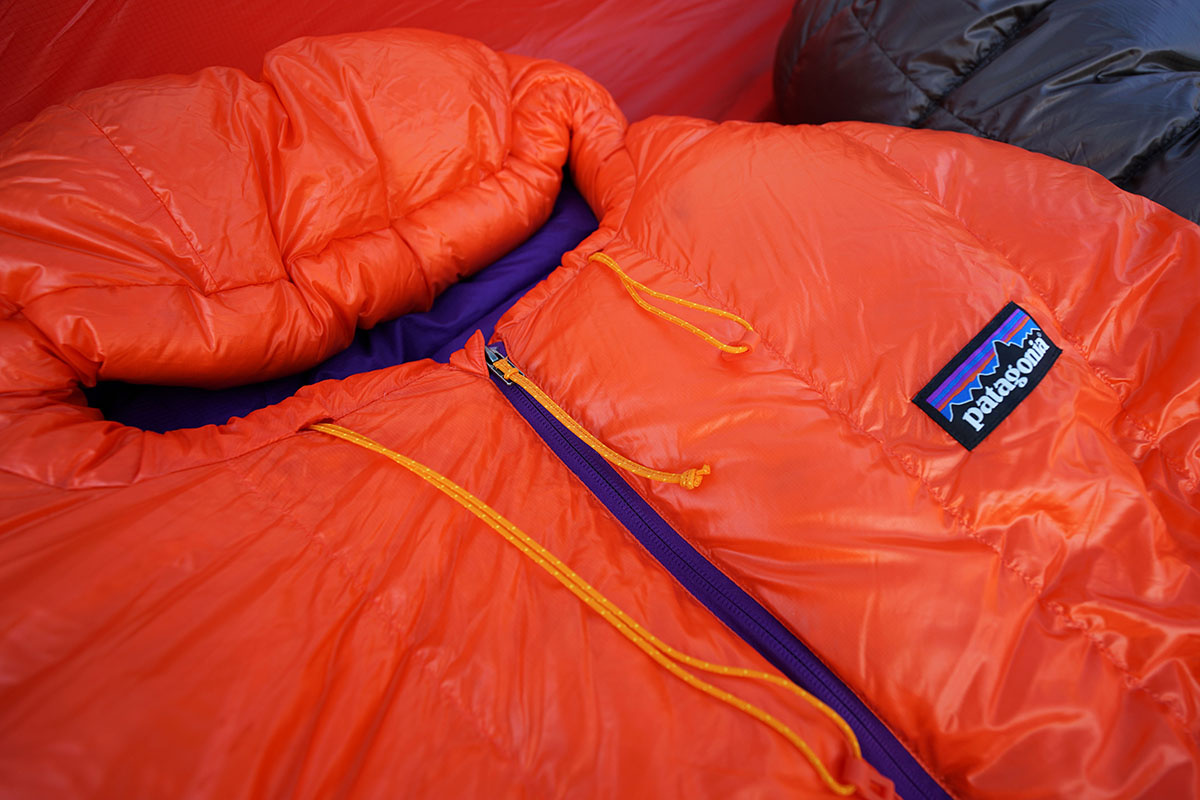 A Note on Styling
It's clear that Patagonia has done it again with the sleek look and styling of its sleeping bags. We often find that Patagonia layering pieces—ski jackets, down jackets, rain jackets, vests, etc.—win out on design with great colors that wear well both in the backcountry and the city. To us, this makes spending a little more on Patagonia products enticing—a piece that can pull double duty for active and casual use is terrific. As Yvon Chinouard said on NPR's "How I Built This" (an excellent podcast, by the way), "If you're going to buy a jacket to ski in, buy one you can also wear over your suit coat in New York City in a rainstorm so it doesn't sit in a closet nine months a year." We couldn't agree more with that sentiment.
Unfortunately, a sleeping bag for backpacking doesn't really fall under this line of thinking. As much as anything, a sleeping bag is a utilitarian piece of gear that seldom sees anything but the inside of your tent (exceptions would be bivvying or sleeping under the stars, but those aren't exactly fashion statements either). To us, Patagonia's attractive styling and colorways are nice, but they don't add the same value as with other pieces of gear. That's not a knock on Patagonia for doing what they do, but it's not a big part of our calculus when buying a sleeping bag either.


What We Like
Loaded with premium down (19.7 ounces of 850-fill power goose down).
Plush and substantial hood that offers almost full coverage.
Stylish design and colorways, as we've come to expect from Patagonia.

What We Don't
At $500, the Patagonia 850 is pricier than our top-rated backpacking bag, the Feathered Friends Swallow Nano 20 ($429).
The center zipper wasn't as useful we had hoped.
A couple of design flaws with the first run.


Comparison Table

The Competition
Patagonia created a great sleeping bag here but also entered a competitive field. At $429, we would save $70 and go with the Feathered Friends Swallow Nano 20. It remains our favorite 3-season sleeping bag on the market and Feathered Friends keeps producing premium bags at lower price points than the competition (the lack of big advertising campaigns probably has something to do with it). The Swallow Nano has a thicker 30D shell, slightly less down but uses a superior 900-fill power, and the bag comes in at 1.2 ounces less. Both are excellent 20ish-degree backpacking bags, but we give the nod to Feathered Friends, and being made is the U.S.A. is a nice bonus.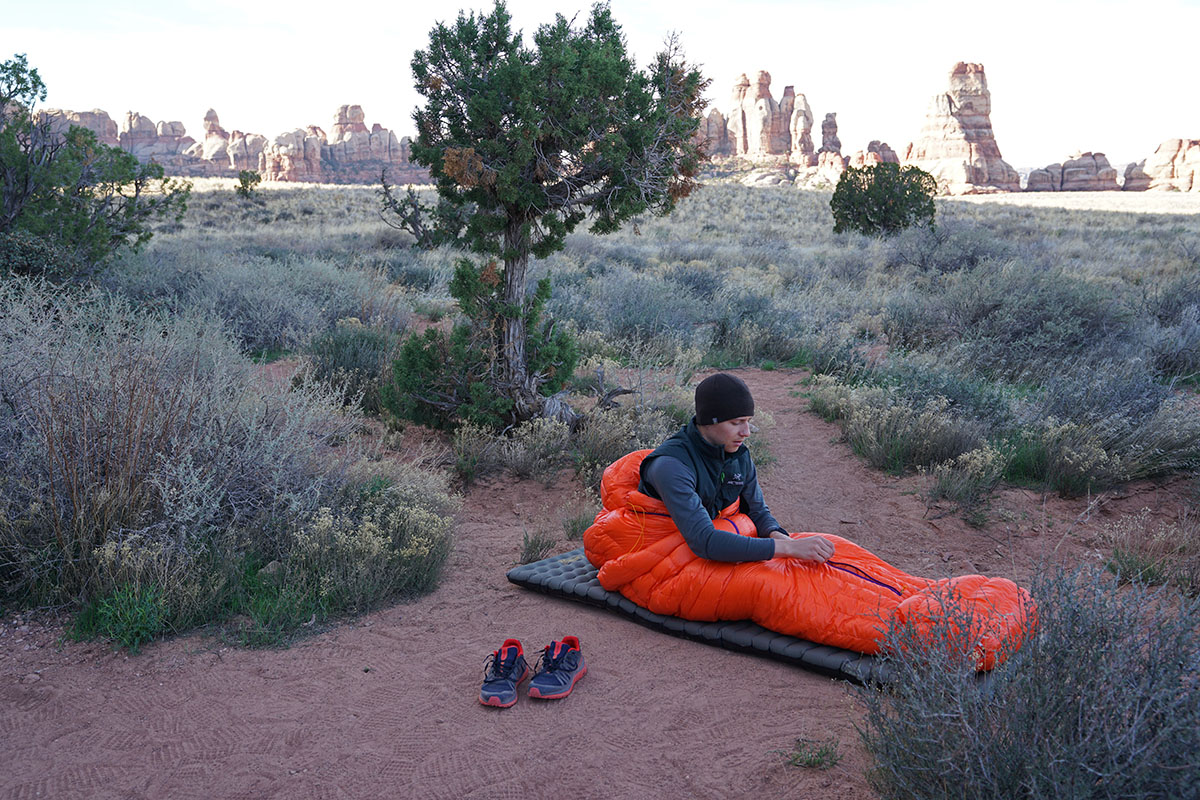 The Western Mountaineering Ultralite is another top-notch backpacking bag at the same $500 price point as the Patagonia. The Ultralite has the same 850-fill power but less fill weight at 16 ounces vs. 19.7 ounces (we suspect that a good portion of that is located in Patagonia's luxuriant hood). However, we still favor Western Mountaineering based on experience: the company has made high-end backpacking bags for decades with glowing reviews pretty much across the board. Patagonia is new to the market, the center zipper wasn't a game changer for us, and the rollout has had a couple of glitches (stuff sack and hood cord) that lead us back to the tried and true. We will continue to test the Patagonia bag in alpine conditions this spring and summer, but it doesn't usurp Western Mountaineering just yet.
For those looking to save, REI has put together a very respectable line-up of sleeping bags for 2017. The REI Co-op Magma is their premium offering with a 10-degree temperature rating, 850-fill goose down, and total weight of 2 pounds. If you're new to backpacking or weight isn't your primary concern, a good budget option is the REI Radiant 19. The Radiant uses 600-fill power duck down—much more of the mid-range variety—yet weighs a reasonable 2 pounds 8 ounces and costs less than half the price of the Patagonia.
Learn More About Outdoor Gear