Patagonia's Nano-Air took the active insulation market by storm, designed to be a synthetic jacket that truly can be worn all day through a variety of conditions and activities. After testing the past-generation hoody while ski touring, we took the latest version of the women's jacket backpacking in the mountains of eastern Idaho. In short, despite its lighter weight and slight design changes, the Nano-Air remains one of softest and most comfortable synthetic jackets on the market. Below are our experiences with the Nano-Air. To see how it stacks up to the competition, see our articles on the best synthetic jackets and best midlayers.
 
---
Table of Contents
---

Casual Use
Before diving into the performance aspects of the Patagonia Nano-Air, we'll start by discussing wearing it casually, which many people do. We purchased a non-hooded version of this jacket right when it was first released and wore it religiously around the Pacific Northwest as our primary outer layer. For months on end, we wore it over t-shirts, during light exercise, and even inside while working on the computer. The softness of the Nano-Air line is unparalleled—it reminds us of our favorite hoody, except with a much cozier and more pillowy feel.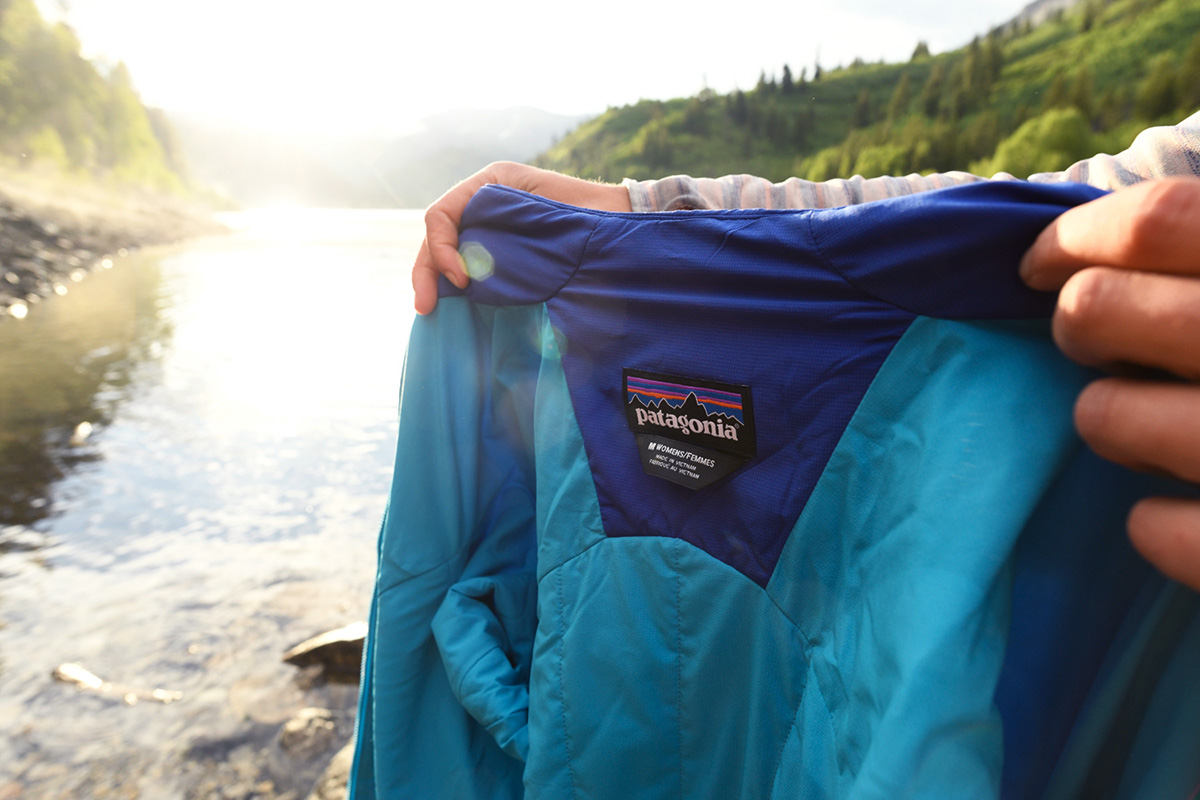 At$249 for the non-hooded jacket and $299 for the hoody, the Nano-Air undeniably is pricey. In addition, we've found the super-soft fabric does have a tendency to show wear and scuffs more quickly than we would like, although the recent update did address many of these concerns (more on that in "Durability" below). All in all, this jacket is ridiculously comfortable, breathes and stretches well, and even beads up light moisture with ease. If we had to choose just one jacket to wear on a daily basis and for outdoor activities, the Nano-Air would get the slight nod over another favorite synthetic, the Arc'teryx Atom Hoody (and men's Atom LT), which doesn't breathe quite as well.

Performance
Warmth
The Patagonia Nano-Air's wide comfort range is one of its defining features. Starting with aerobic activity, the Nano-Air Jacket is great for cool-weather hiking down to around freezing (depending on your layers and how cold you run, of course). The DWR finish means that you can wear it during light to moderate precipitation, and the 60-gram (g) FullRange synthetic won't soak up moisture and lose its ability to insulate like down. The jacket also makes a really cozy midlayer for less intensive activities like downhill skiing and camping. I spent a few days along the rocky shore of Upper Palisades Lake in eastern Idaho, where the Nano-Air kept me warm and comfortable on a chilly alpine evening as I cooked dinner at camp. Paired with a light baselayer, the combination was ideal, even when I woke up to a frosty tent the next morning. All that said, I did find myself wishing for a little extra warmth around my head and neck, which is why I'd opt for the hoody next time.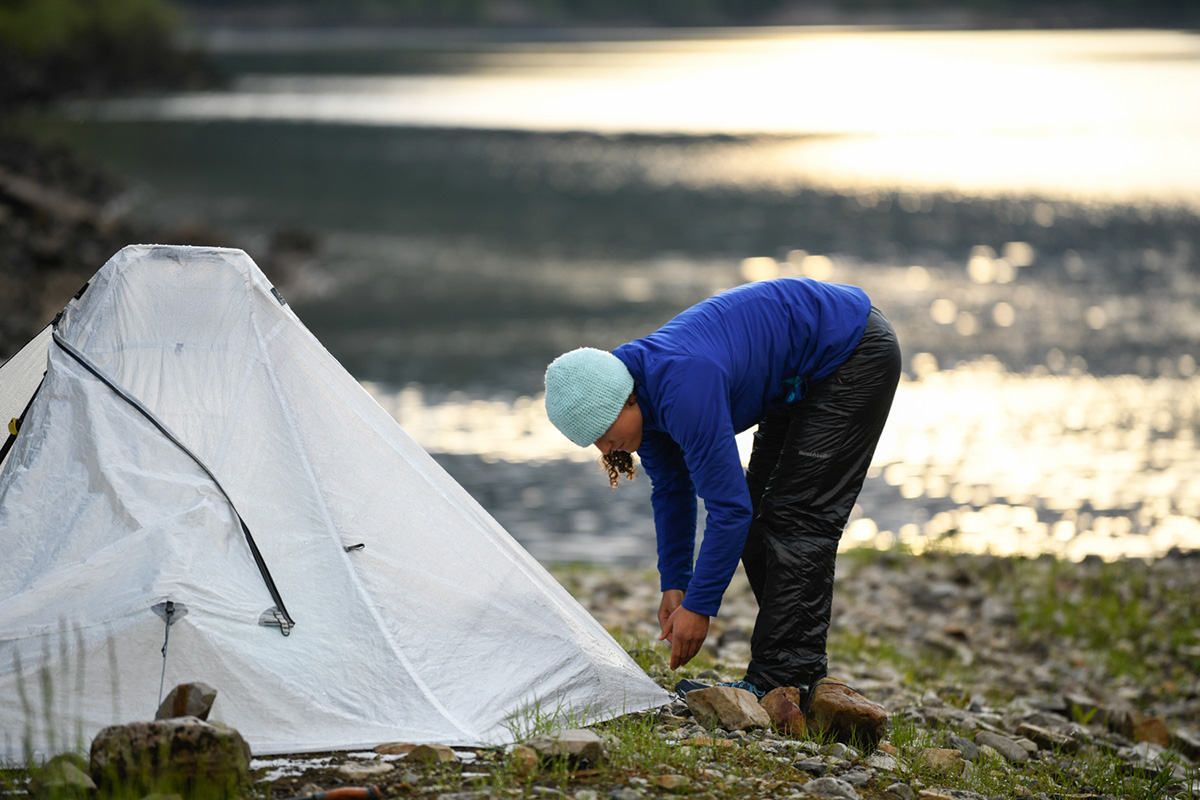 As an active insulation piece, the Patagonia Nano-Air is surprisingly warm. While testing past generations of the hooded version, one of our testers found it to be too warm even for the downhill while ski touring in late winter sunshine. To be fair, snow conditions were poor and the terrain was challenging, but we still found it too warm to wear while seriously moving unless it was colder than about 23 degrees Fahrenheit (-5 Celsius). In our experience, the ideal temperature band for the jacket as a single layer while ski touring seems to be around 23 to 14 degrees Fahrenheit (-5 to -10 Celsius). In warmer conditions, the Nano-Air was simply too much jacket (moving quickly in just a baselayer or a light shell to break the wind was more comfortable). We would often pull out this layer during breaks, and then ski for about ten minutes with the jacket on until we warmed up too much to wear it any further.

Breathability
One of the big selling points of the Patagonia Nano-Air is breathability (it is categorized as an active insulation piece after all). The jacket is designed to be worn all day without taking off—which is especially helpful for stop-and-go activities. During my backpacking trip in Idaho, I was impressed by how comfortable I stayed wearing the jacket during big temperature swings. I never overheated while running around to complete camp chores, and when I sat down to cook dinner at sunset, I quickly cooled off without growing cold. Another tester had a similarly positive experience while ski mountaineering: On a cold day bootpacking up to the summit, the jacket provided a good amount of insulation without overheating on the climb up. On the summit, he stayed warm and comfortable while others were layering up when standing for photos.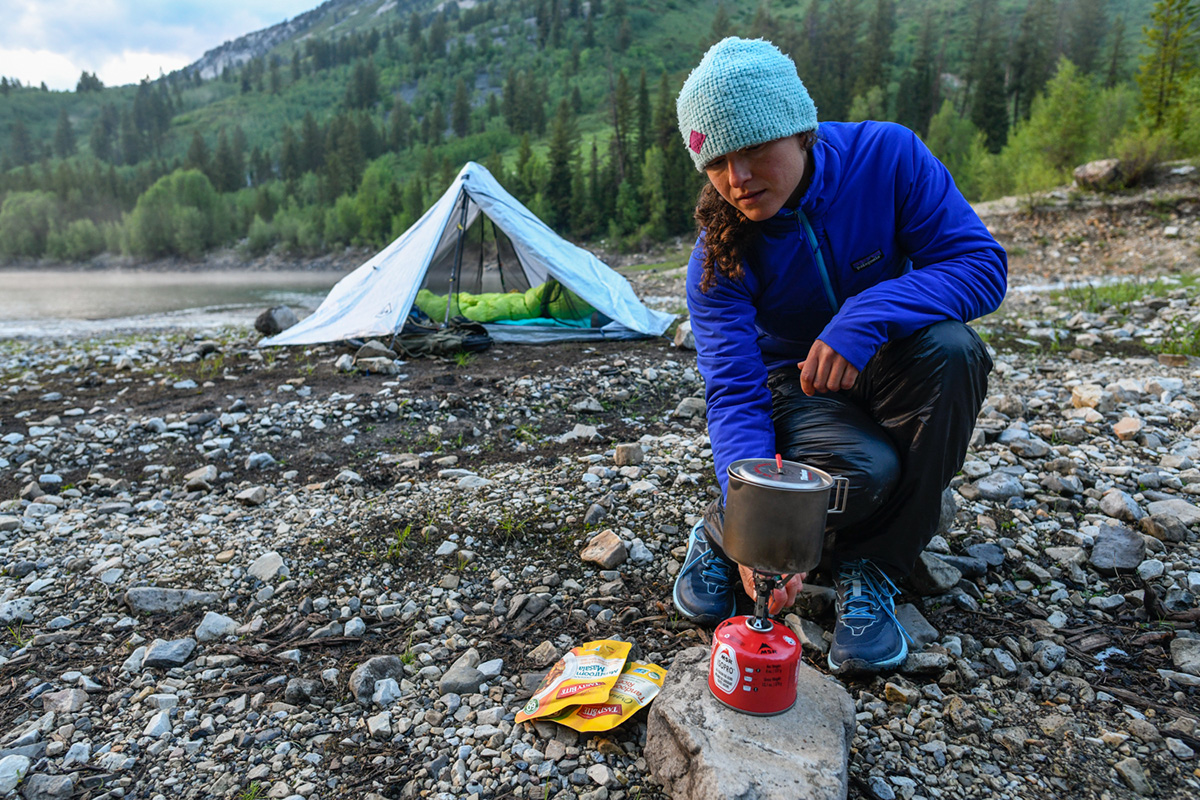 A downside of the highly breathable fabric is the ability for wind to flow through. In the backcountry, I found that the Nano-Air felt noticeably drafty when storms rolled in (and again, the hoody version would have been a better bet). For extended breaks in the wind, I would want to pair this with a hardshell or wind breaker. In colder conditions, wearing a lightweight fleece or added insulation underneath—or opting instead for a slightly beefier midlayer like the Arc'teryx Atom Hoody, which has a wind-resistant exterior—also could be a good upgrade.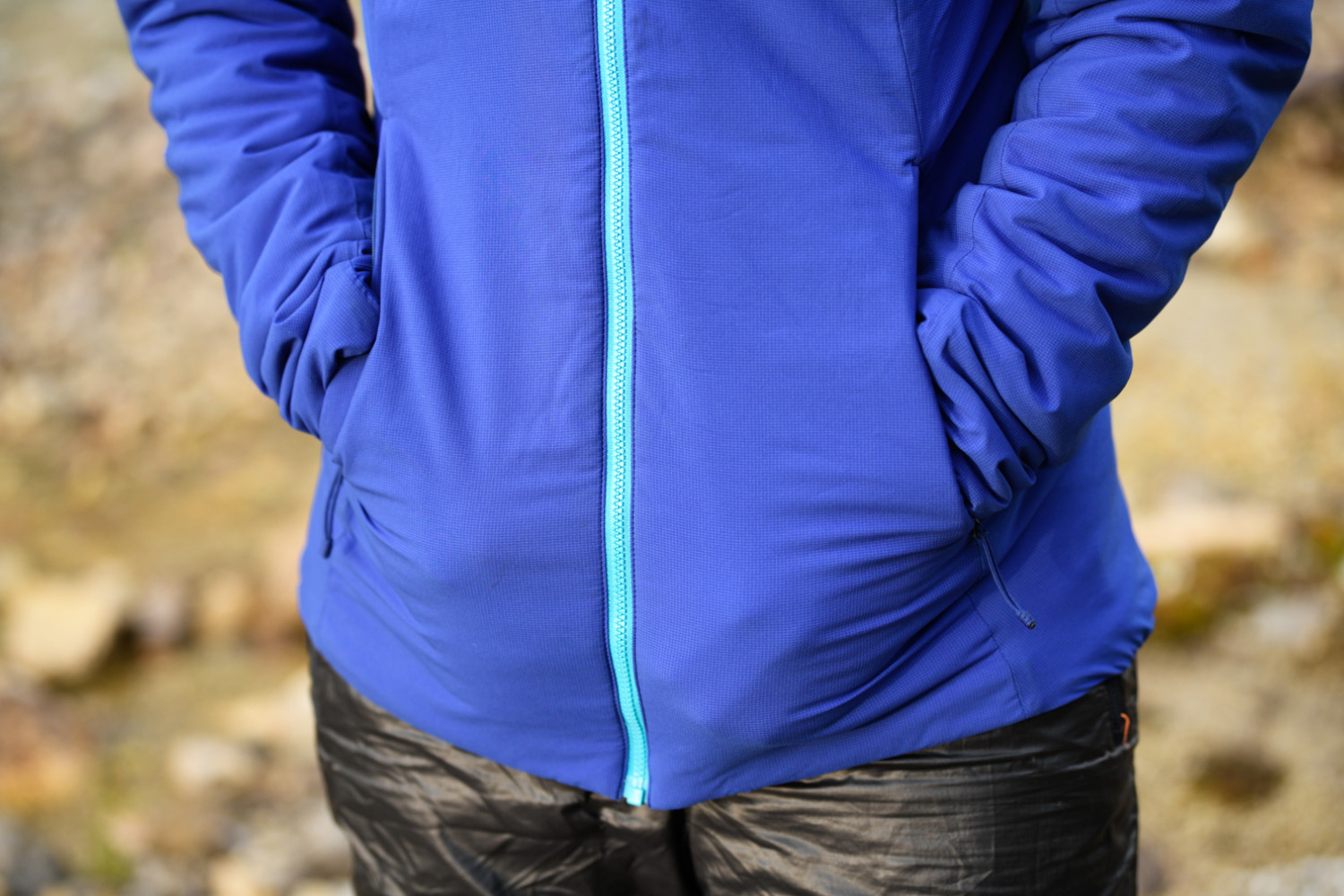 Weather Protection
One of the best features of synthetic insulation is that, unlike down, it will continue to insulate when wet. For casual use and hiking in light precipitation, you likely won't need a rain jacket, especially if you're not out for extended periods (plus the Nano-Air also dries out very quickly). When camping with the Nano-Air, I came to appreciate this weather protection almost instantly, especially around the cuffs. I hate when cuffs wet out while performing camp tasks in the rain, but the stretchy fabric on the arms stayed bone-dry in light precipitation. The rest of the jacket was equally impressive: Water droplets beaded up on the blue fabric and never penetrated the outer layer. When skiing with the hooded version, the jacket wetted out after around two hours of heavy snowflakes accumulating on it. Our tester stayed warm, but we would recommend layering up with a hardshell in prolonged rain or snow.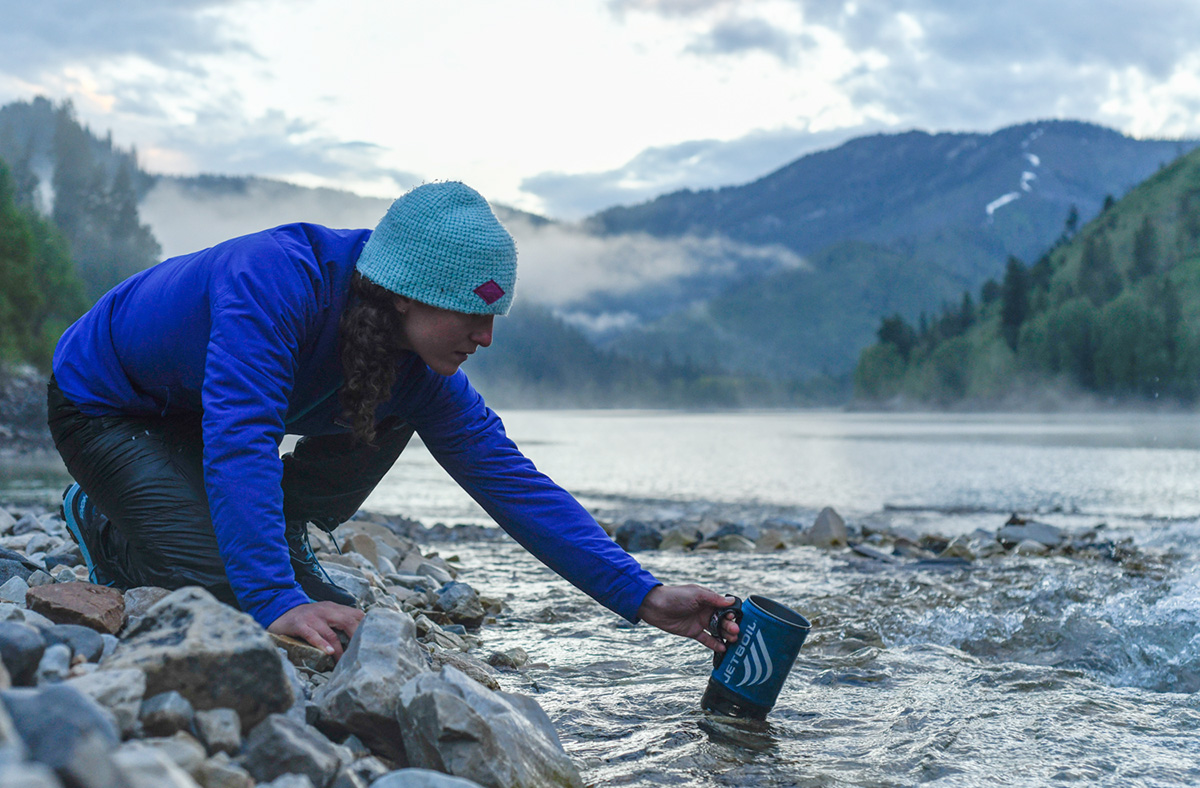 Weight and Packability
My women's medium Nano-Air Jacket clocked in at 10.5 ounces (the listed weight is an ounce lighter for a size small), which puts it on the lightweight end of the synthetic jacket market. For comparison, Arc'teryx's popular Atom Jacket weighs around the same at 9.9 ounces, but its shell fabric can't compete in terms of air permeability. Outdoor Research makes an intriguing alternative to the Nano-Air in their Shadow Hoody (15.5 oz.), but the women's model is only sold in a hooded version (there's a non-hooded jacket for men), which adds considerable weight. All in all, in most instances, the Nano-Air's weight is perfectly acceptable for throwing in a pack on year-round backcountry missions. And if we're looking to go truly ultralight, we'll grab a down jacket instead.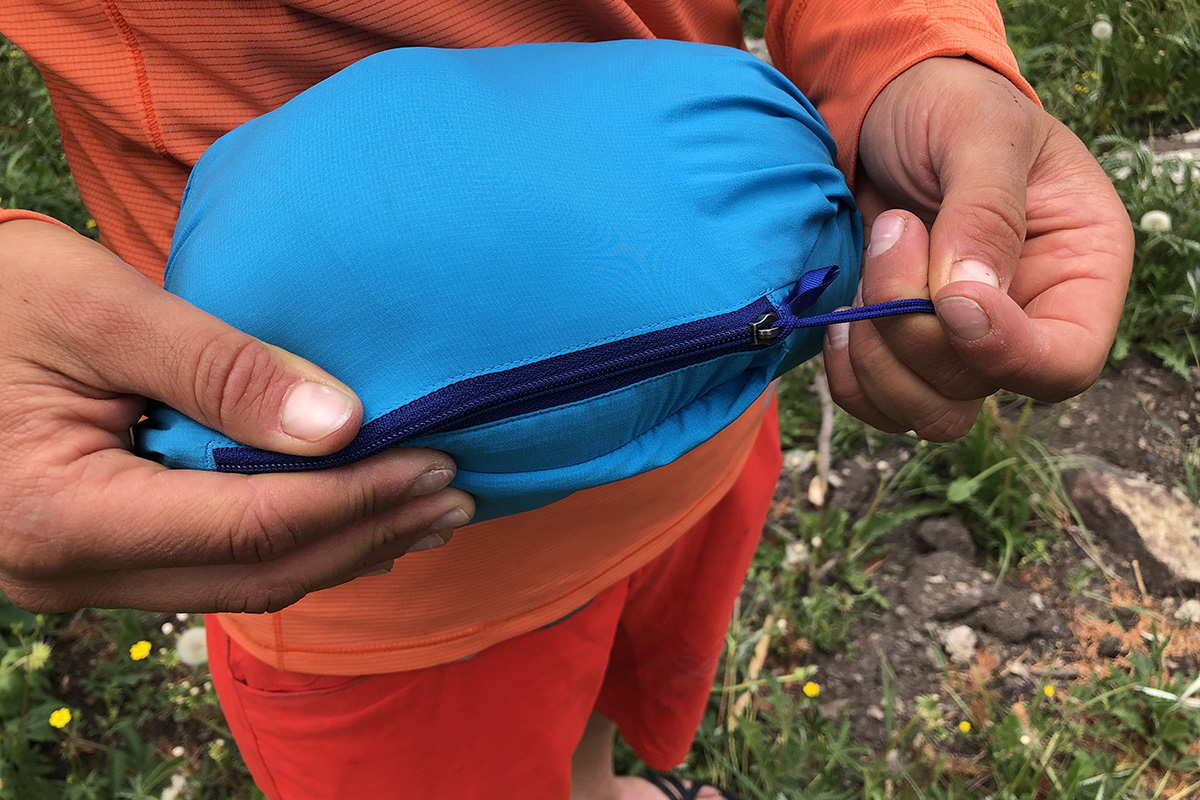 Storage: Pockets
The Patagonia Nano-Air Jacket comes with three pockets: two handwarmer pockets and one left chest pocket, all of which are generously deep. In short, I was never worried about an item falling out, even if the pockets were only partially zipped. The chest pocket opening is fairly small, but I was able to stow my smartphone or an energy bar without issue. This pocket also doubles as a stuff sack, and while the synthetic FullRange insulation isn't as compressible as down, the jacket stuffs down into the size of a small melon. I did find it challenging to pack the Nano-Air because of the pocket's narrow opening, but it's definitely possible with some patience and effort.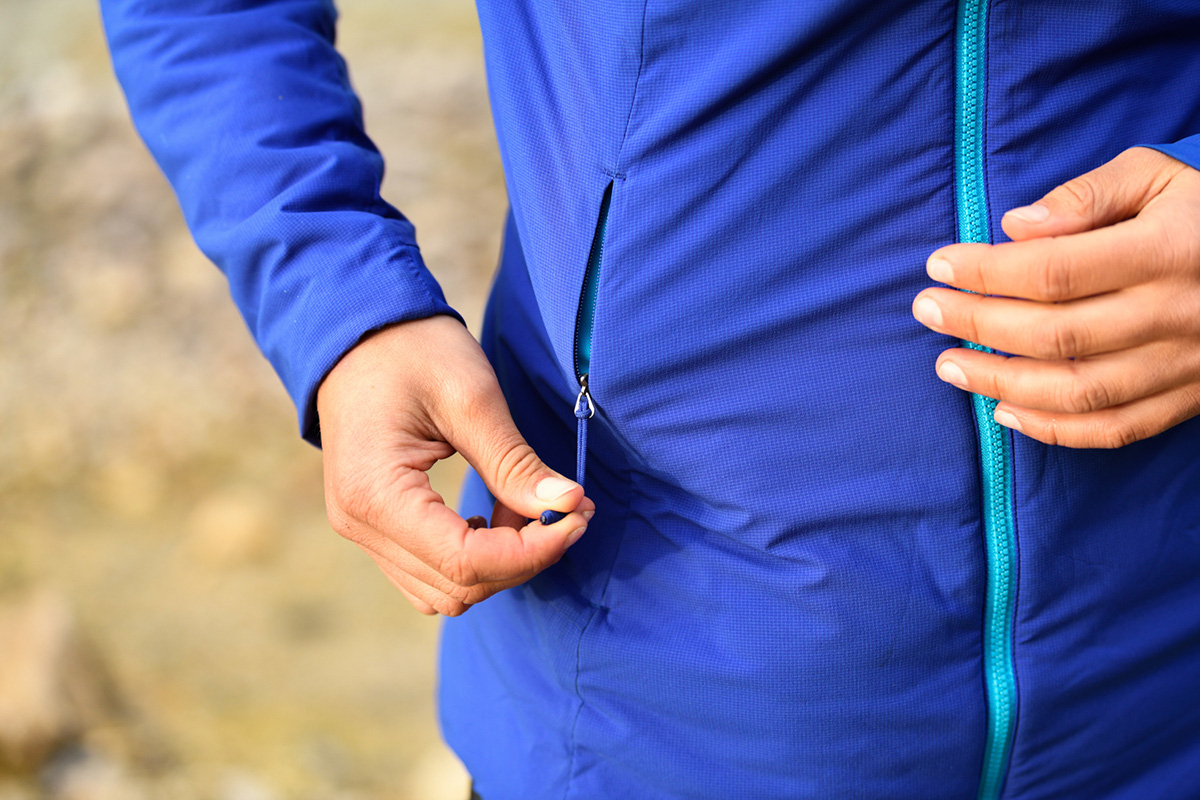 Durability
In the past, we found that the Nano-Air's blanket-like softness translated to premature pilling in high-wear areas like the hem and cuffs. However, after heavy use in the newest version, the jacket shows no signs of breaking down and looks as good as it did on day one. I've also found the outer fabric repels stains much better than other Patagonia jackets (my past-generation Fitz Roy Down Parka—since replaced by the Fitz Roy Down Hoody—was especially bad at this and looked well worn almost immediately). In the end, all signs are positive that the Nano-Air will continue to live up to our high standards. And it's nice that the Nano-Air is easily machine-washable—we've done so numerous times without issue.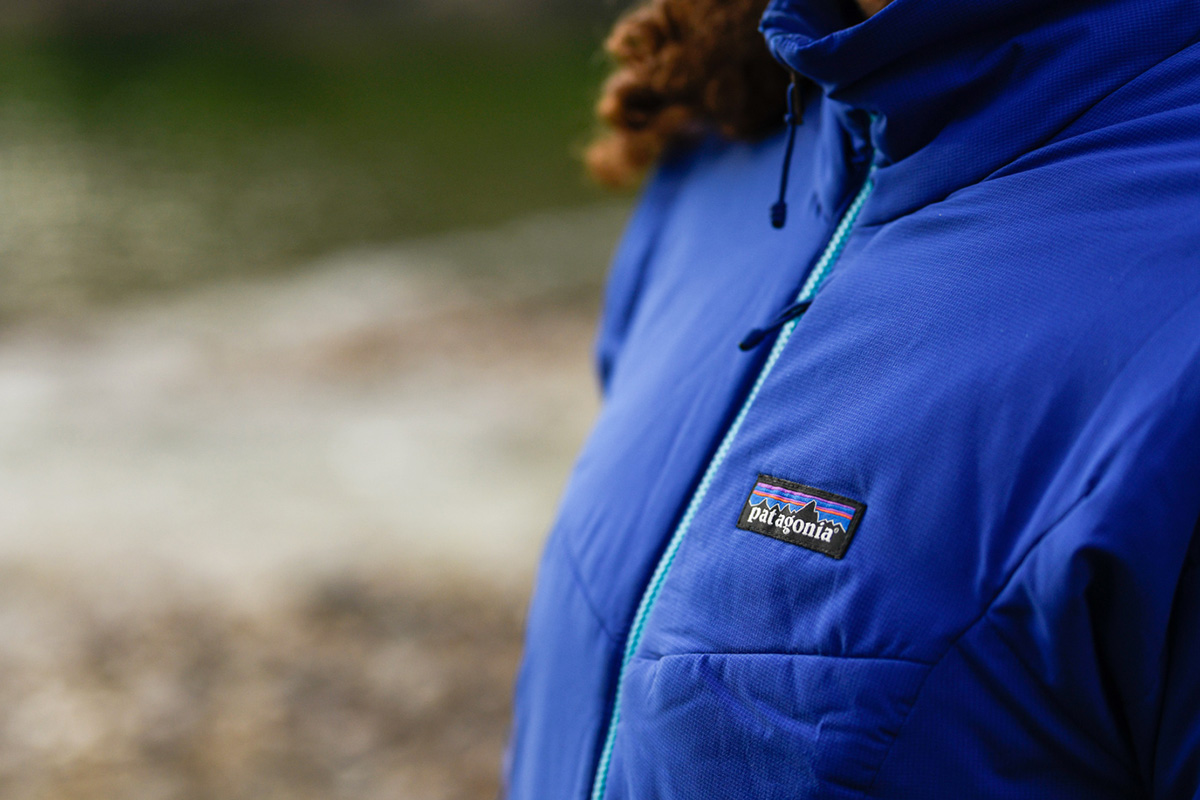 Fit and Sizing
Patagonia describes the fit as "slim" with the Nano-Air Jacket, and I agree with that designation. For reference, I am 5'5" and 135 pounds, and the women's medium fit me well overall with a bit of room to spare (I was wearing a heavy baselayer underneath). The trim fit effectively keeps the material out of the way during technical pursuits like climbing or steep scrambling, and it also looks good for around-town use. Further, the bottoms of the cuffs are stretchy and low-profile—I was able to slide a large pair of gloves over the top or slip liner gloves underneath. The arms and body were a bit on the long side for me, but I appreciated the extra coverage.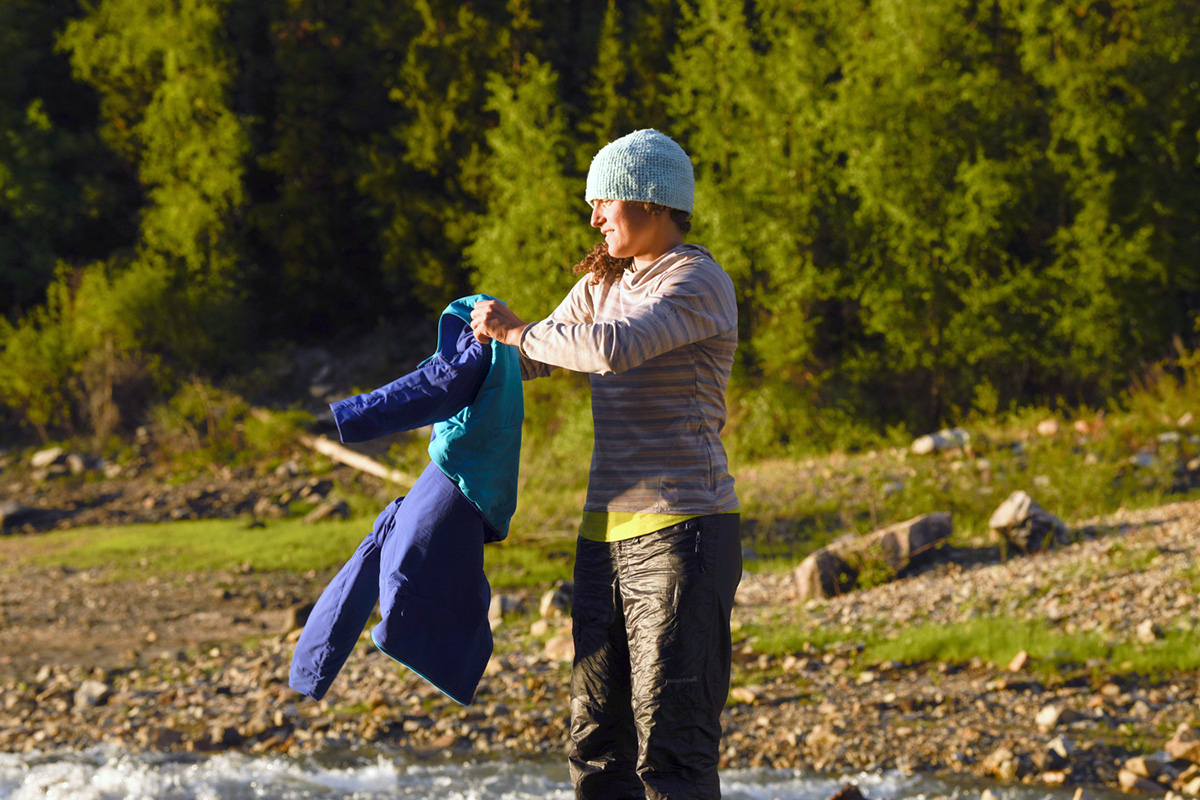 Compared to the past versions of the Nano-Air, the newest iteration replaces quilted side panels with smooth material all around, giving it a much more streamlined look. Further, Patagonia chose to forego the bottom hem drawcord this time around, instead opting for a slight stretch in the hem with no adjustability (this was an excellent solution, in my opinion). All things considered, I think the fit-related changes were implemented extremely well into the jacket's design.

Do You Need a Hood?
We tested the retooled women's Nano-Air Jacket, and Patagonia also released it in a revamped hoody version. In the end, I wish I had ordered the hoody for cold evenings or during breaks—the added coverage would have helped immensely. We've tested prior versions of the Nano-Air Hoody and found that it was incredibly well executed: The close-fitting, scuba-style hood was stretchy enough to put on and off even with the front zipper all the way up. Our only complaint is that the hood didn't fit well around a climbing helmet, but we would layer up with a hardshell jacket with a helmet-compatible hood in especially stormy conditions.

Sustainability
The Nano-Air embodies Patagonia's ever-growing focus on sustainability with an 87-percent-recycled shell and lining and 40-percent-recycled FullRange insulation. Further, all fabrics are bluesign-approved, which indicates that the materials used to make the jacket are safe for the environment, workers, and consumers. Patagonia has also made progress with a new PFC-free DWR coating, which forgoes the use of harmful perfluorocarbons. And finally, the Nano-Air collection is Fair Trade Certified sewn, meaning Patagonia put extra money into production to ensure workers are compensated fairly and can fund community programs, invest in healthcare initiatives, and more. Again, the Nano-Air is undeniably pricey at $249, but we think these added sustainability measures do help justify the cost.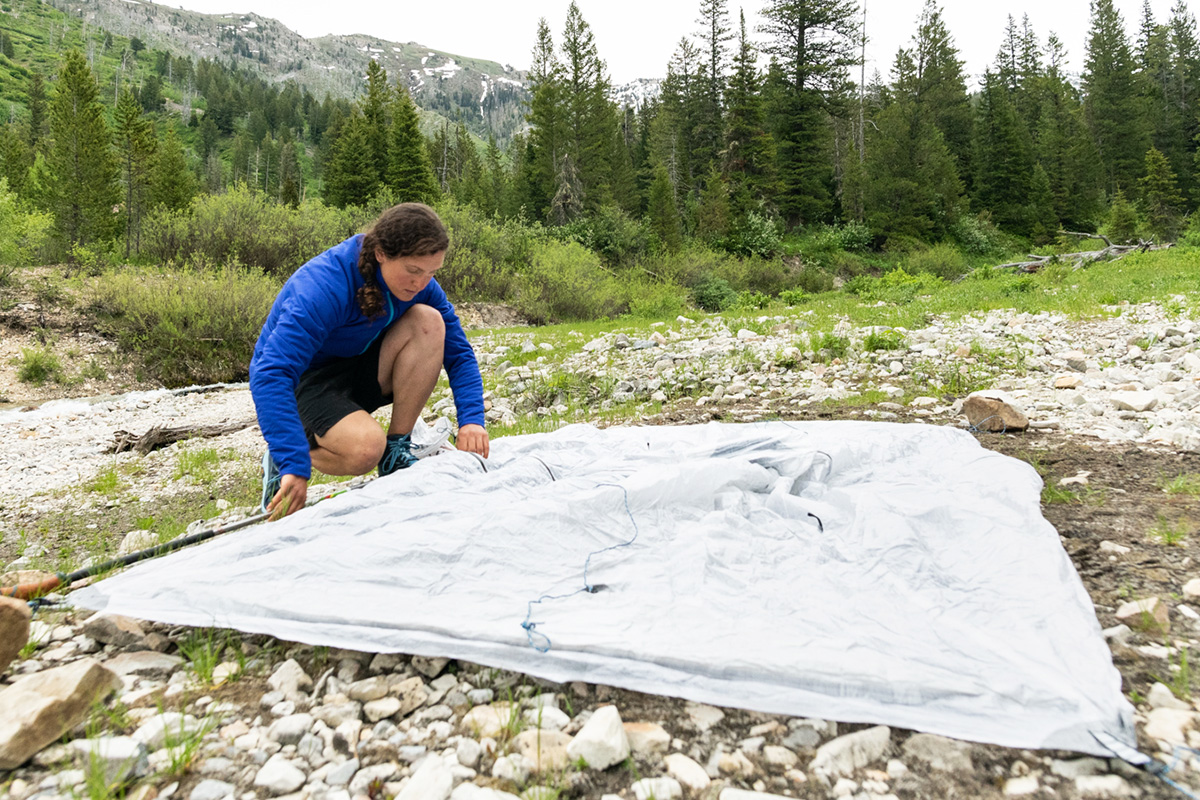 Other Versions of the Patagonia Nano-Air
As I touched on above, I tested the women's Nano-Air Jacket, which is joined by a hooded version in Patagonia's lineup. Compared to the past model, the newer Nano-Air is lighter by an ounce and uses the aforementioned, mostly recycled polyester shell and lining. Both the jacket and hoody are also available in men's versions. Compared to the women's model, the men's Nano-Air Jacket costs the same at $249 but weighs slightly more at 11.2 ounces and is offered in different colorways. Rounding out the collection, Patagonia also offers the Nano-Air in vest options for both men and women ($199), which use the same FullRange insulation and are similarly breathable.

What We Like
Super soft and comfortable fabric for wearing all day long.
Performs as designed for cold-weather aerobic activities such as ski touring, but great for casual use as well.
Slim fit is great for technical pursuits like climbing or scrambling and looks good to boot.
Durability and stain resistance seem to have improved this time around. Compared to past versions of the Nano-Air, this one is holding up very well.

What We Don't
The jacket doesn't block wind well, requiring an extra layer when conditions take a turn.
Narrow opening on the chest pocket (which doubles as a stuff sack) makes it tough to stuff the jacket down.
We tested the recently updated Nano-Air in jacket form, but we wish we had opted for the more protective hoody (for a $50 bump in price).


Comparison Table

The Competition
For years, Patagonia's Nano-Air has remained one of our favorite synthetic jackets for its top-notch comfort and breathability. Among active insulation designs, another well-rounded option to consider is Arc'teryx's Proton Hoody (and men's Proton LT). For insulation, the Proton uses a mix of 80g Coreloft Compact in the body and 60g in the hood, which we found to be impressively breathable and packable for a synthetic. However, the Proton is noticeably warmer than the Nano-Air, and we found it to be too much jacket while working hard in temperatures above freezing. All in all, we consider it a great match for high-output use in cold weather, but it lacks the everyday appeal of the Nano-Air and is limited to truly frigid temperatures. Finally, both the women's Proton and men's Proton LT are only offered with a hood, which could be a deciding factor for some. Of note: Arc'teryx recently released the Proton Hybrid Hoody ($350), which tacks on a windproof, 2-layer Gore-Tex Infinium shell and thicker face fabric with 60g synthetic fill throughout.
We get a lot of questions about synthetic jackets, and some of the most common are about comparing the Nano-Air to the Arc'teryx Atom (the men's version is the Atom LT). Both are ultra-popular lightweight synthetic jackets that can toe the line between performance and casual use nicely. To start, the Atom Jacket is built differently: The front, back, and shoulders are made with Coreloft insulation and a thin, wind-resistant shell, while the sides and underarms are stretchy fleece. As a result, the Arc'teryx offers better weather protection than the Nano-Air as an outer layer, but the insulation and fleece panels can't keep up in terms of breathability. From our collective experiences, we think both jackets are extremely comfortable and offer similar warmth, but we give the slight nod to the Atom for everyday use. On the flip side, those who use their jacket for highly aerobic outdoor activities like ski touring will like the Nano-Air better, and its pillowy feel truly is hard to beat.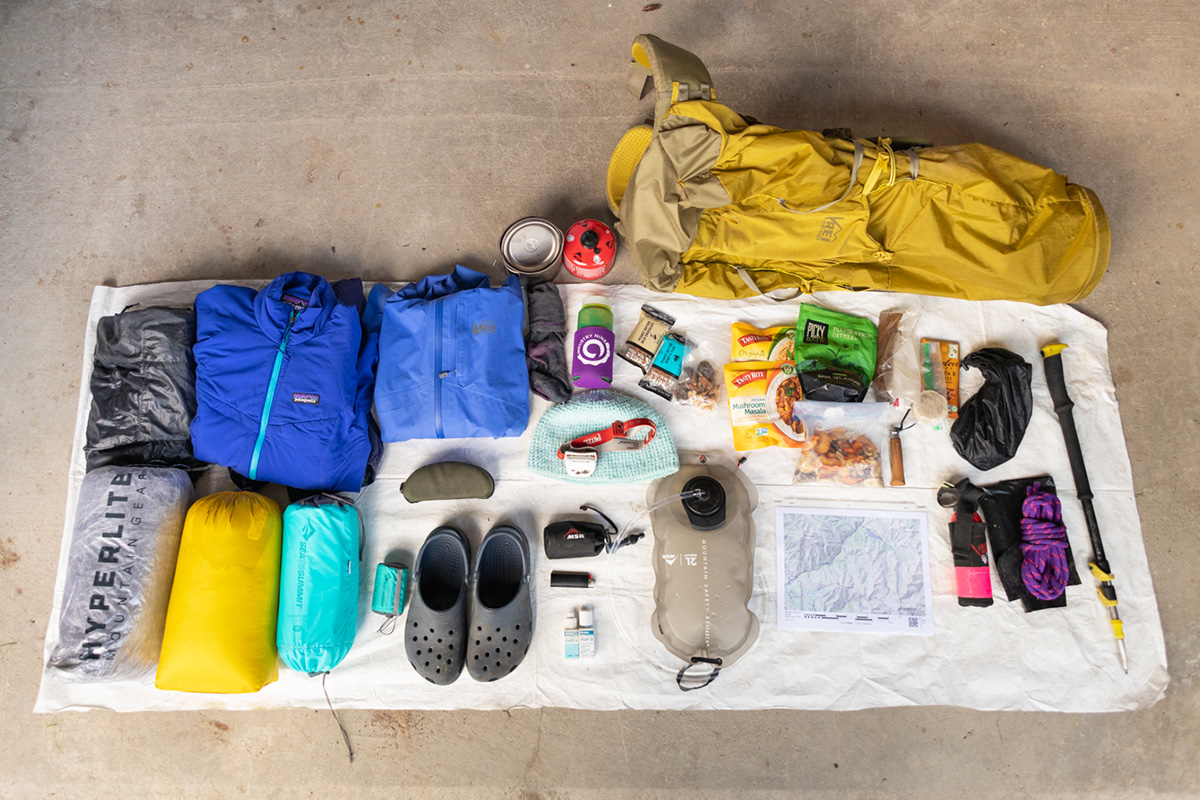 Outdoor Research offers another enticing active insulator in their Shadow Hoodie. Like the Proton above, the women's Shadow is only sold as a hoody (OR does sell a non-hooded version for men) and checks in heavier than the Patagonia at 15.5 ounces, but there's still a lot to like. First, the OR is comfortable for everyday use with a slightly stretchy exterior and 60g synthetic fill, and the fit is versatile for both layering or wearing as a standalone piece. The shell is also both water- and wind-resistant, unlike the Nano-Air that was noticeably drafty when storms rolled in. Both jackets have that sweatshirt-like feel that we love, although the OR falls short from a performance perspective due to its heavier and bulkier build. But at $219, the Shadow will save you $30-$80 (depending on whether you want a hood), making it a nice value for those who prioritize comfort and protection over weight and packability.
From within Patagonia's own lineup, a final option to consider is their Nano Puff Jacket. Unlike the Nano-Air, the Nano Puff is decidedly casual and not designed for sweat-inducing activities. Rather than FullRange insulation, the Nano Puff uses PrimaLoft Gold Eco (also 60g), which is less breathable but slightly warmer. The Nano-Air also gets the edge in comfort with a stretchier and softer face fabric, but the Nano Puff comes in around the same weight (10 oz.) and is cheaper at $229. In the end, we consider it a nice option for wearing around town, light outdoor use like hiking, and even as a midlayer for downhill skiing. However, for those who will be working hard in the mountains or who prioritize comfort above all else, the Nano-Air is the clear winner.
If you're thinking about buying gear that we've reviewed on Switchback Travel, you can help support us in the process. Just click on any of the seller links above, and if you make a purchase, we receive a small percentage of the transaction. The cost of the product is the same to you but this helps us continue to test and write about outdoor gear. Thanks and we appreciate your support!
Depending on the seller, most products ship free in the United States on orders of $50 or more. International shipping availability and rates vary by seller. The pricing information on this page is updated hourly but we are not responsible for inaccuracies.
Learn More About Outdoor Gear