Patagonia's Nano-Air took the active insulation market by storm, designed to be a synthetic jacket that truly can be worn all day through a variety of conditions. For casual use, light exercise in cool temperatures, and as an outer layer for cold weather aerobic activities like ski touring, the Nano-Air Hoody is well worth considering. It's one of the softest and most comfortable synthetic jackets on the market and lives up to its performance chops. After multiple trips ski touring and months of daily wear, we break the Nano-Air Hoody's warmth, breathability, water resistance, weight, durability, fit, and more. To see how it stacks up, see our articles on the best synthetic jackets and best midlayers.
 
Casual Use
Before diving into the performance aspects of the Nano-Air Hoody, we'll start by discussing wearing it casually, which many people do. We purchased a non-hooded version of this jacket right when it was released and wore it religiously around Seattle as our primary outer layer. For months on end, we wore it over t-shirts, during light exercise, and even inside while working on the computer. The softness of the Nano-Air line is unparalleled—it reminds us of our favorite hoody, except with a much cozier and more pillowy feel.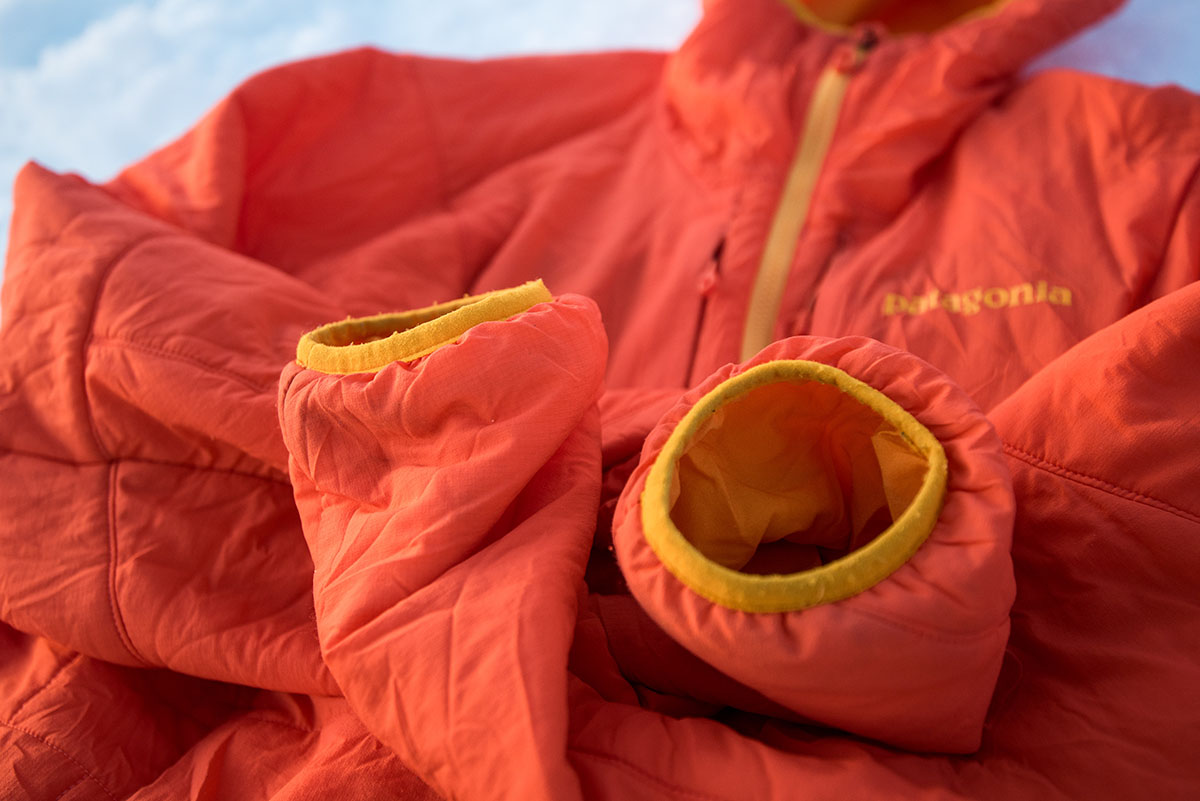 At around $300 full MSRP, the Nano-Air Hoody likely will be the most expensive hoody you've ever owned. Moreover, the super soft fabric does have a tendency to show wear and scuffs more quickly than we would like (more on that in durability below). But this jacket is ridiculously comfortable, breathes and stretches well, and even beads up light moisture with ease. If we had to choose just one jacket to wear on a daily basis, the Nano-Air would get the slight nod over another favorite synthetic, the Arc'teryx Atom LT, which doesn't breathe quite as well.
 
Performance
Warmth
The Patagonia Nano-Air's wide comfort range is one of its defining features. Starting with light to moderate aerobic activity, the Nano-Air Hoody is great for cool weather hiking down to around freezing (depending on your layers and how cold you run, of course). The DWR finish means that you can wear it during light to moderate precipitation, and the FullRange synthetic won't soak up moisture and lose its ability to insulate like down. The jacket also makes a really cozy midlayer for downhill or sidecountry skiing, one of our favorite uses for the non-hooded version.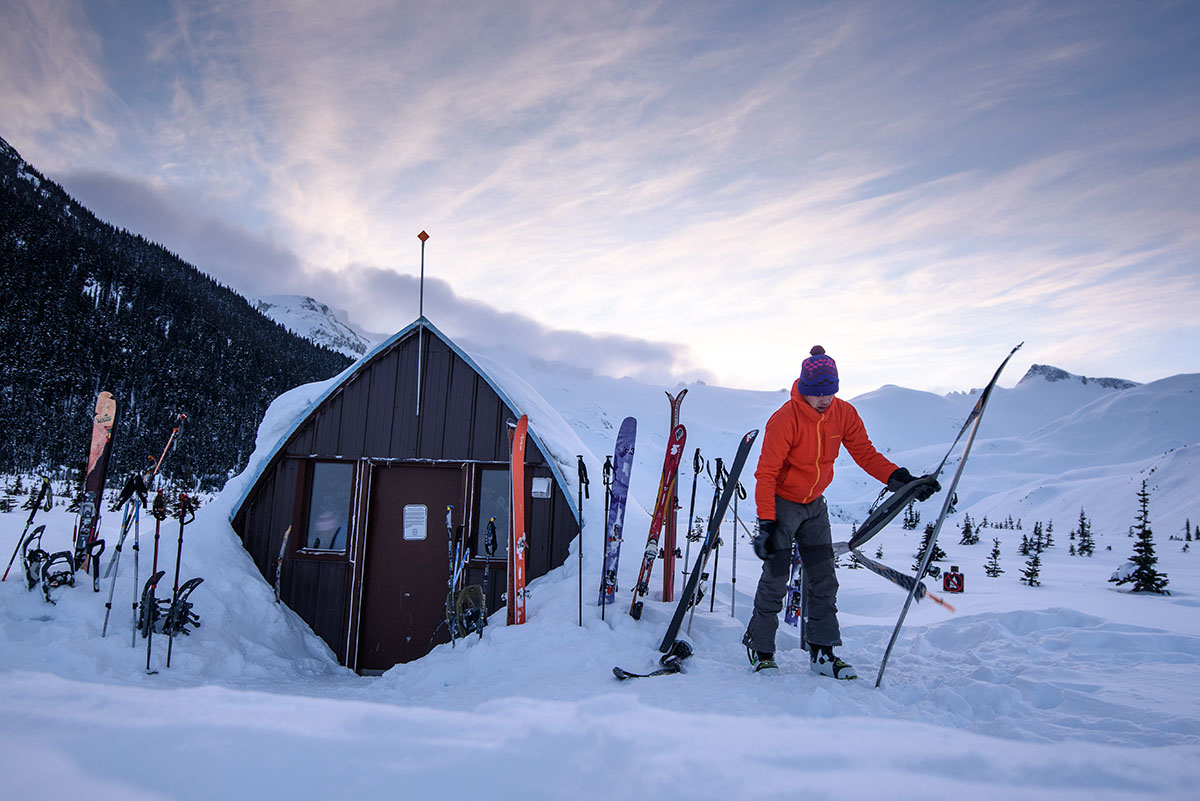 As an active insulation piece, the Patagonia Nano-Air Hoody is surprisingly warm. While ski touring in late winter sunshine, I found it to be too warm even for the downhill. To be fair, I work pretty hard even when skiing down, especially when the snow conditions are poor or the terrain is challenging. I personally found that it was too warm to wear while seriously moving unless it was colder than about 23°F (-5°C). From my experience, the ideal temperature band for the jacket as a single layer while ski touring seems to be around 23° to 14°F (-5° to -10° C). In warmer conditions, I would go back to my normal system of moving quickly in just a baselayer or a light shell to break the wind. I would often pull out this layer during breaks, and then ski for about ten minutes with the jacket on until I warmed up too much to wear it any further.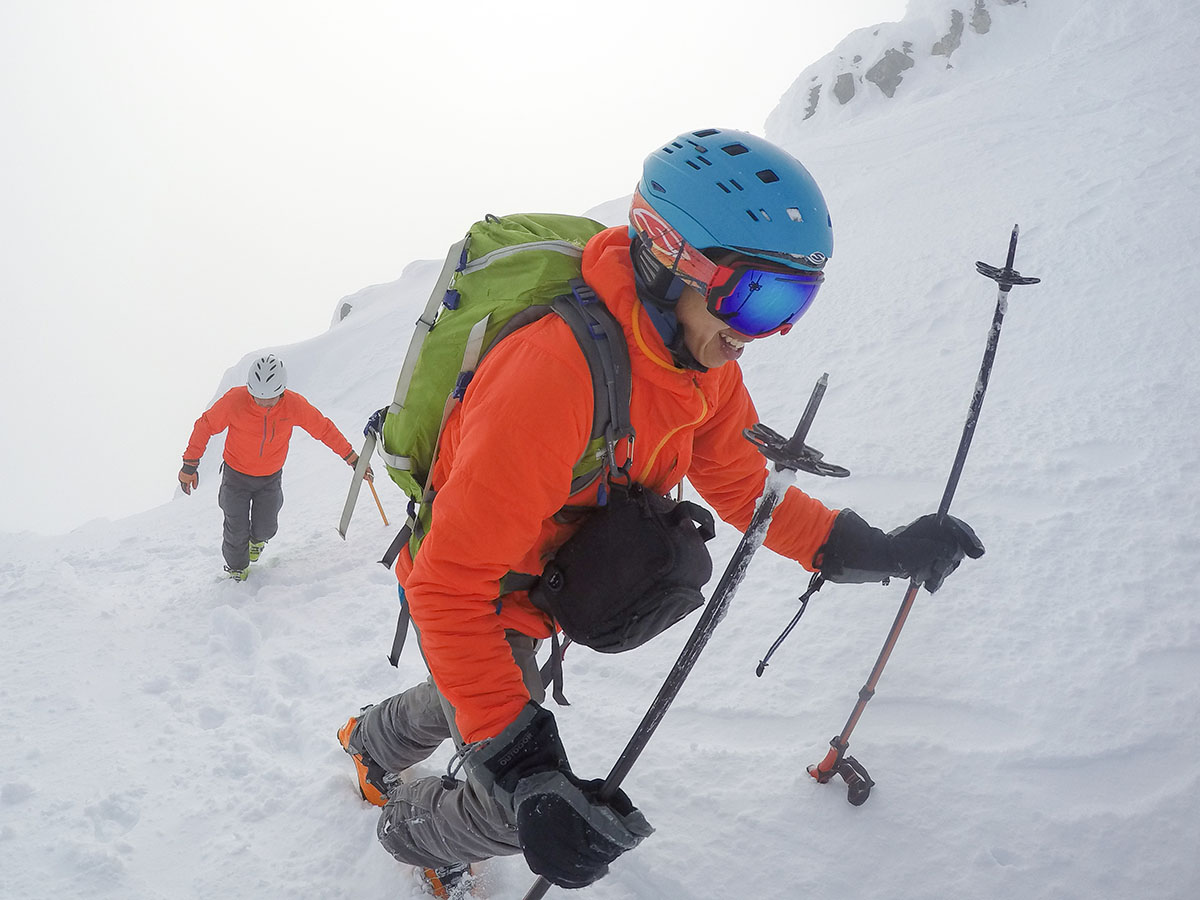 It's worth noting that Patagonia has released a Nano-Air Light, which is said to be 33% less insulative than the original version, and a Nano-Air Hybrid, which has a mesh back and is reviewed here. Both are specialized active insulation pieces that are less warm than the Nano-Air Hoody.
 
Breathability
One of the big selling points of the Patagonia Nano-Air is breathability—it's categorized as an active insulation piece. In the past, I have always used a 60g synthetic for my ski trips. Instead of being used as a midlayer, it primarily was an insulating piece for moving slowly in cold temperatures or quick breaks and ski transitions. The Nano-Air Hoody tries to break down that method of layering, providing both warmth and breathability for aerobic stop-and-go activities. Combining your insulation and midlayer into one, it's designed to be a jacket you can wear all day without taking off.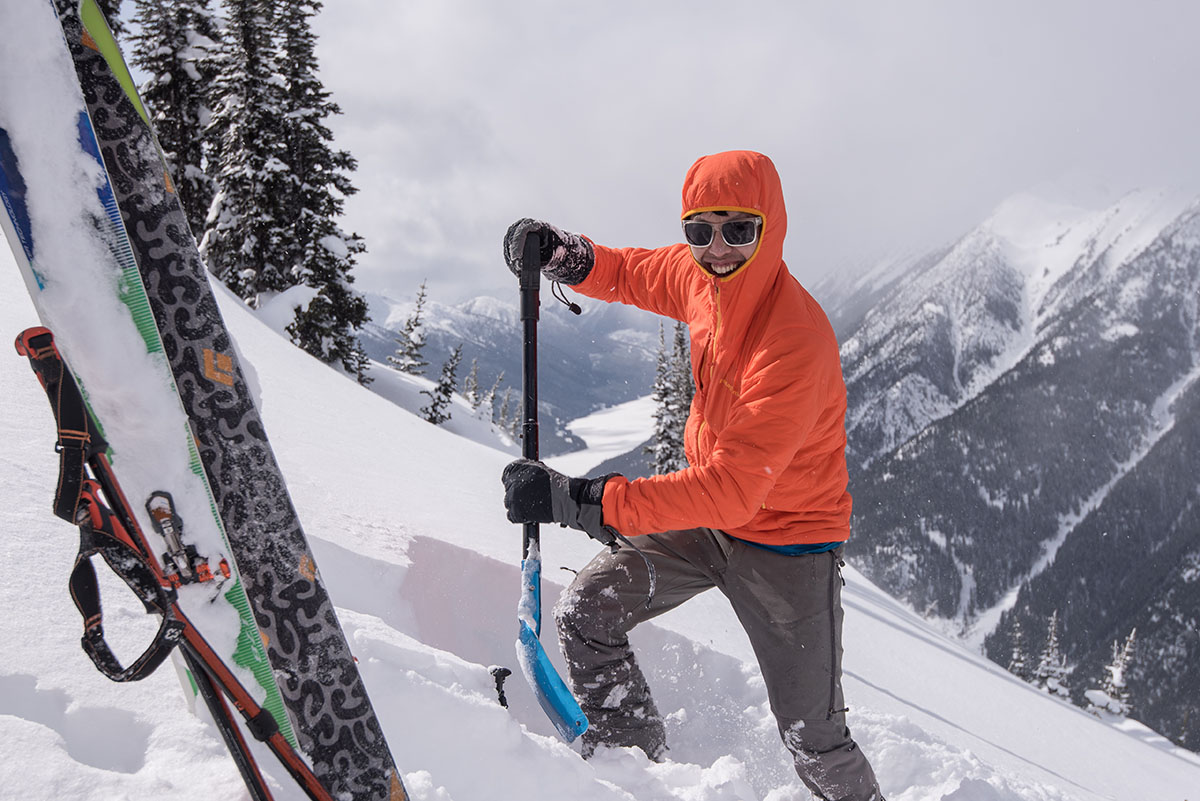 The Nano-Air performed as designed while on ski mountaineering objectives this winter. On a cold day boot packing up to the summit, I found the jacket provided a good amount of insulation without overheating on the climb up. On the summit, I stayed warm and comfortable in my jacket while others were layering up as we stood for photos.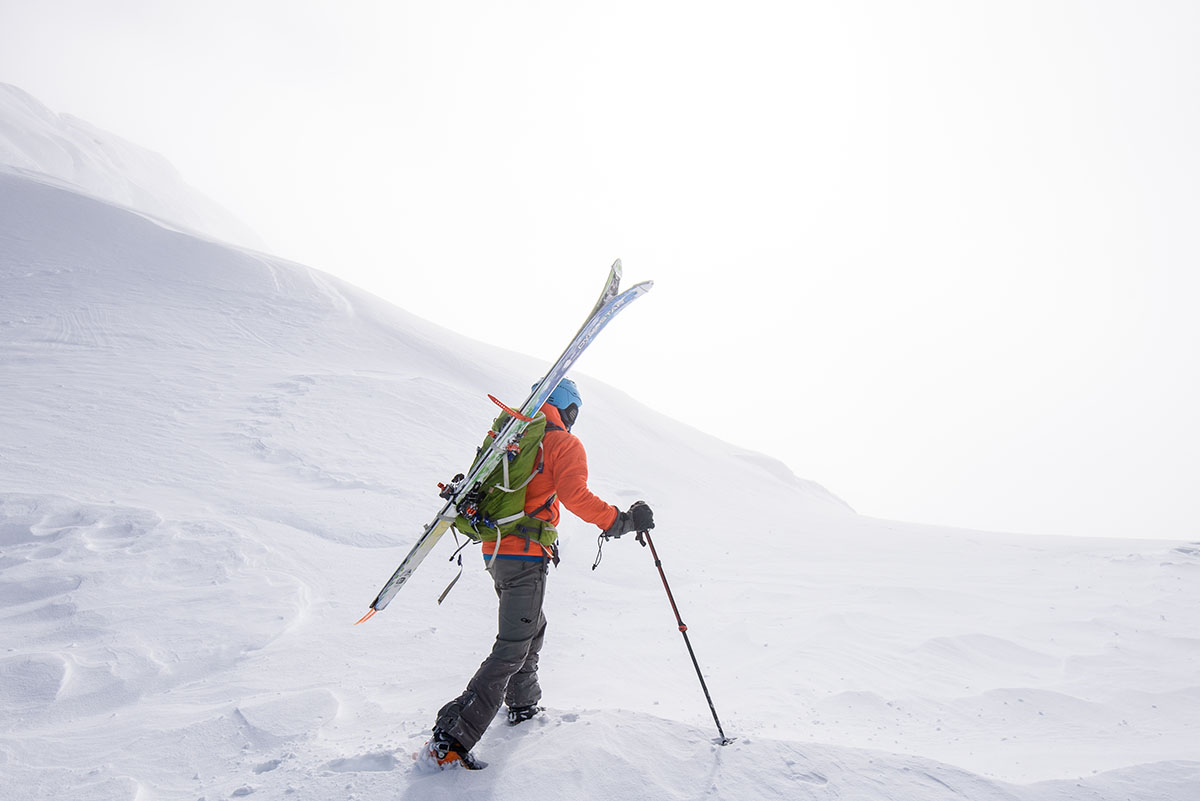 A downside of the highly breathable fabric is the ability for wind to flow through. For extended breaks in the cold wind, I would want to pair this up with a hardshell and additional insulation. In colder conditions below about 14°F (-10°C), I needed to wear it over top of a lightweight fleece like the Black Diamond CoEfficient while moving at slower paces or if I was taking frequent stops. Paired up with a fleece underneath, I was able to push the comfort range of the jacket even further.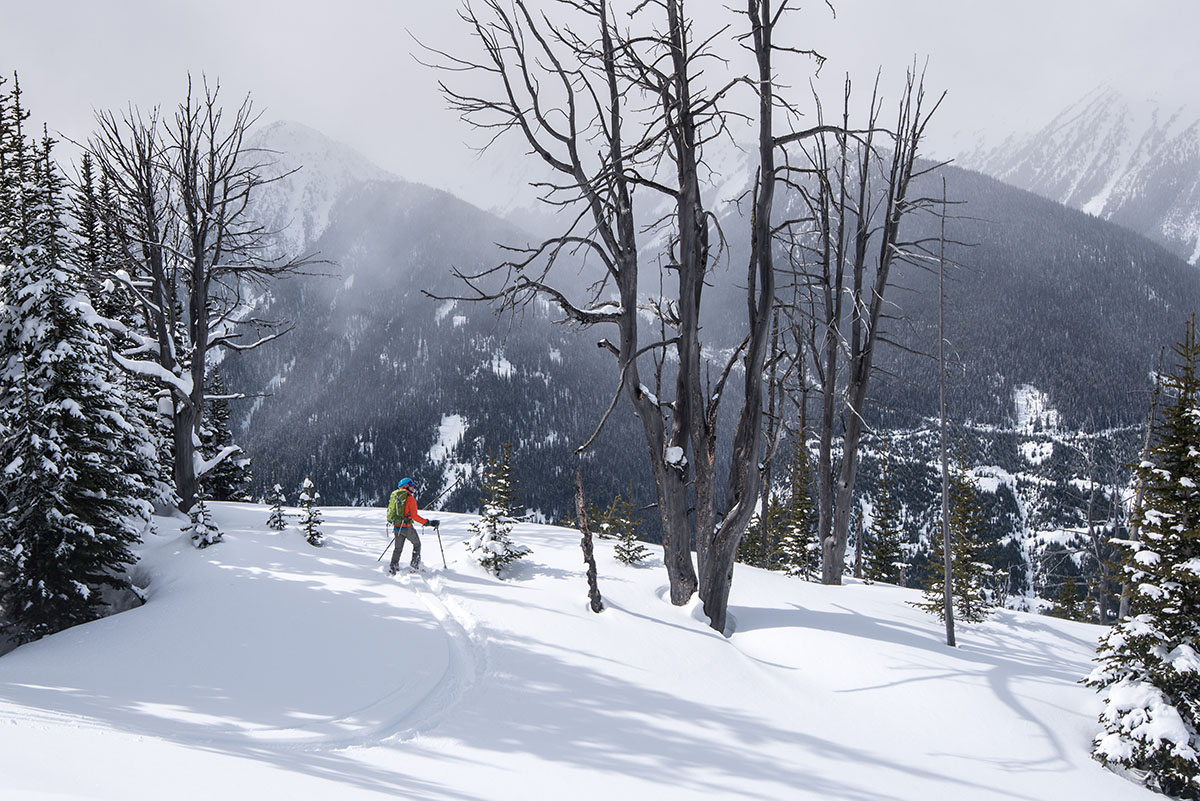 Water Resistance
Considering the suppleness of the fabric, I was quite impressed by the performance of the DWR coating. I have tested the jacket in light rain and the drops always have beaded up. For casual use and hiking in light precipitation, you likely won't need a rain jacket, especially if you're not out for extended periods. Even when wet, the synthetic fill should keep insulating unlike down.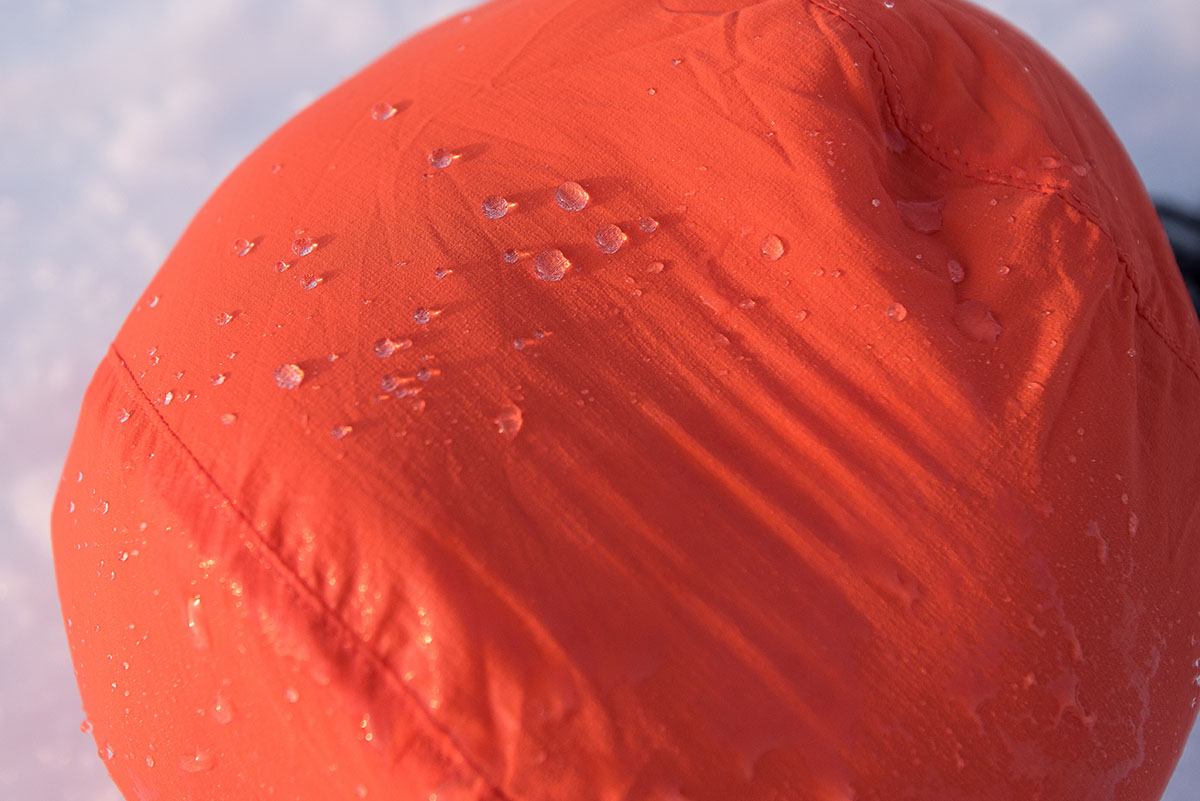 To give it a full test, I skied with the Nano-Air Hoody on a very damp coastal day in British Columbia, with wet snow falling throughout and temperatures just below freezing. After two hours of skinning uphill, the jacket was wet from heavy snowflakes accumulating on it. I stayed warm despite wearing a wet jacket, but I would recommend layering up with a hardshell in prolonged rain or snow.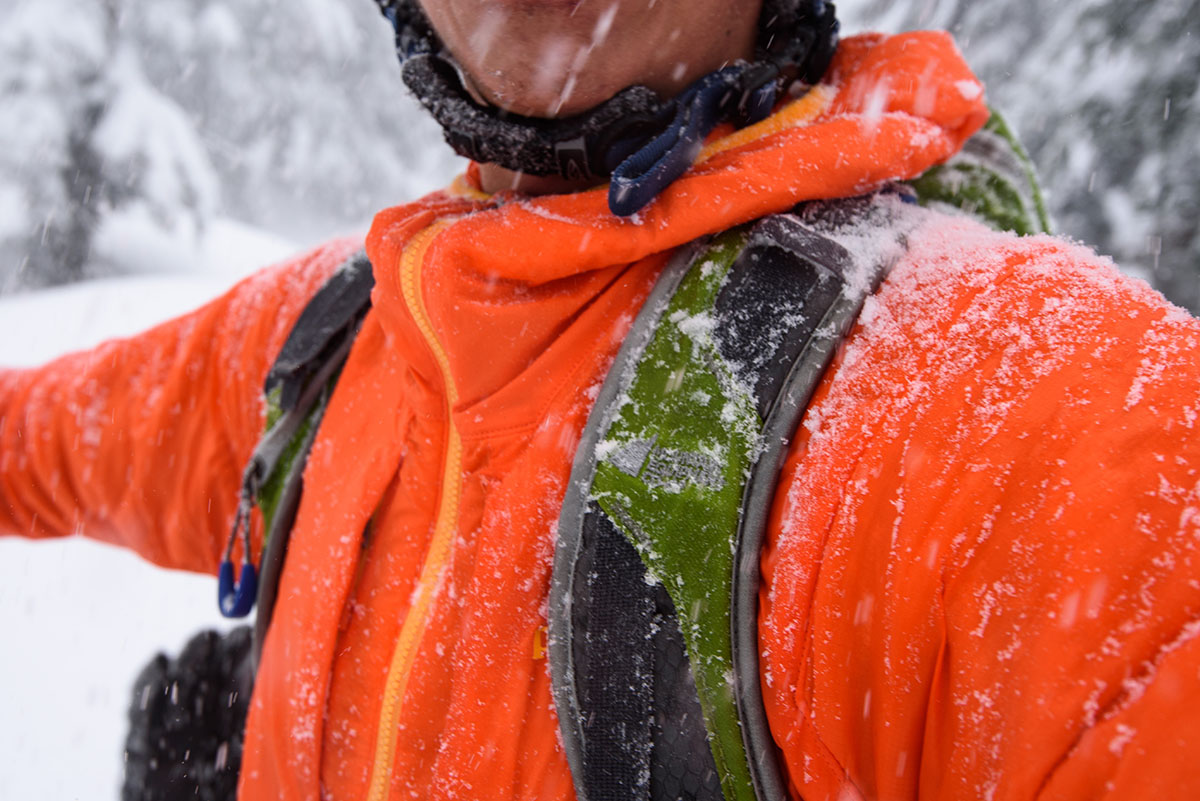 Weight
My measured weight of the men's Patagonia Nano-Air Hoody in a size small is 12.55 ounces (356 grams), compared to the listed weight of 13.6 ounces (385 grams), likely for the medium size. This puts it on the lightweight end of the synthetic jacket market. Black Diamond's new First Light Hoody (18 ounces) and Outdoor Research's Uberlayer (19.9 ounces) are far heavier, although they do utilize thicker shell materials for improved durability. Arc'teryx's very popular Atom LT Hoody is closer to the Nano-Air at 12.7 ounces, but its shell fabric can't compete in terms of air permeability. Finally, Patagonia's own Nano-Air Light is the ultralight option at 10.9 ounces, but it isn't as warm, doesn't have hand pockets, and only comes in a pullover style. In most instances, the Nano-Air's weight is perfectly acceptable for backcountry missions. And if we're looking to go truly ultralight, we'll grab a down jacket instead.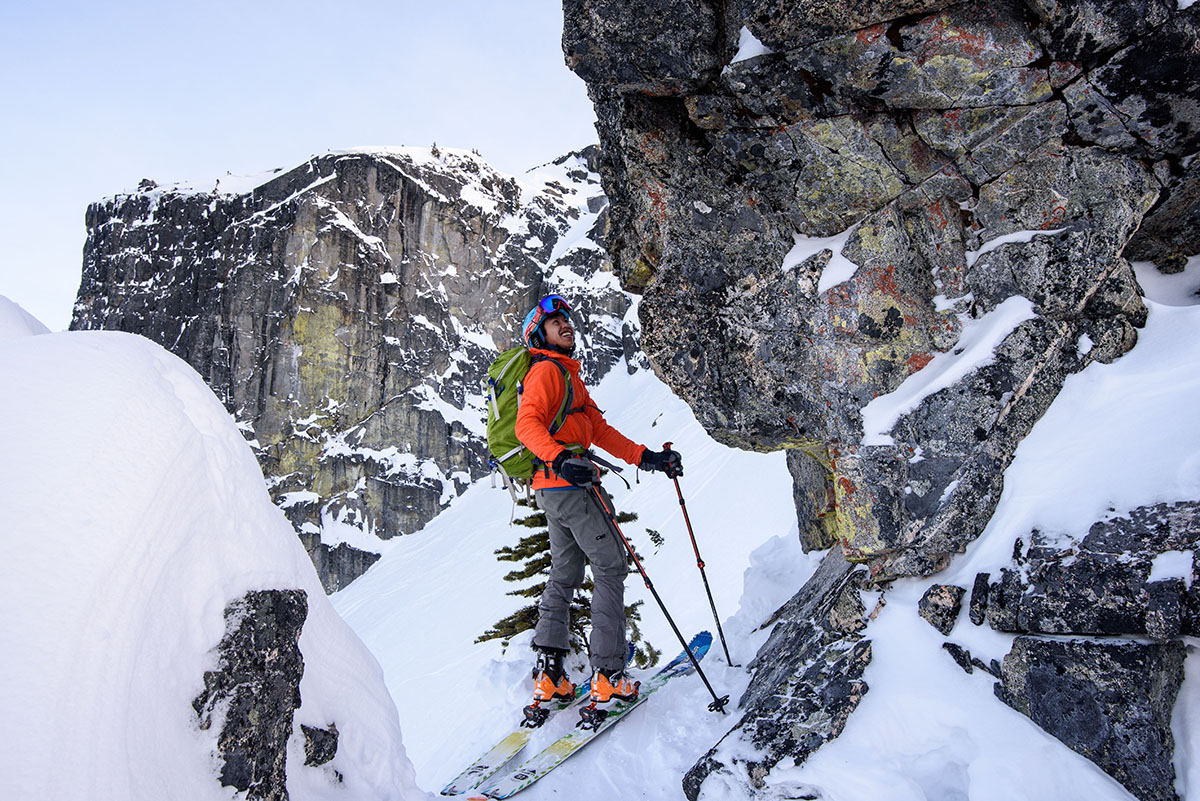 Features
Hood
The Nano-Air Hoody has a close fitting, scuba-type hood, which is stretchy enough to put on and off even with the front zipper all the way up. The zipper comes with a fleece guard at the top for added comfort and a storm flap for additional protection. There are no adjustments on the hood, yet I found the small size provided a close fit around my head. It's a trade-off between a well-fitting hood around the head versus a helmet. For the purpose of this jacket, I was happy to have the hood fit snug around the head, but it was too short to fit over my climbing helmet without feeling tight. In stormier conditions, I would layer up with a hardshell with a helmet-compatible hood to provide additional protection.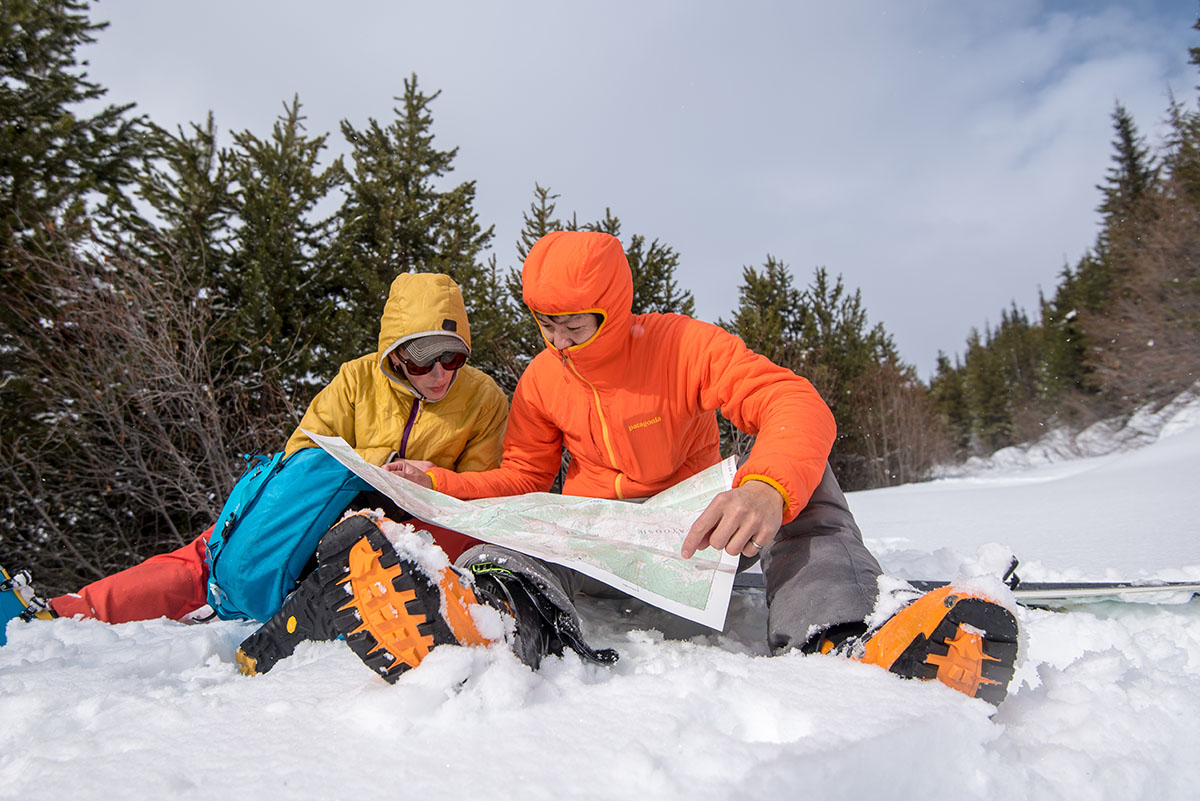 Storage
The Nano-Air comes with four pockets: two hand warmer pockets and two chest pockets. However, none of the pockets are big enough to stuff the jacket into itself. I avoided wearing the jacket when the temperatures warmed up, but I did notice that sweat would accumulate on my phone stored on the chest pocket. The pocket is on the outside of the insulation, a sign that moisture is moving outwards. On the downside, this means you won't be able to keep your electronics as warm and protected with this jacket. The FullRange insulation isn't as compressible being synthetic fill, and I would usually roll the jacket into the hood, which turns into the size of a small melon.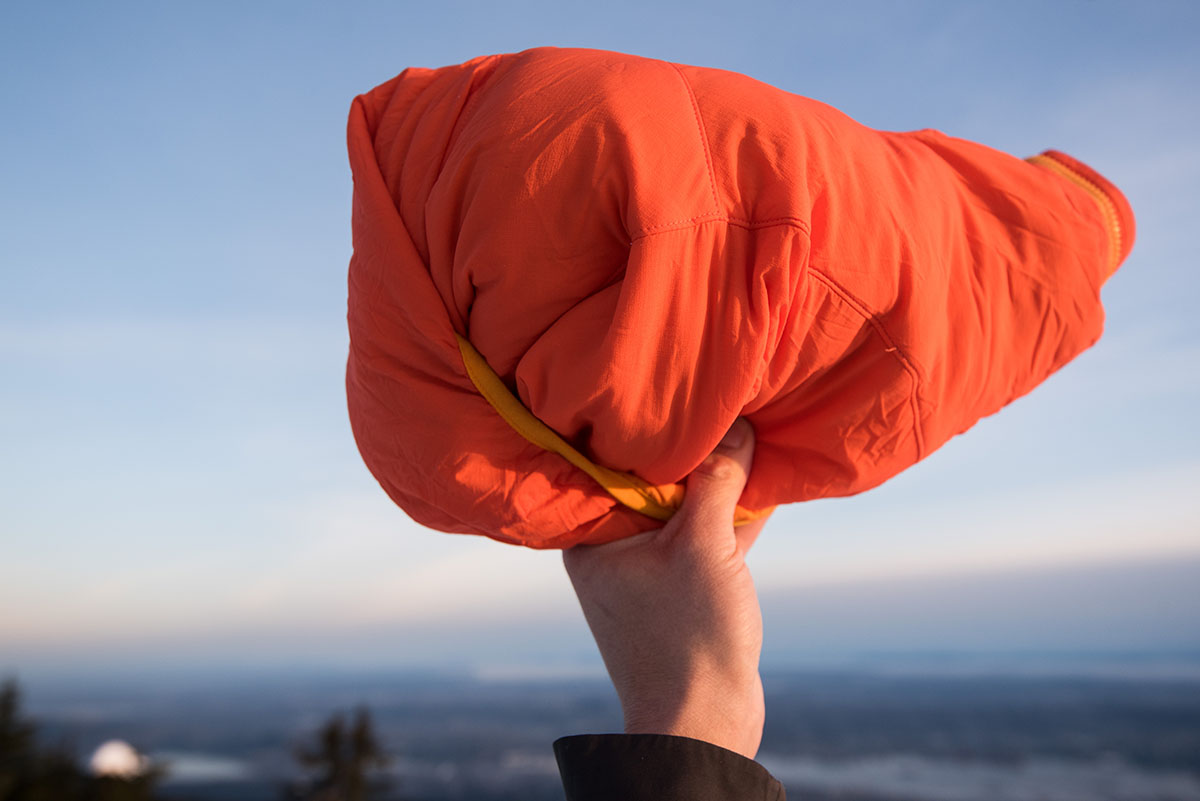 Durability
Considering that the material on this jacket feels like a soft blanket, it's been more durable that I expected. The ripstop nylon shell has held up to a few bushy encounters including a collision with a tree, fortunately at low speeds. Most of the wear is visible in high usages around the chest pocket where I'm often putting my phone or bars, along the bottom hem, and along the elastic cuffs. There are a few loose stitches and pilling of material in the areas described, but all purely cosmetic.
After testing numerous synthetic jackets, we do think that durability is one downside of the Nano-Air line. Wear and pilling in high-use areas just seems to happen a little quicker than the competition, which is a bit frustrating given the high price. But this is likely due to the unparalleled softness, which we think is a worthwhile trade-off (note: Patagonia has upgraded from the 20D shell tested here to a 30D fabric for 2017-2018 that is supposed to be a little more durable). It's also worth noting that the Patagonia Nano-Air is easily machine washable—we've done so numerous times without issue.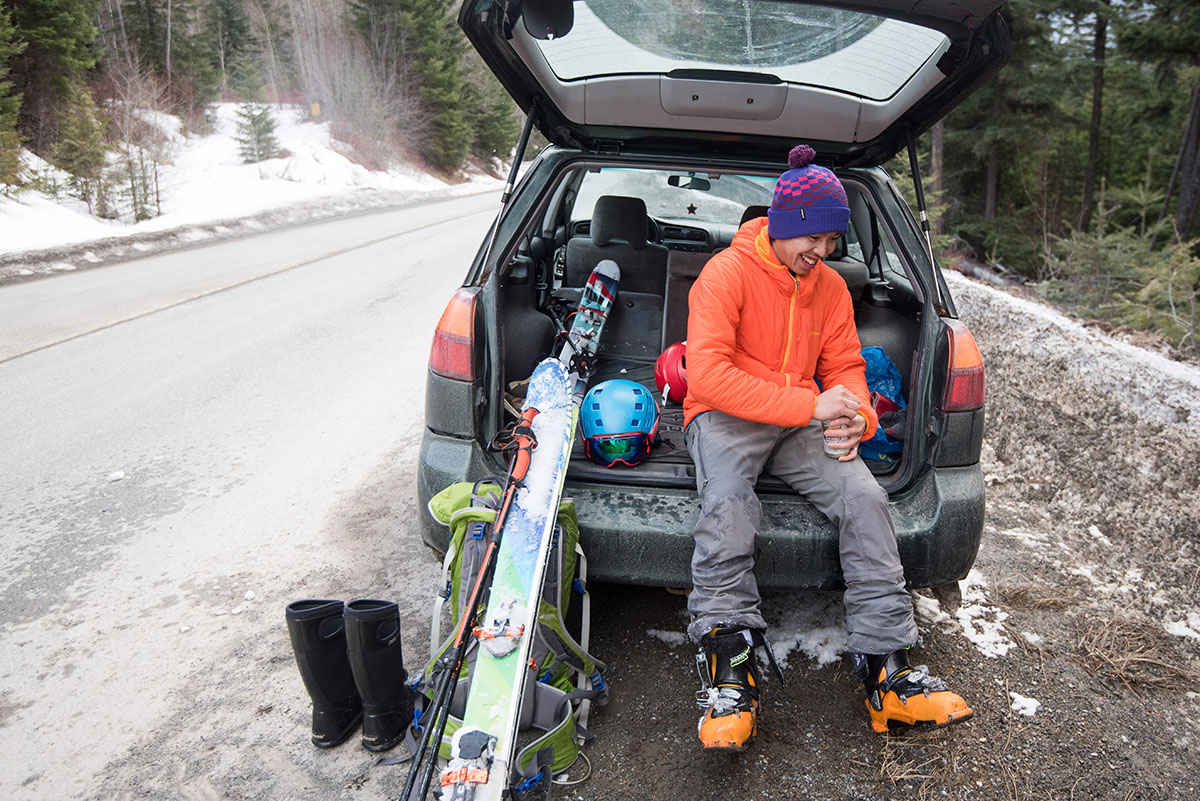 Fit and Sizing
Depending on your body type, the Nano-Air Hoody may feel slightly large for its size. I am 5'9'' and 145 pounds with a slim build, and was happy with the fit of a men's small. The brick quilting pattern gives a loose, rectangular fit around the mid-section, which is more noticeable when only wearing the Nano-Air hoody over a base layer. With a hip belt on, I noticed extra material pushed up above the belt. I was able to comfortably layer a slim fleece hoody like the BD CoEfficient without feeling constricted due to the comfortable fit and built-in stretch.
The sleeves are just long enough to tuck my hands into them but not any longer. In practice, the sleeves could be at most an inch too long for me, with some bulking up of excess fabric around my forearms, but this is hardly noticeable as the elastic cuffs do a good job of keep the sleeves in place. The waist hem can be adjusted with the drawcord on either side—I liked how the elastic loops run up inside the jacket, keeping a low profile outside.


What We Like
Super comfortable fabric for wearing all-day long.
Performs as designed for cold-weather aerobic activities such as ski touring, but great for casual use as well.
Two hand warmer pockets and two chest pockets.

What We Don't
Too much warmth for aerobic activities in mild conditions.
Pilling in high use areas after three months of testing.
No stuff sack or pockets to stuff the jacket into.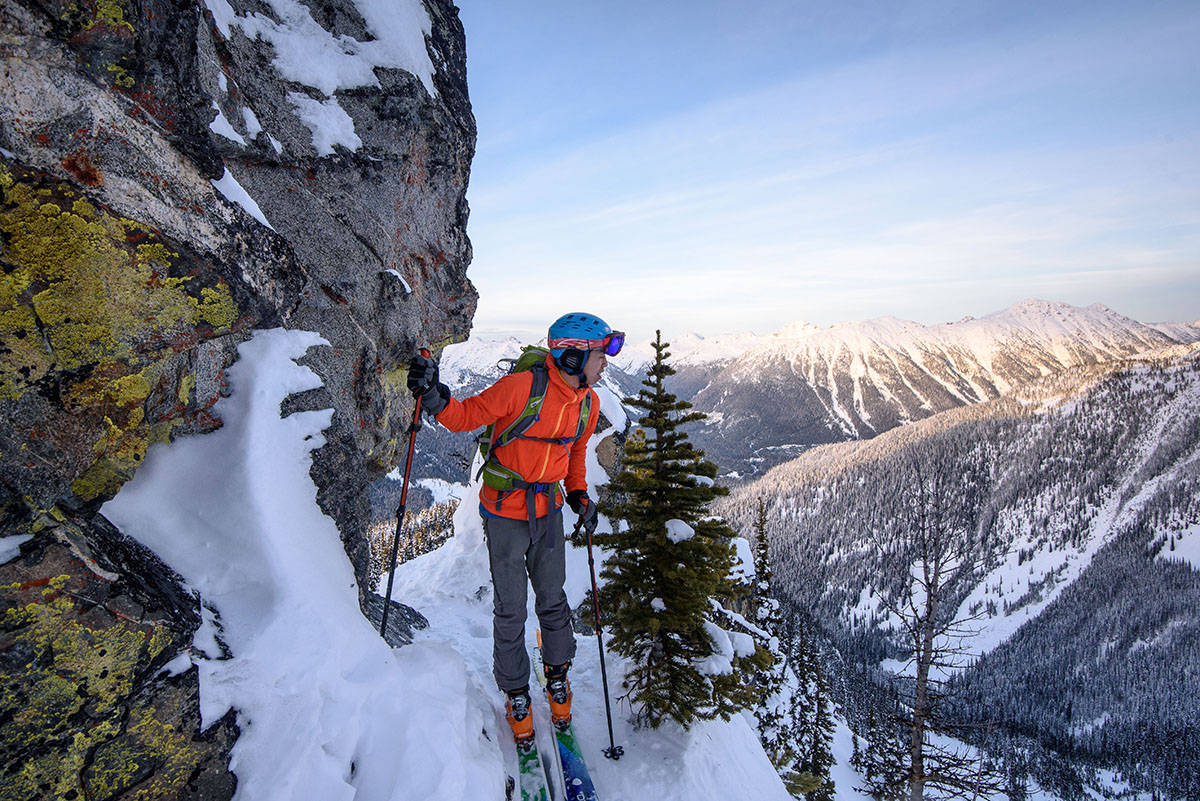 Comparison Table

The Competition
We get a lot of questions about synthetic jackets, and one of the most common is about comparing the Nano-Air to the Arc'teryx Atom LT. Both jackets are about as popular as it gets for those wanting to get a lightweight, casual/performance piece. To start, the Atom LT is built slightly differently: the front, back, and shoulders of the jacket are made with a thin wind-resistant shell while the sides and under the arms are stretchy fleece. As a result, the Arc'teryx offers better weather protection and warmth than the Nano-Air as an outer layer, but the fleece panels aren't able to keep up in terms of breathability. From our collective experiences, we think both jackets are extremely comfortable but we prefer the Atom LT's slightly trimmer fit. Those who ski tour will like the Nano-Air better, and its pillowy feel is truly hard to beat.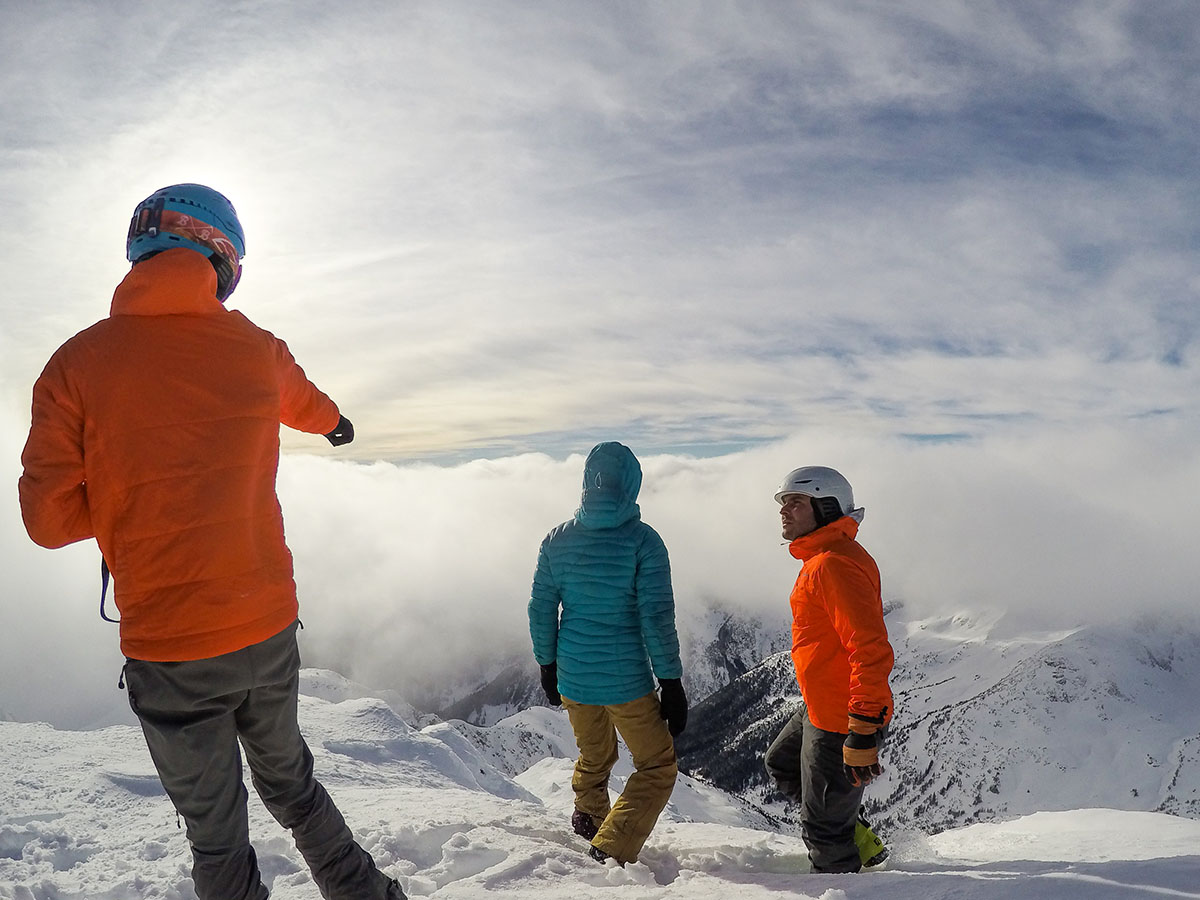 Among popular active insulation jackets, the Black Diamond First Light Hoody and Outdoor Research Uberlayer stand out as strong alternatives. Both the BD and OR jackets utilize shell fabrics and insulation that are optimized for breathability while working hard, and are tailored to the backcountry skiing, climbing, and light mountaineering crowd. The 40D shell on the First Light and 30D shell on the Uberlayer offer a step up in durability compared with the thin 20D Nano-Air, which can be handy around sharp skis and equipment. And the two jackets are more feature-rich with helmet-compatible hoods. Where the Nano-Air has the advantage is weight—the First Light is 4.4 ounces heavier and the Uberlayer is 6.3. If you value the backcountry features and don't mind the extra ounces, the First Light and Uberlayer are excellent, but the significant weight spread pushes the Nano-Air ahead for us.
As we touched on above, Patagonia has expanded the Nano-Air line to fit growing demand for lightly insulated and highly breathable jackets. Their Nano-Air Light Hoody offers 33% less insulation than the Nano-Air (60g vs. 40g), breathes far better, and saves you nearly 3 ounces (13.6 oz. vs. 10.9) for a great balance of performance and comfort in mild temperatures. And the Nano-Air Light Hybrid uses the same insulation as the Light Hoody along the front of the jacket, but a waffle-style thin fleece on the back for even more breathability (it's nicknamed the "midlayer mullet"). If you have the luxury to fill a closet with jacket options, the 3 Nano-Airs fall nicely in line with descending warmth and increasing breathability. But the Nano-Air Light and Light Hybrid are somewhat compromised—the Light is only a half-zip and doesn't have hand pockets, and the Light Hybrid is only useful when you're working really hard (running in cold weather is one example). If we were to choose one Nano-Air, it would be the original for its significantly more versatile nature.
If you're thinking about buying gear that we've reviewed on Switchback Travel, you can help support us in the process. Just click on any of the seller links above, and if you make a purchase, we receive a small percentage of the transaction. The cost of the product is the same to you but this helps us continue to test and write about outdoor gear. Thanks and we appreciate your support!
Depending on the seller, most products ship free in the United States on orders of $50 or more. International shipping availability and rates vary by seller. The pricing information on this page is updated hourly but we are not responsible for inaccuracies.
Learn More About Outdoor Gear