prAna Halle
Price: $85
Materials: 97% nylon, 3% spandex
Waist: Drawstring
What we like: Great combination of fit, styling, comfort, and durability.
What we don't: Small pockets and too thick for true summer temperatures.
See the prAna Halle
Perhaps no other women's hiking pant is as ubiquitous and revered as the prAna Halle. In fact, when I bought my first pair, the two female sales associates spotted my purchase and began raving about their experiences wearing the Halle to work, out to eat, to walk the dog, and, of course, to hike. Eager to find out if it could live up to the hype, we took the prAna Halle Pant on a four-day trek in the Grand Canyon. Although not without its downsides, the Halle is an impressively versatile pant that fits in just as well on the trail as our local café. Below we break down our experiences with the Halle. To see how it stacks up, see our article on the best women's hiking pants.
 
---
Table of Contents
---

Performance
Comfort and Stretch
The prAna Halle's soft and stretchy fabric arguably is its best attribute, making the pant both mobile and wildly comfortable. It's built with the same material as prAna's Stretch Zion Pant (the men's version), which incorporates 3-percent spandex into its nylon construction for a noticeable two-way stretch. Additionally, the Halle's knees are articulated, resulting in superb freedom of movement. Even if you size your pants relatively snug (their intended fit), you still should have full mobility and comfort.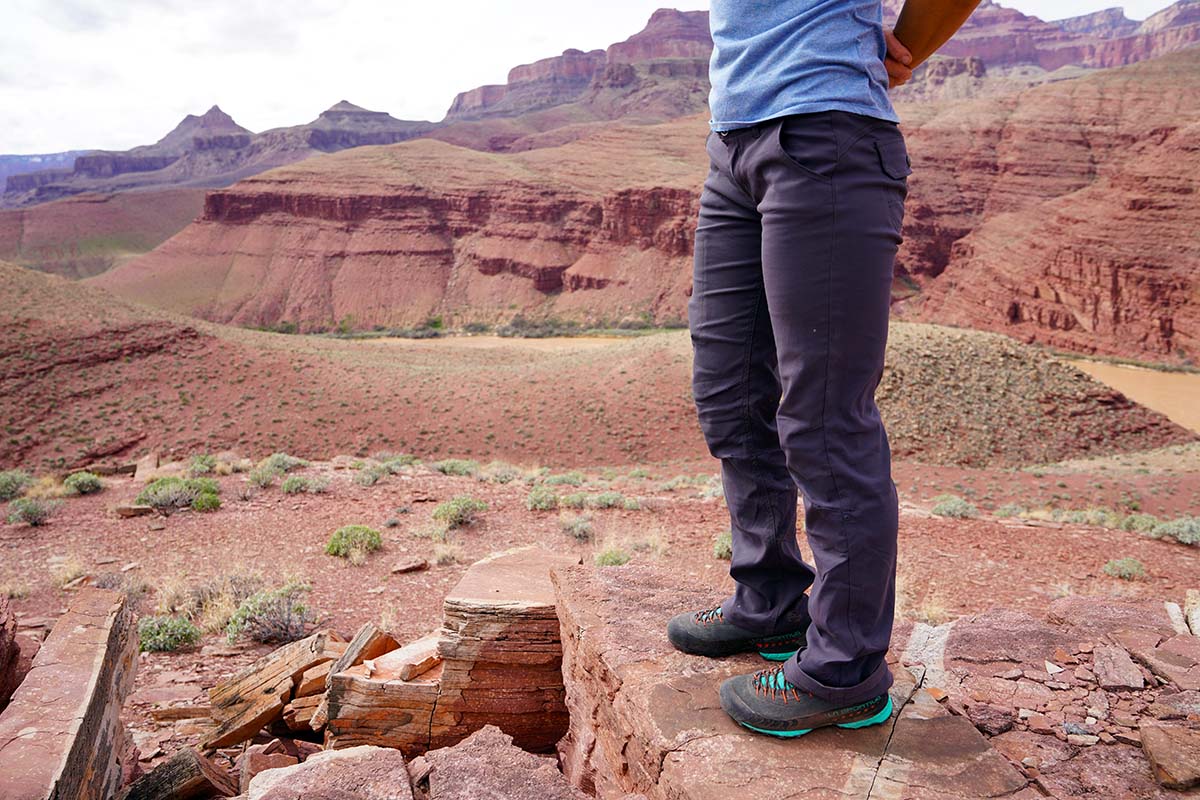 I wore the Halle throughout the entirety of our four-day backpacking trip in the Grand Canyon, removing them only at night to sleep (which was barely necessary considering how comfortable they are). Whether squatting to refill water, sitting down to tend to the stove, climbing up the tricky fourth-class terrain of the Papago Wall, or hiking with a heavy load, the pants moved with me. Further, while hiking and camping can entail a lot of bending over, I didn't find myself needing to pull up the waist to keep the Halle from slipping, which is a common problem I have with other pants. Finally, even four days into the trip—when pants often begin to stretch out or start to sag—the Halle retained its form-fitting shape.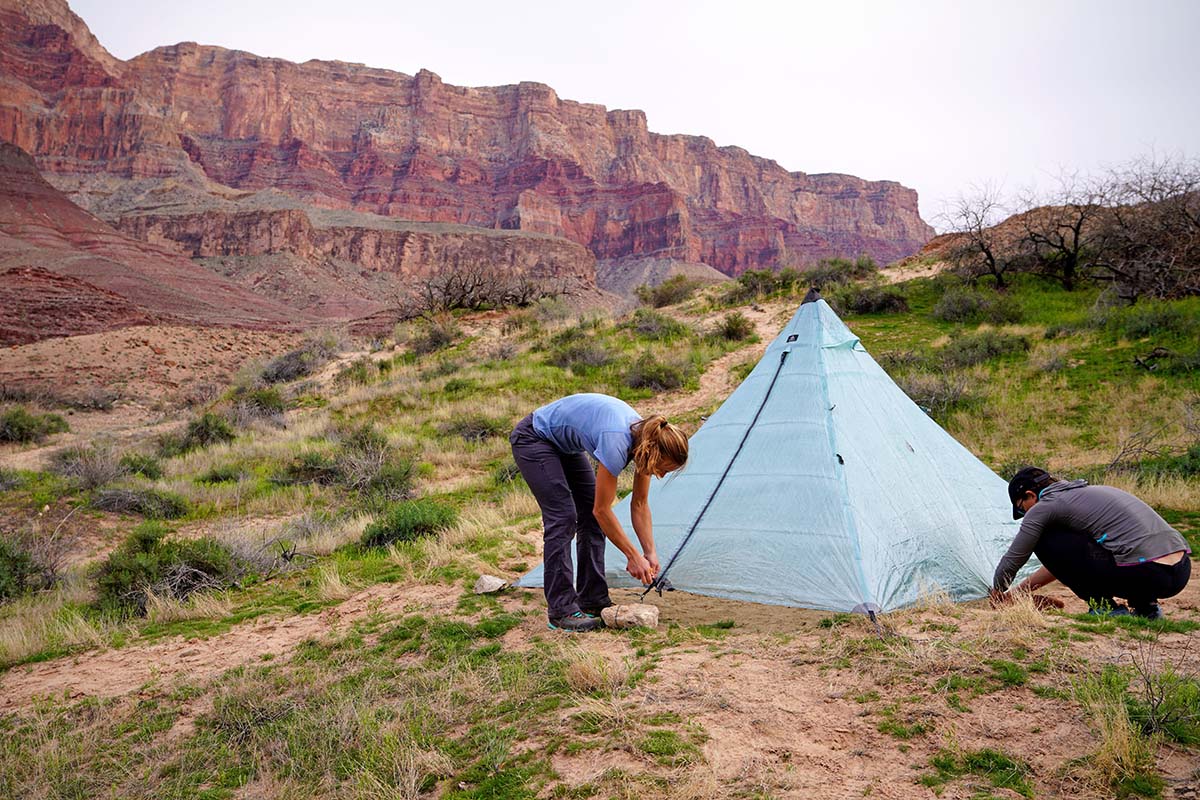 Water Resistance and Breathability
The prAna Halle is a mostly nylon pant, designed for breathability and quick drying. In practice, my legs did not grow clammy even while hiking in 70-degree desert heat—a testament to the Stretch Zion fabric's breathability. You also can roll the pant up to just below the knees, which adds significant ventilation on especially warm days. That said, it's important to note that the Halle is not a particularly thin pant, meaning you get some added warmth on cold days, but it's perhaps too much pant on hot days. In the summer heat, we recommend opting instead for shorts or a thinner nylon or cotton pant like the KUHL Splash Roll-Up.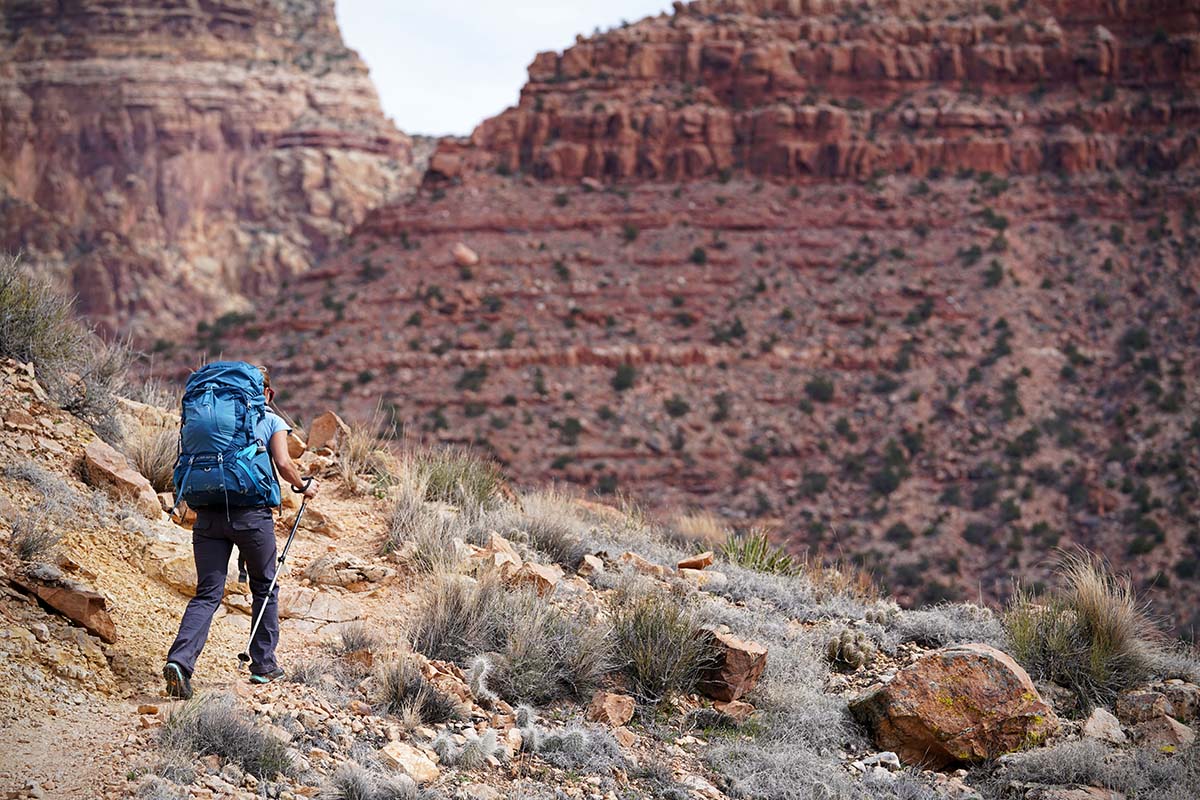 For protection against light precipitation, the Halle has a DWR finish that helps moisture bead up and slough off the pant instead of soaking through (think water resistant but not waterproof). During our hike, the Halle skillfully deflected light rain, and when a wave lapped up while I was collecting water from the Colorado River, the beaded moisture rolled right off. However, when a true downpour came—right as we were setting up our backpacking tent on the last night—the DWR-coated nylon soaked through entirely. Thankfully, the pants dry very quickly and were wearable by morning (with remarkably the same snug fit). Keep in mind that if you want the DWR finish to continue working over time, you'll want to regularly wash the pant and apply a spray-on or wash-in coating when the DWR wears off completely. And as a side note, the Stretch Zion fabric also offers UPF 50 sun protection, so you're covered in non-inclement weather as well.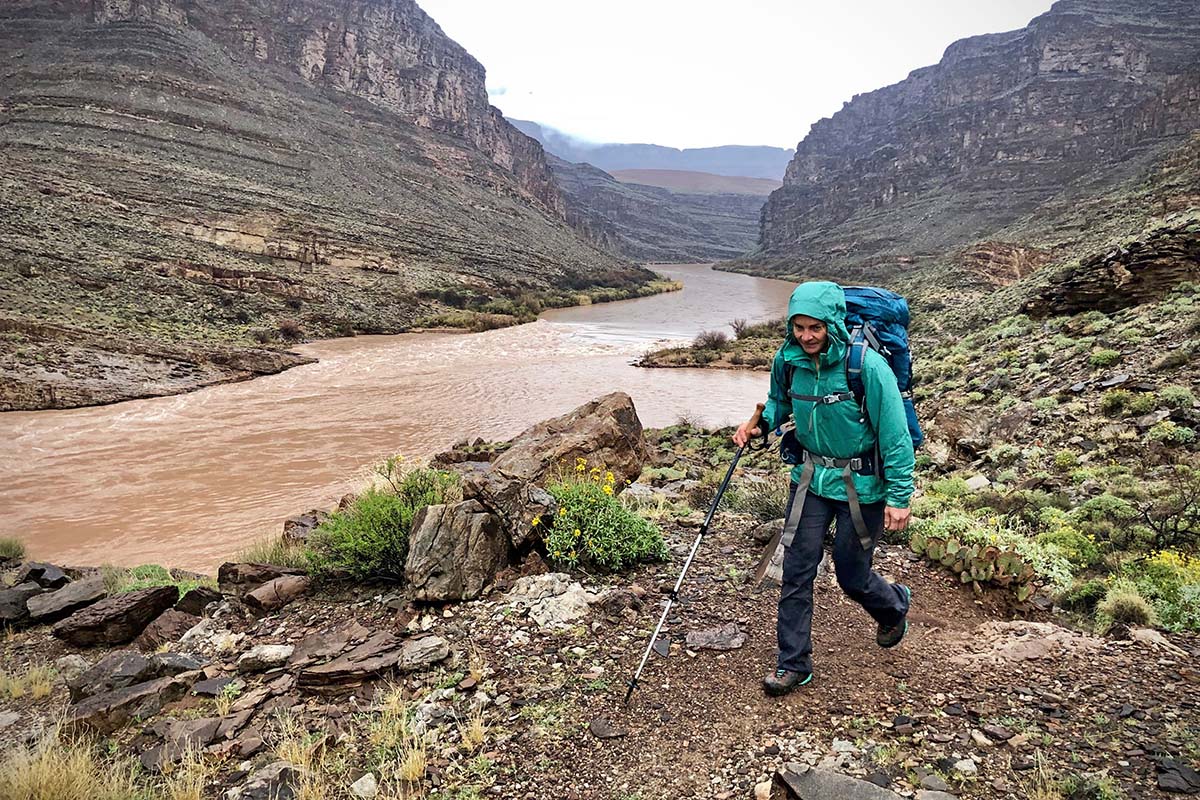 Features
Pockets
The prAna Halle has two standard front pockets, two back pockets with a flap and button closure, and a zippered stash pocket on the right thigh. Unfortunately, none of these pockets are particularly large, which is one of my main gripes about the pant. The two front and back pockets are too small to fit my iPhone, while the zip pocket on the right thigh is just barely large enough to accommodate it. When it comes to hiking pants, deep front pockets and a roomy zip pocket are almost imperative, and unfortunately, the Halle's small pockets are more stylish than functional.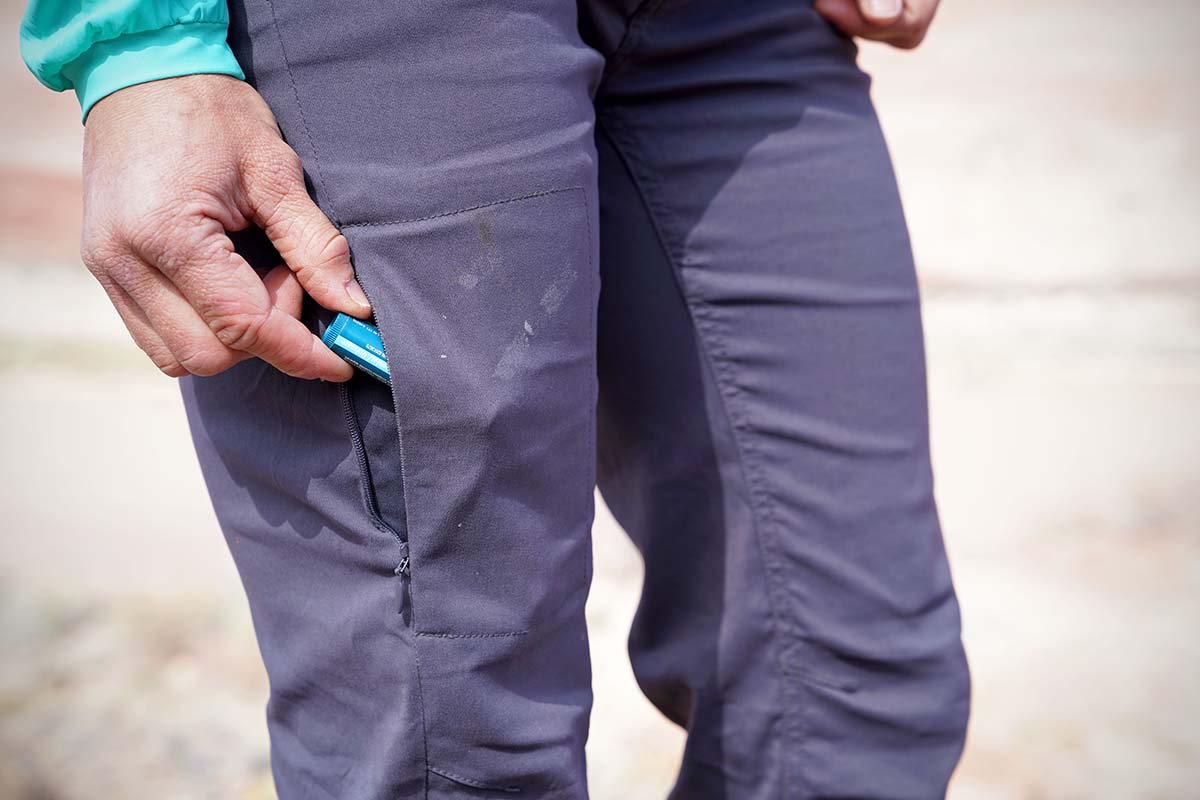 Roll-up Legs
On warmer days, for creek crossings, or just for kicking around town, the prAna Halle has flaps that allow you to secure your rolled-up pant cuffs. Each leg has two flaps—attached to the inside just below the knee—that fold over the rolled cuff and secure to an external snap for a knicker/capri look. If rolled-up pants aren't your style, prAna has done a great job of making this feature relatively inconspicuous with just a small, fabric-colored snap showing on the sides of each knee.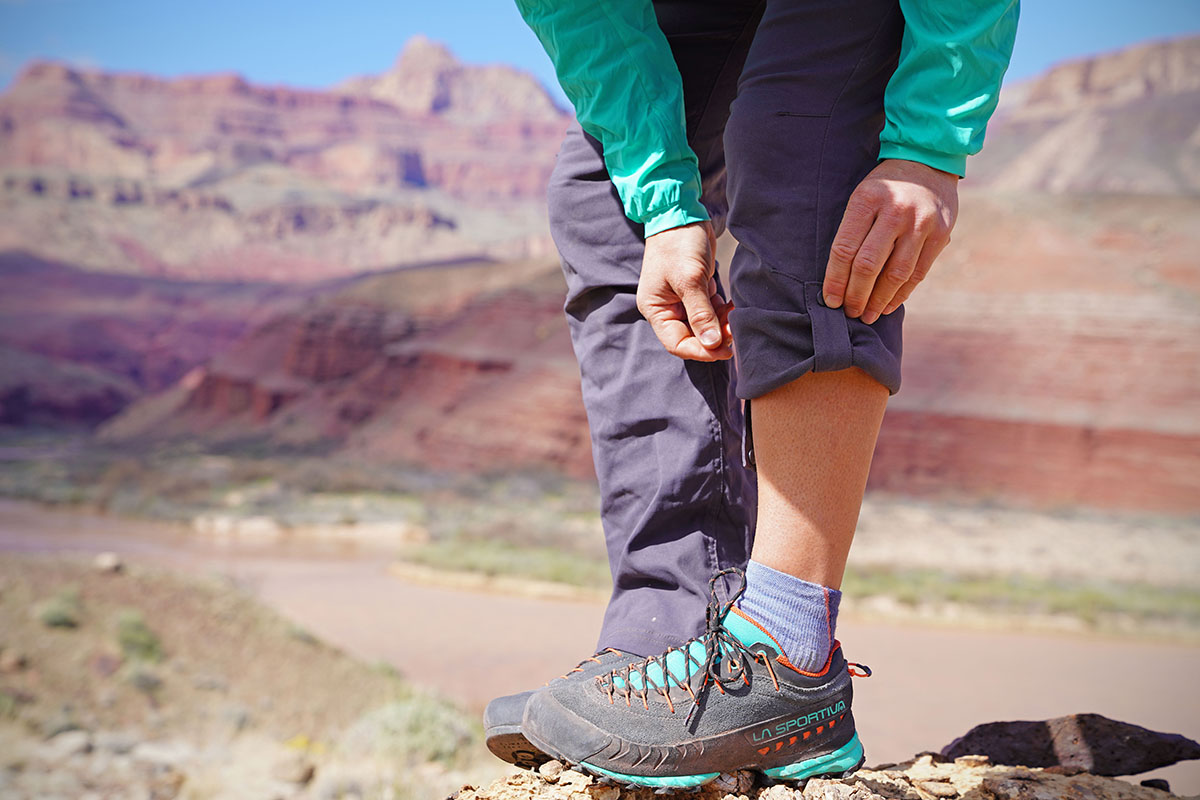 Front Closure
The Halle has standard trouser styling with a front button fly and zipper. It also features an internal waistband that knots just below the belly button, allowing you to dial in fit and preventing the pants from slipping when you bend over. However, while this design would be manageable without a pack, I found that my backpack's hipbelt consistently dug into the Halle's waist knot—not something I would expect from a pair of pants meant to be worn while hiking or backpacking. In addition, the entire waist design of the Halle is rather bulky with belt loops, an extra layer of fabric, and multiple rows of stitching. Because of this, I developed pressure points in various places along my waist, which were only relieved by pulling up my pants high enough that the waistband fell above my pack's hipbelt. All told, I like the Halle's waist design for hiking without a large pack, chores around camp, or casual wear around town, but it wasn't optimal for backpacking.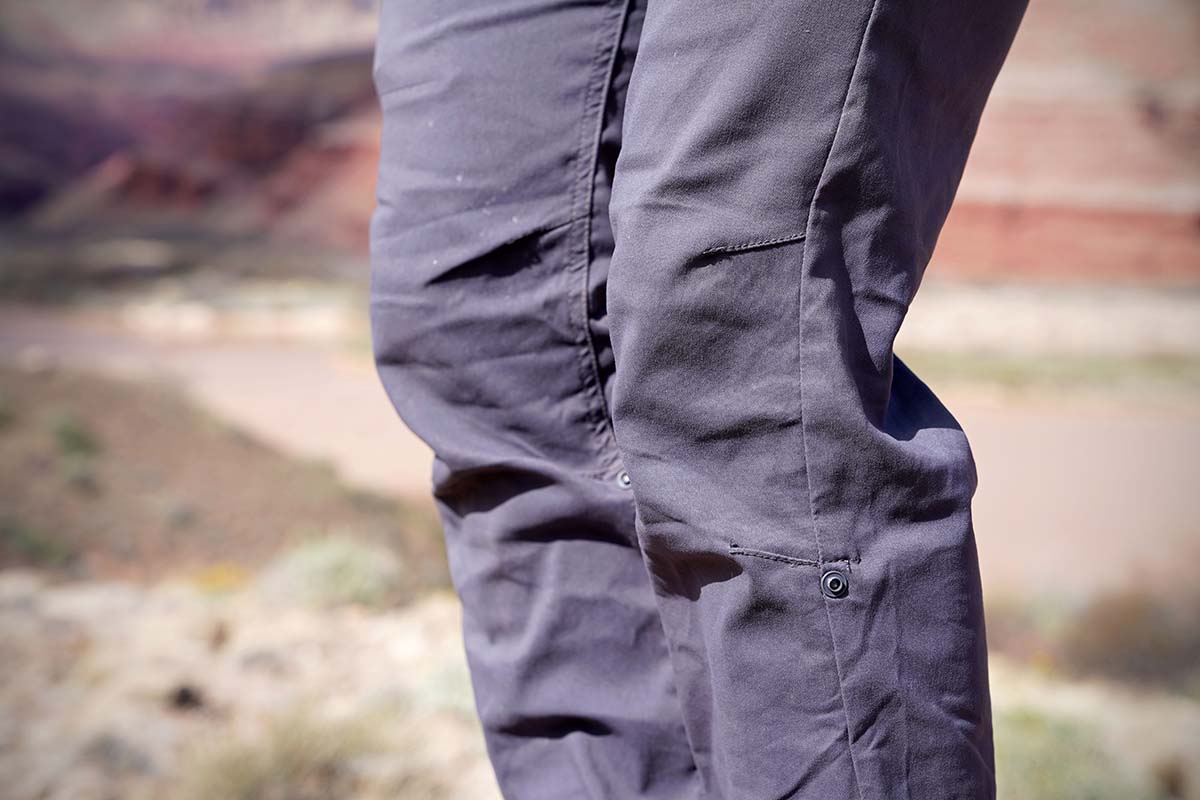 Style and Versatility
PrAna describes the Halle as "the ultimate cross-functional pant," and after wearing them while backpacking, climbing, playing disc golf, and running errands around town, I couldn't agree more. The Halle is almost as comfortable and free-moving as a sweat pant, but with a great style that fits in on the trail or at the café. I really can't say enough about the active fit and mobility of these pants, which are even more impressive when paired with the sleek and slimming design. Put simply, the Halle manages a class-leading combination of good looks, comfort, and on-trail performance.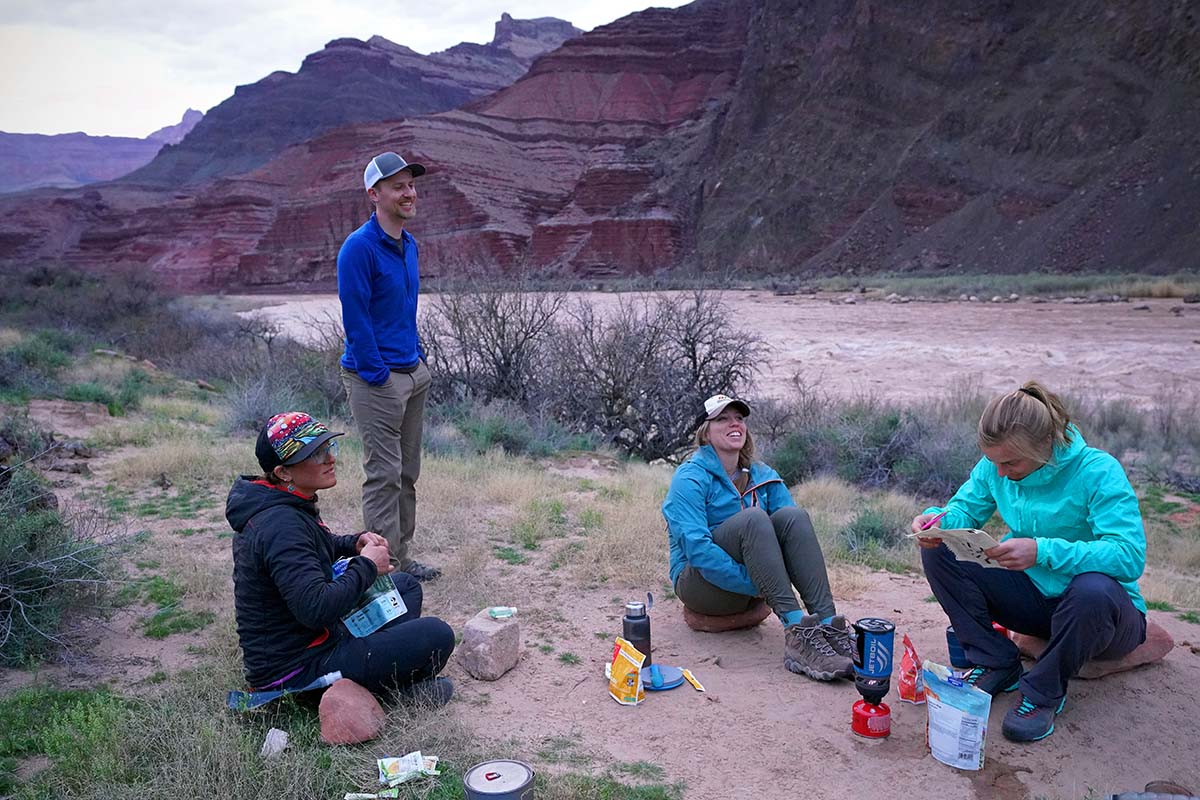 All that said, the Halle isn't quite as versatile as I had hoped for backcountry use. As mentioned above, the small pockets and bulky waist are more casual than performance-oriented. These two features alone make me hesitant to take the Halle on a multi-day hike again, despite everything else I love about the pants. Additionally, while prAna advertises that the Halle has a "slight boot leg" design, I find it to be more flared, which also detracts from the pant's technical prowess—the bulky fabric easily can catch your opposite foot while climbing or hiking (take note that new for 2019, prAna offers the Halle in a straight-legged version as well). But for day hikers, travelers, and casual recreationalists, the Halle's versatility will outweigh these minor concerns.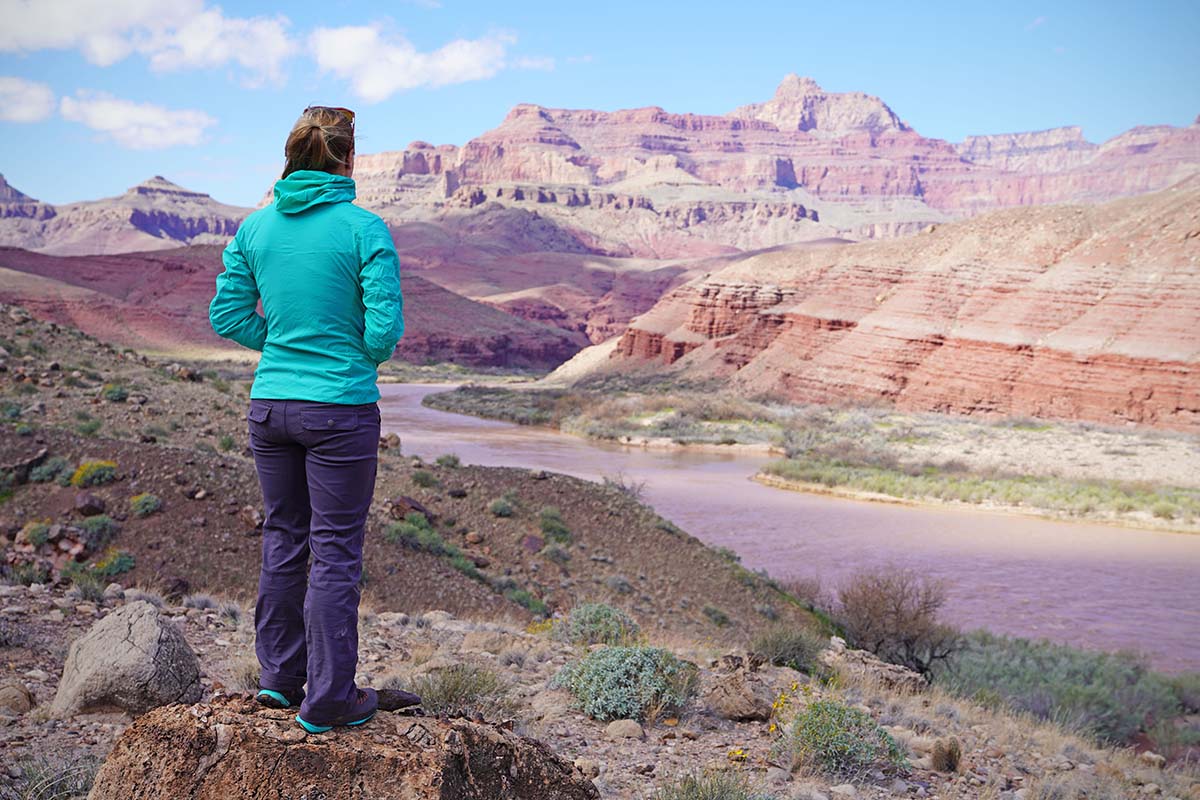 Build Quality and Durability
Hiking pants are made to be abused—roll them up, sit on them, scrape them in the dirt, or stuff them in your pack and they'll most likely make it out unscathed. And the prAna Halle has a few design additions that boost its durability and trail-worthiness even further. First, stretch fabric is inherently durable: while other fabrics might rip under strain, the Halle's Stretch Zion give and extend. For example, on our last night in the Grand Canyon in the midst of a torrential downpour, I found myself setting up my tent right next to a prickly bush. Each time I passed, my pants caught on the bush, but not once did they threaten to tear. In addition, I also found the Halle to be remarkably stain-resistant and able to keep their shape after multiple days on the trail (more in "Fit and Sizing" below). For pants that are meant to be worn day after day without a washing, this is very good news. All things considered, the build quality and durability of the Halle are fantastic, and you can rest assured you'll get a lot of life out of your pants.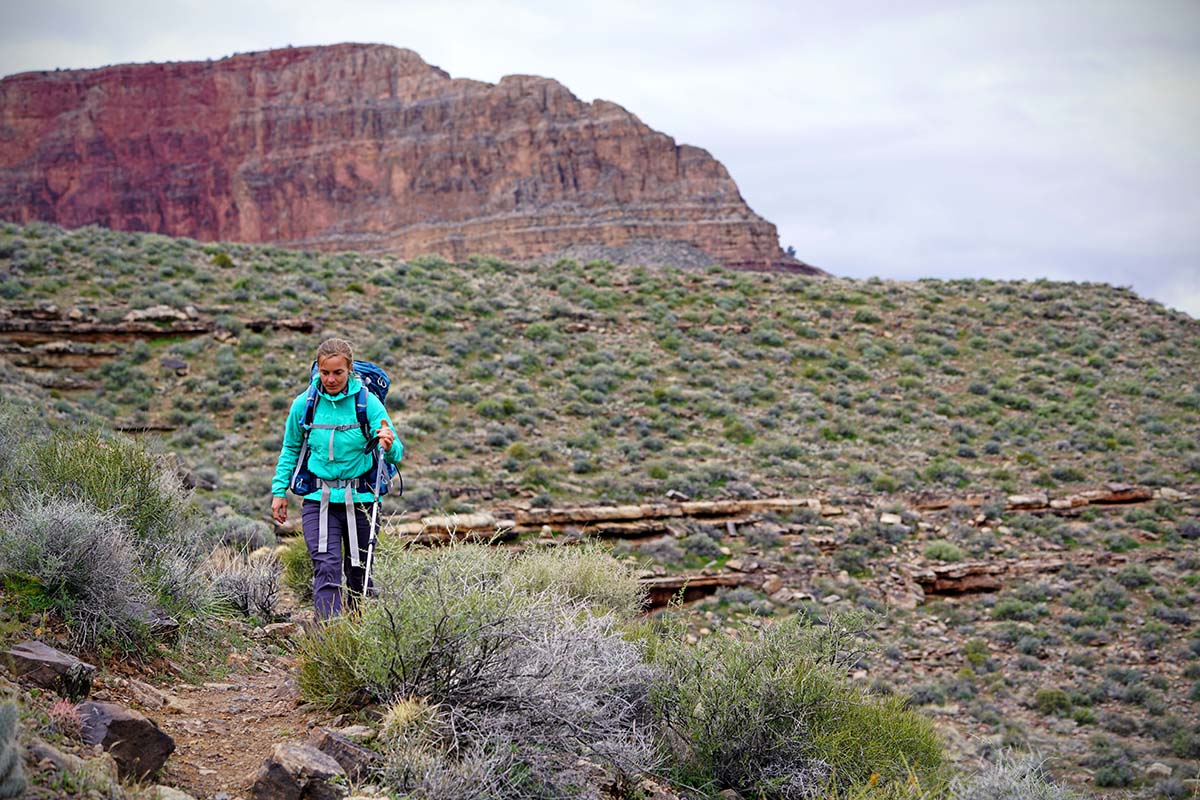 Fit and Sizing
Next to the stretch and freedom of movement that they offer, one of the biggest selling points of the prAna Halle is the amazing fit. They are designed as mid-rise, snug-fitting pants, meaning they offer modest coverage almost up to belly-button height but don't sacrifice style or appearance in the process. Further, the stretchy fabric allows the Halle to fit many body types, and the pants even come in the three available lengths—short (30 inches), regular (32 inches), and tall (36 inches)—and plus sizes. In terms of sizing, prAna pants routinely run a bit large, so you might need to size down (I went from a 6 to a 4). The pants will stretch out a very small amount, but as I mentioned previously, the Halle maintains its shape remarkably well, even when worn for days on end without washing.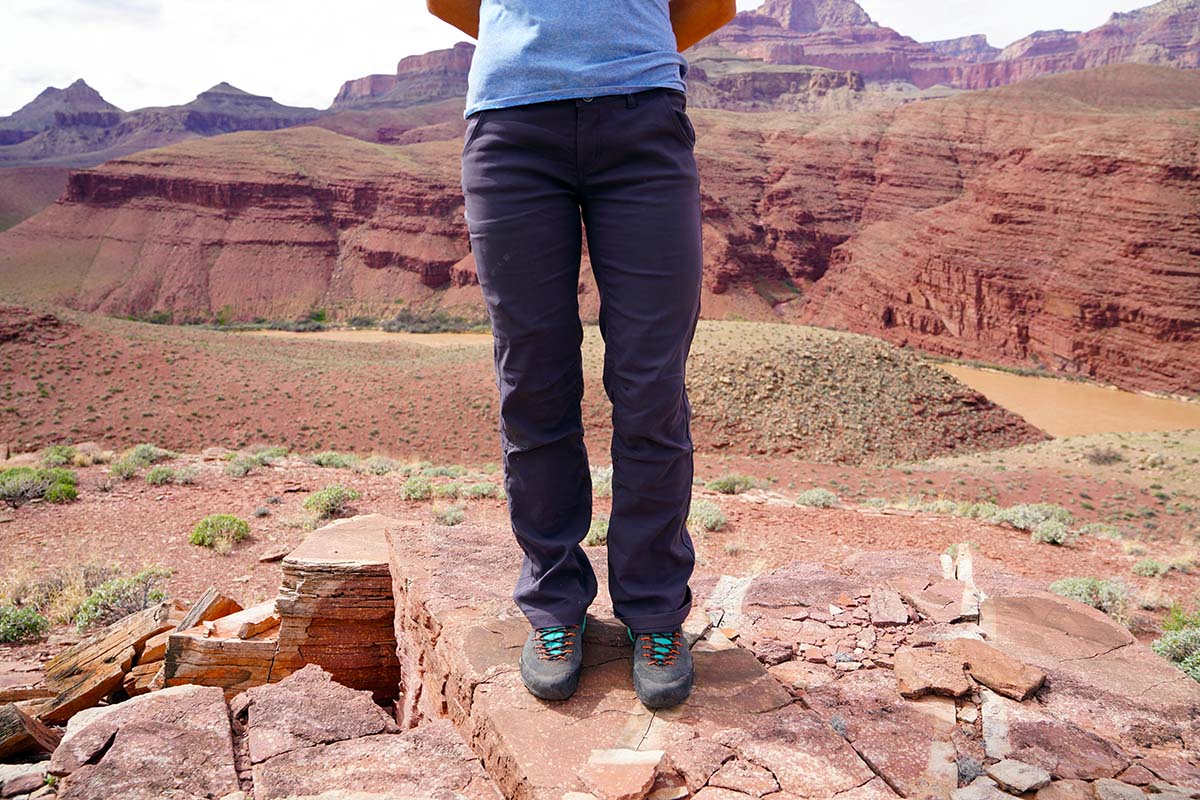 Other Versions of the prAna Halle
As we touched on above, the Halle is offered in a number of sizing options, including dedicated short and tall variations, as well as plus sizes. In addition, prAna makes the pant in a straight-leg model for $4 more than the pant we tested. Overall build and feature sets are nearly identical, with the only discernible difference being the cut at the ankles (the narrower opening is nice for more technical use). For a more detailed comparison, we break down the Halle Straight in our Competition section below.

Men's Stretch Zion Pant
The Halle is a women's pant, but prAna uses the same Stretch Zion fabric to make the similarly popular men's Stretch Zion Pant. The Stretch Zion has the same hiking and lifestyle intent as the Halle but costs a few dollars more at $89, comes in a men's-specific fit, is offered in different colorways, and includes added features like a cargo pocket and built-in belt. They also are available in a wide range of sizes and the fit can be customized by choosing waist and inseam measurements separately.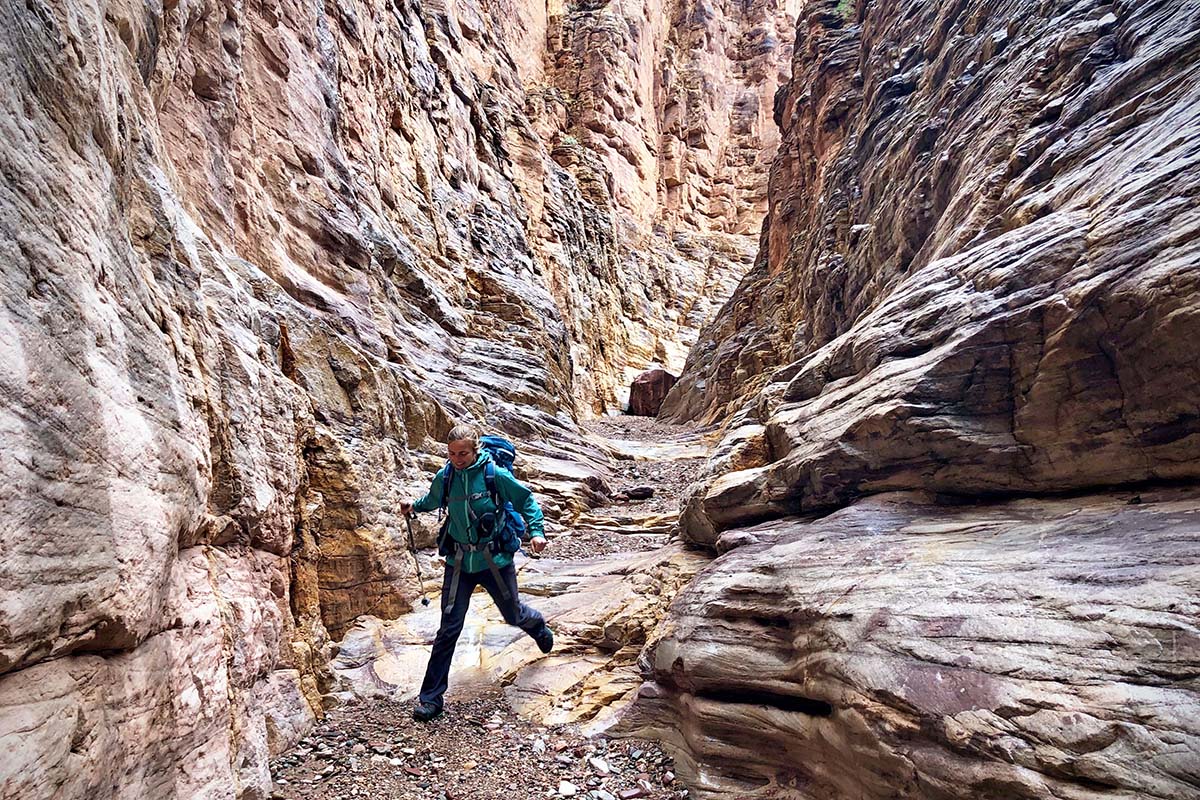 What We Like
With soft and forgiving stretch fabric, a mid-rise waist, and a variety of sizing options to choose from, the fit and comfort of the Halle are hard to beat.
Stretch Zion fabric is impressively durable. It stretches rather than forming holes and maintains its shape extremely well over time.
Excellent styling that goes seamlessly from trail to town. 
The pants dry quickly and the DWR finish effectively resists splashes and light rain.
 
What We Don't
Pockets are disappointingly small.
When worn with a large backpack, I experienced consistent discomfort with my pack's hipbelt pushing into the Halle's bulky waist.
Many will find the thicker fabric too warm for summertime hiking. 
Flared design adds bulk and can get in the way when hiking or climbing (however, you can roll up and secure the bottoms).


Comparison Table

The Competition
The prAna Halle Pant offers an impressive combination of performance and style, but there are a number of other worthy contenders on the market. To start, the prAna Halle Straight builds on the same design as the Halle reviewed here, with the only major difference being a straight-leg cut rather than a slight bootleg cut. The Halle Straight is also a few dollars pricier at $89, but the rest of the design is identical, including a mix of nylon (97%) and spandex (3%) that nicely balances comfort and mobility, as well as UPF 50 protection, articulated knees, and a relaxed fit. For those who wish the prAna Halle were more of a technical pant (ourselves included), the Halle Straight is a great alternative and won't get in the way when hiking or climbing.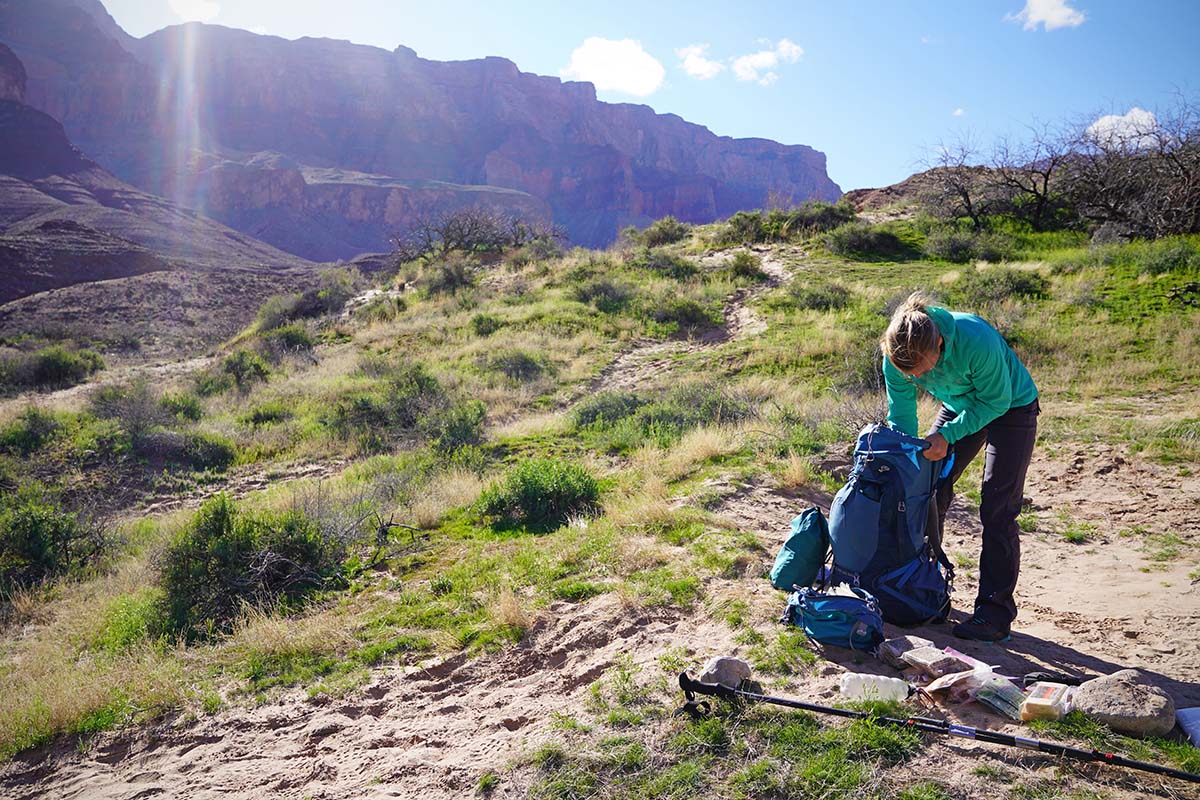 The Outdoor Research Ferrosi is another crowd favorite for active endeavors, with technical features like articulated knees, a zip pocket on one thigh, and a more streamlined waist for comfort under a backpack hipbelt or harness. It even has a drawcord cuff closure so you can pull your pant away from your foot while climbing. Perhaps the most defining feature of the Ferrosi, however, is its 14-percent-spandex design, which adds significant stretch compared to the Halle. But while some will appreciate this for added mobility, I find the 3 percent of the prAna to be more than enough. Further, in my experience, the Ferrosi's fabric catches on everything from sharp pieces of rock and branches to my opposite foot, and also pills very quickly. You do save $5 with the Ferrosi, but we think the Halle is the better all-rounder.
Next up is Patagonia's Quandary, which again falls more toward the performance end of the spectrum than the Halle. With the Patagonia, you get tough but light fabrics with a DWR coating for fending off light moisture, articulated knees and a gusseted crotch for mobility, and clean styling that doesn't get in the way on the trail. However, while the Quandary uses a similar mix of materials as the Halle (95 % nylon and 5% spandex), it's noticeably thinner and more breathable, making it a better match for hot-weather adventures. If versatility is your primary consideration, we love the Halle. But the Quandary still wears well around town and will be much more comfortable should you be adventuring in the heat of summer.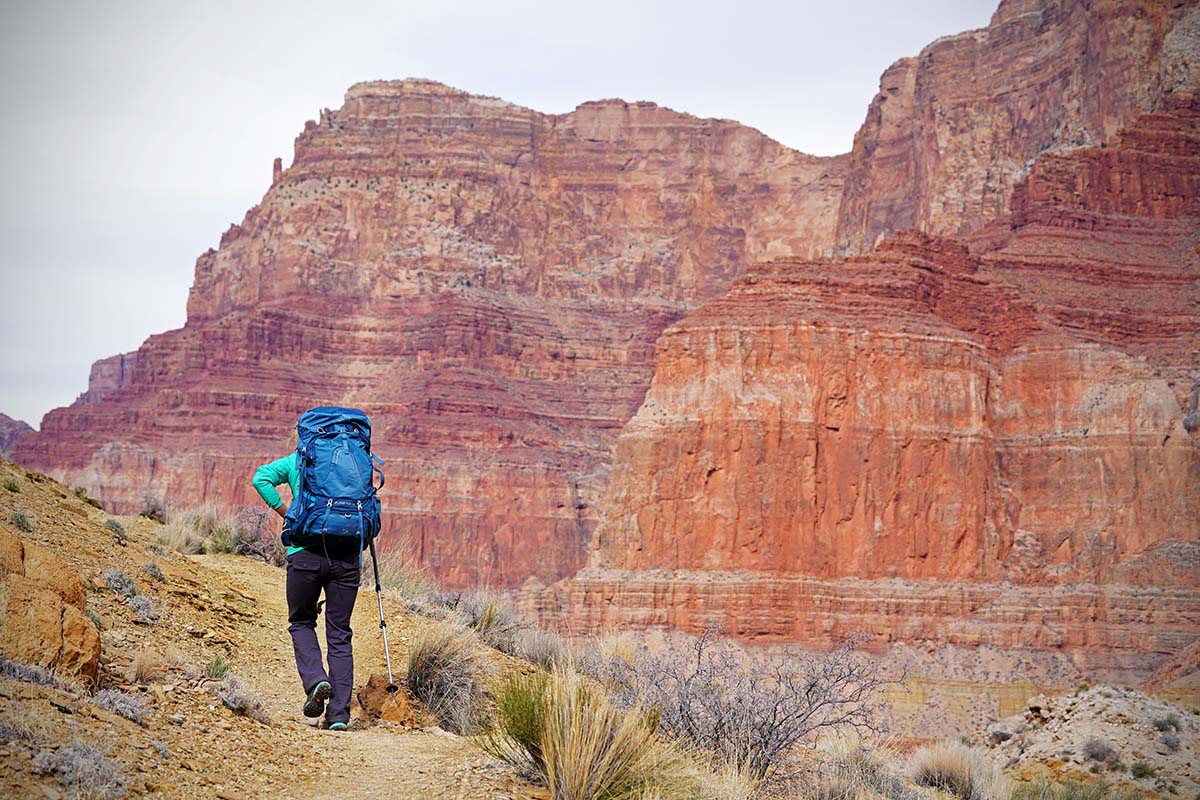 Even more so than OR and Patagonia above, Arc'teryx doesn't shy away from being unapologetically technical. For $119, their Alroy Pant addresses many of our performance gripes about the Halle by adding generously sized hand pockets and straight legs. The Alroy's fabric is thinner than that of the Halle too, meaning it's more breathable, lightweight, and quick-drying (the Alroy weighs 7.9 oz compared to the Halle's 12.2). This makes it our preferred option for true summertime use when we still want the leg coverage and protection of a full pant. Will you be wearing them out to dinner with your friends? Probably not. But if a truly performance-oriented pant is what you're after and you're willing spend up, there's no question: the Arc'teryx Alroy wins out.
A final option to consider is KUHL's Freeflex Roll-Up, which also nicely straddles the casual and performance categories. In this case, you get a 50-50 mix of polyester and stretch polyester, which wicks moisture well, dries quickly, and offers a good amount of give for staying comfortable and unrestricted on the trail. We also like the KUHL's slightly tapered legs, which don't get in the way as frequently as the Halle's flared ankles. The only major downside is the lack of zippered pockets, which can make it tough to securely stow valuables and electronics. All in all, both options are durable, good-looking, and reasonably priced, but we give the slight edge to the Halle for its more functional storage layout at a slightly cheaper price.
If you're thinking about buying gear that we've reviewed on Switchback Travel, you can help support us in the process. Just click on any of the seller links above, and if you make a purchase, we receive a small percentage of the transaction. The cost of the product is the same to you but this helps us continue to test and write about outdoor gear. Thanks and we appreciate your support!
Depending on the seller, most products ship free in the United States on orders of $50 or more. International shipping availability and rates vary by seller. The pricing information on this page is updated hourly but we are not responsible for inaccuracies.
Read More From Switchback Travel