Salomon is one of the biggest names in backpacking footwear, and their Quest Prime GTX slots in as a lightweight option for long-distance trekking. After wearing the boot in Colorado's San Juan Mountains on terrain ranging from maintained trails to steep, jagged talus fields, stream and river crossings, and high-altitude scrambles, I came away with mixed reviews. While my feet remained comfortable and protected, the Quest Prime felt surprisingly bulky and unwieldy underfoot. Below we break down our full experience with the Quest Prime GTX. To see how it stacks up to the competition, see our article on the best hiking boots.
 
---
Table of Contents
---

Performance
Comfort
If I had to choose one area where the Salomon Quest Prime GTX stands out most, it would undoubtedly be comfort. Despite my first hike in the boots being very steep, I experienced no hotspots or uncomfortable rubbing, and the break-in period was almost nonexistent. It did take me some time to get used to the larger (read: bulkier) profile of the Quest Prime, but I quickly grew to appreciate the larger toe box. Even on steep descents, my toes didn't hit the front of the shoes, and the wider width was able to accommodate my bunion and allow for natural foot swelling after long days on the trail.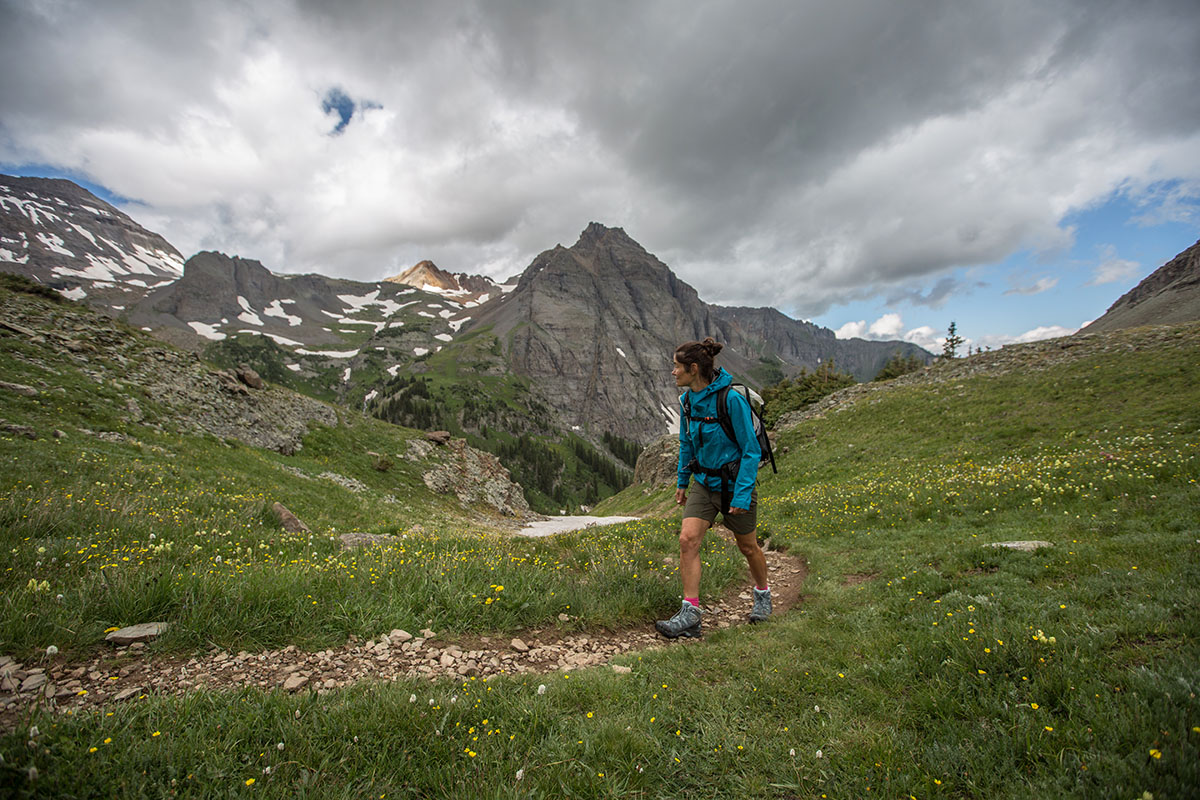 Another notable feature on the Quest Prime is its generous EVA foam cushioning, which feels almost bouncy over long distances (it's reminiscent of a trail-running shoe, which isn't surprising given Salomon's roots). Additionally, the boot is fairly flexible at the forefoot, which adds to overall comfort and helps keep blood circulating to my toes and front of the foot. Finally, I really like the cushy padding around the tongue and ankle. I've gotten pressure sores on my ankle bone with many other boots, but it hasn't been an issue with the Quest Prime.

Weight
For the amount of comfort and protection it offers, the Quest Prime GTX is reasonably lightweight at 2 pounds 5.4 ounces for a women's size 8 (the listed weight is 2 pounds 2.6 ounces). For comparison, the Scarpa Zodiac Plus GTX weighs 2 pounds even and Salomon's own Quest 4D 3 GTX clocks in at 2 pounds 5 ounces for the pair. However, despite the weight, the Quest Prime GTX felt noticeably less sprightly and clunkier than many other boots I've worn. In the end, I would recommend another model like the Asolo Falcon GV, or even a lightweight boot like Salomon's X Ultra 3 Mid, for adventures where you plan to move quickly.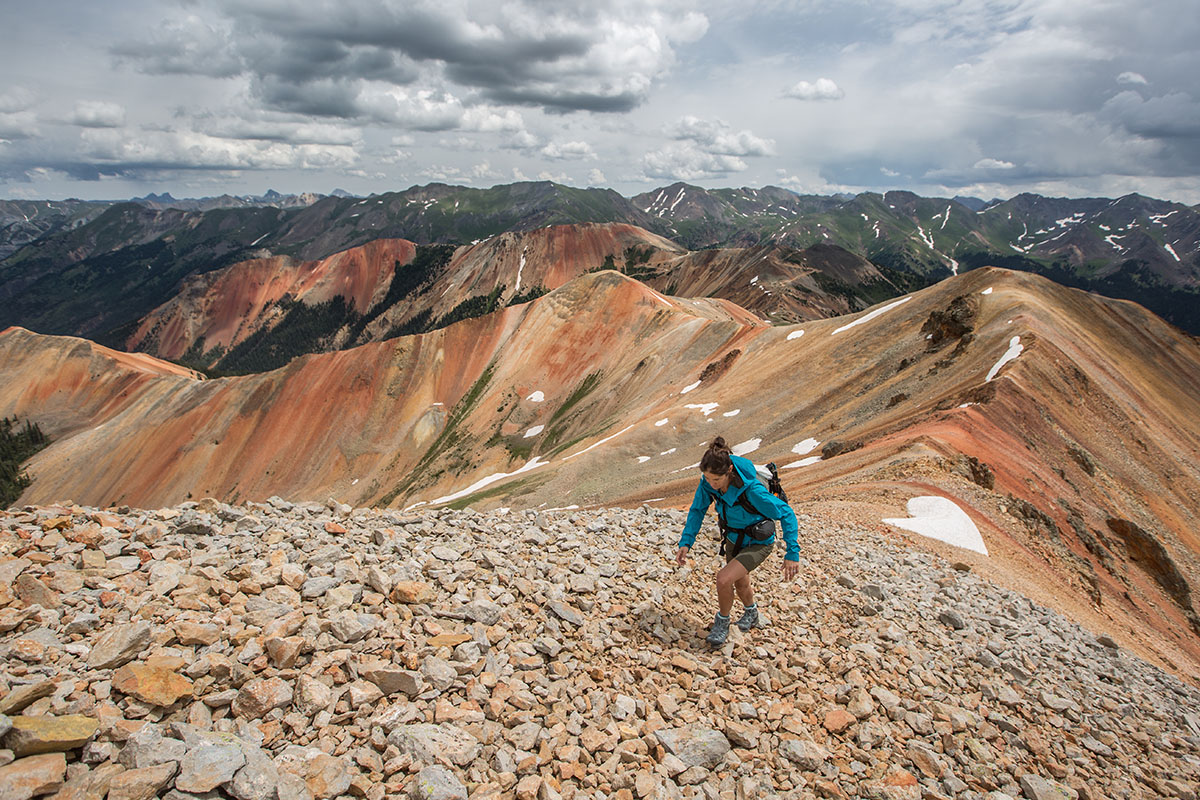 Traction
The Salomon Quest Prime GTX utilizes Contagrip's most durable rubber compound, Contagrip MD, which proved to be extremely tacky and grippy. In addition, the lugs are substantially sized, and the mixed pattern helps with both ascending and descending steep slopes. All in all, I had no issues with traction throughout testing. The boots even confidently handled wet rocks and clay, which typically tend to be challenging surfaces.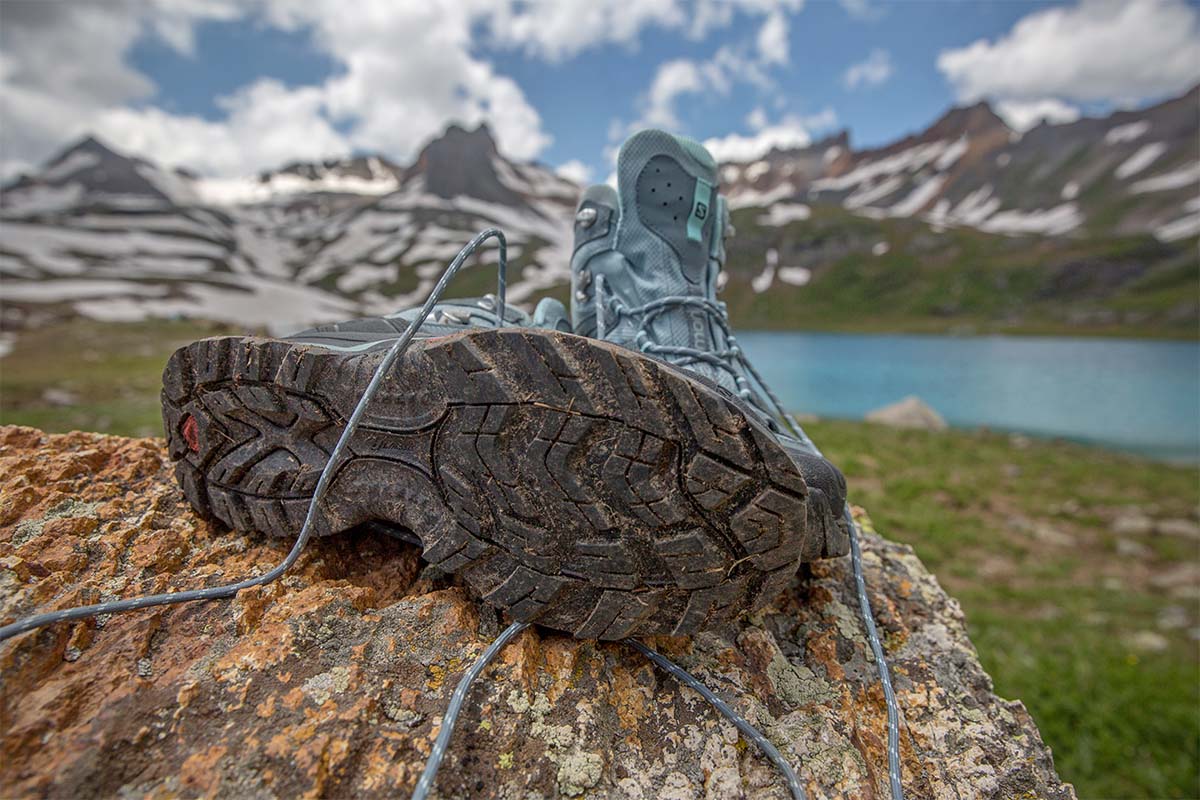 Stability and Support 
Simply put, the Salomon Quest Prime GTX's design didn't inspire a lot of confidence in technical terrain. Despite sporting an "Advanced Chassis" system and pretty solid ankle support, I found lateral control to be lacking. As a result, rather than being sure-footed on the trail, I've felt awkward and wobbly, unable to trust my balance when walking over talus fields or while crossing rivers. It's been hard to pin down the culprit—I'm not certain if it is due to the cushy padding or larger profile of the boot, but I nevertheless felt quite unstable (and it's worth noting that I'm used to technical trail running around my home in North Vancouver, BC). On the bright side, the insole provides running shoe-like arch and heel support that has helped prevent ankle rolls. But overall, this is one area where the Quest Prime really struggles.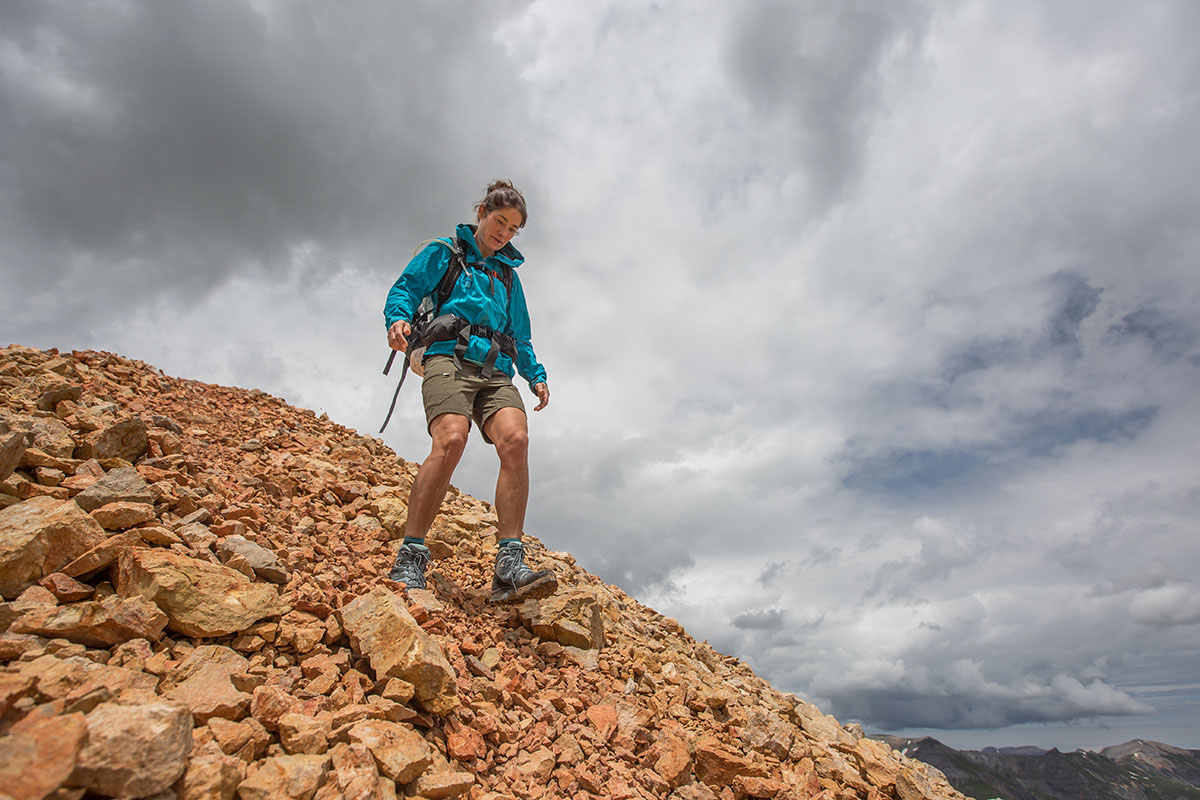 Waterproofing and Breathability
The Quest Prime's Gore-Tex liner has worked flawlessly to seal out water through numerous stream crossings. And on a more recent trip into the Mount Baker backcountry, we experienced several wet and slushy snow patches, but the boots kept my feet dry and comfortable. The only issue I've had so far was water entering over the collar of the boot when I underestimated the depth of a stream. As is common with Gore-Tex boots, the water remained trapped inside, and my feet sloshed around for the remainder of the hike. But on the flipside, breathability was good. I admittedly am not prone to getting too hot while hiking, but even during a heatwave in southwestern Colorado where temperatures creeped into the high 90s Fahrenheit, I didn't experience excessive overheating or sweatiness.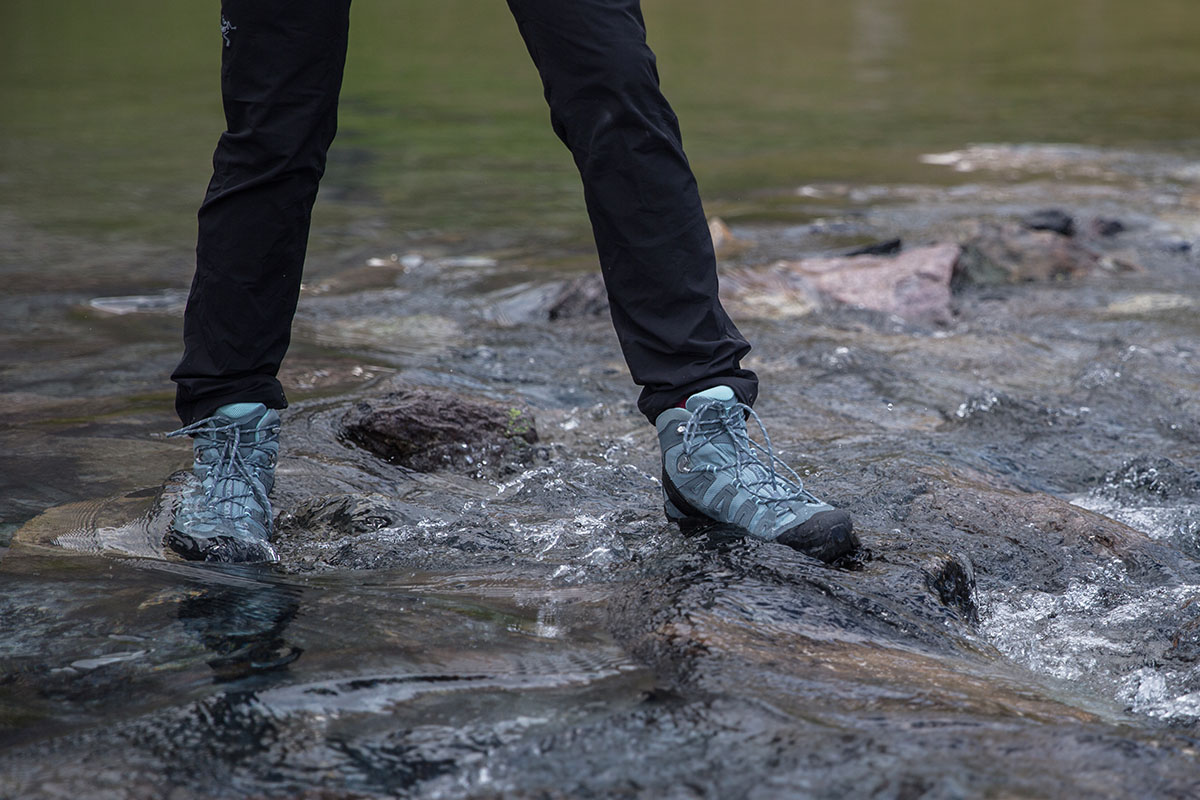 Toe and Ankle Protection
The Salomon Quest Prime GTX offers ample protection for most backpacking pursuits. The front of the boot features a generous rubber toe cap, and more rubber along the heel cup adds additional support and assurance against rocks and other trail obstacles. In practice, the boots have adequately shielded my feet from harsh impacts while scrambling over loose and sharp scree, and I've had no concerns about protection when navigating tricky terrain.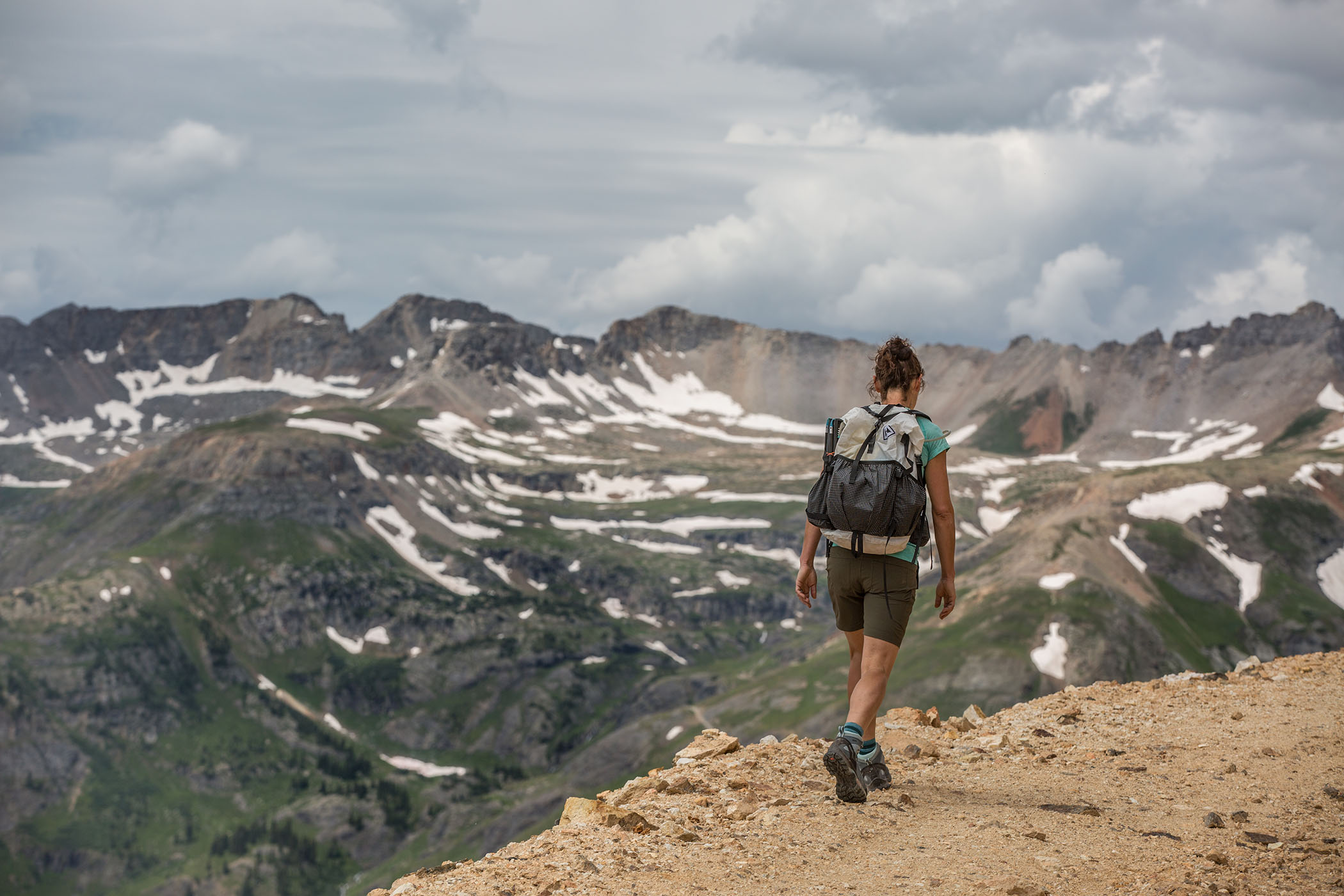 Build Quality and Durability
Salomon has a longstanding reputation for making quality backpacking footwear, and the Quest Prime GTX carries the torch. The mostly synthetic upper utilizes strategically placed suede and rubber that add structure, protection, and durability in areas prone to wear and tear. After extended use, the boots are showing only minor cosmetic damage. More specifically, the light-colored synthetic fabric has a tendency to absorb dust and dirt, and my boots are now sporting patches of rusty hues from the aptly named Red Mountains in the San Juans. But performance-wise, they're as good as new.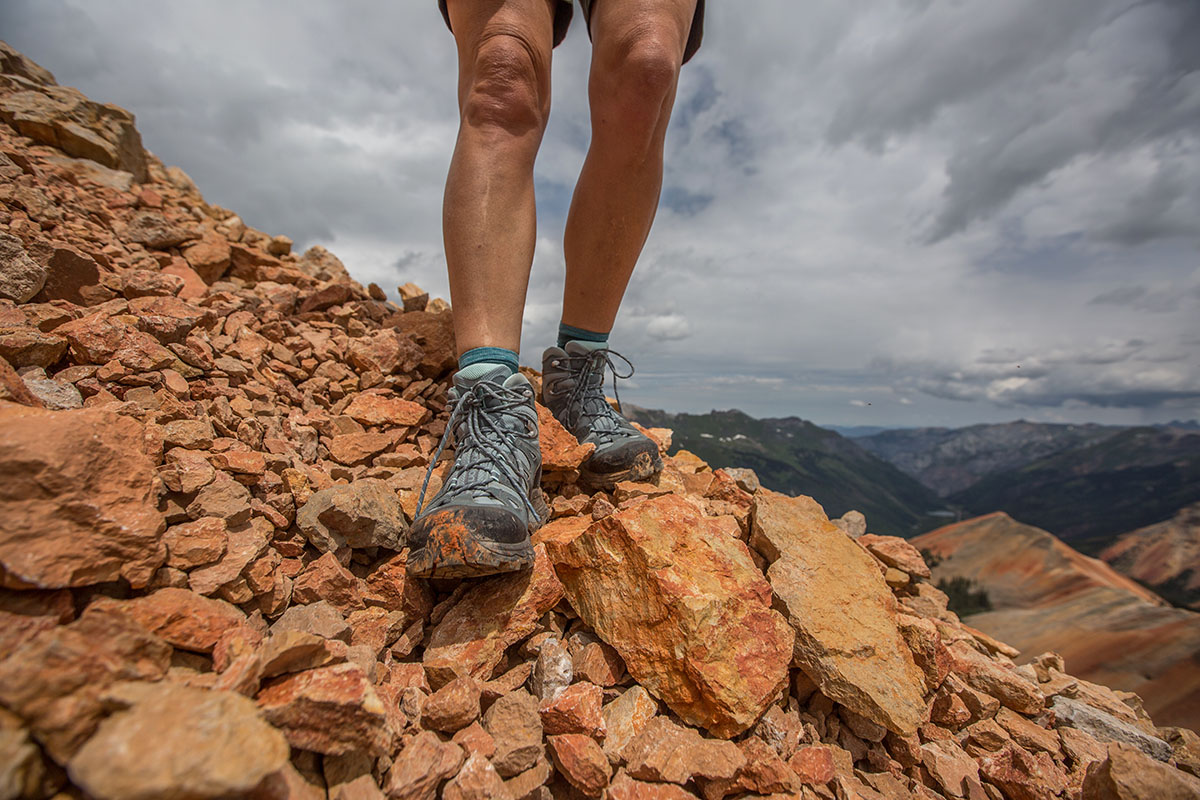 Fit and Sizing 
I typically wear a women's size 8.5, but the Salomon Quest Prime GTX fit decidedly on the large side, and I ended up sizing down to an 8. Although the boots fit well overall with no noticeable areas of tightness or looseness, they still felt (and looked) rather large on me. And lacing-wise, I found that the locking eyelet near the collar had a tendency to slip slightly over long distances. This created a bit of a gap toward the top of the boot, which wasn't uncomfortable but allowed trail debris to enter from the top and reduced ankle support significantly. To be sure, I was still able to achieve a good all-around fit, but it wasn't the closest or most foot-hugging shape for me.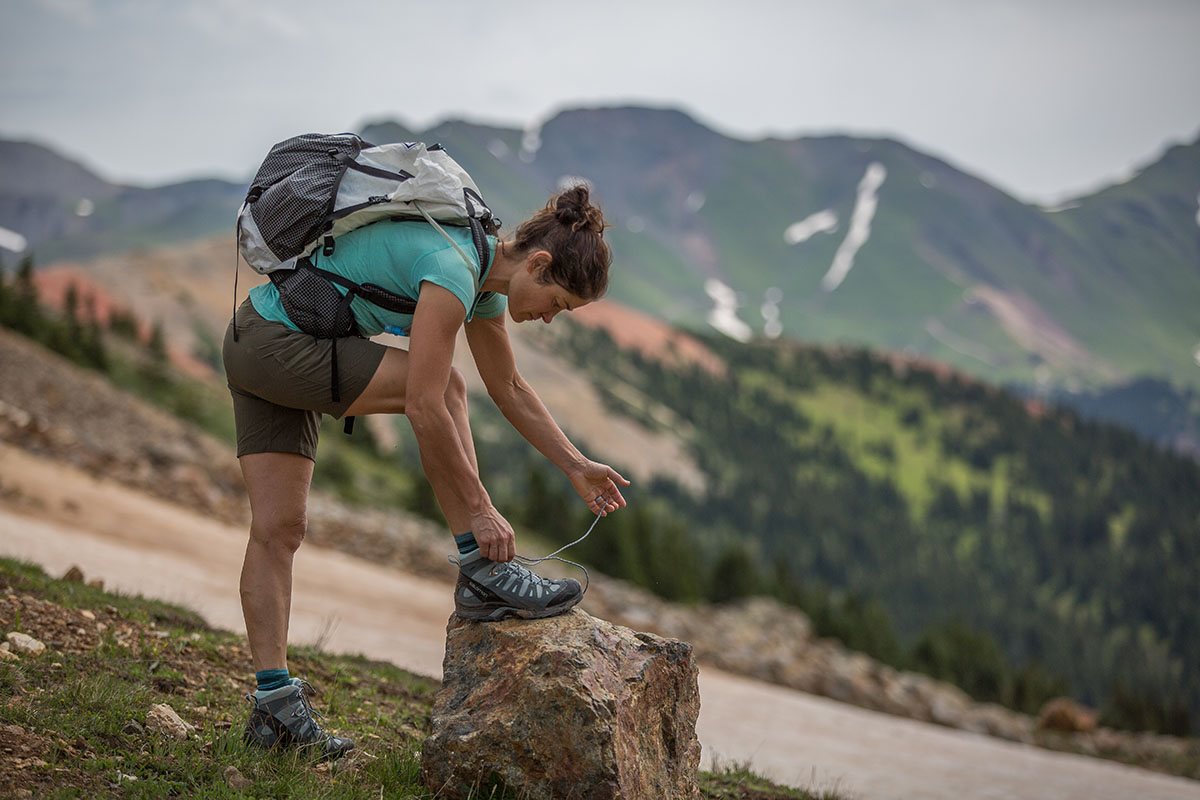 Other Versions of the Salomon Quest
We put the women's Quest Prime GTX through its paces for this review, and Salomon makes the boot in a number of other variations. For starters, the popular Quest 4D 3 GTX is slightly heavier at 2 pounds 5 ounces for the women's version, costs $40 extra at $230, sports a more robust nubuck leather upper (the Prime uses suede), and features Salomon's more stable 4D Advanced Chassis for added lateral support. Salomon also recently released a follow-up to the 4D 3 GTX in their Quest 4 GTX, which boasts a modernized look and new chassis design. Additionally, Salomon sells the Quest in a dedicated Winter version with an insulated Gore-Tex lining, as well as a tactical 4D Forces collection that offers a boost in durability with reinforced materials. Finally, all of the aforementioned boots are available in men's-specific versions for the same price (weight and colorways vary slightly).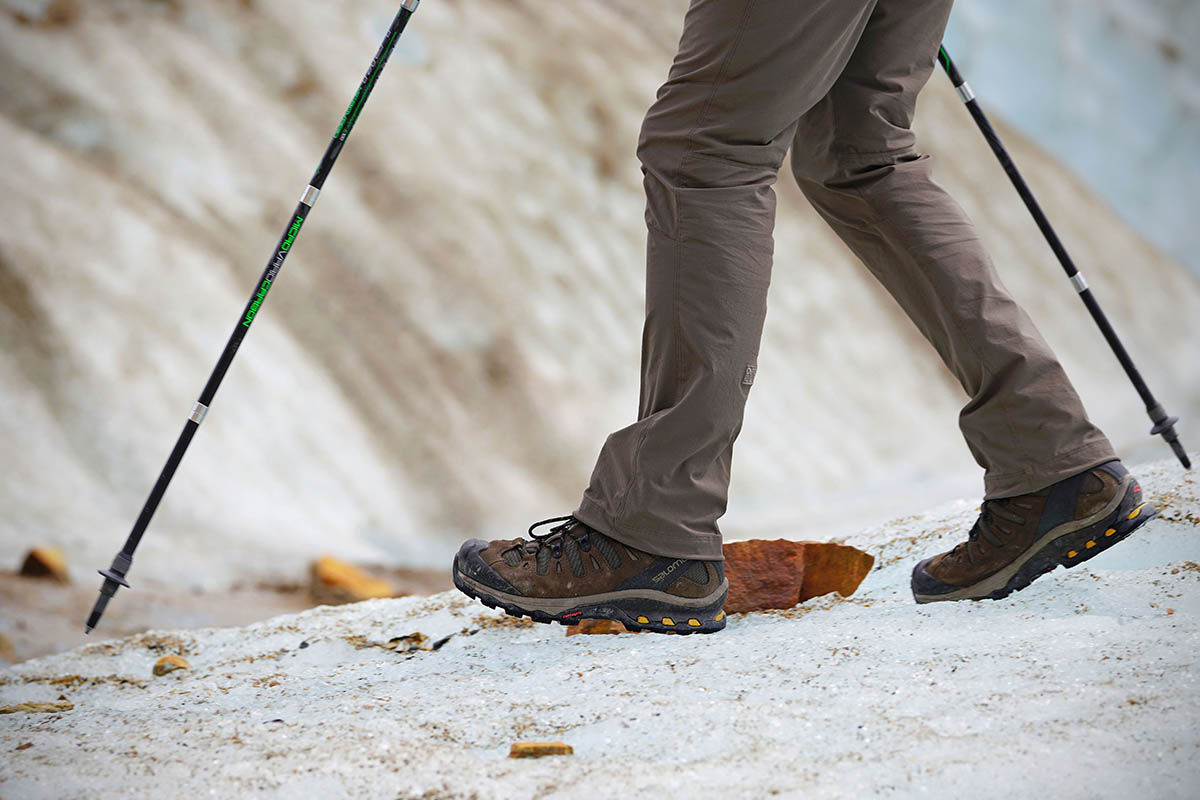 What We Like
Lightweight for the levels of protection and comfort. 
Very comfortable and spacious—there was very little break-in required, and the shape allowed for natural foot swelling. 
Contagrip outsole is impressively grippy on terrain ranging from loose dirt to wet rocks and clay.

What We Don't
Despite the relatively light build, the Quest Prime felt noticeably bulky and cumbersome on the trail, which heavily impacted stability.
Locking eyelet near the collar isn't very secure. It allowed the laces to loosen over long distances, causing trail debris to enter over the top of the boot.
Fit is on the larger side.


Comparison Table

The Competition
Salomon's Quest Prime GTX hits a nice balance as a light but protective hiking boot for long-distance trekking. Another lightweight design to consider is the Scarpa Zodiac Plus GTX, which undercuts the Quest Prime slightly at 2 pounds even for the pair. Compared to the Salomon, the Zodiac Plus is much stiffer and less forgiving—not ideal for those who like flexibility. That said, I've also found that it feels much lower-profile, which results in a more connected feeling to the trail. Overall, the Scarpa gets the clear edge in both support and stability and is a great match for mostly off-trail use and light mountaineering. The Quest Prime is more versatile for less demanding backpacking trips on mostly maintained trails.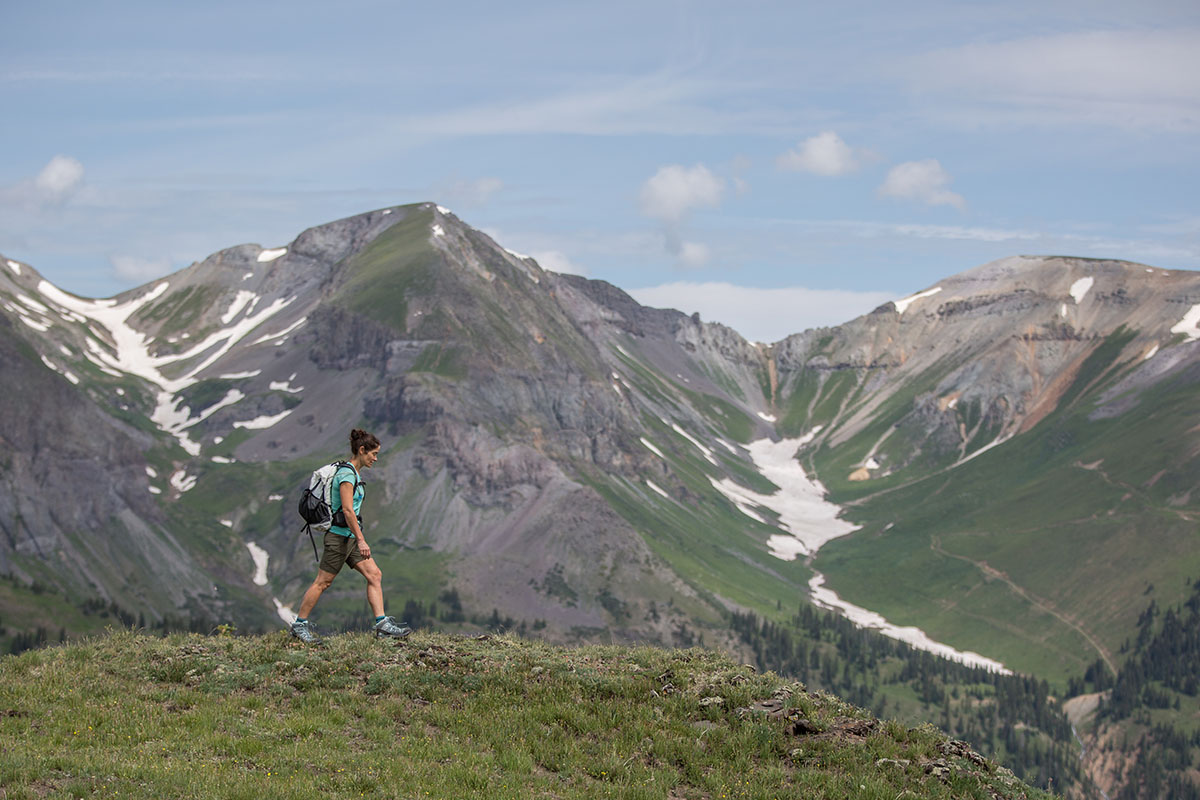 As we touched on above, another popular option comes from within Salomon's own Quest lineup: the Quest 4D 3 GTX. The Quest Prime and 4D are very similar in design, including tacky Contagrip outsoles, lightweight builds (the Prime is 2.4 ounces lighter per pair), well-cushioned midsoles, and waterproof Gore-Tex membranes. However, the Quest 4D 3 is slightly taller and uses a more stable 4D Advanced Chassis (the Prime sports a trimmed-down Advanced Chassis), both of which result in more lateral support for especially heavy loads or technical terrain. In the end, we think the 4D 3 GTX is the better-built boot (for more, see our in-depth Quest 4D 3 review). But for those looking to spend under $200, the Prime is a viable alternative that doesn't sacrifice much in the way of performance.
For a step up in support and stability, Lowa's Renegade GTX Mid is worth a look. Unlike the cushy Quest Prime, the Renegade feels much more planted and sturdier on the trail, which is a good match for those carrying a full pack or who want added protection. The two are almost identical in weight (the women's Renegade weighs 0.6 ounces less per pair), but the Lowa is offered in a much wider variety of sizes and widths, including both narrow and wide versions. It's a tough call between two capable backpacking boots, but we prefer the added support and protection that the Lowa provides.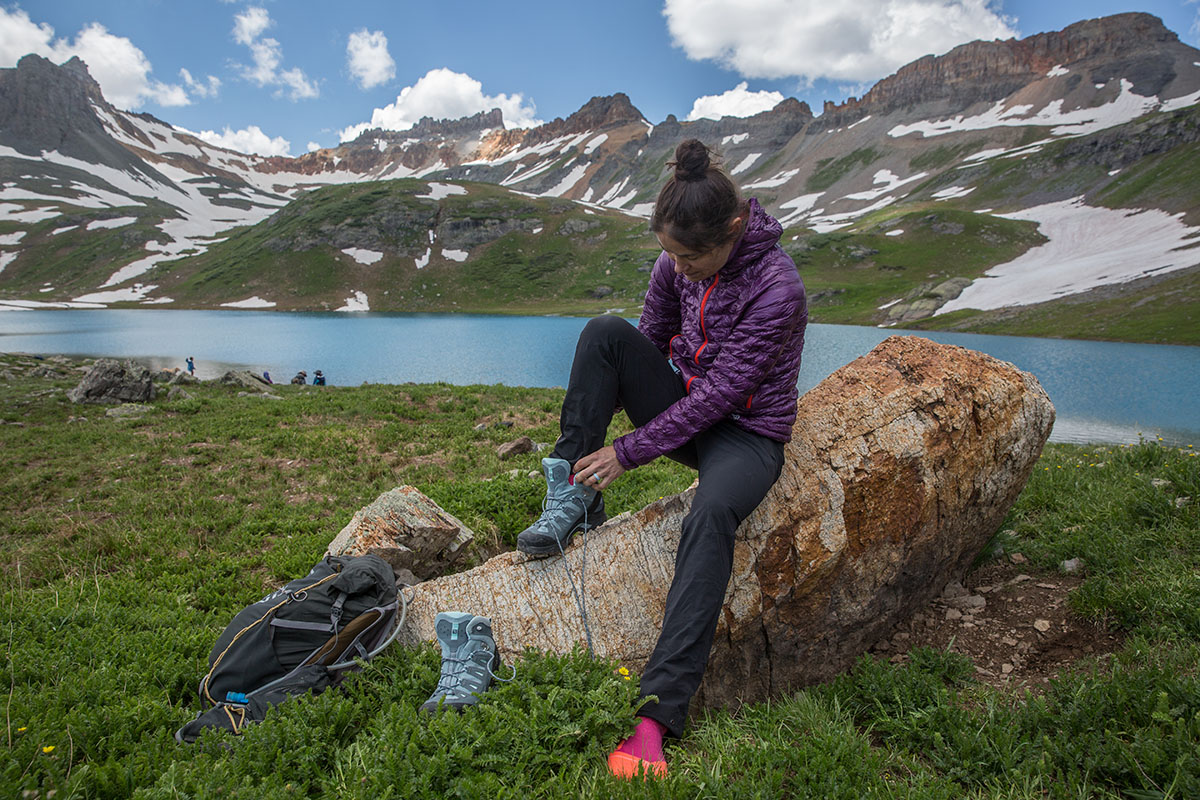 Another impressively stable and supportive boot to consider is Vasque's Breeze AT Mid GTX. Weight goes up slightly to 2 pounds 4 ounces for the women's version, but the Vasque has all the trimmings we'd expect in a premium design including quality Gore-Tex waterproofing, a tacky Vibram outsole, and a tough leather upper. Like the Quest Prime, the Breeze AT doesn't feel particularly sprightly or agile on the trail, but it's decidedly more protective, secure, and stable. In this category, we think Lowa's Renegade mentioned above is the better-built design, but the Vasque will save you a considerable $50 (it costs the same as the Quest Prime). 
Last but not least, Asolo's Falcon GV is a worthy contender as a lightweight backpacking design (it's around 4 ounces lighter for the pair than the Quest Prime). To shave weight, both the Falcon and Quest sacrifice stability and support compared to traditional hiking boots, but our testers wore the Falcon backpacking with a heavy load over technical terrain in Patagonia and had few issues to report. We also love the more modern design of the Asolo and less cumbersome feel. In the end, both are lightweight, well-built boots that get the job done both on and off trail, and a final decision will likely come down to fit and budget (the Asolo costs $50 more than the Salomon).
If you're thinking about buying gear that we've reviewed on Switchback Travel, you can help support us in the process. Just click on any of the seller links above, and if you make a purchase, we receive a small percentage of the transaction. The cost of the product is the same to you but this helps us continue to test and write about outdoor gear. Thanks and we appreciate your support!
Depending on the seller, most products ship free in the United States on orders of $50 or more. International shipping availability and rates vary by seller. The pricing information on this page is updated hourly but we are not responsible for inaccuracies.
Learn More About Hiking Gear