New for 2016, the X Ultra 2 continues Salomon's popular line of trail shoes that are lighter and lower cut than hiking boots. We put the X Ultra 2s to the test on steep, technical terrain and came away very impressed: they are light, comfortable, and surprisingly stable. Even when wearing an overnight pack on moderate terrain, the X Ultra 2s provided all the support that we needed. You will have to decide between a non-waterproof and GTX version (we tested the former), but both are excellent options. Below we break down the X Ultra's weight, stability, waterproofing, fit and comfort, and more. To see how the X Ultra stacks up, see our comparison table and article on the best lightweight hiking shoes and best hiking boots.

Performance
We started by testing the Salomon X Ultra 2s—irresponsibly I might add—on an extremely steep day hike in Washington's Cascades with zero break in. The hike was vertical, rocky, and long, but the X Ultra 2s could not have performed better. Comfort was spot on out of the box, the shoes felt light and easy to maneuver, and they provided ample support and protection along the way. Below we detail some key performance categories.

Weight
At 1 pounds 11 ounces for the pair, the X Ultra 2s are light. True trail runners weigh less—Salomon bills these shoes as having "trail running technologies adapted to hiking"—but the X Ultra 2s are right in the thick of the light hiker category. To use other non-waterproof hiking shoes as a comparison, the popular Merrell Moab Ventilators weigh 1 pound 8 ounces and the Keen Voyageurs are 1 pound 15 ounces. Waterproof hiking shoes tend to weigh a few ounces more than their non-waterproof counterparts. For a more detailed weight comparison, see the table in our lightweight hiking shoe article.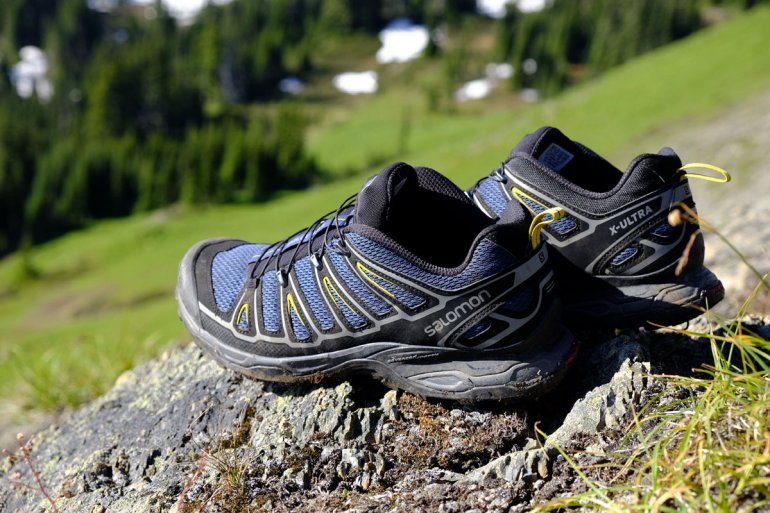 With a few ounces give or take in either direction, we think the X Ultra 2s hit the sweet spot of weight and performance. Yes, you can cut weight further by going with a thinner and more minimalist shoe (many hardcore thru hikers on the PCT wear the La Sportiva Wildcats), but we think the Salomon's strike a really nice balance. At well under 2 pounds, you get a lighter feel than a boot without forsaking too much in the way of stability or protection. And the X Ultra 2s feel thicker and more durable than lighter weight hiking shoes that likely will give out more quickly. They are just built extremely well.

Stability and Support
The EVA midsole on the X Ultra 2 provides good cushion, and the Contragrip sole is grippy even on tough terrain. While wearing these shoes on some very steep and rocky stretches, I fully expected to slip but never did. And the toe cap adds the right level of protection—it's burly enough to block most rocks and roots on the trail but not overkill.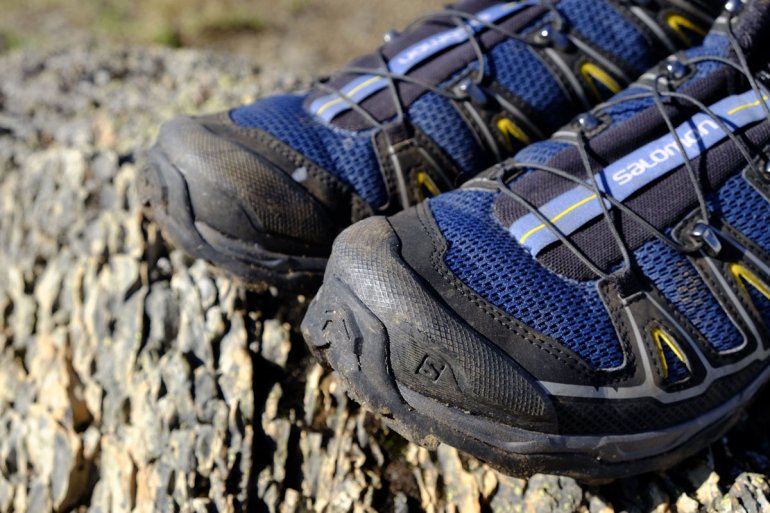 One compromise of choosing a hiking shoe over a hiking boot is ankle support, which is particularly relevant while wearing a pack. We took the X Ultra 2s out in the Mt. Baker Wilderness with a pack that weighed around 35 pounds. The trail wasn't particularly tough but we were pleased to report no rolled ankles or other issues with stability. Having tested very lightweight hiking boots with higher ankles but thinner materials, I'm becoming more convinced that a good hiking shoe like the X Ultra 2 is just as stable as some lightweight hiking boots. But if the terrain is rocky, you have a heavy pack, or need or want more stability, a serious hiking boot still is the way to go.

Quicklace Closure
One issue we've had with Salomon hiking footwear in the past is the single pull- closure system. Instead of normal laces, Salomon shoes tighten via a single-pull tab ("Quicklace" they call it). When you're finished, you tuck the pull tab into a small pocket on of the tongue. In years past, we've thought that Salomon closures didn't tighten as evenly around the foot as regular laces, and they also loosened on occasion at rather inopportune times. Going into the testing of the X Ultra 2s, I even expressed my concerns to our Gear Editor John and said that it was a notable weakness of Salomon shoes.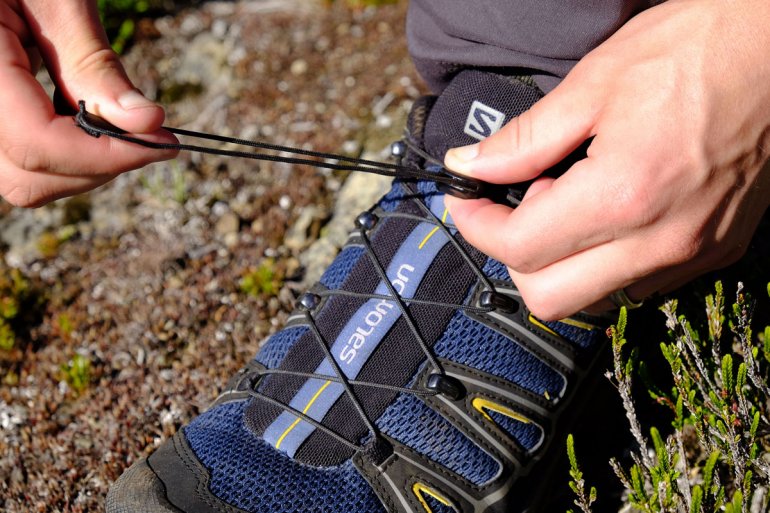 In the case of the X Ultra 2s, the Quicklace closure seems to be fully honed in by now. It cinched down evenly over my foot, never loosened even during hard use, and was as comfortable as regular laces. And because it is indeed quicker and easier, this feature has evolved from a negative to a positive in my book.

Waterproofing
We tested the non-waterproof X Ultra 2, which weigh a few ounces less than the GTX version and are $25 cheaper. Simply put, non-waterproof footwear can make an excellent (ideal) partner when moisture won't be a significant part of your hike or keeping cool is a priority. Even when submerged, non-waterproof footwear generally will dry reasonably fast so long as the temperature is decently warm. And on our summer hikes, the non-waterproof X Ultra 2 ventilated well.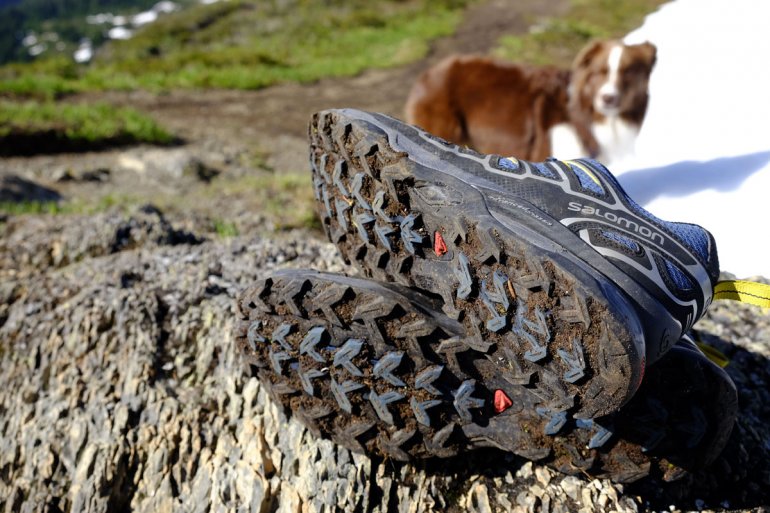 However, many people prefer the waterproof version and we think both options are fine. The GTX version helps in rainy and muddy conditions—we recently tested the Quest 4D 2s (see our in-depth review) and can vouch for the Gore-Tex waterproofing on those boots.

Fit, Sizing, and Comfort
These shoes fit true to size, and were slightly on the small side if anything. I don't have wide feet but some users have reported that the X Ultra 2s can be snug if you do. As always, it's best to try them on in person. If you're ordering online and are typically in between sizes, we recommend sizing up.
In terms of comfort, the X Ultra 2s are absolutely excellent. They required no break-in period for us, gave no blisters, and had a medium amount of cushion underfoot. Unlike some lightweight shoes, you can't feel every rock but they aren't overly stiff either.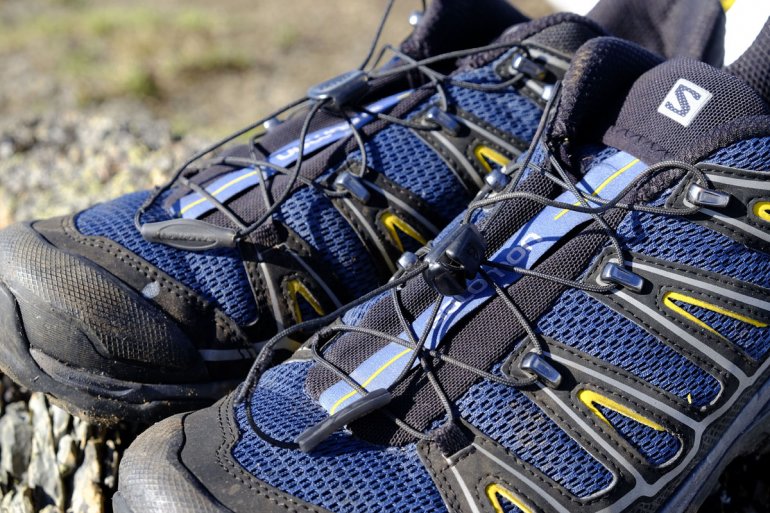 What We Like
The whole package in a hiking shoe: lightweight, comfortable, and stable.
Single-pull lacing system has been improved and works great.
A tougher build than some other lightweight shoes.

What We Don't
Ankle support is good for a hiking shoe but has limitations.
Not ideal for wide feet.

Comparison Table

The Competition
For us, the Salomon X Ultra 2s stand alone as the top lightweight hiking shoe on the market. But, while we recommend the X Ultras to almost any day hiker or overnight backpacker, there are a number of popular (and excellent) alternatives. For a shoe with even more stability and protection, The North Face Ultra 109 is a compelling option. Only available in a waterproof Gore-Tex build, we give the edge to The North Face for backpackers hauling a heavier load (40 pounds and up), but it's overkill for most day hiking and feels more ponderous than the X Ultras, even though the measured difference in weight is only a couple ounces.
For casual summer hikes, the Merrell Moab Ventilator is the lighter (by 3 ounces), cheaper (by $20), and more breathable option. But it falls short in just about every other performance category, including stability, protection, and durability. The Merrell is less of an all-around piece for difficult day hikes, which is where the better-built Salomon really shines. We are yet to find a shoe that bridges the trail runner and hiking shoe categories so well, and at $120 ($145 for the Gore-Tex version), the X Ultra 2 is also a decent value.
If you're thinking about buying gear that we've reviewed on Switchback Travel, you can help support us in the process. Just click on any of the seller links above, and if you make a purchase, we receive a small percentage of the transaction. The cost of the product is the same to you but this helps us continue to test and write about outdoor gear. Thanks and we appreciate your support!
Depending on the seller, most products ship free in the United States on orders of $50 or more. International shipping availability and rates vary by seller. The pricing information on this page is updated hourly but we are not responsible for inaccuracies.
Learn More About Outdoor Gear