The Vasque Grand Traverse is fairly unique in the hiking shoe world: with a lightweight and flexible build that is great for desert scrambling, this hybrid hiker and approach shoe is about as sticky as it gets. We took the Grand Traverse into the Utah desert, and while it wouldn't be our first pick for carrying a loaded pack over long distances, it proved to be an incredibly capable companion on rock. Below we break down the Grand Traverse's hiking performance, weight, traction, stability and support, durability, fit and sizing, and more. To see how it stacks up to the competition, see our articles on the best hiking shoes and best approach shoes.
 
Performance
Hiking
The Vasque Grand Traverse wears a lot of hats: the shoe is marketed for everything from hiking and approaching to trail running. But right off the bat, we'll tell you that we think the Grand Traverse is best as a hiking shoe. Put simply, it falls short in pure climbing performance (more on this below) and doesn't offer the necessary cushion for serious trail running, but it's a great match for desert rats who like to scramble.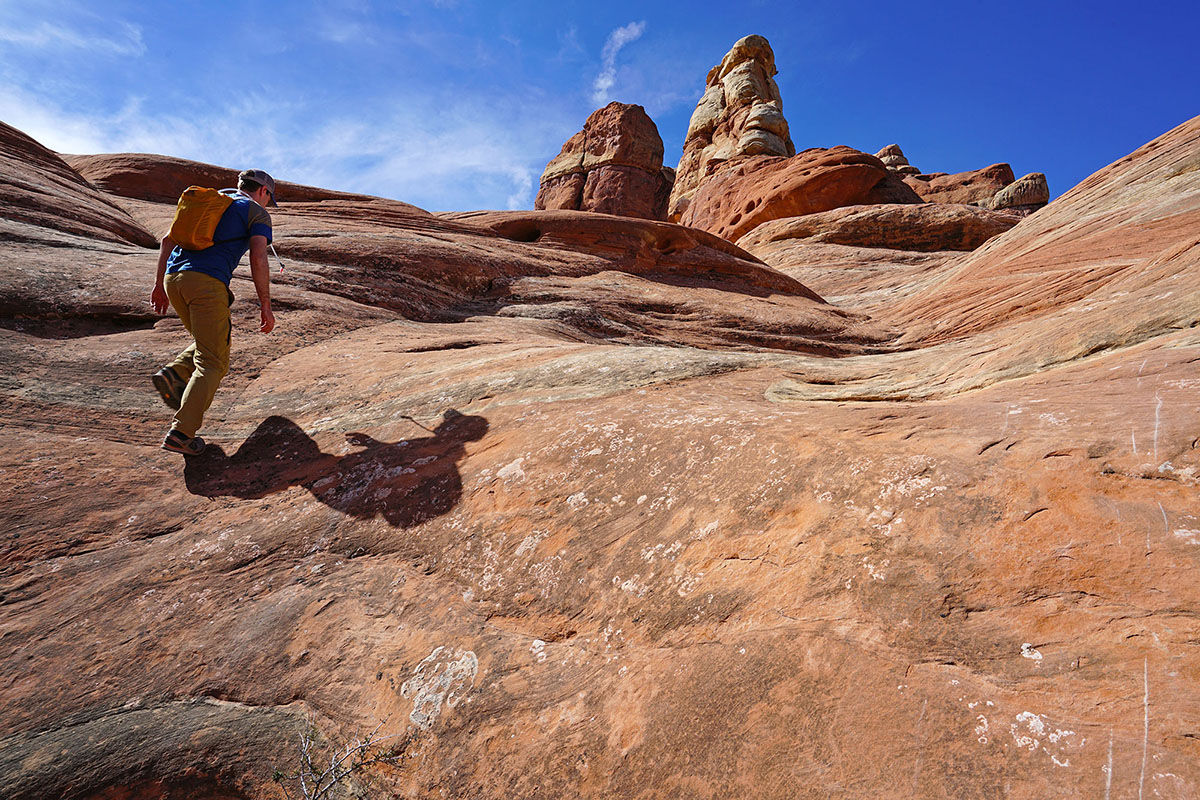 That said, the lack of cushioning definitely can have an impact on comfort over time. Personally, I don't need tons of padding when hiking, but this is ultimately a matter of preference. The thin midsole and general lack of support on the Grand Traverse do lead to more impact with each step than with a cushier shoe like the Salomon X Ultra 3 or Altra Lone Peak 4.5. This means that the Grand Traverse is better suited for moderate hikes but falls short for heavy hauling over long distances. For the latter, we'd turn to models like the aforementioned X Ultra or step up to a burlier boot like the Salomon Quest 4D 3 or Lowa Renegade.
 
Climbing
We scrambled extensively in these shoes but stopped short of actual rock climbing. However, as we touched on above, it's clear from the build that the Grand Traverse trends toward hiking and away from hardcore climbing. Despite a rubber toe cap that is more substantial than most hiking shoes, true approach shoes like the popular Five Ten Guide Tennie and Scarpa Crux much more closely resemble climbing shoes. The mesh panels on the Grand Traverse help with breathability and keep weight down, but support and protection are limited. Further, the soft suede leather upper quickly shows wear when you jam the shoes into tight pockets of rock. All in all, we love these shoes for smearing, but much less for edging and true climbing.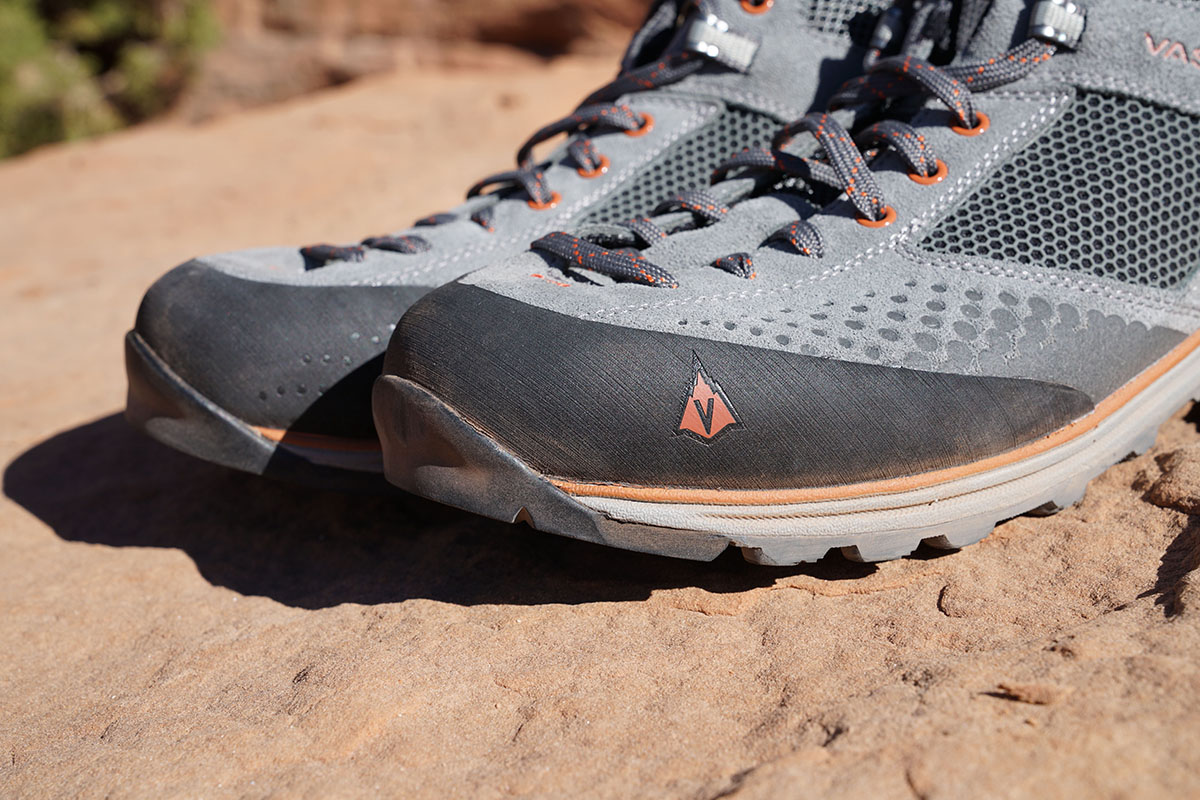 Weight
Taking the whole category of lightweight hiking shoes and approach shoes into account, the Grand Traverse is on the light end of the spectrum at 1 pound 10 ounces for the pair. It's almost identical in weight to our favorite all-around hiking shoe, the non-waterproof Salomon X Ultra 3 (1 lb. 9.8 oz.) and less than the popular Merrell Moab 2 Ventilator (1 lb. 15 oz.) and The North Face Ultra 111 WP (1 lb. 14.2 oz.). You can go lighter with a trail-running shoe like the Altra Lone Peak 4.5 at a feathery 1 pound 5 ounces, but that's a totally different type of option with much less traction on rock and a thickly cushioned midsole. Similar models that balance approaching and hiking, like the La Sportiva TX 4 (1 lb. 10 oz.) and Salewa Wildfire (1 lb. 10.8 oz.), come in around the same weight. A number of specialized approach shoes weigh less, but those are much less versatile and more climbing-centric than the Grand Traverse.

Traction
The Vasque Grand Traverse stands out in one key area: grip. We spent a number of days outside Moab and in Canyonlands National Park ripping around various rocky surfaces both with and without a pack and can't remember a time that we slipped. This didn't include actual rock climbing but a lot of hiking, scrambling, and smearing, and for these purposes, the Grand Traverse is exceptional.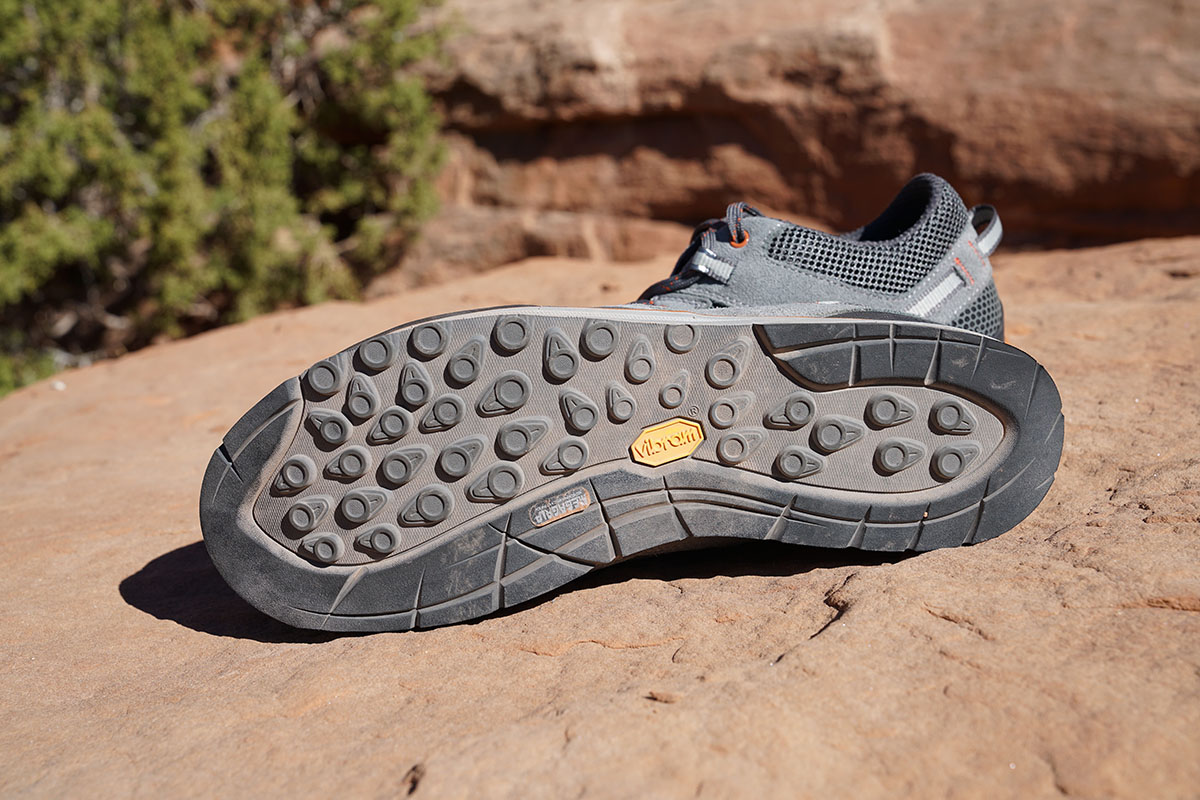 Approach shoes are meant for dry conditions or wet rock at the most. But to really put the shoe to the test, we wore the Grand Traverse on an extremely muddy hike up Lone Cone outside of Tofino, British Columbia. As expected, the relatively flat Vibram Megagrip sole caked up with mud rather quickly, and I was sliding down the trail while my partner in traditional hiking boots was not. Because of this, the shoe is great for places like the American Southwest (Utah, Arizona, California, etc.), but we wouldn't recommend it for those who do the majority of their hiking in a moist environment like the Pacific Northwest.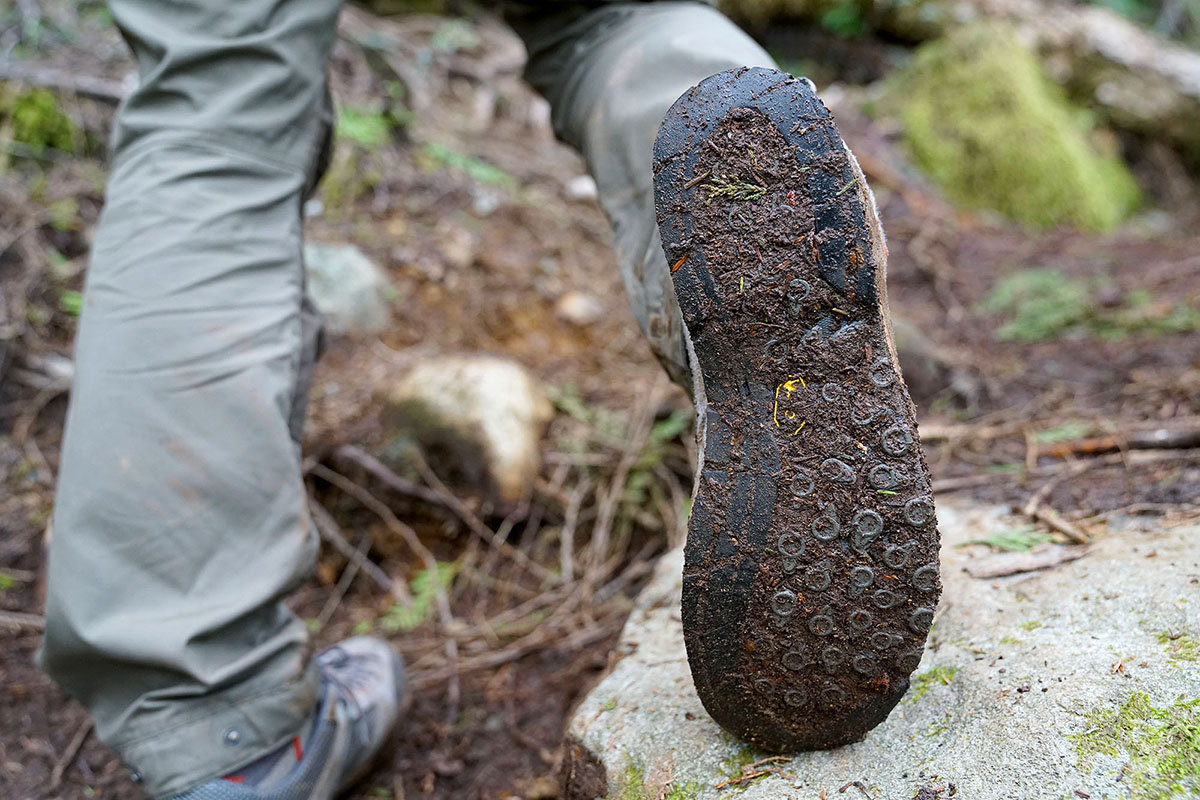 Stability and Support
Put simply, if you like shoes with a ton of cushion, you should look elsewhere. The Vasque Grand Traverse is minimalist in design, with a low-profile Vibram outsole and EVA midsole. The foot sits flat in the shoe, and you'll feel plenty of trail and rock beneath you as you hike or scramble. In practice, we liked the feel of the shoe for moving over rocky surfaces in Canyonlands, but some may prefer more cushion and less impact for long days on the trail with a pack (again, we like the Salomon X Ultra 3 in this category). 
Interestingly, we found the Grand Traverse to be quite stable despite the low ankle height. Perhaps it's due to their grippy nature and climbing shoe-like lacing system, which extends all the way to the toes, but we wore these shoes on a multi-day backpacking trip with a decently heavy pack and only lightly turned our ankles on a couple of occasions. The shoes tighten very evenly and snugly around the foot, so if you have strong ankles and aren't prone to turning them, the shoe should do the trick even with a pack.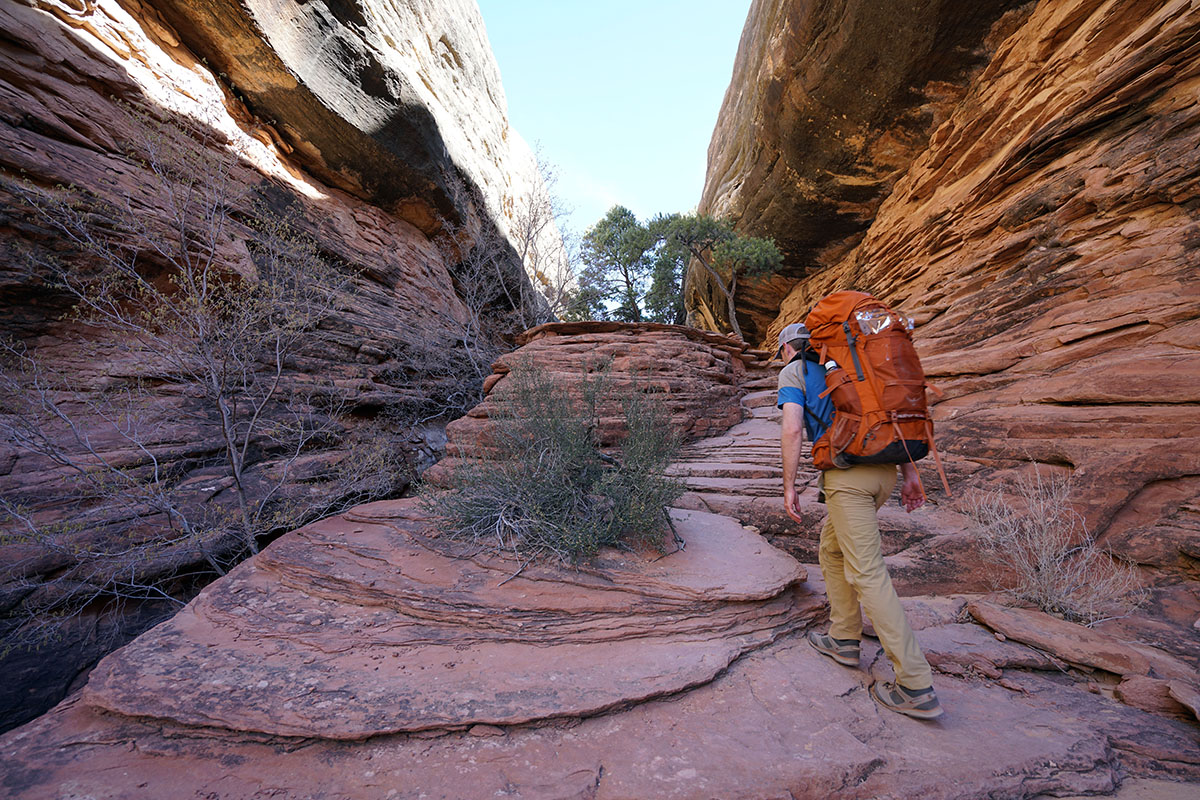 Breathability
We feel like these non-waterproof shoes are built for the desert, and accordingly, they breathe very well. The suede leather upper is relatively thin and light, and mesh panels along the side and top of the shoe do a great job at releasing heat. They don't offer much in the way of water resistance, but the upside is they dry quickly when wet. We didn't have the opportunity to really push the breathability of these shoes as it was in the mid-80s during our Utah trip, but never did our feet feel hot even while moving quickly with a pair of lightweight merino wool hiking socks underneath.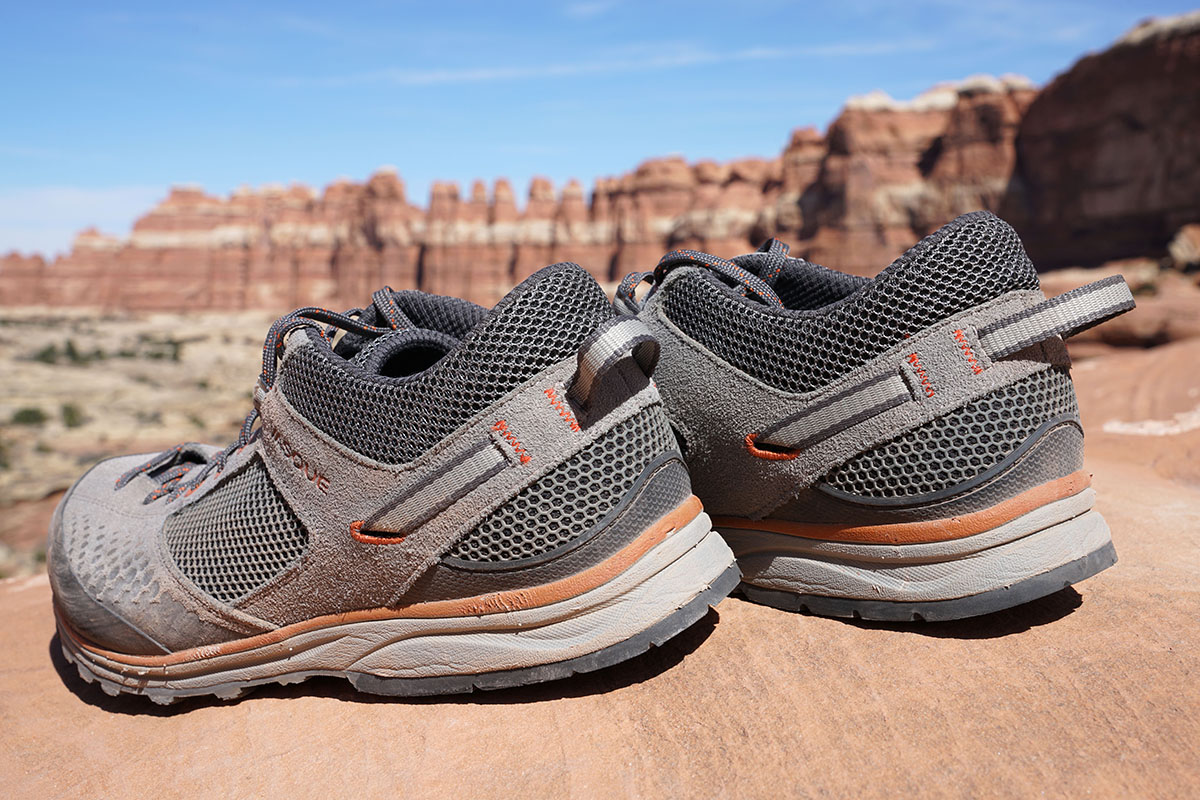 Durability
On the spectrum of hiking and approach shoes, the Vasque Grand Traverse falls on the lightweight end and therefore isn't a standout in durability. The Vasque's burly toe cap gives the shoe a boost in protection while scrambling, but the leather and mesh upper is thin, and even the midsole foam began to show some signs of wear early on. All told, the shoes seem well-made overall, but the efforts to cut weight do have an impact on the Grand Traverse's lifespan. 


Lacing System
After wearing the Grand Traverse alongside a number of other pairs of hiking shoes and boots, we've become big fans of this type of lacing system. As mentioned above, climbing shoes often have laces that extend all the way to the toes for maximum customization and tightness (climbers really need to dial in fit), but this style transitions very well to hiking. The laces on the Grand Traverse are strong, and once you tighten them fully, the fit is exceptional for a hiking shoe. Compared to something like the Quicklace closure system on Salomon's X Ultra 3, which has improved over the last few years, we still prefer old-school laces with full coverage. The system on the Vasque is a little less efficient but both tighter and more comfortable for a variety of foot shapes.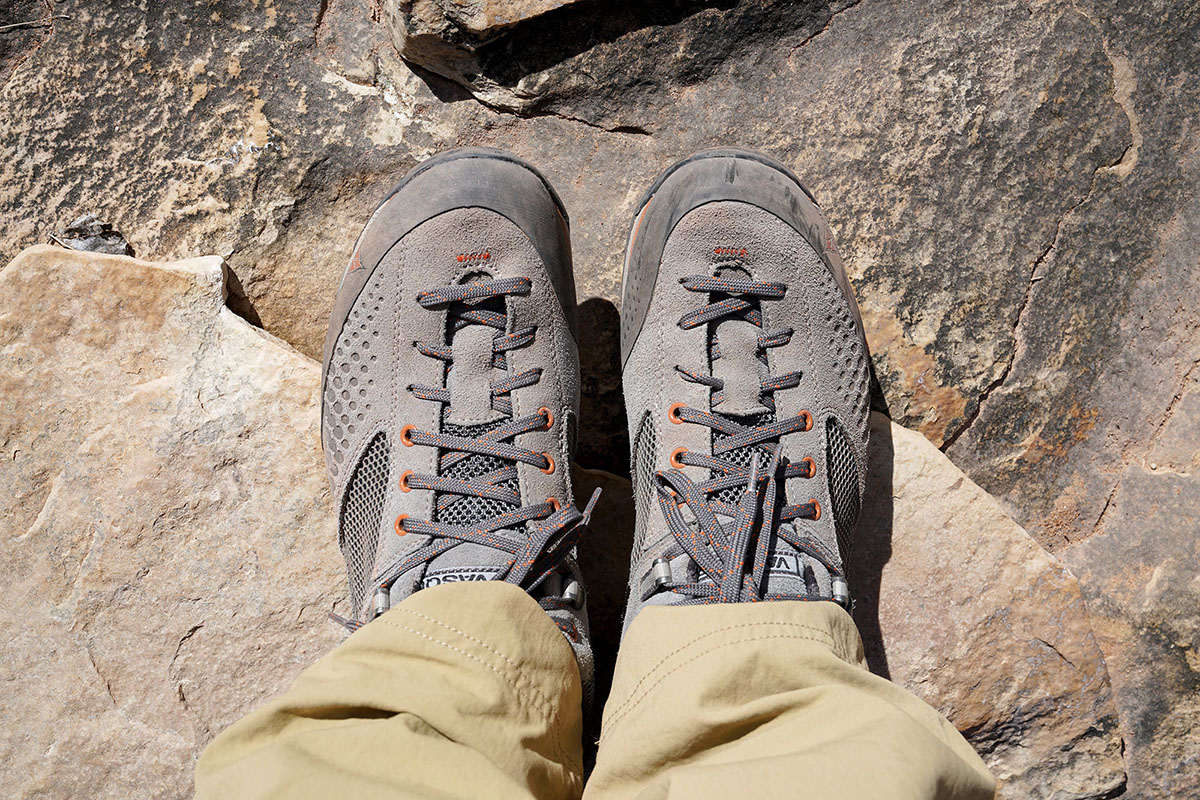 Fit and Sizing
The Vasque Grand Traverse fit true to size. We grabbed our usual size 12 and had few issues despite wearing them fairly aggressively straight out of the box. In terms of fit, the shoe is on the thin side and fits snugly due to the lacing system and leather upper. It's easy to tighten these shoes down and really dial in performance, which is very helpful when you're moving over uneven, rocky surfaces.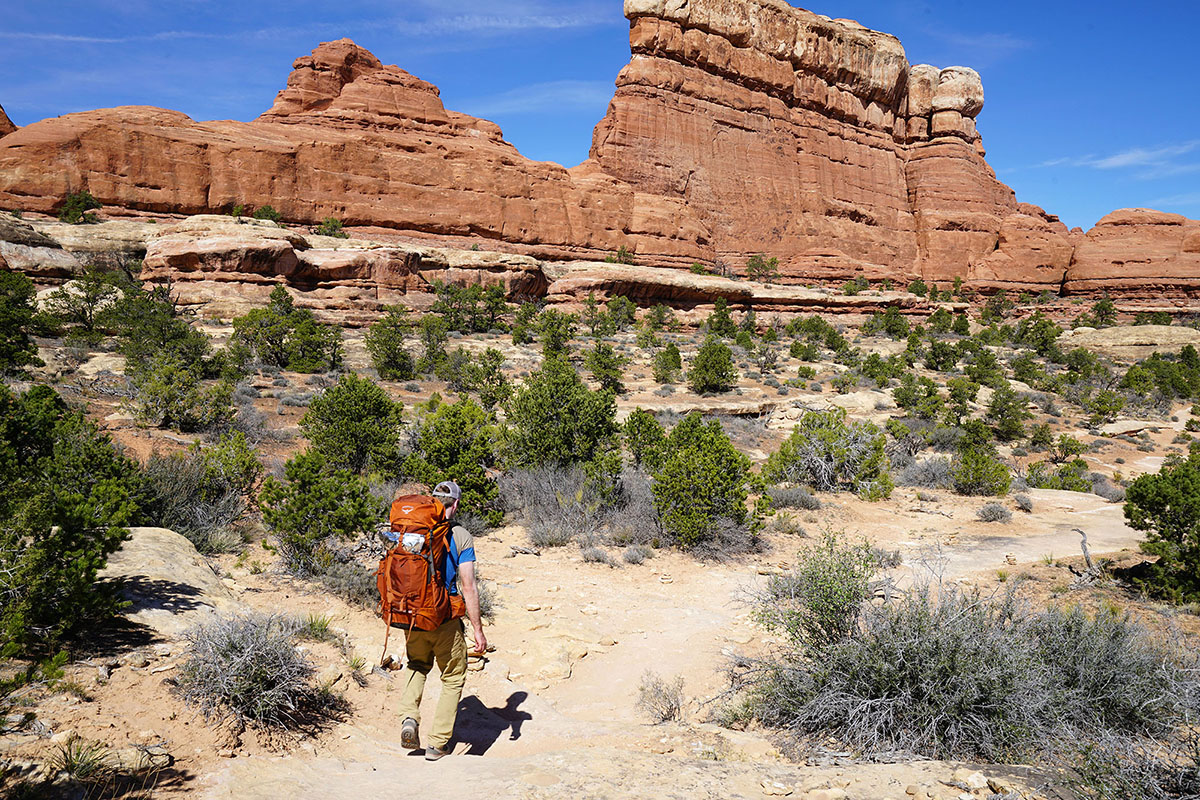 Women's Version of the Vasque Grand Traverse
We took the men's Grand Traverse to the Utah desert for testing, and Vasque also makes the shoe in a women's version. The women's model also retails for $120 but clocks in slightly lighter at 1 pound 6 ounces per pair and is sold in different colorways. Otherwise, the shoes share an identical construction including the climbing shoe-like lacing system, Megagrip outsole, and leather and mesh upper. We haven't had a chance to test the women's version yet, but given the identical construction, we imagine overall performance is very similar.  

What We Like
Superb grip and traction over rock.
Lightweight at 1 pound 10 ounces and breathes well.
Climbing shoe-like lacing system creates a snug and comfortable fit.

What We Don't
Lack of support can lead to tired feet after long days.
Doesn't climb as well as many true approach shoes.
Poor traction in muddy conditions.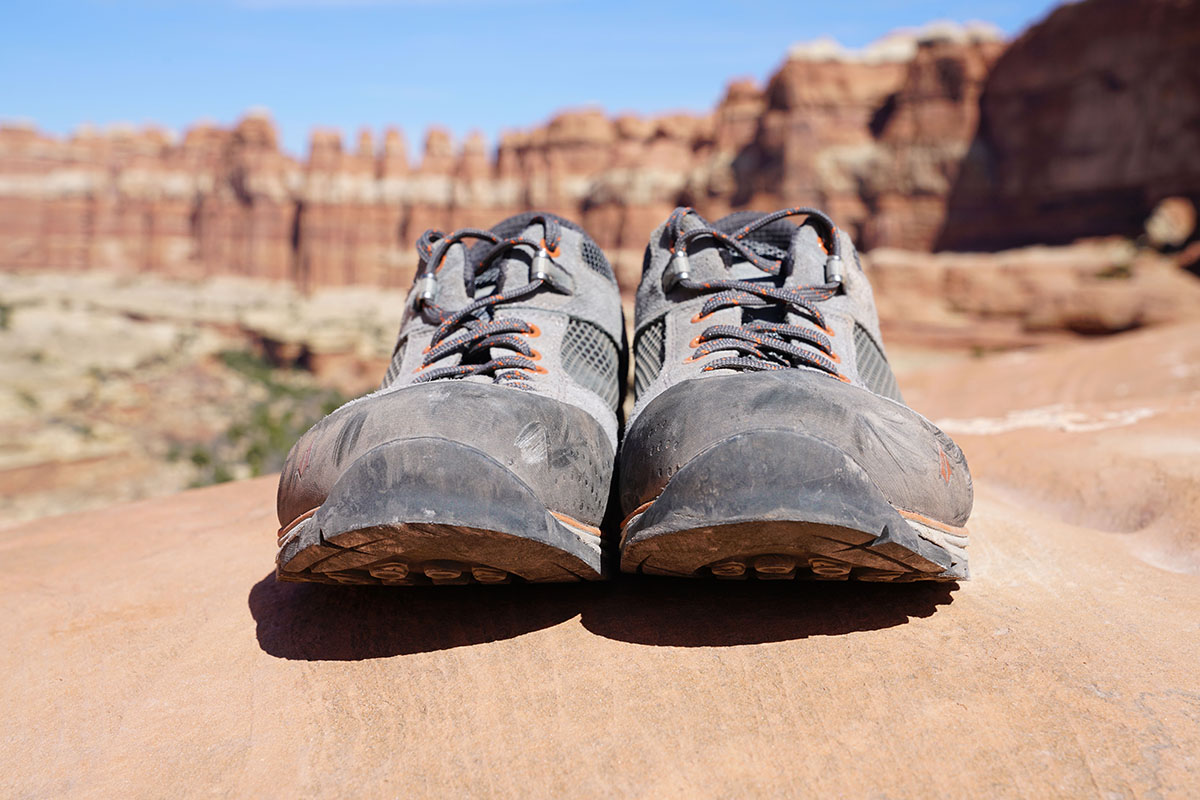 Comparison Table

The Competition
Vasque's Grand Traverse is a specialized shoe that's a great match for hikers who often add scrambling or low-grade climbing into the mix. Like the Vasque, La Sportiva's TX4 blurs the lines between hiker and approach shoe. Stacked up to the Grand Traverse, the TX4 is identical in weight at 1 pound 10 ounces and similarly grippy with a Vibram Megagrip outsole but more durable with a full leather upper. The Vasque gets the upper hand for trail use—it's more flexible and breathes better than the TX4—but the La Sportiva is a much more capable climber (and if ventilation is a concern, La Sportiva also sells the mesh TX3, which we reviewed here). All told, the TX4 is the better-built and more capable all-around shoe.
Scarpa offers an intriguing alternative to the Grand Traverse in their Crux approach shoe. The Crux is similarly priced at $130, lightweight at 1 pound 10.8 ounces (0.8 oz. heavier than the Vasque), and also features a suede upper. Neither shoe is particularly adept at climbing—the Crux is a good smearer but falls short on edges—but the Crux is our preferred hiker for its impressive support, protection, and well-cushioned build (for more, read our in-depth Crux review here). Both are capable all-rounders, but we prefer the Scarpa for its superior on-trail comfort. And it's worth noting that Scarpa also makes the Crux Air, which is lighter at 1 pound 8.4 ounces and features a more breathable knit upper.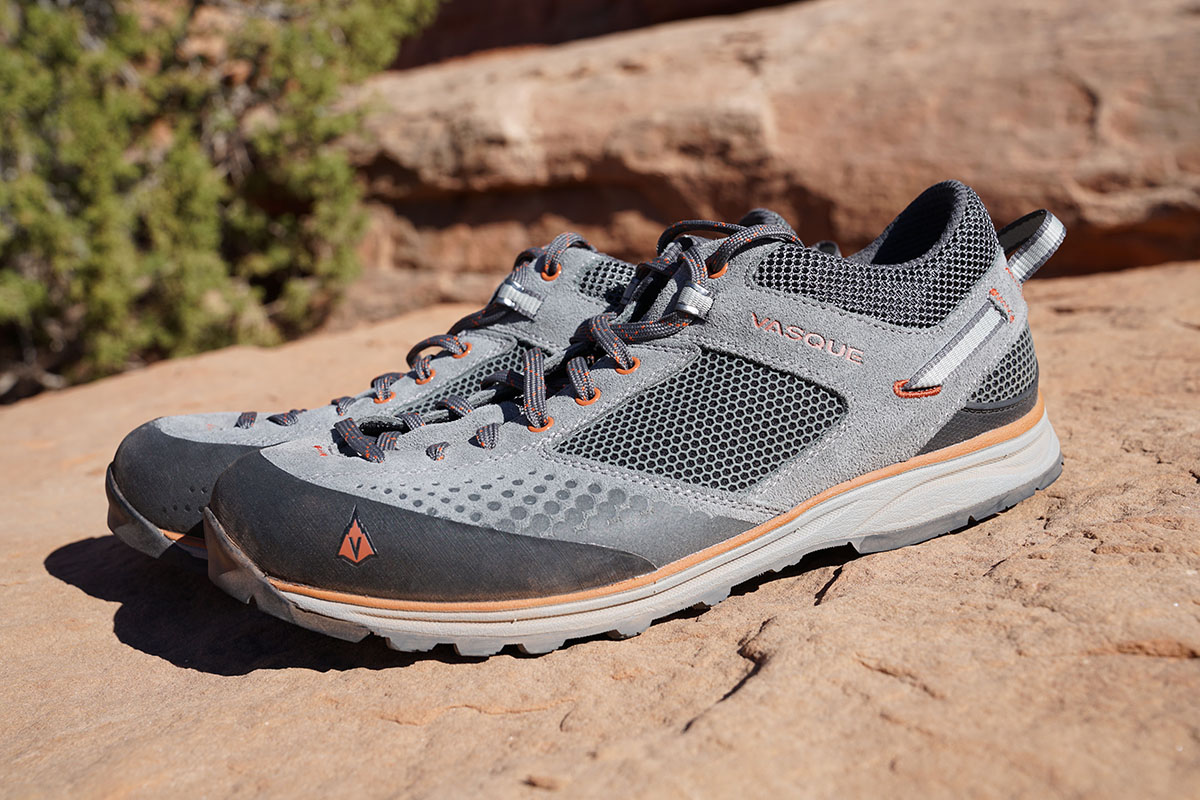 Another hybrid option to consider is Arc'teryx's Konseal FL. Built for fast-and-light travel across technical terrain, the Konseal combines the support, traction, and lacing of an approach shoe with the sprightliness of a trail runner. Similar to the Vasque, the Konseal is good at scrambling with a dotted Megagrip sole, and it also lacks the cushioning of a traditional hiking shoe in favor of a stiff, streamlined build (the tradeoff is a boost in climbing performance). All in all, the Vasque is $35 cheaper, but the Konseal FL is lighter at 1 pound 5.2 ounces (4.8 oz. less than the Grand Traverse) and better-balanced for hiking, mixed scrambling, and even low-grade climbing.
Finally, for those who stick solely to maintained trails, we prefer an option like the Salomon X Ultra 3 Low Aero. The Salomon tops our lightweight hiking shoe round-up this year for its great balance of weight (1 lb. 9.8 oz. for the non-waterproof version), on-trail performance, and durability. And as we mentioned above, the Salomon is more heavily cushioned than the Grand Traverse, which translates to increased comfort for long days on the trail or when carrying a pack. In the end, a final decision should come down to expected terrain: If you spend a lot of time scrambling in the desert, we'd go with the grippier Vasque. But the X Ultra 3 is the more well-balanced build and a great pick for everything from day hiking to summit pushes and even long-distance backpacking.
If you're thinking about buying gear that we've reviewed on Switchback Travel, you can help support us in the process. Just click on any of the seller links above, and if you make a purchase, we receive a small percentage of the transaction. The cost of the product is the same to you but this helps us continue to test and write about outdoor gear. Thanks and we appreciate your support!
Depending on the seller, most products ship free in the United States on orders of $50 or more. International shipping availability and rates vary by seller. The pricing information on this page is updated hourly but we are not responsible for inaccuracies.
Learn More About Outdoor Gear