Salomon XA Pro 3D v8
Price: $130
Weight: 1 lb. 6.6 oz. (women's size 8.5)
Waterproof: No (GTX available)
What we like: The weight of a running shoe with the stability and protection of a lightweight hiker.
What we don't: Too bulky and stiff for most trail runners; polarizing lacing system.
See the Women's Salomon XA Pro 3D v8  See the Men's Salomon XA Pro 3D v8
Salomon is one of the biggest and most respected names in outdoor footwear, with an extensive lineup that spans the road running, trail running, and hiking categories. The XA Pro 3D, now in its 8th iteration, slots in as a nice crossover design: a shoe that's built for technical trail running but that works well for fast-and-light hiking. We put the XA Pro 3D to the test in rugged Patagonia, where it struck us as protective and well-cushioned for carrying a pack over long distances but felt overbuilt for running. Below we break down the Salomon XA Pro 3D's hiking comfort, weight, traction, stability and support, durability, fit, and more. To see how it stacks up, see our articles on the best hiking shoes and best trail-running shoes.

Performance
Hiking Comfort
Although designated as a trail runner, many people use the Salomon XA Pro 3D for hiking, and we can see why. The tongue and collar feature generous padding that hugs my foot, and the SensiFit system, which extends from the midsole to the mesh upper, creates a secure, close hold. I'm used to wearing stiff approach shoes for hiking, but I was happily surprised by the XA Pro 3D's cushioning and flexibility on the trail. My primary comfort-related complaint is that while the shoe fit well right out of the box, the placement of the lacing across the toe box proved to be problematic and put undue pressure on my big toe. Not everyone will experience the same issue (it depends on foot shape), but this area was notably uncomfortable for me (more in "Salomon's Quicklaces" below).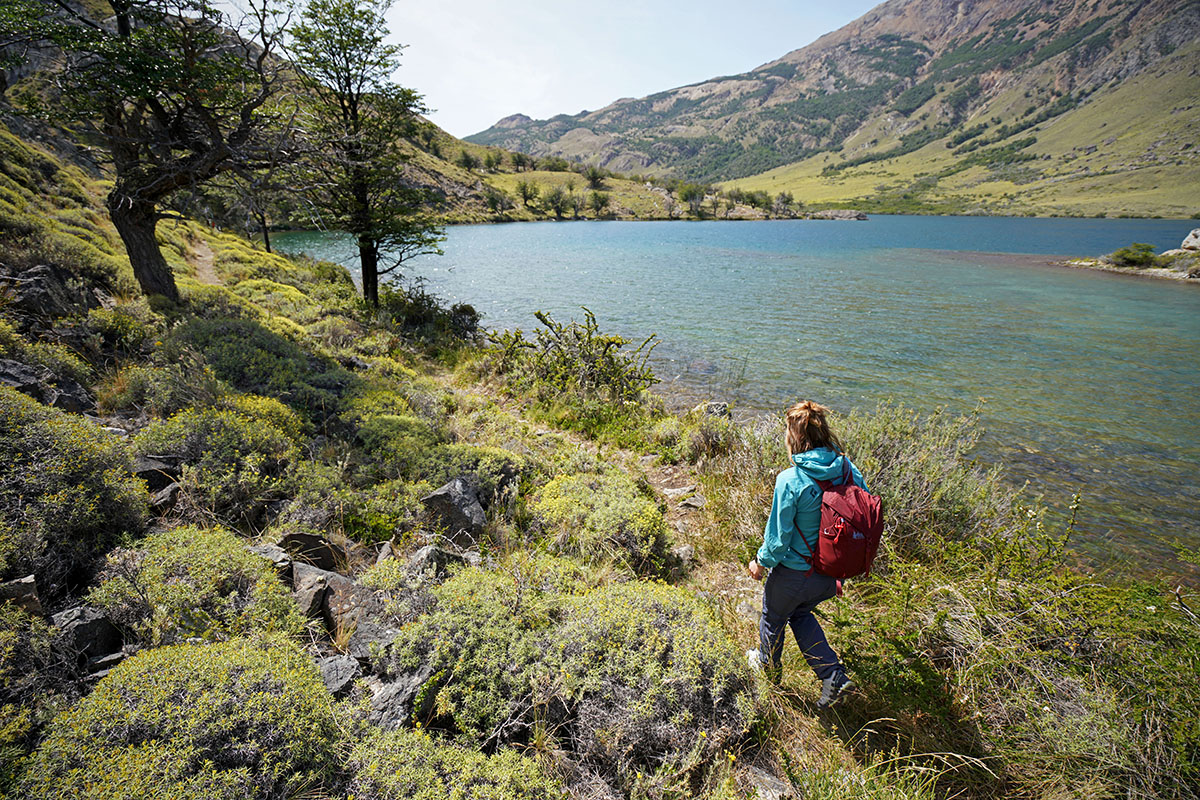 Compared to more modern trail runners that cross over into the fast-and-light hiking world (like the Hoka One One Speedgoat and Altra Lone Peak), the XA Pro 3D feels fairly dated. In particular, I found the shoe to be rough and unpolished along the interior—akin to a running shoe I might have owned 10 years ago. Further, if you're used to the integrated tongue that you get with some of Salomon's other running models, including the Sense Ride 2, you might be disappointed with the XA Pro's detached design, which adds bulk and makes the shoe less streamlined overall. And lastly, despite a reasonably light build, the XA Pro 3D feels notably stiff and cumbersome underfoot. For a sleeker, softer, and more modern design for hiking, we'd recommend a shoe like the aforementioned Lone Peak or Salomon's new-for-2020 X Raise. 

Trail Running in the XA Pro 3D
While we like the XA Pro 3D for fast-and-light missions and the occasional trail jog, we hesitate to recommend it as a dedicated trail runner. Compared to my go-to option, the Topo Athletic MTN Racer (15.4 oz. per pair), the Salomon feels clunky and slow, and the 11-millimeter drop (compared to the MTN Racer's 5mm) isn't as neutral as I prefer. If you're in the market for a do-it-all shoe and aren't trying to break any speed records, the XA Pro 3D is serviceable. But if you spend a good amount of time trail running, we'd recommend a lighter and sprightlier model. Even similar crossover options including the Brooks Cascadia 14 and Altra Lone Peak 4.5 perform better in this regard.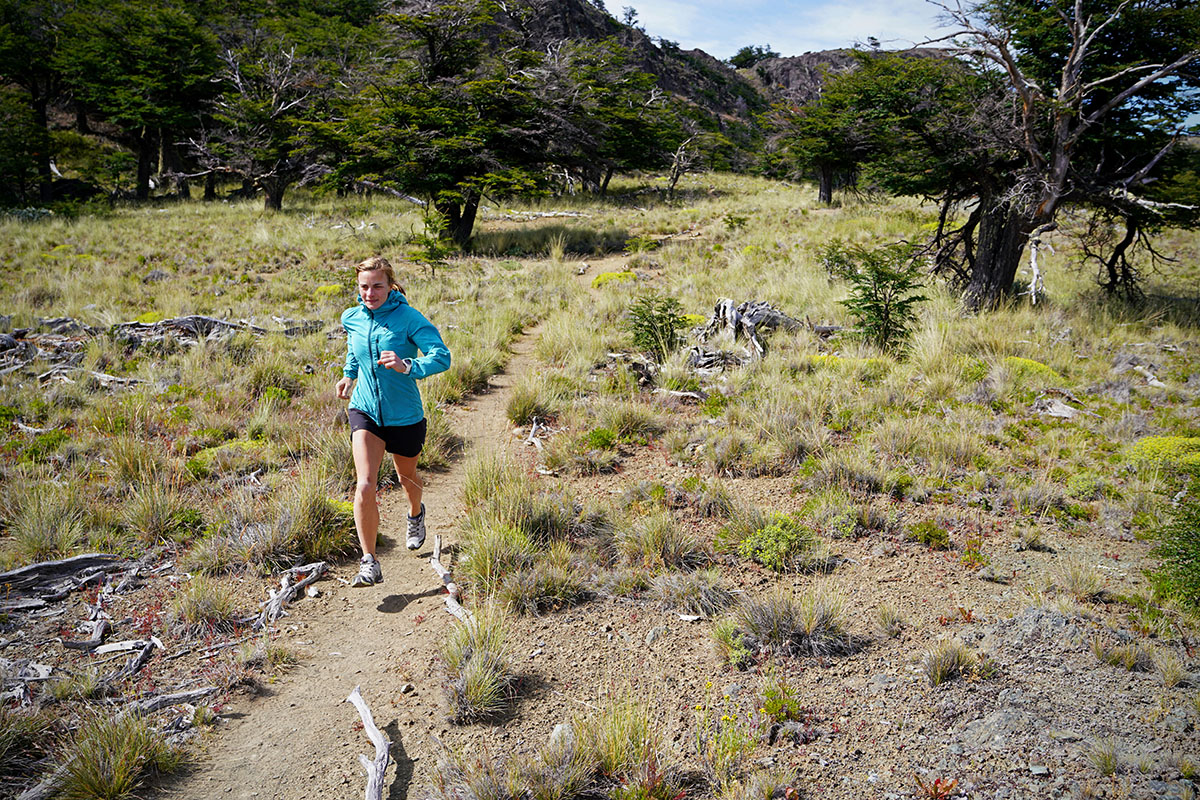 Protection
The XA Pro 3D scores high on the protection scale, which is surprising given its trail runner build. In fact, it's similarly protective as Salomon's own X Ultra 3, a dedicated lightweight design that has topped our hiking-shoe round-up for years. On the trail, the XA Pro 3D felt like a tank, with a large and burly toe cap, rigid heel cup, and solid 3D chassis (slightly softer than previous versions, but still very secure). My only gripe is the lack of material at the top of the shoe. On one occasion, I caught a root with my toe and it easily abraded my skin through the mesh toe box. Adding more rubber or reinforcement would likely add weight, but the boost in protection here would be worth it, in my opinion.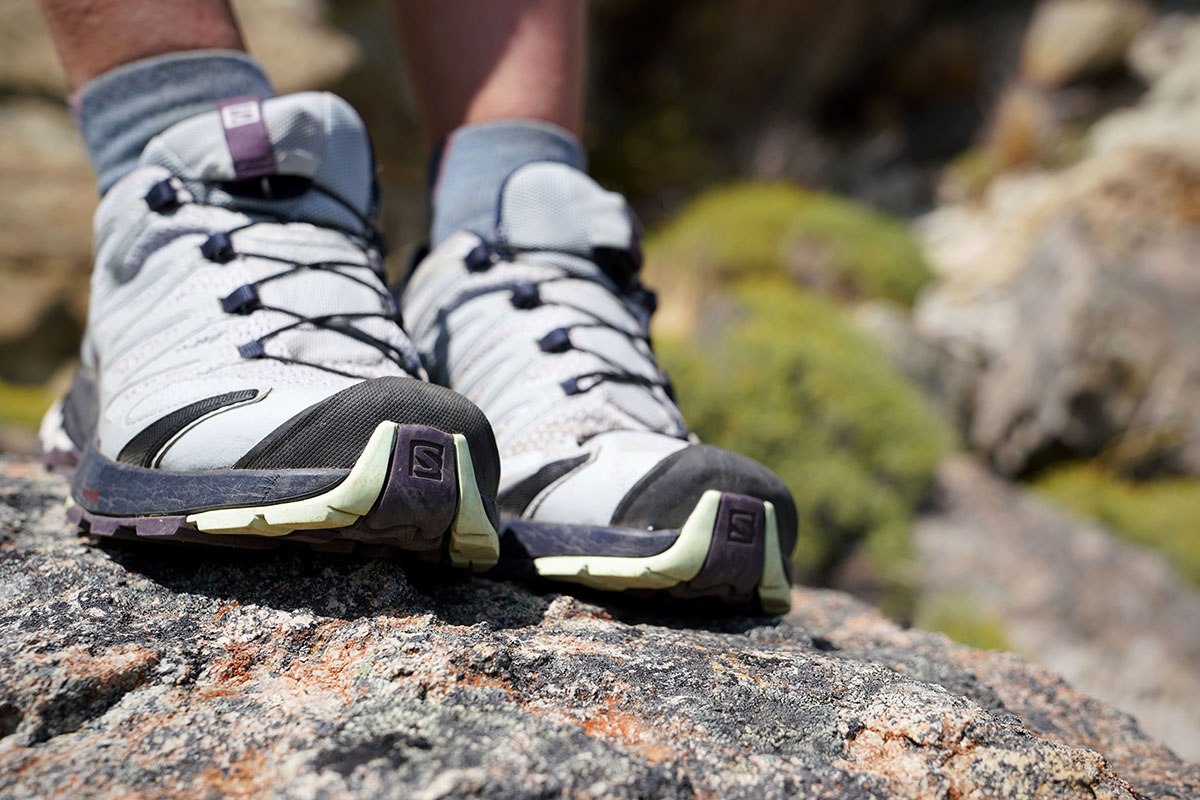 Weight
With a listed weight of 1 pound 5.2 ounces per pair (1 lb. 6.6 oz. for a women's 8.5 on our scale), the XA Pro 3D is lighter than most low-top hikers but heavier than its trail-running competition. For comparison, Altra's popular Lone Peak 4.5, which has similar crossover appeal, weighs just 1 pound 1 ounce, although you do give up a fair bit of protection with such a lightweight build. Other versatile designs including the La Sportiva Bushido II (1 lb. 1.6 oz.), Brooks Cascadia 14 (1 lb. 3 oz.), and Salomon X Raise (1 lb. 2.7 oz.) also undercut the XA Pro 3D. On the other hand, the Salomon is lighter than traditional hiking models including the more durable and protective Merrell Moab 2 Ventilator Low (1 lb. 12 oz.) and Keen Targhee Vent Low (1 lb. 8.7 oz.). And it's worth noting for those that used the prior generation, Salomon did shave around 0.7 ounces per shoe with the v8.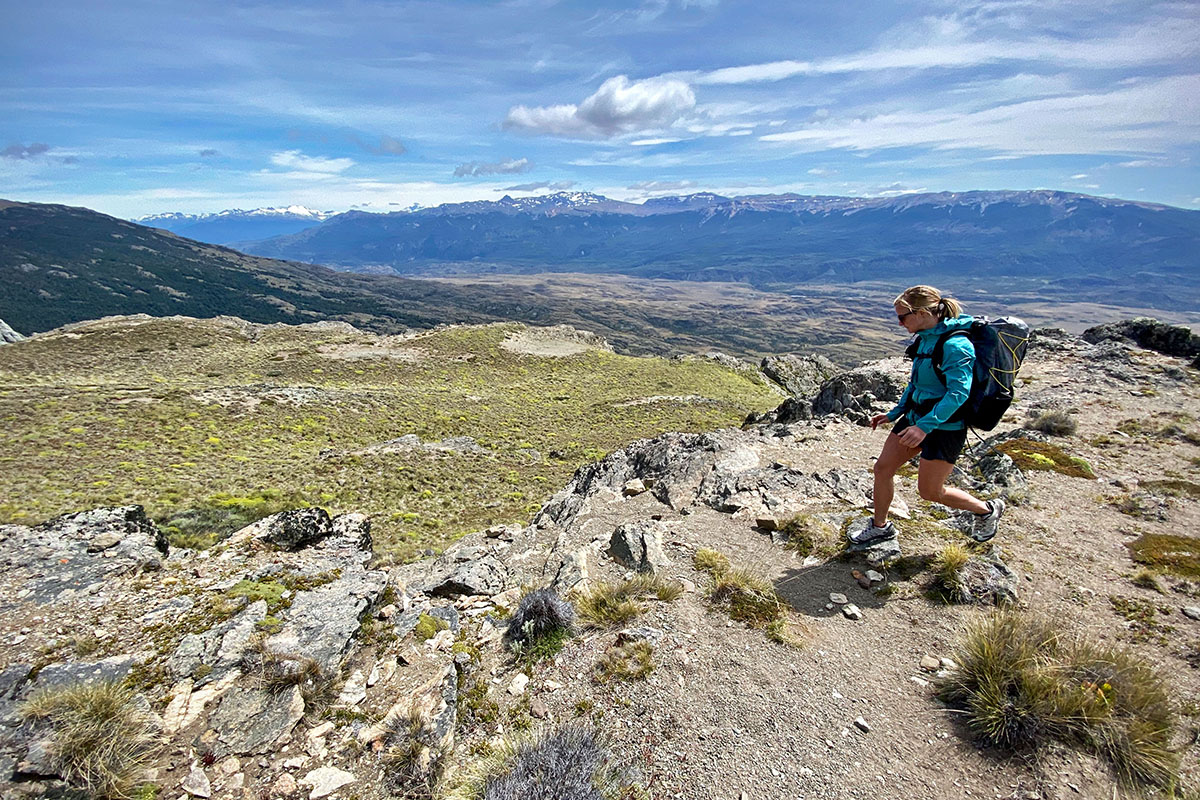 Traction
Designed with Salomon's proprietary Contagrip MA outsole, the XA Pro 3D is purpose-built to tackle wet and rugged trails. The sharp, angular lugs and aggressive tread are more reminiscent of a hiking shoe like the Salomon X Ultra 3 than a lighter-weight trail runner like the Altra Lone Peak. You also get a rigid heel and good stiffness between the heel and toe box, which is great for inspiring confidence on rough terrain (more on this below). On particularly rocky sections of trail, I noticed that the Salomon didn't waver—my heel didn't budge even when the shoe got lodged between large rocks, and the sole held firmly on sheer slabs. All in all, I was very pleased with the XA Pro 3D's grip on everything from hardpacked dirt to rock, and the outsole is still in great shape after dozens of miles.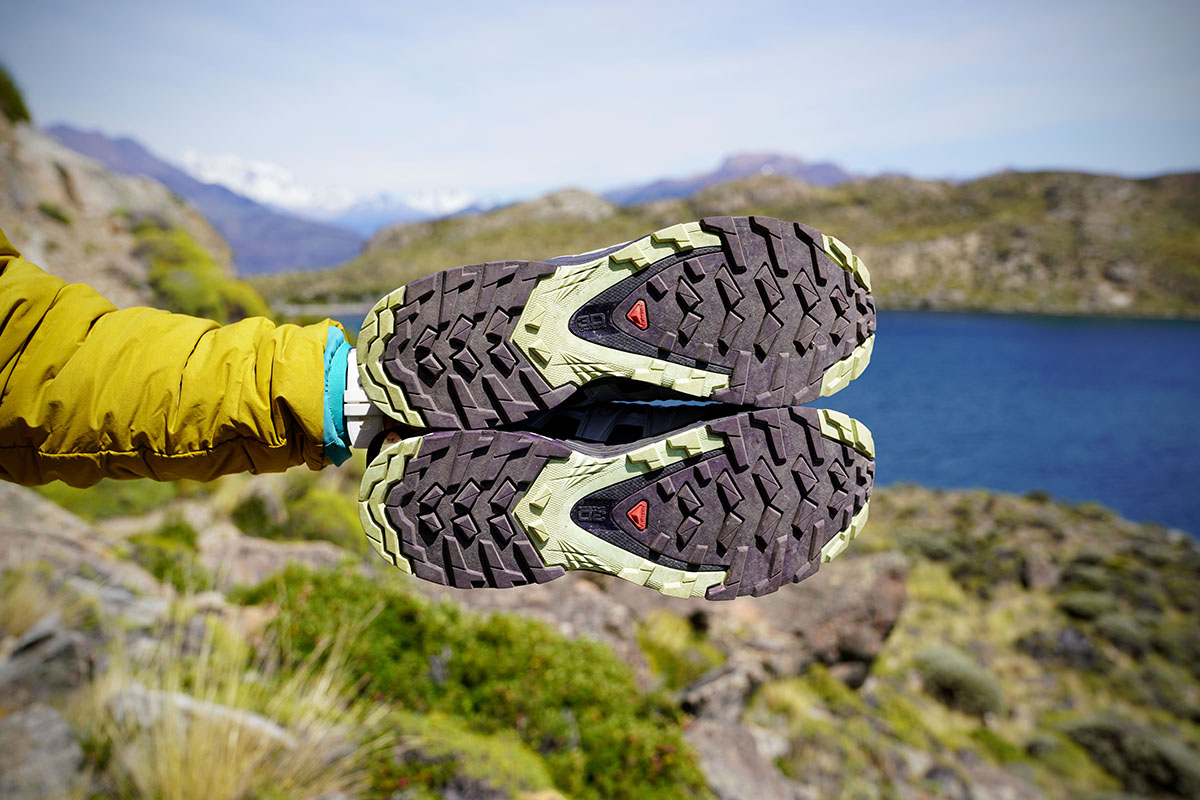 Stability and Support
Similar to protection, the Salomon XA Pro 3D proved to be more stable and supportive than anticipated. The shoe is impressively rigid and confidence-inspiring on rugged ground, with a fairly stiff heel and midsole. Further, as we mentioned above, the heel counter is solid enough to boulder hop and edge down loose or even snowy terrain without feeling squirrely or unstable. The only area of concern is at the toe box, where the shoe becomes noticeably more flexible for trail-running use. I found that the overall build worked well for most trails and carrying loads of 35 pounds or less, but I would upgrade to a stiffer shoe or full-on hiking boot for extended treks or when shuttling a heavier pack.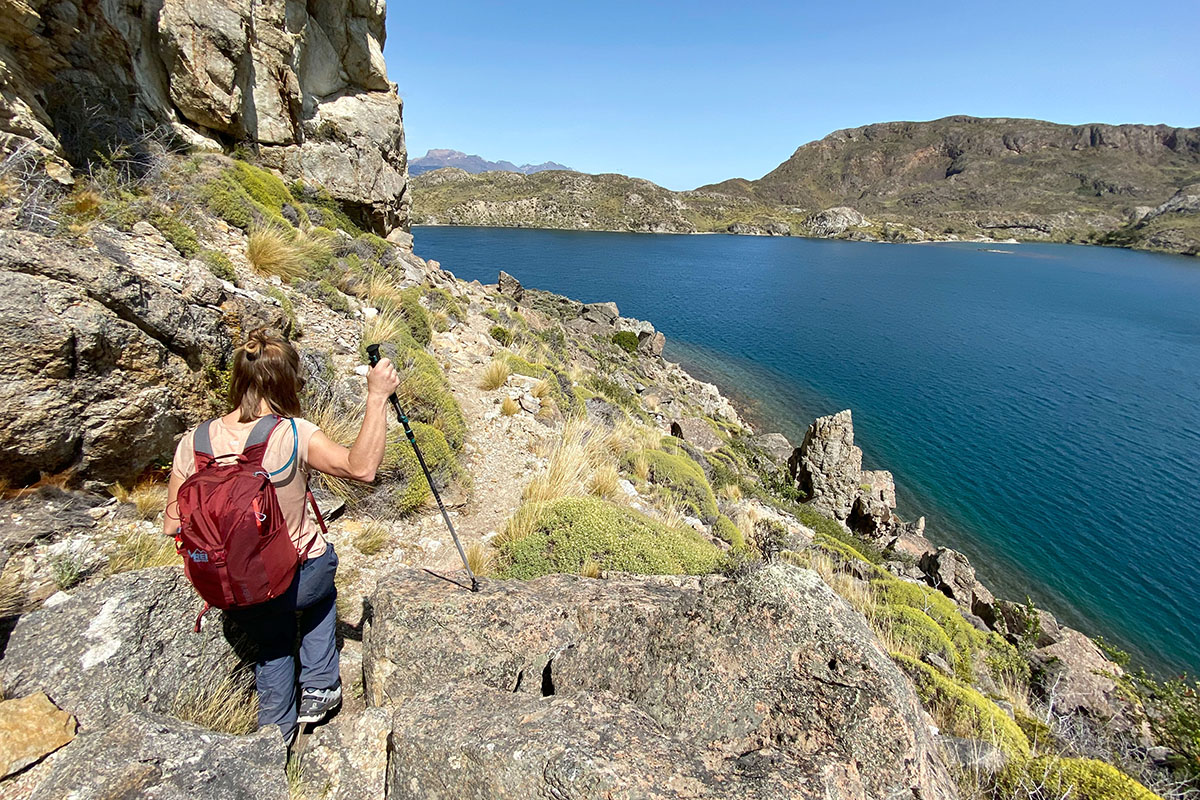 Waterproofing
We tested the non-waterproof XA Pro 3D, but the shoe also comes in a Gore-Tex version for both men and women (at a higher cost and slight weight penalty). While some will appreciate the added protection of the waterproof shoe, I don't often find the tradeoffs in weight, cost, and—most importantly—breathability worth it. You always run the risk of water entering over the ankle of low-top shoe, and the waterproof version will take much longer to dry out than mesh when soaked through. It comes down to a matter of personal preference, but in this case, I was happy to have the faster drying time of the non-waterproof XA Pro 3D.

Breathability
Put simply, the XA Pro 3D isn't a standout in the breathability department. Like most aspects of its design, it falls in between a hiker and trail runner: more breathable than the former but less than more mesh-heavy running designs. This is largely because the Salomon's mesh is mostly covered at the heel and throughout the midfoot with a welded upper, and just over half of the forefoot utilizes air-permeable 3D mesh. With a shoe like the Brooks Cascadia, you get considerably more mesh exposed, making it a better option for those with sweaty feet or especially hot climates. However, we think the Salomon strikes a great balance among protection, stability, and breathability for most hikers (and again, the non-waterproof model is a better breather than the GTX version).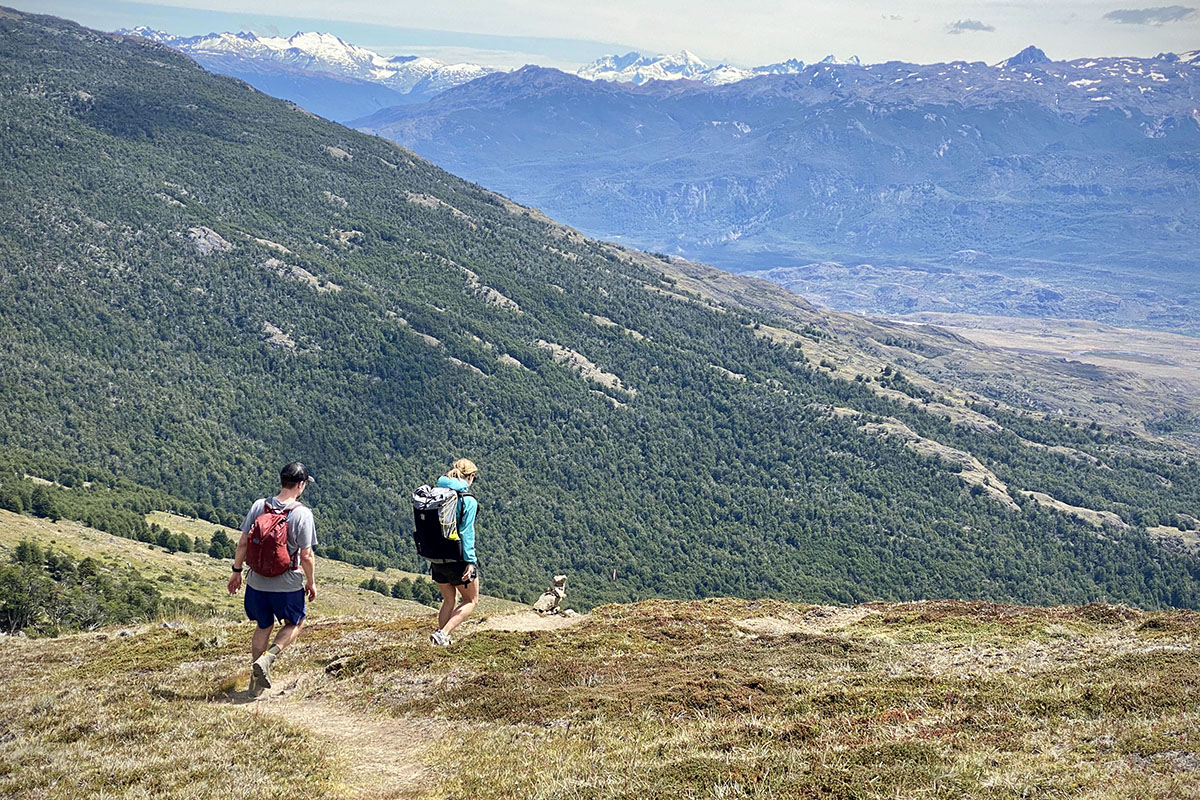 Durability
Salomon is a class leader when it comes to designing quality outdoor footwear, and the XA Pro 3D is a testament to their expertise. Unlike lighter-weight models like the Altra Lone Peak and La Sportiva Bushido II, the XA Pro 3D feels notably less compromised and delivers impressive durability that should hold up much longer to regular trail use. More specifically, the reinforced upper offers almost comprehensive protection from tears, and the burly sole and toe cap won't wear out as quickly as these more minimalist models. To be sure, mesh will abrade and wear down faster than the highly durable leather found on many hiking shoes, but the XA Pro 3D is impressively hardwearing considering its intentions.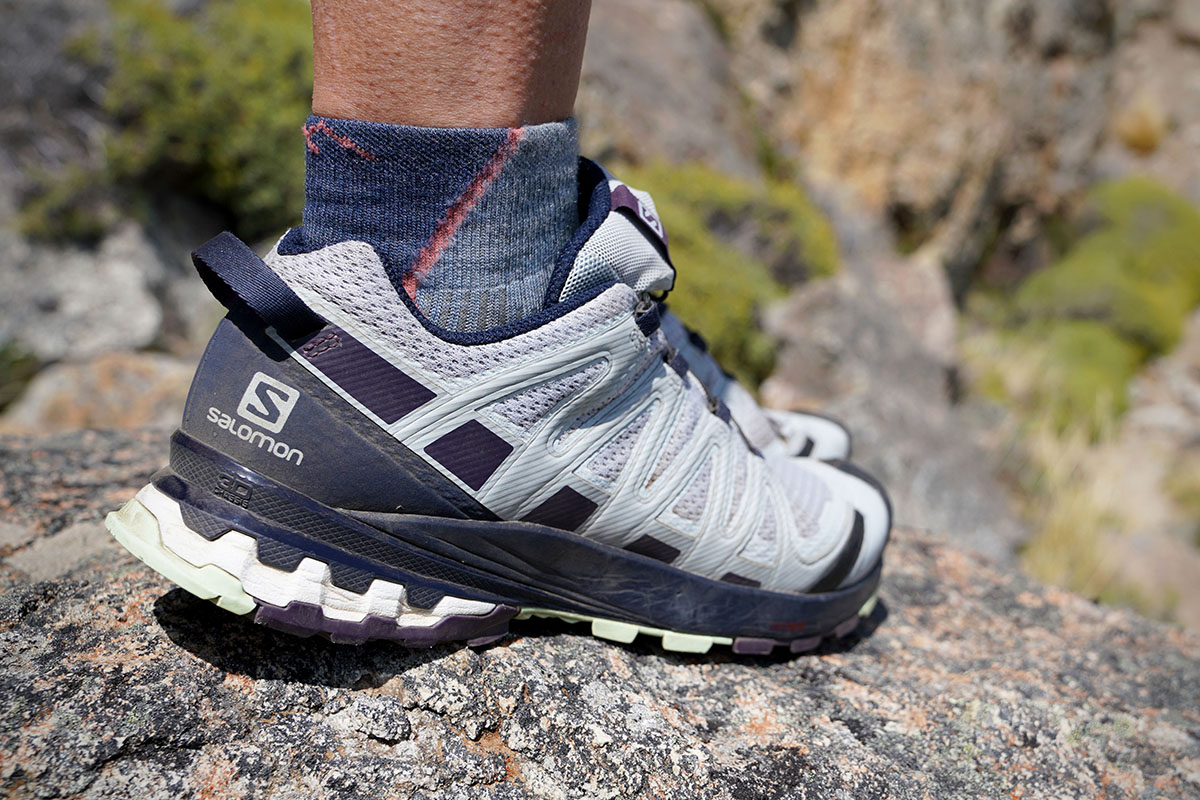 Salomon's Quicklaces
The XA Pro 3D utilizes Salomon's signature Quicklace system, which is a modern and more minimalist take on traditional laces. How it works: grab the rubberized end and push the plastic tab towards your foot to tighten, then reverse the process to loosen (it's also simple to loosen with one hand by pulling up on the tab). In practice, I've found it's easy to use, evenly snugs the laces around my foot, and is reasonably quick and secure. Not everyone will like the system—it doesn't allow much in the way of fit customization and can occasionally have issues with loosening—but it's a functional design overall that doesn't take much getting used to.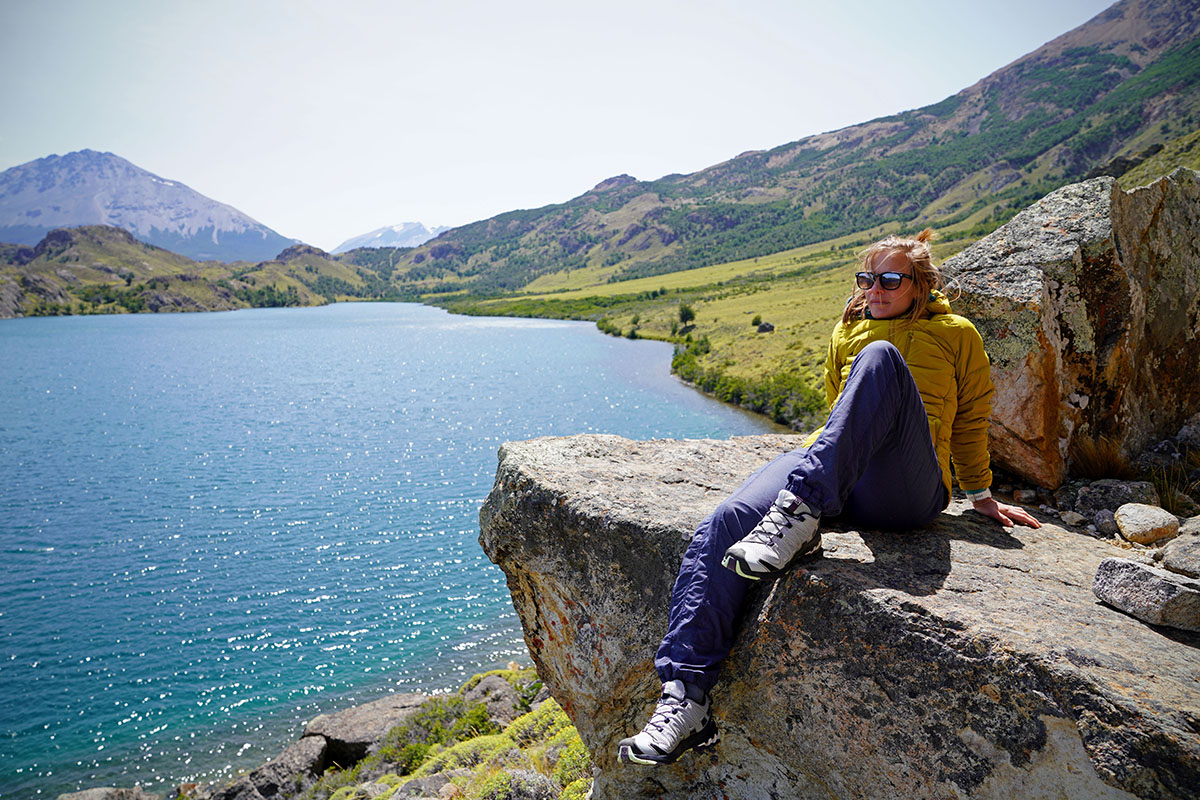 My one major complaint about the lacing system on the XA Pro 3D is the placement of the lower eyelet near the top of the toe box. This creates a diagonal lace across the front of the shoe that I found rested right over my big toe and put a lot of pressure on that area. To make matters worse, the system makes it difficult to loosen the lace over the toe box while keeping things tight around the ankle. All in all, I wish the eyelets were laid out differently, but I know many hikers who have been unaffected by the layout—it all depends on the shape and position of your foot in the shoe. 

Sizing and Fit
The Salomon XA Pro 3D fits decidedly on the wider side, so it's important to try on the shoe before buying. I stuck with my standard women's size 8.5 and found it to be very generous both in length and width (and this is coming from someone with wide feet). But despite the voluminous toe box, I actually ended up liking the fit: the lacing system held my heel securely in place while my toes had freedom to breathe—especially great for warm hikes or runs when my feet tend to swell. However, we would caution those with particularly narrow feet to try on the XA Pro 3D before making a purchase. Finally, it's worth noting that the women's models only come in a standard fit, while the men's shoes (both GTX and non-GTX) are also offered in wide versions.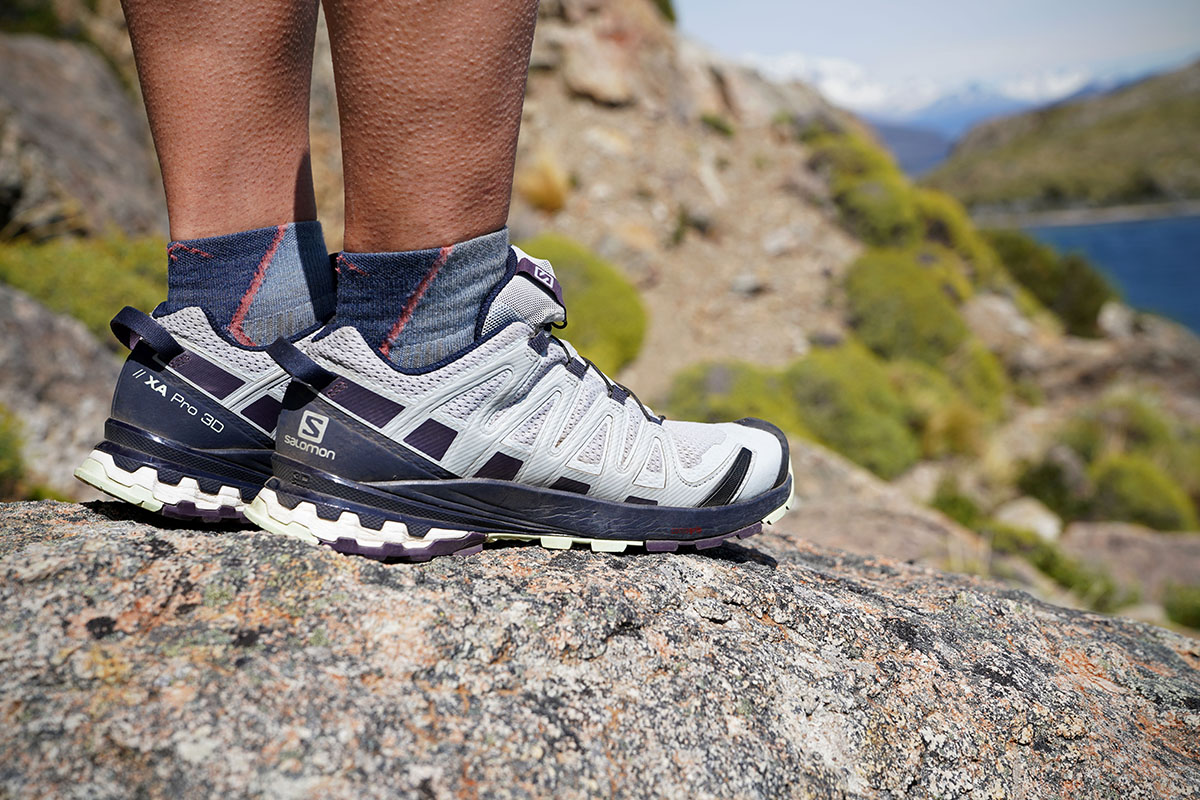 Other Versions of the Salomon XA Pro 3D v8
For this review, we tested the women's non-Gore-Tex version of the XA Pro 3D v8, which retails for $130. The shoe also comes in a waterproof version ($150) for women, which retains most of the same features and overall design but adds a Gore-Tex membrane for a small (1-ounce) weight penalty and drop in breathability. For men, Salomon makes the XA Pro 3D in both non-GTX (1 lb. 8 oz.) and GTX versions (1 lb. 10.1 oz.), which come in men's-specific fits and colorways. As we touched on above, only the men's versions are offered in wide models, but we found the women's shoe to be plenty roomy.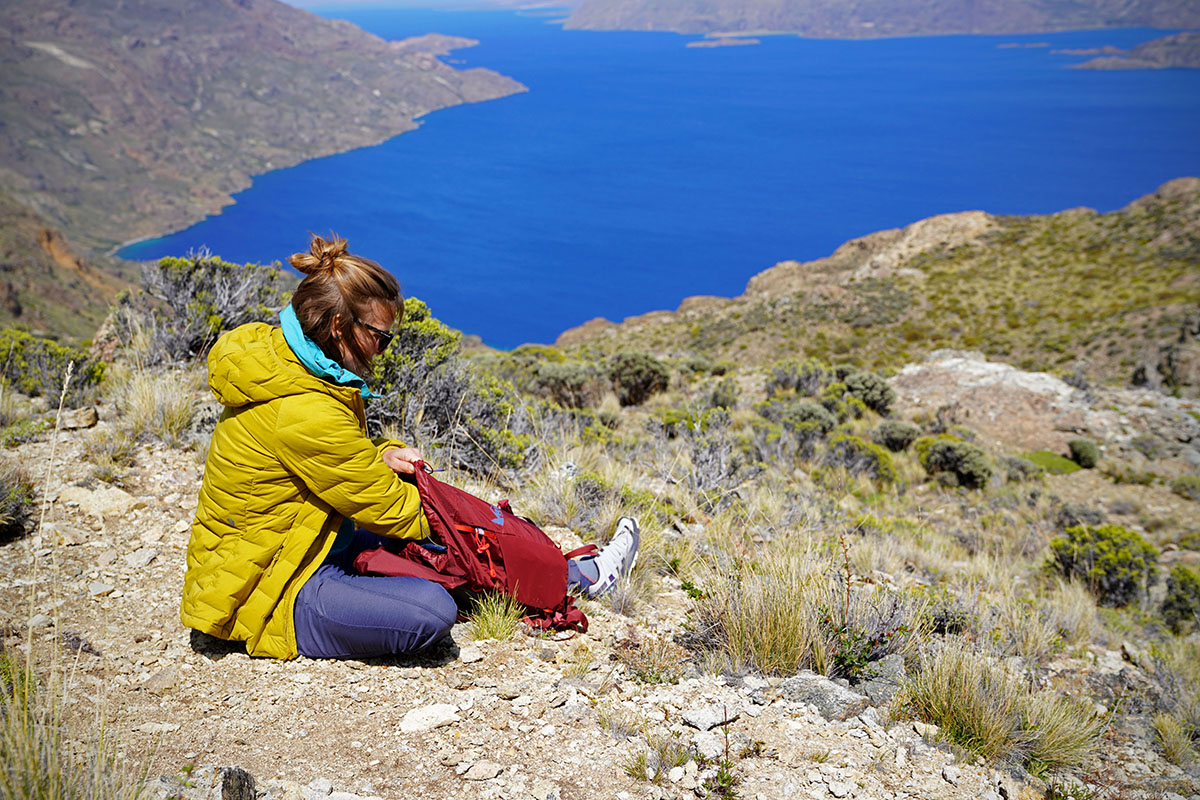 What We Like
The XA Pro 3D combines the comfort and light weight of a running shoe with the support and protection of a hiker.
More stability and protection than most trail runners.
Salomon's Quicklaces are easy and efficient to use and provide a secure fit (although some don't like the lack of customization).

What We Don't
A true tweener: heavier and stiffer than most trail runners and not as durable or stable as low-top hiking shoes.
Lacks protection at the top of the foot—I snagged a root with my toe and it went straight through the mesh.
Lacing system across the forefoot causes a pesky pressure point at the front of the shoe (although not everyone has this issue).
Despite being recently updated, the design feels dated: the interior is fairly rough and the cushioning isn't bouncy and plush like many modern trail runners.


Comparison Table
The Competition
The Salomon XA Pro 3D falls in a growing category of crossover shoes: running shoe-inspired designs that are popular for fast-and-light missions. In this category, the Altra Lone Peak 4.5 is a real standout and one of the most popular options among thru-hikers and fastpackers. At 1 pound 1 ounce, the Lone Peak 4.5 is noticeably lighter than the 1-pound-5.2-ounce XA Pro 3D, with a more minimalist design that translates to a softer and flexier ride (at the cost of durability and protection). The Lone Peak also uses a traditional lacing system that's easier to customize and Altra's signature zero-drop shape, which offers a wildly different trail feel than the Salomon's 11-millimeter drop. In the end, we'd recommend the Lone Peak for most moderate trails, while the more protective and stiffer XA Pro 3D wins out on rugged terrain.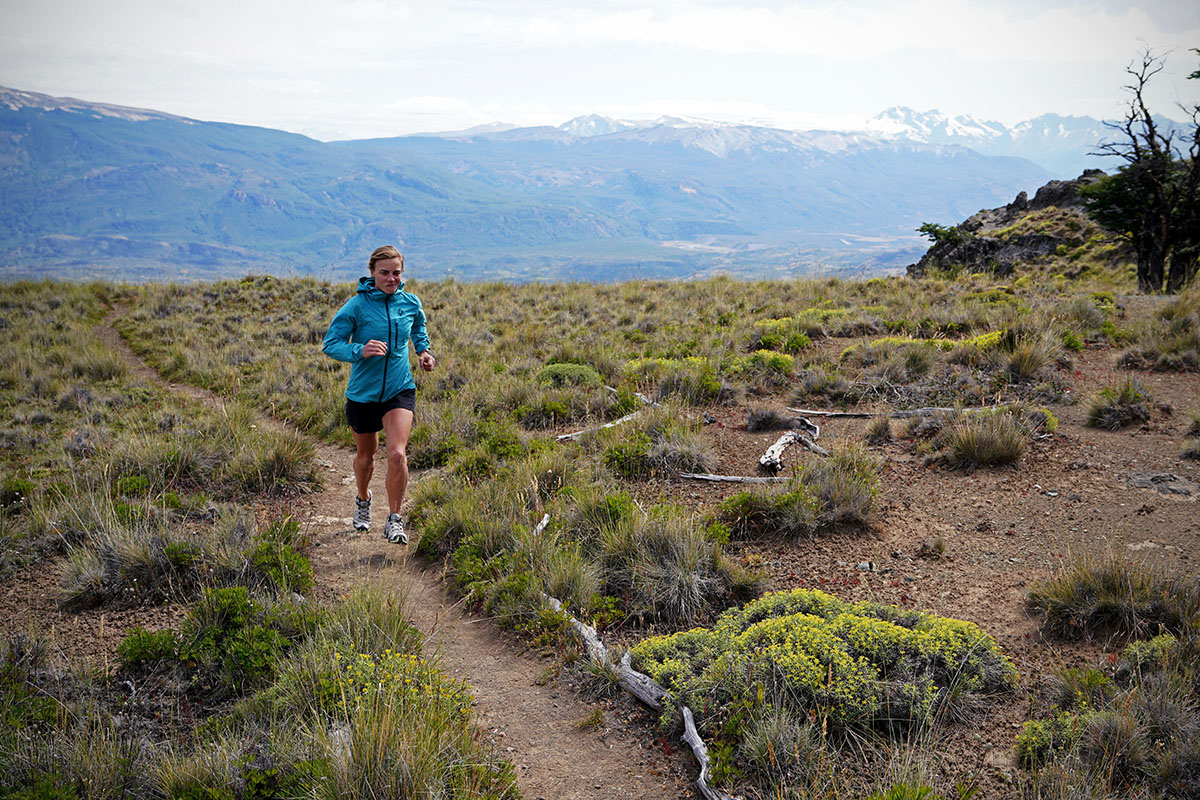 Another popular technical trail shoe is the La Sportiva Bushido II. If the XA Pro 3D trends toward the hiking shoe end of the spectrum, the Bushido II is decidedly on the trail runner side, and especially for rugged terrain. At 1 pound 1.6 ounces, the La Sportiva undercuts the Salomon by around 4 ounces per pair and is noticeably nimbler and more minimalist in feel. However, it still has impressive confidence on off-camber surfaces and traction on everything from slippery roots to mud and rocks. If you're in the market for a dedicated trail runner that can handle technical terrain, we prefer the Bushido II. But for a shoe that will stand up to the rigors of hiking, the Salomon offers more durability and protection in a better-cushioned package. 
We'd be remiss not to mention the Brooks Cascadia here, which has been a direct competitor to the XA Pro 3D right up until its most recent update. Both are running designs that have become popular among the thru-hiking crowd, but the new Cascadia 14 is now lighter (1 lb. 3 oz.) and much more streamlined than the XA Pro 3D. In short, the Brooks is the better trail runner, while we'd stick with the Salomon for true hiking. It's worth noting that Brooks still makes the Cascadia 13, which has the same listed weight as the Salomon (1 lb. 5.2 oz.) and features a rock plate and comparable stability. You don't get the burly toe box or rigid heel of the Salomon, but the Cascadia 13 is a great value while supplies last.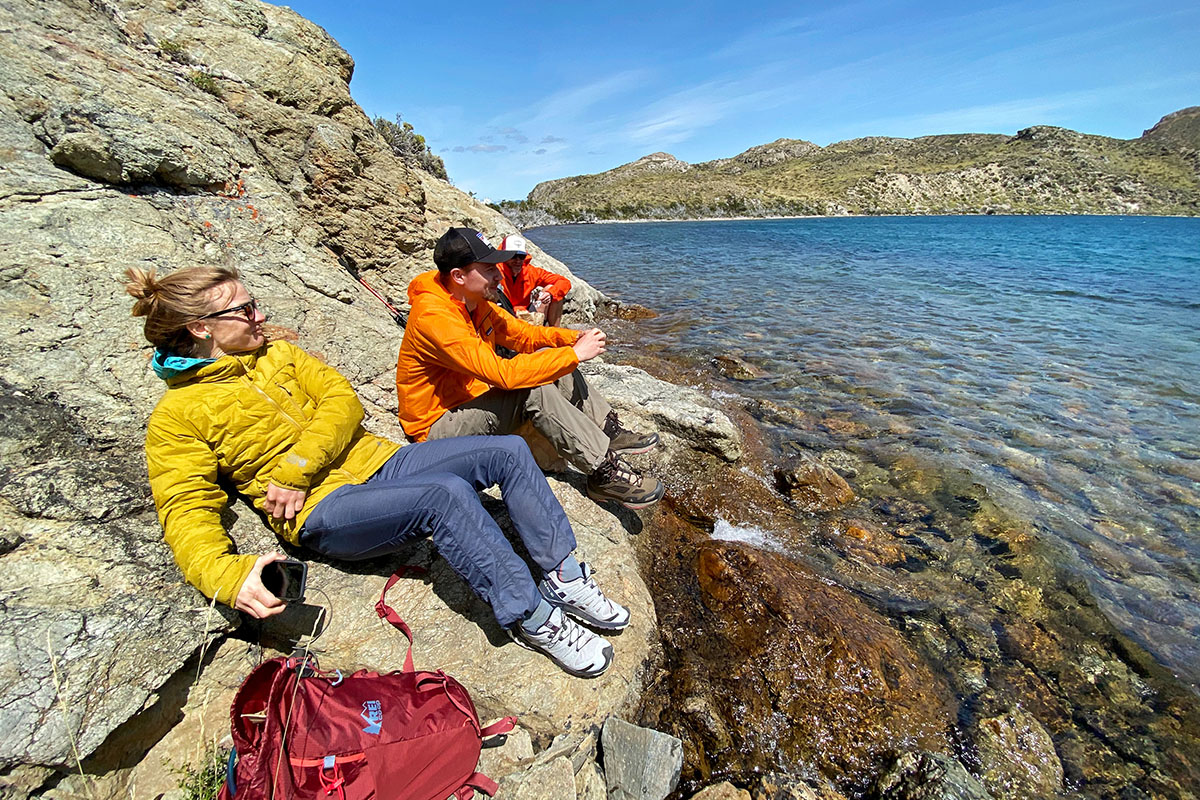 Within Salomon's own lineup, the new-for-2020 X Raise is an interesting alternative to the XA Pro 3D. With a trail runner-inspired build and light 1-pound-2.7-ounce weight, the X Raise is noticeably sprightlier and more modern-feeling than the XA Pro 3D. However, without a burly toe cap or stability-focused chassis of the XA Pro 3D, the X raise is not built for overly technical terrain, especially when carrying a heavy pack. All things considered, we'll stick with the XA Pro 3D for shuttling larger loads over long distances, but the X Raise should satisfy the needs of day hikers and lightweight backpackers on all but the most rugged trails.
If you're thinking about buying gear that we've reviewed on Switchback Travel, you can help support us in the process. Just click on any of the seller links above, and if you make a purchase, we receive a small percentage of the transaction. The cost of the product is the same to you but this helps us continue to test and write about outdoor gear. Thanks and we appreciate your support!
Depending on the seller, most products ship free in the United States on orders of $50 or more. International shipping availability and rates vary by seller. The pricing information on this page is updated hourly but we are not responsible for inaccuracies.
Read More From Switchback Travel