Combining Italian craftsmanship with an aggressive, downturned shape, the Scarpa Boostic is a solid performance shoe. Priced at $179, it does fall into the extremely competitive high end of the market, but the Boostic, which was released back in 2012, still manages to hold its own. I gave the shoe an extensive test that covered both ends of the country, and a number of visits to the local gym, and came away impressed with the build quality and just-right (for me) fit. Performance does fall short in a few areas, but it remains a recommended shoe for steep sport routes and bouldering problems. To see how the Boostic stacks up, see our article on the best rock climbing shoes. If you're new to climbing, check out our article on climbing shoes for beginners.

Performance
A Powerful Shoe with a Sock-Like Feel
When I first tried on the Scarpa Boostic out of the box, I had really high hopes and expectations for the shoe's performance. It just felt so comfortable, so good, almost tailored to the shape of my foot. I thought I might be able to just get away with a shoe that was the best in performance and the best in comfort. In other words, that I could have my cake and eat it too.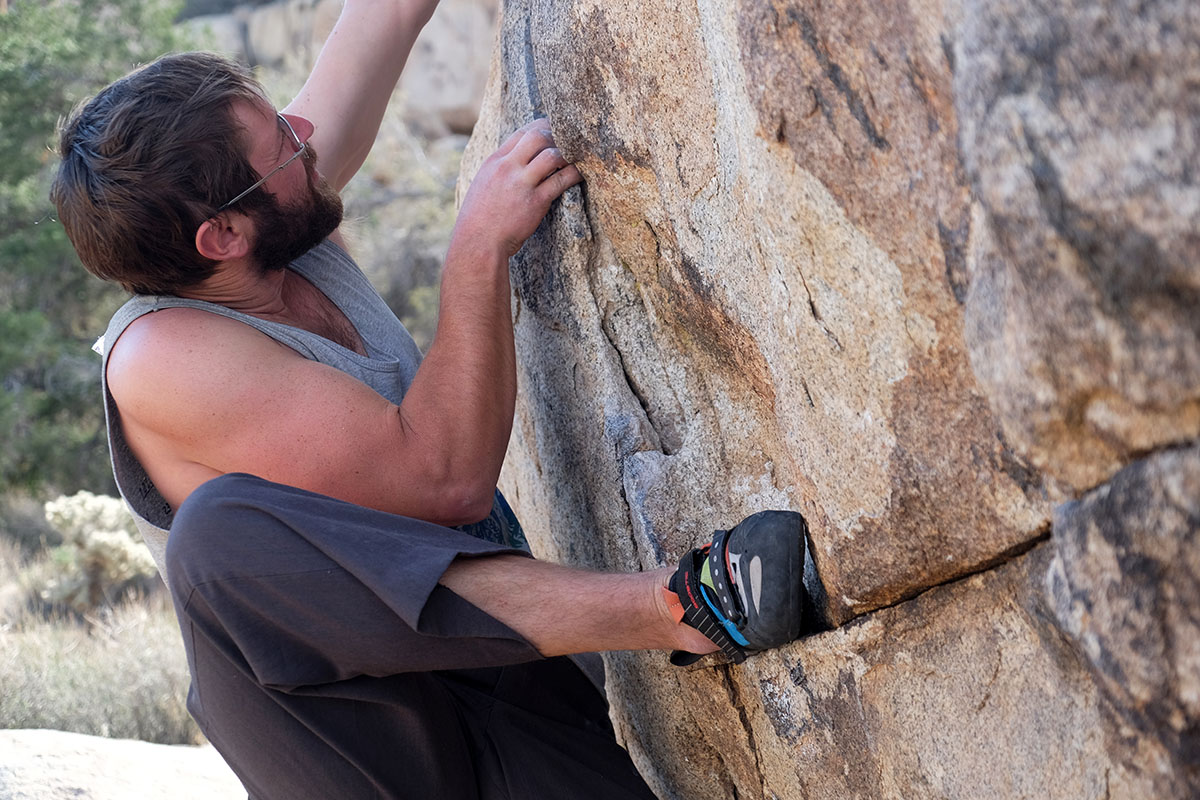 Of course, that's rarely the case in life and the Boostic was no exception. While I would give this shoe a 10 out of 10 in comfort, its performance would drop to about a 6 or a 7 for me. This isn't to say the shoe wasn't absolutely great in certain circumstances. For marathon crimpfests on gentle overhangs, whether on pocketed indoor routes, or steep Red Rock sandstone, the Boostic was an excellent choice. I even found them to be effective on slopey southern sandstone, where I expected a softer and more flexible shoe to be a better choice.
But whether indoors or outdoors, I still found myself turning to competing models when it came to toe hooks. I don't know if Scarpa used a different kind of rubber on the toe, or just brushed or textured it differently, but I found it finicky and less effective than other toe patches. I do, however, absolutely love the Vibram XS Edge rubber sole. Sportiva uses XS Grip 2 on some similar models, which is a stickier rubber overall. But the XS Edge is durable and strong and the Boostic includes a generous 4mm sole of it for good measure. Overall, the performance wasn't bad—not in the least. By fixing the toe patch, it could be exceptional.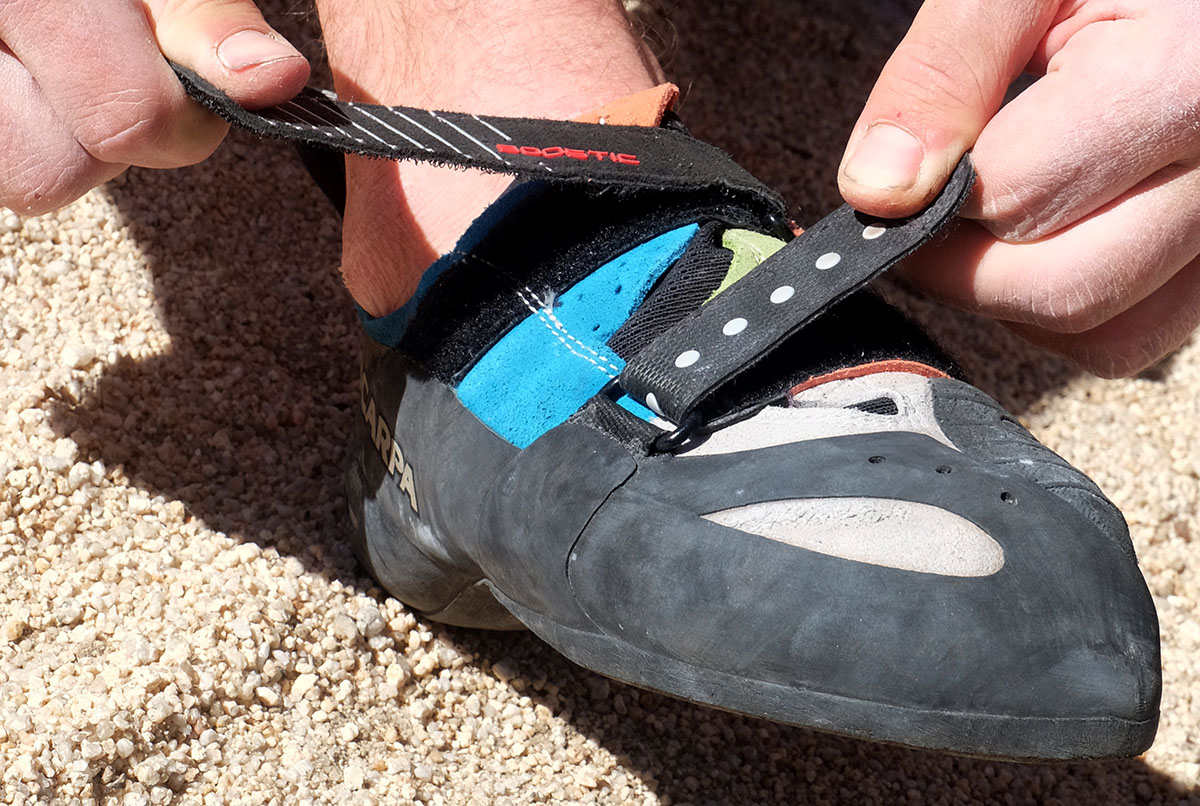 Italian Craftsmanship and Design
The Boostic was designed by the legendary craftsman Heinz Mariacher. In case you aren't familiar with the name, he helped La Sportiva design the Mythos, the Miura, and the Testarossa—three of their very best models. If anyone knows shoes, it's Heinz, and so we aren't surprised that the Boostic bears his proven mark of quality.
The Boostic is, in some ways, a typical downturned shoe for overhanging climbing. It has twin pull tabs in the back, a blended leather/synthetic upper to provide comfort where you need it, and a lack of stretch where that's most important. The aggressively asymmetric shape of the toe really lends itself to sticking narrow pockets, and that made these my shoe of choice on a variety of routes in the gym. Another notable design feature is the V-Tension Active Rand system, which Scarpa claims: "amplifies power in the toe, without over compressing the fit". This sounded like a tall order to me, but I actually found the Boostic to live up to that hype. In other words, Mariacher managed to bring together performance without sacrificing comfort.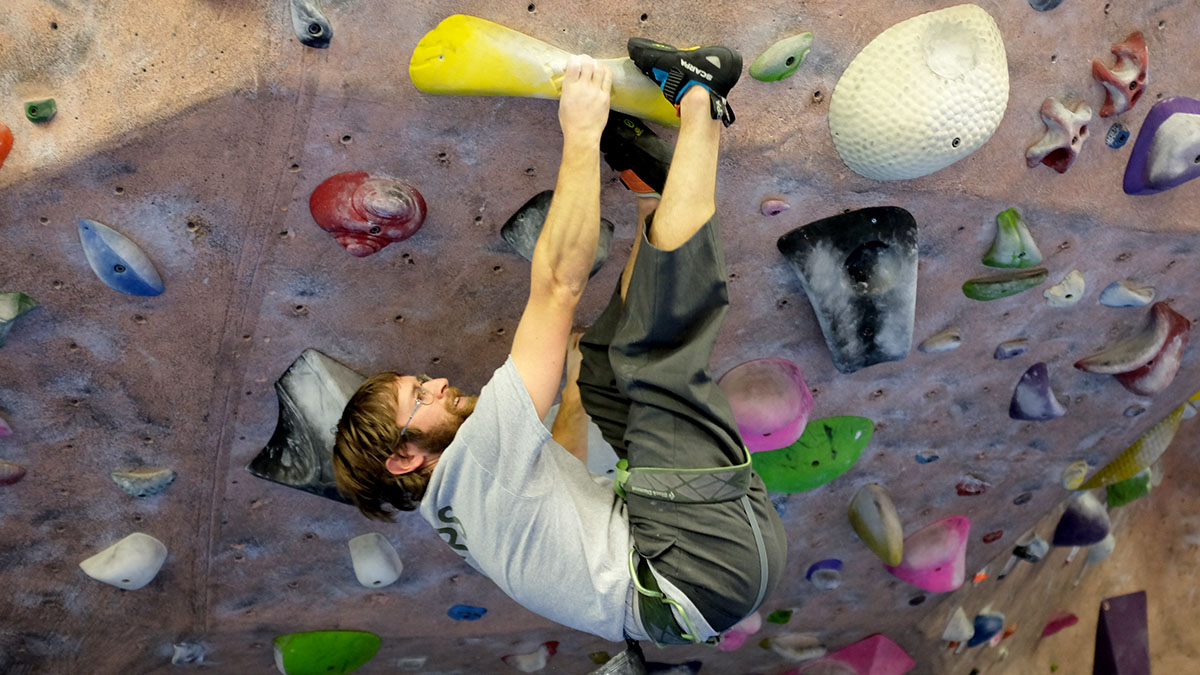 Fit, Sizing and Comfort
I have a wide foot and the Boostic fit me like a charm. As I touched on above, for me, this is about as comfortable as a downturned shoe gets. Where the Boostic excels is in its inclusion of a mesh half sock beneath the velcro straps. The Boostic isn't the only shoe out there with a half sock, but their design was the best, I thought, when it came to comfort. Even with a wide foot, though, I had the velcro straps snugged down about as tight as they could go, with an obnoxious amount of hang-over where the straps surpassed the velcro landing pad. It isn't a huge deal, but it is a nuisance.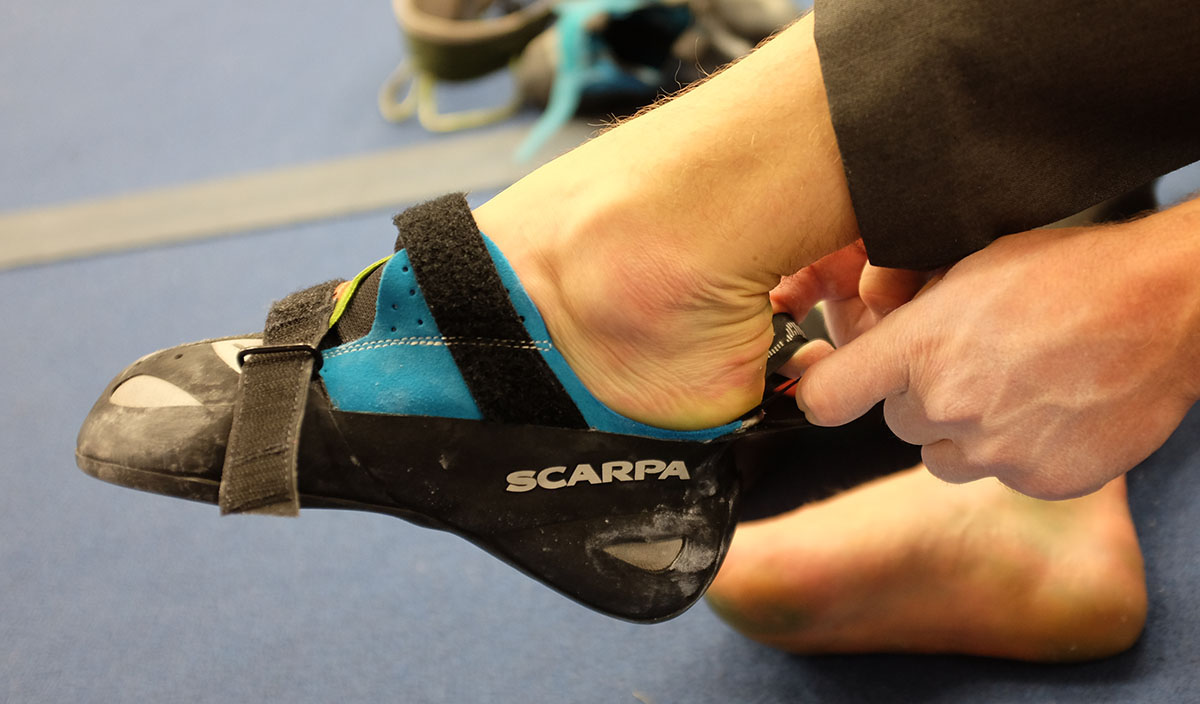 I got the Boostic in 41.5, which is just about exactly my street shoe size of US 8.5. It's important to note that for La Sportiva shoes, another Italian manufacturer, I usually downsize significantly (including the La Sportiva Genius). Hence, I would compare Scarpa sizing more closely to Evolv, or Five Ten, than La Sportiva. You could probably go down half a size and be alright, but I think the Boostic is a good example of a shoe that you can fit comfortably, and still get the same performance as you would out of a tighter shoe.
 
What We Like
Heinz Mariacher is a genius craftsman and the Boostic is really a high quality product. 
They are great on anything steep, but climb especially well on some of the steeper lines at North Carolina's Rumbling Bald, where power-edging and frontpointing on thin crimps is the name of the game.
You can expect it to last a bit longer than other shoes due to the 4mm sole of XS Edge instead of XS Grip rubber. Even when it does finally need a resole, you know the materials of the shoe will hold up for years to come because of Scarpa's excellent Italian craftsmanship.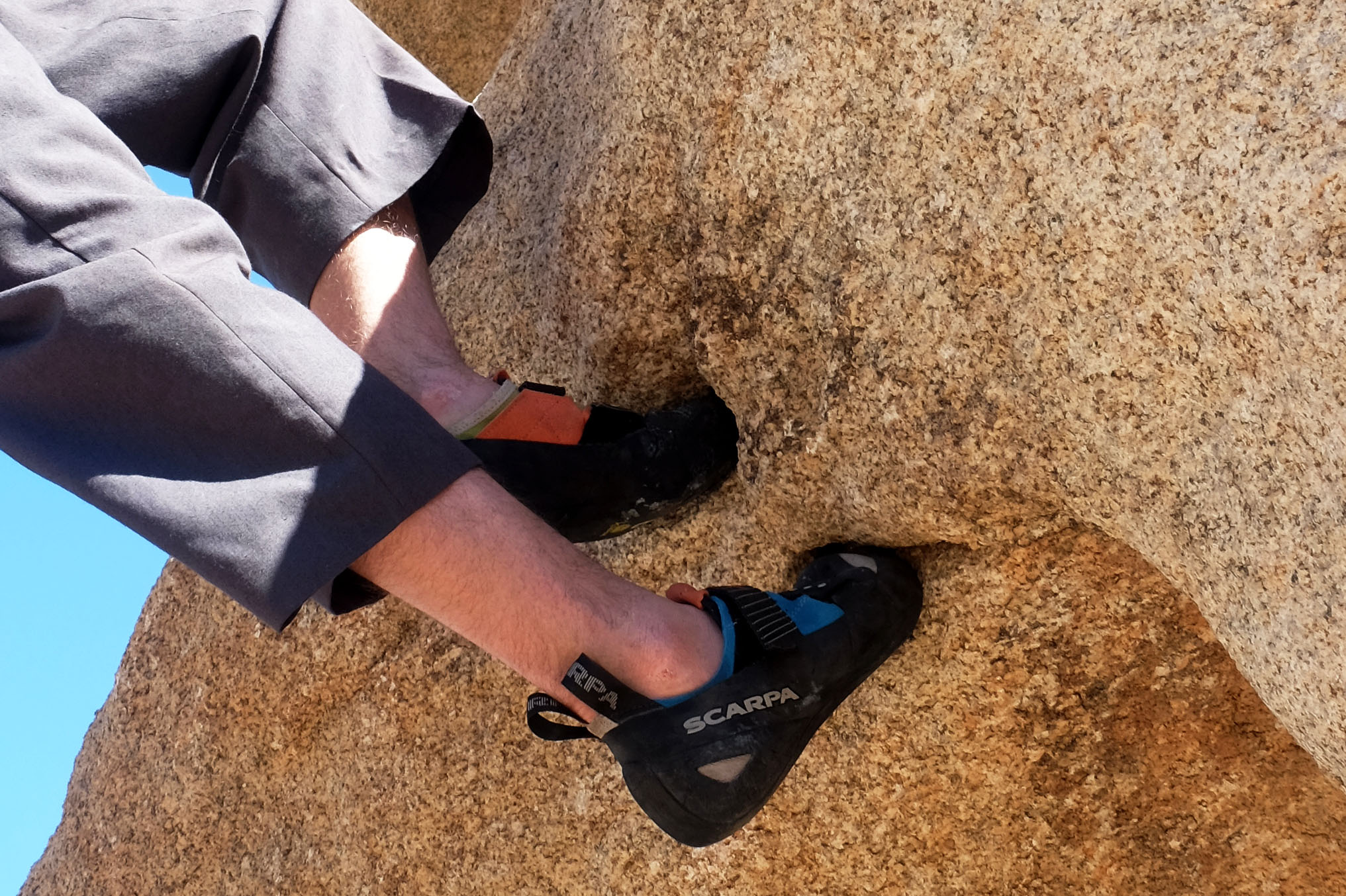 What We Don't
For toe hooking, the toe patch is finicky and doesn't perform as well as we hoped.
It has serious competition at full MSRP, and we find ourselves leaning towards other options at $180.
 
The Competition
As a high-end sport climbing and bouldering shoe, the Boostic is faced with some pretty tough competition. Models like La Sportiva's Genius (see our in-depth review), Testarossa, Solution, and Futura come to mind, or Five Ten's Hiangle, VXi, or Team Black. The Boostic even has to compete with Scarpa's own Booster S (probably a better choice for bouldering) and Furia (likely a better all-around shoe). And then there are also less pricey contenders such as Evolv's excellent redesigned Shaman (reviewed here) and Madrock's Redline.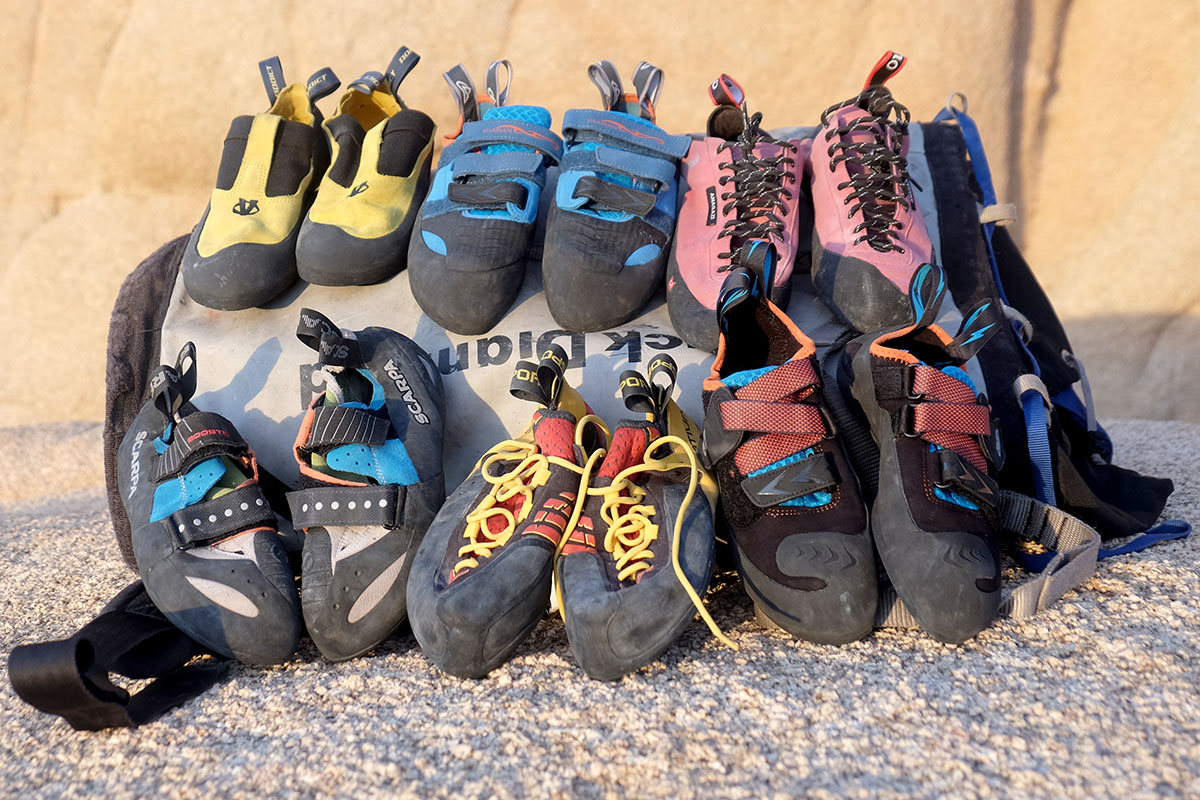 So the competition is stiff, to say the least. In that whole group of shoes, we put the Boostic somewhere in the middle. It's a good shoe, and for the right foot, it may be a great shoe. If you can find it on sale somewhere (and every time I've looked, I could), the Boostic is an even more attractive option. 
If you're thinking about buying gear that we've reviewed on Switchback Travel, you can help support us in the process. Just click on any of the seller links above, and if you make a purchase, we receive a small percentage of the transaction. The cost of the product is the same to you but this helps us continue to test and write about outdoor gear. Thanks and we appreciate your support!
Depending on the seller, most products ship free in the United States on orders of $50 or more. International shipping availability and rates vary by seller. The pricing information on this page is updated hourly but we are not responsible for inaccuracies.
Learn More About Climbing