La Sportiva calls the Genius, "the highest performance climbing shoe on the market." Climbing companies love to make superlative claims like that, but when it's La Sportiva, it definitely gets our attention. Through a combination of high quality craftsmanship, a tried-and-true performance-based last, and innovative new technology, La Sportiva accomplishes with the Genius something truly special: a shoe that can stand above the rest, on basically nothing. To see how the Genius stacks up, see our article on the best rock climbing shoes. If you're new to climbing, check out our article on climbing shoes for beginners.

Performance
High-End Construction and Design
The La Sportiva Genius is as smart as its name implies. Built upon the PD85 last (the same as the legendary Testarossa), the Genius is a high performance shoe designed for steep terrain. La Sportiva really pulled out all the stops with this model. Imagine the shape and support of the Testarossa, combined with the comfort and fit of the Solution, all with the incredible sole and precision rubber of the Futura. In other words, imagine the best parts of three of the best shoes on the market for overhanging climbing, all rolled into one.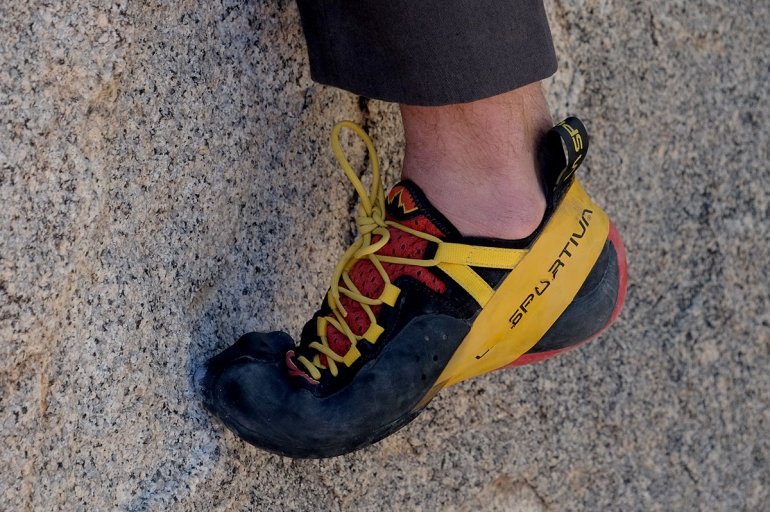 From top to bottom, the shoe simply oozes quality. Bar-tacked pulltabs help pull the heel away as you slip the shoe on, stretching the slingshot rand like a rubber band. Let go, and the heel sucks back into place like a vacuum. The upper is a combination of a snug and comfortable mesh half-sock, and an intelligent offset lacing system that allows for a lot of variability in tightness and foot shape while leaving room for a generous patch of toe-hooking rubber. Even the lace eyelets are awesome—they hold the loosened laces in place with some extra friction so your shoe doesn't unlace accidentally when you're slipping it on.
The real magic of the Genius, however, lies in the sole. La Sportiva uses their Permanent Power Platform (P3) technology in the midsole to allow for greater flexibility on slabby topouts without the shoe losing its aggressive shape. Meanwhile, underfoot the revolutionary "No-Edge" technology of the 3mm XS Grip 2 sole creates a sensitivity and stickiness on finicky footholds that I've never felt in a climbing shoe before. The shoe's construction and materials are on point like you'd expect from Sportiva, but the sole is what really sold me on the Genius.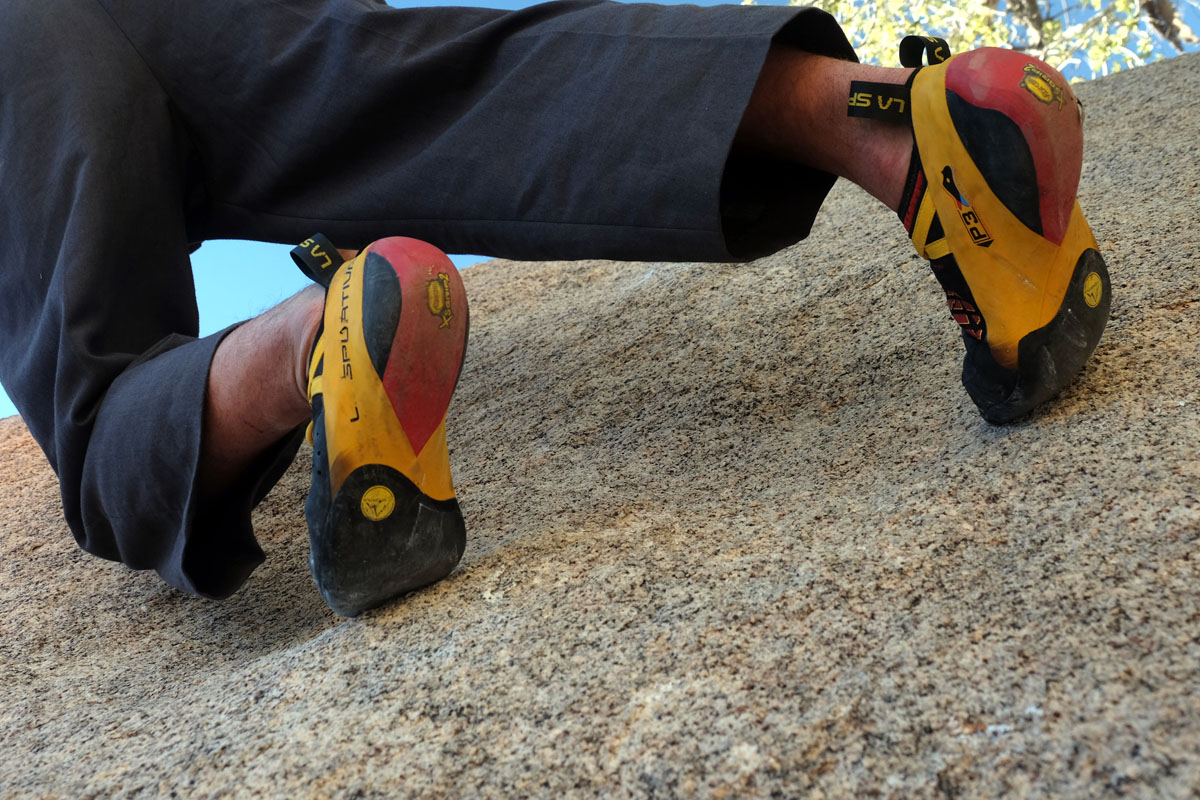 Climbing with the Genius
There was never any question in my mind that the Genius would be a great performance shoe. I put it through the wringer on four different rock types, as well as plastic, and on a variety of angles and climbing styles. What did surprise me was how fundamentally well the shoe performed across the board. The Genius was quite a bit more versatile than I expected.
The shoe is built for steep terrain and it performs exceptionally well there. The No-Edge sole really sticks on any hold that is remotely rounded, whether crimps, pockets, or smears. It does better on tough-to-stick glassy feet than any other shoe I've tried. Meanwhile, the toe hooking is butter smooth. I was not a huge fan of the heel cup at first and the rubber felt different: harder, less sticky, and sensitive. But when I stopped thinking about it and just trusted the shoe, they heel hooked fine.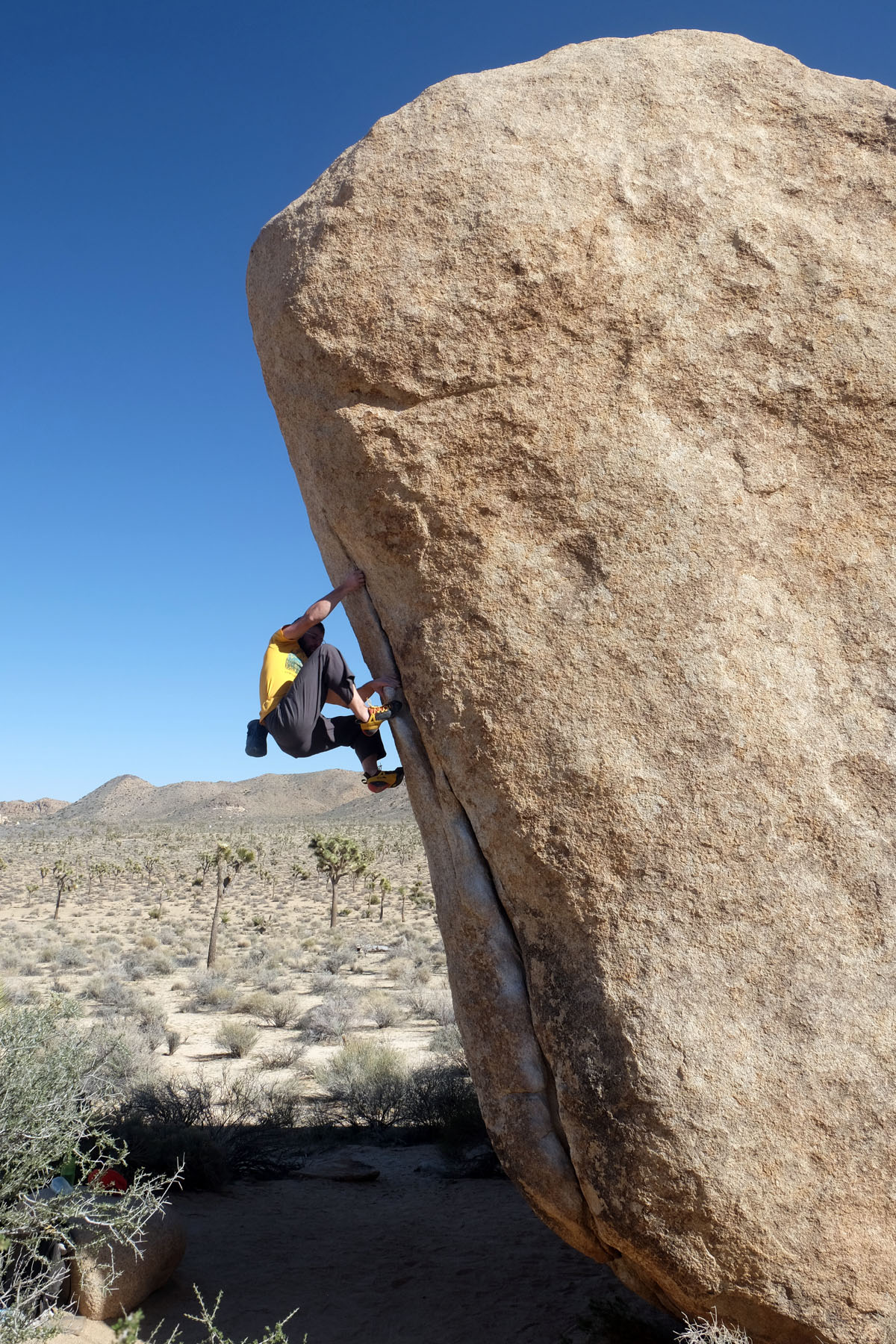 Slabs were certainly not what came to mind when I looked at the Genius, but with the No-Edge sole I knew I had to try it. I was both surprised and elated to find that on barely-there friction test pieces, the Genius was time and again my shoe of choice. Whether on Chattanooga sandstone or Joshua Tree granite, the Genius outperformed all the other rock climbing shoes I had in delicate slab climbing and seemingly-impossible smears.
I even tried the shoes out in a variety of cracks. They're not very comfortable in anything wider than ringlocks, but from fingers on down, they are actually pretty luxurious. Randsmearing with the No-Edge sole was super impressive, while tiny granite pinscars suddenly felt like a cakewalk.
Overall, I think the performance of these shoes lives up to the reputation, not to mention the high price tag. They aren't great for indoor climbing or techy vertical endurance edging, but for high-end sport and bouldering, they perform really well.

Innovative No-Edge Technology
We've talked about the "No-Edge" technology already, but let's break it down a bit more for you here. La Sportiva's No-Edge sole is a clever new take on arguably the most important part of the shoe: the edge of the sole. Most shoes have a well-defined cut to the perimeter of the rubber sole: almost a 90-degree angle. The idea is that on tiny edges on the rock, a distinct edge on the shoe will give you the best chance to stand upright.
The drawback, and the reason for No-Edge technology, is that using a specific edge of your shoe on a specific edge on the rock requires, well, a lot of specificity. In other words, you need a ton of precision. No-Edge technology functions by smearing the lines, so to speak. By rounding out the edges of the sole, the shoe allows you to be less precise on edges and more precise on rounded footholds (think greater conformity to the surface of the hold). For high end, steep climbing, that's a good deal. You often don't need your adherence to any one foothold to be absolutely perfect—just enough to keep your feet from cutting long enough to set up for the move to the next handhold. For vertical rock, however, especially techy granite edging, you'll lose some of the support that you're used to feeling.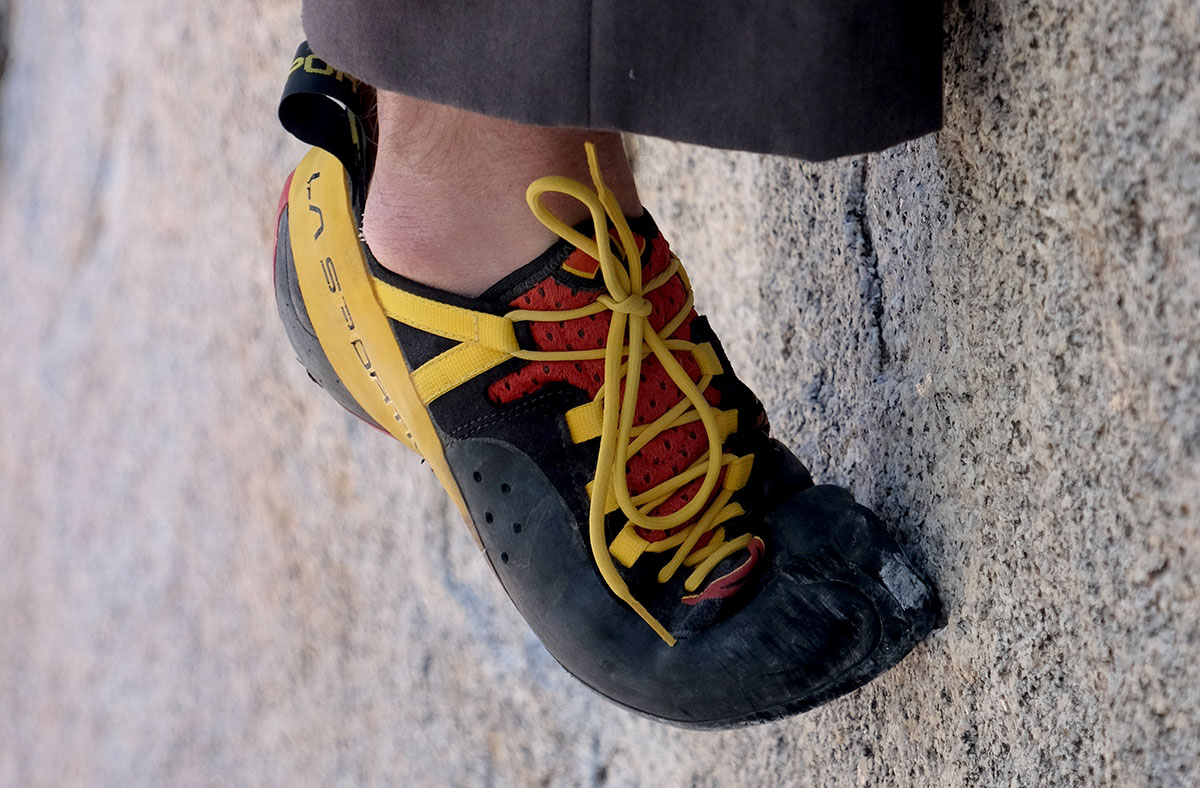 Fit, Sizing and Comfort
La Sportiva is known for making somewhat narrow shoes. For years, I couldn't wear Sportivas for precisely that reason. I have very wide feet, especially in the front of the foot. I still can barely tolerate the fit of one of Sportiva's top shoes: the Miura. So I was really pleasantly surprised by the fit of the Genius.
The shoe is designed to fit like a sock: it stretches around, and then rests comfortably upon, the contours of any foot. You can get by on a lot of climbs—especially warm-ups—without tying the laces at all as the half-sock is that snug and secure. In addition, the laces allow you to dial in a really specific and supportive fit that should work for just about any foot, be it wide or narrow.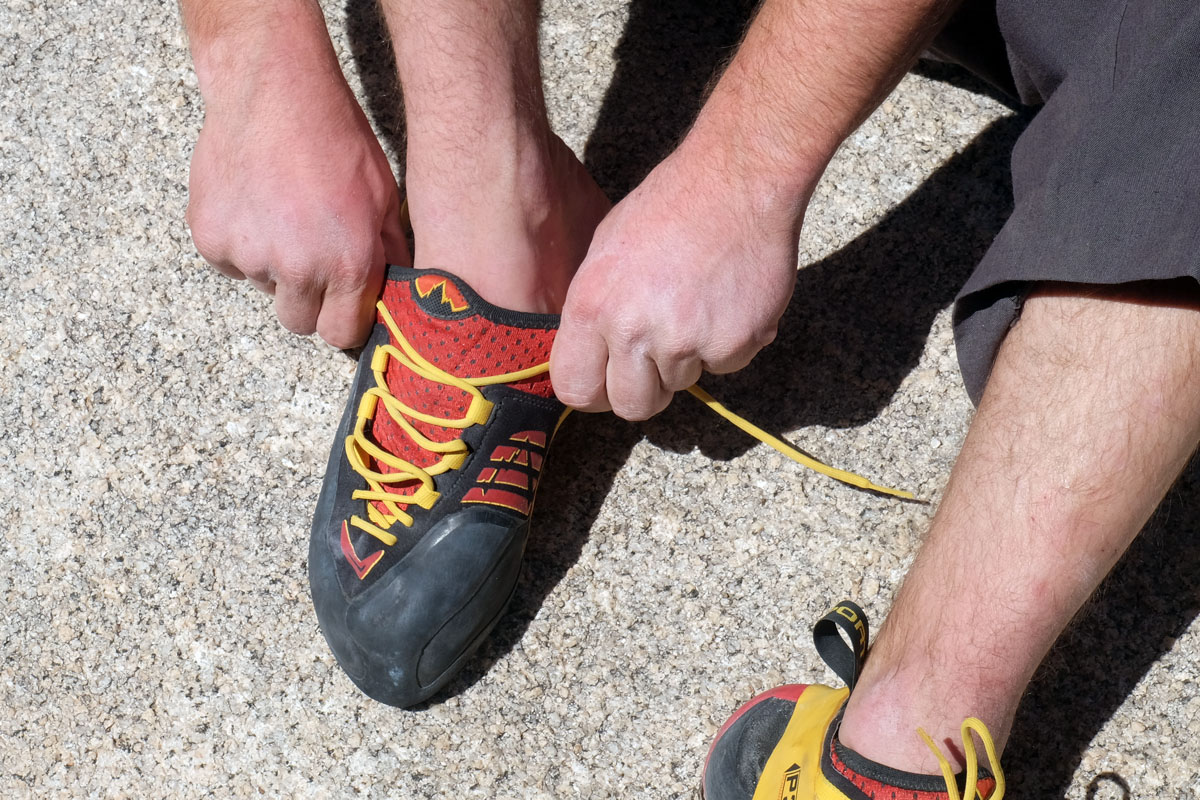 The shoe features an asymmetric toe box and a gentle downturn—not nearly as aggressive as the Solution, for example. The midsole is not terribly rigid, which means less support in the downturned position, but also greater overall comfort. I found the shoe to flex enough to grab at positive edges and stand on slab smears equally well.
Finally, the sizing seems on par with typical Sportiva sizing - which is to say go down a full size from your street shoes. I wear 8.5 street shoes and found the Genius at 7.5 (Euro size 40) to be comfortable right out of the box. If you are super performance oriented, you might want to go down another half size. I certainly could have, but I tend to like a little more comfort.

Best Uses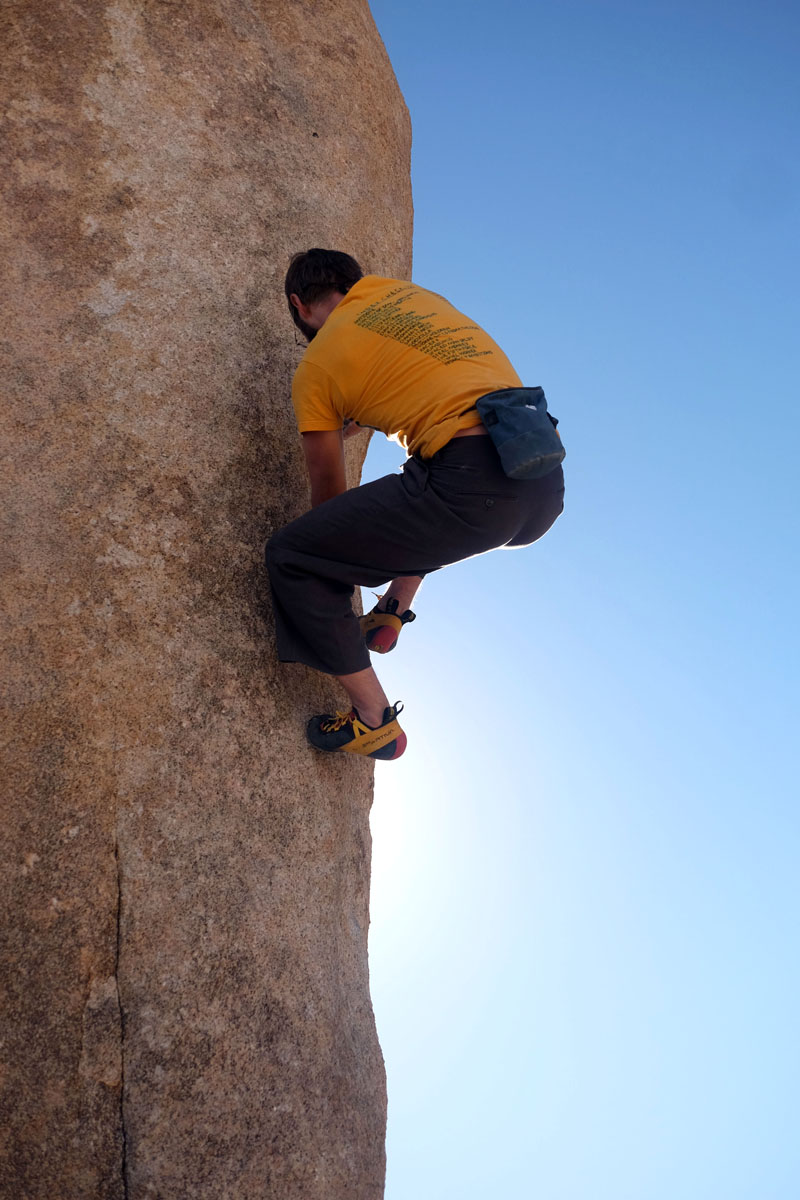 The Genius is built for steep terrain. Whether bouldering, sport climbing, or even bouldery overhanging trad climbs, this is an excellent shoe to turn to. It features a generous downturned construction, which combines with the No-Edge sole to allow maximum adhesion on pesky foot divots on overhanging rock. Meanwhile, the toe hooking and heel hooking are both incredibly responsive and effective, maximizing your body's ability to rest on difficult terrain. Finally, though clearly not designed for it, I even found the Genius to be an excellent slab and thin crack climbing shoe.
If you're considering the Genius for an outdoor sport climbing or bouldering shoe on steep limestone, sandstone, or conglomerate rock (whether pocketed or cobbled), you're definitely barking up the right tree. It does incredibly well on those seemingly imaginary footholds that tend to be little more than a tickmark and a smear of rubber. That said, if you are looking for something to paw your way up vertical granite with angular edges, sharp-edged gneiss, or even an indoor shoe, you may be disappointed. I found the No-Edge sole to be actually less effective than normal-soled models on precise edges and footchips, both indoors and outdoors. On vertical, unrelenting 5.12 terrain on Rumbling Bald gneiss, for example, I definitely found myself missing my tried-and-true Five Ten Anasazi Laces and a more traditional edging platform.
The Competition
The Genius may be the Maserati of rock climbing shoes, but that doesn't mean there aren't a plethora of other high-end options out there to choose from. And who knows, maybe you like Porsche.
Even within La Sportiva's ranks, there are a slew of competitors to choose from. The Testarossa was the first shoe to use the PD-85 last, and it is an absolutely outstanding climbing shoe that will provide more stiffness and better adherence to incut edges than the Genius. The Solution is another top competitor from Sportiva with a huge cult following. And, of course, the Genius isn't even Sportiva's only model with No-Edge technology, if that's the selling point of this shoe for you. The Futura also uses No-Edge but has a velcro closure instead of laces, which many prefer.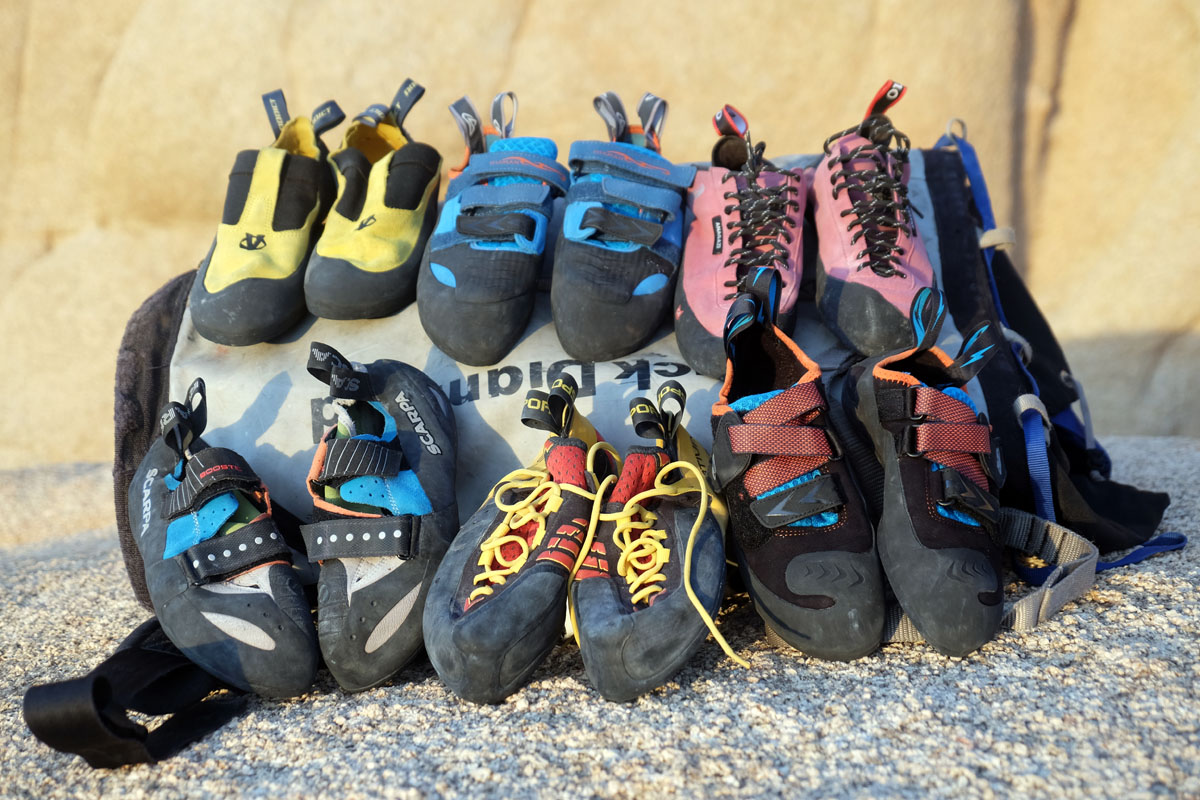 Outside of Sportiva, you have major competition from any top company. Five Ten's Team VXi is an excellent shoe whose super-sticky rubber makes it a great alternative if you don't care for Sportiva. And then there are always more traditional approaches to high-end sport and bouldering shoes that you can get for a little bit less money, such as Evolv's re-designed Shaman (you can read our in-depth review here) or Tenaya's Oasi.
 
Final Thoughts
You've probably heard people say, "buy nice or buy twice." The Genius is expensive—prohibitively so for many people. But if you think about it, is the $20-40 extra you spend on something you'll wear every time you climb really all that much money? If you love steep rock climbing, you'll love this shoe. You'll probably forget how much you spent on it not long after you start using them. Meanwhile, you'll also probably use them and love them for months to come. In the end, despite the high price tag, the Genius earned a spot on our list of best rock climbing shoes.
When all the cards fall, we'd say that if you're reaching for your wallet, just pull the trigger. You won't regret it. 
If you're thinking about buying gear that we've reviewed on Switchback Travel, you can help support us in the process. Just click on any of the seller links above, and if you make a purchase, we receive a small percentage of the transaction. The cost of the product is the same to you but this helps us continue to test and write about outdoor gear. Thanks and we appreciate your support!
Depending on the seller, most products ship free in the United States on orders of $50 or more. International shipping availability and rates vary by seller. The pricing information on this page is updated hourly but we are not responsible for inaccuracies.
Learn More About Climbing