La Sportiva Genius
Price: $195
Downturn: Aggressive
Upper: Leather/synthetic
Rubber: Vibram XS Grip 2 (3mm)
What we like: Incredibly soft and sensitive shoe that excels on steep, bouldery terrain.
What we don't: Expensive and not everyone will like the No-Edge technology.
See the La Sportiva Genius
La Sportiva calls the Genius "the most advanced performance-built design on the market." Climbing companies love to make superlative claims, but coming from La Sportiva, this one definitely gets our attention. Through a combination of high-quality craftsmanship, a tried-and-true performance-based last, and innovative new technology, the Italian company accomplishes something truly special with the Genius: a shoe that can stand above the rest—on basically nothing. Below we break down the Genius's performance, sensitivity and shape, No-Edge Technology, durability, fit and sizing, and more. To see how the Genius stacks up, see our article on the best rock climbing shoes.
 
Performance
Climbing in the Genius
The La Sportiva Genius is purpose-built for the rigors of steep climbing, and in our testing it performed exceptionally well on this sort of terrain. We wore it while bouldering, sport climbing, and even ascending bouldery overhanging trad climbs, and loved the generous downturn and incredibly sensitive construction. On steep limestone, the shoe was responsive on toe and heel hooks. While edging and toeing in on steep conglomerate and sandstone, the Genius stuck well to miniscule footholds. Finally, though not designed for less-than-vertical terrain, we even found it to be surprisingly adept at climbing slab and thin cracks.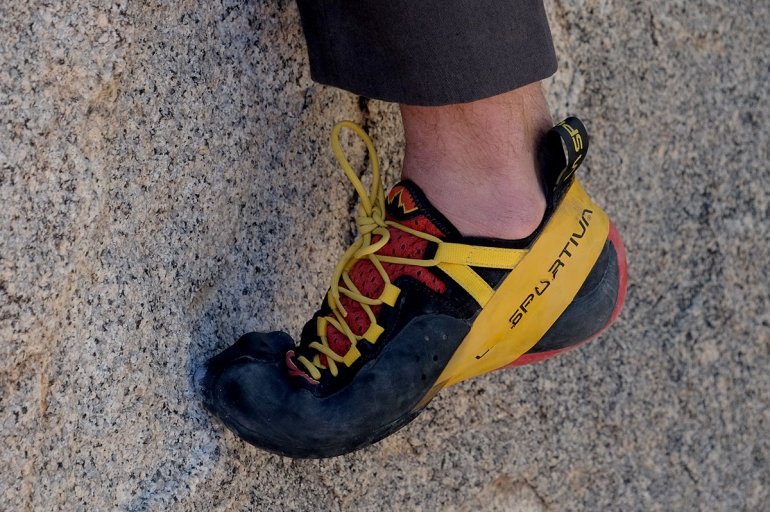 What truly sets the Genius apart from other climbing shoes is the No-Edge technology. With a rounded toe rather than the beveled edge that we generally see on climbing shoes, the Genius offers supreme sensitivity and can stick to any hold that is remotely rounded, from crimps and pockets to smears. Along with the shoe's generous downturn, this contributes heavily to the Genius' prowess on steep terrain (we describe the No-Edge Technology more in-depth below). Further, we were also surprised by the shoe's performance in thin cracks on vertical terrain, deftly rand-smearing and sticking to tiny granite pin scars.
However, while the Genius is a high-end option for sport climbing or bouldering on steep limestone, sandstone, or conglomerate rock (whether pocketed or cobbled), it's not our shoe of choice for vertical granite with angular edges, sharp-edged gneiss, or even indoor climbing. In short, the shoe is simply too aggressive for shoving into cracks or climbing anything less than vertical, and the No-Edge sole is less effective than normal-soled models on precise edges and foot chips. But no shoe can truly do it all without making a few sacrifices, and on the right terrain, the Genius lives up to its reputation.
 
Sensitivity and Shape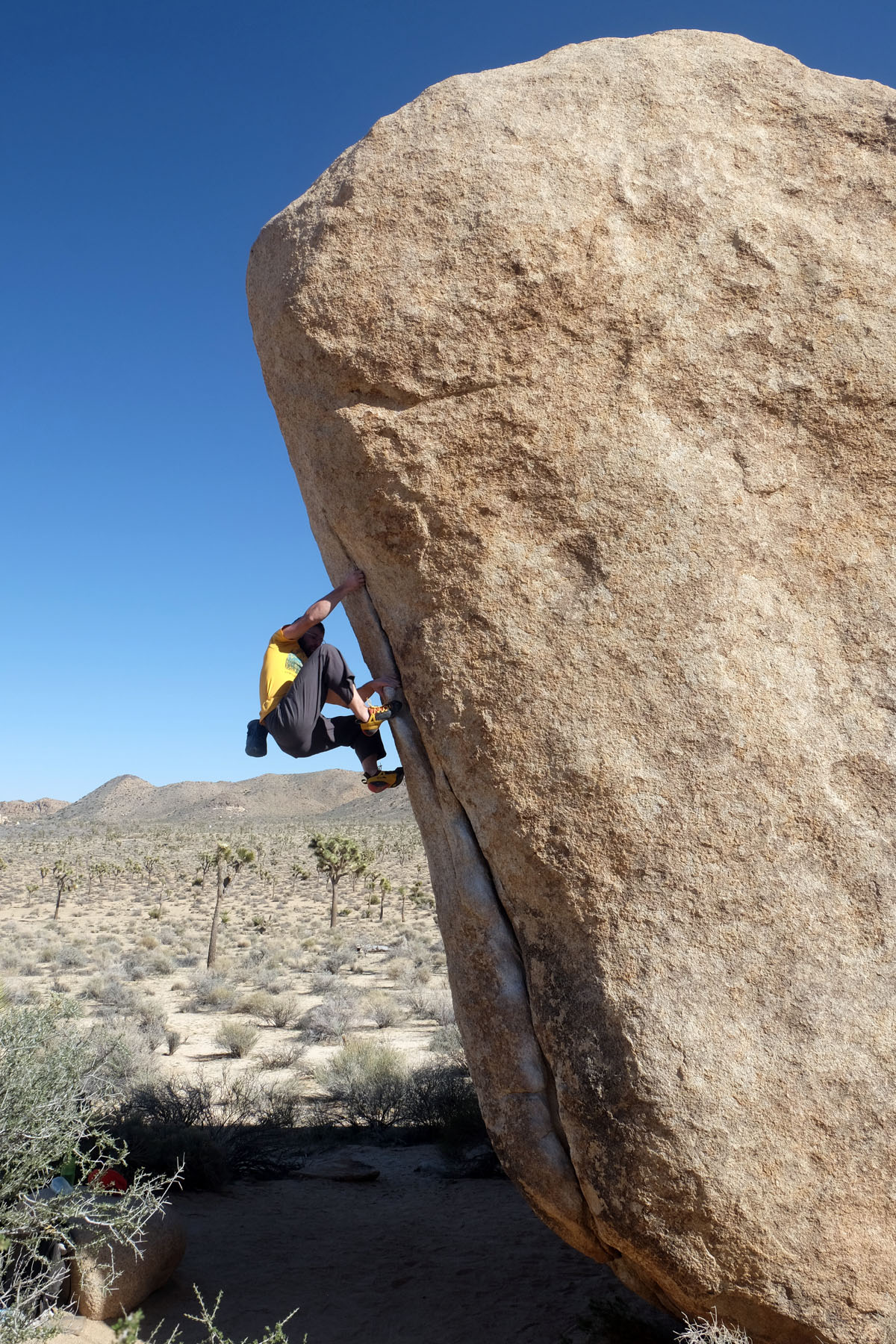 The Genius is one of the most sensitive climbing shoes on the market, thanks in large part to the lack of edges on the toe box. In fact, although it features a more robust midsole, it's even more sensitive than a shoe like La Sportiva's uber-soft Skwama slipper (the Genius also has a thinner 3mm sole compared to the Skwama's 4mm). This responsive build means that the Genius is at home steep terrain while hooking or smearing. However, it's important to keep in mind that stiffness is often a matter of preference—some trad climbers love a soft slipper—but we don't recommend the Genius for all-day climbing or beginners. In short, your feet will tire easily in such a soft, downturned build with very little built-in support to hold them as they work.
In terms of shape, the Genius is among La Sportiva's most asymmetric shoes—meaning you get a pointy toe rather than a rounded toe box—and is built on their highest-performance (read: most downturned) last. The shoe also uses Sportiva's proprietary P3 system to hold the aggressive shape, which—in our experience—does its job even after years of use and multiple resoles. Combined with the sensitive build, the shape contributes to the Genius's prowess on steep and overhung terrain. And thankfully, you don't have to sacrifice comfort to achieve this performance: the Genius is a particularly high-volume shoe, built with a wide toe box that allows the forefoot to lie flat while still in a very aggressive, downturned shape (more in "Fit and Sizing" below). 
 
Rubber
The La Sportiva Genius features 3 millimeters of Vibram XS Grip 2 rubber on the sole. This is Vibram's softest and stickiest compound, which prioritizes sensitivity and grip over edging performance and durability. It's uncommon to see XS Grip 2 on a men's or unisex shoe (these models usually feature the stiffer and more durable Vibram XS Edge rubber), but this is another way that La Sportiva boosted the shoe's sensitivity. And while most shoes have 4 millimeters of rubber along the sole, the Genius uses only 3 for an even closer and more precise feel.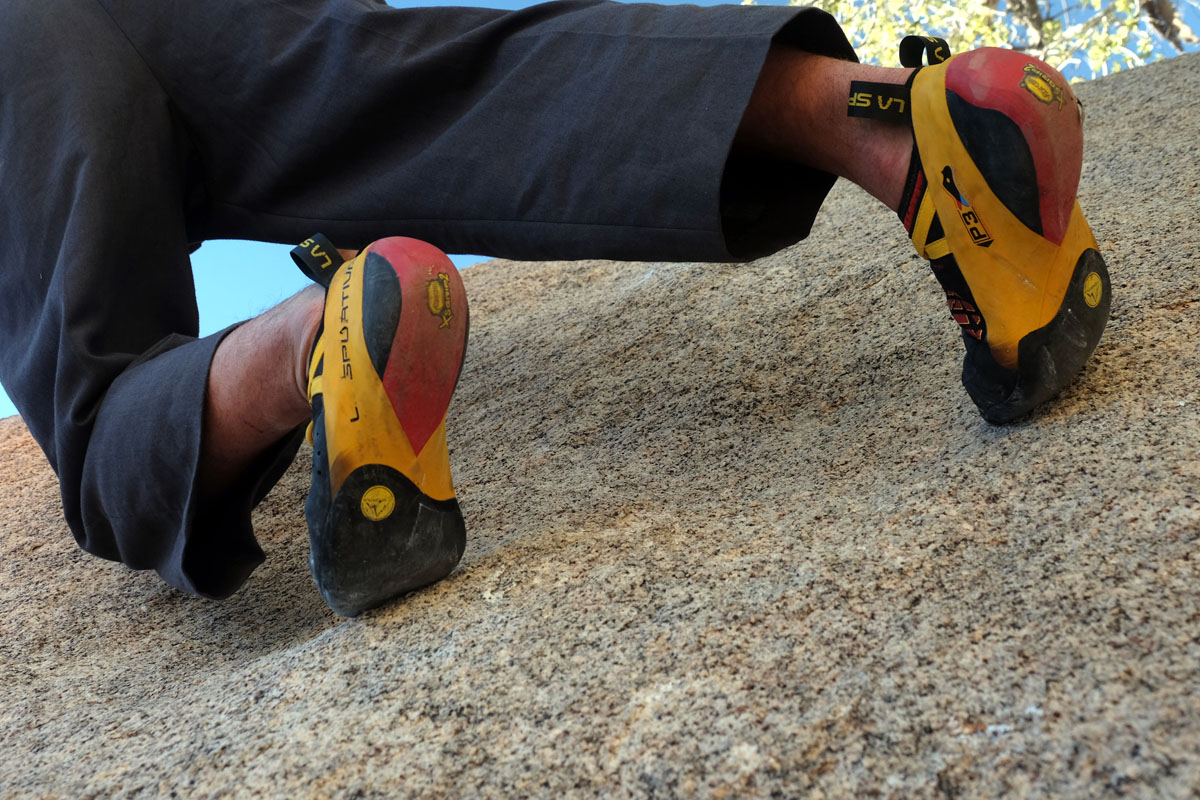 One potential issue with the Genius's rubber is resoling. Many resole shops have adapted to the No-Edge technology and now offer custom resoles for the Genius, Futura, and Maverink, but the service is more expensive than a regular resole, and it still can be difficult to find a shop that will do it in some areas. That said, the No-Edge concept means that wear and tear is spread out across the toe box rather than focused on one specific edge, so the Genius is known to last a lot longer between resoles. 
 
No-Edge Technology
We've mentioned La Sportiva's "No-Edge Technology" many times already, but it's important to break it down even further. The No-Edge design is a clever take on arguably the most important part of the shoe: the edge of the sole. Most climbing shoes have a well-defined cut to the perimeter of the rubber sole (almost a 90-degree angle). The idea is that on tiny footholds, a distinct edge on the shoe will give you the best chance to stand upright. The Genius, on the other hand, rounds and thins these edges out, providing a larger surface area that can connect with the rock.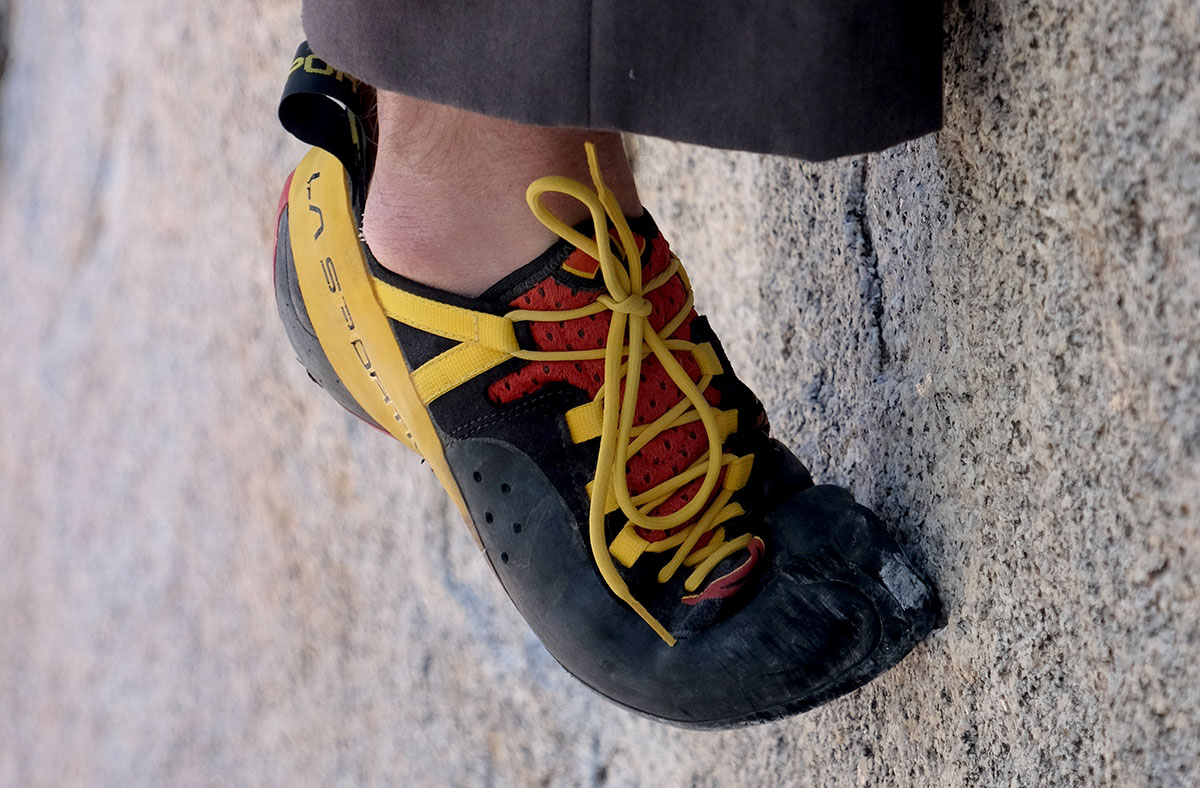 The drawback of edges—and the reason for No-Edge Technology—is that using a specific edge of your shoe on a specific edge on the rock requires a lot of precision. By rounding out the edges of the sole, No-Edge allows you to be less precise on edges and more precise on rounded footholds (think greater conformity to the surface of the hold). For steep climbing, it's a net win. You often don't need your adherence to any one foothold to be absolutely perfect—just enough to keep your feet from cutting long enough to set up for the move to the next handhold. For vertical rock, however (like technical granite edging), you'll lose some of the precision and support that you're used to feeling.
 
Durability and Build Quality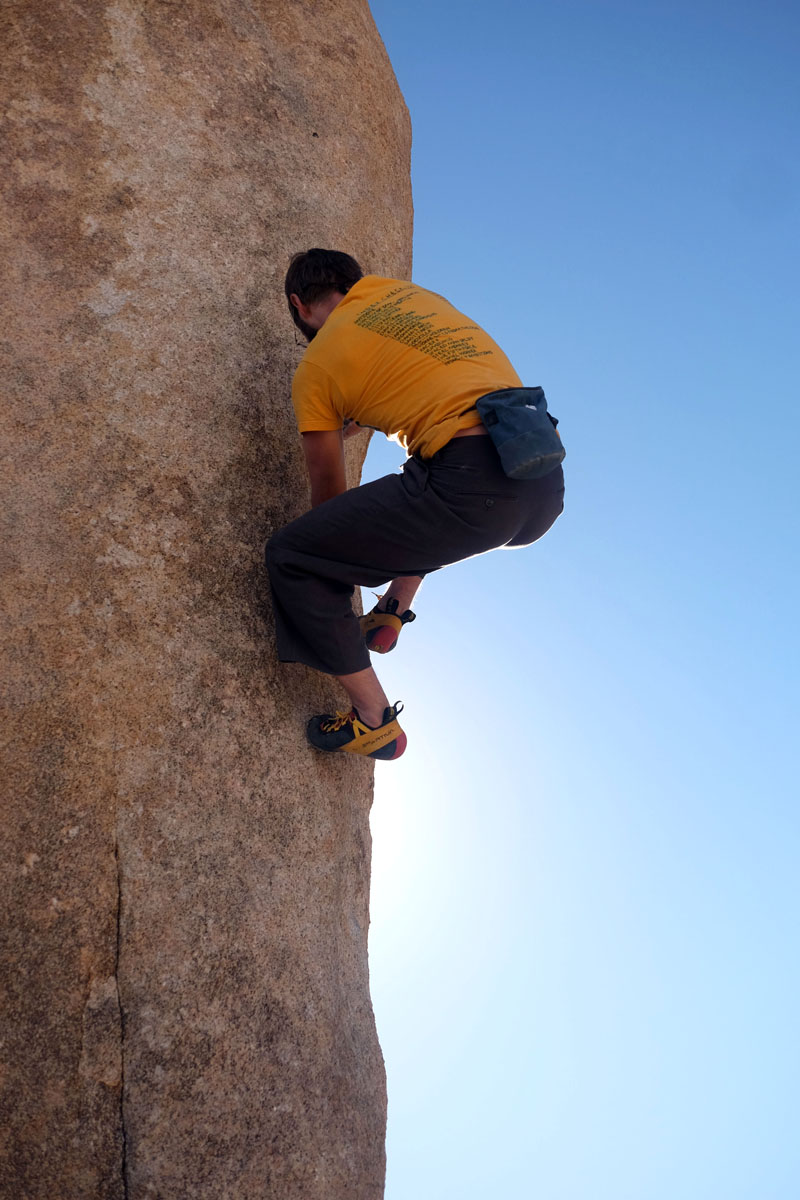 The La Sportiva Genius is as smart as its name implies. Built upon the PD 85 last (the same as all of Sportiva's most aggressive offerings), the Genius is a high-performance shoe designed for steep terrain. La Sportiva really pulled out all the stops with this model. Imagine the shape and support of the Testarossa, combined with the comfort and fit of the Solution, all with the incredible sole and precision rubber of the Futura. In other words, imagine the best parts of three of the most capable shoes on the market for steep climbing, all rolled into one.
From top to bottom, the Genius is exceptionally well-made. Bar-tacked pull tabs help pull the heel away as you slip the shoe on, stretching the slingshot rand like a rubber band. Let go, and the heel sucks back into place like a vacuum. The leather and microfiber upper is a combination of a snug and comfortable mesh half-sock and a smartly designed offset lacing system, which allows for a lot of variability in tightness and foot shape while leaving room for a generous patch of toe-hooking rubber. Even the lace eyelets are well-thought-out—they hold the loosened laces in place with some extra friction so your shoe doesn't unlace accidentally when you're slipping it on.
 
Fit and Sizing
La Sportiva is known for making somewhat narrow shoes, but the Genius is an exception. Classified as one of their most high-volume shoes, the Genius's wide toe box allows most feet to lay flat while still in an aggressive, downturned position. Further, the soft shoe is designed to fit like a sock: it stretches around and rests comfortably along the foot's contours. Finally, the laces allow you to dial in a specific and supportive fit that should work for just about any foot—wide, narrow, or somewhere in between. And with a mostly leather upper, you can expect the shoe to conform even more precisely to your foot's shape over time.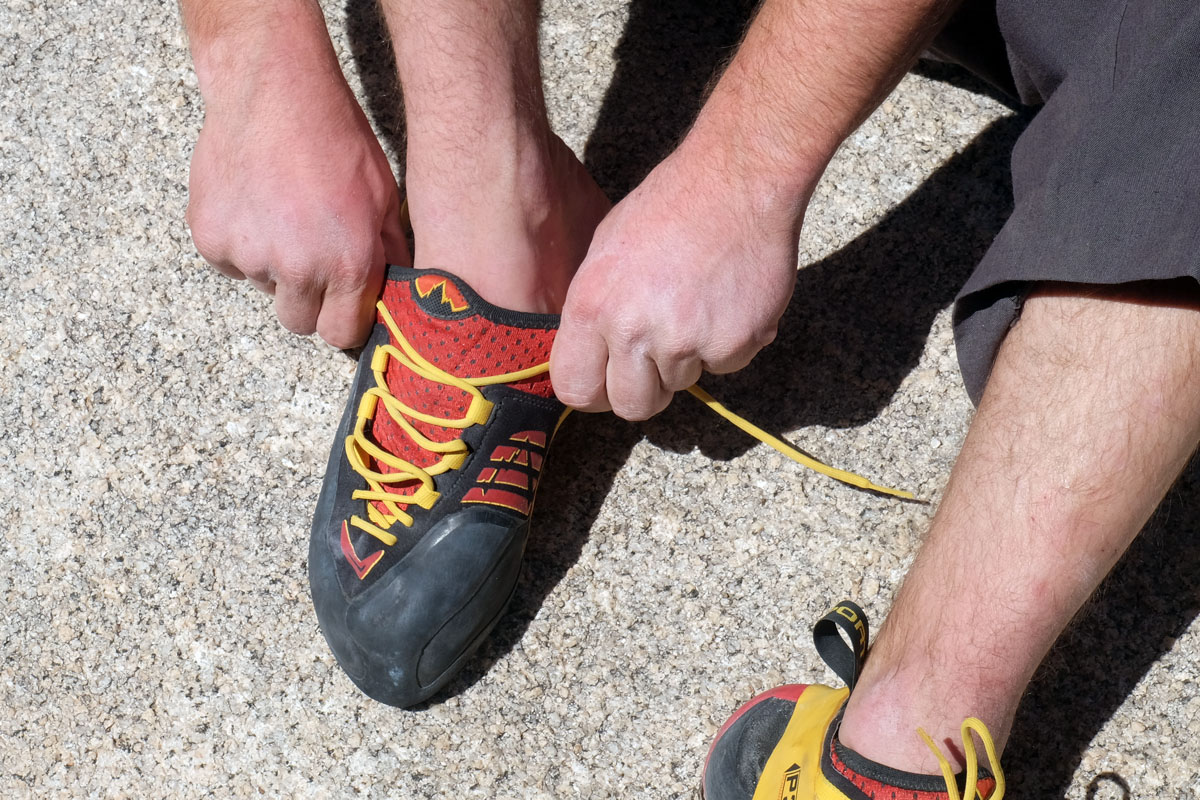 In terms of sizing, the Genius fits like most other shoes in La Sportiva's lineup, which means we recommend going down a full size from your street shoes. For reference, our tester wears an 8.5 in his regular shoes and found the 7.5 Genius (European size 40) to be comfortable right out of the box. If you're looking for more performance, you can consider going down another half size, although you'll sacrifice overall comfort.

What We Like
No-Edge technology provides excellent performance while bouldering, sport climbing, and even on bouldery, overhanging trad climbs.
The Genius is more comfortable than most aggressive shoes, and the fit is accommodating for a wide variety of foot shapes. 
3 millimeters of XS Grip 2 rubber means the Genius is softer, more sensitive, and grippier than most La Sportiva shoes.
 
What We Don't 
No-Edge technology takes some getting used to, and it's not the best option for precise edges and foot chips.
It can be difficult to find a resoler given the No-Edge construction.
At $195, the Genius is one of the most expensive climbing shoes on the market.
 
Comparison Table
| Climbing Shoe | PRICE | Shape | Upper | Rubber | Closure |
| --- | --- | --- | --- | --- | --- |
| La Sportiva Genius | $195 | Aggressive | Leather/synthetic | Vibram XS Grip 2 (3mm) | Lace |
| La Sportiva Testarossa | $199 | Aggressive | Leather/synthetic | Vibram XS Grip 2 (3.5mm) | Lace |
| La Sportiva Skwama | $170 | Aggressive | Leather/synthetic | Vibram XS Grip 2 (4mm) | Slipper/Velcro |
| La Sportiva Futura | $185 | Aggressive | Leather/synthetic | Vibram XS Grip 2 (3mm) | Slipper/Velcro |
| Butora Acro | $160 | Aggressive | Leather/synthetic | NEO Fuse | Slipper/Velcro |
| Scarpa Instinct VSR | $185 | Moderate | Synthetic | Vibram XS Grip 2 (3.5mm) | Slipper/Velcro |

The Competition
In the highly saturated climbing shoe market, the La Sportive Genius stands out for its sensitive build and No-Edge technology. Within La Sportiva's lineup, a close competitor is the Testarossa. The shoe uses the same PD 85 last and features a similar lace closure but is slightly stiffer (with 3.5mm of rubber rather than 3) and better adherence to in-cut edges than the Genius, making it a more capable option for vertical edging. The Testarossa also lacks the No-Edge design of the Genius in favor or a standard beveled edge, which performs better on this sort of terrain. In the end, it's our preferred shoe for less-than-vertical climbing where precise footwork is required. For anything steeper, we think the Genius is the better overall pick.
The uber-soft Skwama is another top competitor in Sportiva's lineup. Compared to the Genius, the Skwama uses more rubber on the sole (4mm of XS Grip 2) and has a soft, slipper build that excels at toe- and heel-hooking (read our in-depth Skwama review here). However, like the Genius, it's insecure on tiny edges and isn't supportive for all-day use. Further, it lacks the No-Edge technology of the Genius, although both are very capable for smearing and tackling overhung terrain. If you're intrigued by the No-Edge Technology, you should also check out La Sportiva's Futura—it features a Velcro closure rather than lace, which many prefer (and comes in a women's model as well).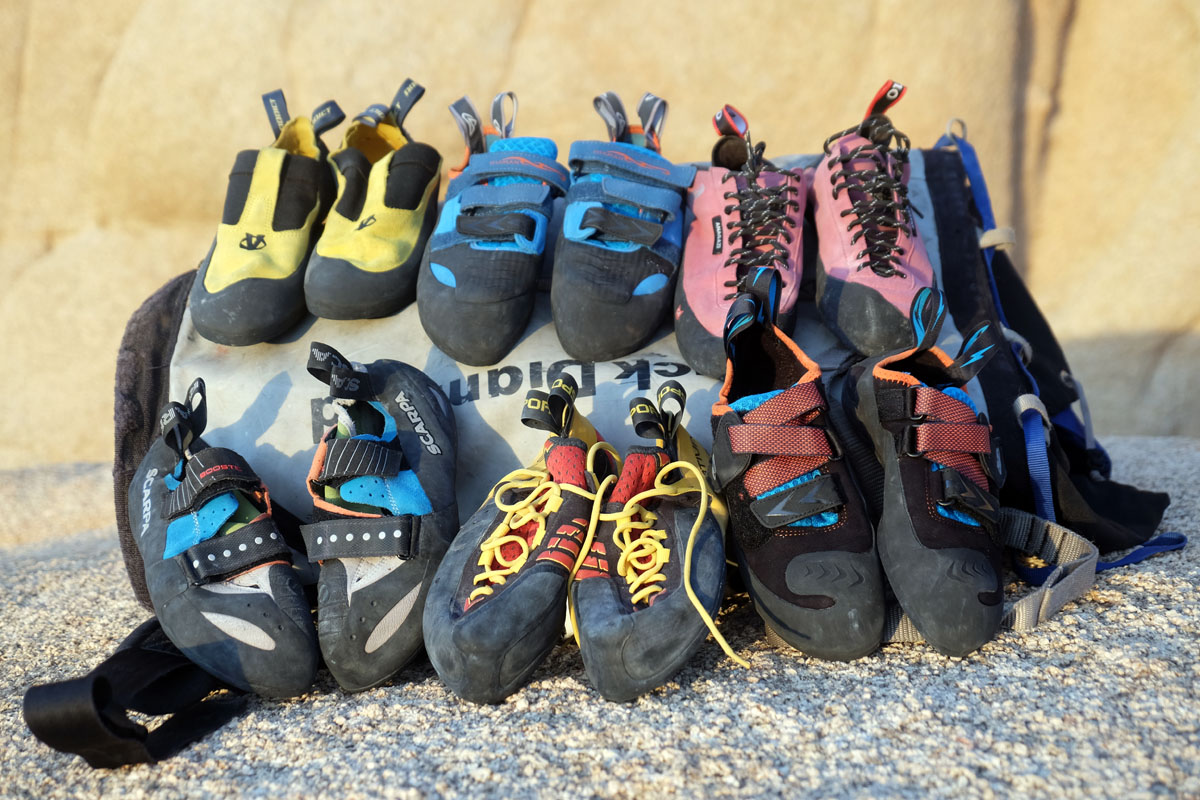 Outside of La Sportiva's offerings, you won't find No-Edge shoes elsewhere, but there's no shortage of stiff competition. The Butora Acro is another excellent pick for steep climbing, with generous patches of rubber on the toe and heel and a design reminiscent of the popular La Sportiva Solution. The Acro, however, is a much stiffer shoe, with around 4 millimeters of Butora's Neo Fuse rubber that offers much better precision on tiny edges (see our in-depth review here). While we'll opt for the more affordable Acro ($160) for gym climbing and steep face climbing, we still prefer the Genius ($195) for truly overhung terrain that features more smears and pockets than edges.
Last but not least, Scarpa's Instinct VSR is an intriguing alternative, combining aspects of both the Genius and the Acro described above. With a thinner midsole and 3.5 millimeters of XS Grip 2 on the sole, the Instinct VSR is a softer shoe than the Genius—offering very minimal support for the foot—but with slightly more rubber and a traditional beveled edge, it performs better on small, specific footholds. Further, many will prefer the Instinct's large rubber toe patch over the unique lace-up design of the Genius for hooking on steep terrain. If you find yourself climbing indoors a lot, we'd recommend a shoe like the Acro or Instinct over the No-Edge Genius, but for steep outdoor sport climbing, it comes down to a matter of preference.
If you're thinking about buying gear that we've reviewed on Switchback Travel, you can help support us in the process. Just click on any of the seller links above, and if you make a purchase, we receive a small percentage of the transaction. The cost of the product is the same to you but this helps us continue to test and write about outdoor gear. Thanks and we appreciate your support!
Depending on the seller, most products ship free in the United States on orders of $50 or more. International shipping availability and rates vary by seller. The pricing information on this page is updated hourly but we are not responsible for inaccuracies.
Learn More About Climbing