Shimano AM903
Price: $170
Pedal compatibility: Clipless
Weight: 2 lbs. 3.7 oz. (size 45)
What we like: Highly durable and protective, reliable grip, and good comfort for such a performance-focused design.
What we don't: Stiff and rigid out of the box; speed laces offer less customization than BOA or ratcheting systems.
See the Shimano AM903
Shimano is best known for their quality mountain bike components, but their shoe collection—ranging from lightweight XC models to burly enduro and even e-bike-specific designs—is similarly competitive. We've been testing the SH-AM903 for the past several months, which is part of their all-mountain lineup and features a beefed-up construction that's rough-trail-ready. All told, the shoe is extremely robust and protective, offers reliable grip both on and off the bike, and is quite comfortable given the high levels of performance and stability (once you break it in, that is). Below we outline our experiences with the Shimano AM903. To see how it stacks up to the competition, check out our article on the best mountain bike shoes.
 
---
Table of Contents
---

Performance
Comfort
The Shimano AM903 is intended for downhill and enduro riding, so it wasn't too surprising that the shoes felt noticeably stiff and rigid out of the box. On the bright side, they started to break in and soften after just a few rides, and overall comfort has improved considerably since. I should note that I often have issues with arch support, but the AM903's footbed and midsole offered enough cushion and structure to keep my feet happy. In fact, I've even forgotten I'm wearing the shoes on occasion, including a couple longer days that required a lot of head-down pedaling.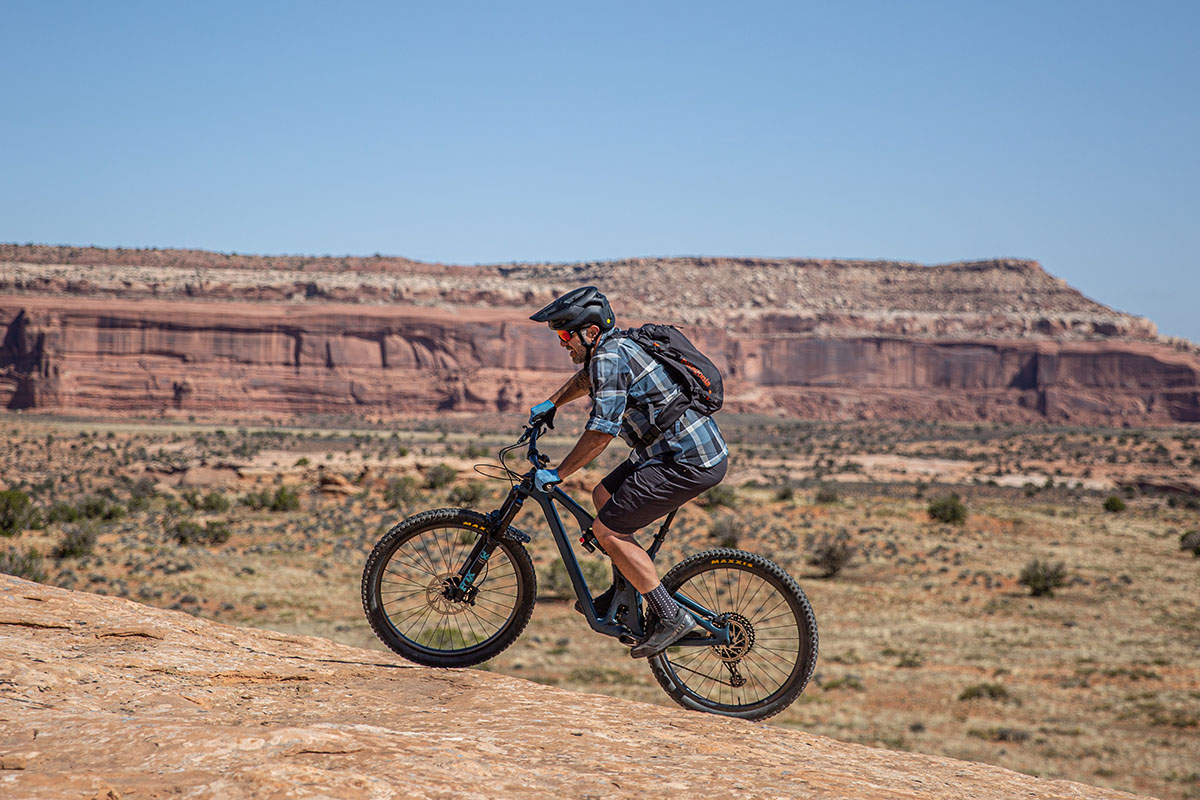 One hallmark of the Shimano AM903's build is the single-pull speed-lacing system, which is built to allow for faster and easier adjustments on the trail. In practice, I found the design to be pretty sleek and simple, but it does make it difficult to customize the fit around each area of the foot. For instance, I prefer to keep the laces closes to the toes looser while cinching things down around the upper tongue, but I'm not able to achieve those tension differences with the AM903 (it's the same snugness throughout). That said, I have been able to get some added security by tightening down the large instep strap above the tongue shield. It doesn't allow for minute adjustments, but I'm able to ride in comfort with enough responsiveness to throw my bike around. However, those who really value a precise fit will likely want to look at options with Boa dials or ratcheting buckles, such as the Crankbrothers Mallet BOA or Five Ten's Kestrel Pro Boa.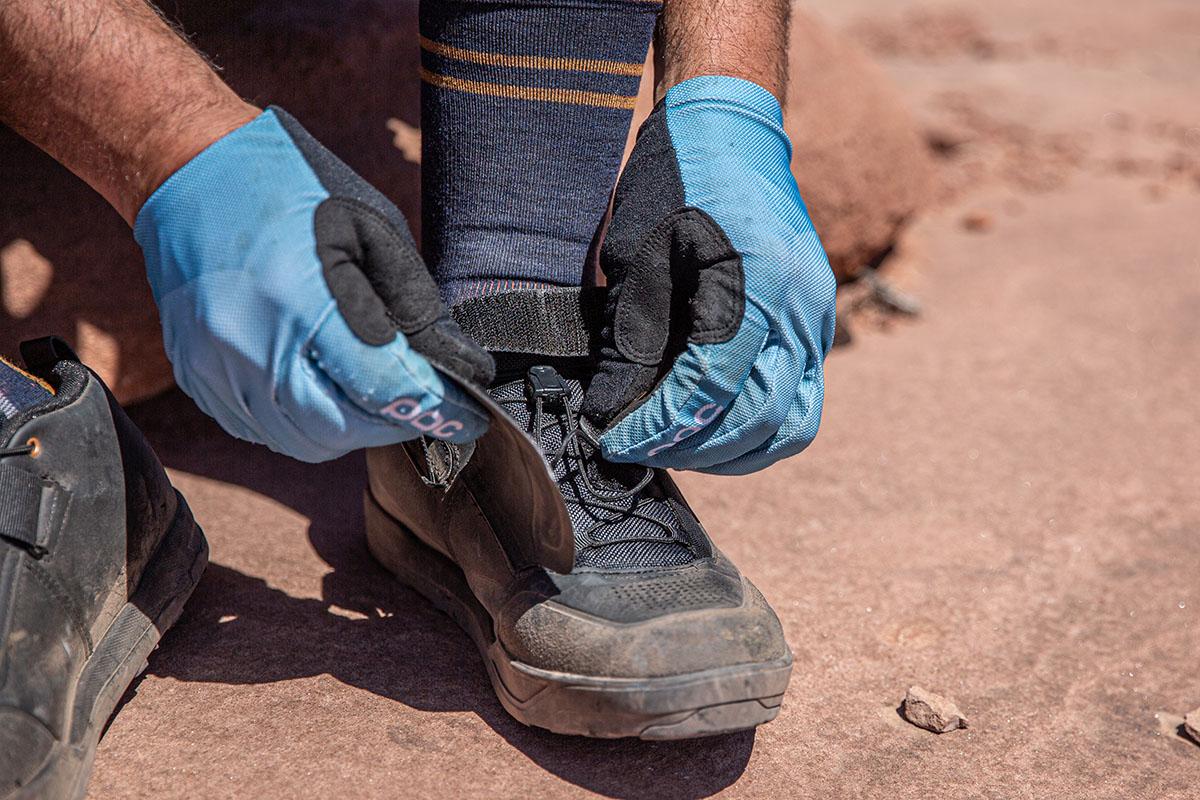 Clipping In and On-Bike Performance
For a clip-in (clipless) design, the Shimano AM903 has proven to be mostly trustworthy and confidence-inspiring. It's quick and simple to engage with my Shimano XT trail pedals, and the pedal channel provides good direction when searching for the connection while unclipped. It's also worth mentioning that I prefer when my shoe's cleat is positioned closer to the ball of my foot to balance downhill comfort and pedaling efficiency, and the AM903 makes that easy with 18 millimeters of rearward adjustment. Once attached, the shoe feels very secure and planted. I did have one notable release on a rock drop while riding Porcupine Rim, where one shoe unclipped and caused me to land on my tires and right foot simultaneously. I managed to ride away unscathed (other than some minor aches), and the good news is that this has been the only premature release I've experienced thus far.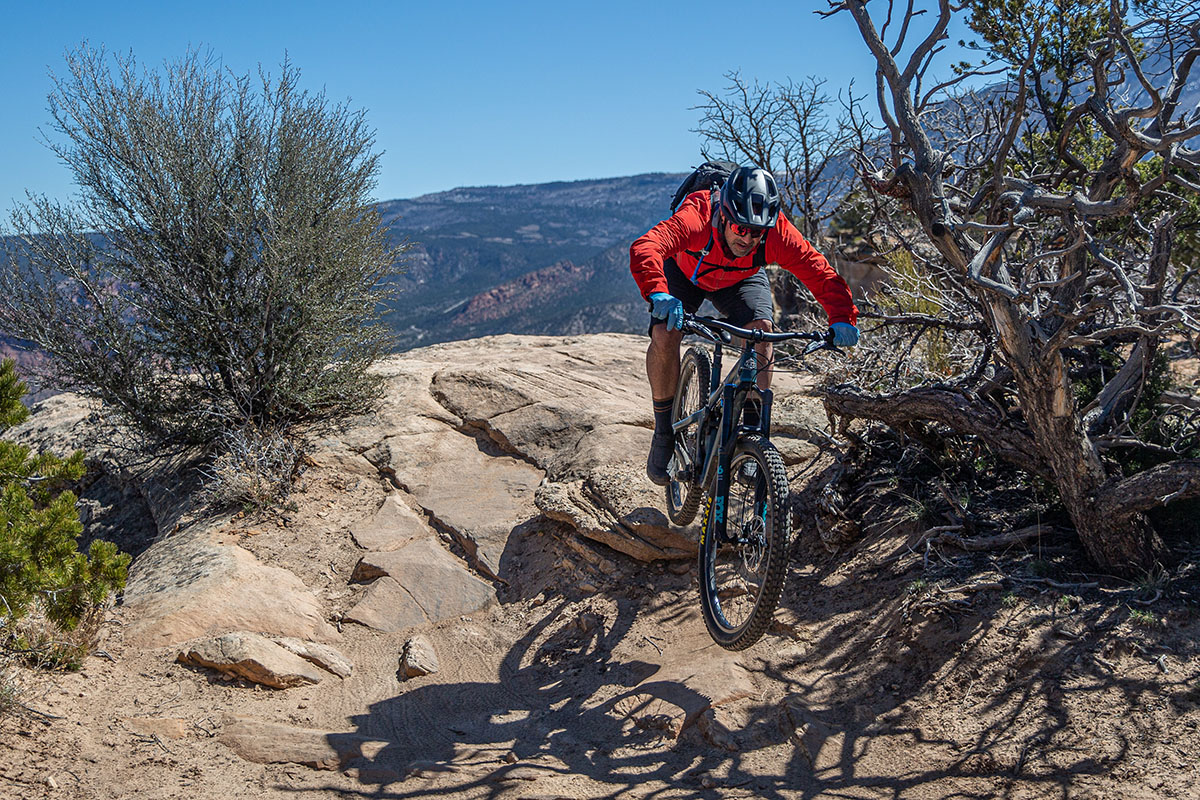 Looking at all-around on-the-bike performance, I feel the AM903 hits a really nice balance for aggressive riders: It's stiff enough to feel stable and supportive while pedaling and descending but has enough padding to remain comfortable all day. To be clear, the AM903 is burly and overkill if you don't spend much time in rough terrain, but it's not over built to be an annoyance if you're pedaling for extended stretches. For regions ranging from Moab to the Pacific Northwest (exactly where we tested the shoe), it's a great match.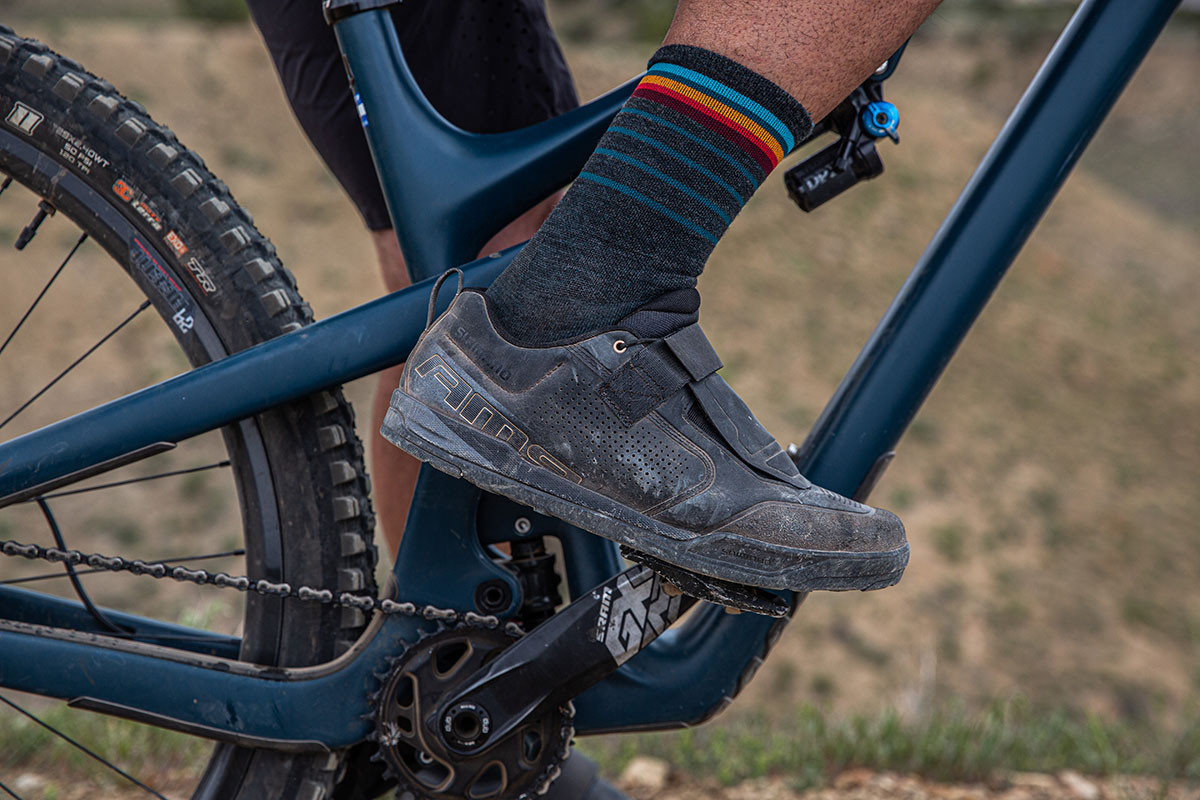 Traction
Traction is another strong suit of the Shimano AM903's design, including great grip both on and off the bike. For reference, the in-house rubber outsole and deep lugs have held strong on everything from slick rock and sand in Moab to root- and moss-covered trails on Vancouver Island. In fact, I've had no issues with slippage or losing traction when riding (even when unclipped on easier sections of trail), and the shoes have been equally confidence-inspiring when hiking uphill to session a techy section or clamber over dead trees. And unlike some mountain bike shoes I've worn in the past (including the Specialized 2FO DH Clip), the AM903's cleat is recessed within the rubber sole, which is great for walking on flatter and smoother surfaces like tile.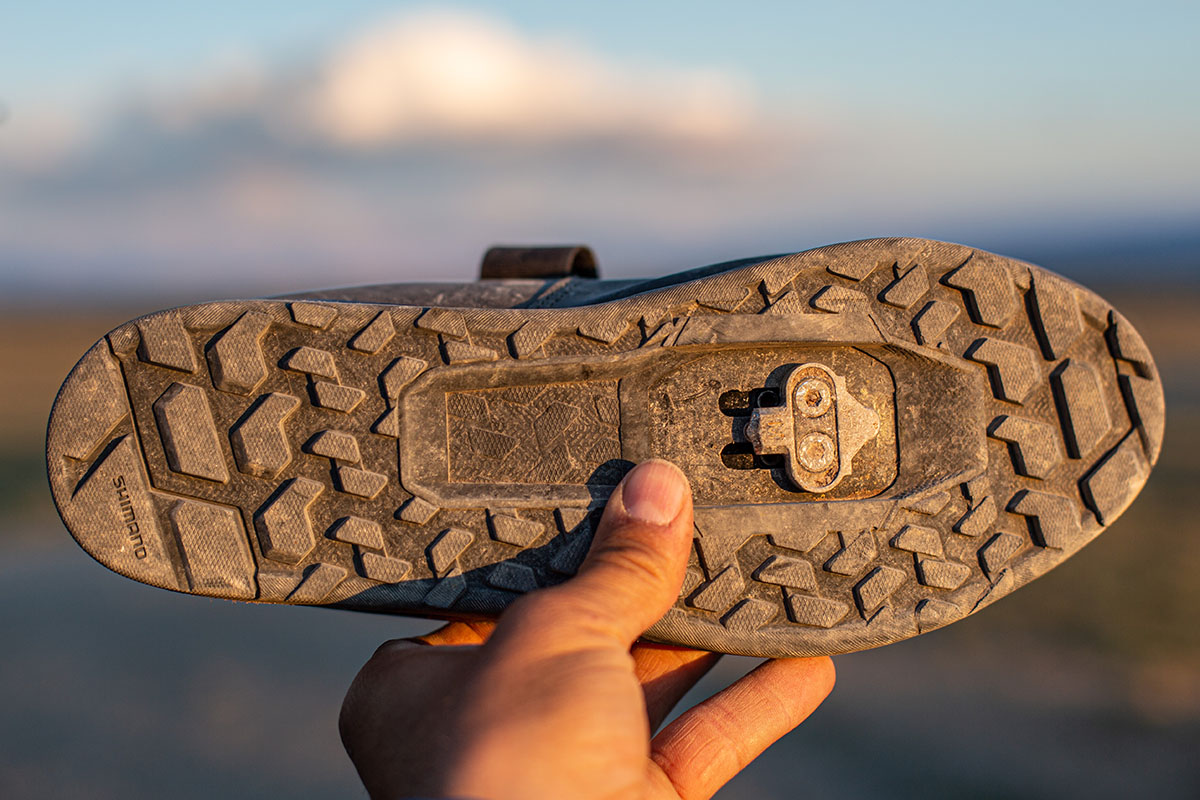 Breathability and Weather Resistance
Considering how burly and protective the Shimano AM903 is, I was pleasantly surprised by its overall breathability. To be clear, I wouldn't categorize the shoe as particularly airy-feeling, but my feet have never overheated or grown overly sweaty, even on all-day rides that reached into the 80s Fahrenheit in Utah (which is particularly notable since I tend to run warm). To help keep air flowing, the synthetic upper has perforations along the toebox and sides, and the tongue is made of mesh, too. On a related note, the shoes are also quick to dry and don't hold onto a lot of water when soaked, which has happened a few times in streams and torrential rainstorms in British Columbia. Finally, the lace shield over the tongue does an excellent job at sealing out both moisture and debris, including everything from rocks and gravel to fine sand and grit.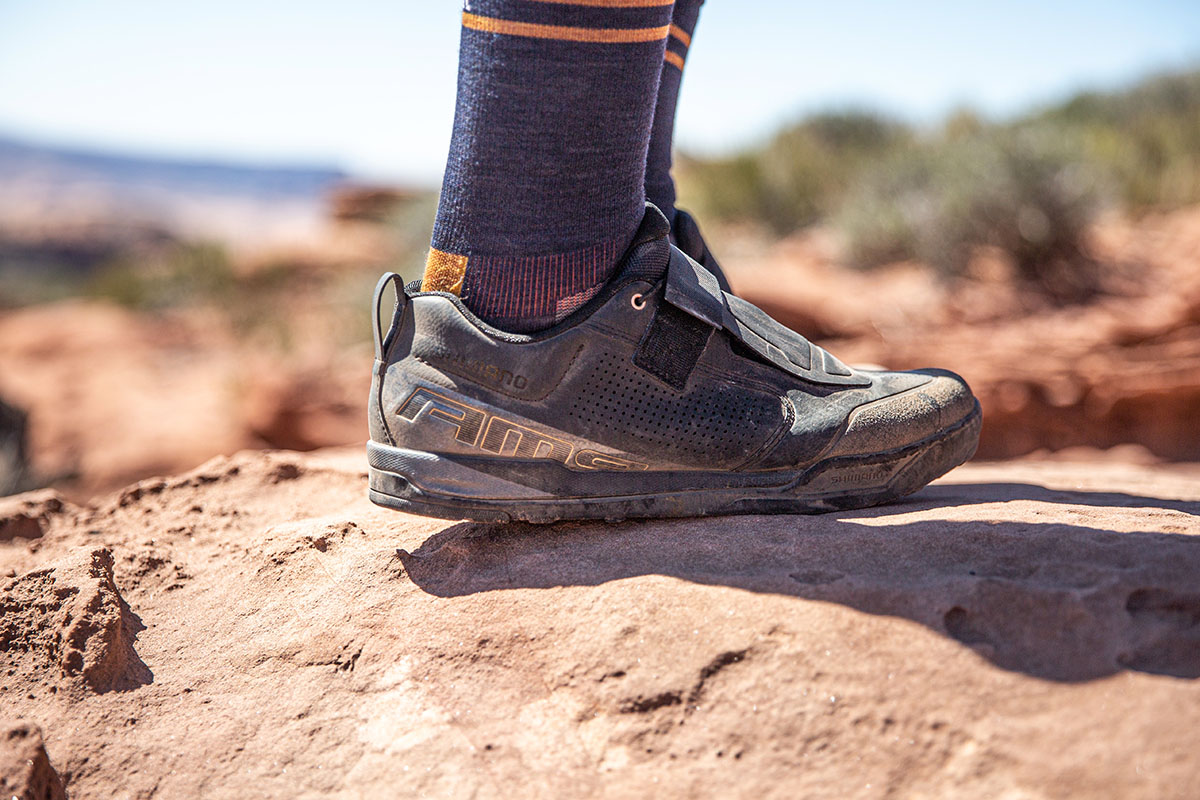 Weight
The Shimano AM903 checked in at 2 pounds 3.7 ounces on my scale for my men's pair of size 45 shoes (they're listed a little lighter at 1 lb. 13.9 oz.), which is pretty average in the downhill/enduro category. For comparison, it stacks up competitively to popular alternatives like Giro's Chamber II (2 lbs. 3.6 oz) and Five Ten's Hellcat Pro (2 lbs. 6 oz.). You can shave a little weight with Specialized's 2FO DH Clip (1 lb. 11.9 oz.), but I found that shoe to be less comfortable for all-day rides with a flat and rigid feel underfoot. In the end, I feel that Shimano struck a good balance: While certainly not the lightest option available, the AM903's advantages in protection and durability are worth the slight weight penalty to me (and I imagine many riders will agree).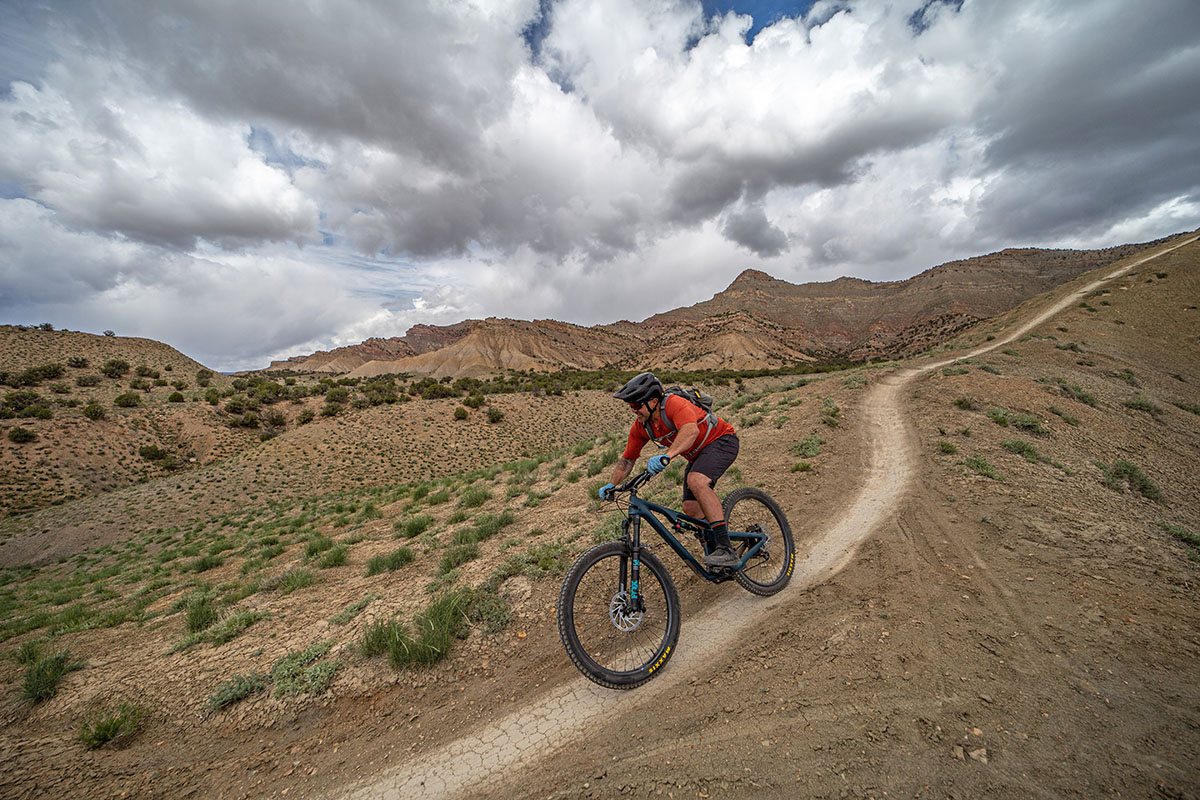 Build Quality and Durability
The Shimano AM903 is designed with rough riding in mind, so it comes as little surprise that it's an exceptionally tough and durable design. The entire shoe has a very thick and protective feel, from the burly rubber toe cap to the generous padding along the inner ankle for fending off crank strikes and debris. The tongue guard is another highlight, offering a solid layer of additional protection while keeping the lacing system clean and out of the way. And importantly, everything has held up very well to my extensive and pretty rough testing: The outsole is completely intact with no notable signs of wear, the synthetic leather upper is in great shape other than minor dirt stains, and the speed-lacing system is in perfect working order. All told, it's an impressively hardwearing shoe that should make even the most aggressive riders happy.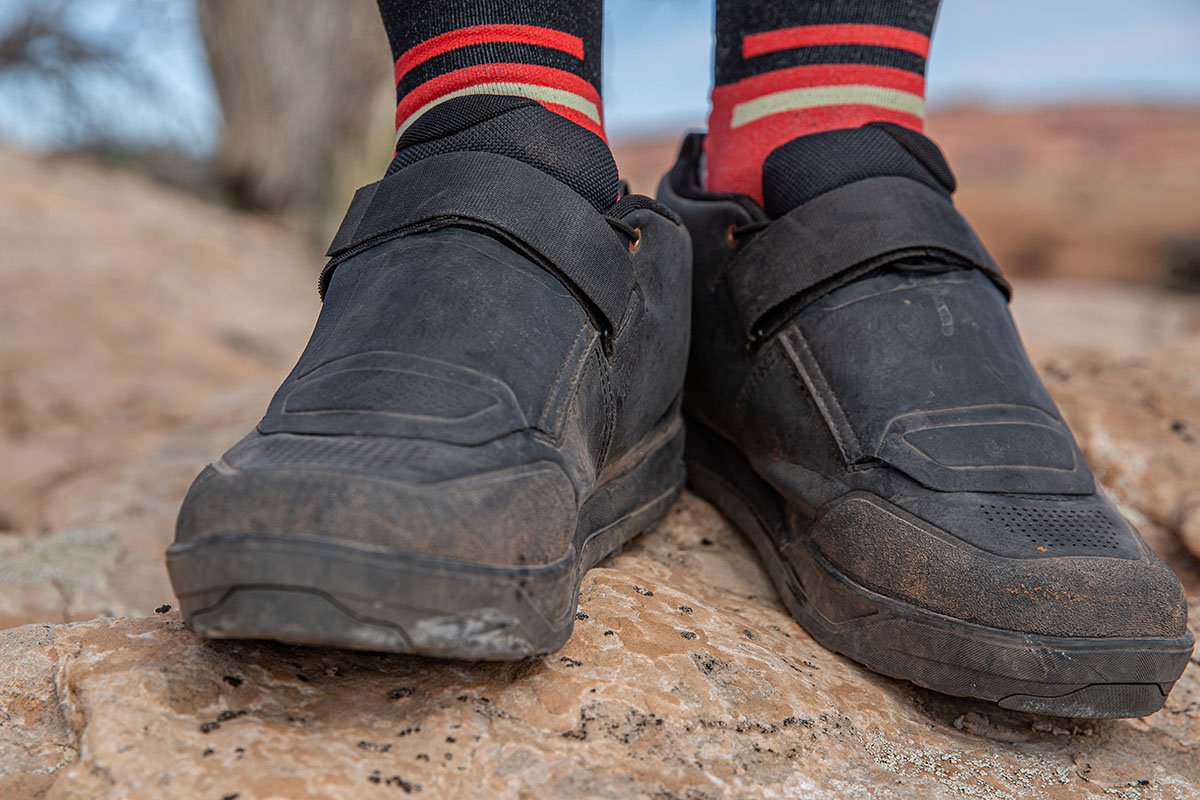 Fit and Sizing
I'm typically a 45 in shoes that use European sizing, and that size in the Shimano AM903 was just about perfect for me. There's a little wiggle room in the toe box, but not enough to cause any issues with toe bang or sloppiness. The only comfort-related problem I experienced was some light rubbing at the outside of my baby toe, but it went away as soon as the shoes softened up after about four or five rides. And to be fair, this is a common pressure point for me since I have a relatively wide forefoot. If you have higher-volume feet like I do, I recommend trying the AM903 on before buying if possible to ensure the shape will work for you.

What We Like
Comfortable to wear all day while maintaining great technical performance, which is no easy feat. 
Very robust and hardwearing with thick materials, excellent coverage, and great protection around the entire foot.
Reliable pedal grip and traction on everything from rocks and roots to smooth and flat surfaces like tile.

What We Don't
Fairly stiff and rigid out of the box, and it took about four or five rides for the shoes to soften up.
Speed-lace system offers less fit customization than BOA dials or ratcheting designs.
Within the wider MTB shoe market, it's relatively heavy. But the weight is reasonable considering the level of protection.


Comparison Table

The Competition
The latest version of Shimano's AM9 shoe continues the line's solid reputation in the all-mountain/downhill segment of the mountain bike shoe market. One of its most direct competitors is Specialized's 2FO DH Clip, which we also tested recently. In comparing the two, the $170 Specialized has a similarly protective and stiff build, although it is lighter on your feet (and the scale confirms this). For pedal-heavy days, this is certainly a benefit. That said, we found the Shimano more comfortable overall, and its quick pull lacing system did a better job dialing in a close but not restrictive fit compared to the Specialized's standard laces and stiff tongue. In the end, unless the weight difference is a deciding factor for you, we give the slight edge to the Shimano (for more see our 2FO DH Clip review).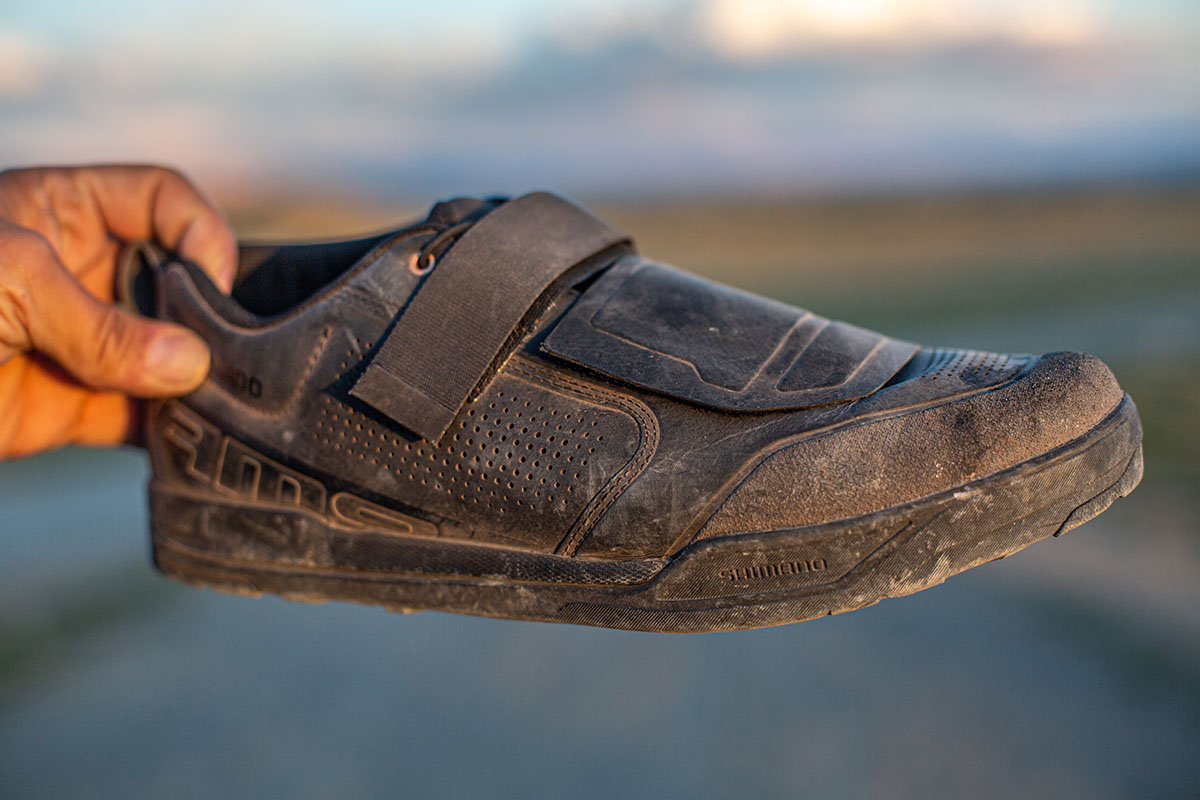 Our next competitor is a legend in the enduro and downhill worlds: Giro's Chamber II. This burly design checks all the important boxes: comfort, protection, and stiffness and power. Off the bike it isn't half bad either, with Vibram's sticky Megagrip compound and a dotty tread pattern. We've also found it easier to dial in the fit compared with the overly stiff upper on the Specialized above, although you still miss out on a quick lace system (but the strap over the top of the laces does offer another way of cinching the fit). For $20 less than the Shimano, we give the nod to the race-proven Chamber.
Sharing a fair amount in common with the Chamber II above is Five Ten's Kestrel Lace. This all-mountain focused shoe is stiff and takes some time to break in, but the rigid build comes with benefits like pedaling efficiency and protection both under and all around your feet. In terms of fit, the Five Ten ran a little big and we wound up going down a half size, and we had a little difficulty getting a snug fit due to the firm upper material (particularly in the toe box where it felt a little sloppy). For us at least, the quick lace system on the Shimano allowed for more customization, and with similar stiffness and all-around performance as the Kestrel, the Shimano is our preferred shoe.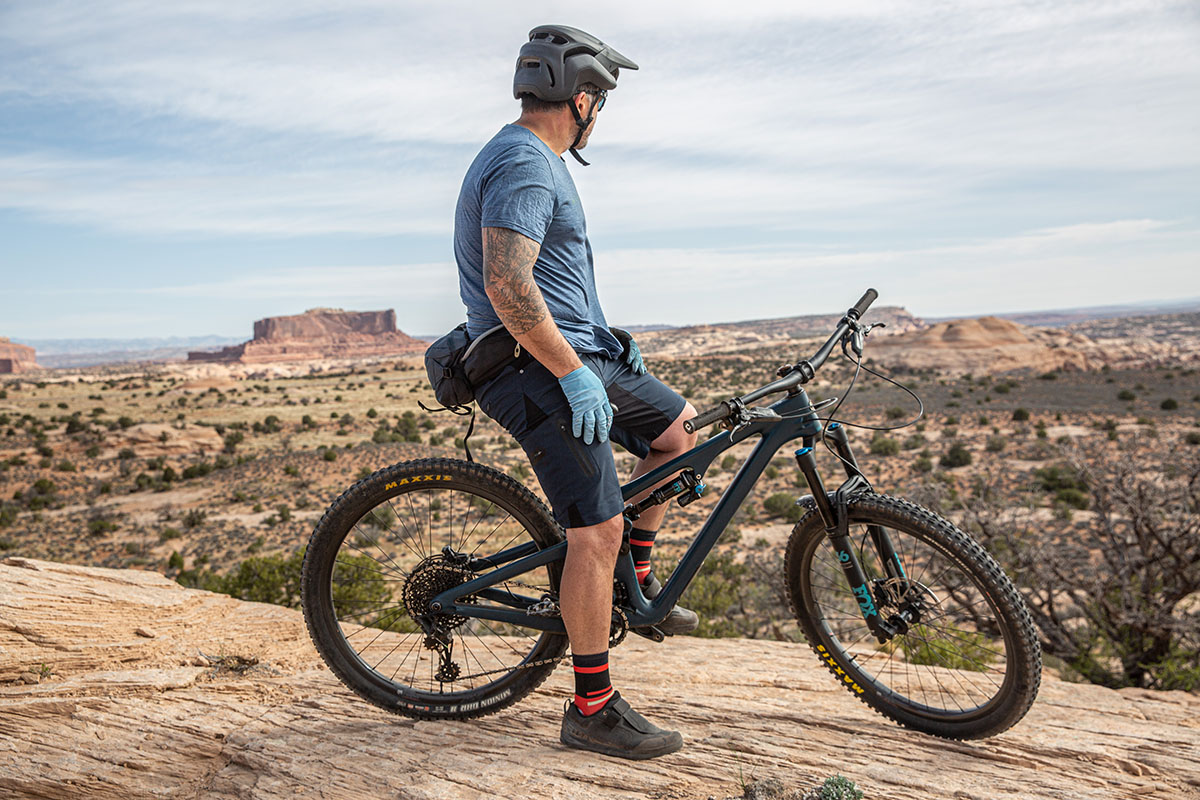 A final alternative comes from within Shimano's own collection. Rather than the AM (all-mountain) line, the brand's ME702 has a little more of an all-rounder trail focus. This brings a lower weight, grippier and more aggressive outsole for hiking, and a bit less protection. That said, the ME702 comes with a neoprene cuff for a touch of cushioning around the ankle—and to keep out dirt and debris—and it'll be plenty protective for most riders (including enduro racers). In deciding between the two, we consider the ME702 the more versatile option and what a good portion of mountain bikers will prefer. But if you want to mix in bike park laps or ride in particularly rough terrain, the AM903 is the better choice.
If you're thinking about buying gear that we've reviewed on Switchback Travel, you can help support us in the process. Just click on any of the seller links above, and if you make a purchase, we receive a small percentage of the transaction. The cost of the product is the same to you but this helps us continue to test and write about outdoor gear. Thanks and we appreciate your support!
Depending on the seller, most products ship free in the United States on orders of $50 or more. International shipping availability and rates vary by seller. The pricing information on this page is updated hourly but we are not responsible for inaccuracies.
Read More From Switchback Travel