Smith Survey MIPS
Price: $260
Construction: In-mold
Weight: 1 lb. 2.8 oz. (size medium)
What we like: No gaper gap with the integrated goggle; quality Smith design at a good price.
What we don't: Polarizing looks; takes some force to lock the visor into place.
See the Smith Survey MIPS
Smith is a market leader in both the ski goggle and helmet markets, and they've merged the two with the unique Survey MIPS. Combining a lightweight in-mold helmet with a built-in goggle featuring Smith's well-respected ChromaPop lens, you get an all-in-one, integrated system. The looks are undeniably polarizing, and there are some slight quirks to the design, but the Survey proved to be a solid performer across the board in everything from comfort and warmth to optical quality. And at $260 all in, it also adds up to a very good value. Below we break down our experiences with the Survey. To see how it stacks up to the competition, see our article on the best ski helmets.
 
---
Table of Contents
---

Performance
Comfort
Starting with the helmet portion of the Smith Survey MIPS' design, you get a light and familiar-feeling interior. The padding has a mid-range feel—it's relatively squishy and soft—and the fleece-like lining from the ears to the top of the head is plenty cozy. Further, as with most Smith helmets, the interior has a wide and pretty round shape, which we've found works well for a good portion of skiers and snowboarders. And it's relatively easy to tailor the fit with an adjustable dial at the back, although it's a little stiff and hard to manipulate with gloves (more on this below). Taken together, the Survey provided solid all-day comfort, even on particularly active days with lots of hiking and sidecountry exploring. The only comfort-related nitpick I have with the helmet portion itself is that the padding around the ears muffles more sound than I prefer. I've found this to be an issue with some of Smith's mid-range and budget models, and you may want to remove some of the foam in the ear pads to address it.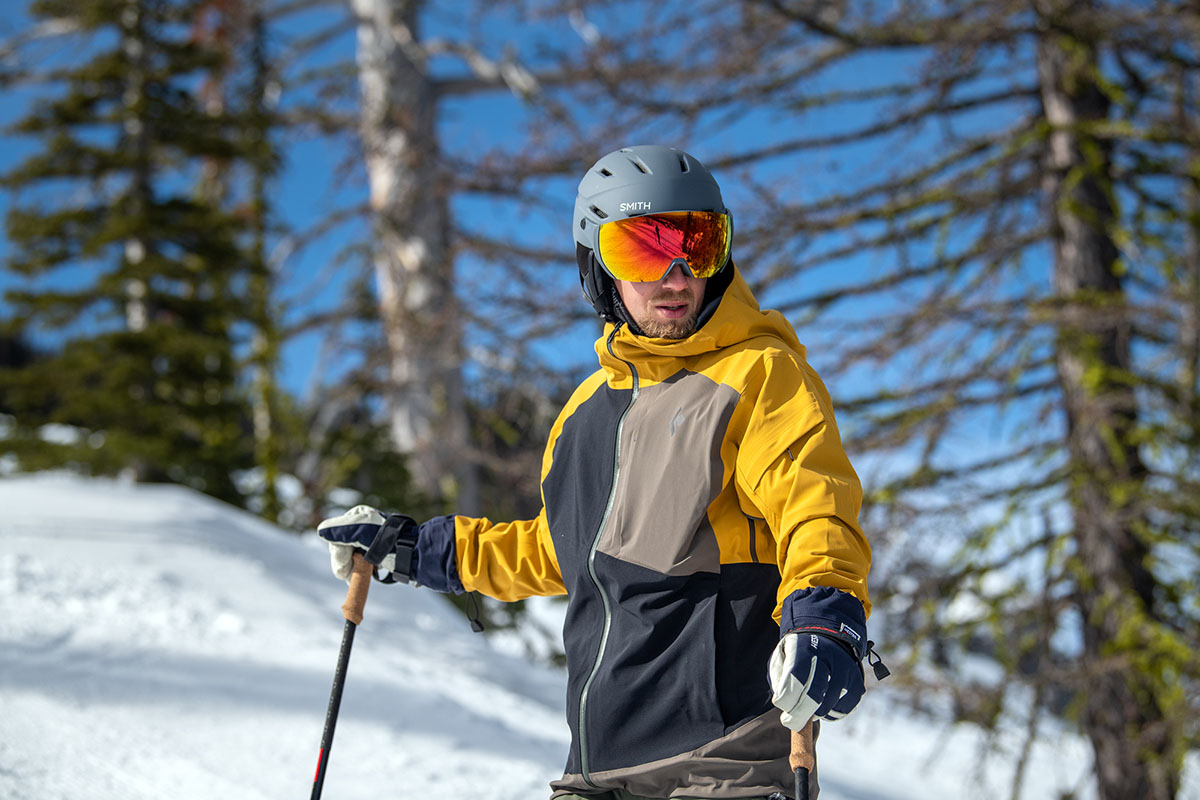 Some of the quirks of the integrated design do come into play when you slip the goggle portion down (Smith refers to it as a "visor"). Specifically, it takes a lot of force to get the goggle into place, and I've found that if it isn't all the way locked down, the visor can actually pop back up while skiing. This was a minor annoyance, but once I got a feel for when it's fully secure—it needs to be positioned below the small vents along the helmet's brim—I didn't have any issues. However, because only the bottom of the goggle sits flush against your head, you don't get the same secure seal around your face as you do with a traditional two-piece ski goggle/helmet combo. As such, a little more wind made its way through the sides during bad weather or when I was moving quickly. Neither of these proved to be deal-breakers for me—even wearing contacts, the extra airflow didn't lead to dry eyes—but they nevertheless are compromises and give the design a little less of a refined feel.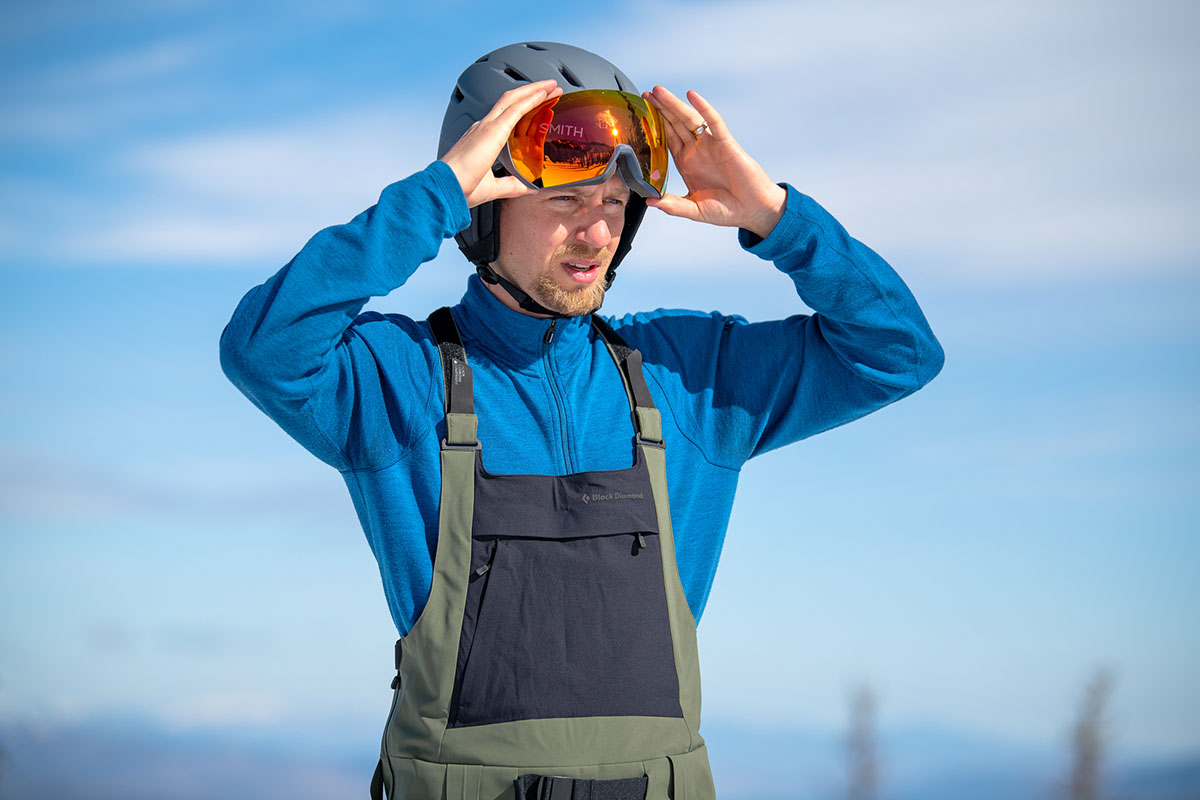 Ventilation and Fog Prevention
With 14 vents distributed throughout the sides and top of the helmet—10 of which can be closed with a slider at the top—I found it pretty easy to stay comfortable in the Survey even in mild temperatures. The slider can be easily set halfway open, which I found useful for preventing overheating without letting in a full rush of cold air. And I was initially concerned that the one-piece system would lead to more fogging issues for the goggles, but that thankfully hasn't been the case. A chimney-like layout draws air from the brim of the helmet through the top, and the semi-open sides help quickly dissipate moisture buildup. Added up, the Survey's fog prevention and all-around ventilation stack up favorably with proven resort combos like Smith's own I/O Mag Goggle and Level MIPS Helmet.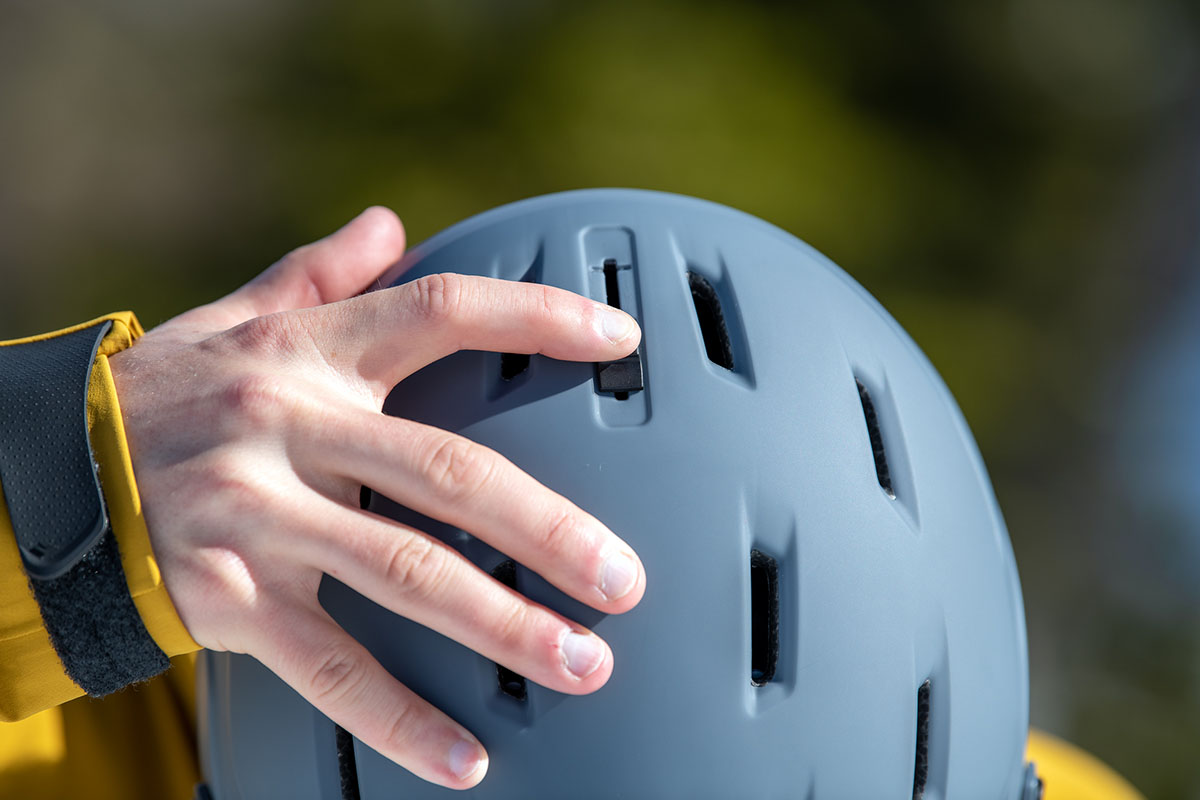 Warmth
It's a similar story with the Survey's warmth: it's perfectly suitable for most standard resort days. I tested the Survey starting towards the end of last season, but we still had some storms cycle through with temperatures dipping into the low 20s Fahrenheit. In these conditions and with the top and side vents closed, I had no issues with running cold. In wearing it back-to-back with the higher-end Level helmet, it's clear the Survey can't match that design in all-out coziness and warmth—I was able to wear the Level in temps near zero—but adding a balaclava helps close the gap. And on the plus side, the Survey wasn't overly warm during spring days in sunny conditions, making it a viable season-long option.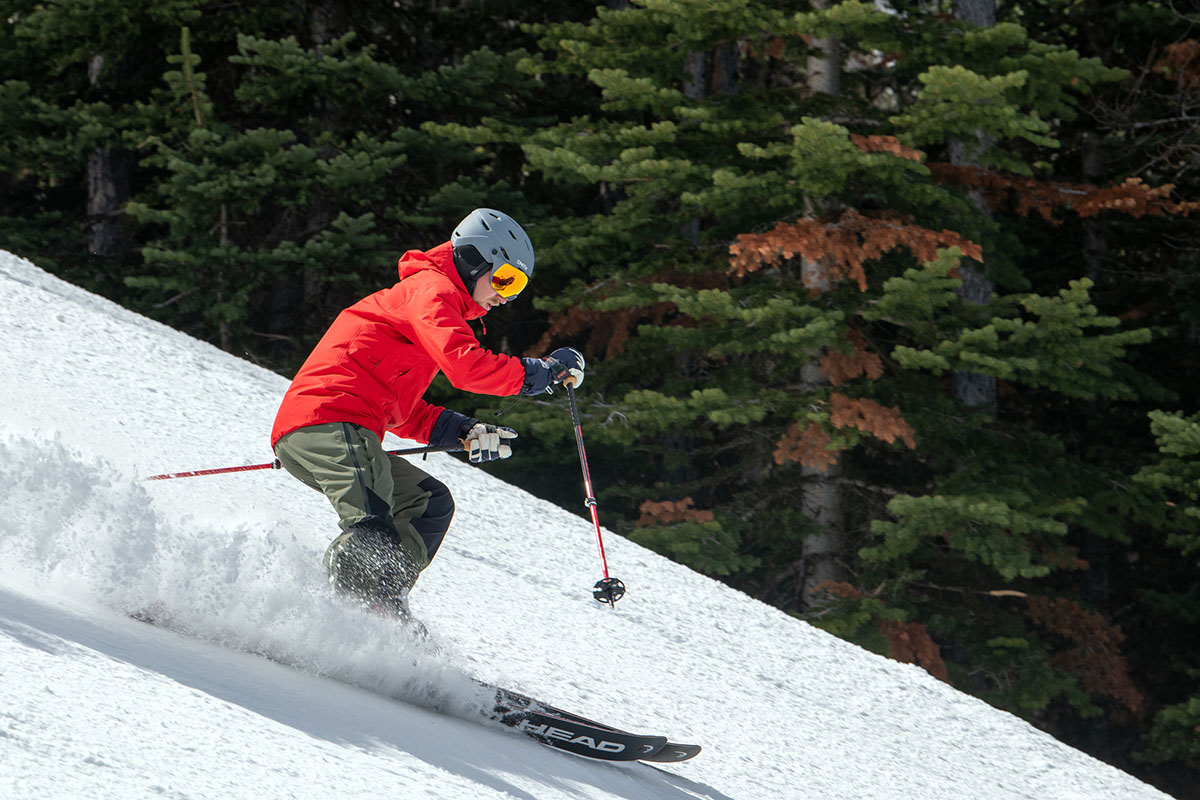 Features
Goggle Optical Quality
One pleasant surprise with the Smith Survey MIPS was that optical quality is up to the brand's typical standard. Despite sitting a little farther off the face, field of vision is excellent in all directions—integrating the ventilation into the helmet helped keep things relatively low-profile. And the Everyday Red Mirror lens that came with my Survey is one of my favorites. The ChromaPop technology offers an HD-like view of your surroundings, and the 25 precent VLT (visible light transmission) is extremely versatile in a relatively wide range of lighting conditions (it only felt a bit dark on truly socked-in days). From a value perspective, this is one of the strongest cases for getting the Survey, as buying a similar-quality goggle from Smith would cost you $150 or more.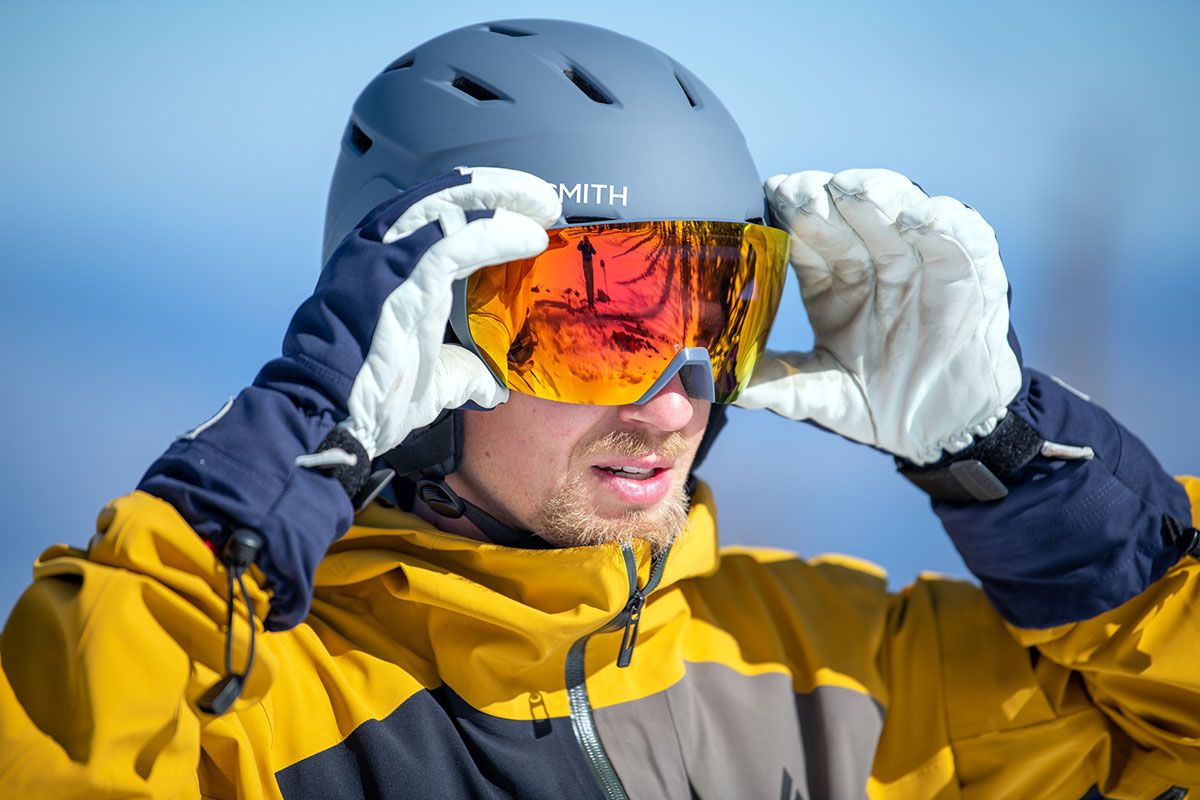 MIPS Liner and Aerocore Construction
Another place where Smith adds some serious value is in the Survey's safety features. First, MIPS (short for "Multi-Directional Impact Protection System) is included—the familiar yellow liner is visible underneath the padding—and the helmet also boasts the brand's unique Aerocore construction. Most of the helmet is standard EPS foam, but the sides have the honeycomb-like Koroyd material, which is designed to absorb energy in a crash (it also helps release excess heat). It's worth noting that the shell doesn't have any panels of sturdy ABS plastic, which are found in premium alternatives like Smith's Vantage MIPS and Level and can be useful to avoid damage should you catch a branch while skiing in trees or drop your helmet on a hard surface. But sticking to a standard in-mold build keeps weight—and likely cost—in check, and the Survey strikes me as a reasonably hardwearing design overall (more on this below).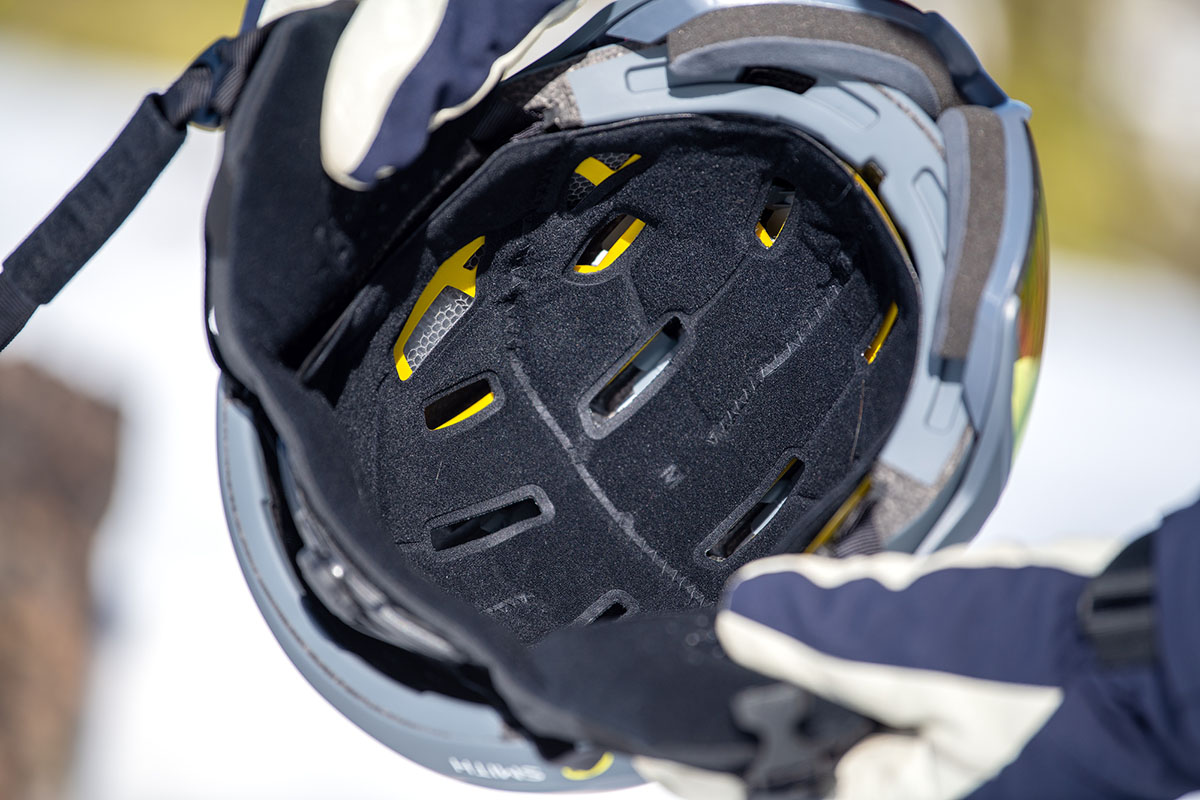 Build Quality and Durability
We covered some of our complaints with the user-friendliness of the Survey's design in the "Comfort" section above, but purely from a build quality perspective, it's yet another solid Smith product. You're getting a lot for your $260, including a cozy and protective helmet, crisp optics and a great field of vision from the visor, and the integrated setup that means you don't have to worry about a gaper gap (any forehead showing between the goggle and helmet) and wind cutting through. As I touched on above, the in-mold helmet construction isn't as burly as a hybrid in-mold or ABS build, but mine has held up well thus far in testing. And this probably goes without saying: the Survey's looks are undeniably polarizing and give off strong space-age vibes, but that's purely a matter of personal preference, and we imagine that many will find the convenience of the integrated design worth that tradeoff.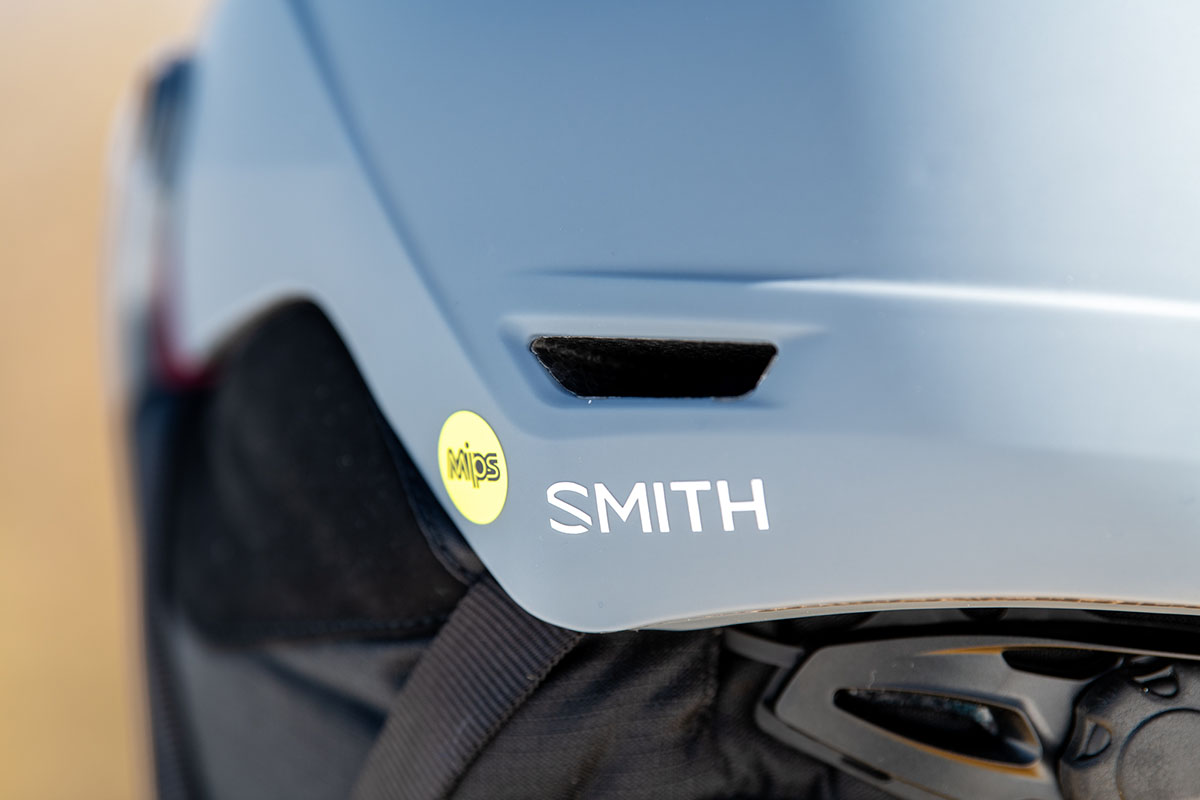 One complaint I do have is related to the Survey's fit system, which has a stiff dial that is hard to turn without removing gloves. It does a fine job snugging down, but the large, round dial is clearly a cheaper-made product than a Boa system or even some of the in-house designs we've tested (like Giro's In Form 2 on their Grid MIPS helmet and others). And to keep the goggle scratch- and chip-free, I have been diligently using the included goggle cover. I always store my goggles in a bag, but the fact that the goggle sits in a somewhat vulnerable spot on top of the helmet—which has a tendency to roll around in the back of a car or floor—makes it all the more important to keep it protected.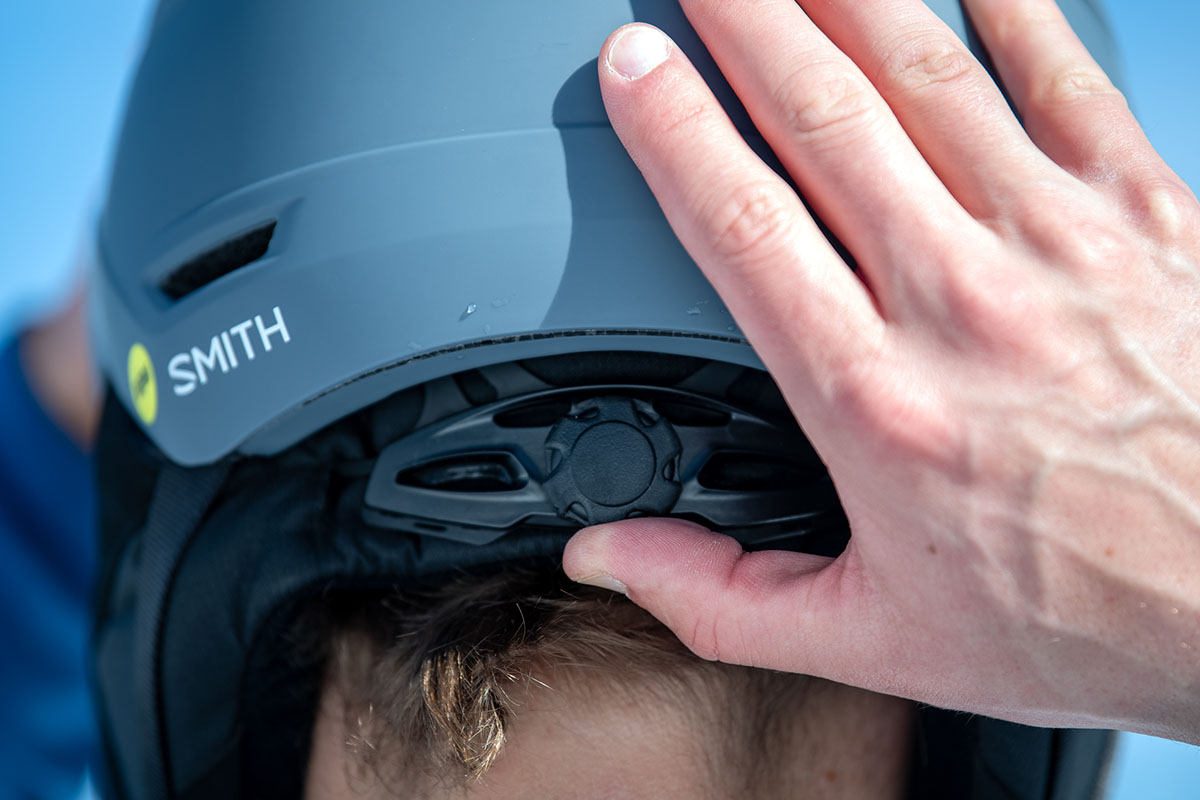 Weight
The Smith Survey is impressively light at 1 pound 2.8 ounces for a size medium (listed weight is higher at 1 lb. 9 oz.), which undercuts many standard ski helmets before even taking into account the goggle part of the equation. For reference, my Smith Level MIPS (also a size medium) checks in at 1 pound 4 ounces, and adding Smith's Proxy goggle brings the total up to 1 pound 8.3 ounces. And importantly, the Survey feels as light as its weight suggests: despite being one piece, it never bobbed or moved uncomfortably while skiing, and the entire system feels well-integrated.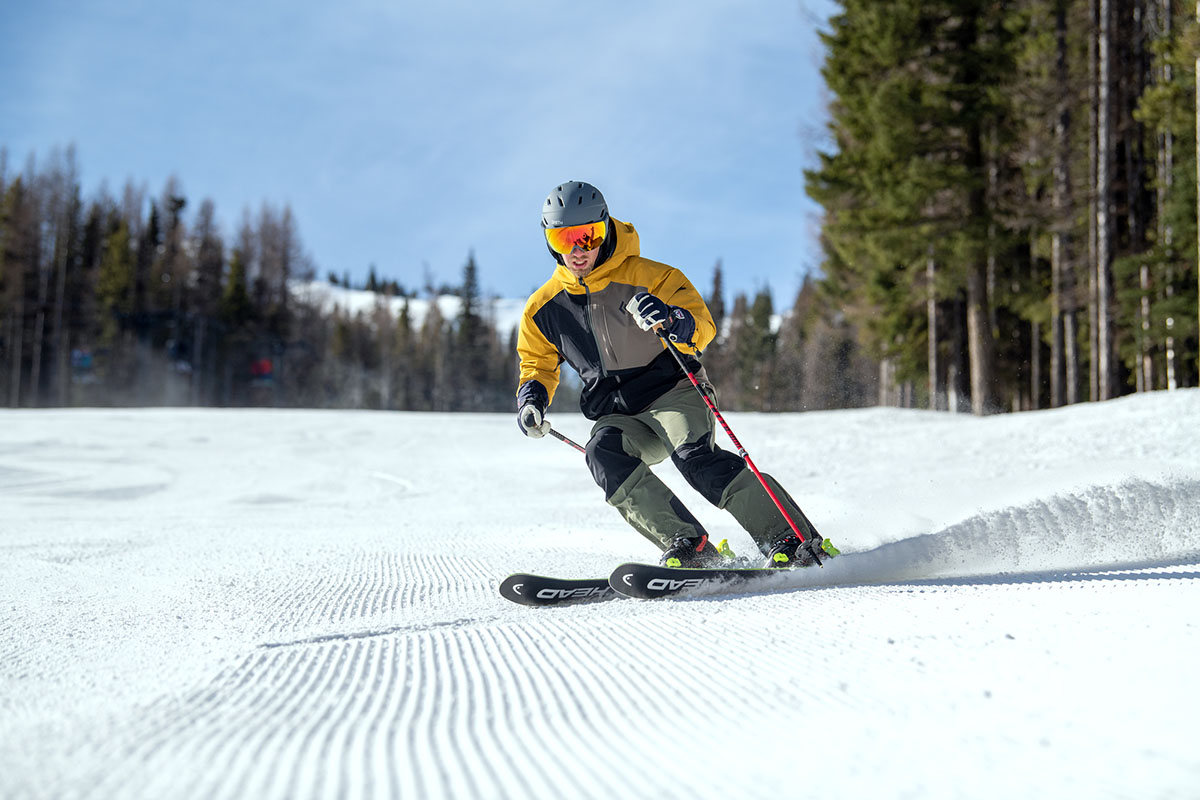 Fit and Sizing
The Smith Survey MIPS is offered in four sizes from small to extra-large, which is great for dialing in a comfortable and secure fit. With a 57-centimeter head circumference, I'm squarely in the middle of the "medium" size range (55-59cm) and found it to be a perfect match. My head is also slightly round, which paired well with the Survey's open and adjustable interior. Finally, Smith states the design is OTG (over-the-glasses) compatible, which I found to be true. That said, I typically prefer not to wear my glasses under my goggles, as fogging can be a serious problem—wearing contacts or purchasing a prescription insert are better options.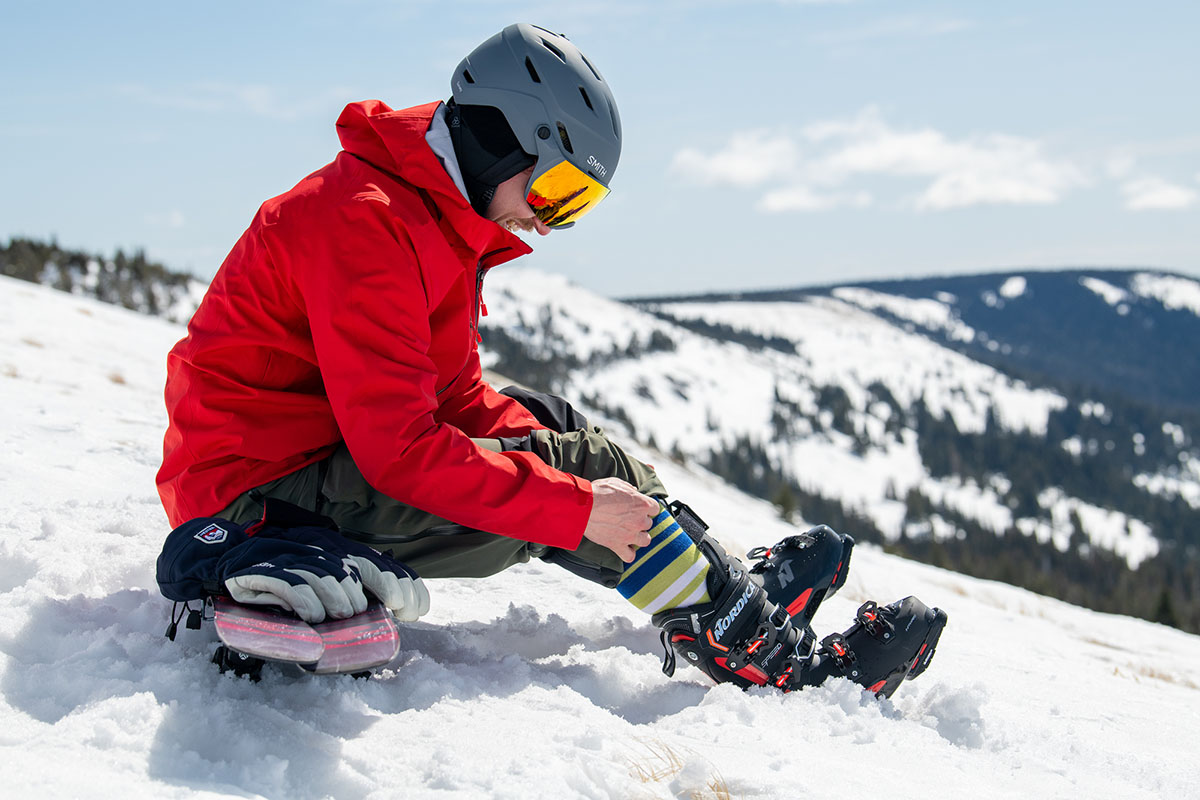 What We Like
All-in-one helmet and goggle design helps avoid the dreaded gaper gap and takes some guesswork out of the buying process.
Quality Smith build at a great price: for $260, you get a cozy and protective helmet, crisp optics and great field of view from the goggles, and a nice suite of safety features in a well-integrated and lightweight setup.
Good all-around ventilation and fog prevention thanks to the 14 vents and chimney-like layout that draws air from the brim of the helmet through the top.
Availability in four sizes makes it easy to dial in a comfortable and secure fit.

What We Don't
Not everyone will like the polarizing, space age-esque looks of the all-in-one helmet/goggle combo.
There are a few quirks with the integrated system: it takes a lot of force to secure the goggle in place, you don't get the same solid seal around the face as you do with two-piece setups, and more wind can enter at the sides when moving quickly or in blustery weather.
Fit adjustment dial is hard to turn without removing gloves and feels cheaper than many in-house systems we've tested.
Standard in-mold construction lacks panels of ABS plastic, which can help avoid damage should you catch a branch or drop your helmet.
The goggle sits in a vulnerable spot on top of the helmet, and it's important use the included bag for storage to prevent scratching and chipping.


Comparison Table
| Helmet | Price | Construction | Weight | Ventilation | MIPS |
| --- | --- | --- | --- | --- | --- |
| Smith Survey MIPS | $260 | In-mold | 1 lb. 9 oz. | Adjustable (14 vents) | Yes |
| Giro Vue MIPS | $250 | Hybrid in-mold | 1 lb. 4 oz. | Adjustable (12 vents) | Yes |
| Pret Cynic X | $150 | In-mold | 15.5 oz. | Fixed (12 vents) | Yes |
| Smith Holt | $80 | ABS | 1 lb. 4 oz. | Fixed (10 vents) | No |
| Smith Level MIPS | $220 | Hybrid in-mold | 1 lb. 3 oz. | Adjustable (20 vents) | Yes |

The Competition
Smith's Survey MIPS is a new addition to the ski helmet market for winter 2021-2022 and strikes us as a strong value for an all-in-one system that performs well across the board. There aren't many other integrated designs on the market, although Giro's Vue MIPS is a pretty close competitor. Both utilize the built-in visor concept with quality optics and feature an in-mold helmet construction with MIPS technology. The Vue is arguably even wilder-looking than the Survey, although neither blend in all that well on the slopes. Where the Survey gets the clear edge—and why we expect it will be the more popular choice—is its wide array of lens tints, which range from photochromic designs to well-rounded options like the Everyday Red Mirror we tested. For only $10 more than the Vue, we think that's enough to push the Survey ahead in the market.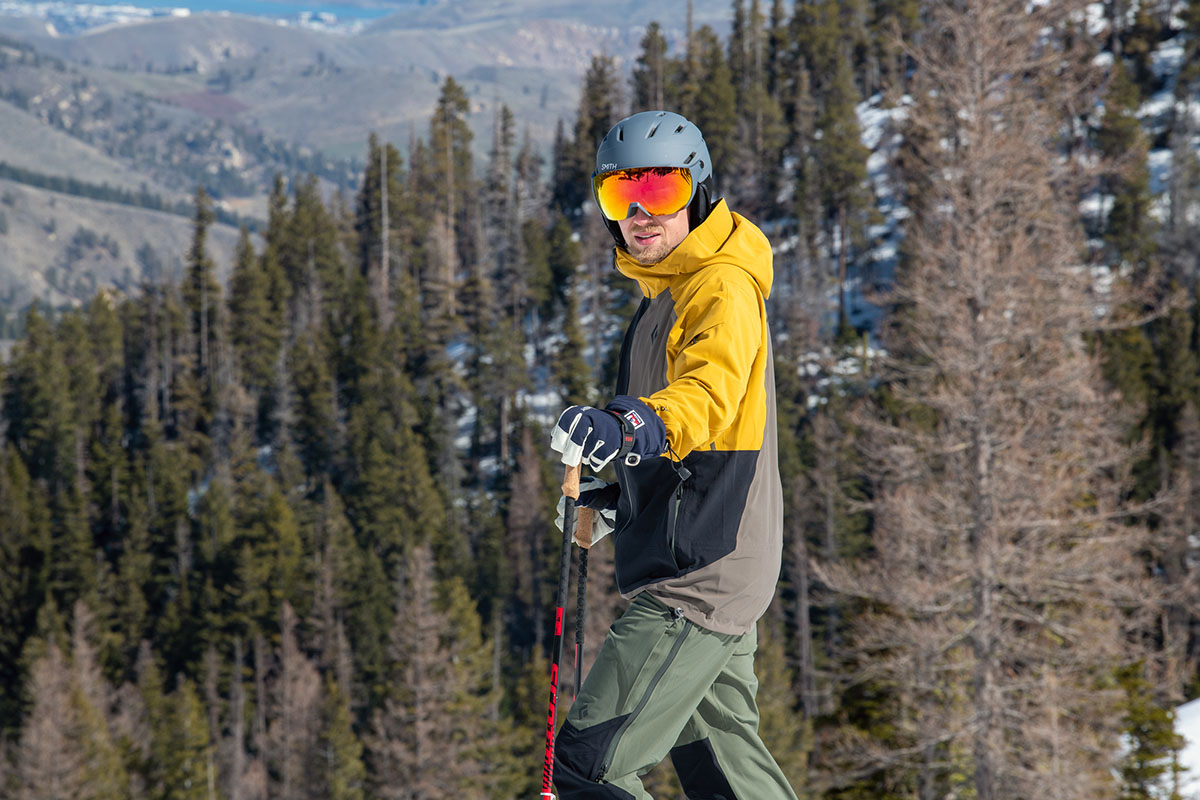 Focusing just on helmets, one of our favorite mid-range options is Pret's Cynic X. For a reasonable $150, the Cynic combines a lightweight build (15.5 oz.), clean styling, and a very comfortable liner thanks to the wool-blend interior. You also get a slight boost in durability with the Pret's polycarbonate panels to complement the light and airy in-mold construction. That said, the Cynic falls short of the Survey in ventilation with 12 non-adjustable vents, and the Smith strikes us as the better value given the inclusion of a quality goggle with superb optics. But if you already own a pair of goggles and are just looking to buy a helmet, we think the Pret is the better and less polarizing option. 
From within Smith's lineup, two additional resort helmets to consider are the budget-focused Holt and higher-end Level that I've mentioned throughout this review. Starting with the Holt, you get an ABS build that's quite durable and a simple but surprisingly effective fit system (the elasticized band at the back stretches to accommodate your head well) for just $80. However, the Holt feels heavier than the Survey at 1 pound 4 ounces for just the helmet, the fixed vents aren't as effective at dumping excess heat, you don't get a MIPS liner or Aerocore safety tech, and—similar to the Survey—the padding around the ears muffles more sound than we'd prefer. But there's a reason that the Holt is our top-rated budget design this year: as long as you don't mind the slight downgrade in comfort and venting, it's a standout value from a leading brand.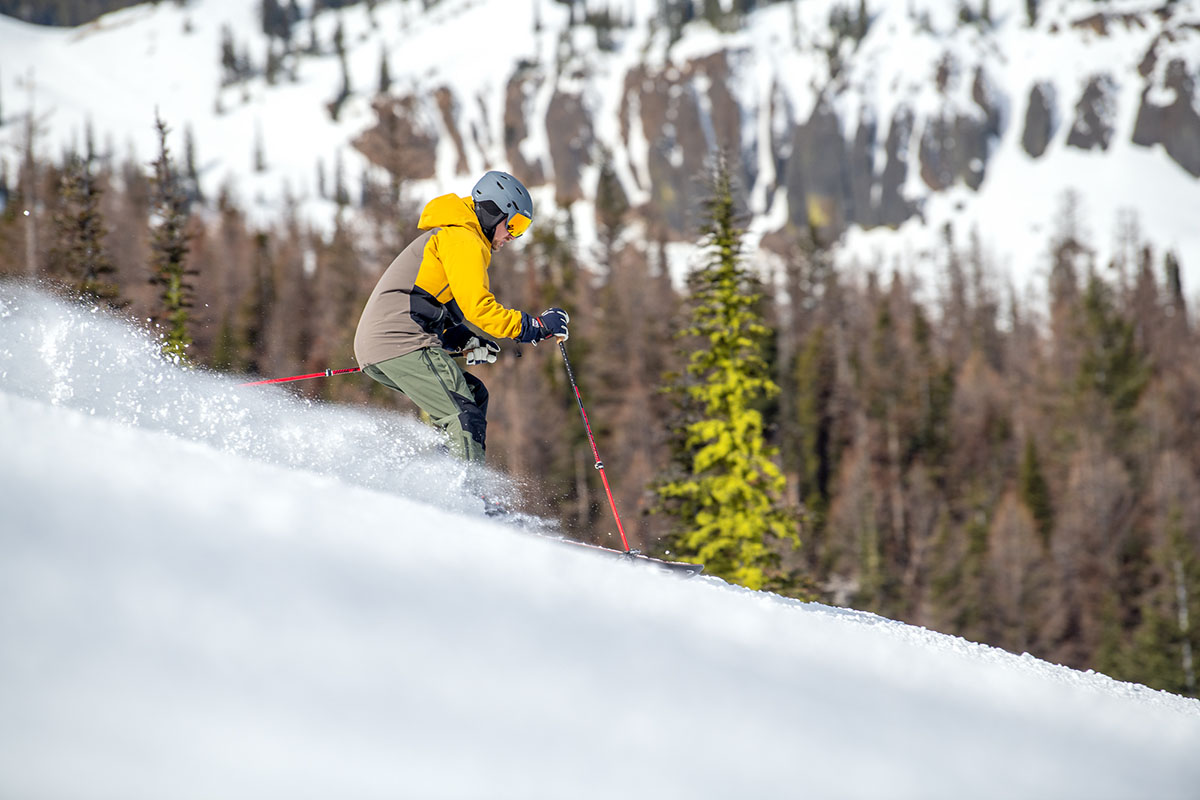 Last but not least is Smith's Level MIPS, which is my favorite resort setup this season. In short, the Level puts it all together, including a super comfortable interior, great protection with a hybrid in-mold and Aerocore build, and excellent warmth with a premium and nicely padded interior. Again, the helmet itself is a little heavier at 1 pound 3 ounces, but the well-sorted design feels reasonably light and airy. The biggest downside is cost: at $220, the Level is undeniably pricey once you factor in the additional purchase of a quality goggle that pairs well, such as Smith's Proxy ($150). But for those that get out a lot and want a quality kit, we think the investment is well worth it.
If you're thinking about buying gear that we've reviewed on Switchback Travel, you can help support us in the process. Just click on any of the seller links above, and if you make a purchase, we receive a small percentage of the transaction. The cost of the product is the same to you but this helps us continue to test and write about outdoor gear. Thanks and we appreciate your support!
Depending on the seller, most products ship free in the United States on orders of $50 or more. International shipping availability and rates vary by seller. The pricing information on this page is updated hourly but we are not responsible for inaccuracies.
Read More From Switchback Travel